Mollie Bakes: Chips. Ahoy!
Is there anything sweeter than enjoying a chocolate chip cookie, warm and fresh right out of the oven?
Part of what I am loving about baking, besides the "baking ingredient drawer" in my kitchen constantly overflowing, is finding new versions (new to me, I suppose) of classic sweet treats. I'm always on the hunt for new recipes to try, new versions of my favorites, and different ways to make certain items; most notably, I'm always excited by a new-to-me chocolate chip cookie.
Because cookies are the best. The word alone invokes a smile and no one I know would ever turn down a hot, fresh-from-the-oven chocolate chip cookie. Even if it's not hot, cookies will be eaten 'round the clock.
While there are plenty (innumerable) of options out there for this classic, I have a few recipes I adore which keeps me somewhat closed off from the new versions that keep emerging (I see them, but sometimes hold back from baking). However, I'm not one to ever say no to a cookie, and thus, my latest foray into baking the classic came to be.
For this baking adventure, I present to you three cookies-with-chocolate-chips for your viewing pleasure. All unique in their own right, with a quirk that shifts it a smidge from the "traditional" chocolate chip cookie.
While I couldn't possibly choose a favorite, I can recommend each of these recipes, which are easily adapted to be gluten free.
Sweet!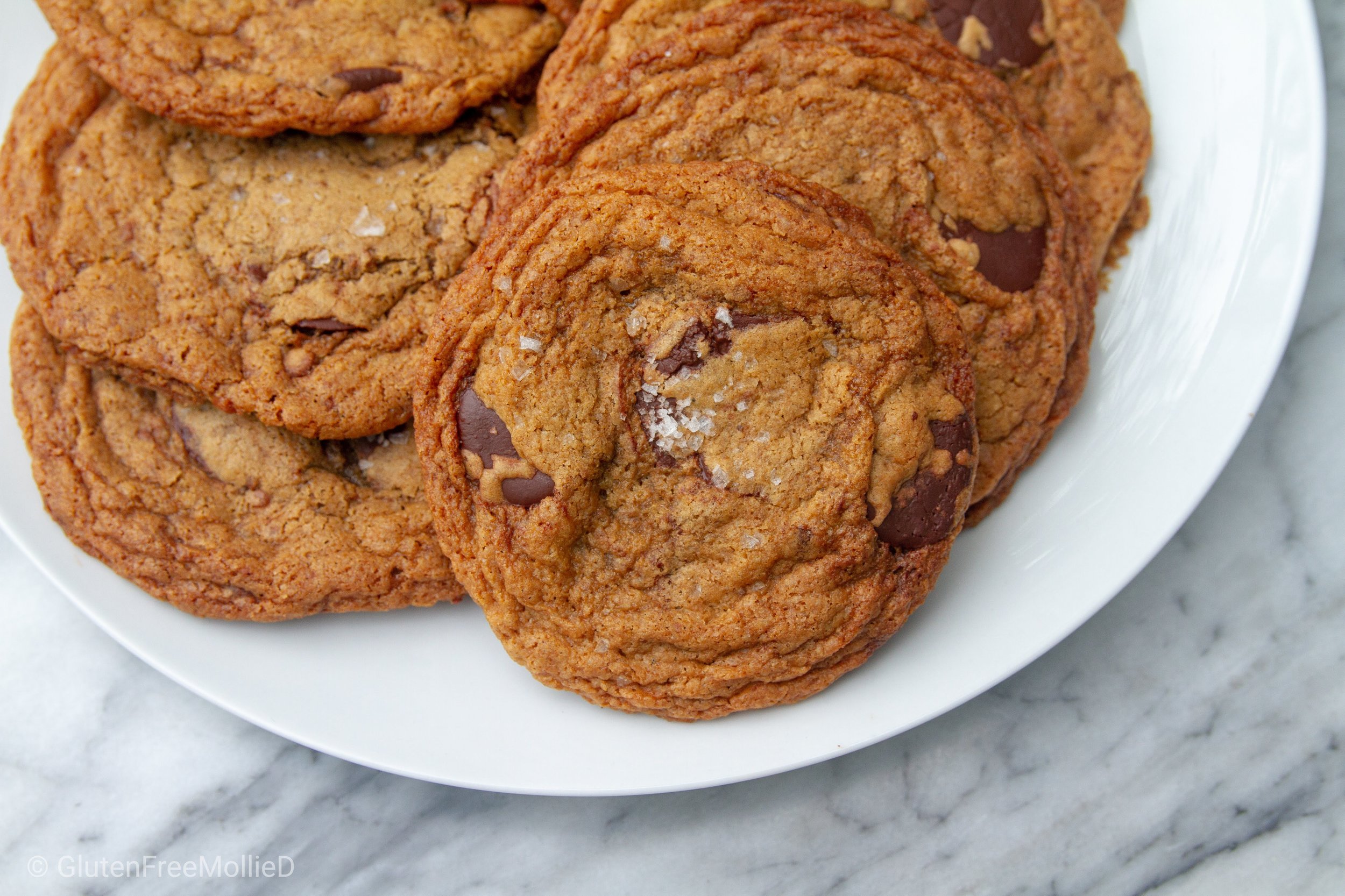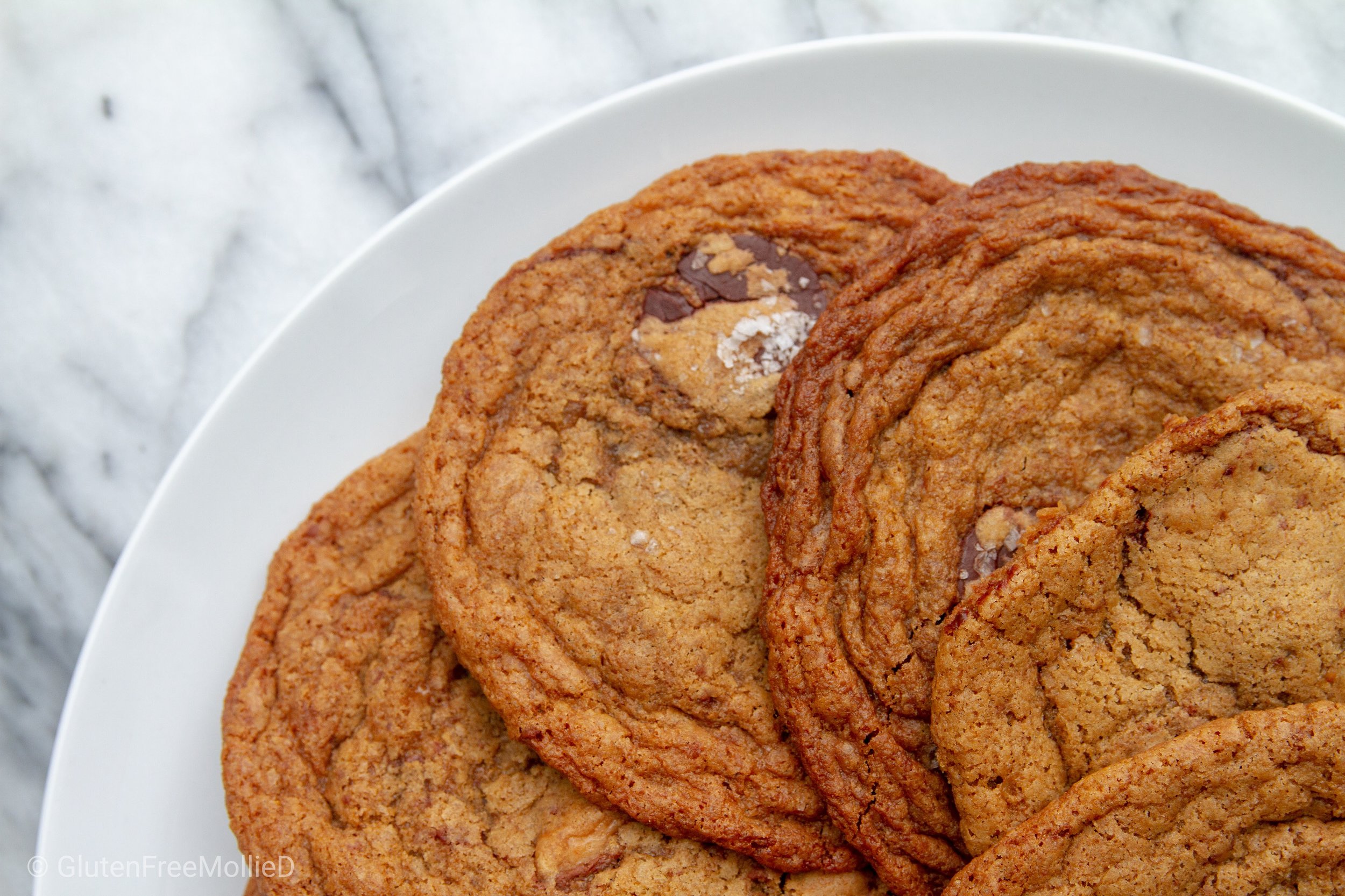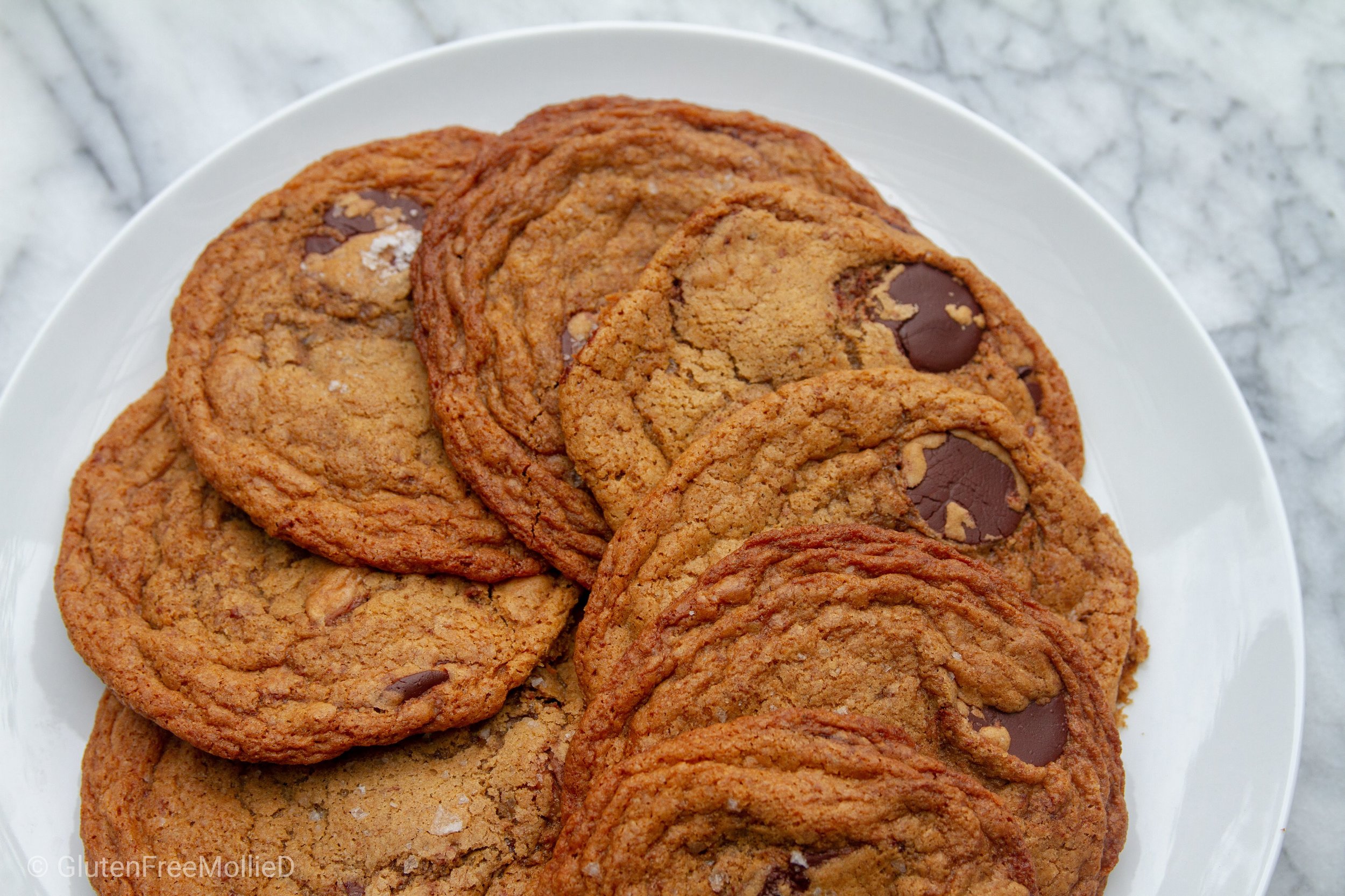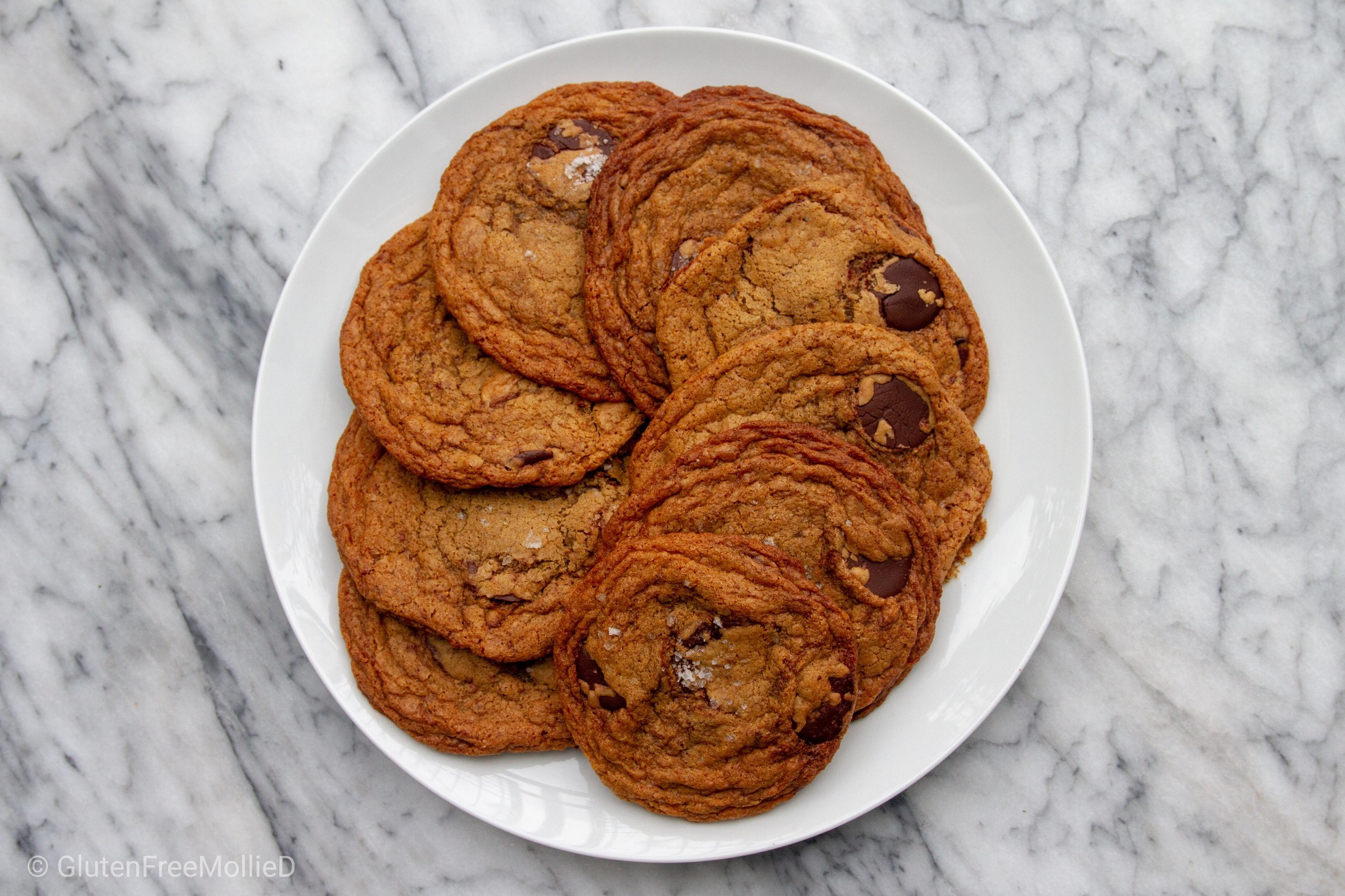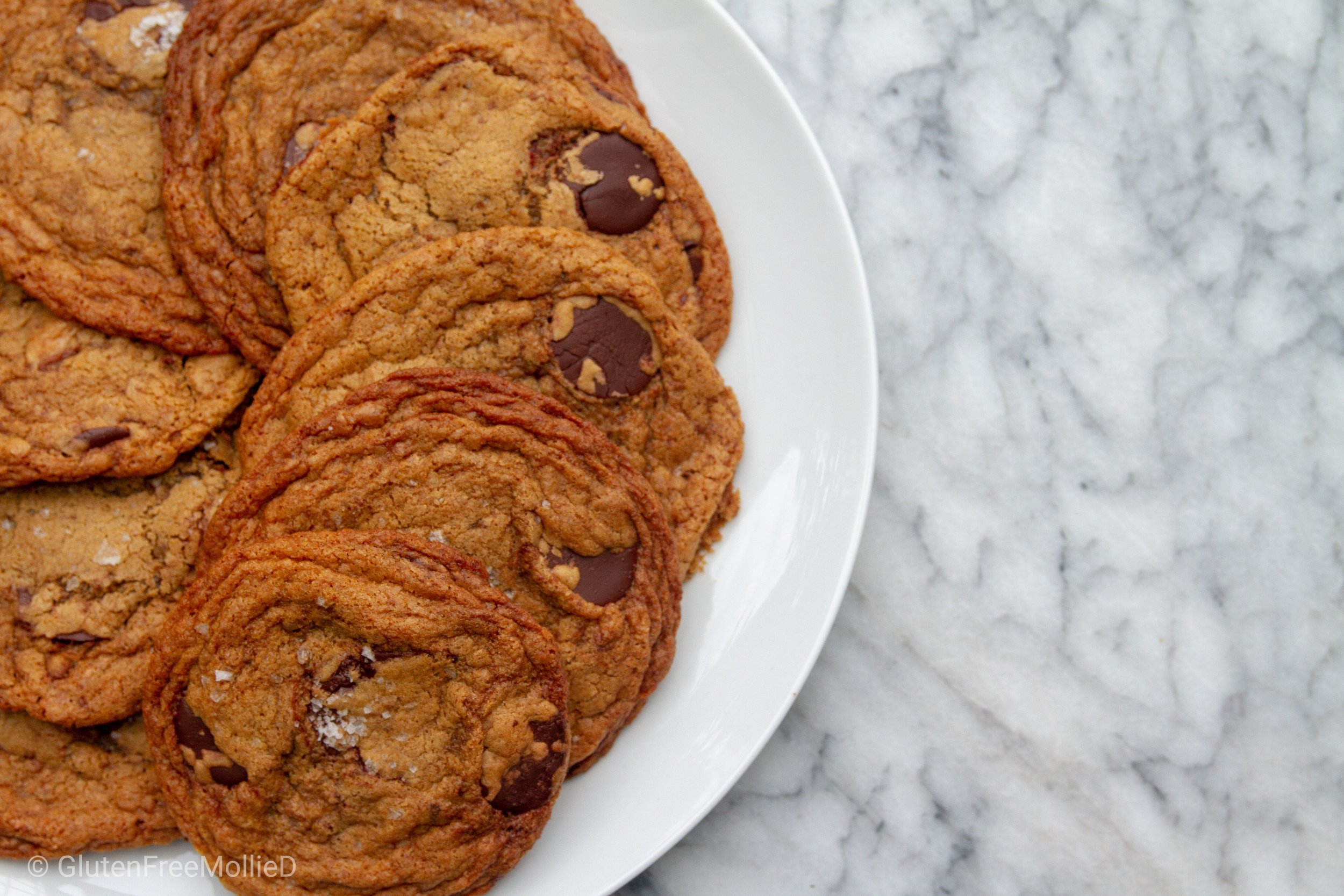 Brown Butter and Toffee Chocolate Chip Cookies
Source: Bon Appétit online; recipe by Kate Davis and it's available here!
Tip: The only change necessary is to use GF flour instead of regular. I always use Cup4Cup Gluten Free Flour which is available at many grocery stores and of course, Amazon.
Review: Hailed as an amazing-beyond-measure cookie, which seems pretty intense to me, I'm surprised it took me so long to finally give in to the hype and just bake them. Were they worth the wait? Yes. Is it my favorite cookie ever? Not entirely, but it's scrumptious for sure.
Being my first foray into browned butter in cookies, I was nervous, but ultimately happy with the outcome. The scent of browned butter is incredible, but isn't nearly as bold once baked into a cookie, in my opinion. My favorite elements overall though were the butter and chocolate and least favorite (gasp!) was the toffee.
I'll need to make them again for a more definitive decision since the Internet loves these things, but as of now, I'll take my cookies sans toffee. But save it! I'll have that toffee on the side, please. 😉
Who/What/Where: Much like wine, these cookies became way more delicious a day or two after baking (somewhat shocking). And they had a very good shelf life for GF sweets.
So might I suggest baking these ahead of time for a birthday party, bringing a gift-to-friends, or just a couple days before you know your cookie craving will arrive, which for me is pretty much all of the time. 🙄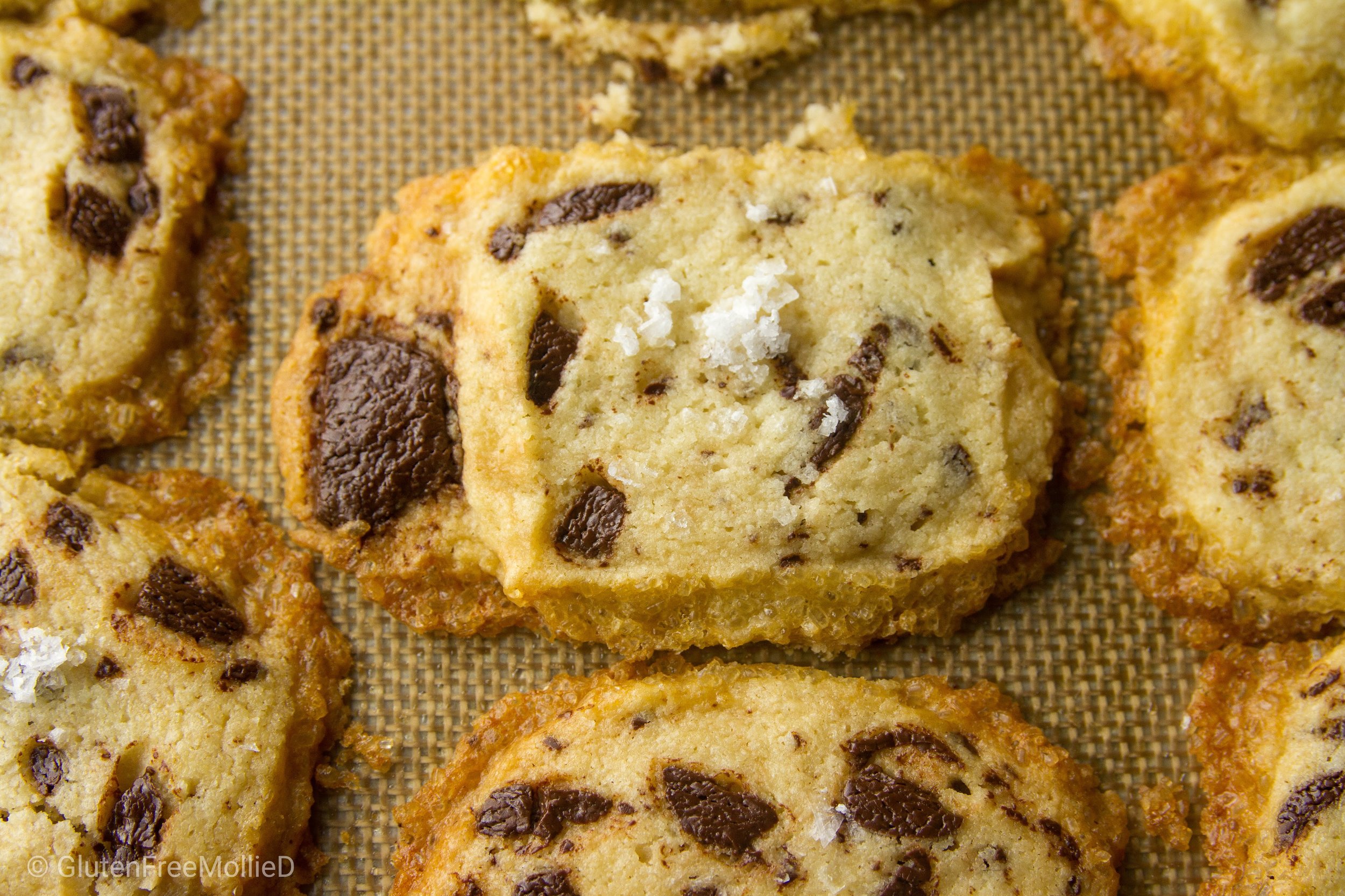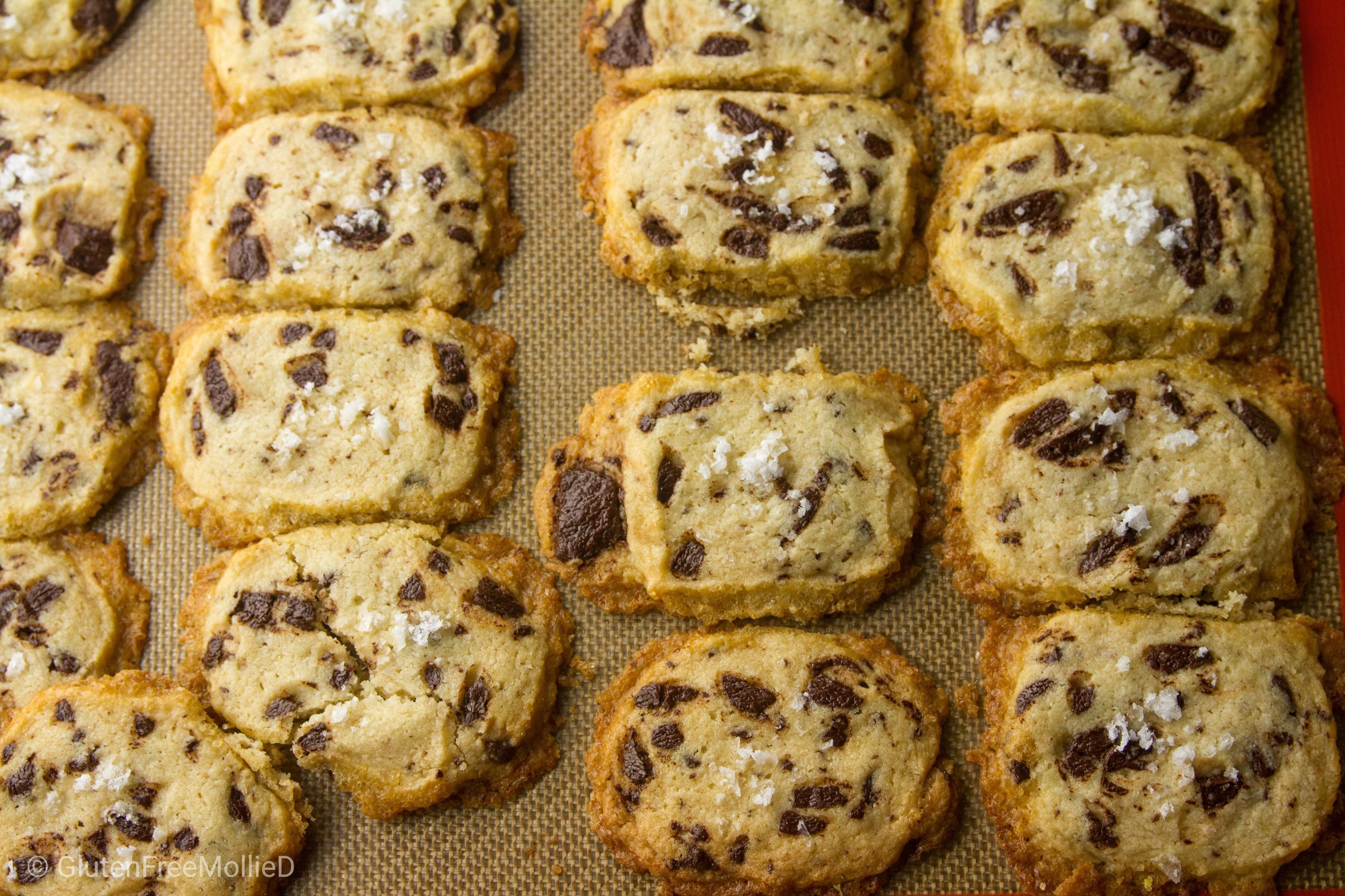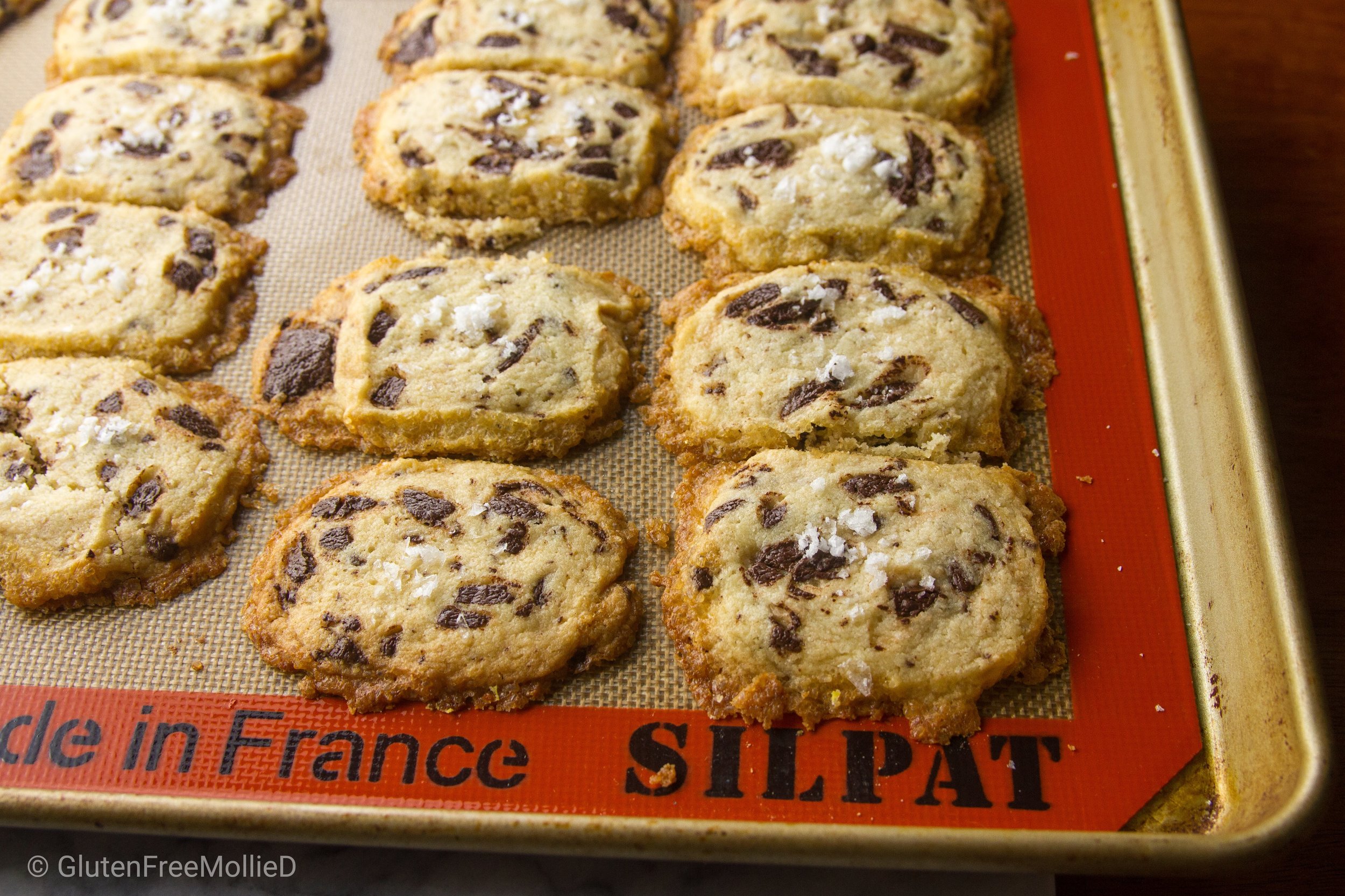 Salted Butter and Chocolate Chunk Shortbread
Source: Dining In by Alison Roman, or find it online, here!
Tip: As usual, just use gluten free flour in place of regular! We use Cup4Cup GF flour for all baking and it's fantastic. A baking note for this cookie: the final flavor is excellent, but the cookies do spread out when baked more than the recipe's photo indicates which I deem due to the GF flour. I'm not going further into the science (sorry!), but be aware that they will be a bigger, flatter cookie than some of those you may see on Instagram and in the recipe's photo. Fear not! It's still delicious.
Review: The cookies that swept the Internet and were a "runaway hit" recipe from Roman's cookbook did not fail to impress.
A straightforward recipe, awesome results, and thousands of photos on social media later (just search for "the cookies" on Insta), and we've got ourselves a cookie that has a massive, massive following. Now, I made them gluten free and I'm pretty sure they're just as incredible!
The joy of these cookies is in the ingredients: salted butter (hello, new friend!), dark chocolate chunks (hand-chopped), and the regular components come together to make a shortbread dough that is light, buttery, sweet-ish, and savory, creating a cookie that is finished off with a most splendid touch: the dough is brushed with egg and rolled in Demerara sugar before being sliced into cookies, topped with sea salt, and baked. Wow. They have crunchy edges as a result and that's just fabulous.
The one issue I took from the recipe is probably due to my lack of "cookie dough log rolling skill," but I'm willing to work on that if it means many more of these cookies in my future.
You see, the cookie dough logs, which chill in the fridge overnight before baking, always end up with one flat-ish edge creating less of a circular shape and more of a 3/4 sun with flat bottom. 🙄
So while it does not affect the final flavor of the cookie whatsoever, it does temporarily dash my dreams of perfection when it comes to the cookie's "signature look." I guess I'll just need to bake them again. And again. Always striving for that perfect cookie. 😉
Who/What/Where: Having made these several times at this point, I can proclaim that they are a crowd pleaser! My family, friends, and co-workers have all loved them. They're simple to make, perfect for the office, or a surprise gift when visiting friends. Or just to keep on your kitchen counter.
The concept is fairly new to some (salted butter? In baking?), but I guarantee that everyone who tries one of these small, but scrumptious (I'll take three, please!) will be utterly thrilled and asking for more. Or the recipe. 😎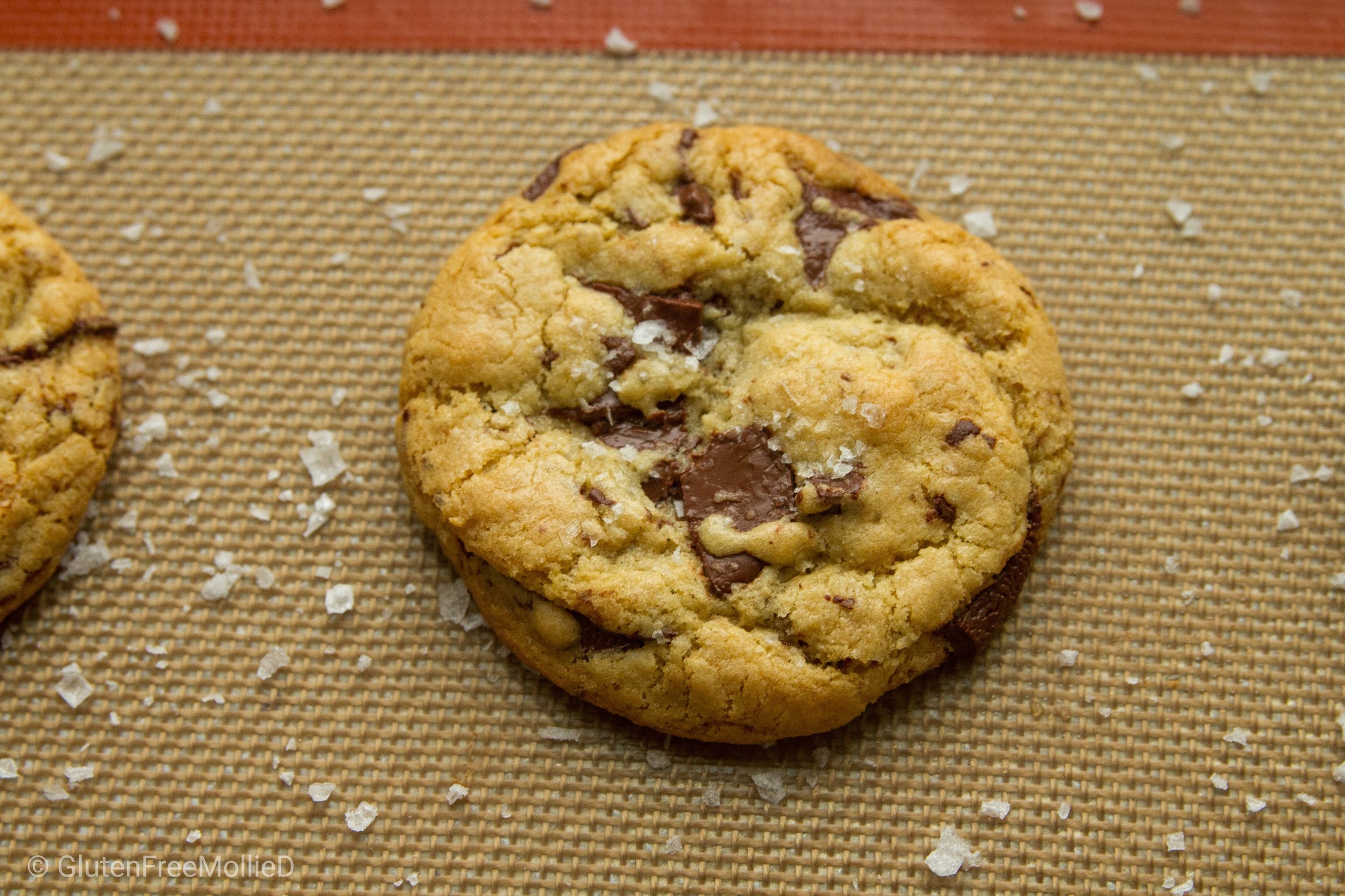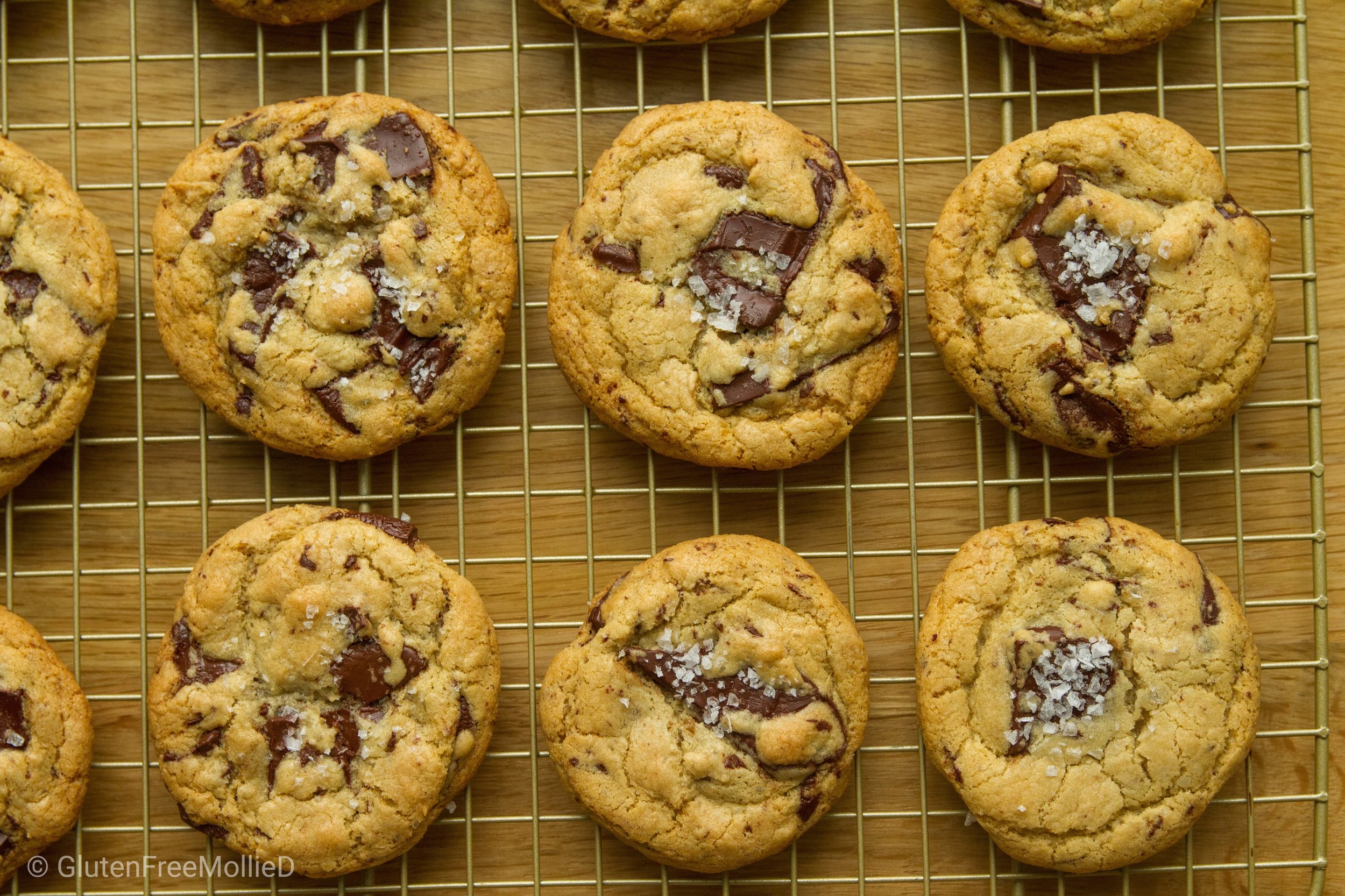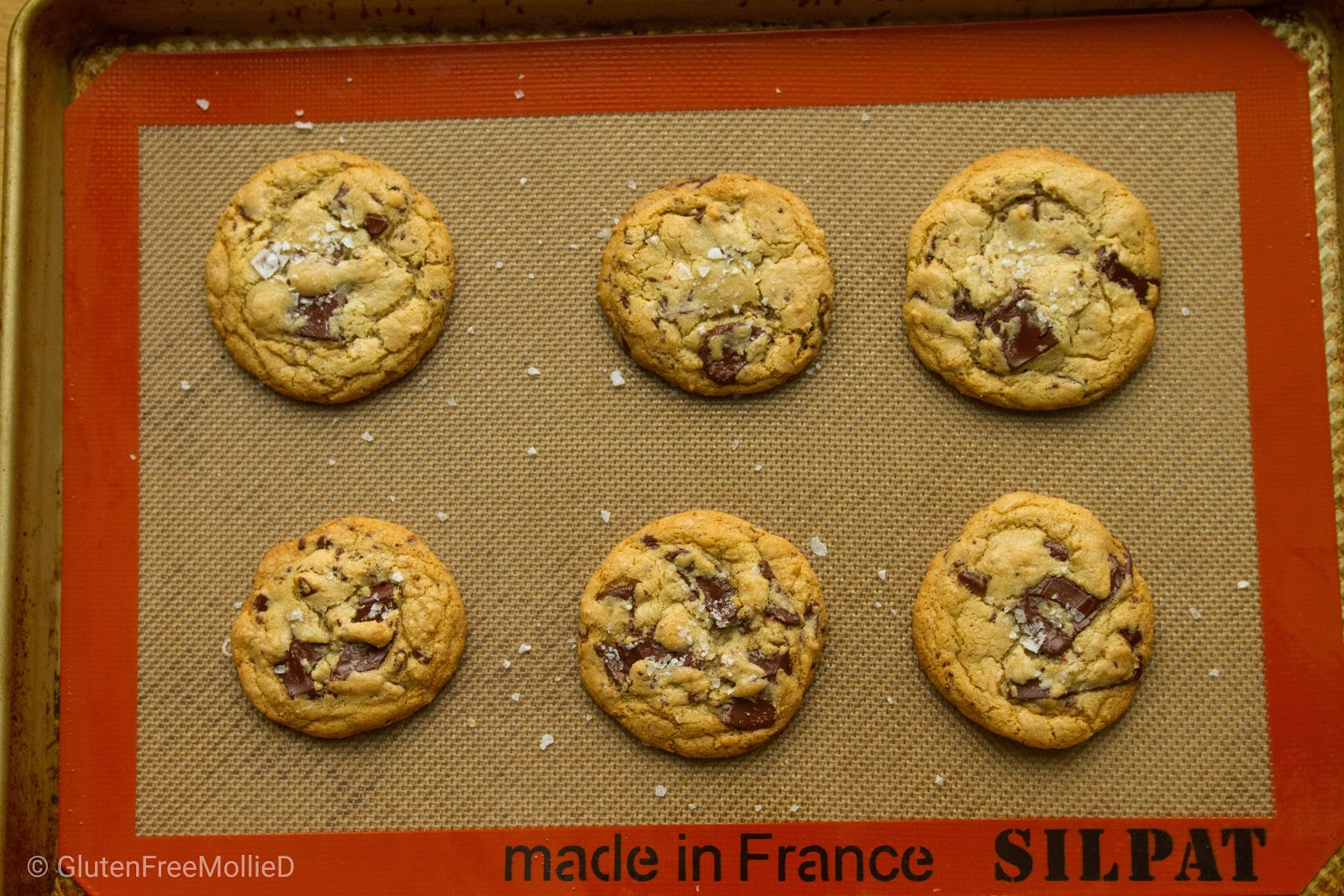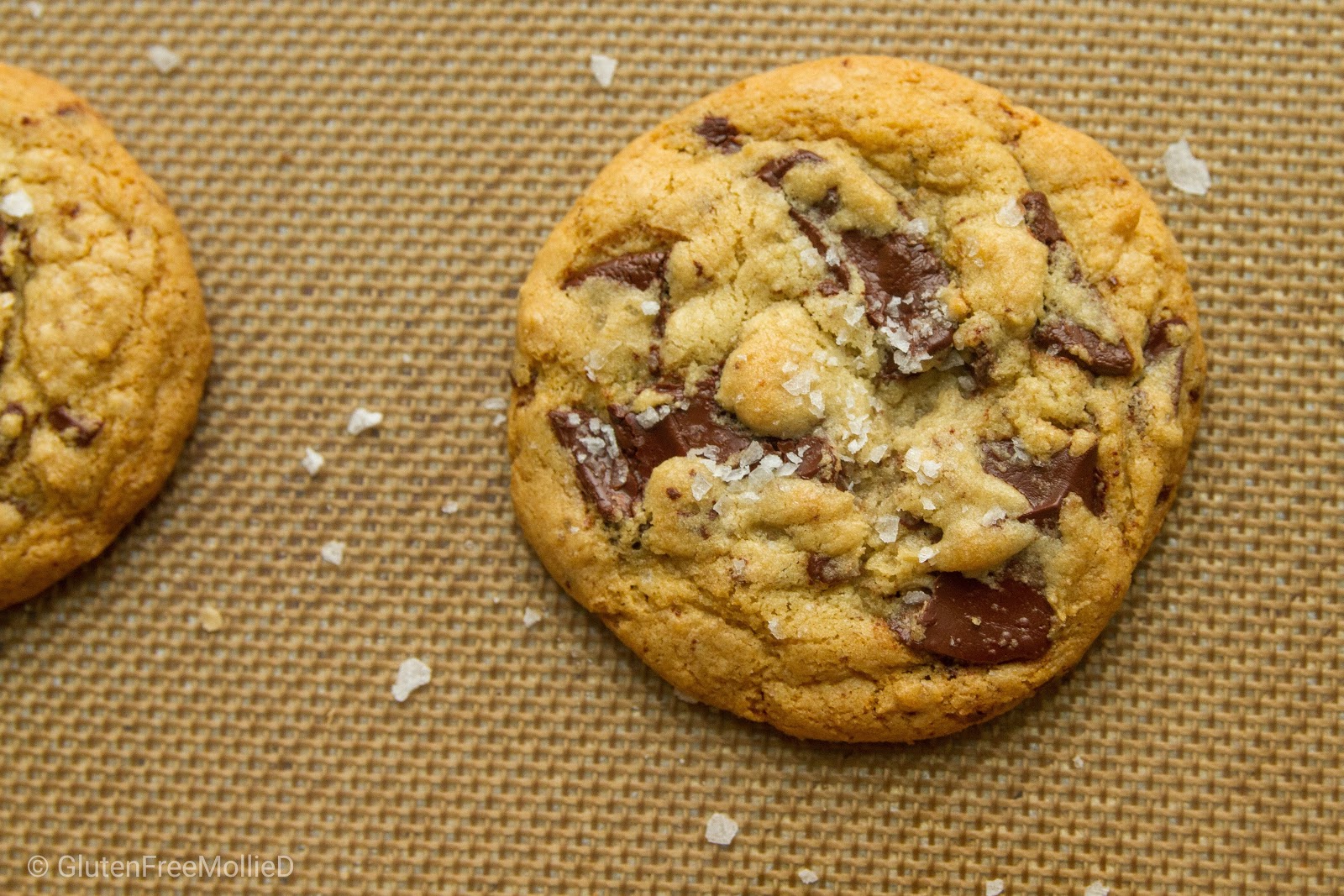 Salted Chocolate Chunk Cookies
Source: Smitten Kitchen recipe by Deb Perelman. Grab it, here!
Tip: Per usual, make sure to use gluten free flour. We prefer Cup4Cup made by Thomas Keller. Also, for chocolate, I always buy Guittard which is labeled gluten free, organic, and non-GMO. It's from San Francisco!
Review: When I saw this recipe featured recently on Instagram, I could barely finish reading the caption before I was telling Seth I had to make them ASAP. There's just something about a perfect-looking cookie, dripping with chocolate, that just begs to be eaten. But to eat that cookie, I had to bake them - gluten free!
Oh, cookie-flowing-with-chocolate, how do I love thee? So, so much. Yes, the other cookies in this article are fantastic, but I deem this one fabulous. It seems to strike that oddly perfect, yet fairly tough balance of crispy, soft, chewy, and just thick enough, which is not easy.
I'm not going to question the process or recipe or wonder why it's possible that this cookie dough turns into that impeccable combo, I'm simply going to enjoy them and bake them all of the time.
All bets may be on the fact that the dough-to-chocolate ratio is pretty much uneven. Mostly chocolate, much less dough, small portion per dough-ball which bakes into an excellently-sized cookie: not too small, not too big, too delicious to resist a second one. That description should be in the dictionary.
The best part of these cookies besides the flavor and joy upon eating one (or three)? You don't need to chill the dough! I mean, you could, but the recipe doesn't say so which means there's not much time between mixing those ingredients, baking off a few sheet pans, and then indulging in one of the most heavenly chocolate chip cookies I've had to-date. And I've been baking (and eating) a lot of cookies. These will win.
Who/What/Where: The first time I baked these cookies, they were brought for dessert to a lunch gathering and also as a gift for a birthday party. Both audiences gave them rave reviews. The second time I made them for colleagues and everyone said they were simply delicious. In fact, someone said they were "better than Christmas," which I took to be quite the compliment.
Christmas/the holiday season is something most everyone enjoys and looks forward to all year. I personally love the holidays! And that's pretty much how I think you'll feel about these cookies; so bake them, share them, and enjoy. ❤️
So, let's get back to the original question.
Is there anything sweeter than enjoying a chocolate chip cookie, warm and fresh right out of the oven?
I don't think so. 😉 Happy baking!
Eat, well.
Mollie
Gluten Free Mollie D | Eat, well.