Welcome to the new year!
And then, after consuming my last french fry of 2018, dipped in a delicious aioli, I made a declaration: the new year would be different. Gone would be the days of mindless french fries, extra cookies, and constant butter-buying. I wasn't planning to "diet" in the new year, but I was going to be a lot more mindful of what, how, and when I was eating.
Now, don't get me wrong. I will forever love french fries, cookies, and my constant supply of butter, but I've decided to begin 2019 on a healthier track. I'll indulge in those goodies again, eventually. For now, won't you join me on a bit of a "reset" and follow along as I slide back into salads, extra protein, and far more frequent seafood? I promise it will still be delicious.
Let's get to the first week of 2019 meals, shall we?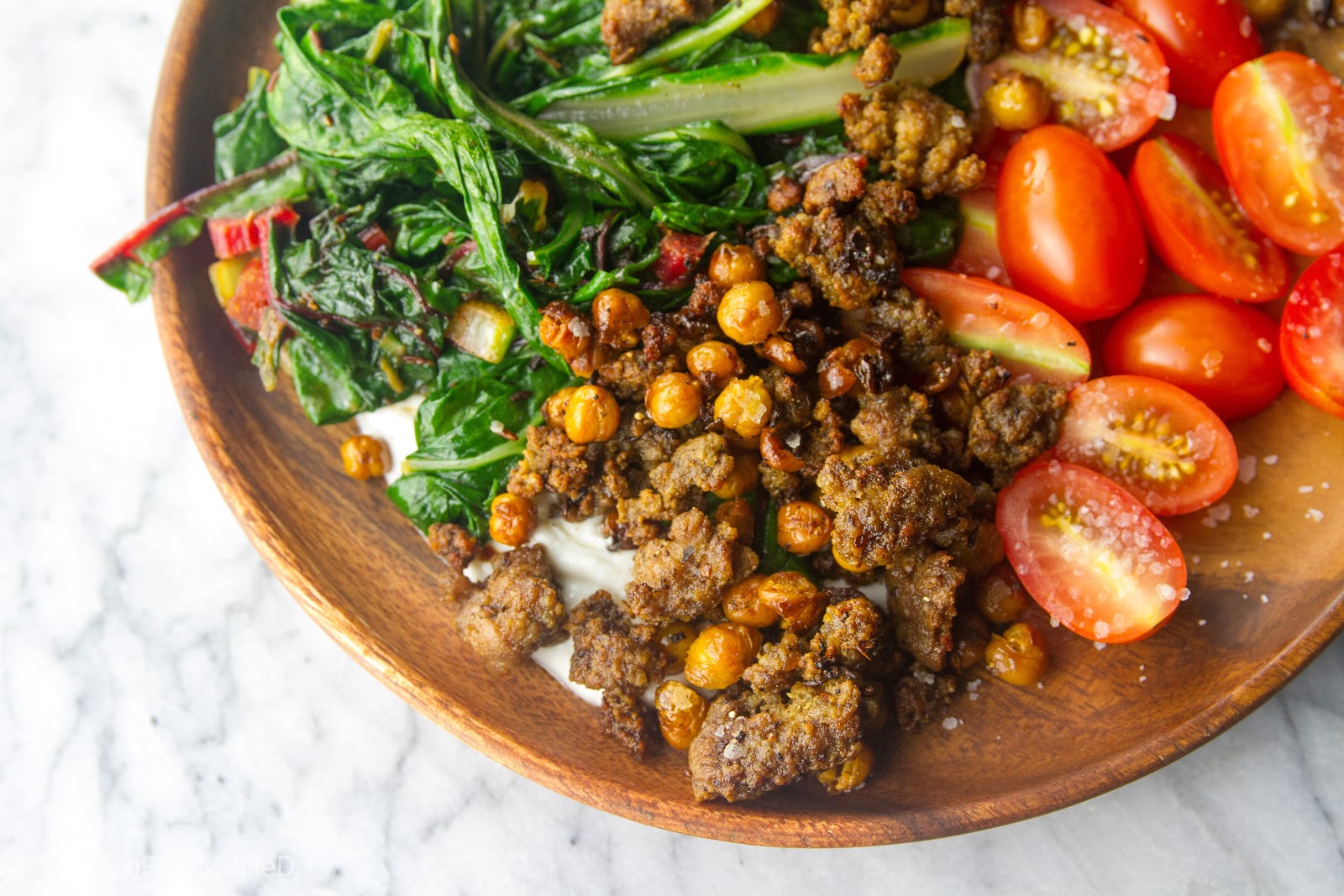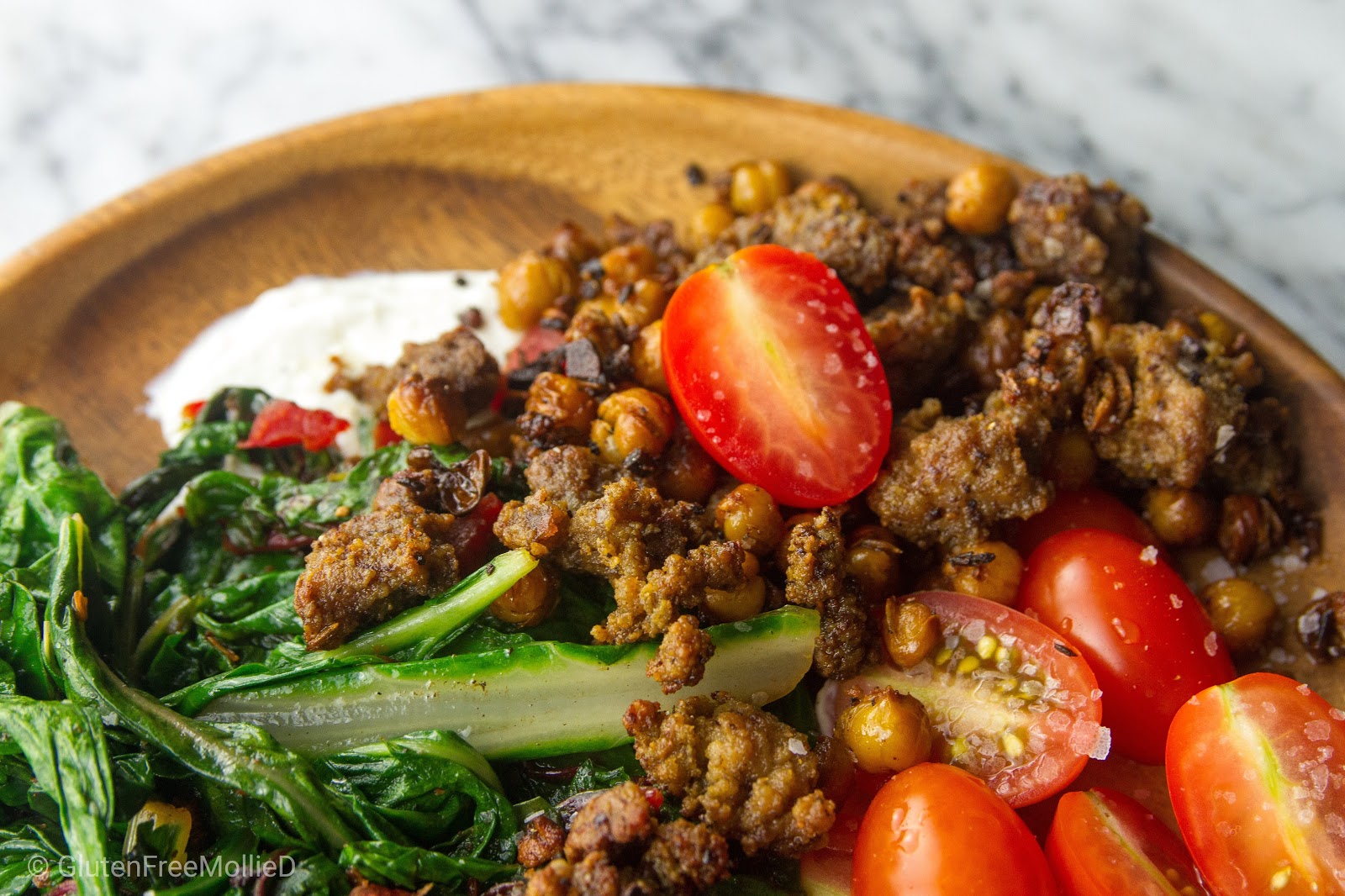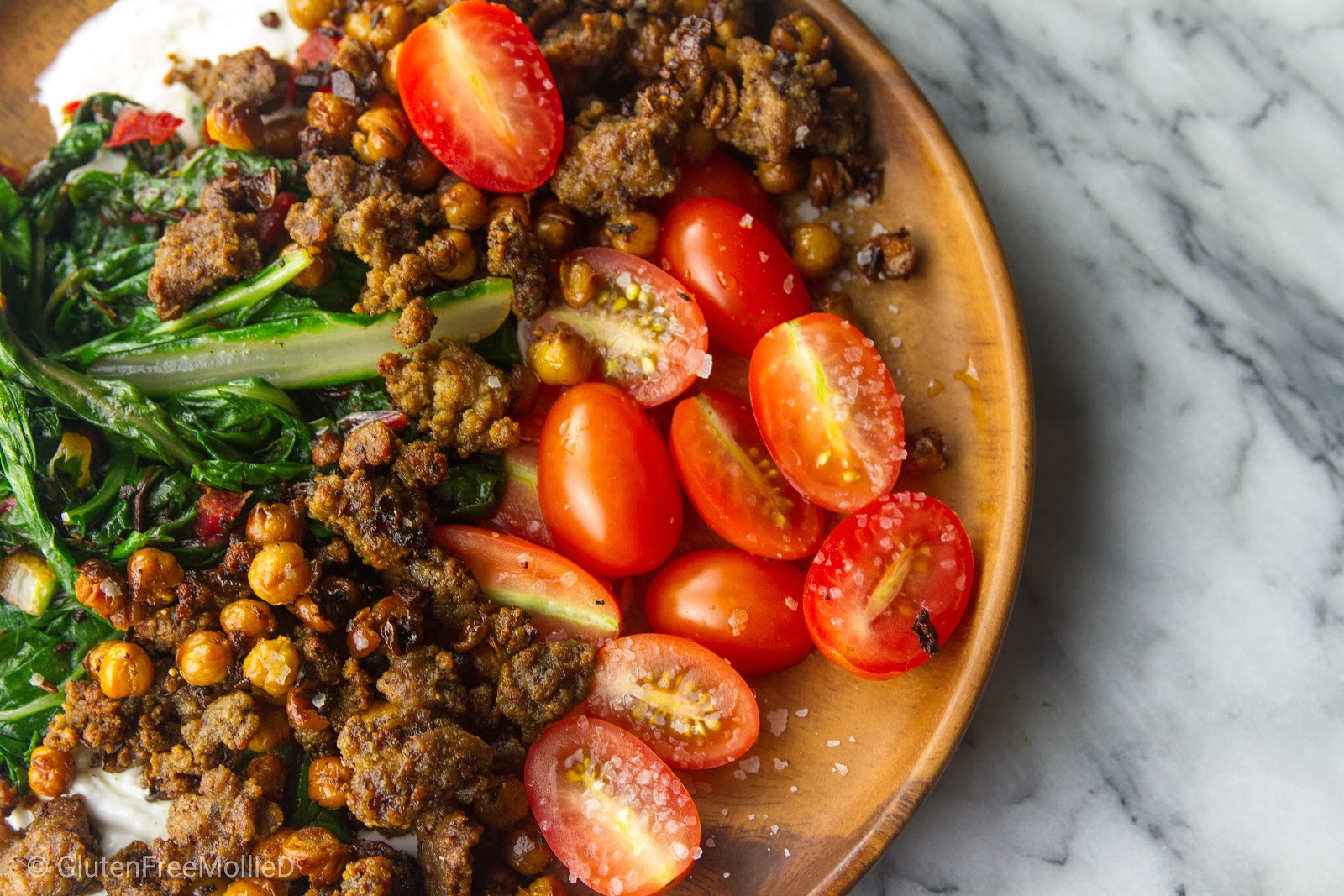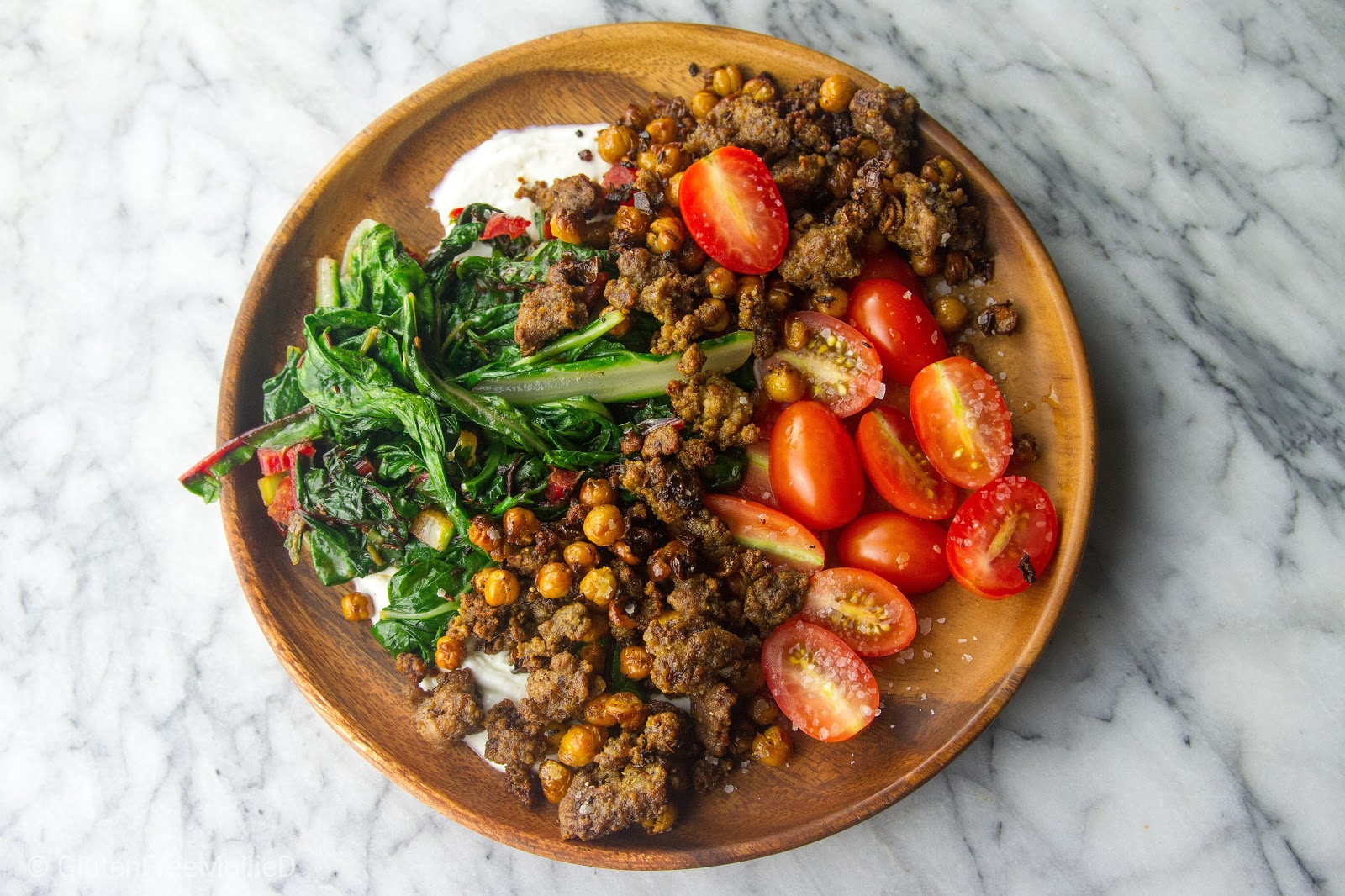 Crispy Chickpeas and Lamb with Greens and Garlicky Yogurt
Source: Dining In by Alison Roman
Tip: This dinner is naturally gluten free! Yippee!
Review: OK, so this dish was made a few days before the first of the year so it was healthy-ish. It's one of my favorites due to its delicious components and ultra-rich final flavors. Plus everything compliments each other so well.
Extra-crispy chickpeas and lamb is one of the most decadent at-home (and easy) dinner combos we've made and while it's not that bad for you, there sure was a lot of oil. And lamb. OMG lamb is so good (but not the leanest of meat). But enough about my musings on lamb.
What's great about this dinner is that it's bowl-or-plate appropriate, in my opinion. The garlicky yogurt acts as a savory base which gets covered with chard, tomatoes, and the most-yum chickpeas and lamb.
So many healthy ingredients here, which is awesome, but we haven't exactly been frying chickpeas or meat much since we had this meal. I say that as a positive! I love this dinner because of its incredible flavor and wonderful balance of ingredients and textures.
Sure, I bet you could sub out the lamb for a leaner meat, but then it wouldn't have that fabulous flavor which is one of the key "wins" of the dish. Save this one for a delicious Friday night in or a weeknight when you can't get that "crispy everything" mindset out of your mind. ;)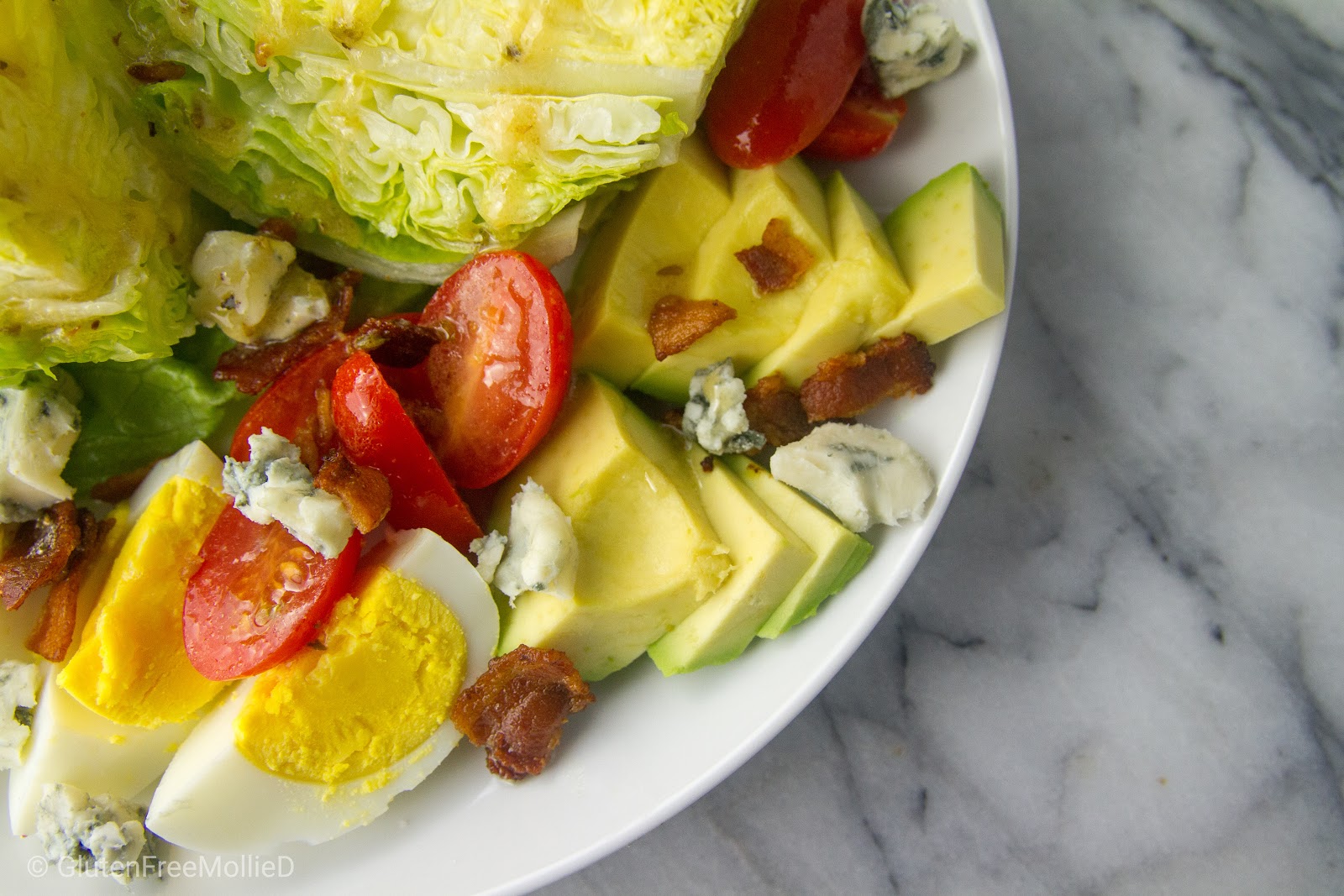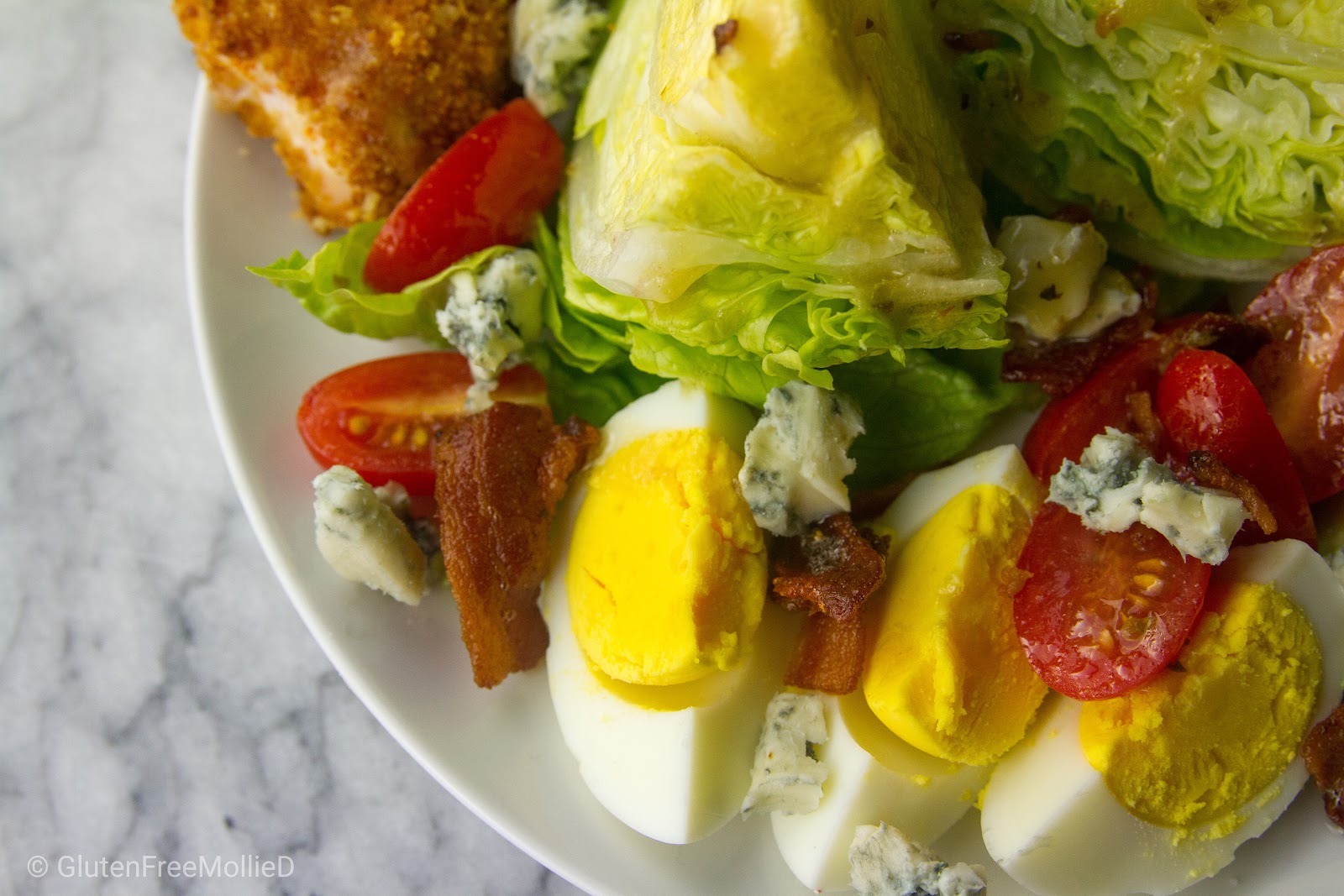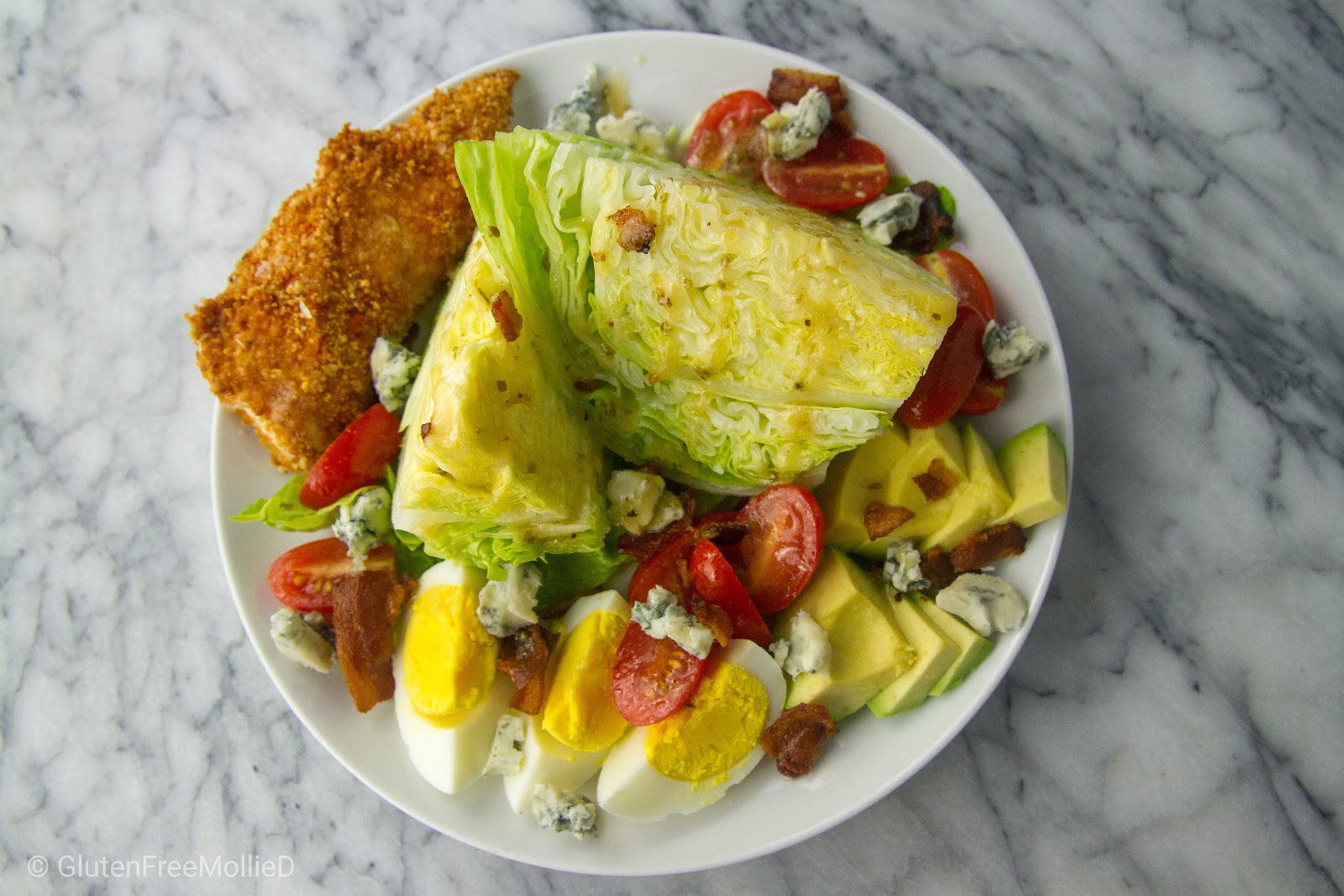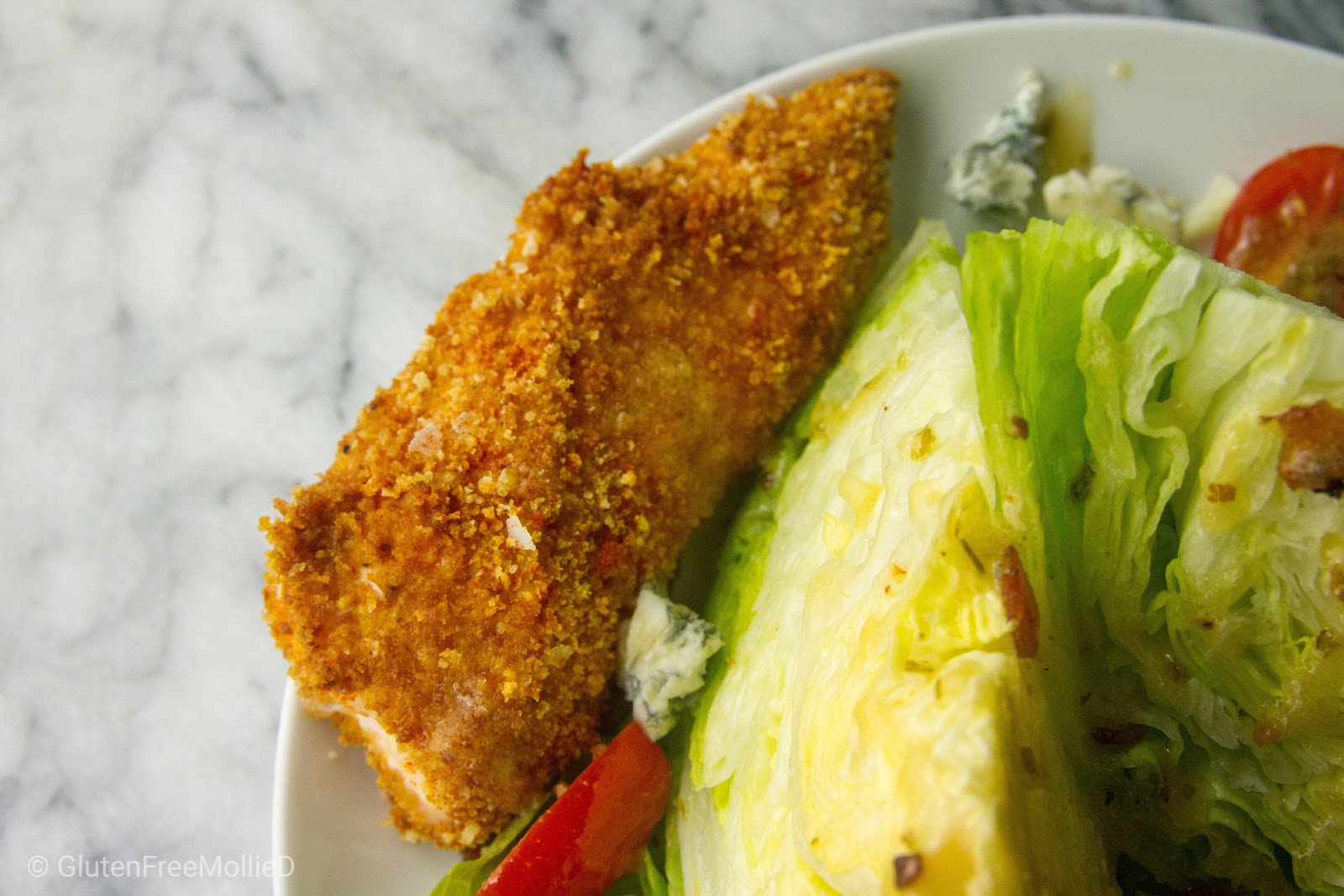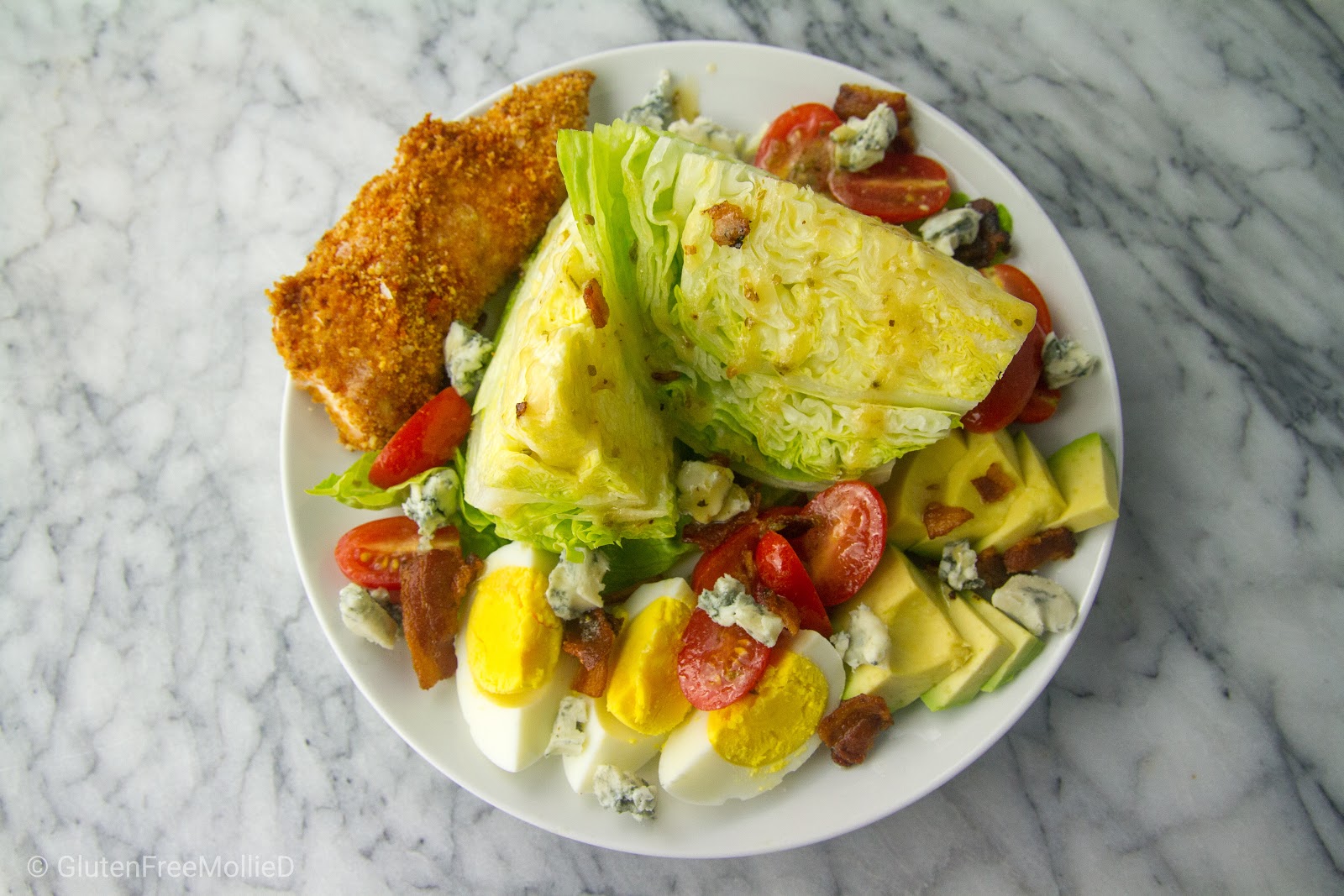 Cobb Salad with Baked Chicken
Source: The Home Cook by Alex Guarnaschelli
Tip: The salad is naturally gluten free; the baked chicken was made using Aleia's gluten free breadcrumbs. Just make sure the other ingredients involved (ex. bacon, blue cheese) are labeled properly GF.
Review: We started the year with salad! I know, I am just as shocked as you. But how about we celebrate the start of the year with salad. Why not? It was so good! I had not had a wedge-style salad in a while so it was quite a nice surprise. As I described on the Instagram post of this dish, a wedge salad seems to be all of my favorite ingredients arranged nicely on a plate. Or is that just the definition of a salad?
Avocado! Bacon! Blue Cheese! So many great flavors come together with the requisite lettuce and tomatoes, and eggs, to make one excellent meal. A star meal for any night of the week. And for the record, crispy chicken (we baked it in the oven so hooray for health!) is a delicious addition. Not only did it enhance the salad overall, but the leftovers were excellent for lunch. :)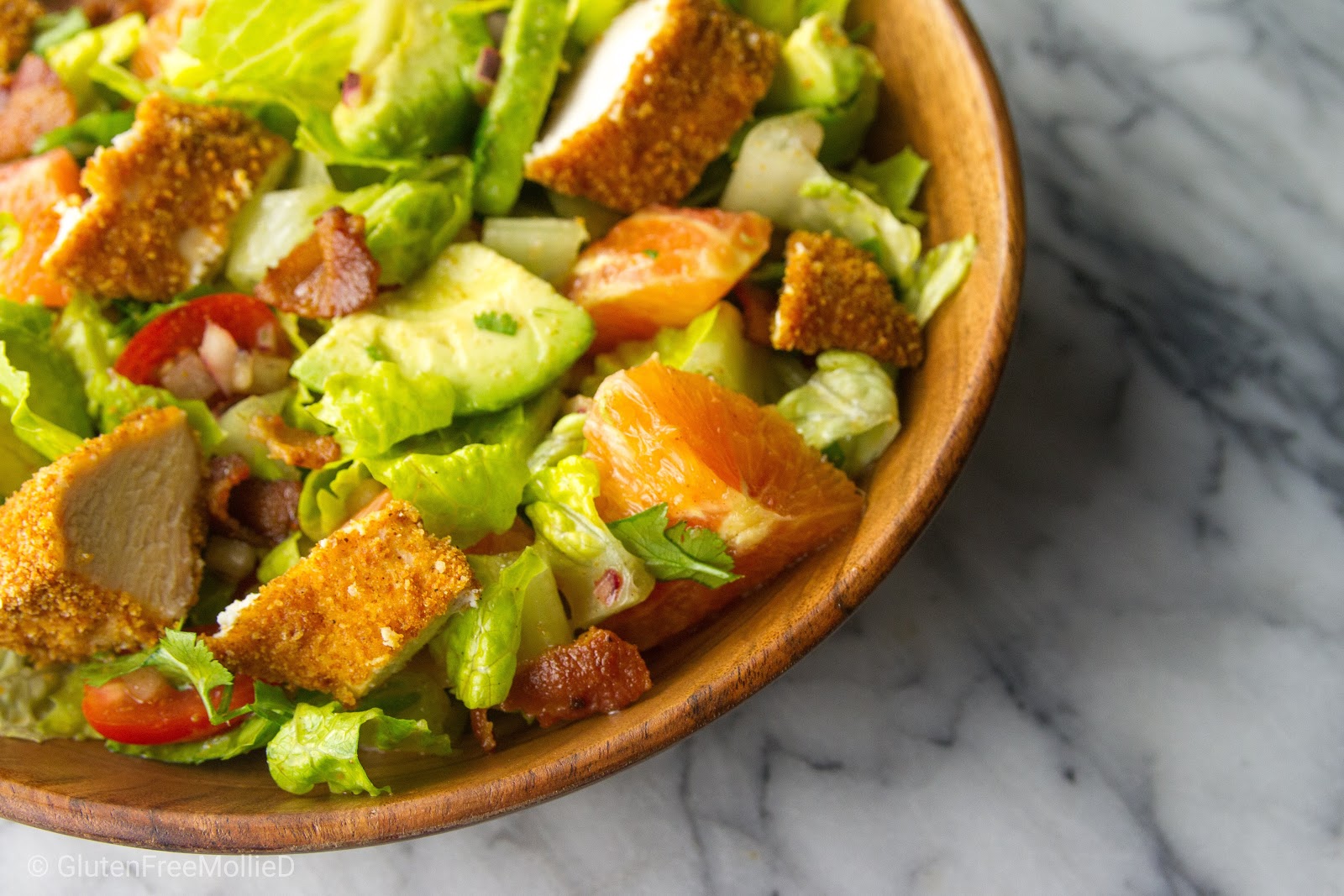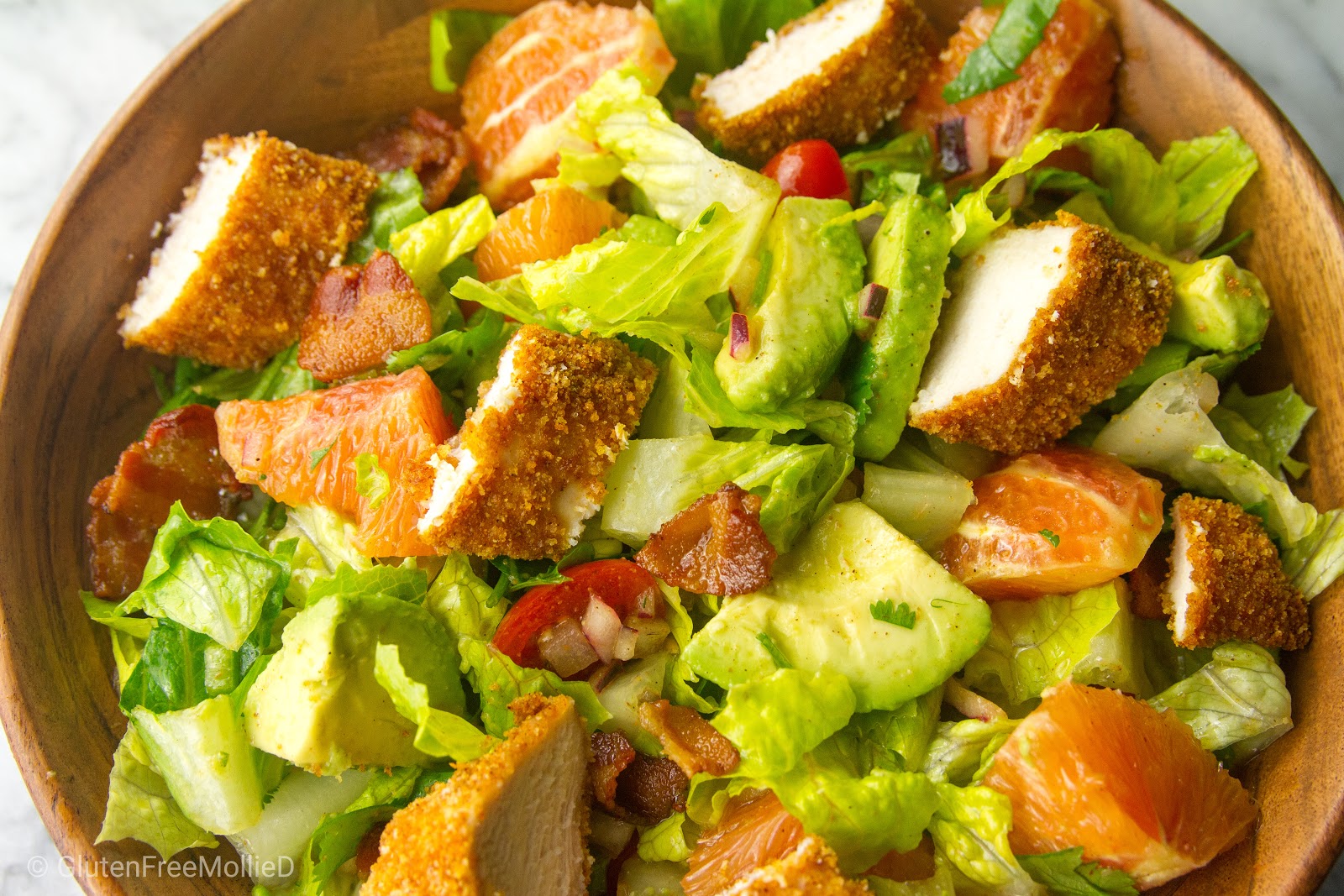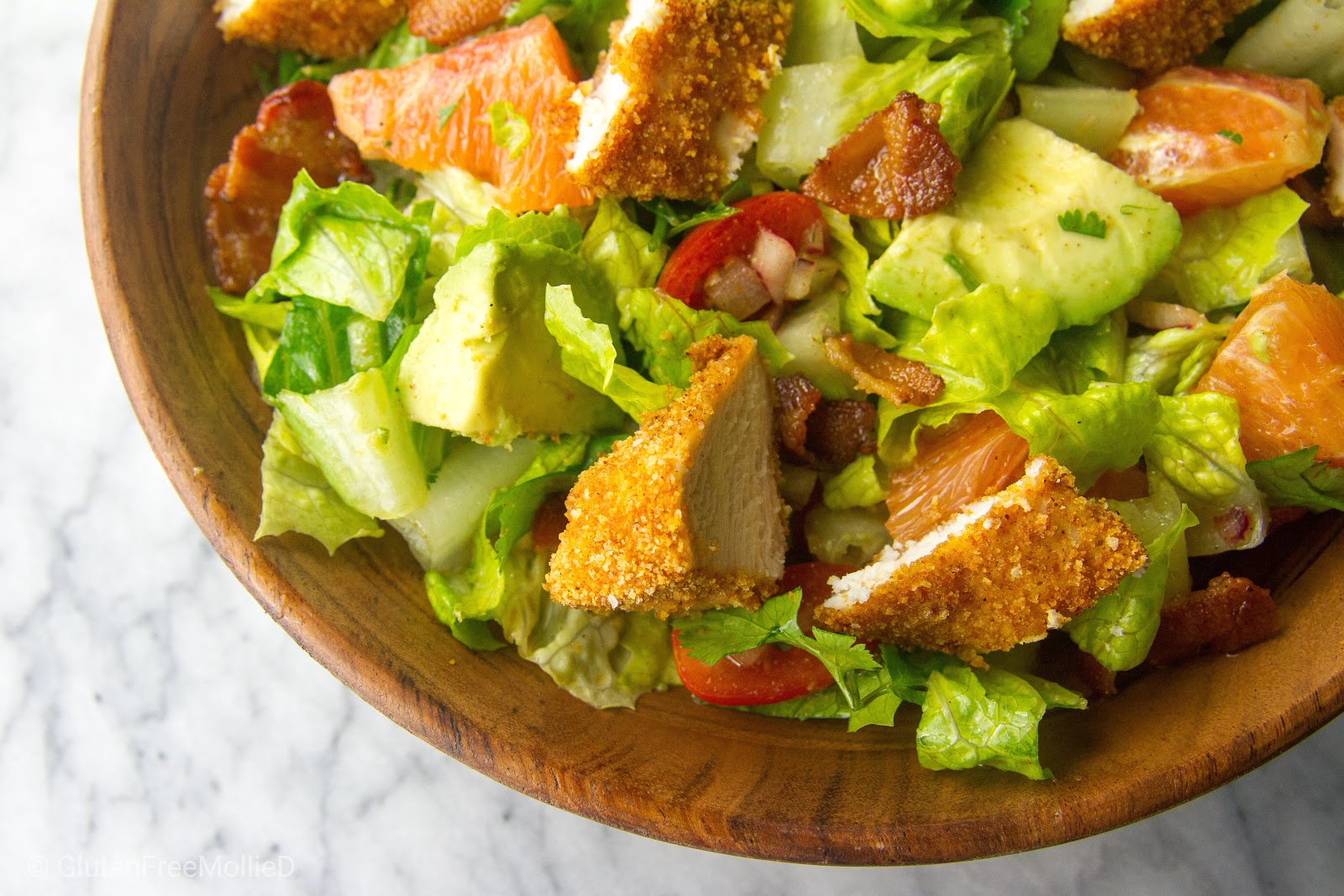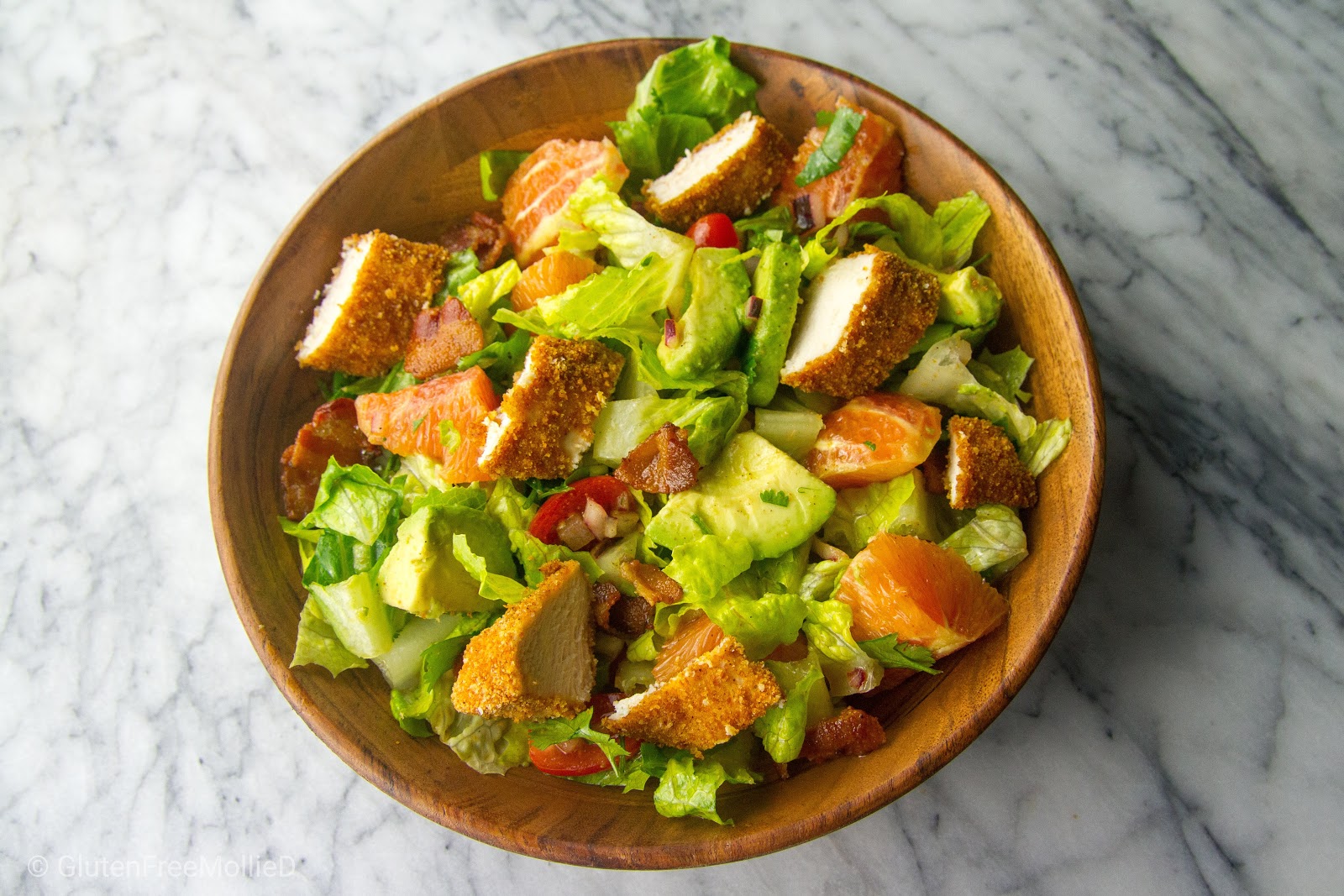 Chopped Salad with Chicken, Citrus, and Avocado
Source: Weeknight Gluten Free by Kristine Kidd; recipe adapted slightly!
Tip: The salad itself was naturally gluten free and we baked the chicken in the same manner as the night prior (see wedge salad above!).
Review: This was actually my first time willingly adding citrus to an otherwise savory salad. I'm not a huge fan of citrus. It's OK. You can gasp. Be horrified. I know it's not common. But I just don't like it that much (lemon on seafood is another story) when incorporated in a mostly savory meal. However, I do think it went pretty perfectly in this one!
This was a fairly standard salad to which we added bacon (leftovers win!) and chose to bake the chicken instead of pan-grill because we enjoyed it so much that way the previous night. So while the two salads have a fair number of semi-similar components, they didn't taste the same whatsoever. The addition of citrus provided a brightness to each bite that I happily welcomed. I suppose citrus may not be so bad after all. ;)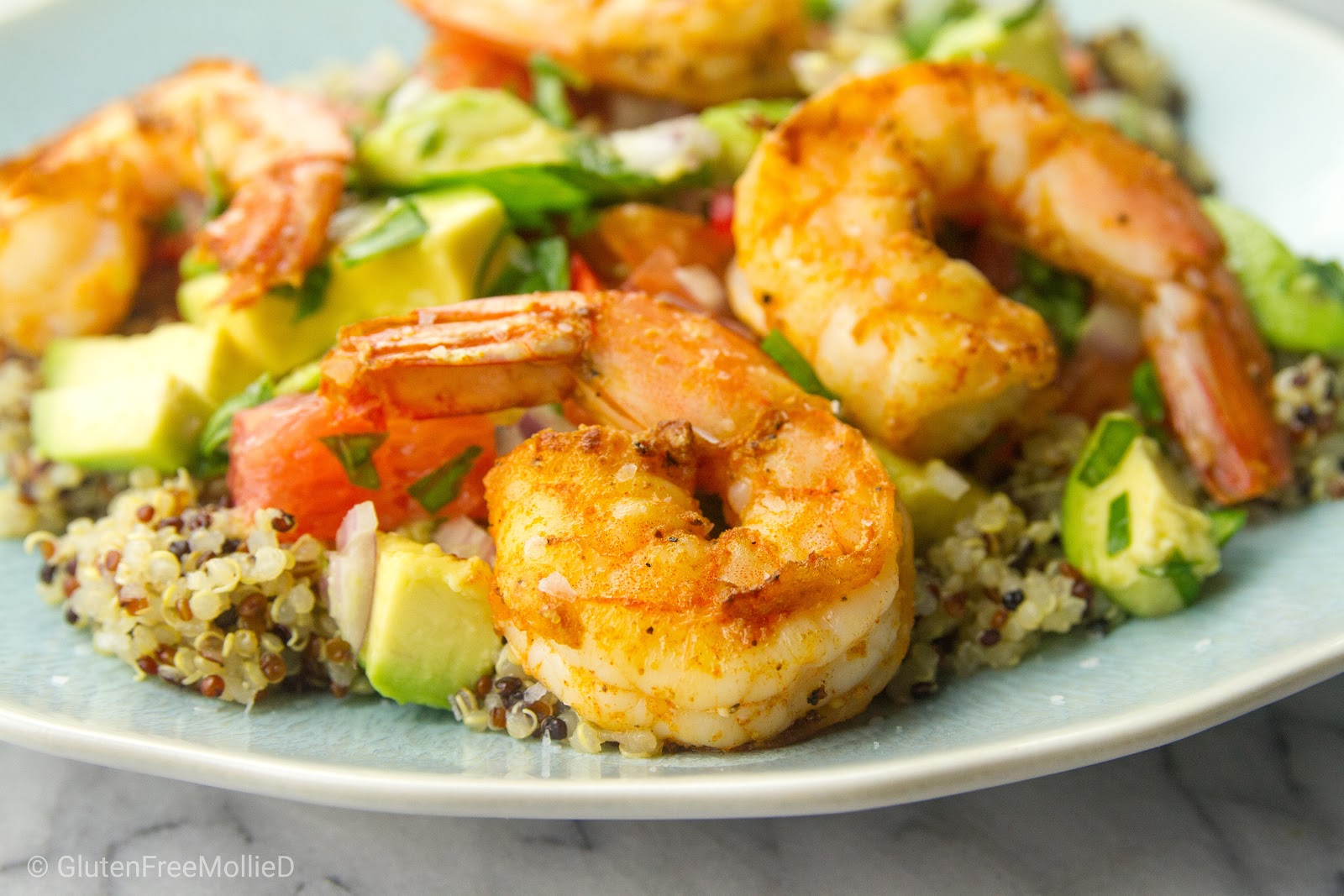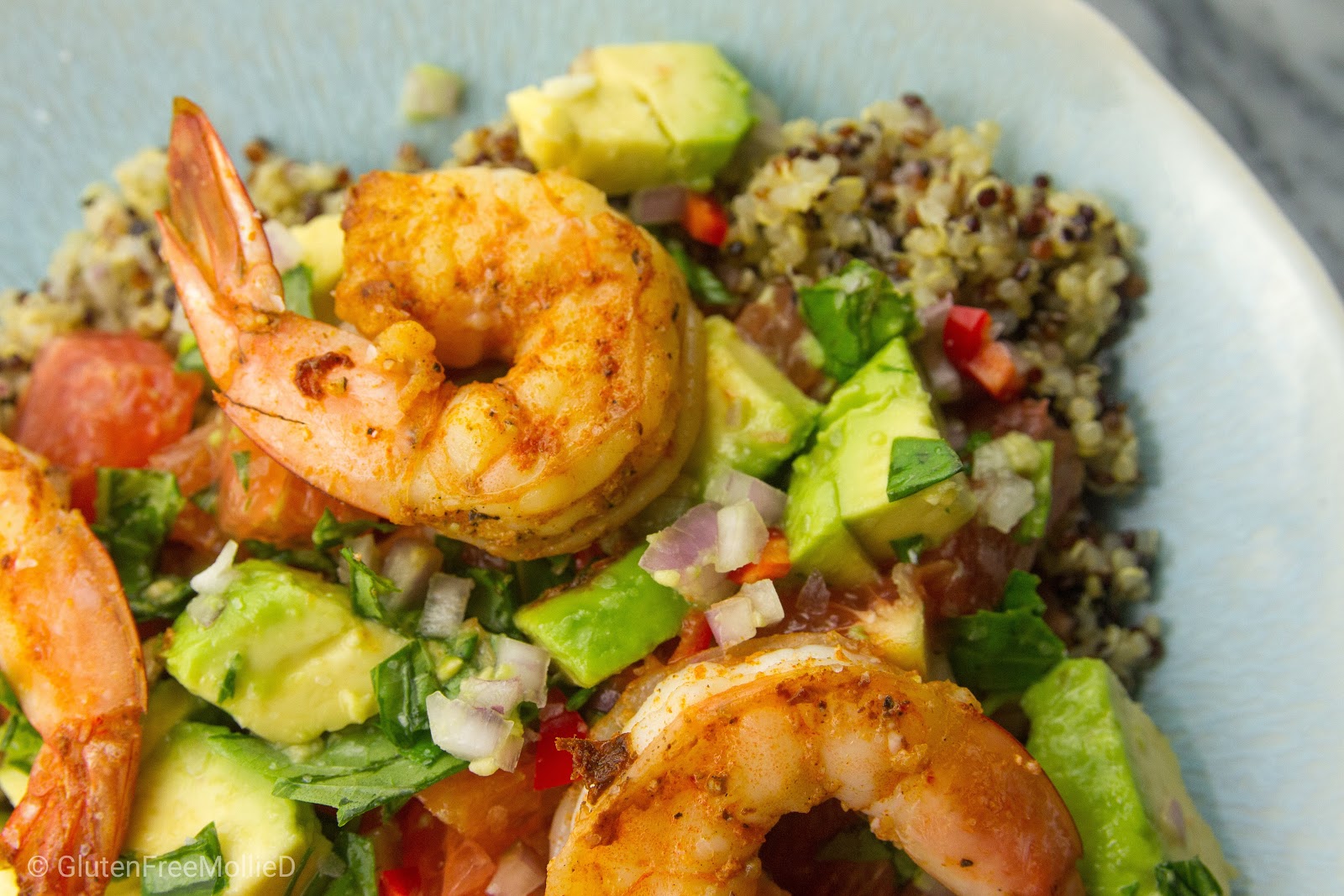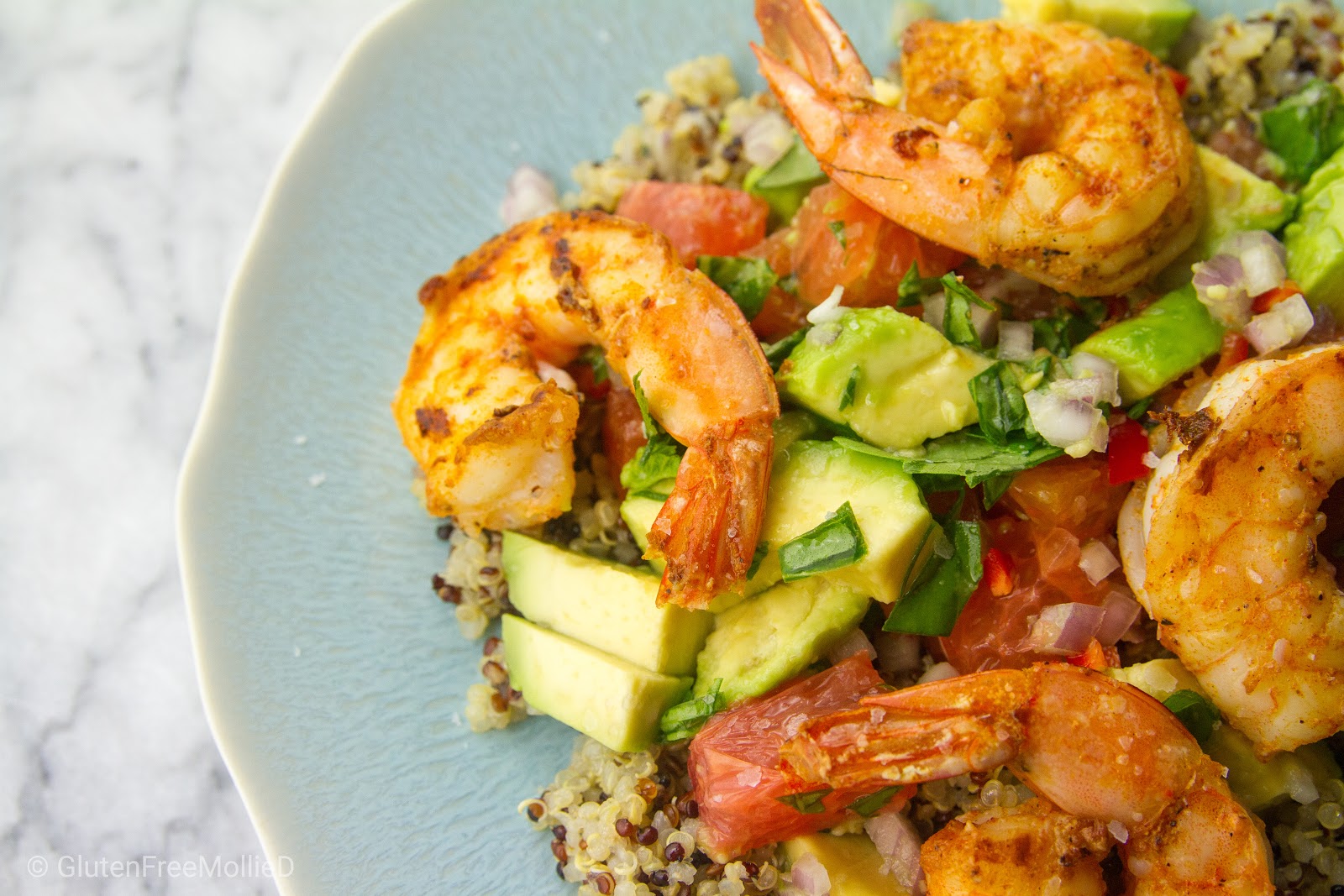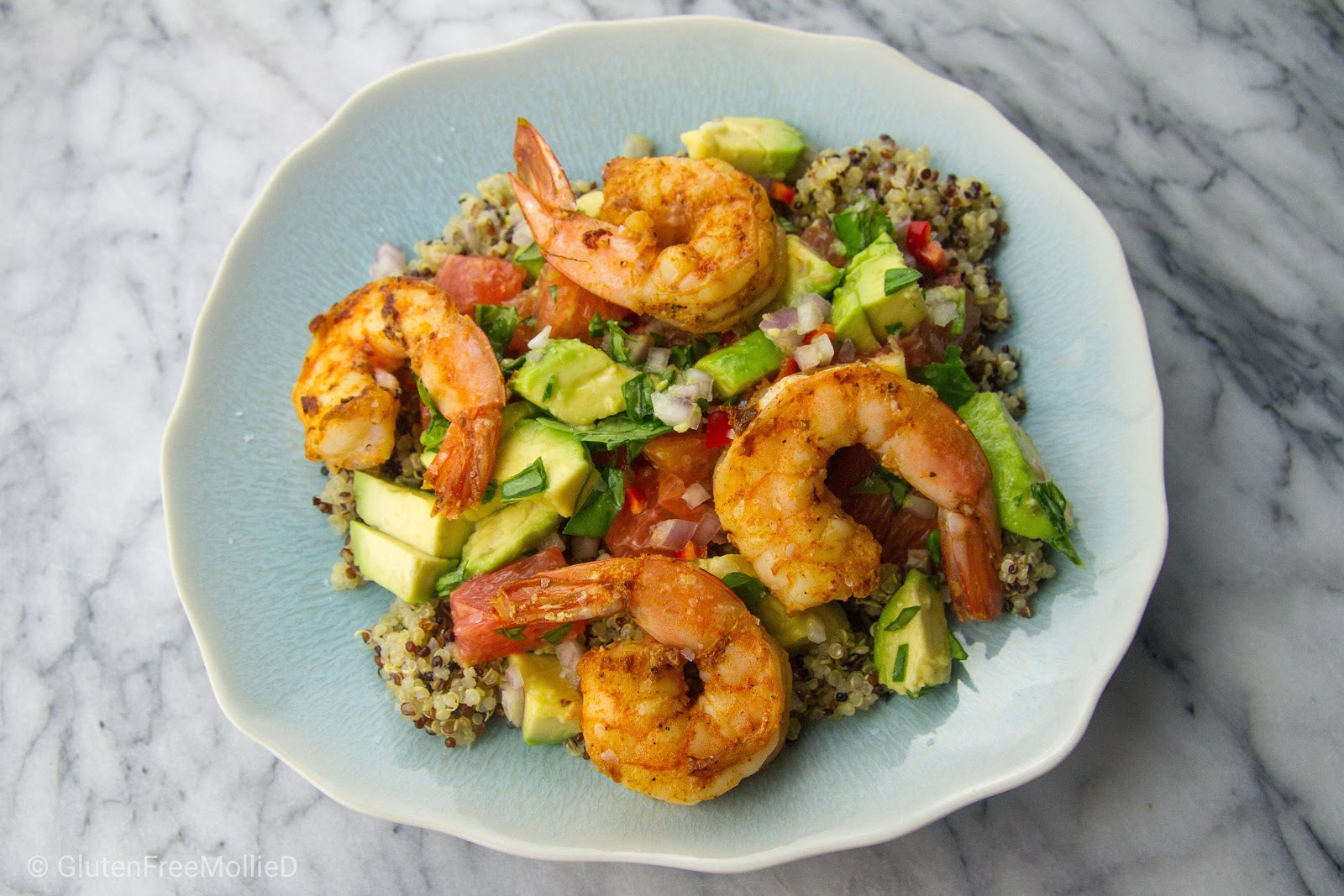 Sautéed Shrimp and Quinoa with Orange-Avocado Salsa
Source: Weeknight Gluten Free by Kristine Kidd; recipe adapted slightly!
Tip: This recipe was naturally gluten free! Make sure to purchase quinoa that is labeled GF.
Review: There's that citrus again! This dinner was quite a star of the week. Yes, the salads were great for getting us on track, but this dish taught me that the seasonings are the most important part of making simple, healthy ingredients taste great. And that shrimp is just yummy - always, any time.
Orange-avocado salsa: words I never suspected would go together, but here I am telling you that they're delicious in the same bite. See that? I'm slowly getting used to citrus all over the place.
Next thing you know I'll be eating an orange all on its own. This dinner was delicious, healthy, and ultra-flavorful so make it for your friends who are craving all of those things right now, too. :)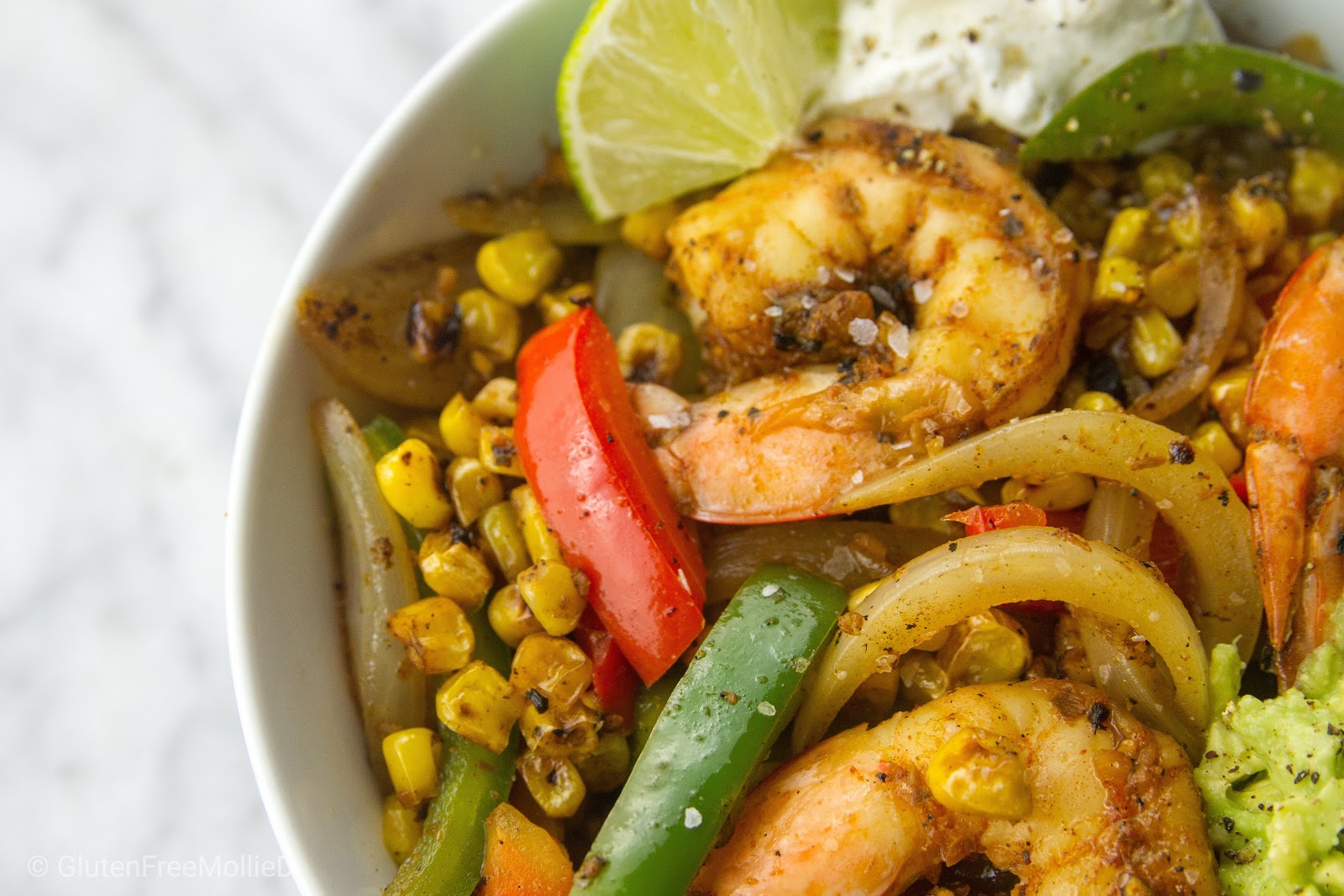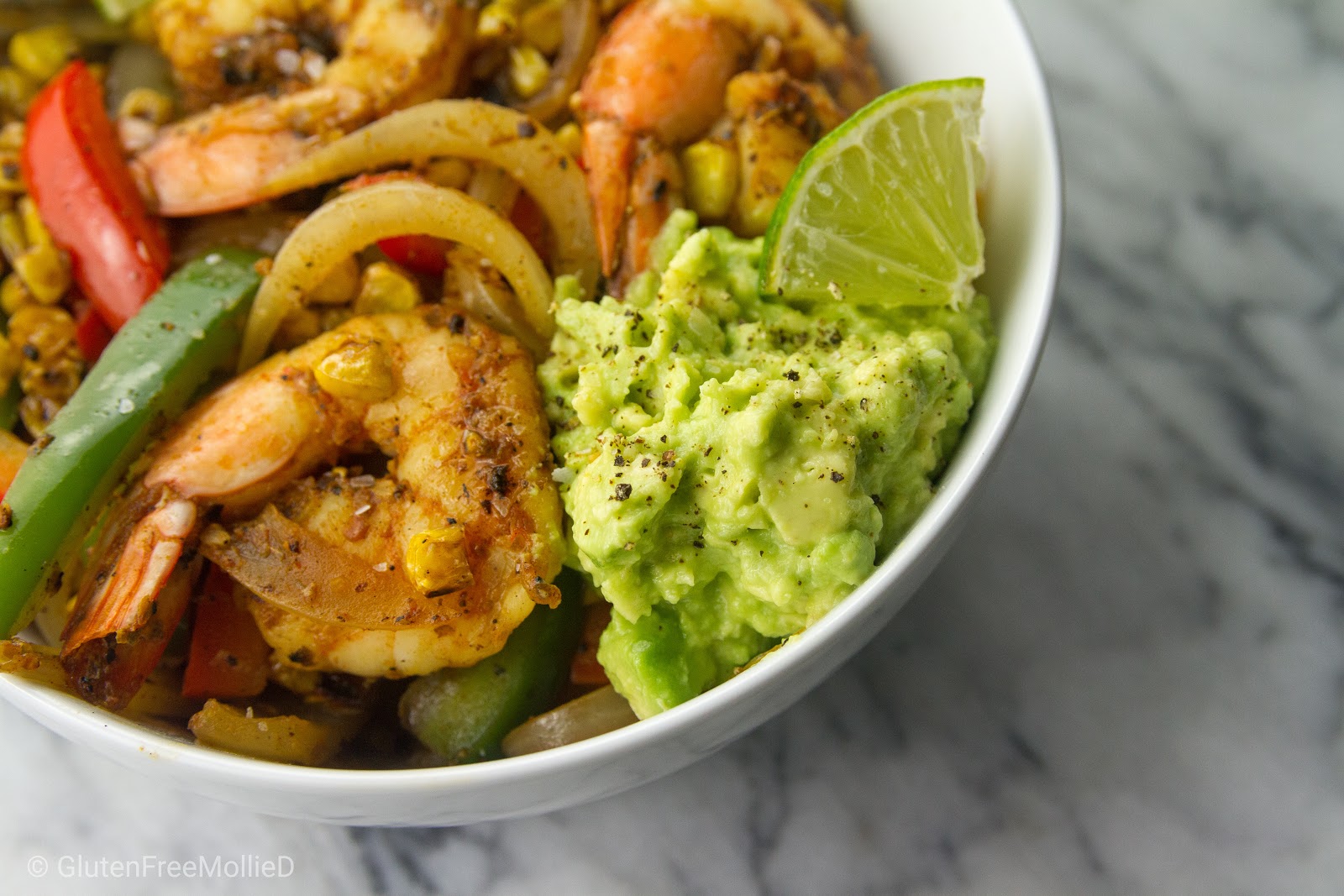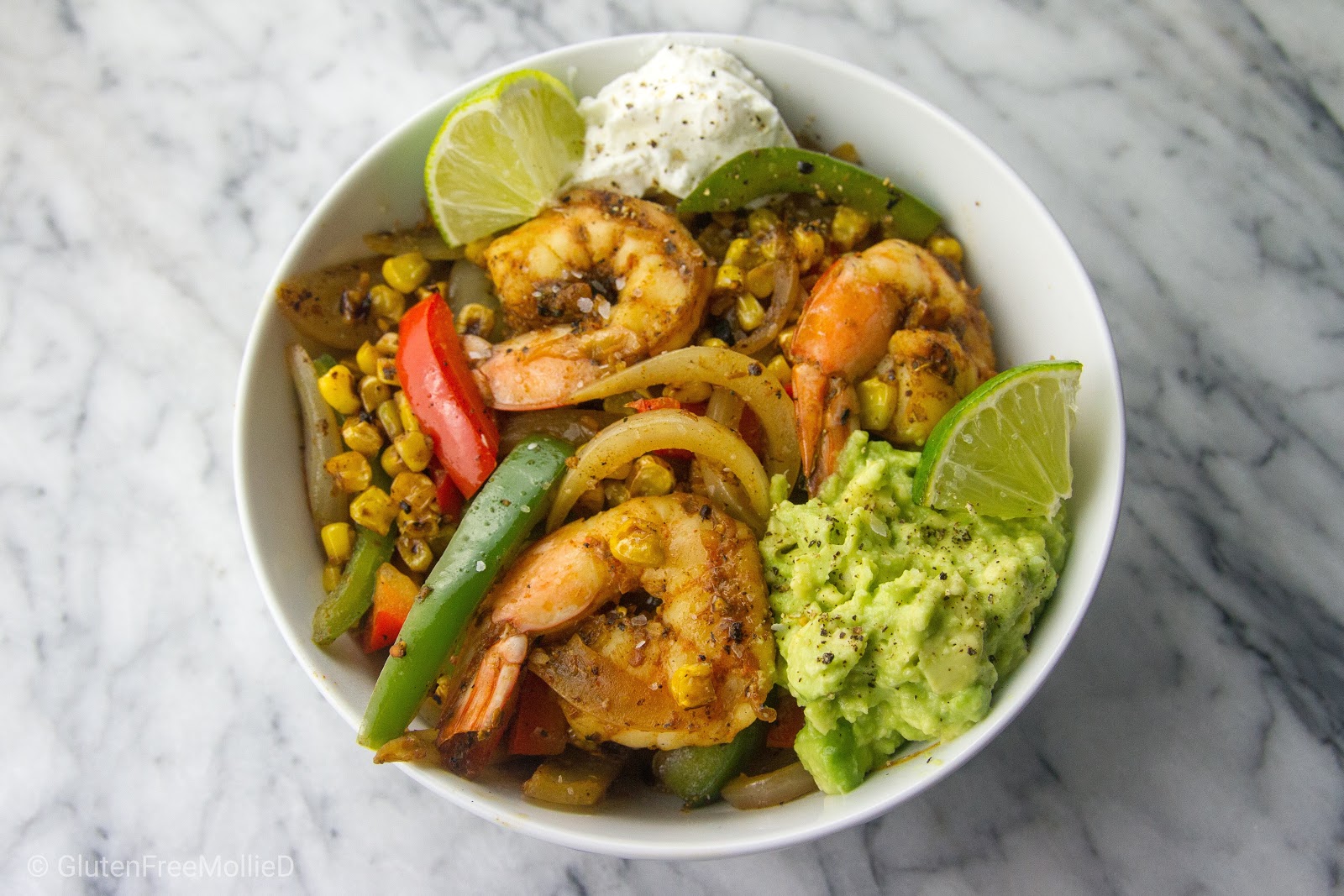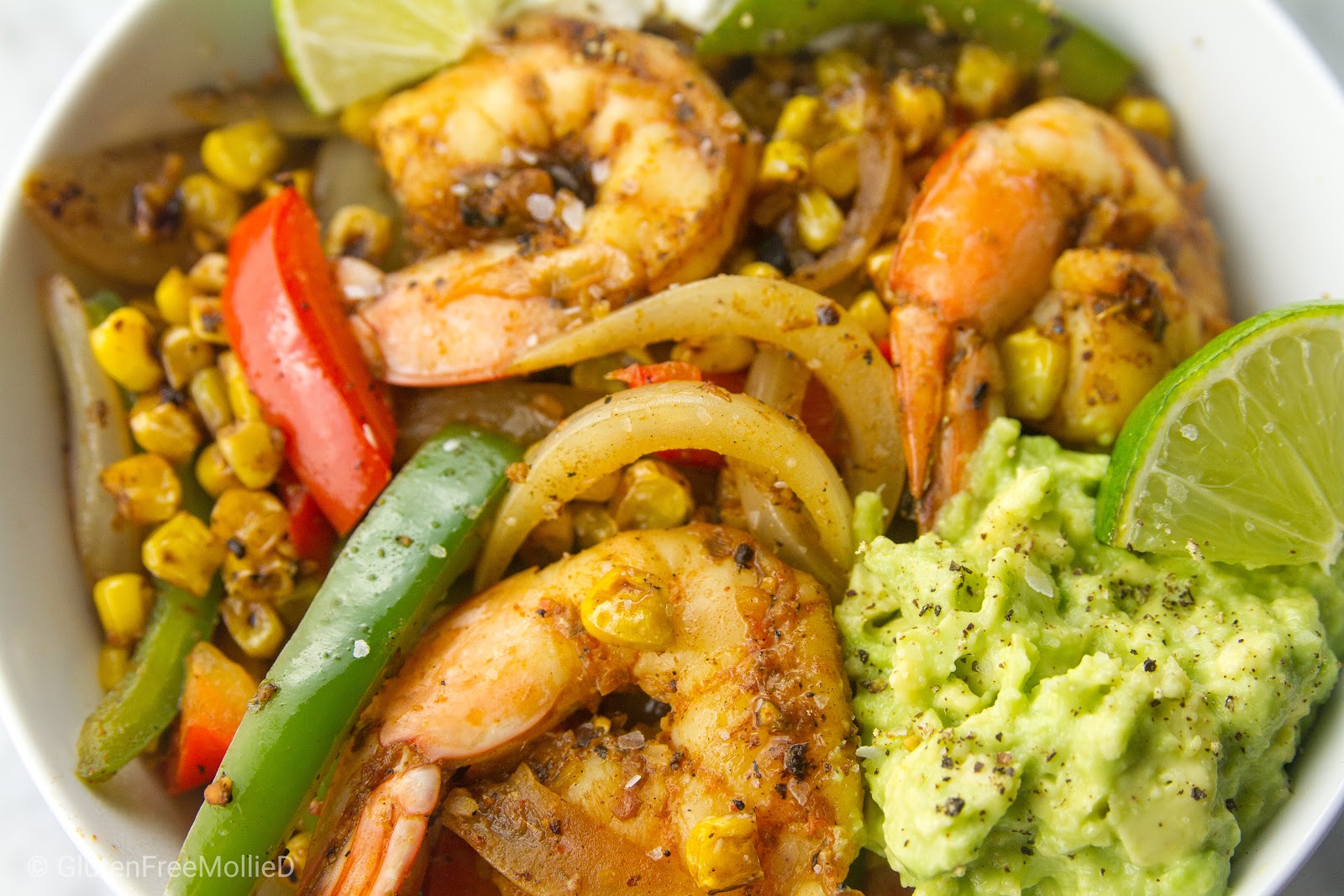 Wok-Charred Shrimp and Veggie Bowl
Source: Improvised! A GFMD original recipe.
Tip: A naturally gluten free meal!
Review: What happens when you decide to stay in on a Friday night, but have no dinner plan? Oh, and you're in the mood for a "Southwestern" meal because well, why not? This happens!
After briefly debating the options, we decided to use the shrimp still left in the freezer, extra peppers and onions, a can of white beans, a ripe avocado, and frozen corn sitting in the freezer that was just begging to be included. Thankfully, all of those ingredients go together quite nicely.
The result is this winner of a dinner that's cooked all together in the wok (yup, the wok), then thrown in a bowl (white beans as the base) and a little mashed avocado is dolloped on the side. Oh, I added some Greek yogurt because we didn't have any sour cream, and I'm on that health track. Surprise surprise, Greek yogurt that's masquerading as sour cream is actually still delicious. ;)
So while I'm not always the biggest fan of improvising dinners while hungry (I think that's a medical condition, right?) I do think we're getting a lot better at it and this meal specifically is an excellent example. Straightforward, delicious, and we had it all ready to go without even knowing.
The Weekend
I'm happy to report that the weekend included several great meals and that I stayed on my health track the whole time!
Proud of my commitment to my current goals and while it's not the easiest every moment of the day, the eventual long-term success is what helps make the day-to-day decisions much easier. And I'm learning all about how to enhance healthier ingredients so that they are just as crave-worthy as their cheesier, saltier, more sugary counterparts. I see you cookies; you're not gone forever. ;)
Tap photos above to enlarge.
We hope you had a great weekend, got to enjoy some awesome food, and continued to work toward your own 2019 goals, whatever they may be. :)
Eat, well.
Mollie and Seth