Treats, Not tricks
Well, I blinked and it's suddenly November! Chilly nights, early sunsets, and sport-filled Sundays. Oh wait, is that just my house? 😉
As we closed out October, welcomed November, and waved a friendly hello to Halloween (cheers to the bowl of candy on my kitchen table), I embraced the season fully with hearty meals filled with bold flavors.
There's just something about cold air that says, to me, "you need carbs all of the time now." I didn't ignore that request so the week of dinners were a perfect example of the season's encouraging mindset.
So, without further ado, here were the week's fantastic, cold-weather-friendly, meals!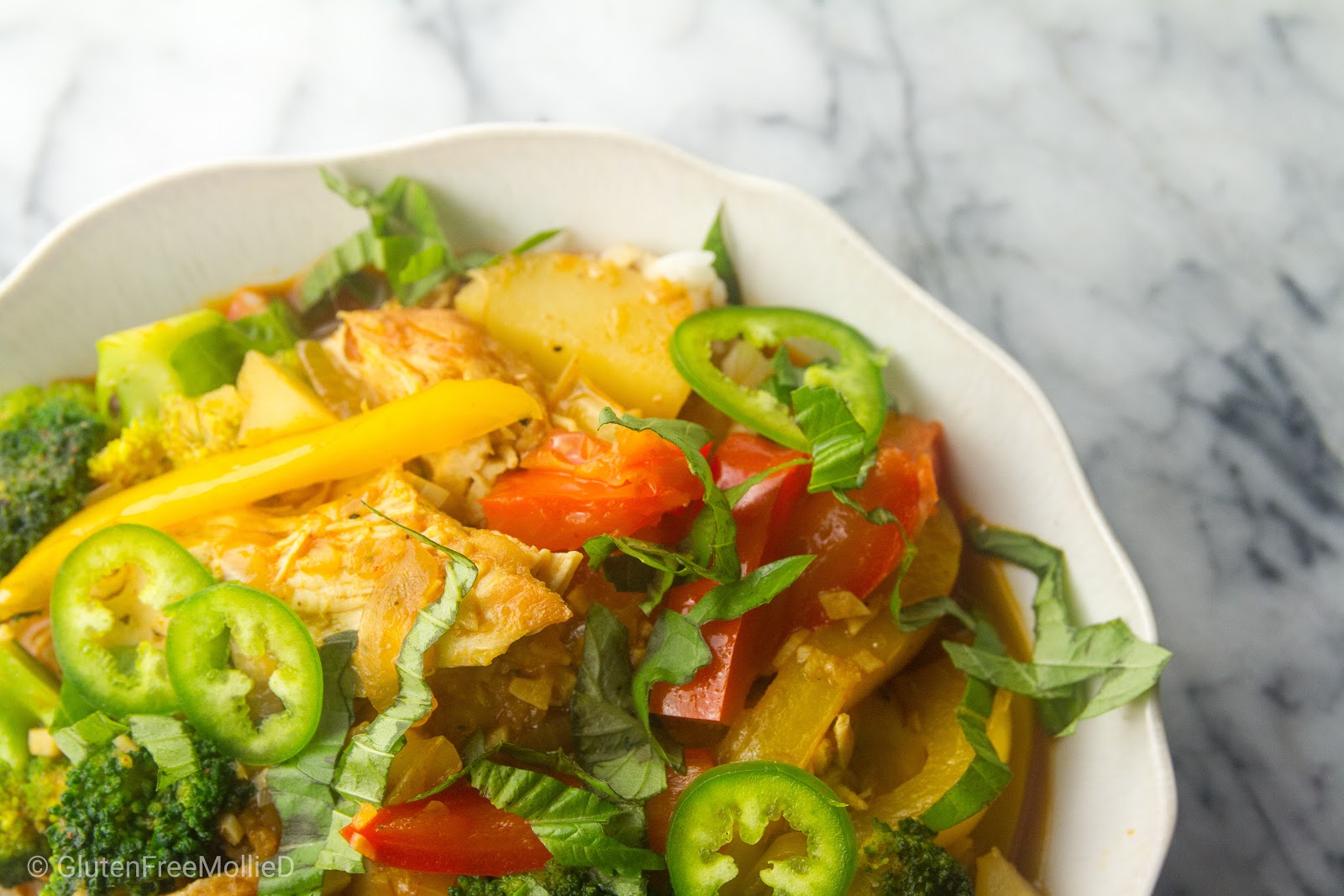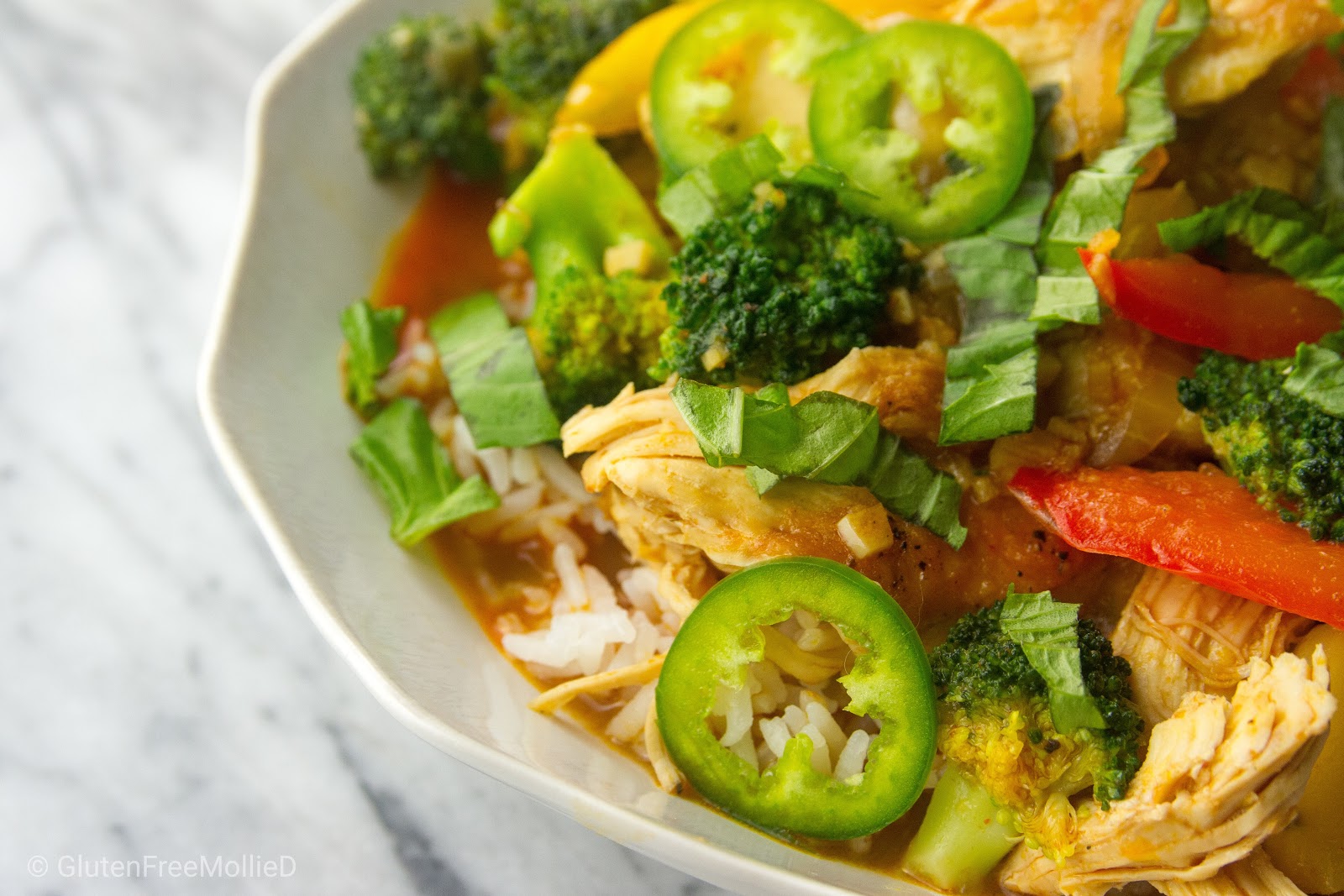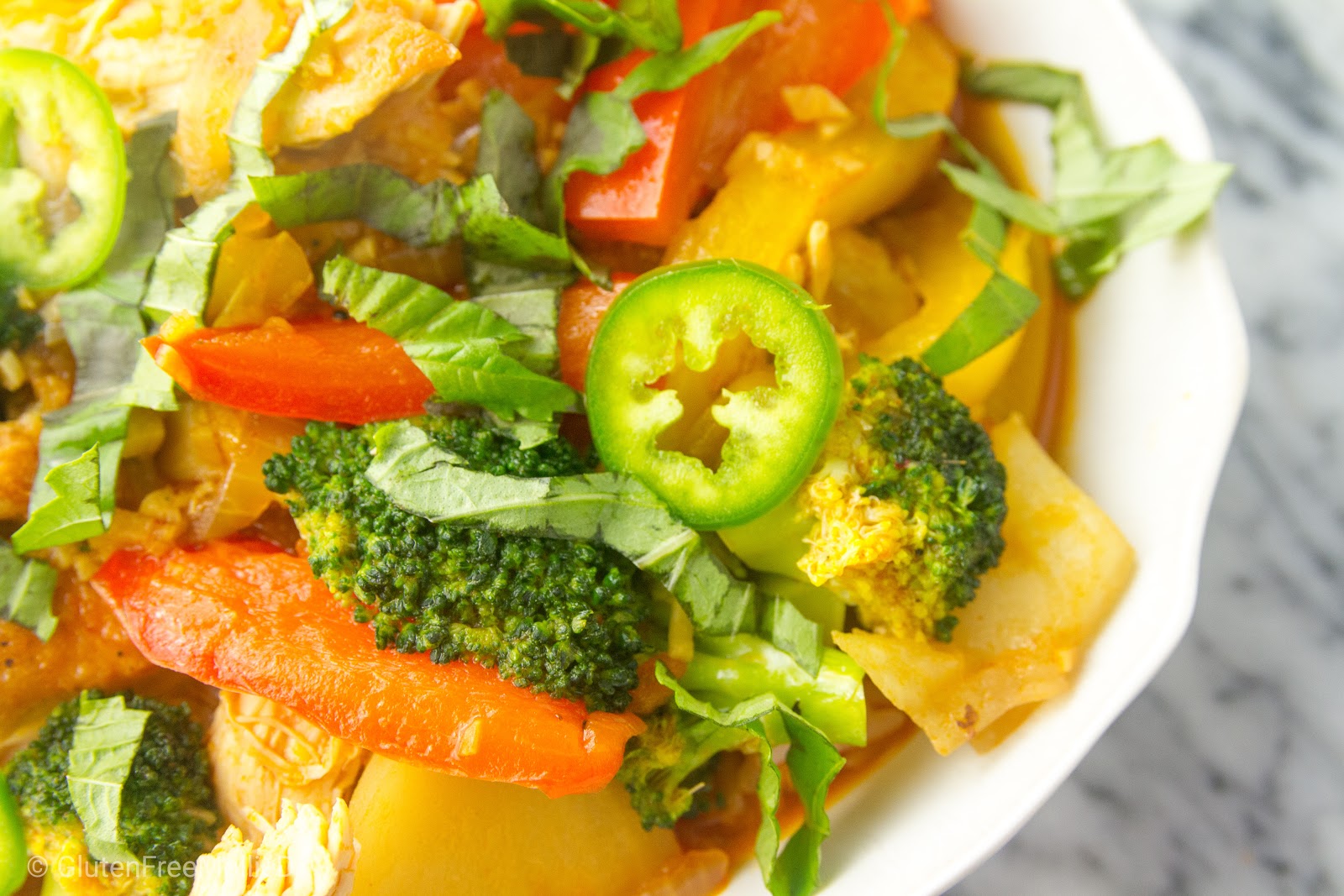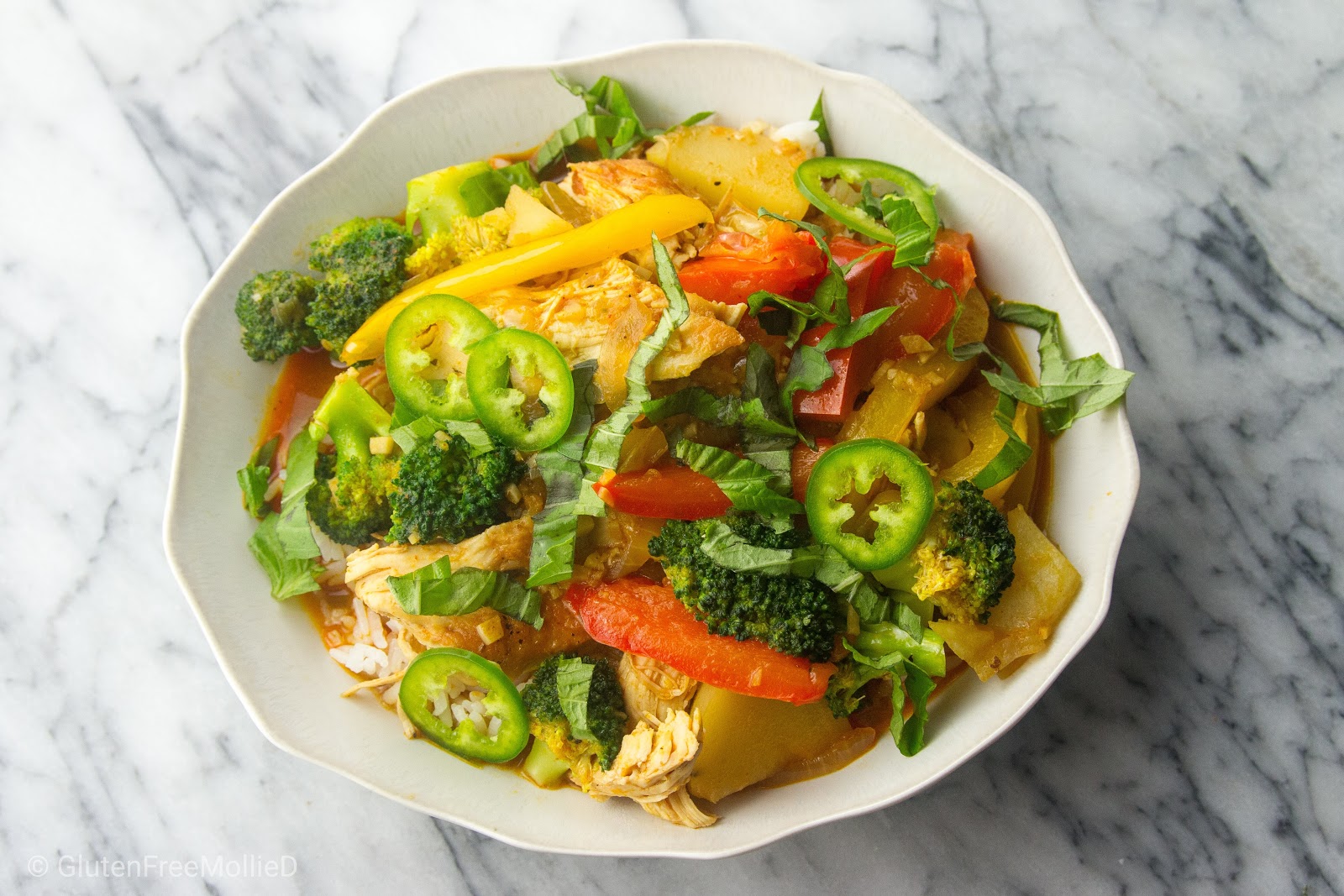 Red Chicken Curry
Source: Cravings Hungry for More by Chrissy Teigen
Tip: Make sure to use gluten free soy sauce and that other bottled sauces (such as fish sauce) are labeled properly. We're able to find these products at most major grocery stores.
Review: Nothing quite like a hot, bubbling pot of red curry on a weeknight, right? Right. And that's exactly what you'll get from this awesome dish which is another winner from Teigen's second cookbook.
Bright flavors, easy ingredients, and a splash of personality, this red Chicken Curry had all of my favorite components which left me feeling warm and welcome as though I'd been having dinner with an old friend.
Sometimes the best feeling, when using a new cookbook, is to make a dish (select a recipe) you're hoping will be "as you remember" in regard to flavor and this turned out to be exactly that.
A scrumptious bowl of red curry with all the necessities and the familiar flavors you crave. How appropriate that the book is called "Hungry for More," because I definitely got up for seconds. 😉
Who/What/Where: We often make curry during the week because they come together quickly and usually make enough for leftovers during the week.
A bonus when making curry, especially this one, is that the recipe makes a lot. And that's fantastic if you'd like to serve curry to your guests which you should because this one is delicious. Perfect dinner party fare for you and friends or relatives. I'm sure everyone would love it!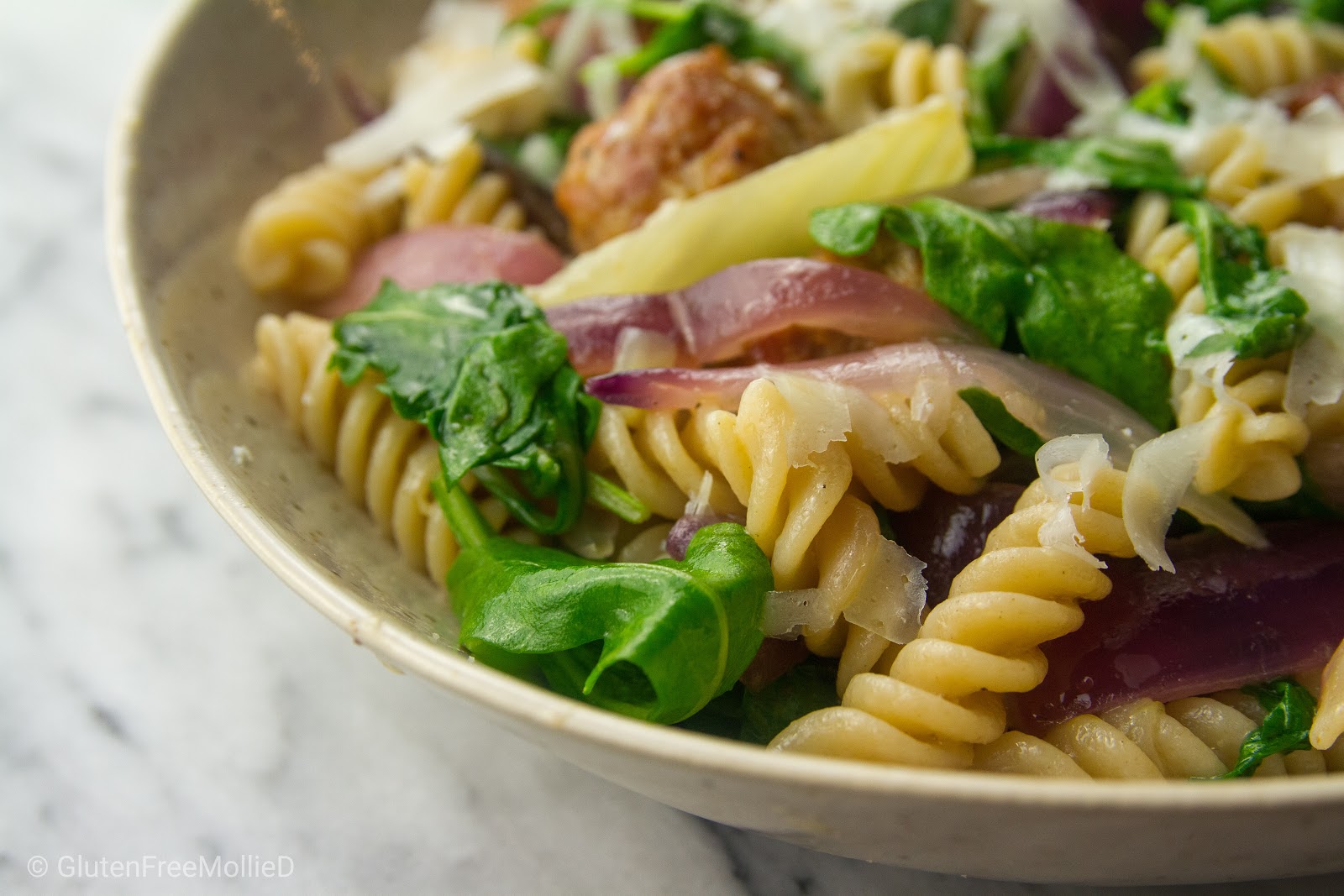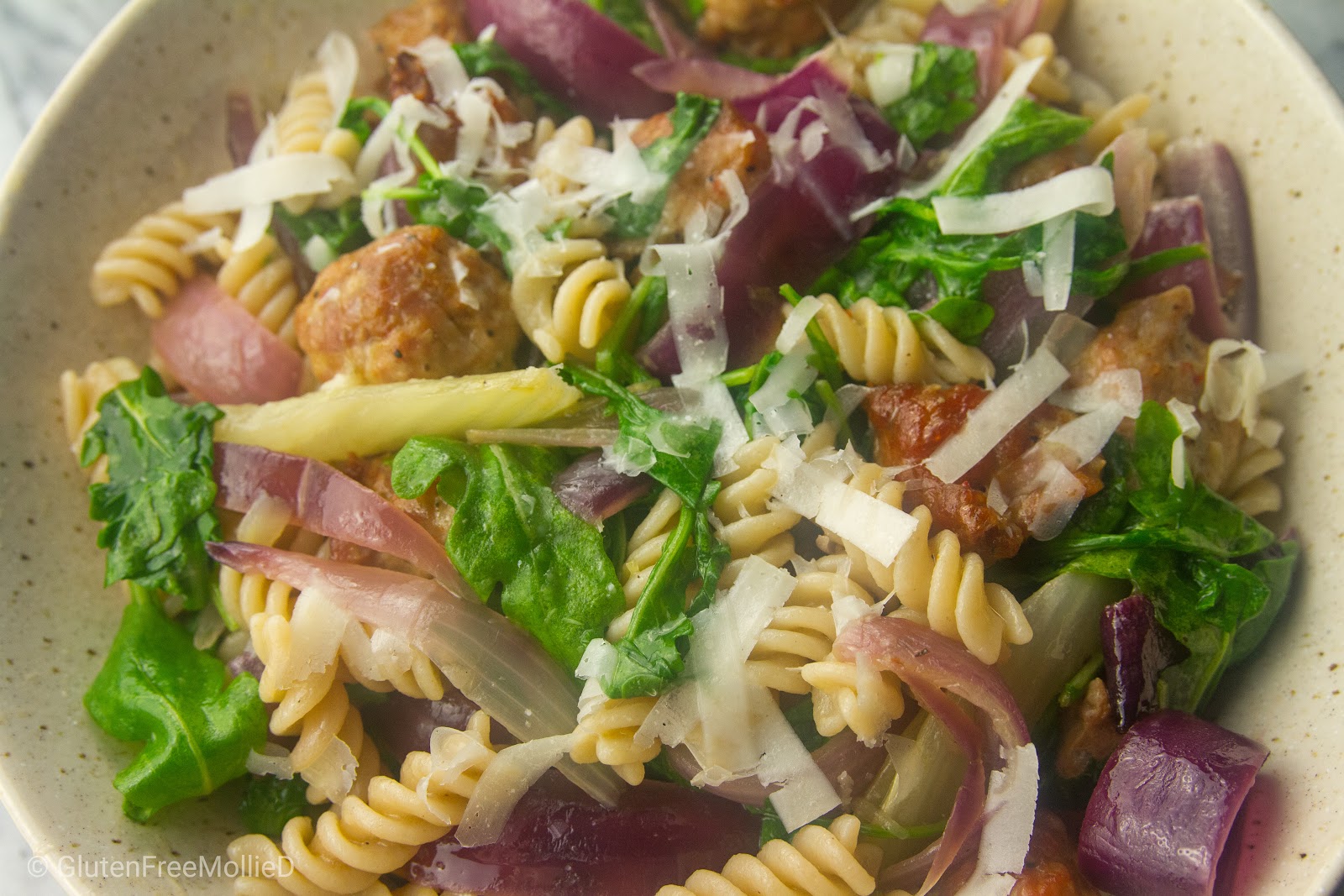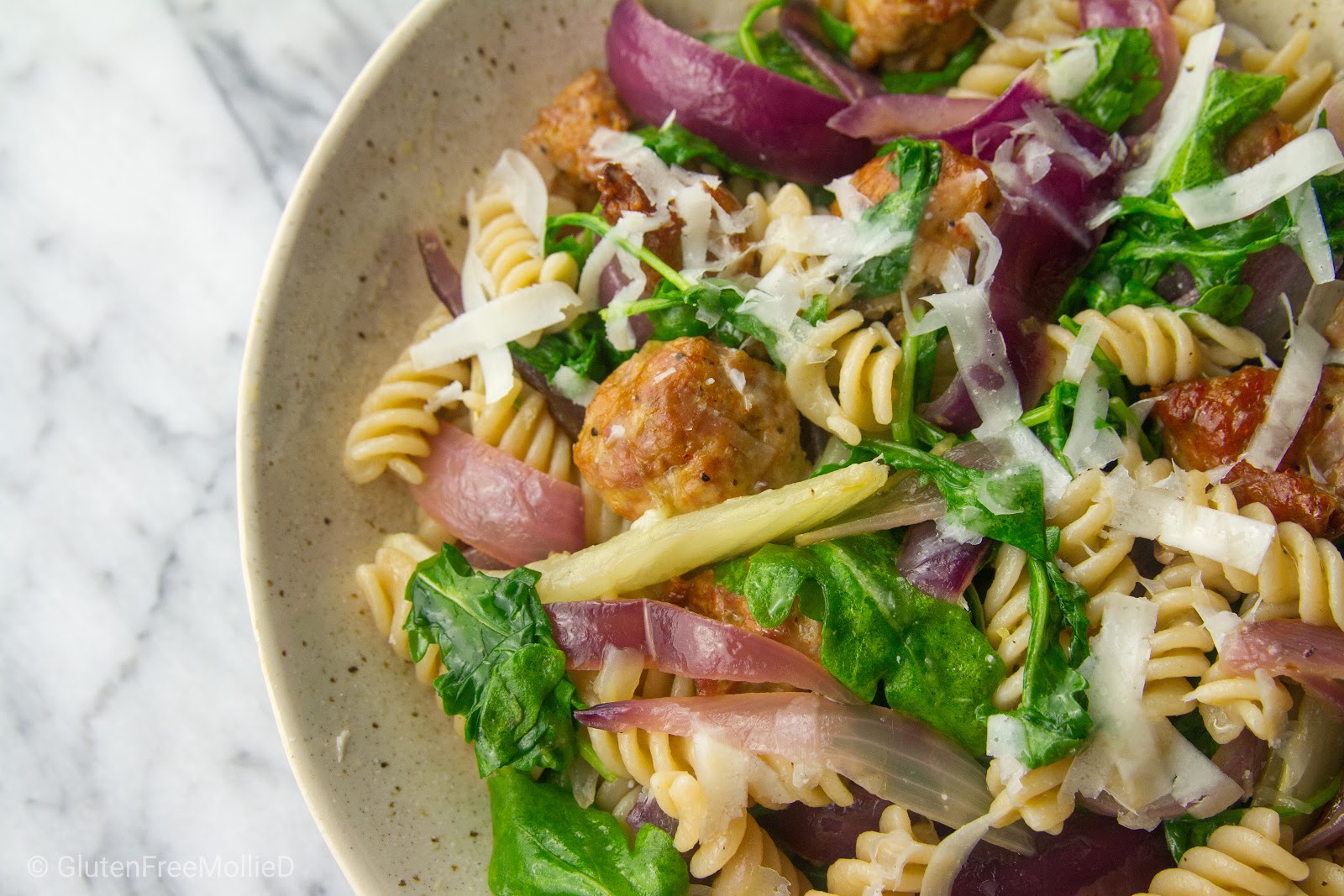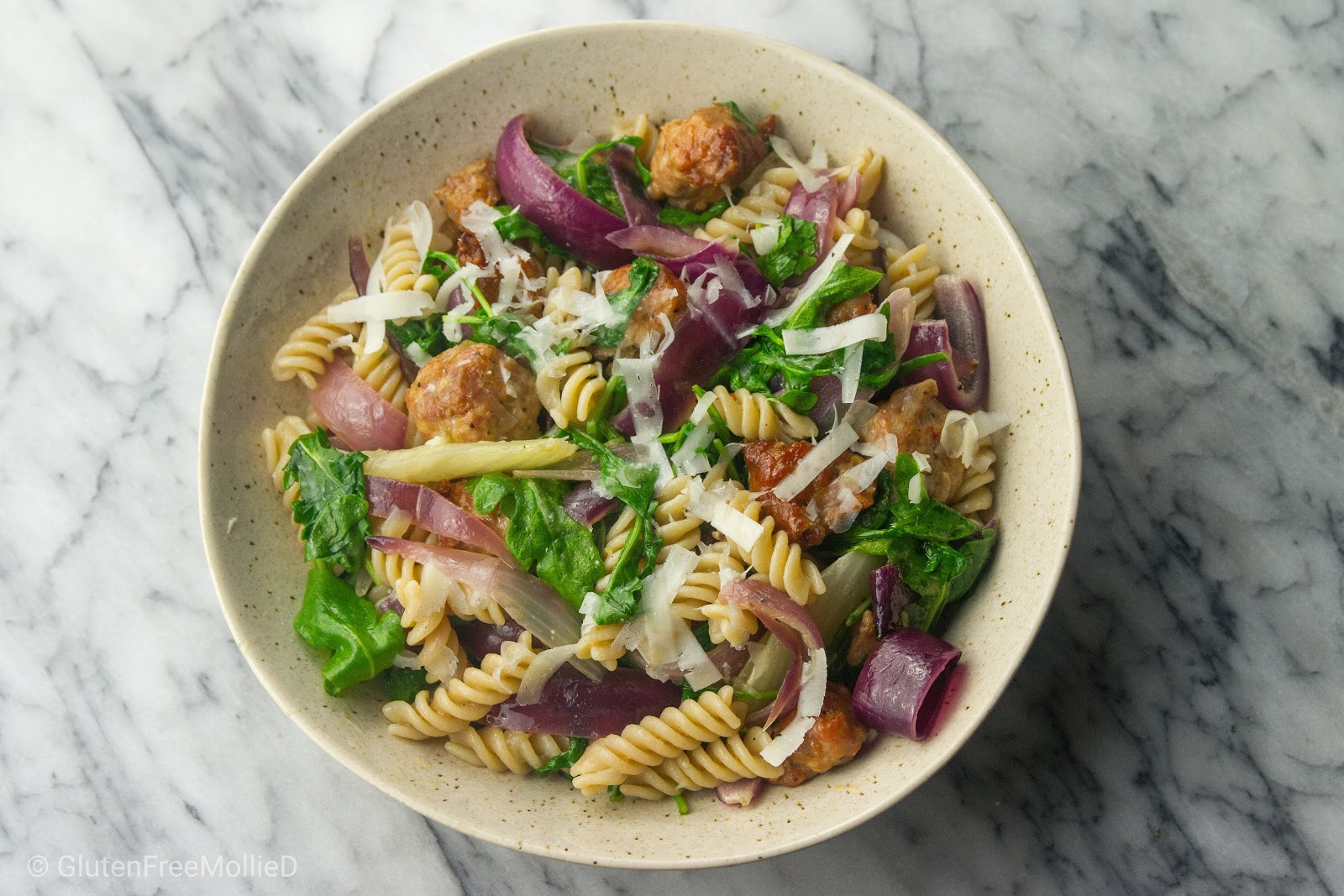 Pasta with Sausage and Arugula
Source: Bon Appétit's November issue, which is available now. It's also featured on their website, so grab it here!
Tip: Make sure to use gluten free pasta and gluten free sausage (it should be that way already!). We always use Jovial Foods gluten free pasta (we used is fusilli) which contains only brown rice flour and water.
Review: A concept I'm fully embracing is that of pasta tossed with greens and meat. Yes, it's a fairly straightforward, unexciting revelation, but man is it delicious.
I've seen a number of such creations lately so when I stumbled upon this one when flipping through the current Bon Appétit, I knew it was going to make an appearance on our table. What I didn't know was just how awesome the meal would turn out to be.
The mix of flavors and textures in this dish is really what set it apart from other pasta dinners, in my opinion, and what made me so excited to share it with you.
The fun part of the meal was that you roasted the sausages with onion and fennel prior to mixing it all with pasta and tossing in fresh arugula at the very end. So the "work" part of preparing this dinner is pretty minimal. The flavorful part is pretty massive.
And while I rarely doubt the greatness factor when it comes to recipes from trusted sources, you really never know! There are countless recipes out there for a pasta/greens/meat combo and it just so happened that I picked this one.
Thankfully, we've never had a true "dolt" of a dinner. This dish, in particular, was a major, major hit. 😋
Who/What/Where: While a dinner involving roasting is always great for a weeknight, it's equally enticing for a crowd!
I could see us making this dinner for a group because it yields a lot of food, not much effort, and it's a cool mix of ingredients that's delicious without being too flashy. I love to offer a fun meal to friends and I think this would be exactly the type they would enjoy.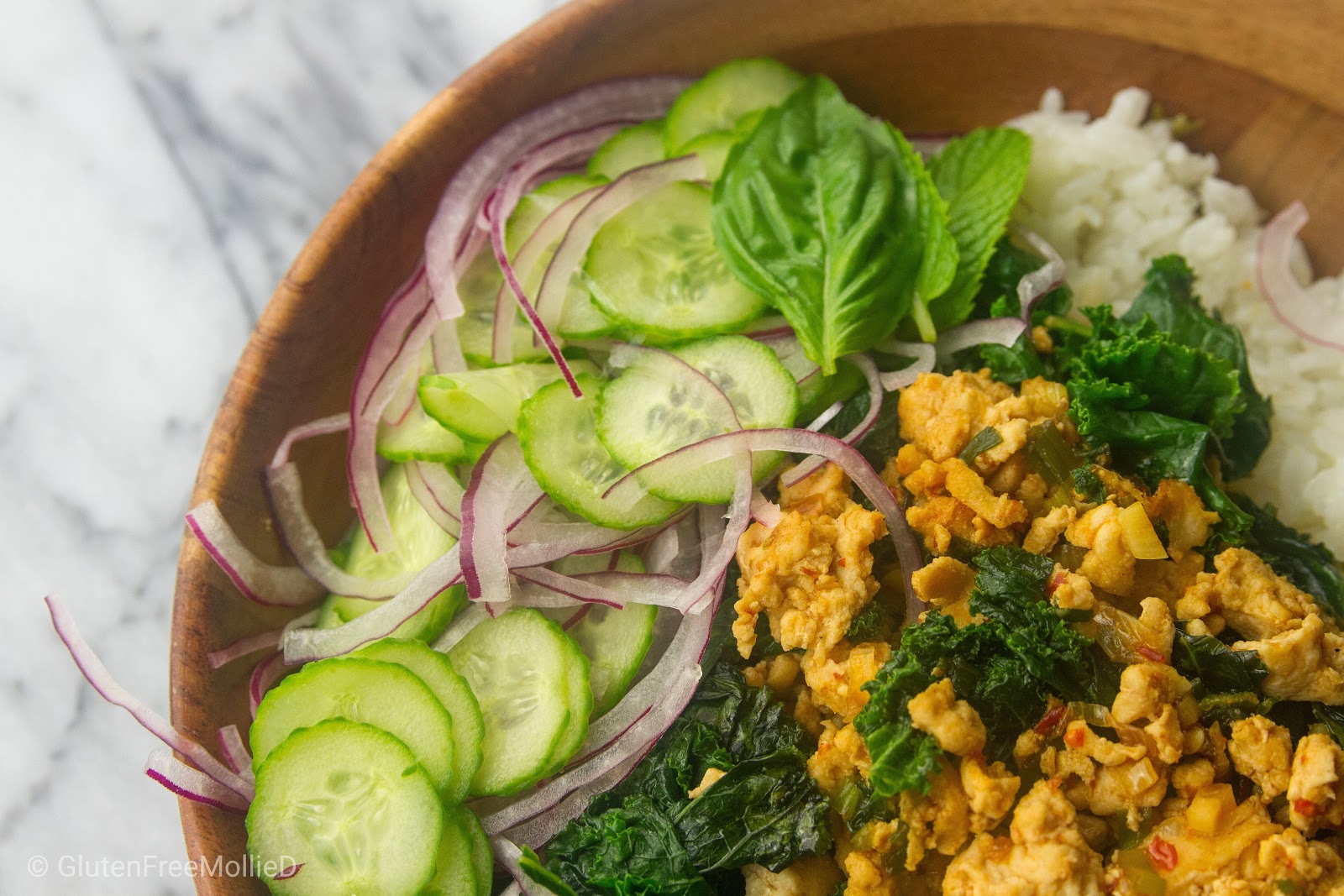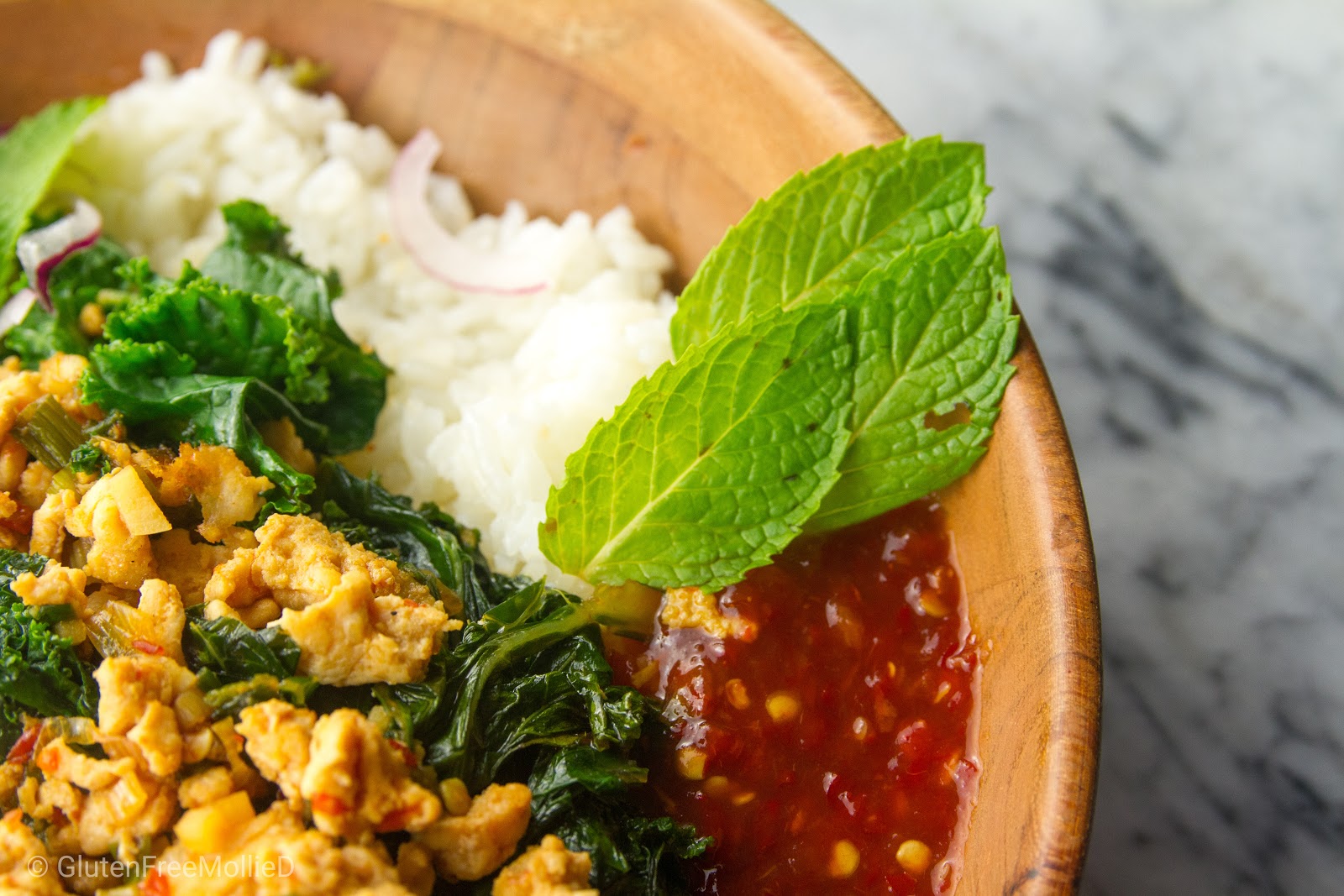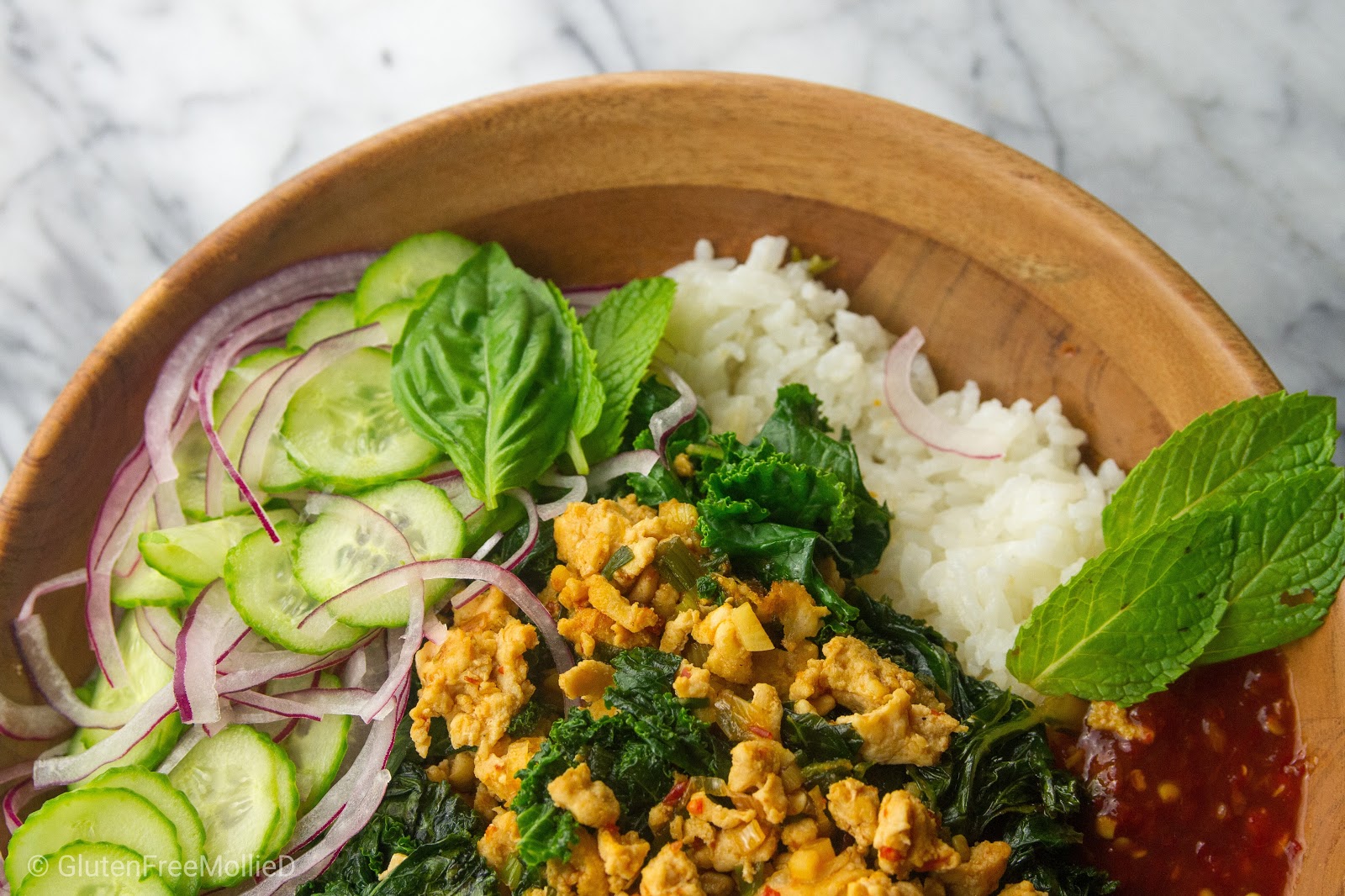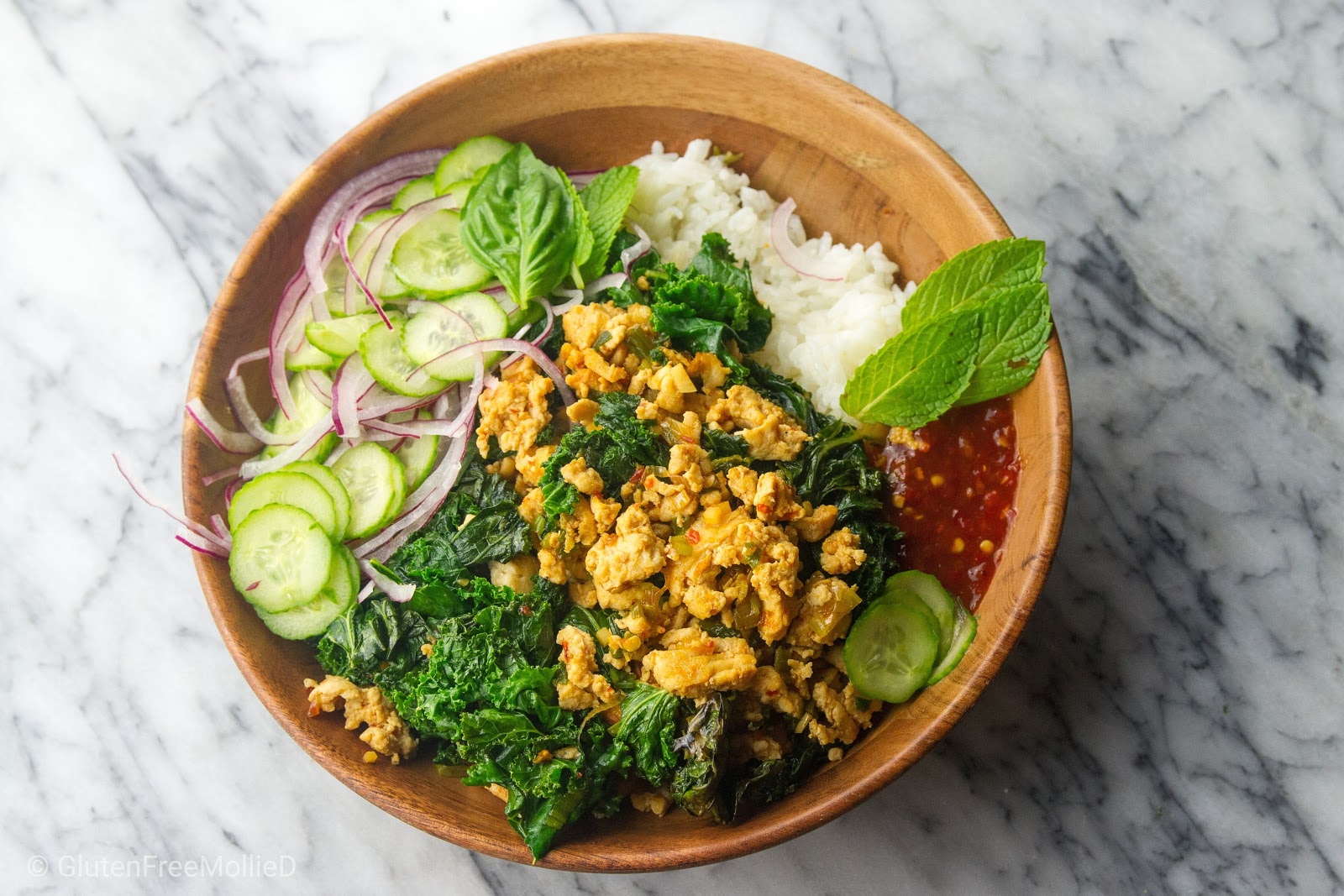 Chicken Larb Bowl
Source: What's Gaby Cooking: Everyday California Food by Gaby Dalkin. This one is available on her website too; grab it here!
Tip: A friendly reminder to use GF soy sauce! And don't worry, Sambal Oelek, the spicy red sauce, is gluten free!
Review: Now this is what I call a major bang for your buck (read: delicious and filling with very little effort). Surprisingly, this was a recipe I had noticed countless times in her cookbook, and on the blog, but for some reason just hadn't made it yet. What was I thinking?! I should not have waited so long.
Easy to make and quite perfect for a weeknight, this bowl of yum came together so quickly I barely had time to select a serving bowl. 😉
Once you've got the cucumbers pickling in the fridge, get the rice cooking, and start on the chicken. The ground chicken and kale cook together nicely (and in a short amount of time) and before you know it the rice is done, the chicken is done, and it's time to grab the cucumbers from the fridge!
My favorite part of the final dish was that each bite had so much energy. Bright, crisp pickled cucumbers, hot coconut rice (omg so good), and savory chicken with kale. Each element was great on its own, but I loved it even more all together.
I added extra sambal oelek to make the whole dish spicier, but you could definitely leave it out if your preference is for a milder meal. Either way, this dinner packed a major flavor punch and I couldn't get enough. We barely had leftovers!
Who/What/Where: While this was great for us on a Wednesday, I could envision it being an awesome Friday night meal with or without company.
Although it was plenty for two people, I may recommend doubling the recipe if you're going to serve it, plentifully, to a crowd. Everyone will want a second portion! 😉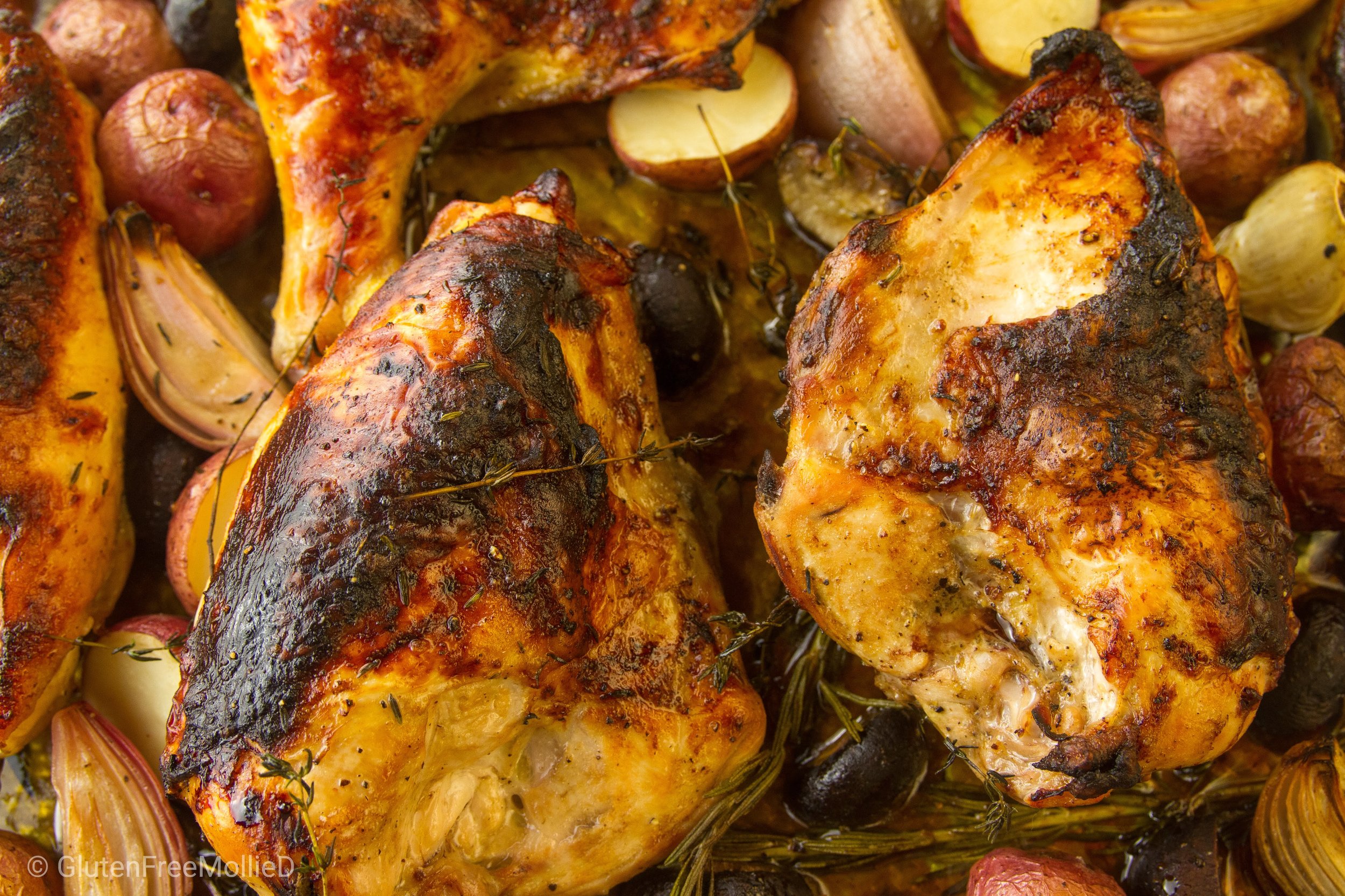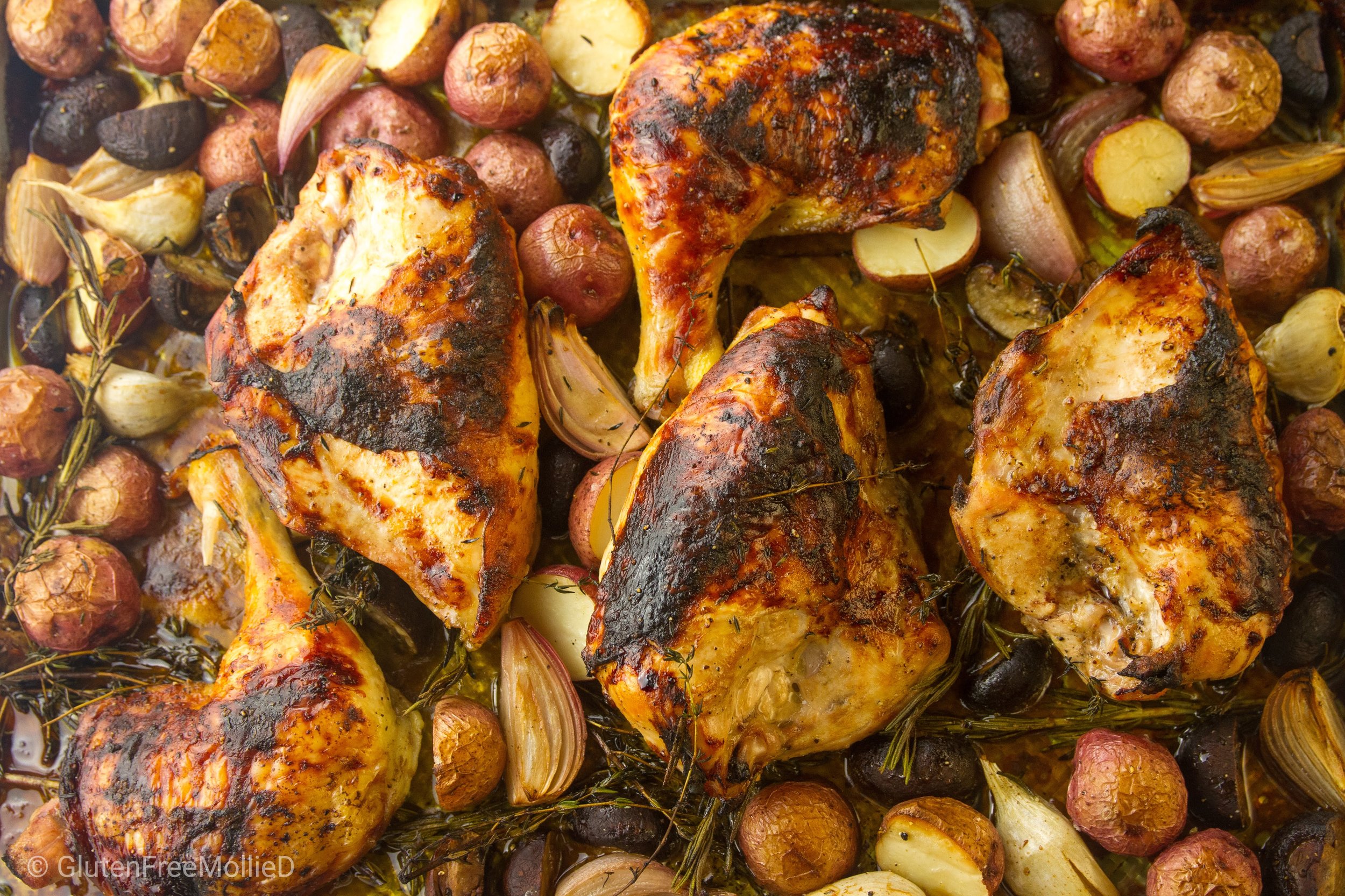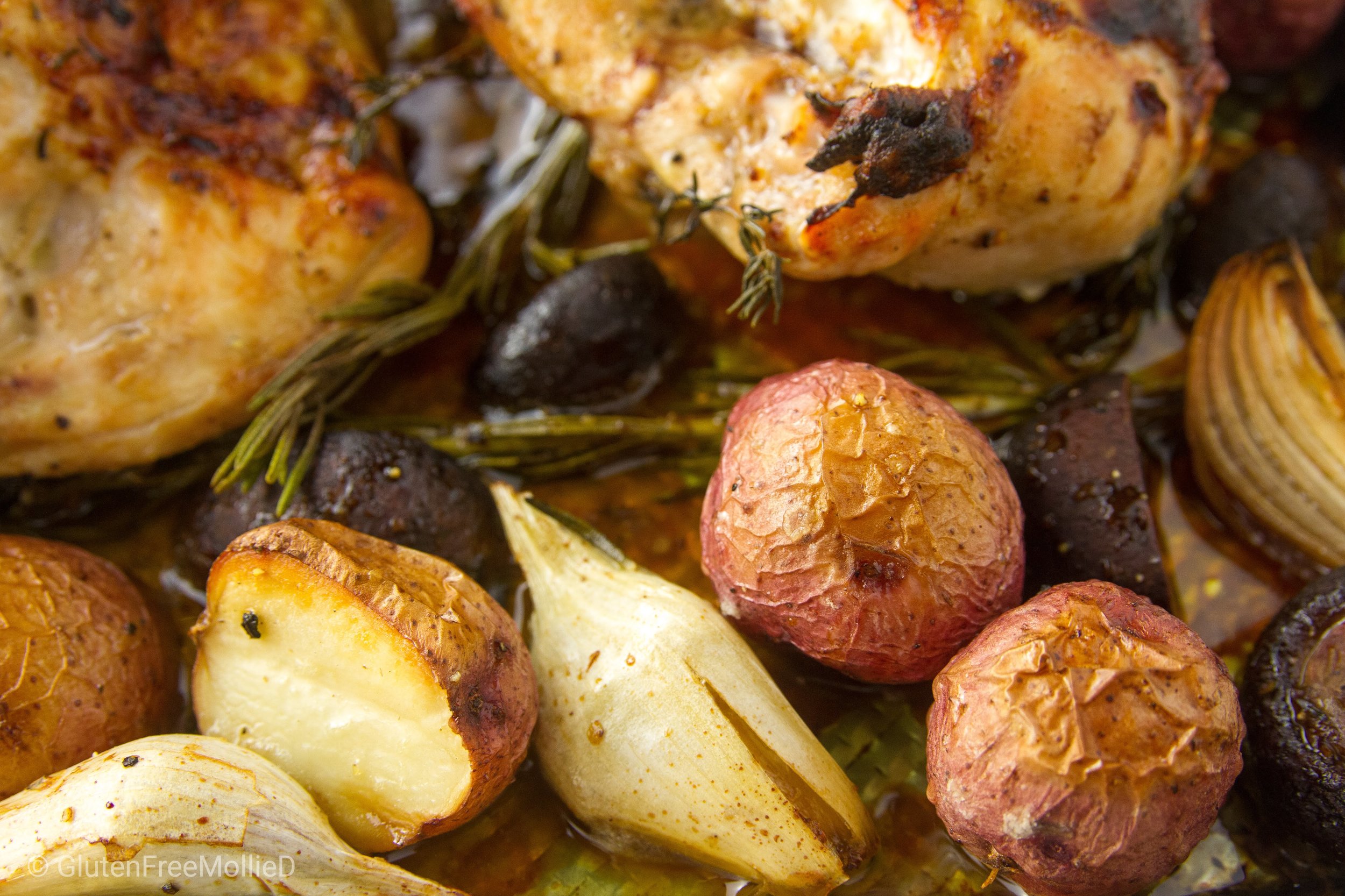 Sheet-Pan Supper: Balsamic Chicken with Baby Potatoes and Mushrooms
Source: Everyday Dorie: The Way I Cook by Dorie Greenspan
Tip: A naturally gluten free meal! No changes or edits necessary. Rejoice!
Review: For those times when you want a dinner that feels and looks luxurious, but is actually just a bunch of food you roast for a while, then this is for you!
The beauty of sheet-pan dinners: they look far fancier, as though much more work is involved, than what actually happens, which is quite the magic trick, if you ask me.
This meal was utterly scrumptious, but involved little more than arranging mushrooms, potatoes, and chicken on a pan, and then roasting it all for an hour.
Our home smelled heavenly and the food was perfectly cooked. The best part? That chicken had the crispiest, most wonderful skin. Mmm! Not much that's better than delicious, crispy chicken skin. ☺️
Who/What/Where: A terrific dinner for a low-effort, big impact weeknight offering, but also fantastic for a party. I could definitely serve this to a group because it could be cooking while we mingle and have a cocktail, then be ready to go as soon as everyone has been seated.
And I can only imagine how excited the group would be as the scent of balsamic-roasted chicken swept through the room as we chat about life, work, and our love for the versatile, and always-welcome, sheet-pan dinner. 🤗
The Weekend
Some weekends are busy with activities and some weekends are busy with activities that mostly involve eating delicious food.
Somehow, this weekend ended up being the latter, fairly unplanned, and I think I ate way, way more than usual in two days. Whoops! At least it was all delicious. And of course, I ended up baking. What? Are you surprised?
Highlights!
Dinner Friday night at Red Heat Tavern was relaxing, fun, and a nice reminder that sharing large portions is a great way to have a full meal.
Seth and I started with the classic nachos, and added chicken, which was a mountain of delicious, gluten free joy. It was so giant that we didn't need anything else except dessert! I guess we didn't need dessert, but I caved and ordered the cookie skillet. It's gluten free! I could not resist. I have no regrets.
Saturday morning my carb-love continued as I baked a batch of GF buttermilk biscuits (why not?) and then we ate them, picnic-style, on the living room floor because after I snapped some photos I couldn't be bothered to move the setup to the kitchen table.
So we dined on the floor! It was actually pretty fun despite the crumbly mess. More on those biscuits very soon... 😎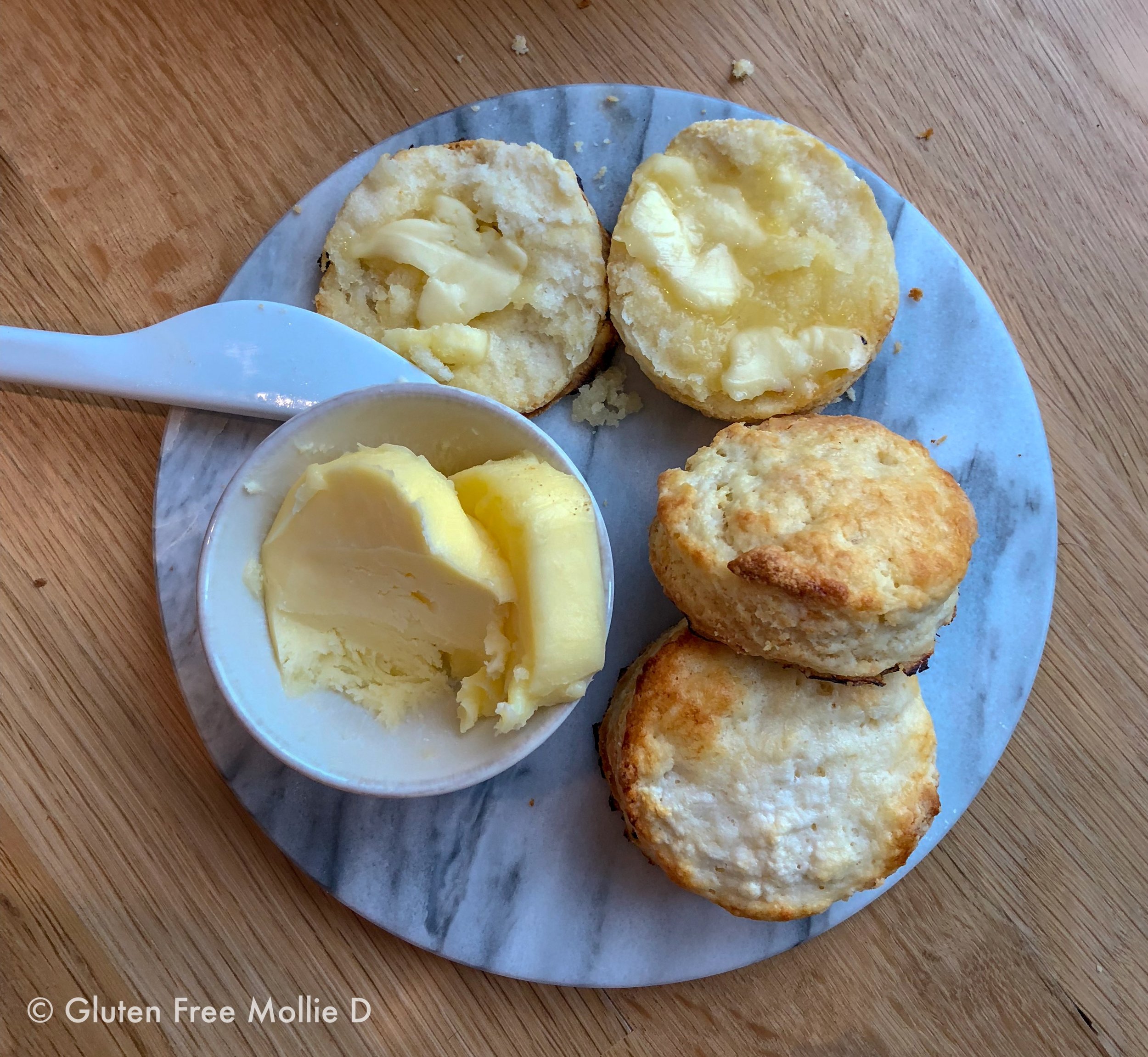 We finally tried a restaurant we've been eying for a while on Saturday night called the Gibbet Hill Grill in Groton, MA. Amazing! The food was excellent, the place itself was jam-packed, and before the sun set we had a wonderful view outside our high-top bar table.
I strongly recommend making a trip out because the food, and service, was top-notch. Don't worry; the gluten free menu has a plentiful array of choices.
However, I do suggest a reservation; the wait for a table (bar or otherwise) was running close to two hours almost the entire night. 😮 For the record, we arrived before 5pm, because we're super cool, and still had a bit of a wait. But, it was totally worth it.
On Sunday, once we recovered from our multi-course meal on Saturday night, we took care of errands, did meal planning, grocery shopping, and watched football. However, due to the beautiful day, we did make sure to get in a nice walk and enjoy some ice cream! ☺️
Nothing like a cold fall day to make me crave something even colder! It was delicious and I didn't even mind the chilly air as we ate it in the sunshine! A joyous sweet treat to close out a very food-focused weekend.
Also, have you seen the foliage lately? It's suddenly gorgeous and I just can't stop taking photos of it all. 🍂
We hope you had a terrific weekend and perhaps it was just as food-y as ours! Cheers to a delicious couple days and the start of November - already!
Eat, well.
Mollie and Seth