The Art of Balance
Hello, there! The weekend was a blur of food and football so let's dive into the details. Thank you for reading!
Following a weekend of sickness and two dips into the magical pool of pasta and rice, I began the new week feeling (much) better and re-focused. Sometimes a little forced time off (because of illness or otherwise) can be the best thing for feeling recharged and ready to tackle one's goals, once again.
So it was back on the healthy track, but with a flair for the (not very) dramatic. Yes, our meals for the week were leaning toward healthier, but the strictness-level swayed just slightly so we could include a couple of our favorites.
While there are some dishes where making substitutions for the sake of health can make sense (and won't sacrific the overall goodness of the meal), there are others where I simply refuse to change anything. And that's OK! Eating well consistently is definitely a balancing act and I'm all for it. I'm leaning into that 80/20 "rule" right now and I'm feeling great.
Let's get to the dinners, shall we?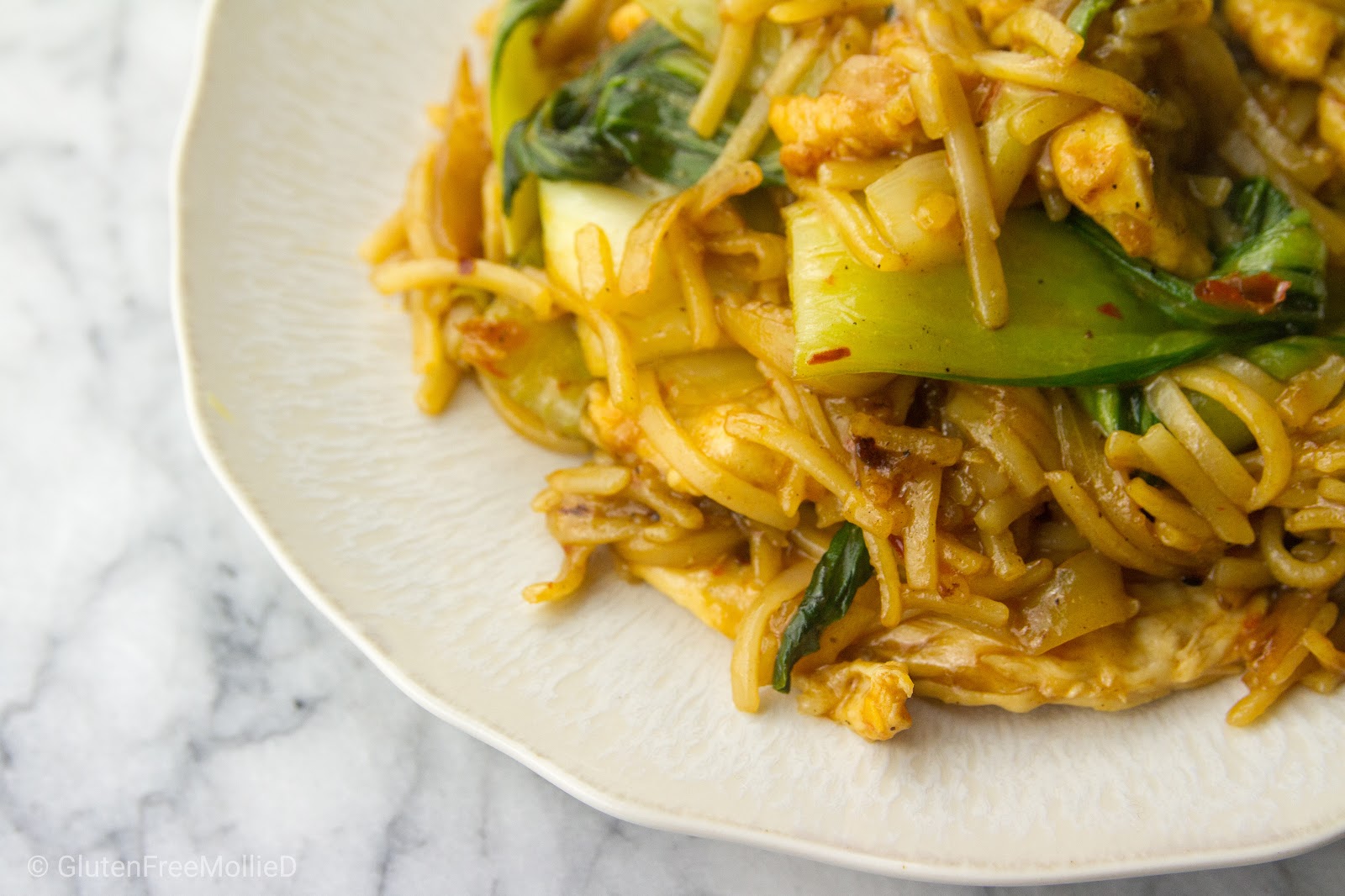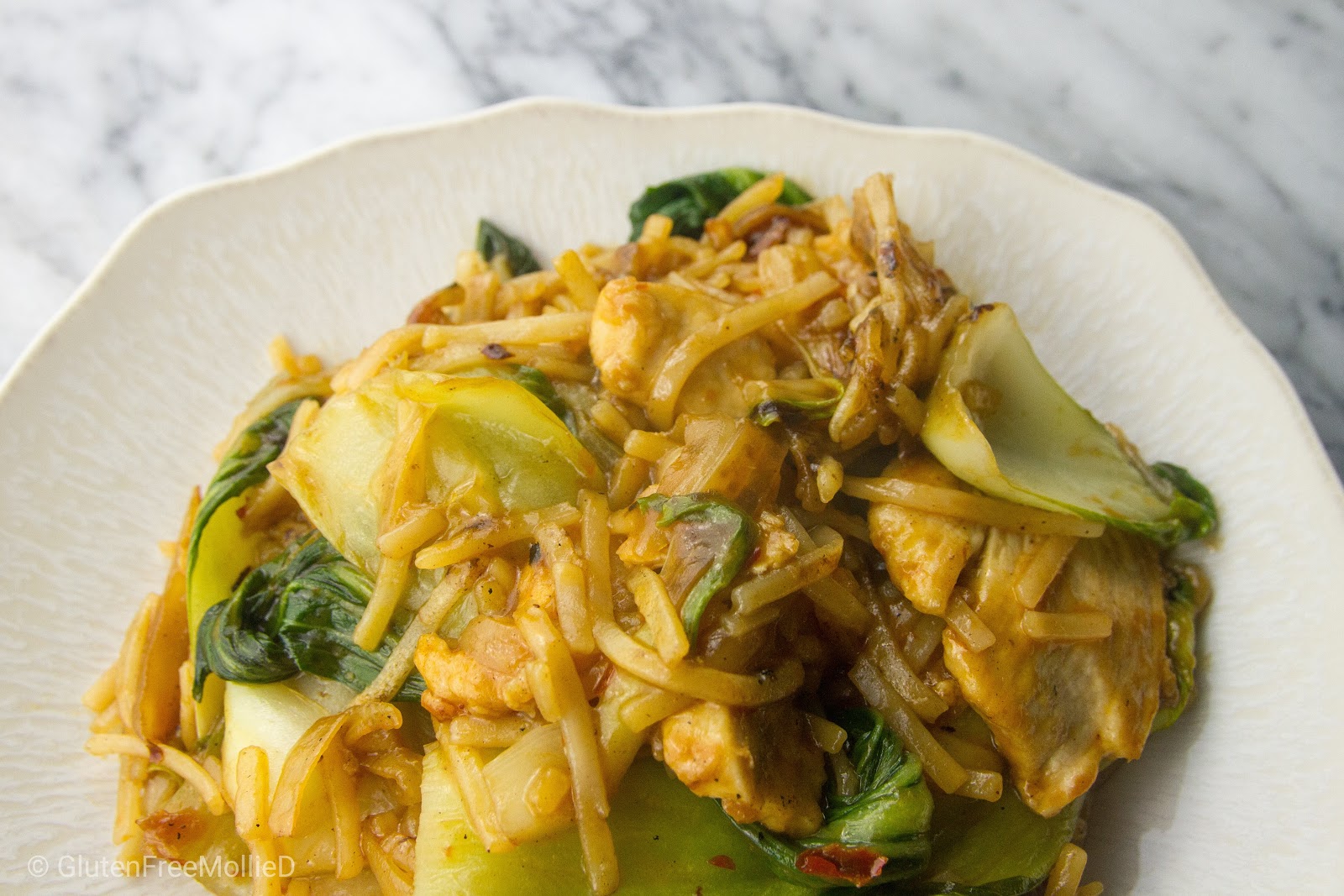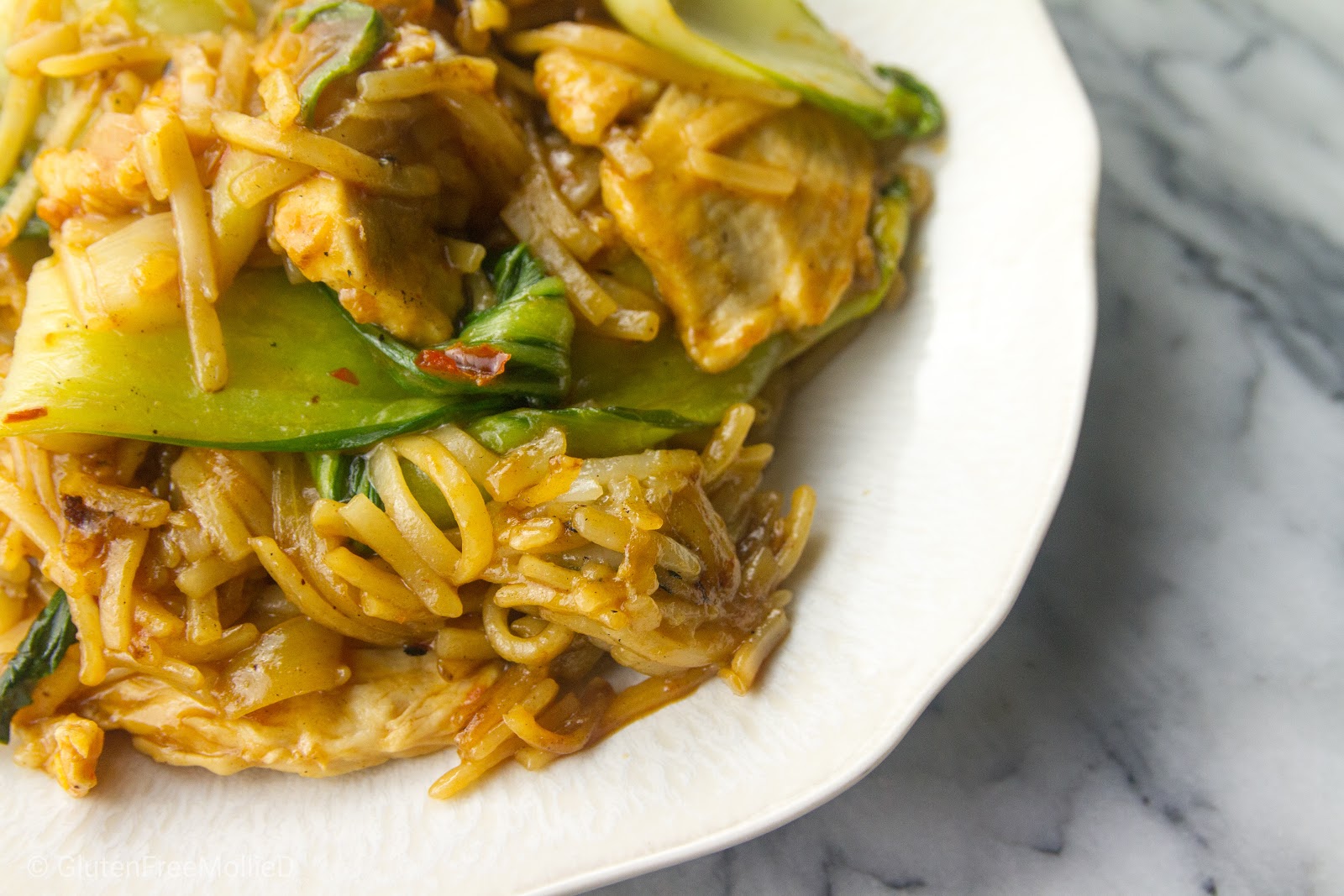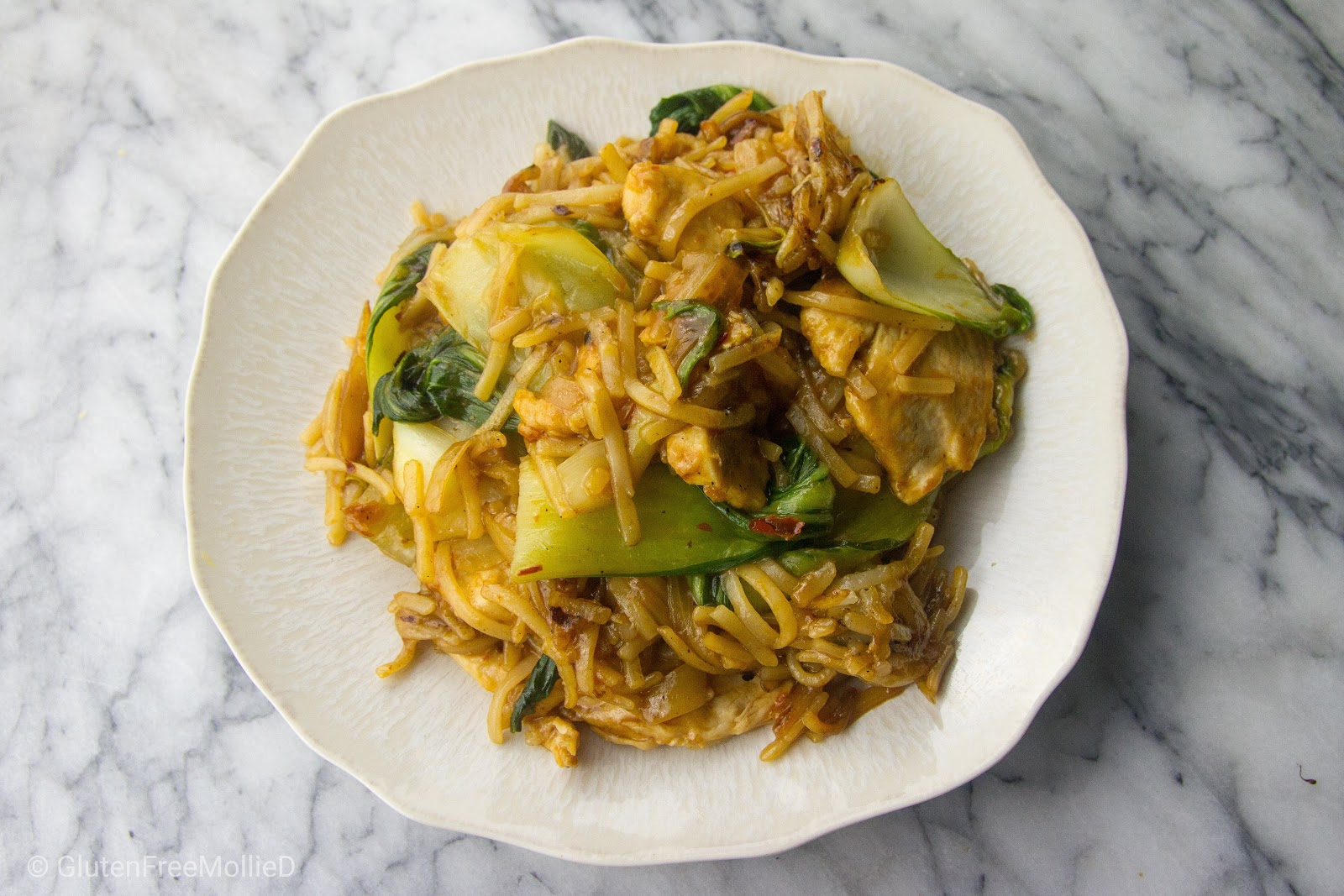 Wok-Charred Udon Noodles with Chicken and Bok Choy
Source: Myers+Chang at Home by Joanne Chang and Karen Akunowicz
Tip: For this meal, plan to purchase rice noodles (easily found in most grocery stores) and make sure to use GF soy sauce, which is also called Tamari.
Review: Could there be a more comforting meal than this bowl of noodles? I don't think so. This dish is a favorite of mine at the restaurant, Myers and Chang, and has long been a favorite in their cookbook as well. I'm grateful to Seth for loving to cook and for making this dish as my "Hooray for finally feeling better" dinner on Sunday night. It just oozes comfort and joy, and is an all-around star meal.
There's a reason, these days, that I love Asian-style dishes upon finally feeling better from being sick. When I was little, my "gift" for getting better, or having my fever go away, was Chinese food takeout that I got to enjoy from the comfort of my parent's couch. Specifically, my order always included pork fried rice (classic) and chicken and broccoli. Even typing the words I can still taste those flavors as I inhaled a giant platter of food on the couch, finally feeling like myself again after so many days of not. Ahh, memories!
Snap back to our dinner on Sunday when this meal, far more interesting and well done than that basic takeout, brought me right back to childhood, but with way better flavors. And eaten at the table. Soft rice noodles, velvety chicken, and crisp bok choy all in a bowl with the most incredible sauce that I need to bottle and keep in the fridge at all times.
Sure, we caved and made noodles (we are back in action on the low/no carb plan for now), but I had been sick and sometimes one just needs them. And in this instance, they were perfect and most-definitely healing. :)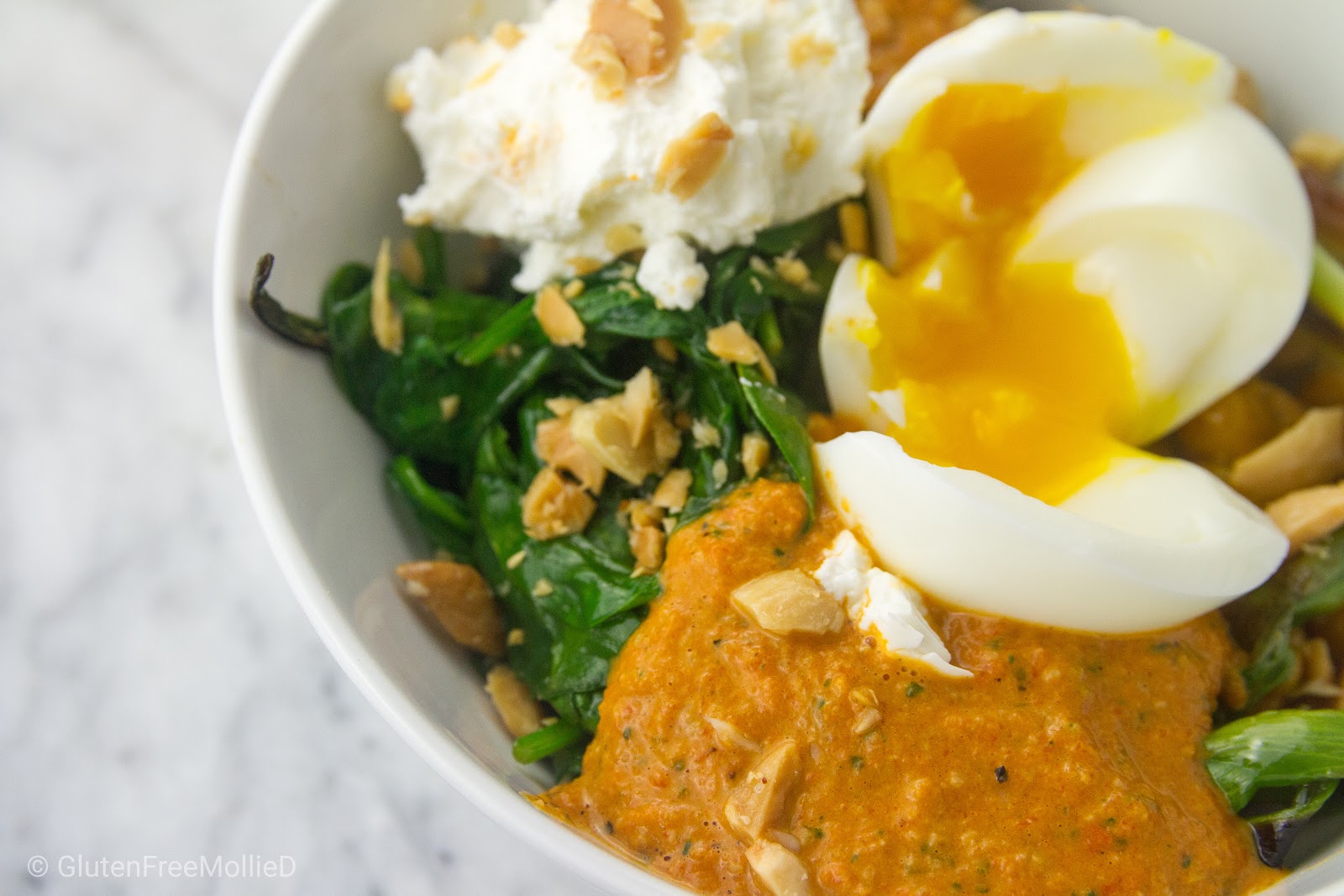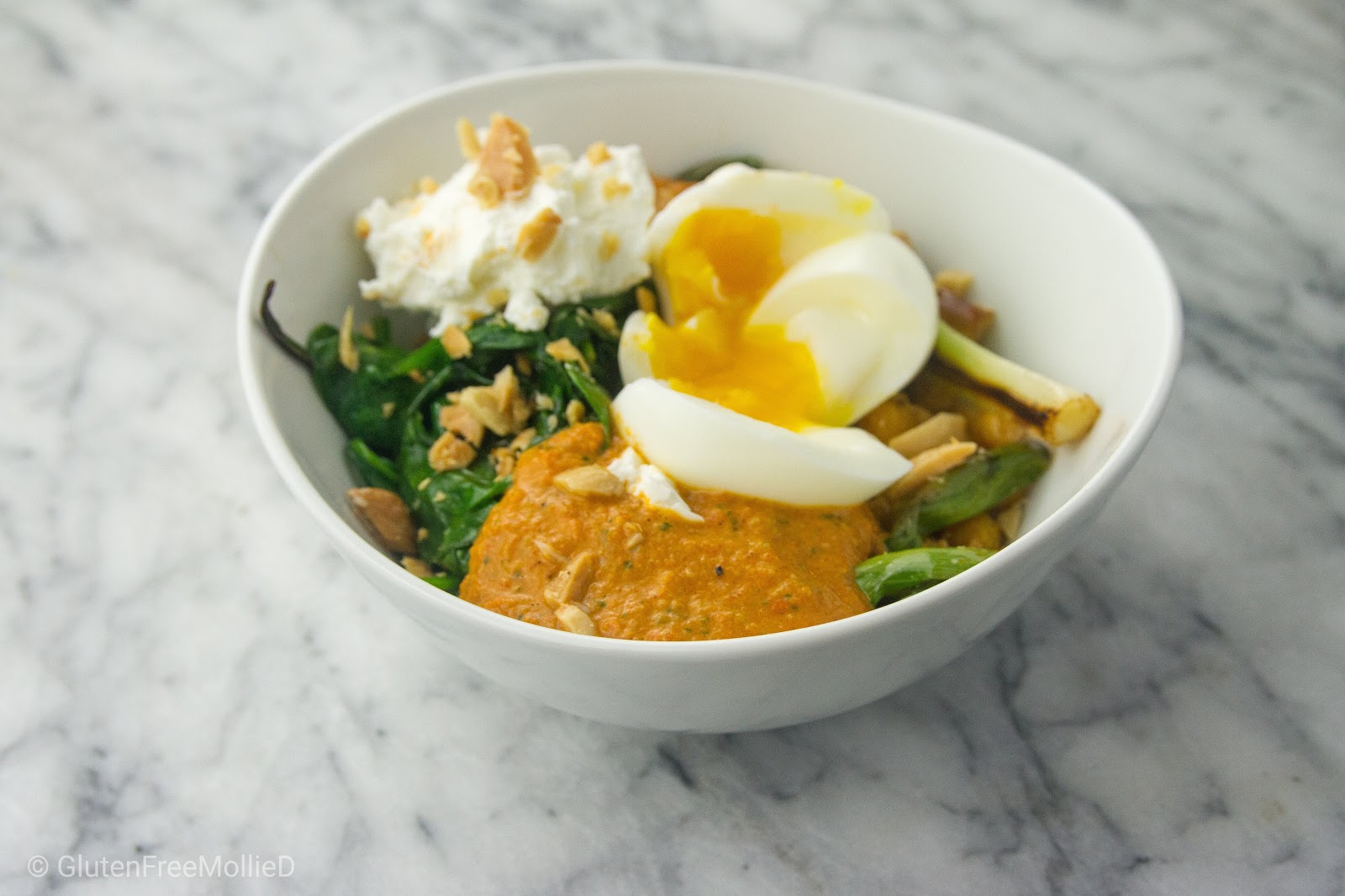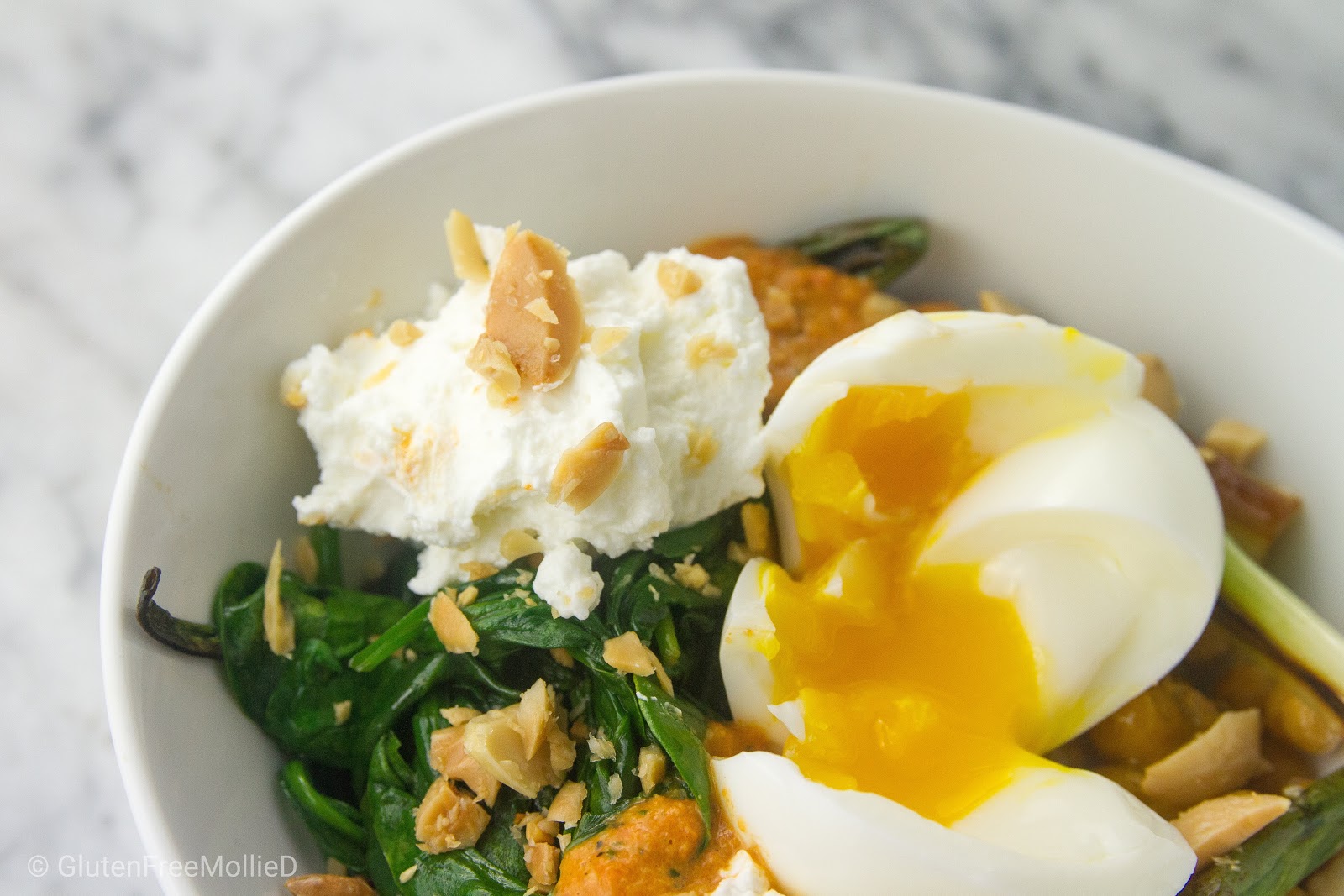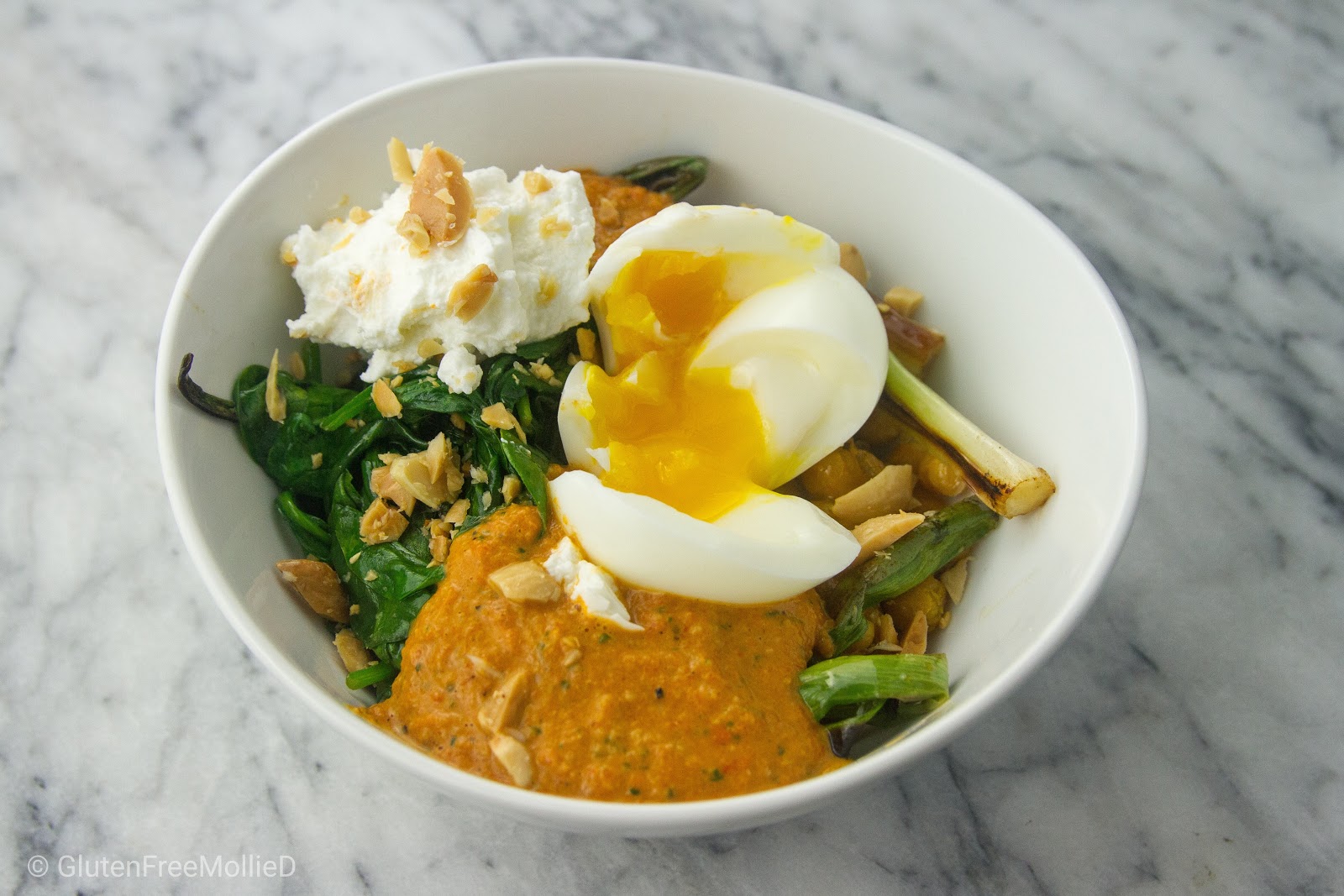 Romesco, Chickpeas, and Smashed Egg Bowl
Source: Smitten Kitchen Everyday by Deb Perelman
Tip: This dish is naturally gluten free! Of course, always check labels to double-check (each of the ingredients is naturally gluten free, but check on the label to see if the facility where its produced also processes wheat-based ingredients).
Review: What. A. Delight. This meal seems to prove that pretty much anything can be made into a filling, healthy, and delicious dinner. A fairly random ingredient combo (chickpeas, spinach, eggs, and a spicy romesco sauce) comes together to create an excellent weeknight meal that checks all the boxes.
Romesco is a spicy, fragrant, and just-the-right-level-of-brightness sauce to excite the bed of chickpeas and spinach. Making it is easy (hooray for the Vitamix!) and is as delicious served cool as it is warm. I could definitely envision using it on all sorts of other meals too including a fancy toast, a scrumptious omelette topping, or even a great sauce for a pasta salad. The options are endless!
And don't even get me started on those eggs. Who knew that a soft-boiled egg would be the best dinner-protein-addition of 2019 so far?! I'm sold. And will now consider adding one of these to the majority of my dinners from now on. ;)
What I loved about this dish was the fun variance in textures and flavors which magically blended together to create a meal I couldn't get enough of - I wanted more! Make this for dinner, lunch, brunch, or even a splashy breakfast. I'm pretty sure it will be a win any time of day.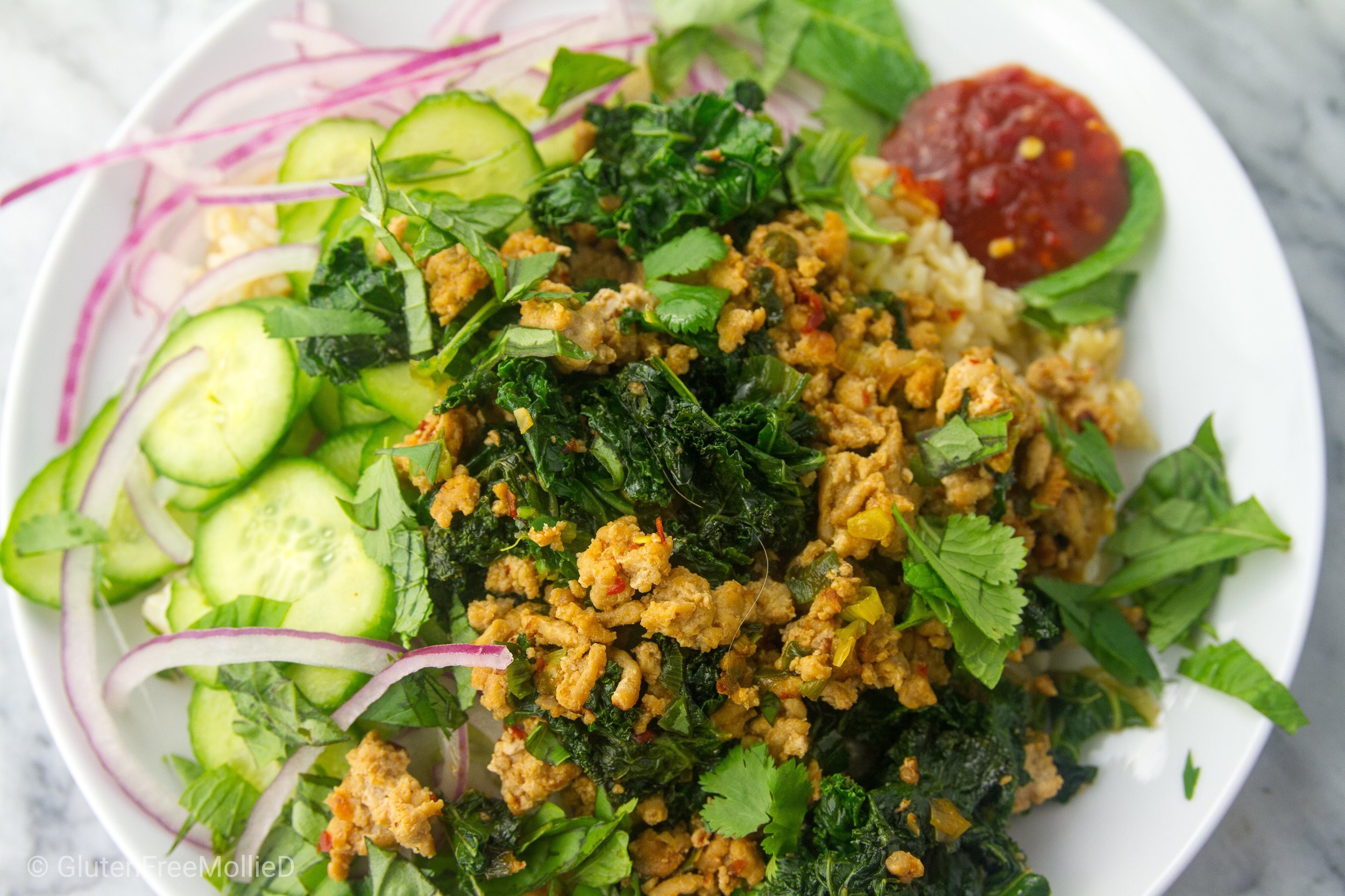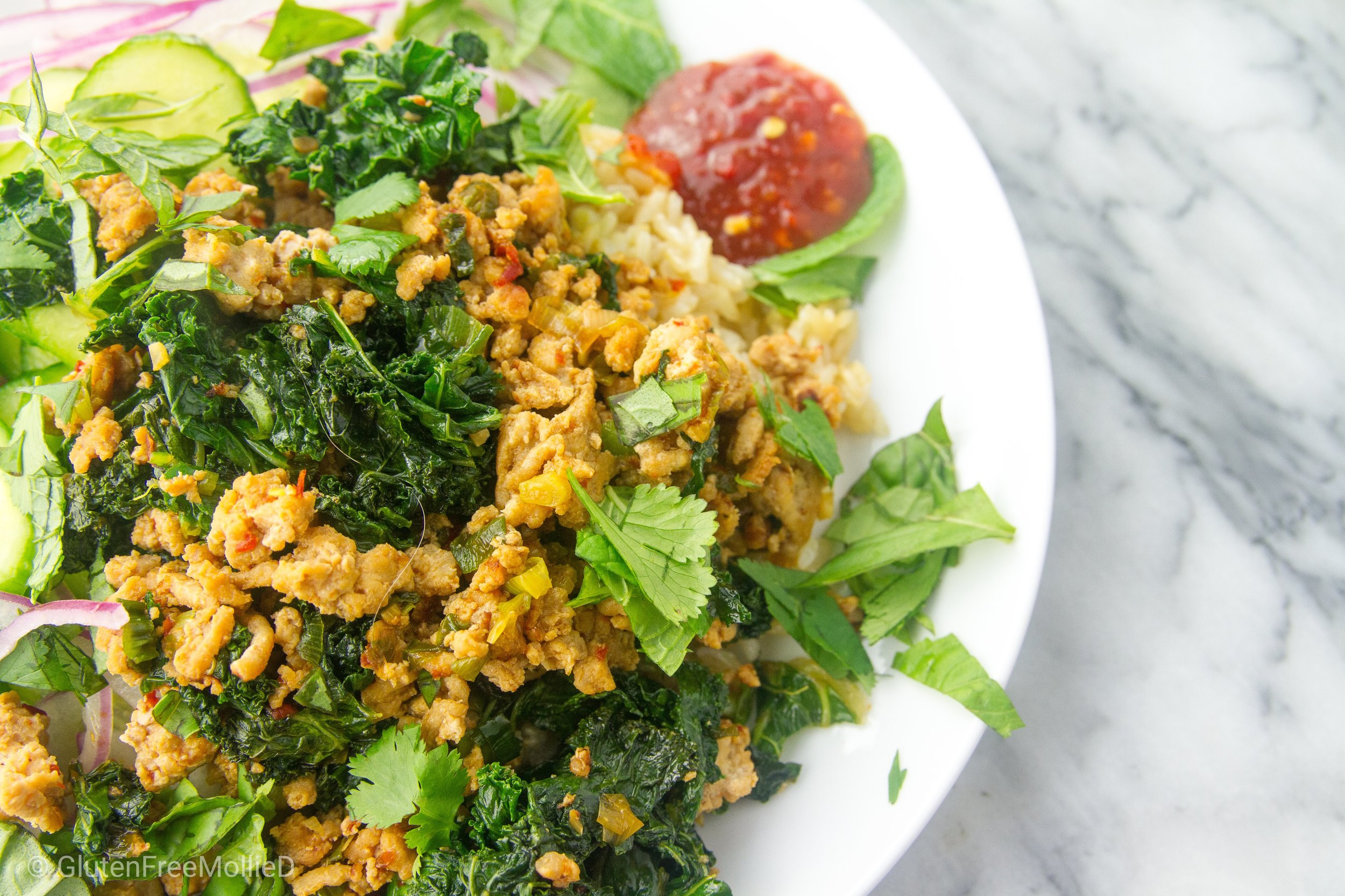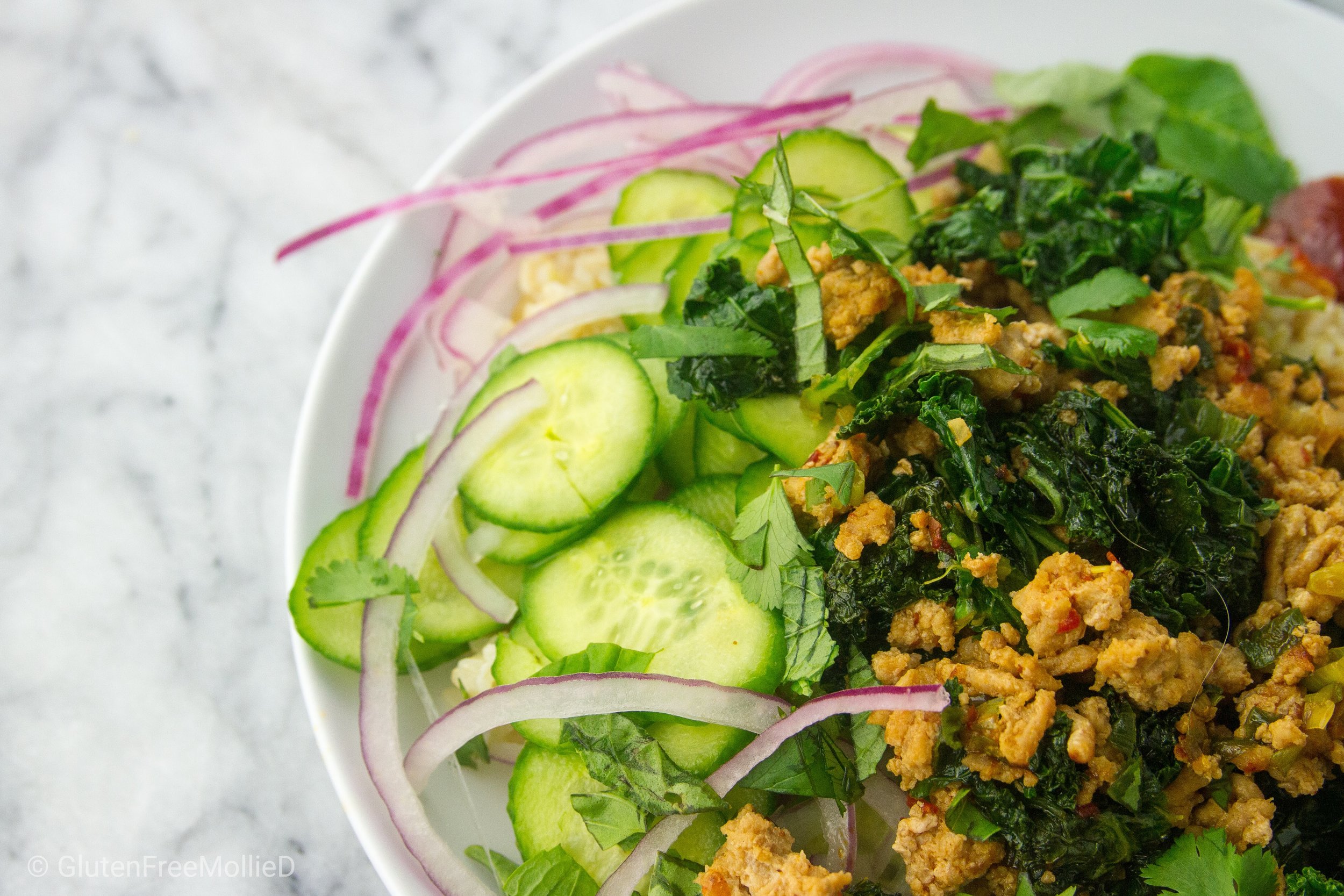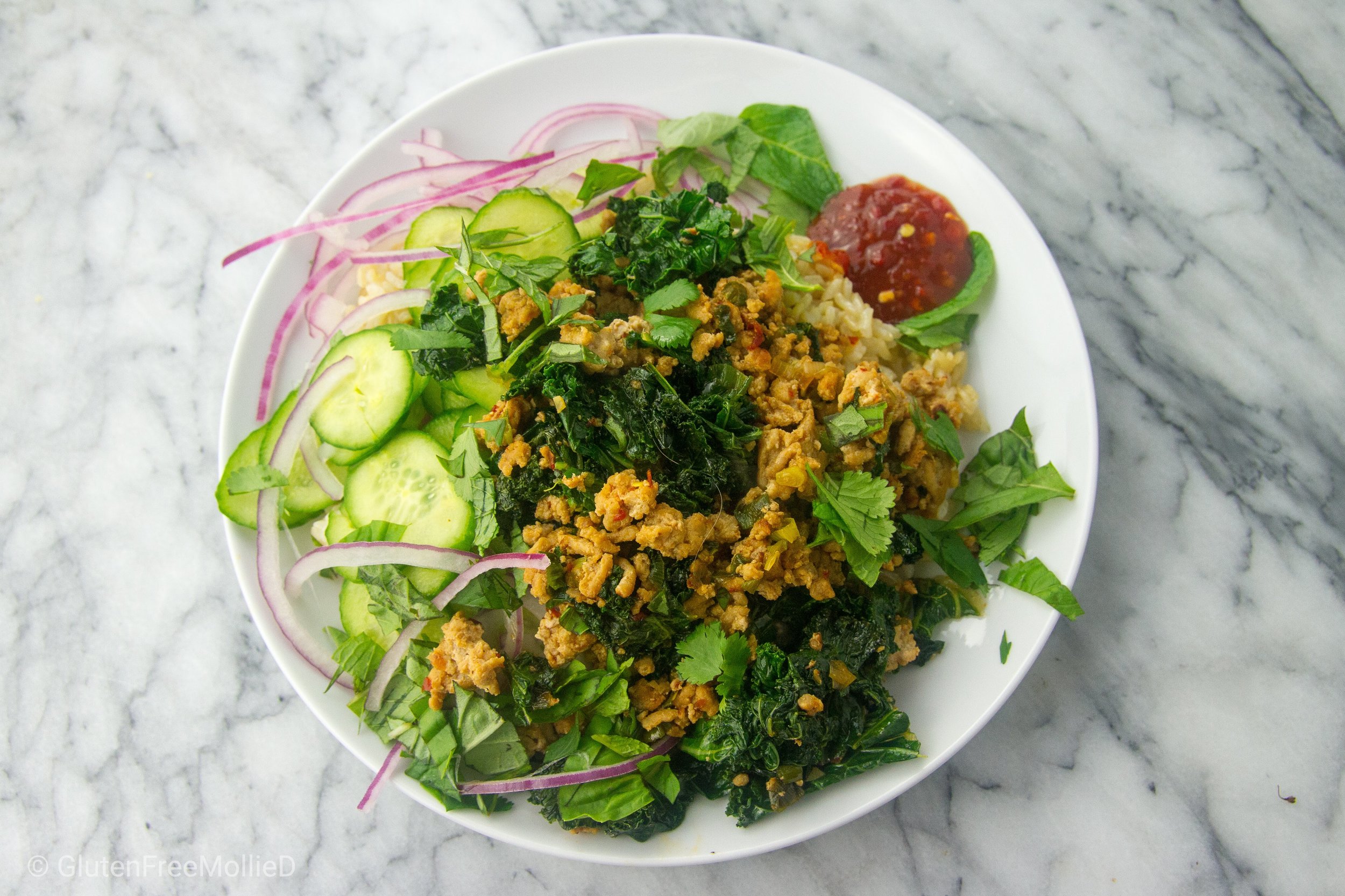 Chicken Larb Bowl with Coconut Rice
Source: What's Gaby Cooking: Everyday California Food by Gaby Dalkin
Tip: Just make sure to use gluten free soy sauce! Otherwise, all ingredients are gluten free.
Review: You know those meals that you don't make too often, but when you do there's an immediate thought of, "why don't we make this every single day?!" That's this dinner. I just love it.
Maybe it's the semi-sweet (and utterly awesome) coconut rice base, maybe it's the crunchy pickled cucumbers, or maybe it's the perfect mix of ground chicken and kale with a spicy/savory sauce that I would eat for every meal of the day. I think it's all of those things in a single, supreme bite. Can you tell I love this dish? 😏
Not only is this dinner delicious, but it's also incredibly quick to prepare and makes enough for leftovers, which is one of the most appealing factors. Leftover chicken larb and coconut rice is one of the best leftover combos I've had in a while and I have no shame in admitting I had many bites of this (cold, from the fridge) for several subsequent nights before our actual dinner. It's simply that good!
You could easily serve this for a fun dinner party, your guests would be excited and surprised, or add it to your weeknight meal rotation. Either way I think it's a knockout meal and one that I'd happily eat multiple times a week in any number of settings.
Psst: The coconut rice is fabulous for making fried rice as another use for the leftovers. Add in a couple scrambled eggs and ta da! Breakfast. ;)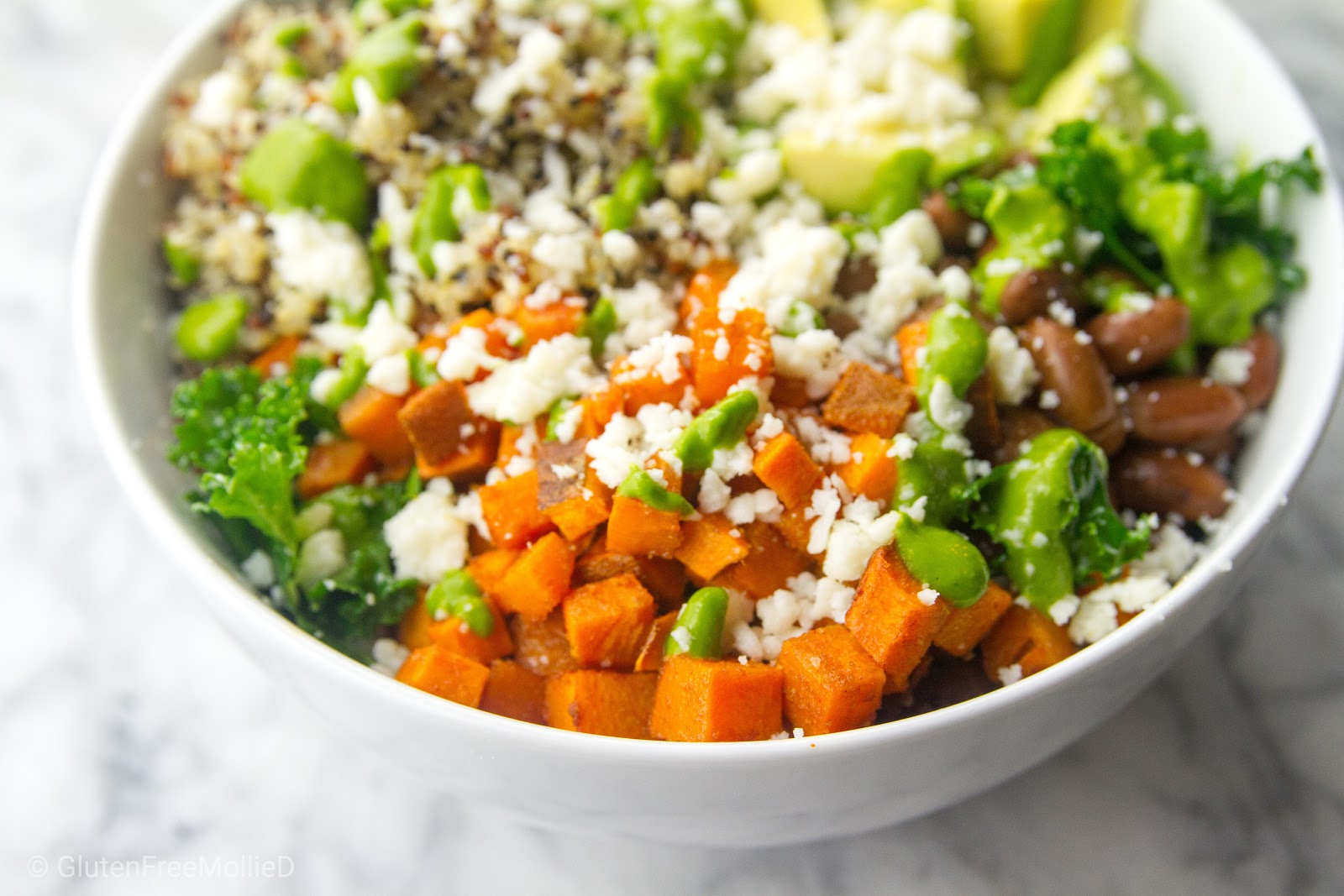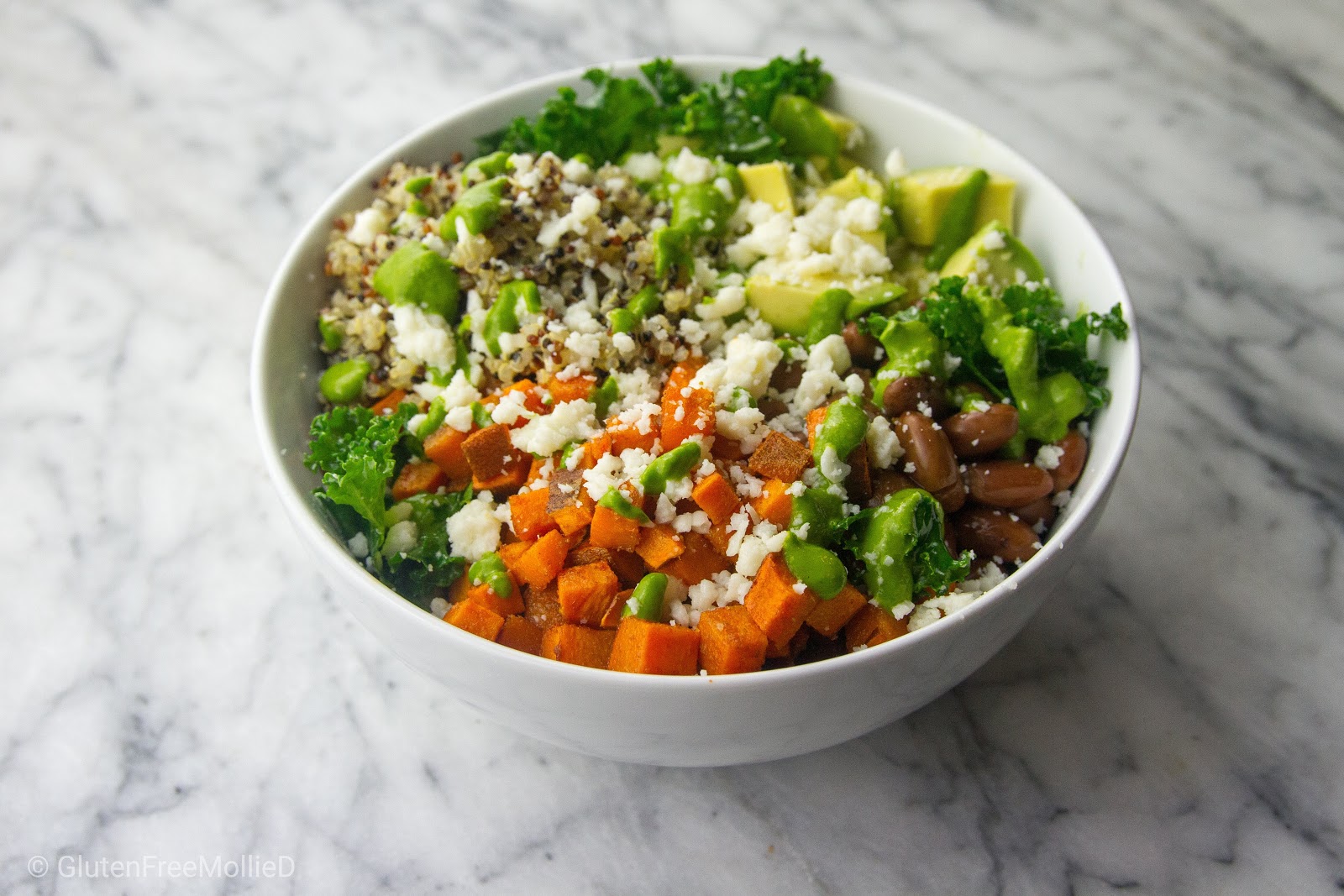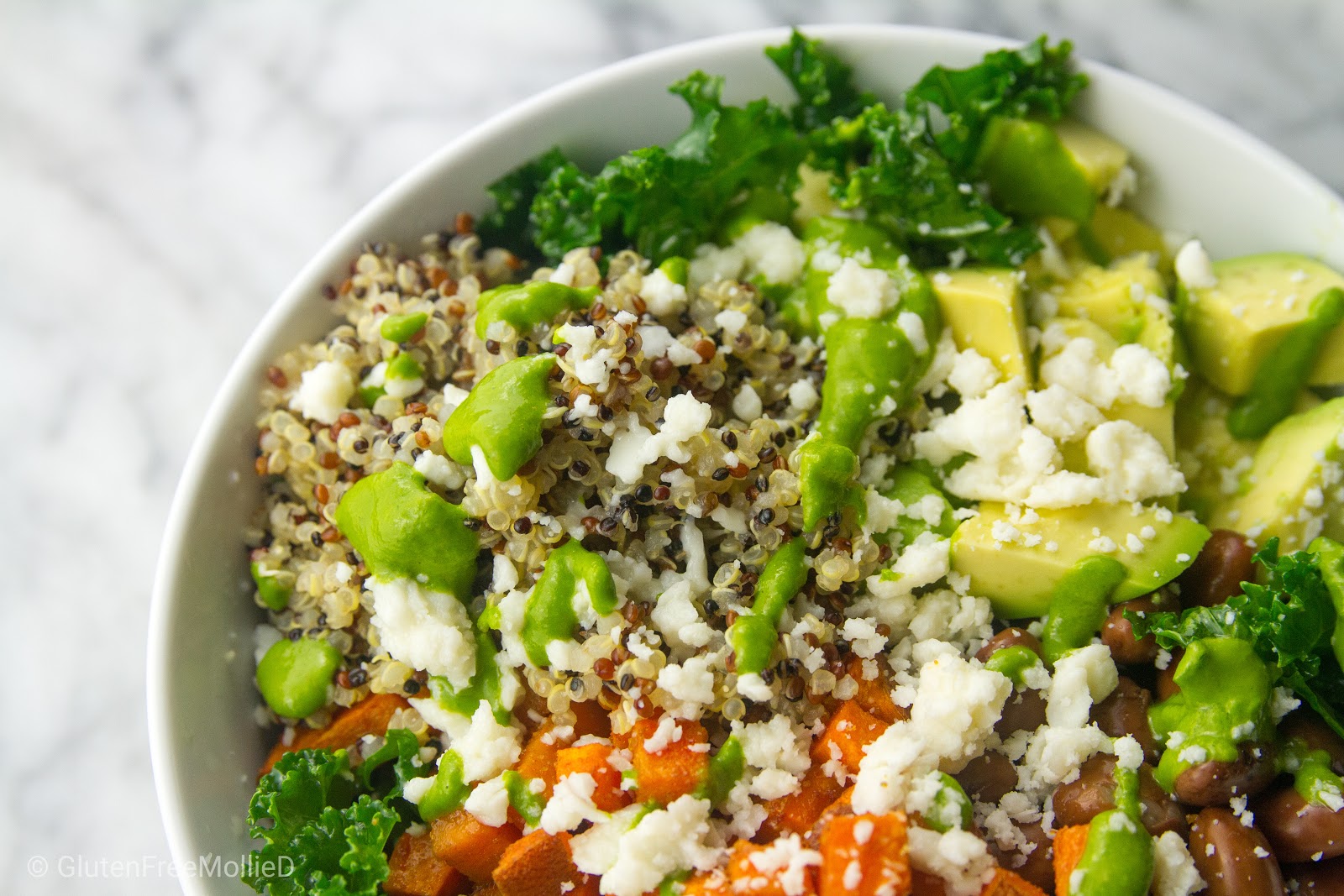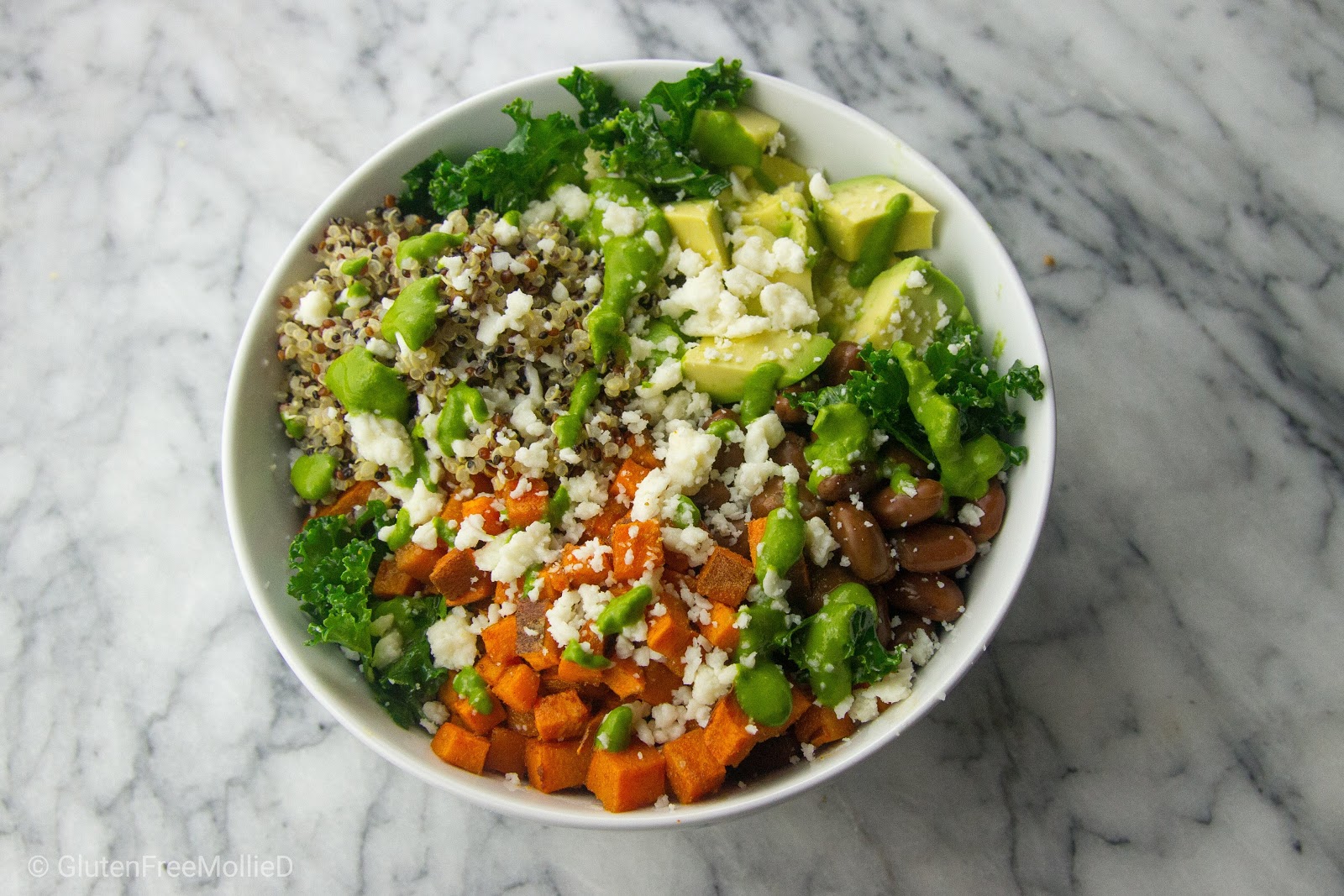 Southwestern Sweet Potato Quinoa Bowl
Source: What's Gaby Cooking, online. Grab the recipe, here.
Tip: This meal is naturally gluten free and vegetarian. Remove the crumbled cotija on top and it's vegan, too!
Review: What I'm learning to enjoy and appreciate more through our weekly meals is that protein comes in all sorts of flavors and shapes. And while I know that including chicken, turkey, or another lean protein is perhaps the quickest way to include it in our meals, there are many other foods that will keep us full and fueled. For example? This dinner!
What a fun mix of flavors and ingredients! This is one of the healthiest meals we've made that's protein- and nutrient-packed and I must admit I loved it. A bed of kale was topped with quinoa, avocado, pinto beans, and a hearty scoop of roasted sweet potatoes (that had a southwestern seasoning). Then we drizzled a homemade cilantro vinaigrette on top, sprinkled some cotija, and that really sealed the deal. So delicious, fresh, and fabulous.
Let's be real: this dish tasted indulgent despite being so healthy. Wow. Who am I? Where are my fries? 😂 All kidding aside, I'm proud to say I'm learning to really love these healthy bowls with nutrient-rich ingredients just as much as I love a weekend treat of crispy fries. Never thought I'd see the day. Never say never. 😉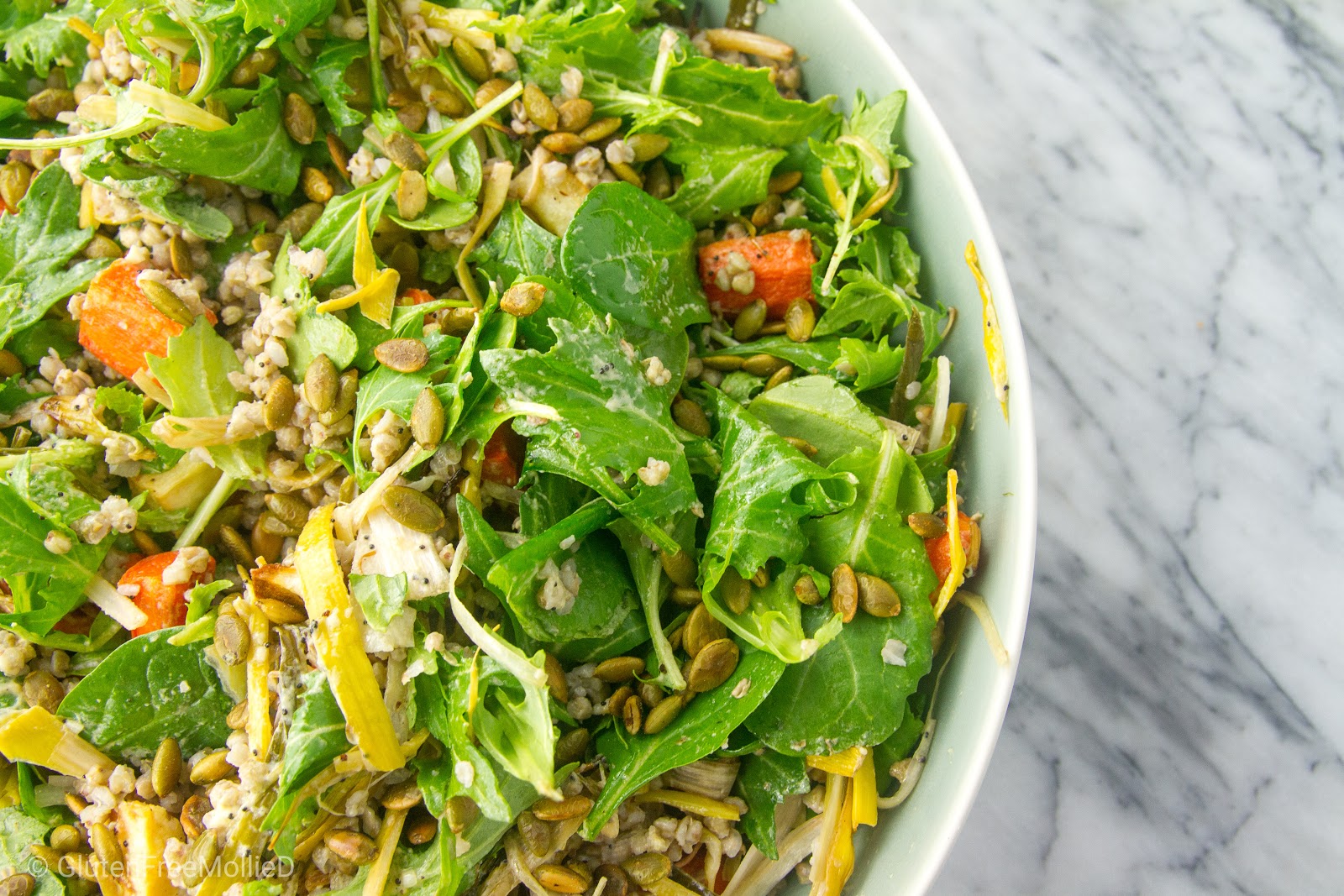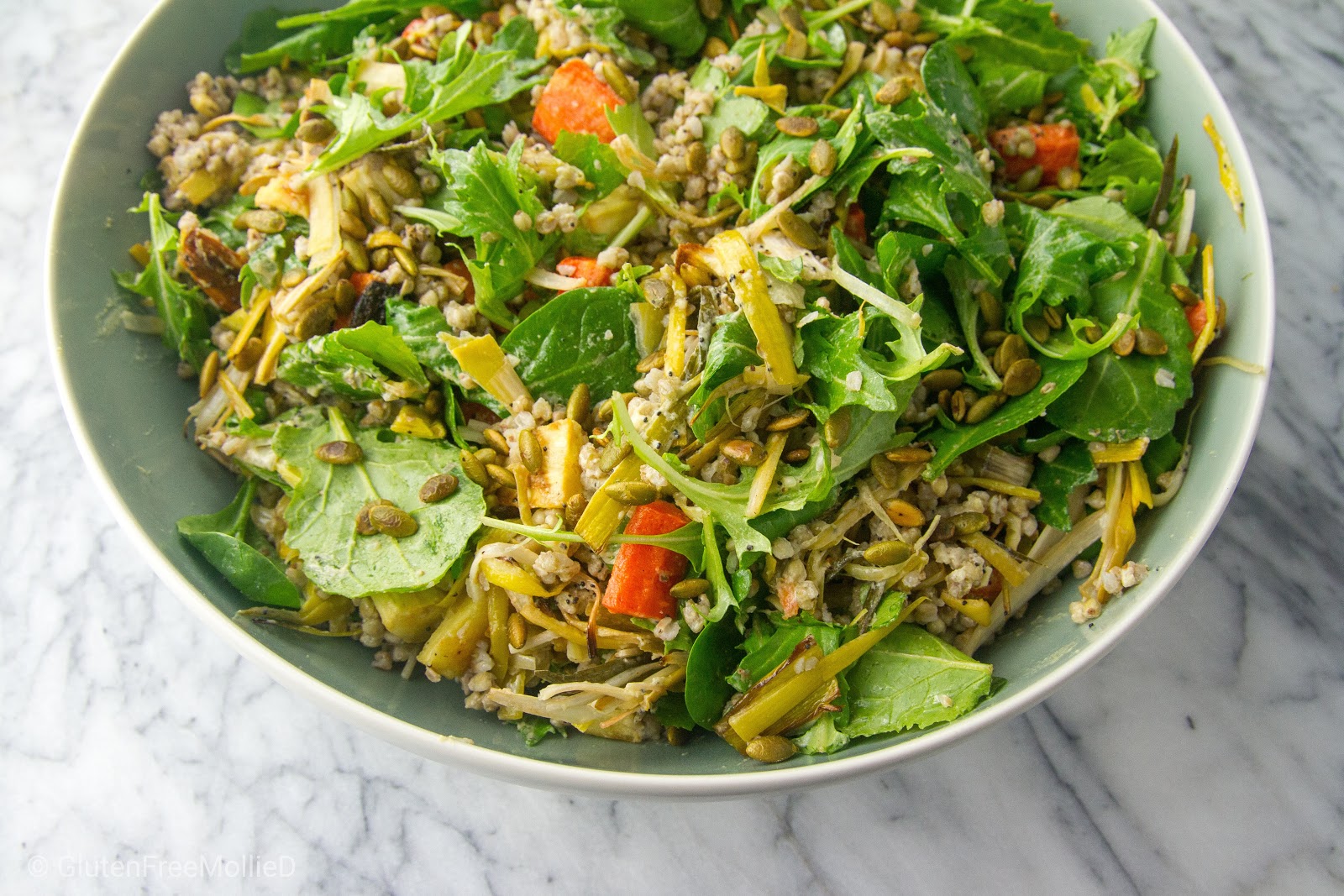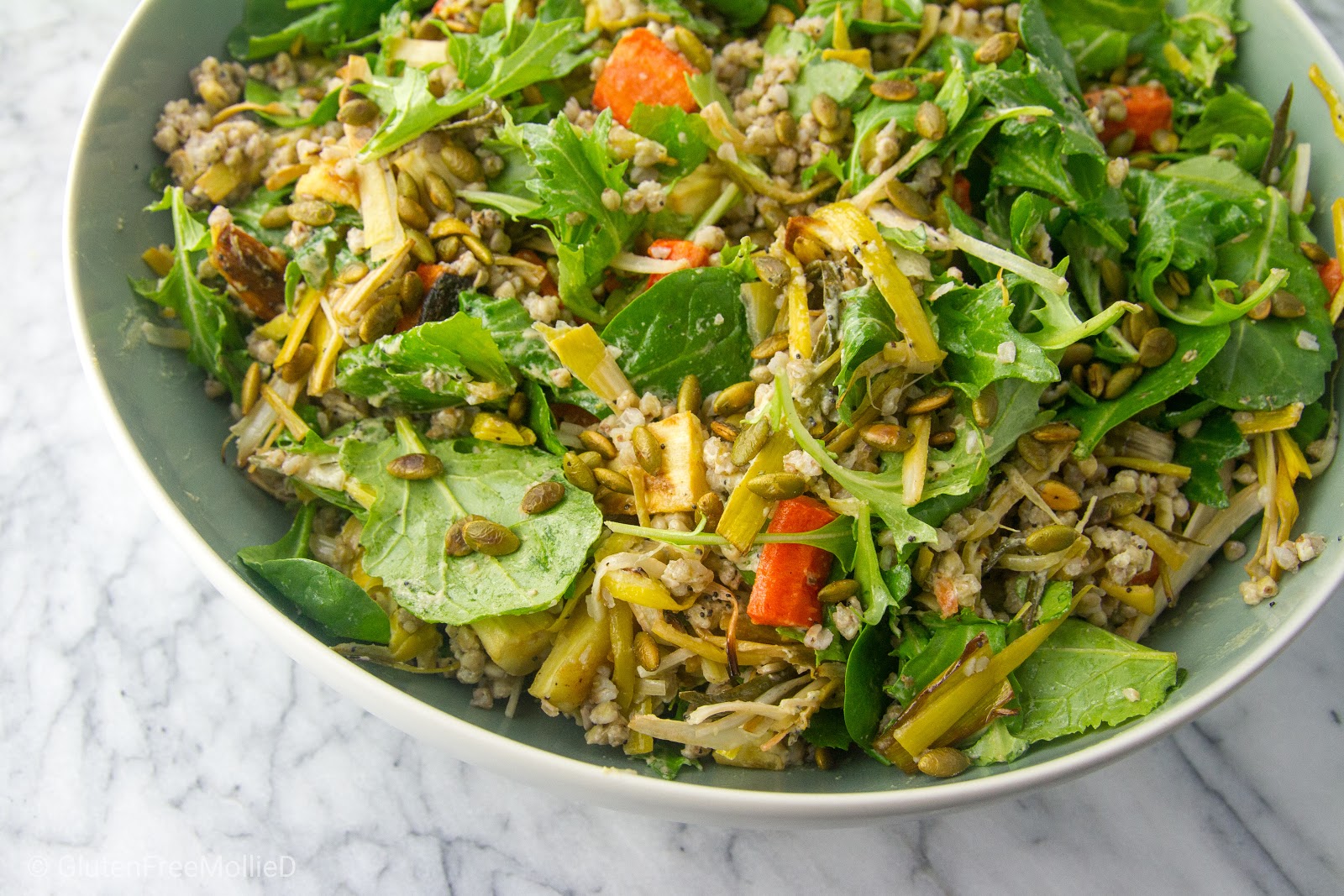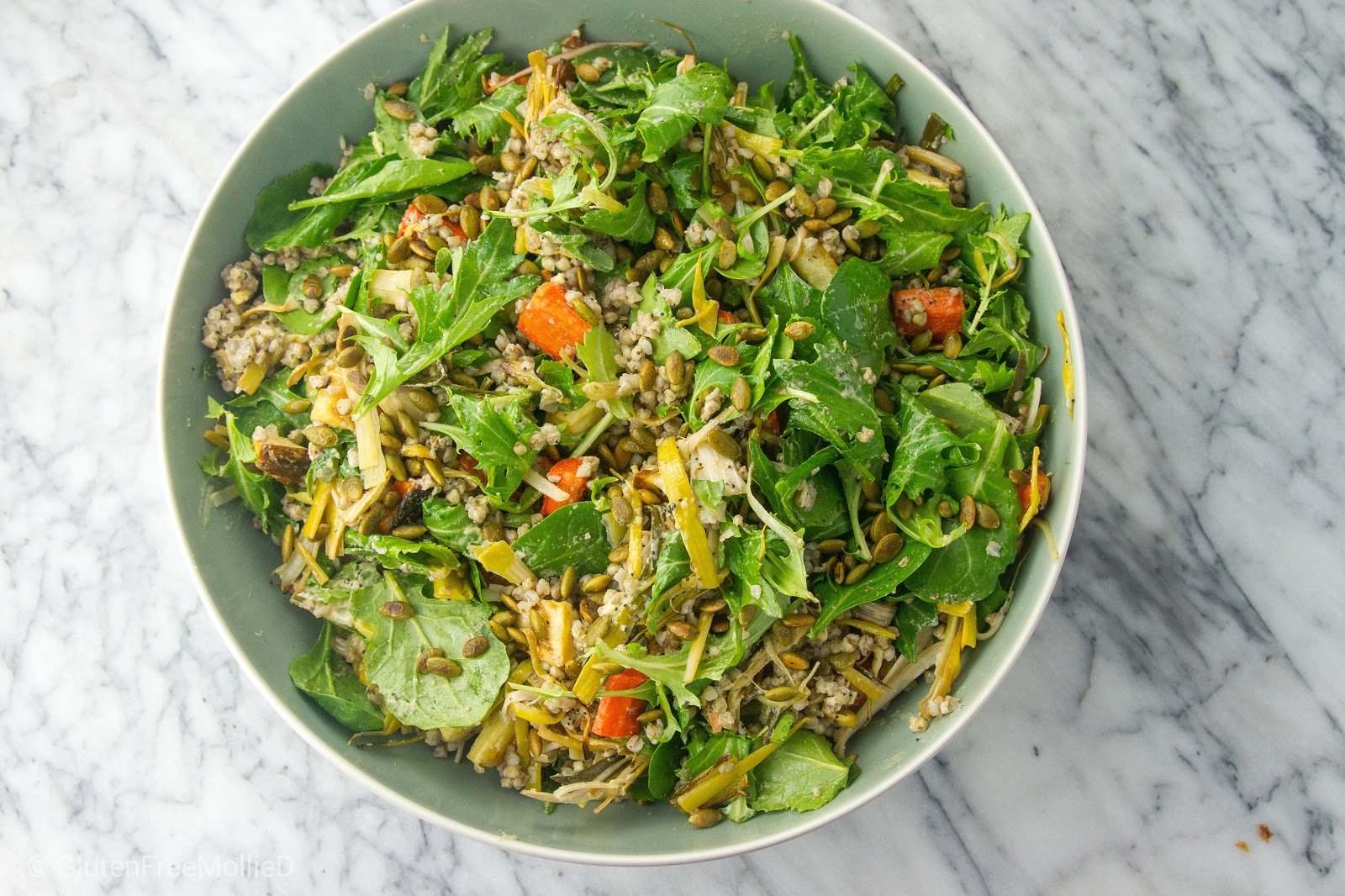 Buckwheat, Carrot, Parsnip, and Leek Salad
Source: Sister Pie by Lisa Ludwinski
Tip: This magical salad is entirely gluten free! Make sure that the buckwheat is labeled GF (it should be!).
Review: What is this crazy health train we're riding? It's delicious so, uh, we're sticking to it! I hope you're enjoying the ride. 😎
Our final meal of the week came from a cookbook primarily about pie. Yes, pie. But funny that - this wonderful pie cookbook has a chapter on salads! Hooray! And they all sounded awesome so I knew we had to jump into these before getting to the pie and cookies on earlier pages. Bear with me. Those will come later. Promise.
Back to the salad! It wasn't the quickest prep due to a lot of vegetables that needed peeling, chopping, and roasting and buckwheat that needed roasting and cooking, but once all of that was done, you basically just throw it all in a bowl, stir in a most-delicious (homemade) tahini poppy dressing, and then you're done. 😏
You've just made a stellar salad that's gigantic (Iike Whoah) and could easily be served for dinner as a main dish, a lunch to impress your colleagues, or as a side salad for a barbecue, picnic, or another outdoor setting where food is involved. It screams outdoors to me despite it being advertised as a winter dish. To each their own!
What we loved about this salad, beyond it's general goodness and variety of flavors and textures, was that it seemed to be a very wholesome dish. Packed with greens, roasted veggies, buckwheat (a naturally gluten free grain), plus seeds and a creamy (but healthy!) dressing really rounded out a salad that's definitely a full meal all on its own.
Yes, I think it would be awesome served alongside a juicy burger or dare I say, a steak, but that doesn't mean it's not super-satisfying without anything else next to it. That just means it's been a while and I'm really craving a burger. 😋 Make this salad. You'll have no regrets except wishing you'd have made it sooner.
And the leftovers will be fantastic. 😎
A few notes on the Weekend...
The Patriots won the Super Bowl!!! 🎉 What more is there to say? 😎😏
We ate a lot of delicious food this weekend including the discovery of gluten free cauliflower crust pizza at California Pizza Kitchen. I was shocked by the quality and flavor. And will definitely be going back!
My morning exercise routine, done on the living room rug with classical music playing (it soothes me!), is still going well and I'm proud that I haven't let it go. Sticking to my plan + goals and it's #worthit.
I bought a couple new (to me) cookbooks! I'm excited to dive into the recipes and start featuring them in our meal plans soon. Have you heard of #COOK90? Seems like our life, but in book form. 😋 It's well-organized and jam-packed with awesome recipes for every meal of the day! Perfect.
How was your weekend? Find any delicious new foods in your part of the world? Catch the Super Bowl? Or did you skip it? I'd love to know your thoughts...
Here's to returning to being healthy and eating foods that make us feel great!
Eat, well.
Mollie and Seth