Thanks and Giving
If you're looking for turkey-free dining, then you've come to the right plate! Yes, we all enjoyed Thanksgiving (more than once!) and adored every turkey-filled bite, but I admit that I'm done with those flavors until next year. Same for you?
Prior to Turkey Day, we planned accordingly and had dinners that were as far from Thanksgiving flavors as possible (on purpose) so that when the Big Feast arrived, we could enjoy it wholeheartedly. And believe me, we loved every single Thanksgiving morsel.
We're feeling ultra-thankful and grateful this year for our families, friends, our health, and of course, you! Thank you for reading; we appreciate each and every one of you so very much.
And now, let's get to the food! 😎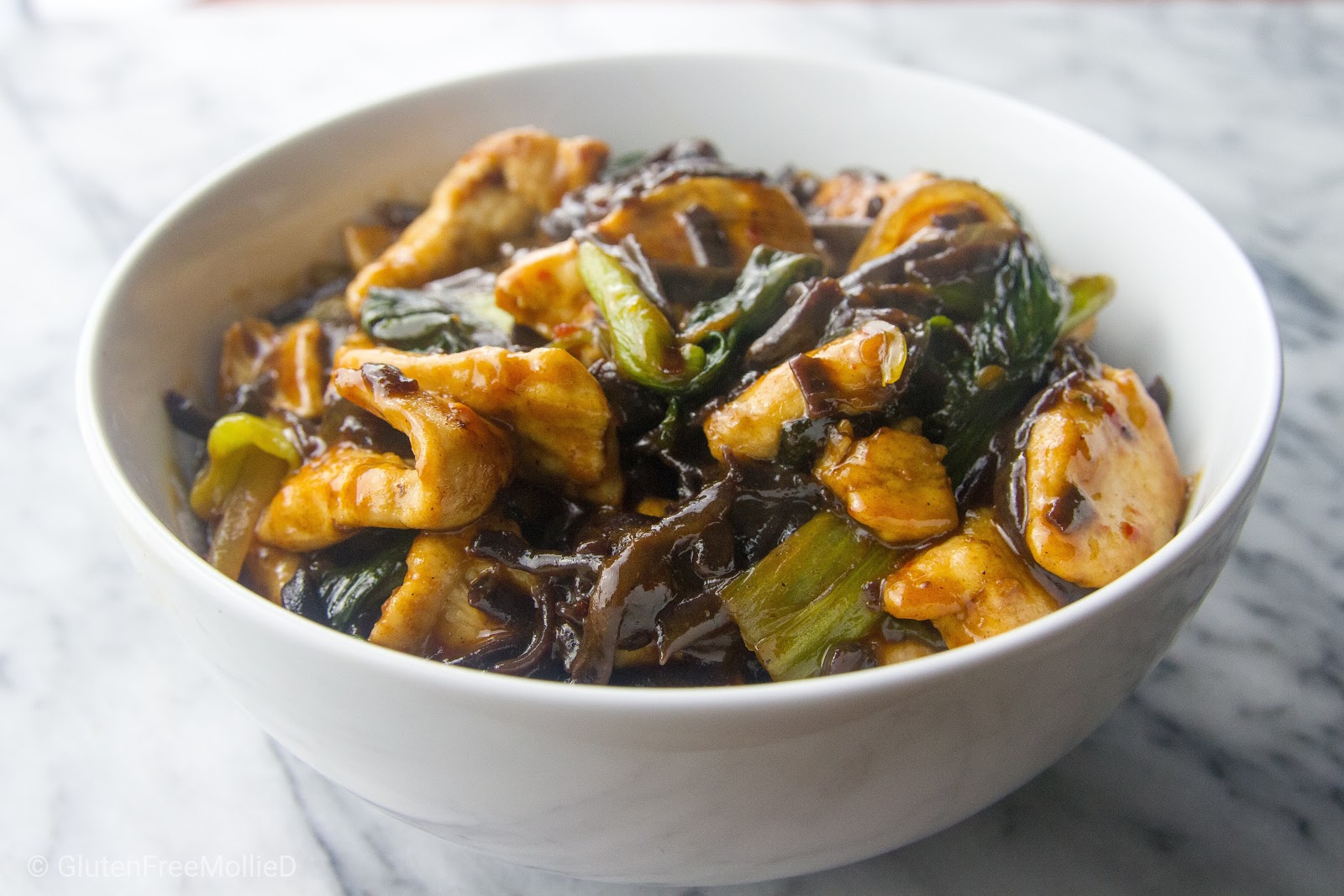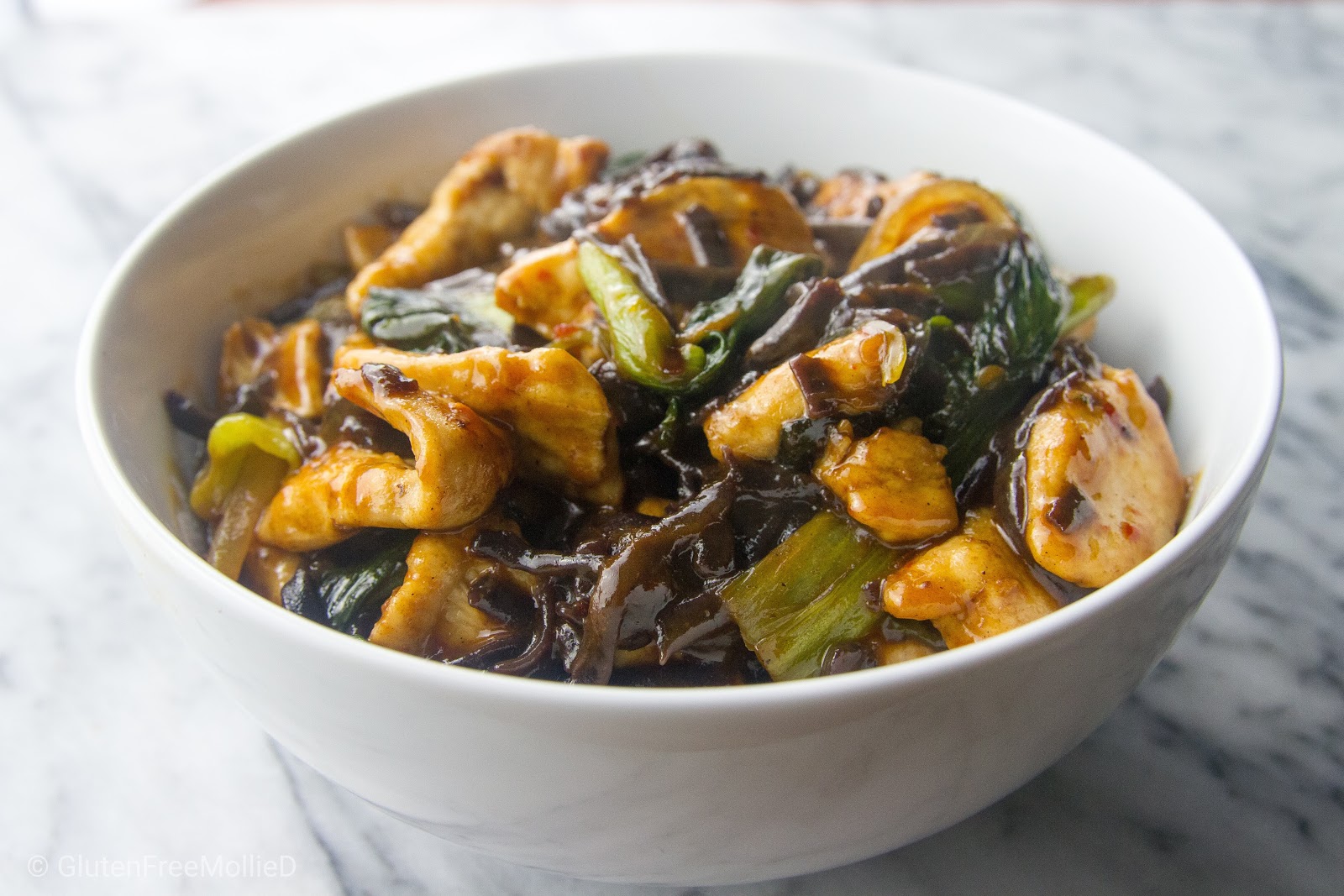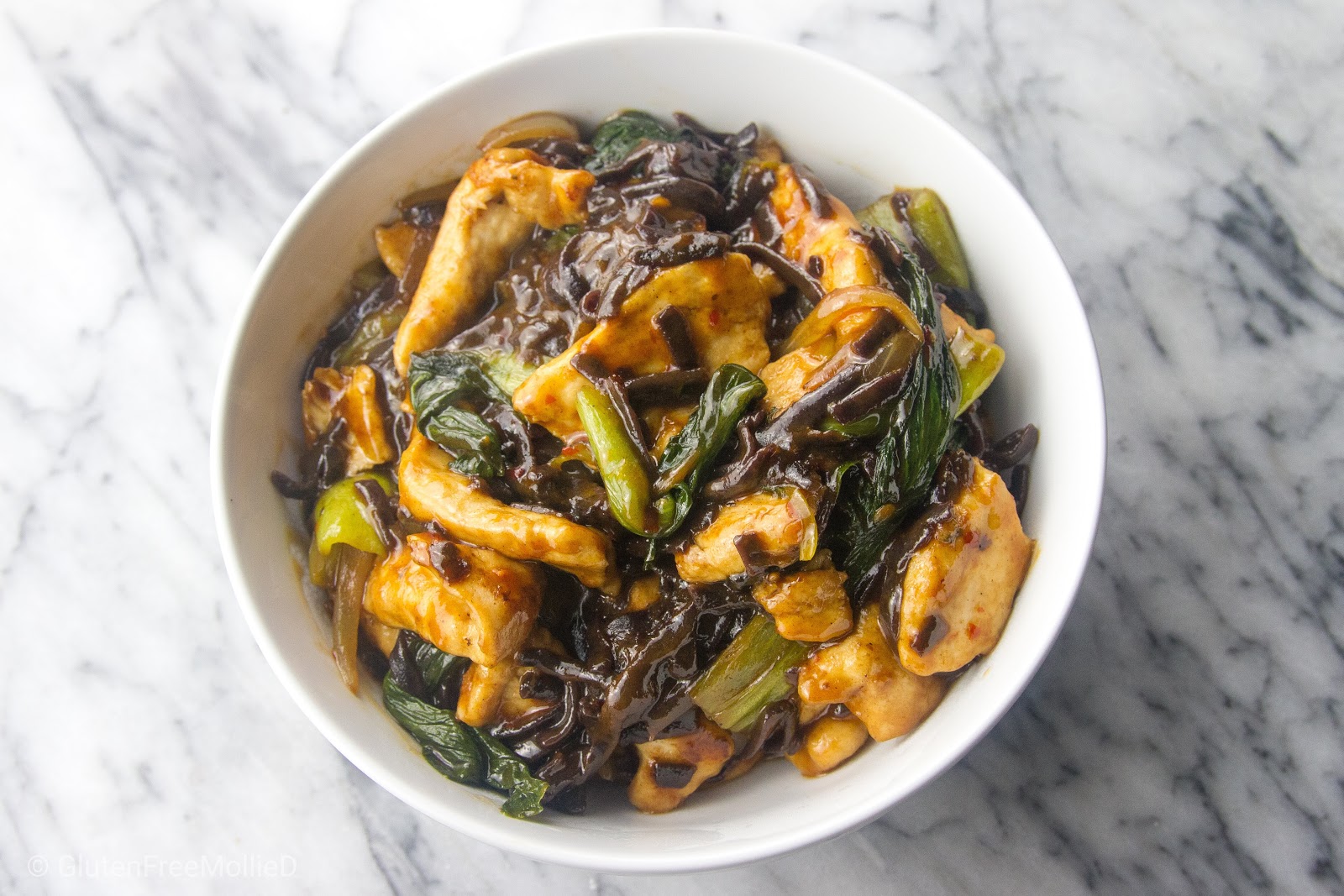 Wok-Charred Udon Noodles with Chicken and Bok Choy
Source: Myers and Chang at Home by Joanne Chang and Karen Akunowicz
Tip: For all Asian food recipes, make sure to use gluten free rice noodles, which are readily available in most major grocery stores. Also, for the sauces, purchase ingredients that are properly labeled gluten free (such as Tamari).
We were able to find gluten free versions of all required ingredients for this meal. And remember, just in case, Amazon tends to always have what you need. 😎
Review: Full disclosure, my friends: we have made this meal before. 😮 The horror. Sometimes we repeat. But it has to be a pretty darn fabulous dish for us to do so. And that's exactly how I'd describe this dinner. Freaking fabulous, fantastic, and just plain old delicious.
There's noodles, chicken, bok choy, and a sauce that's so good I can barely write about it without salivating instantly. We've had this dish at the restaurant, Myers and Chang, so I was overly excited when we found out that it was a recipe included in the cookbook, too.
This meal is comfort food like no other and I crave it more often than not. Think of it as the better/best/best-ever version of a chicken-and-broccoli dish from your favorite Chinese food restaurant. Only there's bok choy instead of broccoli and the sauce is so amazing you'll basically weep. Maybe that's a fairly extreme reaction for a bowl of food, but I dare to disagree. It's just that good.
Who/What/Where: Dazzle your friends, parents, cousins, or anyone else who needs a dinner that's basically perfect in every way by cooking this bowl of goodness for them immediately. You'll wow them with your wok skills and impress everyone with the flavors bursting in every bite. Are you drooling yet? Get cooking!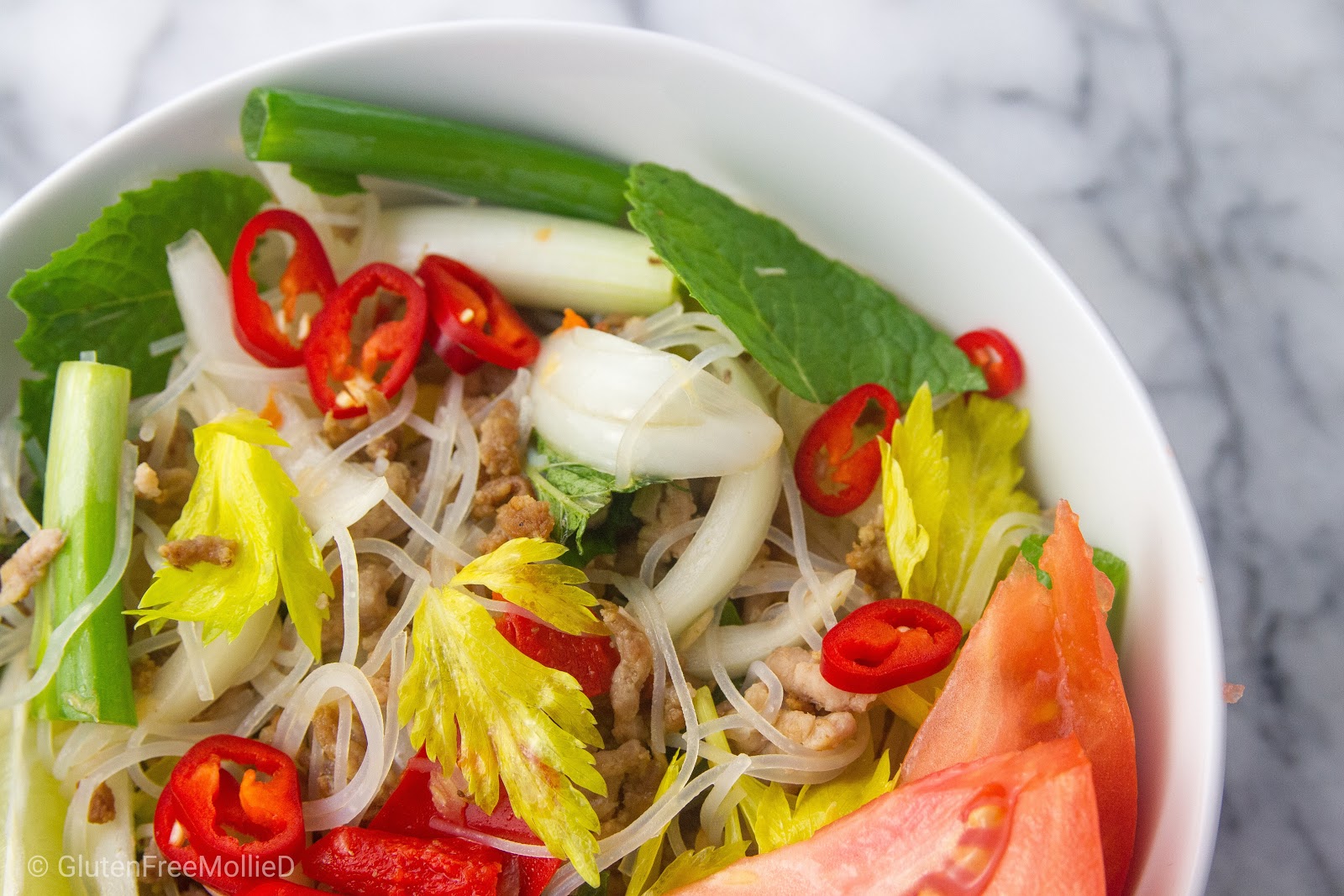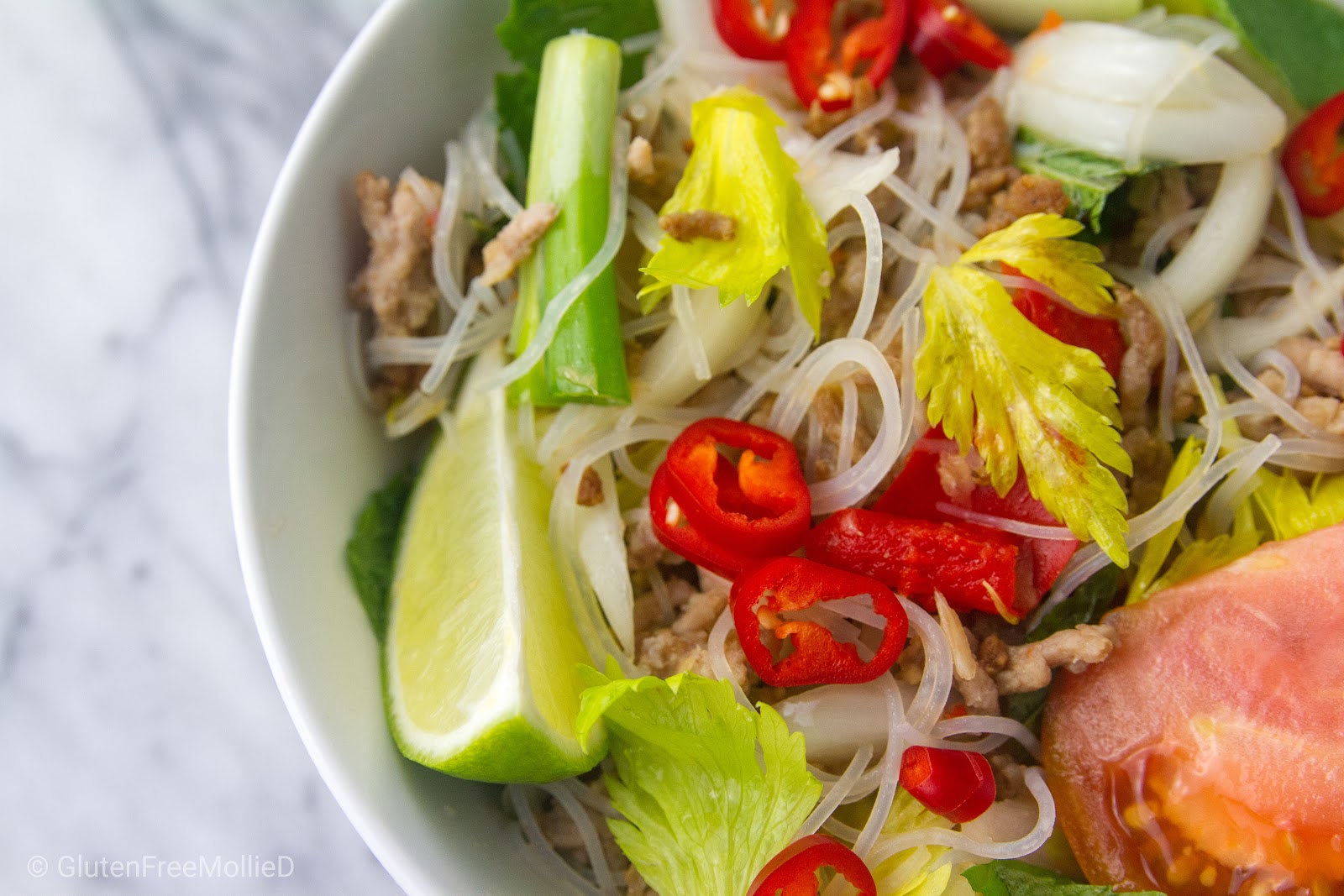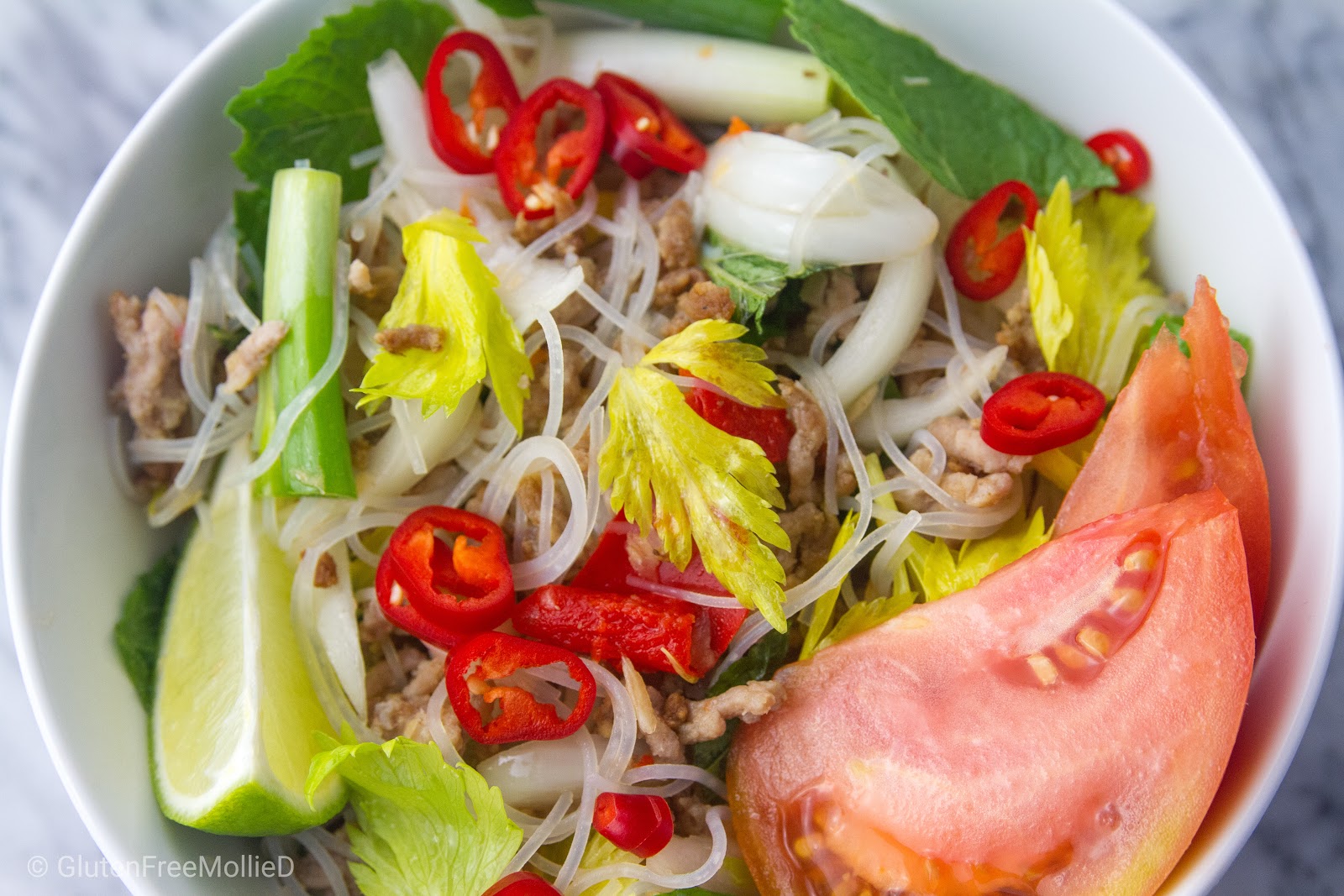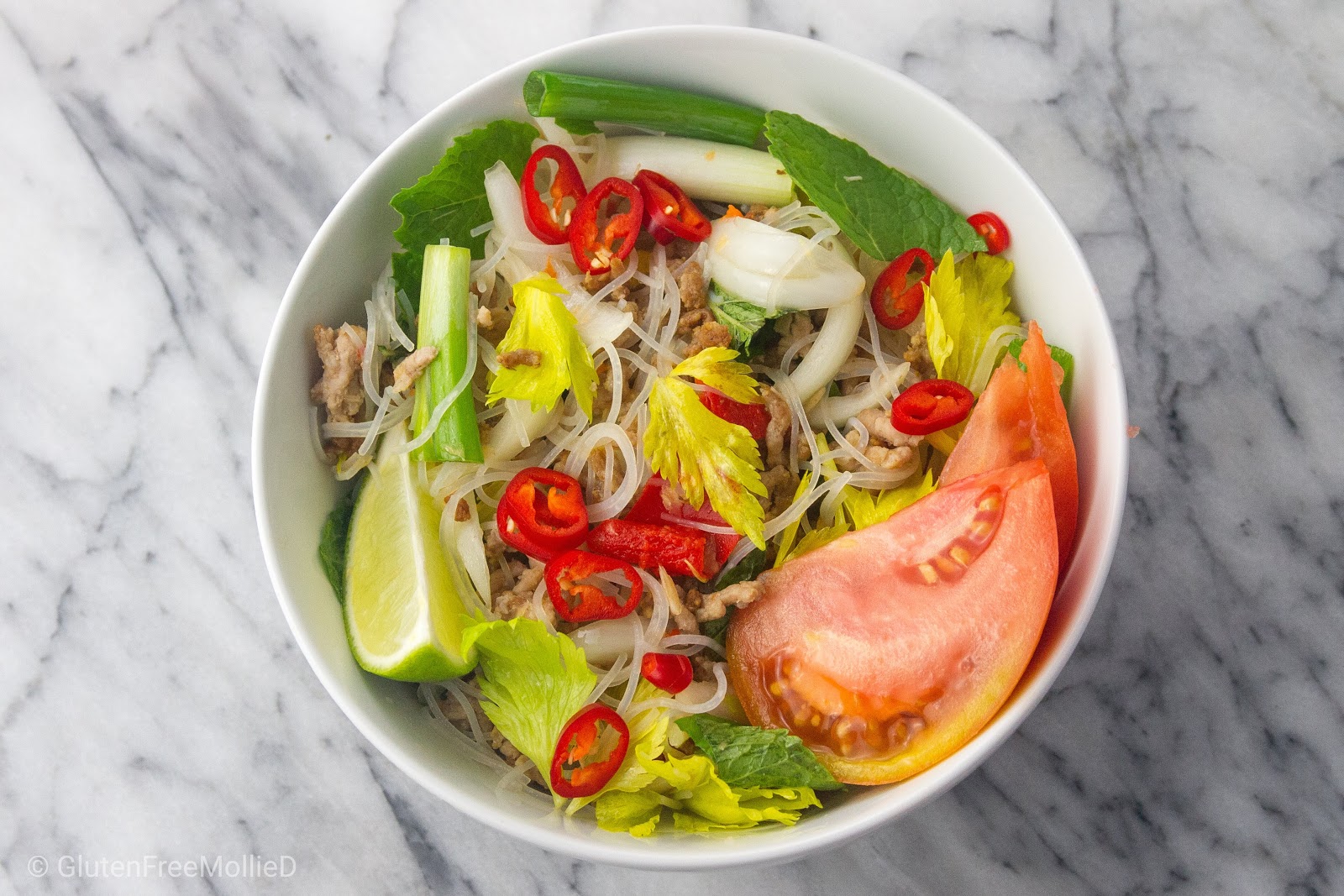 Pork Glass Noodle Salad
Source: Cravings Hungry for More by Chrissy Teigen
Tip: As I noted above, we use GF rice noodles for all Asian-style meals which includes the Thai food recipes in this book. Easy fix!
Review: While you wouldn't normally describe something as a salad that doesn't have greens for a base (just me?), that definition is tossed aside for this delightful meal AKA salad which is essentially noodles tossed with pork, celery, and a few other bright spots of flavors. Let's call it a salad!
If Chrissy Teigen is calling it that, then that's good enough for me! And I really cannot disagree because it was delicious.
Not only was this meal another ultra-quick option from her book, but it was also flavor-packed with minimal ingredients. Scrumptious pockets of spice, salty goodness from crispy pork, and a few veggies thrown in for good measure (and it's a Thai recipe), this salad was a major win in the category of Yummy and Easy. I have no complaints whatsoever!
Who/What/Where: We loved this meal because it was weeknight-ready, offered plenty of great textures and flavors, and was visually appealing despite the small number of ingredients required.
Conveniently, it's for all of those reasons that this would be a perfect meal when you're having company for dinner! Perhaps an impromptu weeknight party, a Friday night with friends, or a last-minute addition to a potluck, this dish is a definite crowd-pleaser. Make it tonight!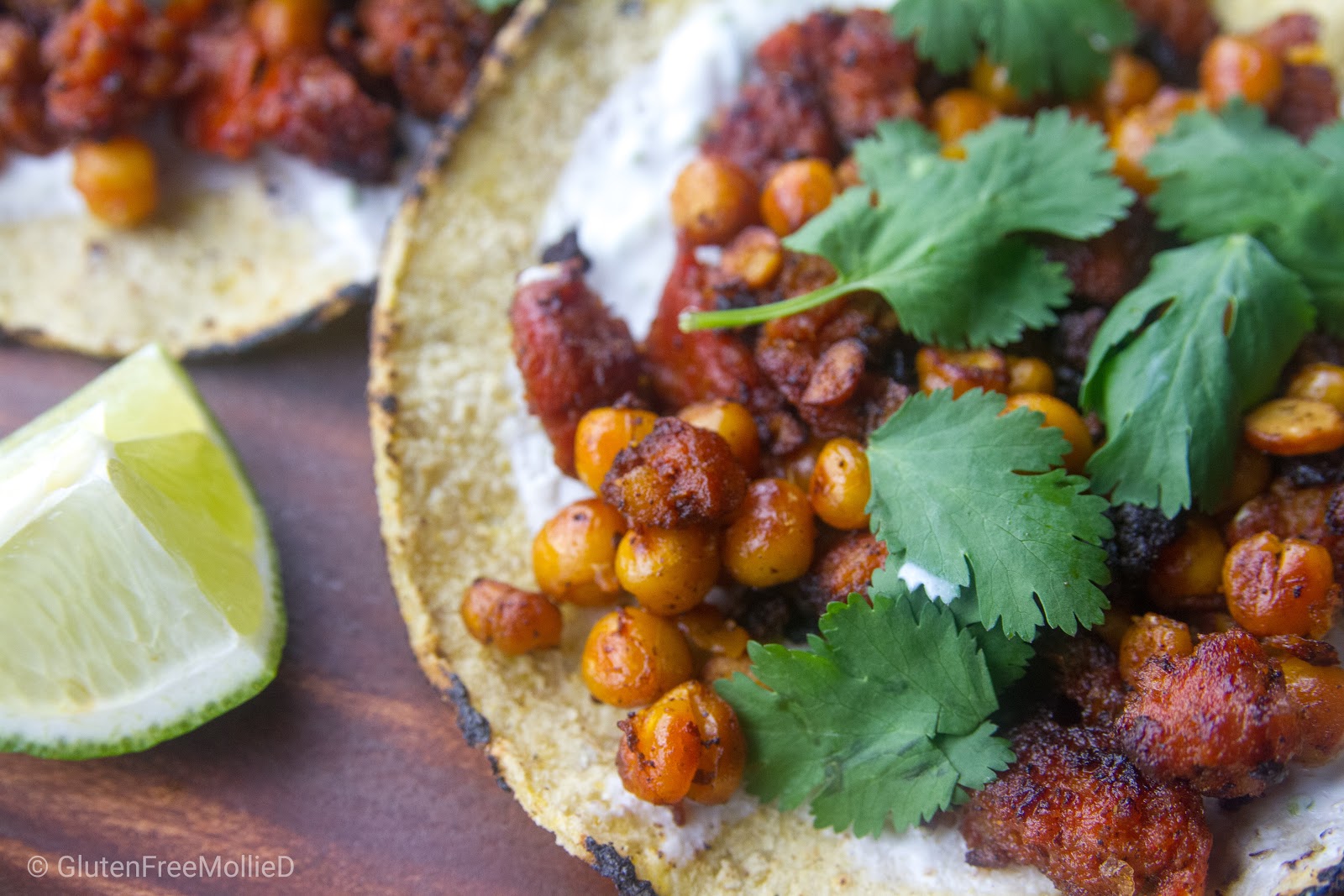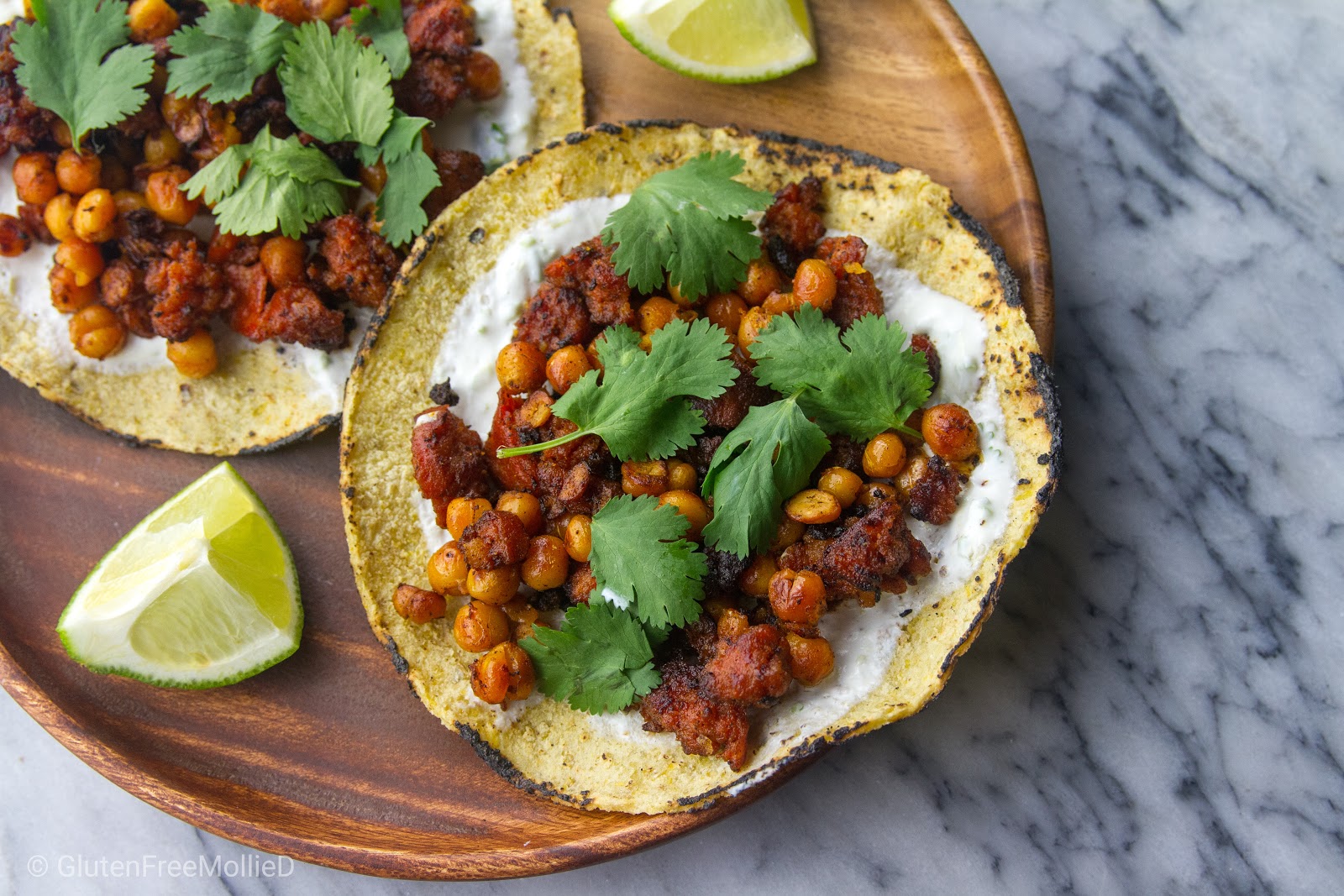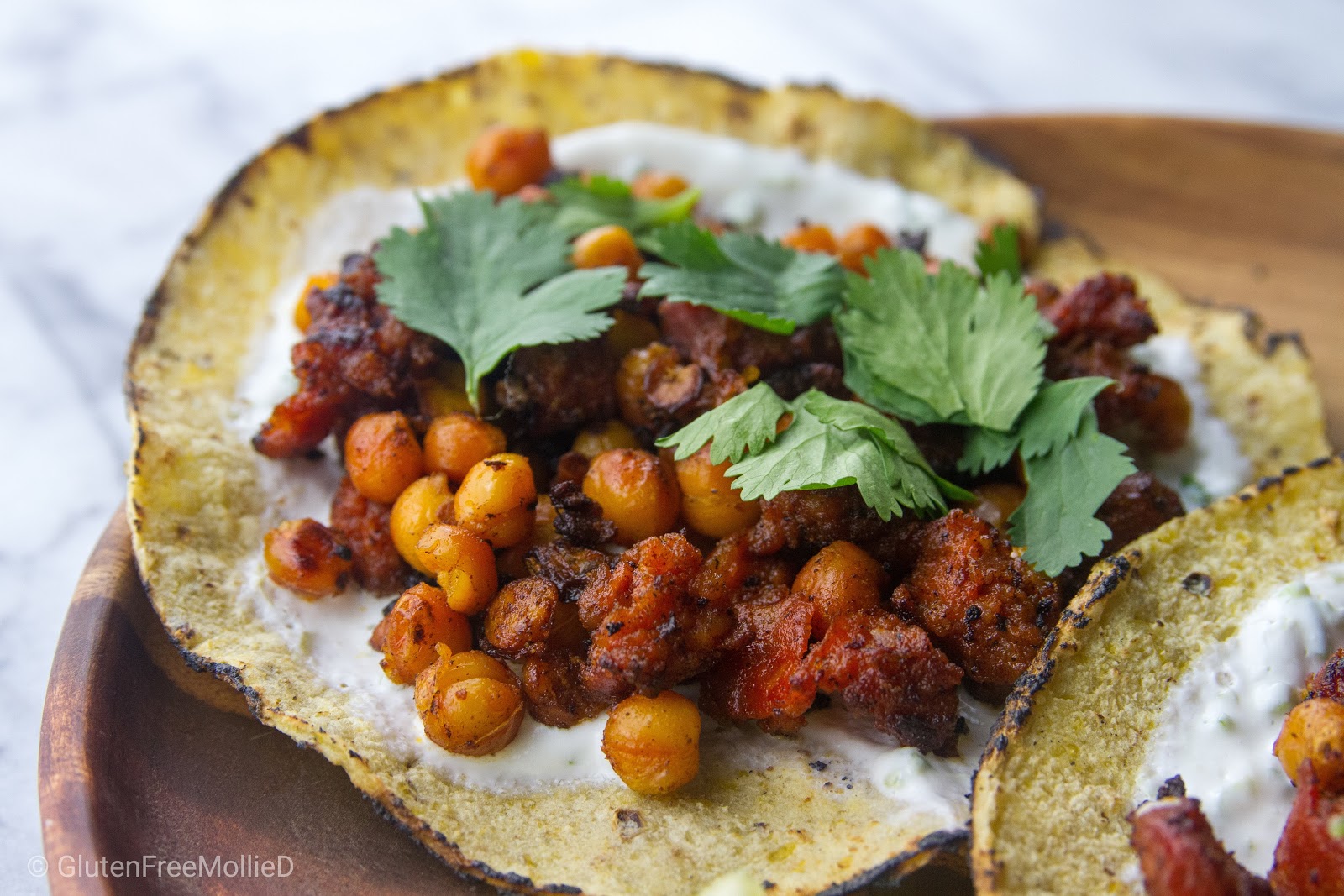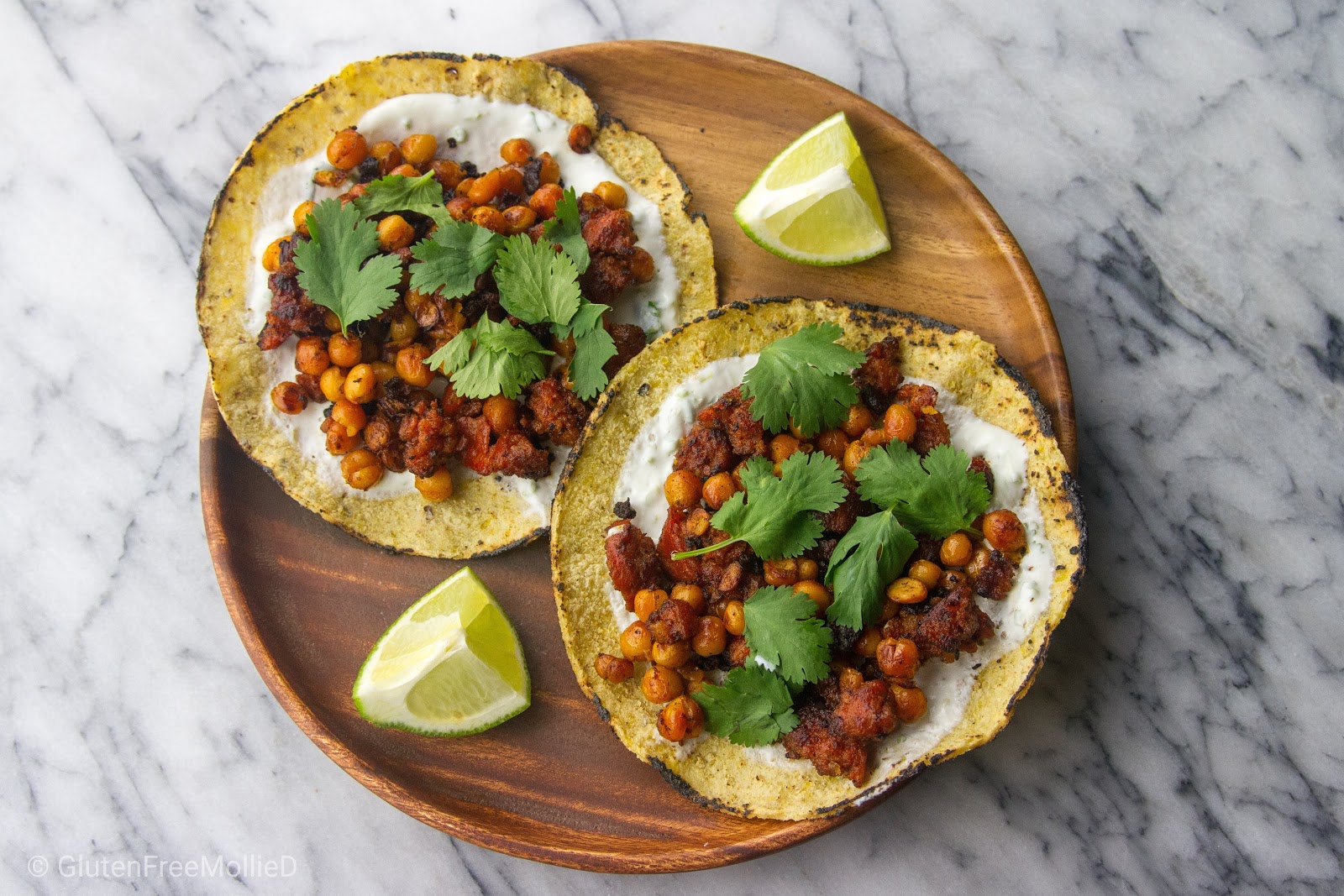 Chickpea and Chorizo Tostadas
Source: Bon Appétit online. Recipe by Lauren Schaefer and is available here!
Tip: Make sure to use gluten free corn tortillas; otherwise, this dish is entirely gluten free! Chorizo and chickpeas are gluten free foods, but be sure to buy products that are labeled as such.
Review: OK, this is another meal we have made previously. 😬 But it's so good! And quick! And yummy! And we had to run to the grocery store after dinner for baking supplies so the fastest-meal-ever was a must.
It makes me so happy when fast dinners are also delicious dinners. Sure, there are an infinite number of not-fast meals that are amazing, but it's oddly more satisfying when only a splash of time and energy is required to create something great (especially when you're short on time!).
Crispy chickpeas and chorizo, cooked together in cast-iron, then added to a hot tortilla that's been spread with a cool lime crema is a recipe for success. Would I recommend doubling the recipe? Yes. Would I even suggest tripling it pending the number of eaters at your table? Yup. It's delicious and everyone will want a few. 😉
Who/What/Where: We loved it for a quick dinner before errands, and families may love it for an easy dinner after/before homework or before/after sports practices. I personally was in the band, but I'd definitely love to eat this dinner once I got home (before starting my homework). ☺️
The Weekend
Our extra-long weekend started early, on Wednesday, and we've been lounging ever since! Just kidding.
I baked for several hours on Wednesday, we celebrated Thanksgiving on Thursday and Saturday, we went to my high school reunion (it's been a while!), we finally got to meet my sister and brother-in-law's new dog (the cutest!), and we even managed a couple meals out! Phew! It's been a whirlwind set of days packed with food, family, more food, and feeling great about the start of this holiday season.
As much as we focus on food (yum!) and going out (yay!), what matters most this time of year, and always, is spending time with our families and being so grateful for everyone's health and happiness.
We love telling all of you about our dinner every night, and we find being able share our food and food-joy with our families and friends to be the cherry on top. But, like, a really awesome luxardo cherry. 😉
Happy holidays! Let's eat well, together. ❤️
Mollie and Seth