Seasonal Selections
By the time you read this, game five of the World Series will be complete and we will be celebrating joyfully as the Red Sox have won the World Series in fantastic fashion! Hooray!! If you're a Dodgers fan, I'm sorry, better luck next year...But you're not here for a baseball Recap, are you? 😉
Last week's meals were just plain delicious. From meatballs to meatloaf, crab to shrimp, and even a fall squash, the dinners were bold, the flavors awesome, and the dishes were a terrific array of seasonal staples. All in all? A really yummy week.
All ingredients used in this week's recipes were graciously provided by Wilson Farm in Lexington, MA. All opinions, ideas, and photos are my own.
Let's get to the details, shall we?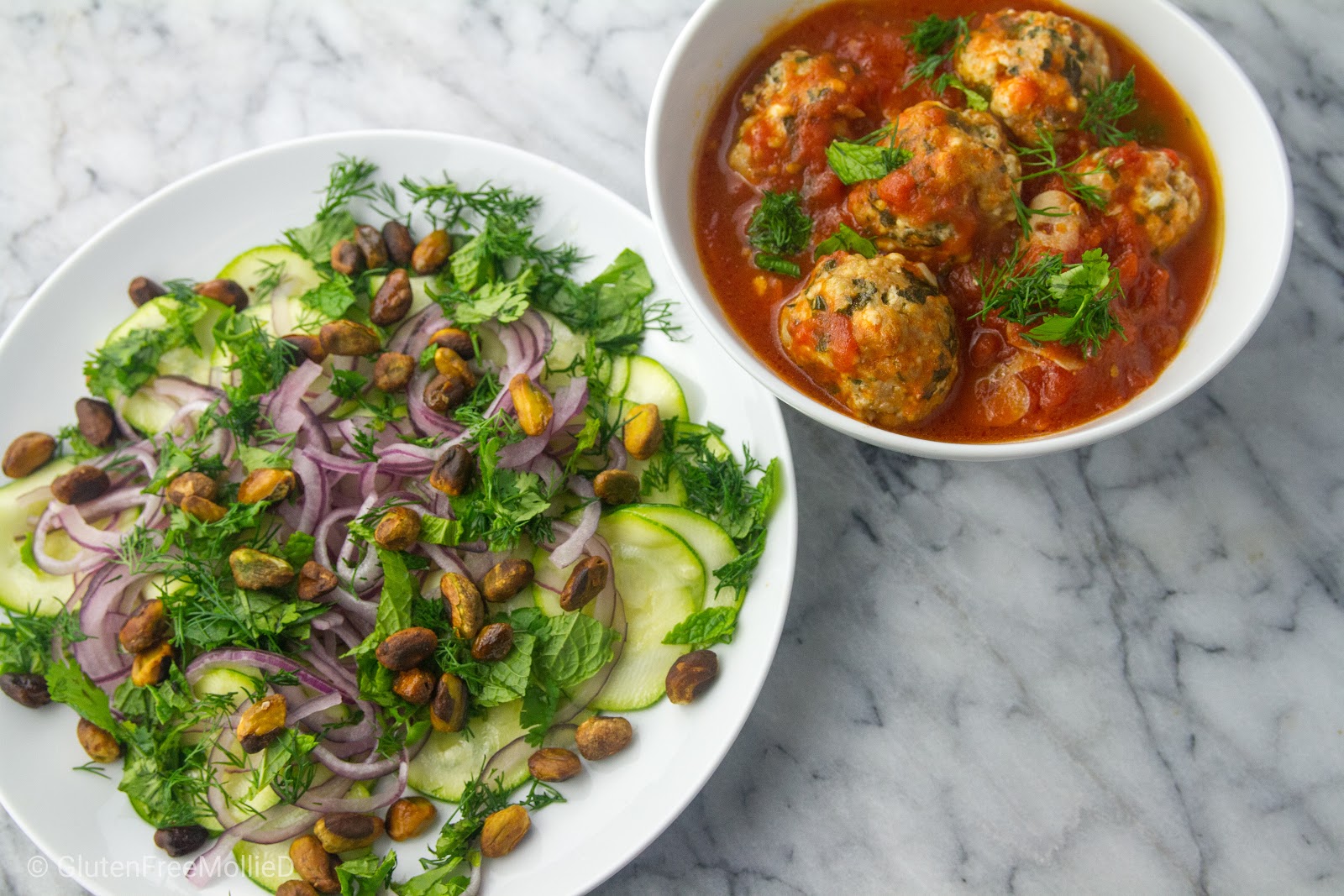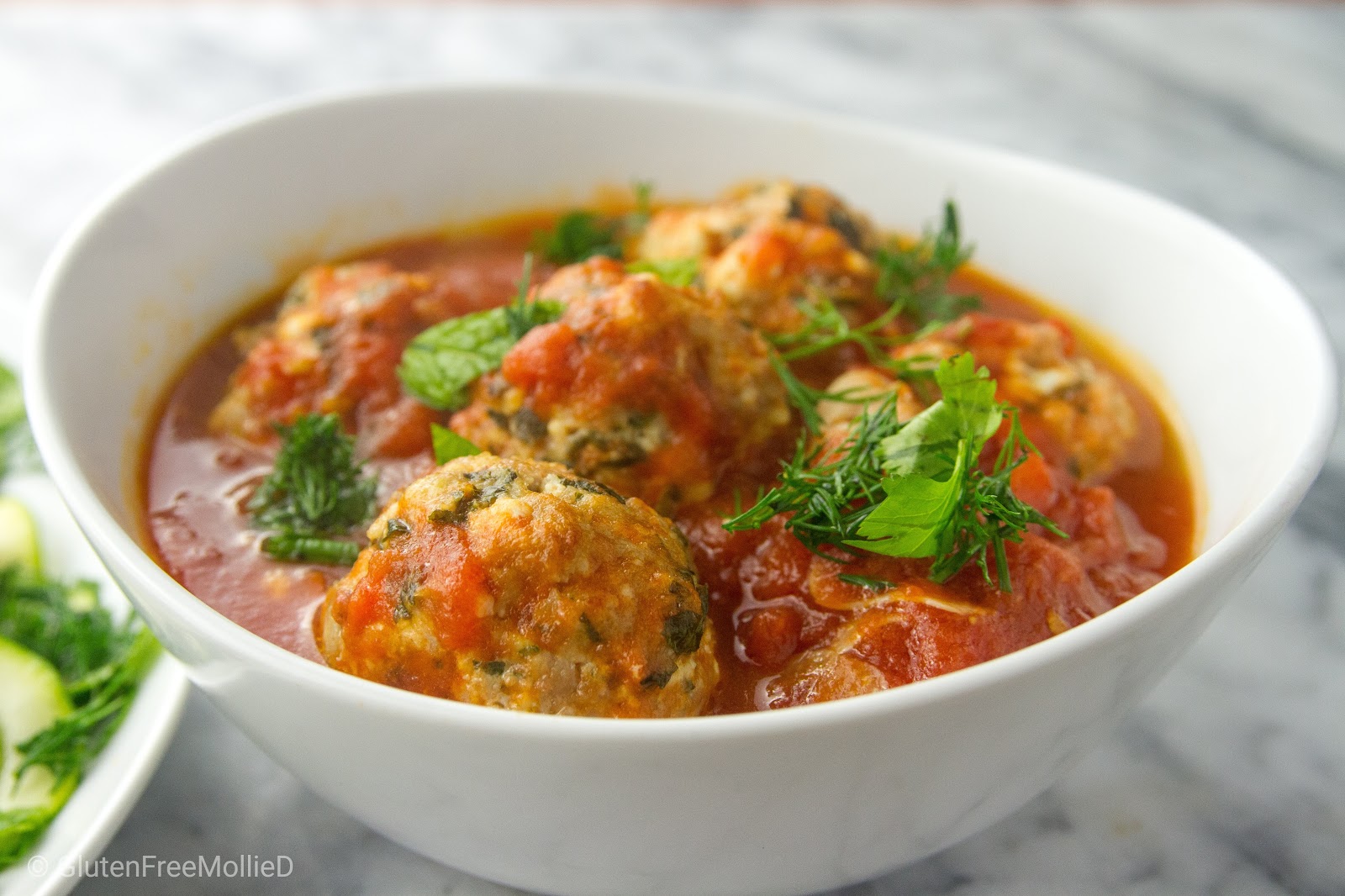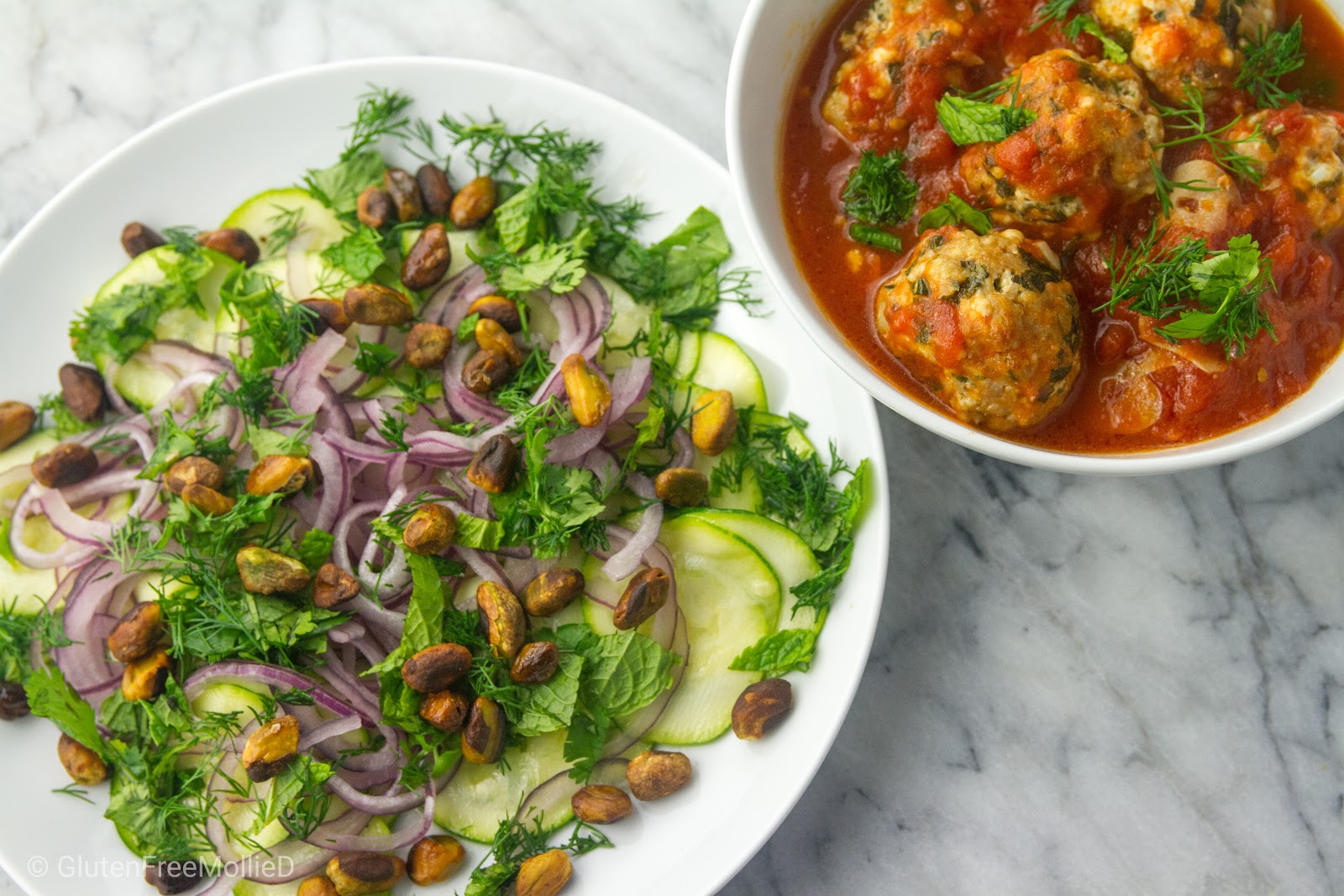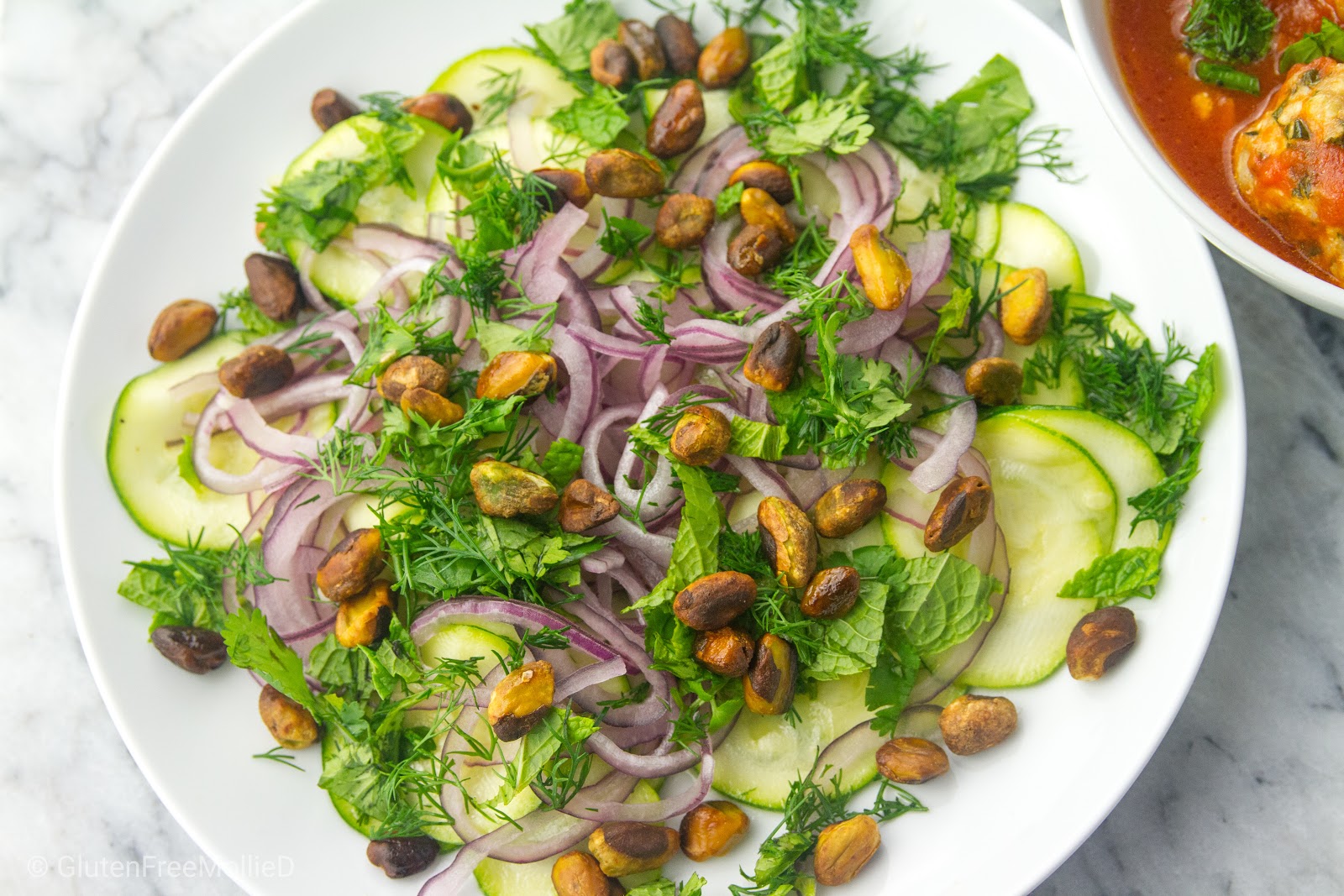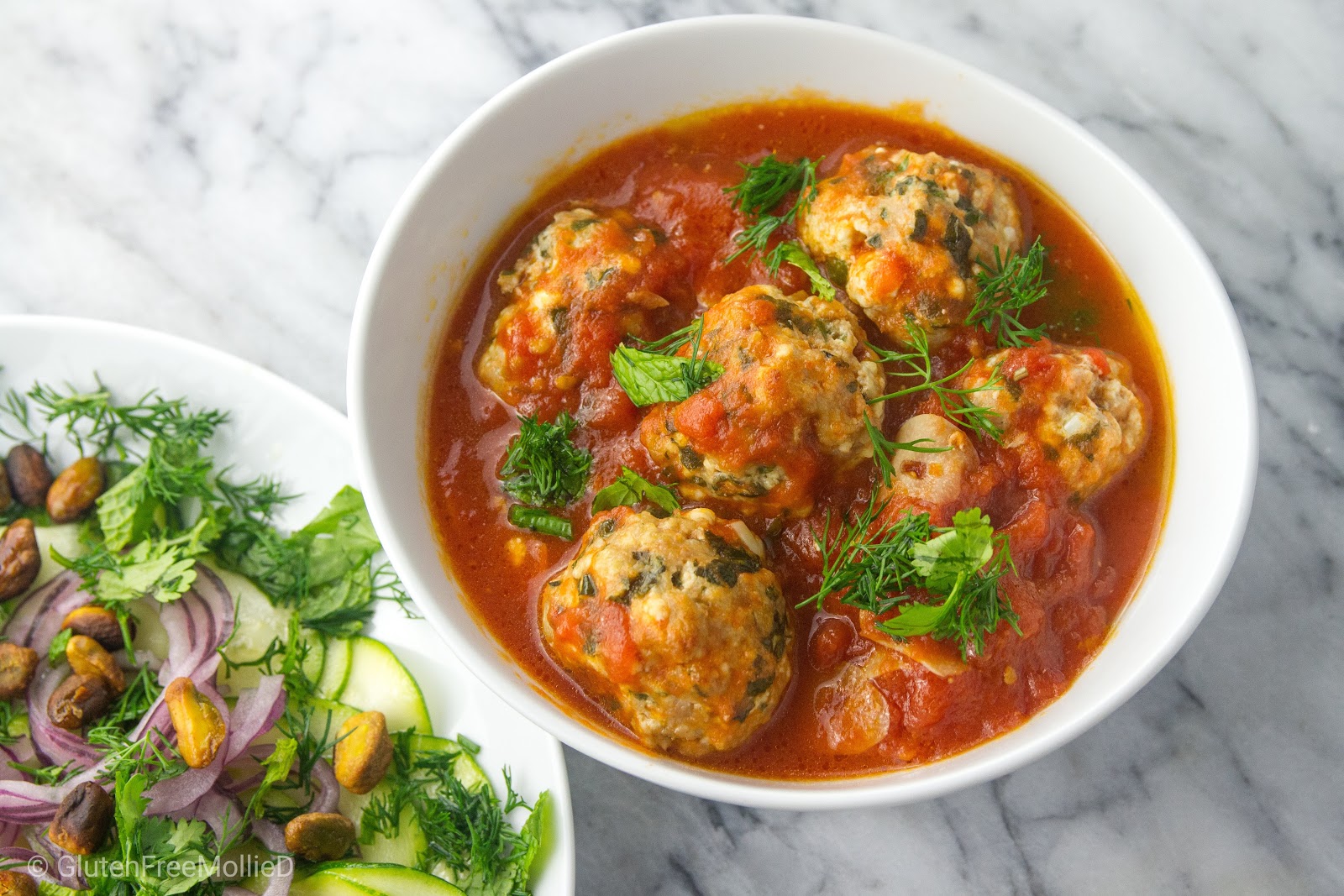 Turkey and Ricotta Meatballs with Zucchini, Red Onion, and Pistachio Salad
Source: Small Victories by Julia Turshen
Tip: A naturally gluten free dinner! These meatballs did not contain breadcrumbs; the salad was minimalist and good-to-go.
Review: After reading countless reviews of how amazing this recipe was from many an internet commenter, I knew we just had to try it as well. And good thing we did - I couldn't get enough of it!
The meatballs were heavenly and while they would be basically perfect on top of spaghetti, I deemed them delightful on their own. And since the recipe made enough for a family of eight, we each had plenty of leftovers for lunches the following days. Even better!
We paired the meatballs with a shaved zucchini salad, which was delicious but I think it may be better in the summer. Not because I didn't enjoy it, but I think these flavors may be best enjoyed on a hot summer night alongside a grilled chicken sandwich. Get my drift?
I'm not sure these meatballs went with the salad (I decided to put them together), but I do think each dish individually was excellent. Long story short? A really delicious bowl of meatballs served with a slightly summery salad. 😋
Who/What/Where: I'm very excited about these meatballs, given the season and my adoration for the food in general. I'd love to serve them over spaghetti or even as part of a "meatball sub," for those I know who'd love that creation.
Meatballs are an incredible comfort food, but the best part of these, due to the turkey and lack of breadcrumbs, is that they are pretty healthy, too! And that salad can join the party as well - no matter the time of year. 😉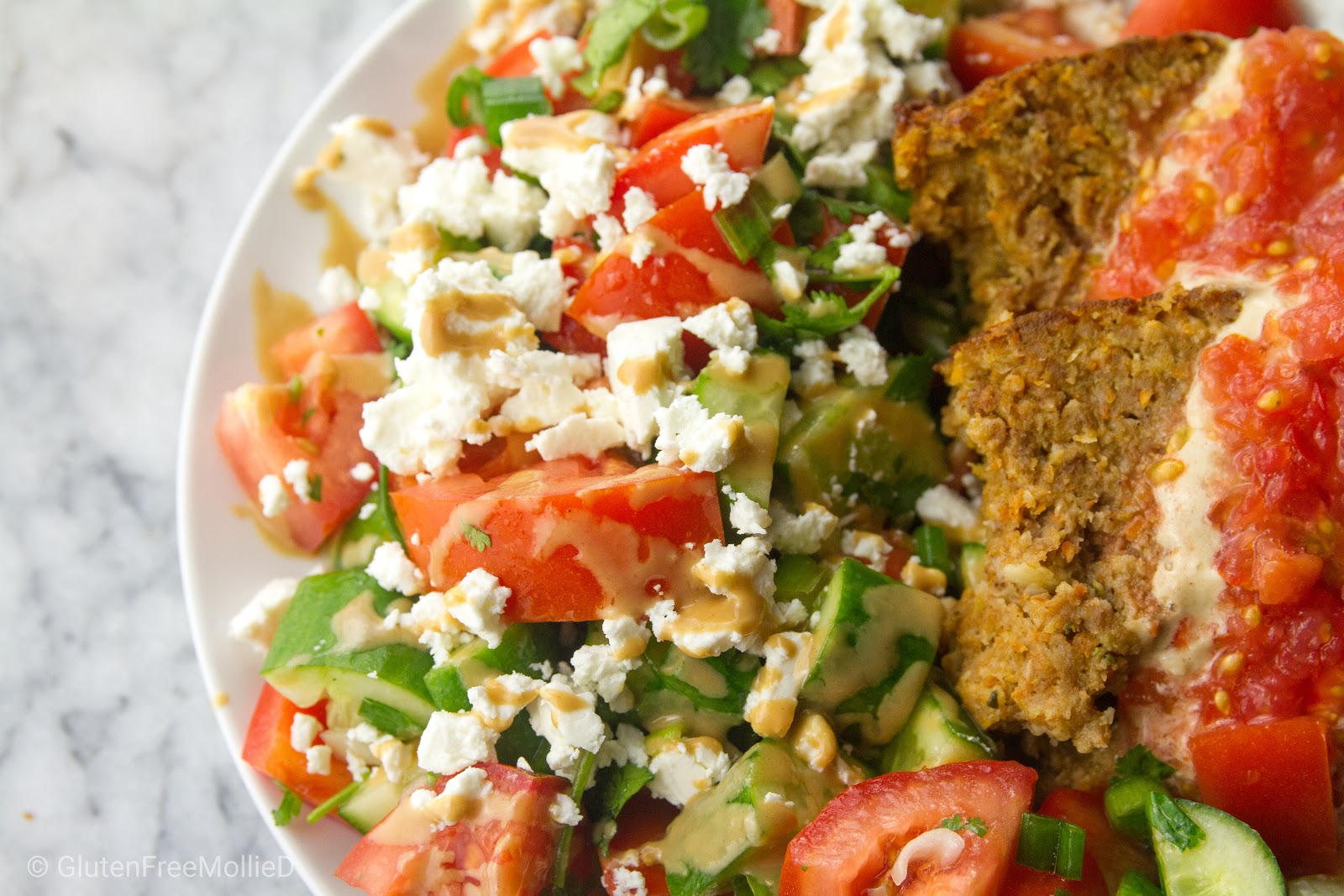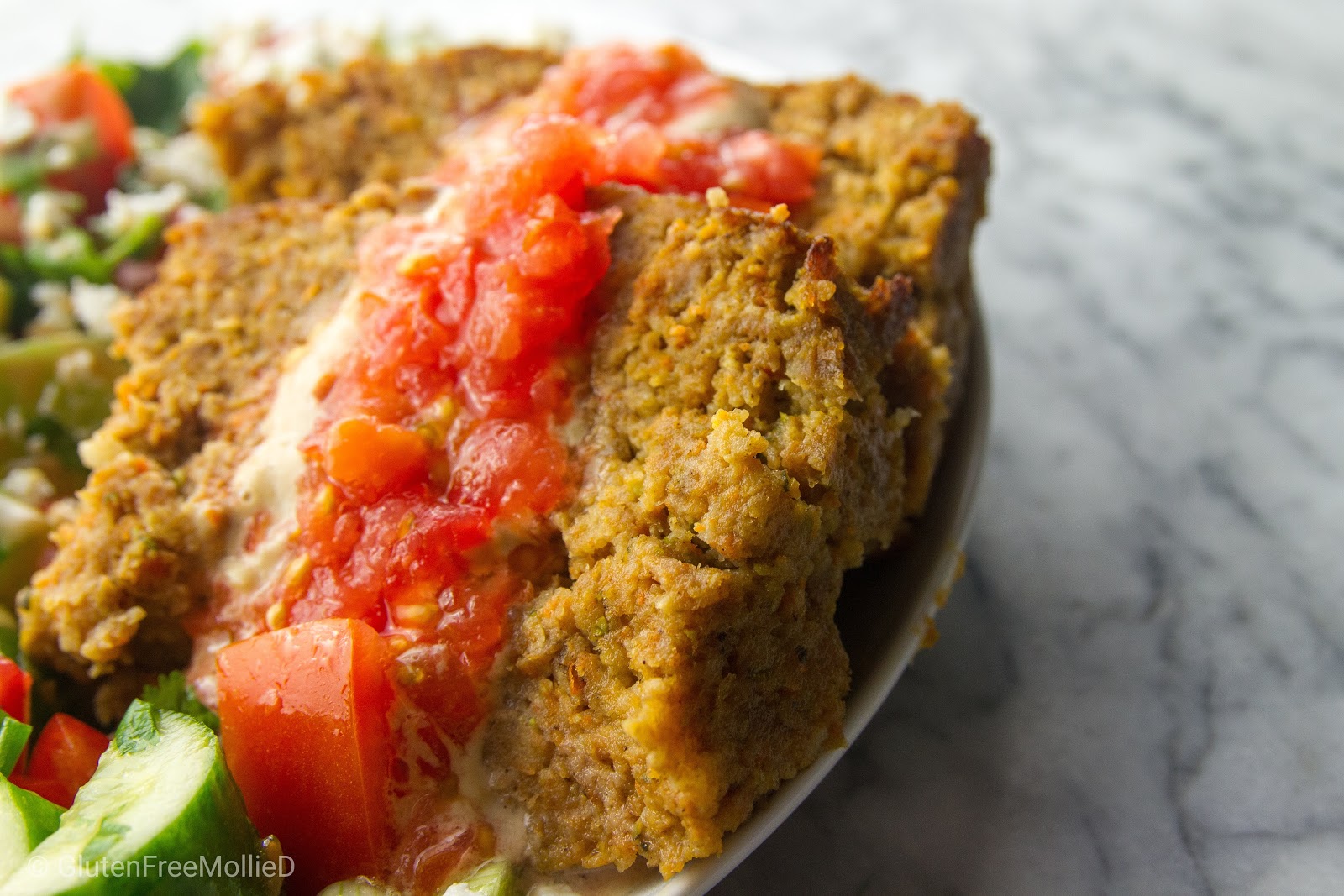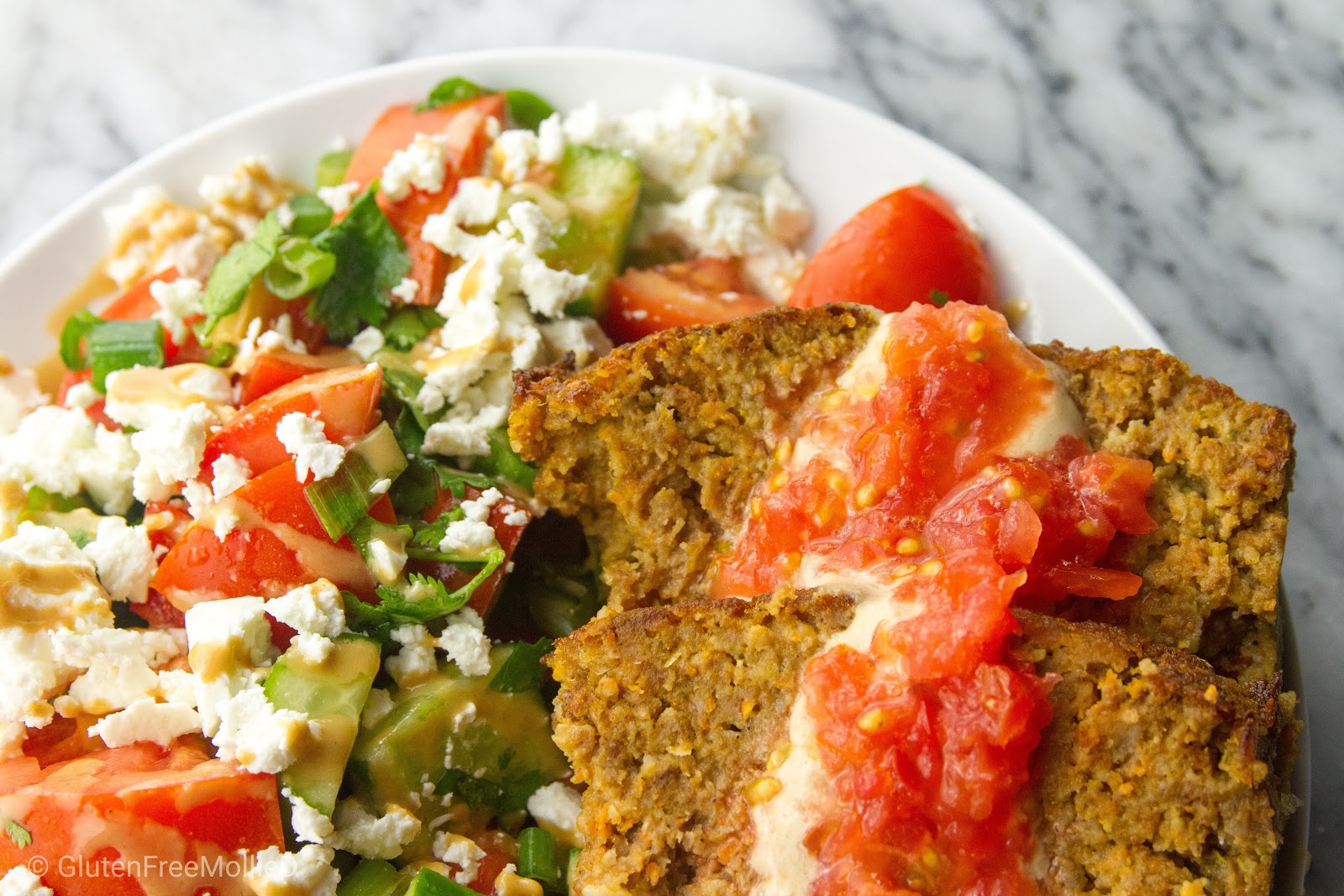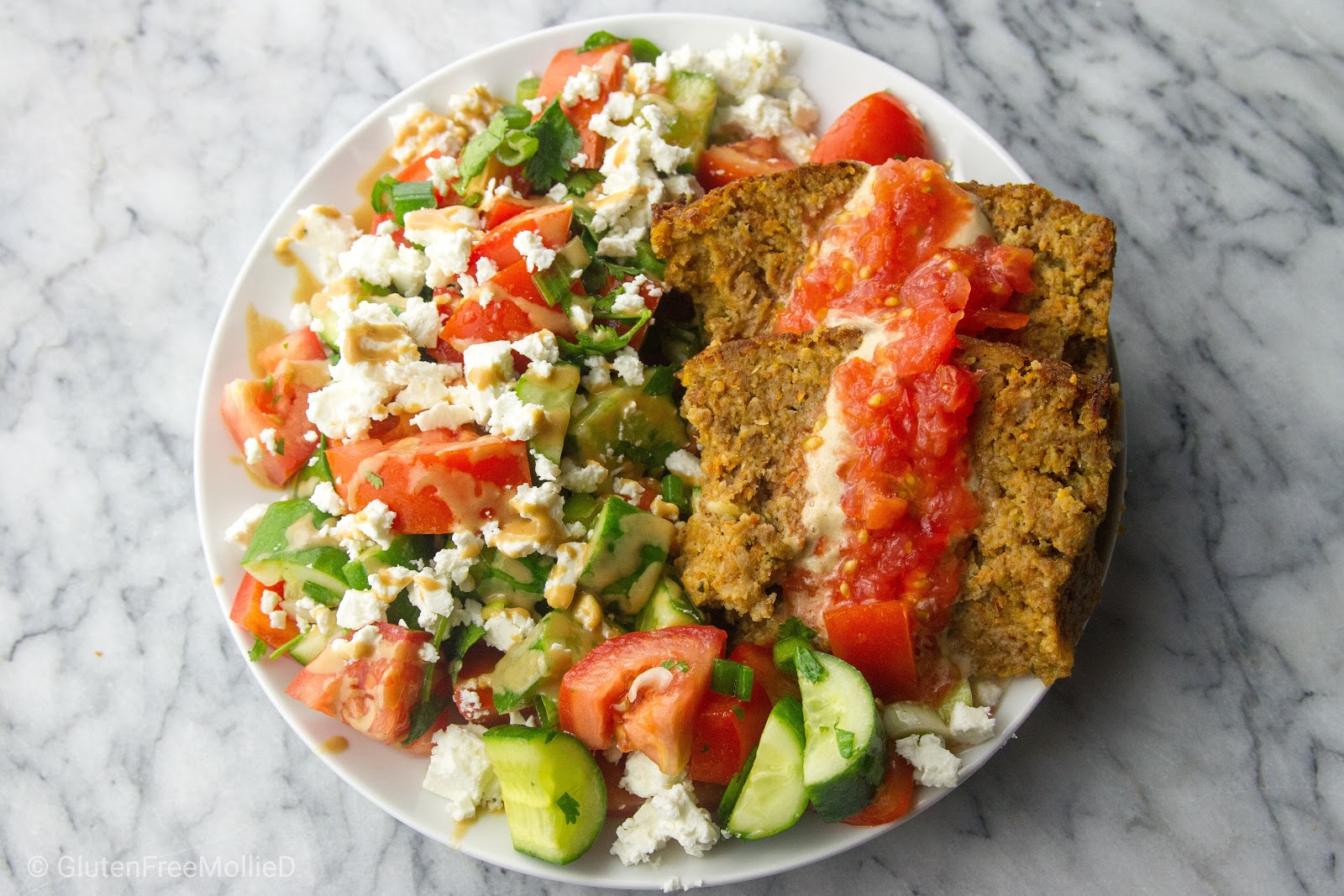 Lamb Meatloaf with Tahini and Grated Tomato, Chopped Salad with Tahini Sauce
Source: Simple by Yotam Ottolenghi
Tip: Make sure to use GF breadcrumbs for the meatloaf. Aleia's Artisan Foods makes our favorite gluten free breadcrumbs which were perfect for this recipe.
Review: Our second iteration of meatloaf this fall and I must admit they're both incredible, but this one was a bit more decadent. There's just something about lamb that allows a meal to soar with amazing flavor and makes me want seconds almost immediately.
Not only was the meatloaf scrumptious, but the Tahini and grated tomato on top made it truly tremendous. The chopped salad complimented the meat nicely and was a breath of fresh air despite a few of the flavors matching the meatloaf. In fact, I think a tomato and cucumber salad is a great option to go with a heartier meat meal; they're a perfect pair. 🙂
Who/What/Where: Still on my dinner-party-plans mindset, I think this dinner would be fun for a group. However, be aware that the meatloaf takes a full seventy minutes to cook; plan your party accordingly. Perhaps have a few snacks available while your guests wait. Or, better yet, have it in the oven long before they arrive. 😏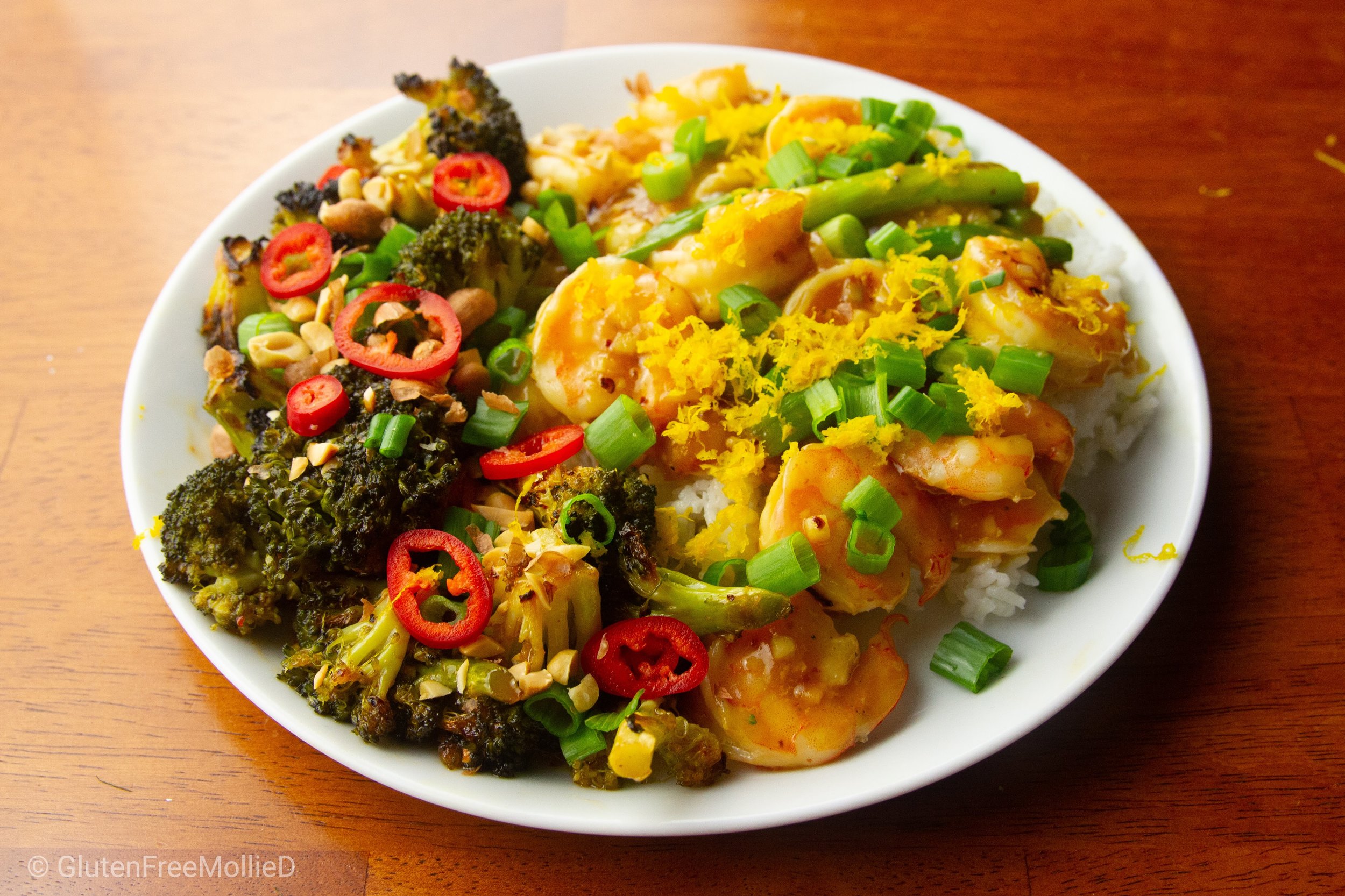 Garlic-Honey Shrimp with Kung Pao Roast Broccoli
Source: Cravings Hungry for More by Chrissy Teigen
Tip: As for all Asian-style dishes, make sure to use gluten free soy sauce (Tamari) and that all other sauces used are GF as well.
Review: For those moments/days/nights when you're craving Chinese takeout, but don't want the after-effects of such a decision, then turn to this book and these recipes instead! They're quick to prepare and utterly delicious.
While the broccoli didn't stay quite as crispy once sauced as I'd hoped, the final flavor was great and we fought over who got the remaining pieces on the baking sheet. This dish went quick! And the crushed peanuts on top were a fun garnish that made for the best final crunch on each bite.
My minor concern of the shrimp being too sweet quickly dissipated once I had the first bite. Omg. Yum. The garlic and honey flavors weren't too bold, but the overall flavor of the dish was amazing; I loved the bit of citrus throughout. So, so good. I'd make it again in an instant.
Who/What/Where: The beauty of this dinner, besides it tasting like the classier version of takeout, was that it could be created for any number of occasions.
The shrimp were awesome with the broccoli, but if you felt like having them on their own, it would still be a delectable dinner.
And that broccoli? A fabulous veggie side dish; or if you're really throwing a party, offer it as an appetizer when your guests first arrive. I have a feeling they'd be quite surprised - and excited - to see it! 😎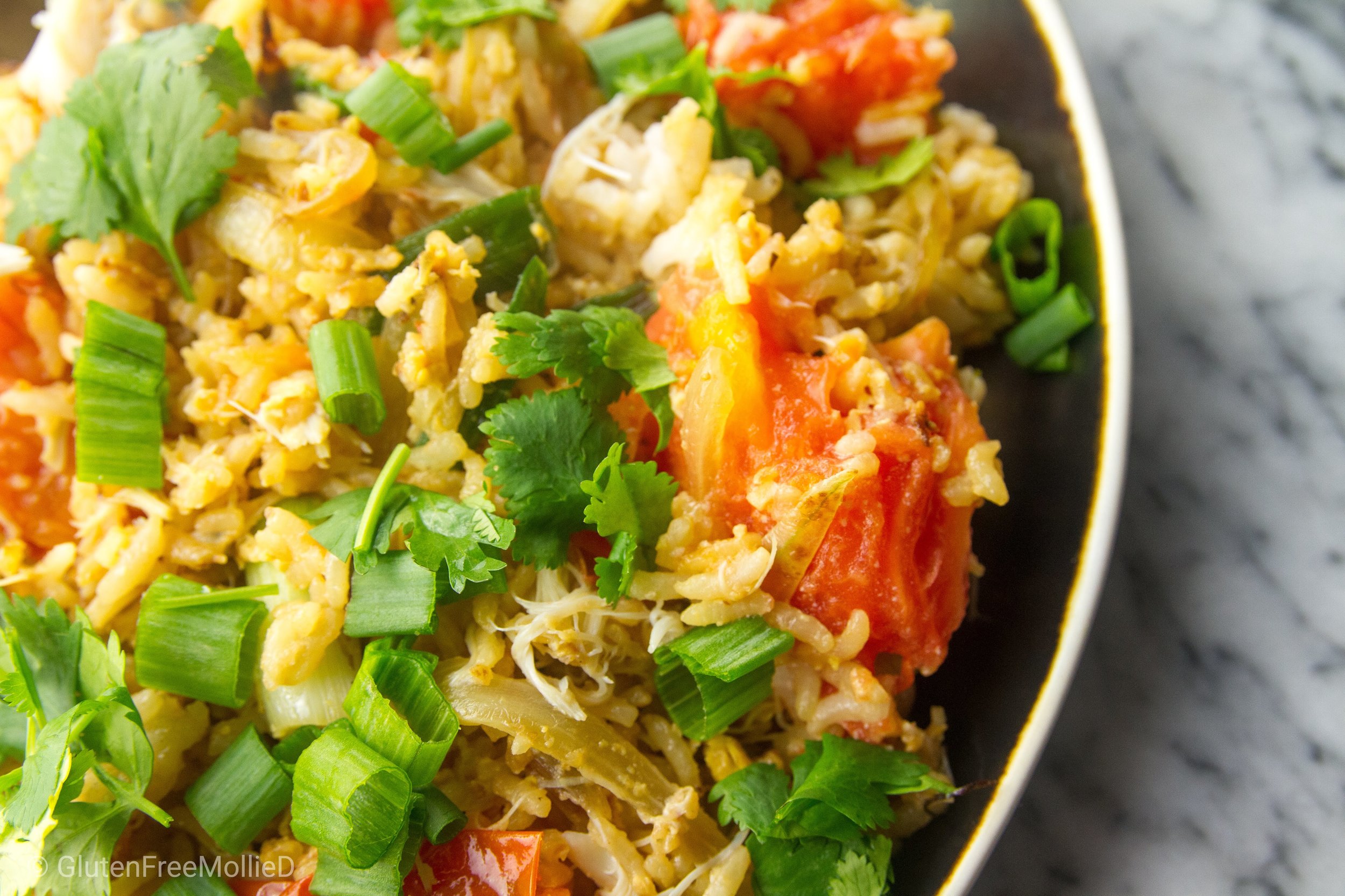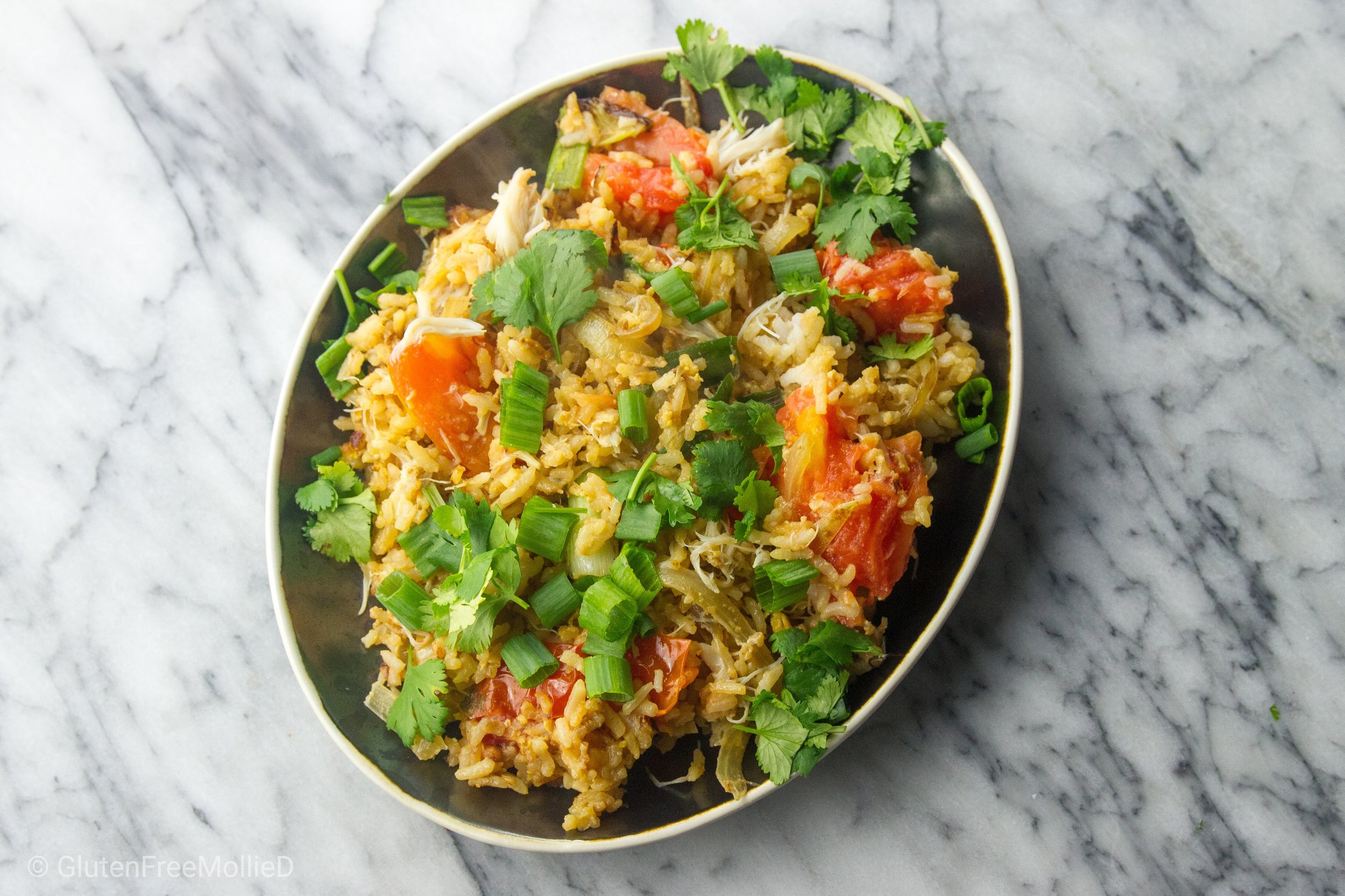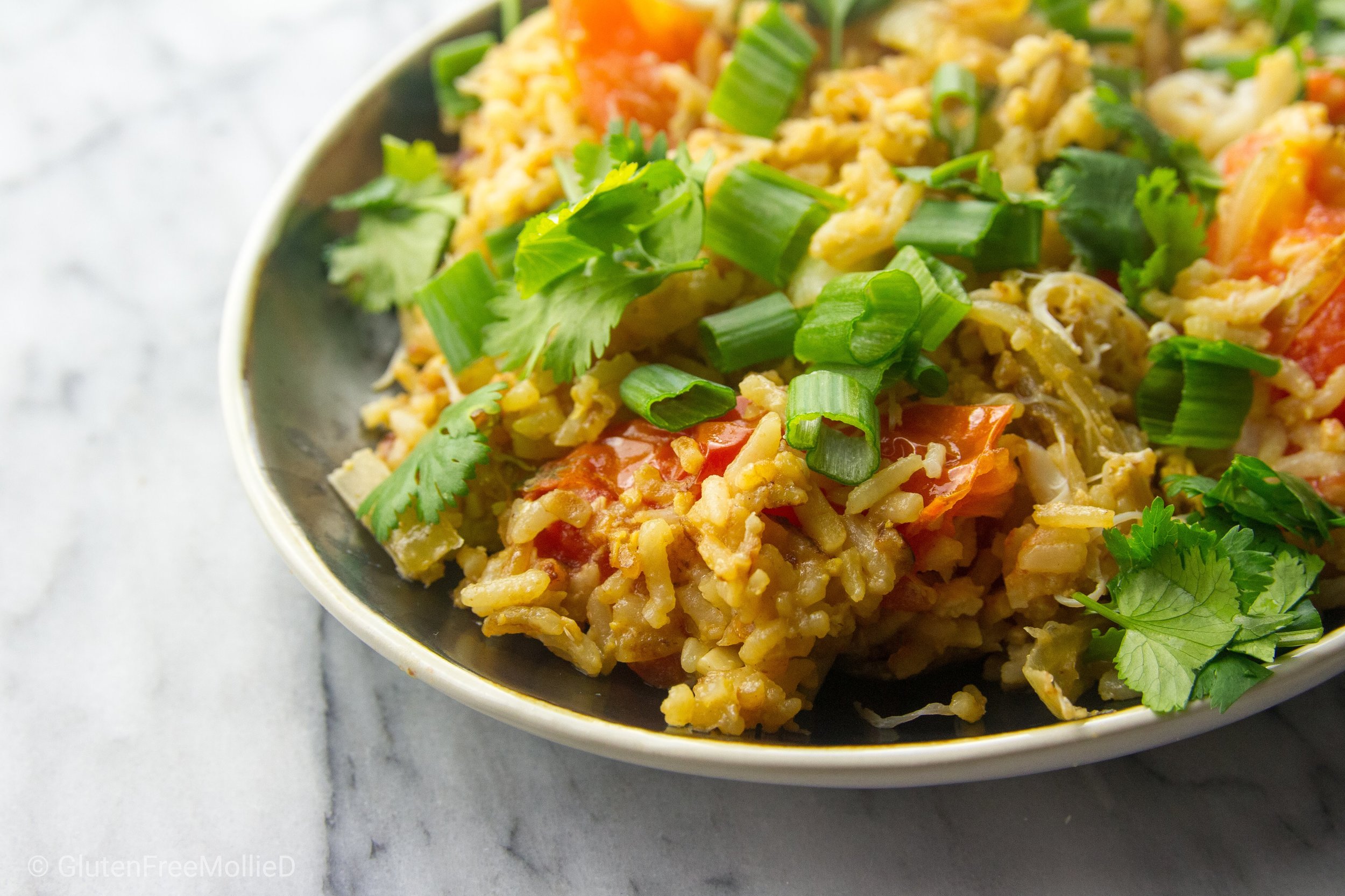 Crab Fried Rice
Source: Cravings Hungry for More by Chrissy Teigen
Tip: Make sure to use gluten free soy sauce! I can't say this enough. So, please, remember to stock it in your pantry. 😋
Review: Maybe you've heard me wax poetic about meatballs (see above), but let's really dig in and talk about my roots and love for fried rice.
OK, in this instance, my roots are just that I've been eating fried rice for approximately thirty years and I simply love it. So I was overjoyed to include this crab fried rice recipe in this week's plan. I was filled with even more joy when we ate it and I fell in love; my fried rice passion continued.
The crab element made this rice luxurious, but if you say, left it out, it would still be a pretty amazing, although somewhat simple, fried rice. The tomatoes added a freshness and welcome texture to the meal; the chopped scallions on top were a welcome crunchy element.
Here's my take: make this fried rice! With the crab! It's just delicious. I barely resisted eating all of it in one night and Seth happily had leftovers for lunch the next day because of that fact. 😉
Who/What/Where: If you're not convinced yet, then maybe I haven't been clear enough? This dinner is delightful and would be awesome for a group alongside a couple other dishes (maybe that shrimp? Broccoli?).
We had it as a main course, which was perfect for a busy weeknight. If we made it for friends, or just us again on the weekend, then I'd probably make a second item for our plates. The more the merrier. 🙂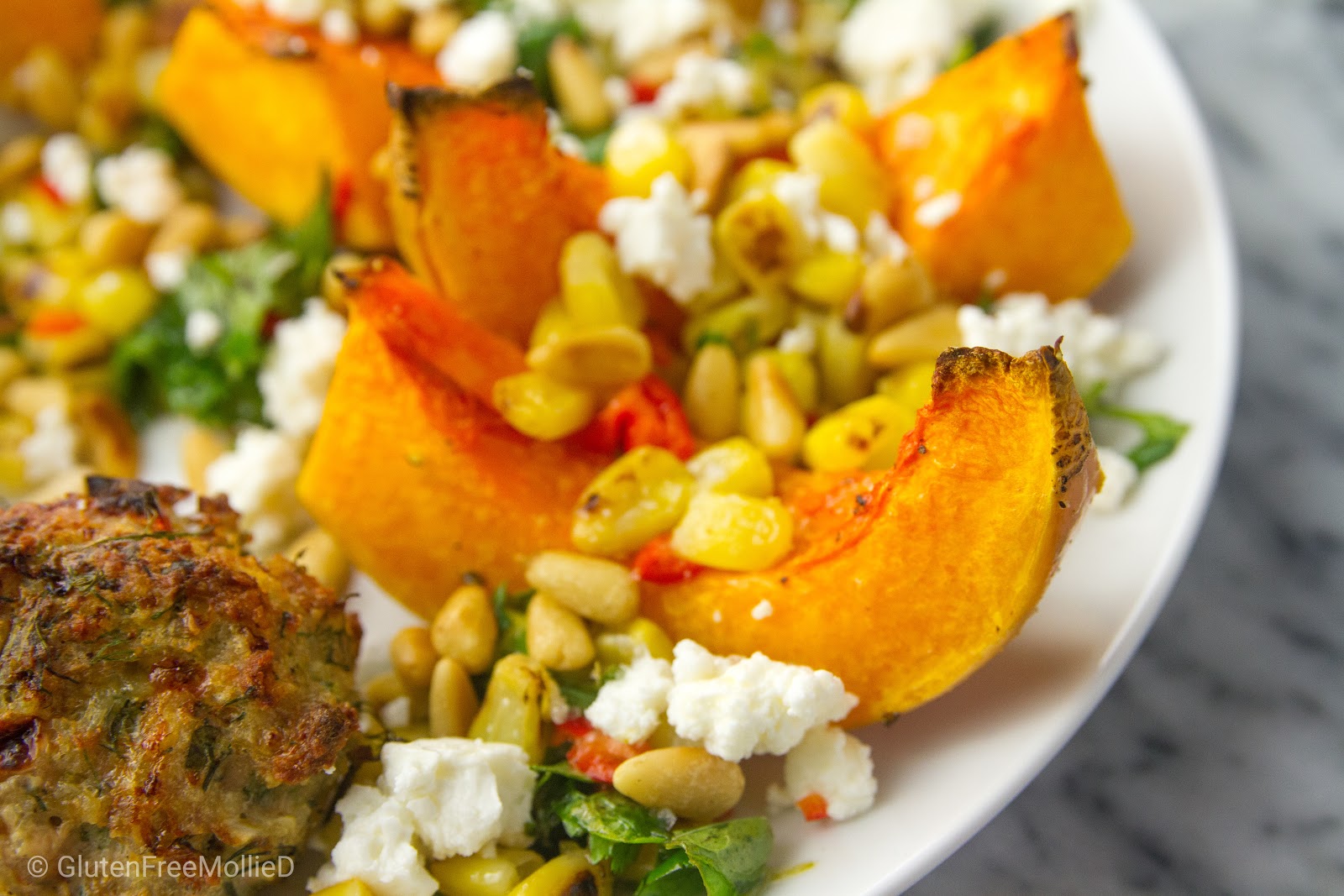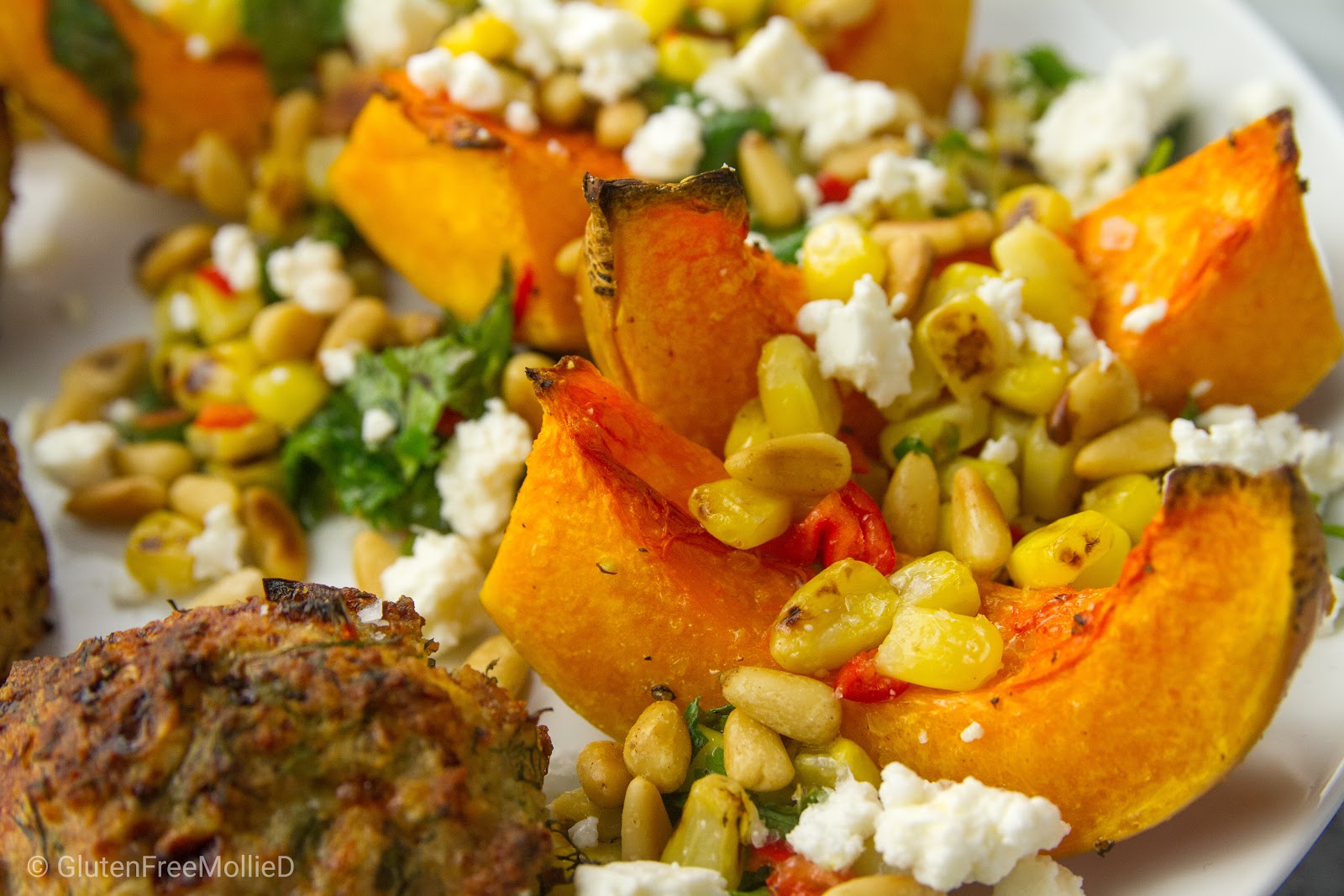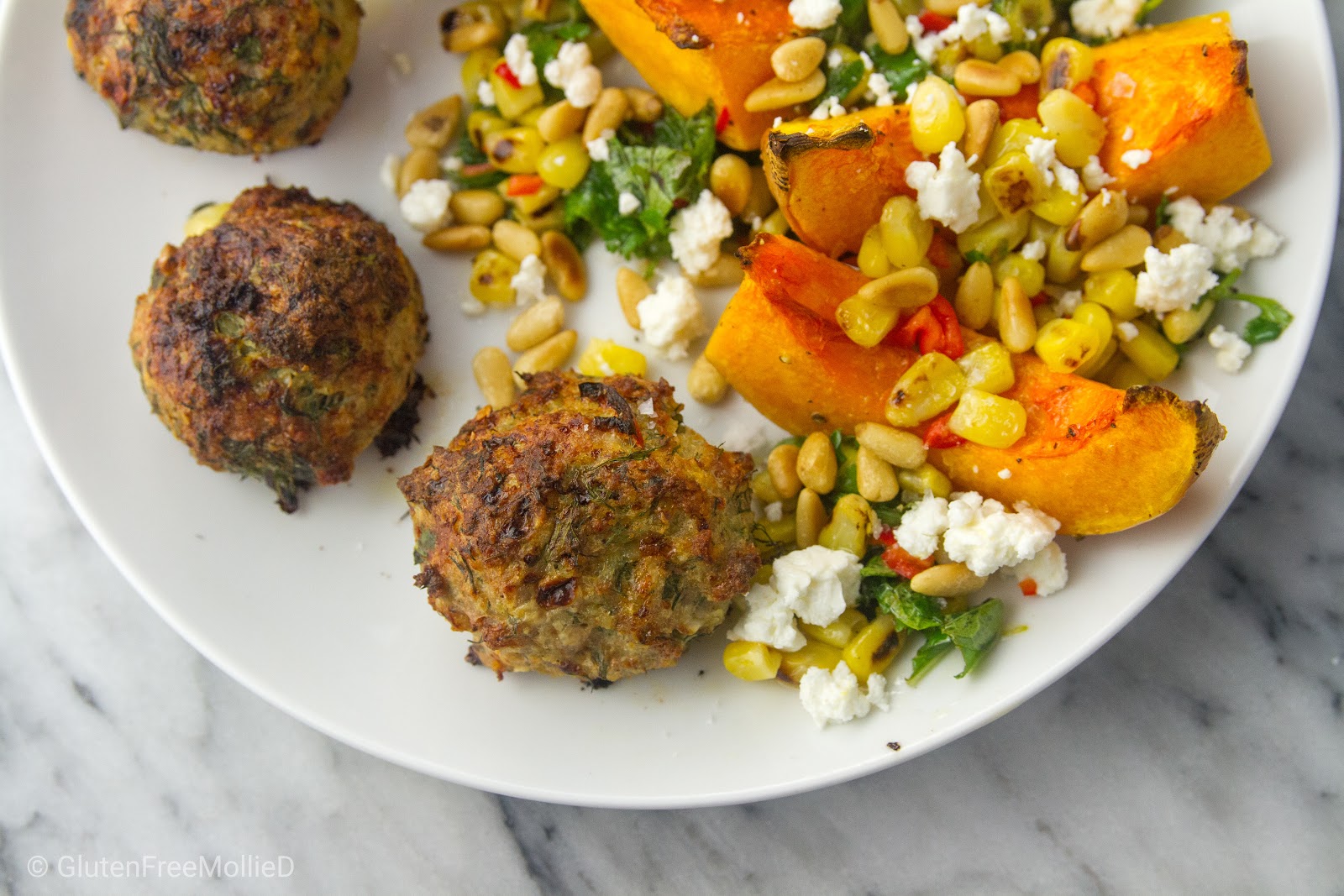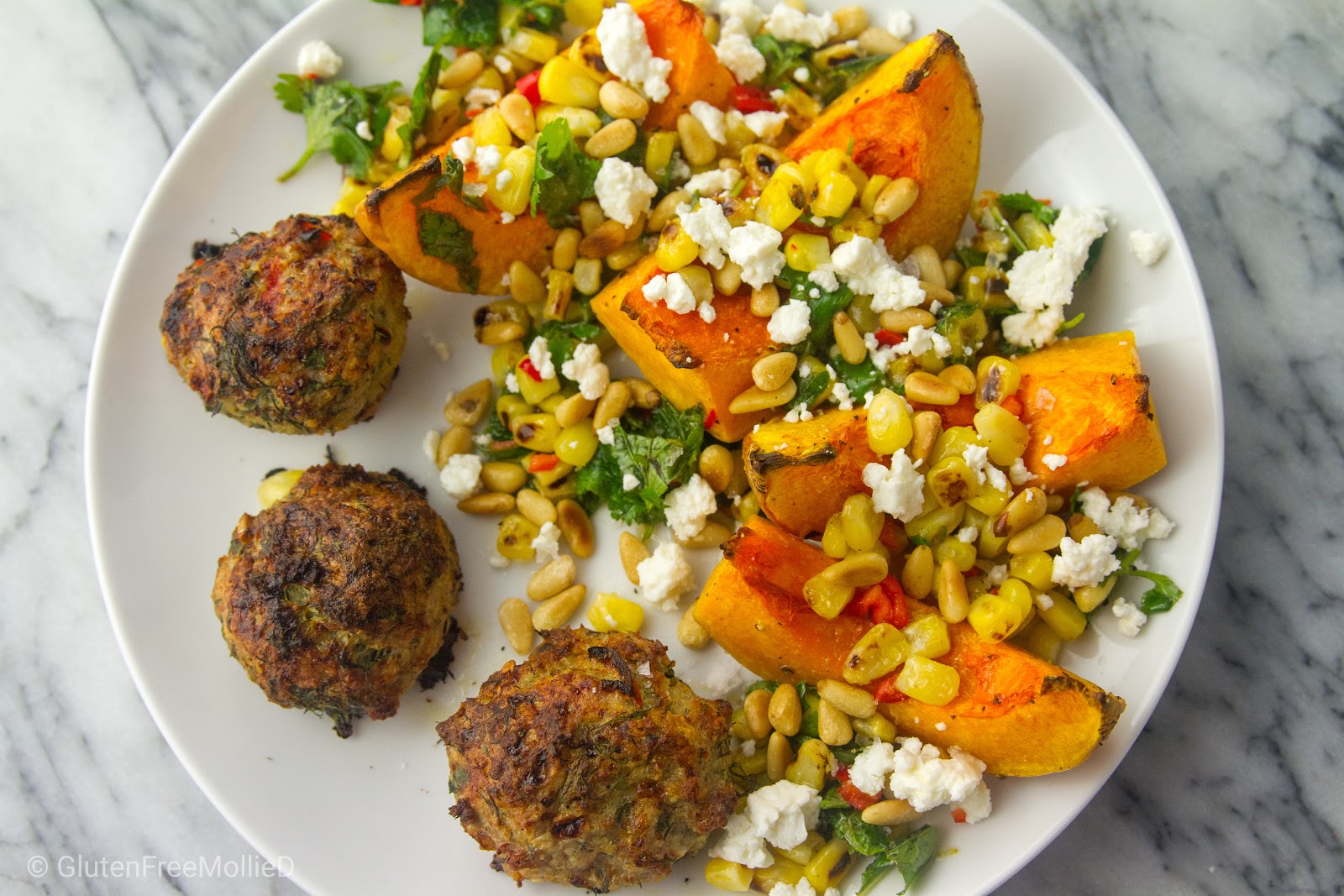 Butternut Squash with Corn Salsa, Feta, and Pumpkin Seeds
Source: Simple by Yotam Ottolenghi
Tip: A naturally gluten free recipe! Please note that we used pine nuts instead of pumpkin seeds and decided to add the meatballs to make the dish more filling.
In the cookbook, the recipe is advertised as a side dish. So clearly we needed to make meatballs to make it a full meal. 😉
Review: How fall! It was high time we started roasting squash, I mean it's almost November, and this dish was the perfect introduction to the all-important roasted-squash-season.
A corn salsa may seem somewhat funny for a roasted squash topping, but my oh my did it work beautifully! Throw in the feta and toasted pine nuts and you've got yourself a delicious, and elegant, fall plate.
The colors made me feel very October, but the overall flavor was bright and airy. A nice contrast which proves my thinking that you don't always need to top roasted squash with something sweet. In my opinion, this option was even better!
Yes, we paired the squash with meatballs. Simple, straightforward, and with a similar flavor profile, the meatballs were also delicious when covered in that corn salsa. It all went together!
Who/What/Where: As the end of the year is fairly near, that means holidays are coming up and you'll be entertaining! Right? Well, I may suggest making this squash because it's really delicious and is a "pretty" meal for a special occasion.
If you're not worried about the holidays and just want a really fun roasted squash dish for the fall (regardless if you make the meatballs too), then here you go. It's easy to make. 😉
The Weekend
It was a weekend filled with the favorites: food, baking, shopping, and family!
We had a delicious dinner at Burton's Grill and Bar Friday night, I baked a bunch on Saturday, then bought some new jeans, grabbed an early dinner before cheering on the Sox (again) Saturday night, and closed the weekend with a wonderful birthday celebration for my grandfather on Sunday! He turned 95 and he's the best! 🙂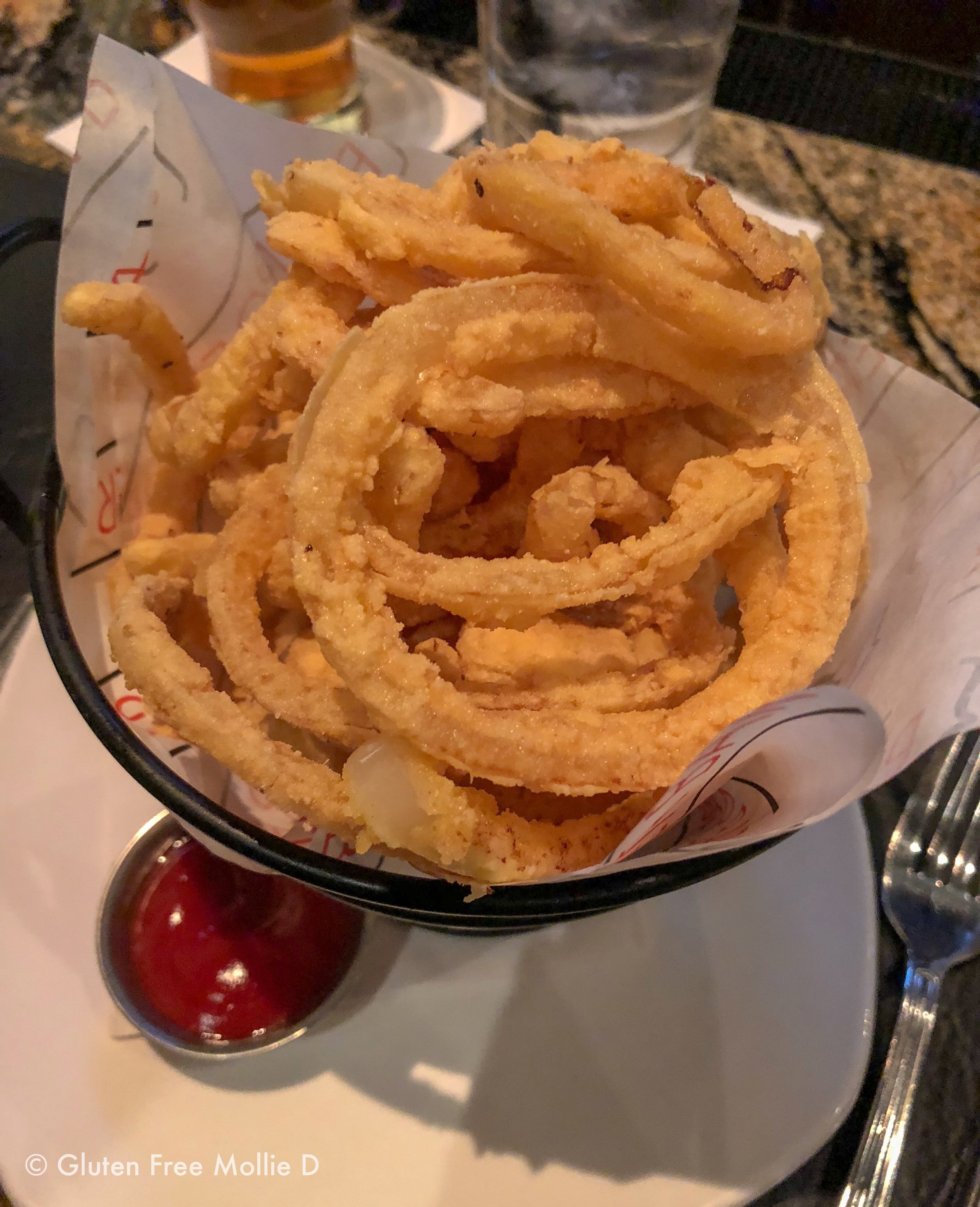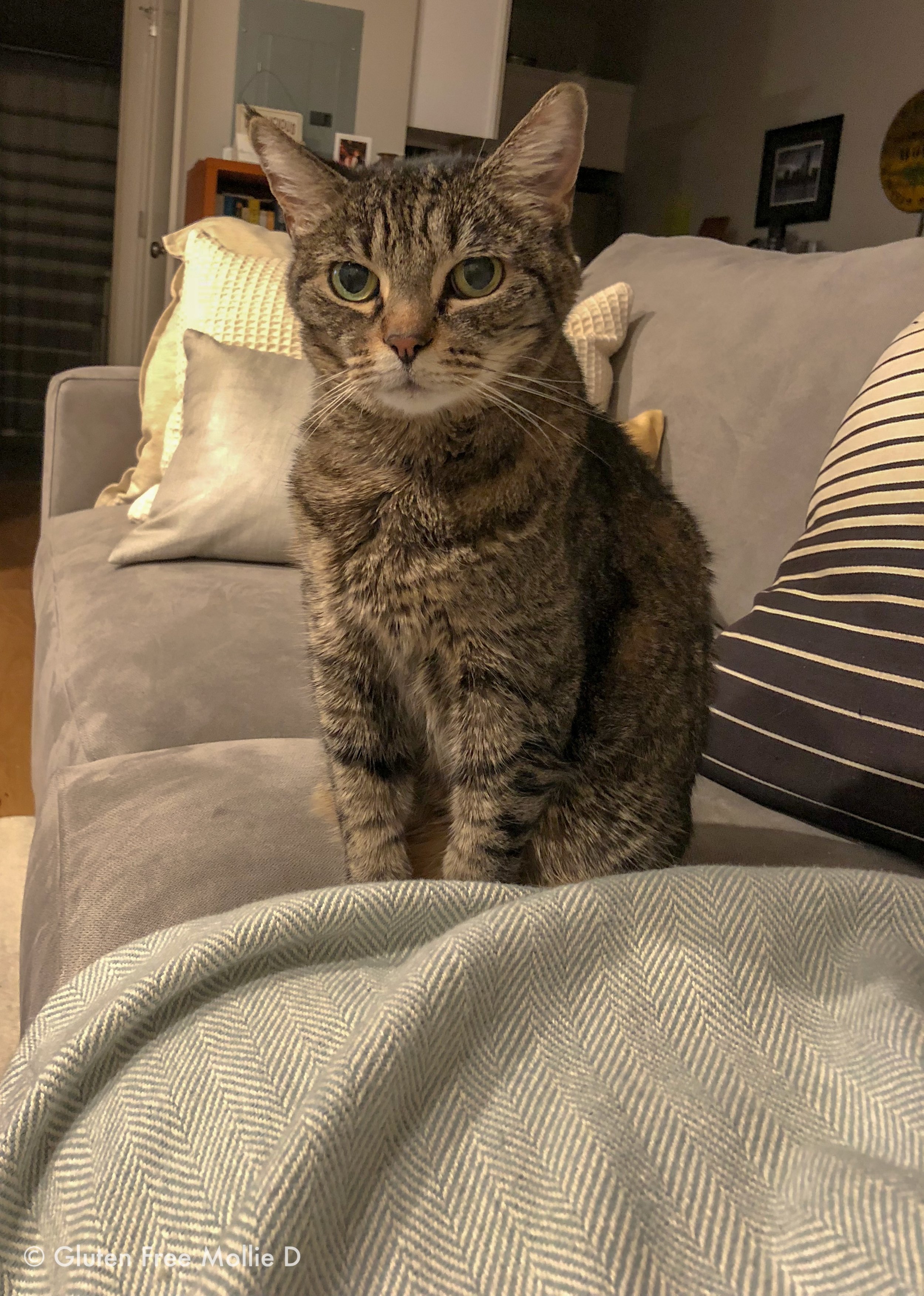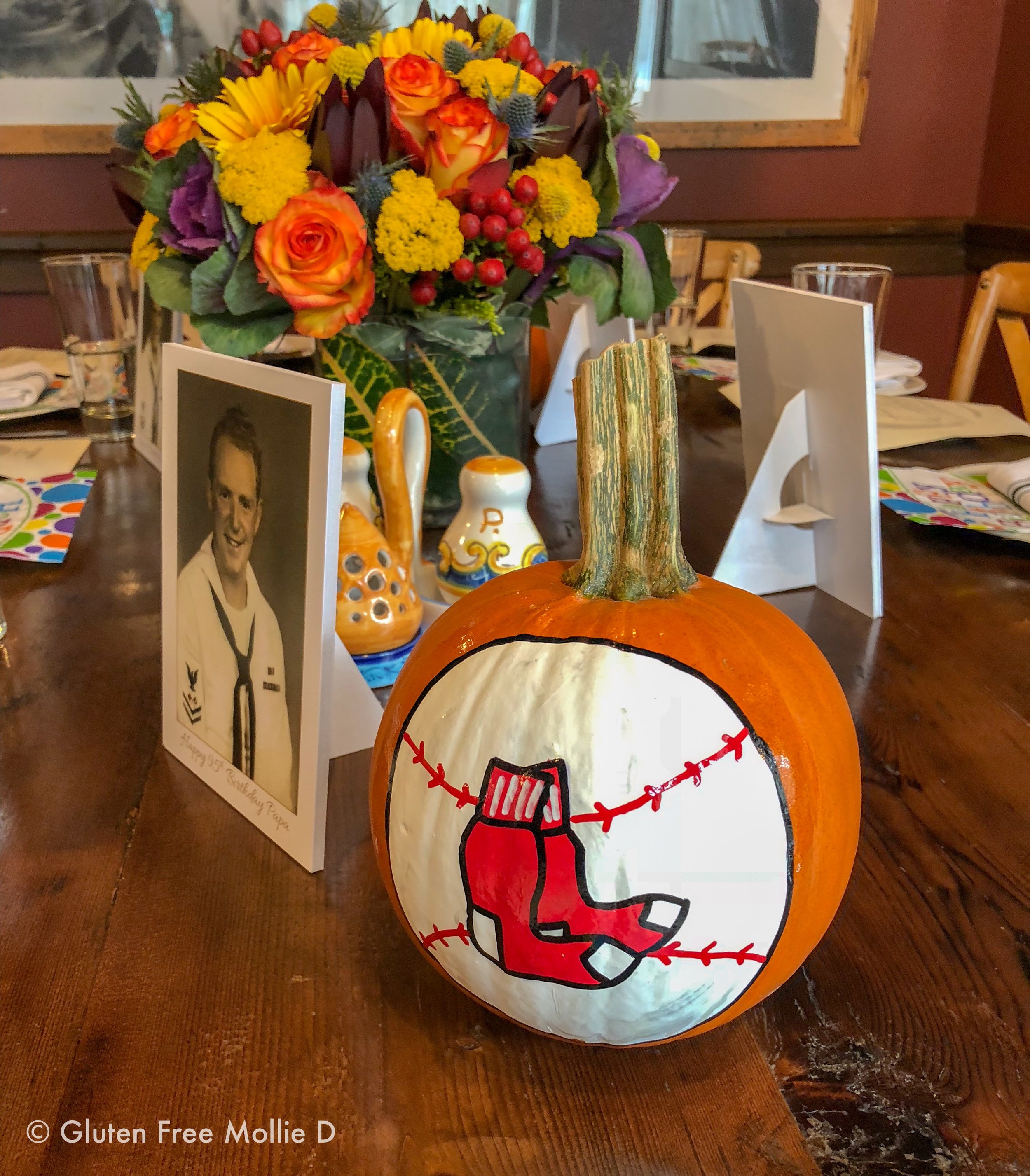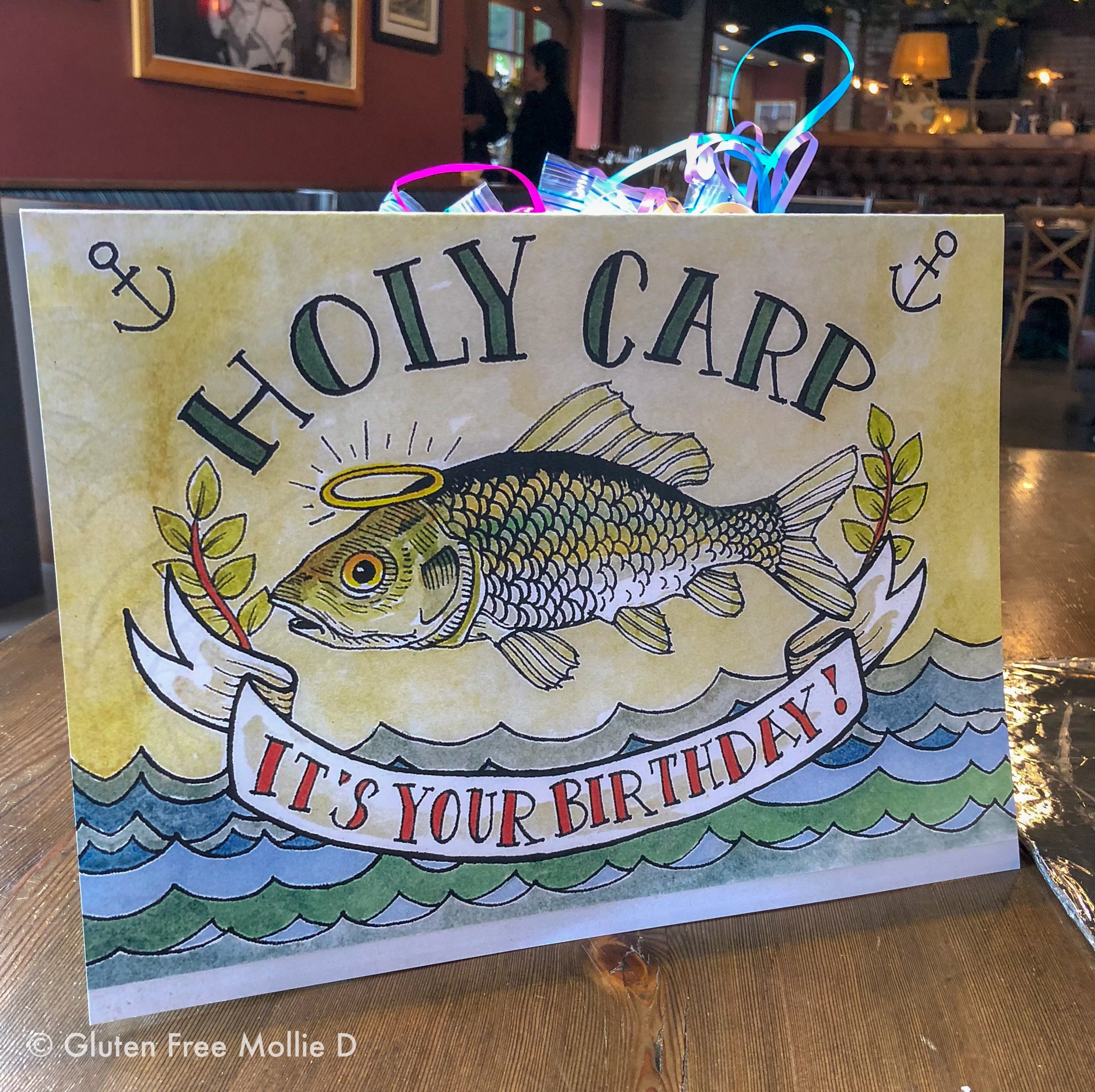 We hope you had an awesome weekend! Cheers to the Red Sox - World Series champs! 😎⚾️
Eat, well.
Mollie and Seth