New Classics of Fall
With every week of meals, I declare a new favorite, or two. Or three. You see, with the consistent plan of trying four-five different recipes each week, we have amassed an impressive amount of "favorites."
And this week, not only did I declare many of our meals favorites, I also decided that these are some of the new classics of fall. Sure, there are standards for this season, but let's think outside the box and welcome new standards to the table.
I love mixing it up at mealtime and this week proved that point to a T. So, let's get into them, shall we? They're each going to be your new favorite, too.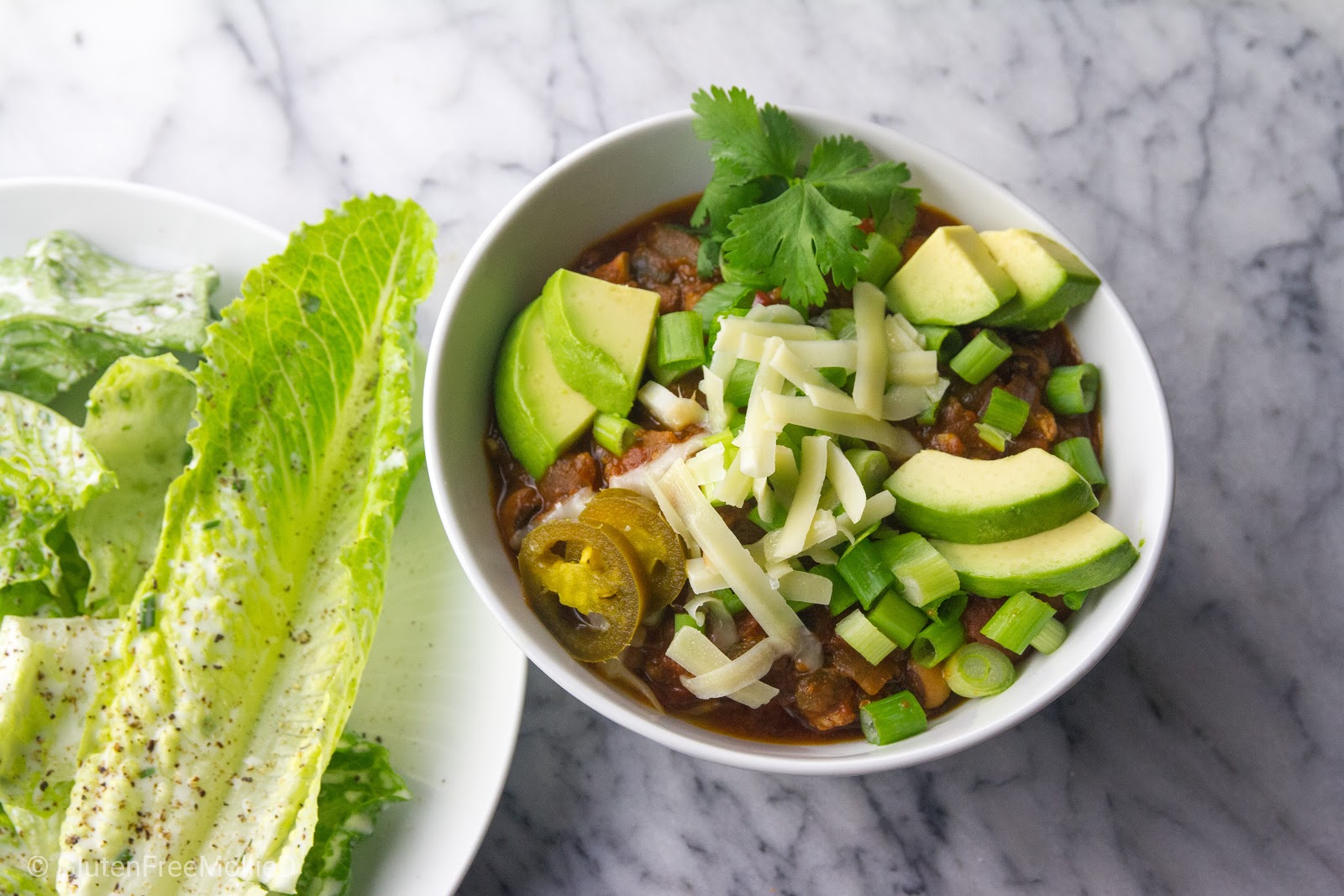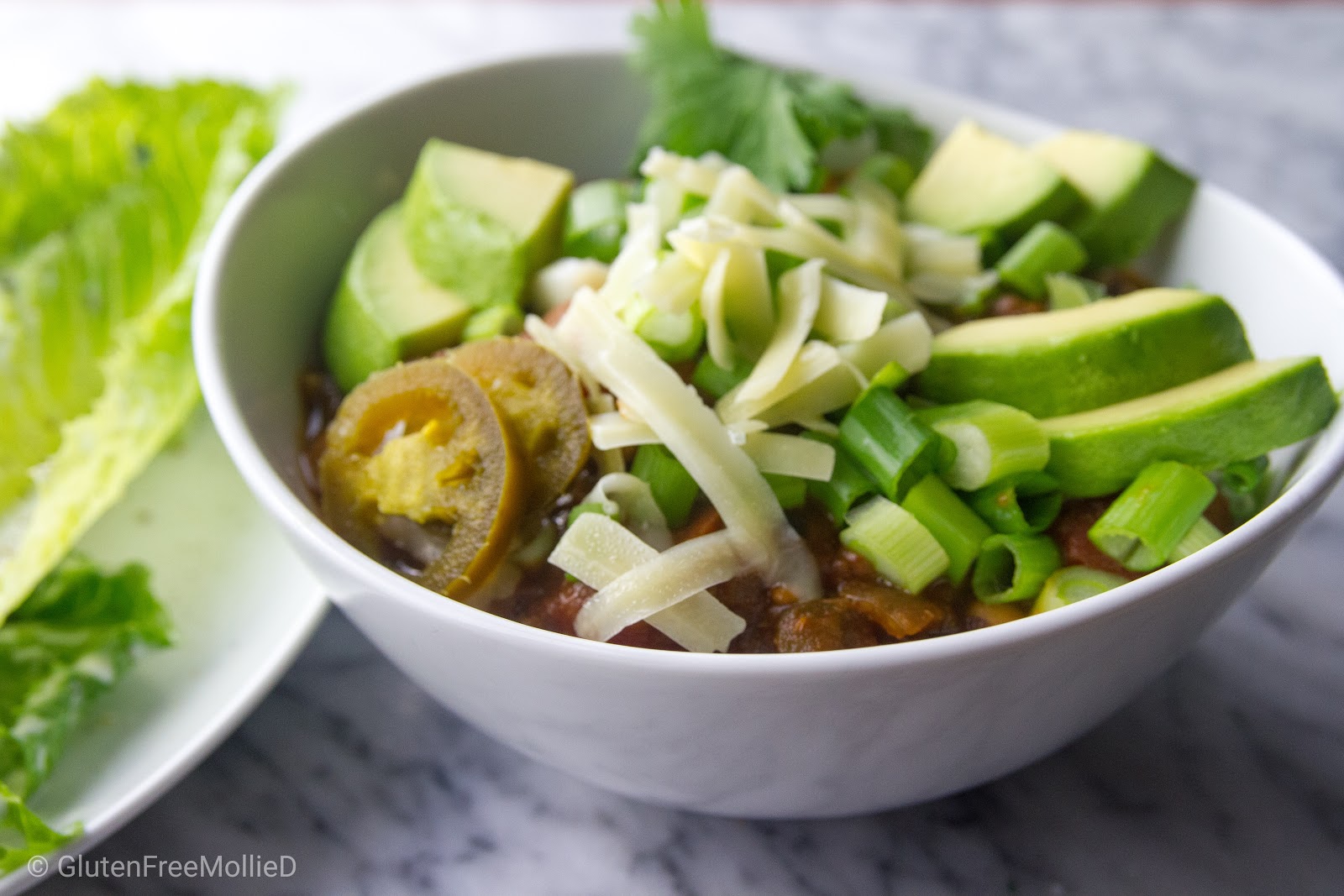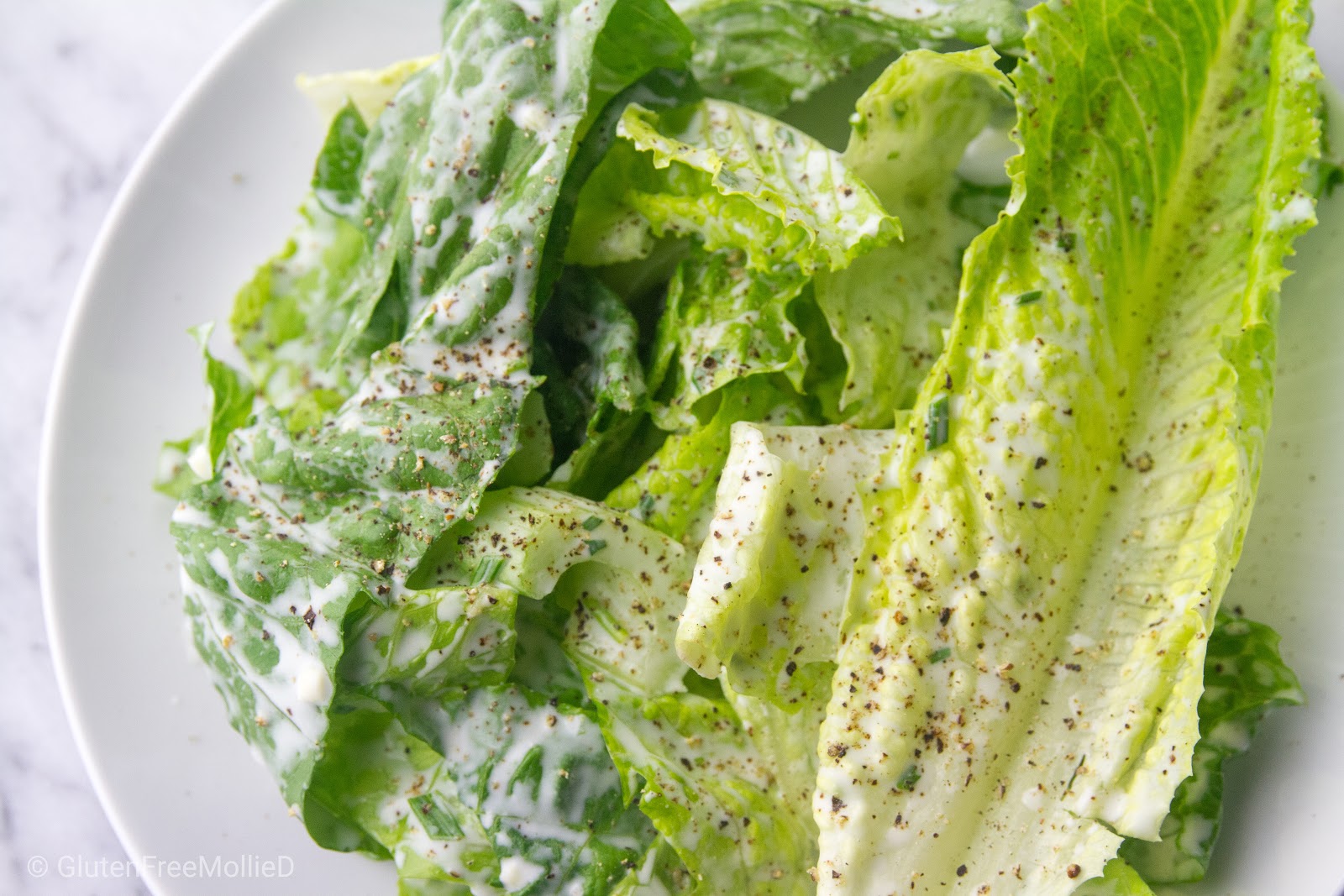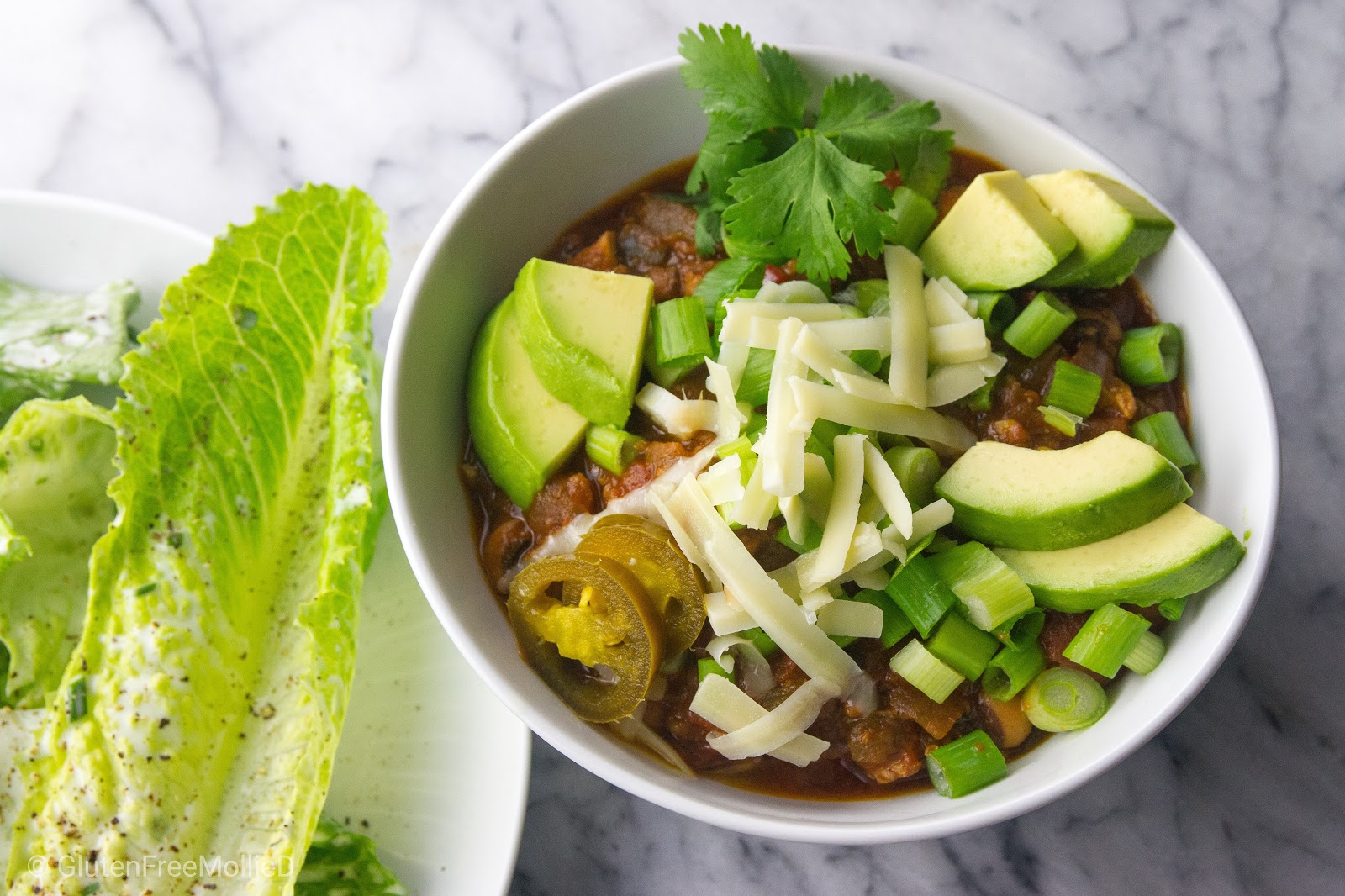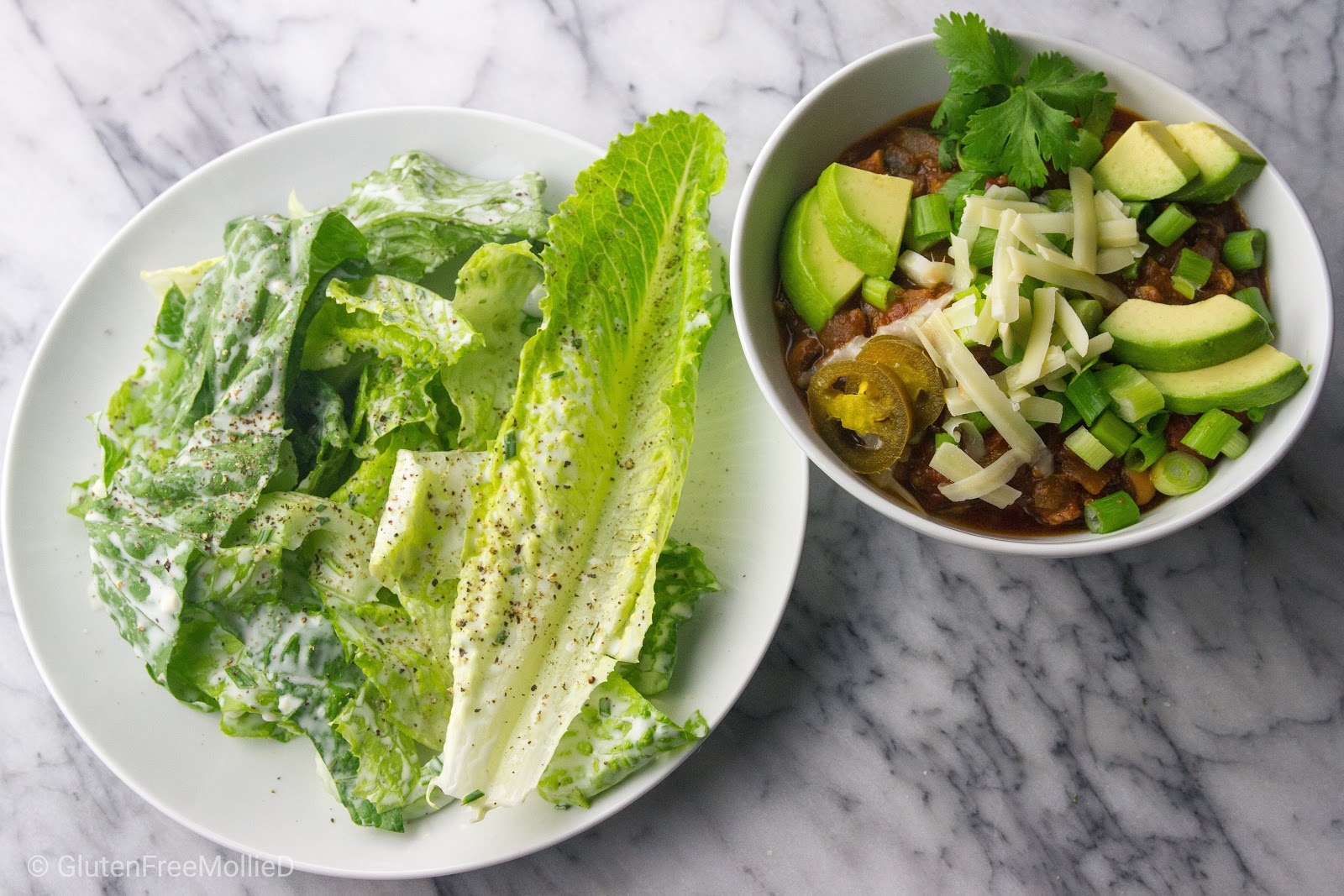 Chicken and Black-Eyed Pea Chili with Romaine and Celery Salad, Buttermilk Ranch Dressing
Source: Now and Again by Julia Turshen
Tip: What a dream this cookbook continues to be! A vast majority of the recipes in her books are gluten free and ready to go; namely, this one! No changes necessary.
Review: As we continue cooking through Julia Turshen's second book, we have yet to come across a dish that doesn't dazzle us with flavor, impress us with its ease, or shock us with its deliciousness. It's all happening every time! And this chili was no exception.
Protein-packed, hearty, and healthy, this dish was a win from first bite to last. In addition to the flavors that formed in the bowl, we topped it with avocado, scallions, and cheddar to make the entire meal even more excellent. I loved the contrast of the hot chili with the cool, creamy avocado and crunchy scallions which created a perfect flavor-texture blend. Also, the cheese on top was a non-negotiable. 😉
Of note: the salad we made to pair with the chili was awesome as well. Minimal ingredients with major flavor is a combo I always appreciate, especially when it comes to salad.
Who/What/Where: The benefits of chili are plenty, but one of the primary joys is that it can feed a crowd. I recommend making this chili on a cold weekend night when friends are dropping by; or when you invite them over for a fall feast. I don't think anyone would turn down an invite.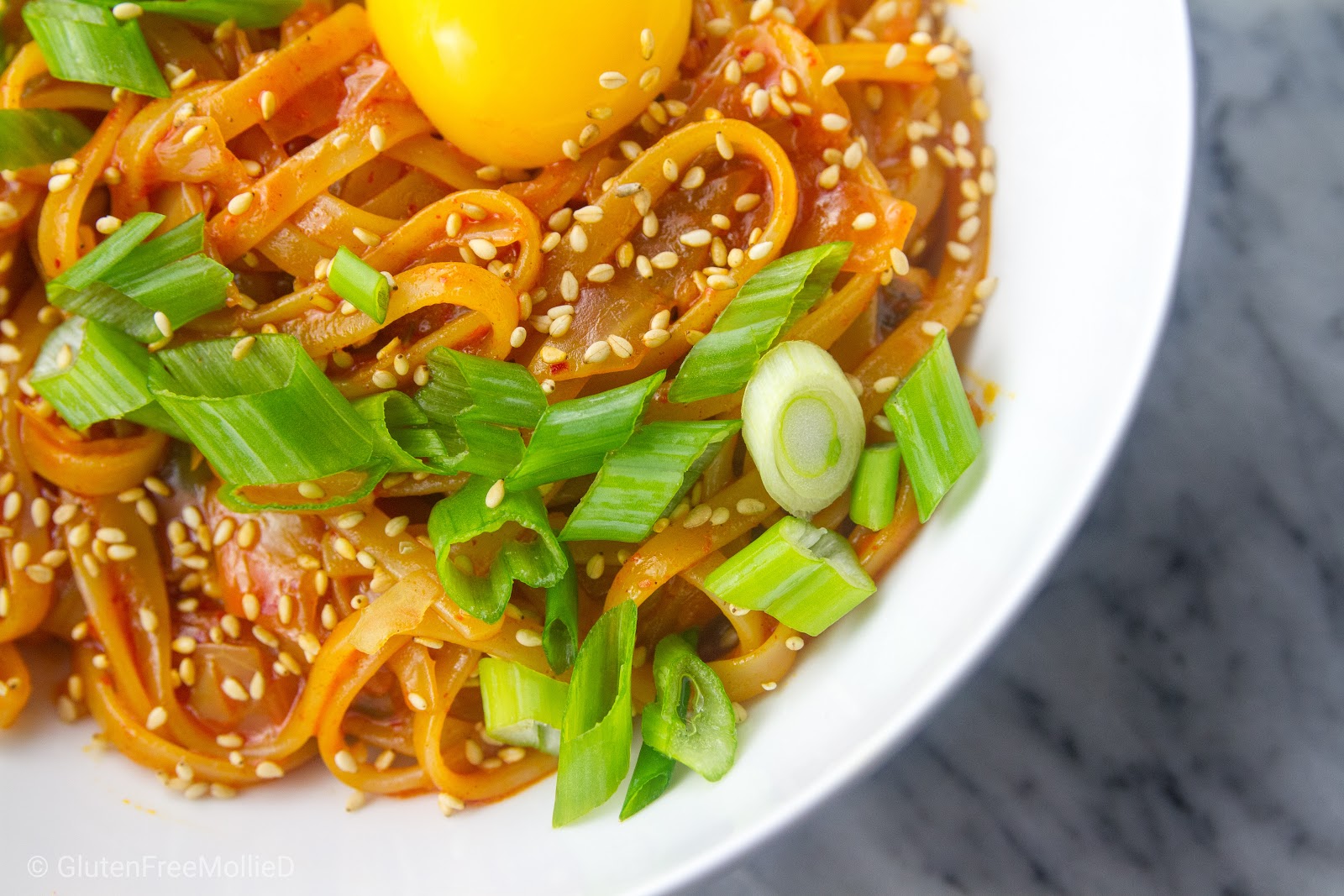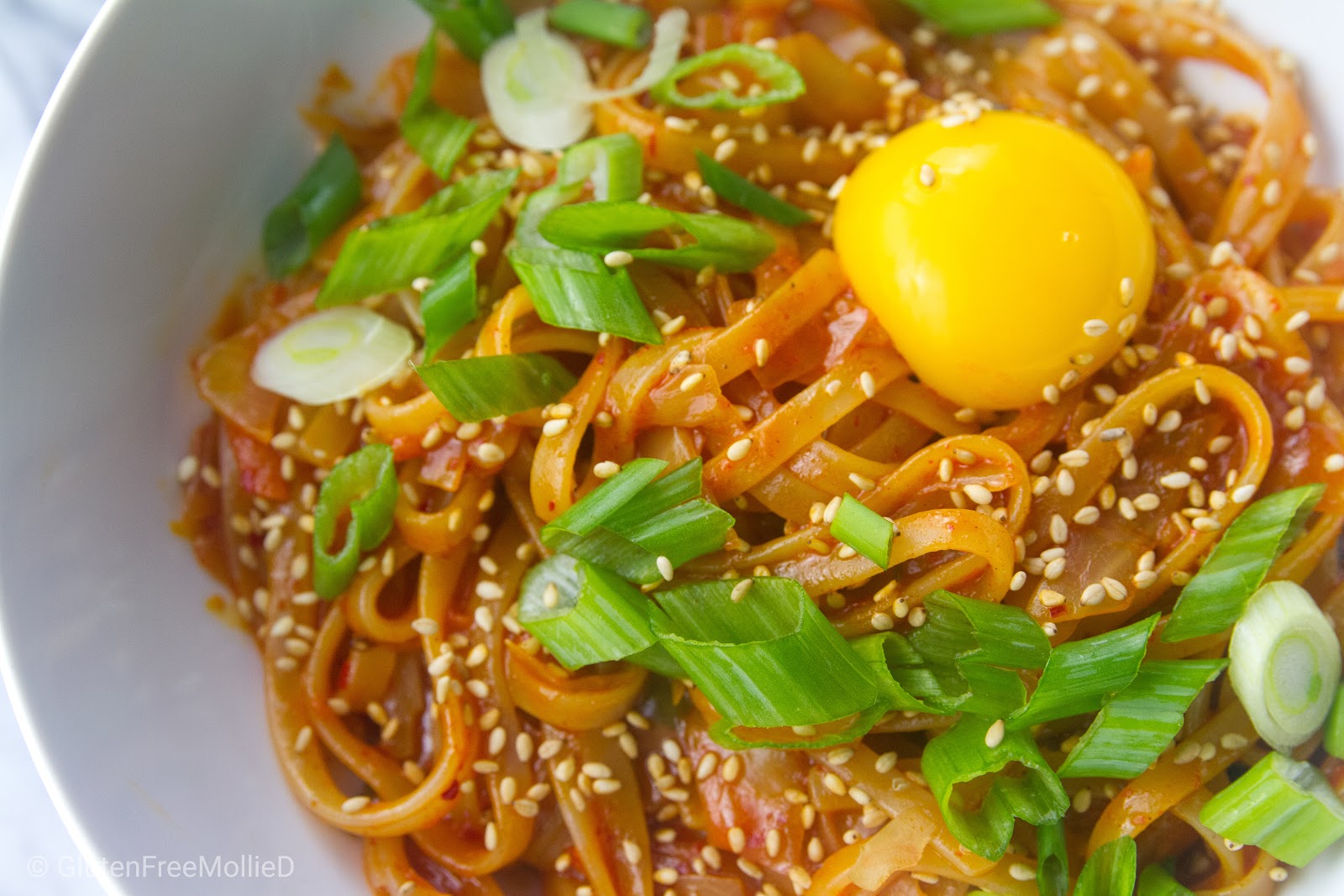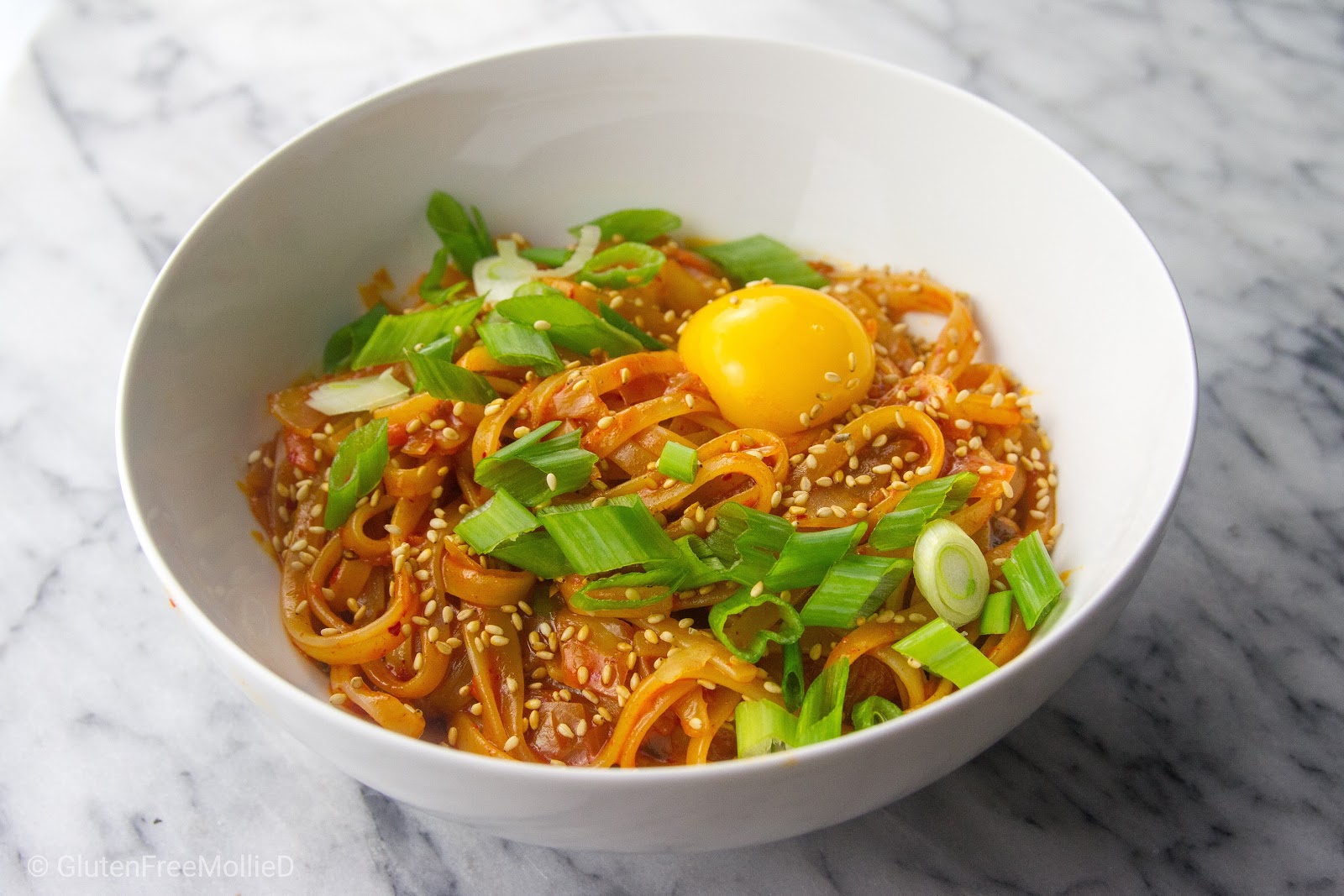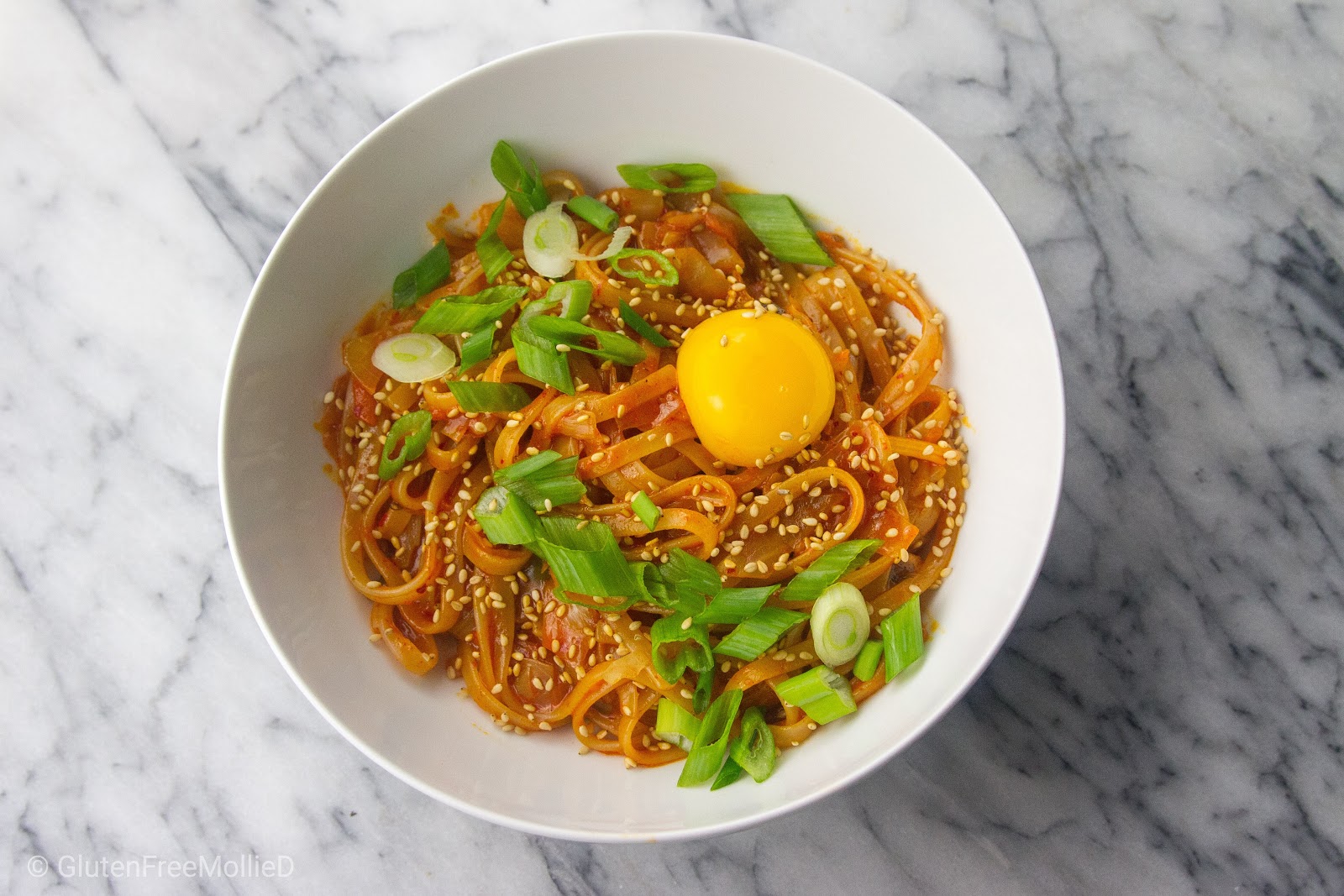 Kimchi Udon with Scallions
Source: Bon Appétit: recipe by Andy Baraghani and is available online, here!
Tip: Since I have yet to find GF Udon noodles, we simply replaced that ingredient with GF rice noodles. I'm sure there is a slight taste difference for the final dish, but I couldn't tell you. Rice noodles were delicious if you ask me. 😉 And, for the record, gochujang is an ingredient you can easily find gluten free.
Review: For a seriously simple dinner that primarily features noodles, eggs, and kimchi, all I have to say is wow! This is a major meatless meal. Creating a smooth, spicy, and buttery sauce for noodles is not only a favorite phrase, but it's most certainly one of my favorite flavors.
The hardest part of this meal was admitting how much we loved it and accepting that we ate the entire dish in about ten minutes. I never thought I'd love a meatless dinner so much. Especially one that is topped with a raw egg yolk. Don't freak out! That yolk gets stirred into the noodles to make everything just a little creamier. And even more awesome.
Who/What/Where: Despite the serving suggestion, this meal only fed two, very hungry adults. Could it have fed two more? Probably, but each portion wouldn't be nearly big enough. 😉 Make this for yourself and one other person who will share in the happy that is eating this awesome, buttery and kimchi-filled noodle bowl. Divide the portions evenly though; every bite counts.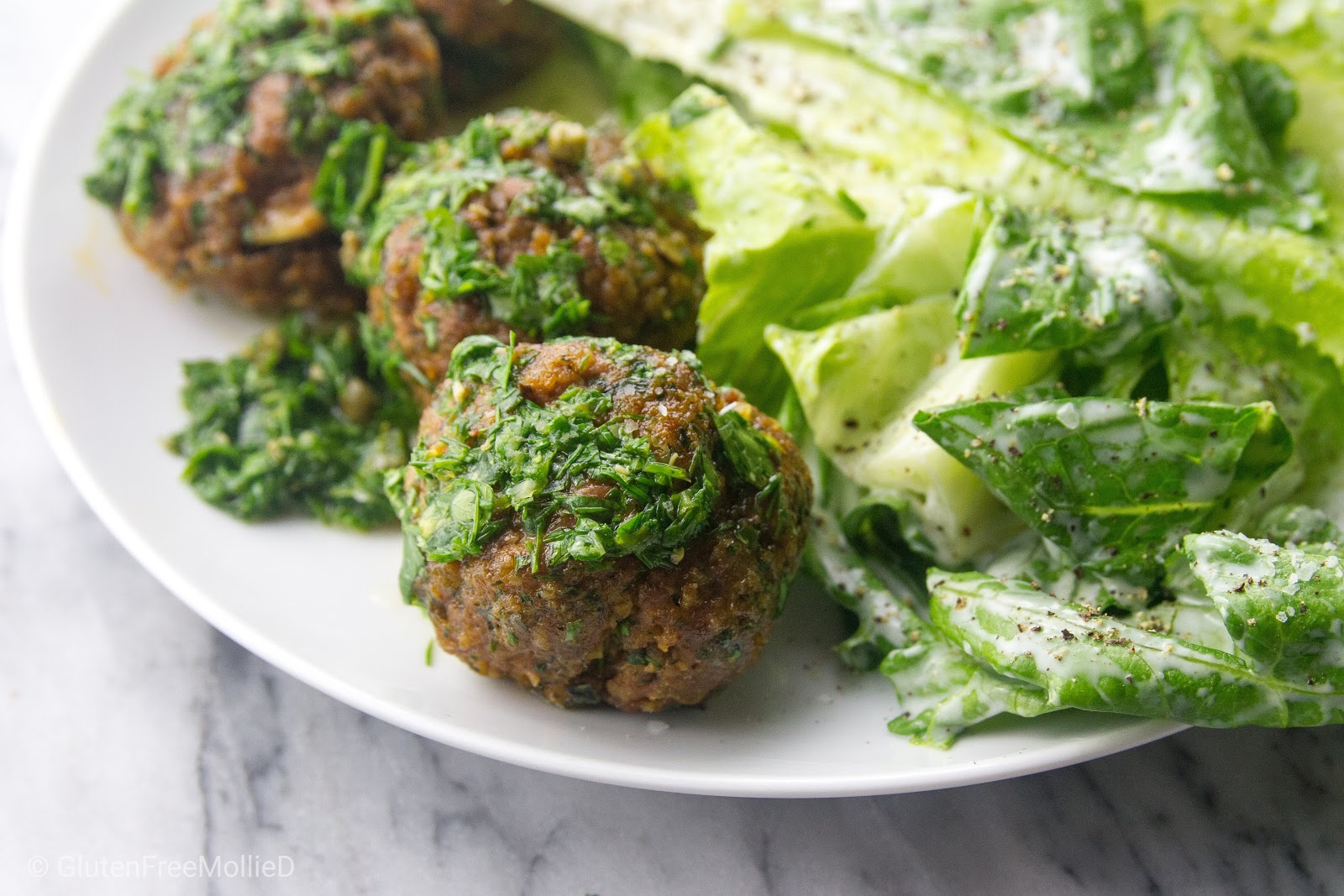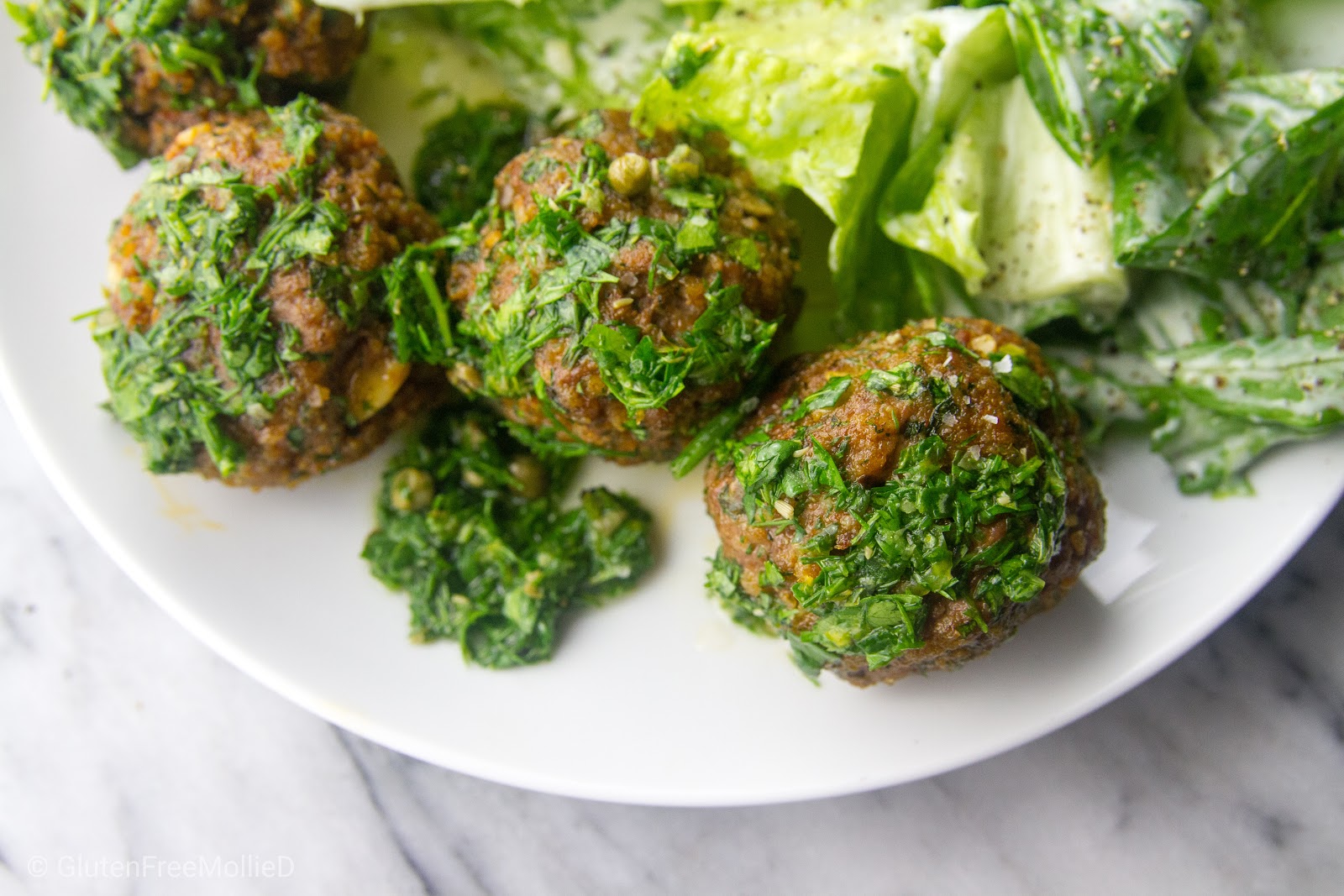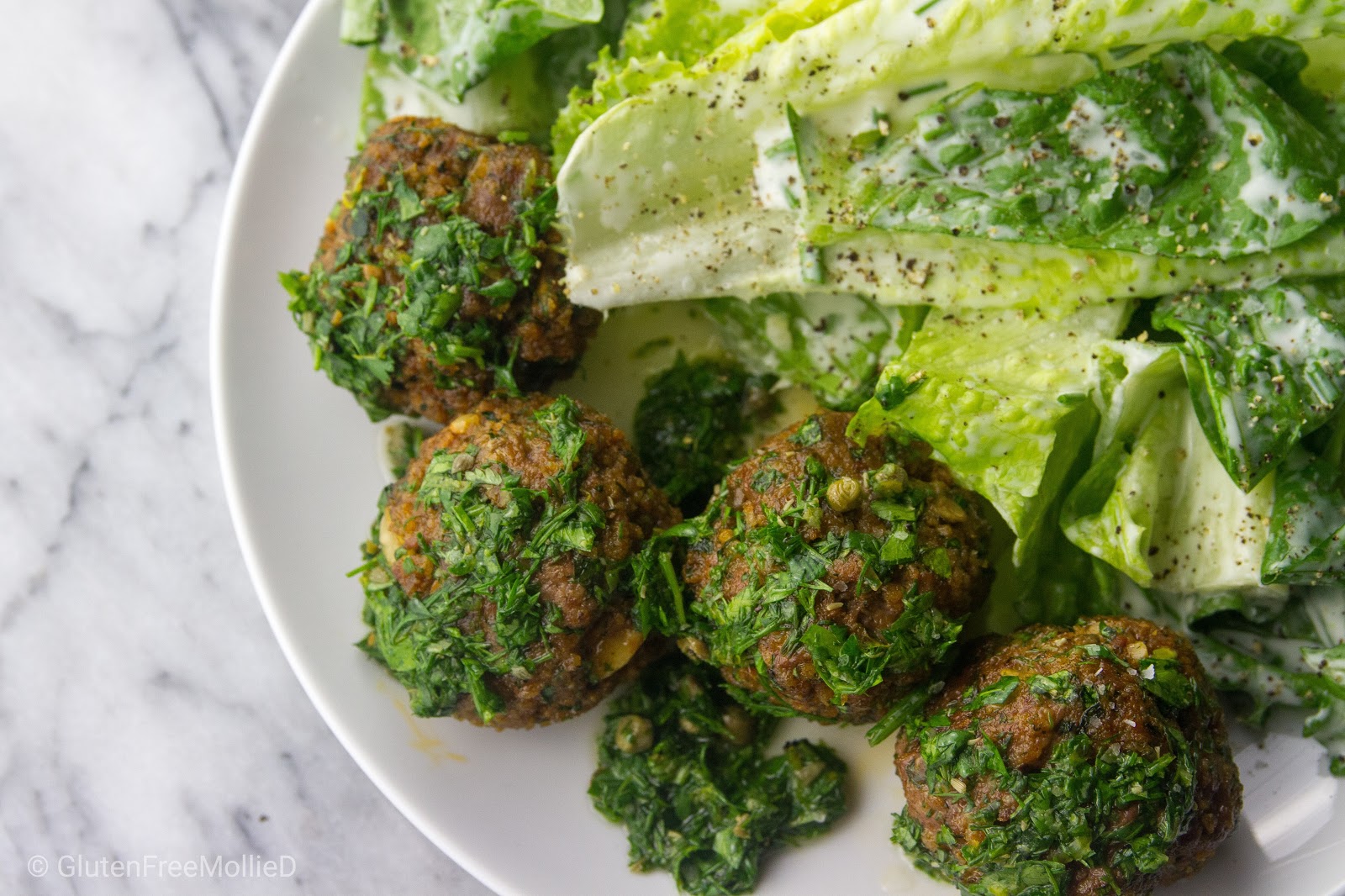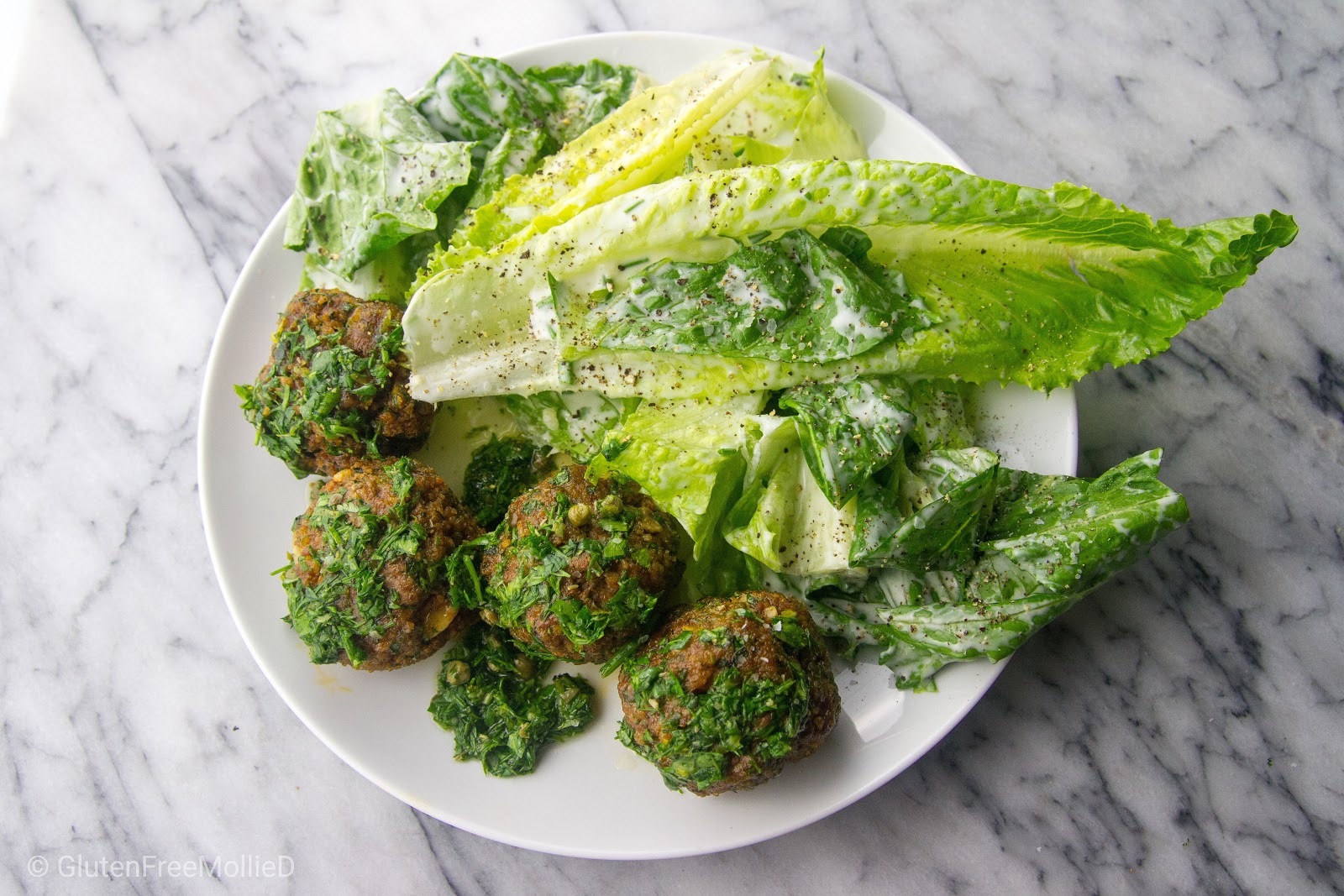 Crispy Sheet-Pan Meatballs with Salsa Verde
Source: Bon Appétit: recipe by Lauren Schaefer and is available online, here!
Tip: As usual with meatballs, remember to use GF breadcrumbs or panko as the recipe instructs. We use Aleia's Artisan Foods for all of our recipes-requiring-breadcrumb needs. Otherwise, the dish is entirely gluten free.
Review: When it comes to meatballs, we are not strangers whatsoever. In fact, meatballs (of various kinds) are possibly one of the most frequently made items in our home! They're easy to make on weeknights and every new recipe we try teaches me something new and valuable about one of my favorite anytime foods.
For this instance of the favored meatball, we learned how to mix up the texture with the primary ingredients. They were made of beef, packed to the gills with herbs and smashed walnuts, and then topped with a fresh salsa verde upon removal from the oven.
The combination of all of that led to one incredible meal. There was a harmony amongst all of the components which allowed the standard meatball (although delicious) to become a lot more exciting.
Who/What/Where: We decided to have a salad along with these meatballs, but I think they'd work well in many other situations with any number of other foods. Serve them for dinner with salad and a starch, or offer them as an appetizer when all of your friends suddenly arrive to say hello. I'd be pretty psyched if I went to a friend's house for dinner and they had these meatballs available. Score!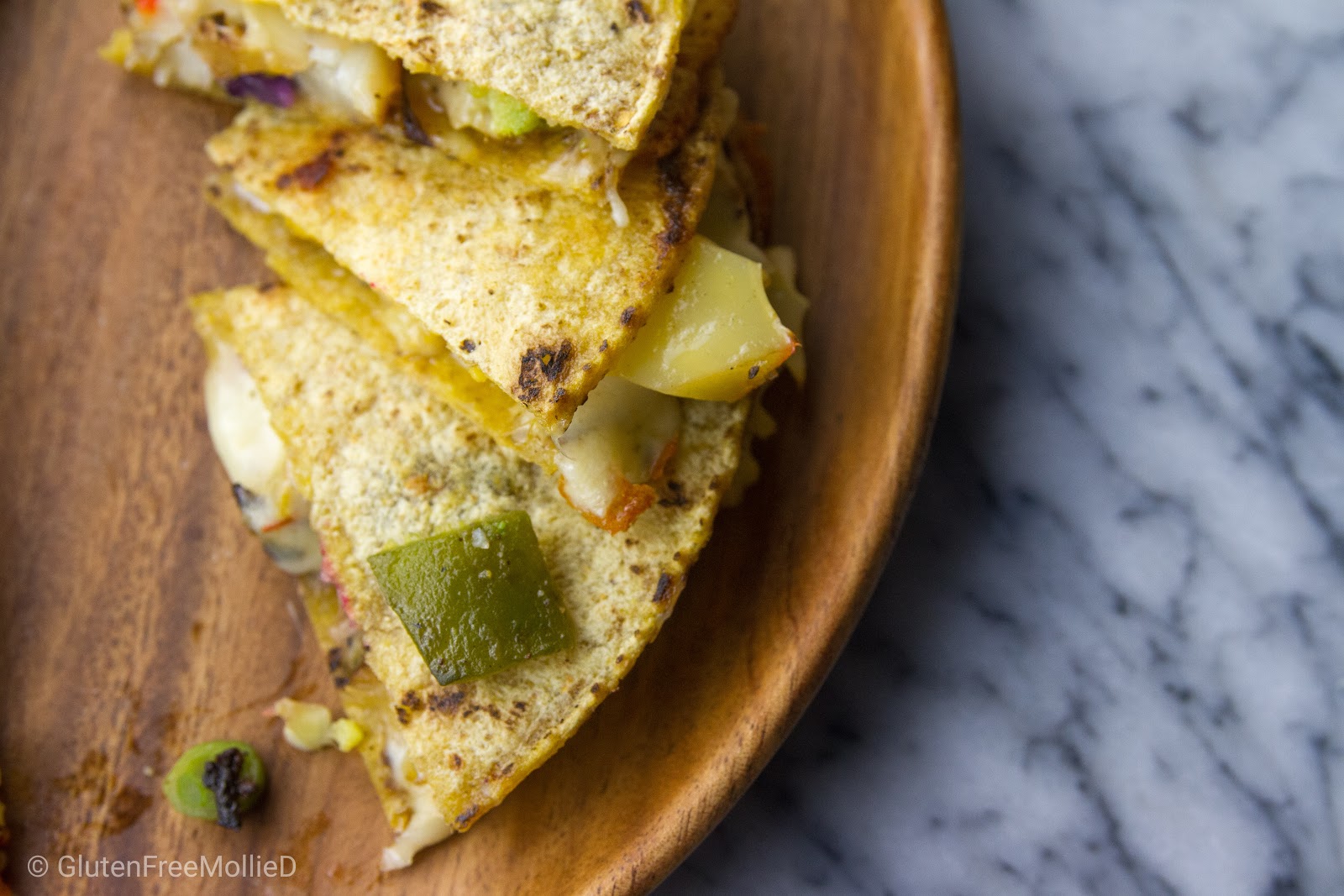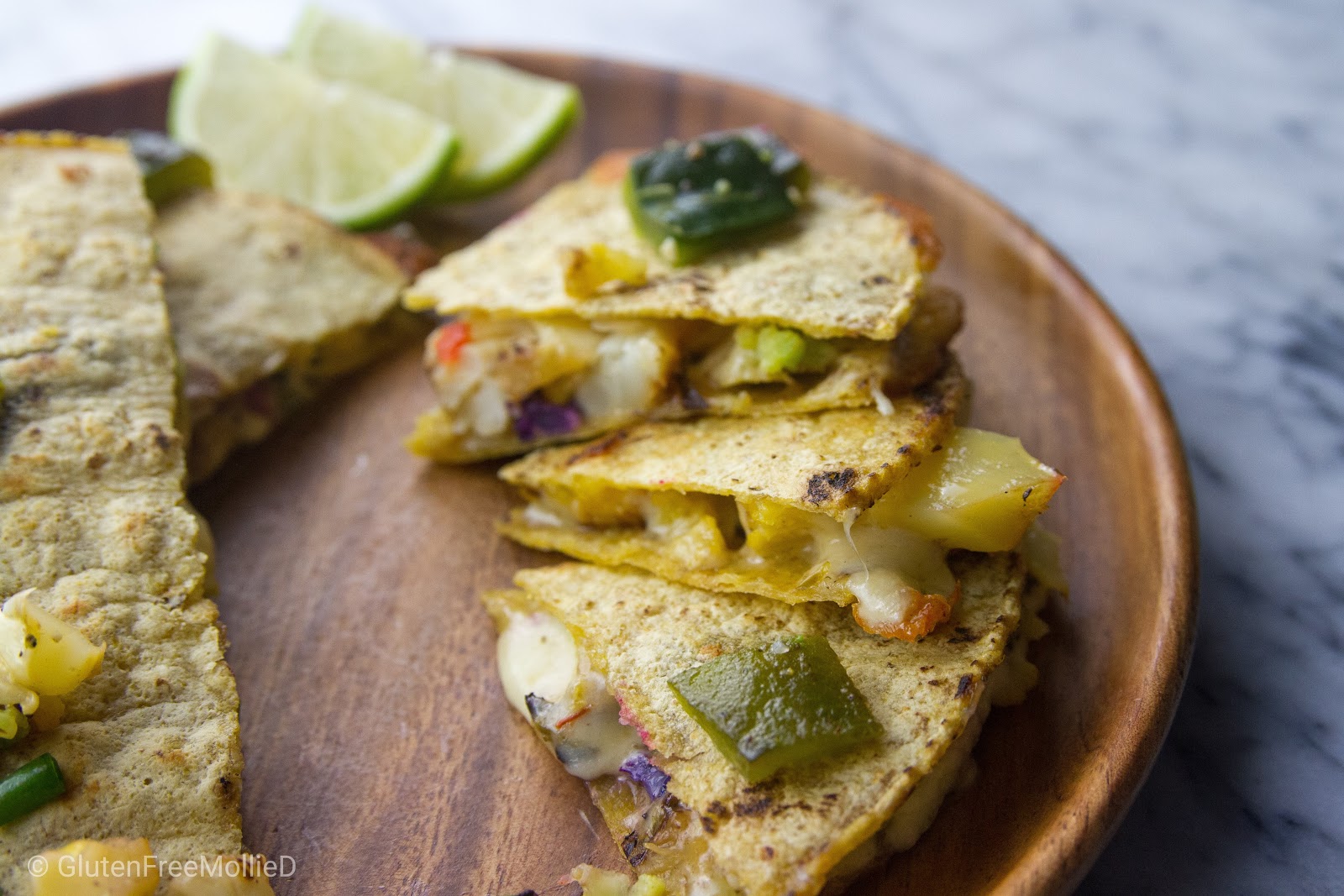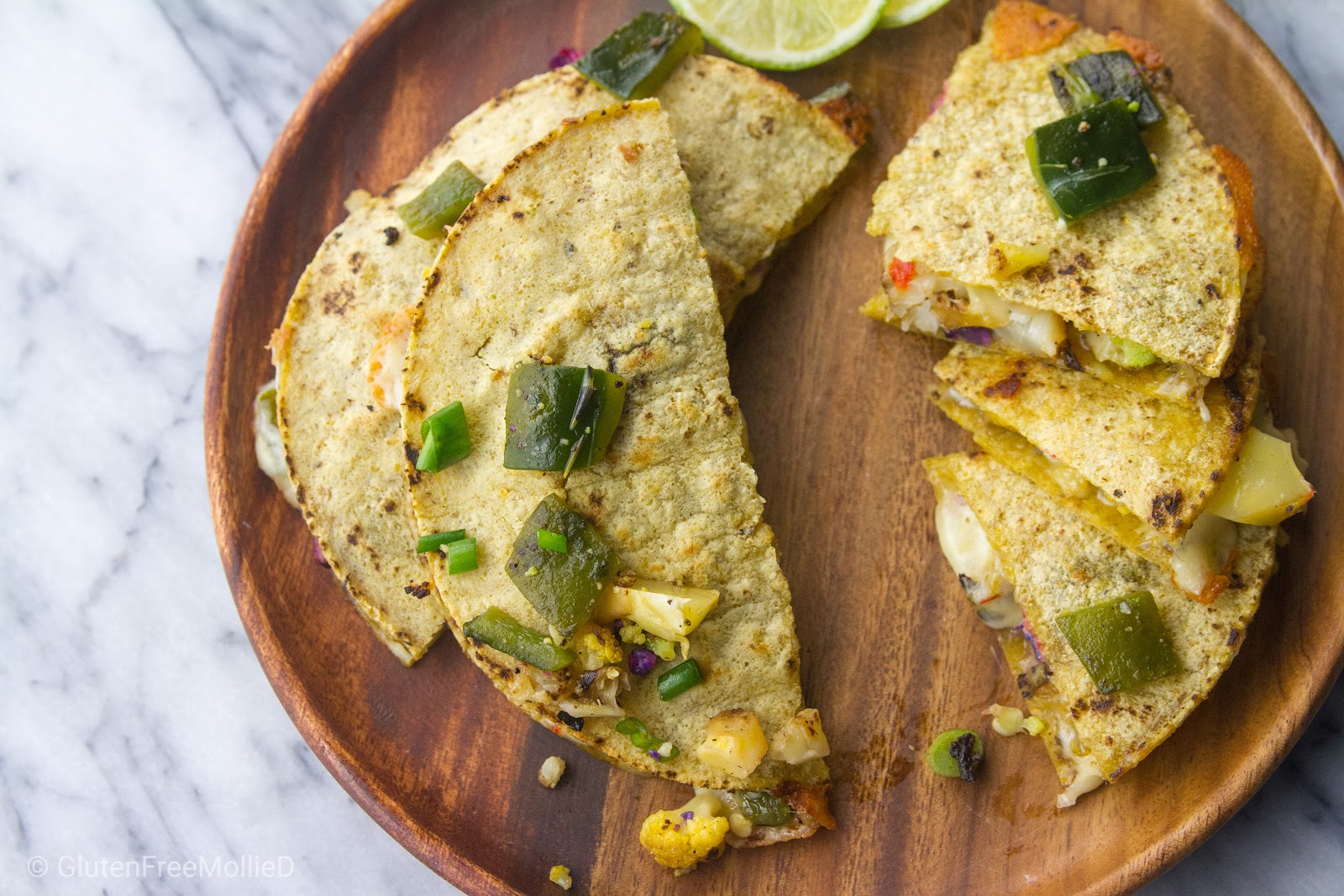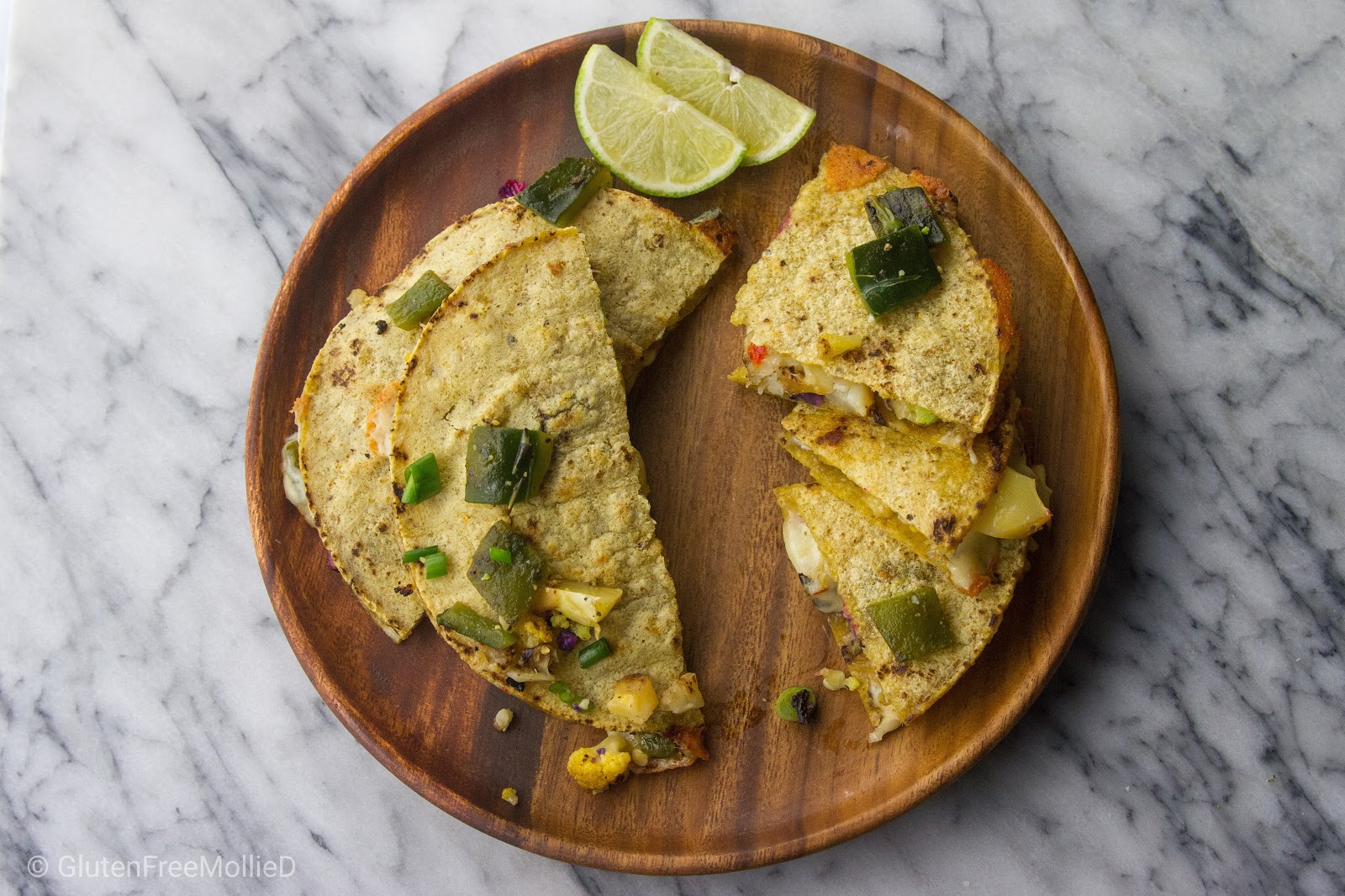 Charred-Cauliflower Quesadillas
Source: Smitten Kitchen: recipe by Deb Perelman and is available online, here!
Tip: Make sure to use corn tortillas! We used ones by the Vermont Tortilla Company and they were excellent.
Review: The quesadilla comeback! Gone are the days of the ultra-greasy, ultra-cheesy, not-really-a-healthy option version of this weeknight winner. Instead, we're featuring them stuffed with charred cauliflower and poblano pepper, and a reasonable amount of cheddar cheese, all between two corn tortillas. The result? A splendid quesadilla that will not make you miss that aforementioned version.
Deceptively easy as well as being meatless, these quesadillas were a fun weeknight option because we made them in rounds. Eat a couple, make a couple, eat a couple, make... you get the point! I'll always appreciate a low-stress meal, but I'll enjoy it even more when it's introducing me to a new flavor combo in the form of one of my favorite foods.
Who/What/Where: Perfect for a busy night or a night where major cooking just wont happen. I could also see these being offered at the kids' table during a holiday; however, you've been warned: I'm pretty sure you'd have some adults sneaking a few pieces, too. Kids at heart, right? 😉 A delicious dish for kids - and adults - of all ages.
The Weekend
Since the weather finally leaned in our favor, we tried to spend a solid amount of time outside during our two days off (despite the brisk temps and wind) in addition to eating at a couple of our favorite spots and having a little more time than usual to relax! What a gift!
Highlights
Friday night dinner at Davio's Northern Italian Steakhouse! We waited our turn for bar seats and had an easy, enjoyable night out. With an extensive gluten free menu and well-trained staff, I always find eating there extremely relaxing and comforting knowing my food will be safe.
Plus, hot gluten free rolls always appear in front of me shortly after we're seated. This time around I had a delicious GF pasta dish with chicken and sun-dried tomatoes.
Later on Saturday night we landed seats at The Bancroft which was a treat as we hadn't been there in months! While the place was majorly packed, we did manage to get seated not too long after arriving. Of course, we sat at the bar.
If I haven't mentioned it before, this is one of our favorite restaurants outside of Boston. Great staff, creative cocktails, and a fabulous gluten free menu. On this particular visit, I had a shrimp cocktail and polenta fries which are served with an amazing truffle aioli. So good!
Sunday was just beautiful, albeit chilly, and we took full advantage of the abundant sunshine with an extra-early morning walk (scenery above) followed by meal planning, grocery shopping, and MEETING JOANNE CHANG!
She was signing her amazing cookbooks at Wilson Farm's Harvest Festival and I couldn't resist popping by to say hello. Of course, I get overly nervous when meeting such cool, inspirational people and barely remember if I said anything of value. However, we do have photo evidence, which is good enough for me!
All in all, it was a food-filled, sunny weekend and I can't complain one bit! Even if the winter isn't too far away, I'm loving these days with cold air, warm sunshine, and my favorite foods sprinkled throughout.
We hope you had a delicious weekend and got to enjoy it however makes you the happiest.
Eat, well.
Mollie and Seth