Holiday Season Kickoff
Have you ever spent time in a warm climate during the winter?
Well, I'm writing to you from a warmer spot than home (Boston) and I must admit it's pretty fantastic. I love the seasons, my New England life, and the joy of welcoming spring after many cold months, but man! Sitting in the sunshine without a jacket or socks necessary, in December, is quite awesome. For all of you that live in the warmth year-round, I now understand. It's glorious.
But let's get back to the food. Last week we began the holiday season by featuring a set of dinners perfect for parties of all sizes or a special meal - any night - to toast the season. Whatever you're celebrating this December, I think selecting one (or more) of these meals would be just perfect for the ocassion.
All ingredients used to make this set of dishes are available at Wilson Farm in Lexington, MA.
Not only do they have everything to make your holiday season delicious, they're also decked out in all of the goodies to make your home cozy and sparkly.
Let's eat!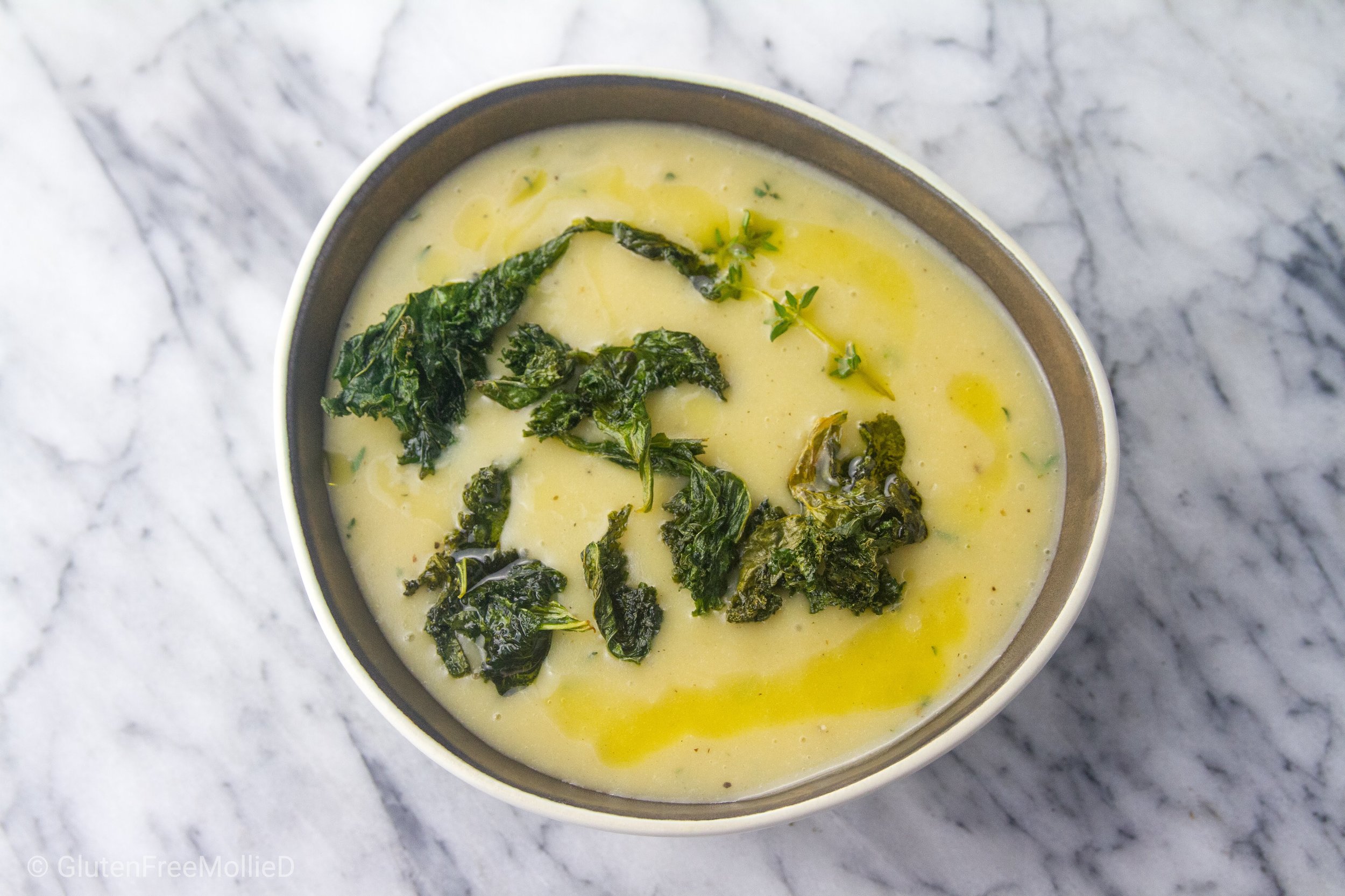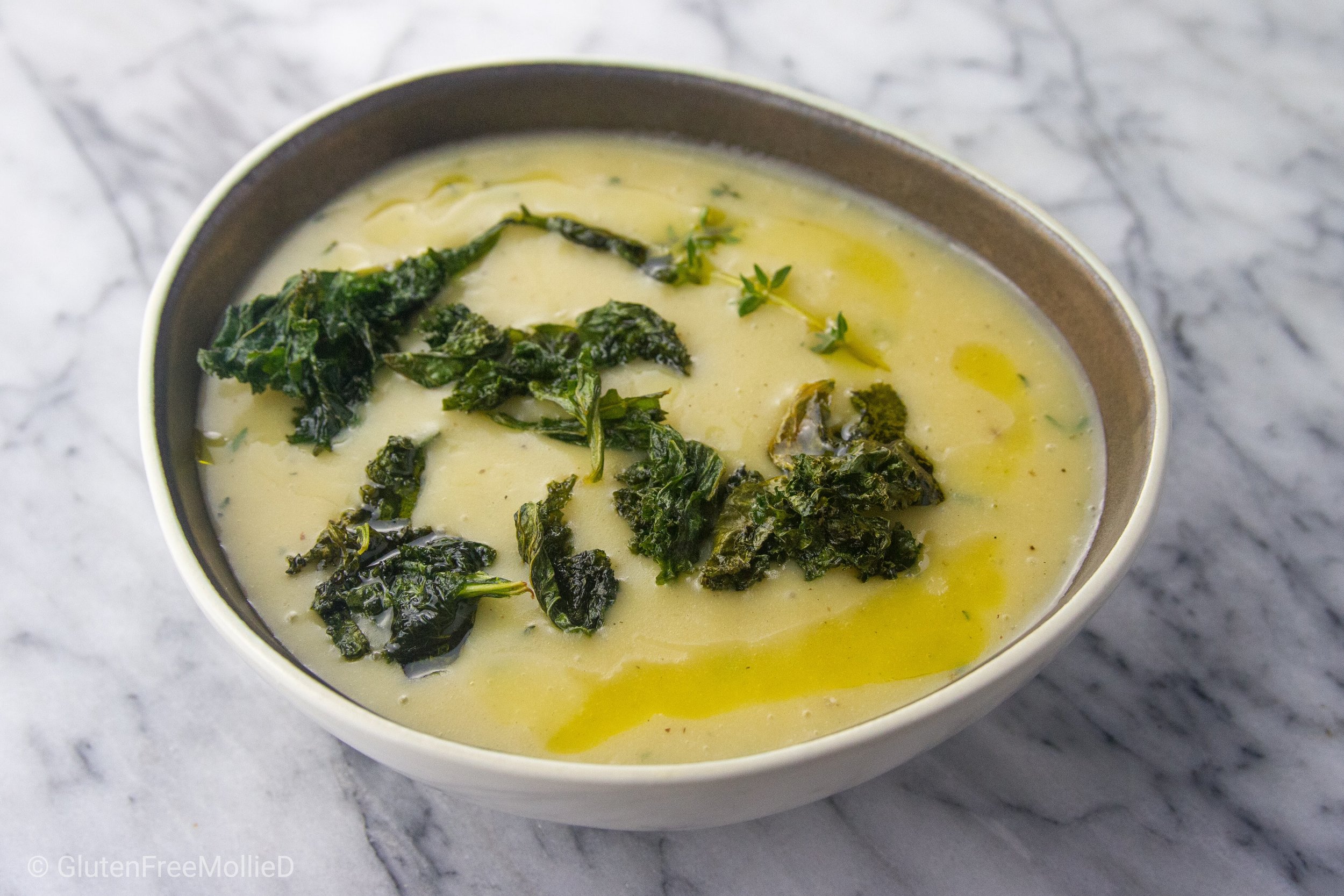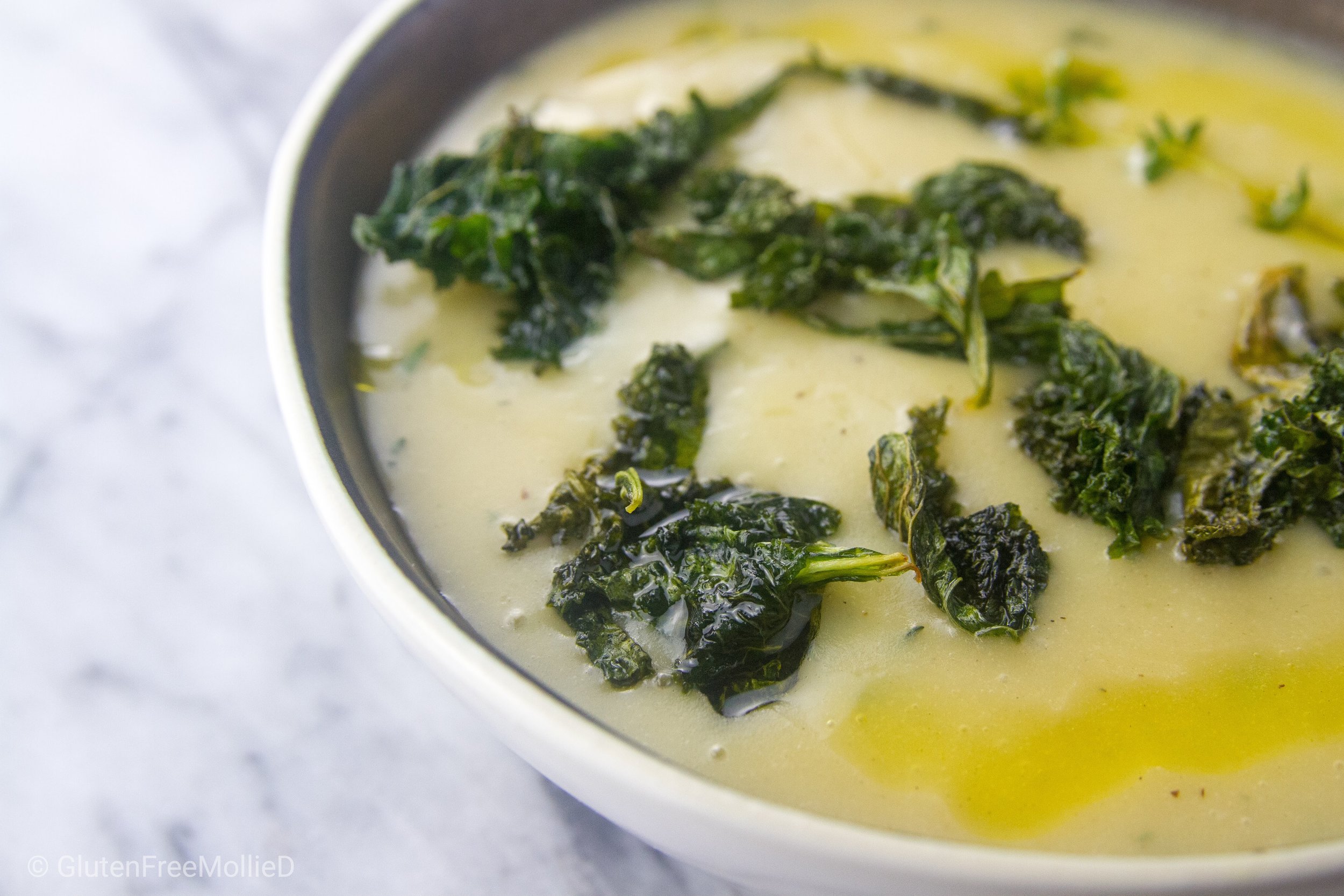 Perfect Potato Soup with Crunchy Kale
Source: Half-Baked Harvest Cookbook by Tieghan Gerard
Tip: This dish is naturally gluten free! Minimalist soups like this one are often already gluten free, which is excellent.
Review: Soup season is upon us! What better meal for a cold evening than a hot bowl of ultra-creamy, extra-savory potato soup? The soup is very thick, thanks to lots of potatoes and cheese, which makes it taste even more luxurious.
To cap off this splendid soup, crunchy roasted kale floats on top as well as a drizzle of homemade porcini mushroom oil. Don't get nervous - making the kale is quick and that oil couldn't be simpler. We love a decadent dish that's secretly simple to prepare. 😉
Who/What/When: Soup is a wonderful weeknight option any time of year, but we enjoy it most during the colder months. I'd also consider serving it as the first course for a holiday dinner; your friends/family will be soup-er impressed with this scrumptious soup when they begin the meal. And then comes the main course!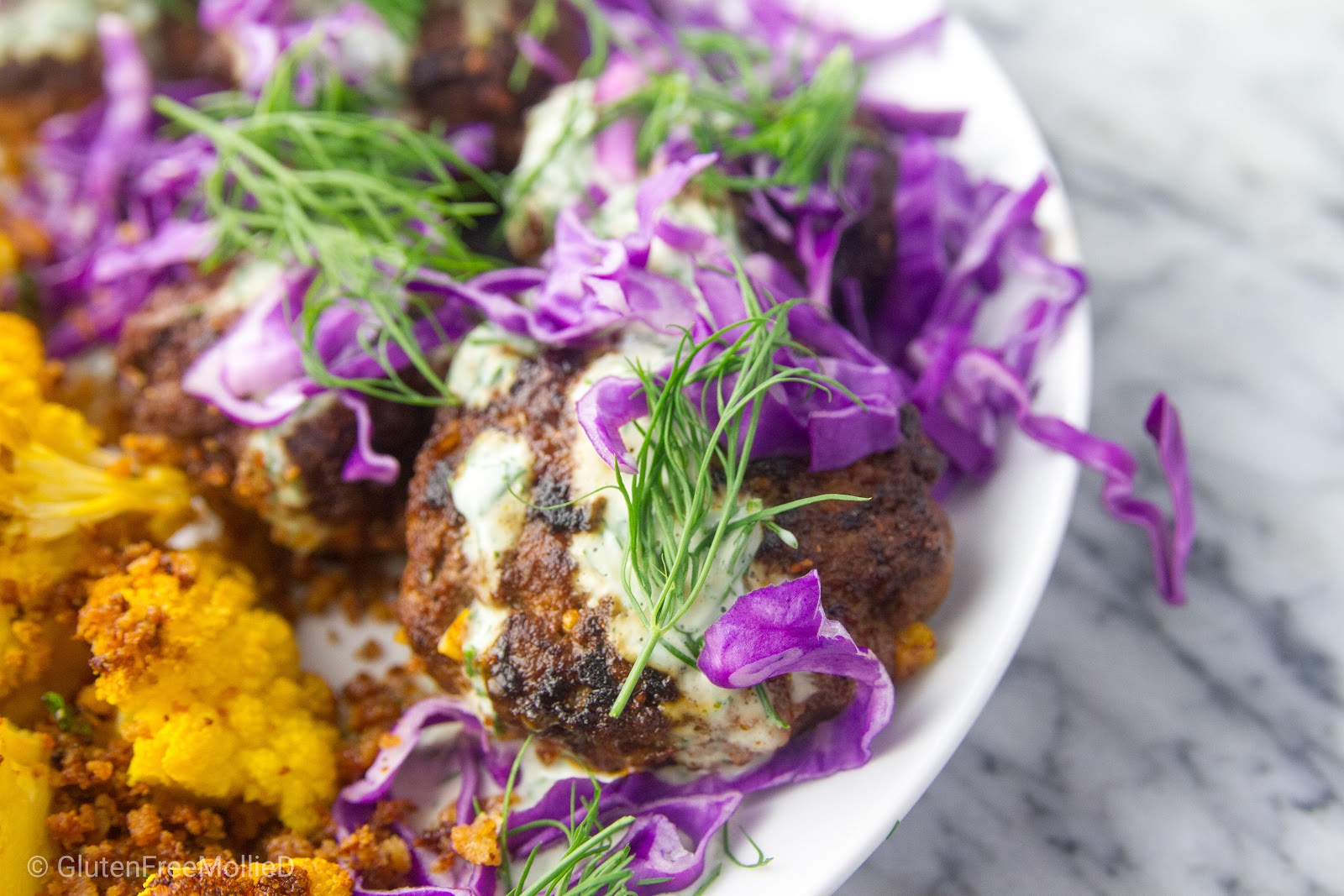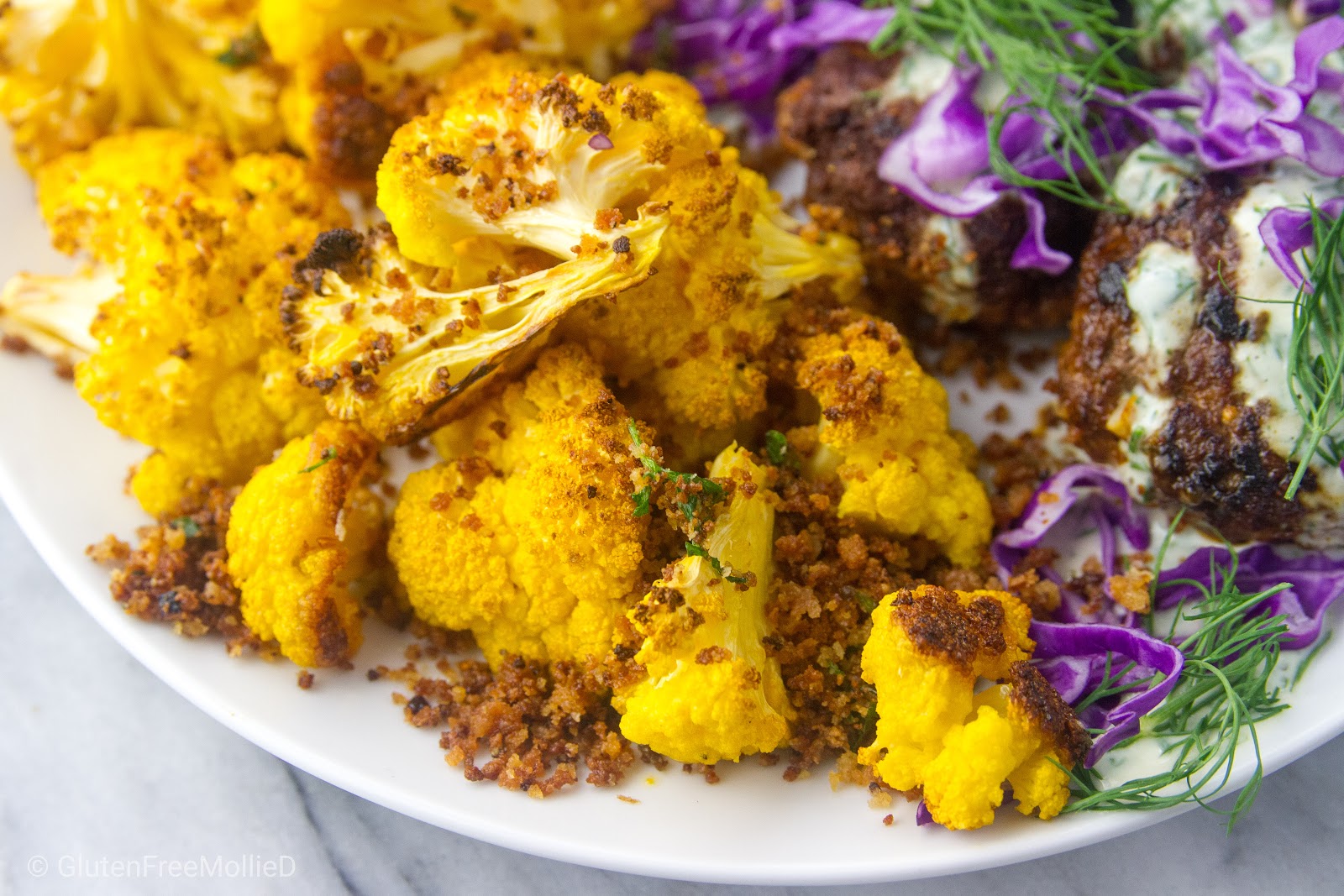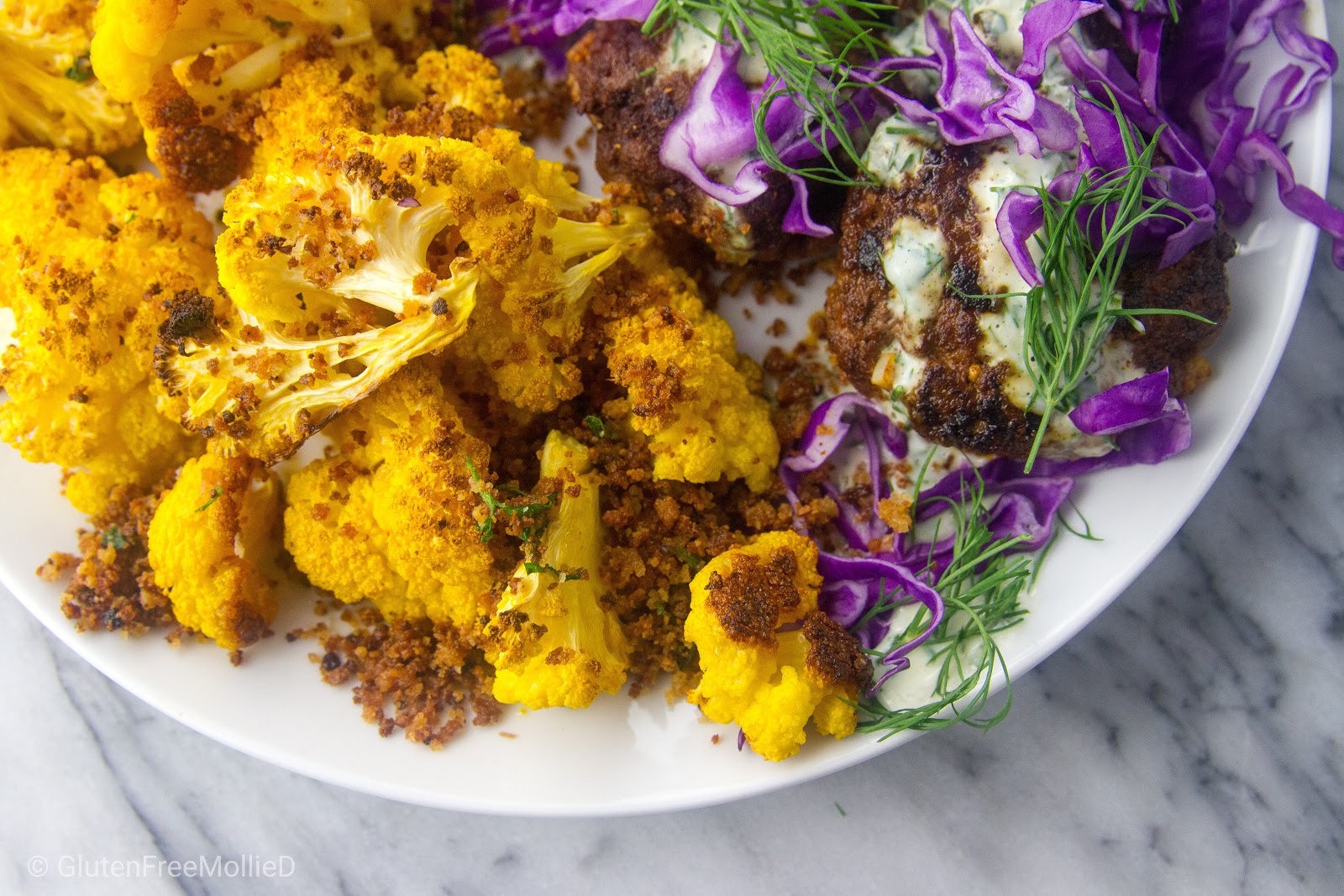 Homemade Merguez with Herby Yogurt, Cauliflower with Anchovy Breadcrumbs
Source: Small Victories by Julia Turshen
Tip: Make sure to use GF breadcrumbs for the cauliflower topping (we use Aleia's), but otherwise this meal is entirely gluten free.
Review: Where do I start? This meal combined so many of my favorite flavors and it was as delicious as I hoped it would be. Pairing the two recipes together was my idea since individually they wouldn't be quite enough for a whole meal, but conveniently they're from the same book!
While you may be nervous to make your own Merguez sausage, don't be! It's basically combining ground lamb with a bunch of spices in a bowl and forming that mixture into small, slider-size patties, then pan-frying them in a cast-iron skillet. Ta da! Impressive food skill, achieved. Not much more difficult than making a regular burger, if you ask me.
And just so you know, roasted cauliflower is one of the best roasted veggies, ever, so I strongly recommend making it to go with the sausage. It's easy to make and you get a lot of awesome flavor with very minimal effort.
Don't forget the breadcrumbs on top! They provide a delicious crunch and they're amazing as leftovers. I sprinkle them on my scrambled eggs. 😉
Who/What/When: Not only are these dishes great for a regular dinner, but they'd be very fun for a holiday party. You could double or triple the sausage recipe and have them as appetizers, or a main dish, and the cauliflower would be a perfect side for those looking to keep veggies present during this somewhat indulgent holiday season.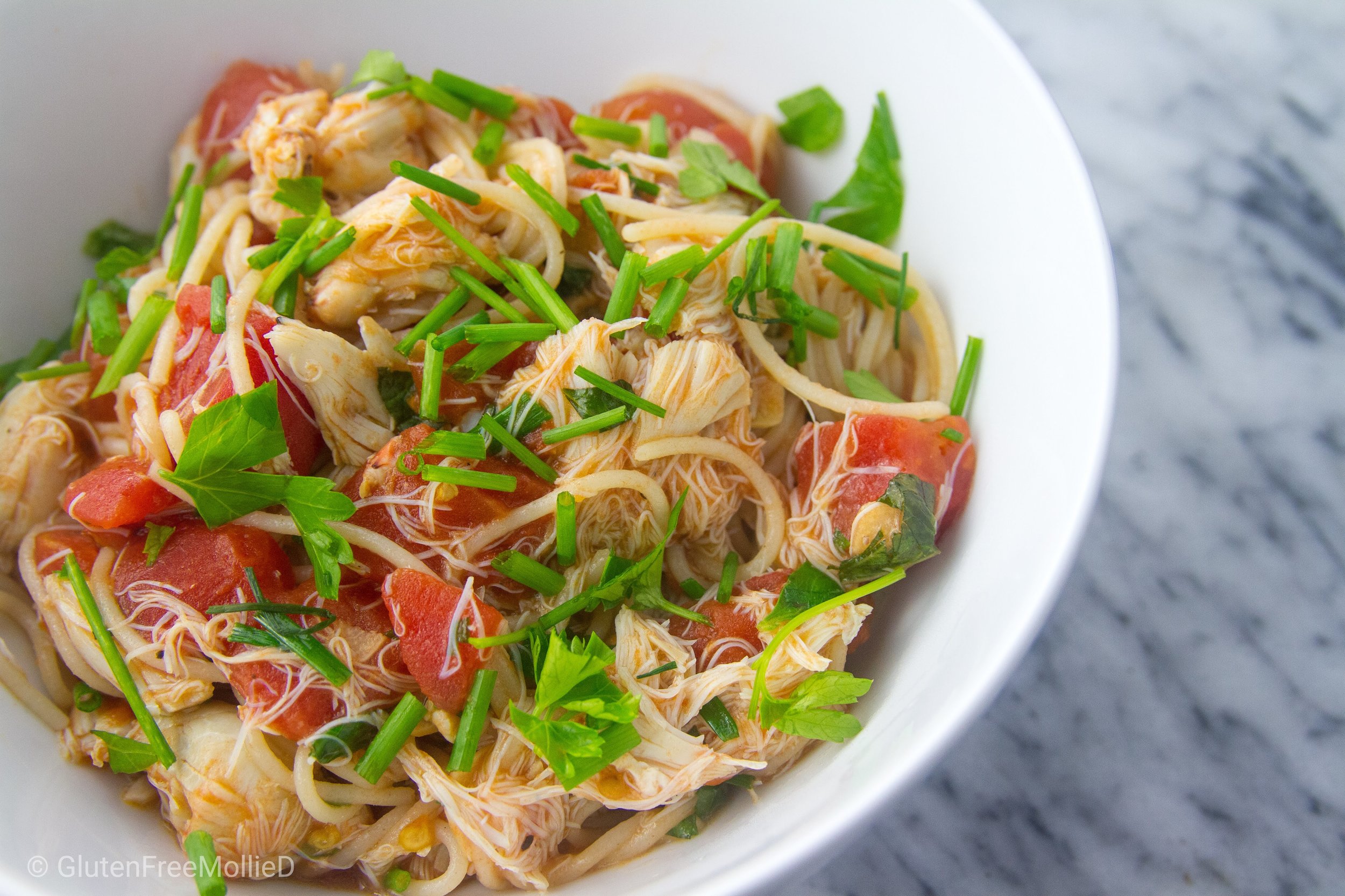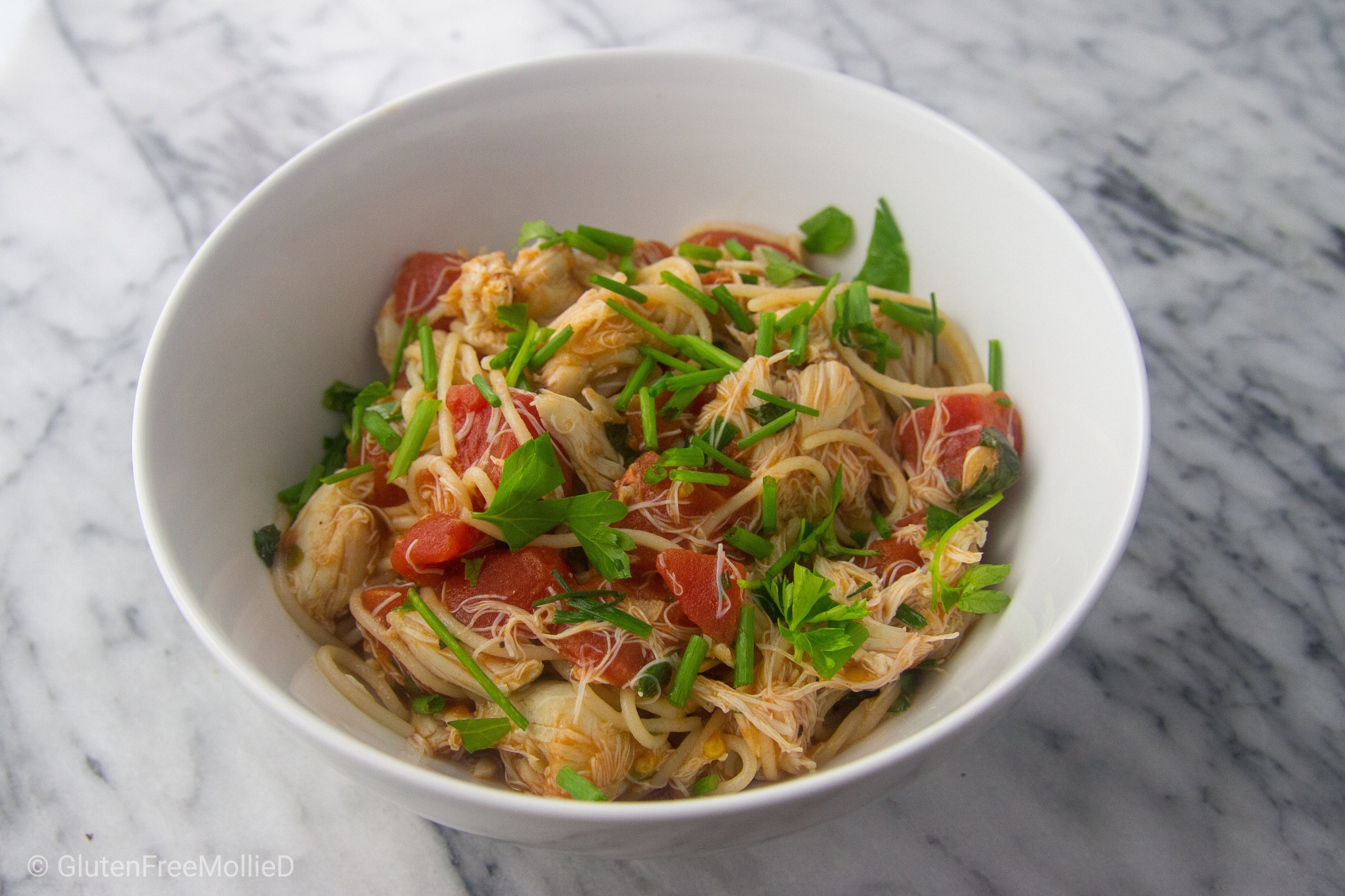 Crab Fra Diavlo
Source: Back Pocket Pasta by Colu Henry
Tip: Just make sure to use gluten free pasta! Otherwise, all ingredients are already gluten free. Hooray! PS: this is a dairy-free dinner!
Review: A pasta for the season! Clearly, we're digging into the decadence with this one; lots of jumbo lump crab meat, a simple marinara sauce, and a hearty mix of fresh herbs combine to make one heck of a "holiday-appropriate" dinner.
Why is there crab in the pasta? Why wouldn't there be crab in the pasta?! I know there are shellfish allergies out in the world, but for those of us who love (and can safely eat) crab in all its glory, this dish is a fabulous feature for it.
The crab flavor isn't overpowering, thankfully, and goes so well with the light marinara sauce. Bunches of herbs keep it all fresh and bright, and since this is a dairy-free dish, I wouldn't say it's too "heavy." I had a hearty-sized bowl and felt pretty great afterward!
Who/What/When: While I will always find an excuse to have a luxurious weeknight dinner (it's Tuesday! it's the holidays), I'm even more excited that this one would be just perfect for a holiday celebration meal.
Much like others we made this week, our crab pasta came together in about thirty minutes, which is a miracle since your friends and family will be amazed you're serving them a decadent dinner with crab and are serving it before anyone is able to get a second glass of wine. 😎 Serve the pasta, then pass the wine!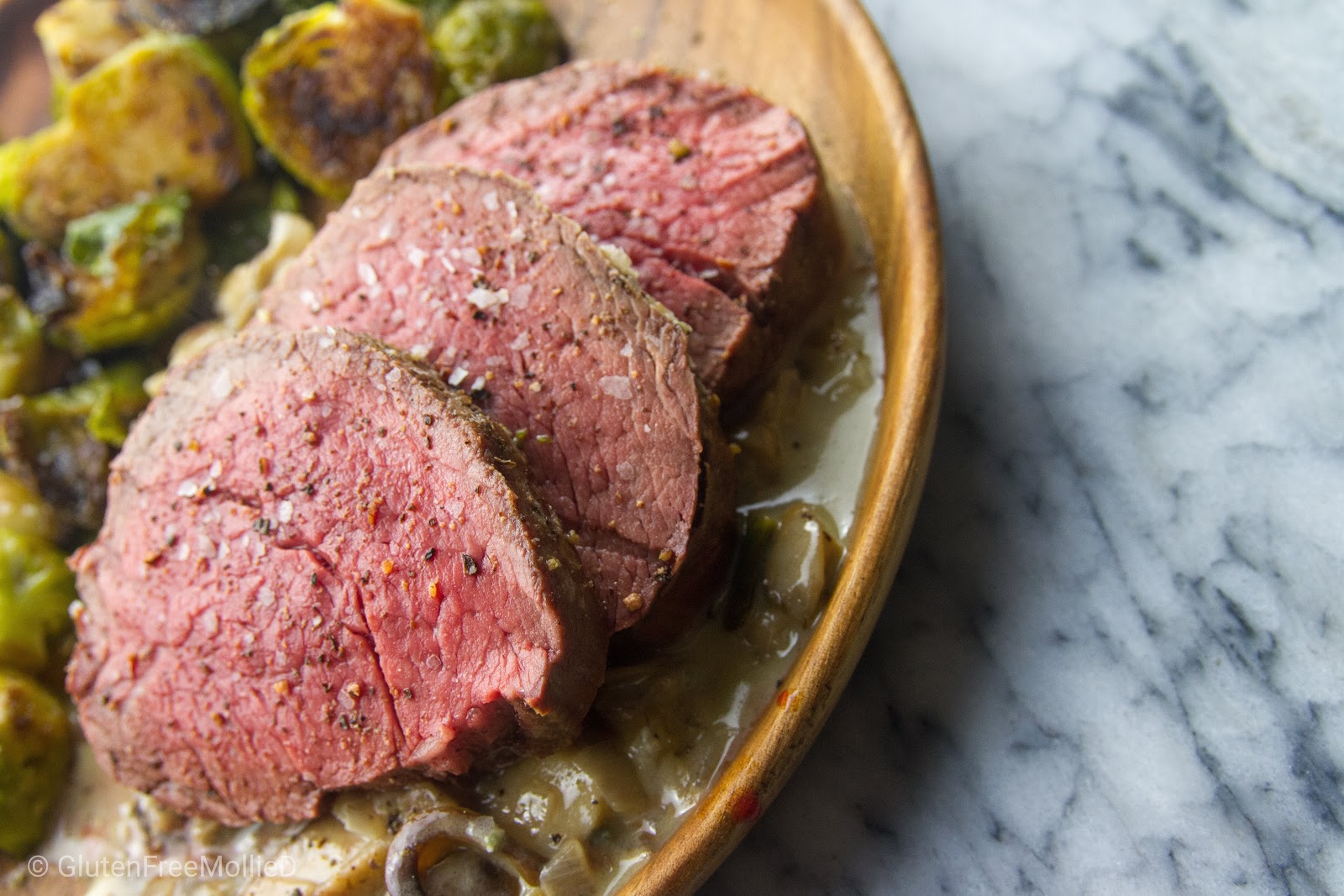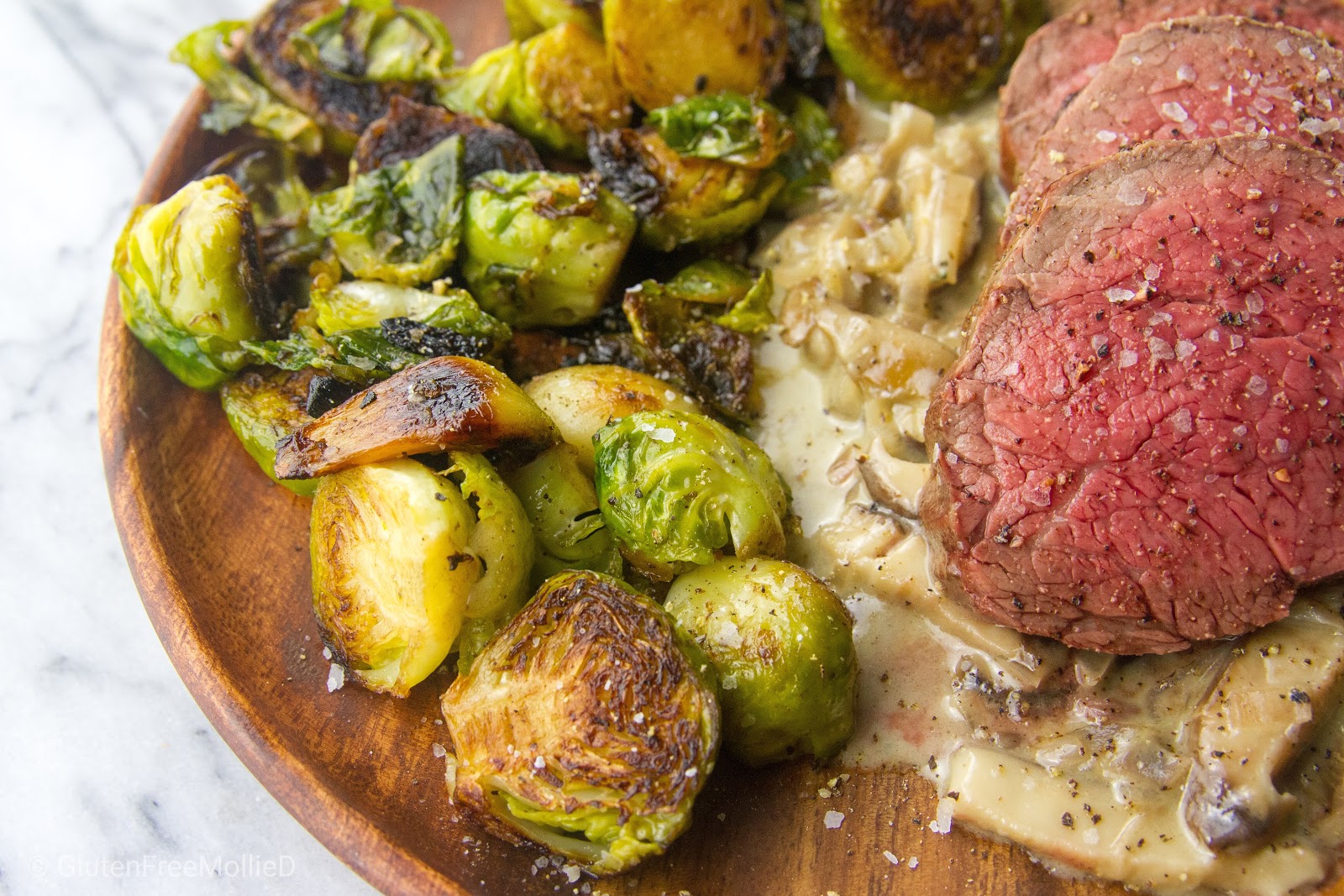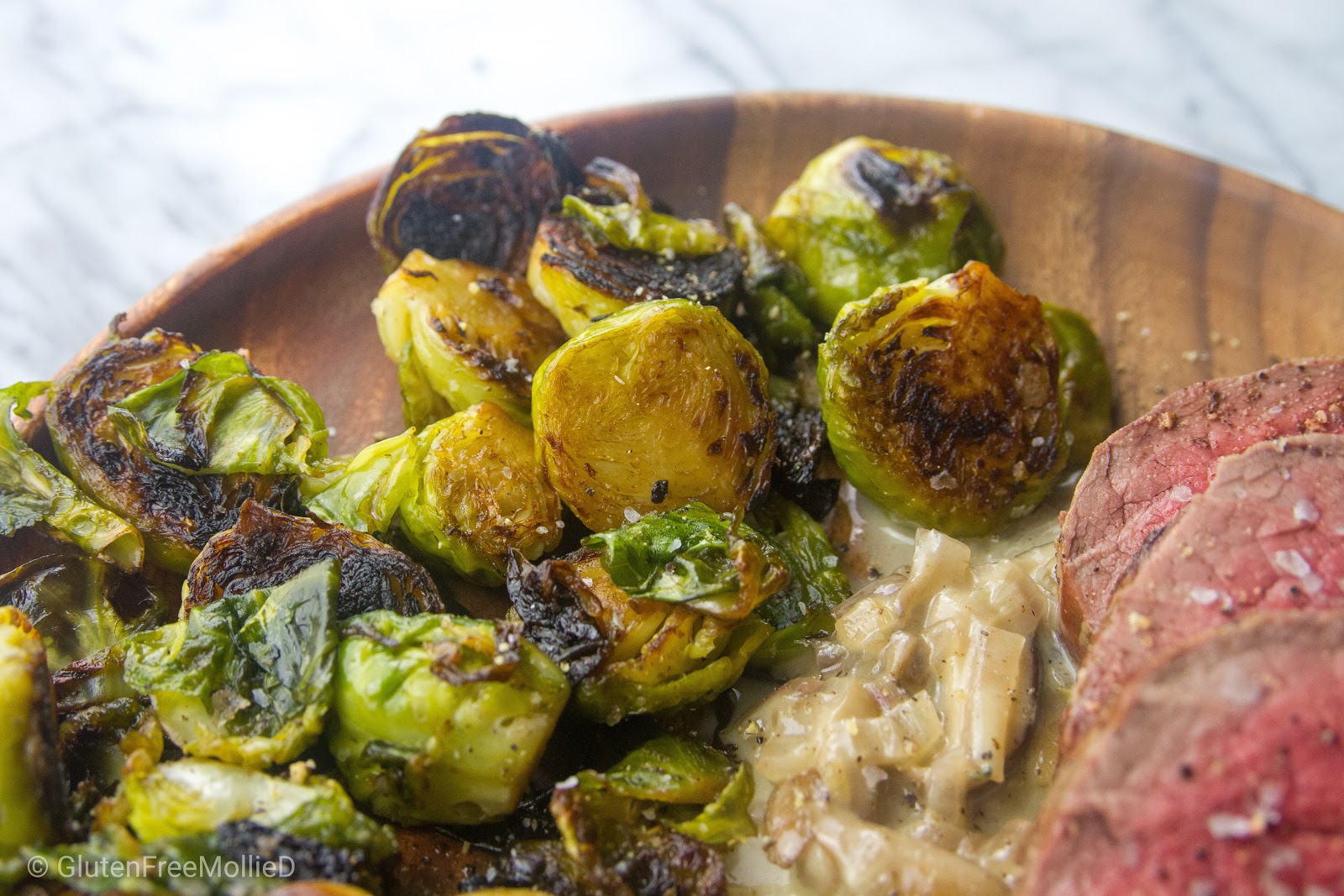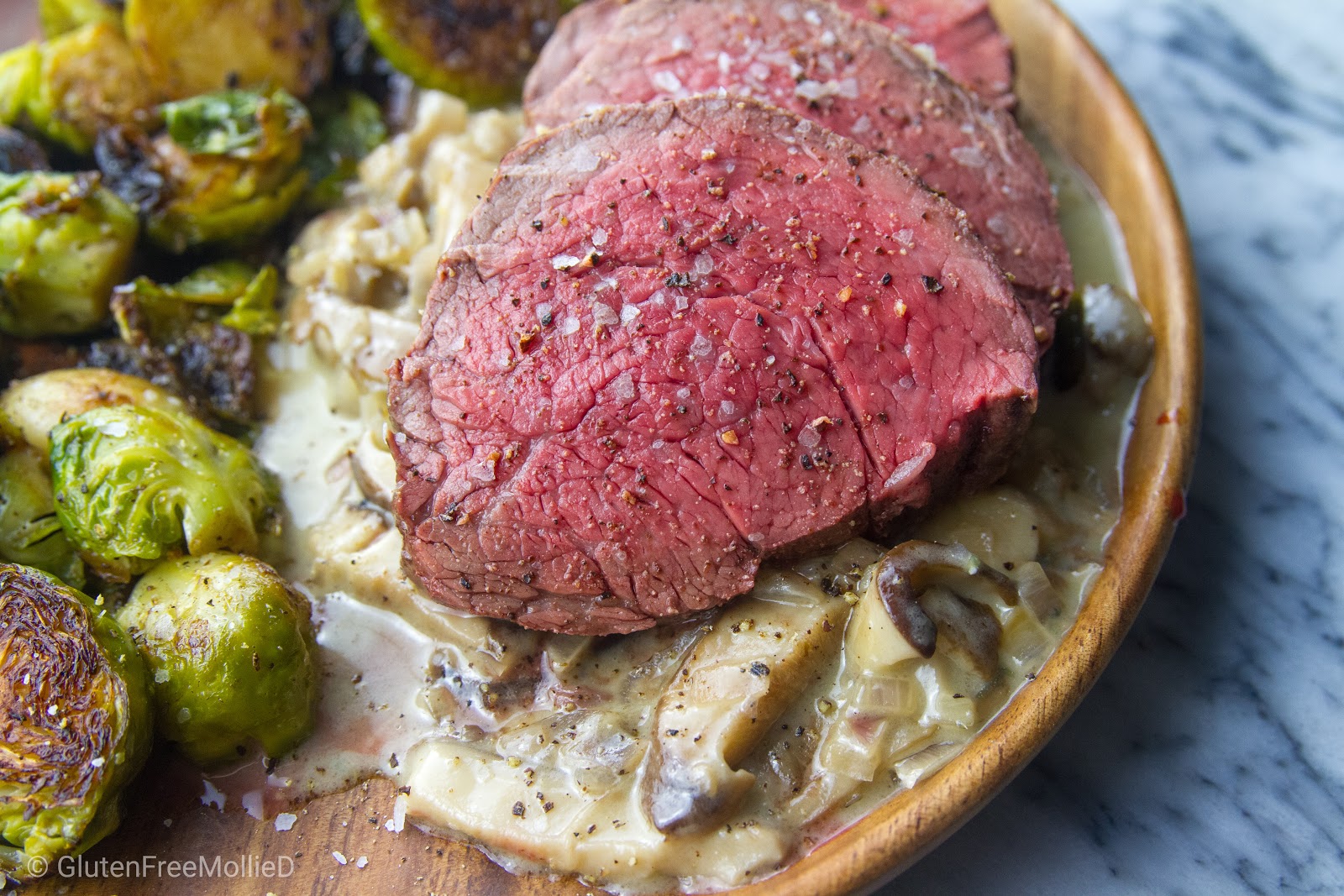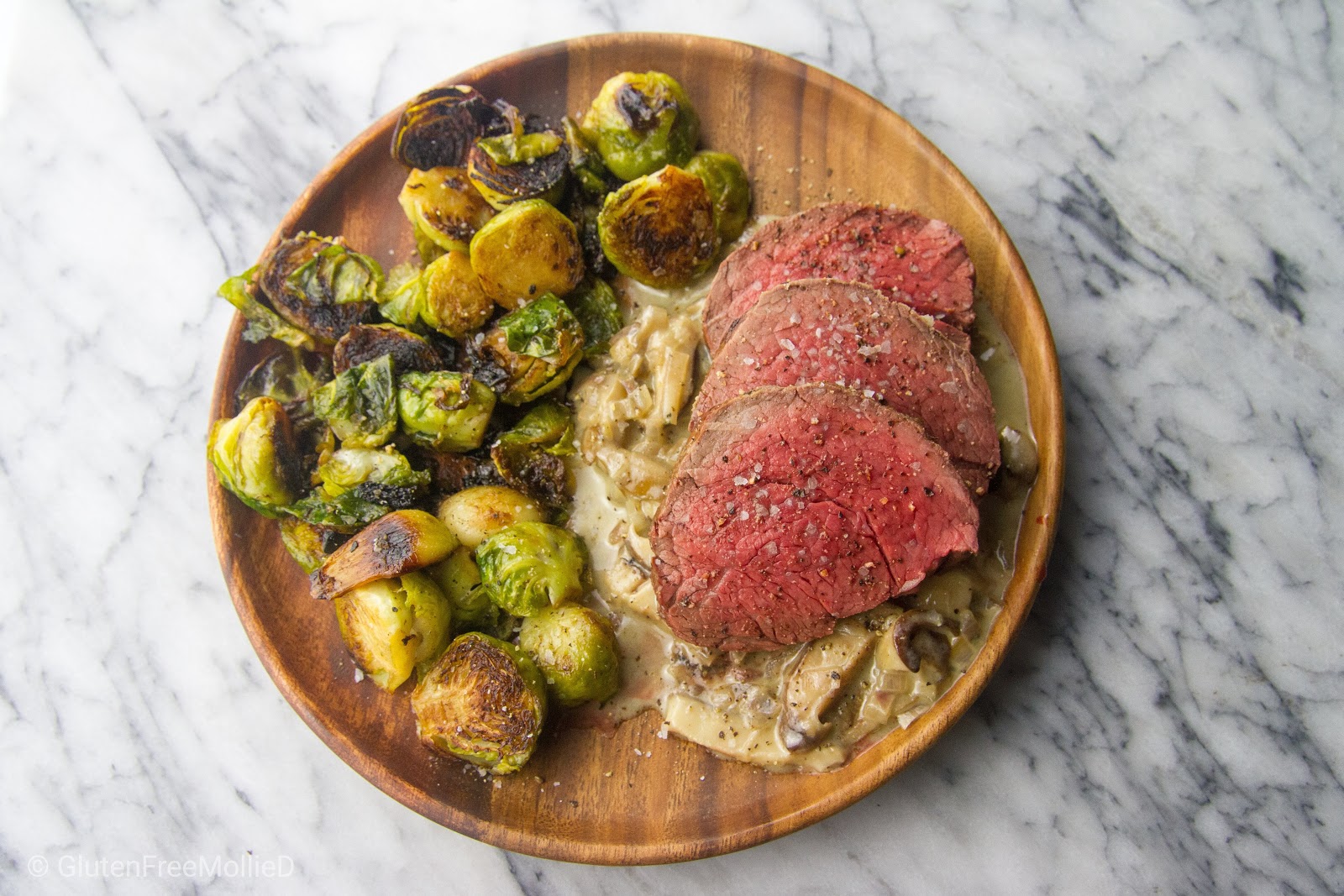 Filet of Beef with Mushrooms and Blue Cheese
Source: Cook Like A Pro by Ina Garten
Tip: A naturally gluten free meal! The mushroom and blue cheese sauce recipe does not include flour! Yippee!
Review: Save this for the main! I cannot speak highly enough of this incredibly flavorful, luxurious-looking, approachably-decadent dinner. And it is freaking amazing. I want to eat it again right this minute.
The glory of this dinner is that the beef only cooks for twenty-five minutes (very hot oven), hooray, which makes it possible to make on a Friday night after work, or for a big group celebrating the season.
The beef is so scrumptious I can barely put it into words; I recommend just staring at the photos for a few minutes. And I'm talking about how great the meat is before you cover it in the unreal mushroom sauce.
Throw your health-minds aside because this sauce has a lot of butter and cheese in it. The result is something so creamy and perfect and I wouldn't change a thing about it.
For the record, we served the beef with Brussels sprouts because we thought it would be a good way to balance the plate (decadent beef, healthier sprouts). Brussels sprouts are also a great holiday veggie so it worked out well all around. You could serve the beef with any vegetable of your choosing, of course.
My feelings on health during the holidays: keep up a fairly regular exercise routine, as best you can, and indulge when the opportunity presents itself. What's worse? Missing a workout or missing one of the best dinners of your life? I'd personally lean toward the former. 😎
Who/What/When: If it's not clear enough, then here we go: Make. This. Dinner. Now. Perfect for Christmas Eve, New Year's Eve, Chanukah!, or any celebratory night this month, and you won't be disappointed.
Your family will love you even more, your friends will move in, and your body will thank you. A decadent dinner is incredible this time of year, or really anytime, because there's not much that's more joyful than eating well during the holidays with your family and friends.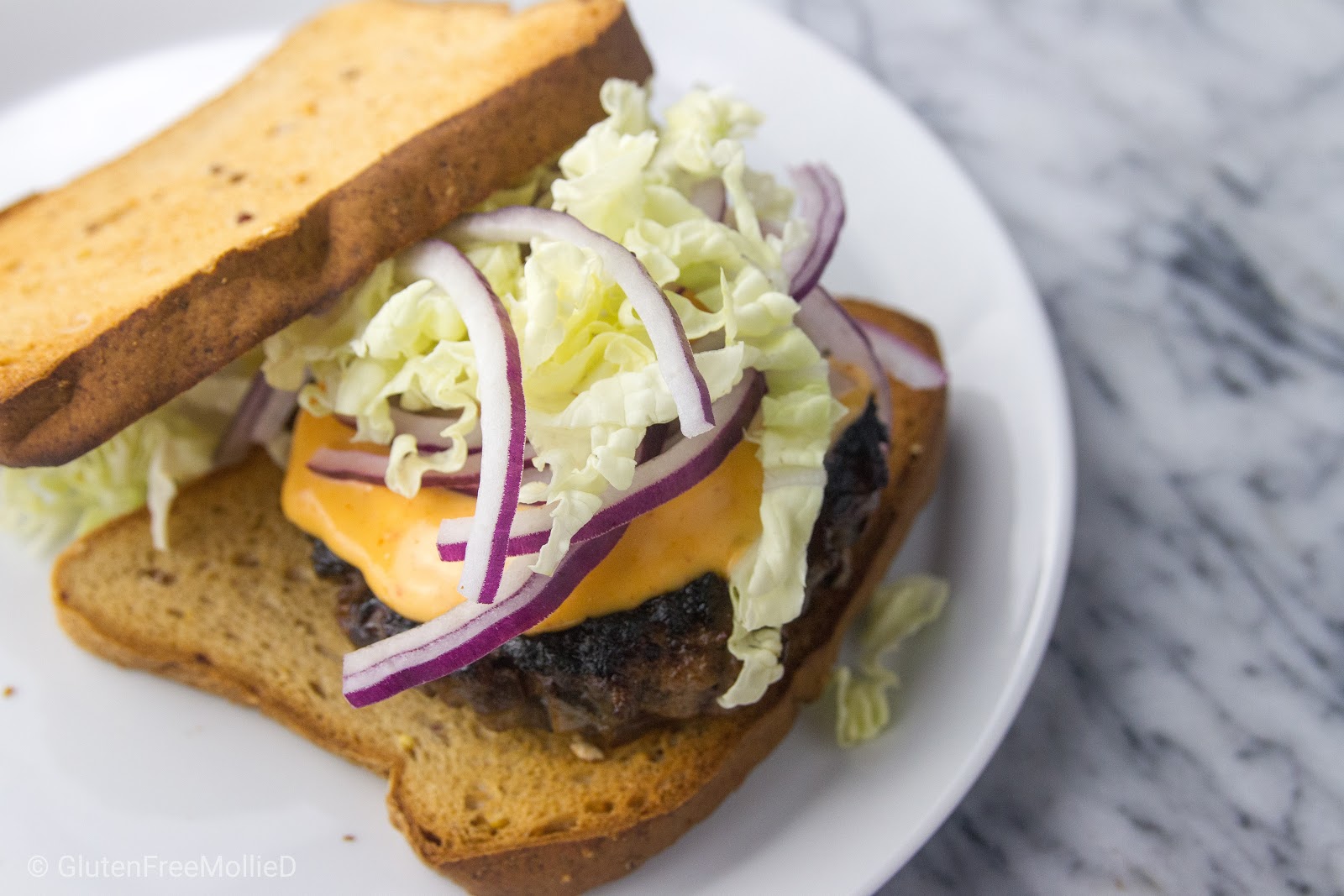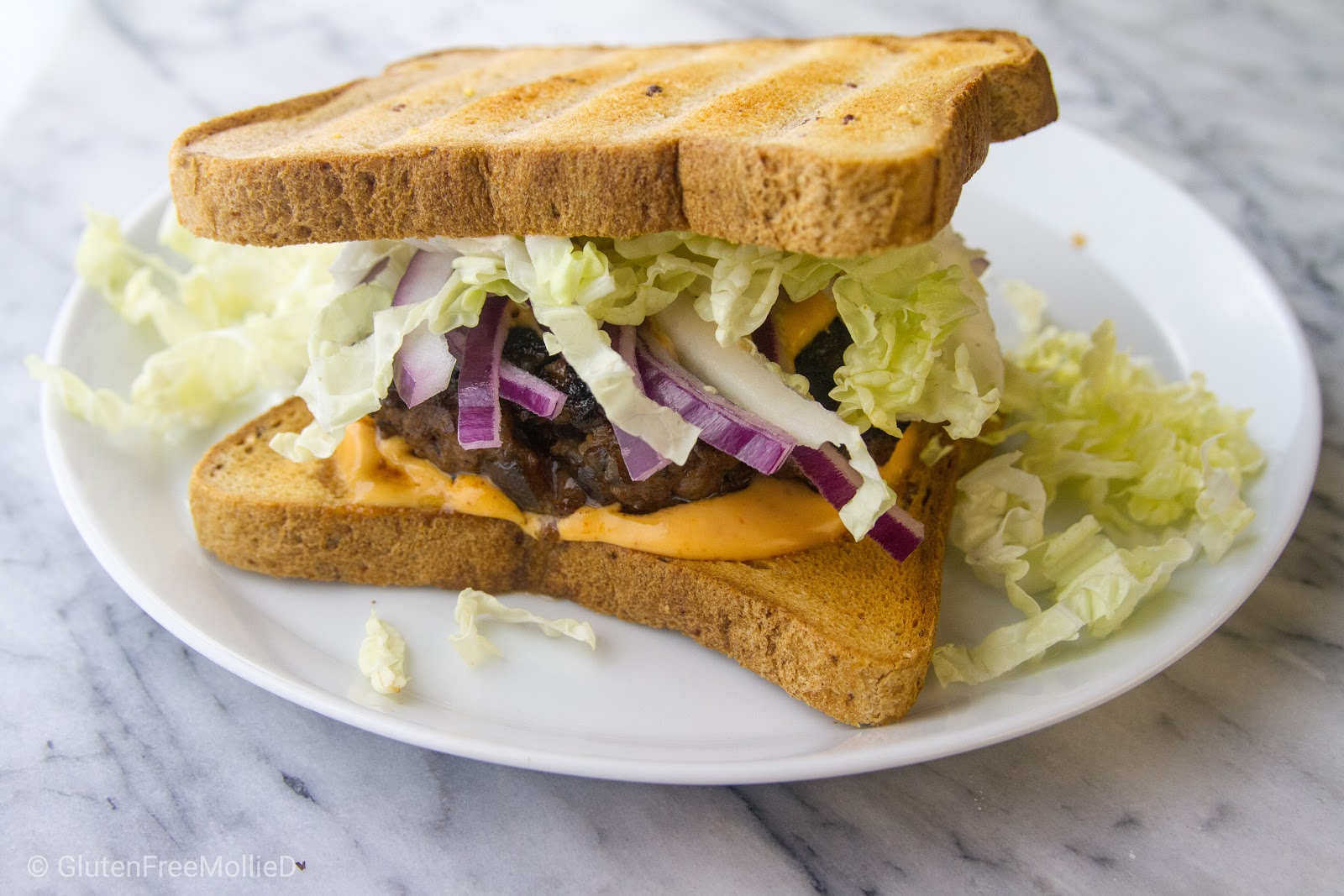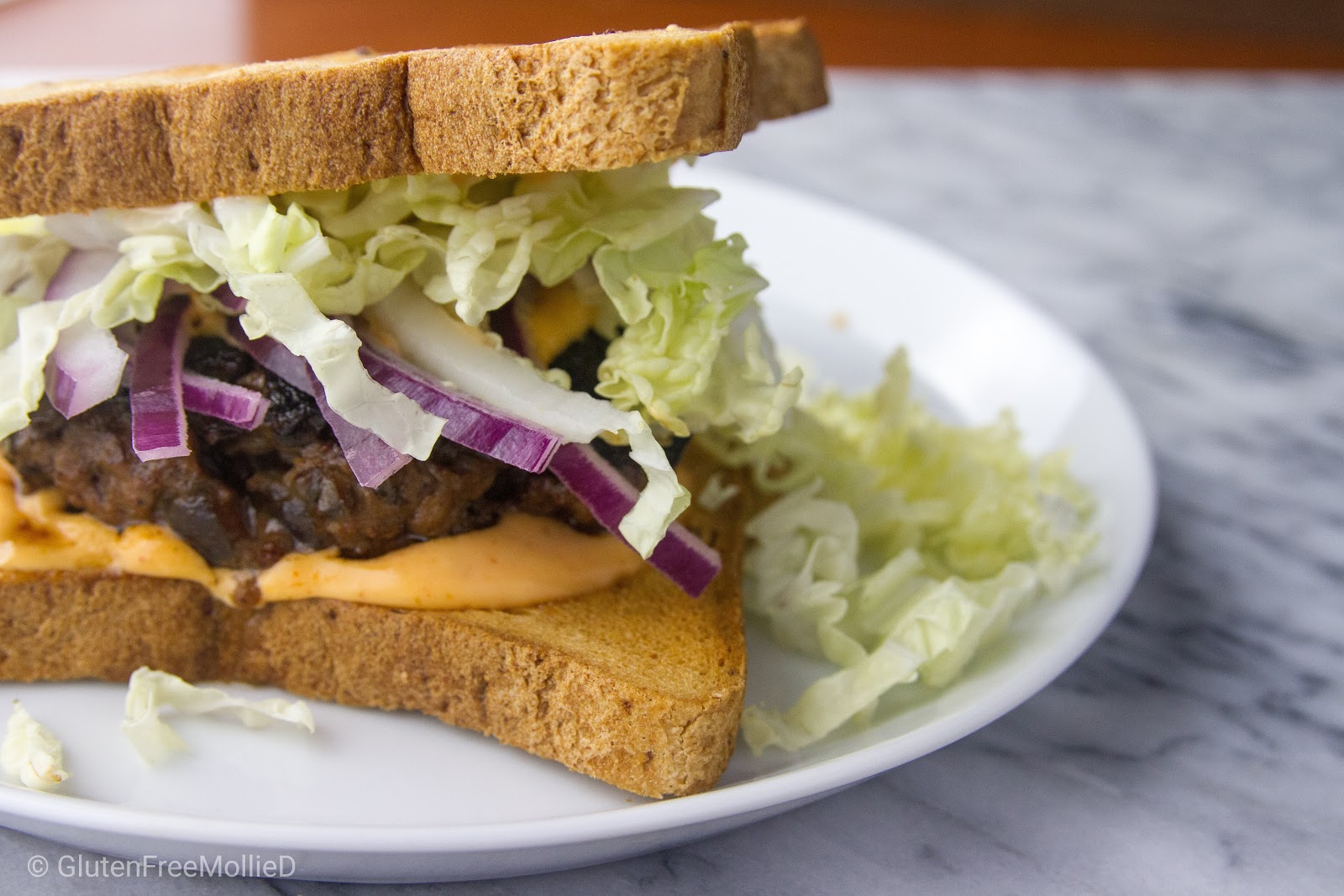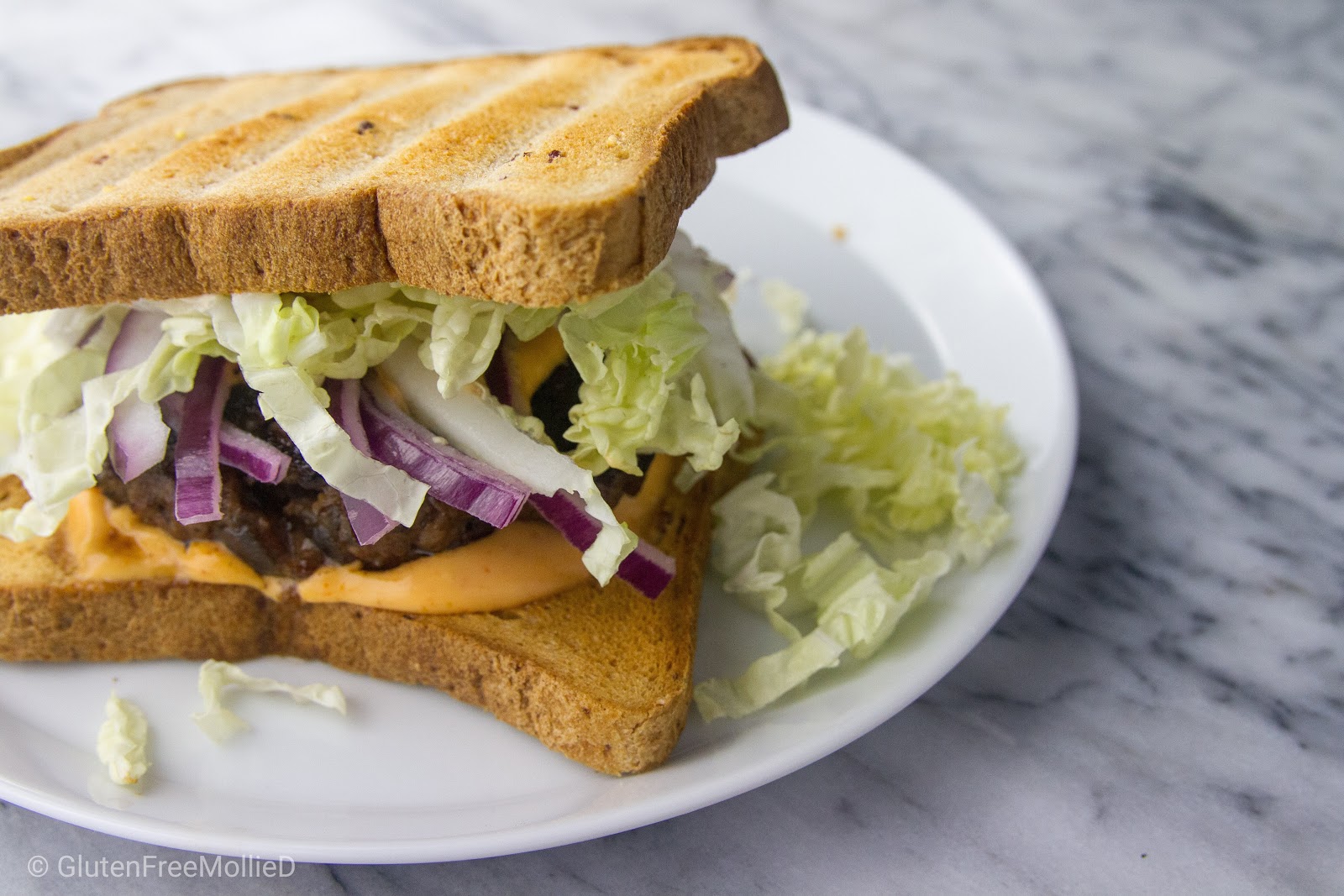 Umami Burgers
Source: Everyday Dorie by Dorie Greenspan
Tip: We used GF bread/toast in place of a traditional burger bun. I may use a lettuce wrap next time, or continue my search for a great GF bun (suggestions?!). Also, be sure to use GF Tamari for the sauce that gets mixed into the burger meat.
Review: What a delightful, delicious surprise! These burgers, while fairly small in stature, packed an awesome punch of flavor thanks to a chopped mushroom-onion mixture and an incredible sauce (including GF soy sauce and sesame oil) that cooked for a while prior to being mixed with the beef. So many great flavors combined to create the umami, which was as fantastic as promised in the recipe's introduction.
I'm telling you, that Dorie Greenspan knows her stuff. She's published a lot of books, but I'm relatively new to her cooking style, which is pretty darn awesome. Have I told you about her cookies?! 😮 I'll save that for another time.
The burgers! Once cooked, we topped them with sliced red onion, Napa cabbage, and one of my all-time favorites, sriracha mayo.
This mayo is super basic, but adds such a great spicy/salty flavor to whatever you're eating. I slathered it on these burgers, but have also used it on basic beef burgers, a funky dipping sauce, and even with some Asian rice and noodle dishes. It's easy to make (mix equal parts mayo and sriracha) and will add a delicious punch to your meal.
These umami burgers were incredible on their own, but were enhanced with the crunchy toppings and some of the spicy(ish) mayo.
Who/What/When: I noted this on Instagram when we made these, so I'll mention it again here: these burgers would be such a fun dish for a holiday party! Which one? I'm thinking New Year's Eve. 😎🎉
Surprising flavors, easy to make (easier to eat!), and a delicious dish to introduce to your friends and family. I have a feeling most of them have not yet had umami burgers, but enjoy a lot of the flavors/ingredients in them. Am I right?
However, once they have inhaled one (or a few), I'm sure they will be adding umami burgers to their own meal plan as well! Now that's a great way to begin the New Year. 😎
The Weekend
We're heading home as you read this, but I'll save you the guesswork to figure out where we went: Arizona! 😀
It was a quick weekend in this lovely state and I am happy to report I can't wait to come back! We made the trip due to a conference Seth had to attend for work, but I'm so glad we had some free time to explore the area, north of Phoenix, because it was terrific.
Wonderful weather, great food, friendly people, and a new appreciation for this beautiful part of the country, I'm already looking forward to a return trip to explore even more!
I can barely believe we've started December and that the holidays are in progress, but I suppose that's due to the multiple palm trees and cacti outside our window and the time I spent lounging by a pool with the warm sun on my face. In December. 😏
Don't worry! We are coming home to cold, early-sunset New England right now. And we can't wait. :)
We hope you had a great weekend and are welcoming the start of the holiday season with something delicious!
Eat, well.
Mollie and Seth