Holiday Season 2018 Review
Well, we did it! Over the river and through the woods, we celebrated everything, ate more than necessary, and baked all of the cookies (so, so many) in the name of celebration. I hope you had a merry Christmas, a happy Chanukah, and a joyful holiday season!
While we cooked the full week leading up to Christmas, we took a bit of a break during the actual Christmas week and it was glorious. We ate plenty of home-cooked food, but it was our families that were doing the cooking. ☺️ However, I baked more in four days than I ever have before and am good to keep butter and sugar out of sight for a while. More on that coming soon!
Back to the meals. So, dear readers, here are all of the dinners we made at home over the last two weeks of the year. If you're thinking, "wow, that's a lot of pasta," then you're right.
Comfort food season has been at its peak and we leaned into it entirely. Now, if you need me, I'll be searching for salad recipes and abstaining from sweets for just a bit. 😉
Let's eat!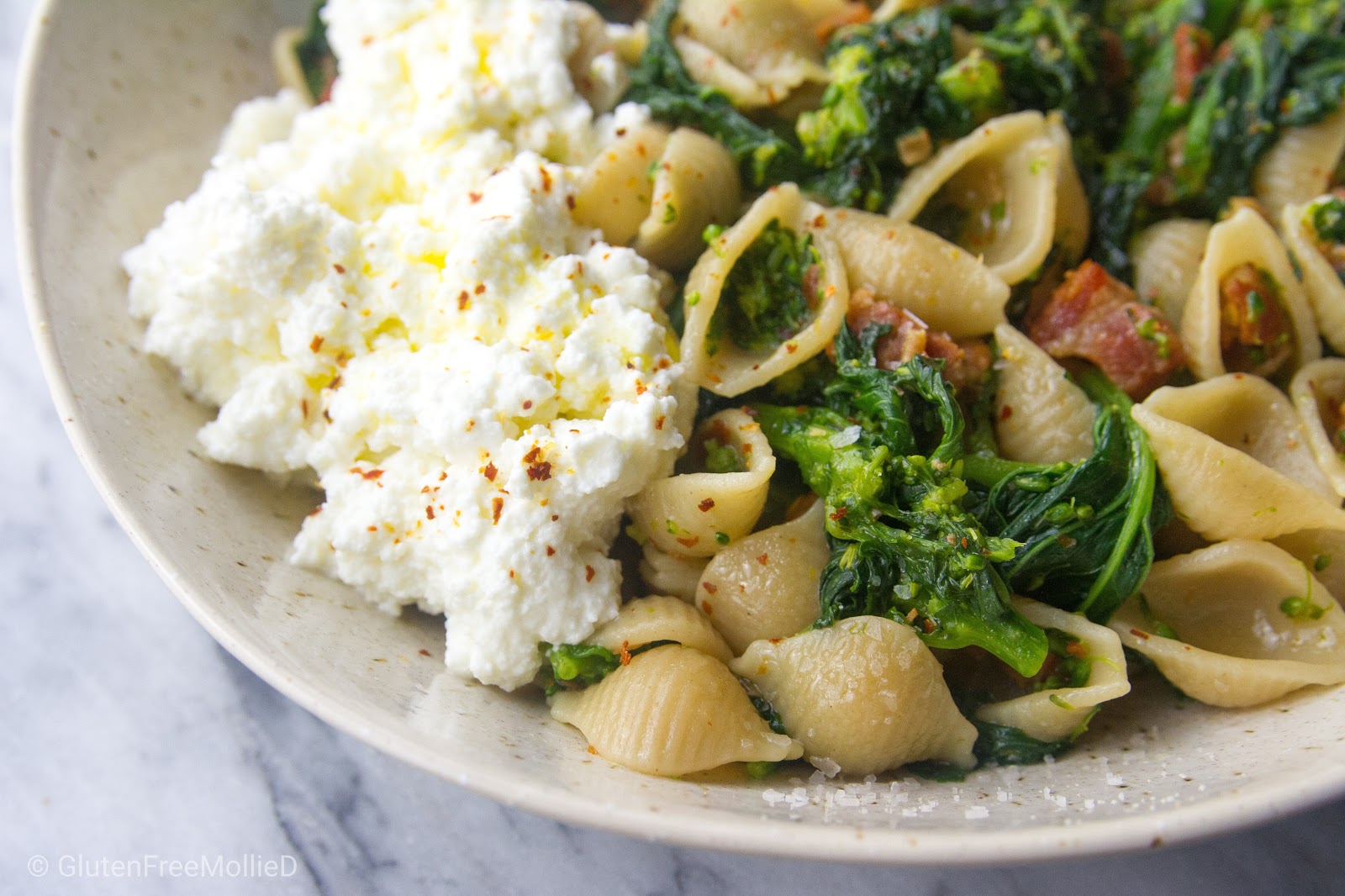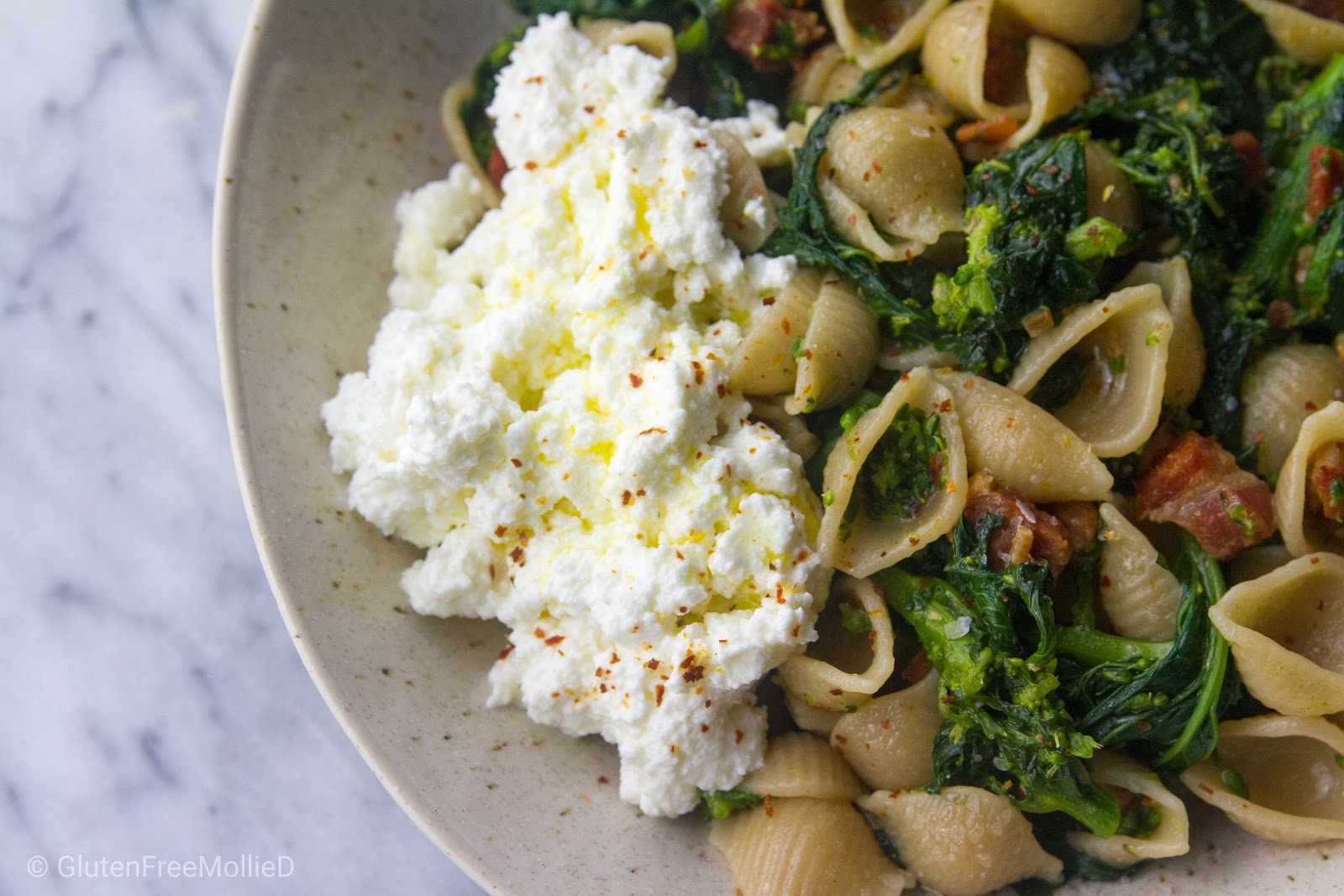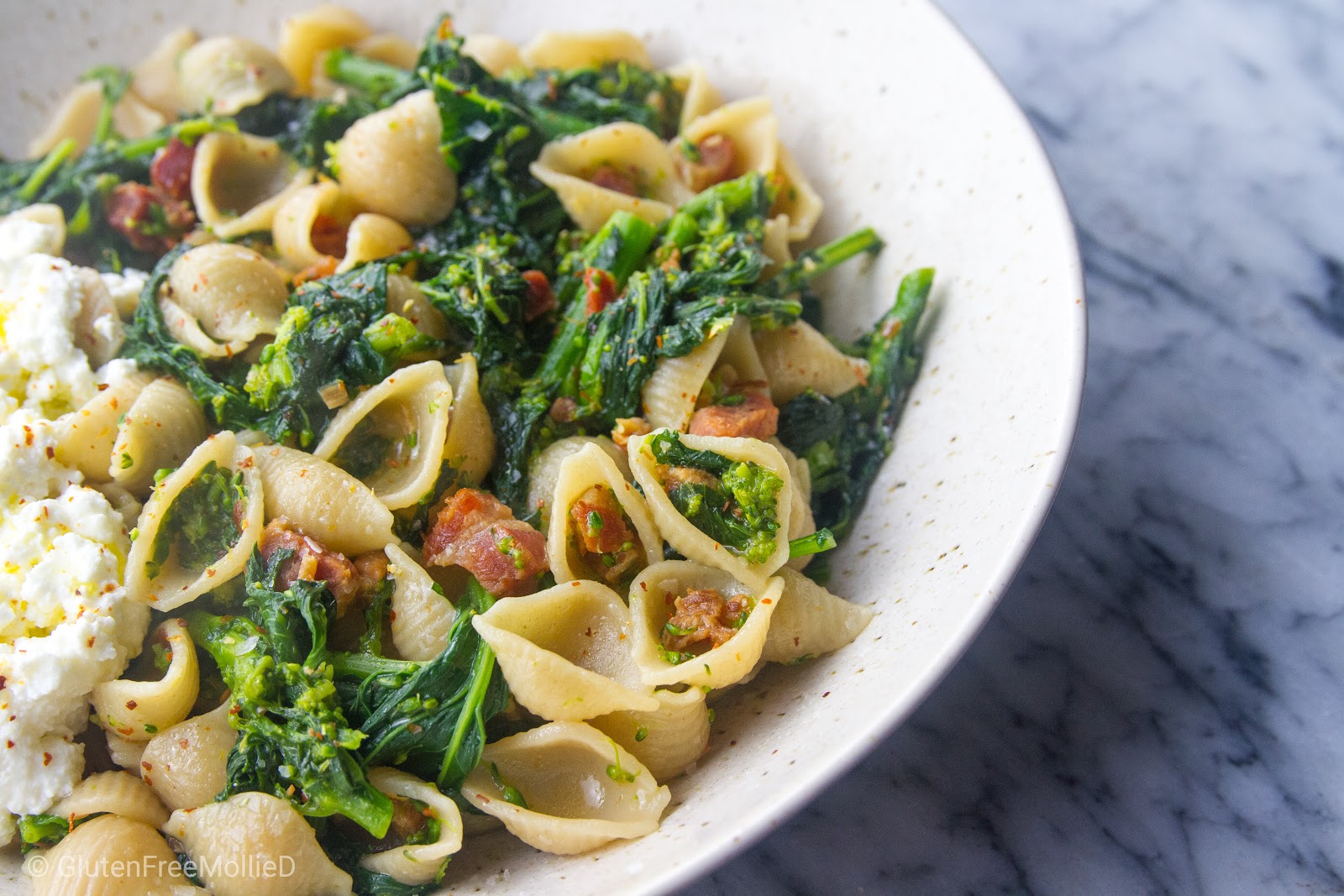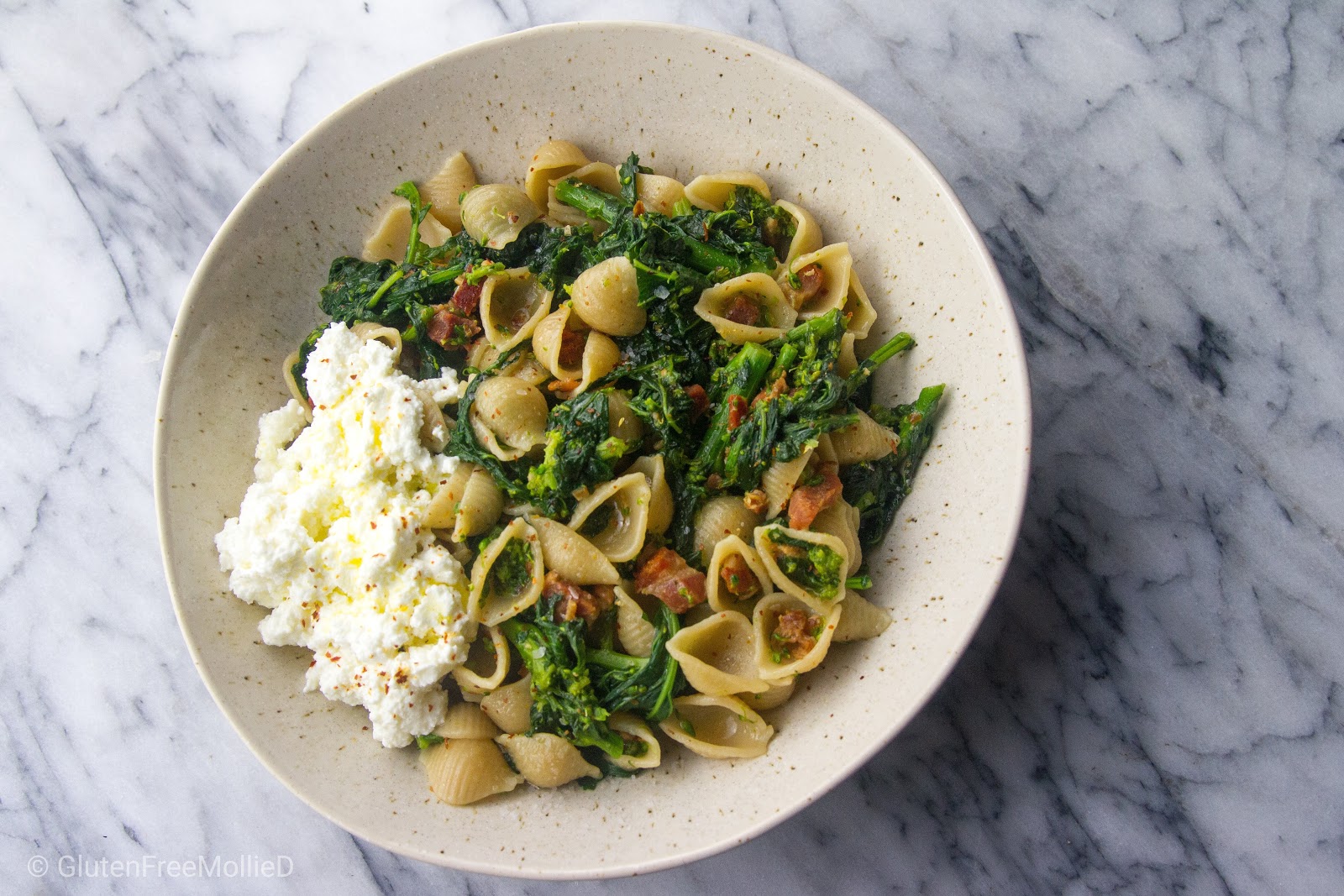 Shells with Broccoli Rabe and Pancetta
Source: Cook Like a Pro: Recipes and Tips for Home Cooks by Ina Garten
Tip: Make sure to use your favorite gluten free pasta for this recipe. Otherwise, everything you need is already gluten free!
Review: This one will be on my mind long after we ring in the New Year. A delicious, as always, combination of pasta, greens, and meat, Ina's recipe takes it to a wonderful extra level by adding that dollop of ricotta on the final plate. And while broccoli rabe may not be everyone's favorite green (it has grown on me over time), I do think it's a terrific one for this specific dish to balance out the salty pancetta and velvety texture of the ricotta.
The great part of these "multi-purpose" pasta meals is that they are awesome for dinner, amazing as leftovers for lunch, and an overall crowd-pleaser no matter who is joining you at the table. So if you're cooking for yourself, just a few friends, or even a bigger group to toast 2019, then I encourage you to make this delicious dish.
P.S. everyone will want seconds. ;)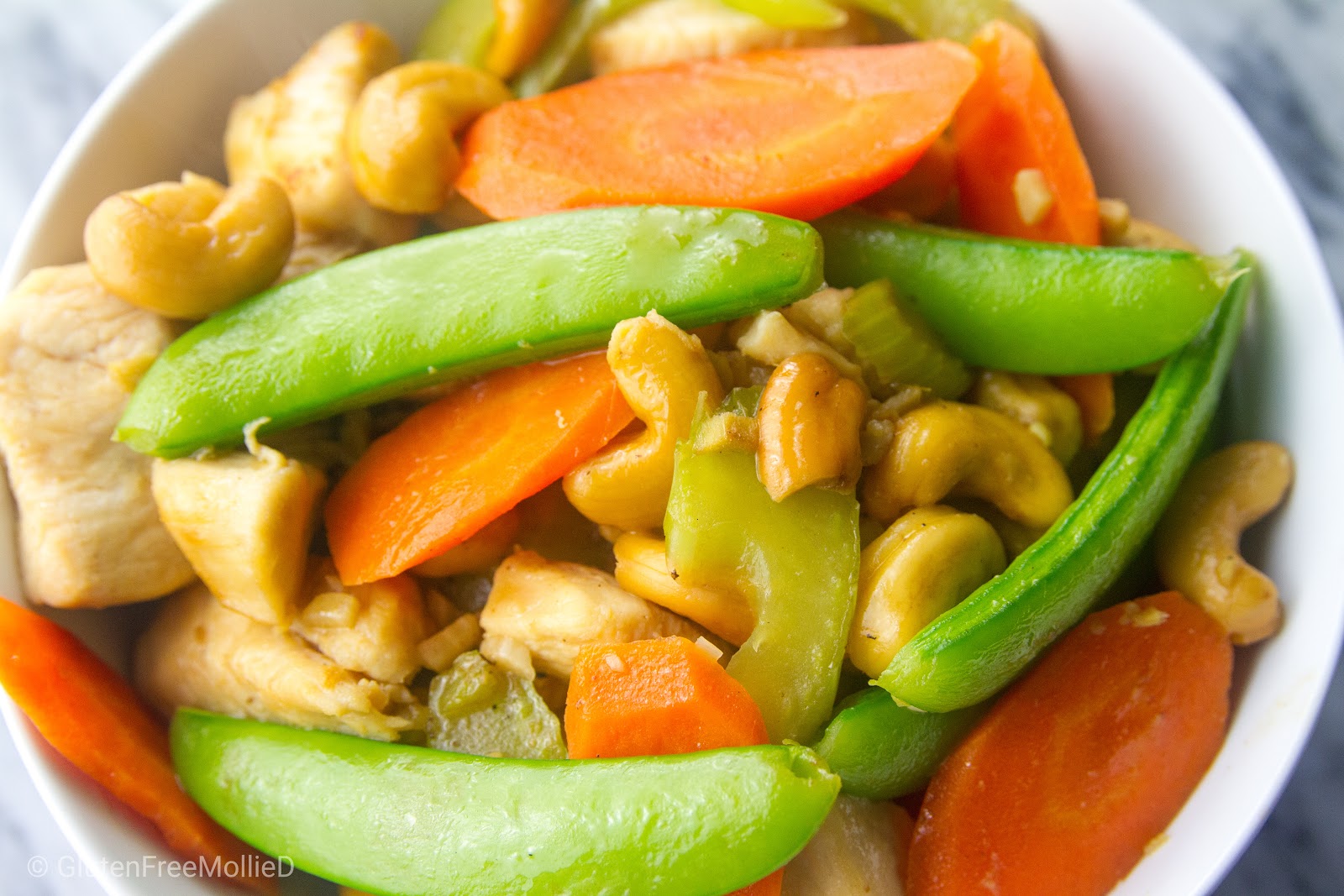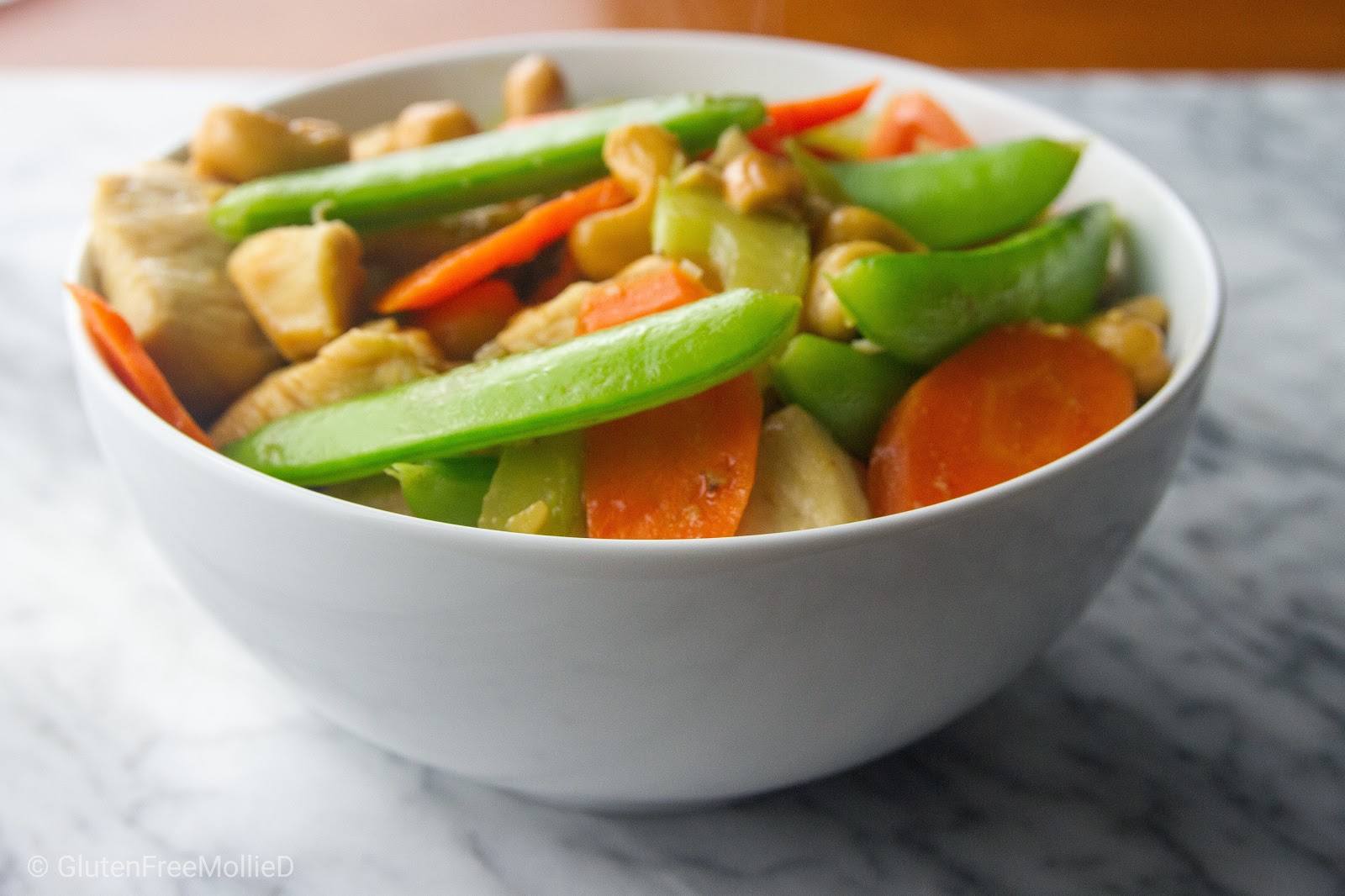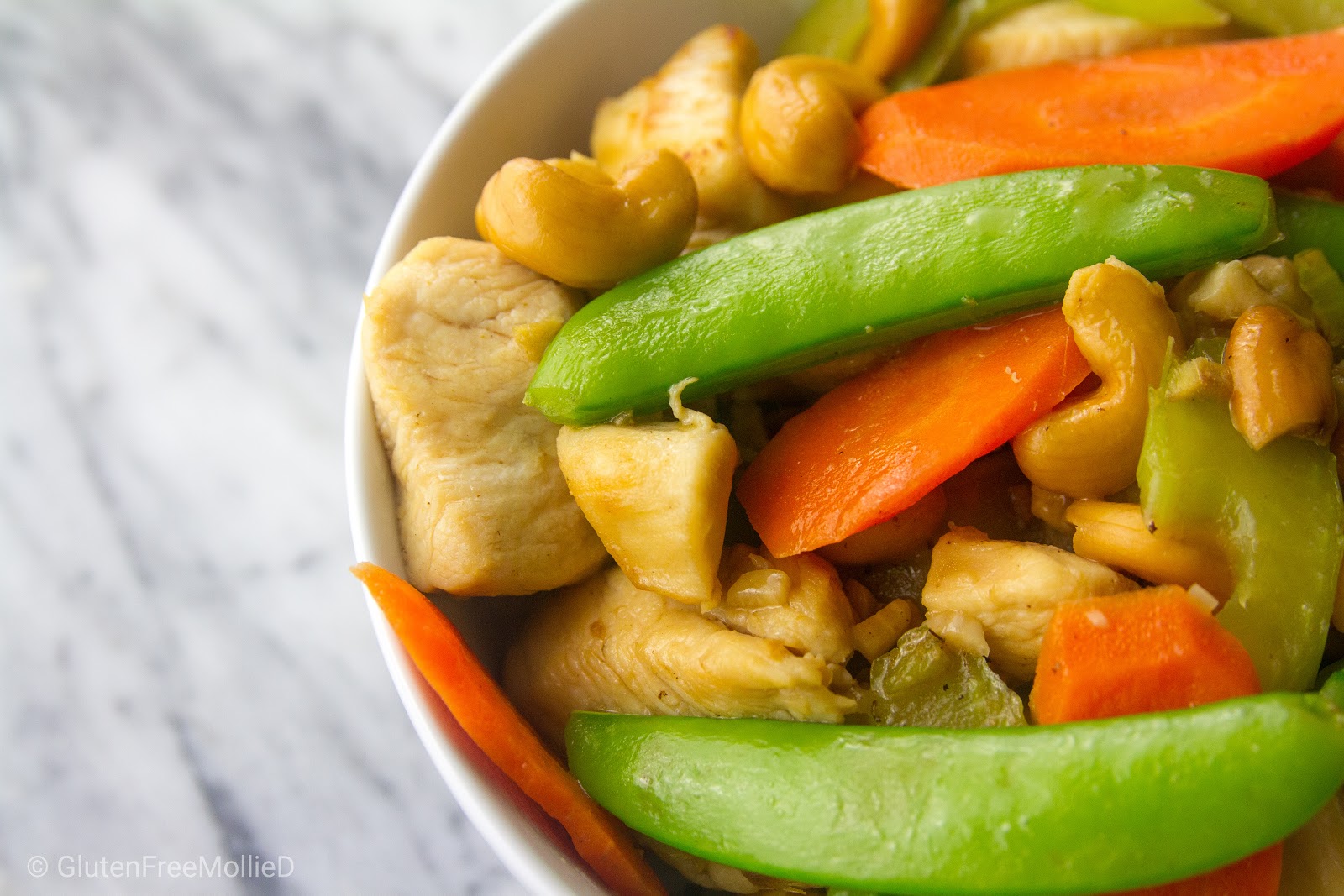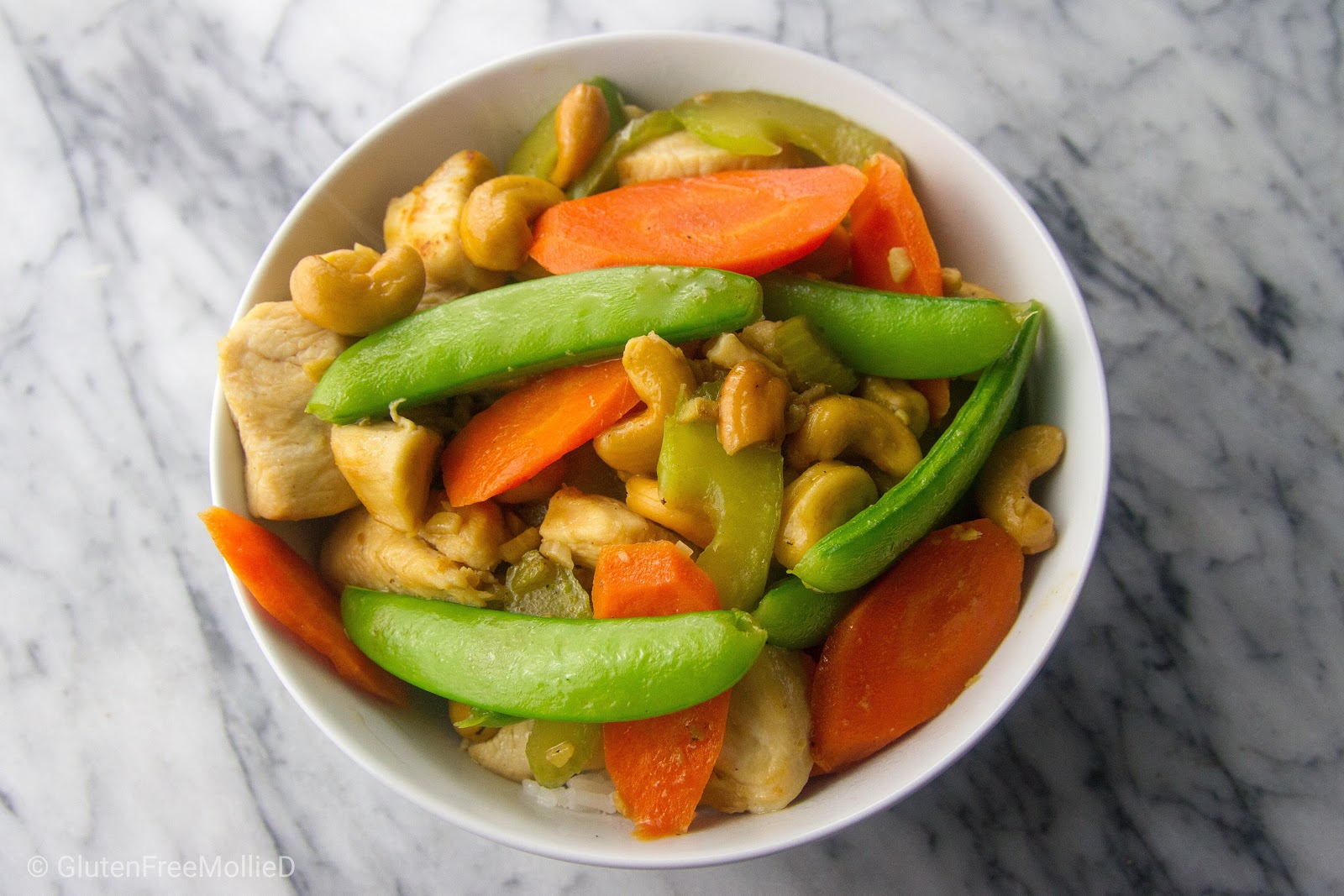 Cashew Chicken
Source: Stir-Frying to the Sky's Edge by Grace Young
Tip: For all Asian-style recipes, make sure to use gluten free soy sauce (Tamari).
Review: Better than takeout! Everyone loves this classic meal from their local Chinese food restaurant, but a gluten free (and still yummy) version is often hard to find. Why not just make it at home?! This excellent recipe is quick-to-prepare, filled with fresh veggies and protein, and has the added bonus of being far healthier than an order of takeout.
Here's a fun idea: invite a few friends over and make this Cashew Chicken along with one of two other Asian dishes for a delicious new way to ring in the New Year. Which other dishes? I'd recommend anything from this same book, or even a noodle recipe from Myers and Chang at Home, or even the amazing Crab Fried Rice from Chrissy Teigen's second book, Cravings Hungry for More. You're welcome. Now, time to plan your feast!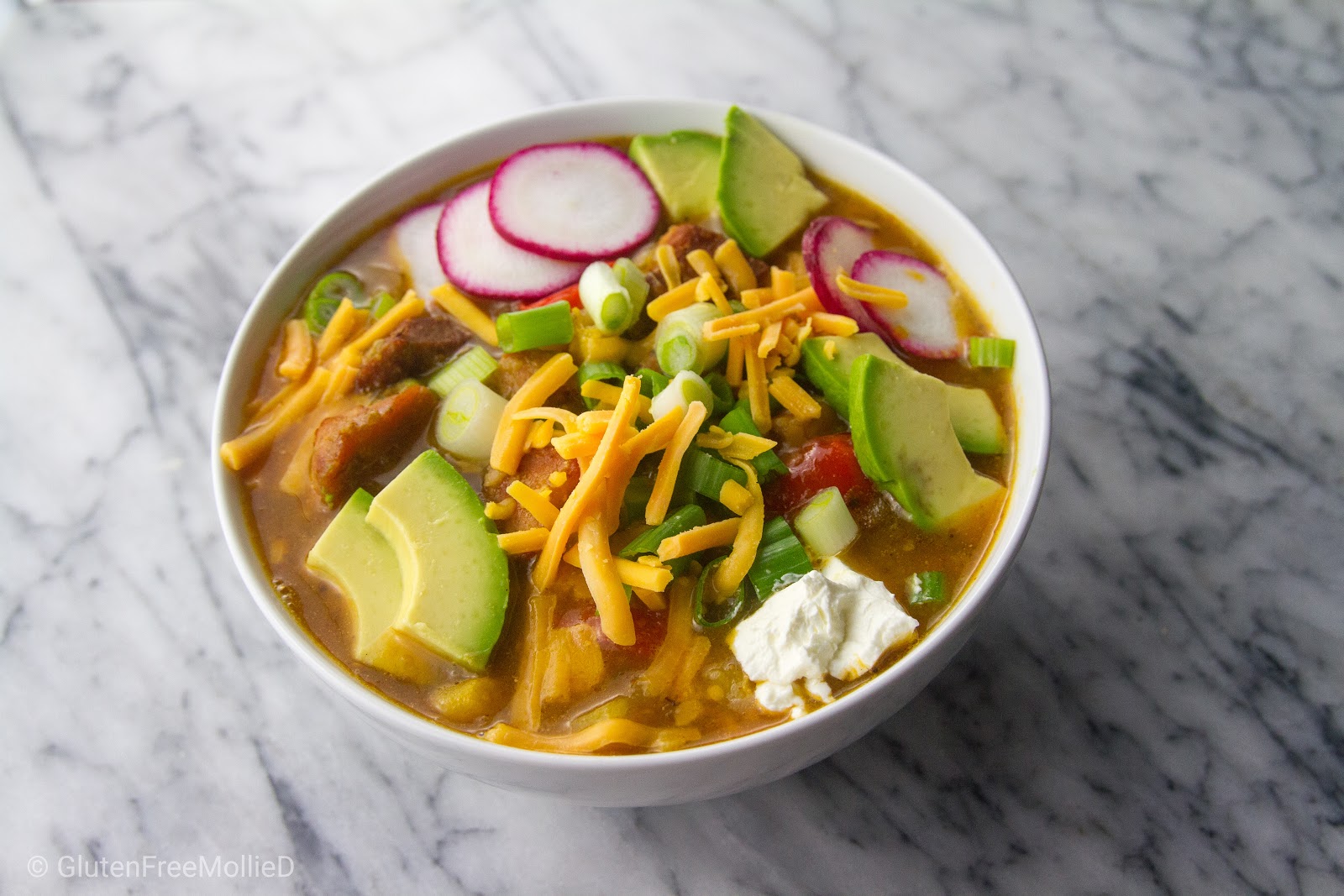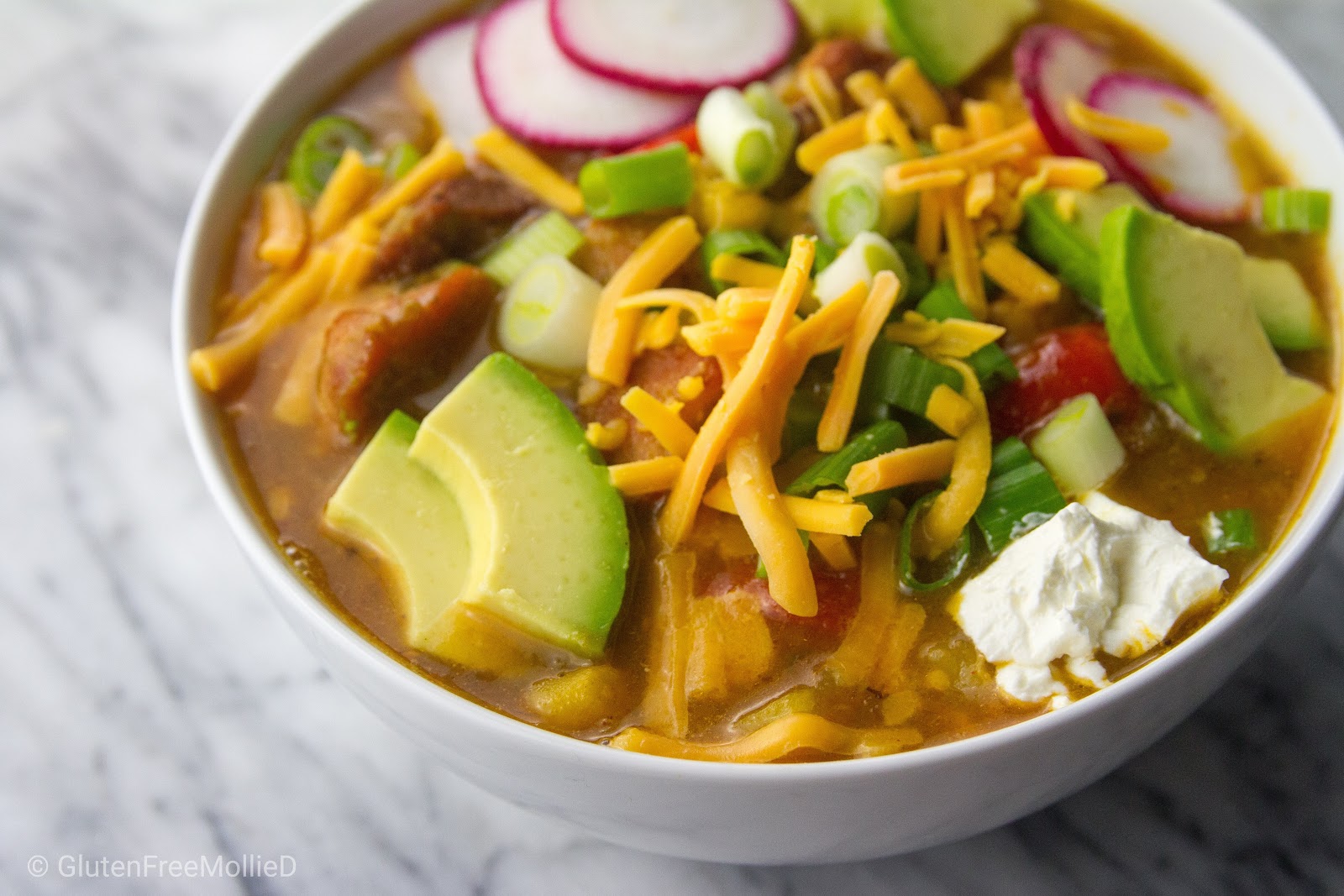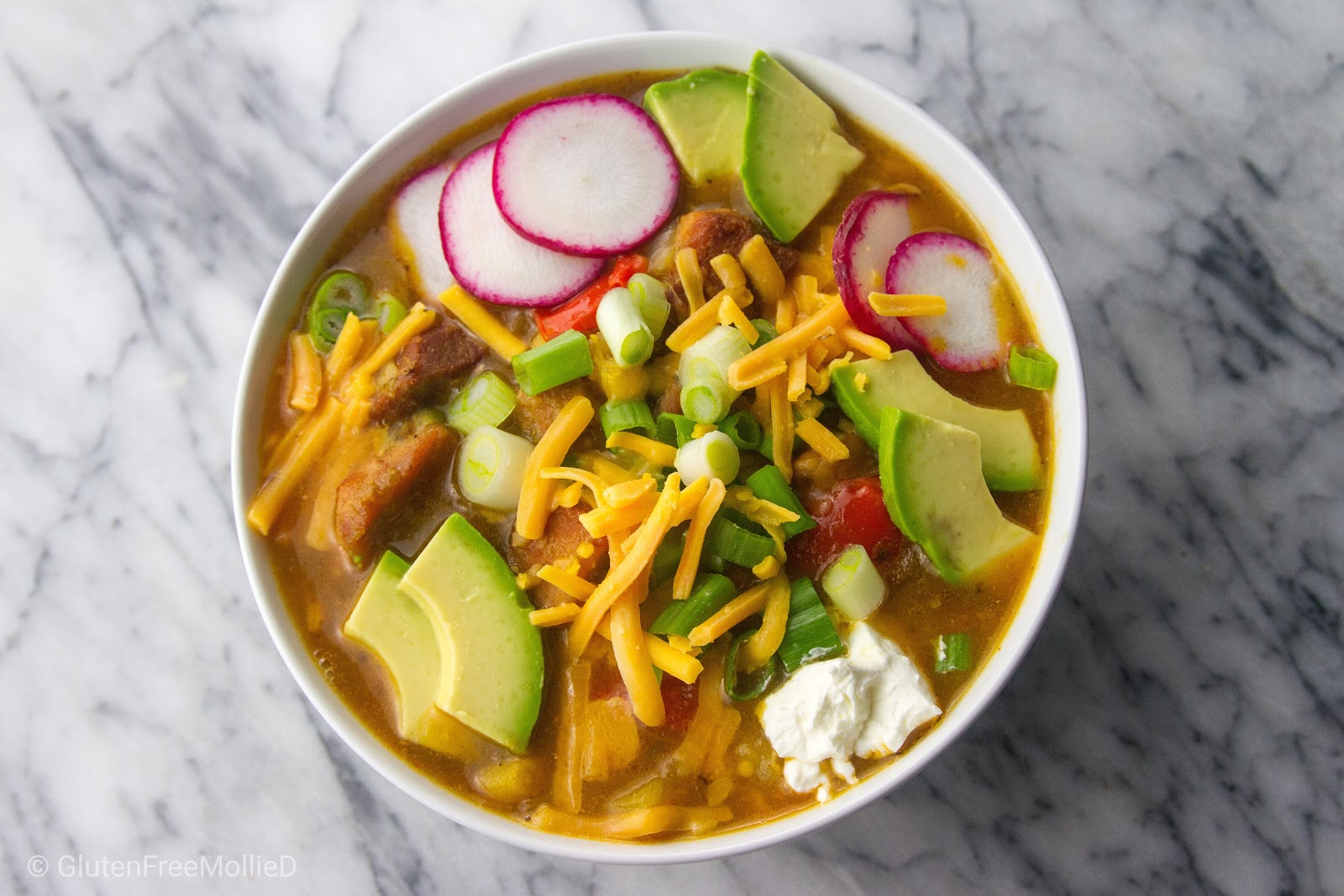 Pork Posole
Source: Cook Like a Pro: Recipes and Tips for the Home Cook by Ina Garten
Tip: Be sure to purchase tortilla chips that are labeled gluten free as well as GF chicken stock; otherwise it's all gluten free!
Review: Fear not, you too can have this amazing, flavorful, and warming Mexican soup before the clock strikes midnight. Sure, there are a fair number of ingredients, but the prep is minimal and once it's all simmering together, there's just a bunch of waiting (bot not too much) before you can enjoy one of the most-scrumptious soups of the year. Of course, it's from Ina's new book. :)
This soup made me realize I am a fan of pork loin, I enjoy hominy (you will too), and I love topping piping-hot soup with the cool textures of shredded cheddar, avocado, and sliced radish.
Move over basic chicken noodle, there's an excellent, new-to-me soup in town and it's taking the winter weather by storm. Next time there's a blizzard, or you're having your entire family over for dinner, make posoles and everyone will be happy.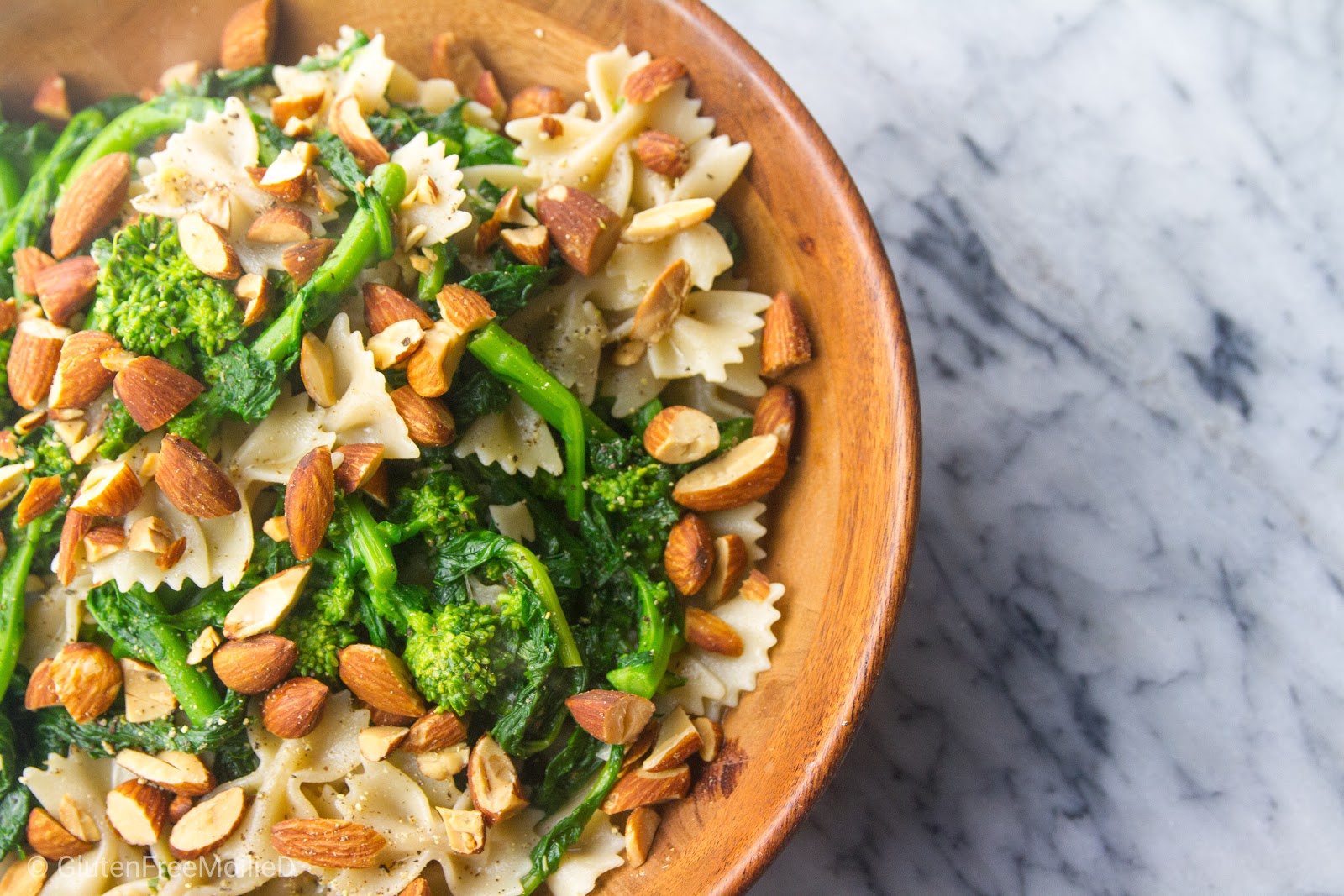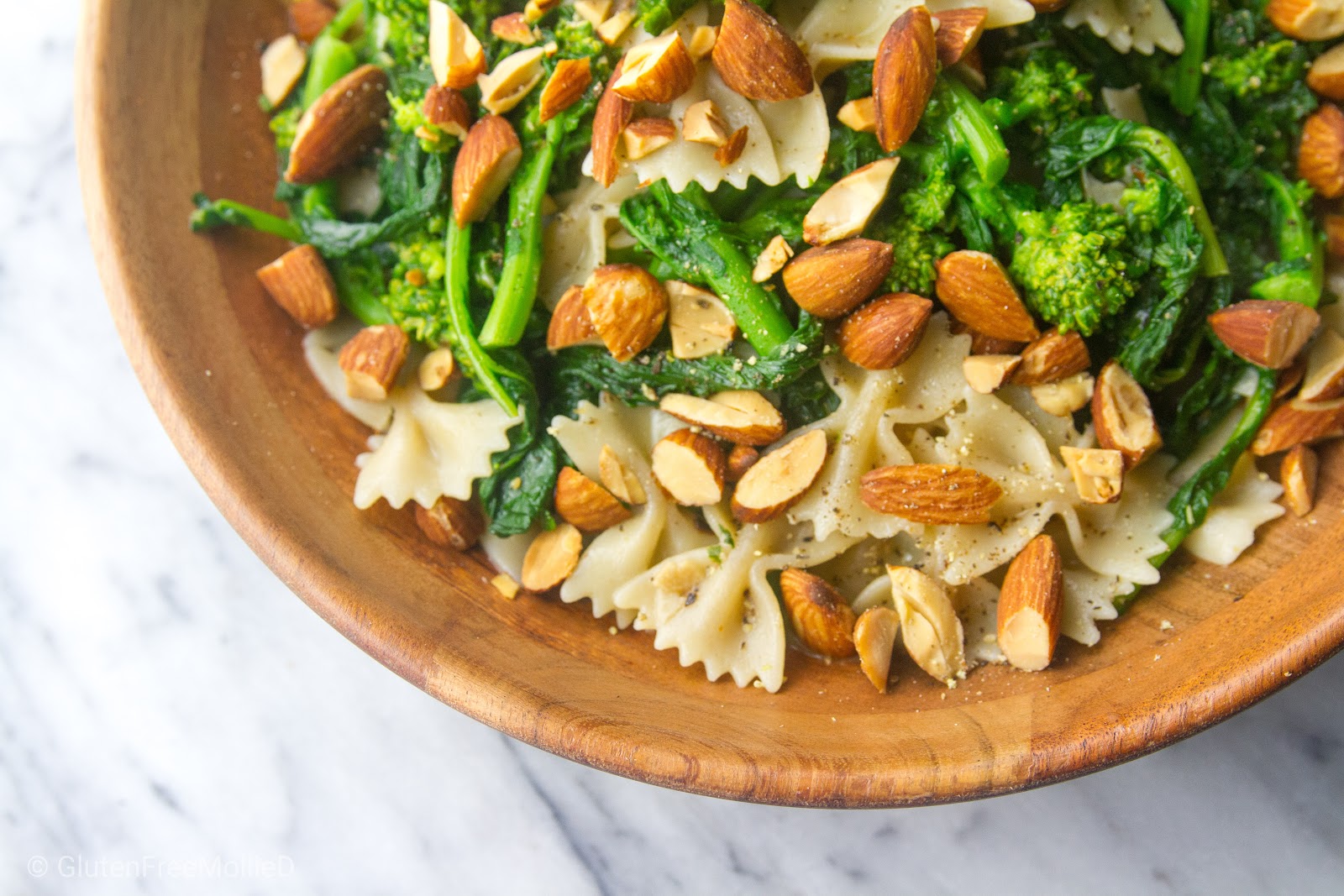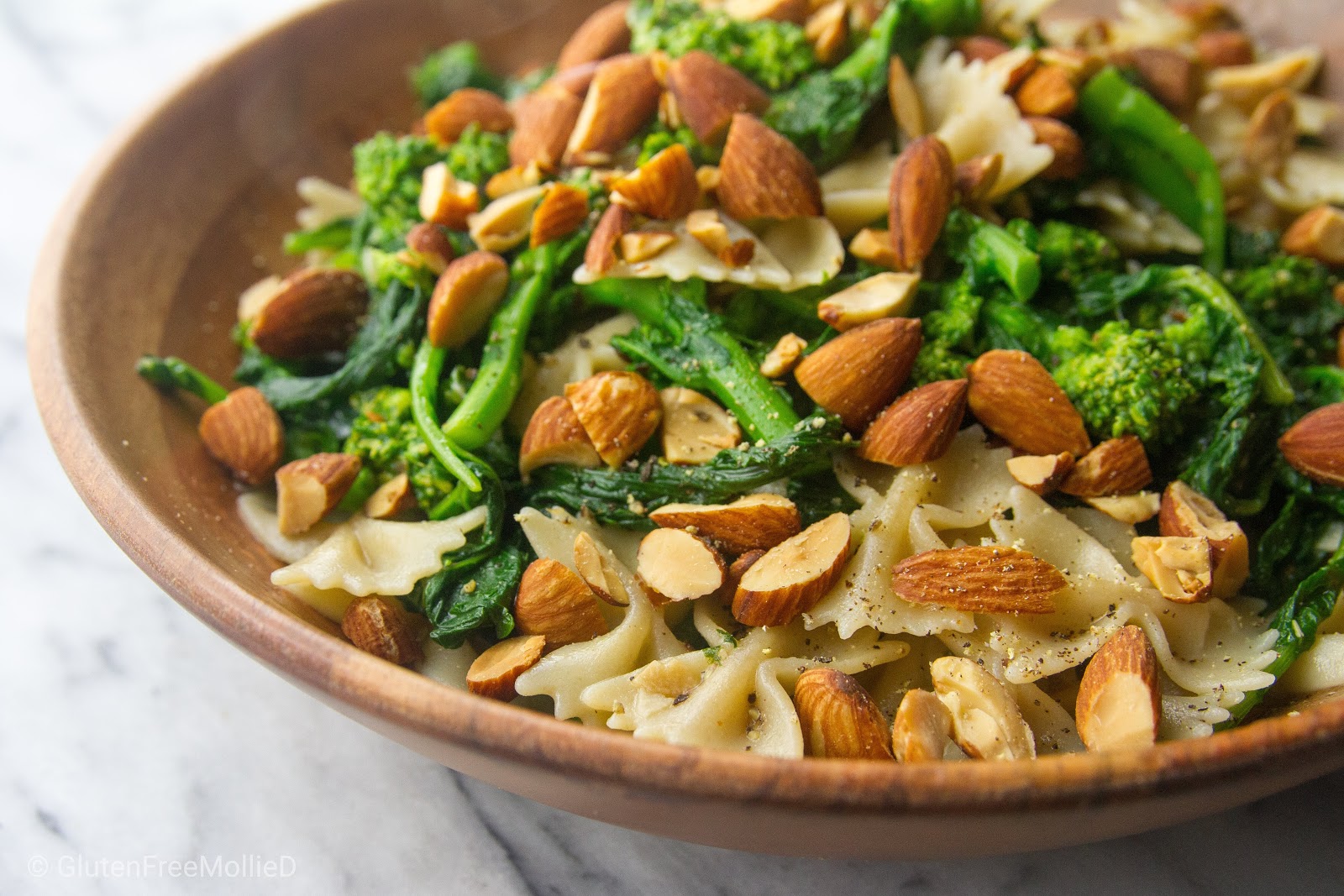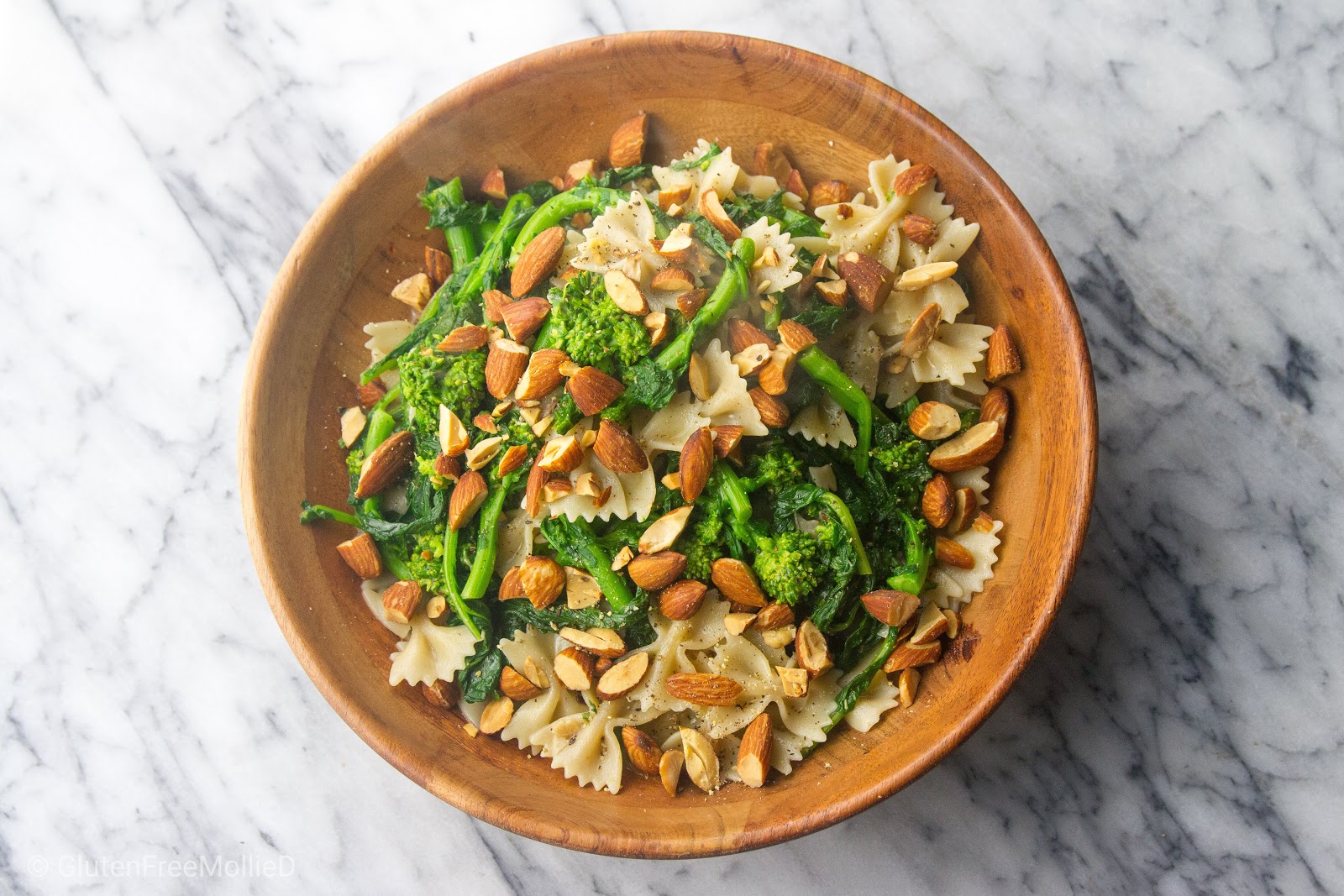 Farfalle with Broccolini, Anchovy, and Almonds
Source: Back Pocket Pasta: Inspired Dinners to Cook on the Fly by Colu Henry
Tip: As with most of the pasta recipes we feature, just make sure to substitute with your favorite gluten free pasta. We used Jovial Foods' GF Farfalle for this one.
Review: Yes, this meal looks very similar to the first one above featuring many of the same ingredients; however, this one is meatless! Surprise! And it was just as delicious.
Therefore, my theory that pasta with greens and a protein of some sort (almonds in this case) will always be a great dinner option that's quick and satisfying for everyone is entirely accurate. With this version, you could even make it with your choice of greens if not in the mood for more broccoli. Up to you!
This dinner was perfect following a long day because it came together faster than I could prep a batch of cookie dough and made a lot so that I had a wonderful lunch at work the following day.
I must admit to adding a fair amount of Parmesan on top, for extra flavor, but in general this was a delightful dish that had great textures and the always-appealing factor of being easy to cook. Of course, you could add meat to it if you prefer. I won't tell!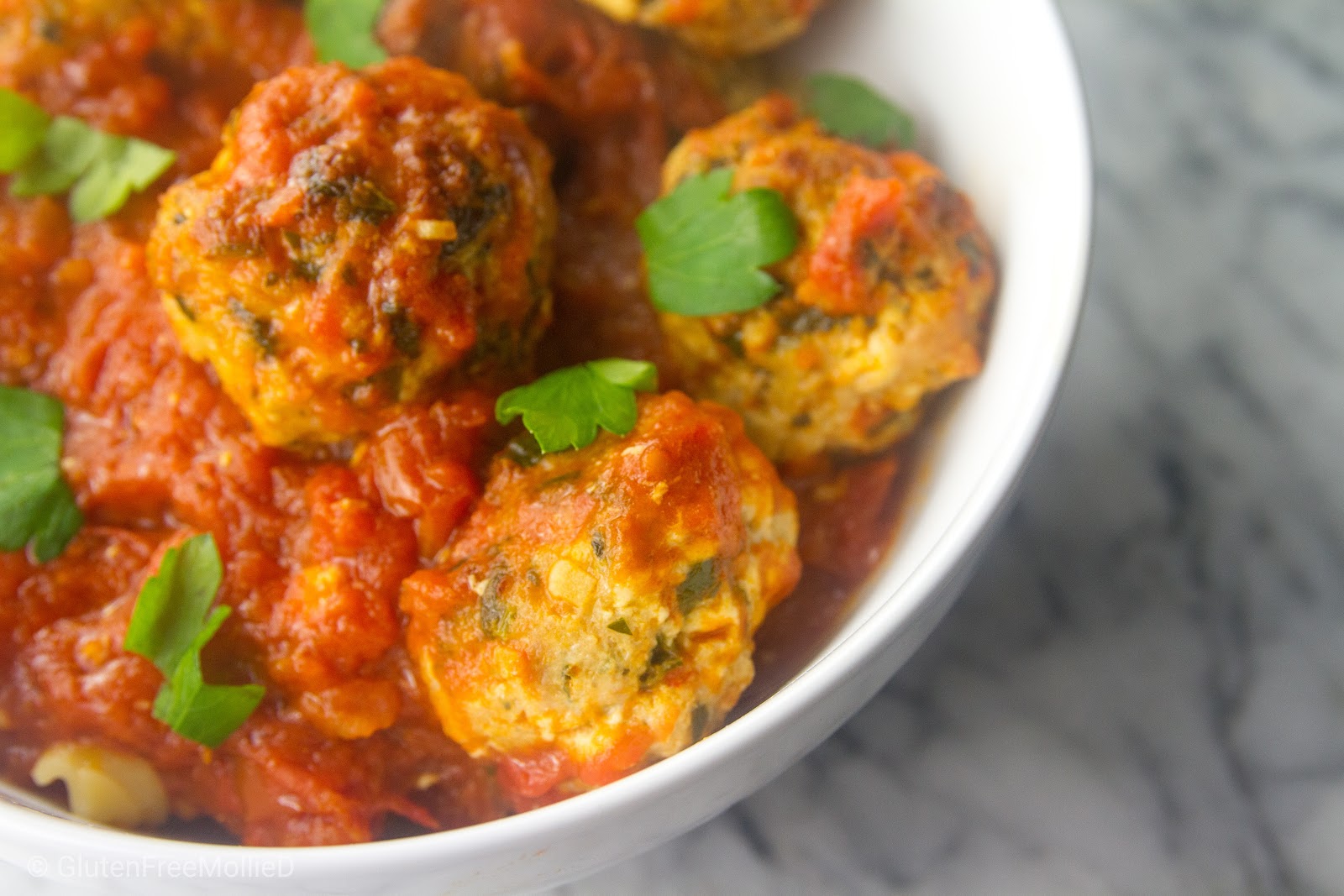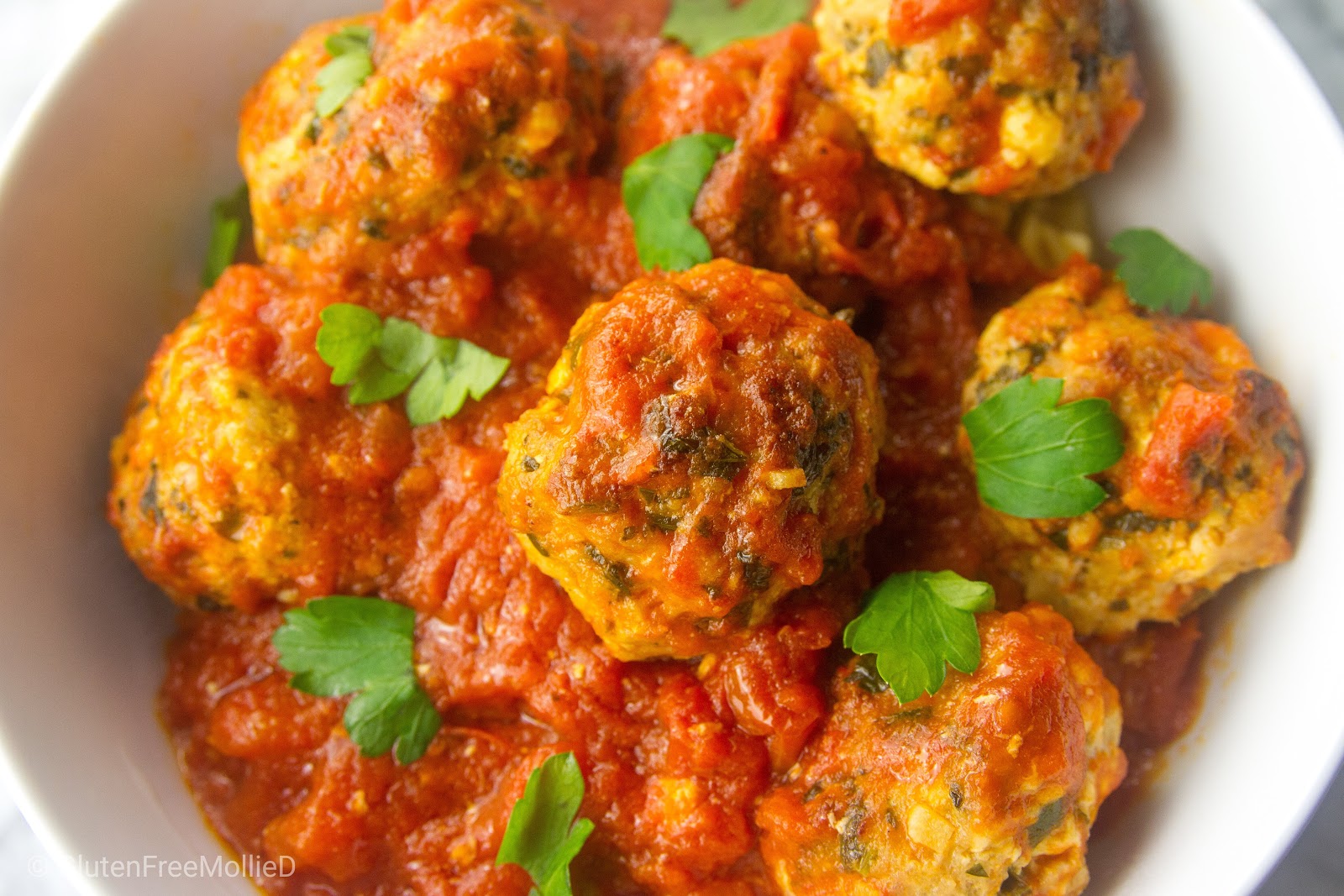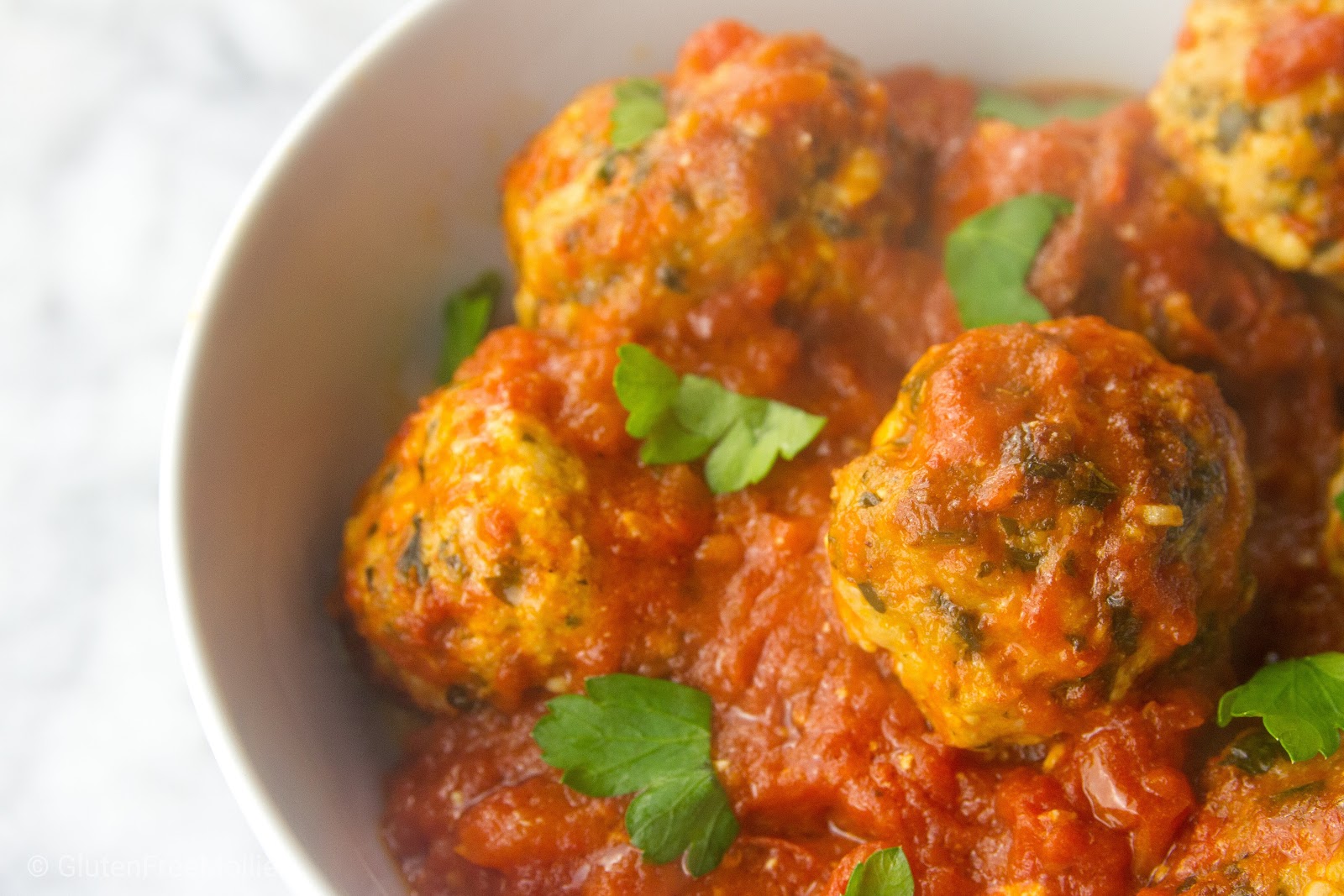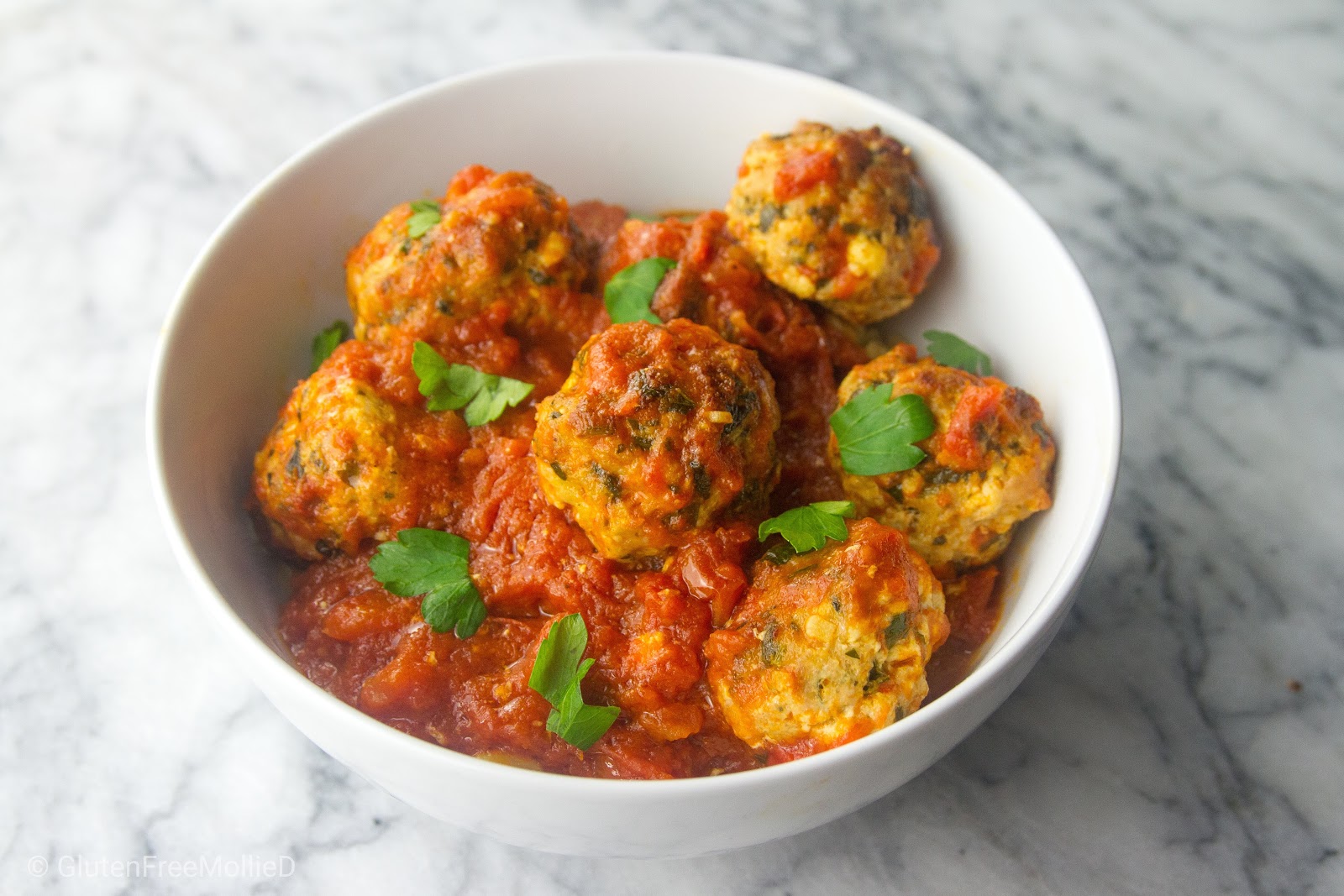 Turkey and Ricotta Meatballs with Rotini
Source: Small Victories by Julia Turshen
Tip: These meatballs are naturally gluten (and grain) free! We served them over Banza chickpea pasta in the rotini shape.
Review: Sometimes I just crave Italian food. Like I really, really crave red-sauce Italian food. And the best cure, I've found, for that craving lately is with a hearty portion of these amazing meatballs which are naturally gluten free, but so insanely delicious you'll be shocked to learn that they are actually grain free, too! That's right. No breadcrumbs of any sort!
So while my bowl of saucy, savory meatballs is quite full, I don't worry about it one bit because these are actually pretty healthy. Pair them with the chickpea pasta and you've got yourself a dinner that's mouth-wateringly delicious and nutritious. How awesome is that?
This recipe is one to keep close by because the meatballs are easy to make and if you're not having company over to enjoy them, then you'll have amazing leftovers for lunch for several days. I don't mess around with my workday lunch anymore. Having a lunch I look forward to makes that midday mealtime way more exciting and much easier. :)
Dining Out as the Year Winds Down.
A summary of the spots we've gone to throughout the last couple weeks. Cheers to going out - sometimes we all need a break from the kitchen! :)
The Bancroft: A local favorite for great cocktails, an excellent GF menu, and a friendly staff. My go-to order lately is a shrimp cocktail and an order of fries. :)
Bristol Bar: We love this spot located in the Four Seasons Hotel which is bustling with locals and tourists. Their seasonal veggies are delicious and the entrees are always beautiful. Seth often orders the cheeseburger which is also available on a GF bun. And their fries are awesome. ;)
Burton's Grill and Bar: The entire menu is available gluten free and I'm a fan of heading over for an easy, carefree meal. Salads, crab cakes, pasta, and more, there's always something delicious to order and enjoy.
No. 9 Park: We finally went to Barbara Lynch's flagship restaurant and it did not disappoint. Flawless food, service, and overall experience, our Saturday night at this fine-dining establishment was as fabulous as we hoped. I cannot wait to go back! Reservations recommended; semi-formal attire encouraged.
P.F. Chang's: Well, we were hungry while shopping and this chain has a strong gluten free menu with some delicious Chinese food standards. I always order the Chang's Chicken Lettuce Wraps - yum!
Red Heat Tavern: A local spot that has all of my sports-bar favorites made gluten free! Yes, the entire menu (minus pretzels) can be made gluten free and that's often music to my ears as we stroll in after a busy work week. Nachos, wings, burgers, and more, plus an extensive beer list for Seth. It's the best of both worlds. :)
And that's it, folks! Let's toast to an incredible year filled with countless new flavors, foods, recipes, cookbooks, food news, and fun. I cannot thank you enough for joining us on this journey and reading about our meals right here each week. We're so excited for 2019 and all of the yum to come!
Here's to a happy, healthy, and delicious New Year!
Eat, well.
Mollie and Seth