Healthy and Well-thy
Hi there, thank you for bearing with me this week! My weekend turned busier than anticipated which meant my writing time got shifted aside. However, I'm back with the goods and a whole host of delicious, healthy, and quick weeknight meals. Hooray!
Of note: three of the four meals this week are from the same cookbook. 😮 And when I did a little research about the author, Kristine Kidd, I immediately knew why this is such a favorite on my shelf: she worked as the Food Editor at Bon Appétit for twenty years! And she has Celiac disease. Can I meet this person?! No wonder every recipe is a winner. ☺️
Let's get to the dinners!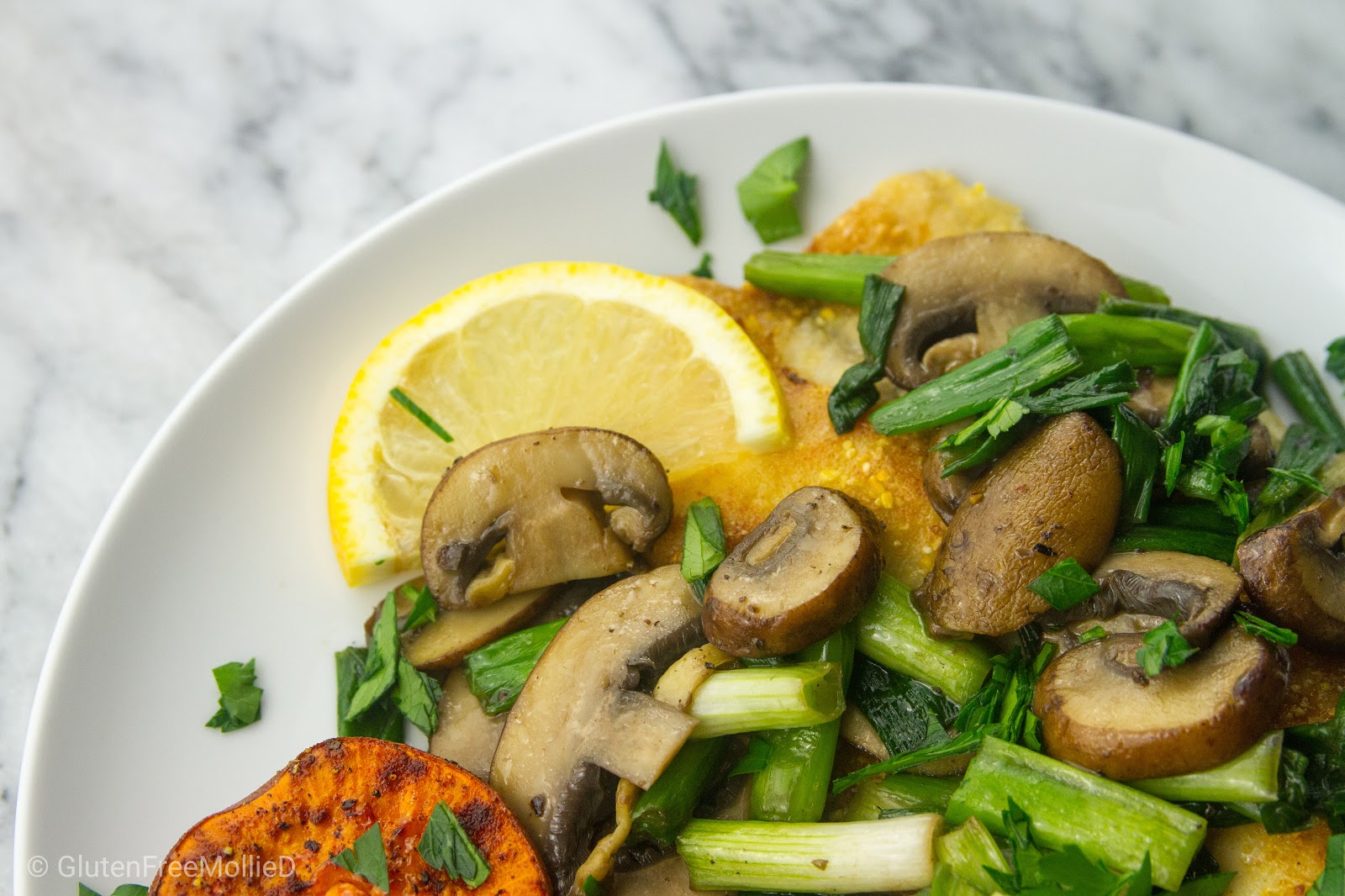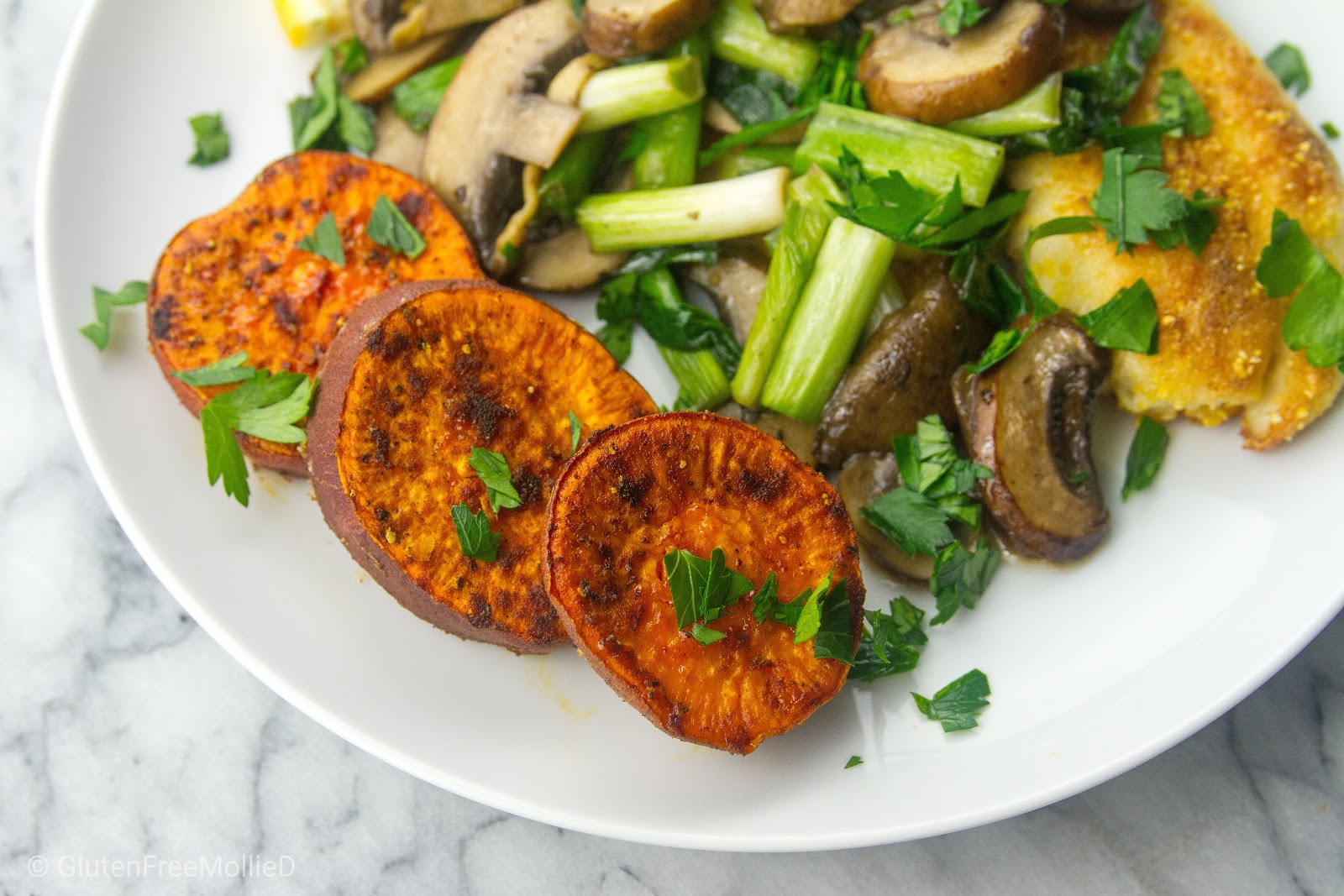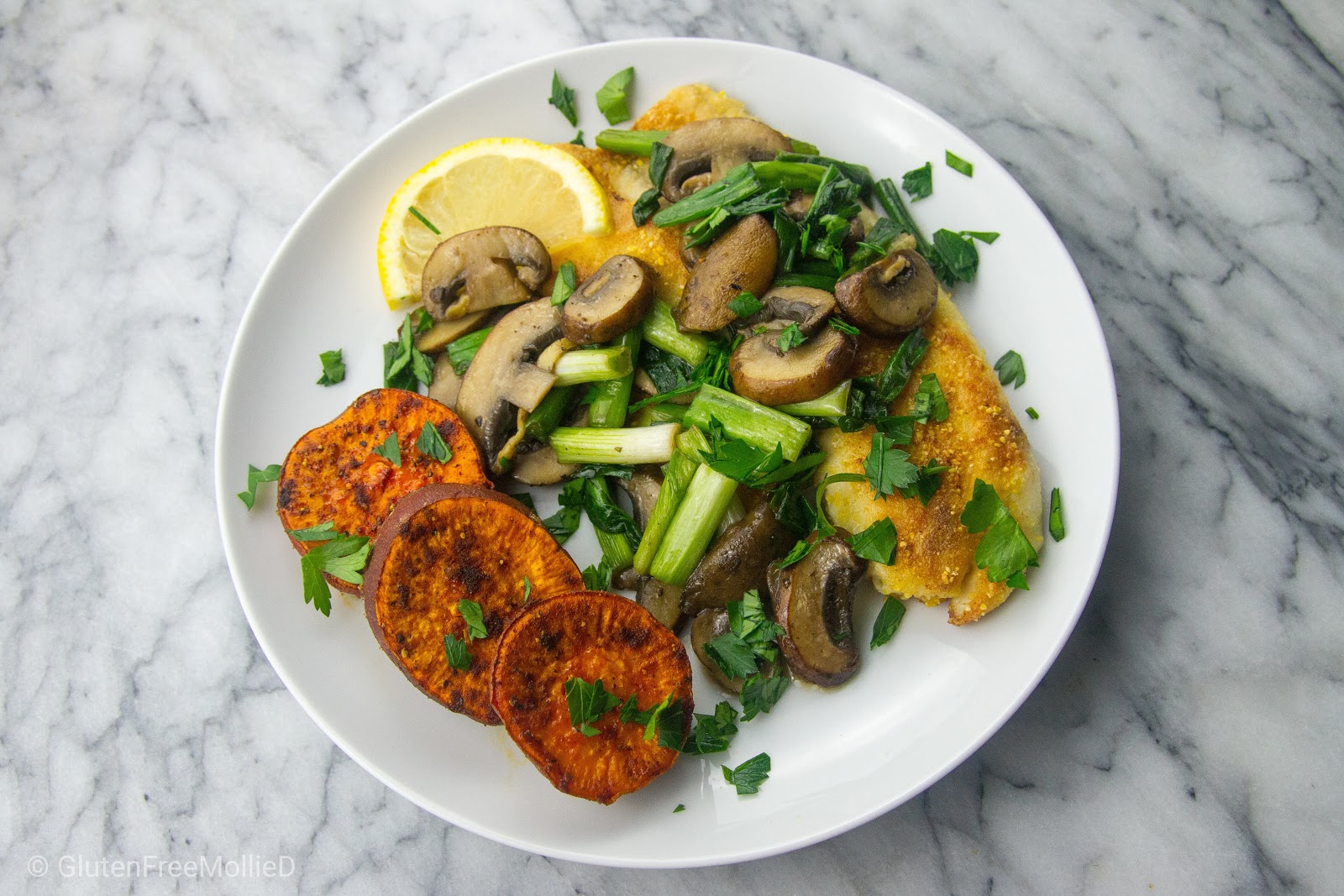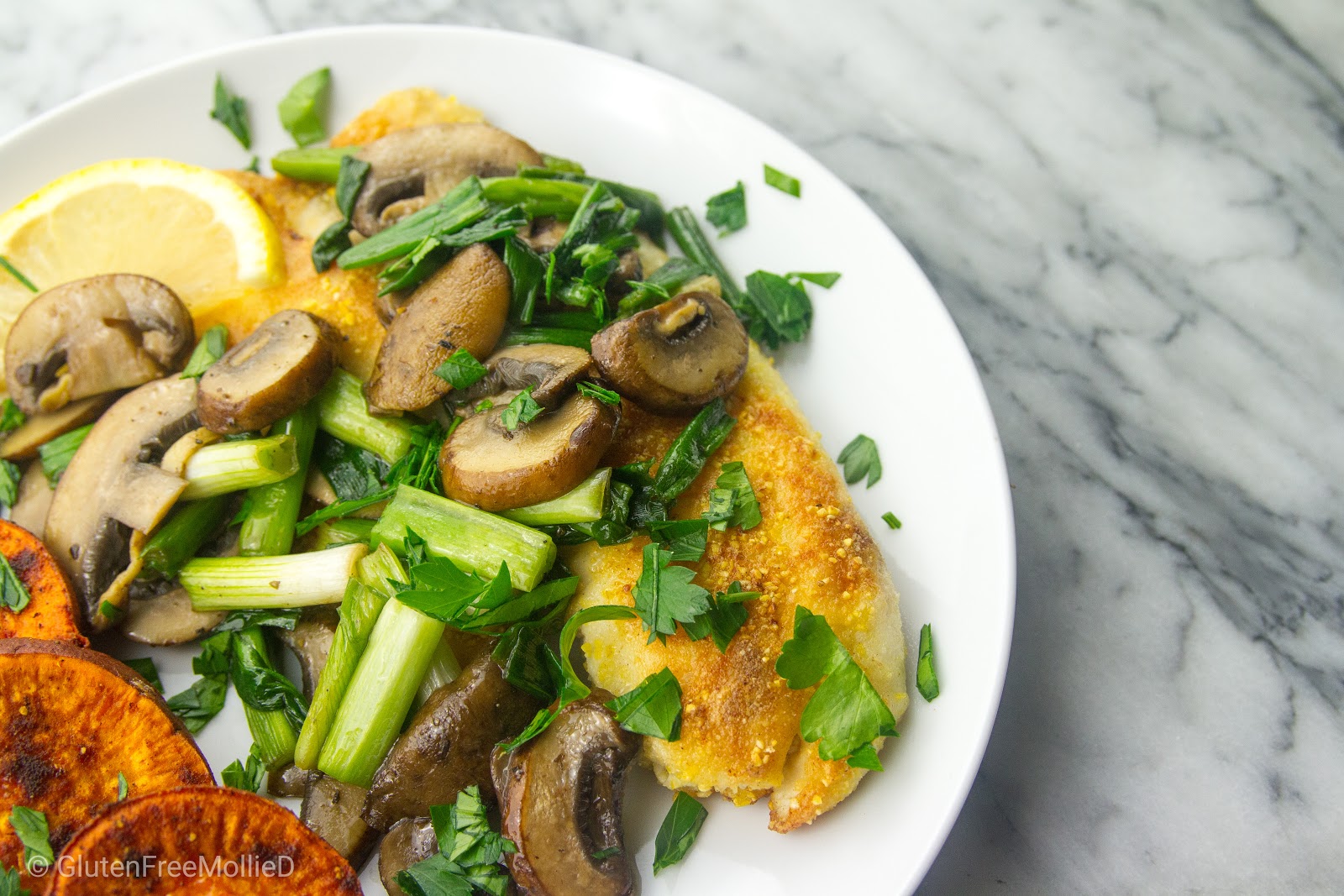 Crispy Tilapia with Green Onions and Mushrooms, roasted and sliced sweet potatoes.
Source: Weeknight Gluten Free by Kristine Kidd. We added the sweet potatoes!
Tip: This meal is naturally gluten free! We chose to use tilapia instead of trout which was called for in the recipe. The fish is coated in a cornmeal and GF flour mix.
Review: Not only was this dinner really delicious, but it was also quite eye-catching! Call me crazy, but I get way more excited about dinner if it looks as good as it tastes. Would you agree? I love the way this plate looks: lots of colors and textures that compliment one another and make the diner (me!) even more excited to eat.
Another aha-moment: Baked fish is definitely as delicious as fried. Yes, it's not the exact same flavor, but in the matters of health, baked fish with a crispy topping is most certainly as satisfying as its fried relative. I adore fried fish (who doesn't?) but lately we are fiercely determined to be as healthy as we can be so baked preparation will be the method for a while. The mushrooms and green onion on top really make it a scrumptious plate.
We could have left off the sweet potato, but I had a feeling fish with a simple topping would leave me just a tad too hungry afterward. Roasted sweet potato to the rescue! Sliced and seasoned with salt, pepper, and paprika, these nutrient-packed potato slices hit the spot and made our already delightful meal even better.
Make this dish on a busy weeknight (it's very quick!) or have a few friends over for a fishy evening. Either way, everyone at the table will be thrilled with the main course. :)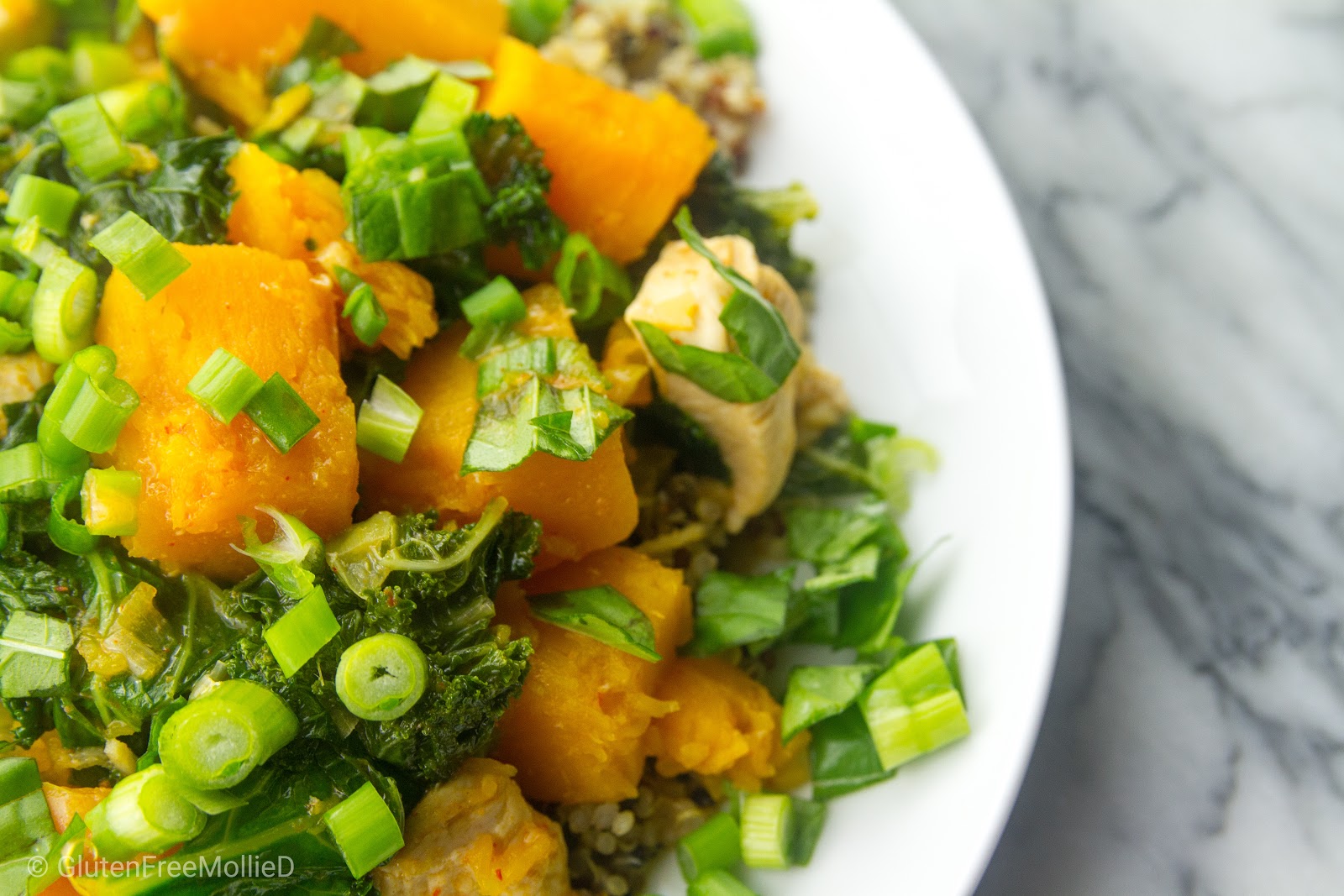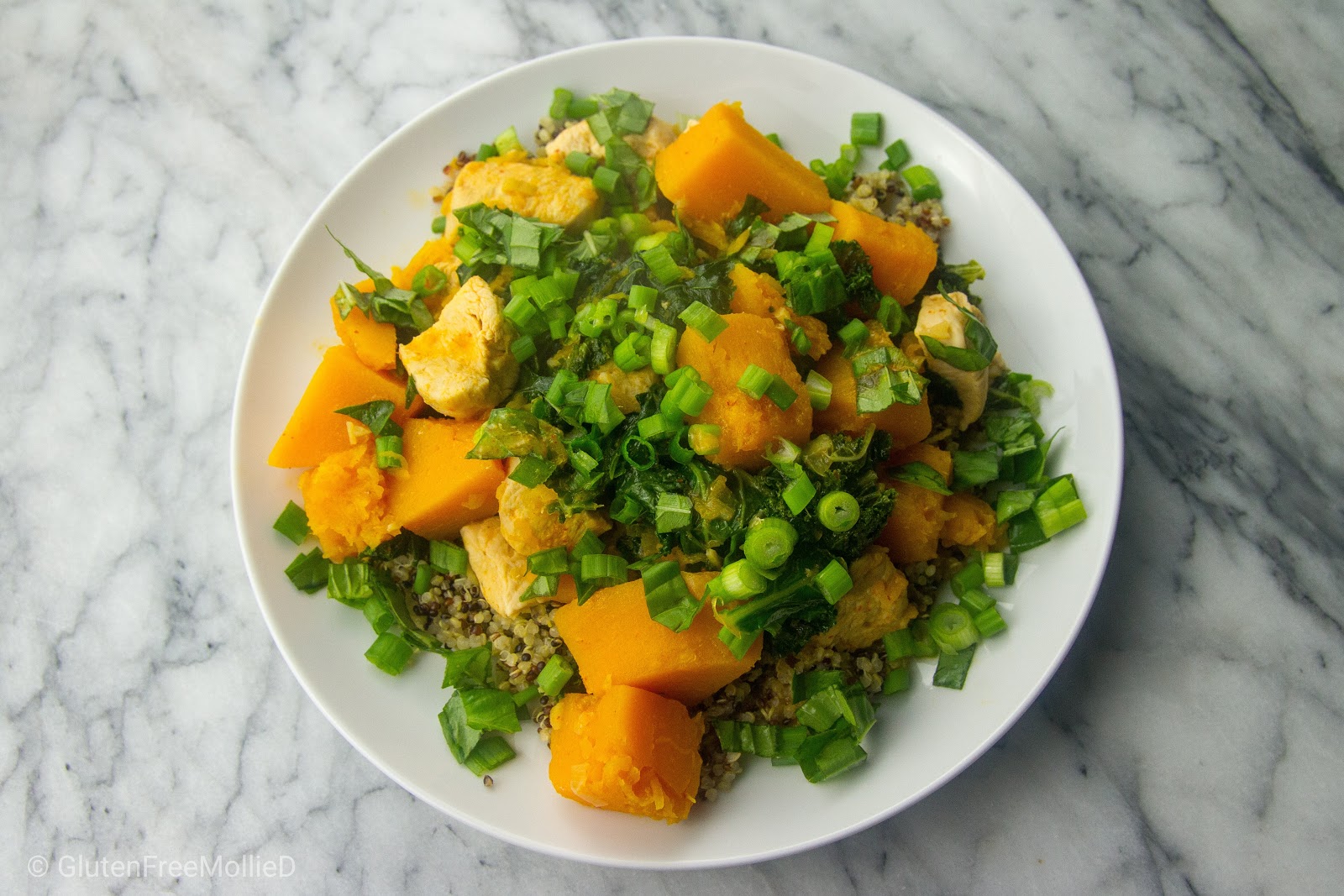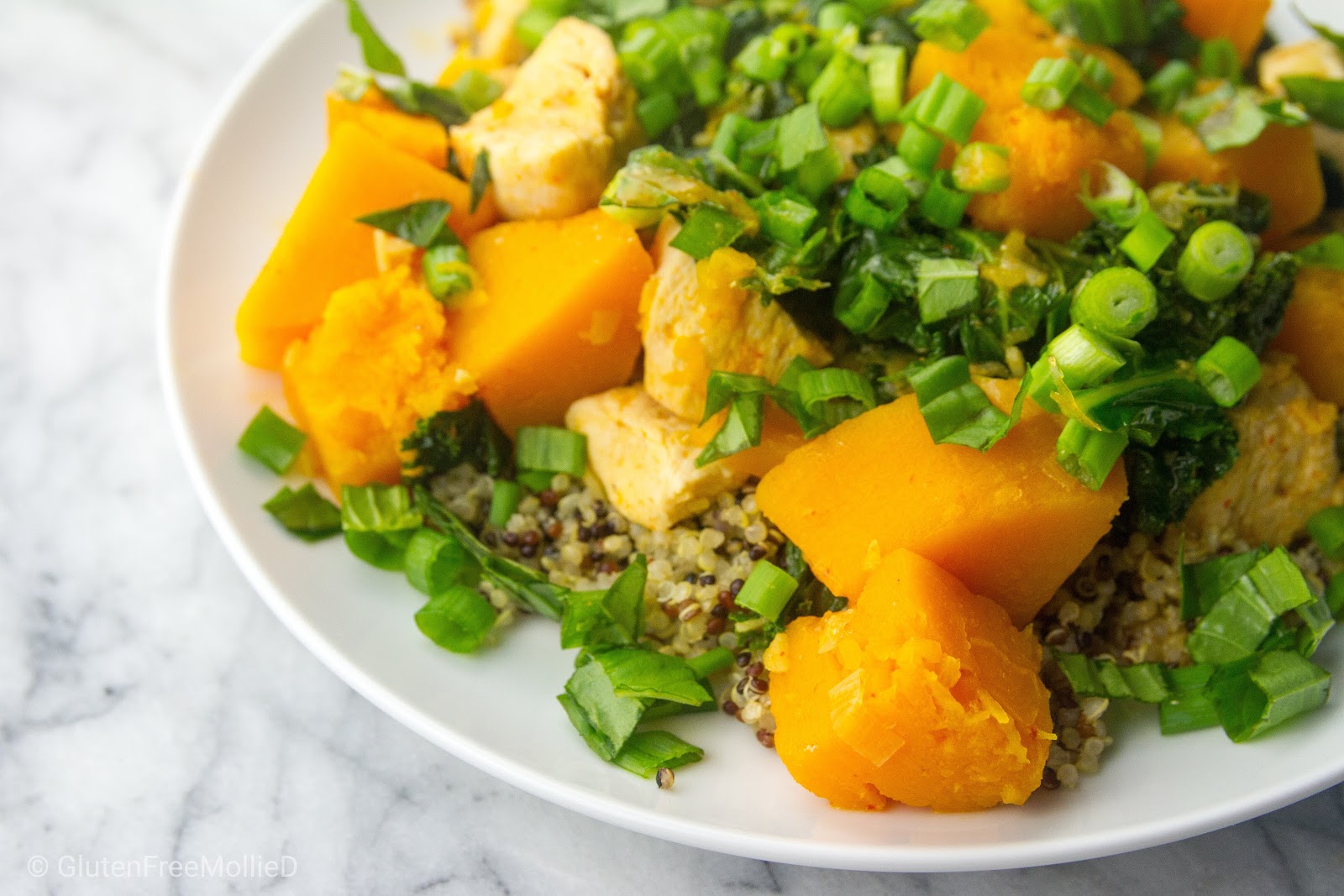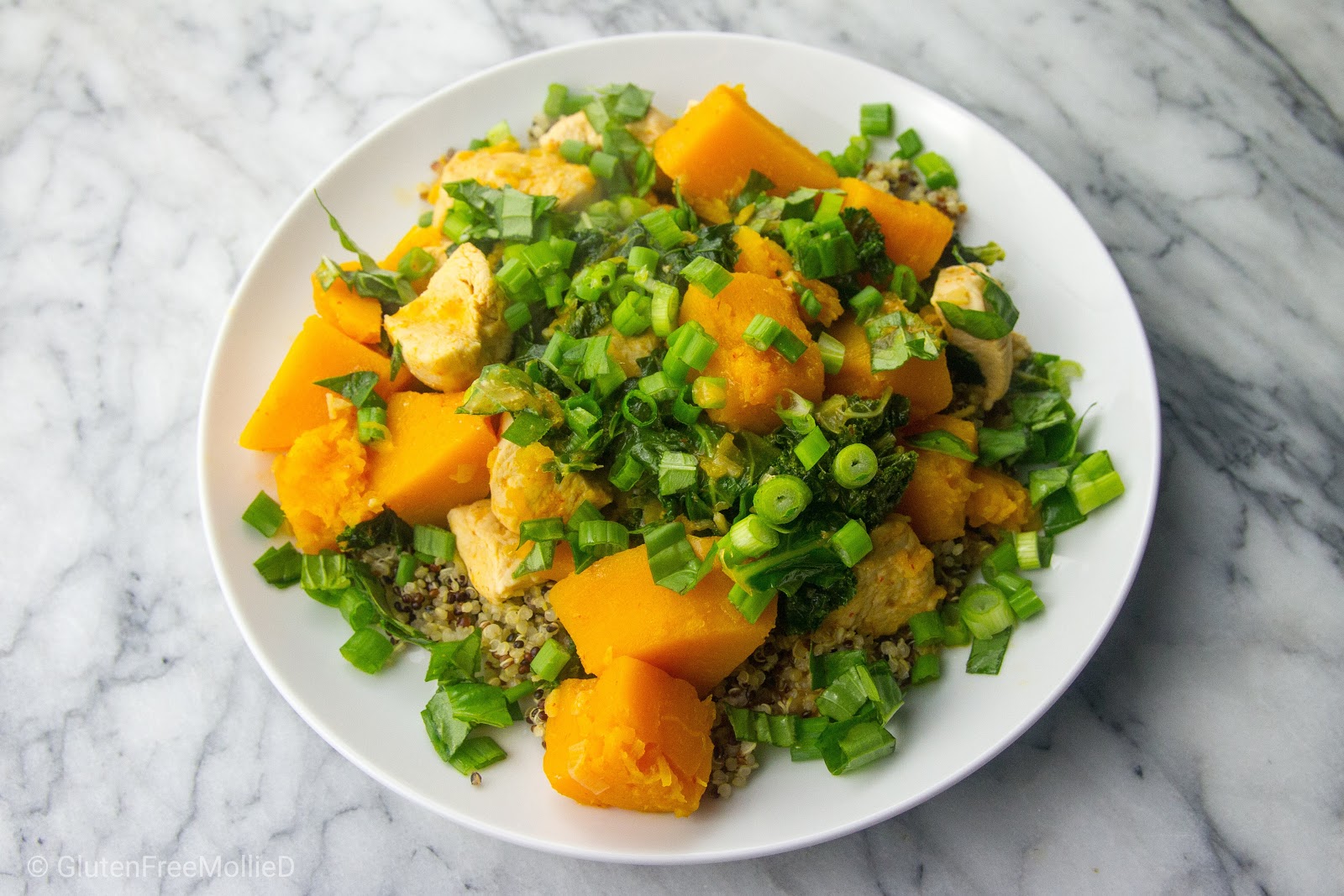 Thai-Style Chicken and Butternut Squash Curry with Quinoa
Source: Weeknight Gluten Free by Kristine Kidd. Adapted! We decided to use chicken instead of tofu and kale instead of chard, but I'm sure the original version would be just as great! We served it all over quinoa (not white rice). Man, we are healthy! ☺️
Tip: Naturally gluten free! And it's dairy free, FYI.
Review: These days, I'll never say no to a night of delicious curry. I was fairly hesitant to try it a number of years ago, but I'm not exactly sure why I was avoiding it. Red curry has to be one of my favorite dinners (now) and I can't believe I used to shy away from those amazing flavors.
This curry featured butternut squash, which was new for me, but I still found it to be a great item to include in this savory, winter-perfect meal. I've had butternut squash in the past, just not usually in curry. Surprise, surprise, I loved it.
We decided on chicken and kale as the other main components for extra protein and because well, I'm just a big 'ol fan of kale! Remember how I used to go on and on about the "kale club?" I'm still a member. 😉
Curry is one of the best winter dishes because we serve it piping hot, and spicy, which is the most delicious way to enjoy all of those flavors. And while living on a diet of just coconut milk wouldn't be the smartest idea (although awesome?), it is a major treat when we enjoy it by way of a scrumptious curry. 😎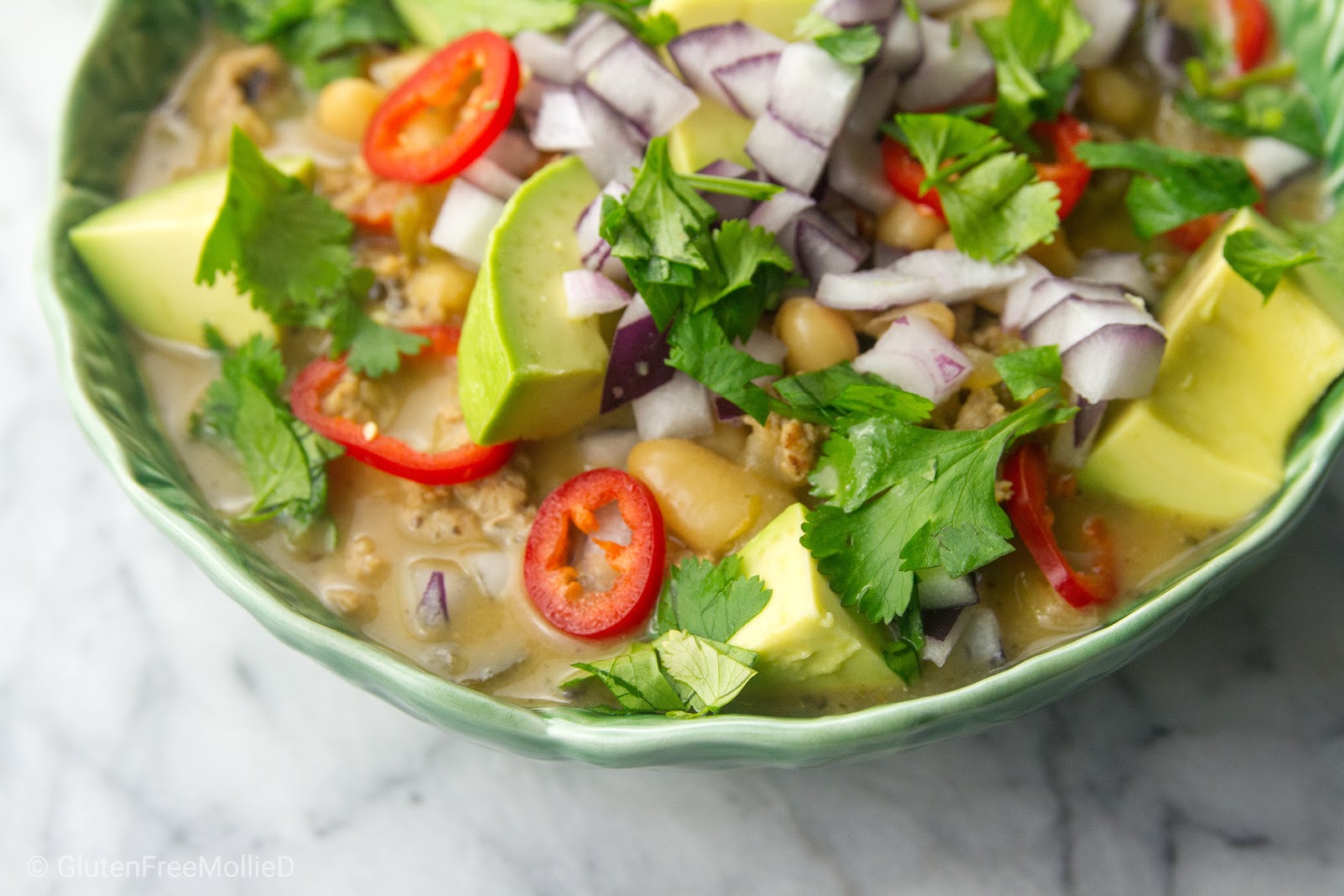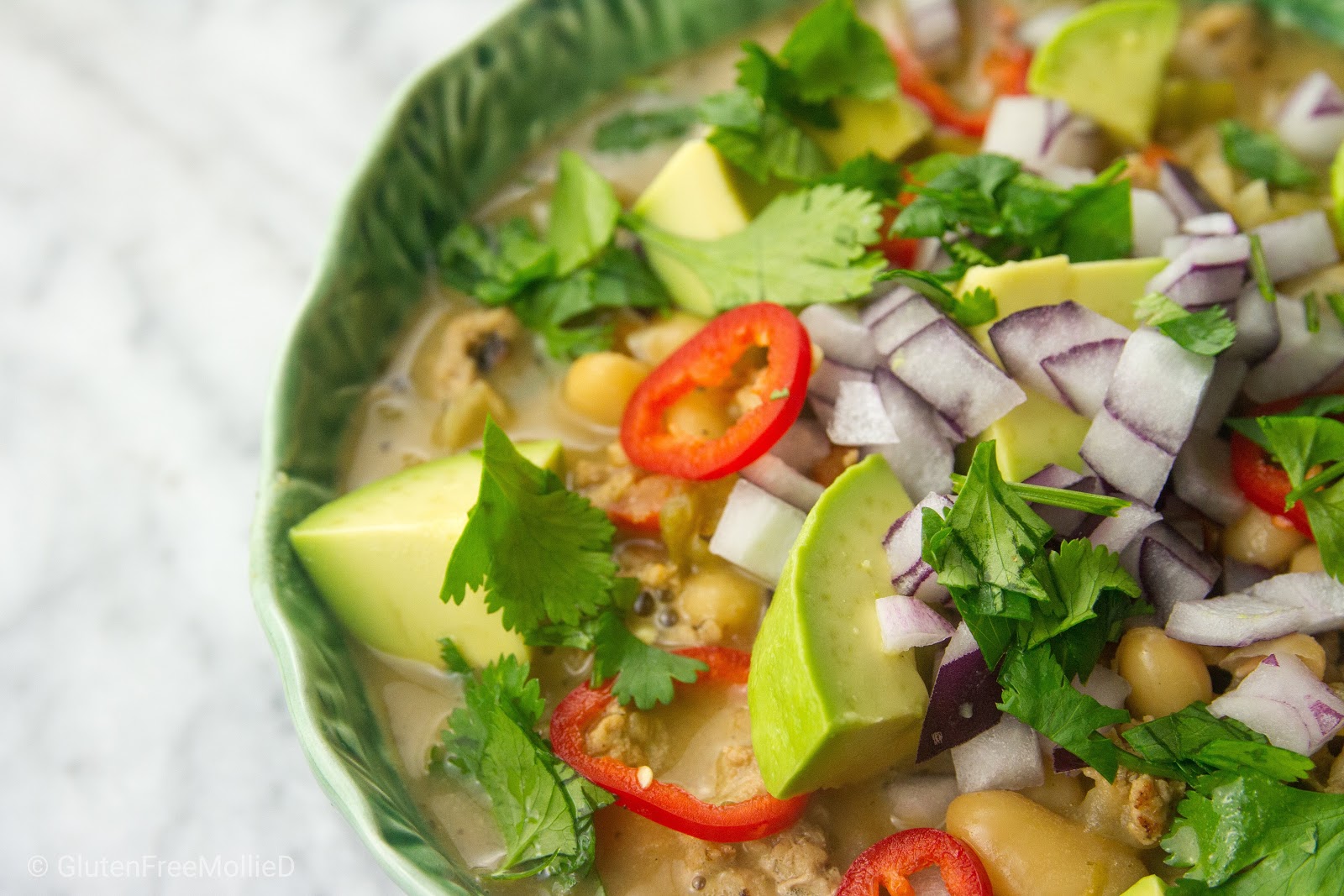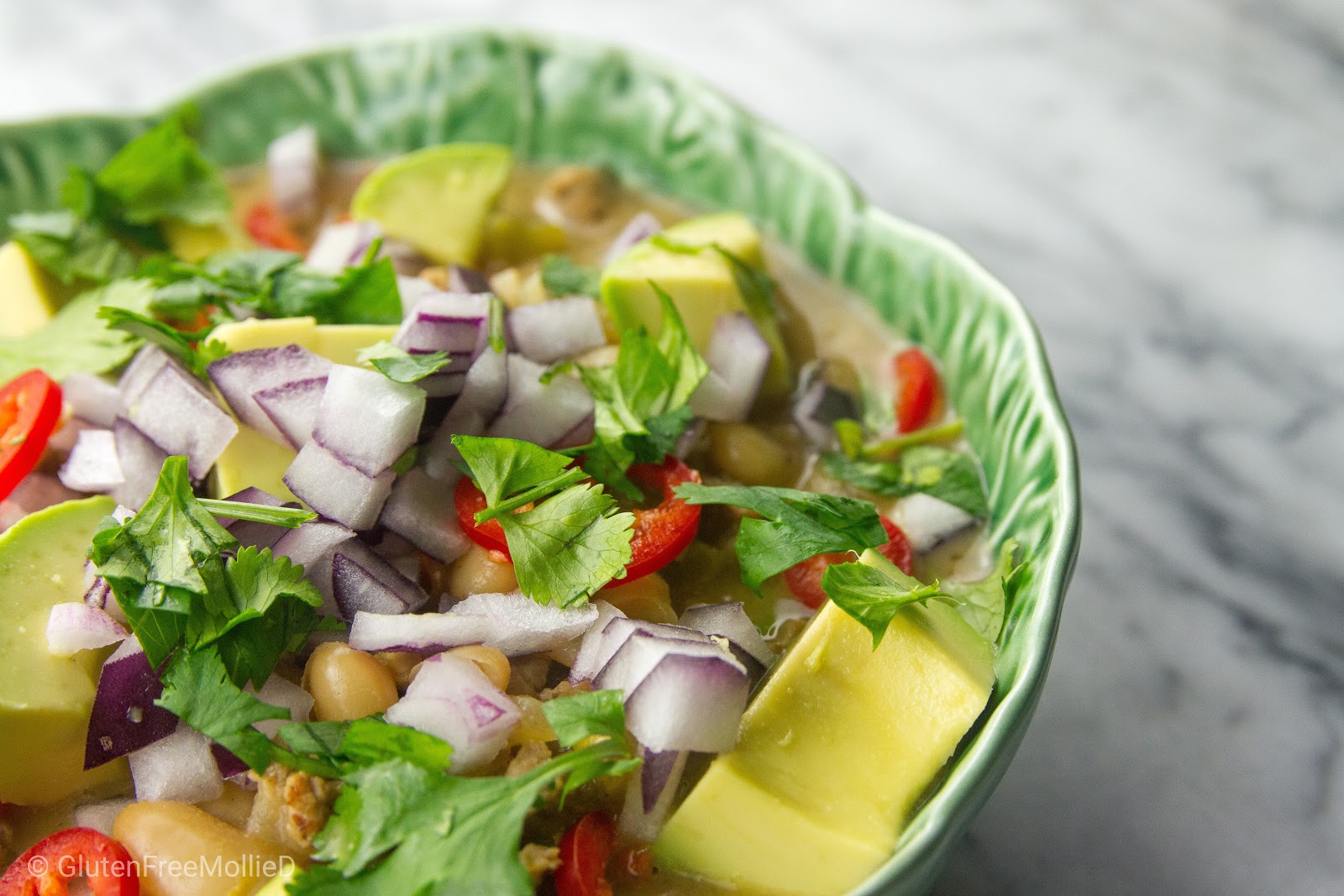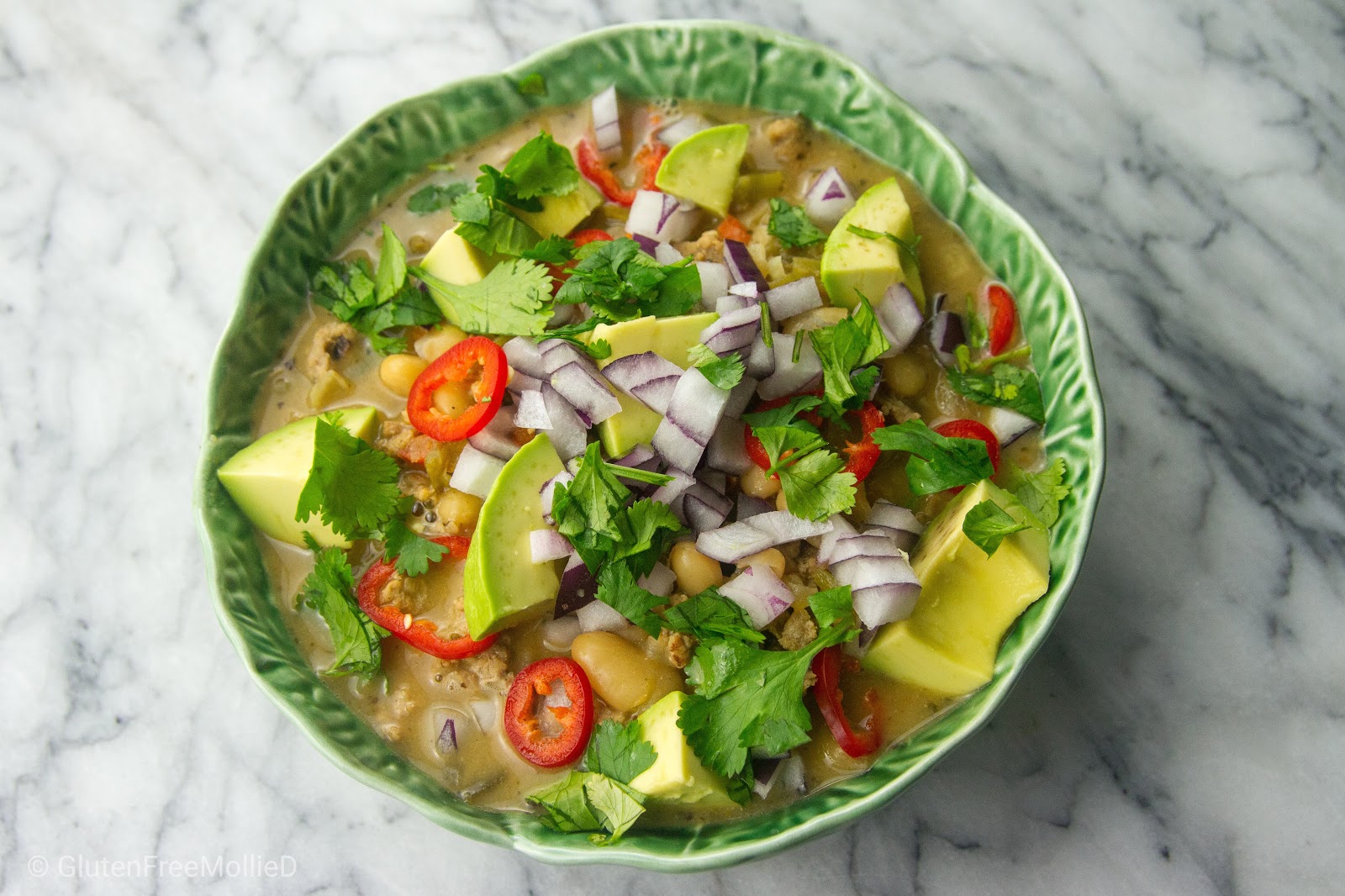 Turkey and White Bean Chili
Source: Weeknight Gluten Free by Kristine Kidd
Tip: Naturally gluten free! While this recipe does include cream, we used half and half, I'm sure you could use milk or a dairy alternative. The consistency may change slightly, but I bet it would remain just as awesome.
Review: It's amazing that it took us this long to make this amazing chili for the second time. While I tend to avoid repeats, I just couldn't resist with this one. I think this is one of the most delicious chili recipes we've ever made and I fully stand by that statement. It's so good!! Bright flavors, easy ingredients, fairly quick cooktime, and it's spicy! 😎 What's not to love?
There are a plethora of excellent chili recipes out in the world, and we've made others that are just as awesome, but this one in particular I find truly fabulous.
Maybe because it's loaded with protein thanks to ground turkey and plenty of white beans, or maybe due to the wonderful toppings of cool cubes of avocado, fresh sprigs of cilantro, and lots of chopped red onion. So many textures! So many flavors! I really can't say enough (good stuff) about this chili.
And yes, there's a small amount of dairy (half and half) to make it a little rich and creamy, but lean into it. There is so much health in this bowl that I don't even blink at the thought of including the aforementioned richness. It just makes the meal even more splendid. :)
The bonus in all of this chili praise? The recipe makes a vat which joyfully became our workday lunch for several days afterward. Now that's a delicious win. ;)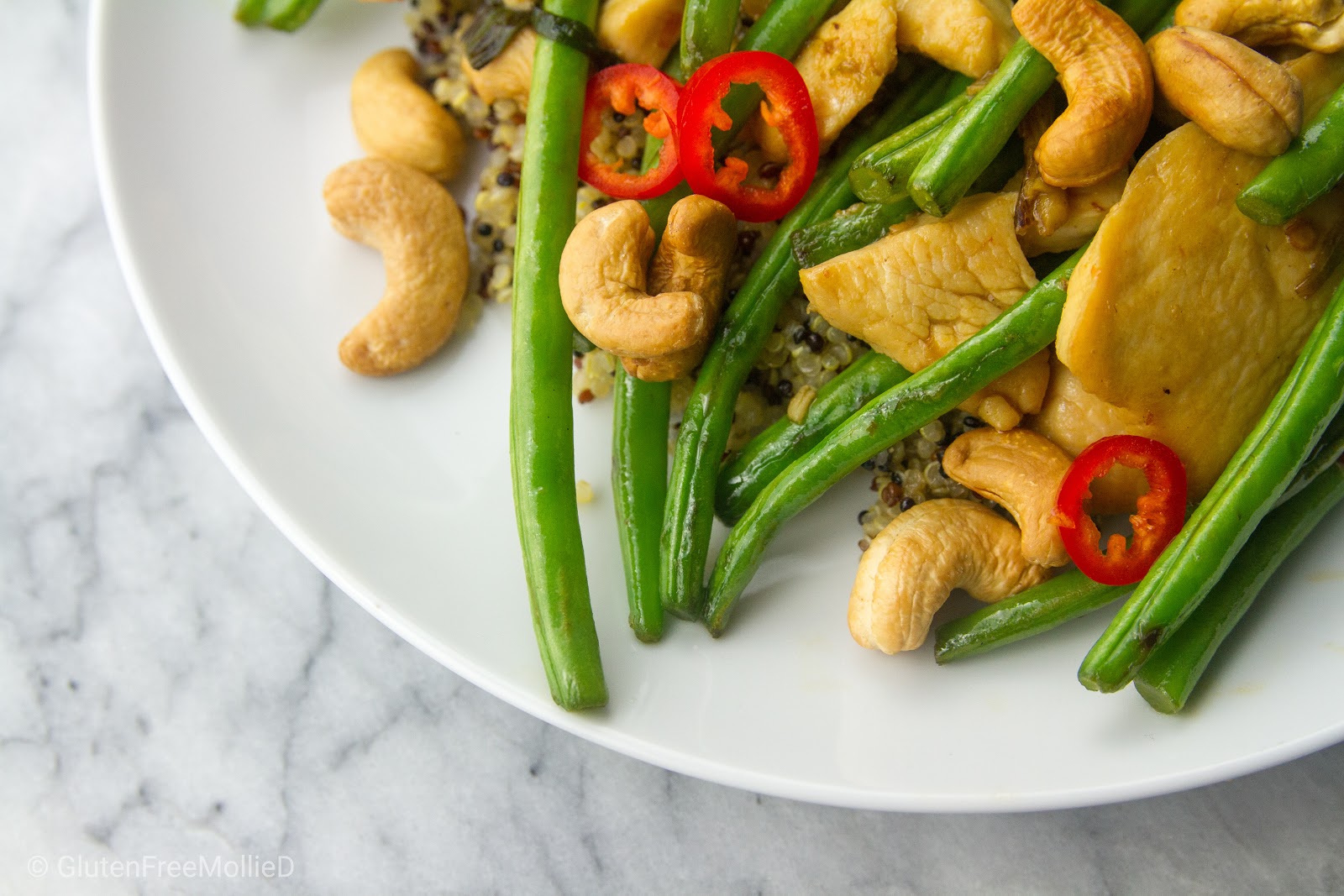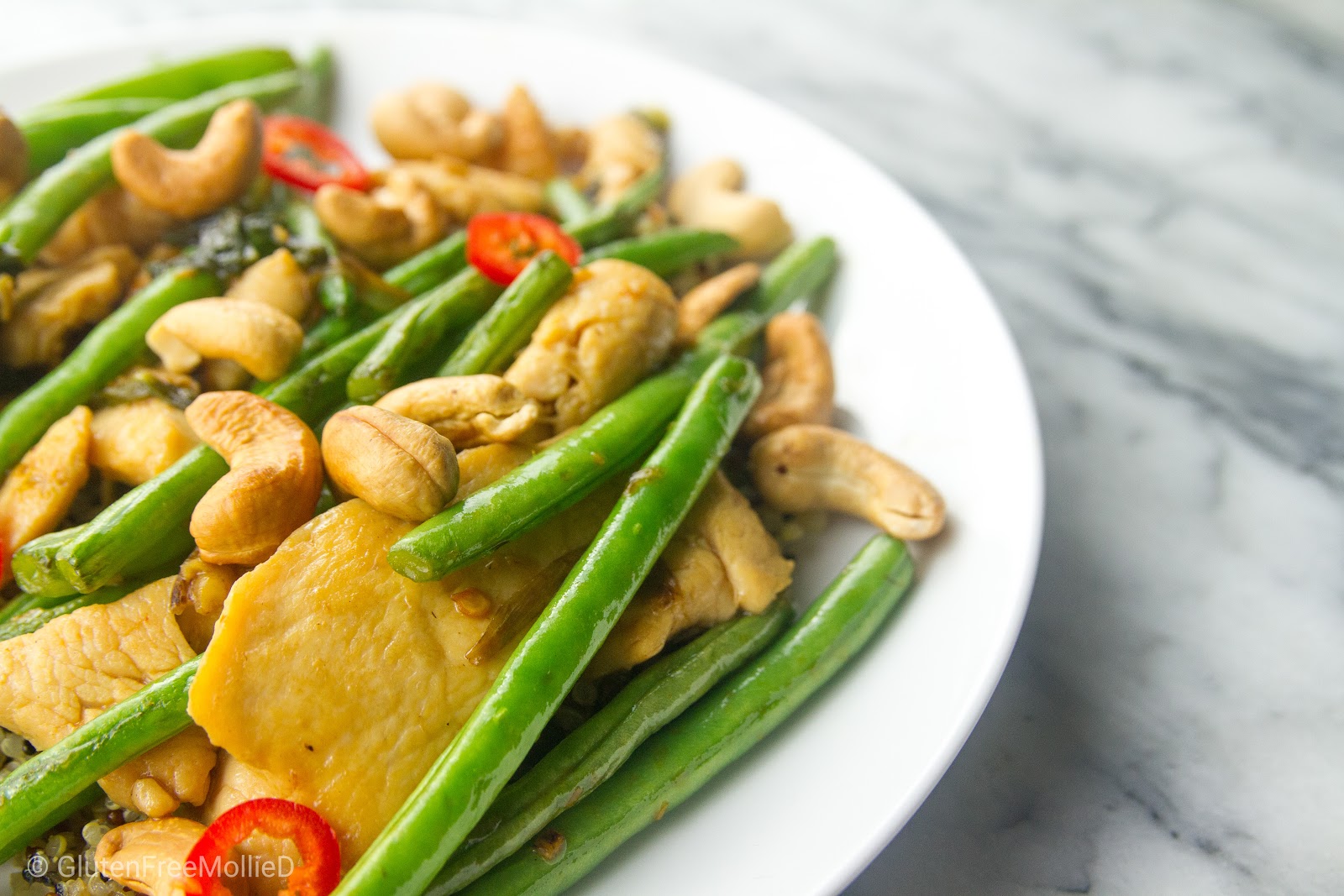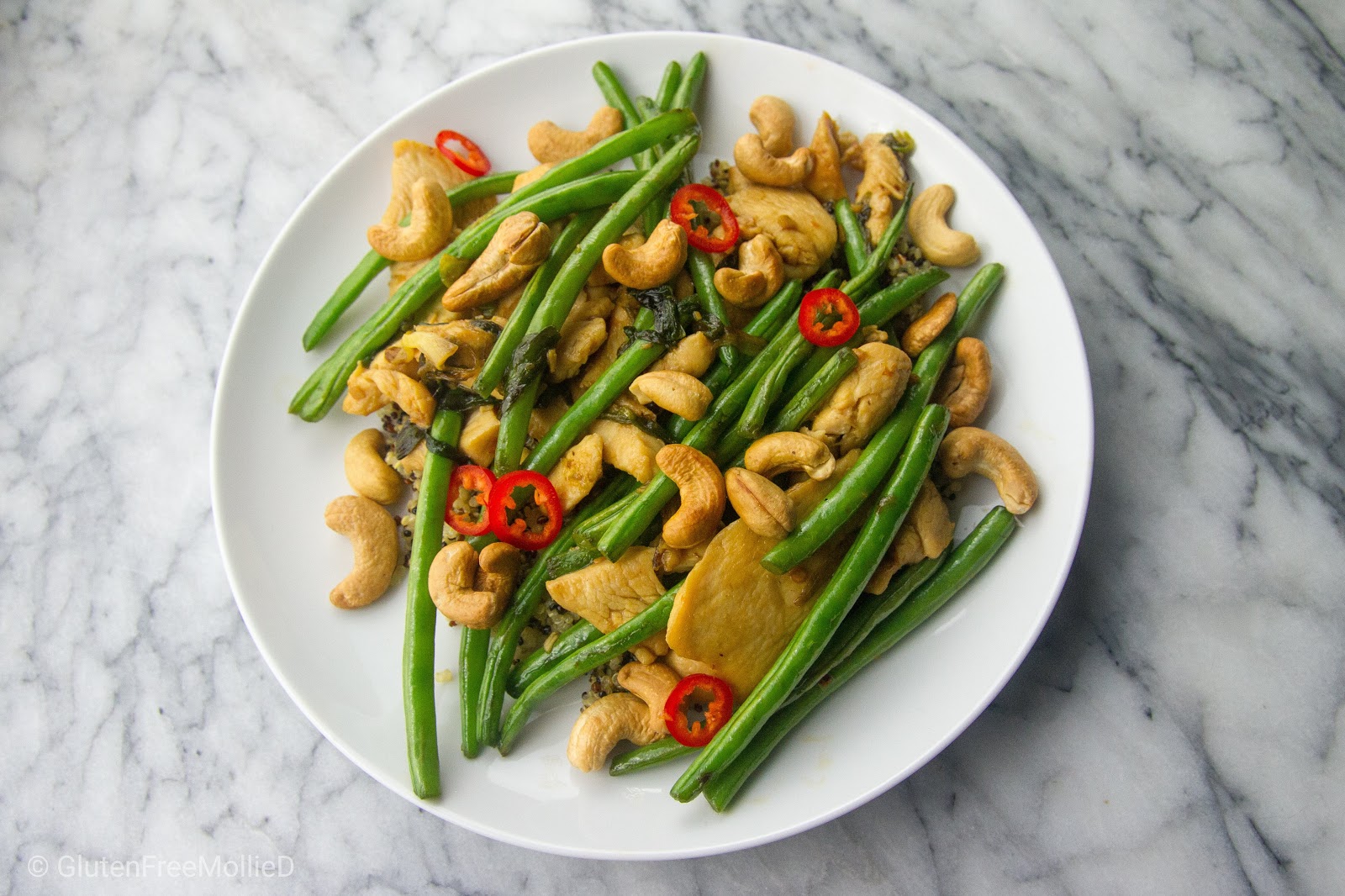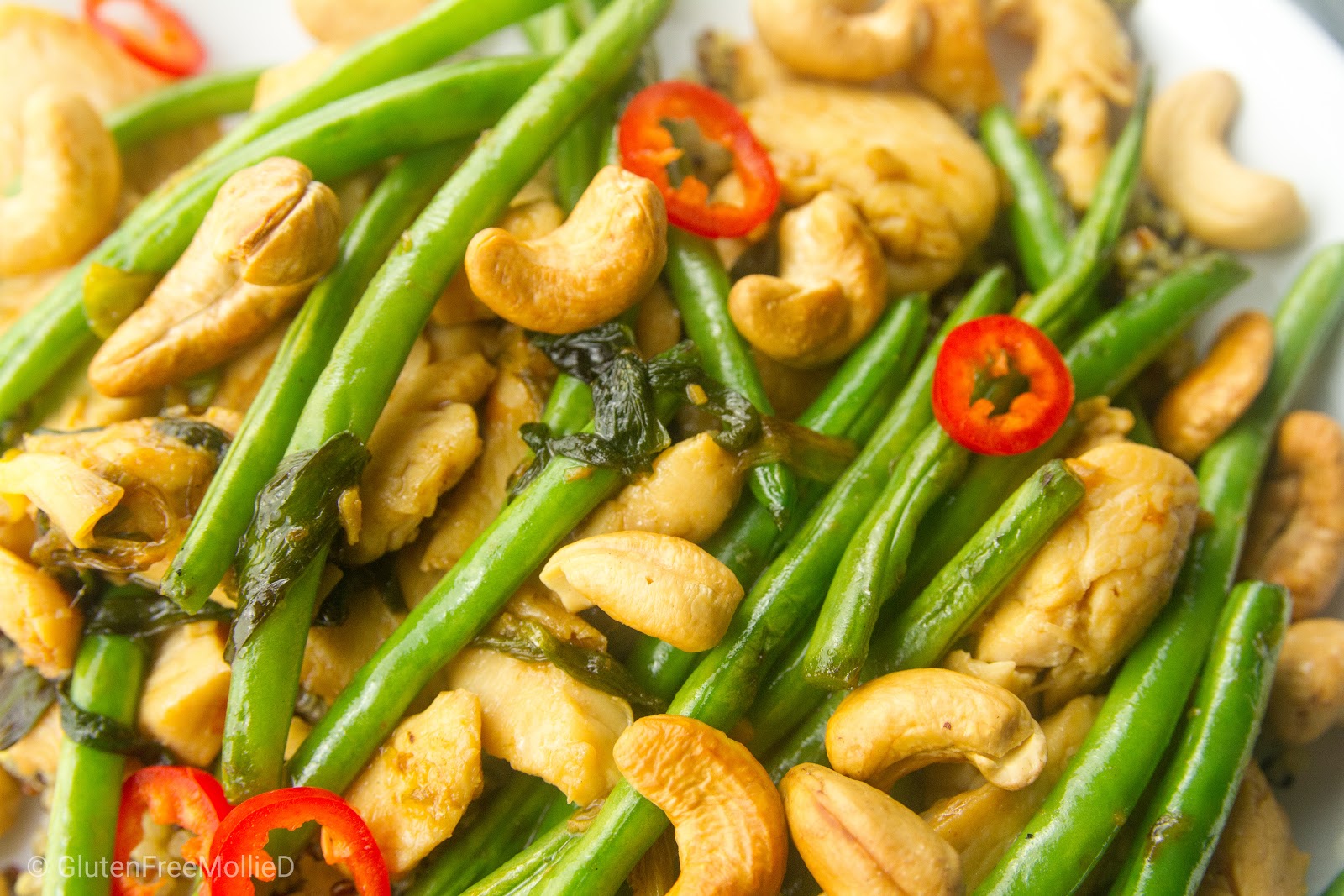 Chicken and Green Bean Stir-Fry
Source: Bon Appétit online! Grab the recipe by Claire Saffitz, here!
Tip: Make sure to use gluten free soy sauce! For a healthier twist, we served our stir-fry over quinoa.
Review: What more can I say about my love of quick, absurdly delicious stir-fries for weeknights? They are just too perfect, in my opinion, and I'll clamor on and on about how amazing they are and how trusty in the everpresent world of weeknight dining.
We have been making stir-fry meals for far longer than the life of this blog (almost two years old!), but I'll never grow tired of their appeal: fresh ingredients cooked together quickly with a yummy sauce. And you're done! That's it!
We always include a stir-fry on our weekly plans if we know there will be a night when we simply won't want a more complex recipe or if the day itself will be especially busy. No matter how busy the day becomes or how tired I am at the end of it, I'll always be excited (and quite awake) for a scrumptious dinner to round it out.
What I loved most about this dish was the fact that it made me enjoy green beans for the first time in a while. I don't have anything against green beans, but they're not often my first choice of green veggie.
I prefer a green that wilts when cooked (spinach, kale, chard, over-cooked broccoli) for not much of a reason aside from it being easier to eat with a fork. 🤷‍♀️ And I like those flavors a little more, honestly. But not this time!
Those green beans were cooked perfectly and their snappy crunch was a welcome change to the usual (softer) greens on our plates. Once combined with the chicken and crunchy, roasted cashews on top (and an awesome sauce), the green beans really were more of a star this time around and I didn't avoid a single one. 😉
This dinner was delicious and my biggest complaint was that it was inhaled way too easily.
And of course, a few comments about The Weekend...
My new favorite breakfast is quick and filled with healthy ingredients to keep me fuller, longer: two scrambled eggs with arugula and turkey sausage. I top it all with a hearty sprinkle of the now-permanent product in our kitchen, Everything But the Bagel Seasoning from Trader Joe's. I joined the bandwagon and cannot deny its goodness. I'm putting it on everything.
A new bookcase finally found its way to my apartment and I couldn't be happier! I've been searching for one for quite some time and I just happened to find this great one while strolling (where else?) Crate and Barrel. I'm so happy my cookbook collection has a new home. Or rather, the overflow has a new home. I have another bookcase that's full. 😬
Never overlook the power of GF crackers and hummus. We picked up one container of each on Saturday at Wegman's and had a quick, inexpensive lunch amidst an otherwise fairly busy day. I'm also a fan of Wegman's sushi, for the record.
Dinnerwise we had great, easy meals at Burton's Grill and Bar as well as Legal Sea Foods. Both spots are tried-and-true favorites that offer plenty of gluten free fare no matter which end of the healthy eating spectrum you're on at the moment. ;)
Don't forget! On weekends you can now find my #outfitoftheday on my Instagram stories. Food is a favorite forever, but my passion for fashion is as strong as ever. 😎
We hope you had a great weekend, too! See you here next week for more meal reviews and hopefully more bookcase excitement. ☺️
Eat, well.
Mollie and Seth