Flavor, Foliage, Friends
When the weather decides to make a semi-drastic shift leaving us huddled under blankets and craving everything warm and roasted, it's best to politely oblige and lean in to the season.
Lest we forget that New England's fall is fleeting, and unpredictable, we tend to dive into the "cold weather winners" the second the temps drop, only to realize the following week we're back to t-shirts, sandals, and salads.
So, how does one eat during this especially surprising time of year? Read on to find out!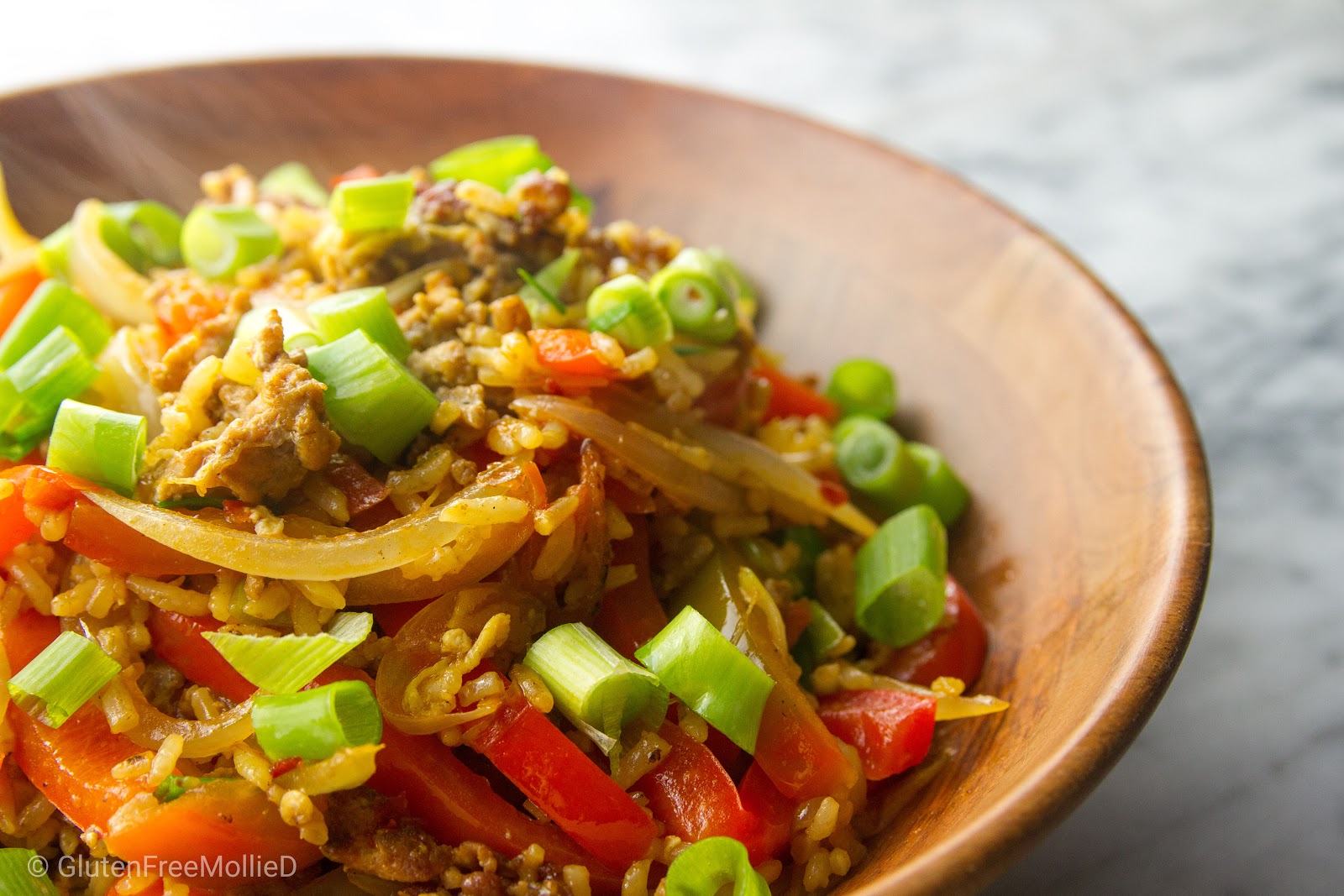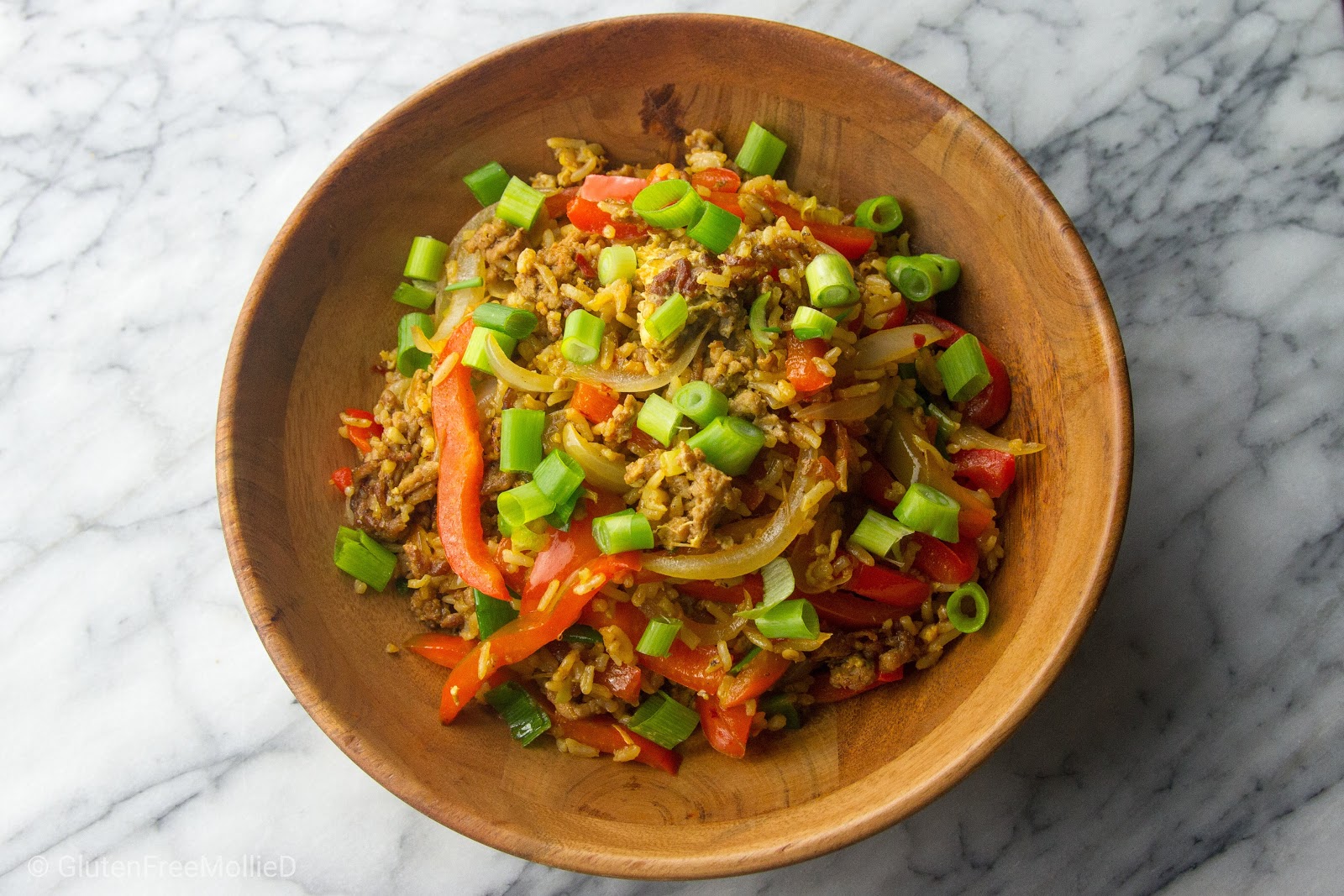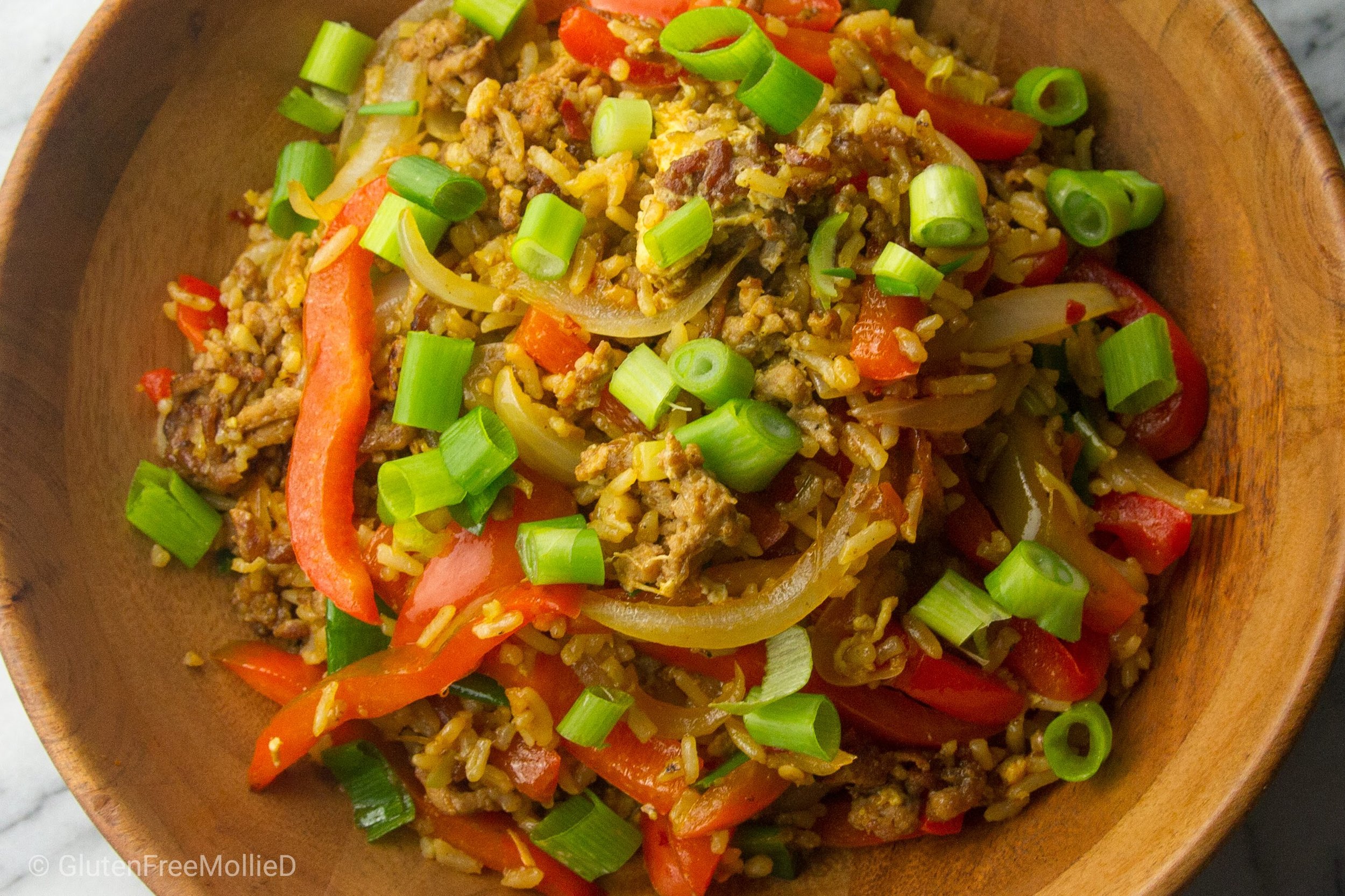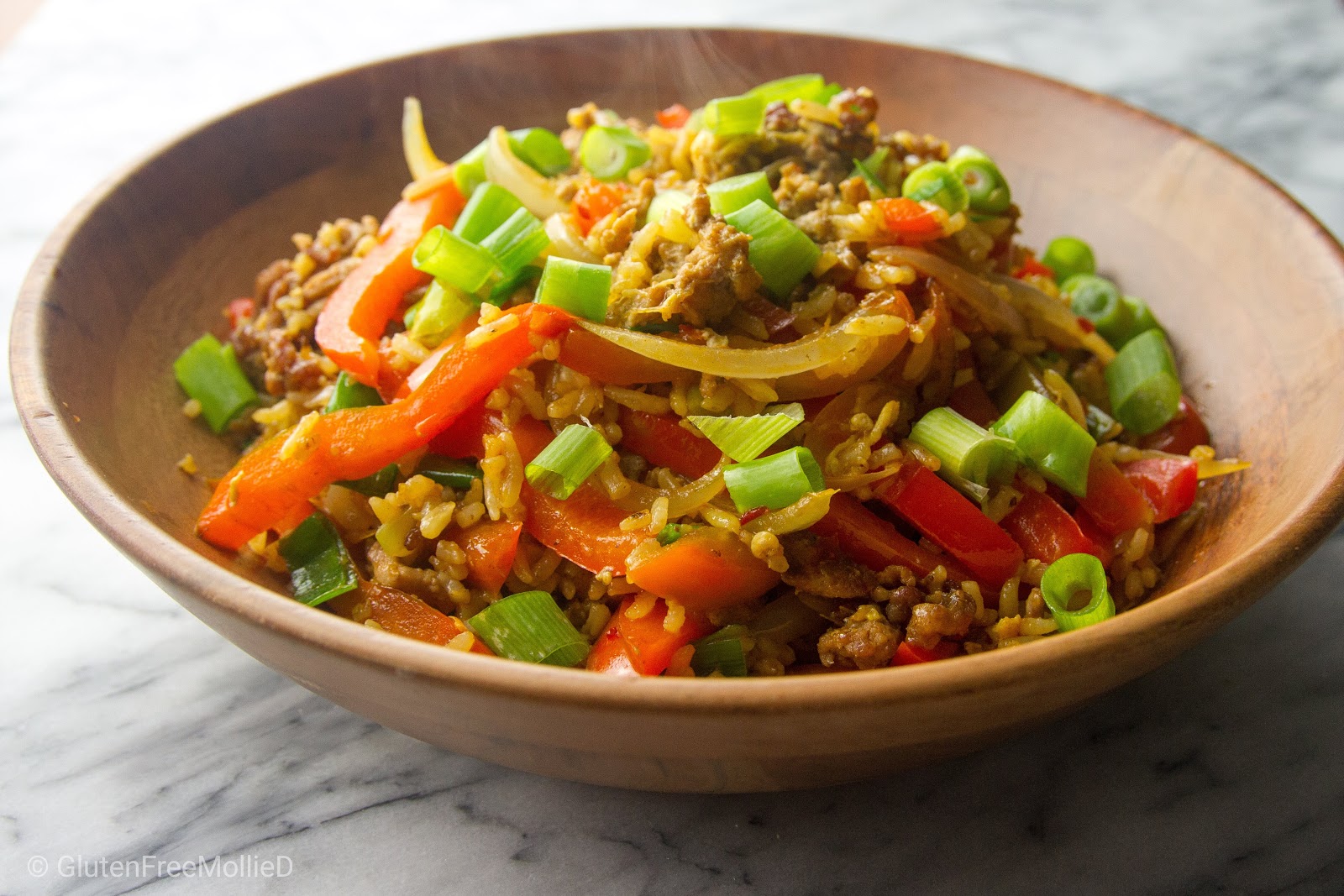 Crispy Pork and Pepper Fried Rice
Source : A Gluten Free Mollie D original recipe. Naturally gluten free, of course!
Tip: Make sure to always use GF soy sauce (tamari) when preparing stir-fries and other Asian dishes. It's readily available in most major grocery stores.
What's the best use for days-old cooked rice that's still in your fridge? Fried Rice. What's the most flavorful dish to create with said cooked rice? Fried Rice. And what is the most delicious rice-based dinner that's quick to prepare and can handle any number of additional ingredients? Fried Rice.
The secret we've learned to making the most-delicious fried rice meals is to use a wok for the cooking of the ingredients as well as the rice (the cold rice that was cooked days prior). We find that the final flavor is richer and the rice gets a bit crispy as well in addition to the ground meat (we chose pork in this iteration).
What's also great about fried rice, besides it being one of my all-time favorite dinners, is that the leftovers are pretty much fabulous hot or cold which makes them perfect for workdays or when you need a couple quick bites from the fridge. ;)
Who/What/Where: Fried rice is a crowd-pleaser through and through and that deems it excellent fare for a party. However, in this instance I am referring to a dinner party in which fried rice is one of many dishes available.
Sure, you could make it the main course, I would not complain, but if you leave out the protein (but please don't!), I might suggest making something else on the side just so your guests have a little more on their plates and less expectation of dessert - in case you didn't have time to make one. ;)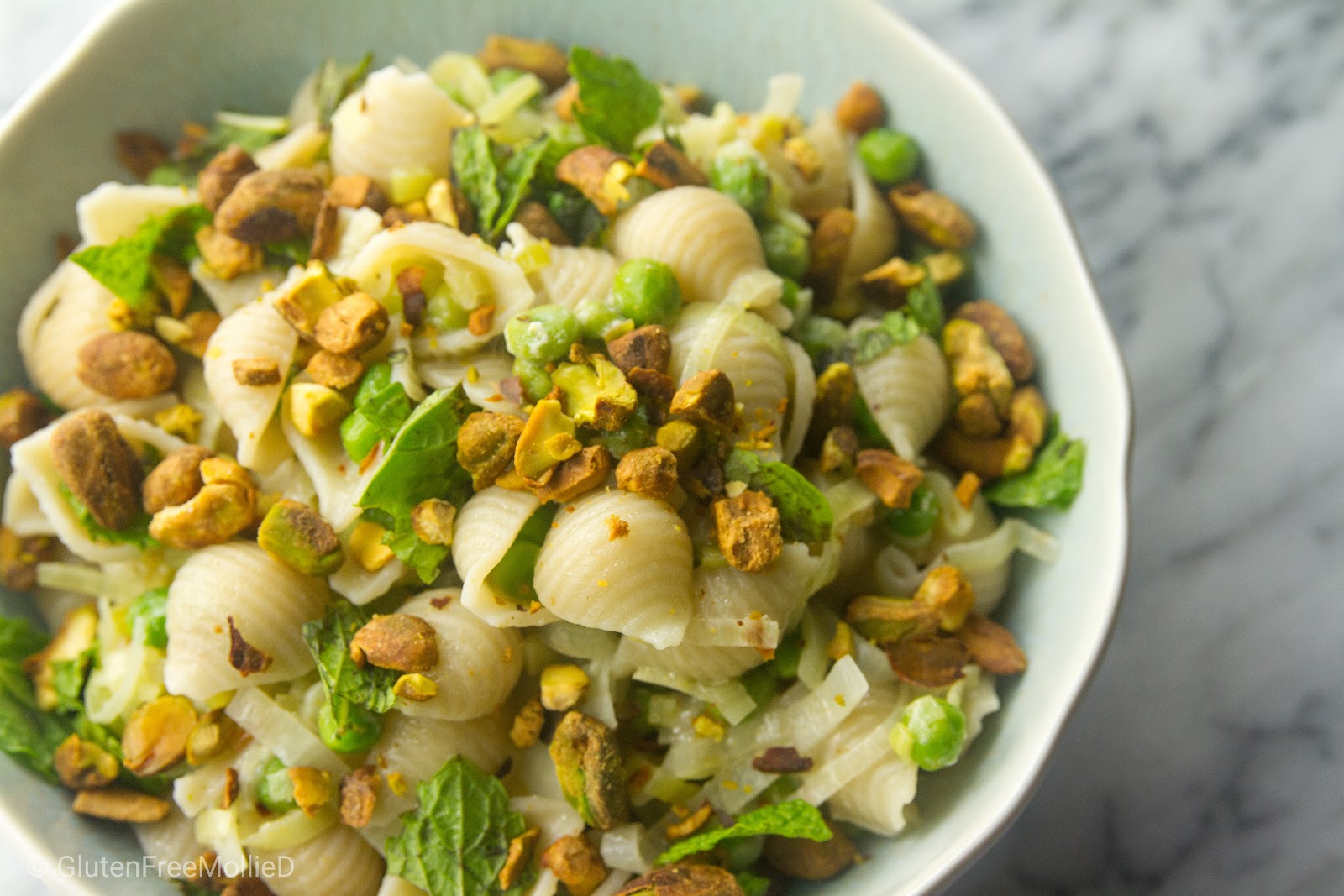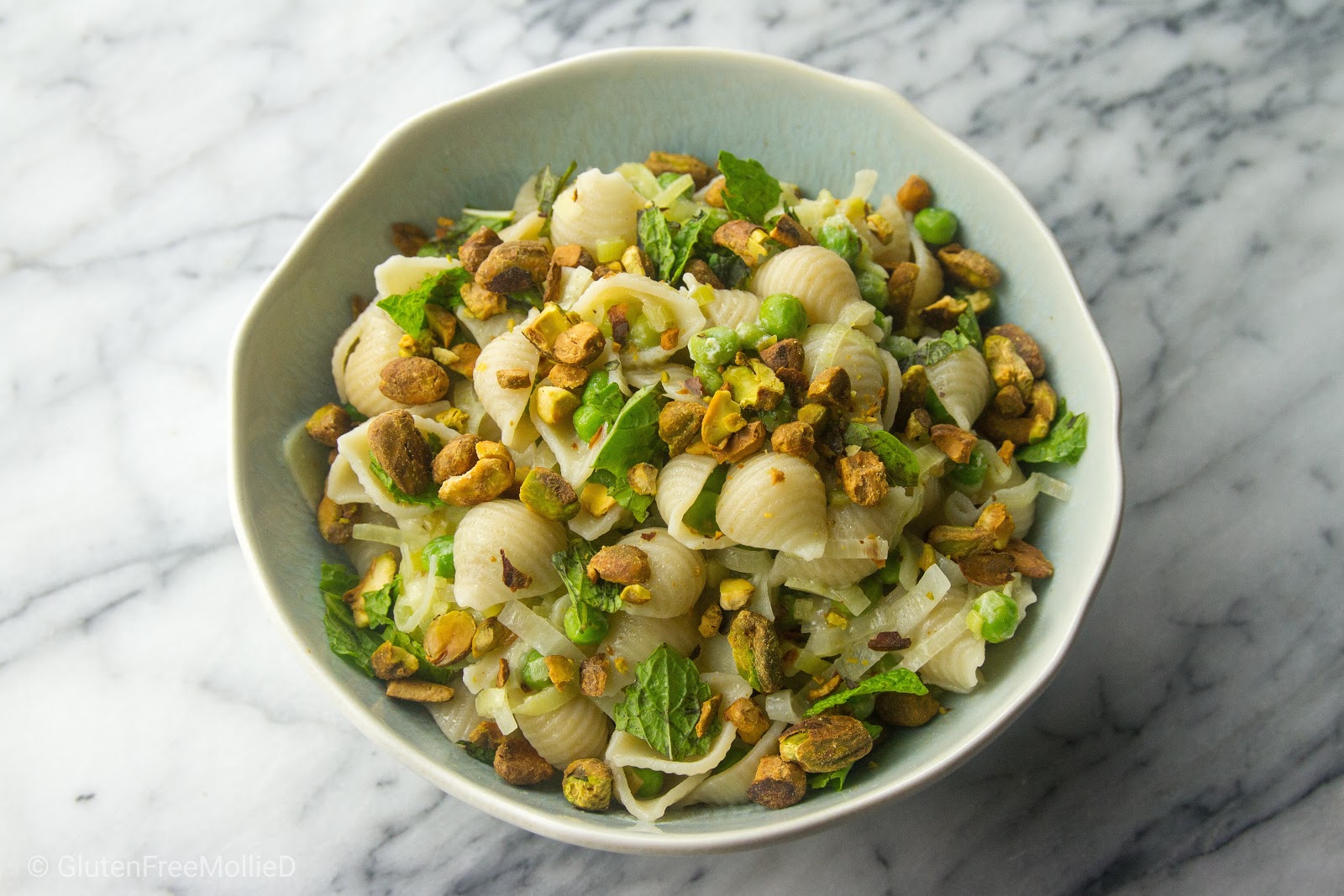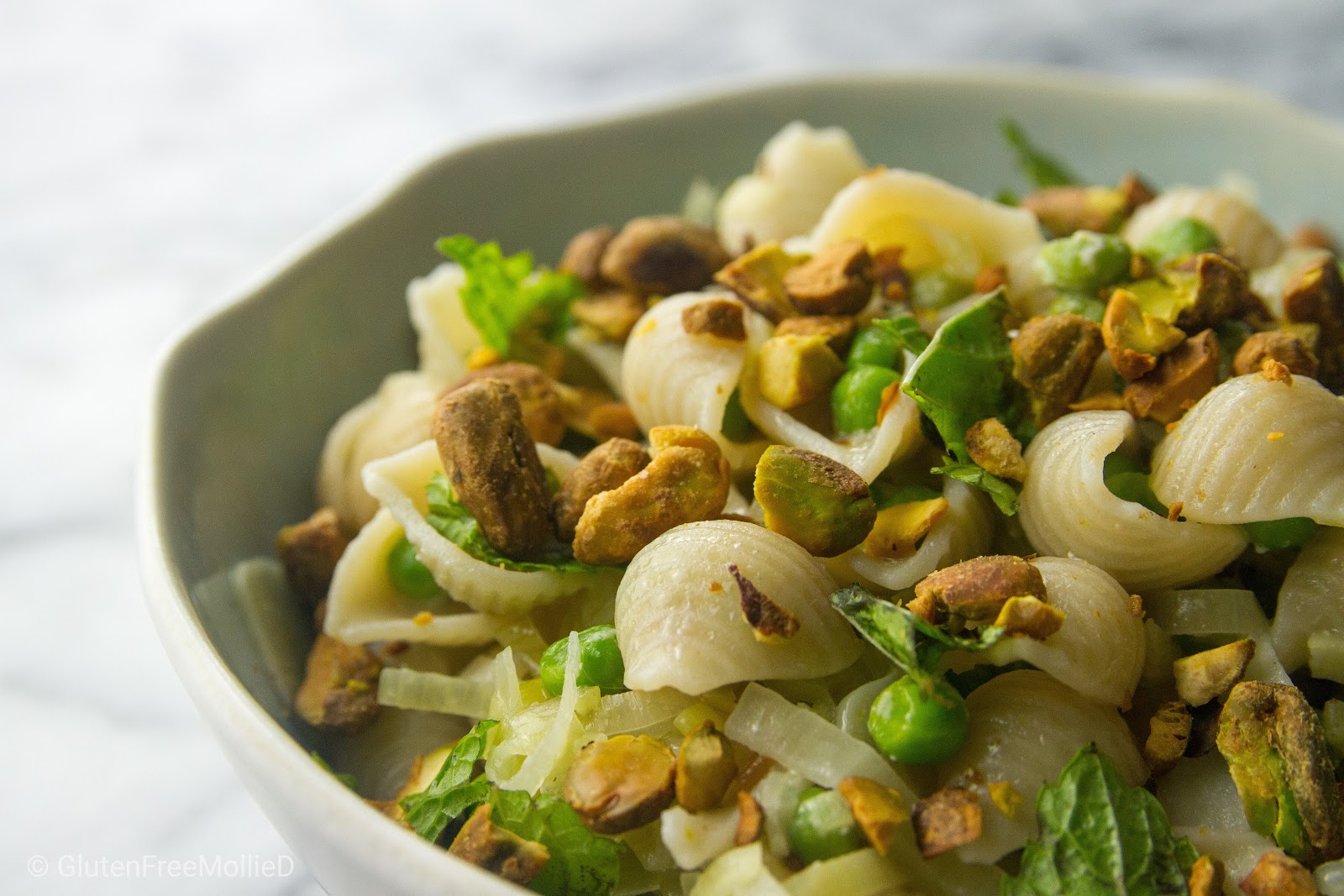 Orecchiette with Buttermilk, Peas, and Pistachios
Source : Recipe by Molly Baz, available via Bon Appétit. Find it, here!
Tip: Make sure to use your favorite GF pasta for this dinner. I haven't found gluten free orecchiette yet, but in the meantime, these GF shells from Jovial Foods did the trick!
A burst of summer flavors in early October! I had eyed this recipe throughout the summer, but didn't manage to add it into our meal plan until now. Silly me! However, the benefit of such a delay was that we got to enjoy this bright dish that didn't feel too "summery" at all. In fact, I would deem it perfectly acceptable year-round.
Meatless meals make their way to our table at least once a week and I will be the first to say I don't mind in the least! For this dinner, the roasted pistachios gave it a little heft along with some buttermilk and Parmesan, which left us feeling full and very satisfied.
I loved the variety of textures in the bowl and how the flavors truly complimented one another. Peas throughout and chopped mint on top were the perfect touch of green.
There are times when I think meatless pasta dinners could benefit from some sort of bigger-presence protein, but I think this one was pretty awesome all on its own. And it made for some scrumptious leftovers. ;)
Who/What/Where: An excellent choice to serve your no-meat-please friends, relatives, or even kids who may enjoy an elevated bowl of pasta, this dinner is here to make everyone happy.
I would serve it as the main following a fun wedge salad, or if you're really trying to skip the meat, then maybe a roasted beet salad with goat cheese. Could be a fun way to begin the night before presenting this delicious, and very joyful, bowl of pasta.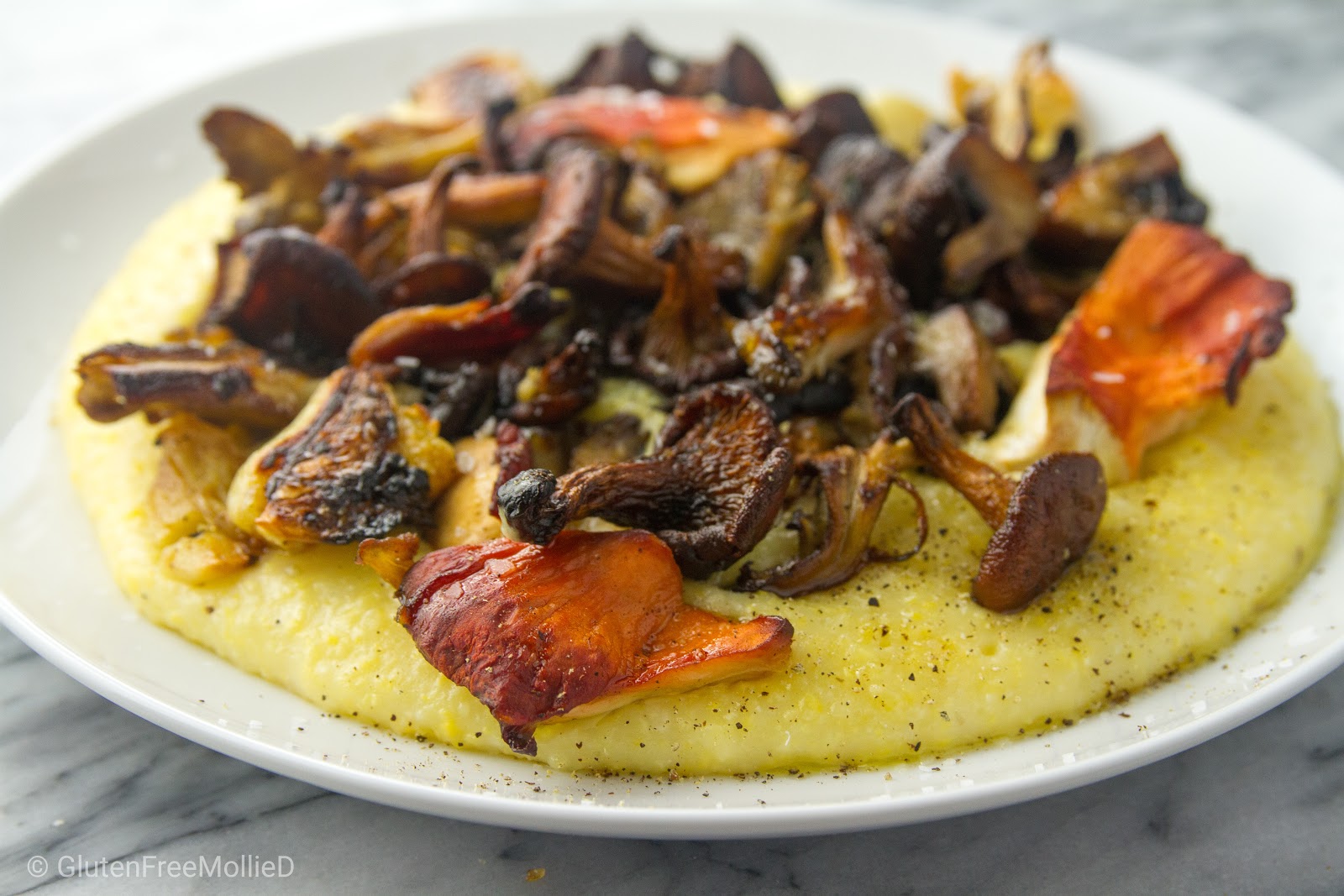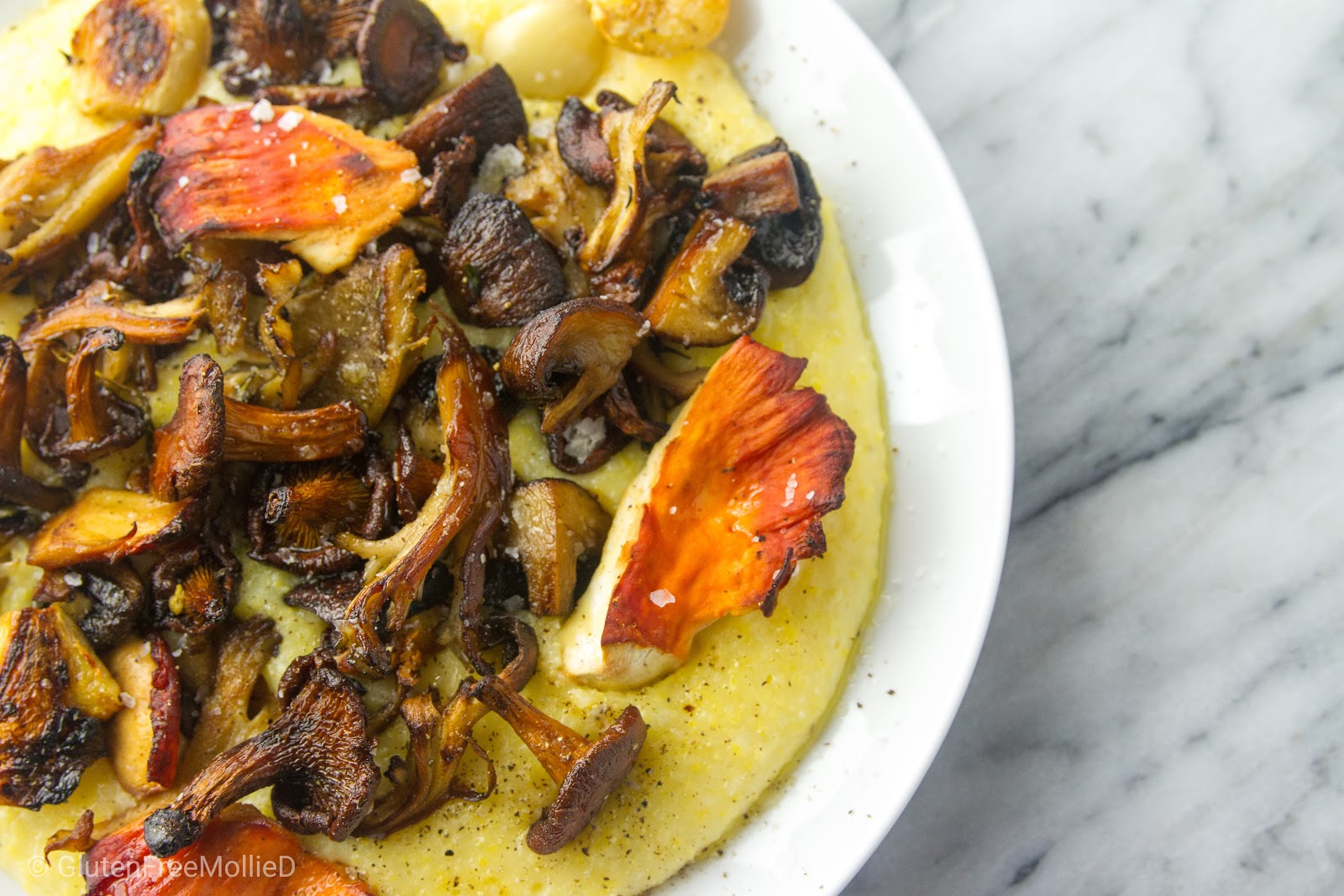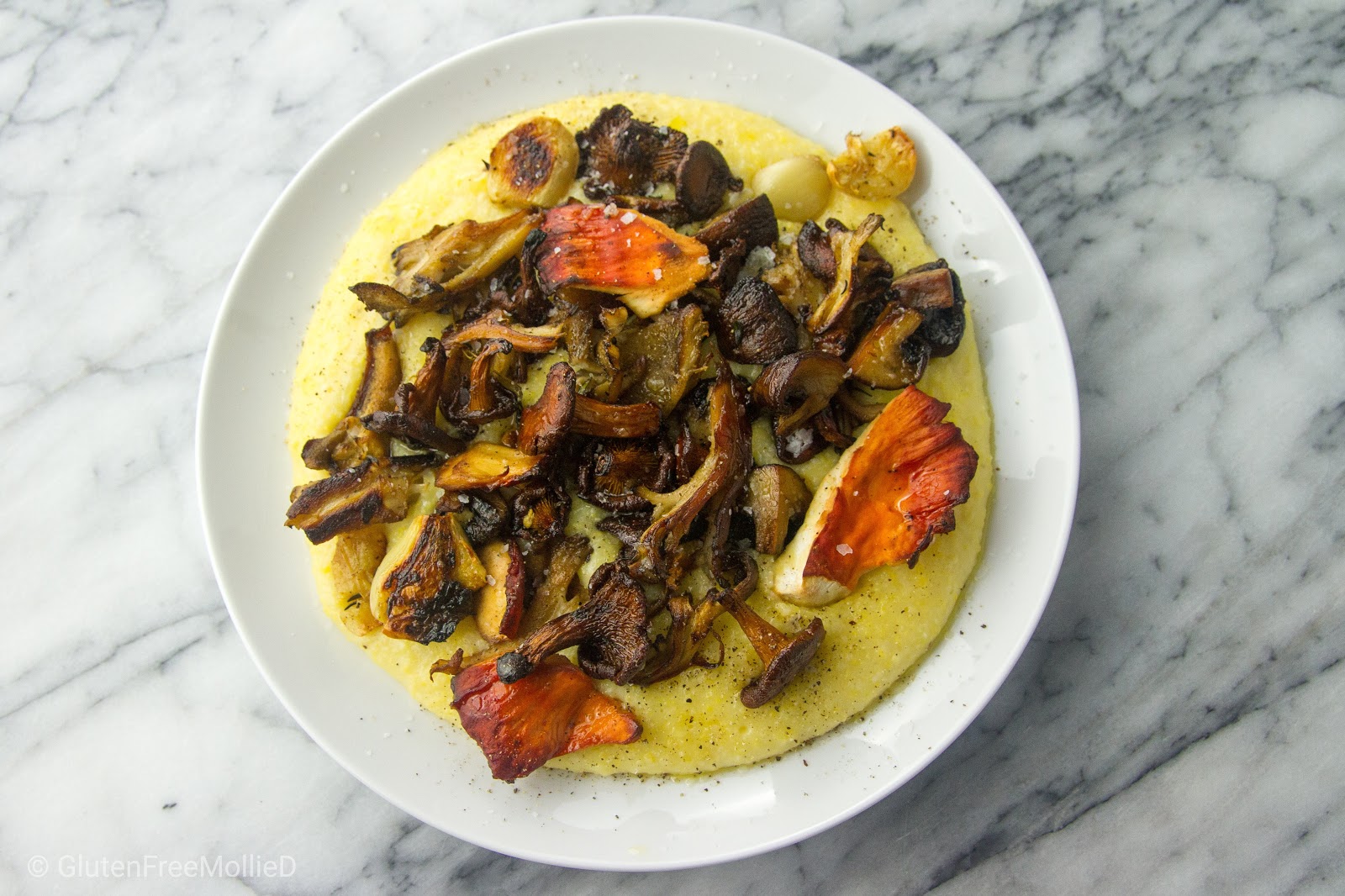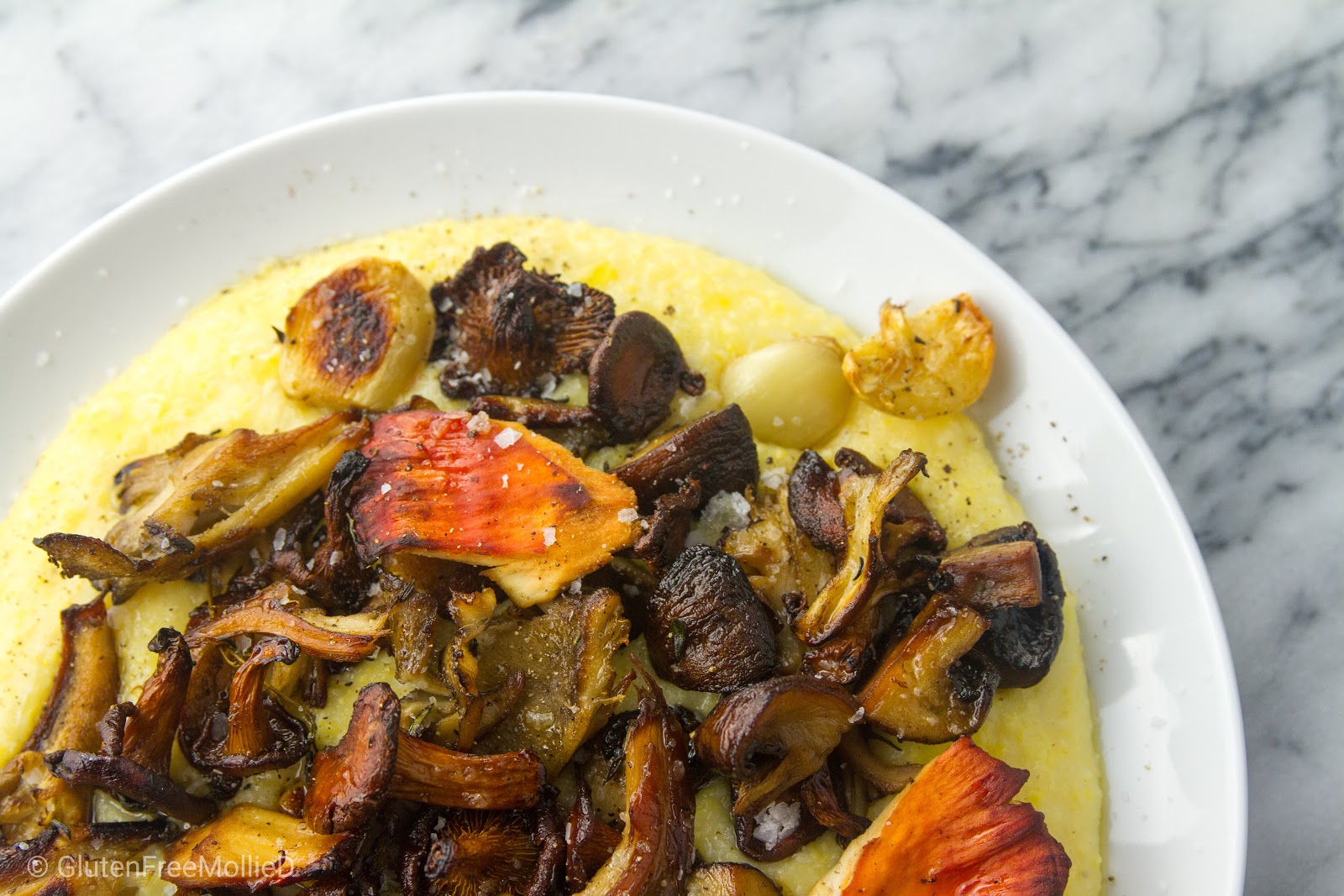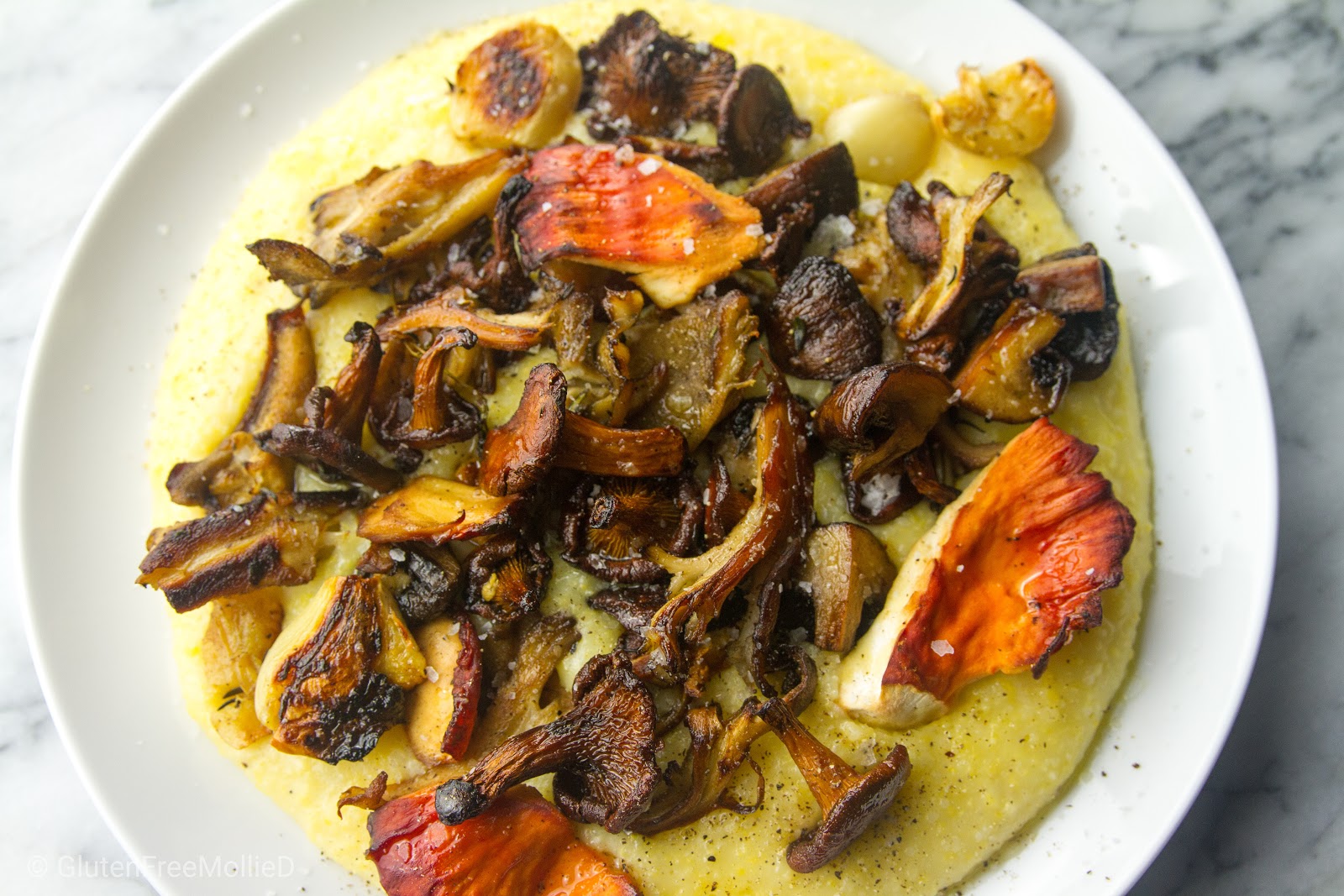 Oven Polenta and Roasted Mushrooms with Thyme
Source: Recipe by Claire Saffitz, available via Bon Appétit. Find it here!
Tip: This dinner is naturally gluten free! Yippee!
Sure enough, another meatless offering this week. What has gotten into me? I have no idea, but the idea of crisp, roasted mushrooms on top of soft, warm polenta was enough to ignore the fact that I was willingly choosing a mushroom-based meal. Much-younger-me would never have allowed this to happen. Early-thirties-me has welcomed it with open arms!
We loved this dinner for its all-natural appeal. Minimal ingredients, easy cooking, and very flavorful results. What I think we overlooked was that it wasn't going to be too filling. Yes, it could easily be your entire dinner (it was for us), but the next time we make it I'm going to slide in a burger, roast chicken, or maybe even a pork chop in between the polenta and mushrooms. ;)
Who/What/Where: Another awesome option for your forager friends, meatless relatives, or someone who just loves (loves!) their mushrooms. I would serve this as a dinner alongside any of the above-mentioned proteins, or perhaps served as an appetizer if plated on a smaller scale. Delicious on its own or with another item, you can't go wrong with any number of great options for serving this dish.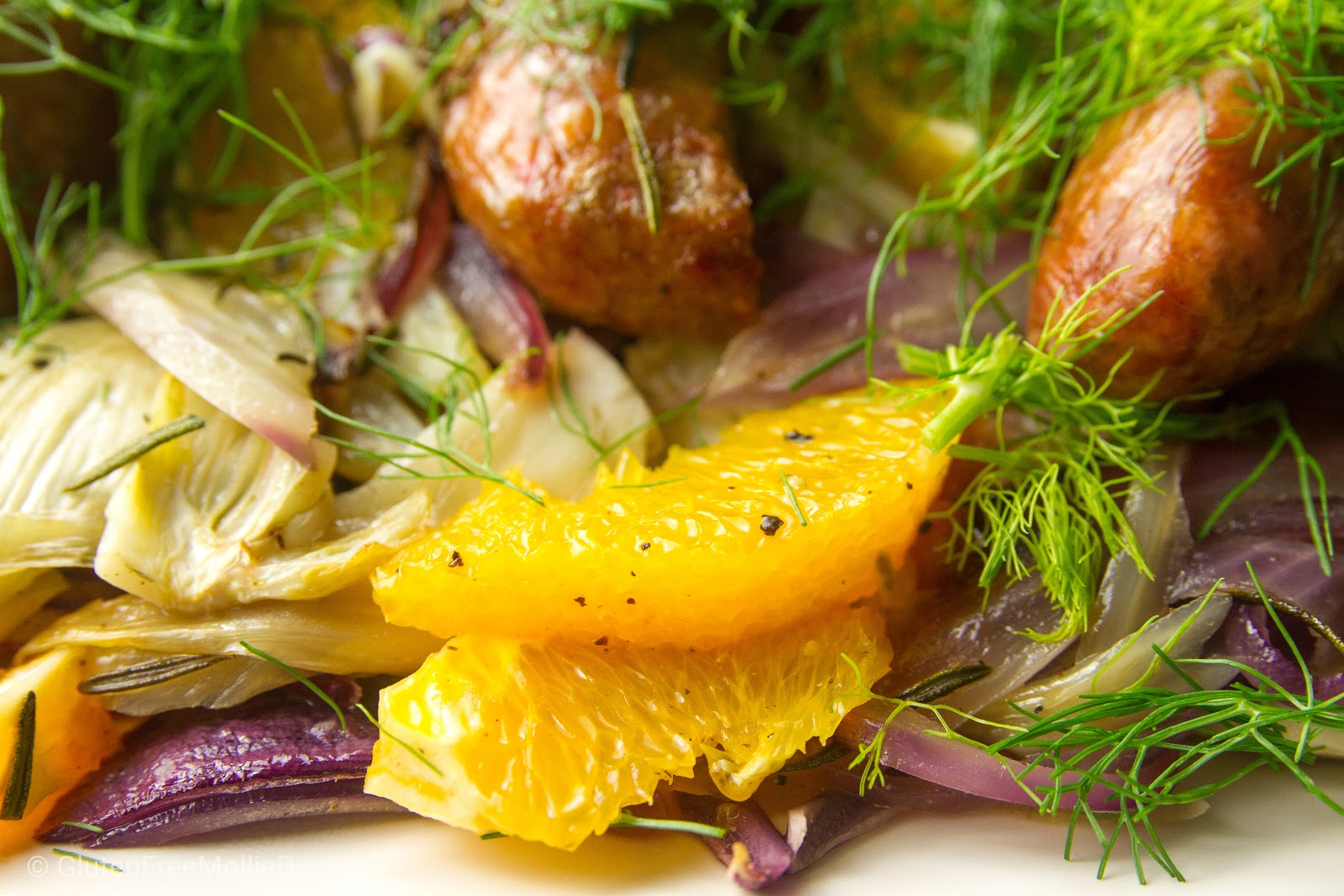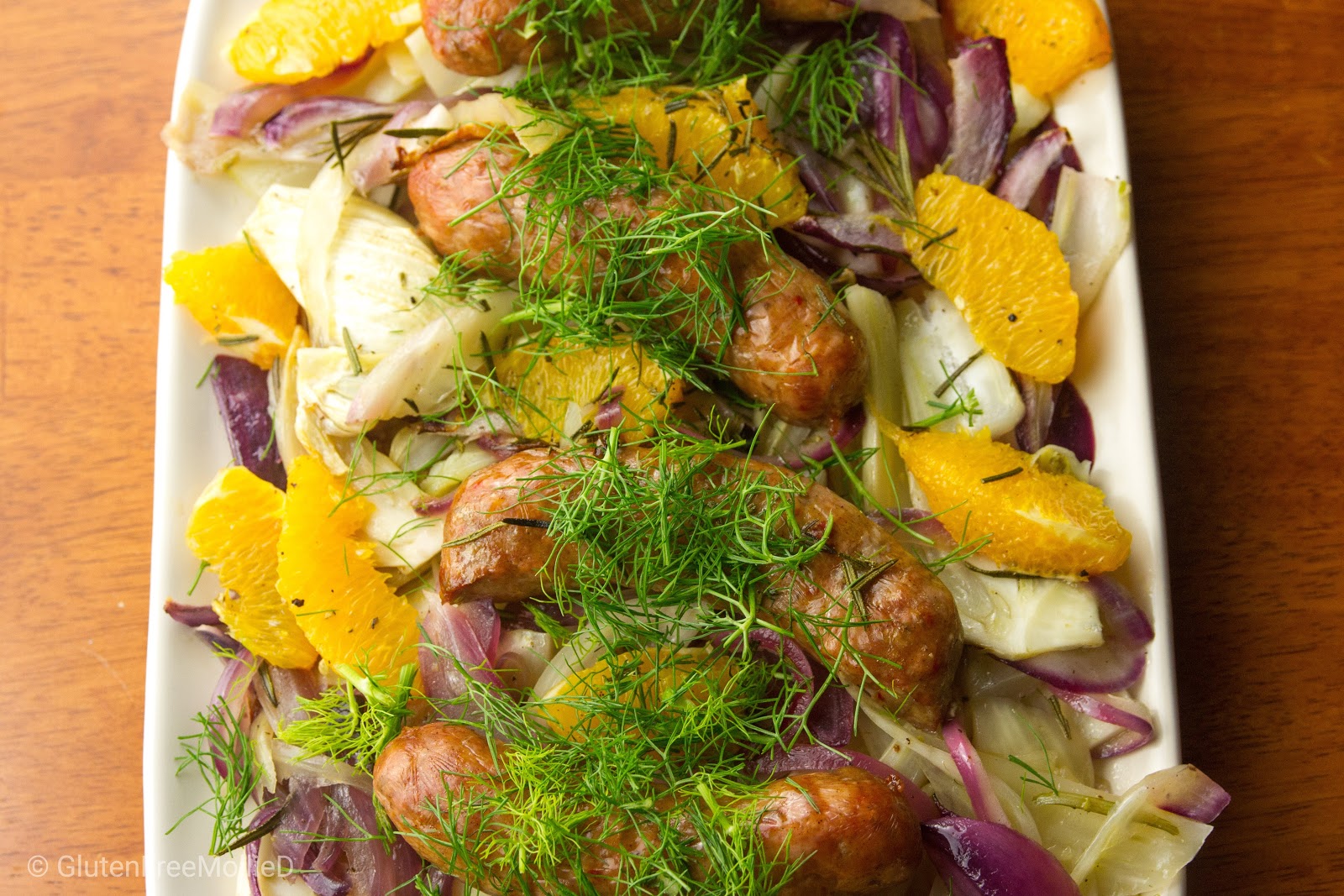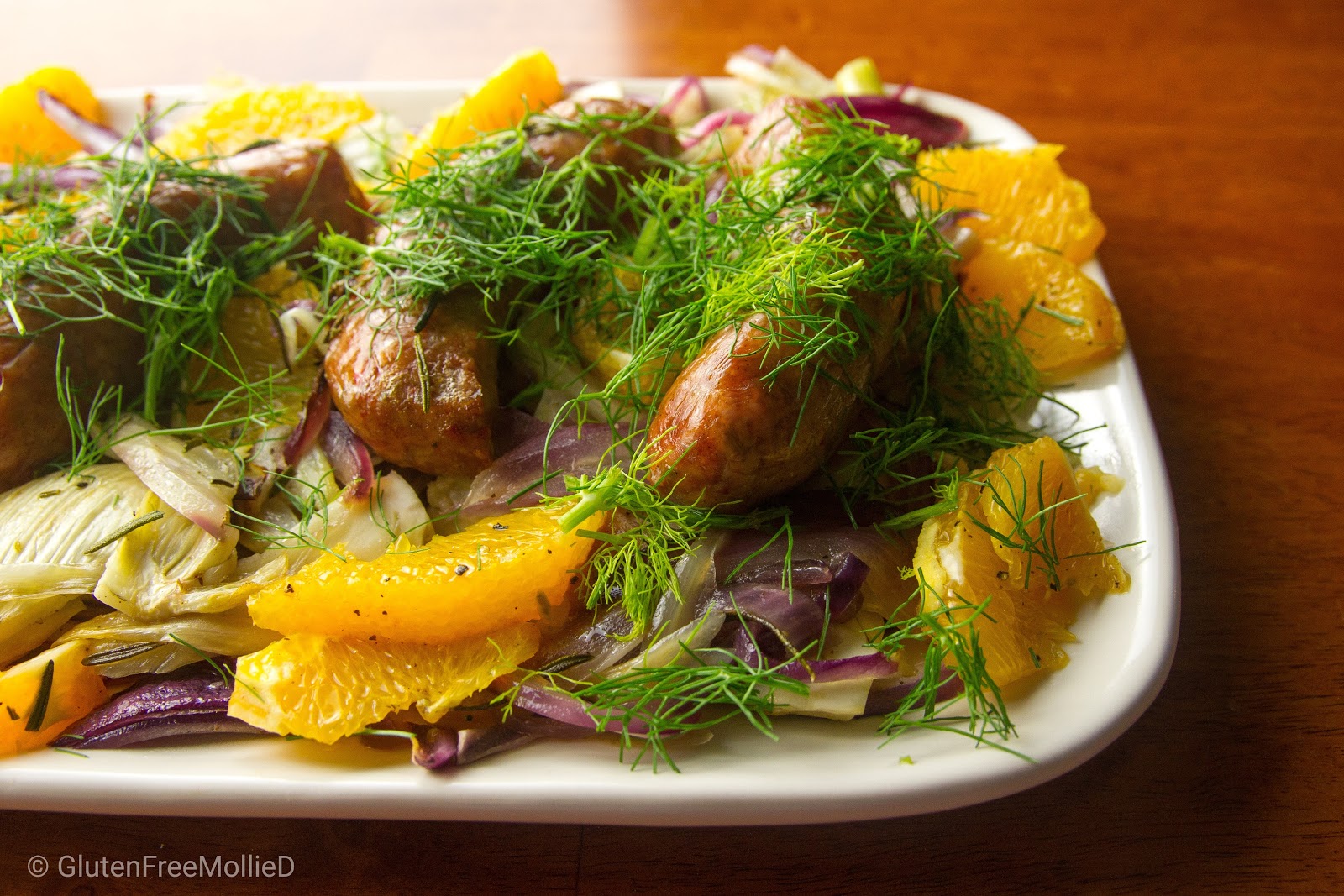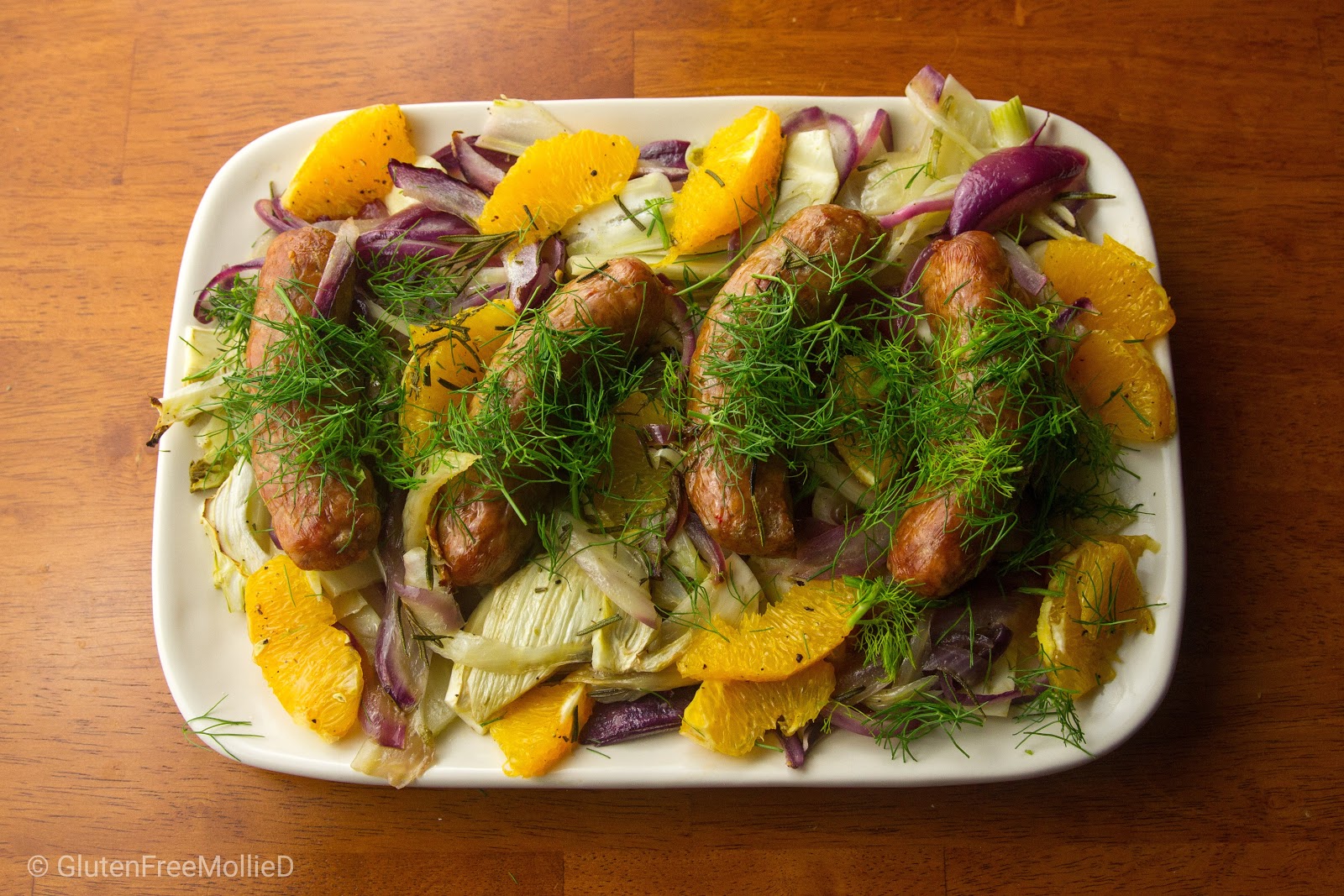 Roast Sausage and Fennel with Orange
Source : Recipe by Claire Saffitz, available via Bon Appétit. Find it here!
Tip: This dinner is naturally gluten free! Make sure to buy sausages that are gluten free (most should be). We used Spicy Italian from Pig Rock Sausages for this recipe.
Welcome back sheet pan dinners! A staple of wintertime dining, but honestly, anytime dining, this meal (for us) started back up the glorious sheet pan dinners of which there are so, so many to enjoy throughout the months of cold days and colder nights. A beautiful blend of citrus and savory, the flavors of this meal really said, "hello, fall!"
If you're not a fennel fan, then that's OK, but I strongly recommend you try it and may as well start to love it by way of this dinner. Fennel and purple onion shared the pan with hot Italian sausages, which, once everything was roasted and smelling grand, got topped with a seriously great dressing. Sprinkle everything with fennel fronds (yes, that's a word) and a few orange slices and you're off and running.
A sheet pan dinner that's low-carb and high on flavor? Well, that's this one and you need to make it right now.
Who/What/Where: Dinners like these are just begging to be served at a dinner party where you'd much rather chat with your friends and have a glass of wine than worry about what's happening in the kitchen.
For those gatherings when you're aiming to please everyone, but also encouraging everyone to leave room for dessert, then I'd say this dinner will hit the spot.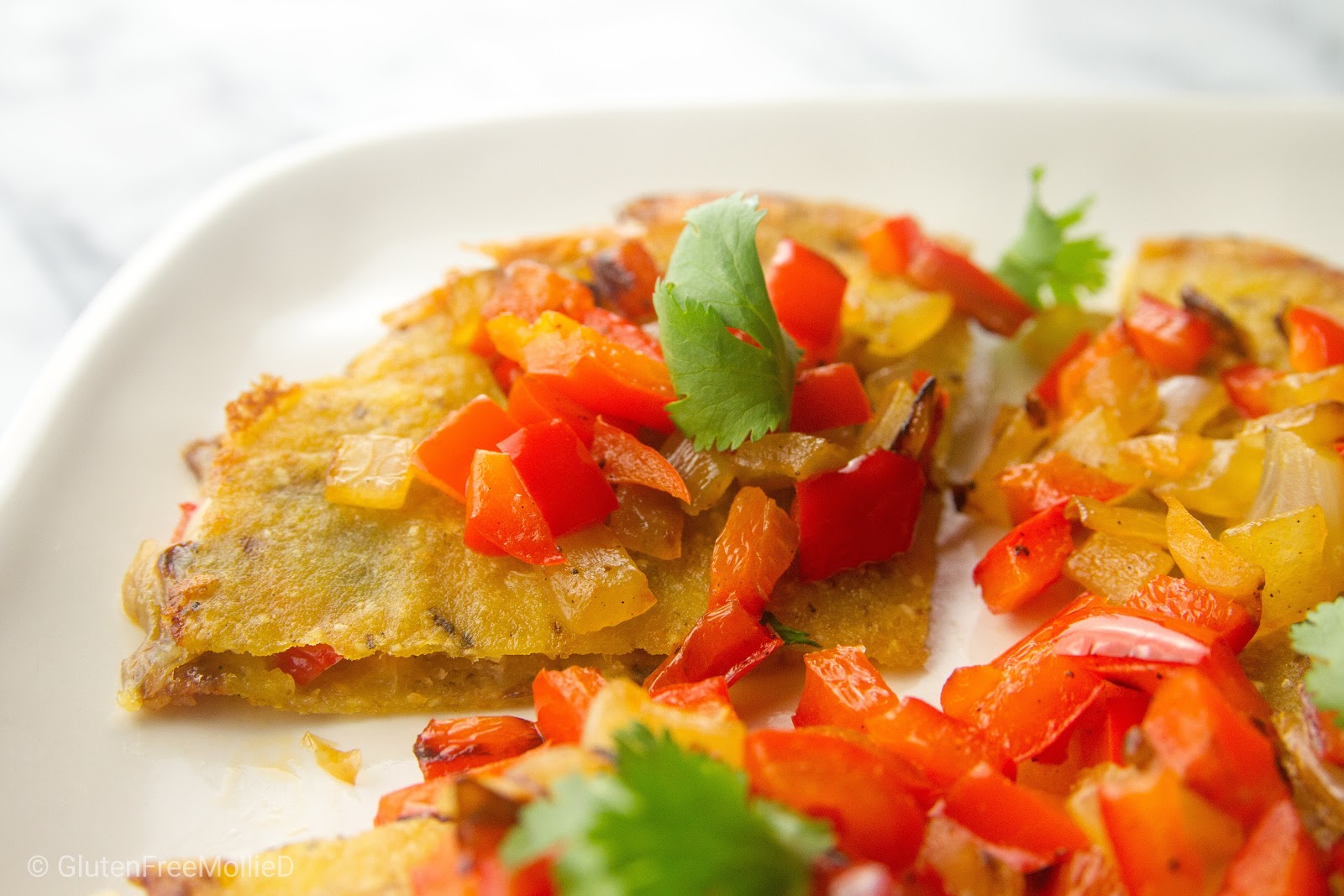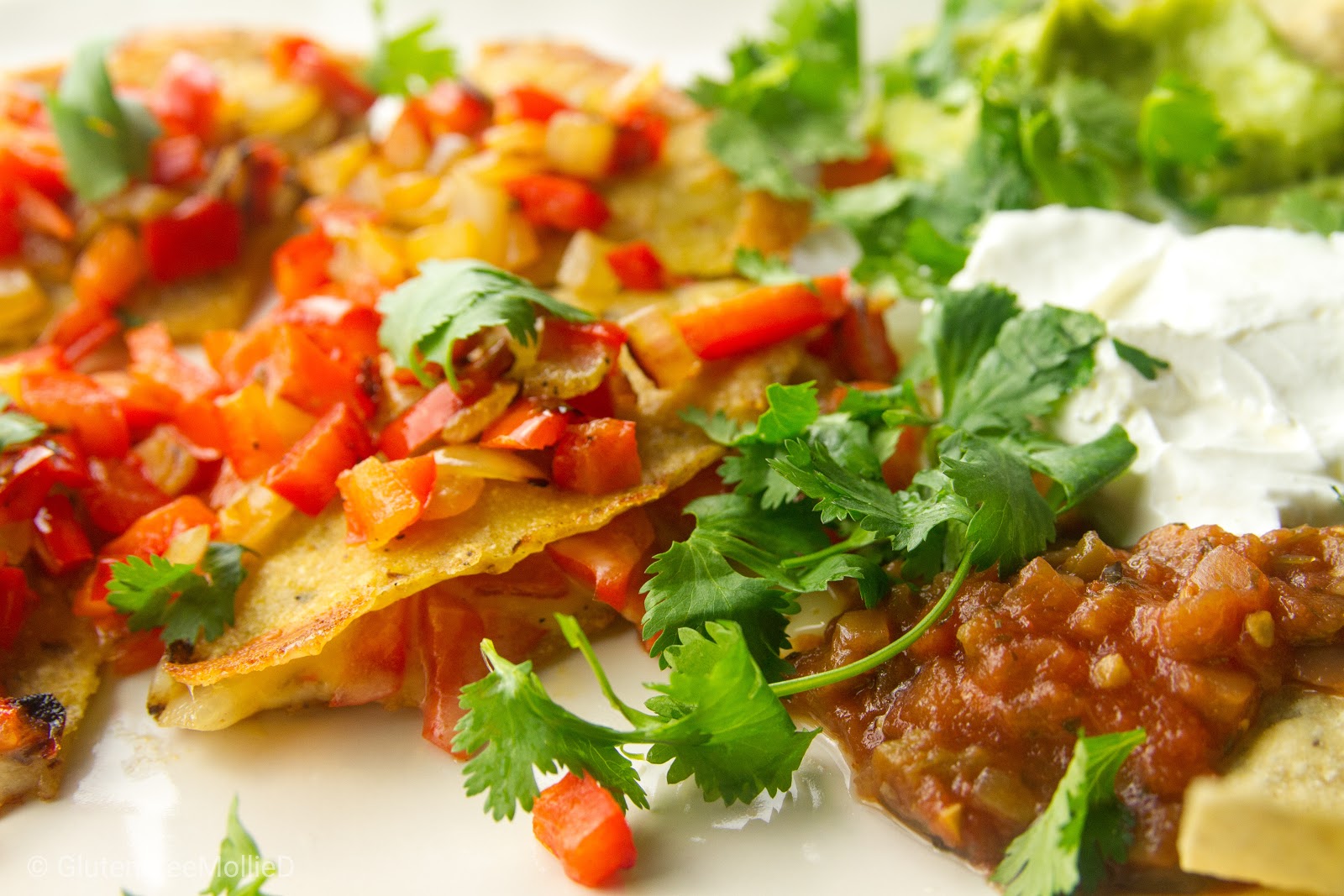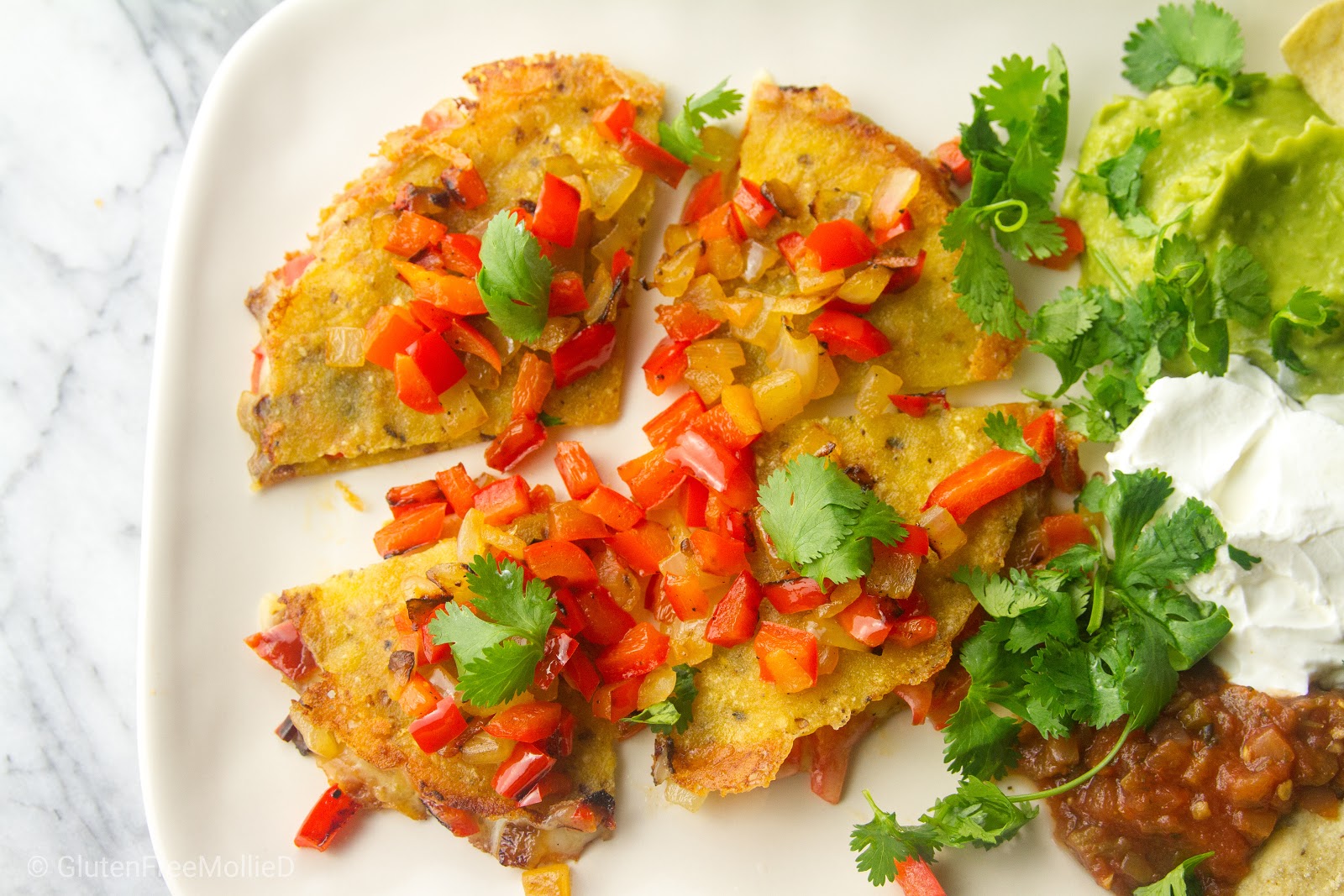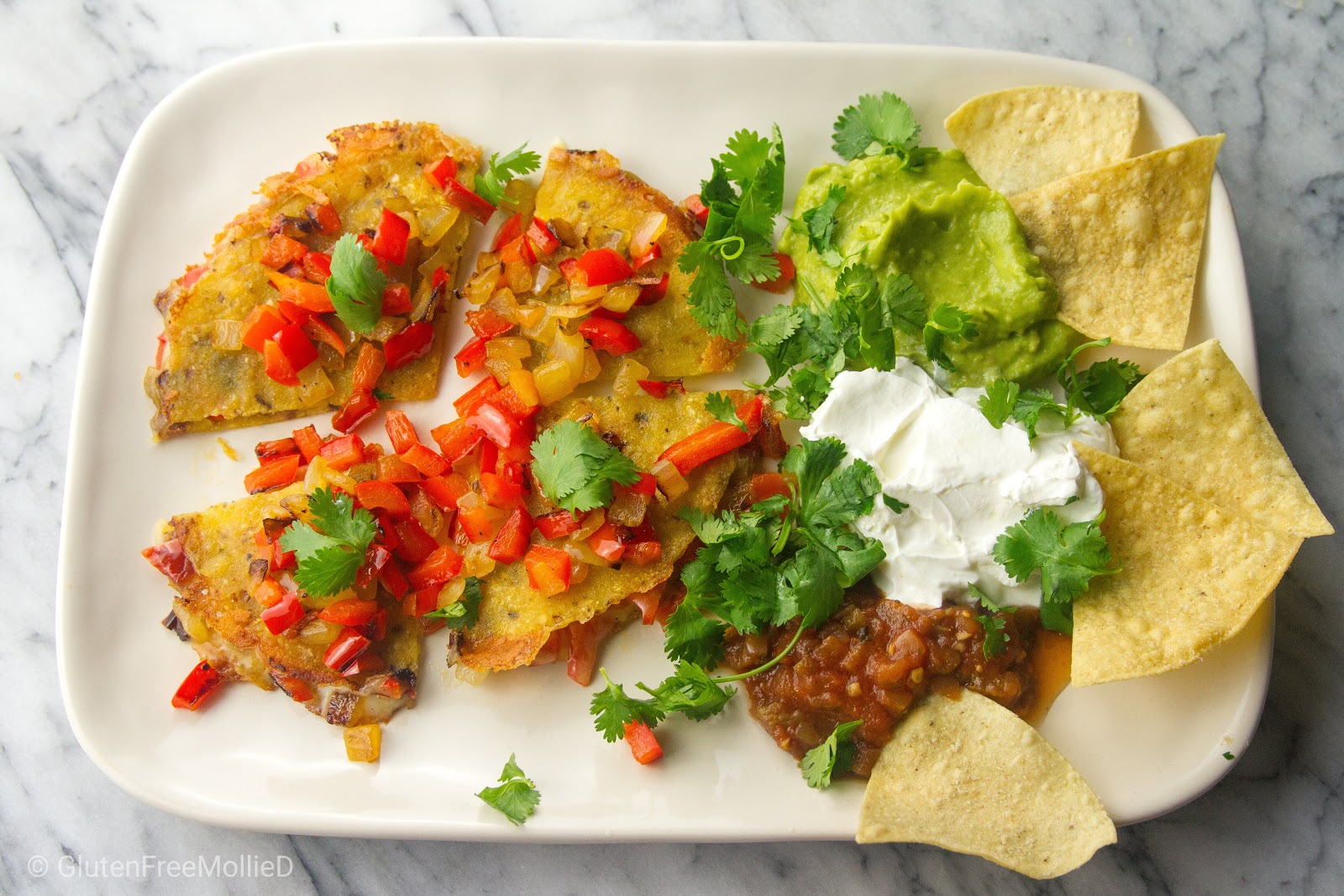 Bean + Cheese Quesadillas with Sour Cream and Guacamole
Source : A Gluten Free Mollie D original recipe.
Tip: Make sure to purchase (or buy) tortillas that are labeled gluten free. We prefer corn tortillas that are made locally and only include corn, lime, and water. All ingredients in this dish were naturally gluten free.
Football-night favorite! For those nights when you want to make something delicious, but also quick and easy as you're about to settle in for some football, then quesadillas are here to save the day. Besides, how can you go wrong when the majority of the ingredients are probably already in your pantry?
We decided to keep these as just bean and cheese for simplicity's sake, but they would be equally delicious with shredded chicken or beef inside too. In fact, if we were going to use larger tortillas I may have insisted on it!
For the record, we chose little tortillas because that's what was available when we went shopping. Next time quesadillas land on our dinner plan, I'll be better prepared.
The best part of quesadillas? The toppings! In addition to sauteed peppers and onions, we opted for an all-in mindset and had sour cream, guacamole, and salsa. Why pick just one when all three make for a more fun plate and a more exciting meal. Yum!
Sure, we often feature nachos for game days, but switching it up is a great idea because quesadillas are basically the cheesier, more-portable cousin to nachos. ;)
Who/What/Where: Everyone loves quesadillas! Perfect for a group of any size, these are quick to make and even faster to eat. The downside is that you can really only make one at a time (depending on pan size) so plan accordingly and have some chips and salsa available to guests while you cook. A margarita wouldn't hurt, either. ;)
The Weekend
Where did we go? What did we do? How was the food?
A long weekend was calling our name! We took a jaunt to Vermont and stayed with close friends, their adorable kids, and awesome dog.
We took long walks in nature, relaxed on the couch, and got to catch up with people we care about, no screens required. Yup, we unplugged! Yes, I took a lot of photos, but we really tried to stay offline and be in the moment. And eat cookies! Yes, I baked for them, too. :)
In terms of food, we ate at their house most of the weekend aside from a lunch out on Saturday and breakfast Sunday morning. If you're curious, here are links to those spots:
Cafe Provence (open for lunch and dinner - plenty of GF options!)
Mae's Place (open for breakfast and lunch - lots to choose from!)
We hope you had a wonderful weekend and got to spend time outside and unplugged. The need to be "on" all the time can become overwhelming quite quickly, so taking a moment (or a few) to re-charge is absolutely necessary, and encouraged, in these fast-paced, social-media-filled days.
Eat, well.
Mollie and Seth