WDR: Fall Tones
What is it about colder weather, and beautifully crisp air, that makes me hungrier than ever before? This is a serious question. Because as soon as it gets colder the jackets come out, my scarf collection reappears, and I immediately fill our meal plans each week with much heartier food! I mean, we had pasta twice last week! Who are we?!
I guess you could say we are loving life! Sometimes you need a week that has the heartiest chili, the most delicious roasted cauliflower, and a pasta night filled with all of your favorites in it just because you want it. And that's exactly what seemed to happen! I don't question it for a second, but I do think you may want to check out some of these recipes. Last week was filled with yum.
Let's get to it!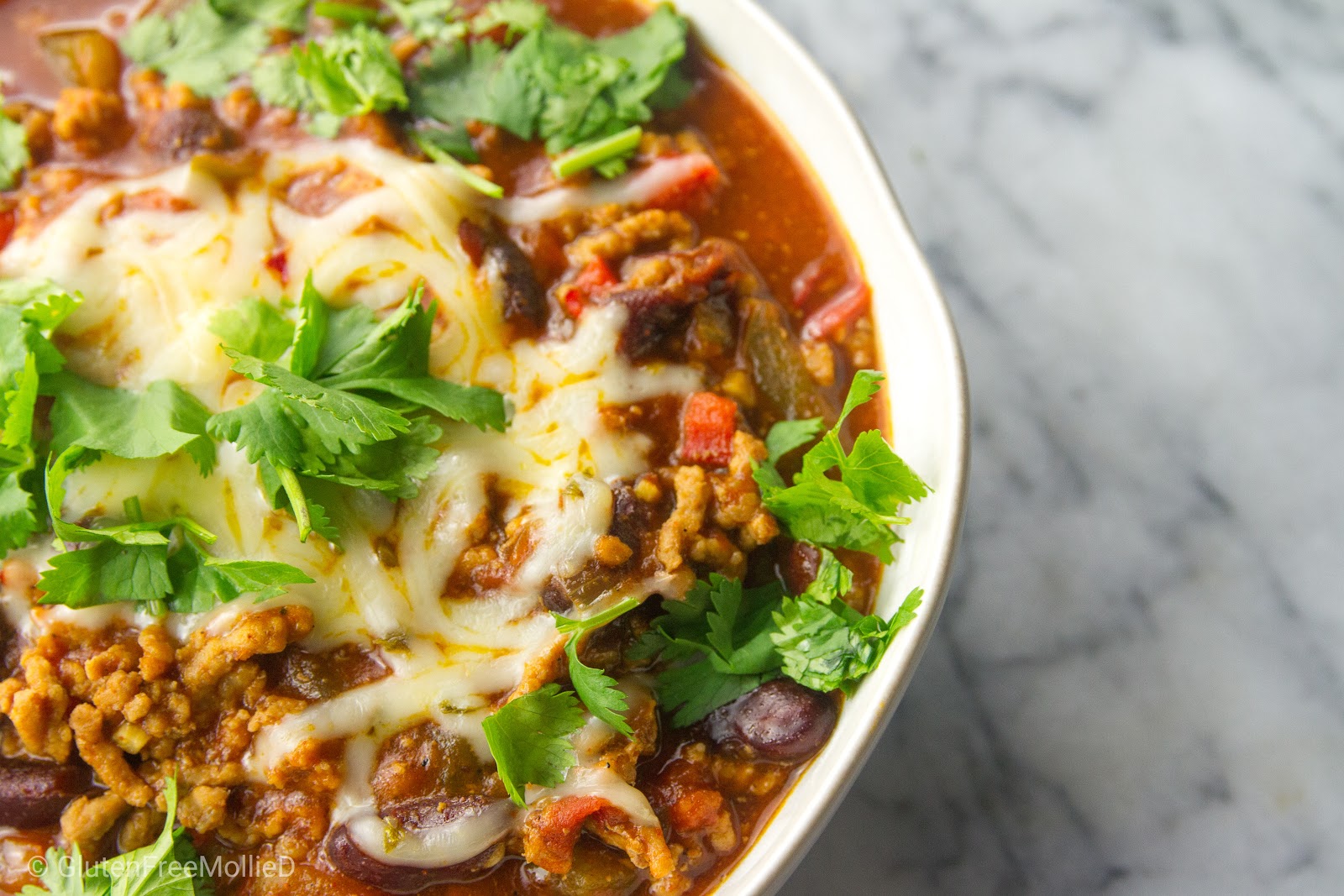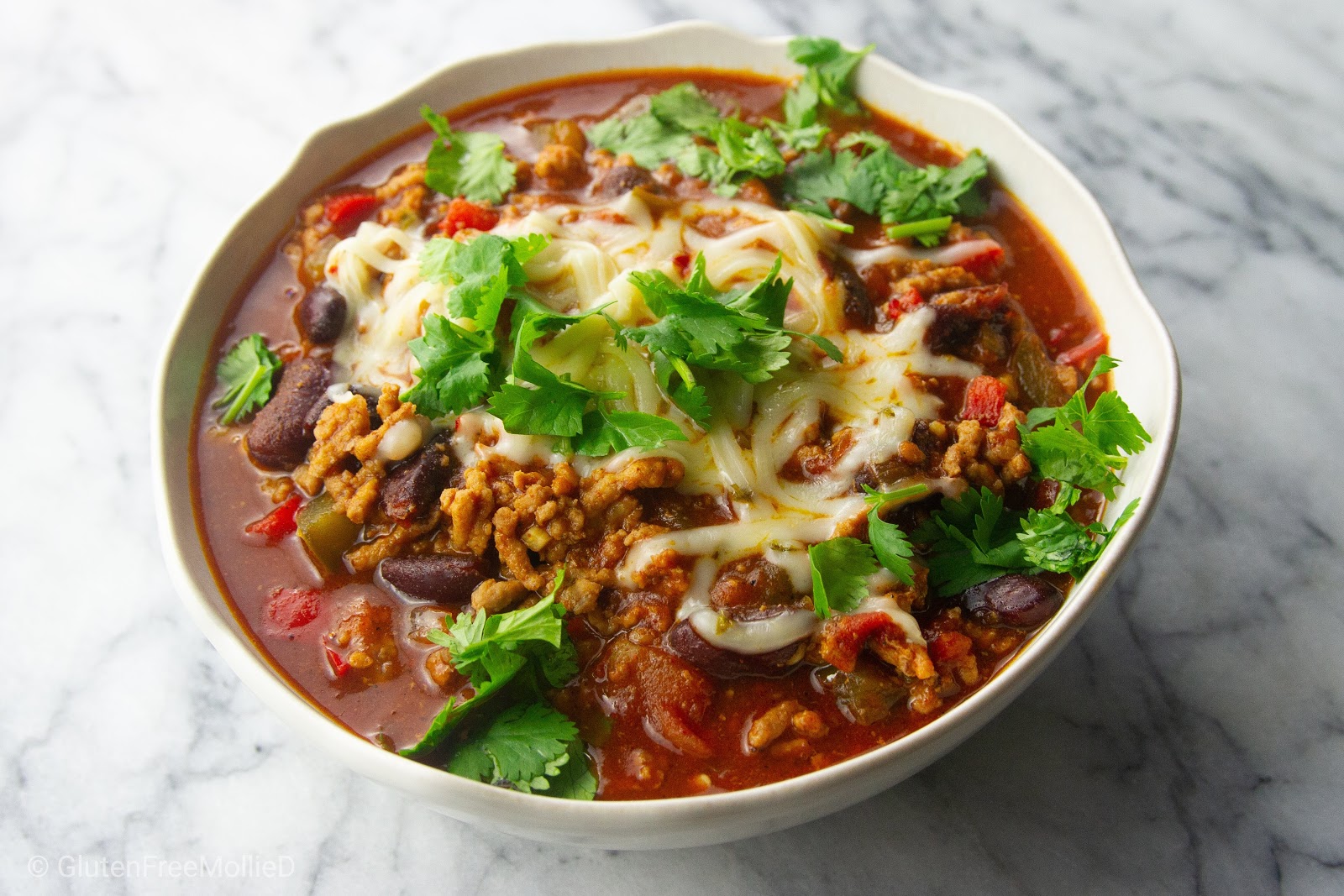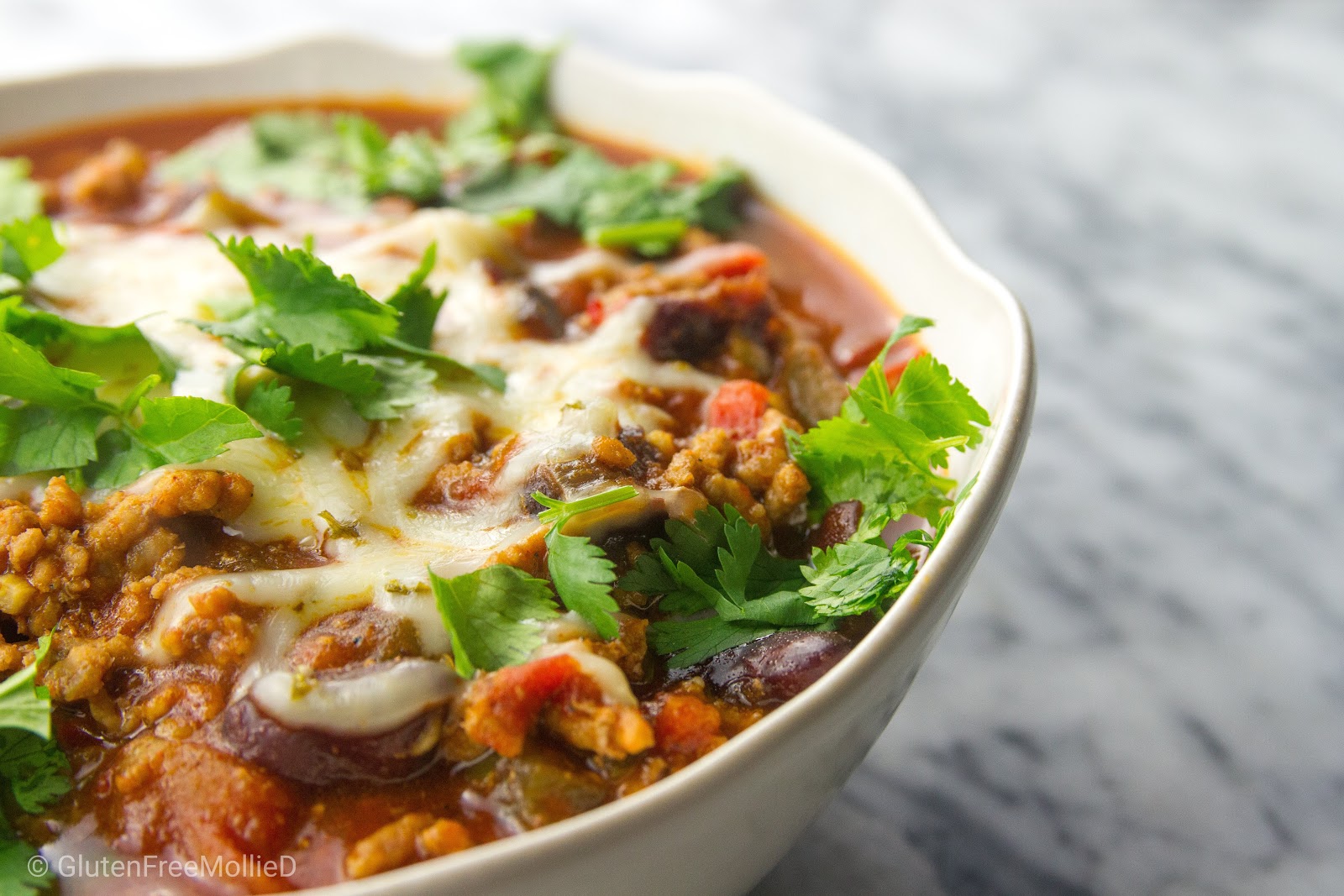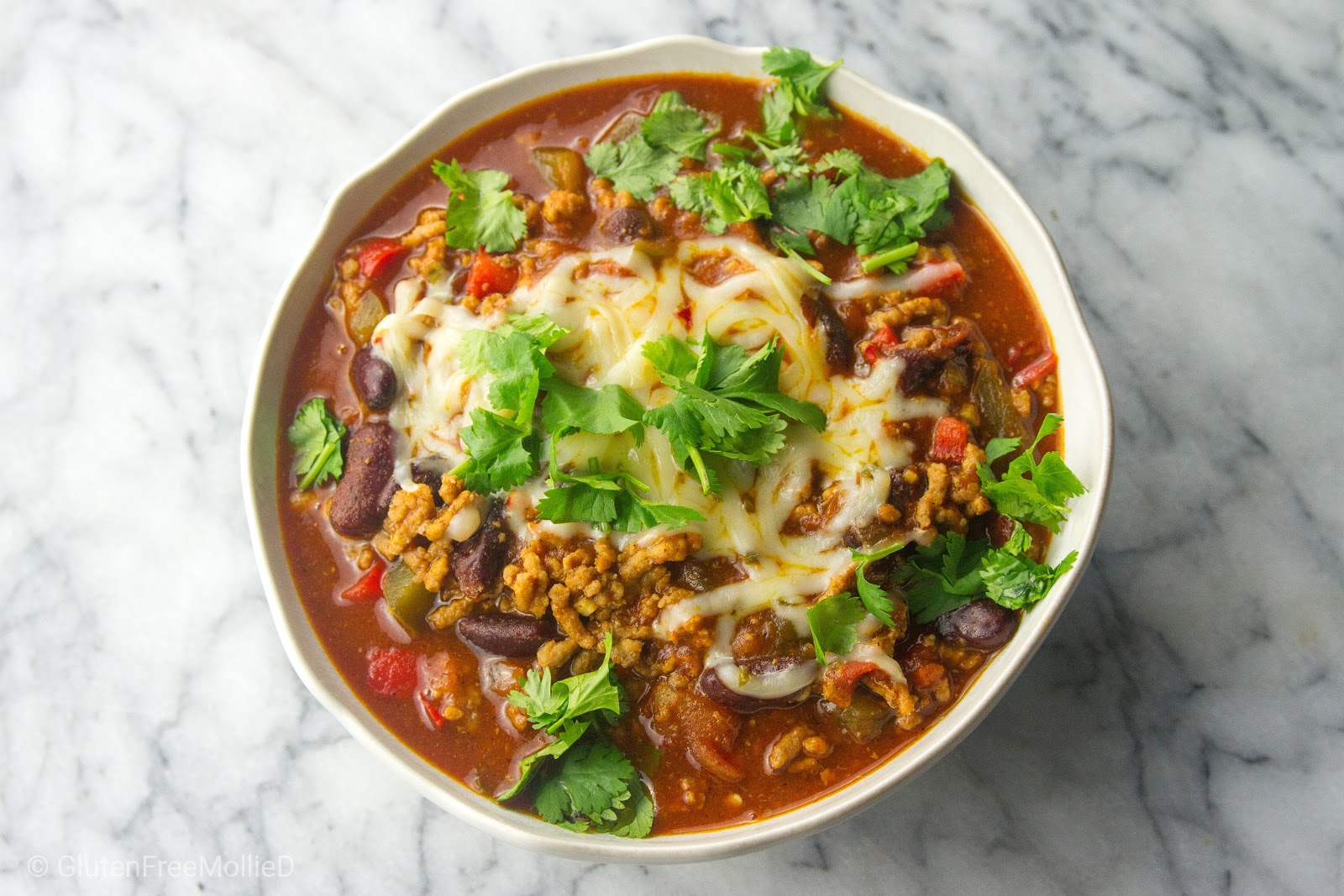 Spicy Three-Meat Chili
Source: Recipe is from Favorite Recipes from Melissa Clark's Kitchen by Melissa Clark
Tip: A naturally gluten free recipe! We decided on some shredded cheddar on top, but otherwise it would have been dairy-free, too!
While some of the chili we have made in the past has been purely beef-based, this one used the triumvirate of equal parts beef, veal, and pork which basically translated to the most heavenly chili ever. OK, I haven't had all of the chilis ever made, but this one is pretty darn high on the list. And I'm sure it's because of that meat blend.
The overall effect of chili is to make you feel warm and welcome. Since we ate this at our own table, of course we felt welcome, but by eating it on one of the first pretty cold nights we've had recently, it warmed us from the inside out which was wonderful.
Incredibly delicious and fairly straightforward to prepare, I'm certain that this dish will be on repeat throughout the many cold months ahead. And the leftovers lasted all week. ;)
Who/What/Where: We made this just for the two of us, but I would deem this perfect football party fare. Easily serving a crowd of six to ten, you could offer this to all of your friends while watching the game. Alternatively, you could make it for a small group, or a family of four (or more) and have scrumptious leftovers for several days.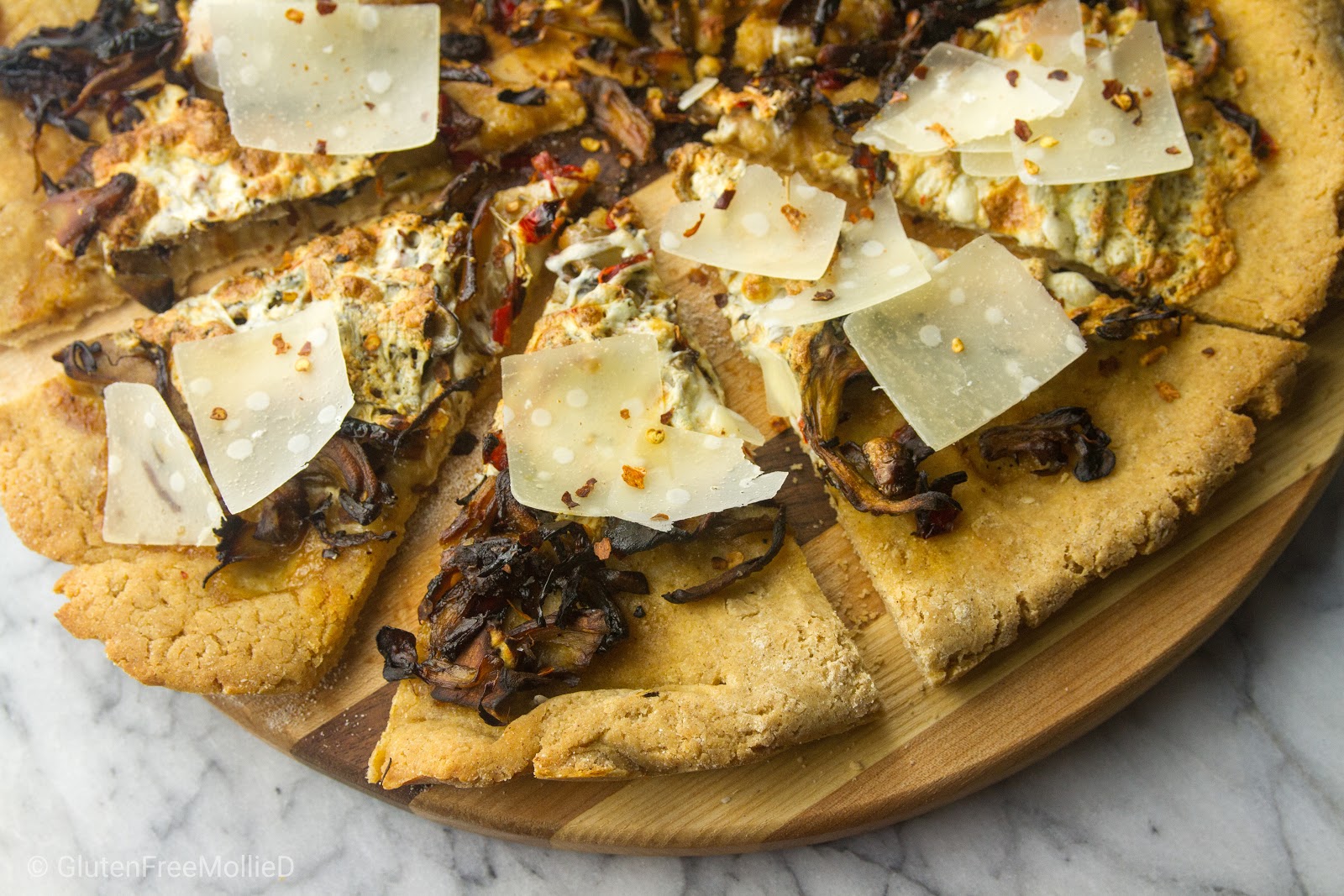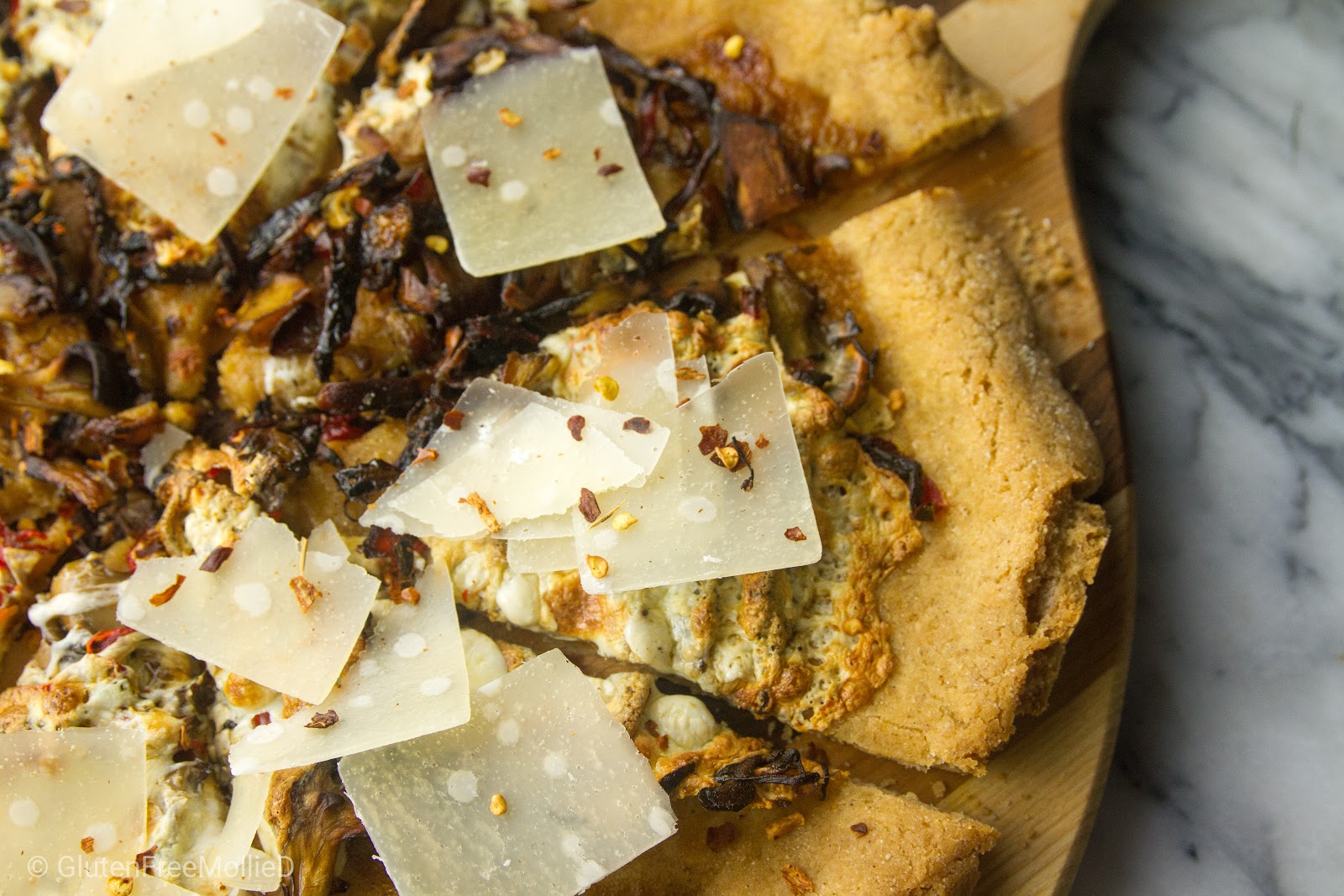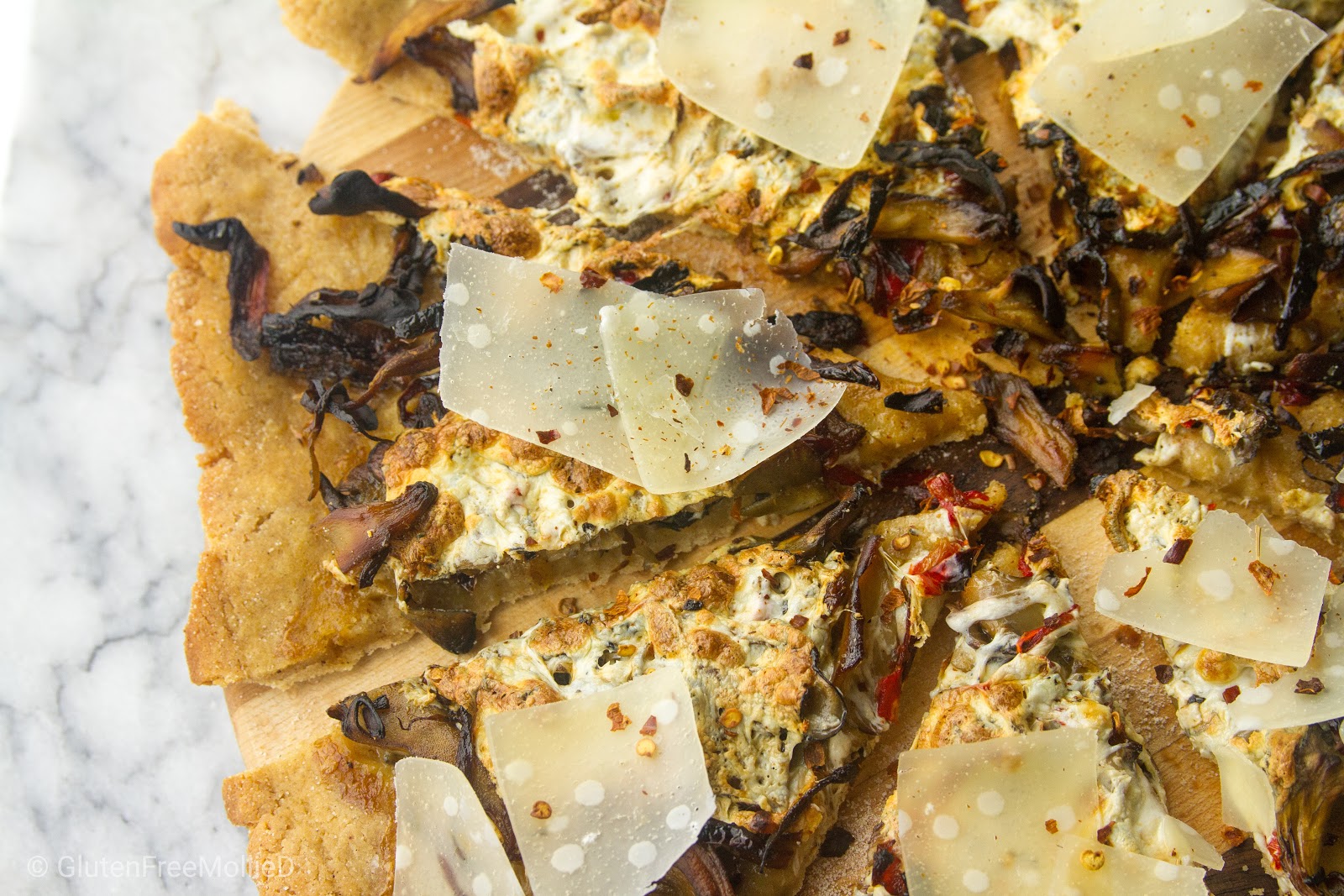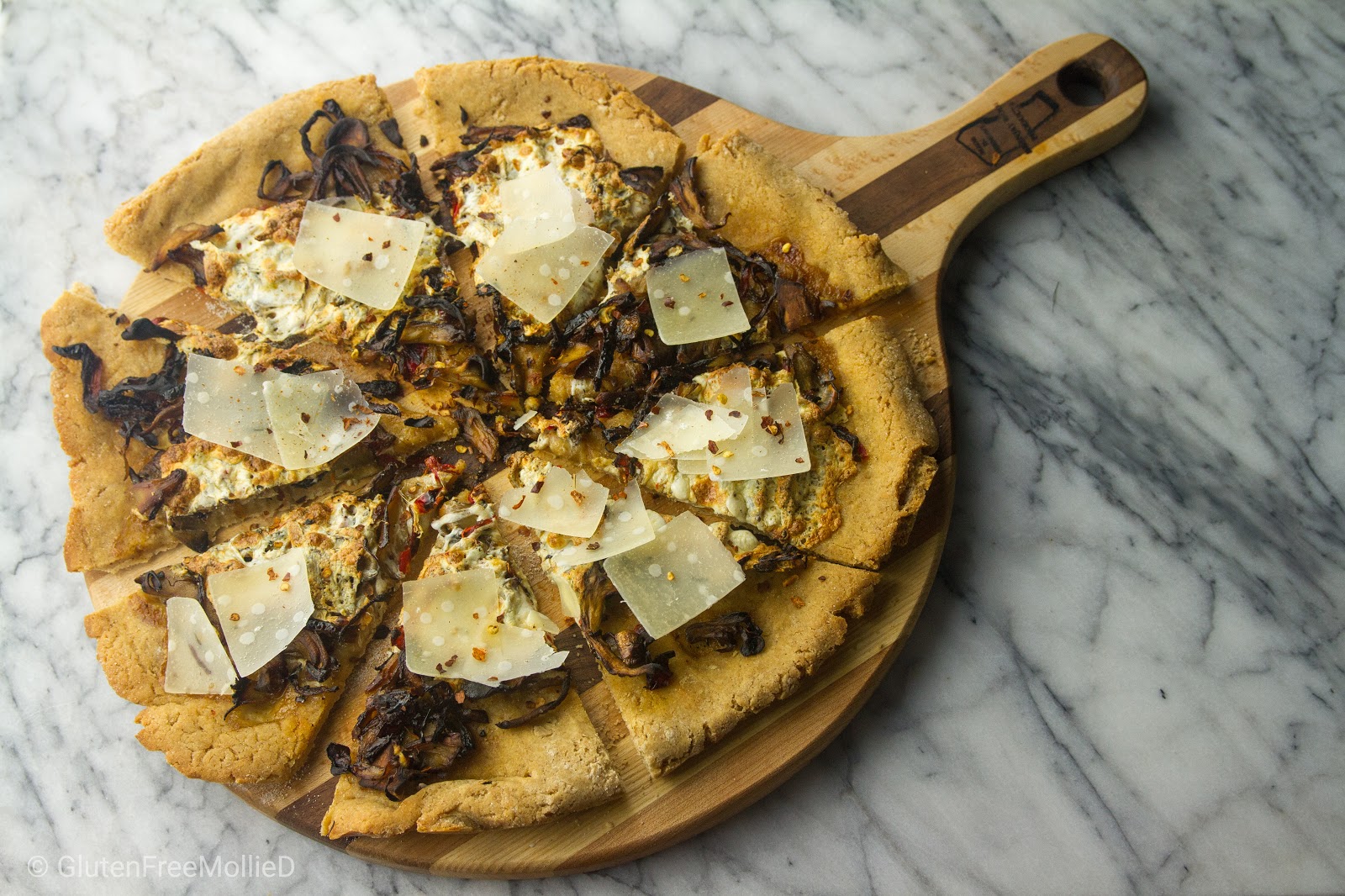 Homemade Mushroom and Mozzarella Pizza
Source: A GFMD original recipe. We wanted pizza, we love mushrooms and mozzarella, and our idea came to life!
Tip: We made from-scratch pizza dough using Jovial Foods' Gluten Free Bread Flour. Follow the instructions as written!
We have tried a few brands of flour at this point in search of delicious pizza crust that we can make at home. Yes, there are pre-made crusts out there and they do the job; however, we try for everything to be made from scratch when cooking at home.
The toppings for this pizza were delicious as was the concept we were attempting. Unfortunately, I must admit I wasn't blown away by the crust. The edges were crispy, but the center wasn't quite what I had hoped, which left us fairly frustrated with the entire meal.
I'd say I was somewhat bothered by the flavor of the crust, a little too dough-y, but you may feel differently. It just wasn't quite what I expected! Will we make our own pizza dough again? Most certainly! Would we use this same method? I'm not sure; I'll get back to you!
Who/What/Where: Pizza is a winner whenever it's on a menu. A people-pleaser from every angle, pizza is a good no-hassle option on a busy night, or a great choice to feed a bigger group. I'd say if we were to have a pizza party, I'd make 3-4 different pies available to my guests. A variety of toppings to please everyone! :)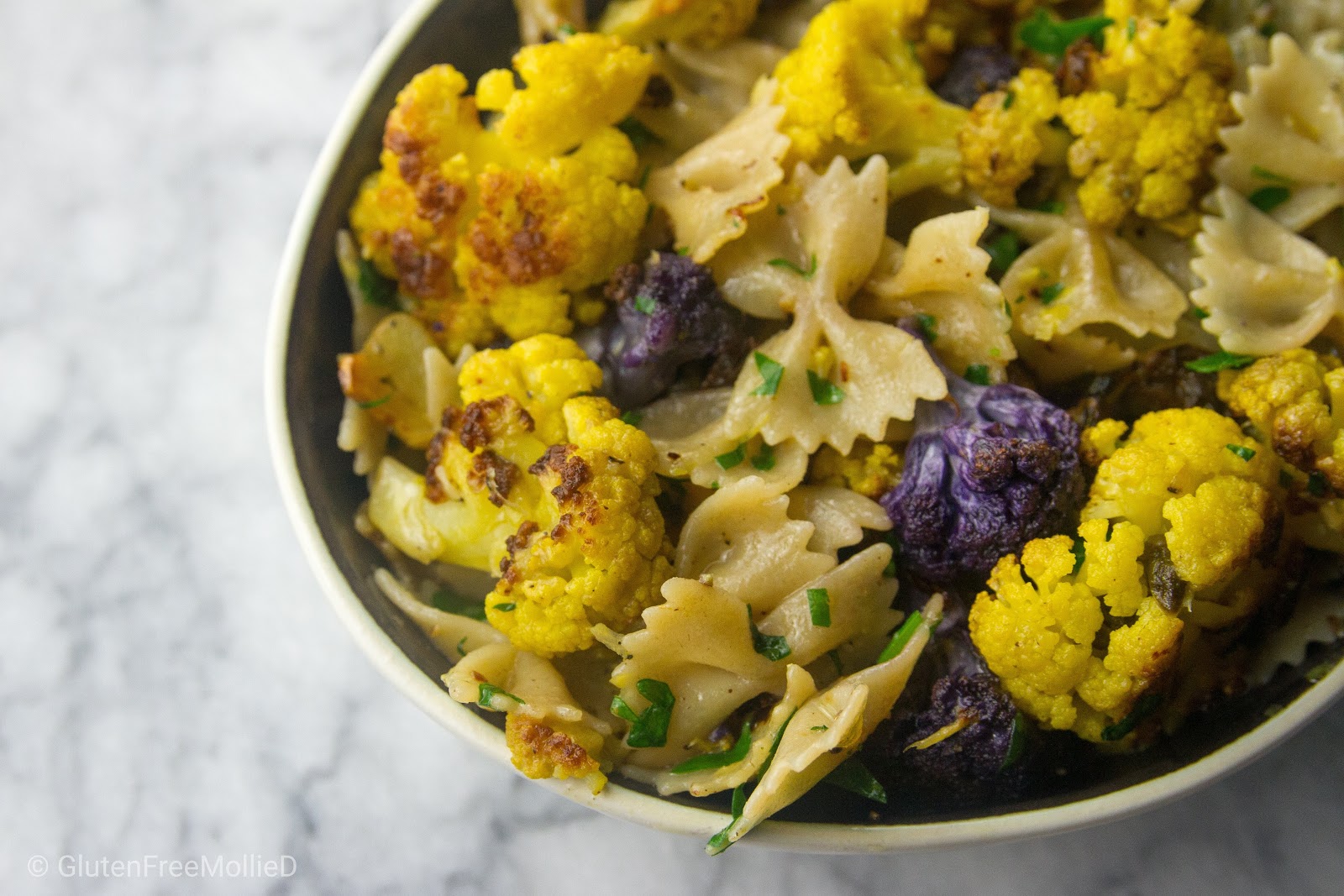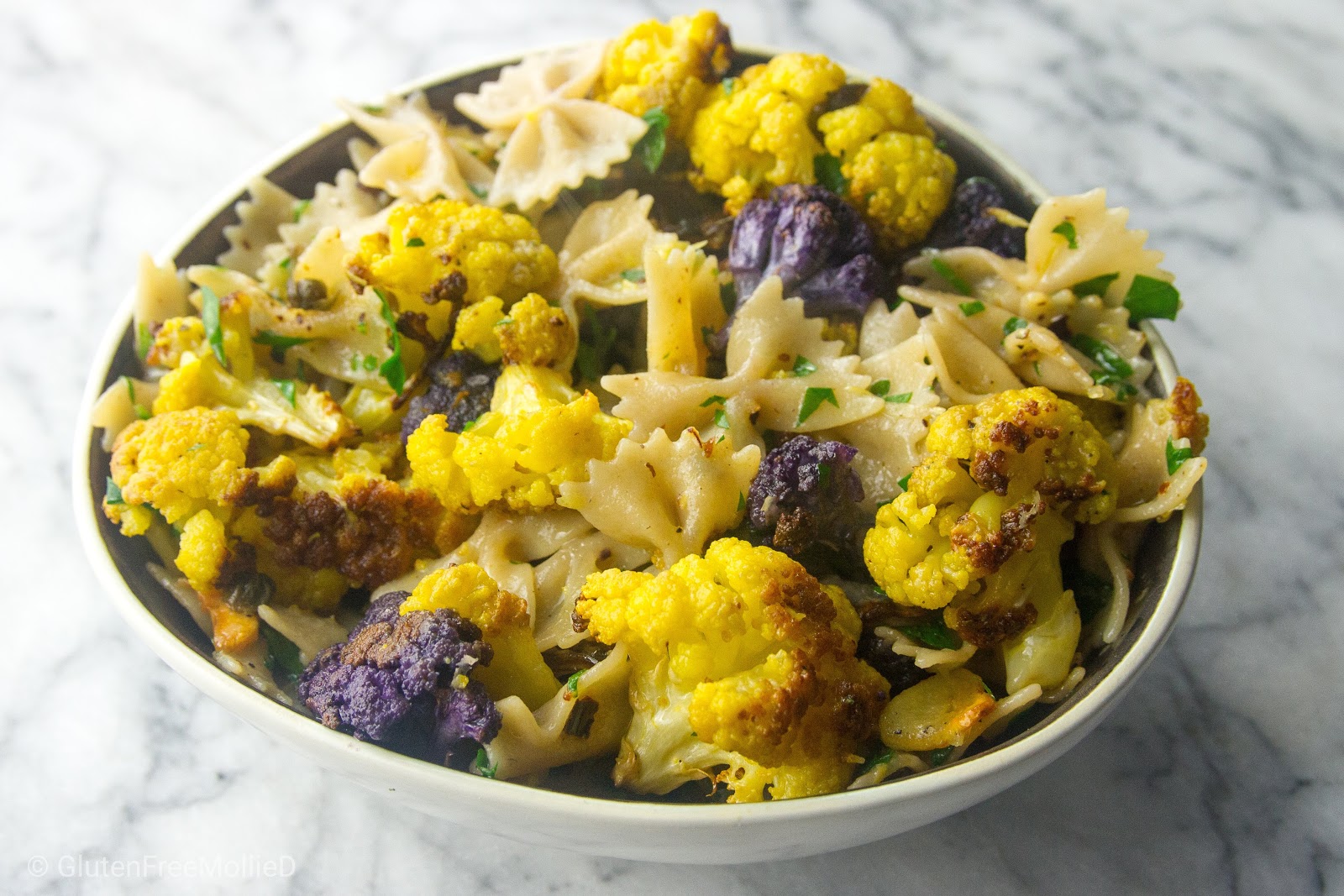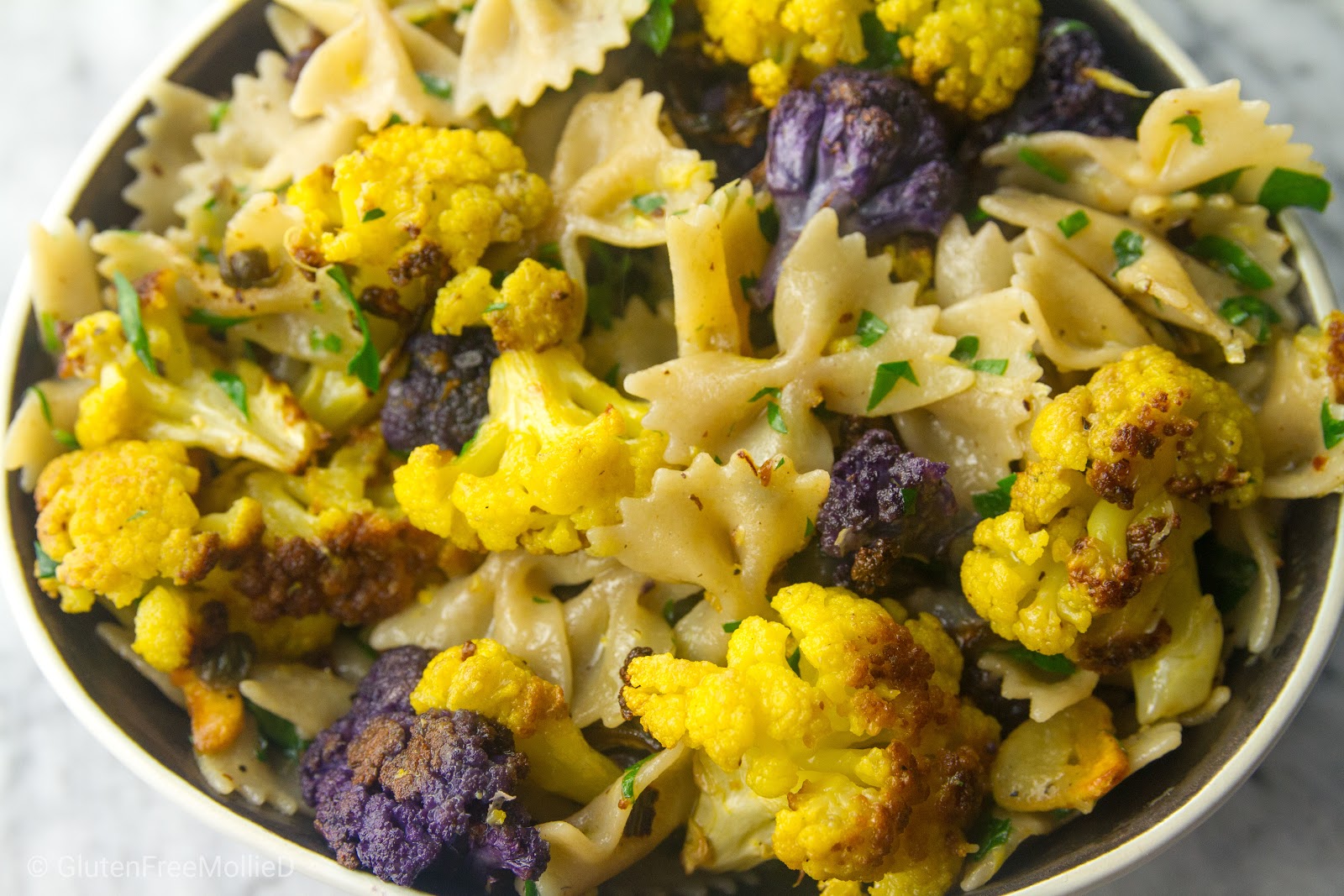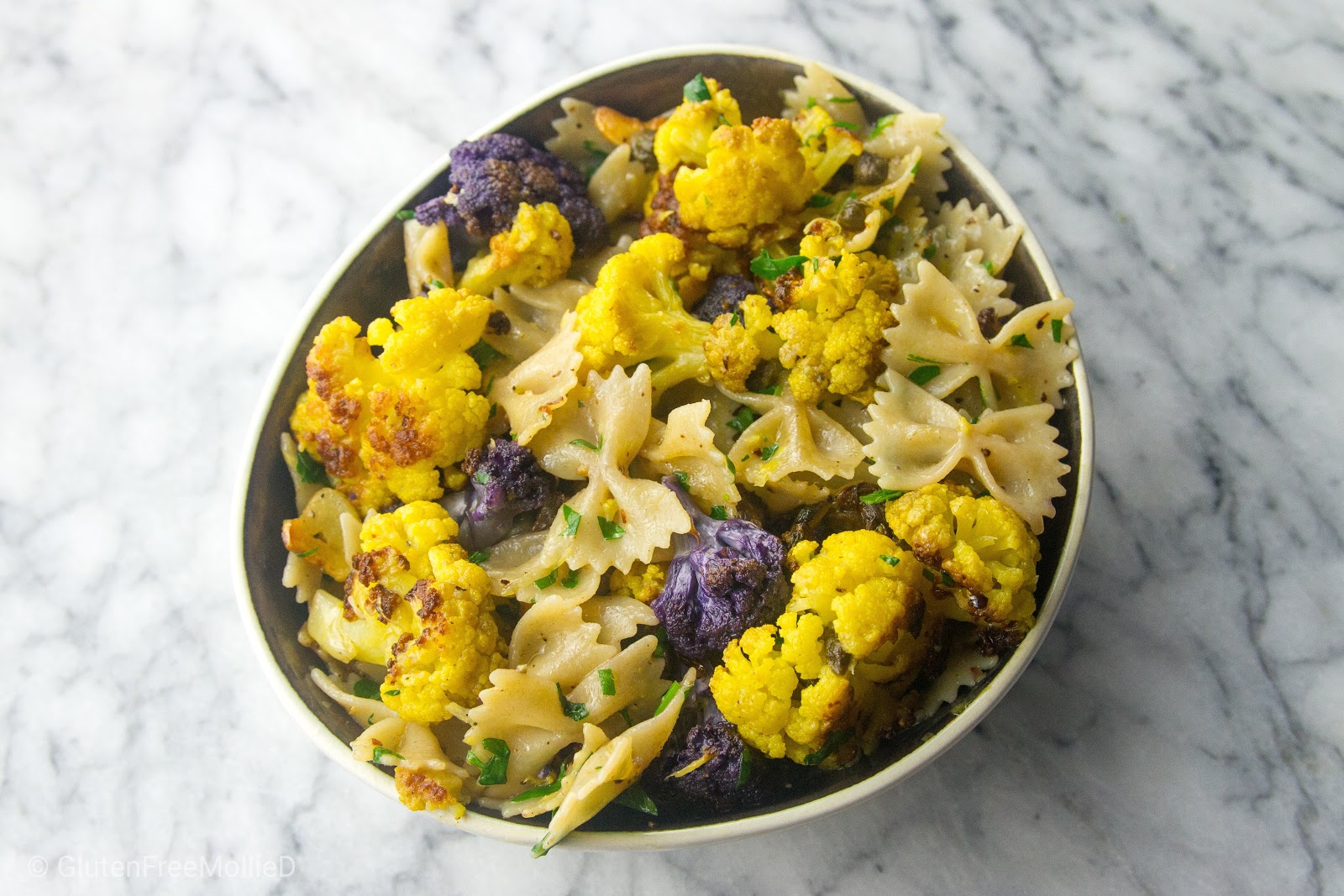 Farfalle with Roast Cauliflower and Crispy Capers
Source: Back Pocket Pasta by Colu Henry
Tip: Make sure to use gluten free pasta! The recipe calls for non-GF rotini, which look amazing, but clearly are not safe. We used GF farfalle by Jovial Foods, which are equally eye-catching, and they worked like a charm.
We are big fans of eating with the season and now that it's fall, cauliflower is in full force. A versatile vegetable to say the least, I find it the most marvelous once roasted simply with olive oil, salt, and pepper. The flavor is impeccable and you'll find yourself scrambling to the stove to get the extra bits still on the baking sheet after dinner. ;)
The glorious aspect of this dinner was that it took basic ingredients (pasta, cauliflower, capers) and transformed them into a dinner that was delicious and flawless. I barely noticed the fact that it was a meatless meal because the flavors present were so bold and balanced. So, in short, make this dish now. I'll come over and have a bowl with you, too. ;)
Who/What/Where: Perfect for a busy weeknight or great for a small dinner party. I think this meal would be fun to serve to friends as part of a multi-course meal or as the main after an easy-breezy salad, but before the chocolate dessert. :)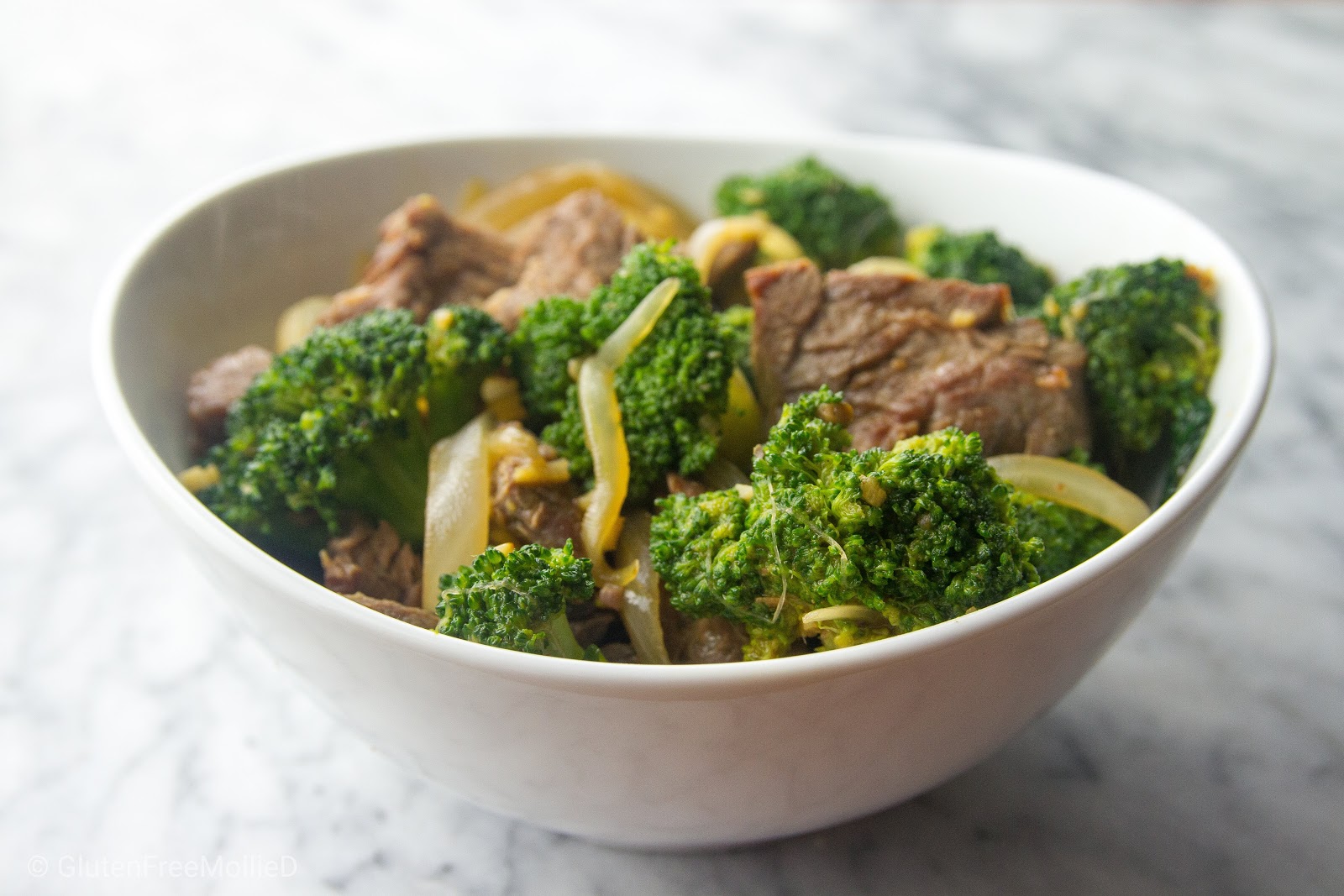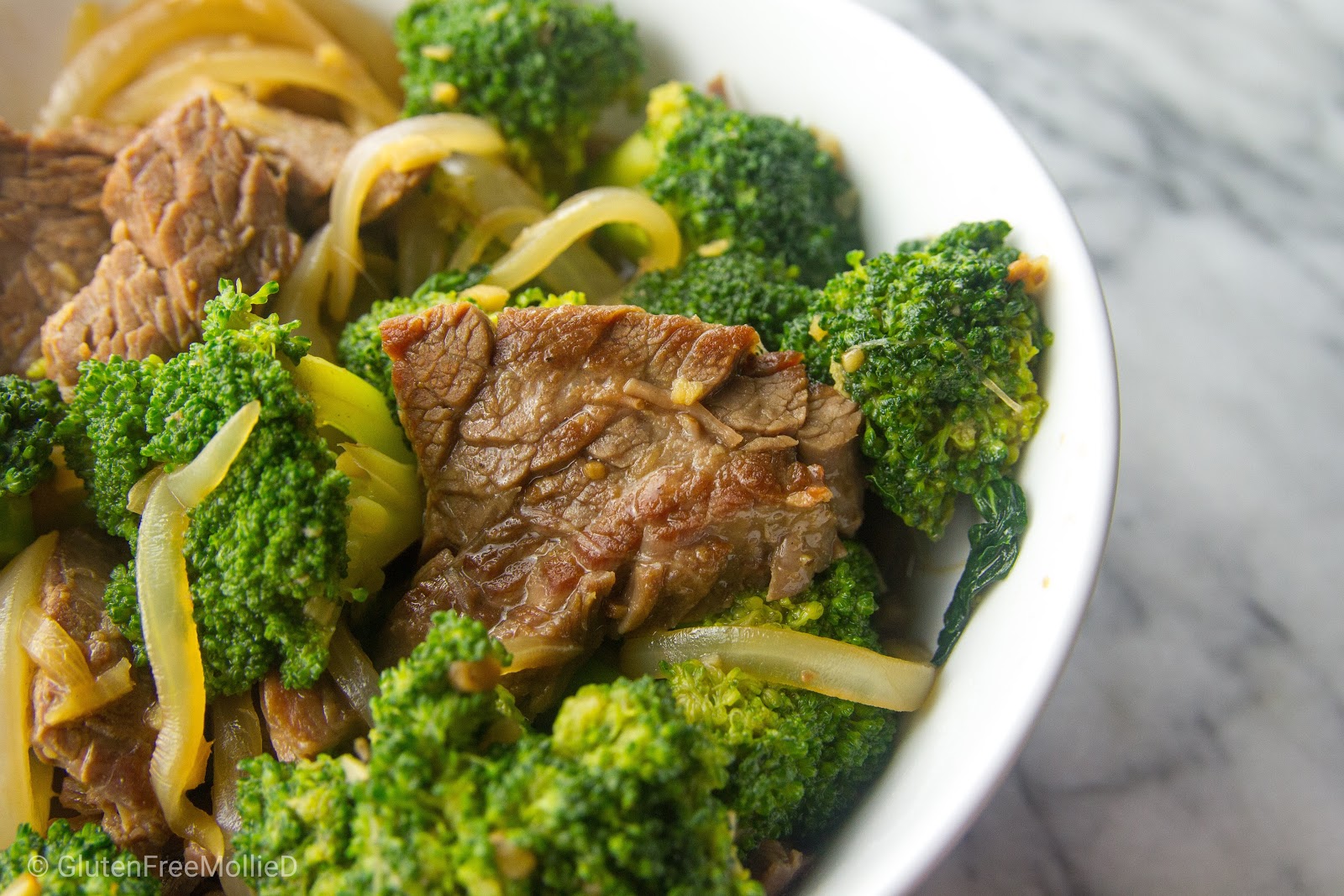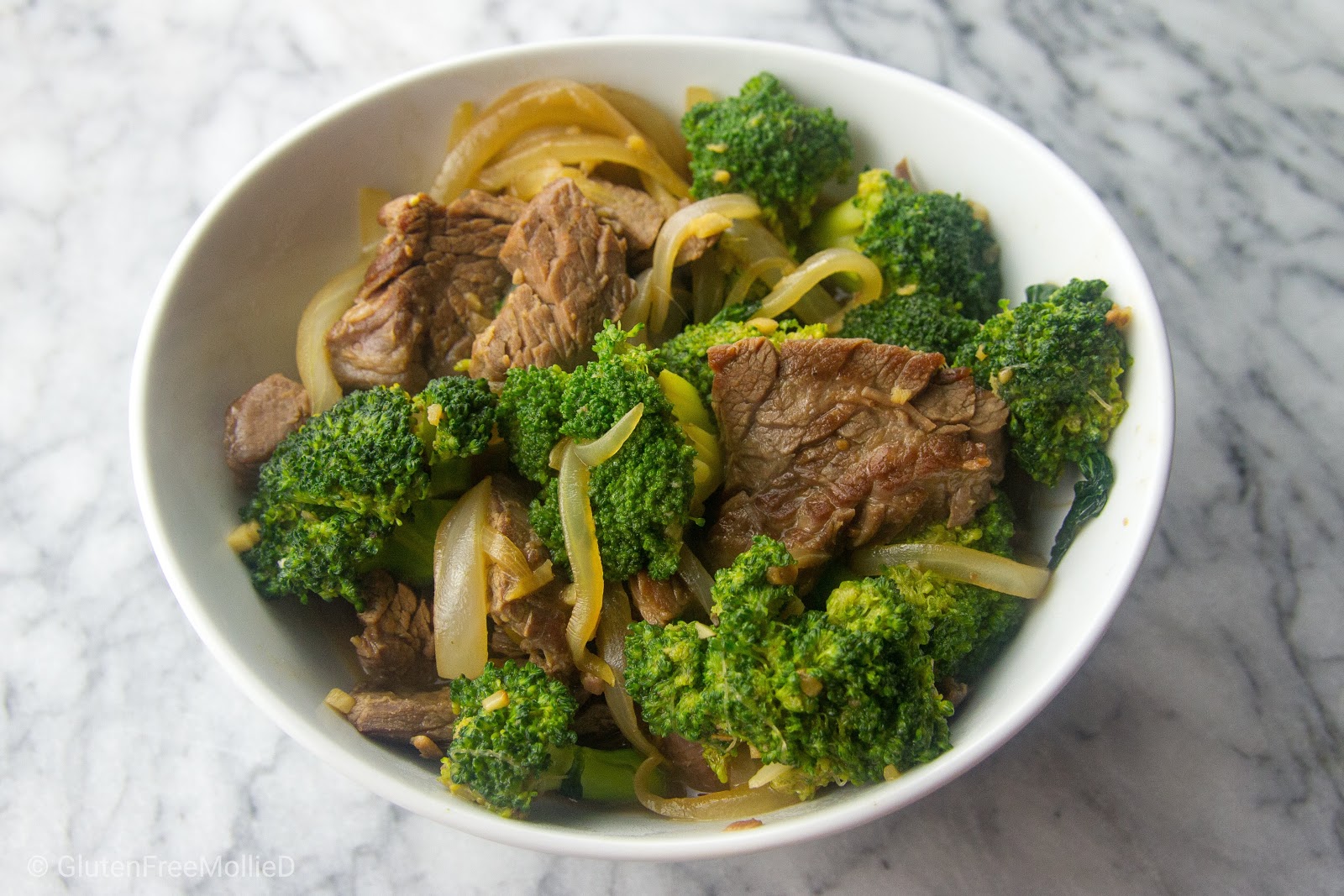 Stir-fried Beef and Broccoli
Source: Stir-Frying to the Sky's Edge by Grace Young
Tip: Always make sure you're using gluten free soy sauce! It will be labeled properly - just make sure to purchase the right one. As with all Asian dishes, the sauces required need to be labeled GF. I've found that the majority of ones we use are available gluten free.
Not much that's more satisfying than a traditional beef and broccoli! After a busy day when you're craving something delicious and quick, a stir-fry may almost always be your best option. And this is a great one to make!
We learned a couple things from this recipe: first, it's best to quickly blanch (one minute) the broccoli before adding it to the wok. It will cook more evenly as a result.
Second, despite our best efforts for being healthier, this time included, it's best to serve stir-fries with rice. We skipped that on this particular night and uh, I missed it having it. Since there is sauce that's created at the bottom of the wok, rice would be a perfect way to soak it up in the bowl under the beef and broccoli.
So while we tried to be better by not including it, I think we missed the mark and should have just had a little rice hiding under everything else. Next time!
Who/What/Where: As I mentioned, this dish is terrific for a weeknight since it's so quick. However, if you were to make it alongside a handful of other dishes for a feast, I'd say it would be great for a group! I'm sure everyone would be excited to see one of the classic stir-fries available.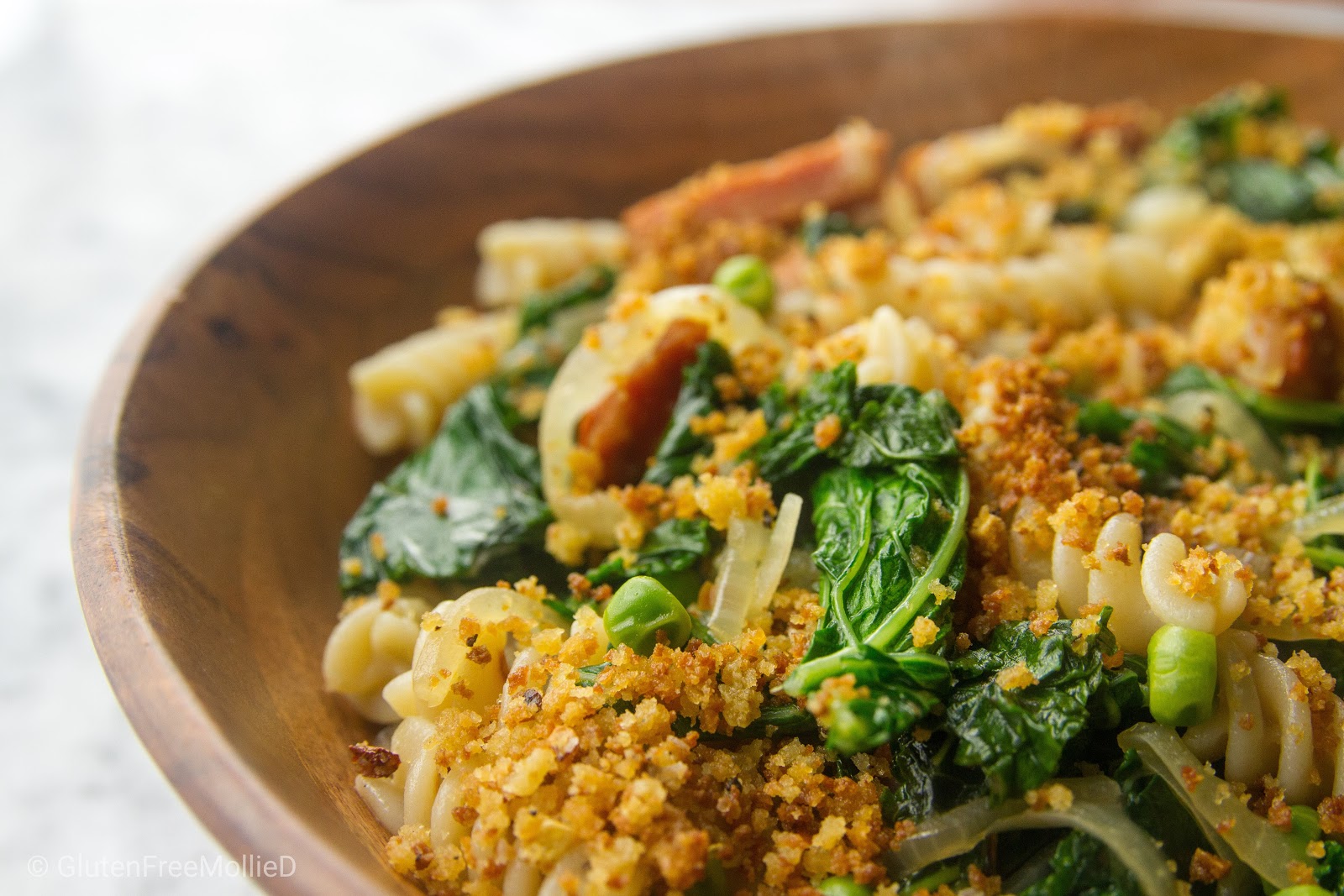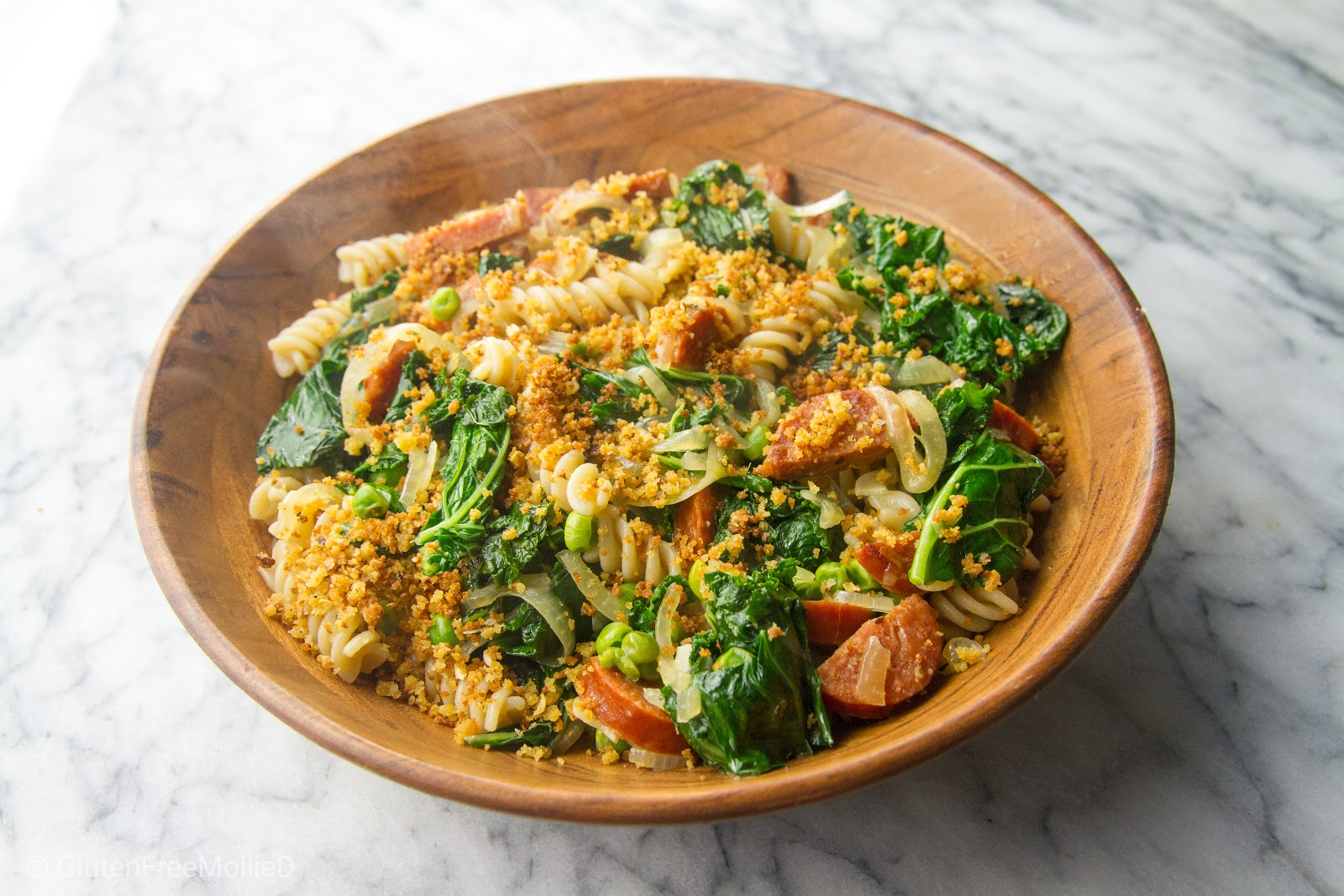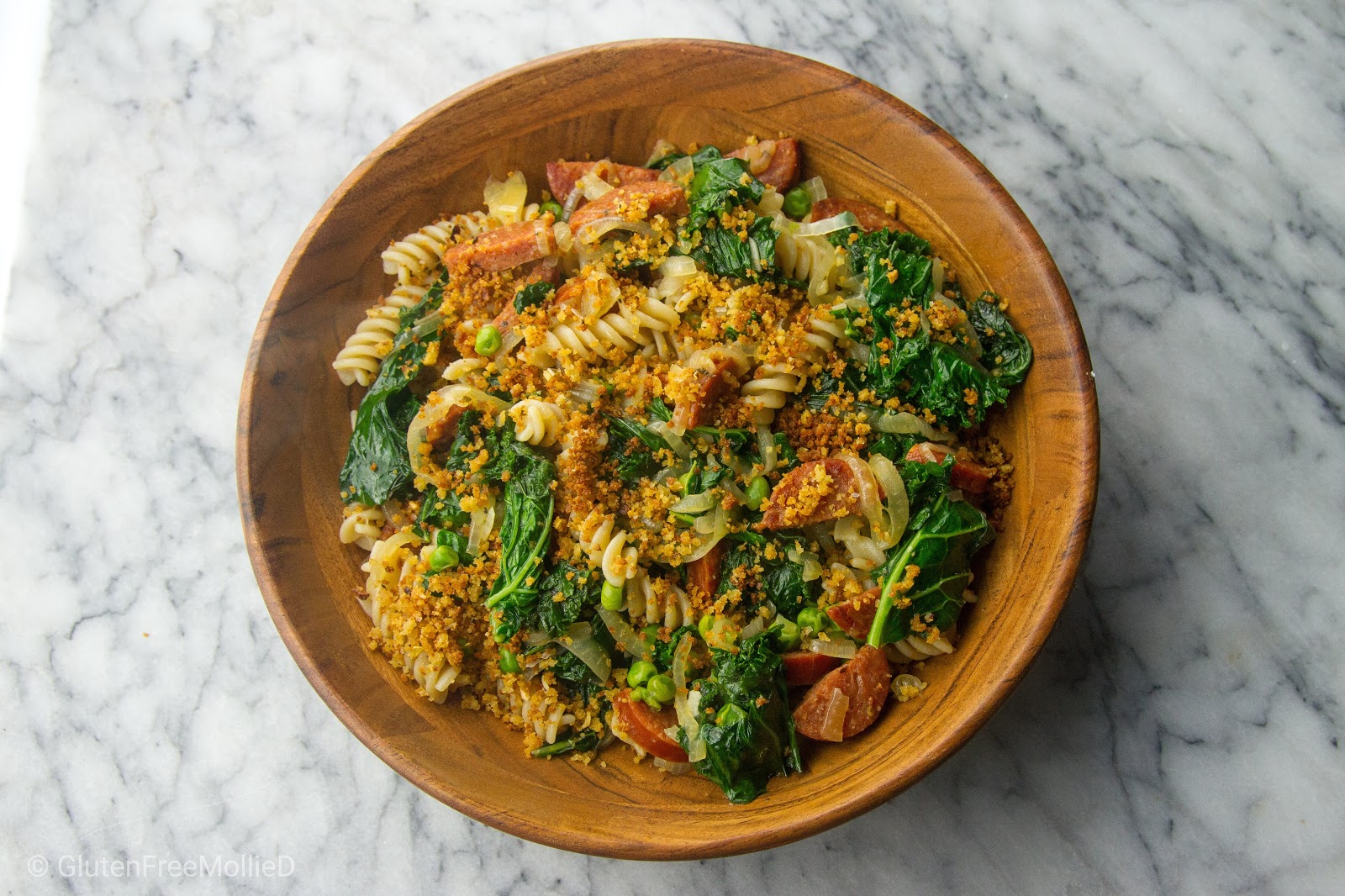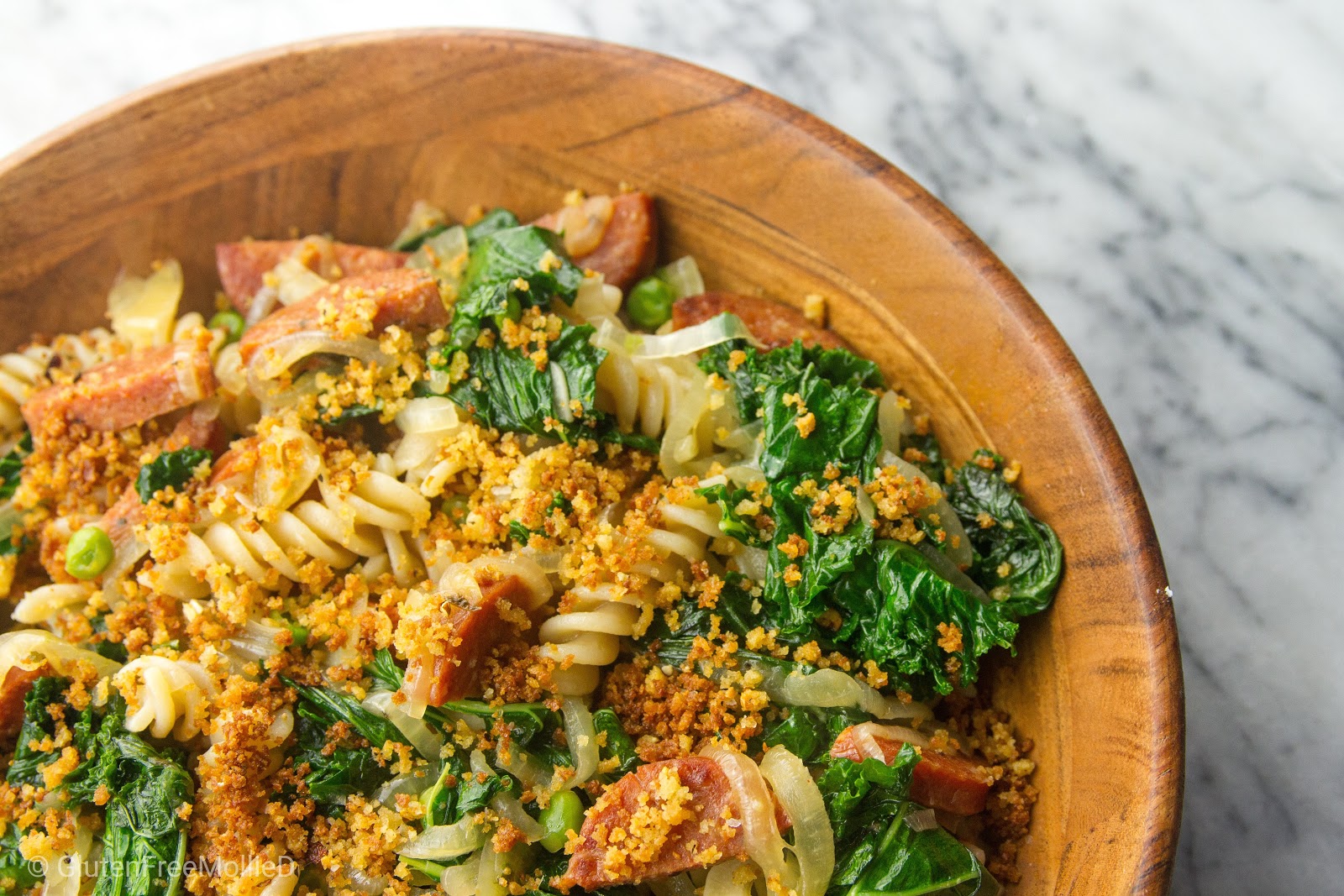 Kale and Pepperoni Pasta
Source: A Gluten Free Mollie D original recipe! A few of our favorite flavors tossed with GF pasta.
Tip: We used gluten free fusilli pasta from Jovial Foods and pepperoni from Boar's Head brand which is also marked as gluten free. For the breadcrumbs on top, we used Aleia's gluten free Panko breadcrumbs.
There are times for kale salad and then there are times for kale pasta. Despite planning for the first one, by the time the end of the week arrived, it was clear we needed to make the second. So after grabbing a couple extra ingredients we were missing, my custom-kale-pasta came to be.
Vegetables in pasta are always a good idea because you get that balance of eating veggies for health and mixing them with pasta for joy.
This dish leaned more on the joy side since we included pepperoni, a flavor that will never be a bad idea, and sprinkled garlicky breadcrumbs (homemade! Very easy!) over the final plate because I just couldn't resist any of the flavors I was craving. Thankfully, they all blended together beautifully and a new "original recipe" was born.
Who/What/Where: We decided on this creation because our original plan just wasn't going to cut it. However, the meal we made would be perfect for a fun friends-night-in that can be made quickly while everyone hangs out. Pour some wine for everyone while they wait and a short time later you'll all be sitting down to an awesome, funky feast. :)
The Weekend
What did we do? Where did we go? How was the food?
If you live in New England, then you may have noticed that we had a beautiful fall weekend! The air was chilly, but the foliage was great and it just felt like fall the whole time.
We did a mix of activities along with kind of catching up on some sleep (maybe?) and a splash of baking on Sunday because how could I not? 😋
Highlights of the weekend include...
Friday night dinner at Bristol Restaurant and Bar was excellent per usual. Chilling at the bar is our usual and I have a new favorite dessert which you can say "what?!" all you want, but it's delicious and indulgent. Truffle fries and a White Russian. Done.
Saturday's late lunch became dinner at Tavern in the Square because we ordered a couple extra goodies deeming us too full for any more food for the rest of the night.
A casual atmosphere, plenty of TVs for watching sports, and a giant gluten free menu is a recipe for success when it comes to seeking out a relaxing afternoon.
We watched Salt Fat Acid Heat on Netflix! Oh my, it was just delightful! Samin Nosrat is a wonderful host and chef and I think her way of discussing food, and the preparation of it, is one of the most calming I've ever encountered. Plus, she makes learning about the history behind the ingredients both light-hearted and helpful.
Sunday was the usual business of meal planning, grocery shopping, and football. Oh, and I baked cookies. Some pretty delicious ones, in fact! I'll share more details soon. :)
How was your weekend? We hope it was a great one filled with some fall activities and scrumptious foods. A happy weekend is usually a balance of both. :)
Eat, well.
Mollie and Seth