Falling into Place
Welcome to the Recap! Last week was a bouquet of flavors covering nachos to stir-fry, rice to ragú, and more. We had a wide-range of dishes that would satisfy even the most picky of eaters.
The best part? Every single ingredient is available at our favorite Wilson Farm, located in Lexington, MA. So no matter what meal you're craving, Wilson's has got you covered!
Let's dig in!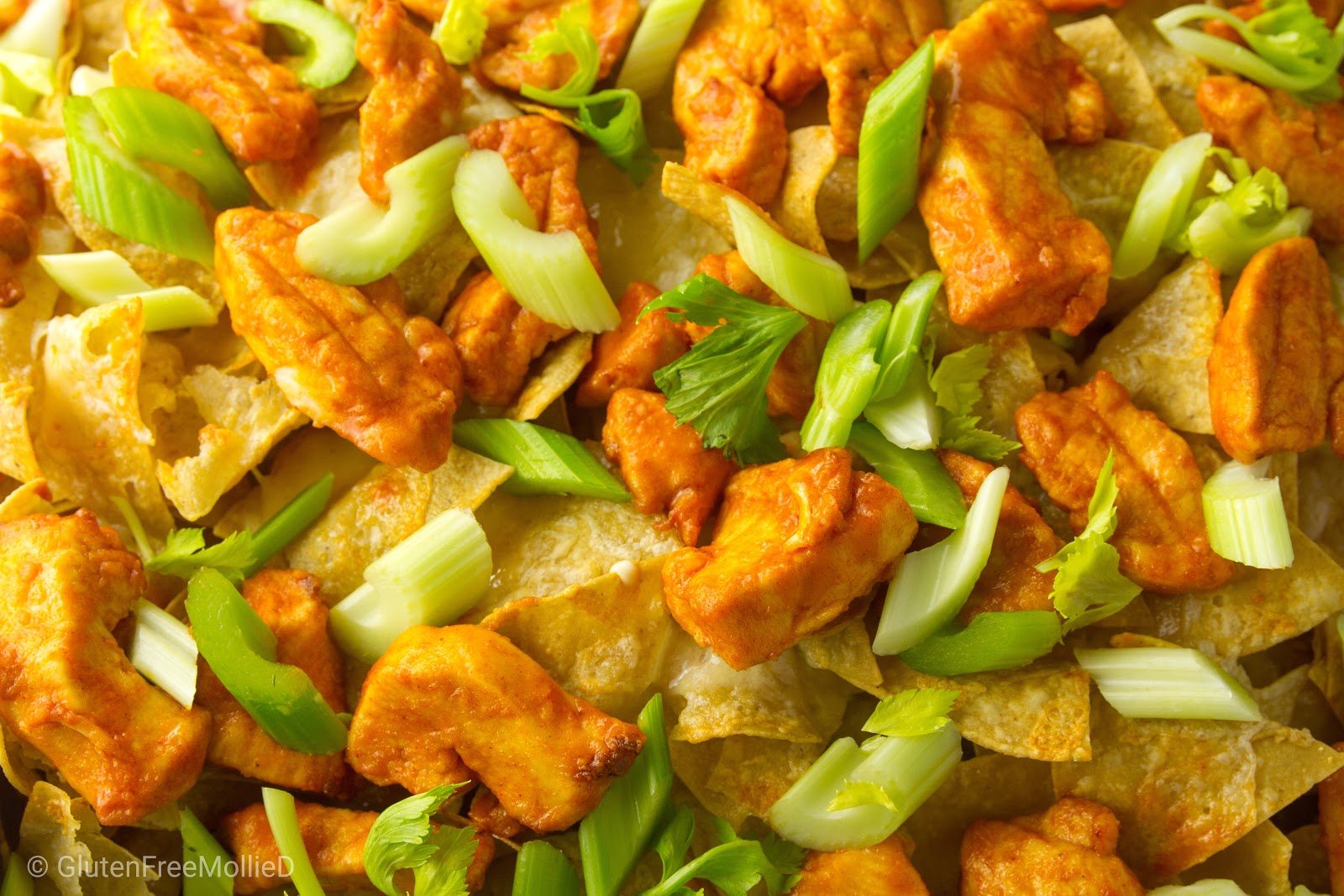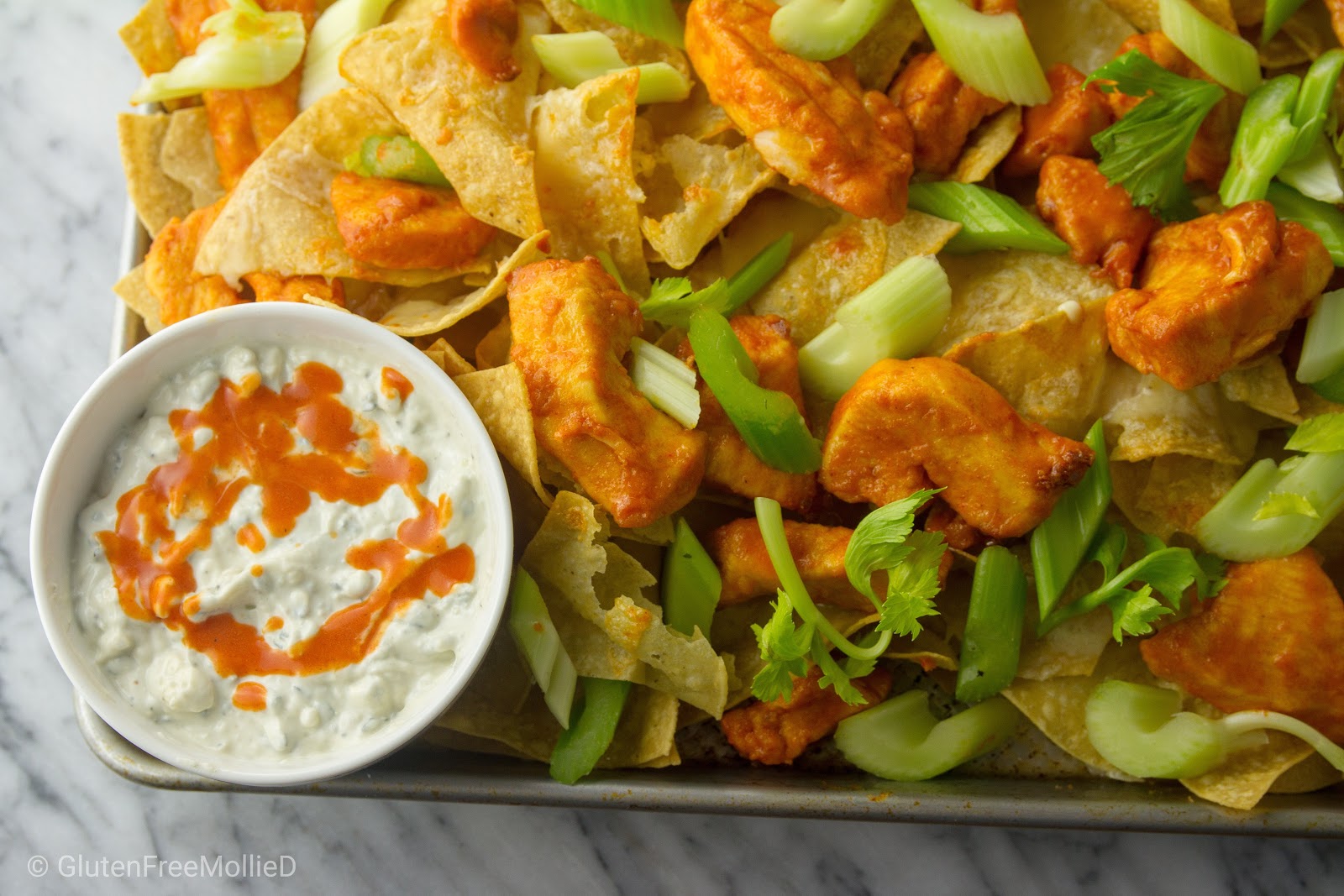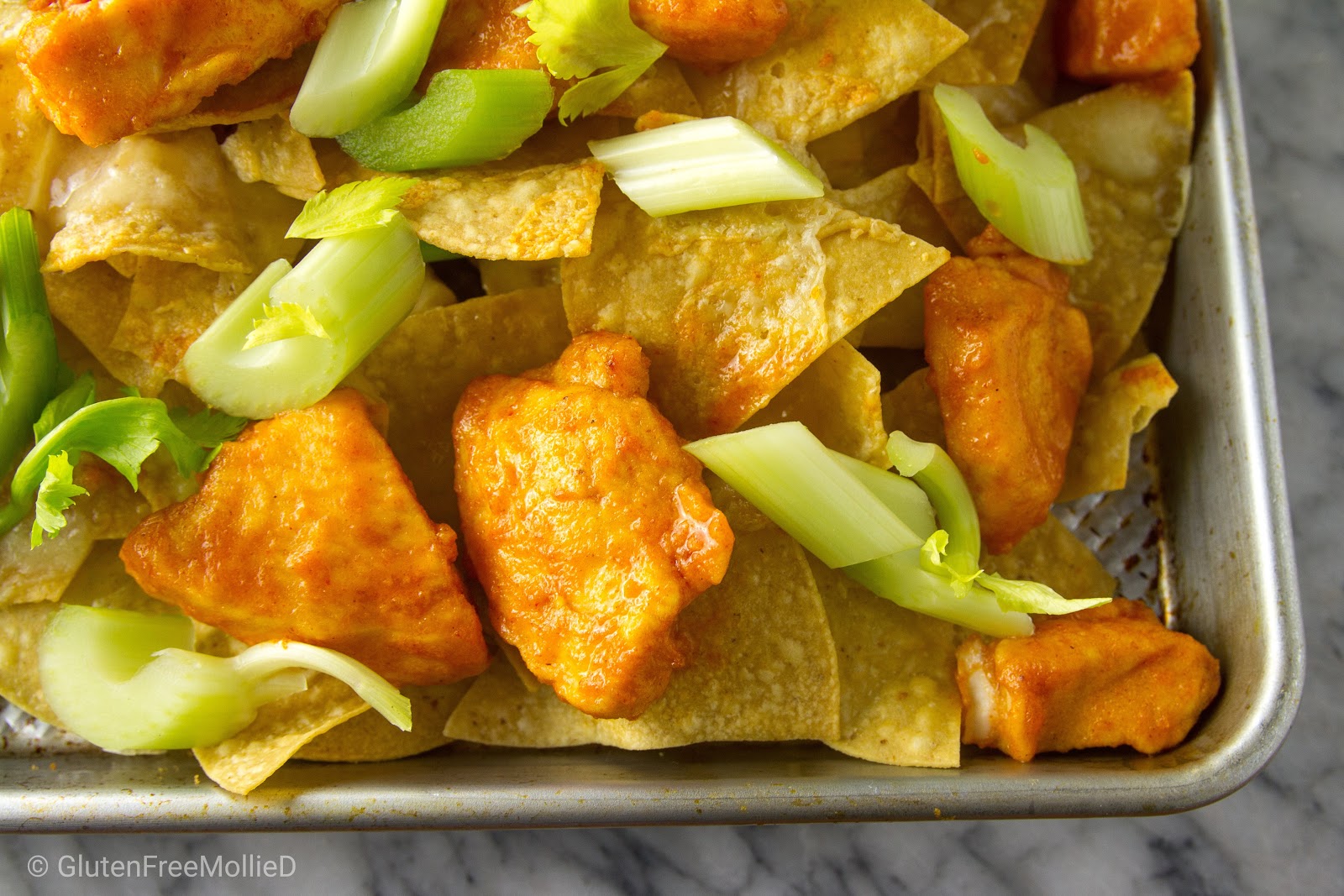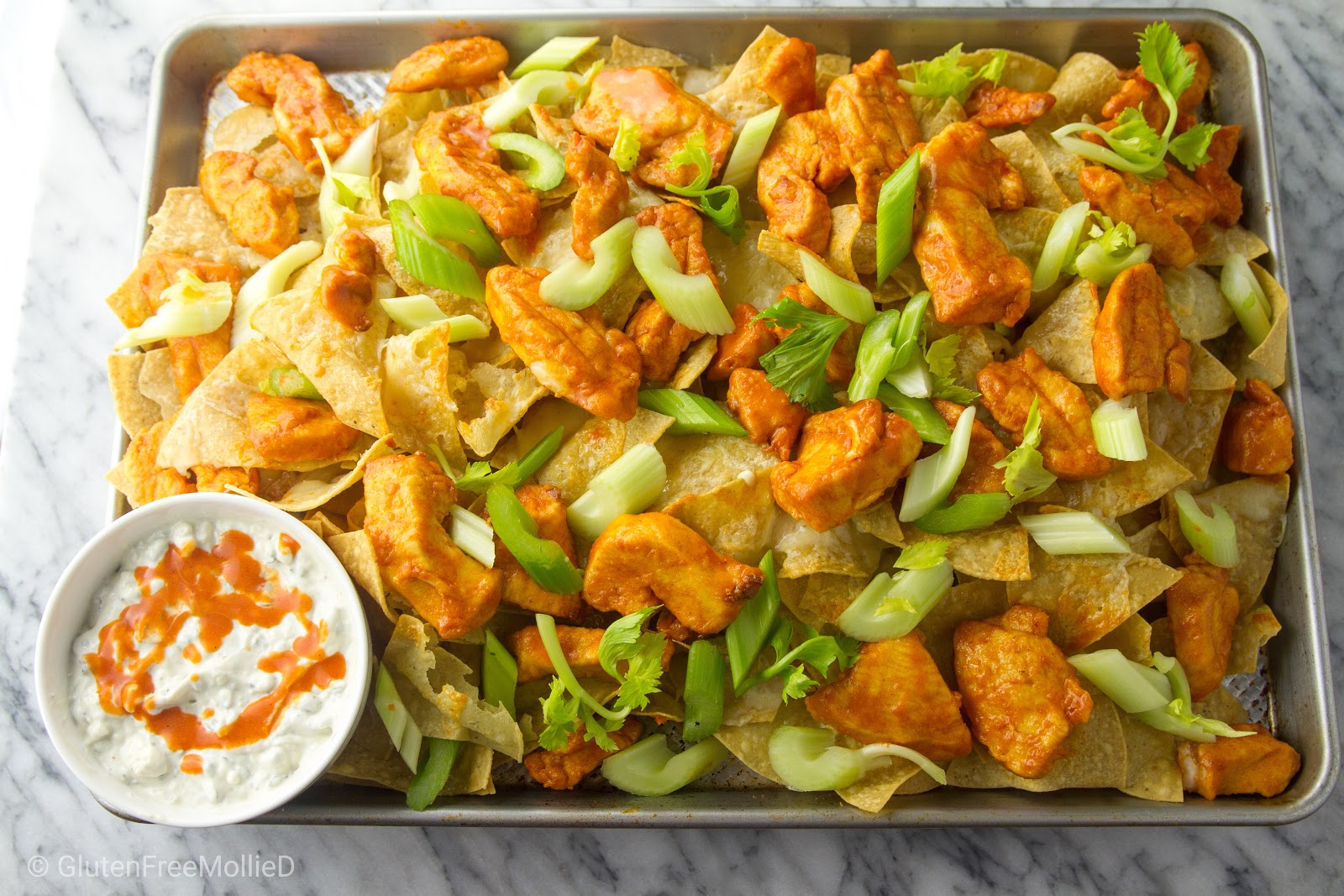 Buffalo Chicken Nachos
Source: The Nacho Manifesto by Jack Campbell
Tip: Naturally gluten free, my friends!
Great for game day, but honestly, when are nachos a bad idea? Never. These were delicious and introduced us to the concept of baking boneless, skinless chicken and then coating the pieces in (homemade) buffalo sauce.
Sprinkle the chicken and celery all over a platter of hot, crispy chips (already covered in cheddar), and you've got yourself one awesome meal for football, or whatever you're settling in to watch on a Sunday night.
Who/What/Where: I loved the concept of these nachos because they combine a classic "football food" with another passion, nachos, for one terrific (and easy) meal. Serve these to your friends and family when they're hanging out on a weekend afternoon, or offer as a funky appetizer before a dinner party.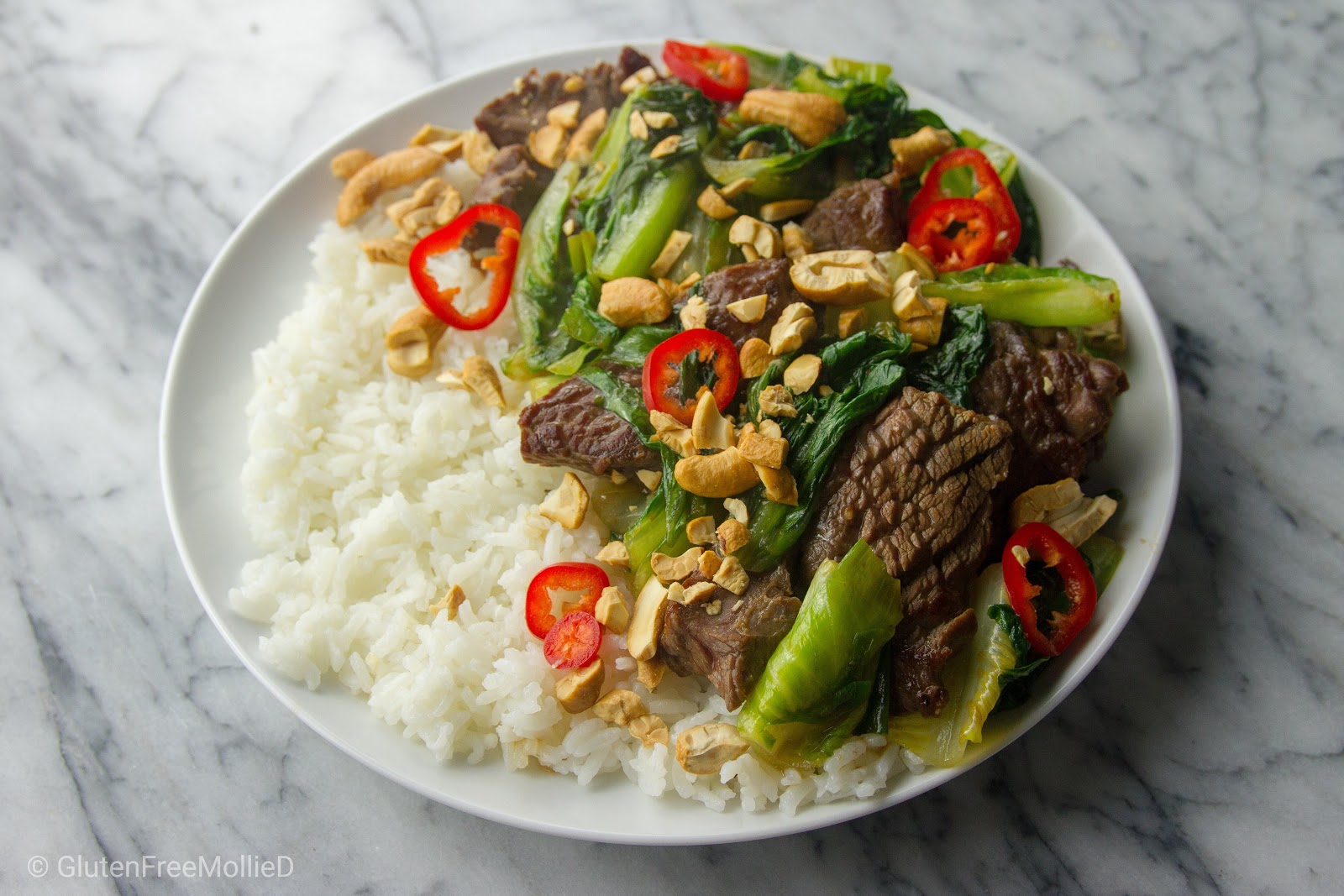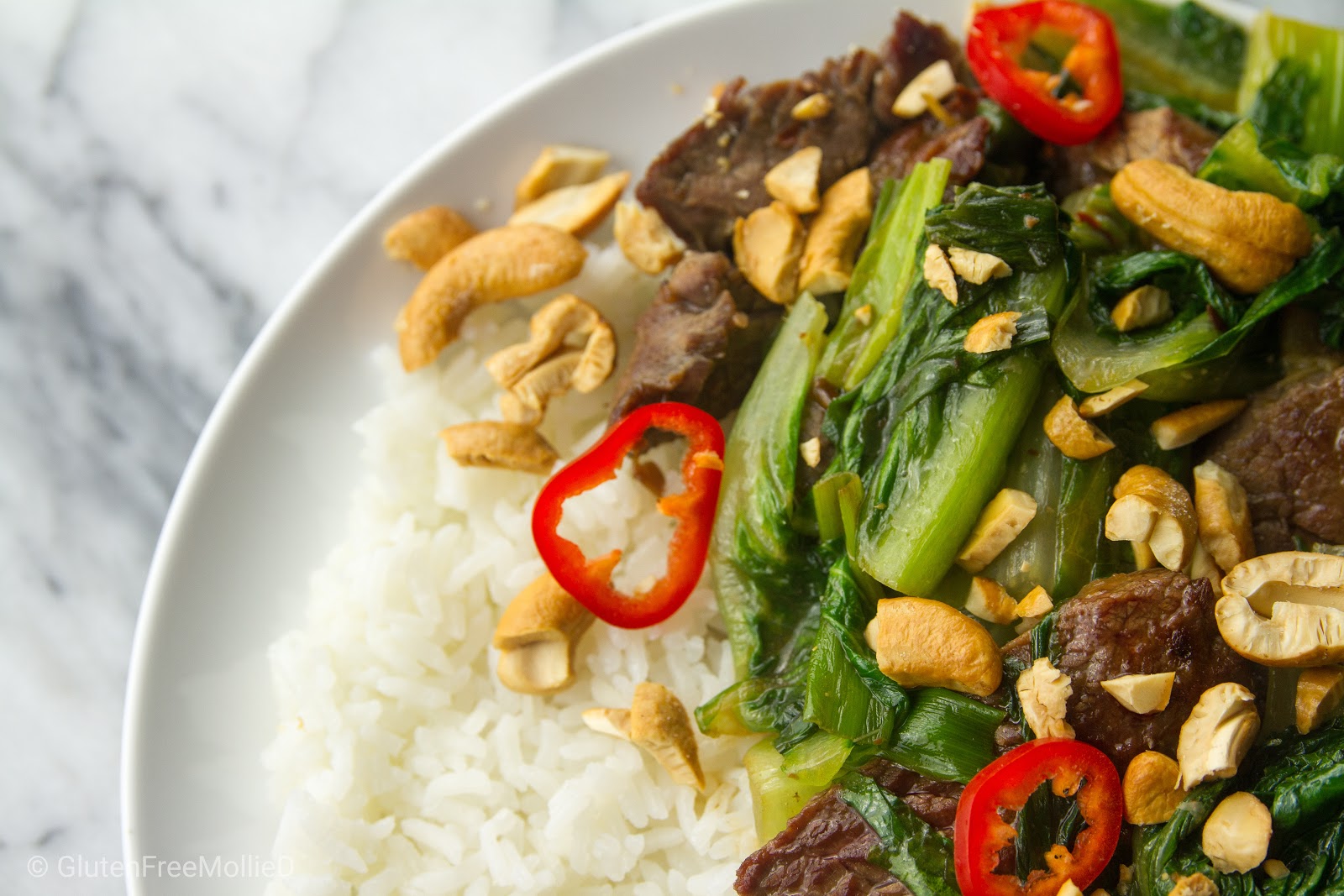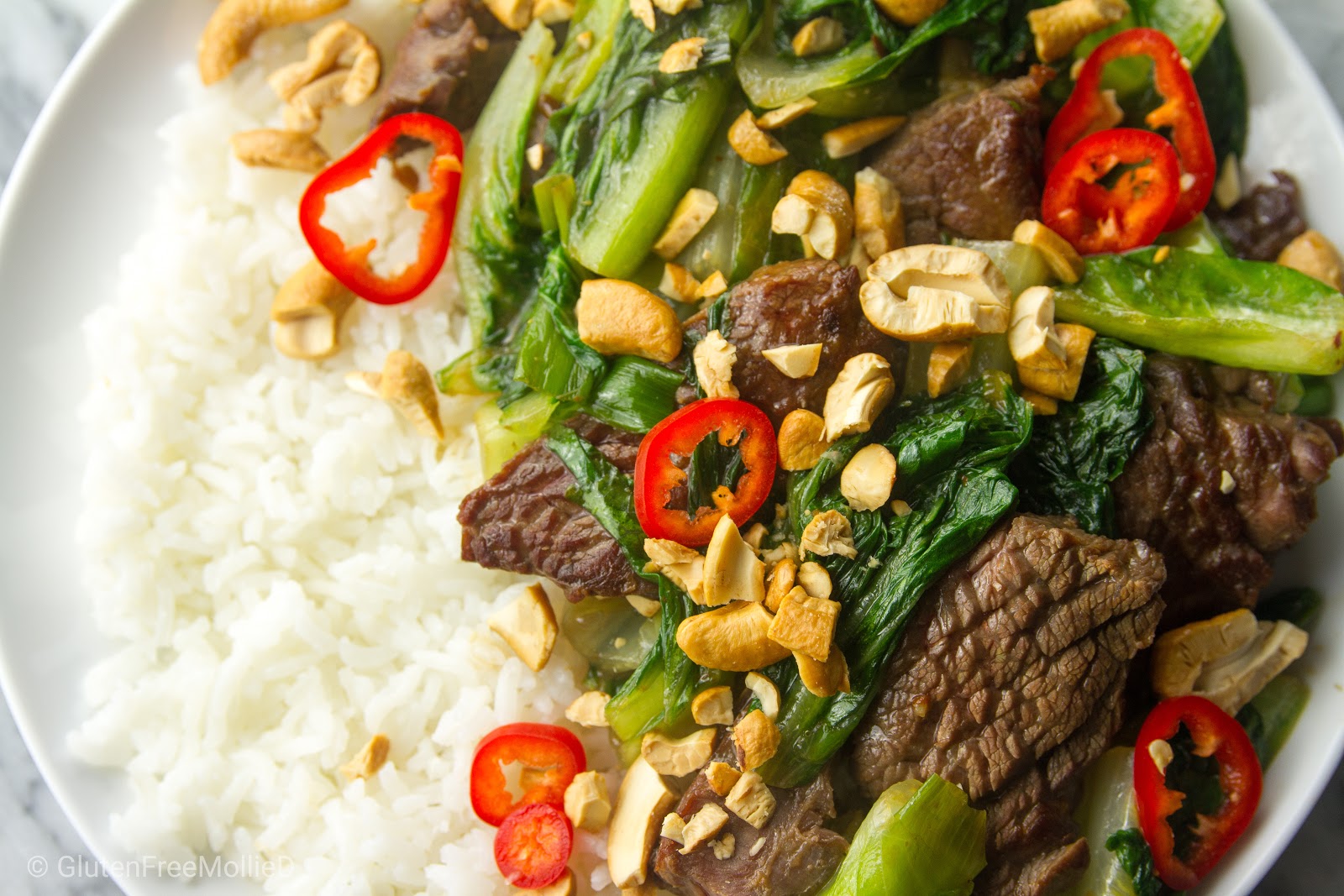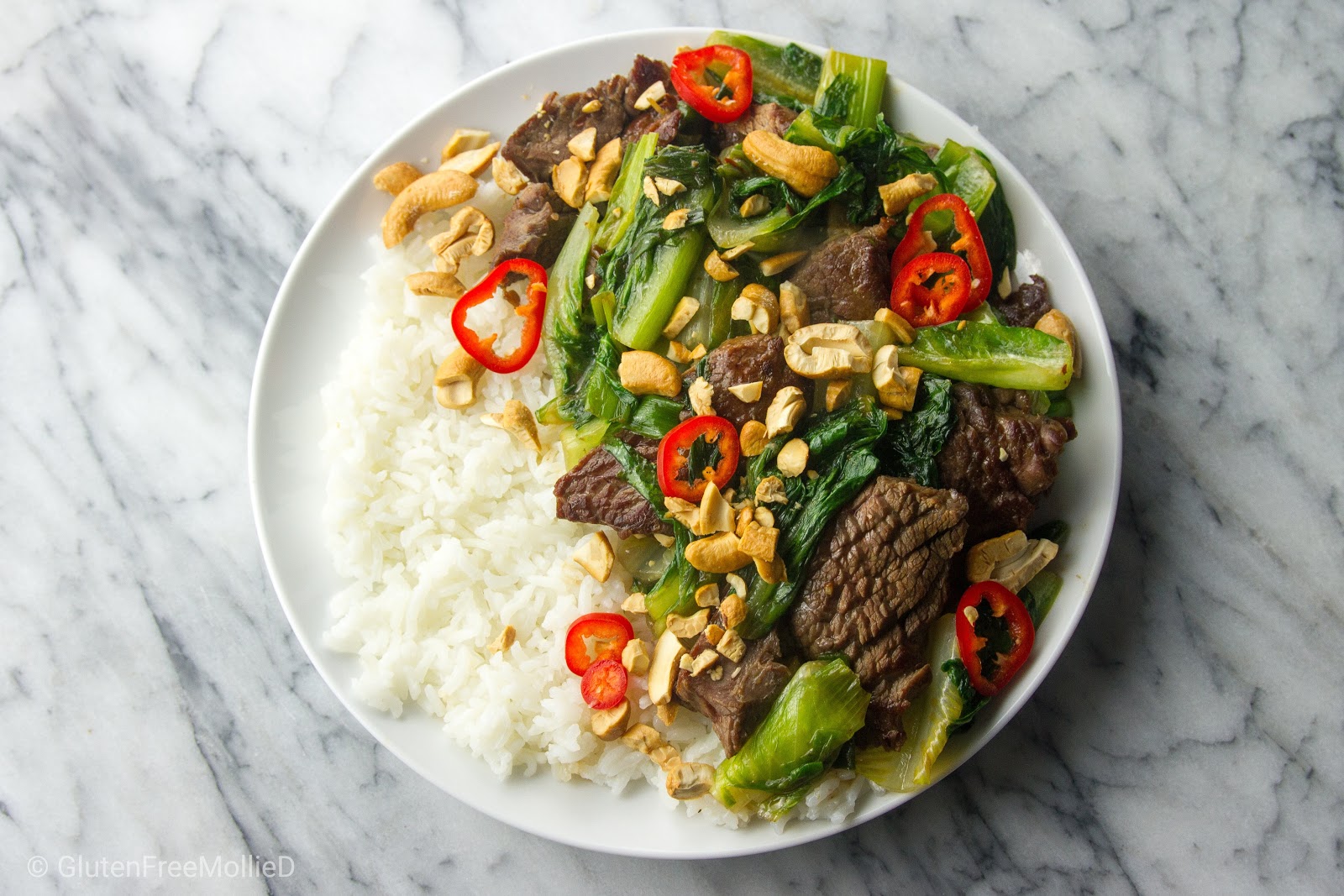 Beef and Romaine Stir-Fry
Source: Bon Appétit online, Recipe by Claire Saffitz. Find it here!
Tip: For all stir-fries, make sure to use GF tamari which is soy sauce without the wheat!
A winner of a quick dinner, this stir-fry surprised and delighted us from start to finish! And while I never thought of using romaine lettuce in a hot meal, let alone a stir-fry, it worked perfectly and now I'm set on using it far more often as the greens we need when we take out the wok.
Packed with flavor and a mid-level of spice, I definitely loved using beef in this dish, but I'm sure it would be awesome with chicken (or another protein) if you're skipping meat. You know I'll always love throwing shrimp in a wok, too. Best part of all? It was on the table in twenty minutes. No. Joke. Hooray!
Who/What/Where: Any time I see a new stir-fry option, you're almost guaranteed to see it in one of our meal plans. I can't resist the quick nature of these ultra-savory dinners. And while we definitely love them on weeknights, I think they are a great option for a friends-night: who wouldn't love to go to someone's house for dinner and eat a delicious dish soon after arriving?! I'm all for cheese and crackers, but uh, let's get to the main course. 😉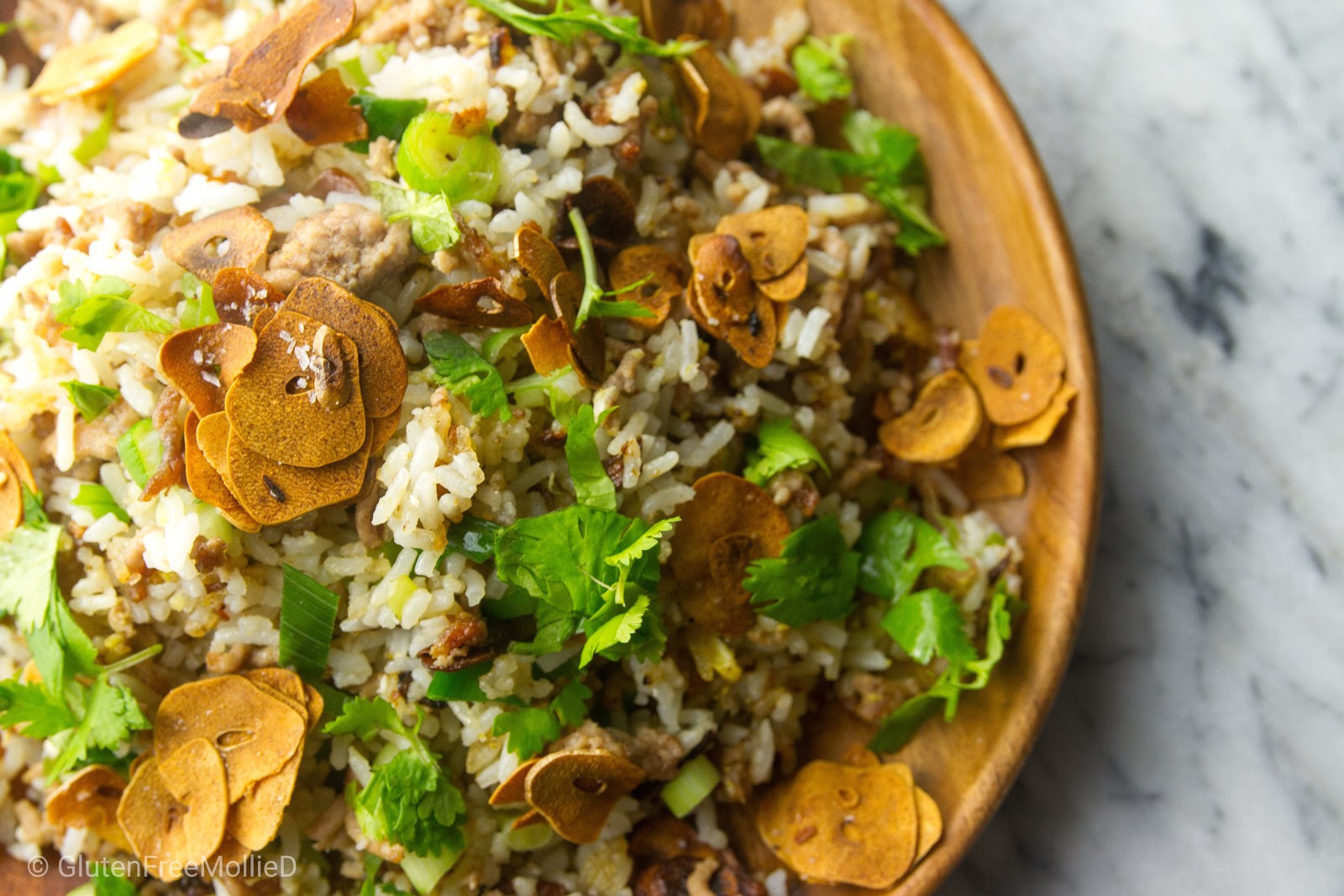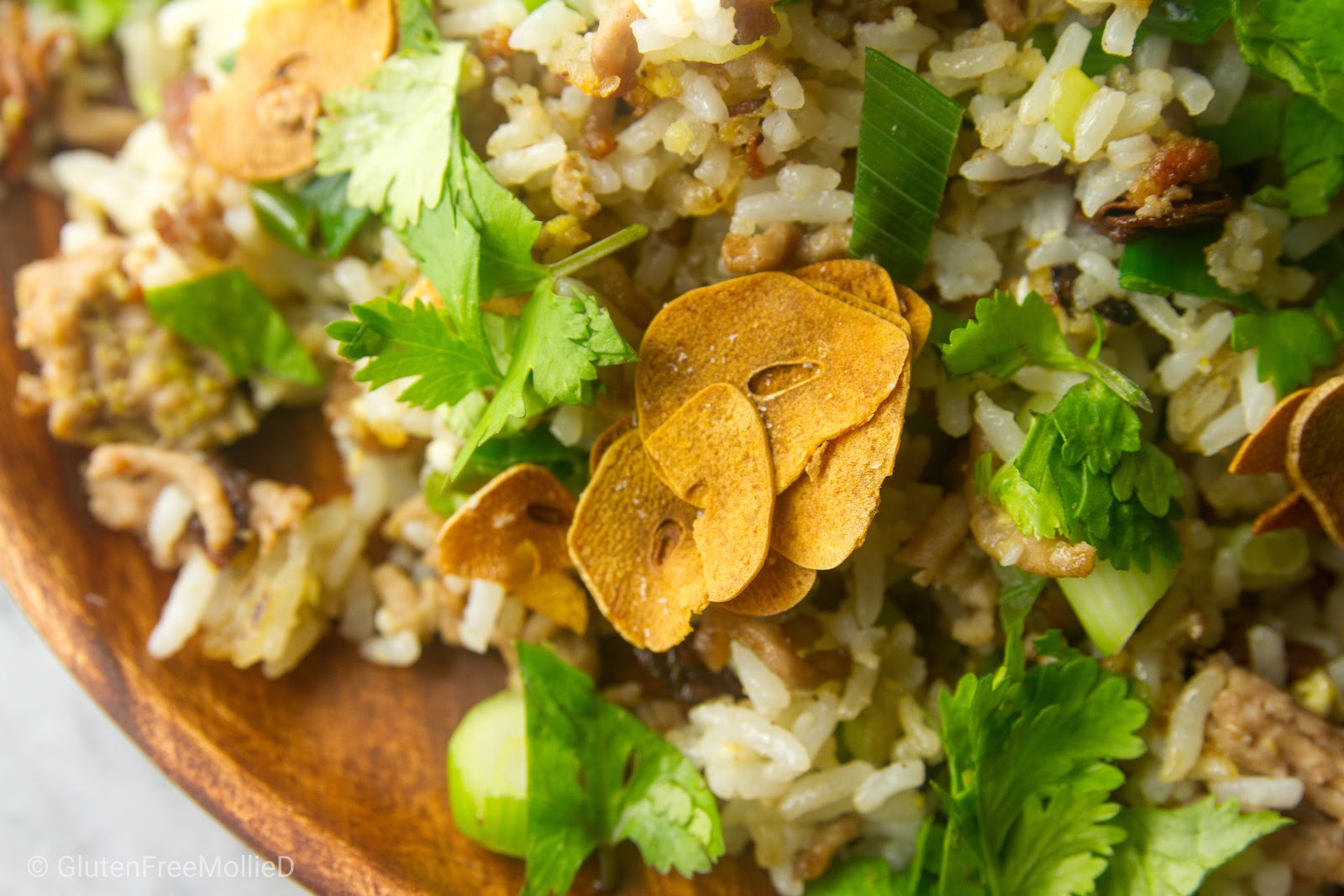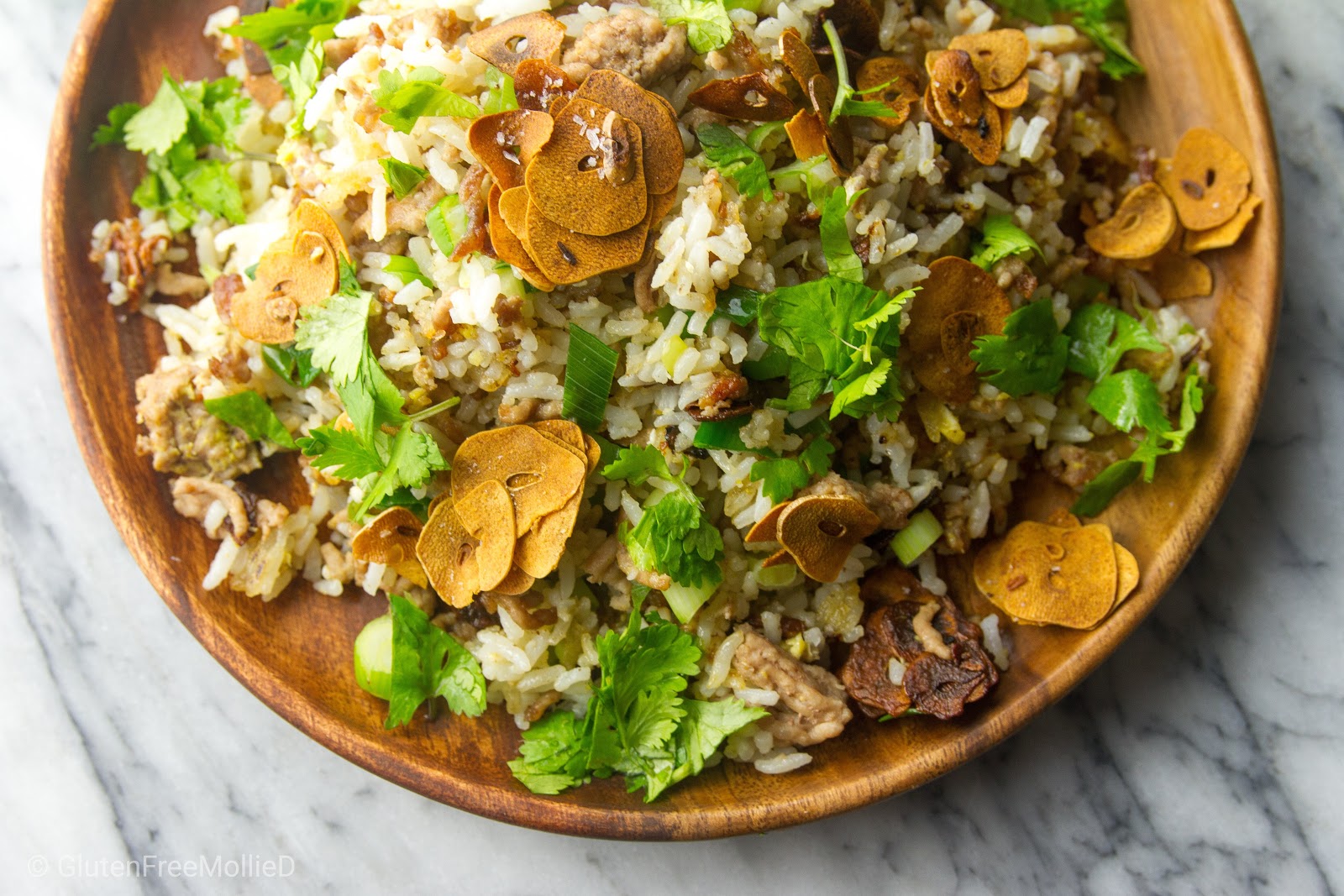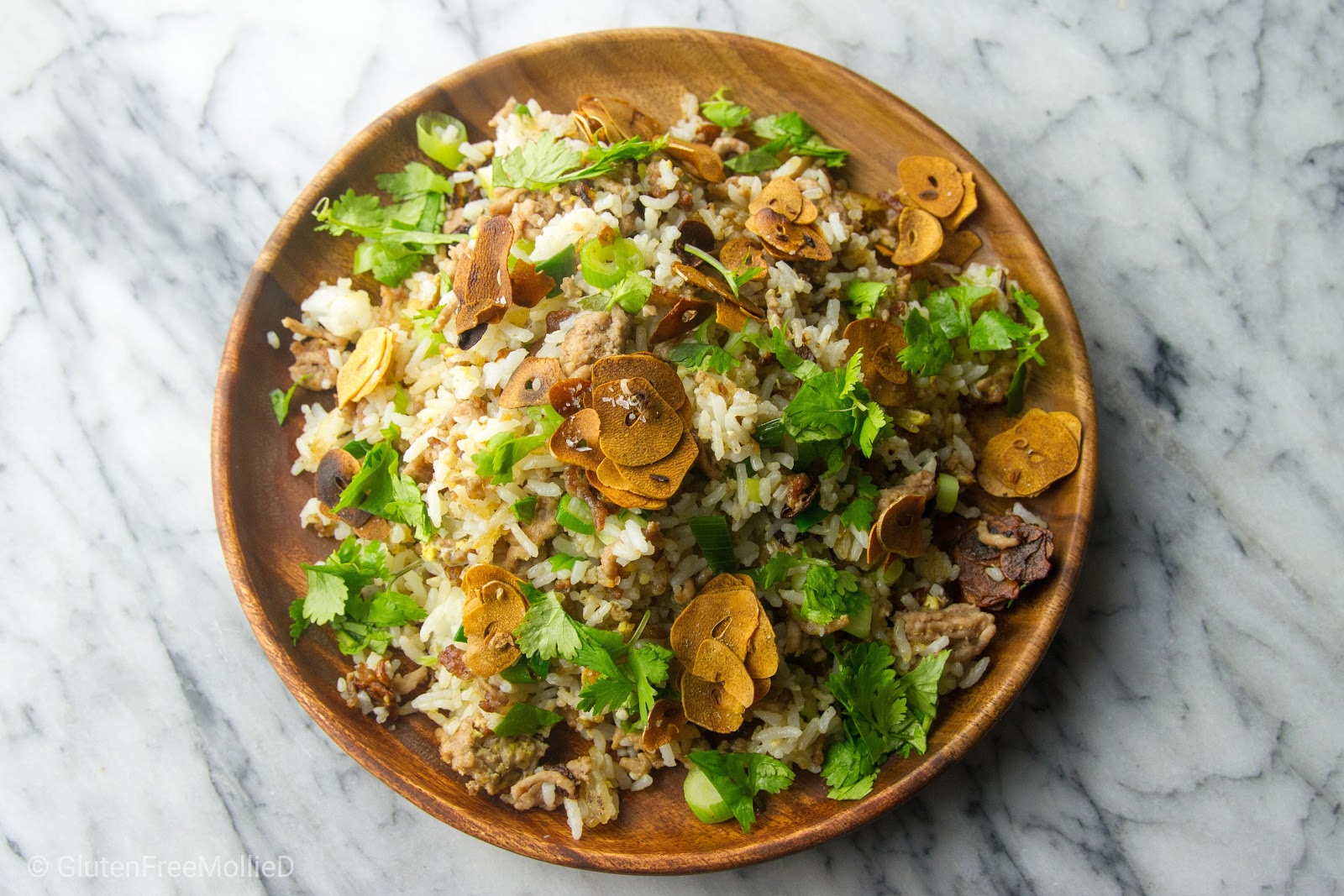 Garlickiest Fried Rice (with pork)
Source: Bon Appétit online and in print. Find it here!
Tip: Naturally gluten free, friends!
If you were to look into my favorite-food history, you would most certainly find fried rice high up in the ranks. Easy to make, versatile, and always comforting, fried rice is a dish I'll never be sad to see. In fact, I'll welcome it heartily, every time.
This garlic-focused one fits the bill and introduced us to a vegetarian option of my favorite that still packed a punch. Sure, we threw in ground pork for more protein, but I do think it still would've been scrumptious without. What's great is that cold white rice is a frequent flier in our fridge (and probably yours, too) so this dinner is pretty much always a weeknight option. Fabulous.
Who/What/Where: Grab your friends. Grab your parents, grab your cousins, this is a meal for all. Since it's vegetarian on its own, you can please everyone from the start and then add in meat of choice if everyone asks for it.
And since it's basically just a lot of garlic, you'll only need to worry about brushing your teeth a bit longer afterward. I would serve this as a main dish, but would consider it as a side if making another item (such as a primary protein, for example).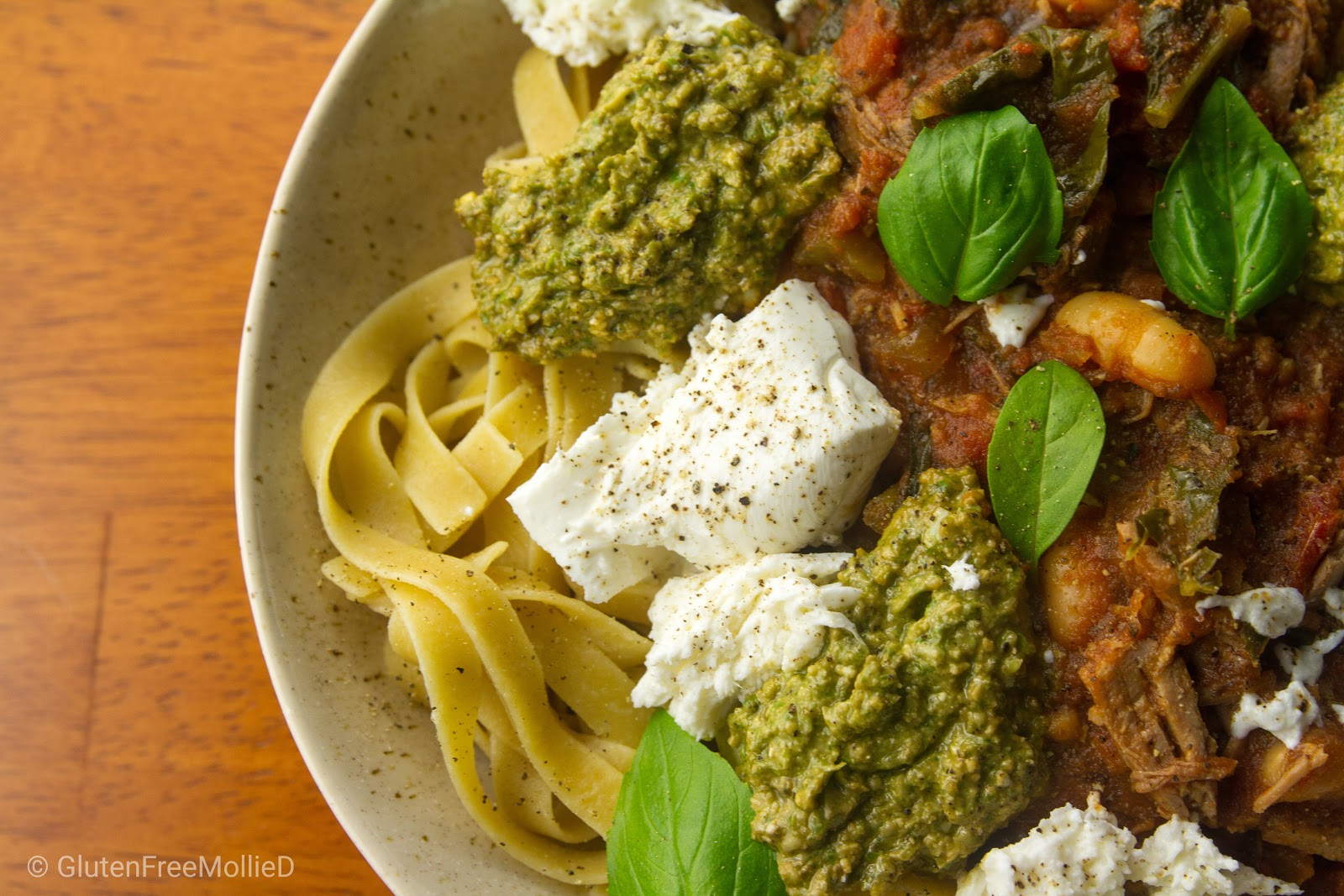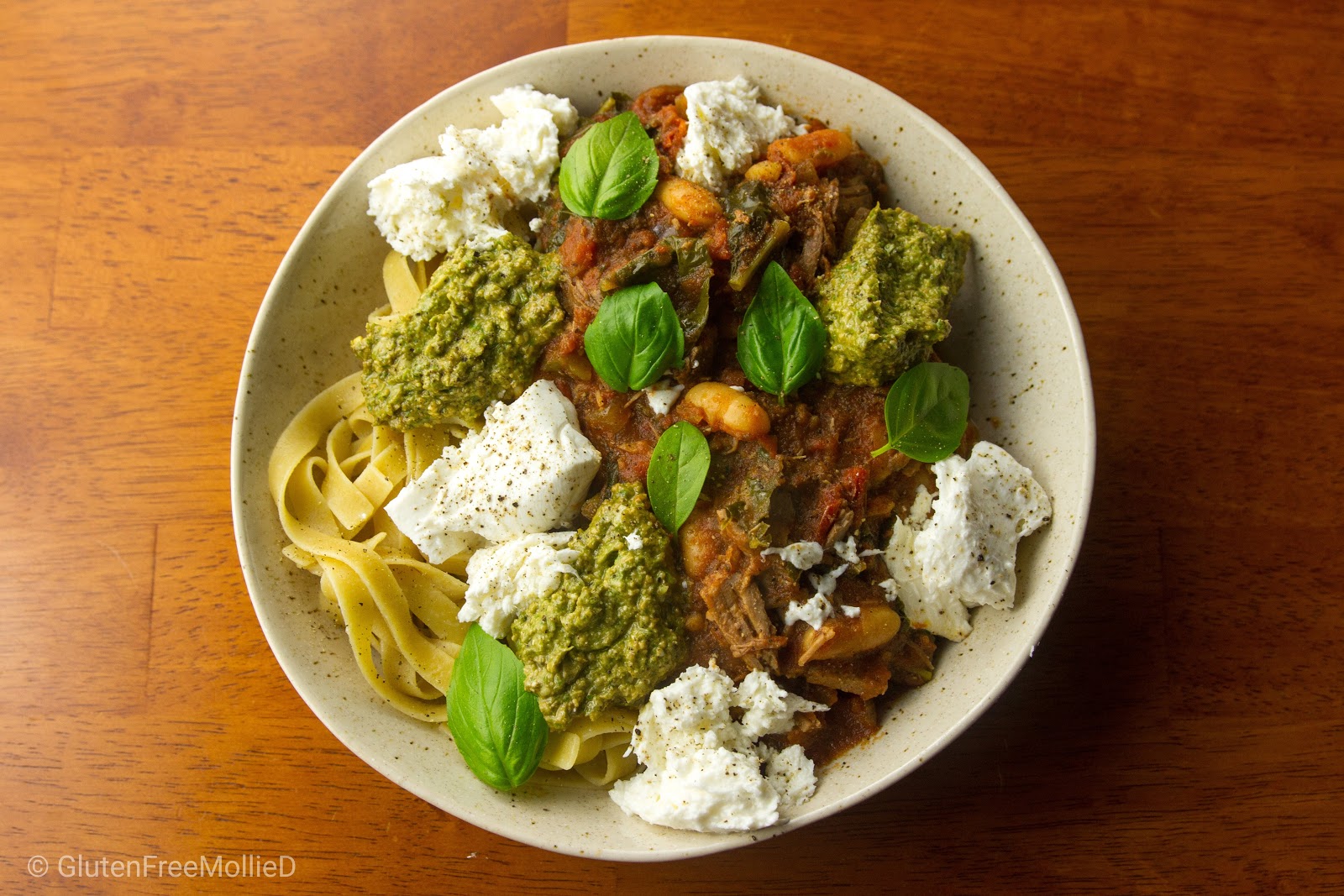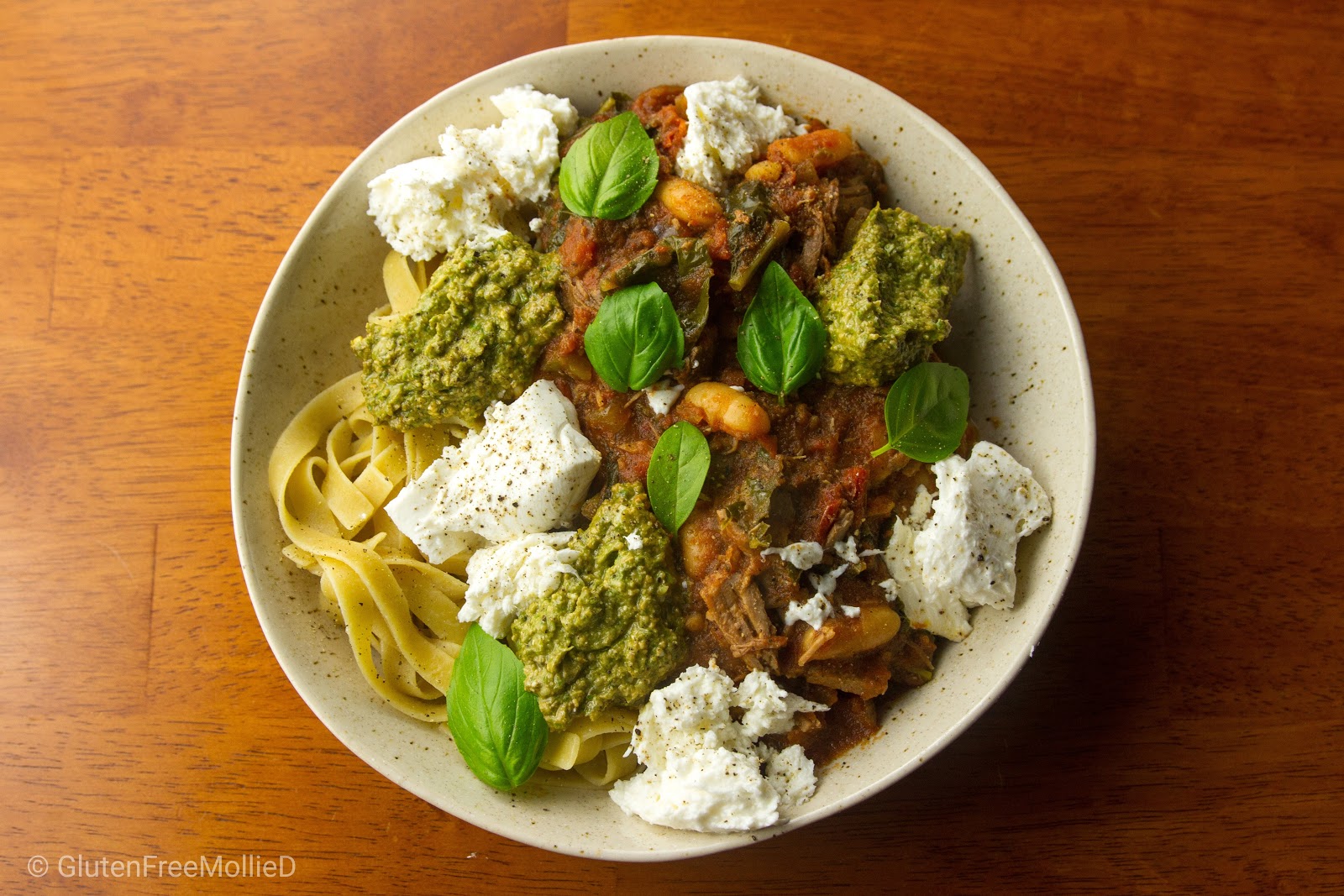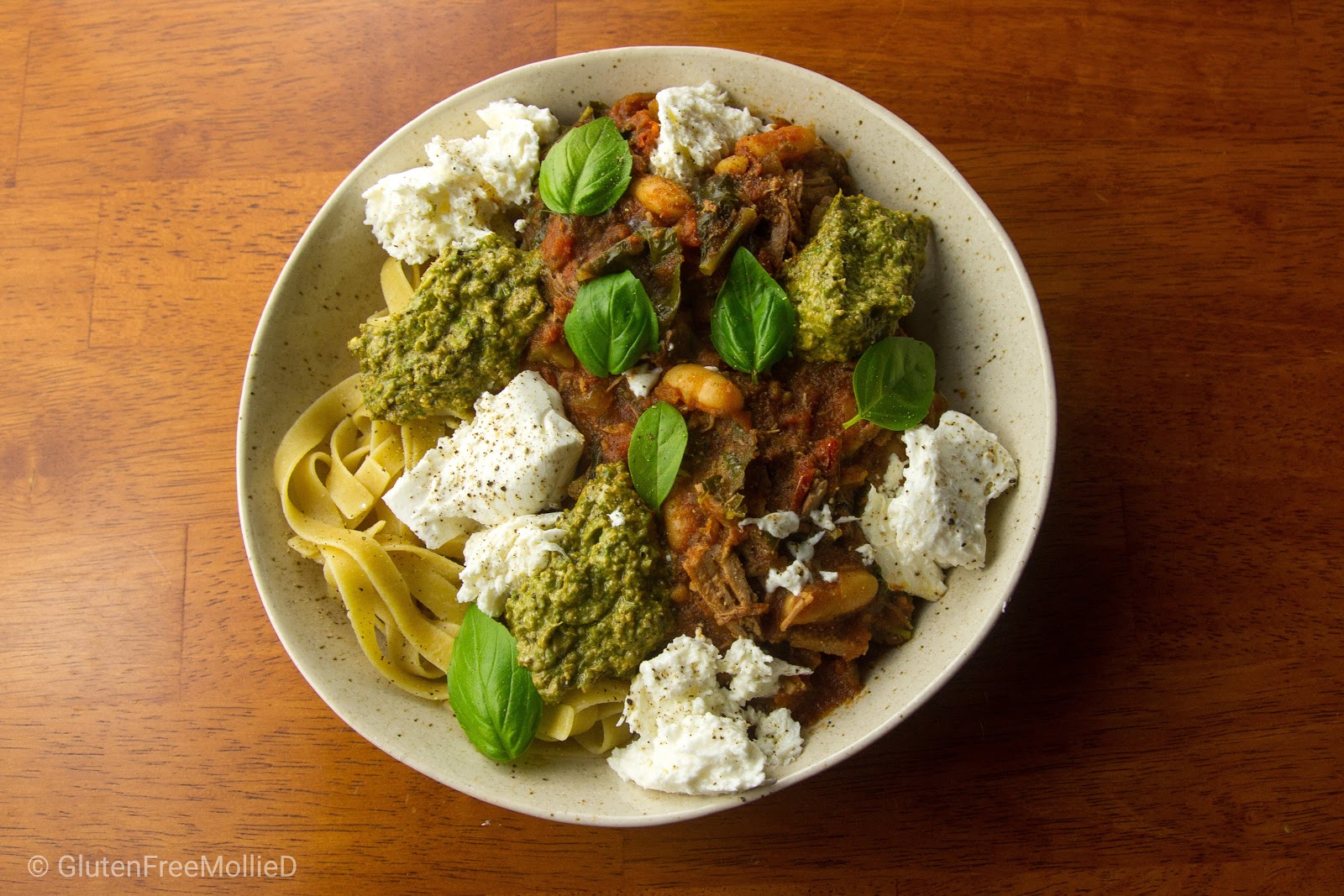 Slow-Cooker Tuscan Beef and White Bean Ragú
Source: Half Baked Harvest by Tieghan Gerard
Tip: Serve with your favorite GF pasta. Otherwise it's all gluten free!
Fall is underway and that means we brought out the slow-cooker! Perfect for those days when you have a lot to do, not much time, but you do want a great meal at the end of the day. Enter this dinner.
The beef cooked away all day and then shortly before it was time to eat, we finished off the prep and made pasta to serve alongside. There's a homemade pesto and gobs of mozzarella on top, but I'd recommend skipping the pesto and letting the flavors from the ragú take center stage.
There's more than enough awesome simmering all day that the pesto seemed a bit distracting. But! That's just me. You may find it to be a perfect accompaniment. What's even better about this dinner? It makes a lot, which means leftovers for days (and days).
Who/What/Where: We made this for just the two of us, but I definitely suggest this dish for a crowd. Why bother cooking all night when you could have this ready to go soon after your guests arrive? They'll be psyched by the scent and even more excited after their first bite.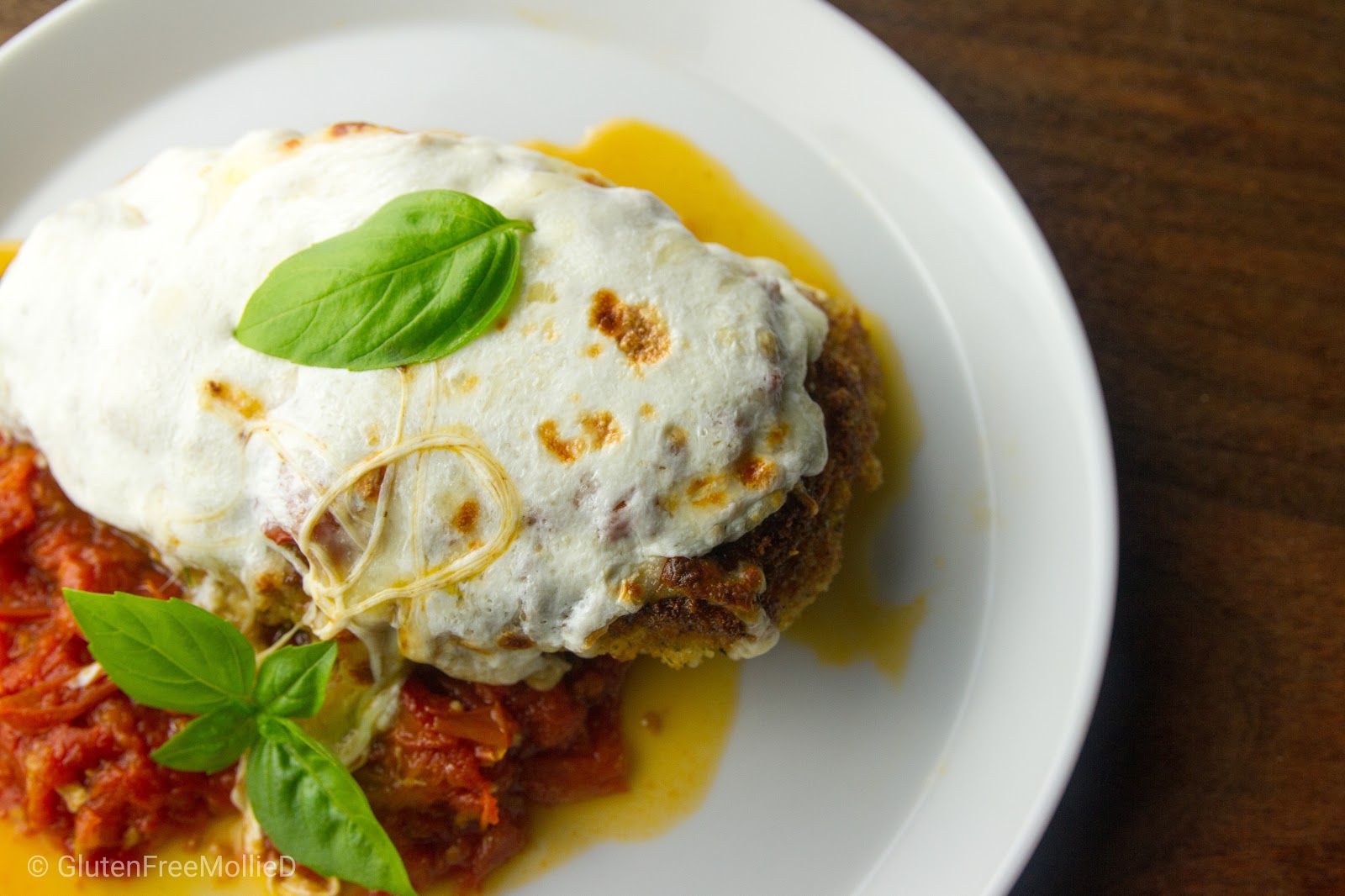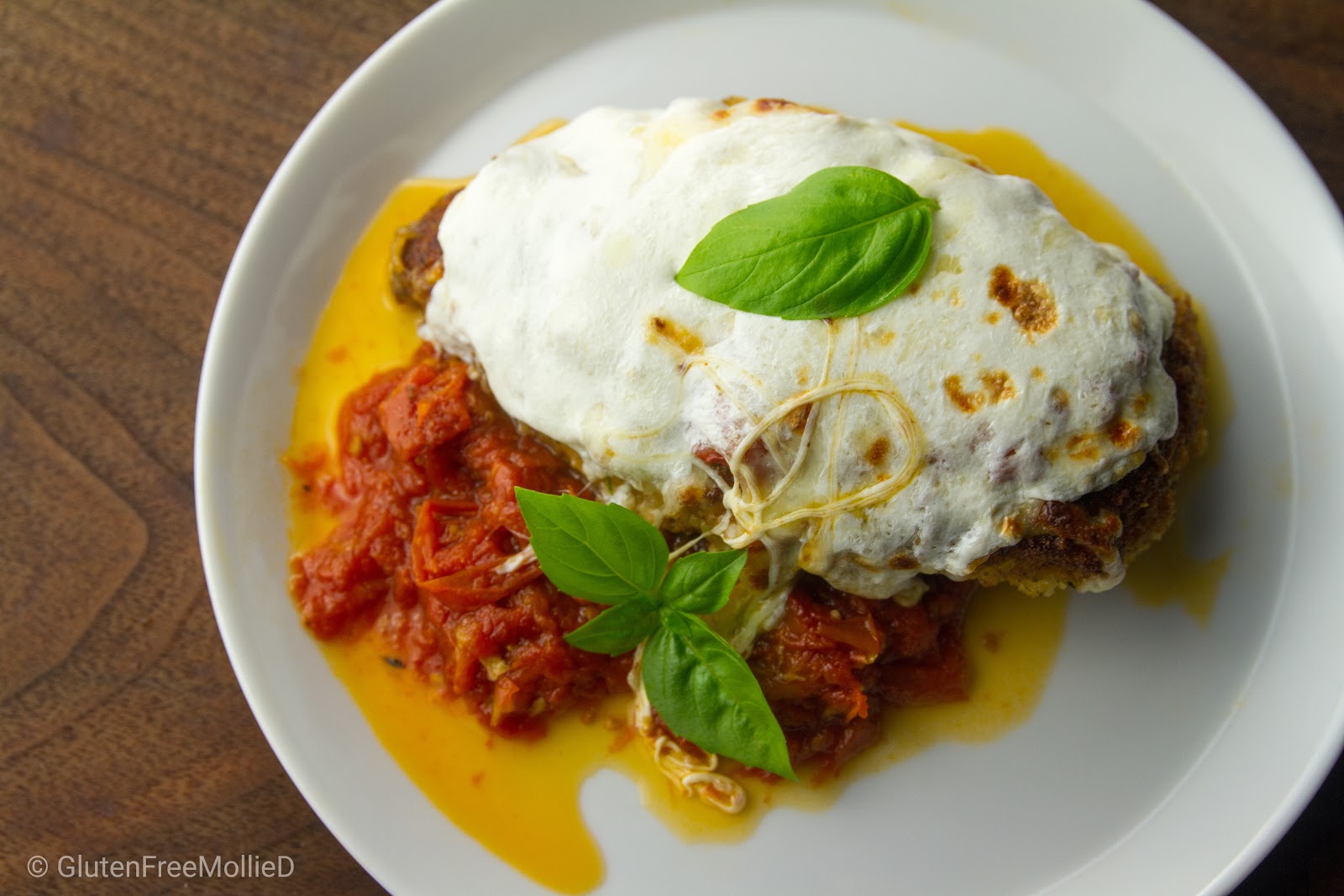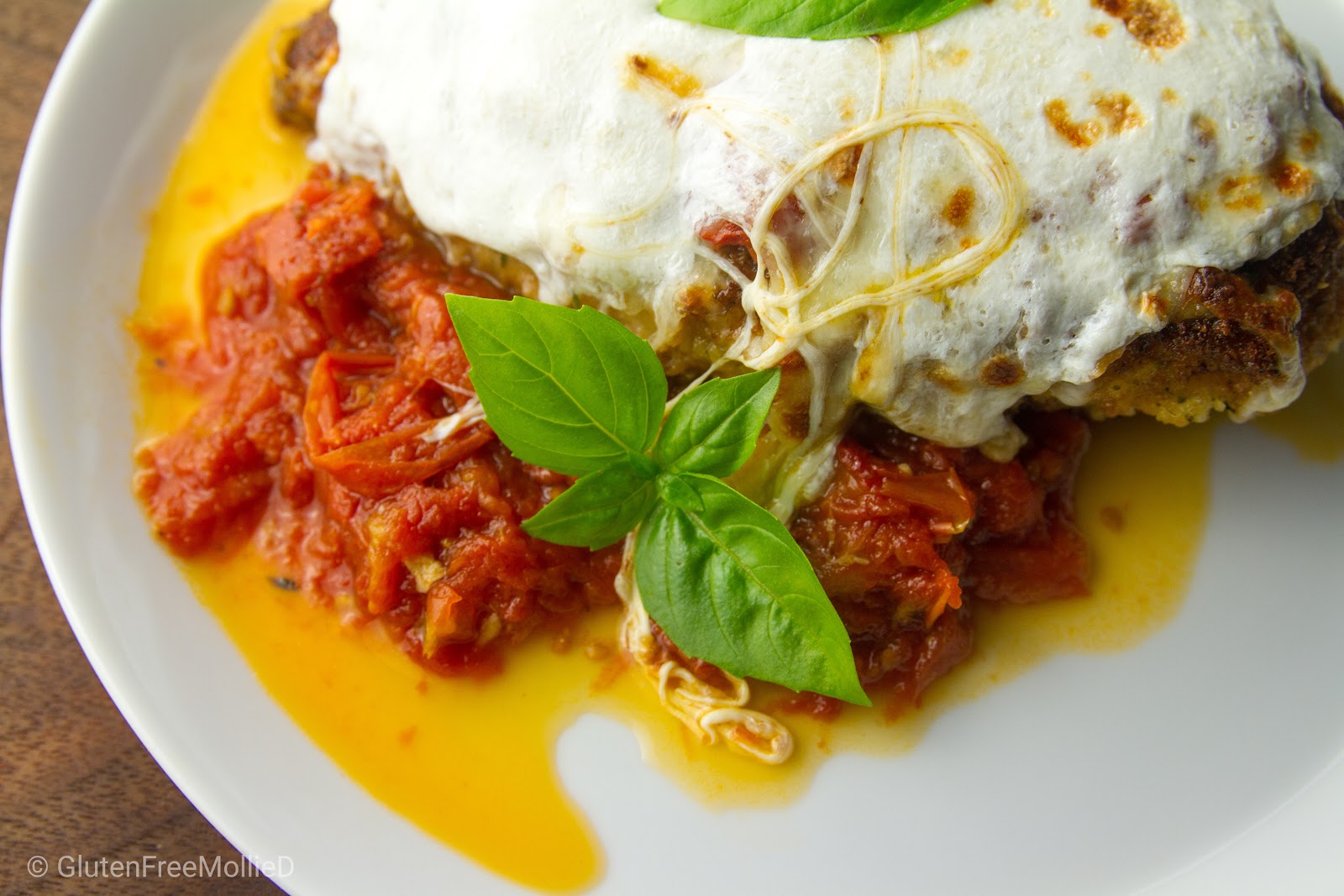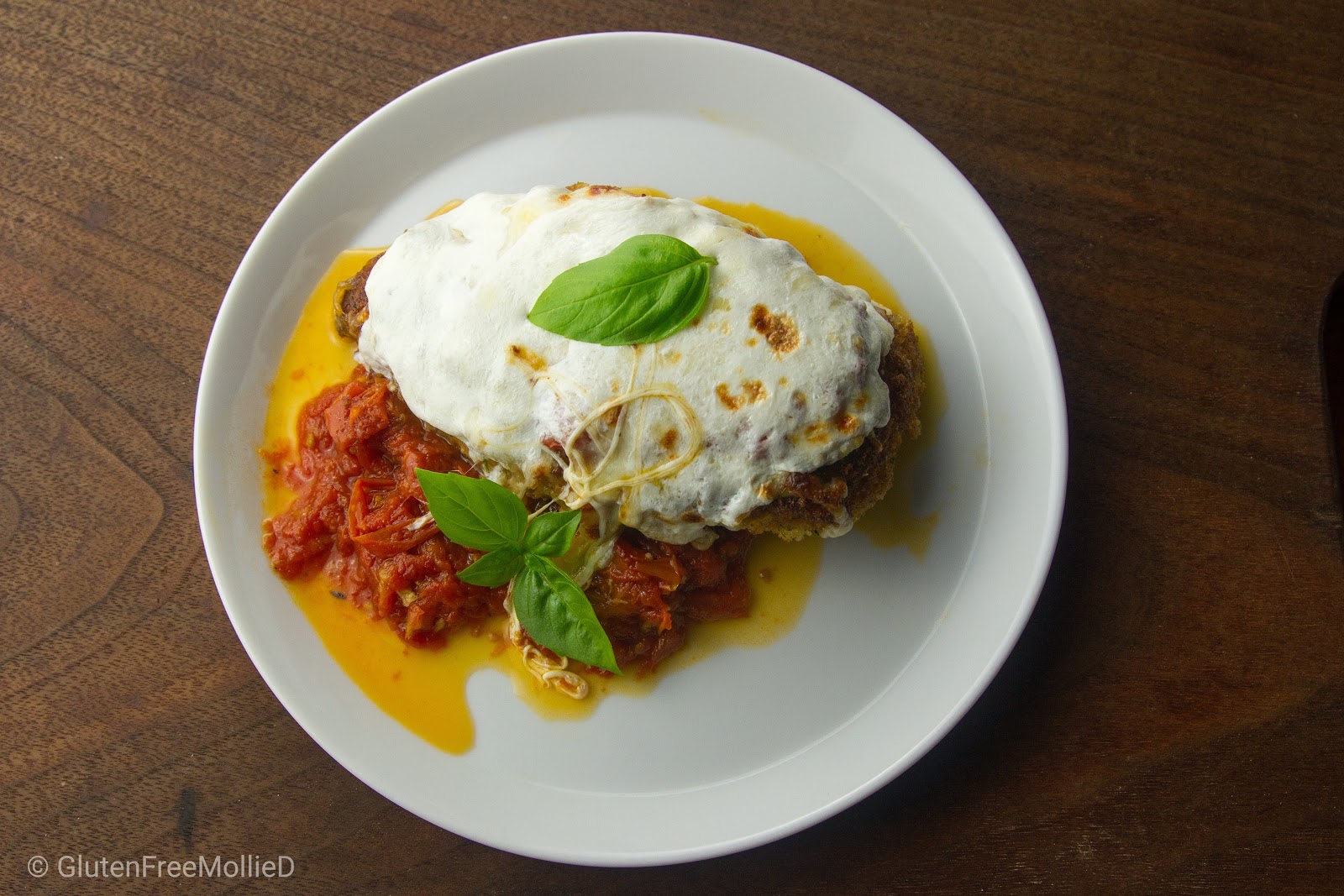 Chicken Parmesan
Source: A Gluten Free Mollie D Classic, no recipe required.
Tip: Make sure to use GF breadcrumbs for coating the chicken. We always use the ones from Aleia's Artisan Foods.
For all those nights we use recipes, which is most nights, there are some nights when we just need a break. And that break comes in the form of classic meals such as this one.
Chicken Parmesan is a crowd-pleaser every time and after a particularly long day, not much is more delicious than a breaded, pan-fried chicken cutlet that's covered in tomato sauce and cheese. Lots of cheese.
This dinner works on its own, but can easily be enhanced by serving it with pasta or a salad, or both, depending on your hunger level. This time around we skipped the extras and just kept it simple. Chicken Parmesan doesn't need anything else, which is why it's such a great weeknight dinner.
Basic and delicious and always appropriate, this meal is one we will have on rotation for the nights "we can't even" for years to come.
Who/What/Where: Do your friends and family love chicken parm as much as we do? This is a fun option for a dinner party that I don't think anyone would expect. Add some pasta, a light salad, maybe an easy red wine, and voilá! A party is served. Just don't forget dessert. ;)
The Weekend
Where did we go? What did we do? How was the food?
Friday night: Tavern in the Square, Burlington location.
So? A grand gluten free menu that covers all the bar staples, I'm so glad we finally re-visited this spot after years of staying away (new ownership means a new, awesome approach to gluten free dishes). We enjoyed fun, easy food (bar-style fare) while watching the Sox game and toasting the start of the weekend.
Saturday night: Daikanyama, Lexington location.
So? Gluten free options aplenty, especially if you're in the mood for sushi! Thrilled they also have GF gyoza, I can hardly resist and always get two orders. I ordered a couple sushi rolls too, plus a red miso soup. Yes, I ordered a lot, but decided to do a sampling of GF options.
Grilled items can be GF too as long as you skip the teriyaki sauce. A different option than the standards we often stick to, I am appreciative of the GF selections and am glad I enjoy sushi!
In addition to these meals, I baked a cake, which you will learn more about very soon, decided that I'm thrilled for fall foliage, spent some quality time with my family, and acknowledged that I find watching Sunday Night Football to be oddly soothing! Seth is psyched. 🙂
We hope you had a fabulous fall weekend! Head over to Instagram nightly where I feature our dinner every Sunday-Thursday!
Eat, well.
Mollie and Seth