Early Signs of Spring
Kicking it into high gear with our health plan by way of supreme salads, last week's dinners were all about the greens! And without much planning, the majority of them were meatless as well!
This just goes to show that you can have a pretty fantastic meal without a single serving of chicken in sight! However, I am the first to admit that by the weekend I was craving meat and promptly ordered a steak on Friday night. But more on that later.
In other news, the weather was quite ridiculous! Temperature swings bigger than a carnival-sized see-saw left some days absolutely frigid and others barely requiring a jacket. Interesting winter we're having here in the northeast!
And despite the drastic temperature changes, we're staying on course with our healthy meal plans. I'm proud of us! It's hard to keep up with the greens when everyone else seems to be making mac-and-cheese, but we're sticking to it.
For now though, let's get to the dinners that featured an abundance of veggies and quite a bit of kale. Oh yes, there was a lot of kale. We're kale club members, remember? 😉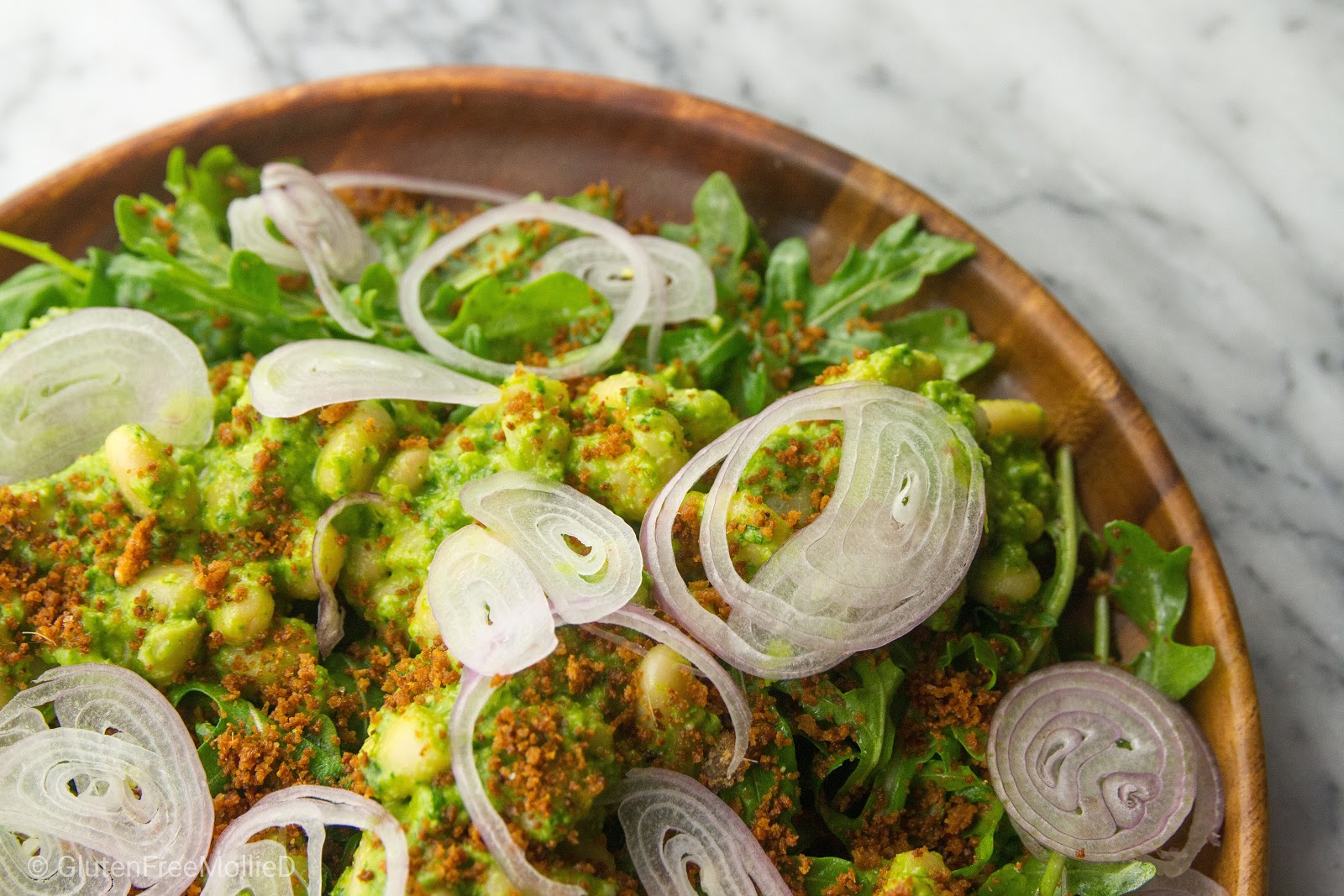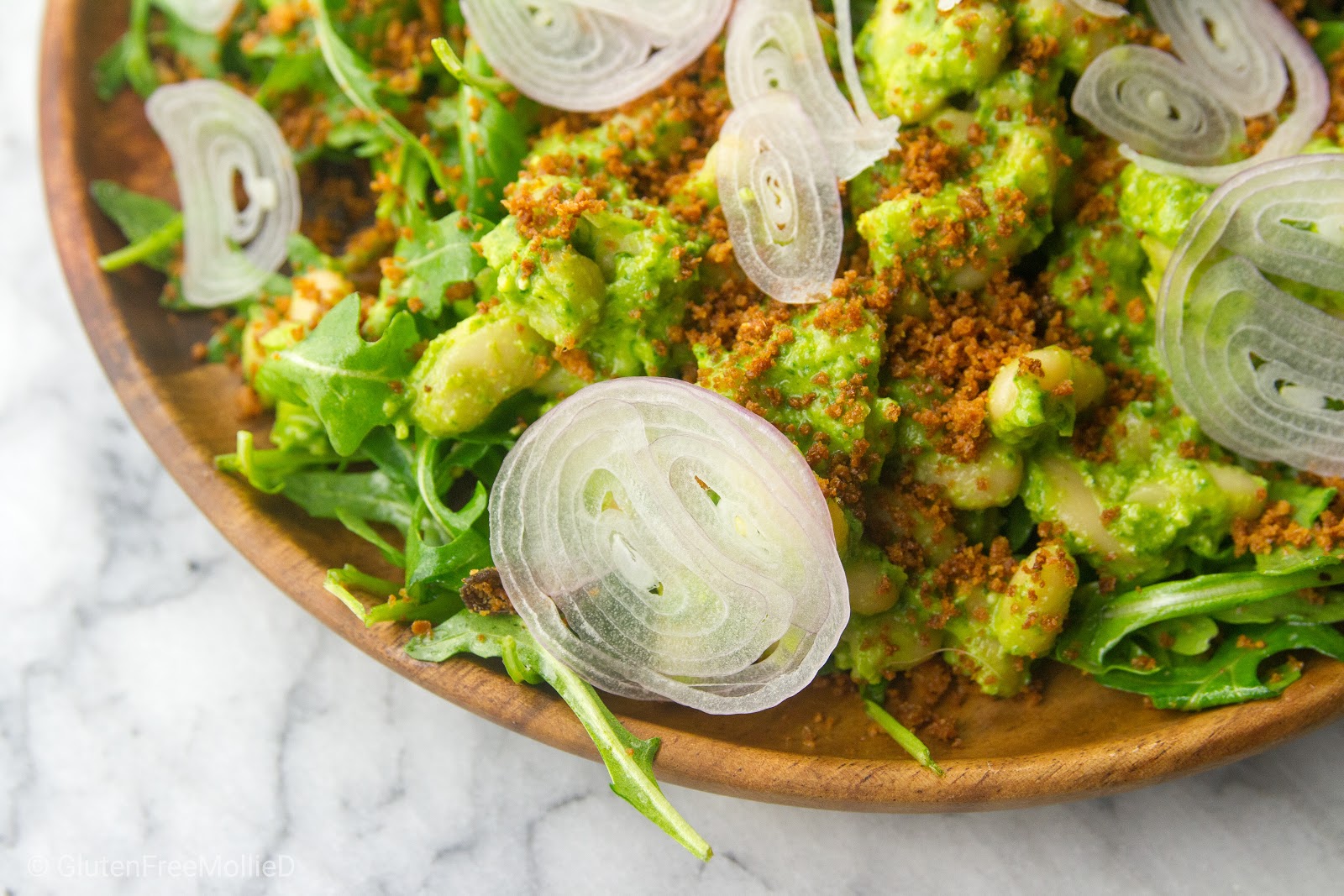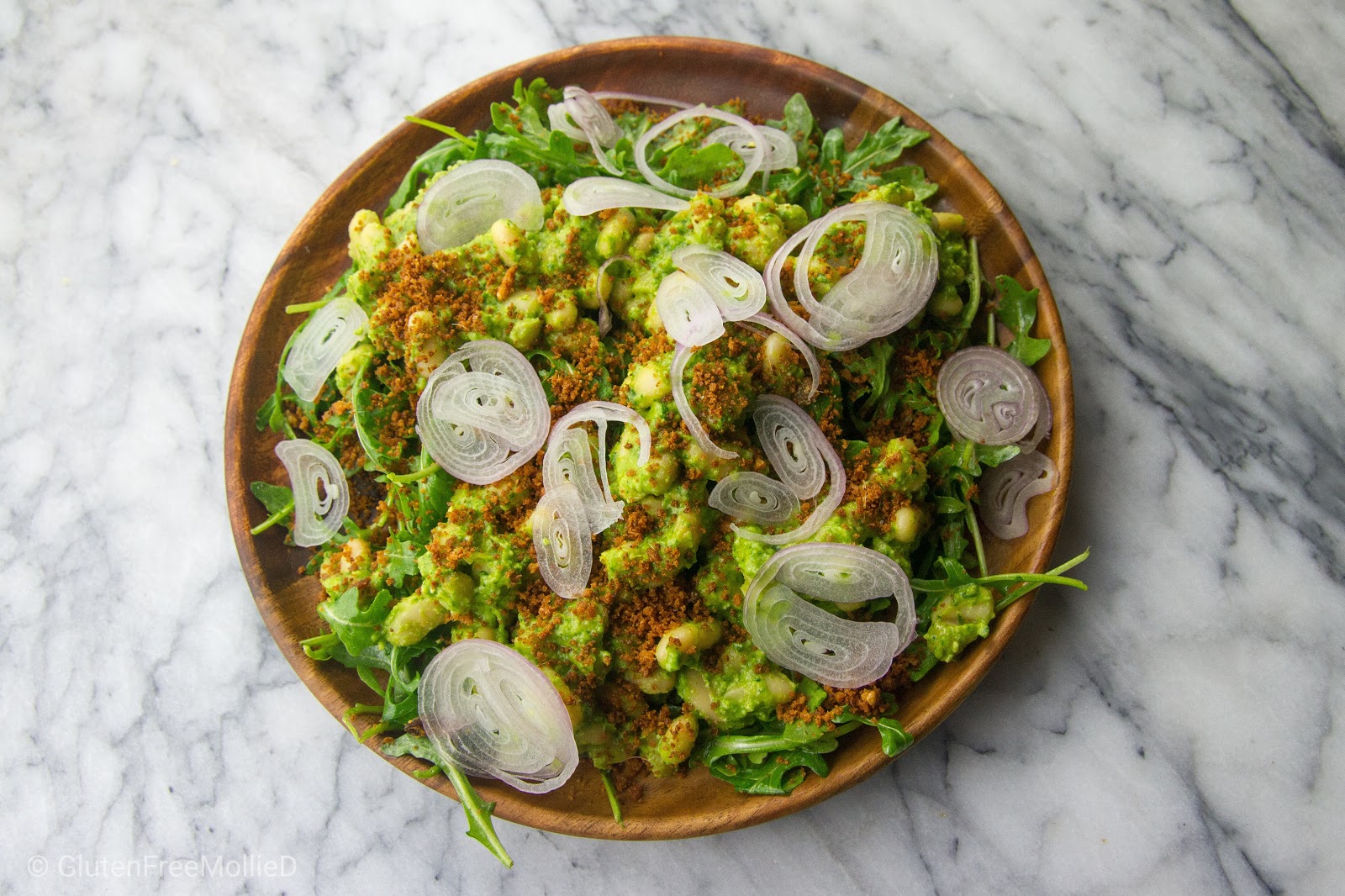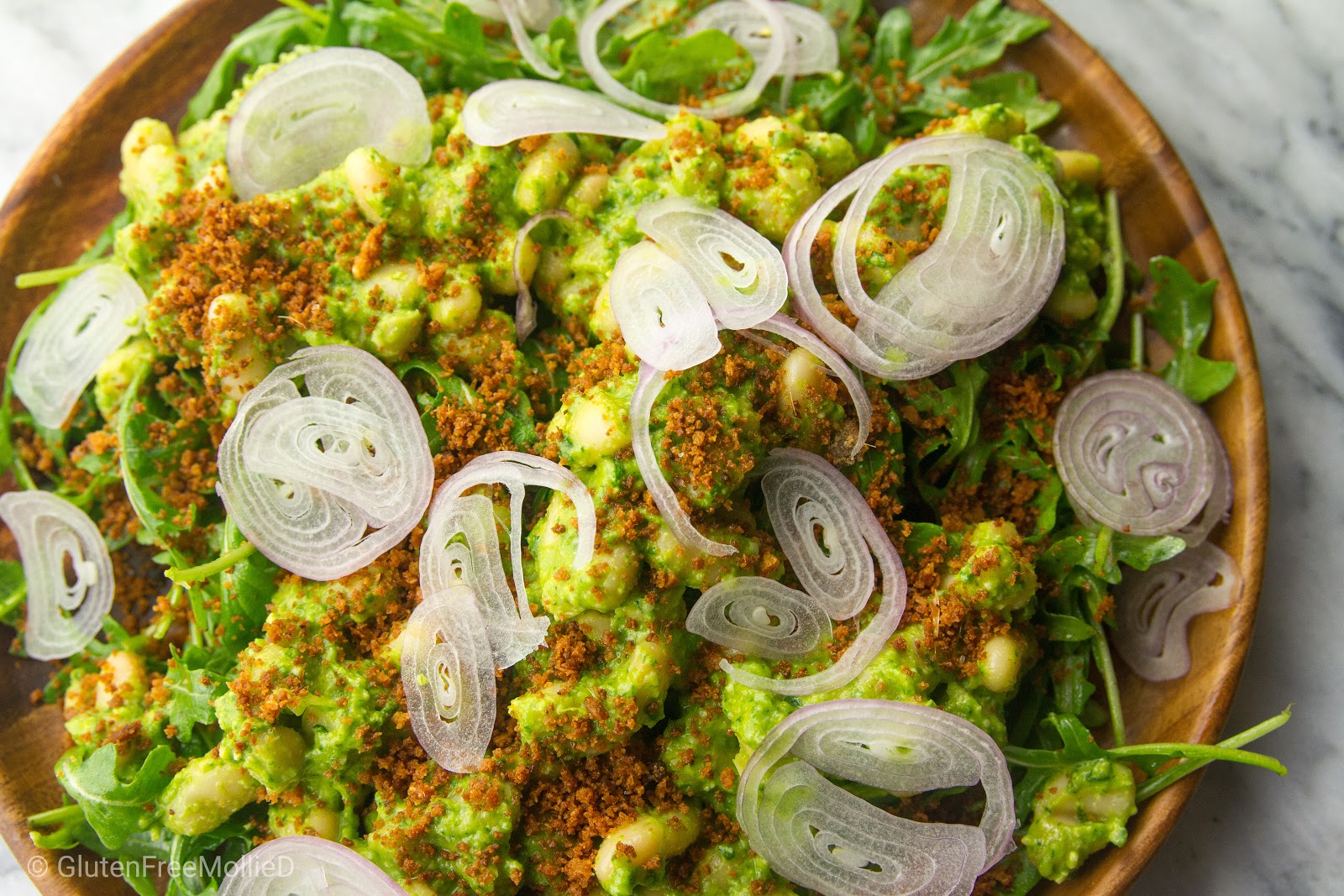 Arugula Pesto & White Bean Panzanella
Source: What's Gaby Cooking. Grab the recipe, here.
Tip: Skip the bread and use GF breadcrumbs instead! We made garlic anchovy breadcrumbs to sprinkle on top for a salty crunch. This dish is naturally gluten free by omitting the bread.
Review: Sure, the recipe called for bread. But that didn't stop us! I'm learning that it's OK to adapt recipes beyond just making them gluten free and this one in particular was an excellent example of that process.
I loved the sound of this dish - a salad filled with beans and pesto - but knew that we'd have to skip the bread. However, instead of being sad about missing the bread or using a GF loaf from the grocery store (never my personal choice), we decided to make garlicky anchovy (gluten free) breadcrumbs to sprinkle all over the salad. Not exactly chunks of bread, but I do think it was an excellent substitute that still provided tons of flavor, extra crunch, and became a fun twist on the classic "Panzanella."
Aside from the bread swap, we didn't make any other drastic changes. The arugula pesto was delicious mixed with the white beans and it all came together nicely over the arugula base. I joyfully sprinkled the breadcrumbs over everything making each bite ultra-savory; creamy beans and crunchy breadcrumbs. Perhaps this one could be your new favorite?
Bonus: the breadcrumbs are terrific on your scrambled eggs in the morning and the pesto-covered beans are a great addition to your lunch. ;)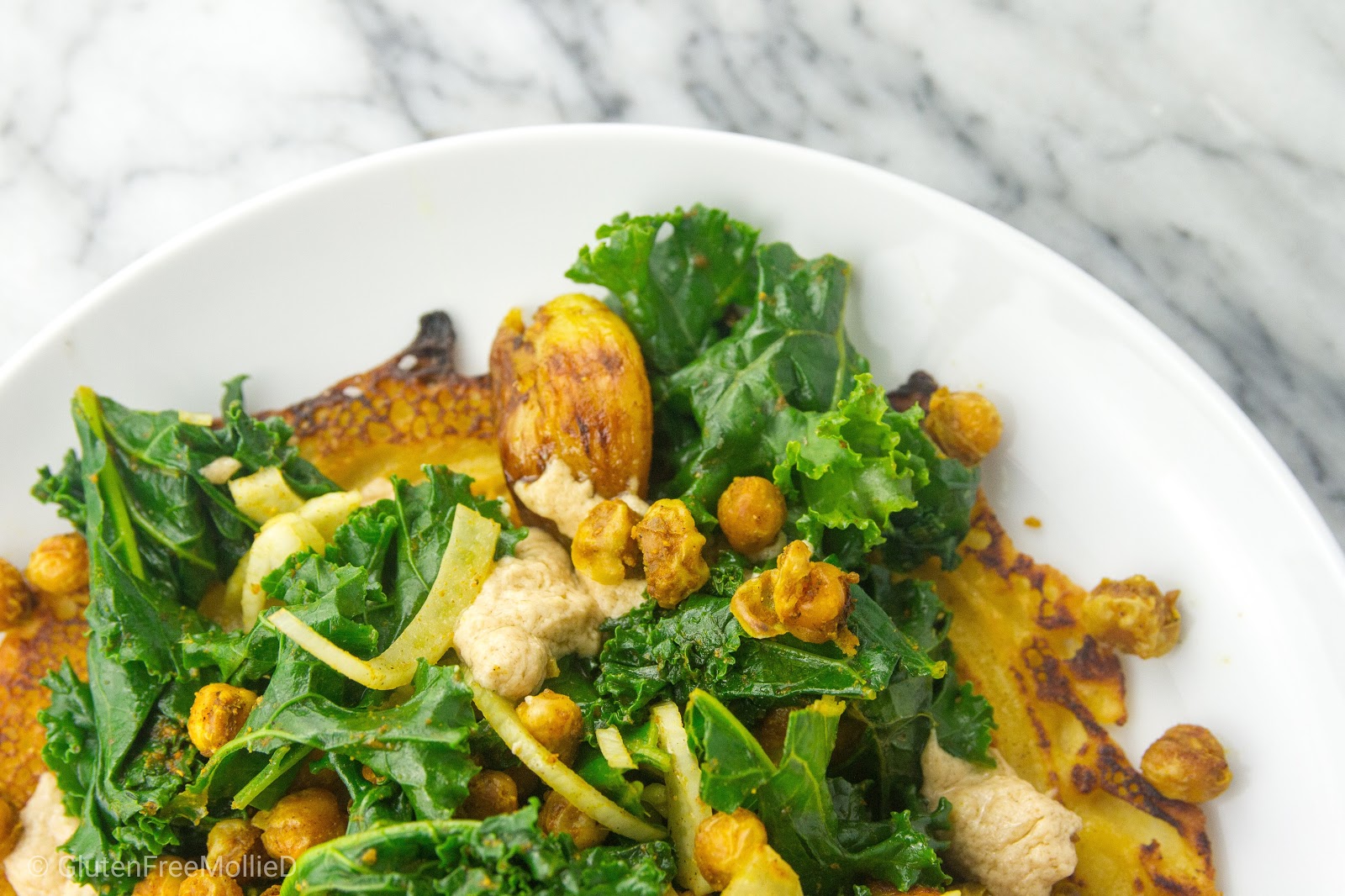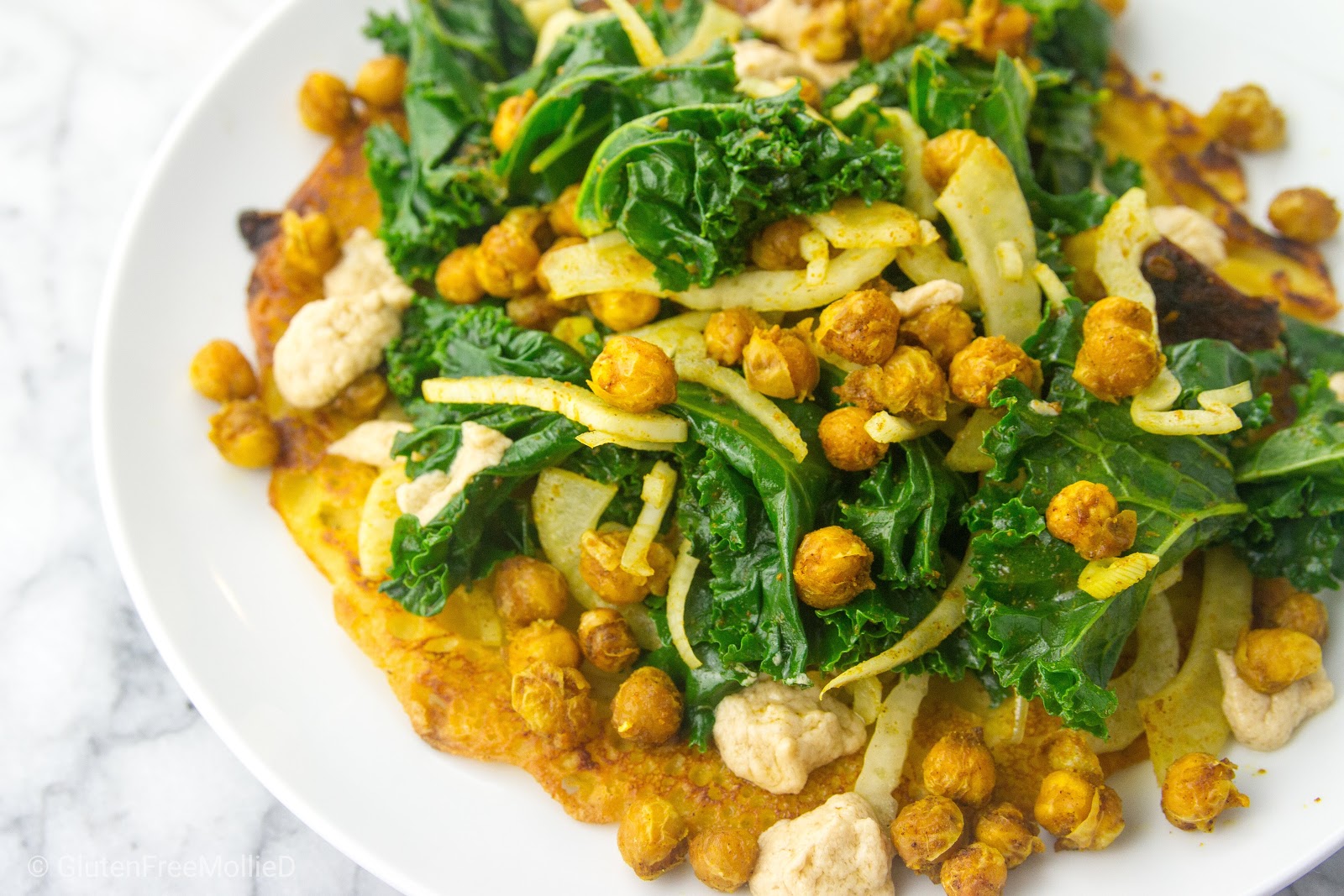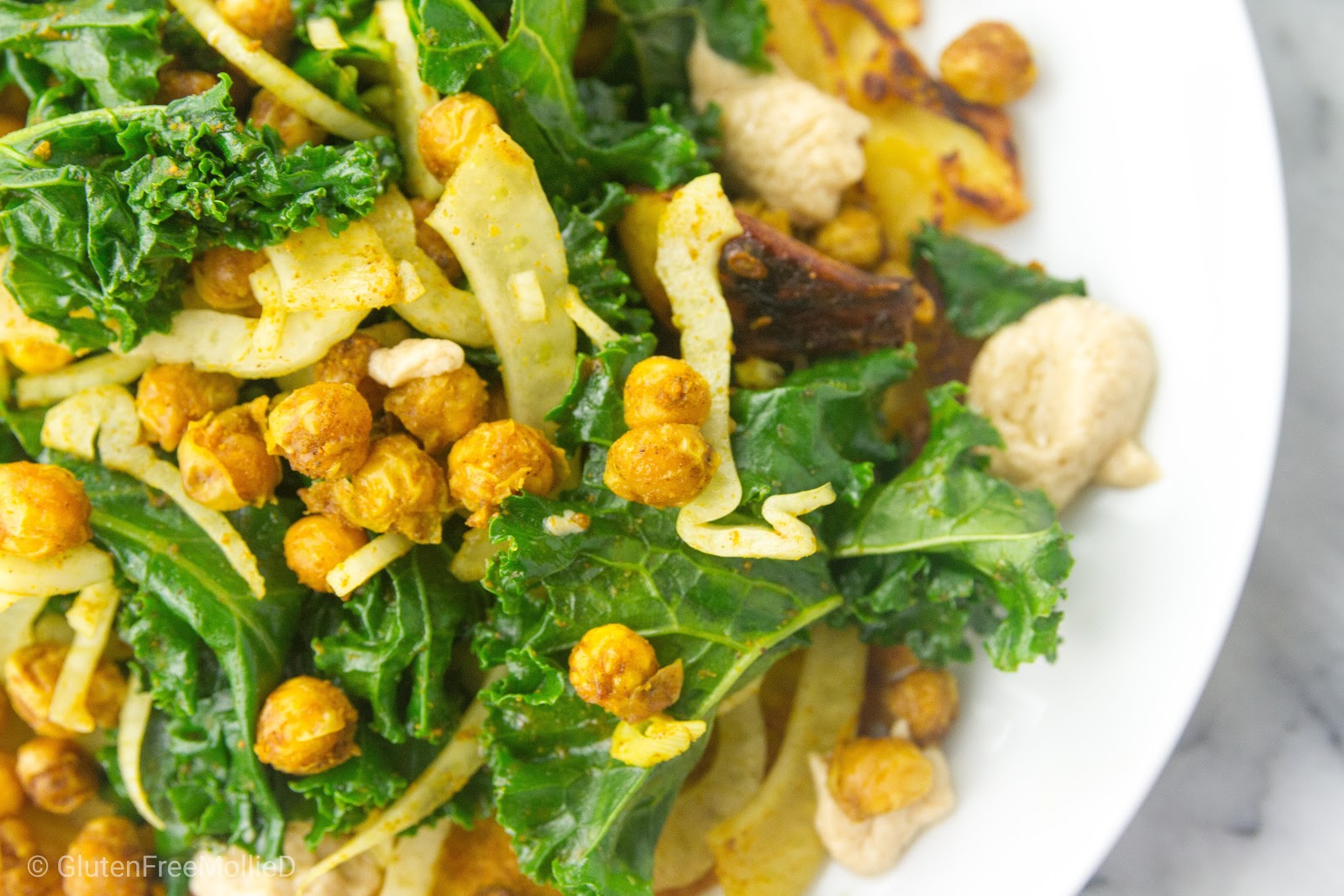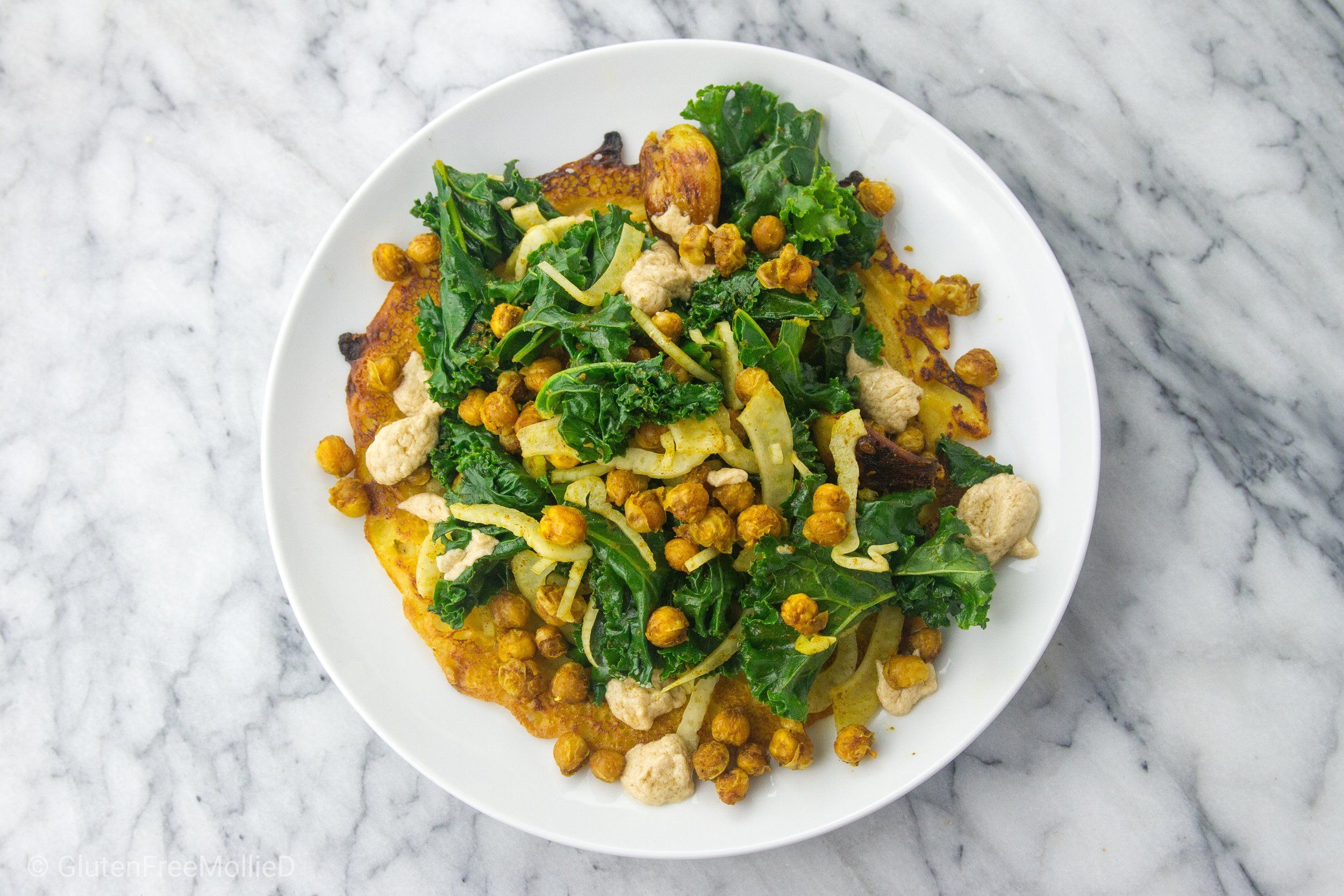 Chickpea Pancakes with Kale and Fennel
Source: Bon Appétit online. Grab the recipe, here!
Tip: This meal is naturally gluten free. Make sure to buy chickpea flour that is correctly labeled gluten free.
Review: OK, this is not a salad, but it's definitely a healthy meal and it's covered in greens so we'll call it a semi-salad. Fine. It's a pancake. I can't fool you. But! This is a healthy pancake made out of chickpea flour, also called socca, and it's a wonderful base for all sorts of delicious toppings.
Last year, we made socca (these same pancakes) and topped them with roasted tomatoes and caramelized onions. Amazing. This time around we made chickpea pancakes (socca) and topped each one with a delicious mix of kale, fennel, and more chickpeas. And that's not all! The recipe also included a savory tahini dressing which just made all of other ingredients pop. A supremely scrumptious dinner that was quick to prepare and even quicker to eat. Yes, we ate them way too fast.
What's great about this dish (did I mention it's naturally gluten free and meatless?) is that you could put any combination of toppings on the pancake - that part of the recipe is super simple (well all of it was easy). So you could consider this recipe a vehicle for all kinds of dinners to come!
This one was delicious with the kale and fennel - that topping was awesome as leftovers - but I'm sure many combinations of veggies would be equally great on top of these light, thin protein-packed pancakes. A healthy pancake?! Yes, it does exist. You're welcome.
PS. I love regular, more traditional pancakes (hello, maple syrup). But these chickpea ones are particularly excellent for healthier dinners. I'm excited to make them again!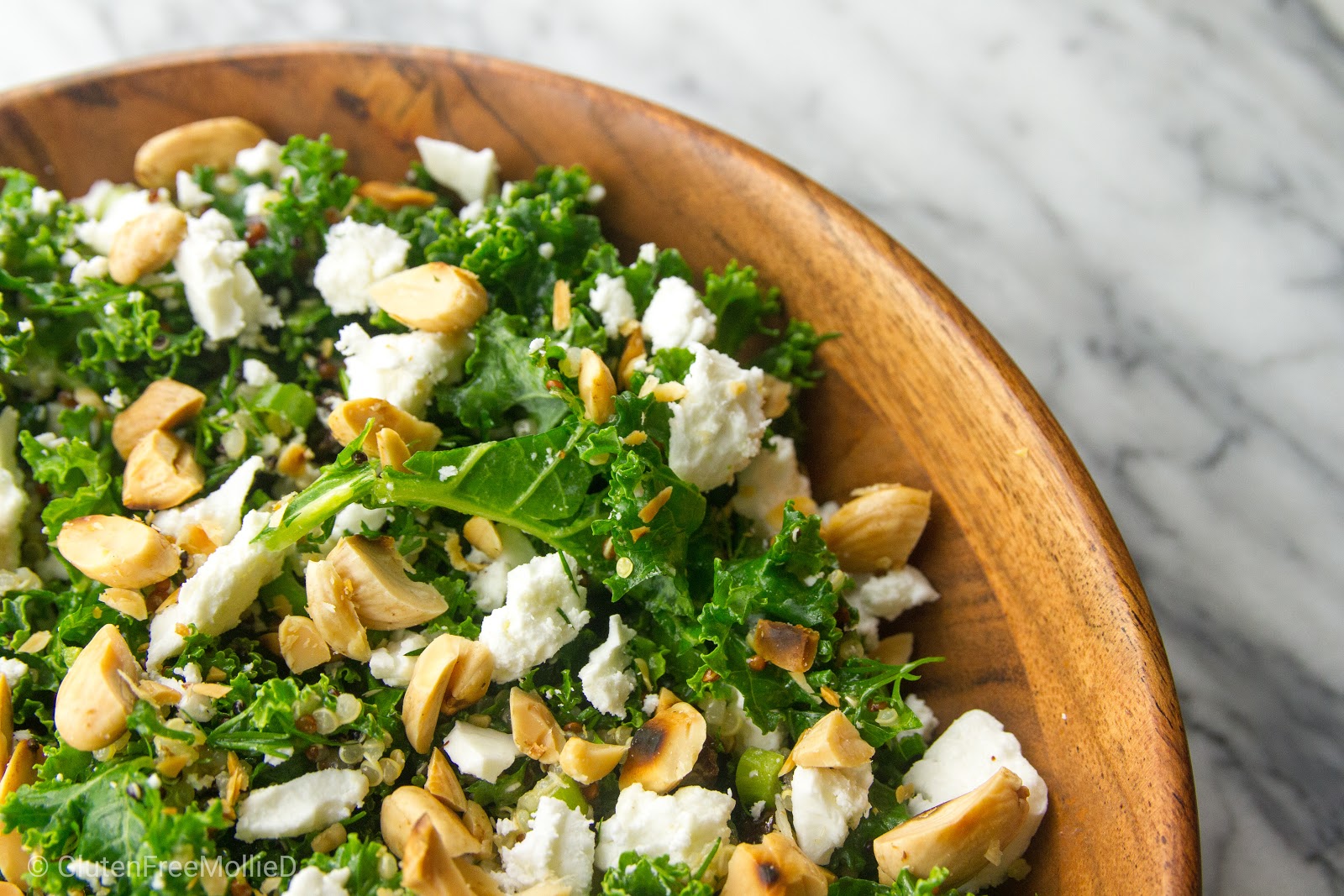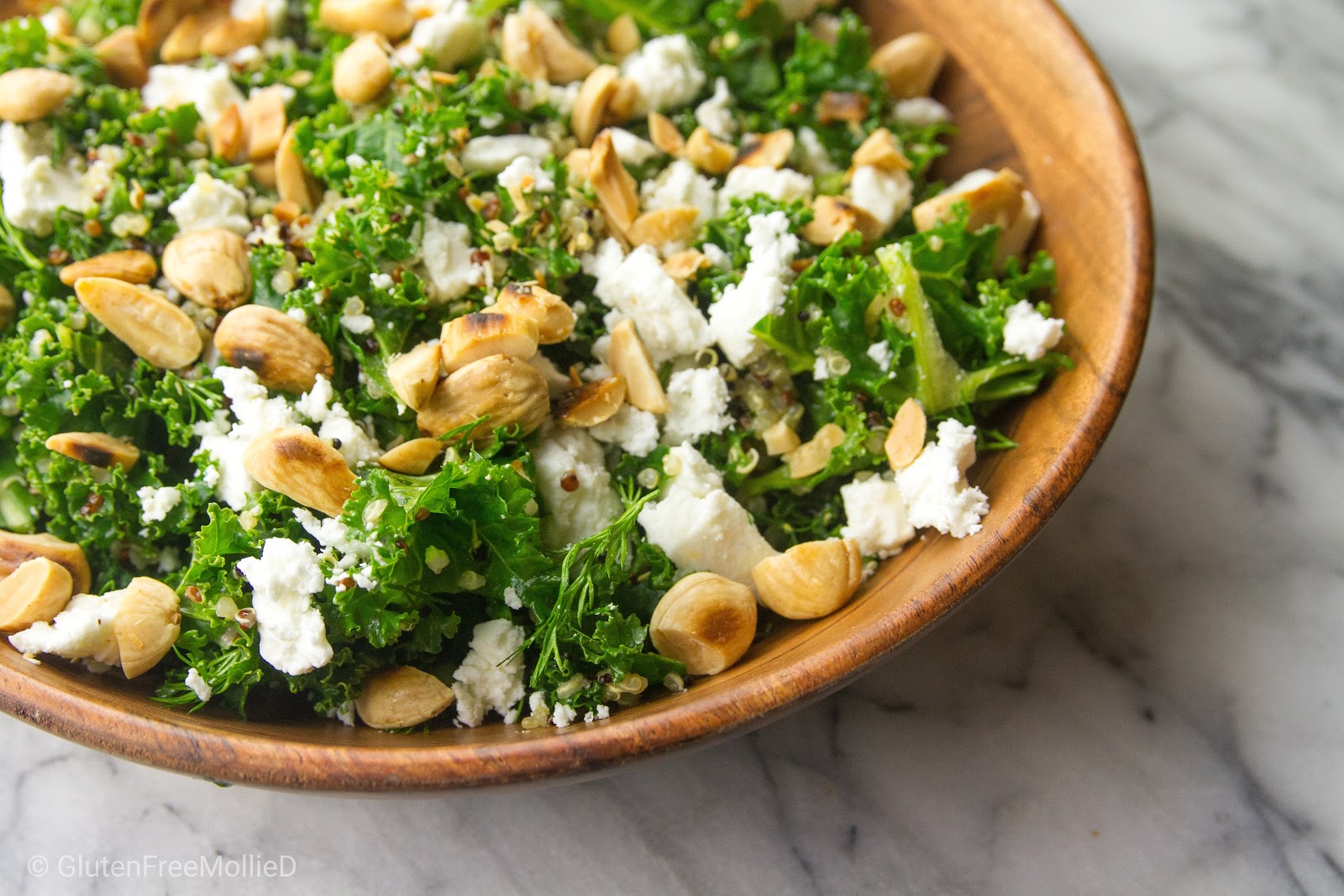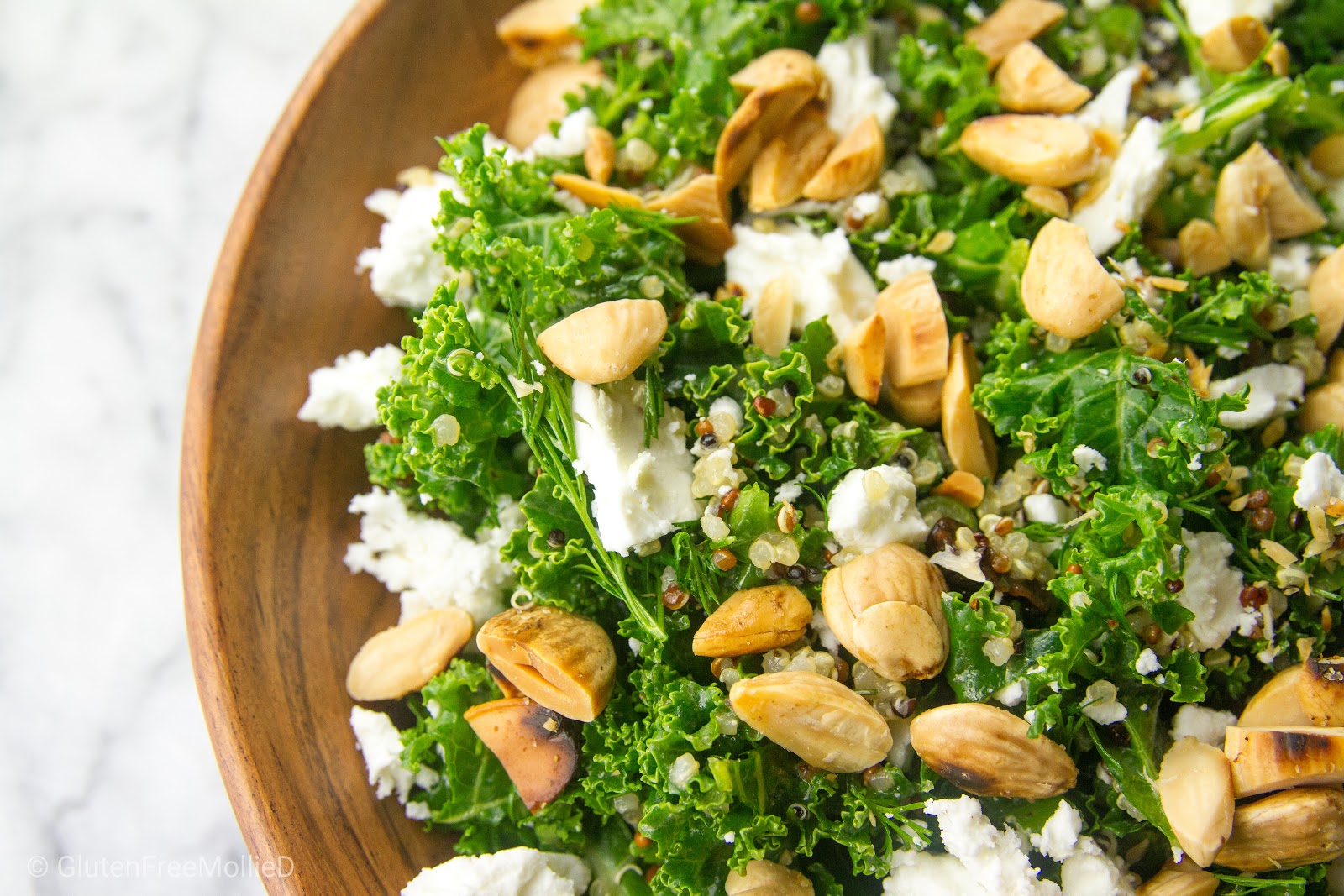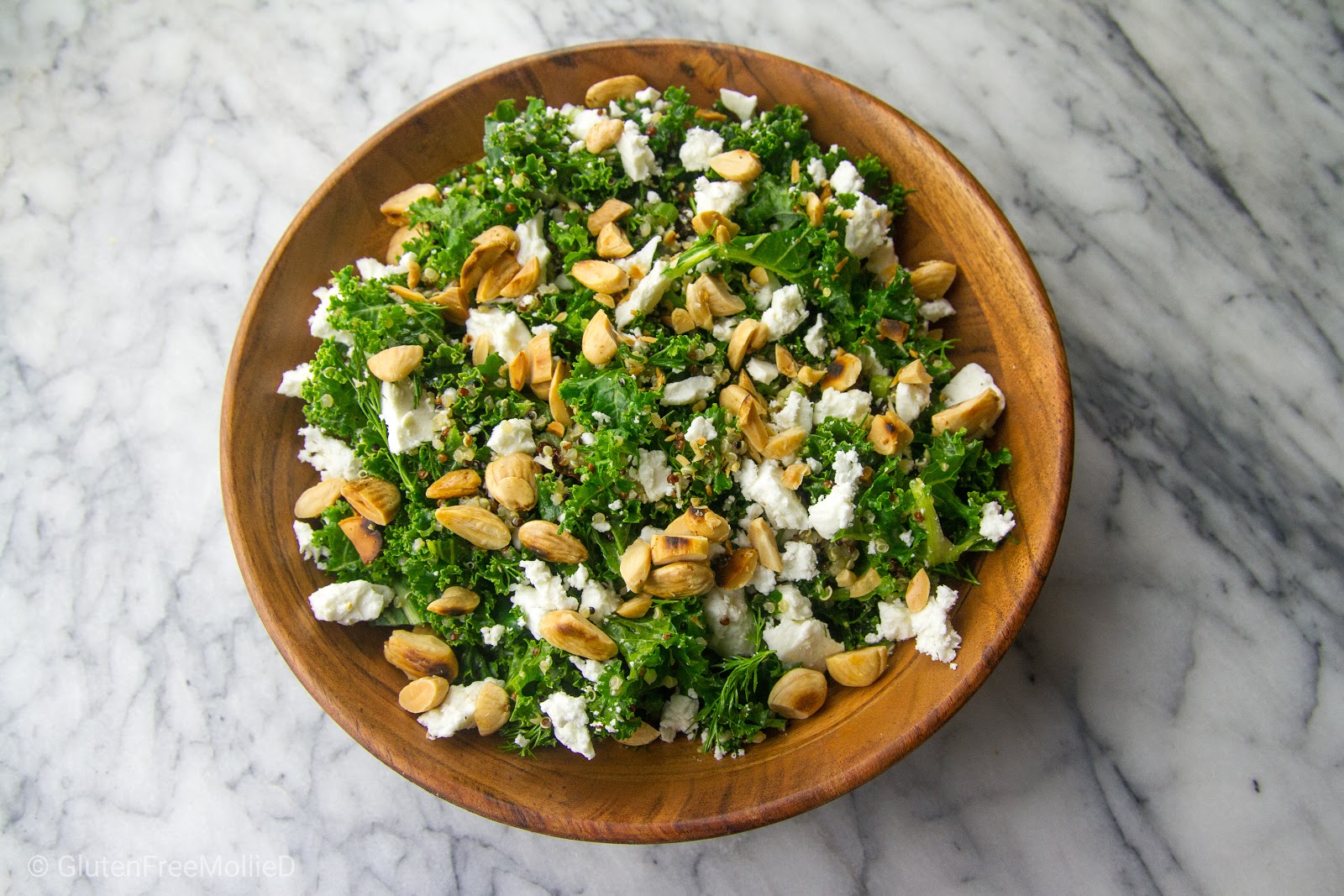 Kale and Quinoa Salad with Ricotta Salata
Source: Smitten Kitchen online, but it's in her first cookbook, too. Grab the recipe online, here.
Tip: We made two slight changes to the recipe due to ingredient availability. We used Marcona almonds instead of slivered almonds and feta cheese instead of ricotta salata. These changes made for an excellent salad, but I'm sure the original version would be awesome as well. For the record, this salad is naturally gluten free.
Review: Skeptical of a salad with a pretty small number of ingredients, I was quickly proven wrong as soon as I took my first bite into this fantastic meal. The recipe is an adaption of a salad the author enjoyed at a restaurant and decided to recreate it at home.
Thankfully, she shared the recipe on her website so that we could all benefit and enjoy this awesome salad. Excellent ingredients + super dressing (double it for extra!) equals one amazing salad.
The best part of this salad, besides the wonderful blend of textures, is the fact that it's far more filling than it appears thanks to the presence of quinoa, almonds, and feta (we did not use ricotta salata). Now that our weeknight dinners are more frequently big plates of greens, it's important that they're still filling and not just nutritious. That's pretty reasonable, right?
As much as we're trying to be healthy, I hate feeling hungry after dinner. I simply hate it. So I'm quite happy that salads like these exist and can easily weave their way into our meal plans.
Not only was I full after this delicious dish, but I was also proud of how far we've come. It takes time to get used to salads-as-dinner, but we're really leaning into it and are feeling great because of it. Don't worry though - we do indulge a little on the weekends. ;)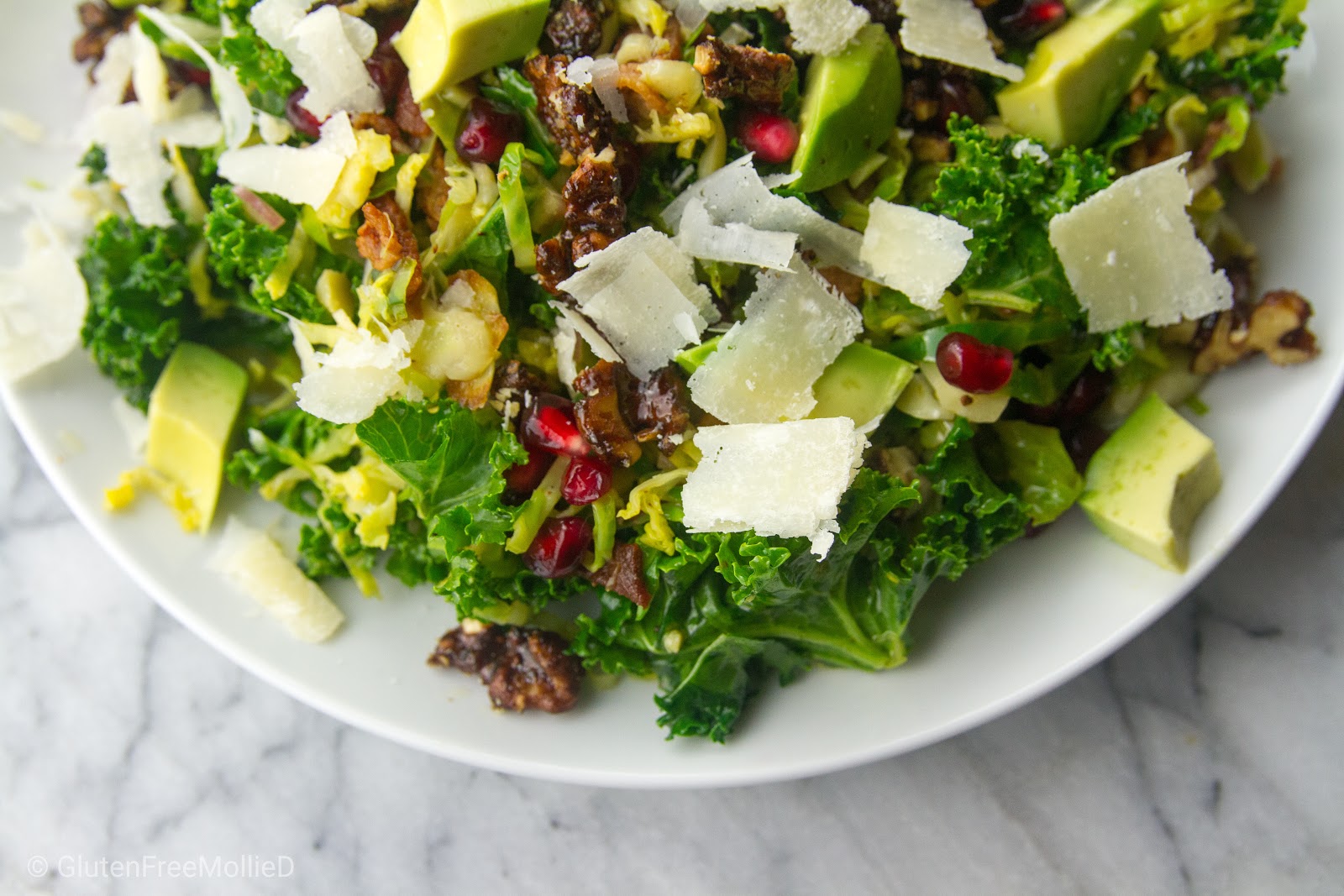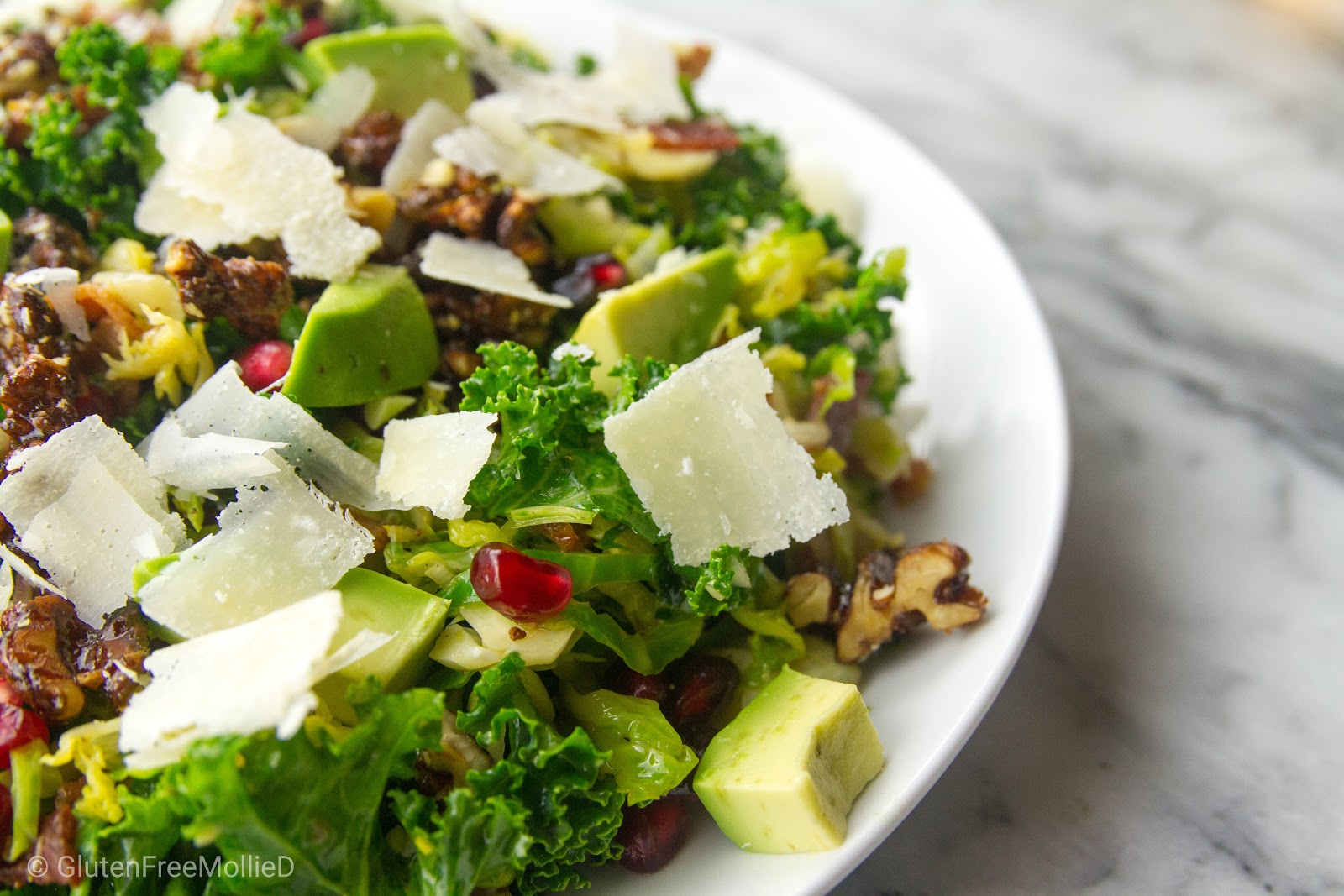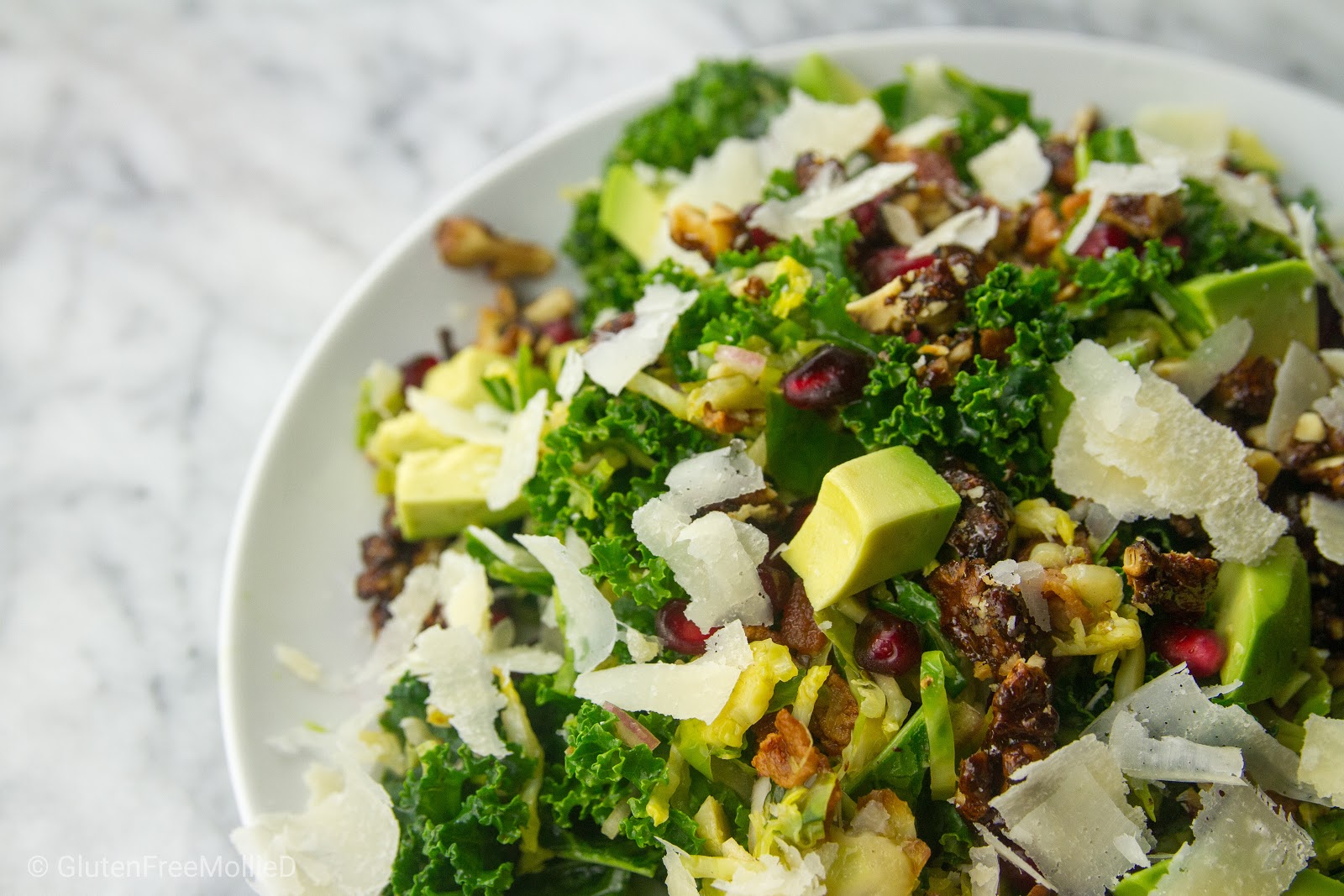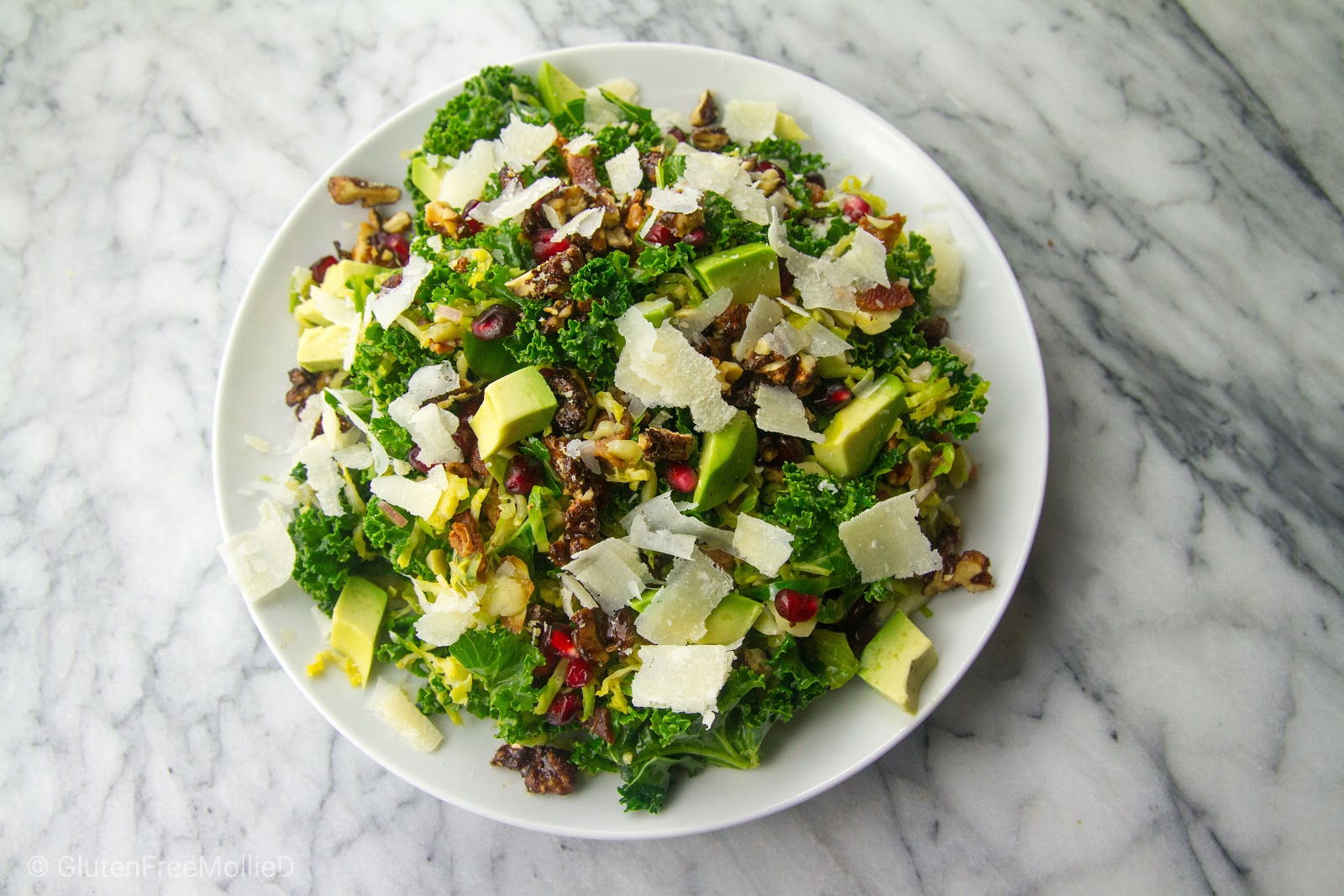 Shredded Brussels Sprouts Salad
Source: What's Gaby Cooking online. Grab the recipe, here.
Tip: We made a couple edits to this one based purely on preference! We added bacon, and cooked the Brussels sprouts a little with the bacon after shredding them. Also, this recipe is naturally gluten free!
Review: Looking back, I think we should have left the brussels sprouts raw (as the recipe indicated), but at the time I was wary of not cooking them. Silly me. It would have been great.But it was still great with cooked brussels sprouts so I'm calling it a wash. Next time we'll leave them alone.
What a fun salad! We closed out our week of greens with this bountiful beauty filled with brussels sprouts, kale, walnuts, avocado, pomegranate seeds, a little Parmesan, and…bacon!
Yes, we decided at the last-minute to add a meaty element because why not? It had been a long week and I thought bacon would add the perfect extra flavor to this savory-and-sweet mix. It did its job!
Bacon was an excellent final element to this very green bowl. It would have been another meatless meal had we left out the bacon, but when it came down to it, I just had to add it. No one really complains when bacon is added to their salad, right? I didn't think so.
I'd say this salad was a terrific dinner for an easy weeknight, but I think it would be a great lunch as well. For a midday option, I would definitely shred the sprouts and leave them raw as originally recommended. A bit of foreshadowing on this dinner: over the weekend I ordered (and loved) a shredded brussels sprouts salad in which the sprouts were left raw. Surprise, surprise! :)
Thoughts from the weekend...
Finally, a weekend when we were both healthy! How delightful! So, we took full advantage of feeling well and went out a few times, got lots of errands done, some shopping, and even squeezed in a full baking project. 😎 A full, delicious weekend indeed.
We went to Puritan & Company in Cambridge on Friday night and loved it! I had heard lots of good reviews and was excited to finally try this relative newcomer (new to us at least). Every bite was delicious and the menu was easily done gluten free - plenty to choose from! I had an awesome spaghetti squash gratin as an appetizer, then steak for dinner which was served with an incredible blue cheese on top. Yum! The cocktails were terrific as well.
Saturday was colder than I prefer (oh, winter) so amidst a few errands, we hung out with the cat and eventually landed at The Stones Common House and Kitchen in Stoneham for drinks and a light dinner. Another new restaurant! This one is a neighborhood spot offering a plethora of gluten free options (including safe calamari and fries!), great cocktails, and a relaxed atmosphere. We were excited to finally try this local establishment and are looking forward to going back!
On Sunday, we did all those fun adult things like multiple loads of laundry, going to three grocery stores, planning our meals for the week, and... baking! Yup. My latest baking project is now complete. I can't wait to share it with you!
Mollie Bakes: Bagels - Coming soon! ❤️ 🥯
We hope you had a happy weekend and got to enjoy some delicious food as well. Follow along on Instagram (@glutenfreemollied) where we feature our dinner - nightly!
Eat, well.
Mollie and Seth