Back to Basics
When it comes to seasonal weeknight meals and the arrival of chilly nights, we all recognize that's when the ovens go on, the blankets come out, and all of the "comfy and cozy flavors" are prominently on our tables for the next several months. I love it!
Sure, I am wistful for hot summer nights filled with easy salads and the freshest produce, but I cannot contain the joy I feel while eating some of my all-time-favorite, cold-weather foods followed by relaxing on the couch with a cozy blanket. There's just nothing like it!
So come along and join me for the first tour-de-fall (last week's meals) that were a sampling of simple ingredients made special, which is exactly how I love great fall food the most.
Let's dig in!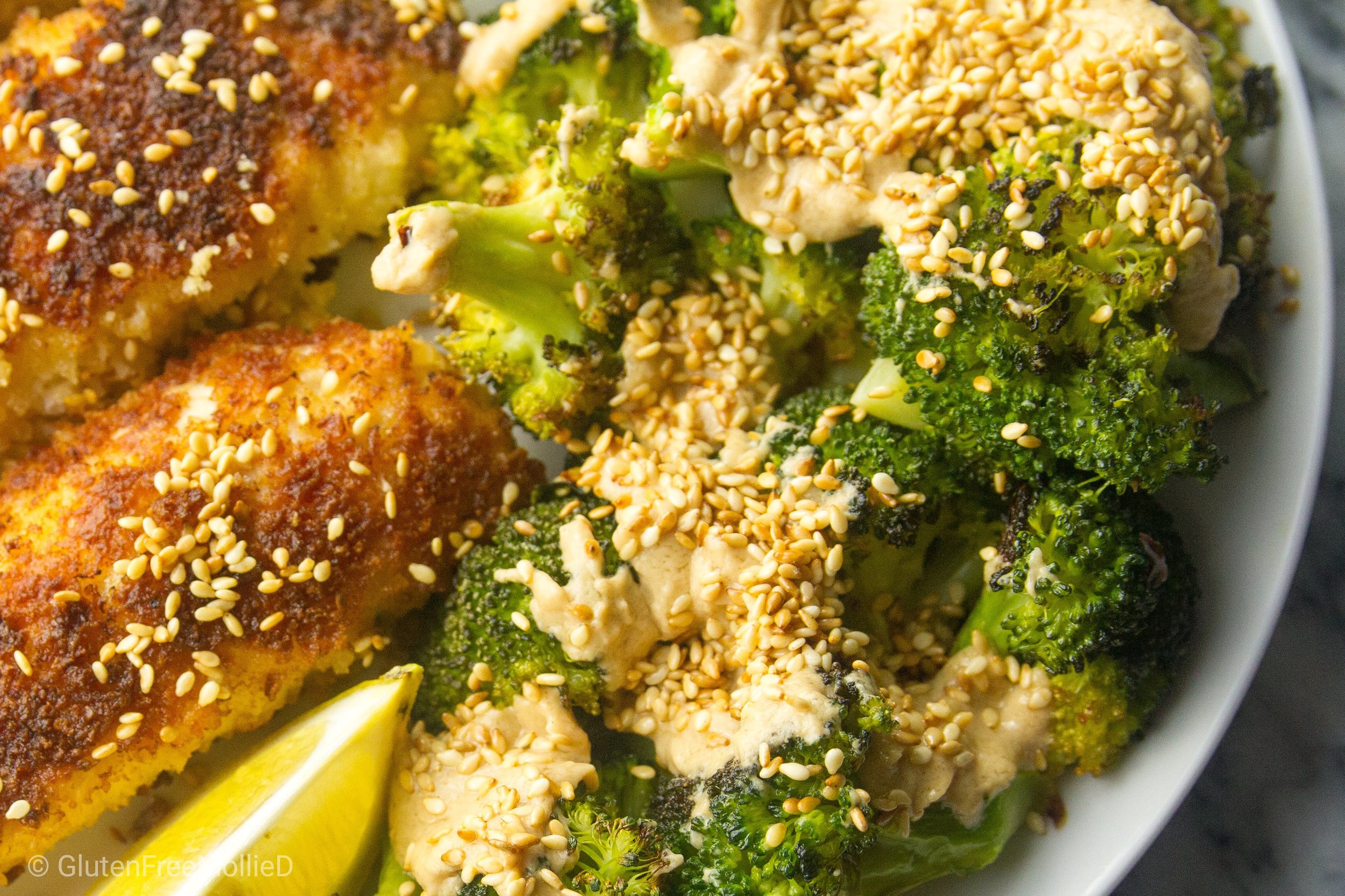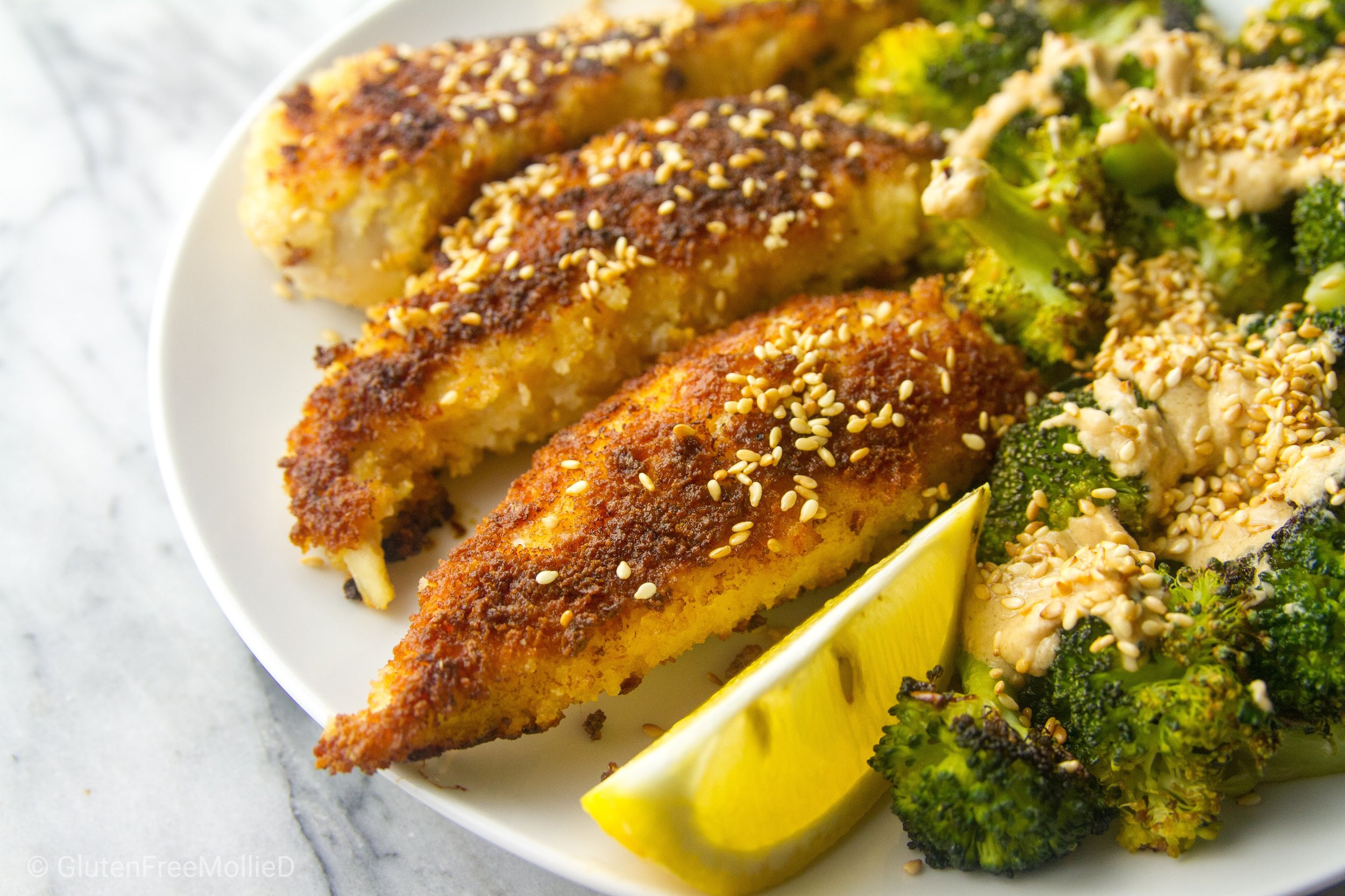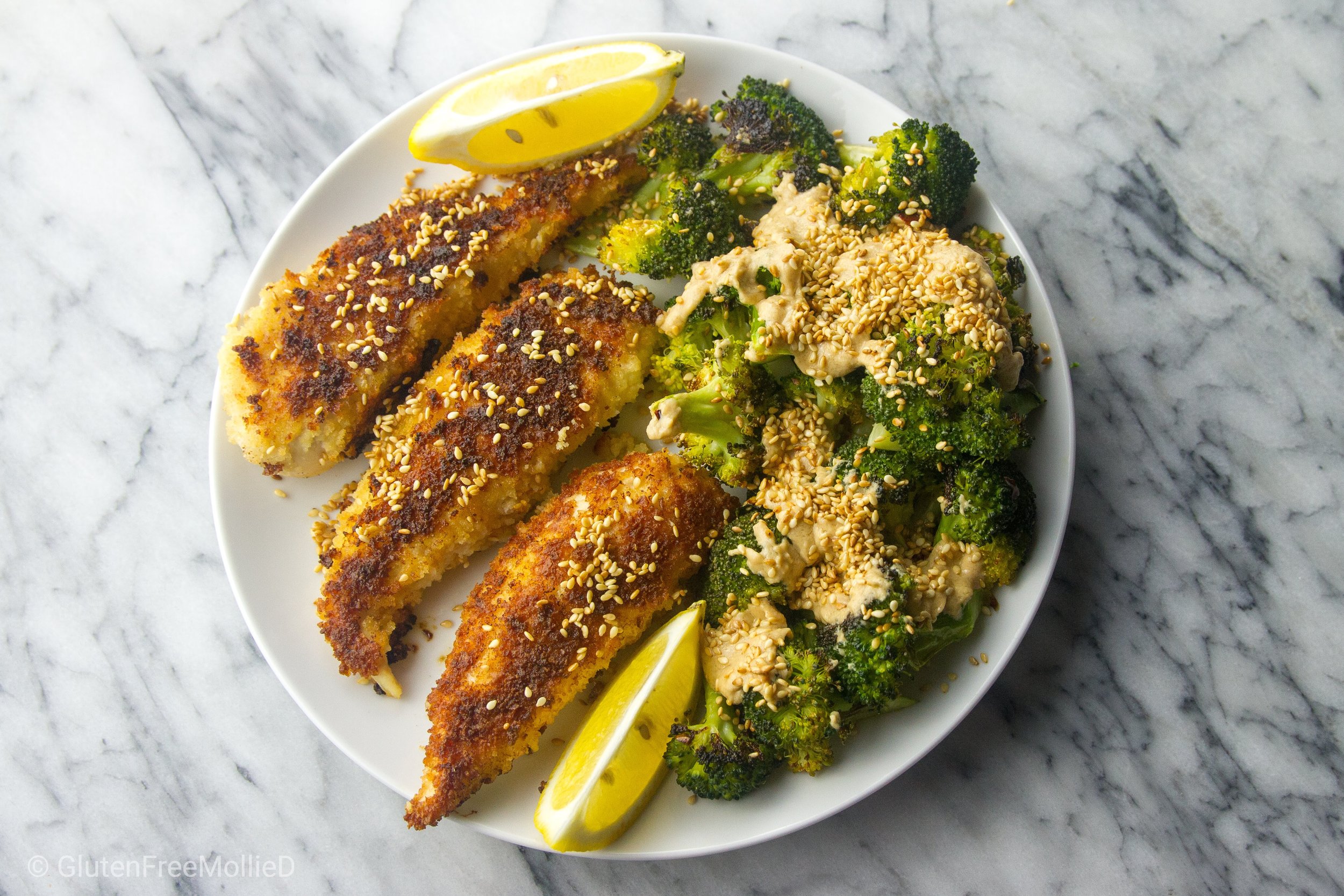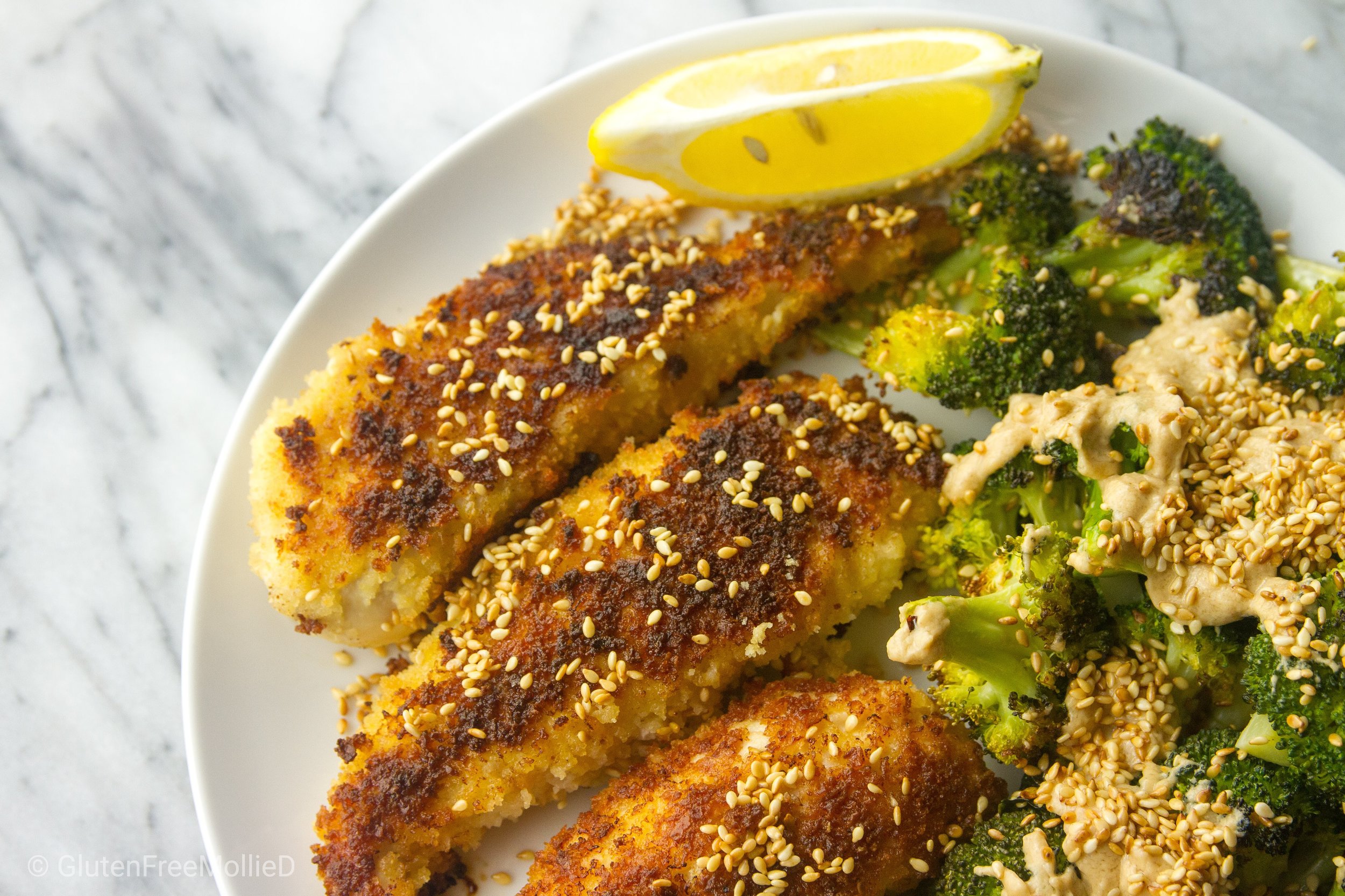 Panko-Crusted Chicken and Crispy Roasted Broccoli with Tahini Sauce
Source: The broccoli recipe (naturally GF) is available via Bon Appétit, find it here! The chicken is a GFMD original.
Tip: For all recipes requiring panko, we use Aleia's Artisan Foods' gluten free panko. It's terrific!
For years, our dinners consisted of "chicken and a veggie" and most of the time the chicken was prepared in this ultra-basic way: dipped in an egg wash, coated in panko or other breadcrumbs, and then pan fried. No shame here! It's delicious, quick, and perfect for pairing with any vegetable of your choosing.
However, as our interest in making more elaborate meals steadily grew, the frequency in which we made this somewhat unexciting protein steadily decreased.
These days, we bring back this chicken recipe when we're in the mood for a classic "remember way back when" sort of meal, but this time around we added in this powerhouse veggie on the side. Roasted broccoli is deliciously crispy and made even more delectable when topped with this tahini sauce.
I'm still in a learning-to-love broccoli phase of life (yes, I am an adult) so I'm always excited when I find a broccoli recipe, like this one, that includes a delicious sauce to go on top. It was even delicious as a dip for the panko-crusted chicken!
Who/What/Where: This meal is perfect for weeknights because it's very straightforward, required pretty minimal prep and overall time, and will please everyone.
Crispy chicken is a delight for palates of all ages and if you're trying to encourage others to eat their greens, then I'd suggest this roasted broccoli as a surefire way to get them excited. My favorite way (for myself) is to chop up the crispy pieces into extra-small bites. ;)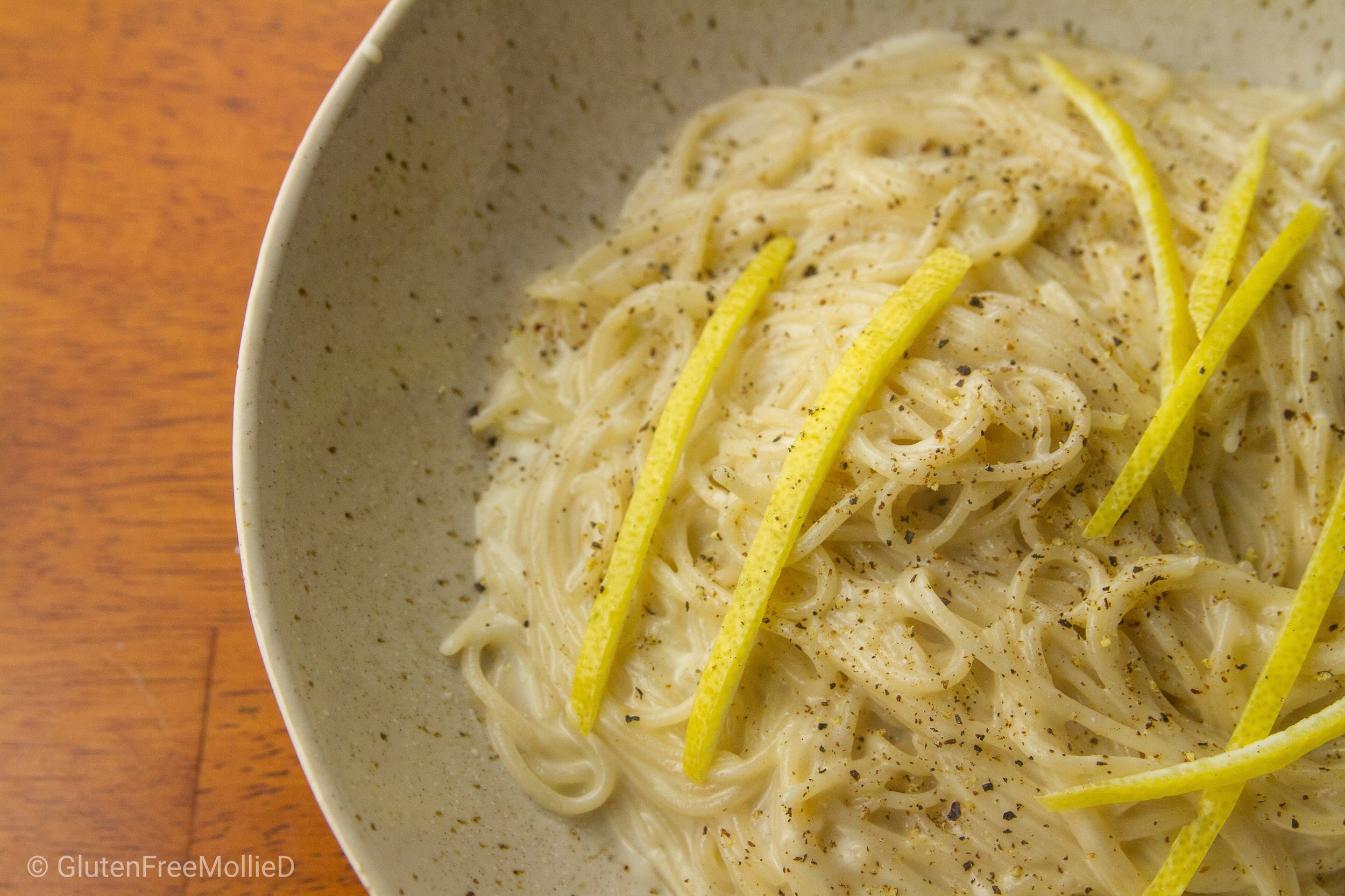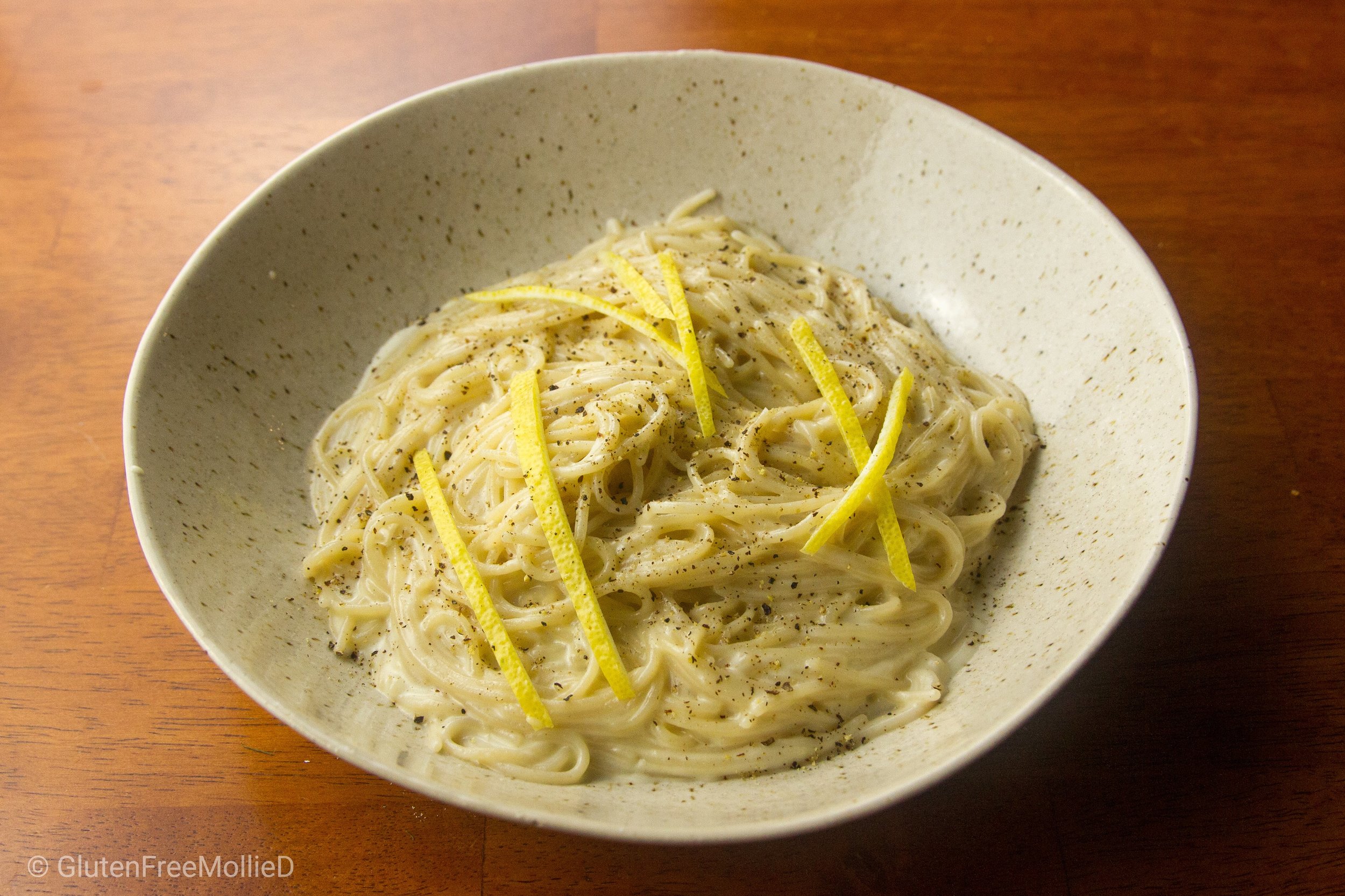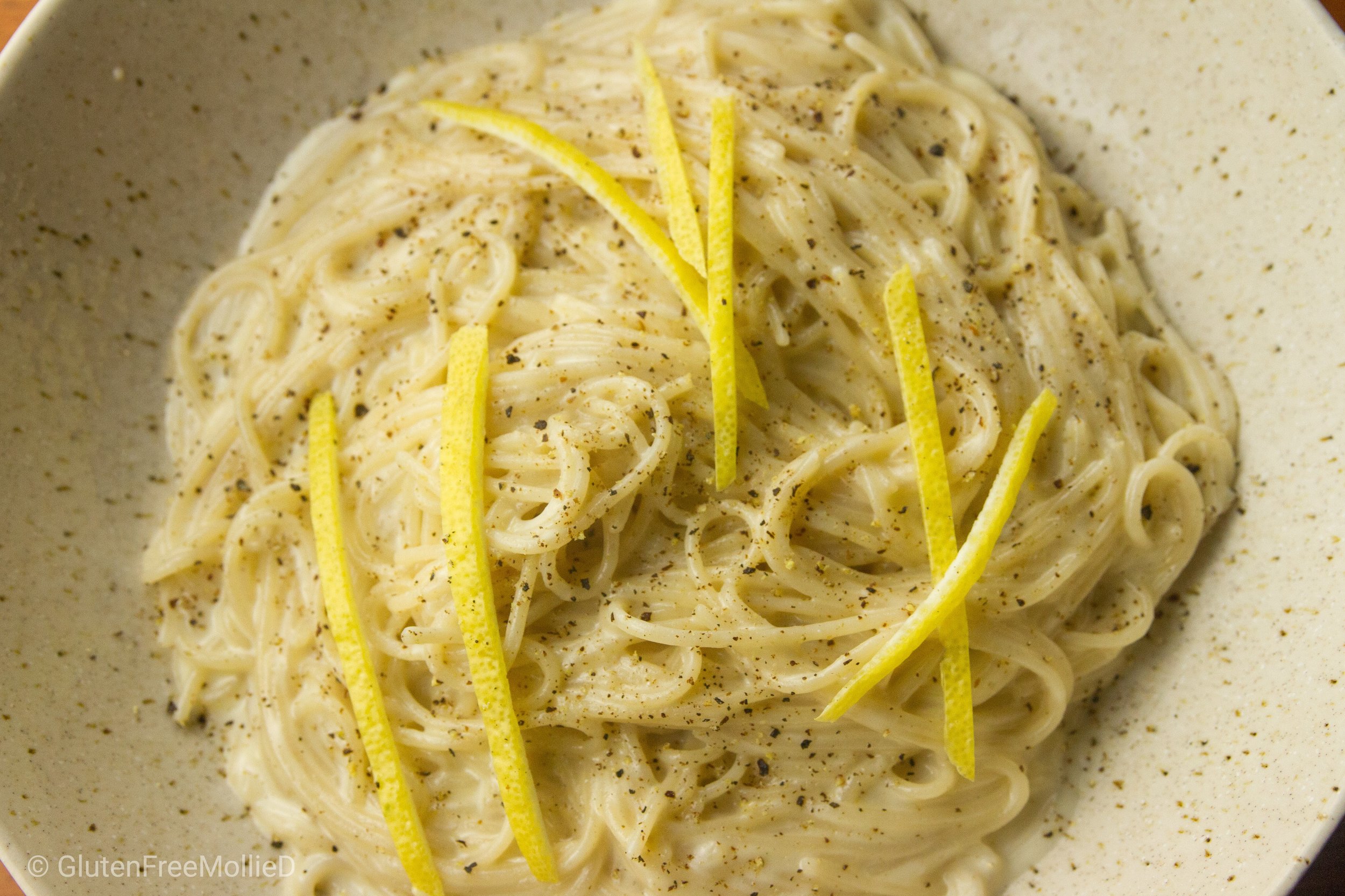 Pasta al Limone
Source: Recipe by Molly Baz for Bon Appétit, find it here!
Tip: Make sure to use gluten free pasta for this recipe. We used Jovial Foods' gluten free capellini. I may try using their spaghetti next time as it's slightly thicker. Otherwise, no other aspects needed to be changed.
An indulgent dinner for any night, but especially a random Tuesday, this meal was quite easy to make and tasted far more luxurious than the minimal ingredients would suggest. Creamy, creamy, creamy! And so much lemon.
I'm salivating as I type because it was one of those meals that seems too good to be true; a recipe that was very simple, but the end result was scrumptious and seriously impressive. A great party trick!
While this dish was not dairy free by any means, it was meatless and did not contain any vegetables. So if you're in the mood for a decadent pasta dinner and only have a few ingredients on hand, then this is the one for you.
As the title suggests, it truly is just pasta and lemon (and cream and butter). Plus the wonderful cracked pepper on top which rendered it a tad similar to another classic, cacio e pepe. This seemed to be the lemon version! I am not complaining. ;)
Who/What/Where: Make it for friends, family, neighbors, or visiting relatives; just make this dinner. While we ate I declared that I loved it, but could easily see it as a "pasta course" amidst a larger meal.
It's rich, but not heavy, which deems it ideal as an appetizer before the main course. In my mind, every dinner party I host (someday) will include multiple courses and one would definitely include pasta. And I'd strongly consider selecting this one, every time.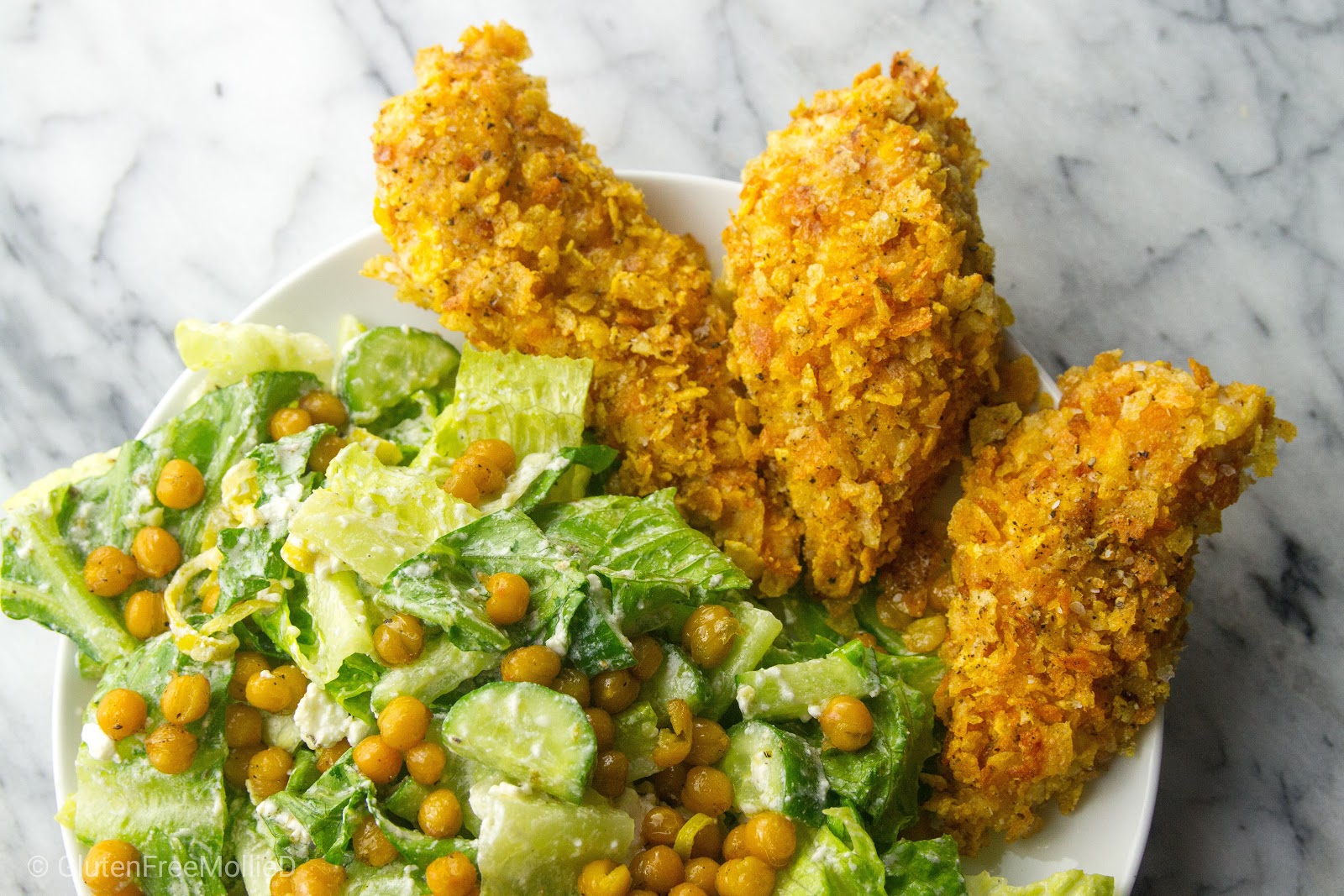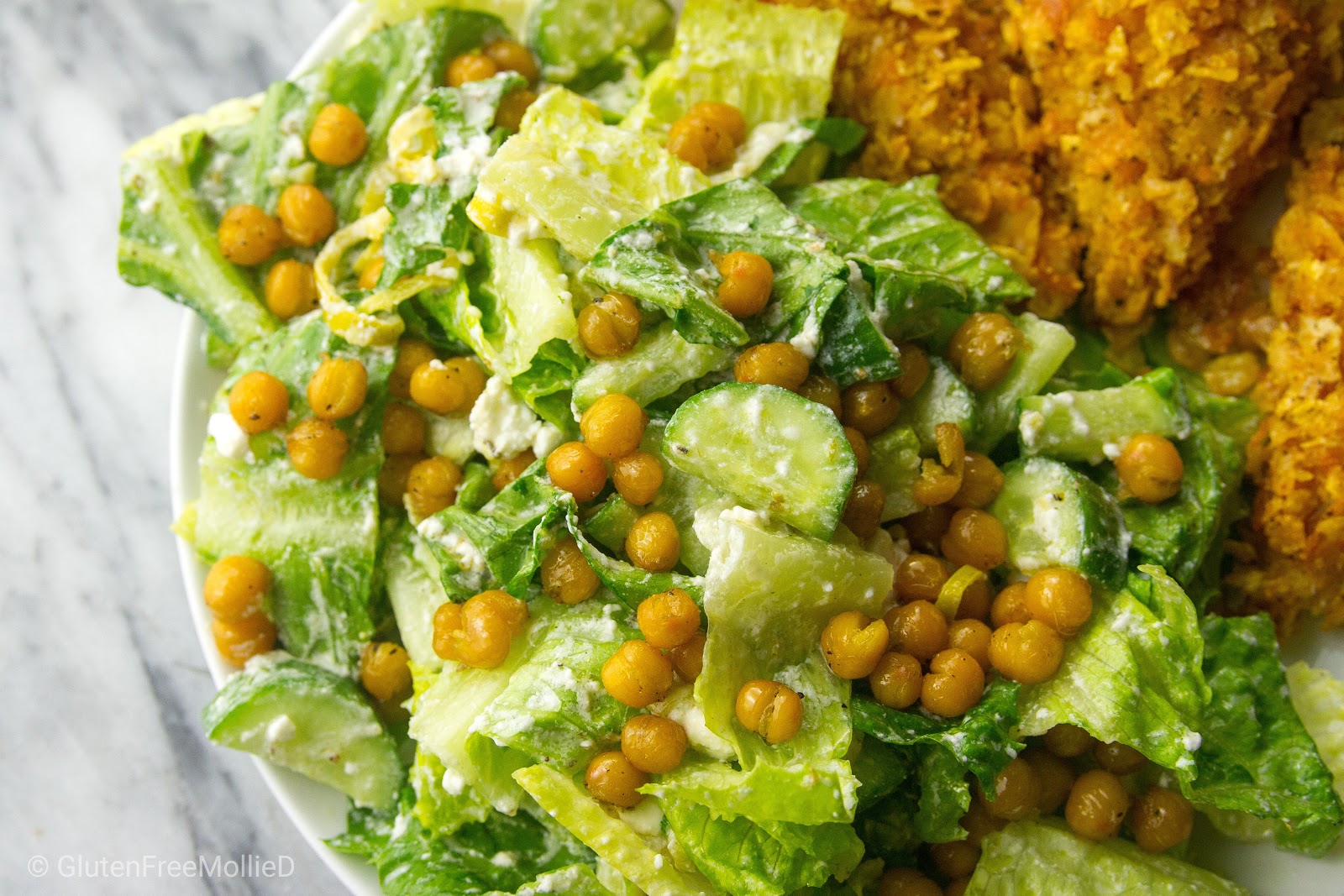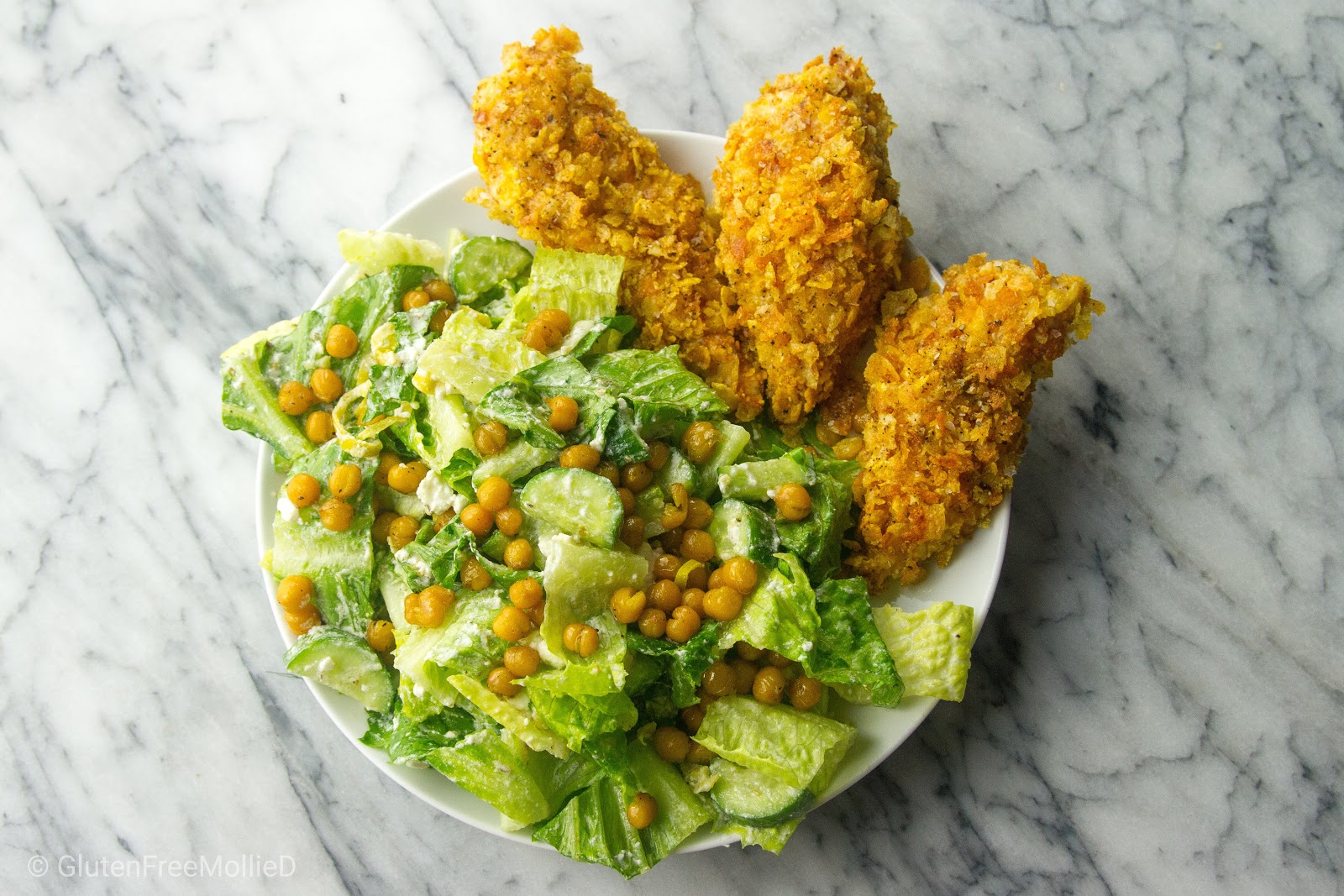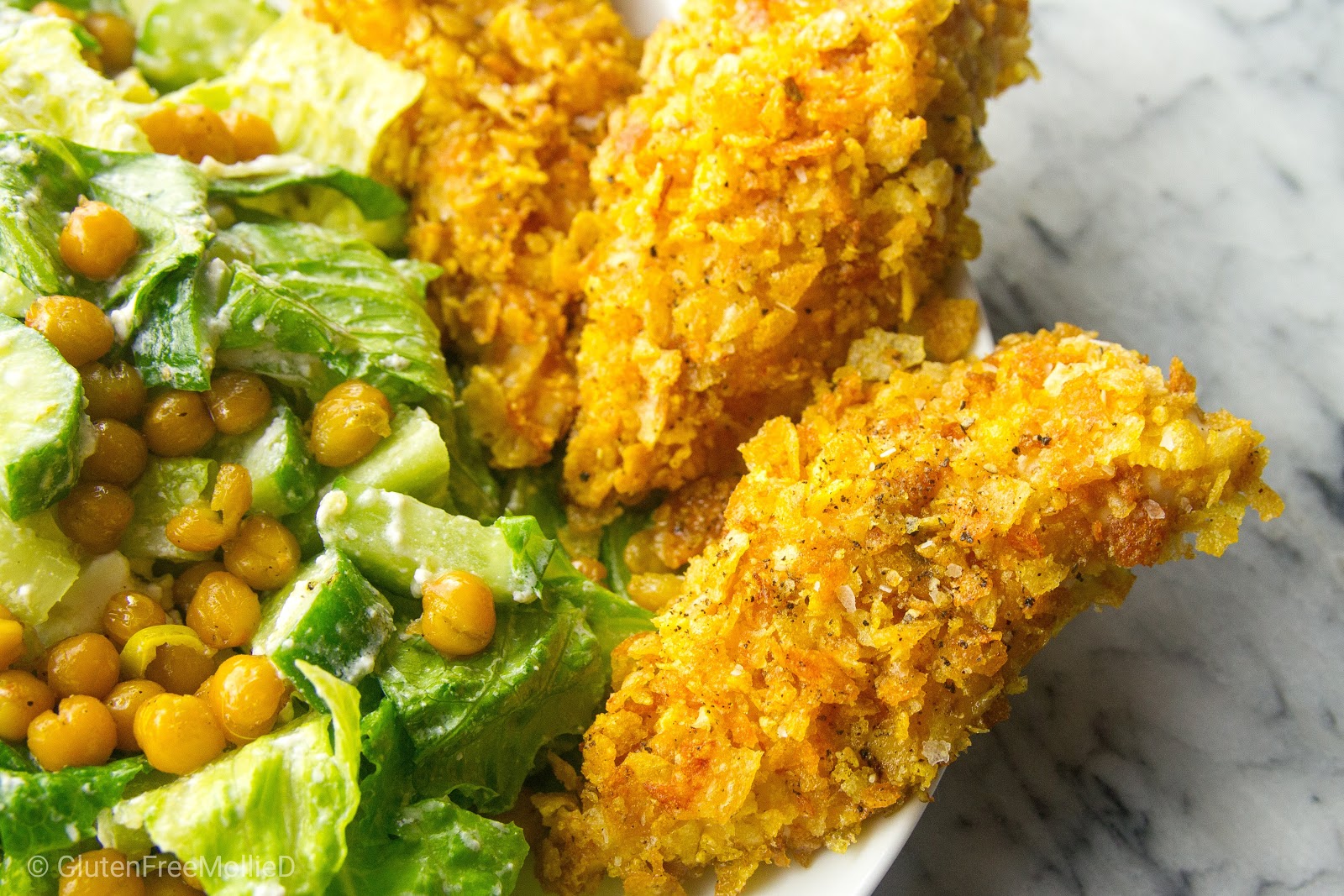 Cornflake-Potato Chip Chicken and Chopped Dinner Salad with Crispy Chickpeas
Source: The chicken recipe is from the Half-Baked Harvest cookbook by Tieghan Gerard. The salad recipe is available via Bon Appétit, find it here!
Tip: Make sure to purchase chips and cornflakes which are labeled gluten free. These products should be GF already, but make sure the products you select are labeled as such.
We used Erewhon gluten free cornflakes and Cape Cod Brand Dark Russet potato chips for this meal. The salad is naturally gluten free, but make sure your chickpeas are labeled correctly.
As you may have noticed, it is rare that we repeat recipes around here. Ridiculous, you may be thinking, but it's true. And of course, I pretty much love every dinner we make so the temptation to go back and make something again is strong, but overall it rarely happens. Not this time!
We made both of these dishes over the summer, but not on the same night, and were thrilled with each one on its own. So when I was planning meals for the week, I decided to try them together! We loved the crispy, baked chicken because it's a throwback to my childhood (my mom made a version of it weekly - still does!) and the salad is basically awesome, but not overpowering when going up against a crispy -coated protein.
We simplified the salad slightly by removing tomatoes (not in the mood), using extra cucumbers (love the crunch), and not adding chicken (as the recipe requests) since the chicken would be in the form of the second recipe.
We followed the chicken recipe as written, but used an egg wash instead of melted butter. Nothing against dipping chicken in butter (wowza), but we opted for a slightly healthier option. Dredging chicken in a cornflake and potato chip mixture was decadent enough. ;)
The resulting chicken-and-salad combo was an amazing dinner that really made me smile and proclaim, "I love this dinner!!" Trust me, the double exclamation points were necessary. It tasted like decades of family dinners and the future all in one.
The crispy chicken, with waves of family memories in every bite, and the fun, Greek-style salad with chickpeas and feta was ultra-delicious and reminded me of how far I've come: salads never used to get a spot on my plate (long, long ago) and now they've got a starring role almost every night. :)
Who/What/Where: A hearty meal for a weeknight, but a great option for a group as well. I could imagine serving this for friends when featuring a "home-style" dinner, but with a splash of health (salad!) since we didn't include a starch (not a potato in sight). You could enhance this meal with rice or a slice of homemade bread, but I found it completely filling without either.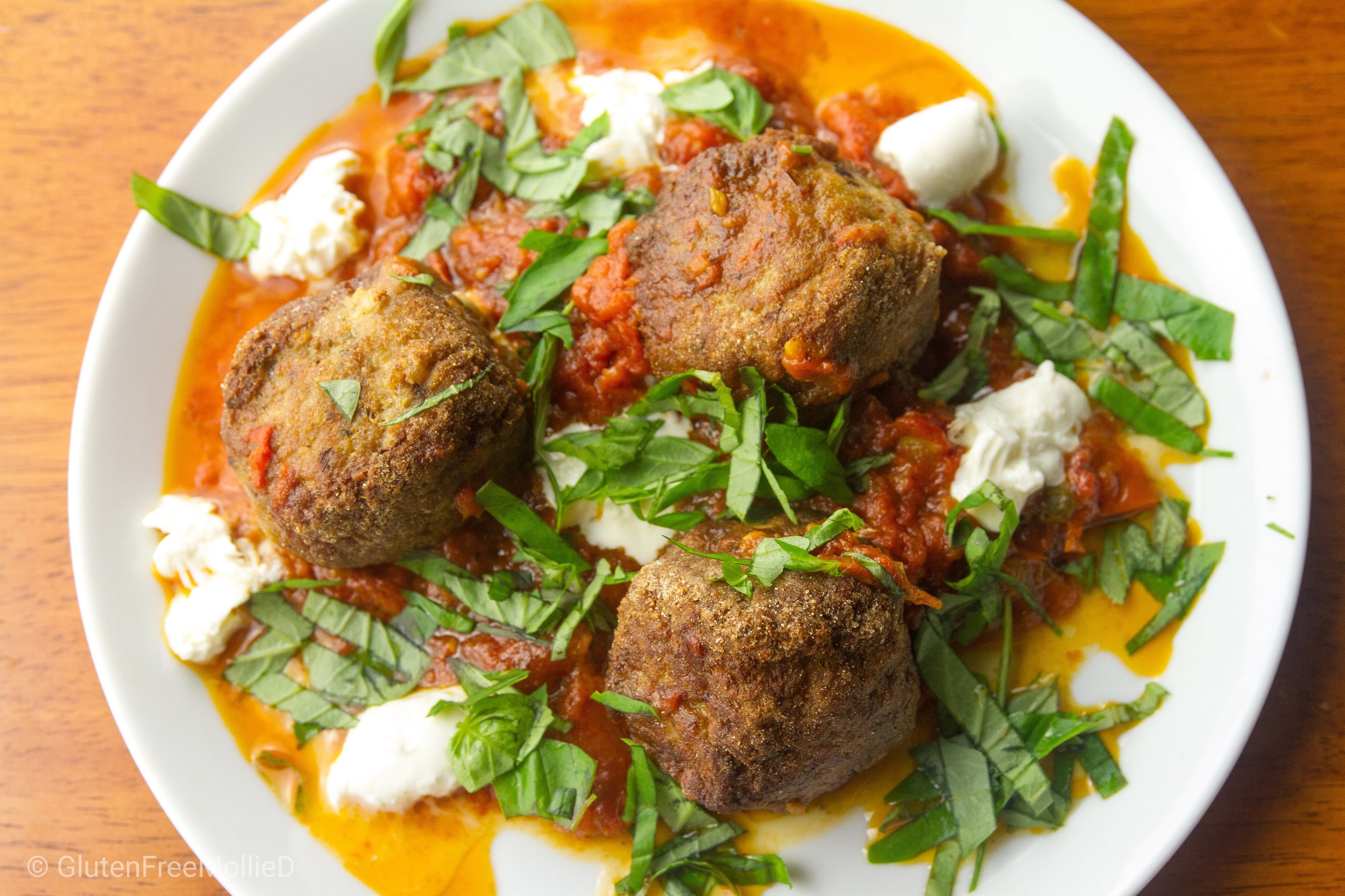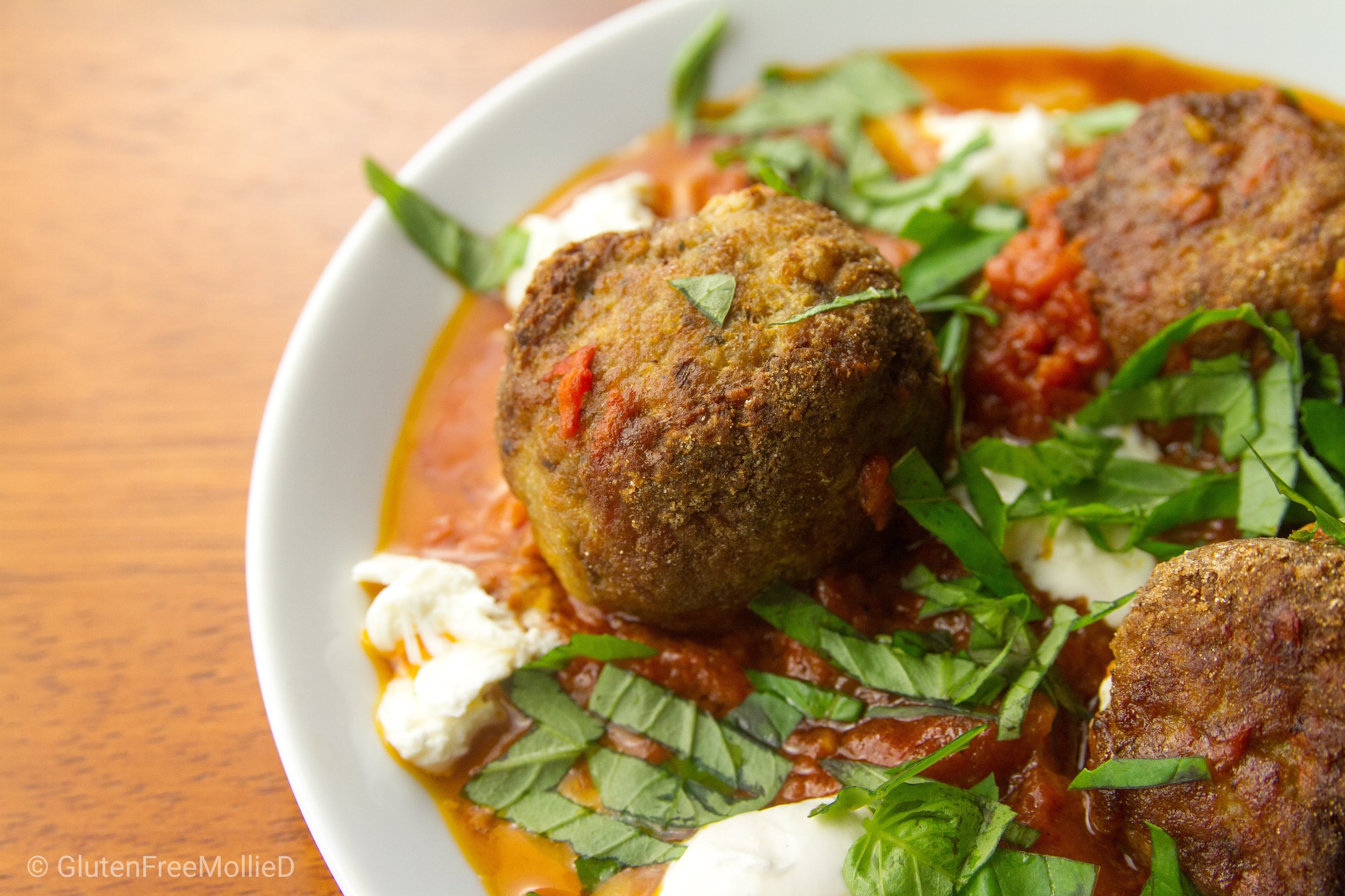 Chicken Parmesan Meatballs
Source: Recipe by Gaby Dalkin of What's Gaby Cooking. Find the recipe on her website, here!
Tip: To make this recipe gluten free be sure to use gluten free panko for the meatball mixture and gluten free flour for coating them (prior to cooking). We used Aleia's Artisan Foods panko and Cup4Cup gluten free flour.
Never mind my silly comments on never repeating meals because here we go again! We first made these meatballs at the end of the summer and were blown away. And this week I was craving them again! That first iteration used ground turkey, but for this second go-round, we followed the recipe more closely and used ground chicken. ;)
These are quite possibly some of the most delicious meatballs we have made (and I adore meatballs). No really, they are just fantastic. And since they're pretty hearty, each one has a ball of mozzarella baked into the center (stop drooling), we never feel the need to add spaghetti, or another pasta, to the plate. I suppose we could though, in an attempt to not eat the entire batch, but it still may be tough.
A friend suggested these as one of her favorite recipes from this website, and ever since we made them that first time, I whole-heartedly agreed with her opinion, and couldn't wait to make them again.
Classic chicken Parmesan is awesome, don't get me wrong, but the creation of a chicken Parmesan meatball is pretty fabulous and a little more fun. I love traditional versions of my favorite foods, but when a new method comes out that actually makes me love it even more, then that's just delicious. :)
Who/What/Where: My excitement continues as I say make these for everyone! Adults, kids, grandparents, siblings, neighbors, dinner parties, everyone will love this dinner.
Great for a group that's craving a red-sauce meal or when your parents are coming over and you want to show off a little bit. I'm sure they're familiar with chicken parm, but have they been introduced to chicken parm meatballs? Now's the time! ;)
The Weekend
What did we do? Where did we go? How was the food?
From dinners out at a couple of our favorite spots to shopping, family time, pumpkin-buying, and even some baking, this weekend not only felt like fall (oh hi, October!), but it was a very autumnal couple days. What did I bake? Perhaps some of the most delicious cookies to-date… But you'll find out more soon. ;)
highlights of the weekend include…
Friday night dinner at The Bristol at The Four Seasons Boston was excellent per usual. A favorite right along the Public Garden, the food, drinks, atmosphere, and entertaining bar scene never disappoint. Additionally, the gluten free options are vast and I am never able to resist an order of truffle fries.
Saturday night dinner at Il Casale in Lexington was reliably delicious. A local staple that has a friendly staff and relaxed atmosphere, I'm always given a GF menu and enjoy a number of yummy dishes every time we visit. Hint: they always have gluten free pasta available. :)
We grabbed a quick, but great pizza at Oath in Chestnut Hill on Sunday afternoon which was perfectly timed as the next activity was shopping. I was energized and ready to shop!
Finally, late on Sunday we browsed the pumpkins and fall goodies at Wilson Farm. Pumpkins of all shapes and sizes, plus gourds, decor, and more for making your home a little more seasonal. Check out which we chose in the photos above and below.
We hope you had a great fall weekend! Whether you spent time outside, inside, or a medley of everything, we hope it was filled with delicious food and a few fall treats!
Eat, well.
Mollie and Seth