A Tasteful Week
Reporting from our apartment while the temperatures outside hover around 5 degrees Fahrenheit, I've stopped shivering from today's outdoor errands and recovered from the excitement of last night's AFC Championship game to tell you all about last week's dinners!
Our health-track is going strong, I'm feeling great, and I am quite proud of our wellness-minded meals. Bright flavors, cool ingredients, and easy preparation led the way for several nights of delicious dishes.
Let's get to it!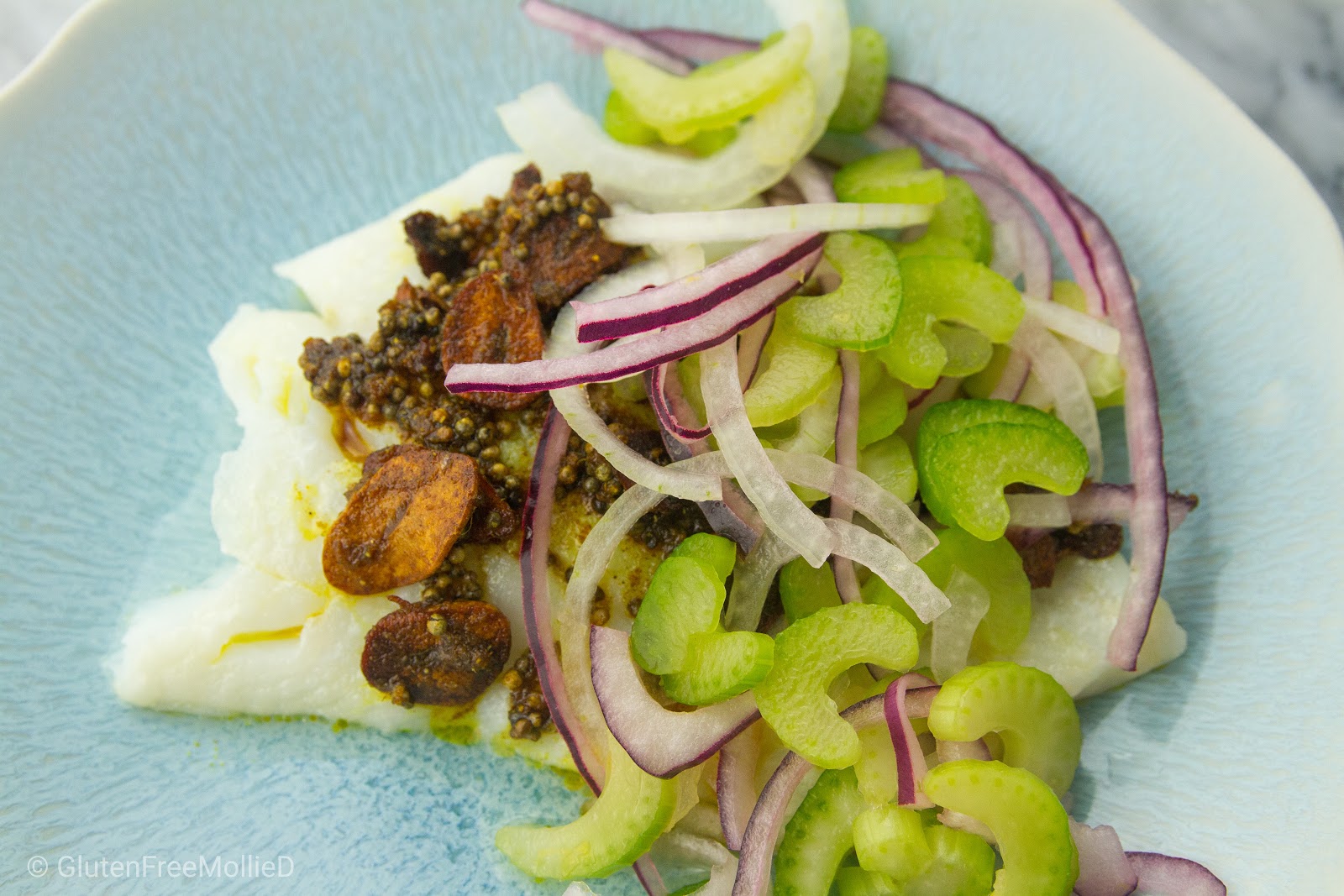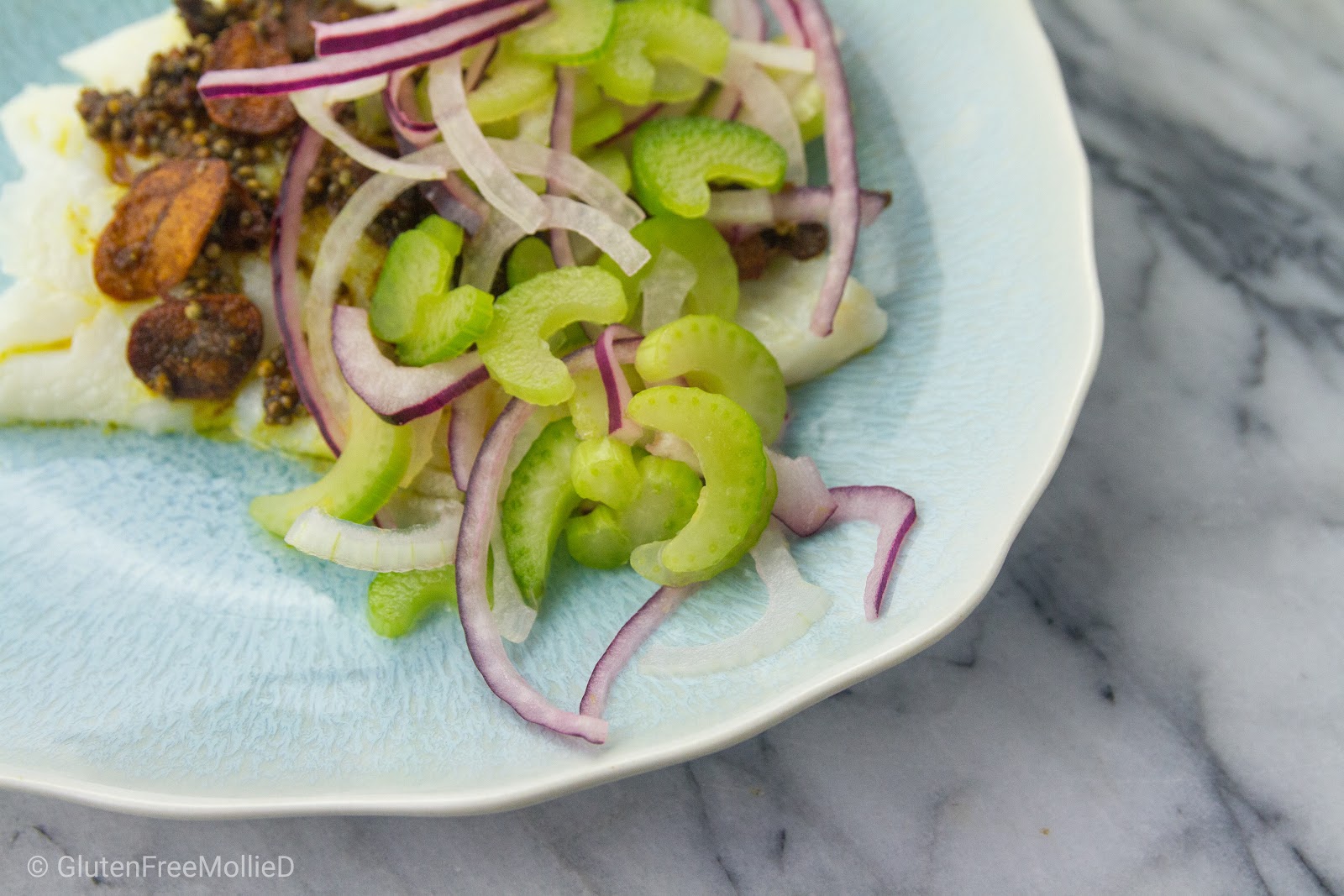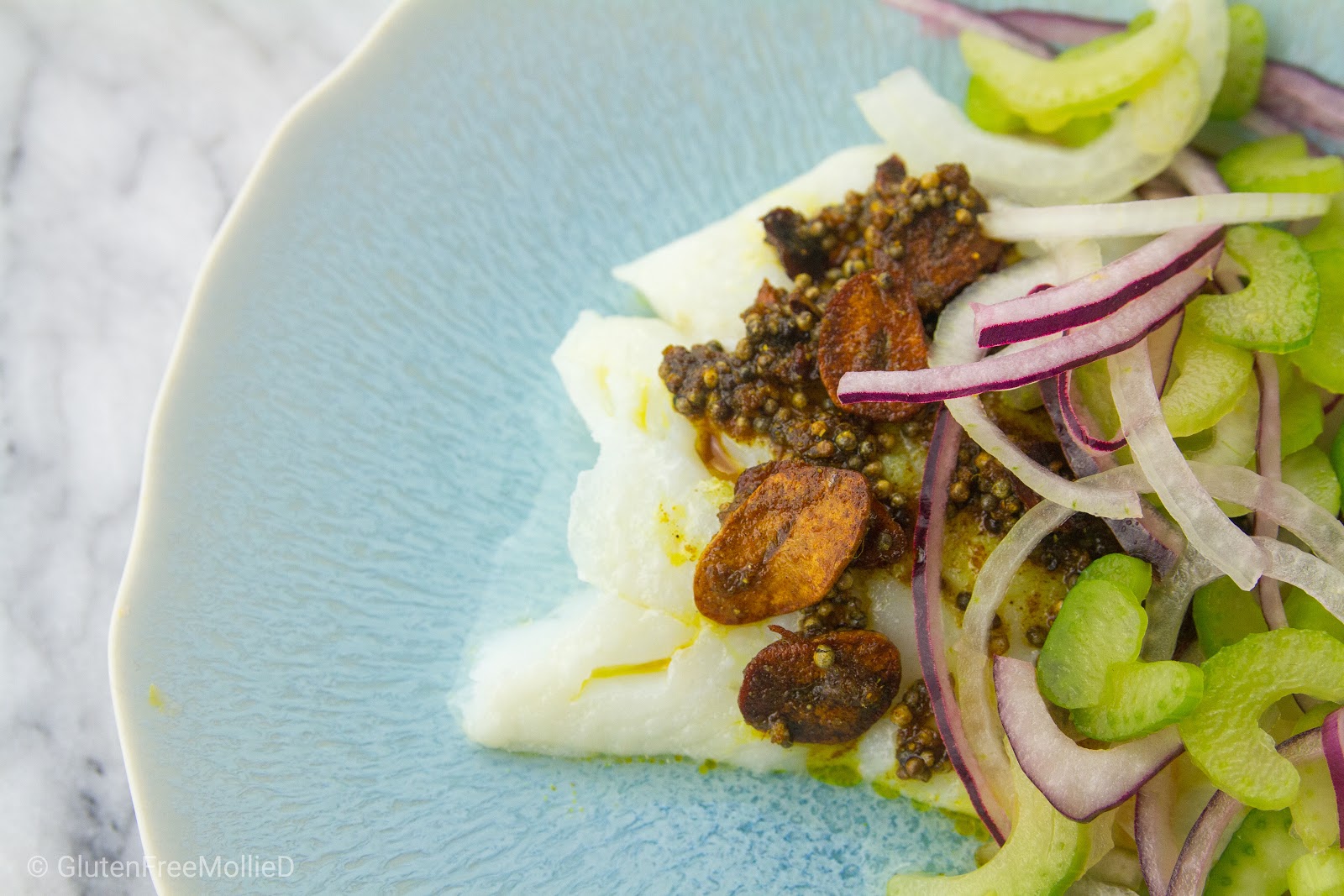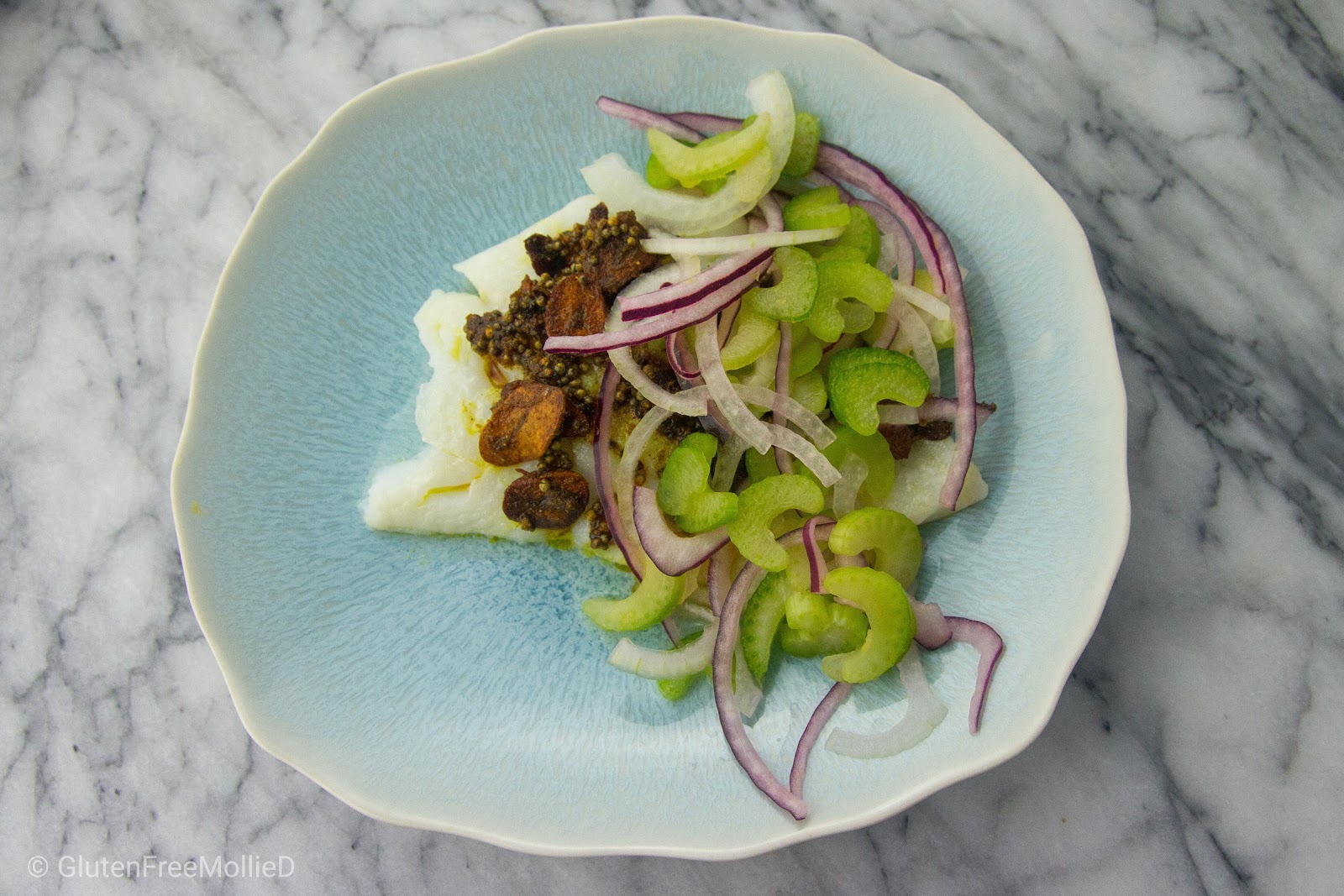 Flaky Cod with Celery Salad
Source: Bon Appétit online, grab the recipe here!
Tip: This meal was naturally gluten free!
Review: A very basic fish-and-salad combo, which was great due to its minimalist ingredient list and ultra-easy preparation. Remembering that simply baked fish is a wonderful weeknight option, I was happy to have the garlic-filled topping for extra flavor and the celery salad to add a tangy crunch. There's not much to this meal and that is OK. Not all dinners need lots of ingredients and not all dinners need to be intensely flavored to be enjoyable. This dish is an example of exactly that.
What I enjoyed most about this fish was that it was a welcome change from a lot of the heavily-flavored meals we've had recently. It's a perfect dish if you've had a bigger lunch and are not looking for a big dinner; alternatively, you could add a larger salad on the side to make it a fuller meal. If we make it again, then I would probably serve something else alongside: a decadent baked potato or a heartier vegetable. Live it up!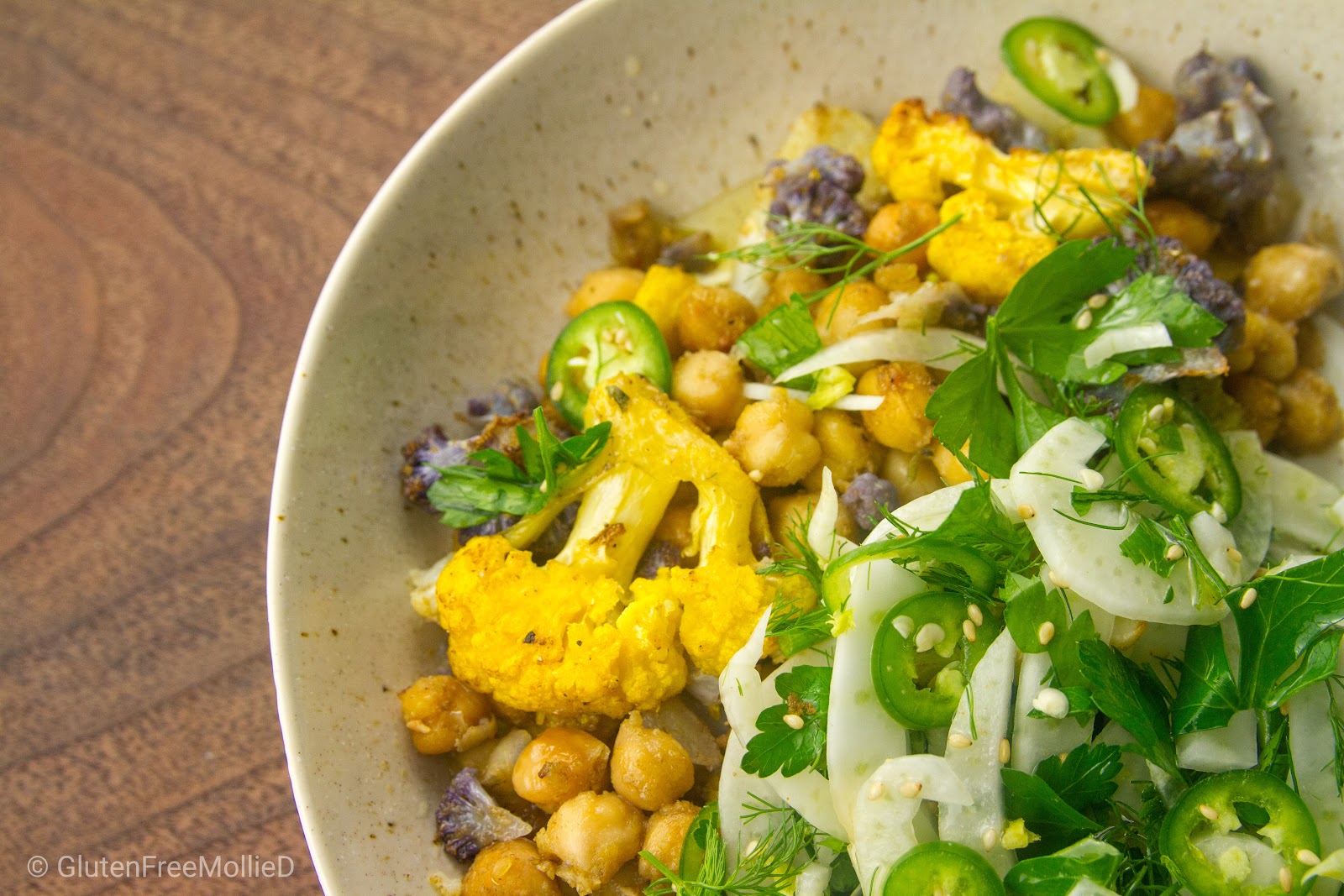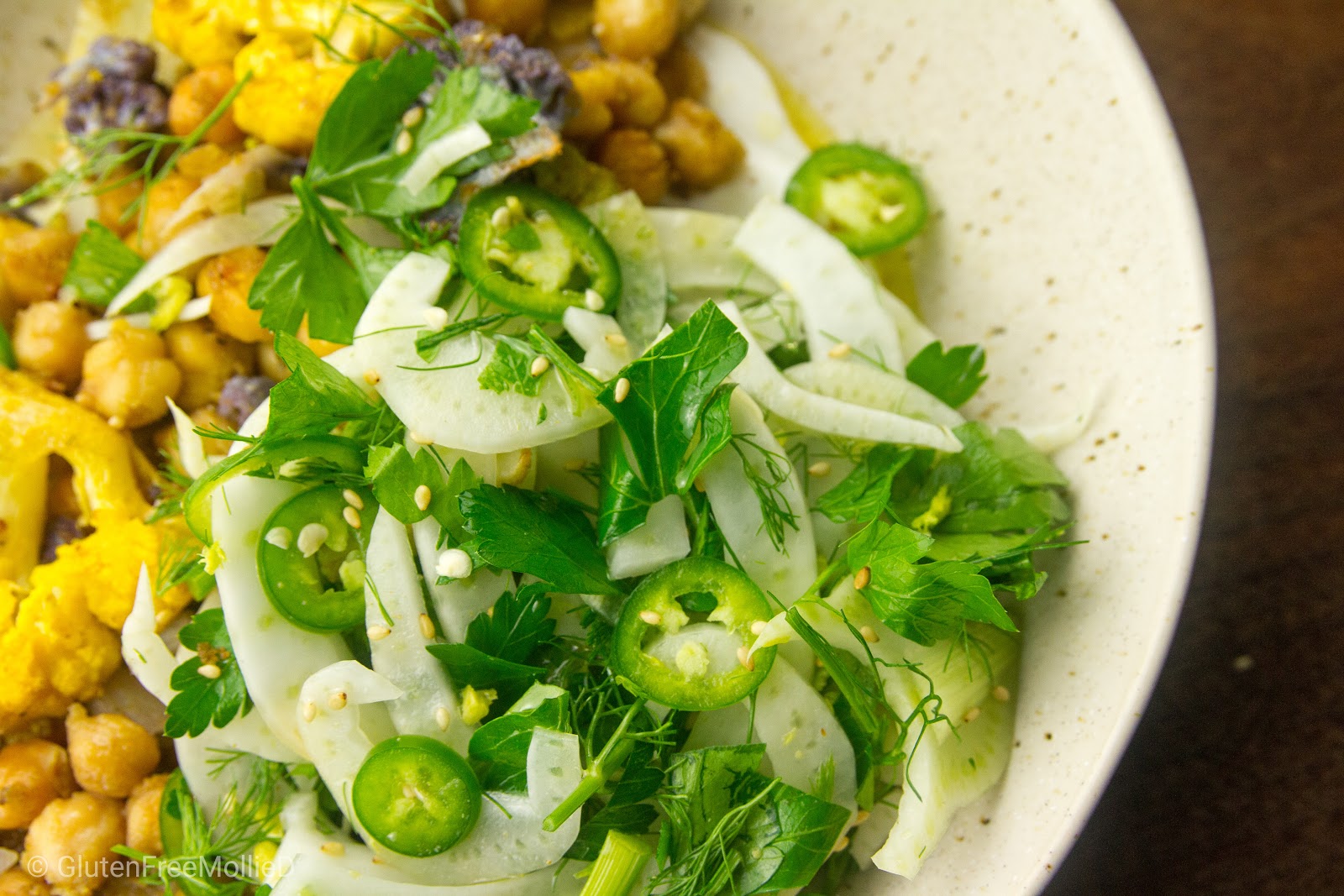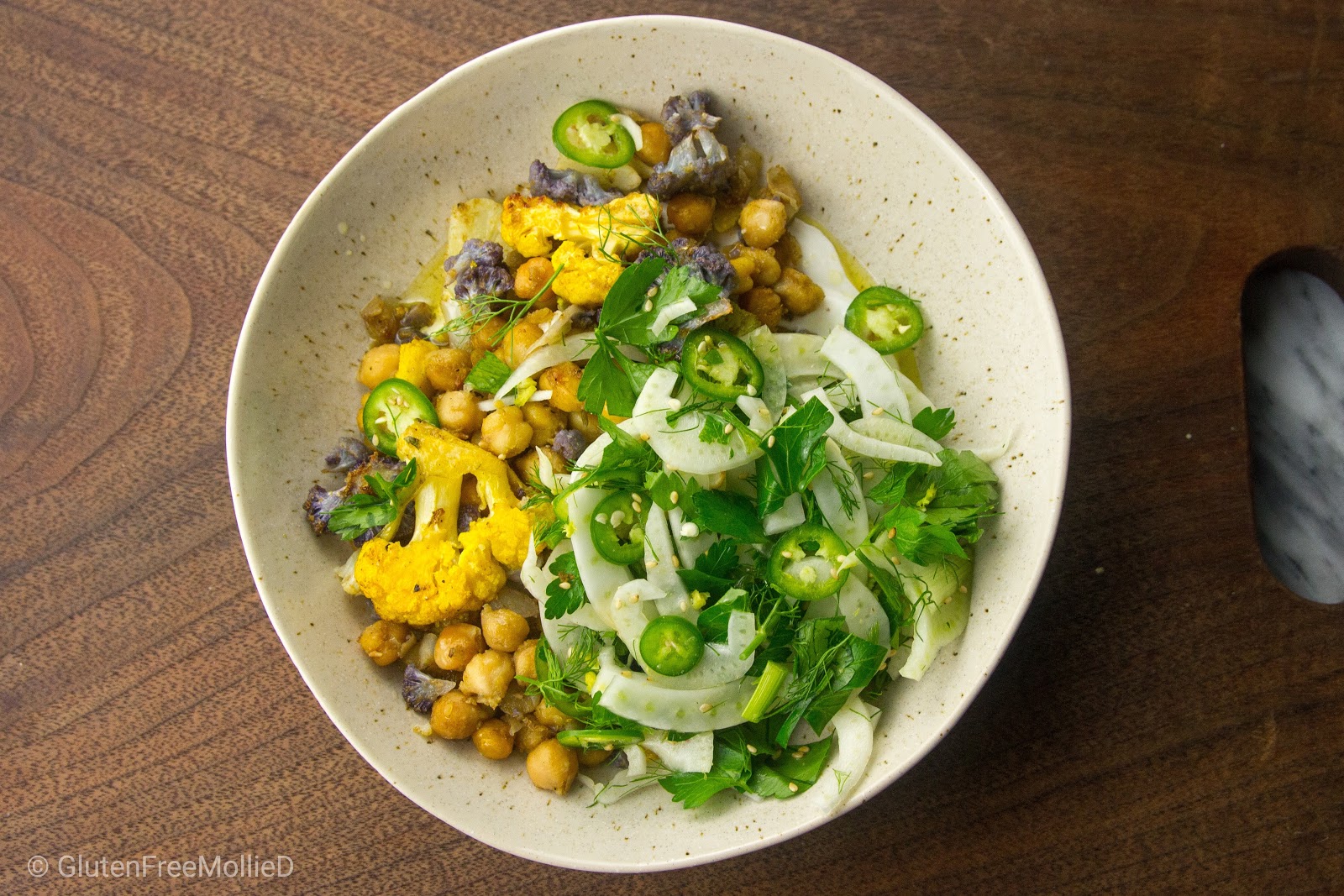 Warm Chickpea Bowls with Lemony Yogurt
Source: Bon Appétit online, grab the recipe here!
Tip: Another naturally gluten free meal! Make sure the chickpeas (naturally GF) are labeled appropriately.
Review: From the moment I read the title, I knew this dinner would be a major success. Call me predictable, it's OK, I'm fine with it. I've never disliked a recipe that includes chickpeas and Greek yogurt. :)
Always a fabulous pair, this time around roasted cauliflower (a personal favorite) and a delicious fennel salad are added to the mix to make one awesome, easy, and flavor-packed dinner.
We determined, amidst inhaling our meals, that the best aspect of this dish is how all of the different flavors, textures, and temperatures go together so well.
Cool, creamy yogurt (with lemon), warm chickpeas and cauliflower, and cold, crunchy fennel are all quite different from one another, but when put together create a meal that's just fabulous and every bite is varied and scrumptious. Pretty amazing for a weeknight!
I'd recommend this one any time you're in the mood for a meatless, but still incredibly flavorful and joyful, dinner.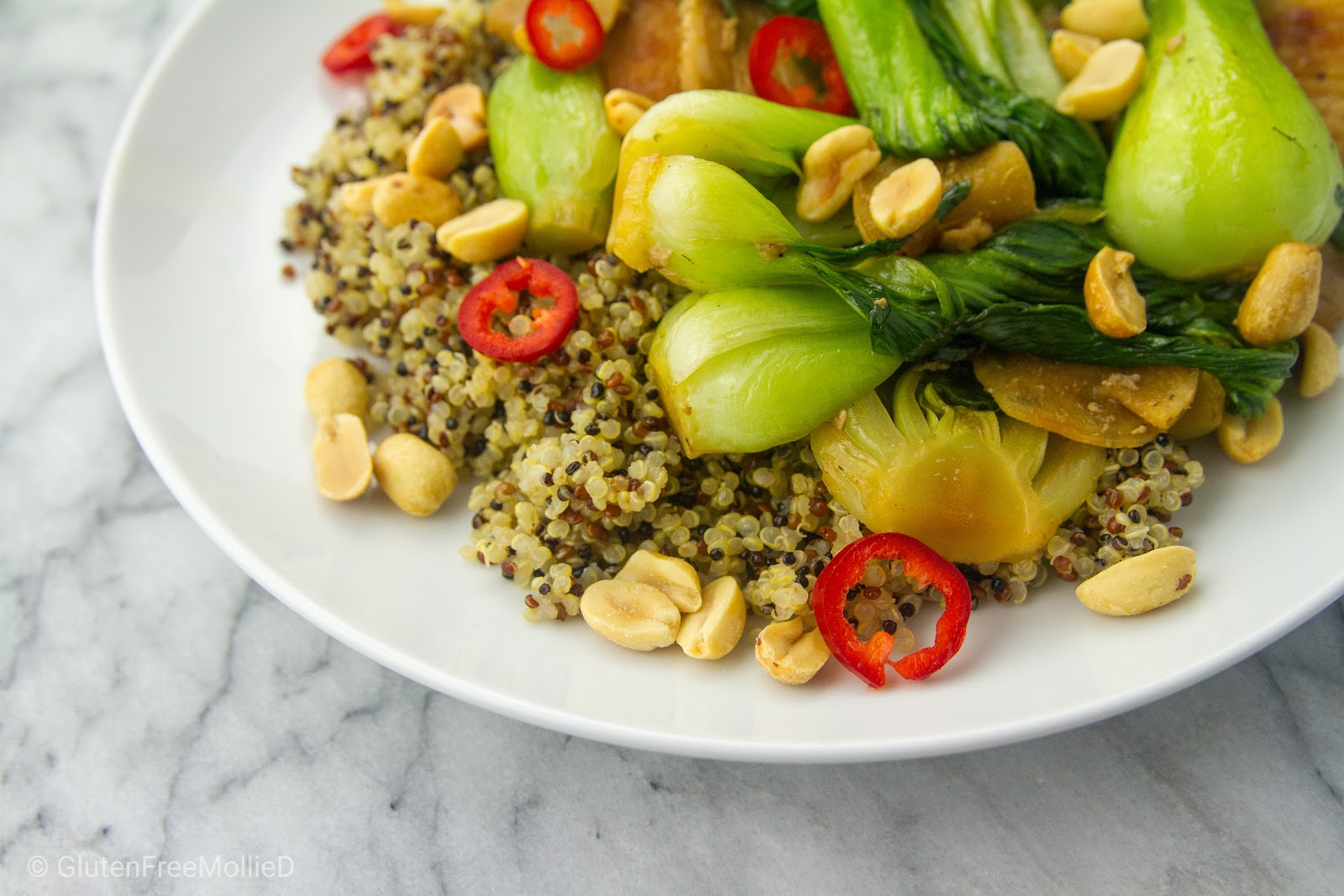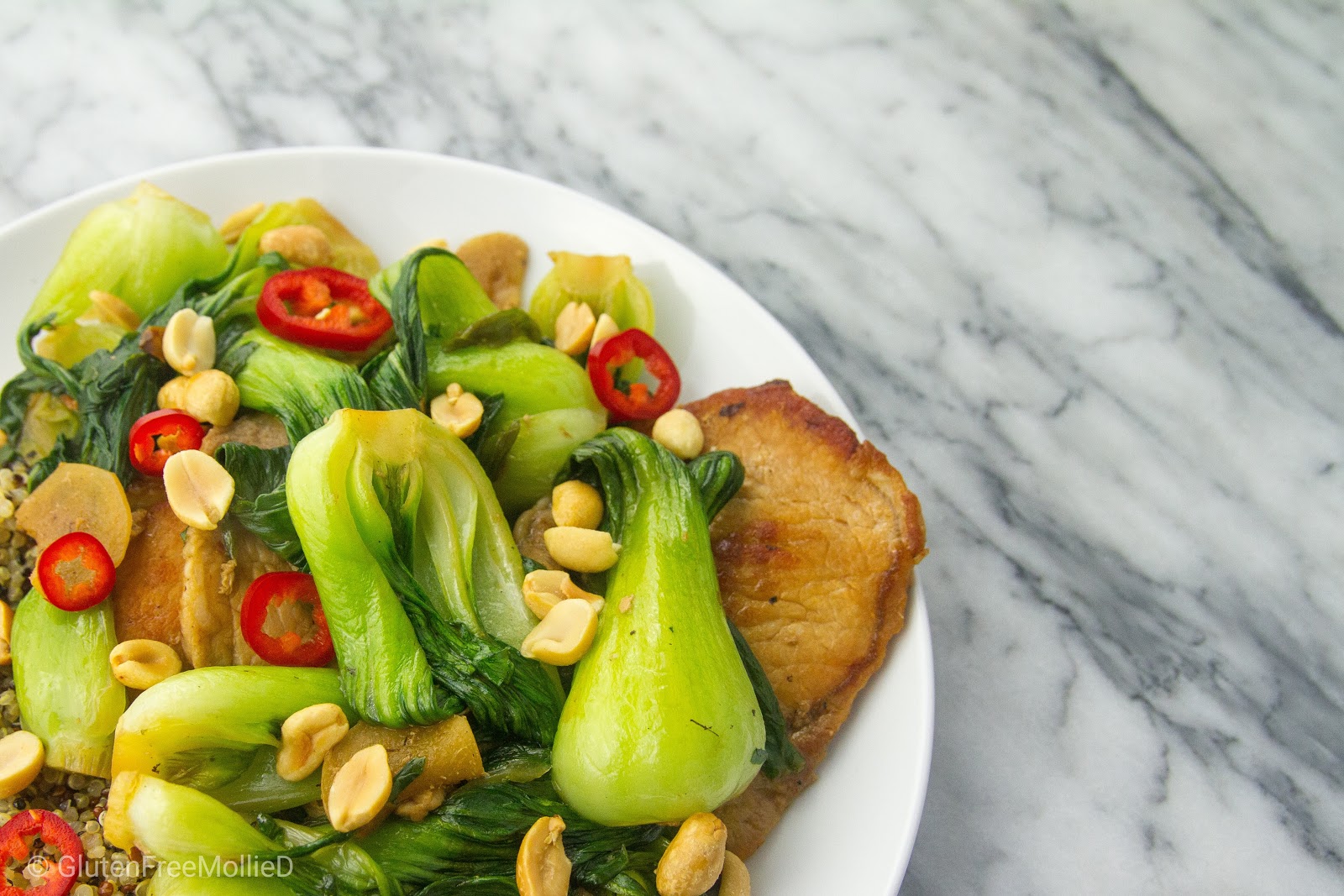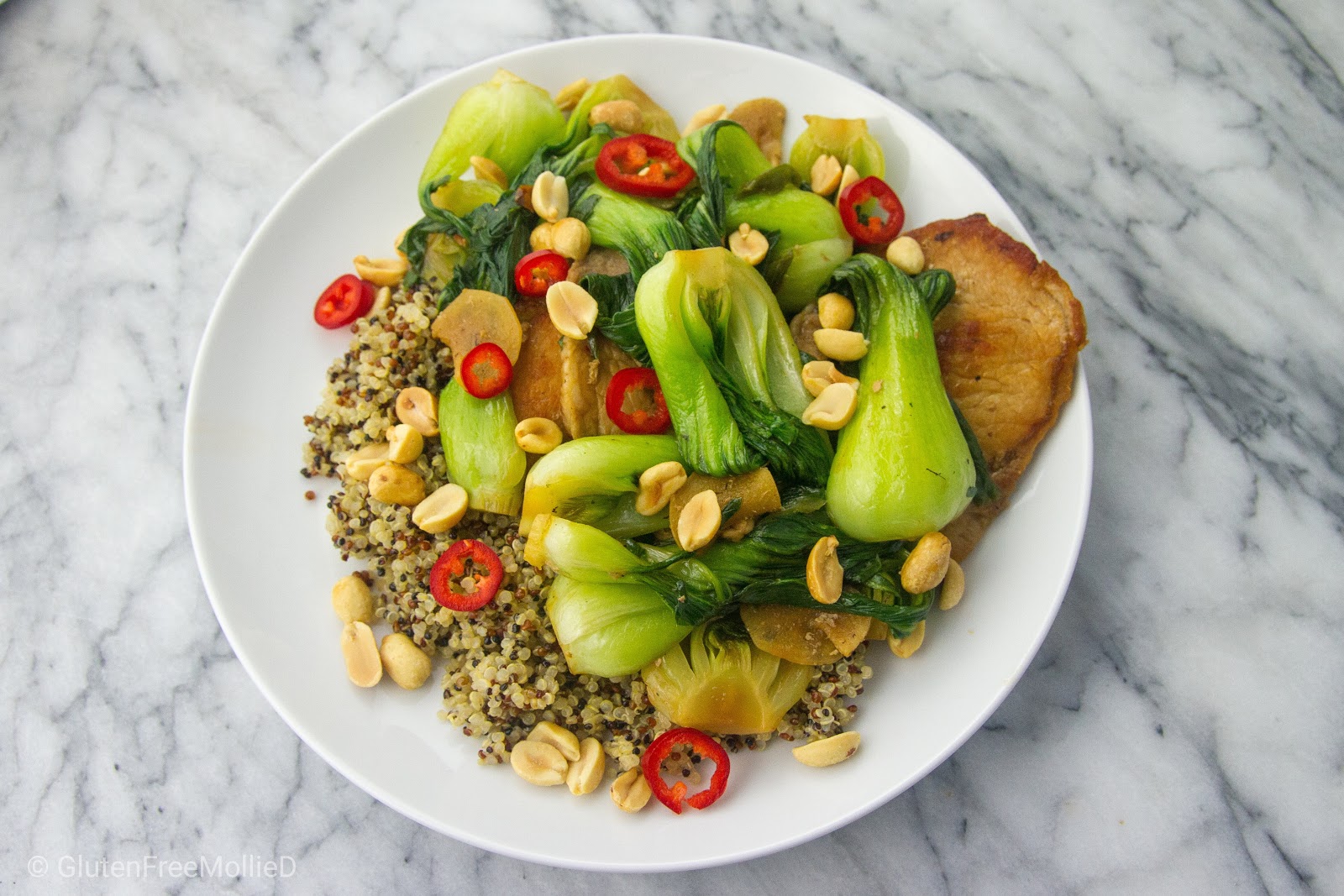 Pork and Bok Choy Stir-Fry
Source: Bon Appétit online, grab the recipe here!
Tip: Make sure to purchase gluten free soy sauce, Tamari, for use in all stir-fry dishes. Any other bottled ingredients need to be labeled properly as well.
Review: We made a stir-fry the week prior, but excuse me while I admit to wanting to eat them daily, if we're being honest. They're so quick, delicious, and fun - what's the problem? And despite this recipe using the same sauce as last week's, I found them to taste completely different. Therefore, I have no regrets! Stir-fries are a weeknight warrior for good reason: they never disappoint!
For this one, thinly sliced pork loin got browned in the wok, combined with tender bok choy, and cooked with a delicious, but simple stir-fry sauce. We served it over quinoa ( yay for health, but I miss the white rice) and garnished with roasted peanuts and sliced fresno peppers. A little salty and spicy crunch over everything!
Again, the varied textures really made this meal stand out and made me excited for a recipe that you could say we sort of had only a week earlier. But I don't care!
I'm becoming more accepting of repeating certain flavors and meals once in a while and I think it's having an overwhelmingly positive effect on my life. What's the issue with a repeat? We make something again because it's delicious! And that will (now) always be A-OK with me.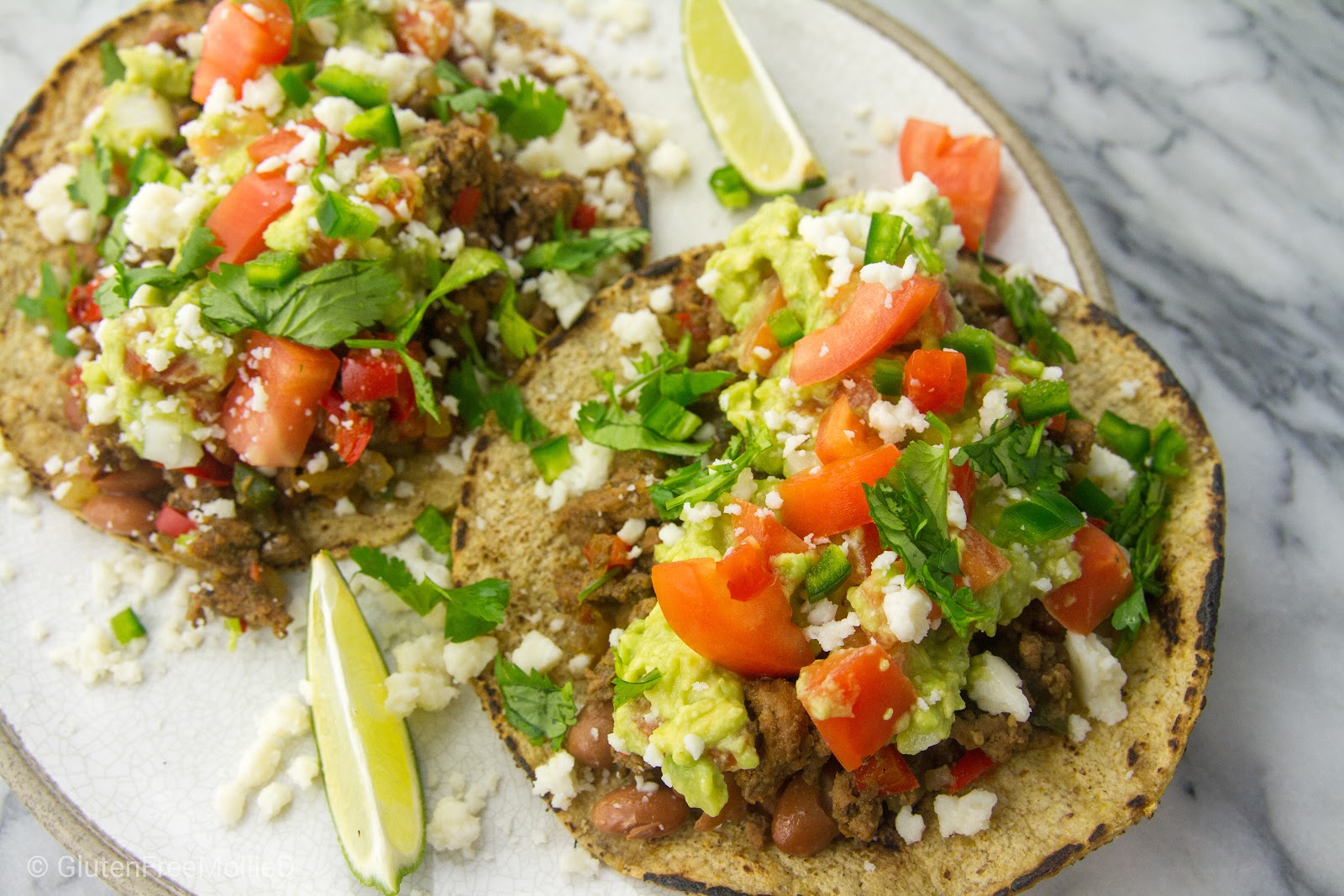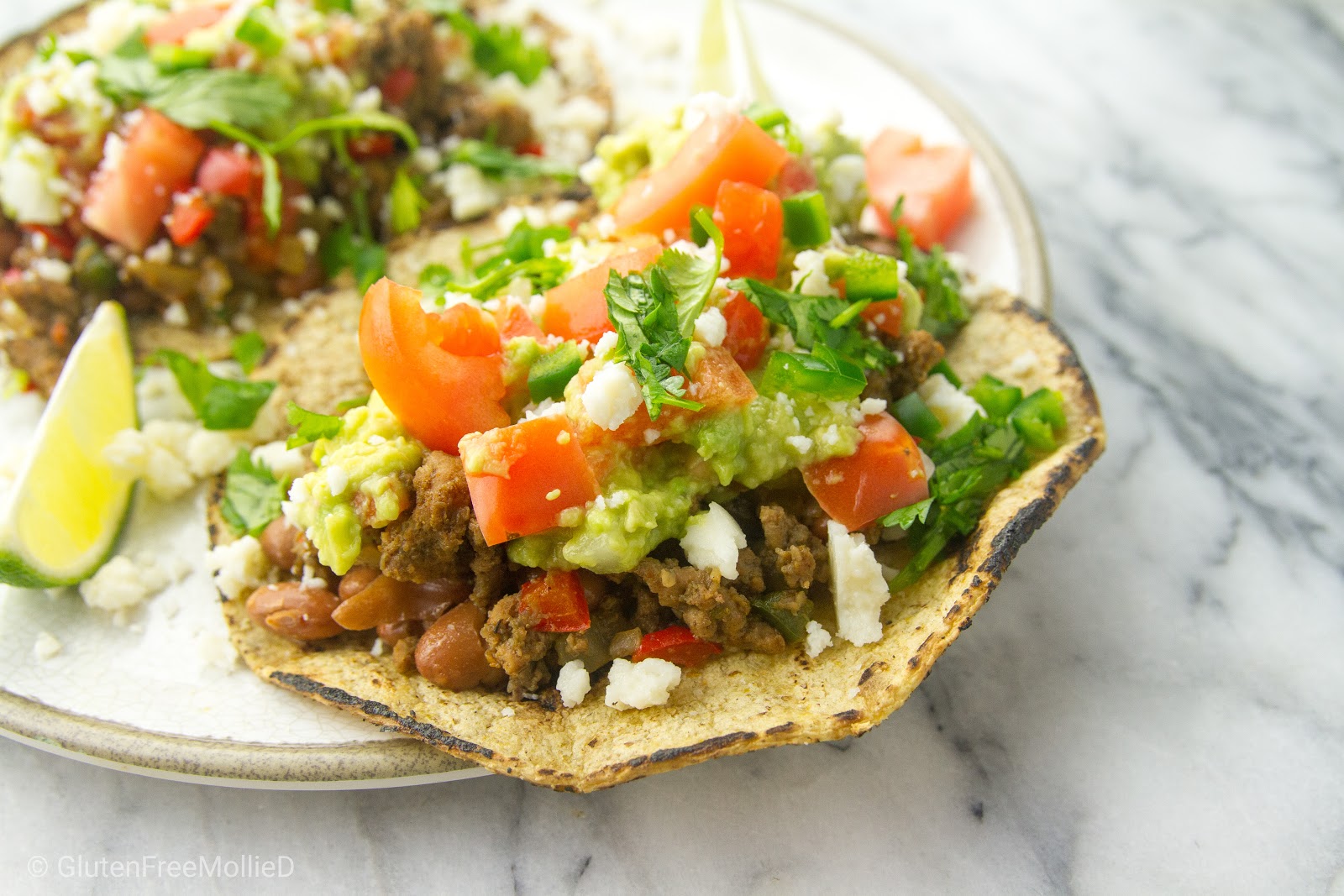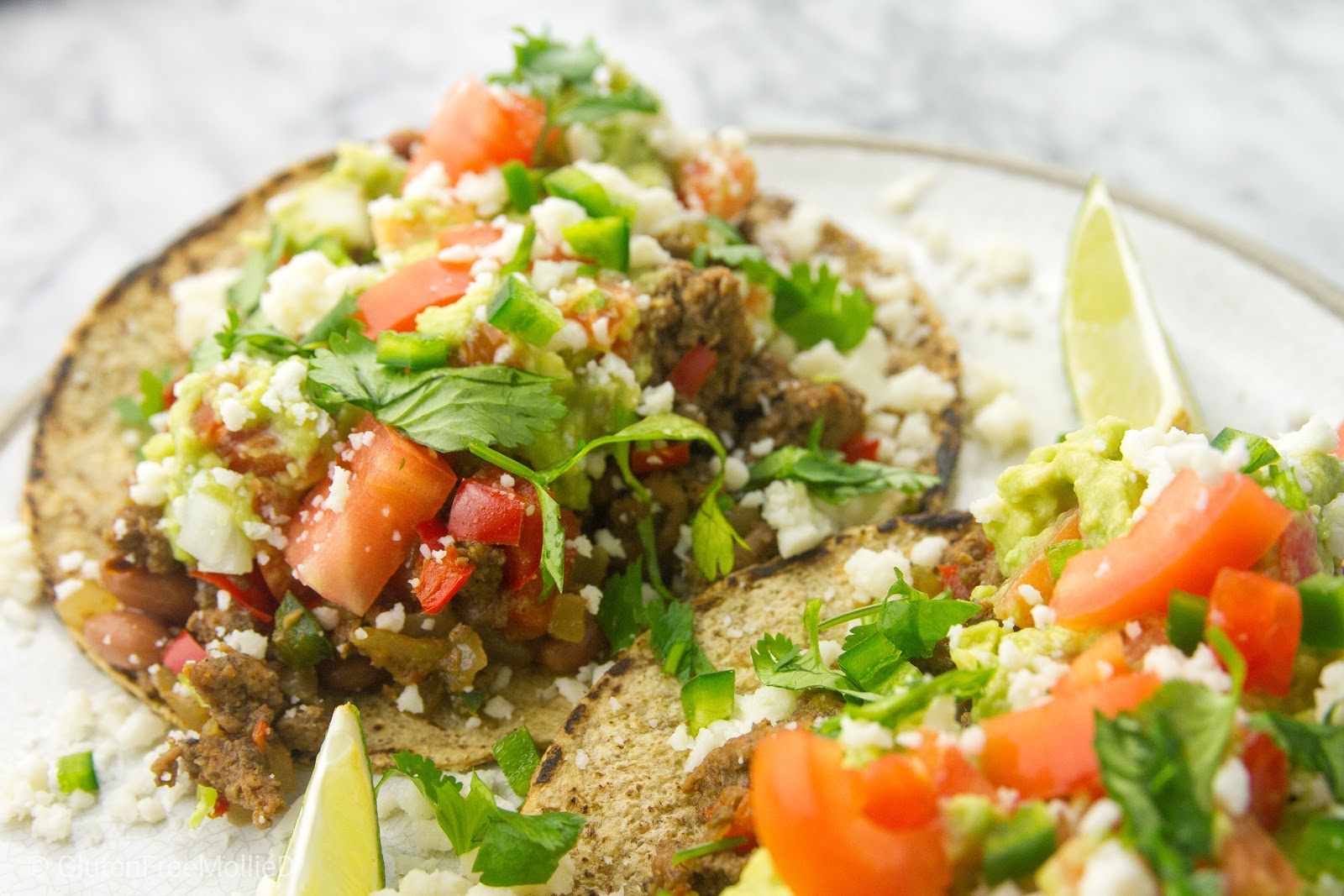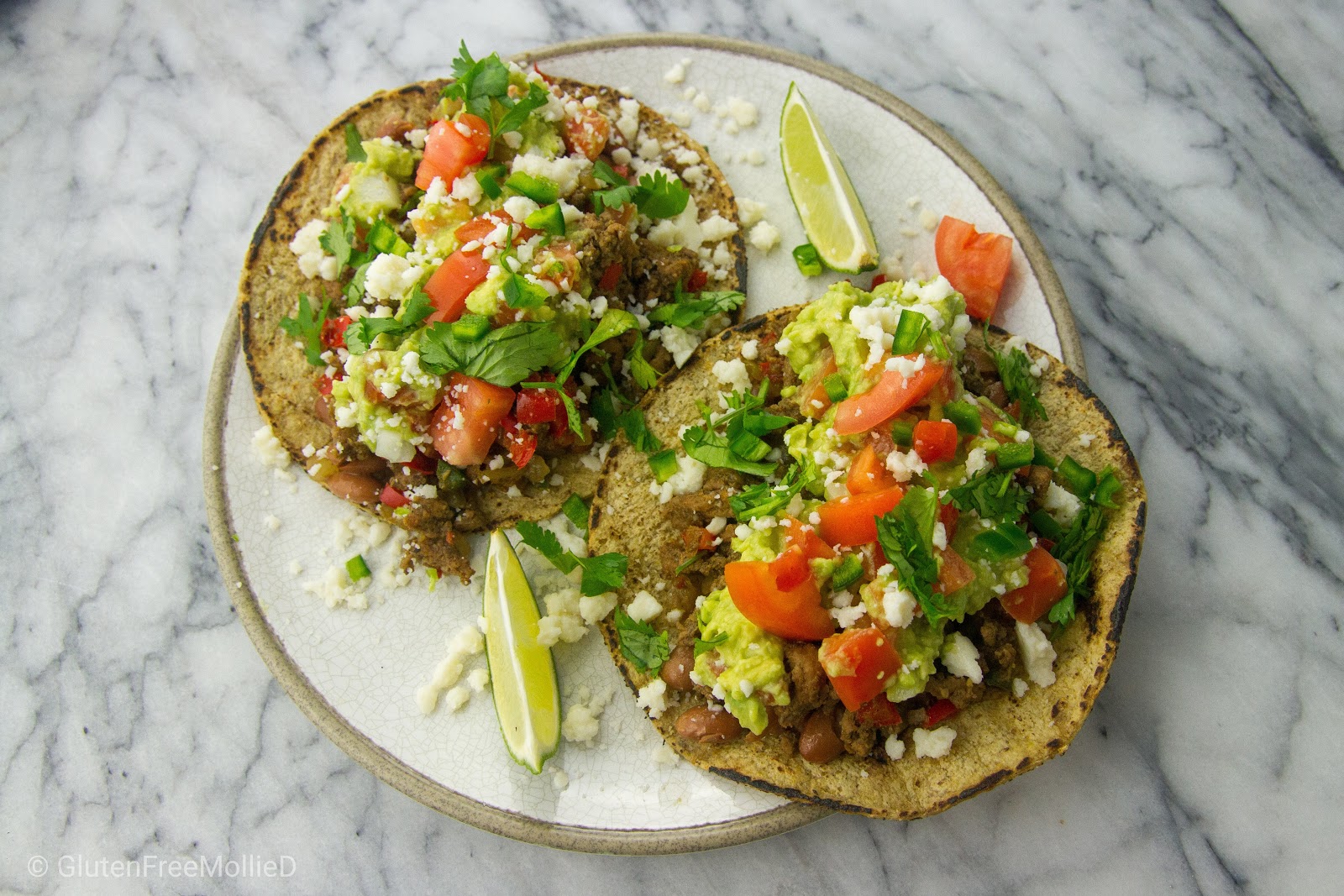 Ground Chicken Tacos with Pinto Beans and Avocado
Source: A Gluten Free Mollie D Original Recipe. Seasoning for the ground chicken mixture was adapted from a recipe found in What's Gaby Cooking.
Tip: We used organic corn tortillas for our tacos, but have used cassava flour ones in the past. Alternatively, you could make your own from scratch using masa flour (it's easy!) for a most-authentic flavor. Make sure the beans you purchase are safely labeled gluten free. All other ingredients are naturally GF.
Review: Sometimes those taco cravings of mine come out of the blue and come on strong. We hadn't anticipated a taco night this week, but suddenly I just really wanted tacos on my way home from the gym. The hardest part of making tacos healthy, in my opinion, is to not load them up with cheese. I love cheese. I love it so much.
In an effort to keep these tacos healthier, for the sake of my wellness mindset, we used only a sprinkling of cotija which is a fairly mild cheese and not as much a favorite as say, cheddar, sour cream, or another heavier dairy product that I could pile on top of my tacos.
Also, we used pinto beans as a base for extra protein, added diced peppers, onions, and mushrooms to the ground chicken, and added homemade guacamole and chopped tomatoes for a final touch. Now that was a flavorful, pretty healthy taco!
Did I over-stuff them and make a giant mess while eating? Of course. I think that's a requisite action while consuming tacos, right? A big mess and a bigger smile: those ground chicken tacos were stupendous and completely hit the spot. Could we make them again? ;)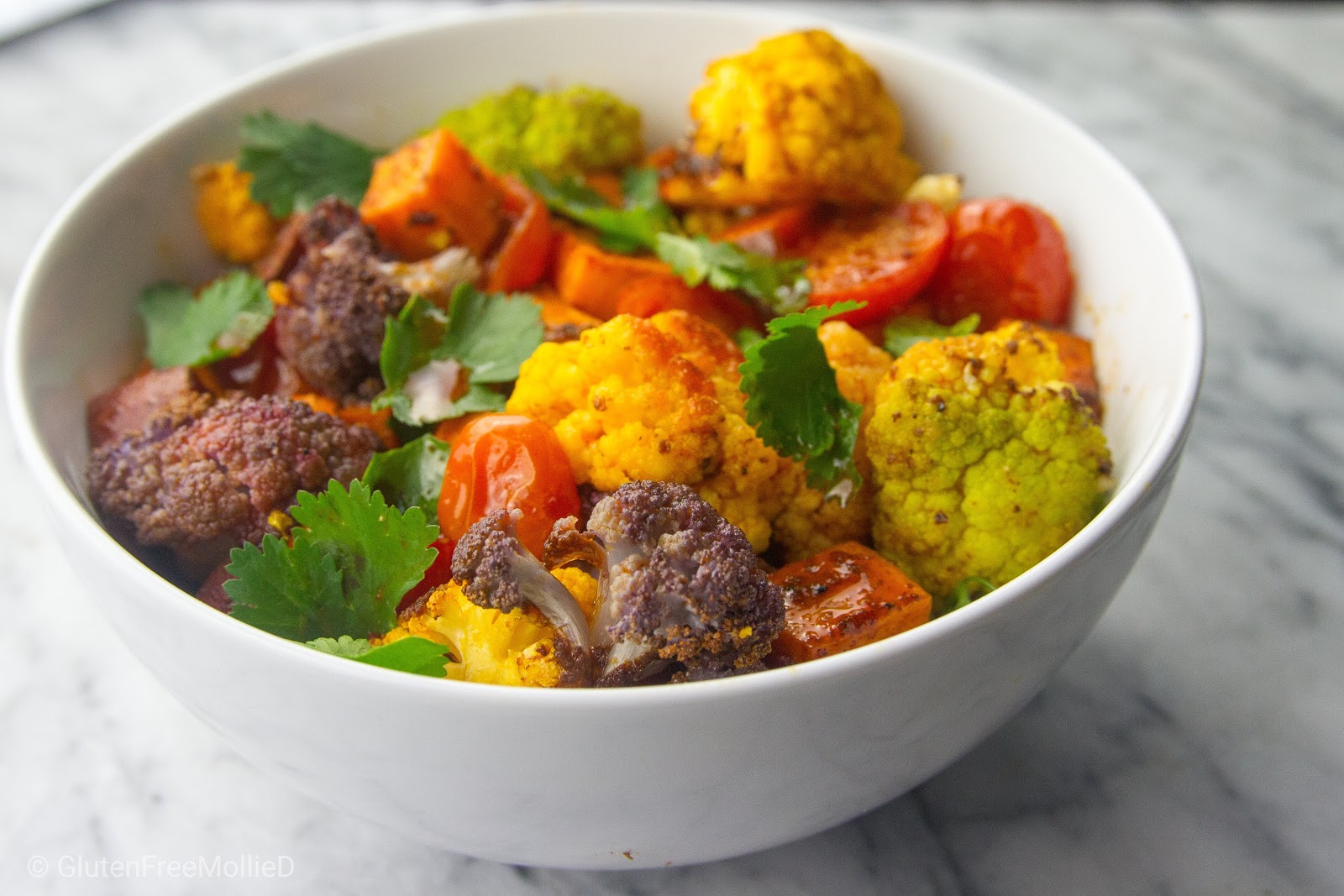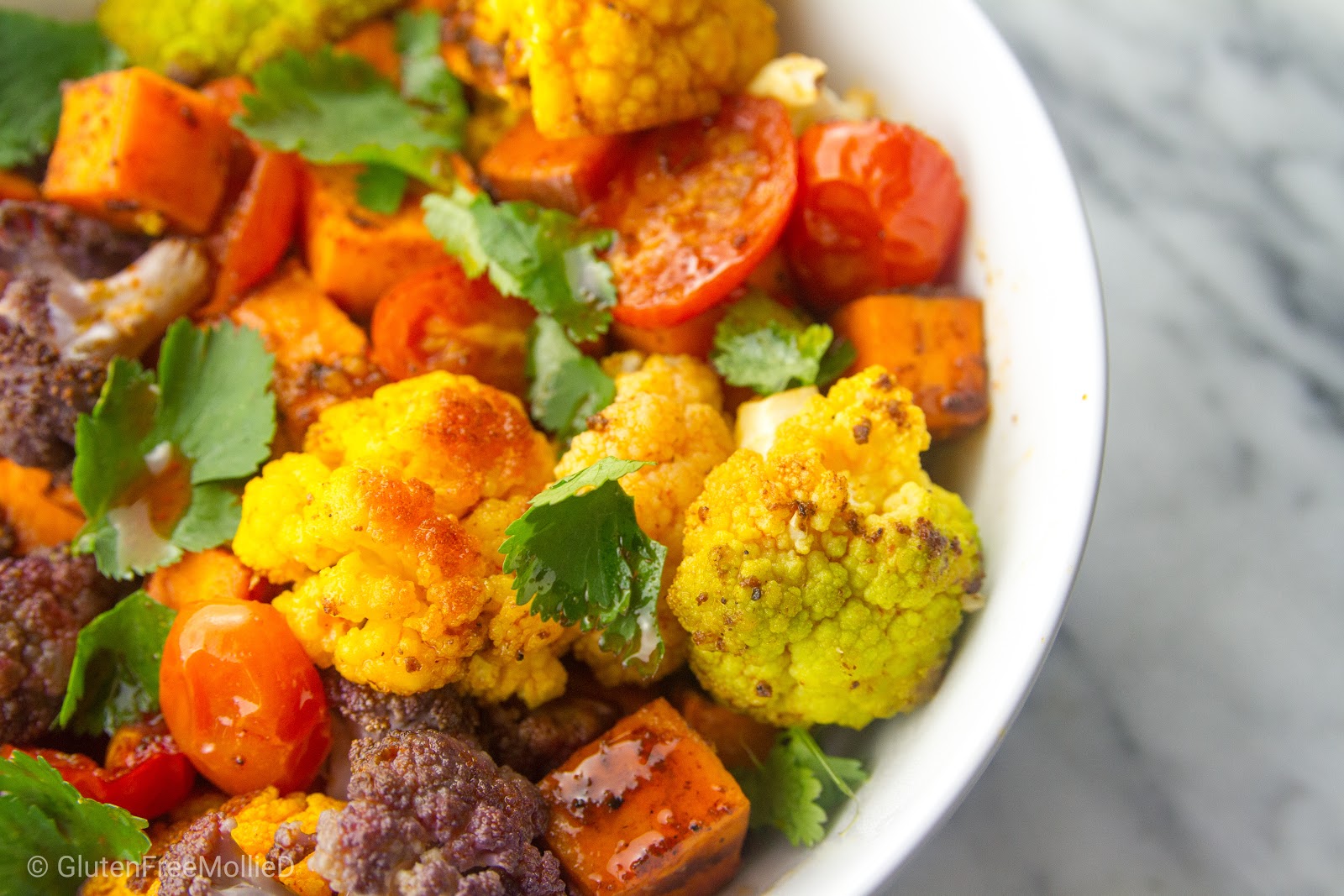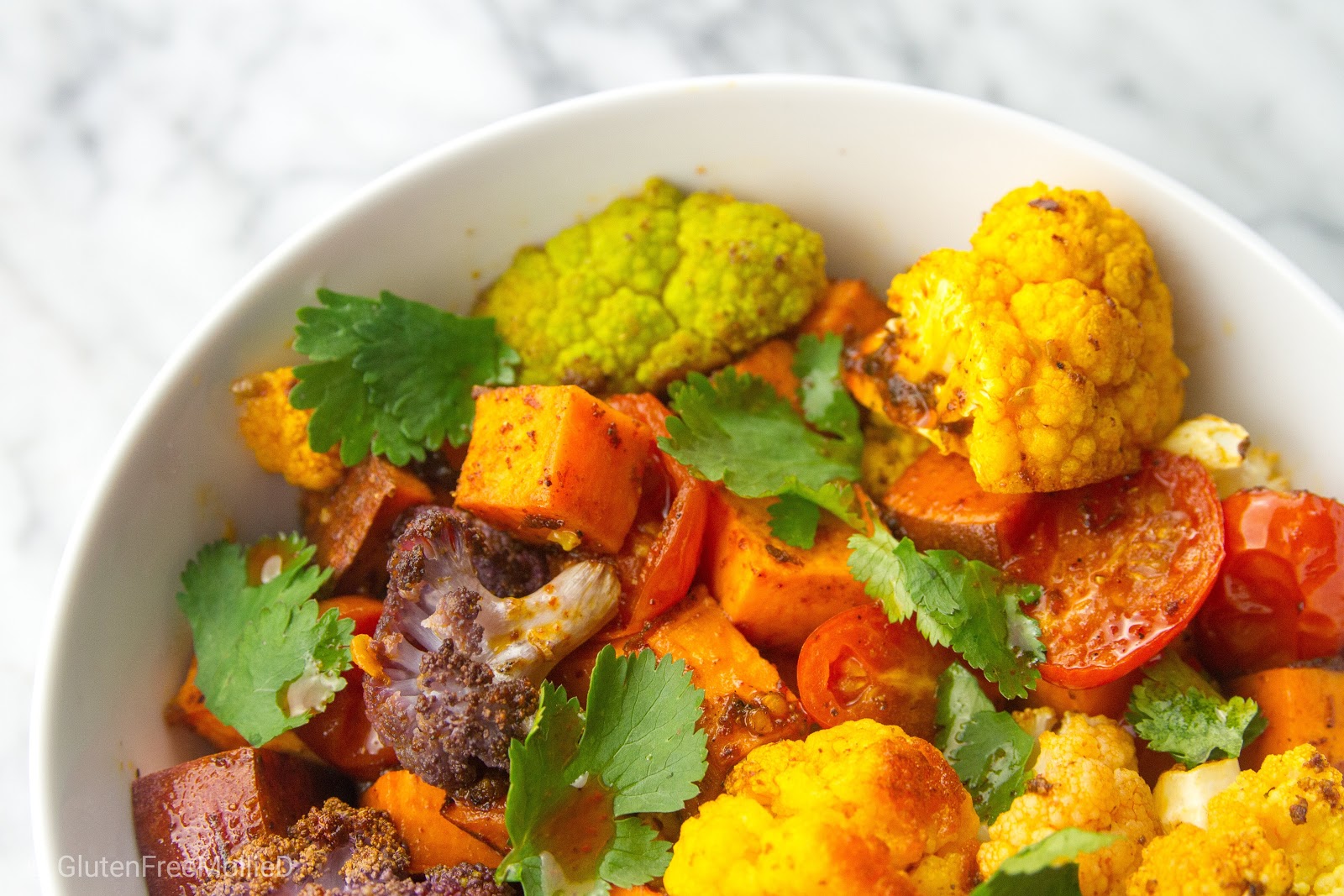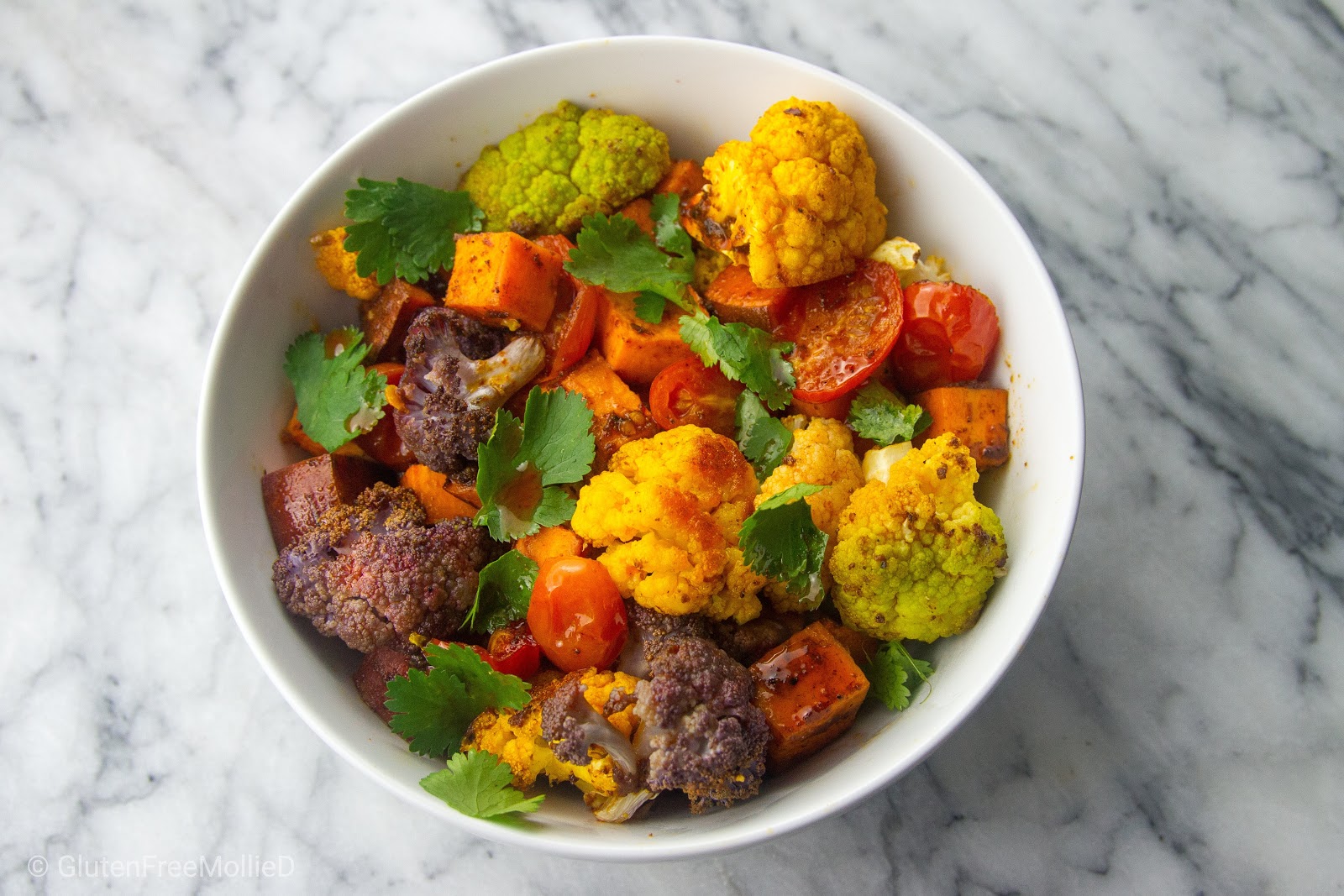 Quinoa and Harissa-Roasted Veggie Bowl
Source: Bon Appetit online; find the recipe, here!
Tip: We made slight modifications to this recipe. Instead of black lentils we used quinoa, and we added cauliflower to the roasted veggies (not just sweet potatoes and tomatoes). Overall, this is a naturally gluten free meal.
Review: To combat the semi-heavy taco extravaganza from the night before, we took things down a notch with this simple, meatless bowl. Cauliflower, sweet potatoes, and tomatoes all roast together with a tangy harissa-based sauce and are added to a bowl of hot quinoa. Then more of that sweet/spicy/tangy sauce is drizzled over everything. Yum!
For a meal that didn't require too much effort, or heavy-lifting, the result was a really great and bright dish. Once in a while I am in the mood for a dinner such as this one that offers health in the form of comfort: roasted cauliflower and sweet potatoes are downright delicious anytime, but with the harissa sauce they became even more flavorful and alive. Plus, the leftover veggies were perfect in my scrambled eggs over the weekend. See photos below!
I suppose the point I am trying to make with this dinner, or any of our meatless meals, is that you don't need a meat-based protein to make an awesome plate of food.
This isn't really a new concept, or earth-shattering news in the least, but I enjoy throwing in meatless meals a couple times a week to remind us that there are countless ways to enjoy vegetables and the healthier mealtime staples. The options are endless when it comes to creating a fantastic, and healthy, weeknight menu.
A Few Highlights from the Weekend…
Dinner Friday night at The Bancroft was delicious and fun. If you're not familiar, this is one spot I strongly recommend! It gets very busy so go early to grab bar seats, or make reservations for a table in the big dining room. Their gluten free menu, and attentive staff, keep us going back again and again.
A long weekend allowed us to get all sorts of errands done, but also really relax a lot at home. I'm not the best at sitting still or staying home for long stretches of time, but I'm working on it! Thankfully my passion for baking helps me with this task. :)
Due to Sunday's snowstorm we stayed in Saturday night, cooked a yummy meal that I didn't even bother to photograph, and enjoyed watching episodes of 'The Marvelous Mrs. Maisel'. Have you seen it? So good!
Sunday's snow kept us indoors so I did a bunch of push-ups and jumping jacks, then baked birthday cake scones. That was the actual title of the recipe. They were so happy! They tasted…ok. I'm on the hunt for a basic scone recipe that has no sprinkles involved.
The Patriots won the AFC Championship and are going to the Superbowl (again)!! Yahoo!!
Today, Monday, was blisteringly cold, and so we did minimal activities outdoors before coming in for laundry and uh, to write this piece. ;)
We hope you had a wonderful weekend and are enjoying this first month of 2019. It's been a delicious one so far and I can't wait to eat and share what we cook next!
Eat , well.
Mollie and Seth