Back to the Kitchen
Now that our week away has come and gone, it's time to get back to cooking! And while I really did embrace our week of going out for every meal, there's something special about home-cooked food. Wouldn't you agree?
There are only so many days I can take of not eating at home until I suddenly just crave the simple act of sitting at my own kitchen table, enjoying a wonderful homemade meal.
Our first week back included some stunningly delicious foods and favorite flavors which made me appreciate dinnertime at home even more. :)
Let's dine!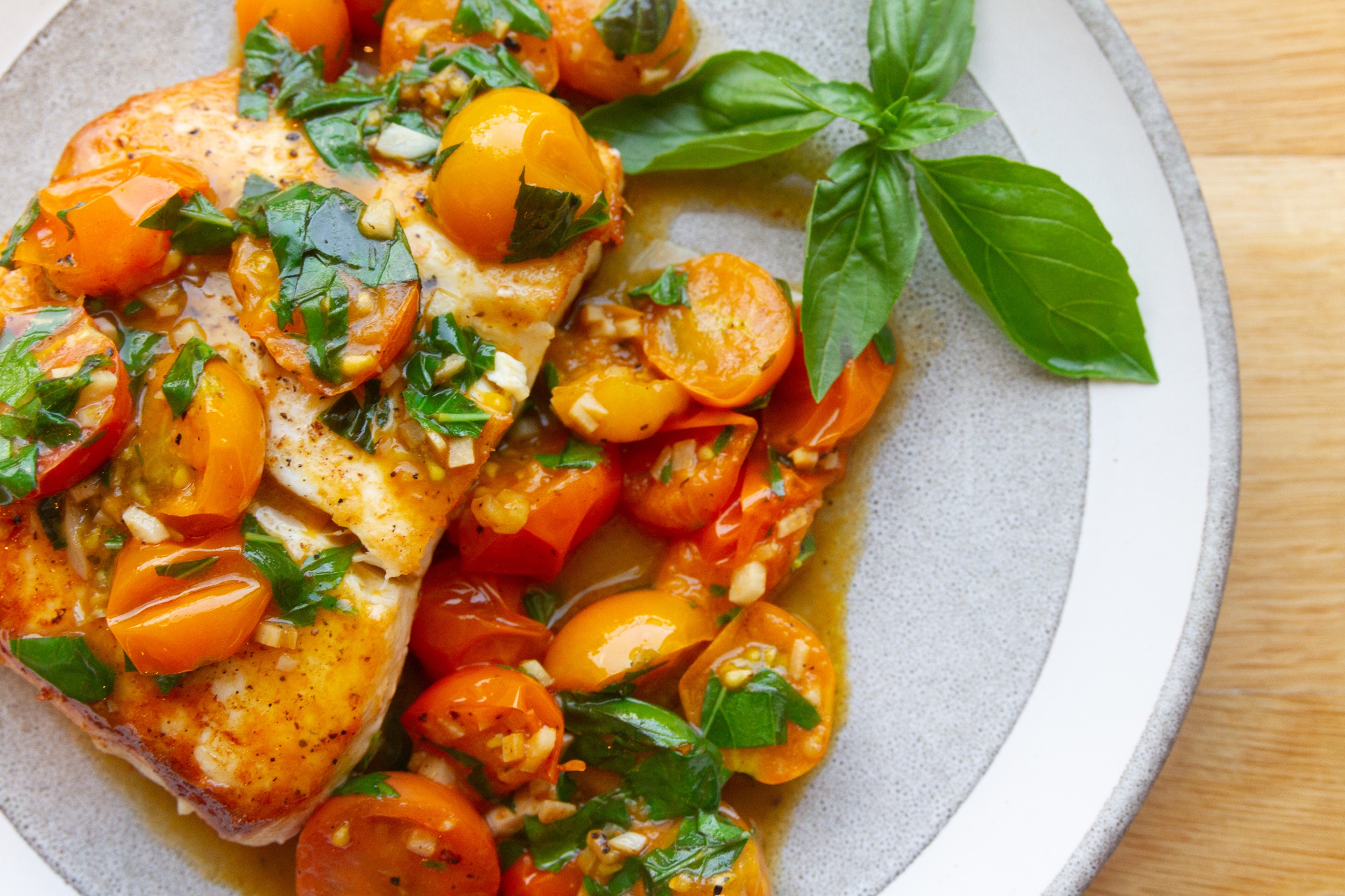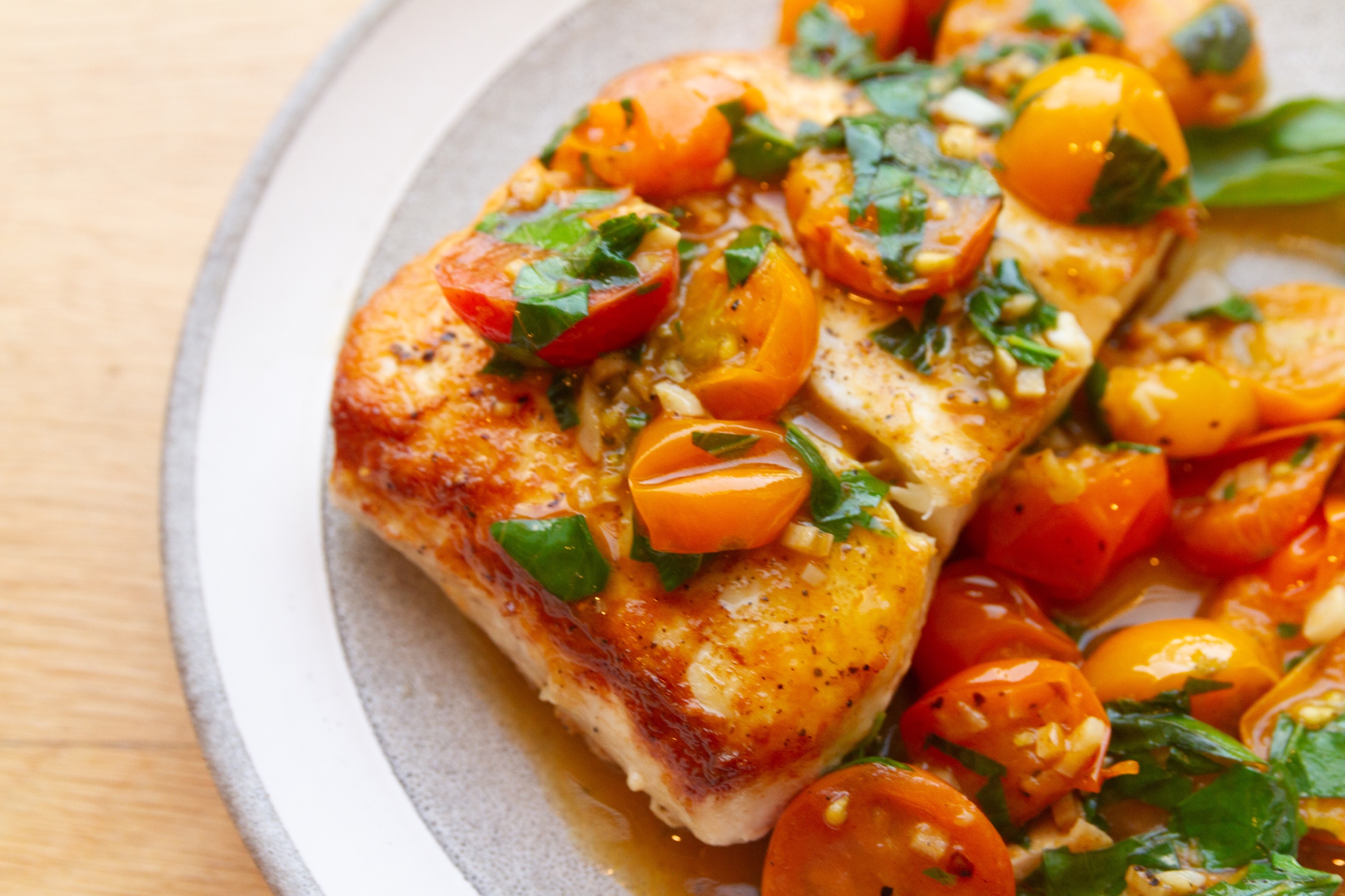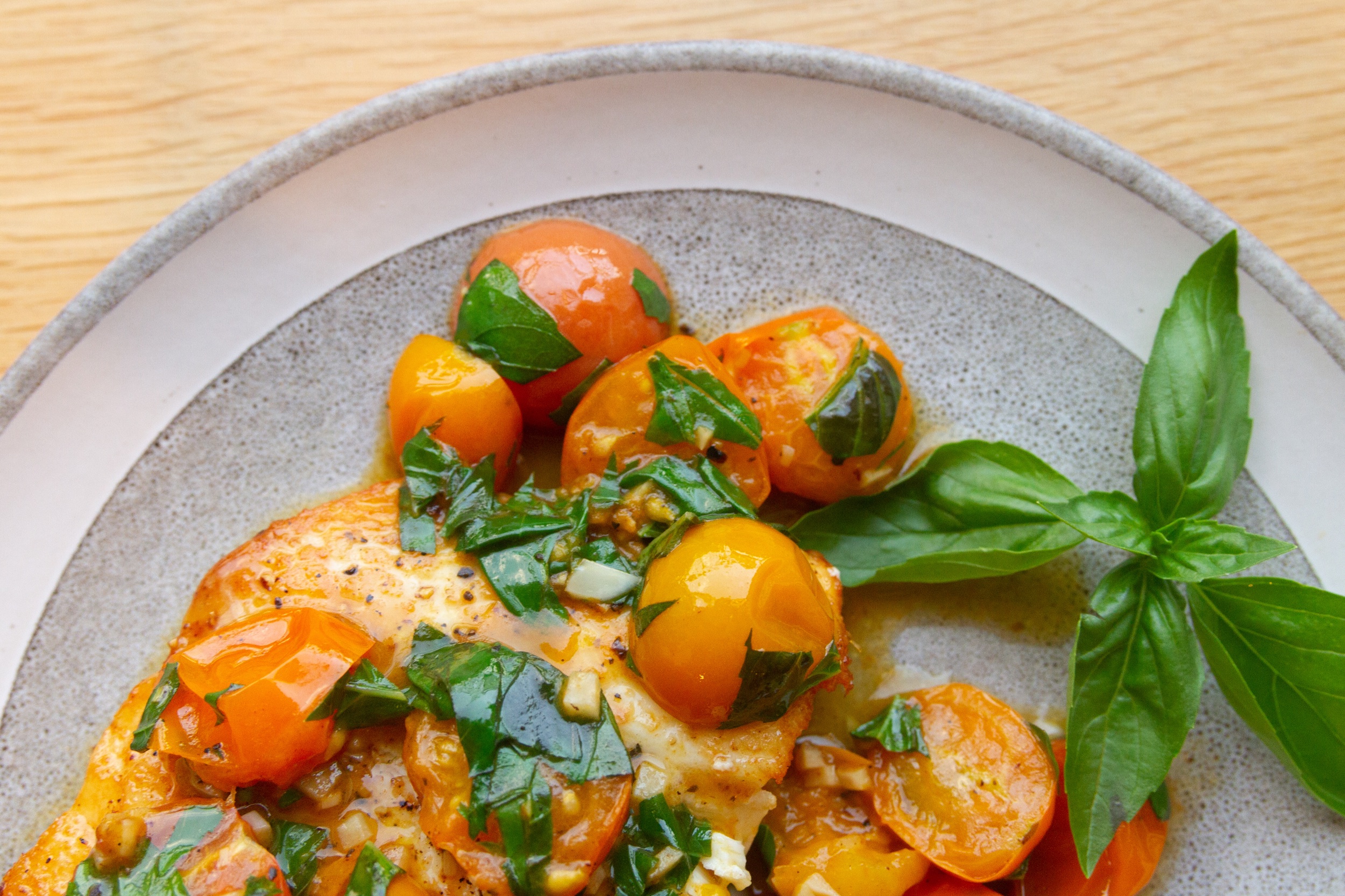 Pan-Seared Halibut with Cherry Tomatoes and Basil
Cook Tip: Grab this great recipe, here! When it comes to fancy fish, there isn't anything better, I think, than a big piece of halibut.
The flavor of this fish is amazing even when simply seasoned so when halibut gets the star-treatment by being covered in tomatoes and basil, watch out, because now its one of the best fish dinners of summer. Yes, we've made seafood meals before that incorporate pan-searing and lots of tomatoes, but this one in particular was truly outstanding.
Halibut fans rejoice; this is the dinner for you. Everyone else: buy halibut for a fancy Friday night in and make this meal. Too. Delicious. For. Words.
For the record, we served fresh corn-on-the-cob with this dinner. It didn't make it onto the plate (oops), but it was scrumptious and sweet.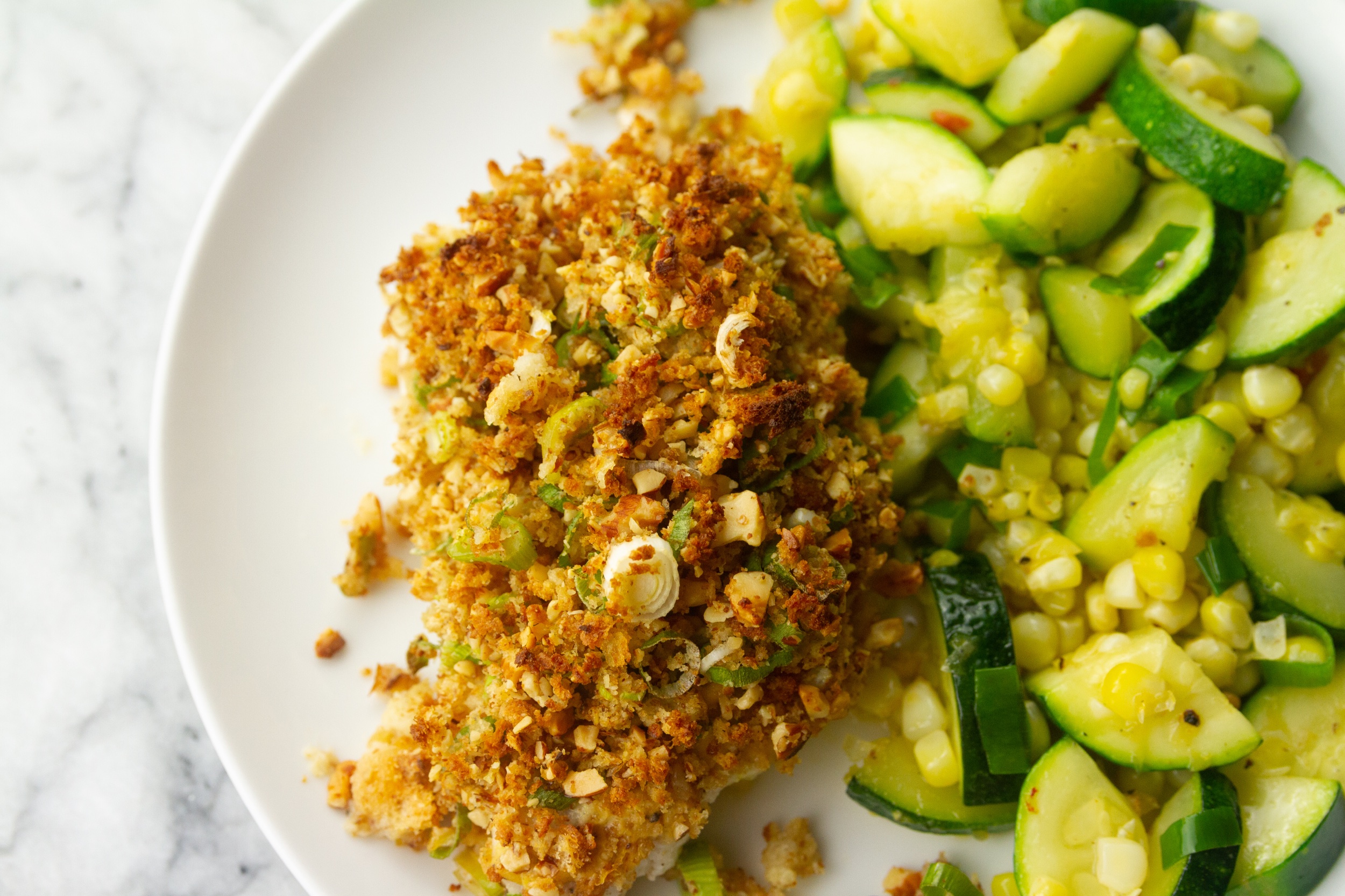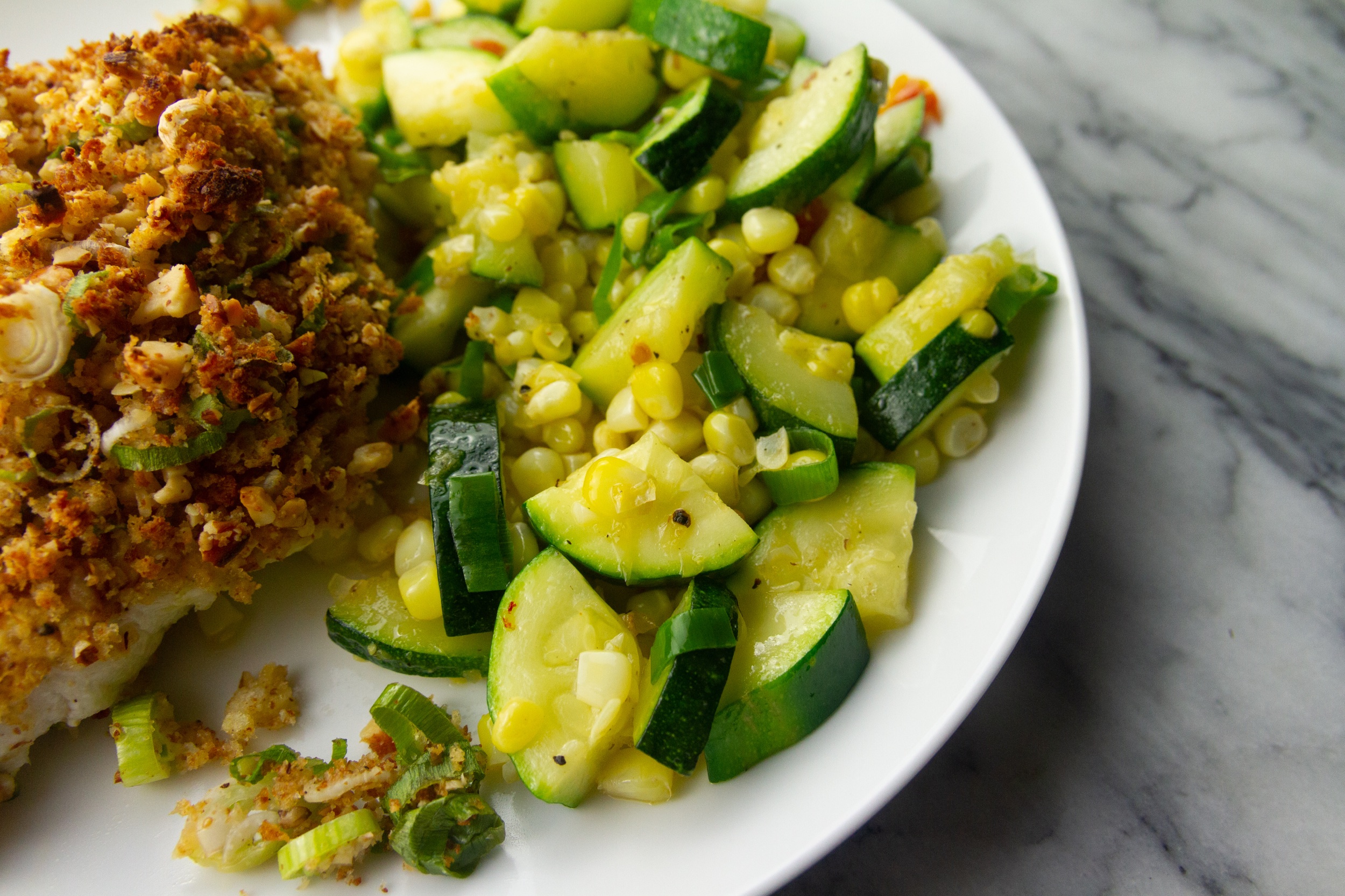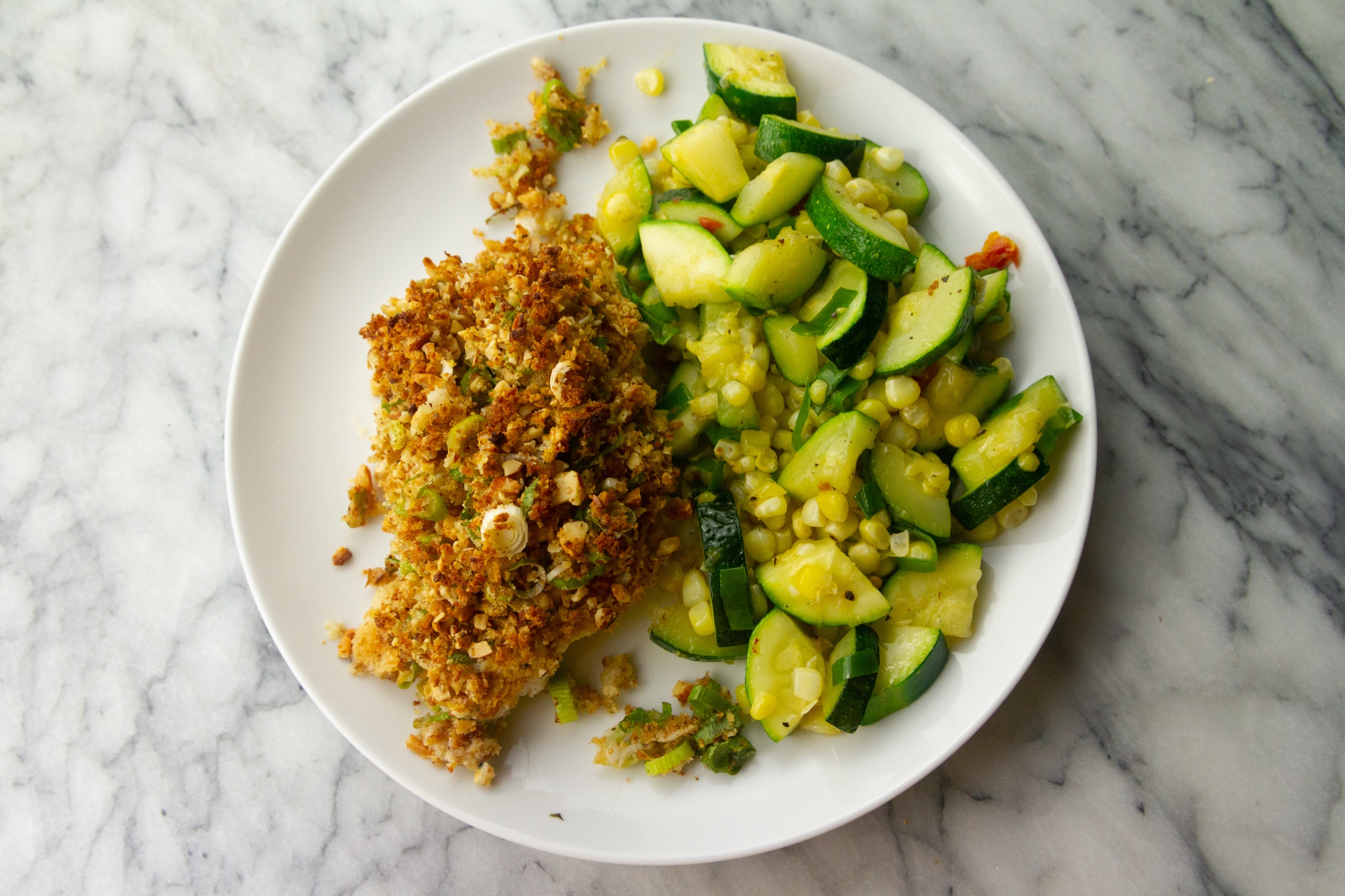 Roasted Fish with Lemon-Almond Breadcrumbs and Sautéed Zucchini
Cook Tip: Find the roasted fish recipe in the book Weeknight Gluten Free by Kristine Kidd. In my opinion, this book is a must-buy for your gluten free cookbook collection.
If we are being honest, and I always like to be, we have made this dinner many times. Like more than twice. It's by far the best roasted fish recipe we've made that includes a crumbly topping. And my oh my, this topping is basically perfect.
Lemon-almond breadcrumbs are a heavenly covering for when fish is being baked. The mixture is salty, crunchy, and lemony which is so delicious on flaky, white fish. Be sure to use gluten free bread (as the recipe instructs) because it makes a world of difference in the overall texture and flavor of the topping. We tried GF breadcrumbs in the past and it just wasn't the same (good if need be, but get the bread).
In regard to the fish, cod or haddock is what I would recommend using for this recipe since they're a thicker cut, but if you select Dover sole or even easy Tilapia, it would still be awesome. The topping-to-fish ratio would just be slightly different (less fish, more topping).
We decided on an easy summer vegetable medley of zucchini and corn to serve alongside which I think worked well. Don't go with anything too bold - the fish is the star! A simple sauté is a great way to prepare the veggies that's a good complement to the main dish and is still relatively quick to prepare.
Joyfully, this dinner is a real crowd-pleaser and I'd serve it on a casual Tuesday or a small Friday night dinner party. Everyone is sure to love it!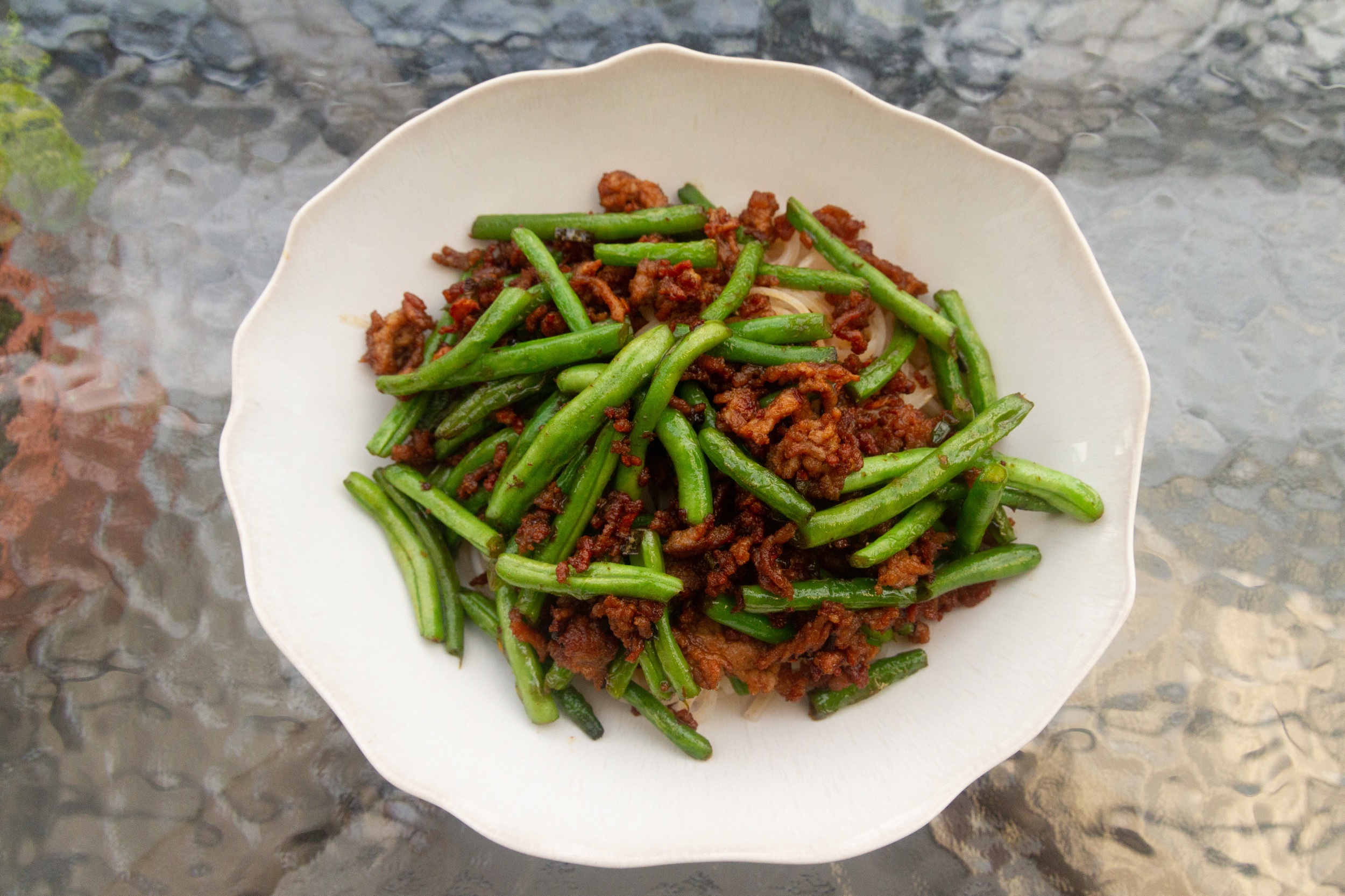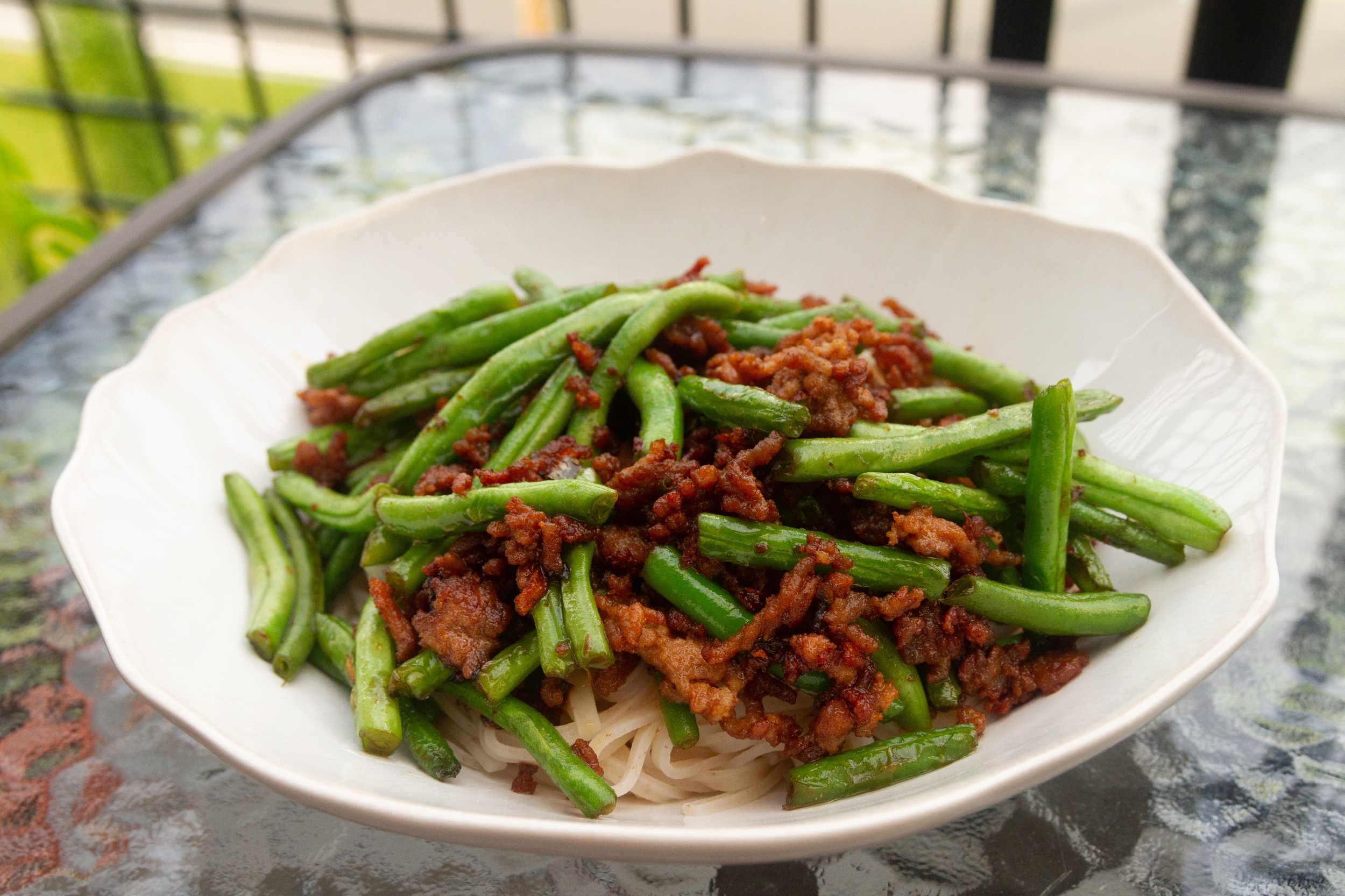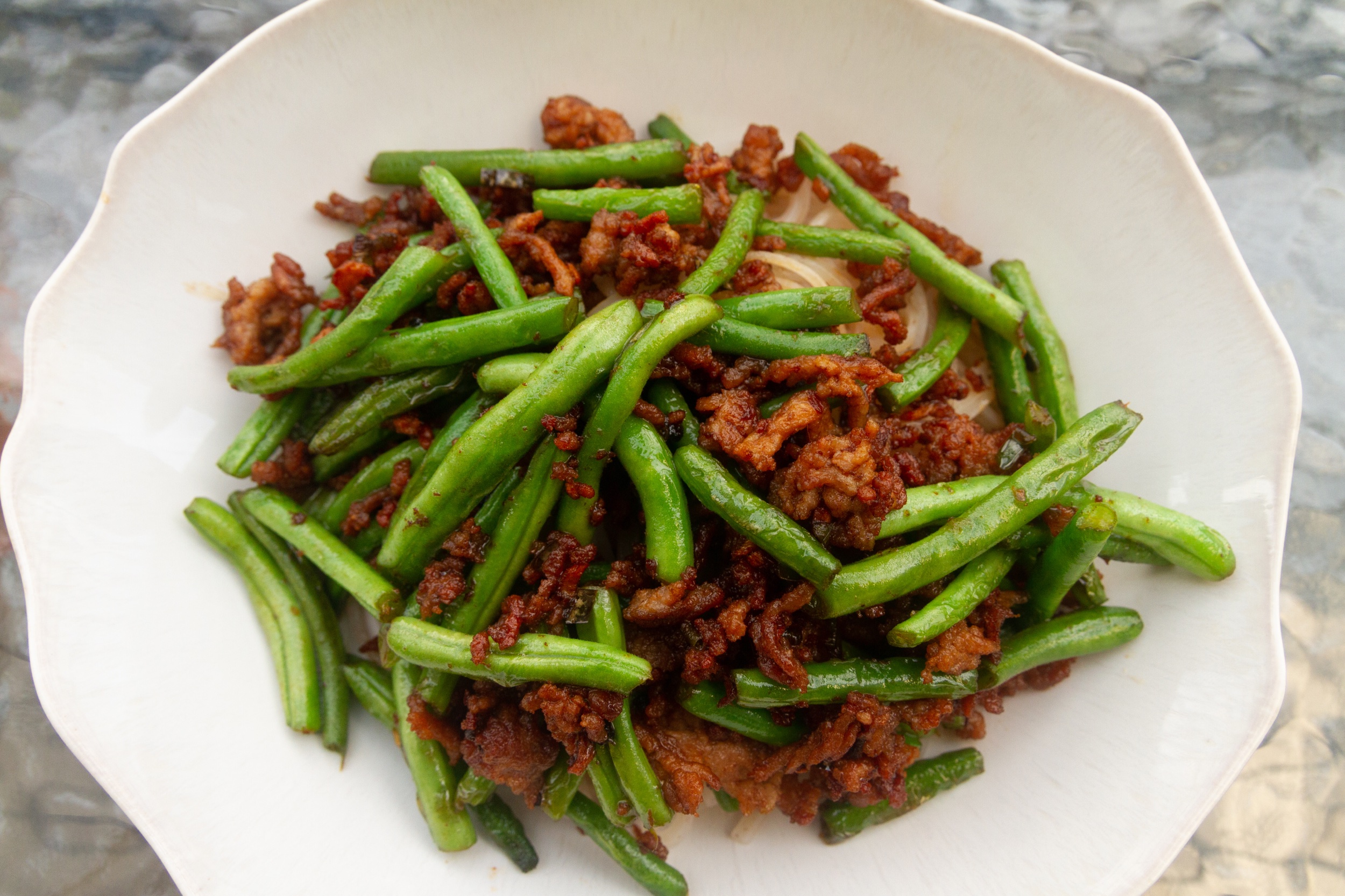 String Beans with Pork, Ginger, and Red Chile
Cook Tip: Find the recipe in the cookbook Small Victories by Julia Turshen. We kept with the trend of making our favorite foods this week and that meant that our next meal was this awesome, easy, and extra-delicious dish that puts takeout Chinese food to shame. 😮
Spicy string beans used to be one of my go-to takeout dishes as a kid, but this make-at-home version gets amped up by adding ground pork that becomes ultra-crispy and dreamy, as well as a hearty amount of ginger and red chile. This recipe doesn't have a lot of ingredients, but it really delivers on flavor and joy-while-eating.
We served the green beans over brown rice noodles to make it a heftier meal and added Sambal Oelek for extra spice. The recipe is a little spicy on its own, but we decided the extra kick really helped bring out all of the delicious flavors. Leave it out if you prefer a milder spice level.
I can't recommend this dish enough and yes, it's another one I have no qualms about repeating on our meal plan. Simple, spicy, flavorful, fairly healthy (better than takeout!), and just fun. I'm salivating as I type and that means it's a winner. ;)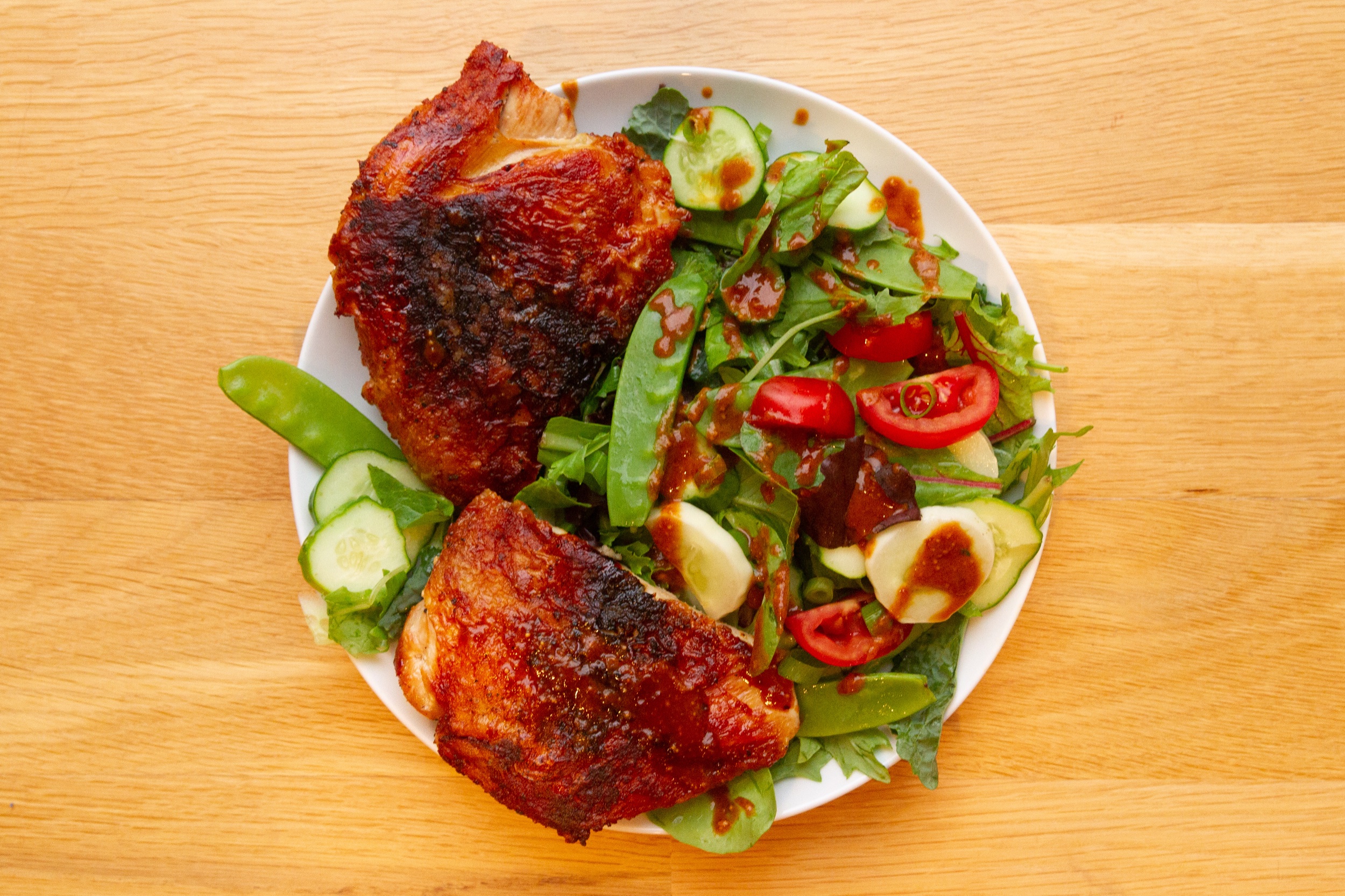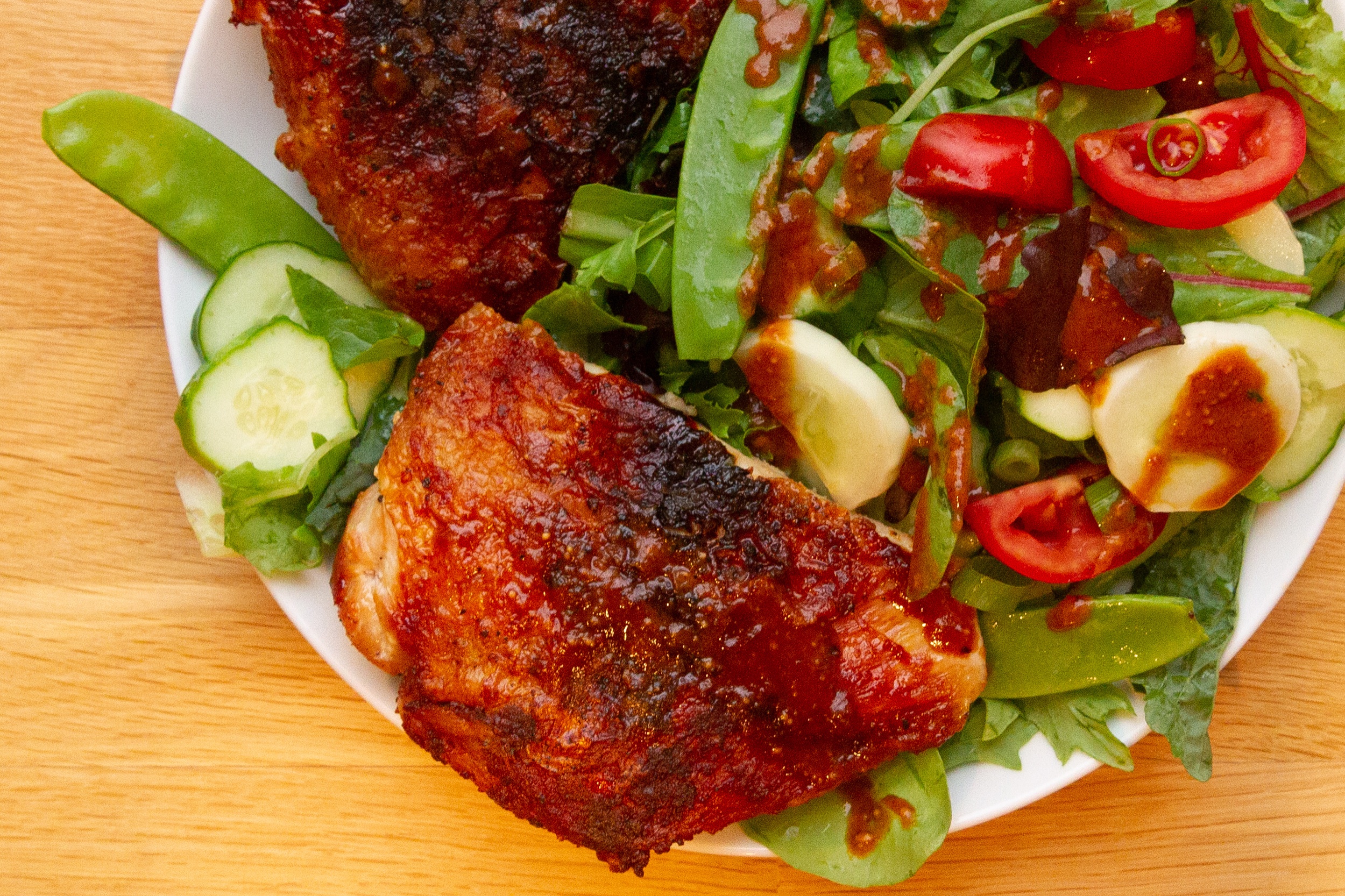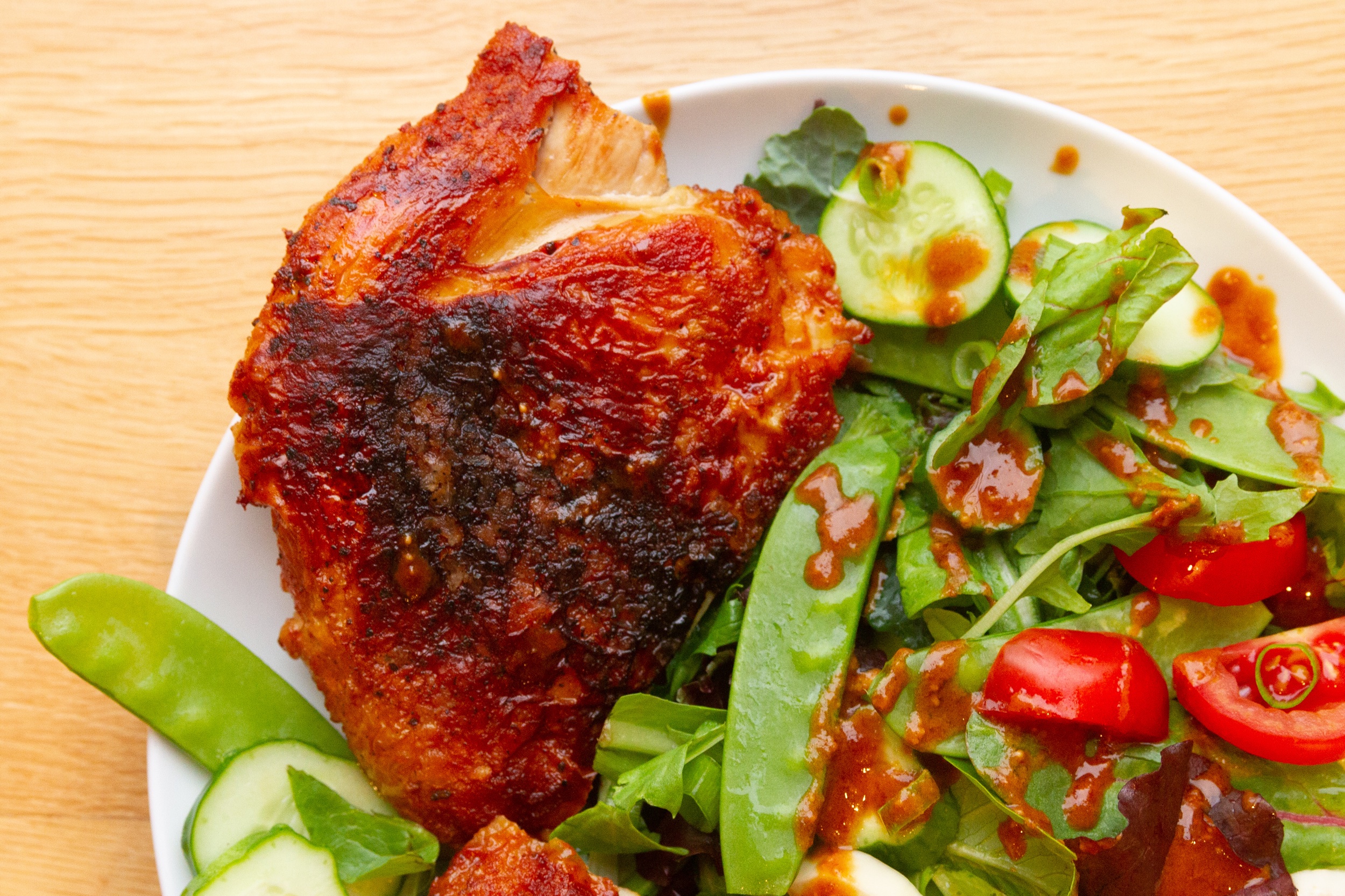 Crispy-Skin Chicken and Garden Greens salad
Cook Tip: The creamy peanut dressing recipe is from The Lemon Bowl; Find it here. Save it! I love that dressing so much. And it goes so well with so many dishes.
Fairly often, I'm in the mood for a basic dinner, but with a twist, which is exactly how this meal came to be. We wanted to make an easy chicken-and-salad combo, but more exciting. And more flavorful. So, how did we change it?
First, instead of a simple grilled chicken, we opted for "chicken under a brick," which was really "chicken under a skillet and tea kettle" due to the heavy objects we had around for the pressing process. Be sure to buy skin-on chicken so that the crispy skin is there at the end to devour.
Second, we needed greens so that meant a garden salad with lettuces, peas, cucumbers, and tomatoes. However, to make this salad pop, we made creamy peanut dressing which is the answer to all dull dinners. It's so freaking good and I could eat it for breakfast, lunch, and dinner.
Salty, tangy, and a little spicy, this salad dressing does it all. And most importantly, it made a regular salad (or protein) way more delicious and fun.
Basic seasoning for the skin-on chicken was more than enough because I definitely drizzled that dressing over the chicken in addition to the salad. But that's the beauty of creating a more exciting version of an average dinner; you don't need elaborate flavors all over the place. They just need to pop up here and there to make a great weeknight dinner - even better.
That's all for now!
Questions about any of our dinners? Leave us a comment, below.
Let's eat well, together.
Mollie and Seth