A Change in Tone
See ya, summer! Oh wait, just kidding. We're still finishing up August. But last weekend's cool mornings and this week's chilly evenings are a firm reminder that fall is, in fact, on its way. And while summer was blissful and oh-so-fun, I'm starting to acknowledge that the change of season will be positive.
Lest we forget it was recently my birthday during which temperatures soared to the 90s, by the time the evening rolled around I strangely craved a hot meal. 🤷‍♀️
The rest of the week was hot too, and yet we turned the oven on and somehow ended up with dinners firmly looking toward fall. Those colors scream autumn, don't you think? Oh well. Summer was super, but we all know September can be surprisingly scorching. 😏
Let's get to the food!
Birthday Shells with Homemade Spicy Tomato Sauce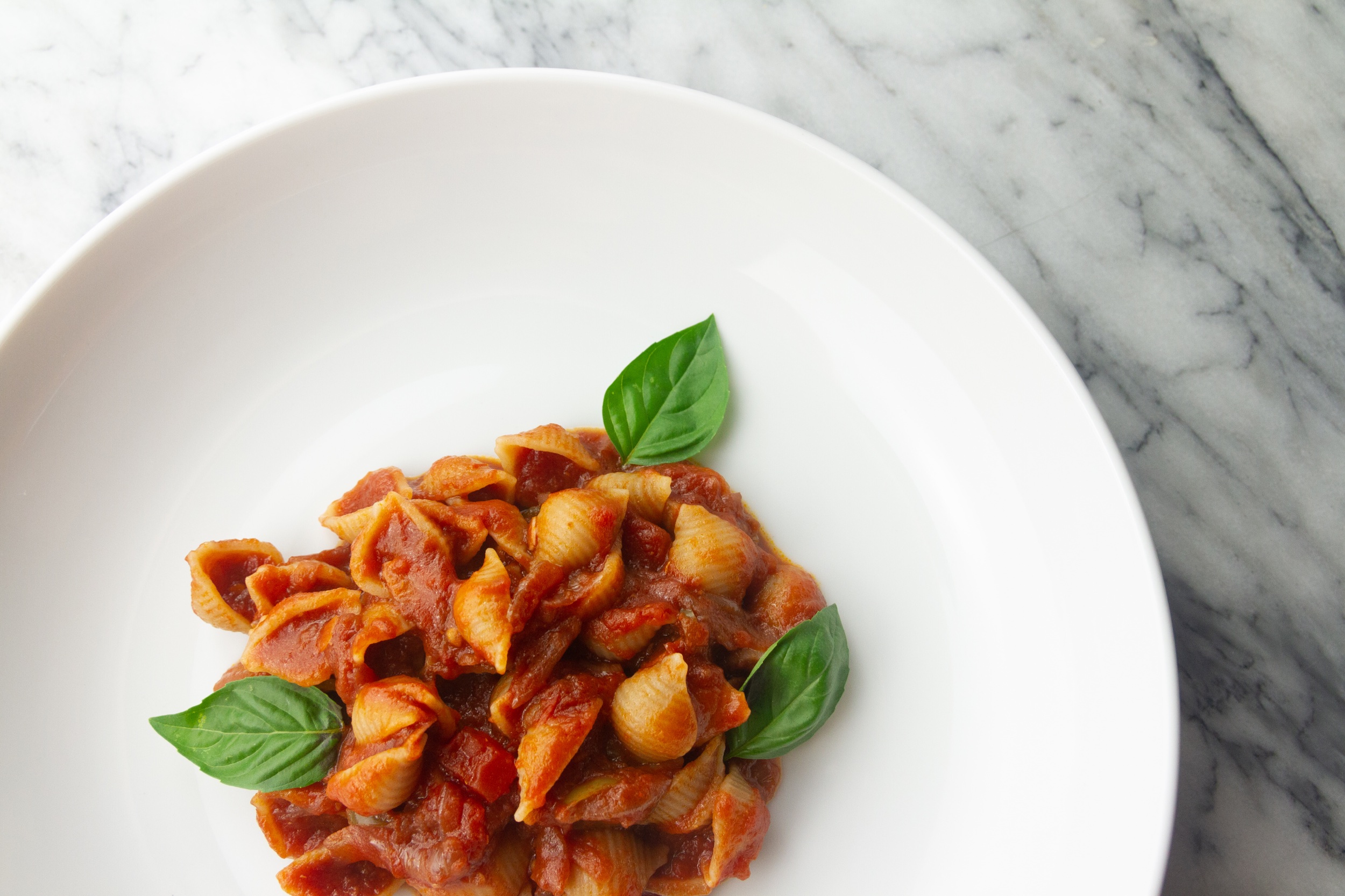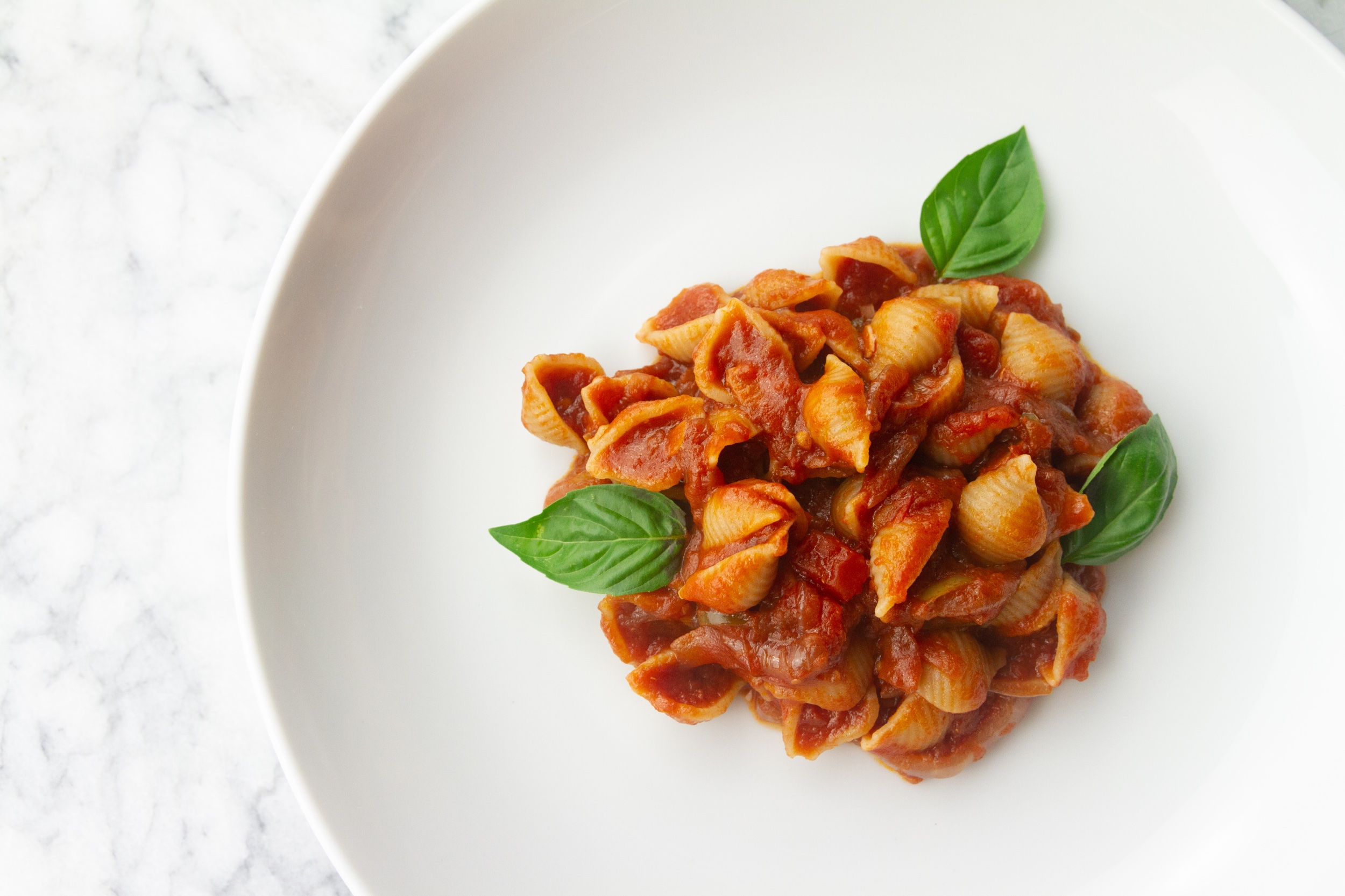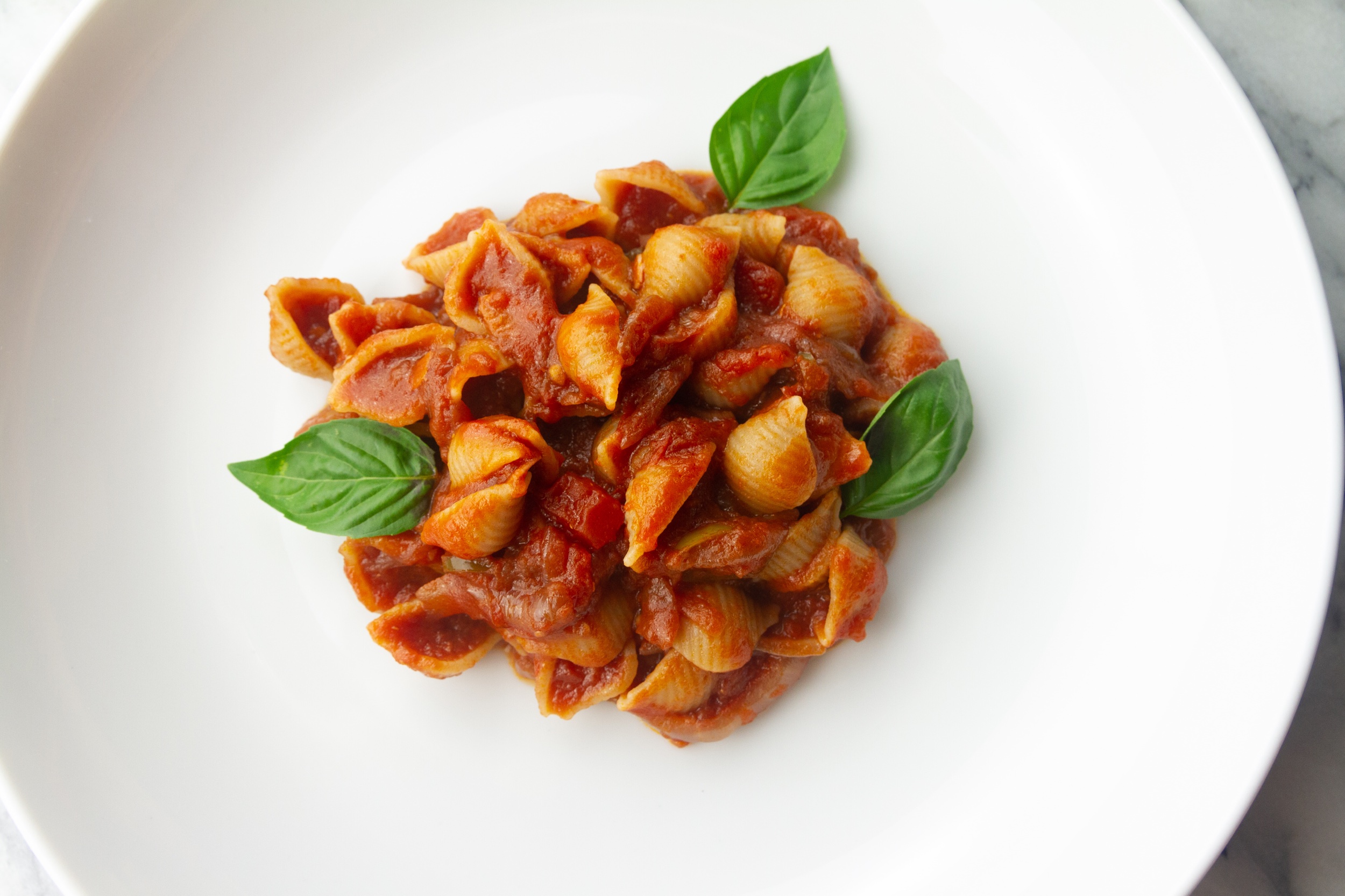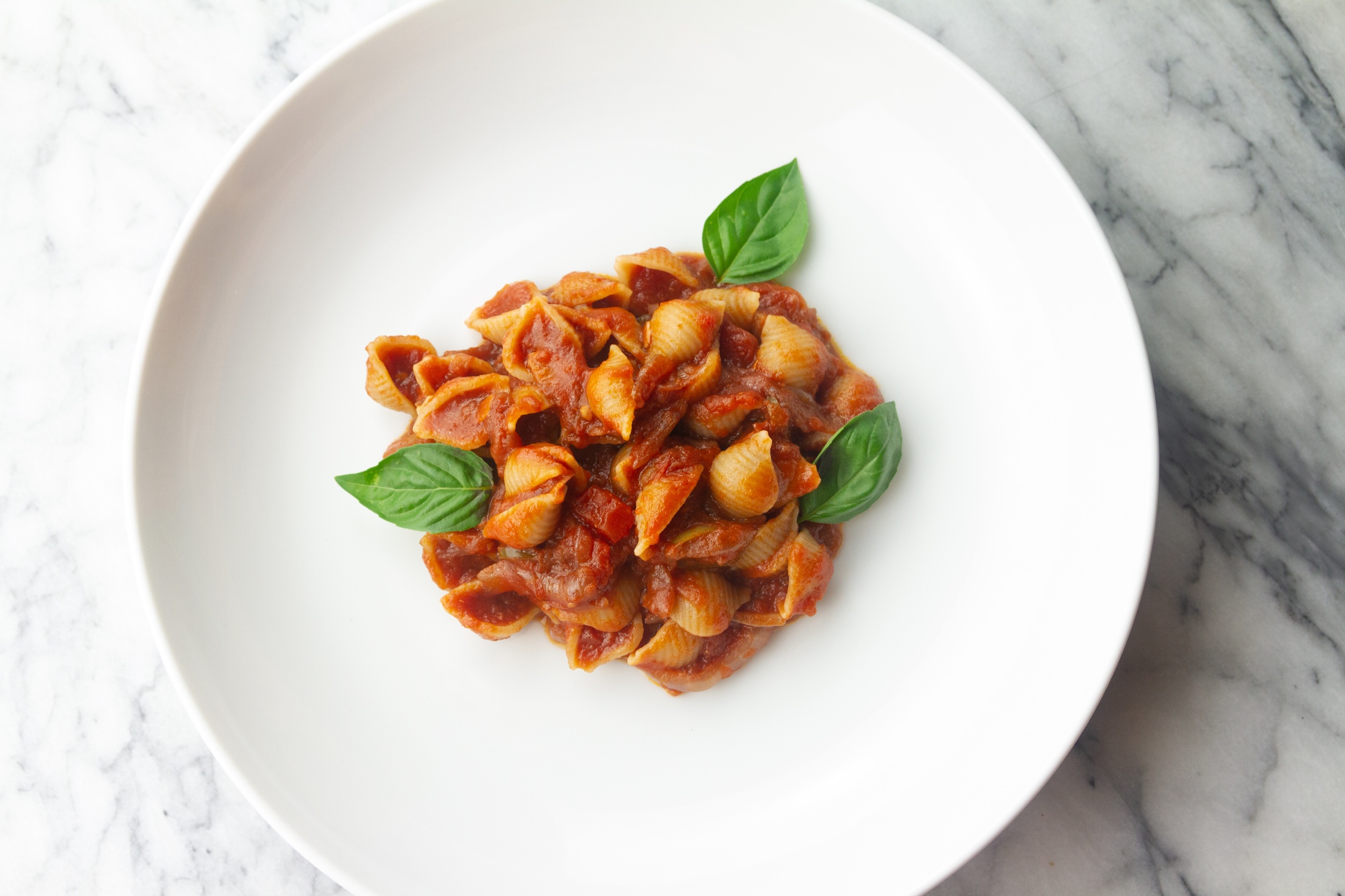 Cook Tip: Be sure to use gluten free pasta for this dish. We used Jovial Foods brown rice pasta in the shape of shells. It's petite and delicious.
While a pasta-and-sauce meal isn't super extravagant, I do think it can be one of the most satisfying dishes. I craved a basic tomato sauce and pasta the night of my birthday and Seth really delivered!
He made a slightly spicy tomato sauce from scratch which he tossed with GF shells and topped with Parmesan (not shown). Absurdly delicious and heartwarming, which is exactly what a birthday dinner should be.
Make it yourself! Choose your favorite gluten free pasta and mix with a homemade tomato sauce (red pepper flakes and hot peppers for spice) or buy a jar of good sauce (Rao's) for an even easier meal. Then eat, relax, and enjoy!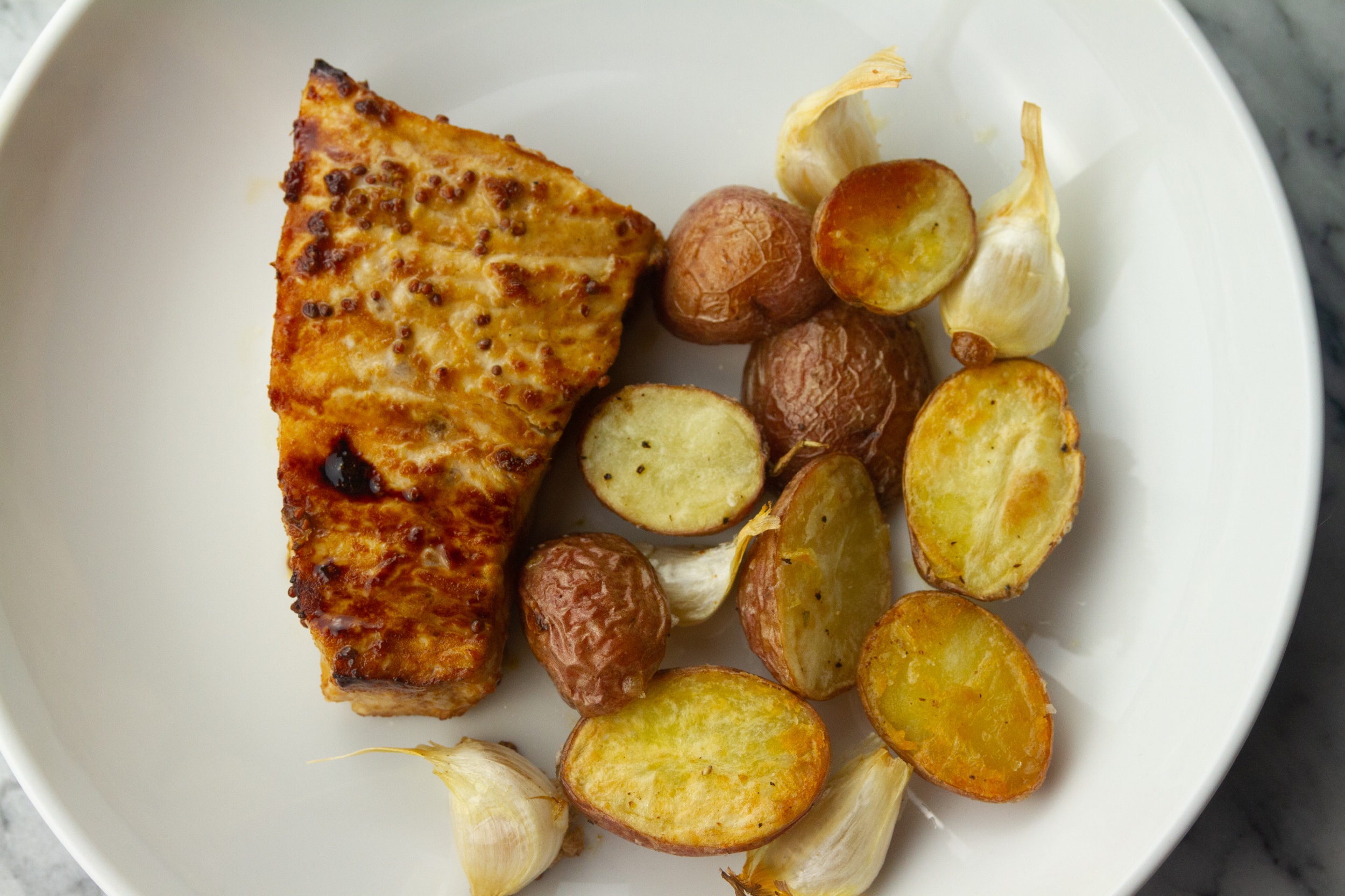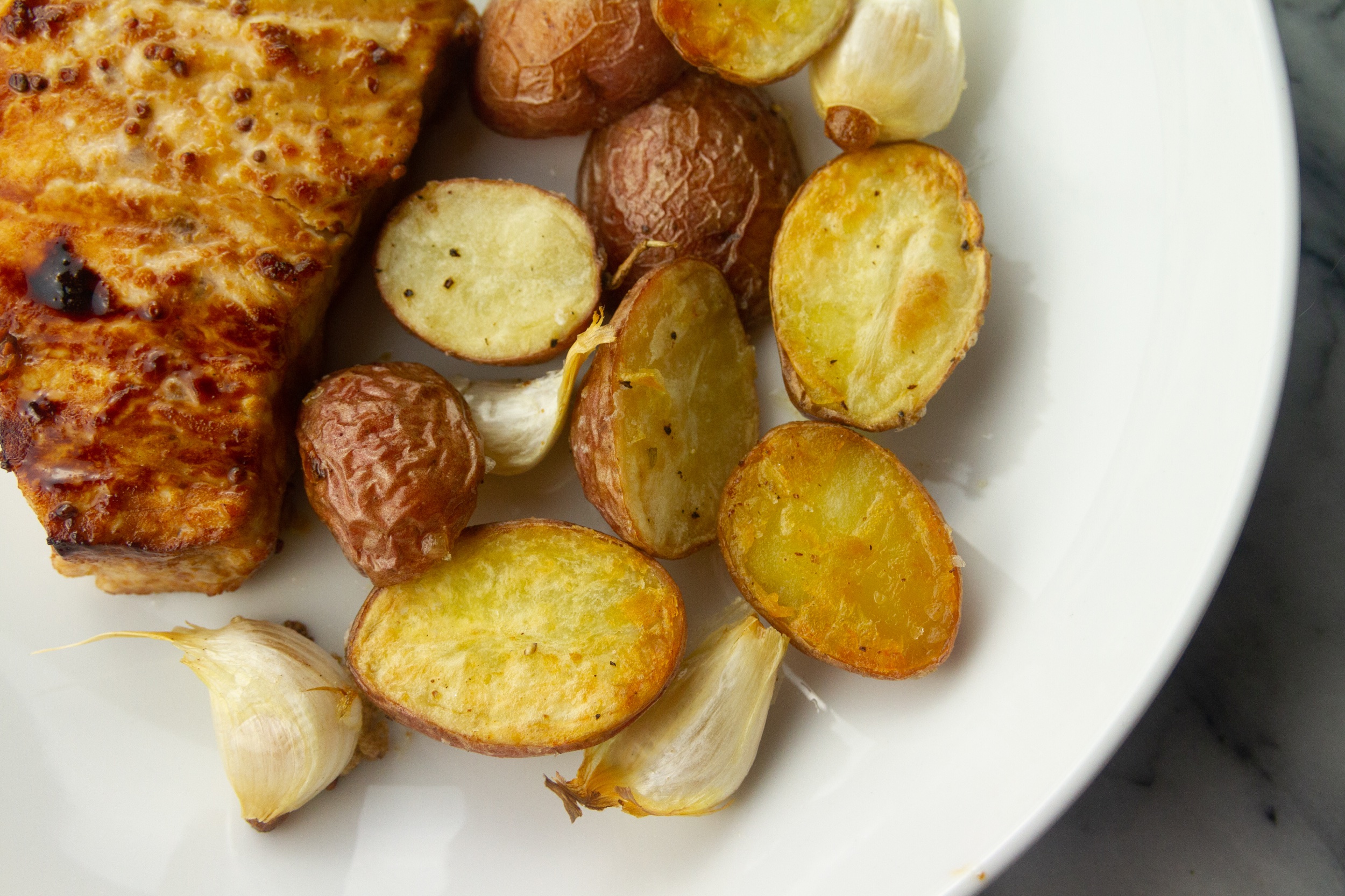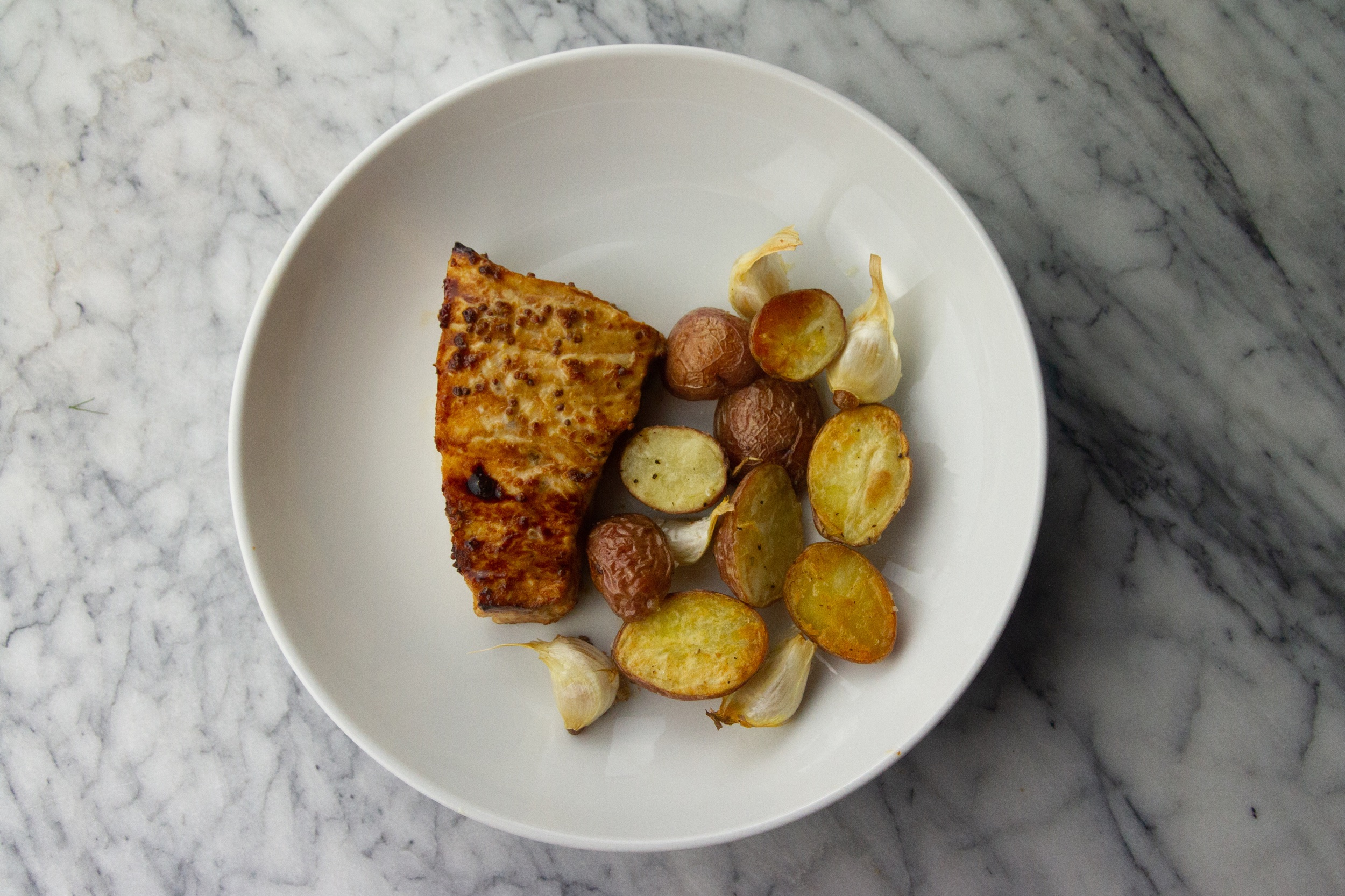 Grilled Swordfish with Roasted Red Bliss Potatoes
Cook Tip: The first of two fall-toned meals of the week. I tend to associate roasted potatoes with cold weather so despite eating this dish during late-August, I could sense the season change with every (delicious) bite.
Grilled swordfish is so versatile! I love that we've made it with a quick salt-and-pepper, a more involved lemon-and-dill, and now this one, marinated in soy sauce and ginger before grilling. Each one unique in flavor but essentially the same result: really great fish.
I've learned to enjoy swordfish over the years and I must admit I love it this way the most (grilled with a soy marinade). Pair this fish with the crispiest, roasted red bliss potatoes and you have got one fabulous plate. I have a feeling this meal will be made even more often once fall has fully arrived.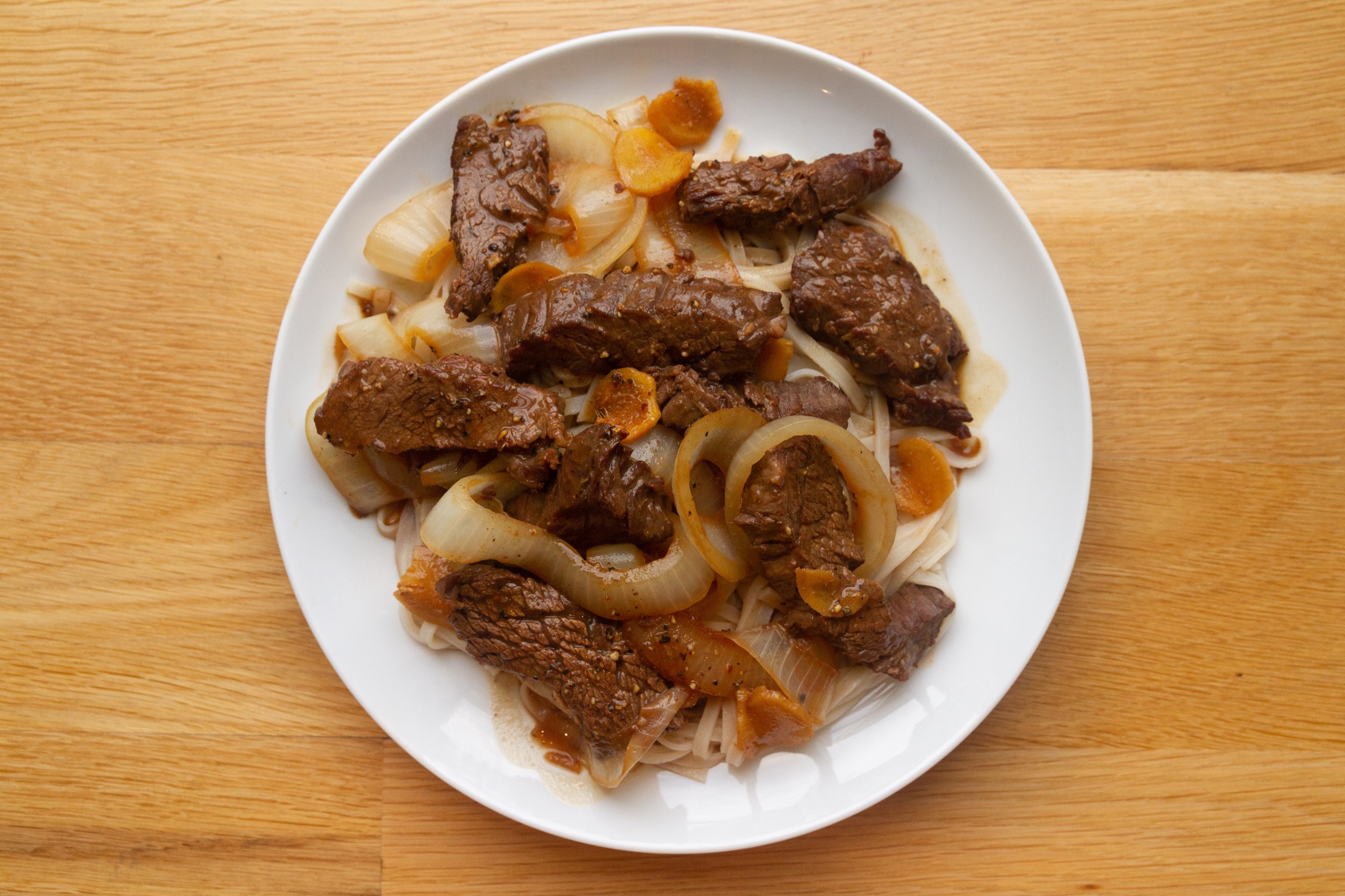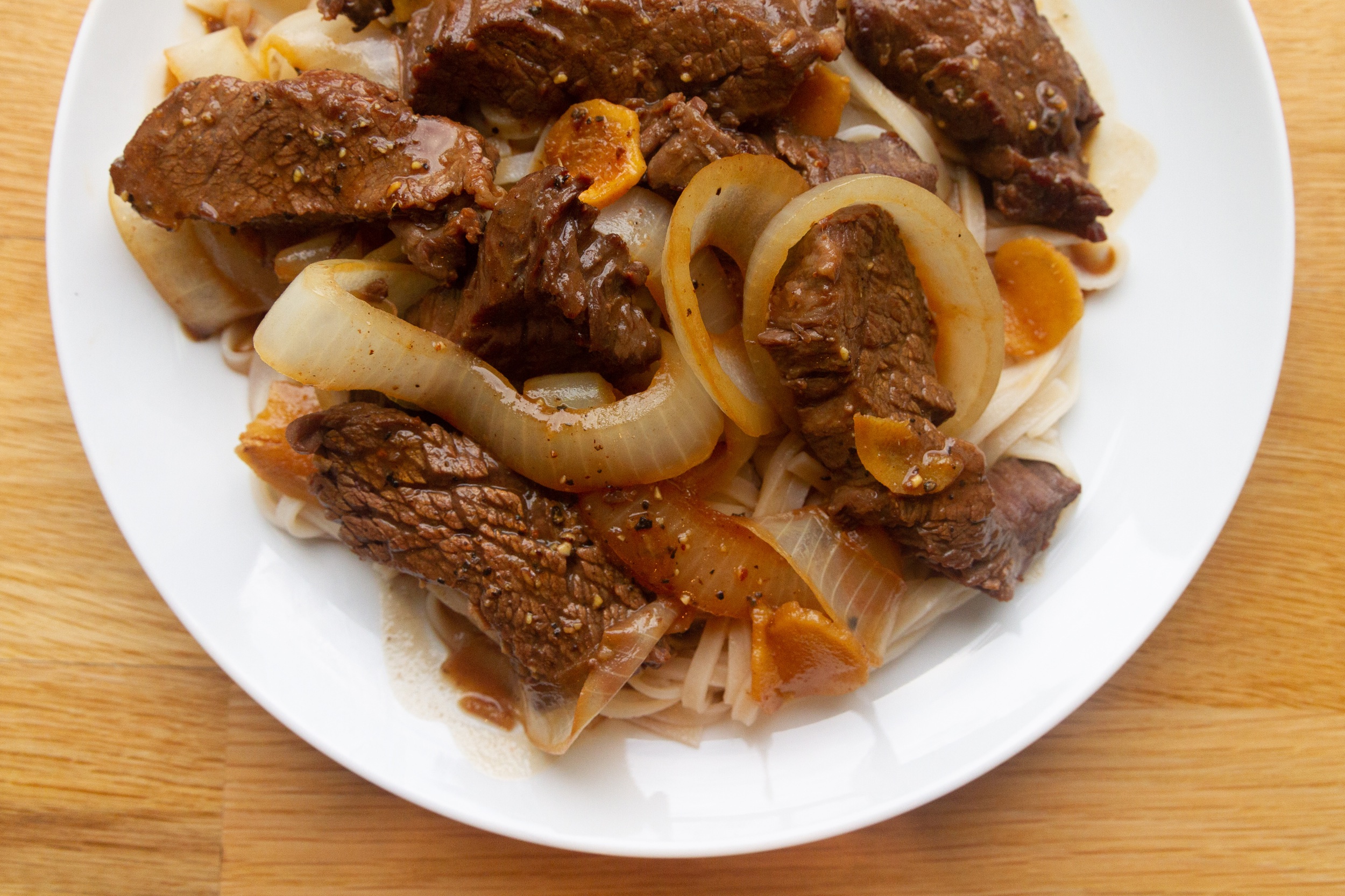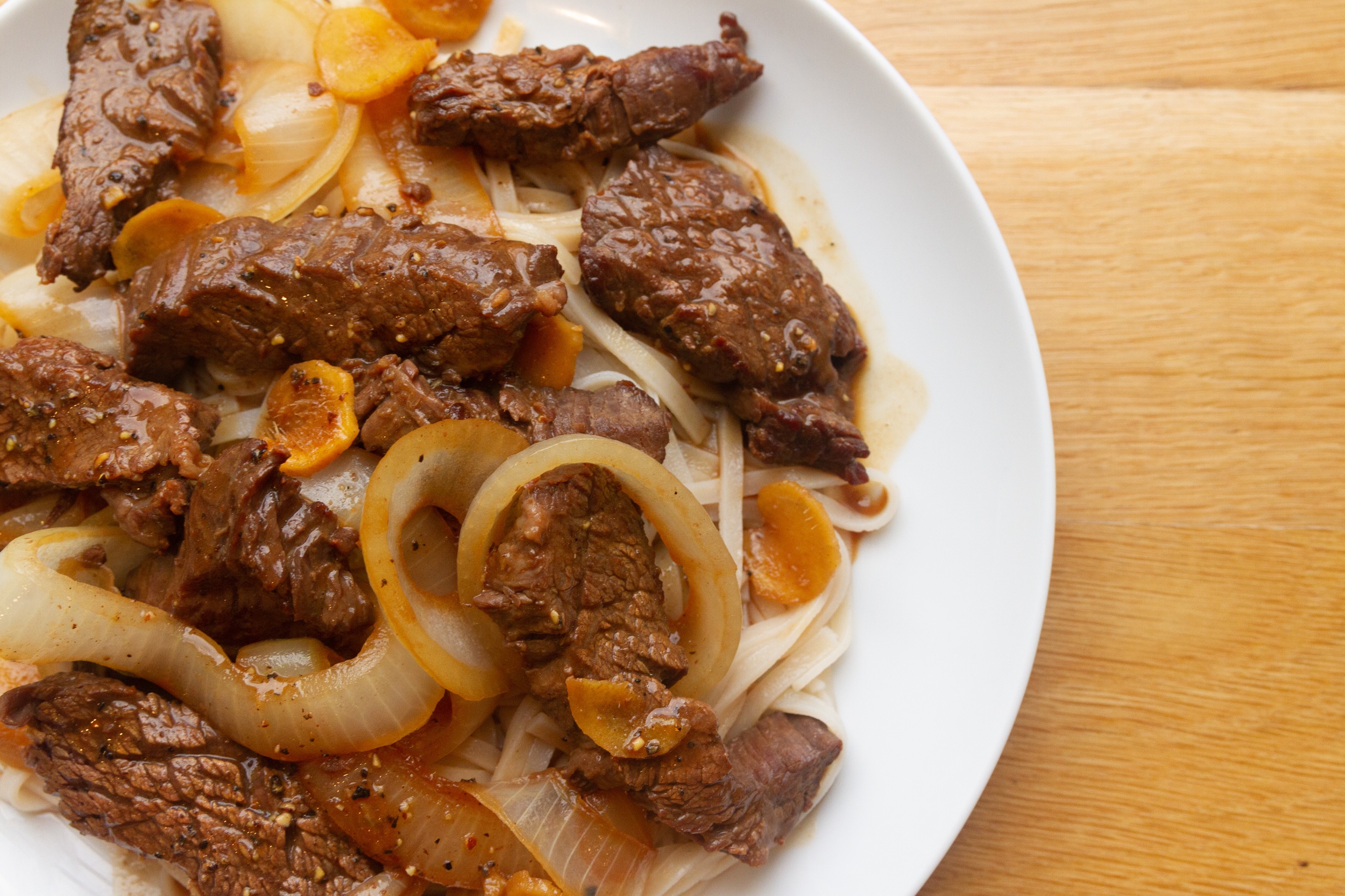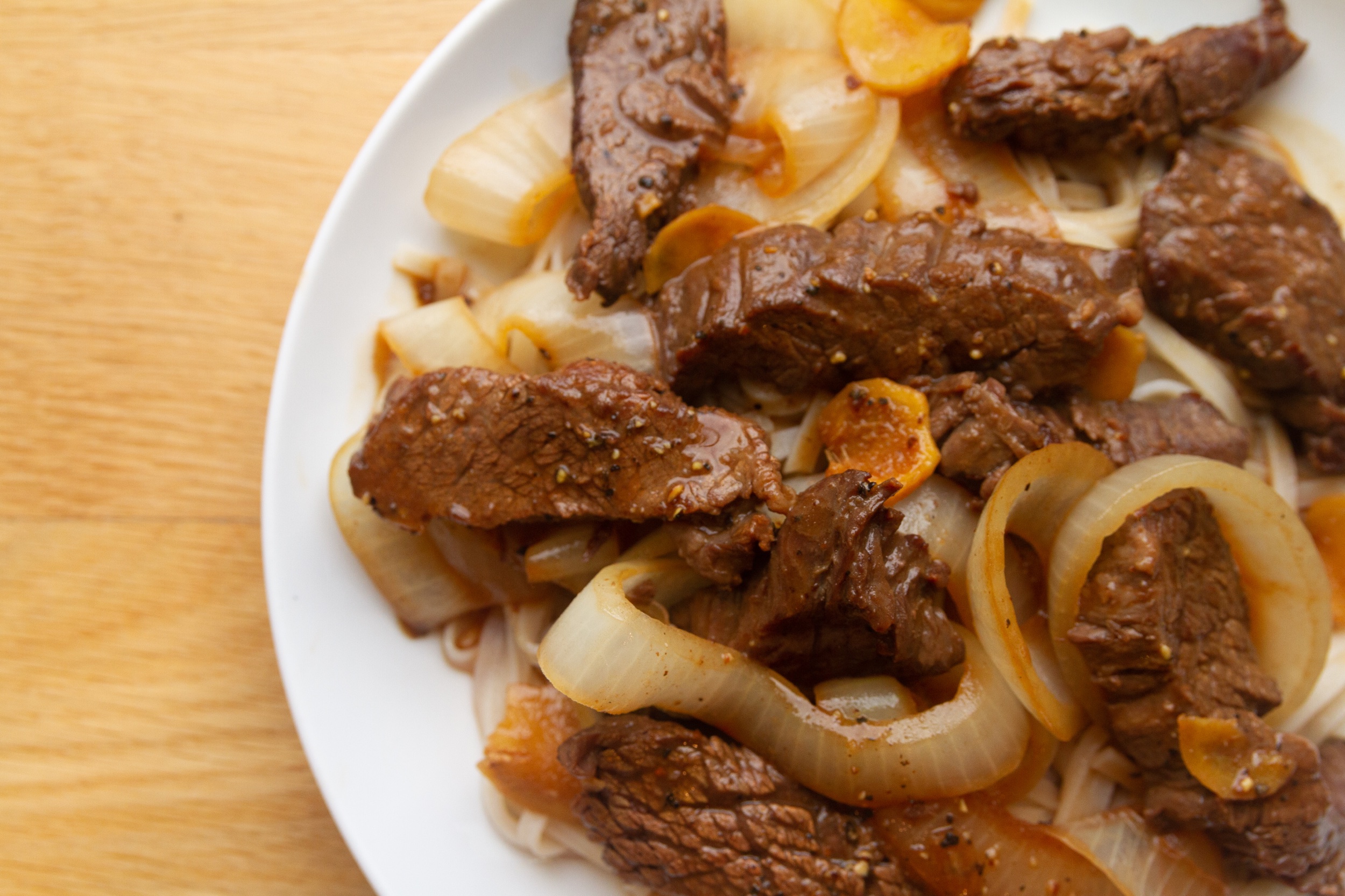 Beef and Ginger Stir-Fry
Cook Tip: Grab the recipe for this yummy one, here. A simple stir-fry that hits the spot after a busy work day: ideal.
We followed the recipe as written and just had to use gluten free soy sauce (Tamari) to make it gluten free. We also decided to serve it over brown rice noodles instead of rice because that's what we had available! Although rice may have gone better with the dish, I do think rice noodles are always OK when it comes to stir-fry accompaniments.
Delicious flavors, few ingredients, and a slap-dash cook method - it was on the table so quickly - makes this meal perfect for the work week. Or keep it bookmarked if you'd like an extra-fast dinner on the weekend; sometimes those are the best! ;)
That's all for now!
Questions about any of our dinners? Leave us note, below.
Let's eat well, together.
Mollie and Seth