Protein Power
Well, hello there! It's been a bit since we've chatted and chewed hasn't it? These meals were all incredible; however, I fully admit we made them before our week in New York. That's why this piece was on delay - I was too busy eating and enjoying my days in the city!
So now that we are back I'd love to tell you about these four fantastic plates; scrumptious dinners filled with protein and powerhouse summer flavor. Can you believe it's August? I love this month, but that means "true summer" is well past its mid-point. 😳 But enough about my personal fears, let's get to the food!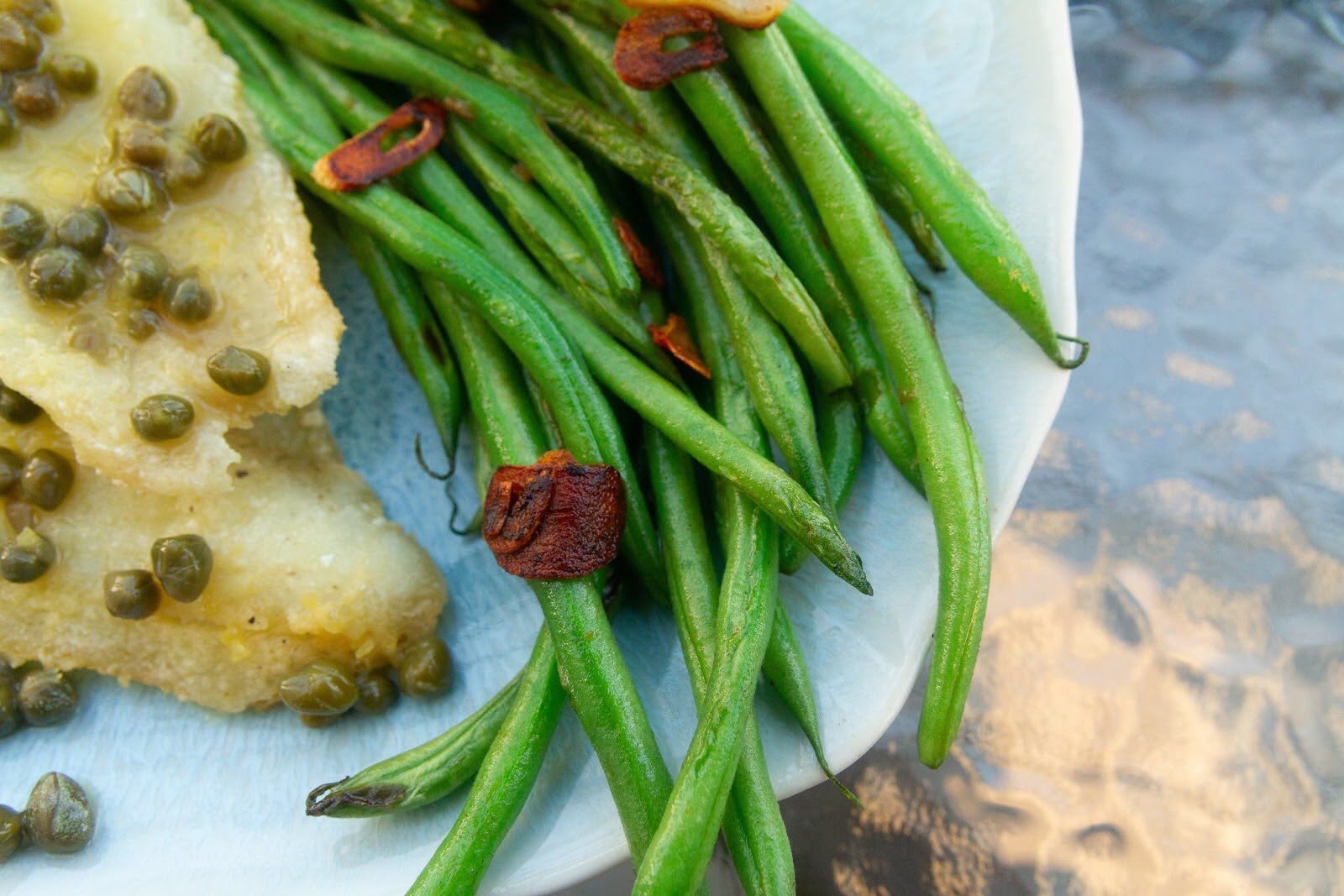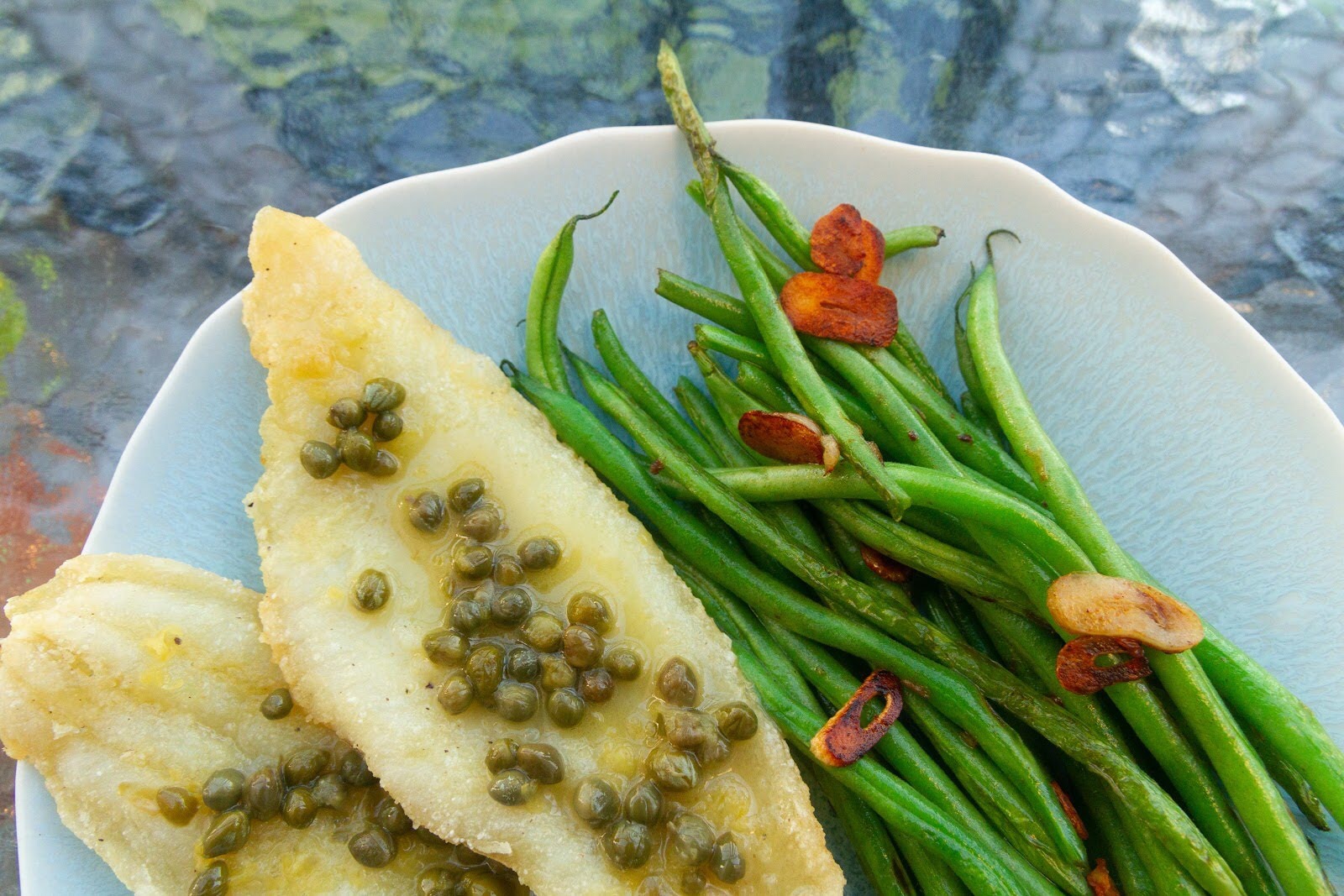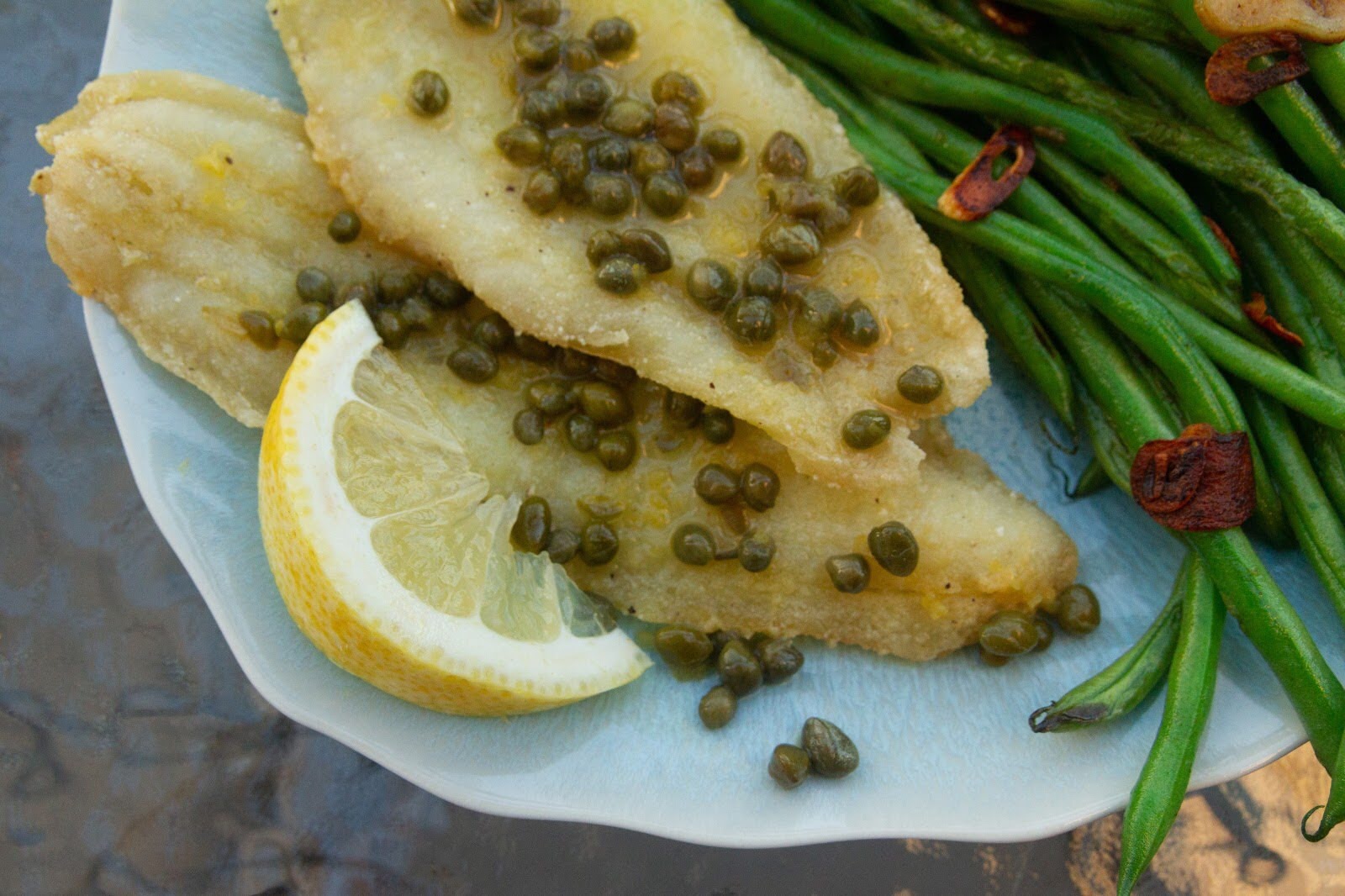 Lemon Caper Grey Sole with Garlicky Haricots Verts
Cook Tip: This is a GFMD original recipe! Please know that we are working to compile our original recipes and will be adding them to the site soon in their own section. Thank you for your patience!
Let's be honest: crispy fish is ridiculously delicious. But to make it crispy without deep-frying, we got a little creative and coated it lightly in cornstarch! And while we still cooked the fish in a little olive oil, for that crispy exterior, it was far healthier than if we deep-fried it and/or coated it in a thicker batter.
Seth whipped up an awesome lemon-caper-butter sauce which we spooned over the fish once it was plated. YUM. For greens, we briefly cooked haricots verts (thin string beans) with a lot of garlic. A simple, summery side dish which went very well with the fish. Not in the mood for beans? Swap them out for your summer veggie of choice. 🙂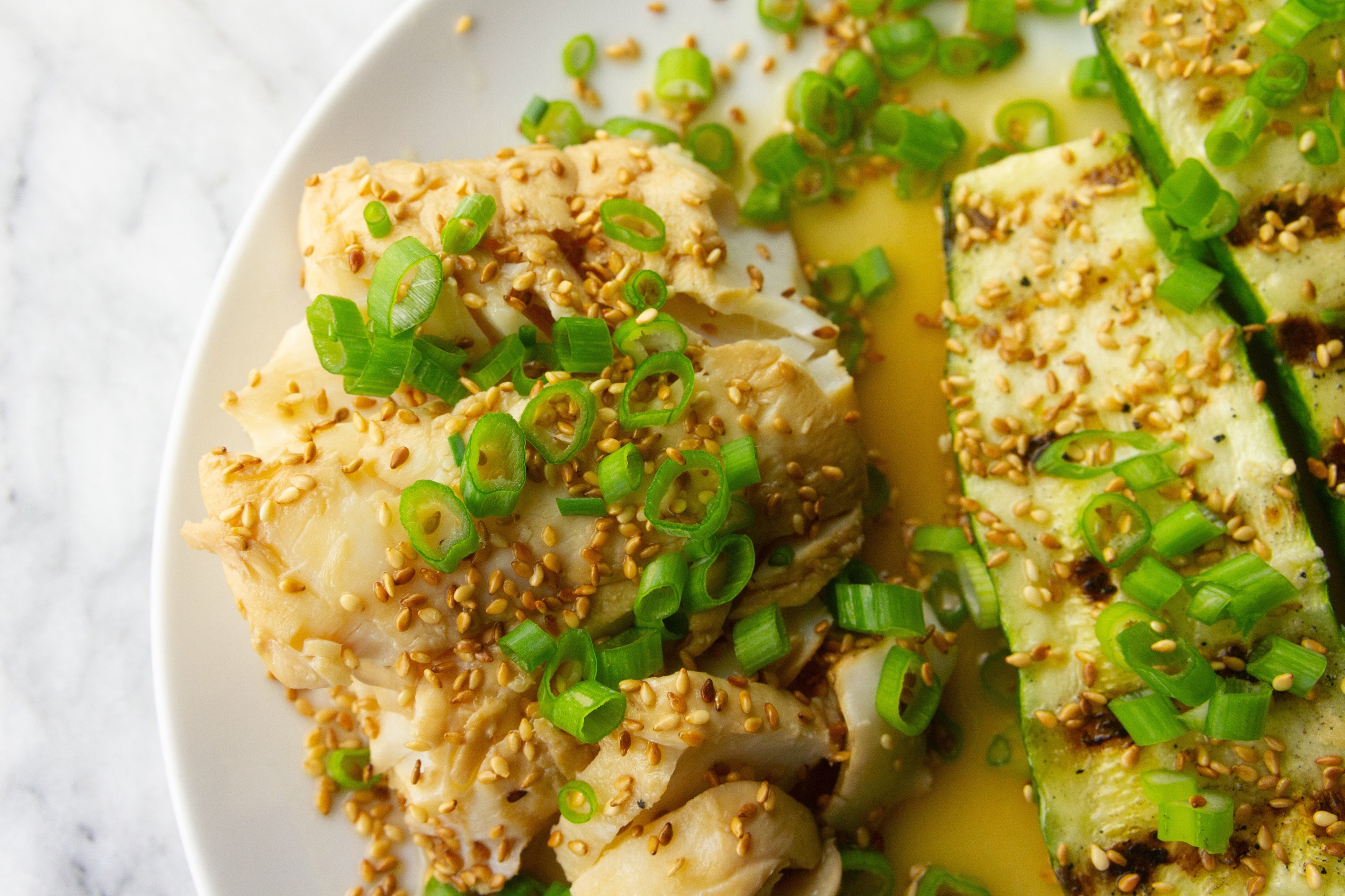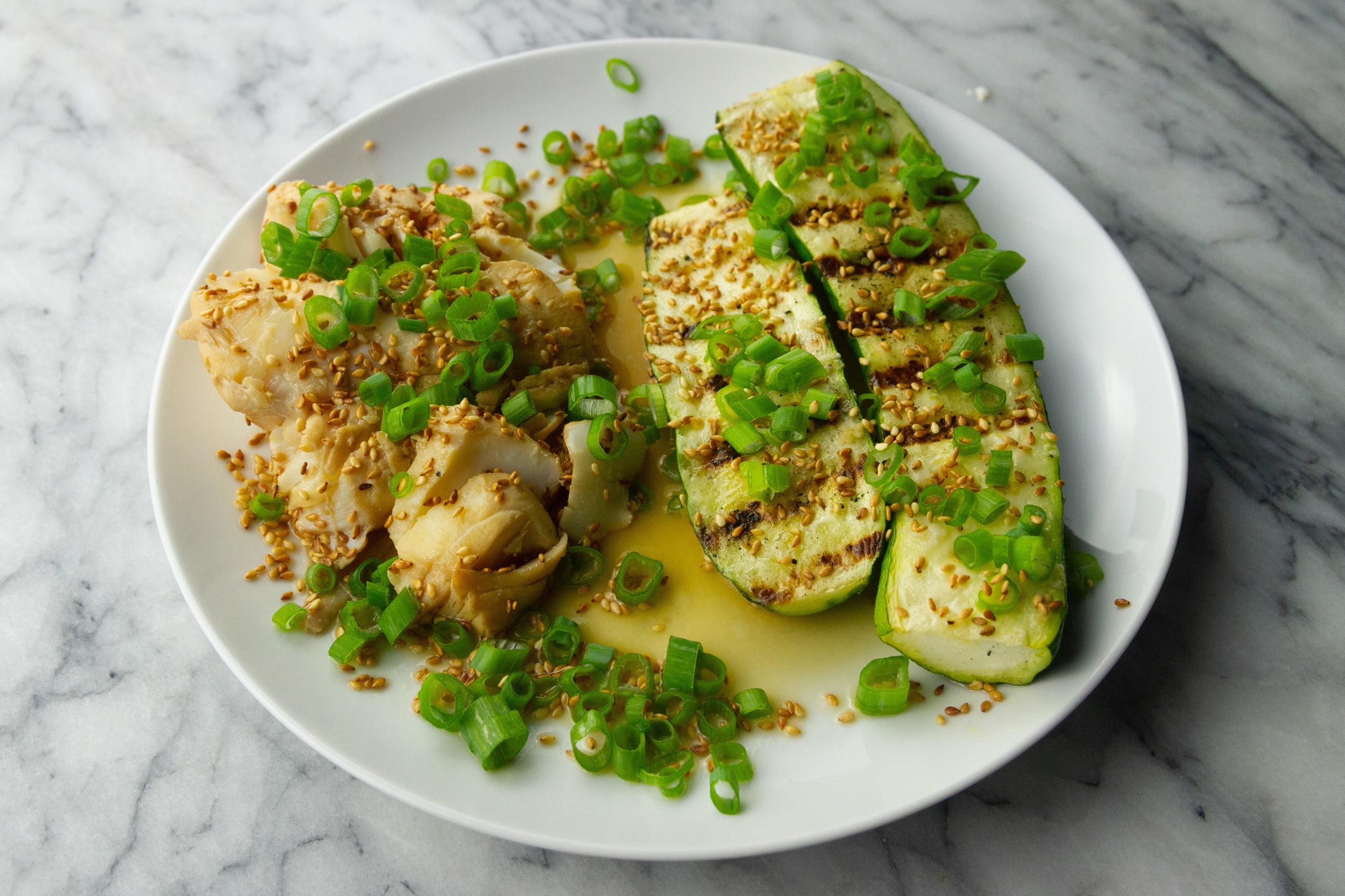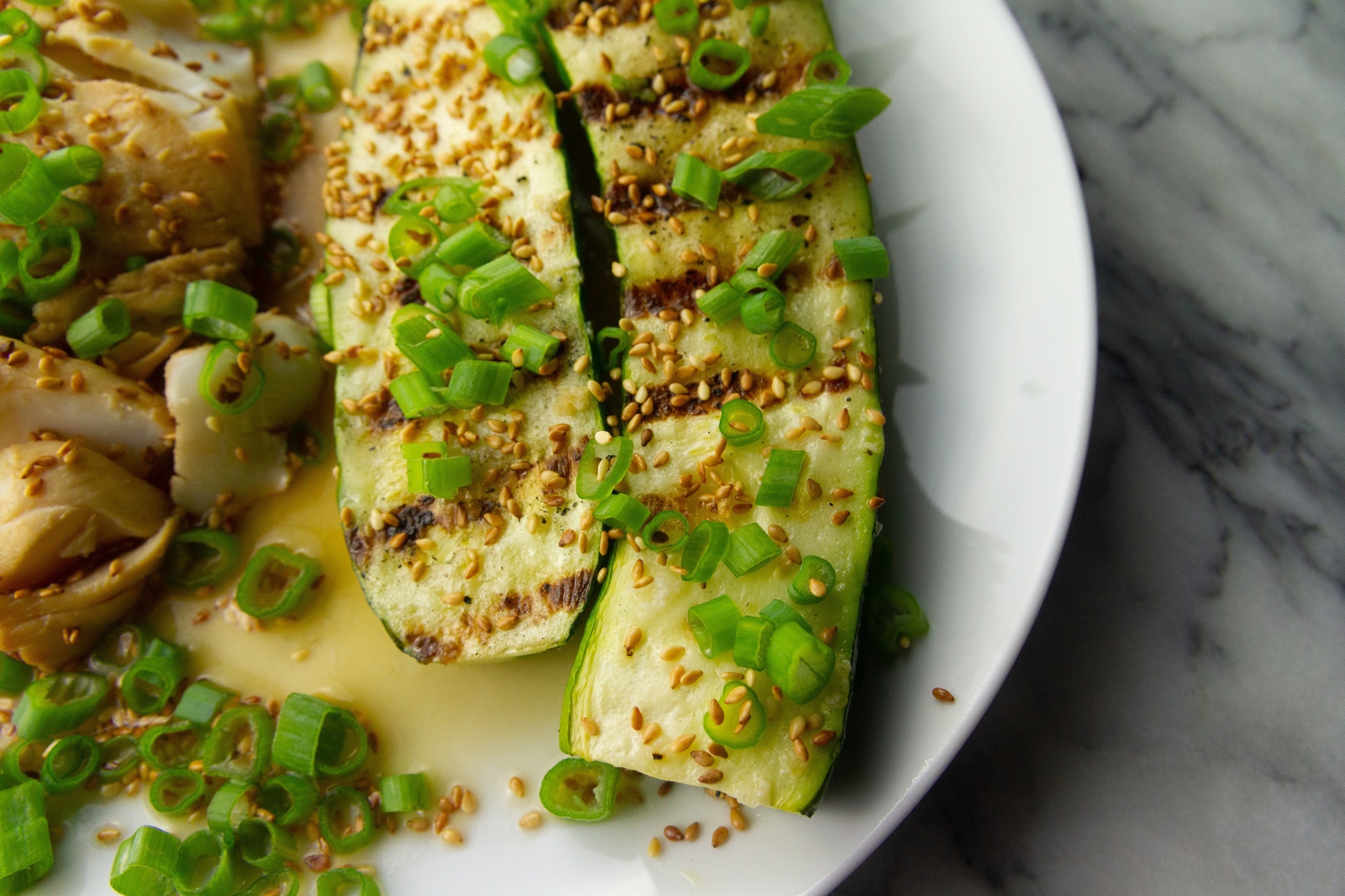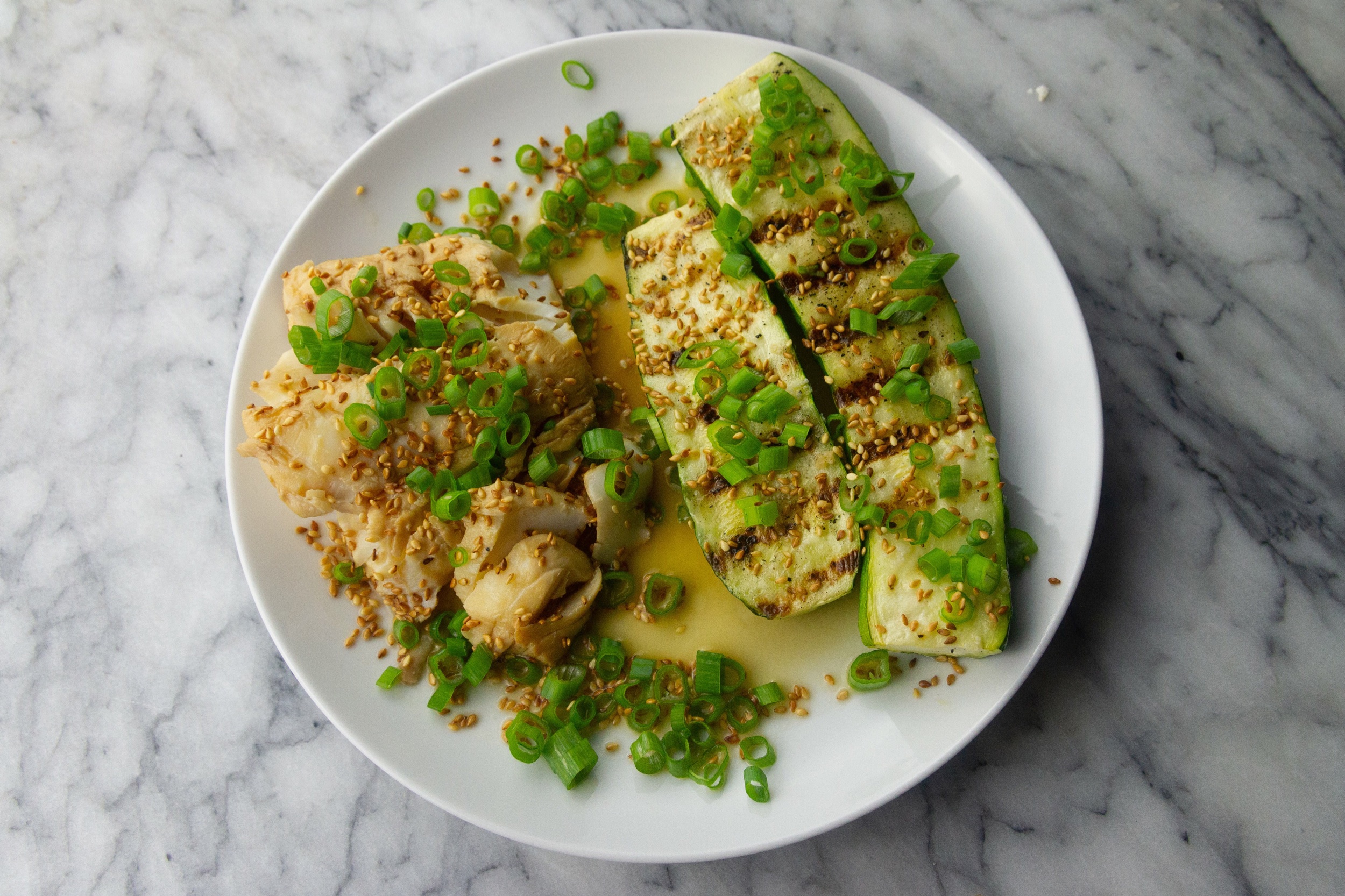 Soy-Marinated Cod with Grilled Zucchini
Cook Tip: For the cod, we slightly adapted a soy-brined halibut recipe from the awesome cookbook Dining In by Alison Roman. Obviously, be sure to use gluten free soy sauce! It's called Tamari. It tastes the exact same. Make sure to garnish the fish with toasted sesame seeds and chopped scallions. They add a great crunch and flavor; plus, they make it look nicer on the plate. ;)
Marinating (brining) fish in soy sauce is a genius idea and I'm so glad we tried it per the book's recommendation. While we decided on a healthier route and served it with grilled zucchini, I'd love this fish over brown rice or noodles. In fact, it was so yummy I bet we will make it again this summer and pair it with rice and veggies. Best of both worlds! 😏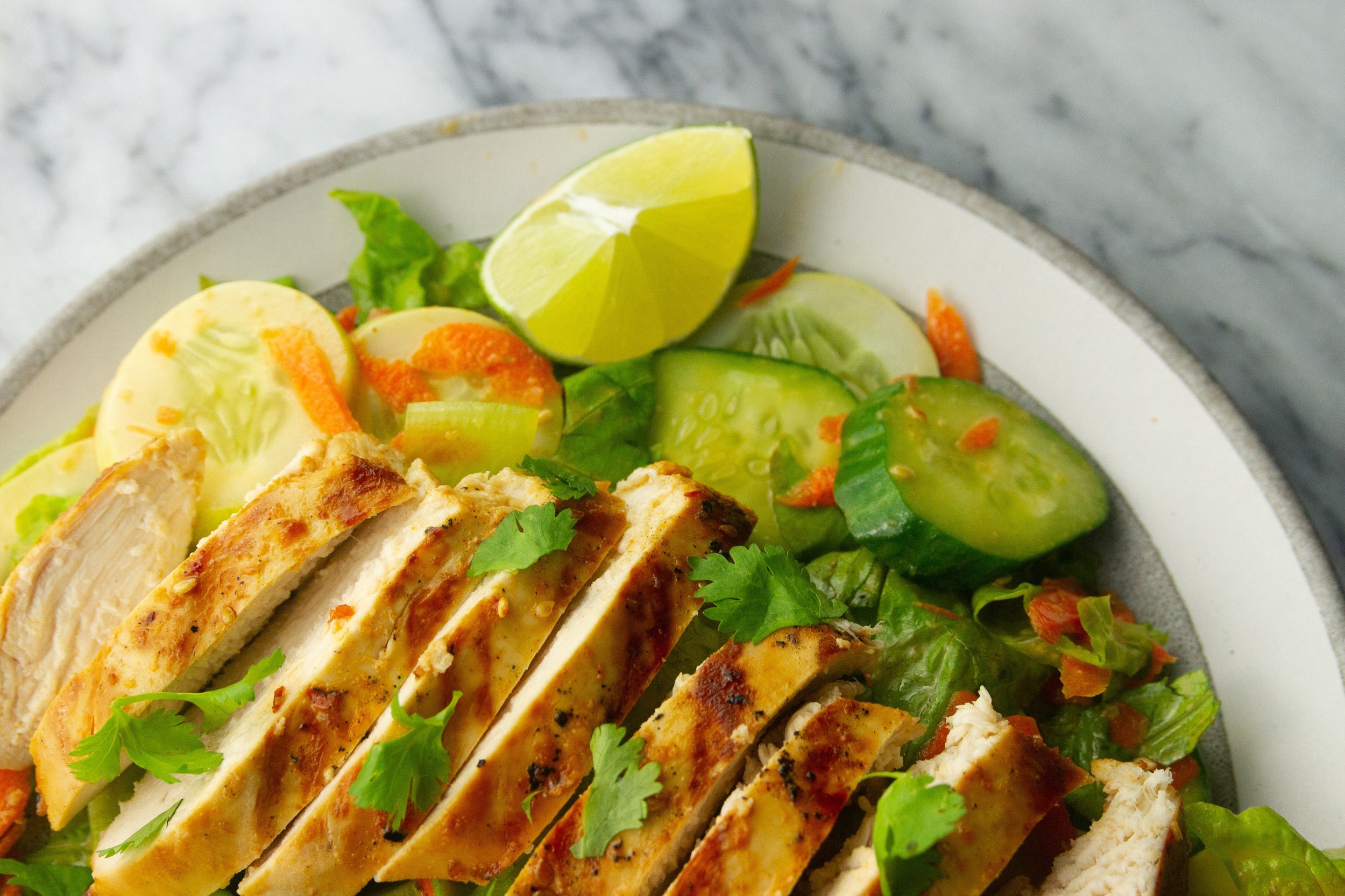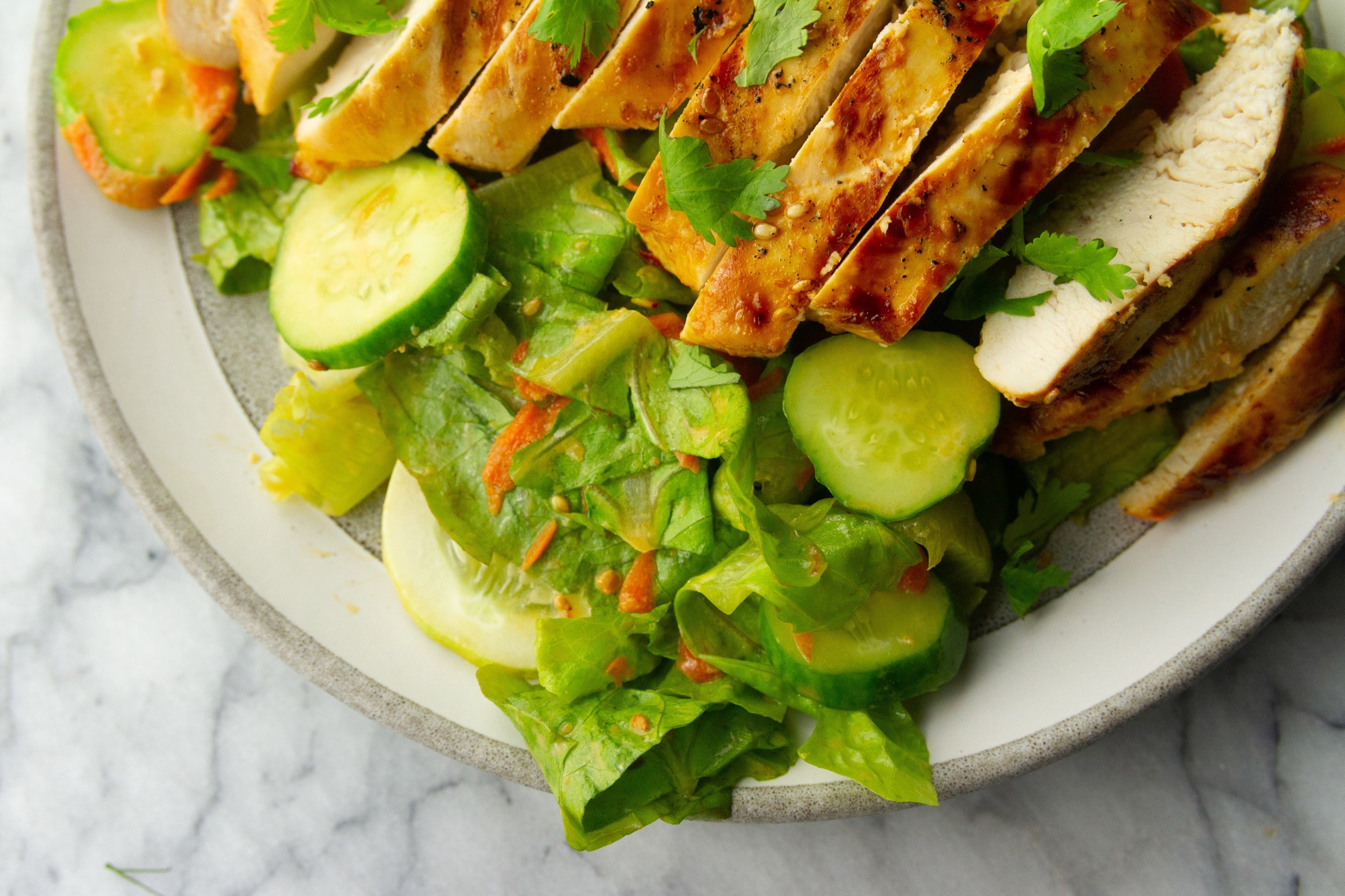 Grilled Chicken with Minimalist Local Salad
Cook Tip: This is an original recipe! Full details on chicken preparation and salad dressing coming soon.
Some nights call for flashy fish dinners, others require the summer staples of grilled chicken and basic salad. Thankfully, I am a big fan of both types of night and this one really required the latter.
Grilled chicken can take on so many different flavor profiles and I'm pretty sure I was craving a Chinese Chicken Salad on this particular evening because my instructions to Seth were something along those lines.
The result was an anything-but-boring plate of perfectly-grilled chicken with a simple green salad (including carrots and cucumber) which tasted pretty darn close to that "Chinese Chicken Salad" of my dreams. So. Much. Yum.
Note: we have made a few Asian-style salads from other sites and I love them all. Here is one that's amazing and another that's fabulous as well.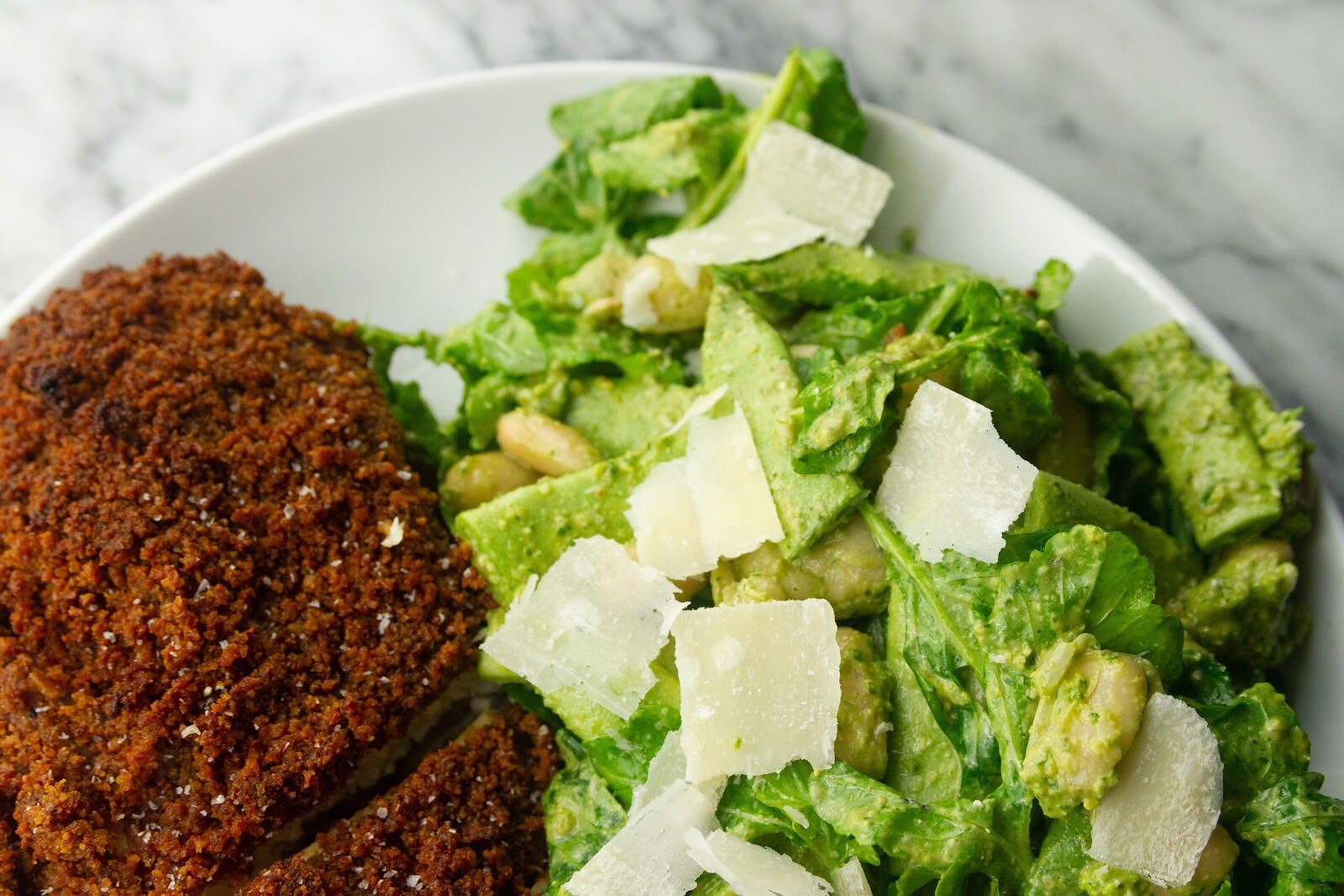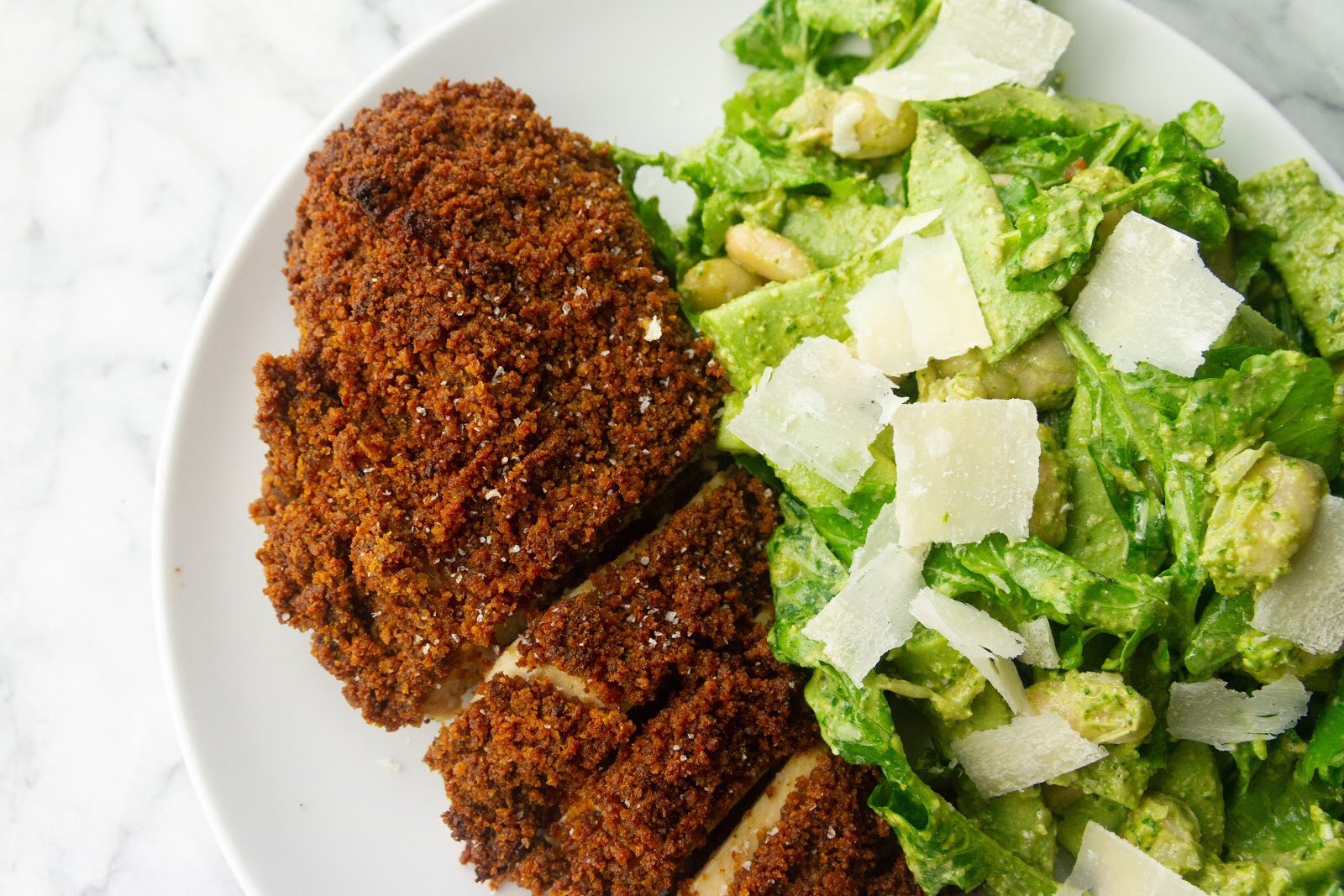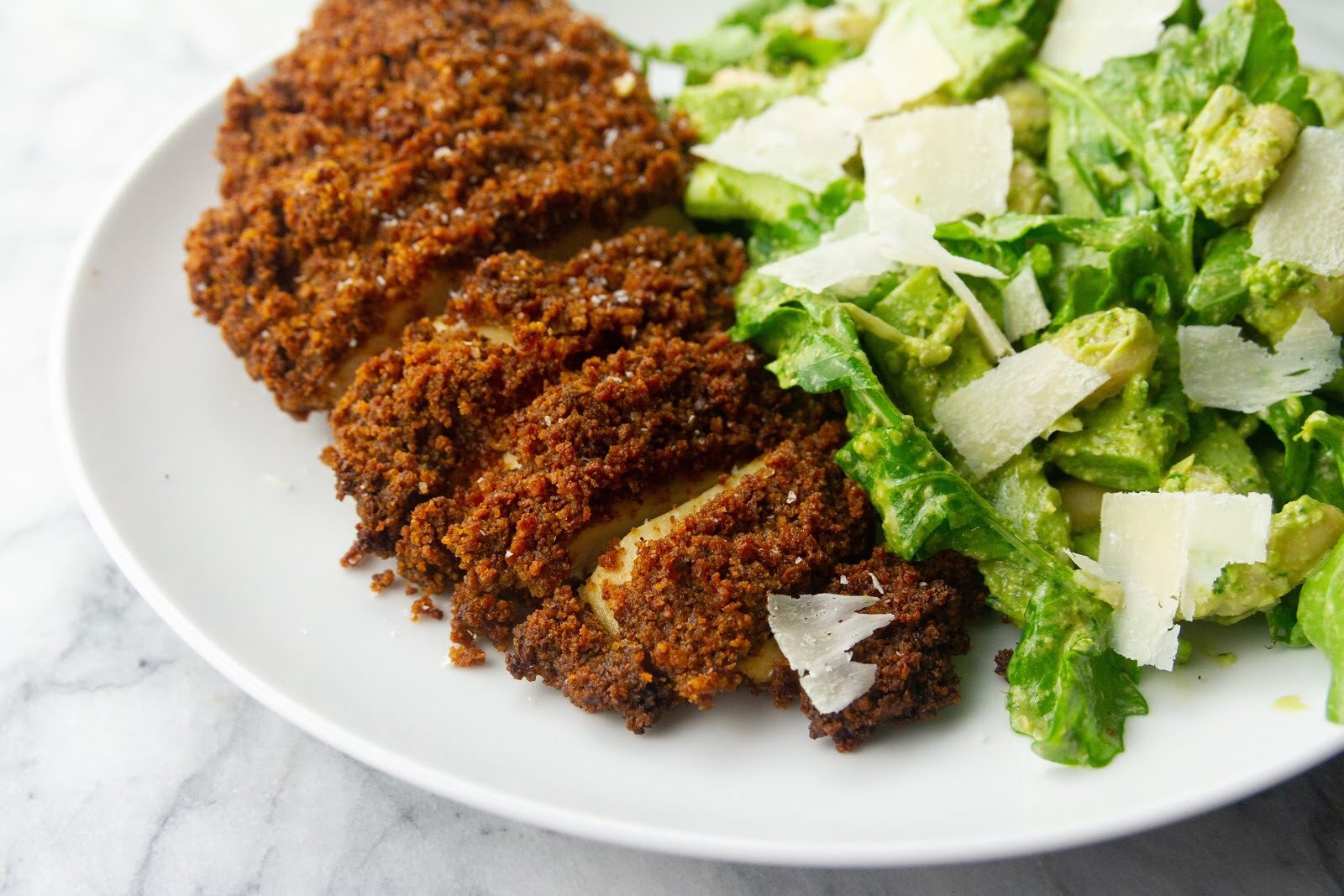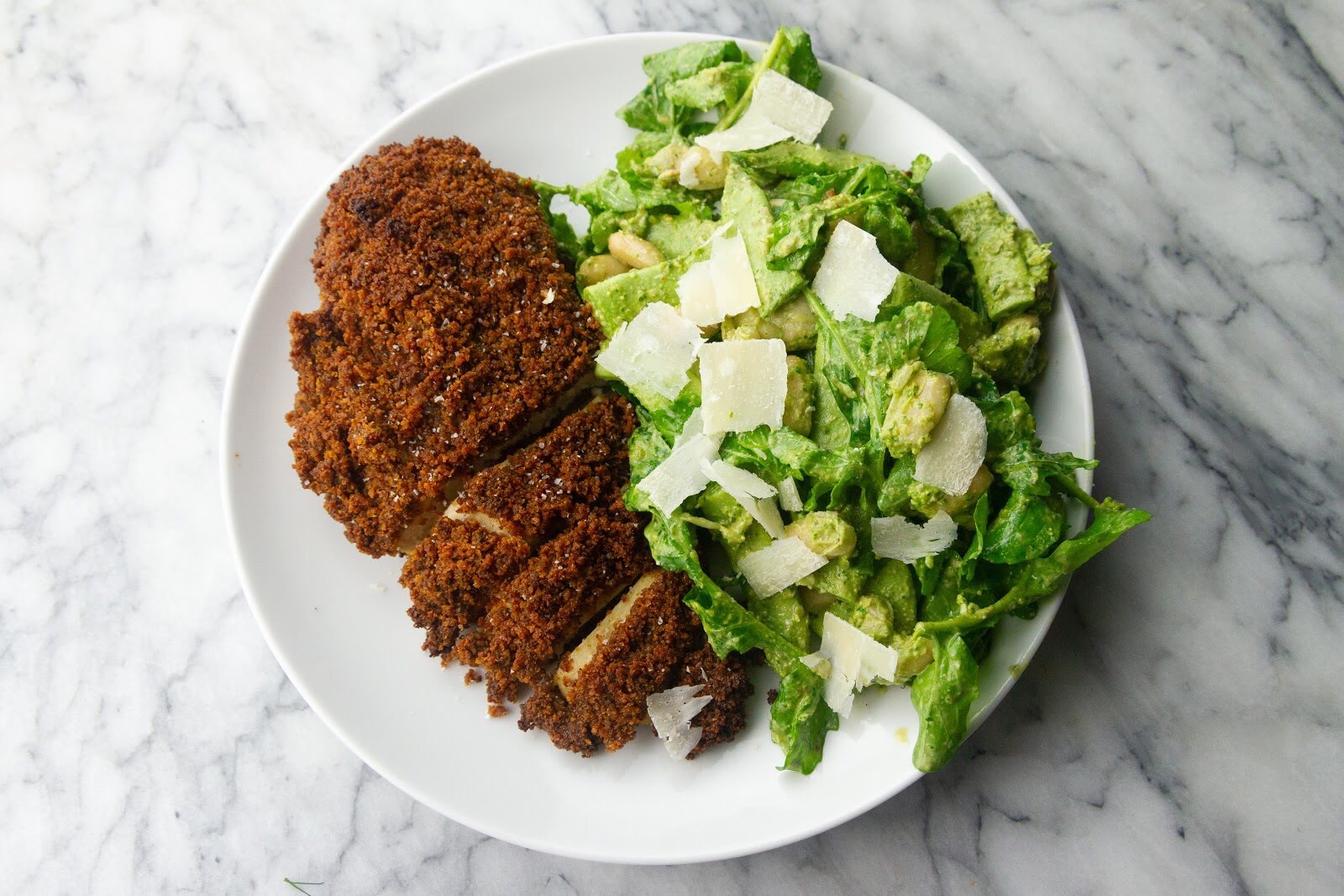 Crispy baked Chicken and White Bean pesto Salad
Cook Tip: Speaking of nights needing chicken, this is another awesome option! Skip the grill and bake this super-crispy dinner that pairs perfectly with a pesto salad. All of the summer, right on your plate.
The chicken recipe, "Magic Crispy Chicken," is available online via Bon Appétit. Find it here. Note that we used regular GF breadcrumbs instead of panko because we didn't have any in the pantry at the time.
For the salad, we combined chopped romain lettuce with a jar of white beans then mixed it all with homemade fresh basil pesto. Omg it was amazing - basil pesto is a summer-must and we're lucky that the basil plant that lives on our balcony has been doing so well this year.
Sure, that salad would be great on its own (pesto love forever) or as an excellent base for (another night of) grilled protein, but sometimes you really need that crispy chicken.
We've made the chicken recipe before and it was unreal so I excitedly added it again to the week's plan. I'll never regret a stupendous plate of extra-crispy chicken and a supremely summery salad (covered in pesto). 😎
That's all for now!
Questions about any of our dinners? Leave us a comment, below.
Let's eat well, together.
Mollie and Seth