A Protein Puzzle
Dinnertime, a poem: A tisket, a tasket, what ever is in our basket? Fresh veggies galore, and protein too, our meals all week were a dream come true.
From lettuce wraps to chicken wings, crunchy cutlets to steak, every dinner last week was bursting with flavor and a unique edge. Beyond the delicious factor, the majority of our meals were composed of two parts, which meant that we could have easily mixed and matched the pieces!
What if we wanted corn with our steak instead of the leek salad? Just switch them! Maybe the crispy chicken would be great with the charred leeks? Go for it. The beauty of dinner is that you can have fun while enjoying something awesome. And the joy of our recent week was that we could have easily mixed and matched just about everything all week long. Save for the steak lettuce wraps; those were too amazing to change. ;)
Let's discuss these glorious dinners, shall we? I'm getting hungry!
Thank you to Wilson Farm for sponsoring our meals this week. All ingredients used to make these dishes are available at Wilson's in Lexington, MA.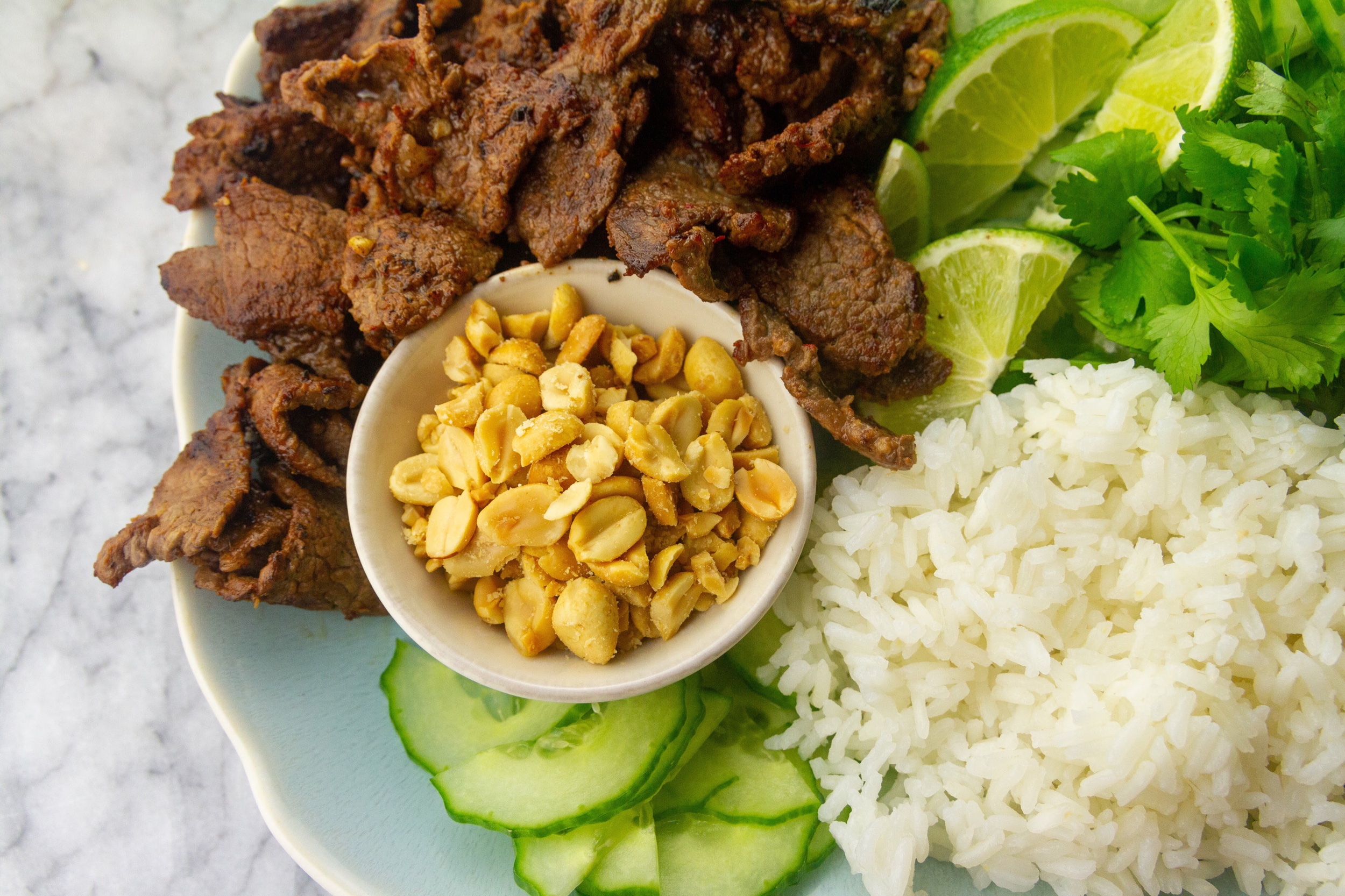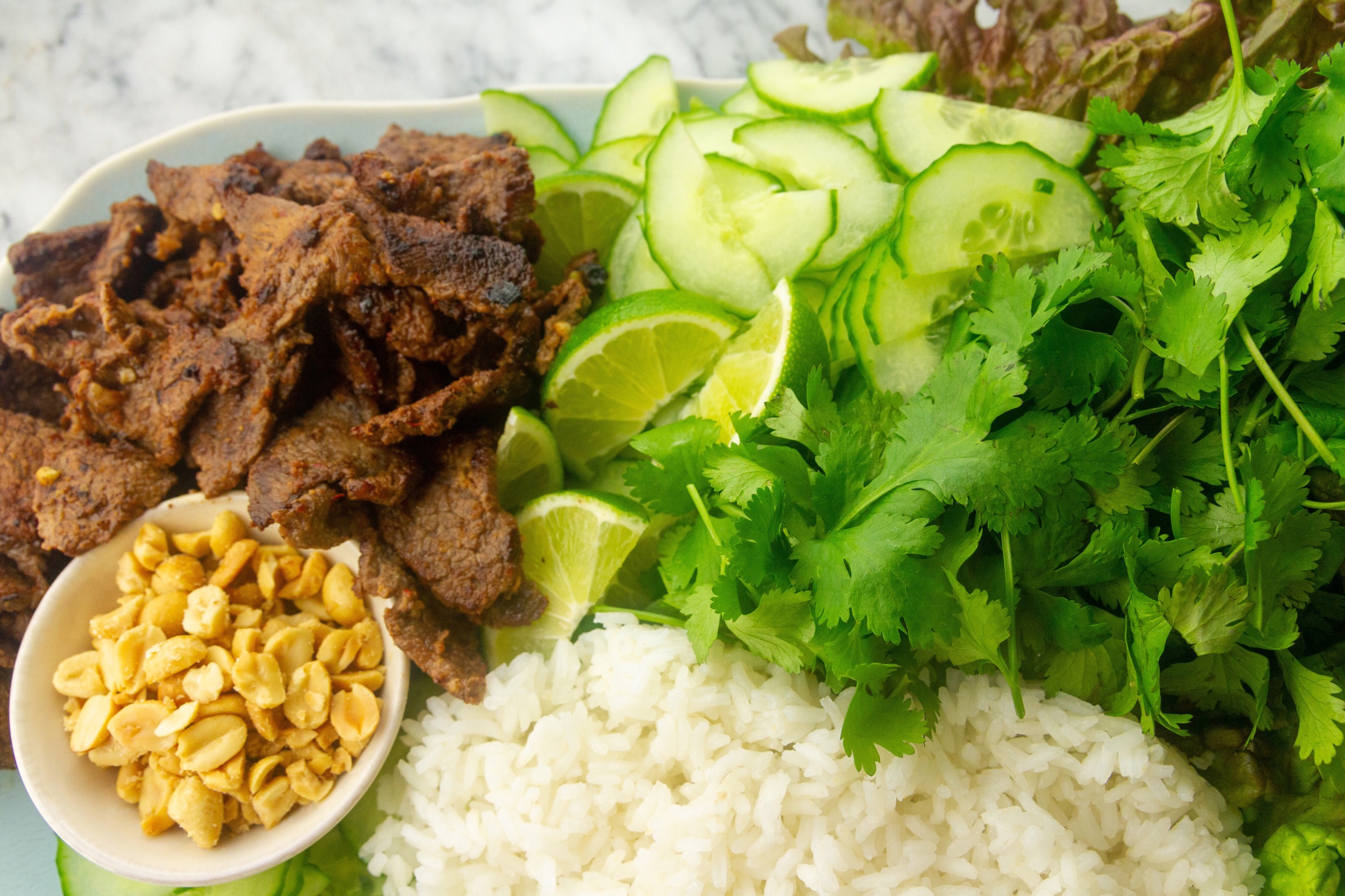 Spicy Steak Lettuce Wraps
Source: Bon Appétit online; find it here.
Tip: Miraculously, this dish is naturally gluten free!
Review: Let's be clear about this one: we knew this platter of awesomeness would easily serve four, or maybe even six, people. Did we go ahead anyway, making it for just the two of us? Of course.
Because who could resist a dish comprised of the most delicious thinly-sliced steak packed into a lettuce leaf with rice, peanuts, and crispy cucumber? No one. I guarantee you that no one could resist this dinner.
It was so flavorful and well-balanced, albeit slightly messy due to overfilling the lettuce leaves, I just couldn't get enough of it. And while it did take time to prep, I'd recommend reserving it for Sunday night, it was worth the wait and then some. I almost hid the leftovers from Seth so he couldn't take them to work, but I didn't. Don't worry; I'm nice. ;)
While I deem the beef the most scrumptious element of this dish, I think every element together, when eaten in a "lettuce cup," makes it one of the best meals-in-lettuce we've had as of late.
We would make this for dinner again in an instant, but I would argue to say it would be really fun to have this platter as the main at a small dinner party.
Just warn your friends: you need to eat this with your hands and things will get messy. But that's OK! Relax and enjoy it. A messy dinner is most-definitely still a wonderful dinner.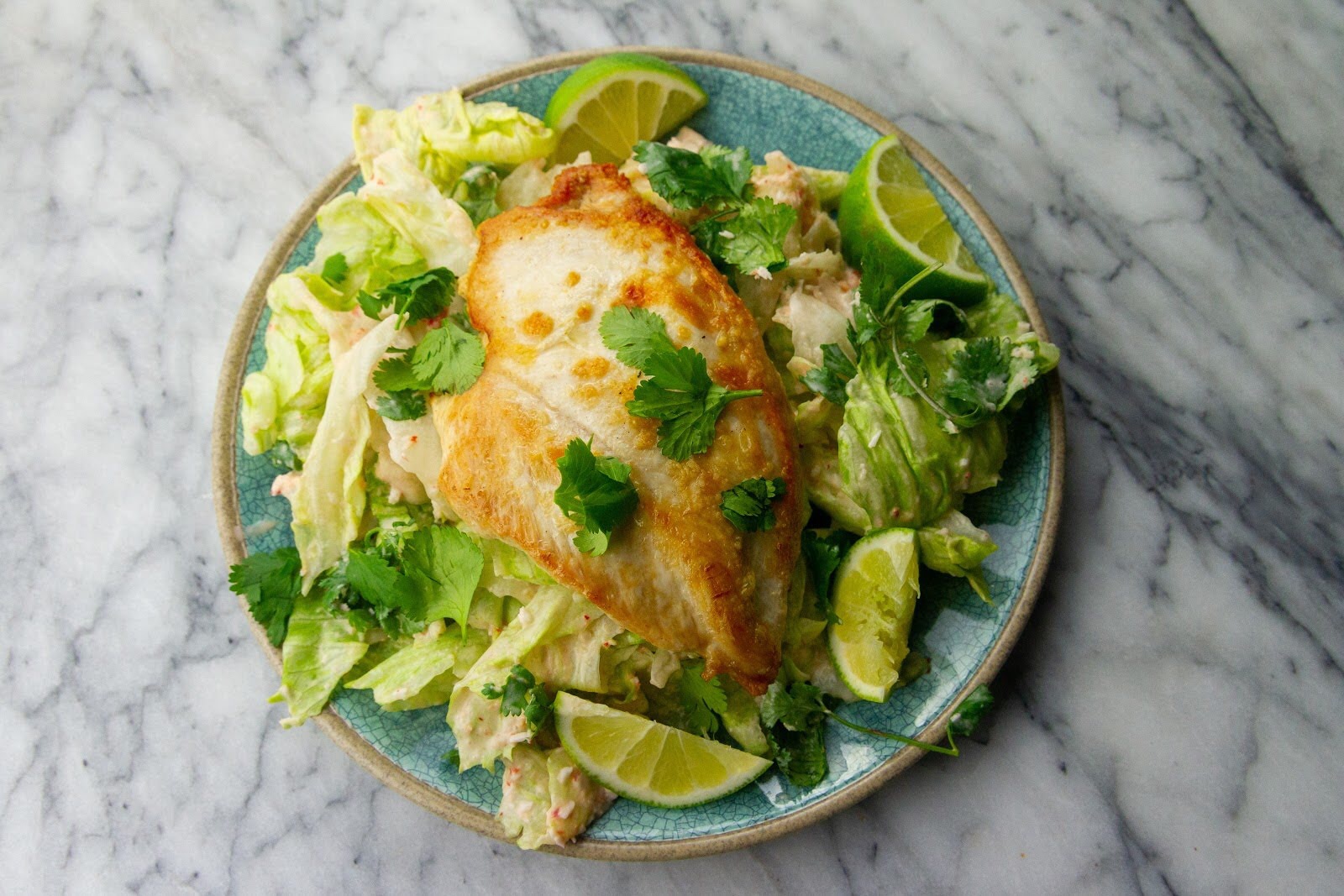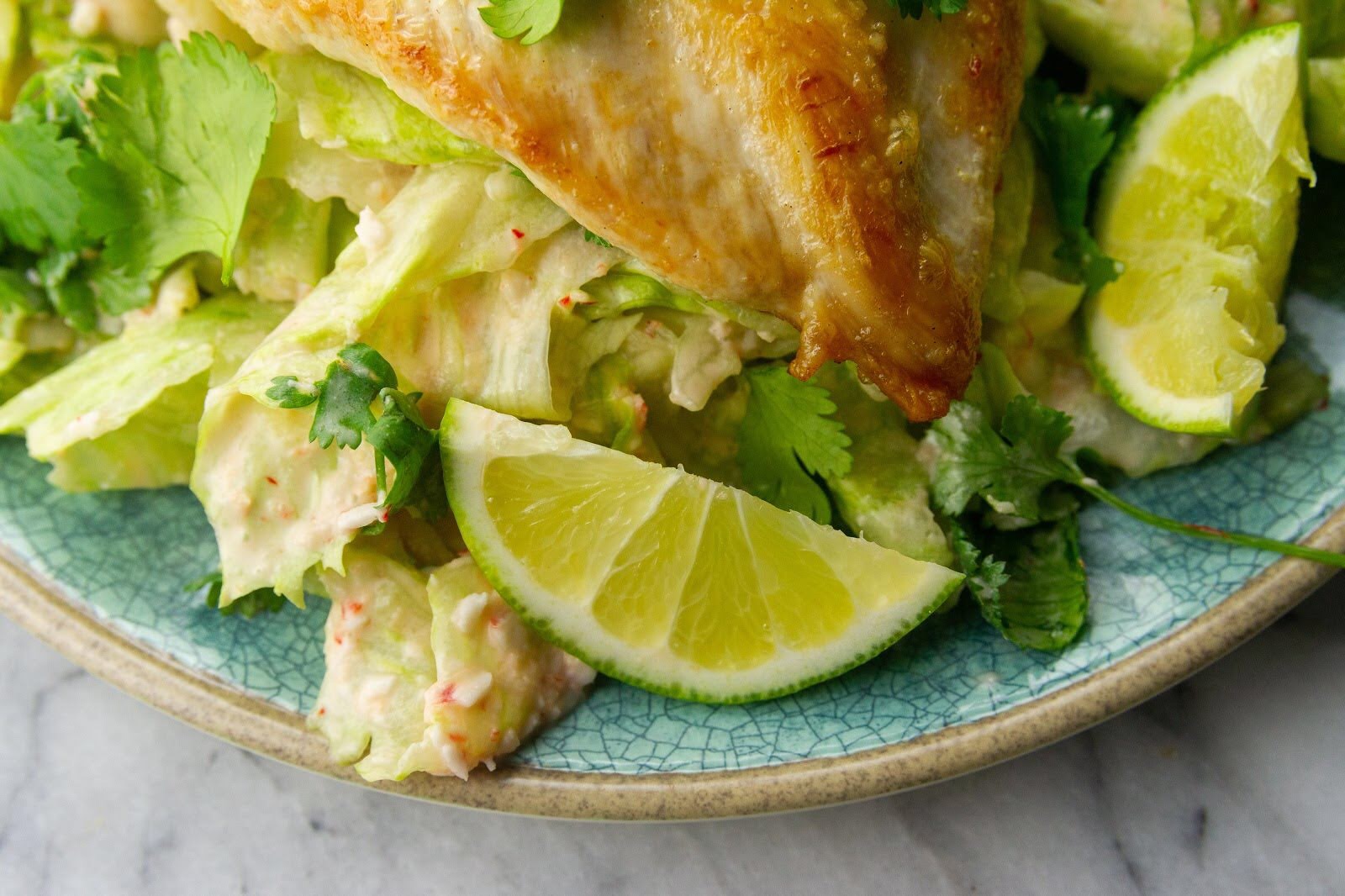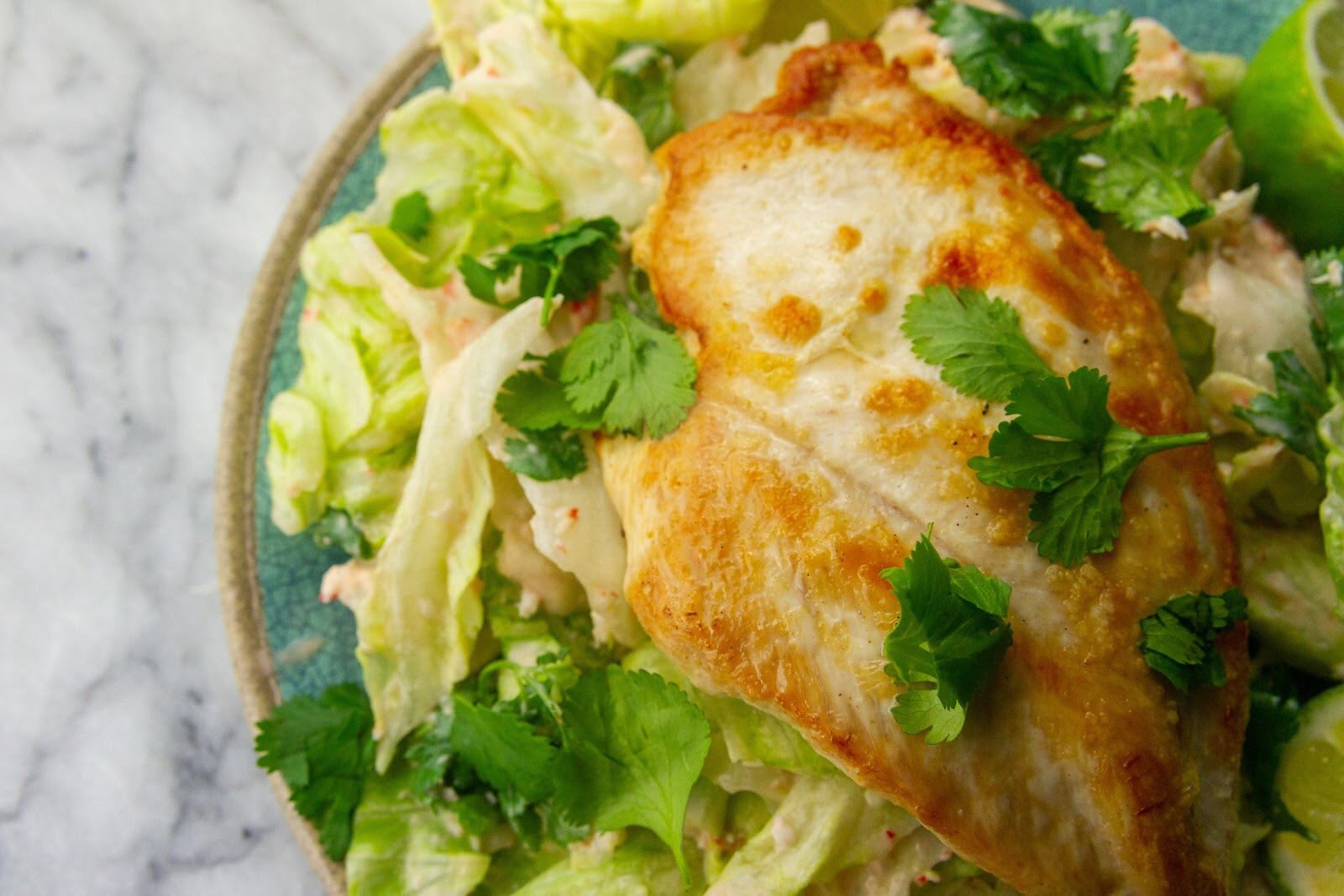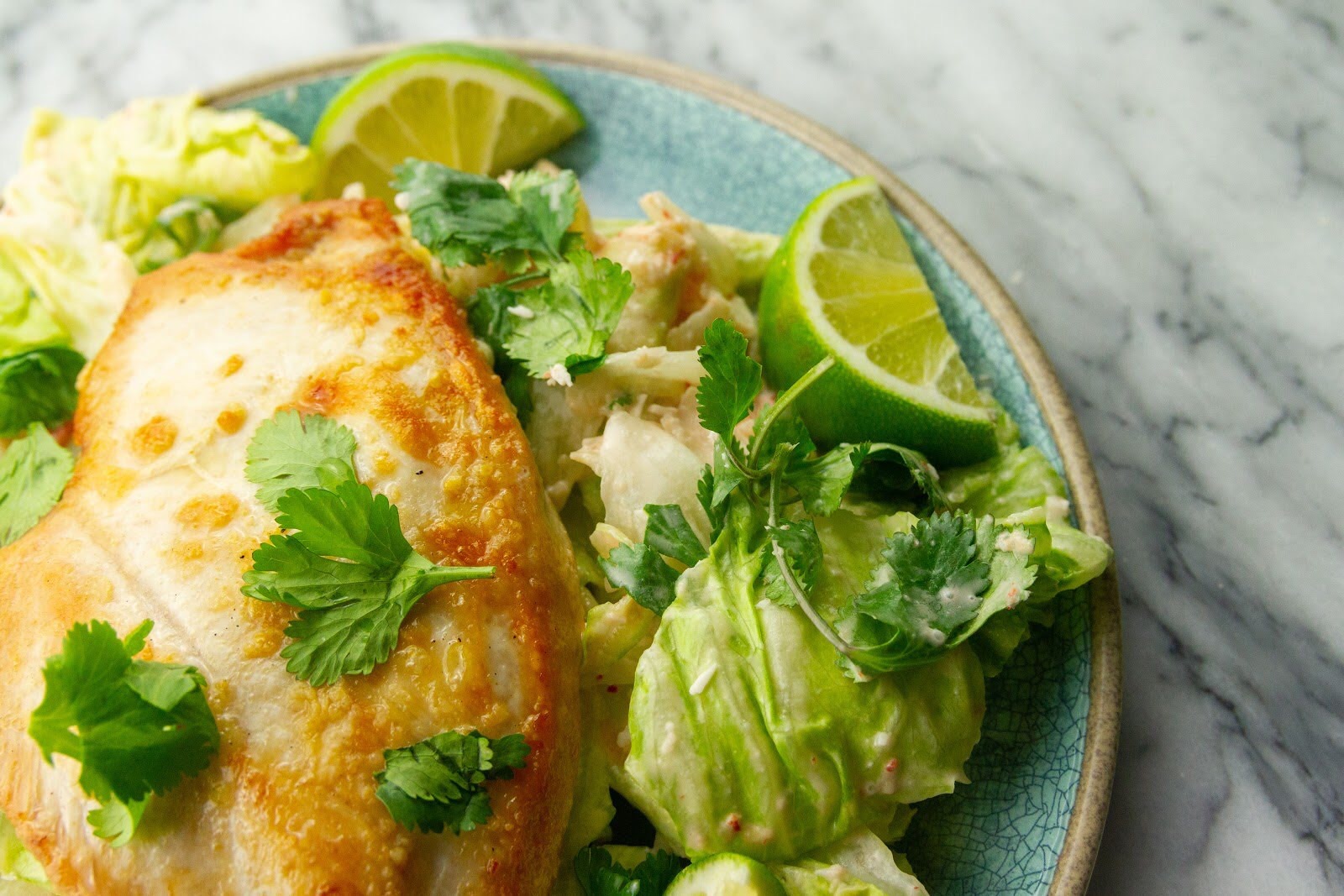 Chicken Cutlets with Spicy Coconut Dressing
Source: Where Cooking Begins by Carla Lalli Music
Tip: This dish is already gluten free!
Review: In the mood for a low-effort Chicken dinner that still delivers on flavor, spice, and surprise? Then here's your recipe!
Yes, the chicken is simply seasoned, but the star and surprise is the spicy, bold coconut dressing that's covering the salad. Wow. That has a kick! But it's so good! And it blends so well with the basic chicken.
I loved the bites that were cold and spicy from the salad and hot and "bland" from the chicken. I dislike the word bland, but it's fairly appropriate here when comparing it to the fun of the spicy (coconut) dressing.
This dinner would be great on a hot summer night because I think the dish would also be great served completely cold. Sure, the dual-temperatures are nice, but if it's a busy evening, or you're entertaining friends, I could see this being equally awesome if you served cold chicken with this salad.
What I loved about this dish was that it surprised me with flavors and textures, but felt very approachable for a weeknight, which seems to be a theme in this cookbook. I am thoroughly enjoying the ingredients used to perk up otherwise-unexciting elements. Chicken and salad? Boring! Chicken and a spicy coconut salad? Much, much better.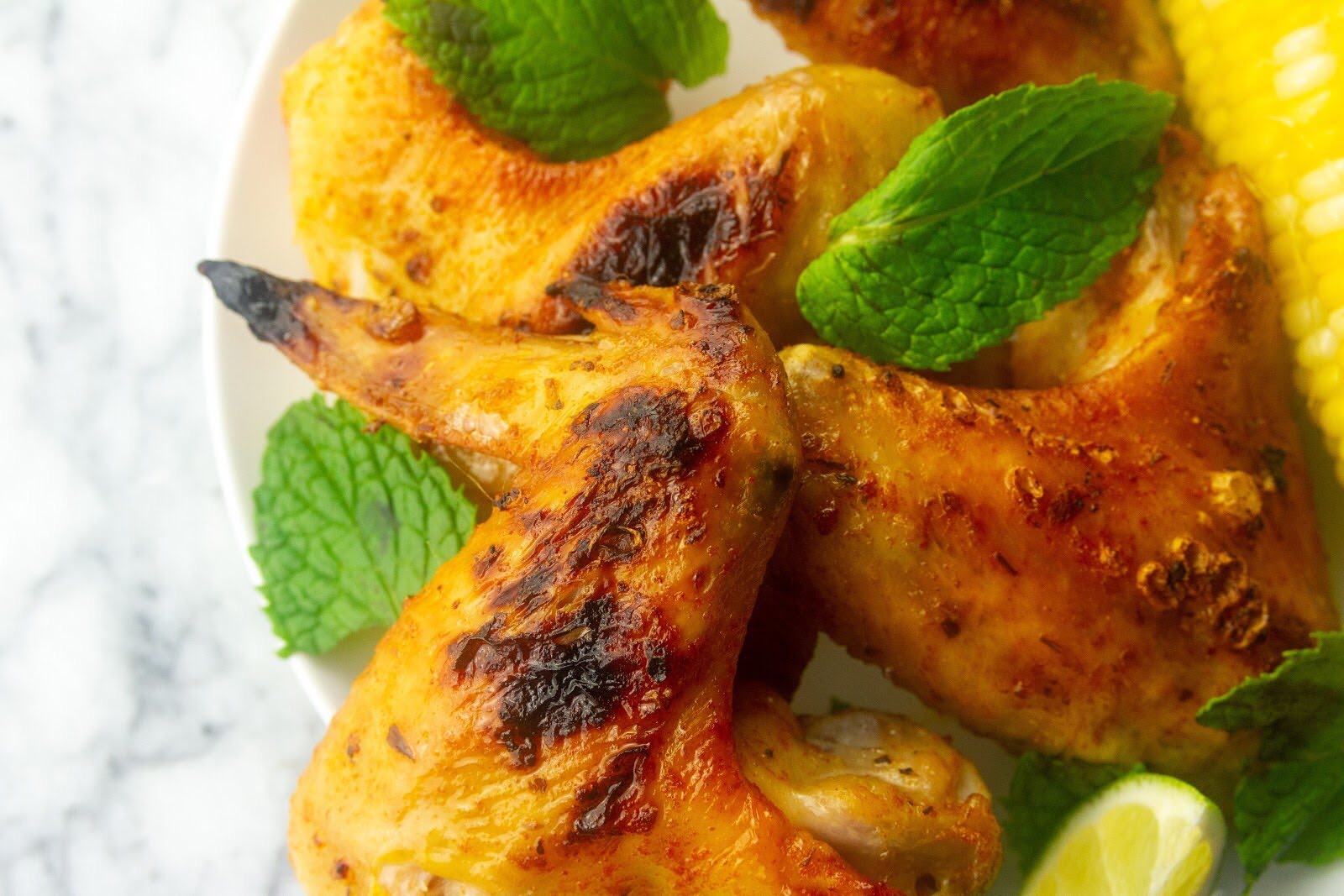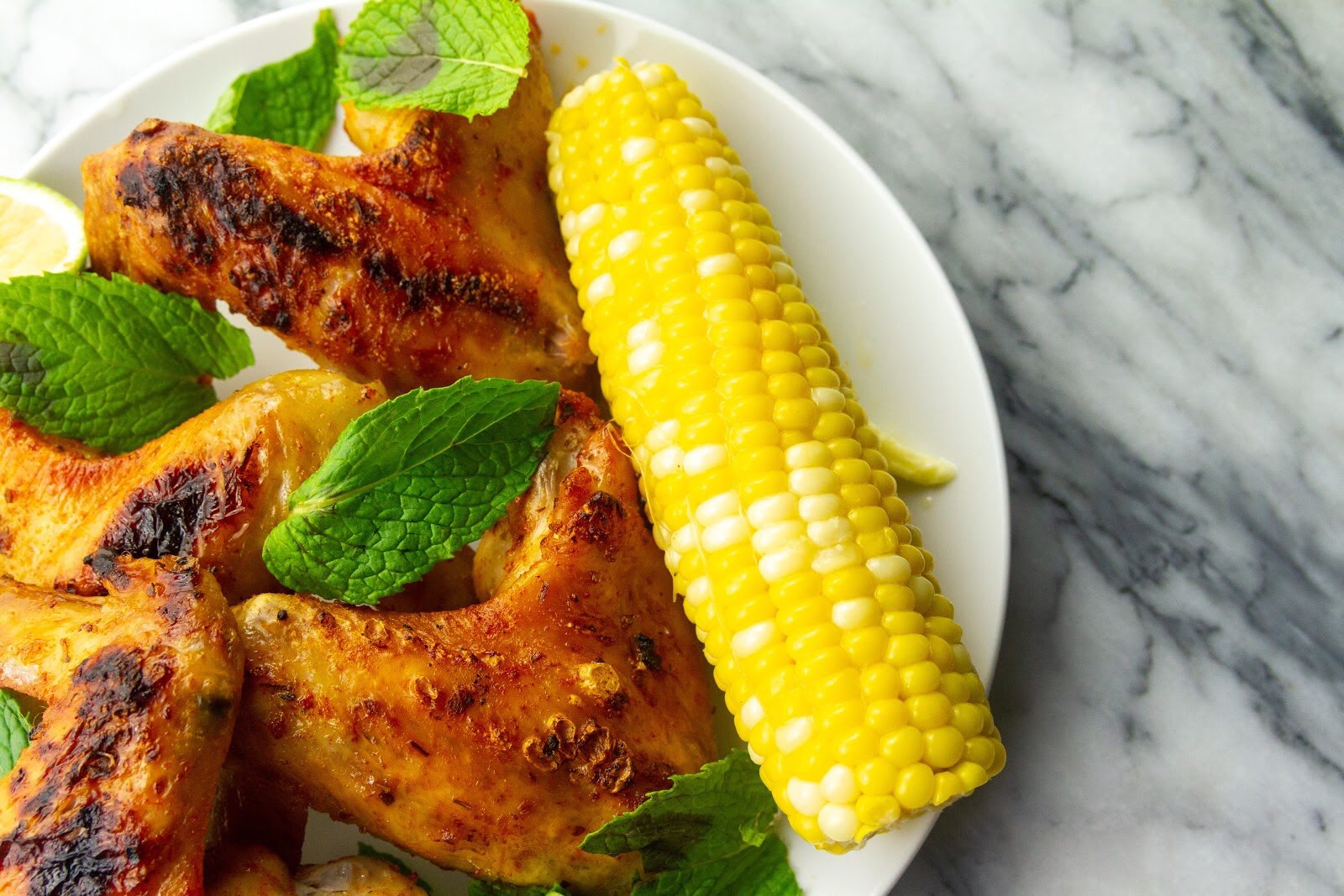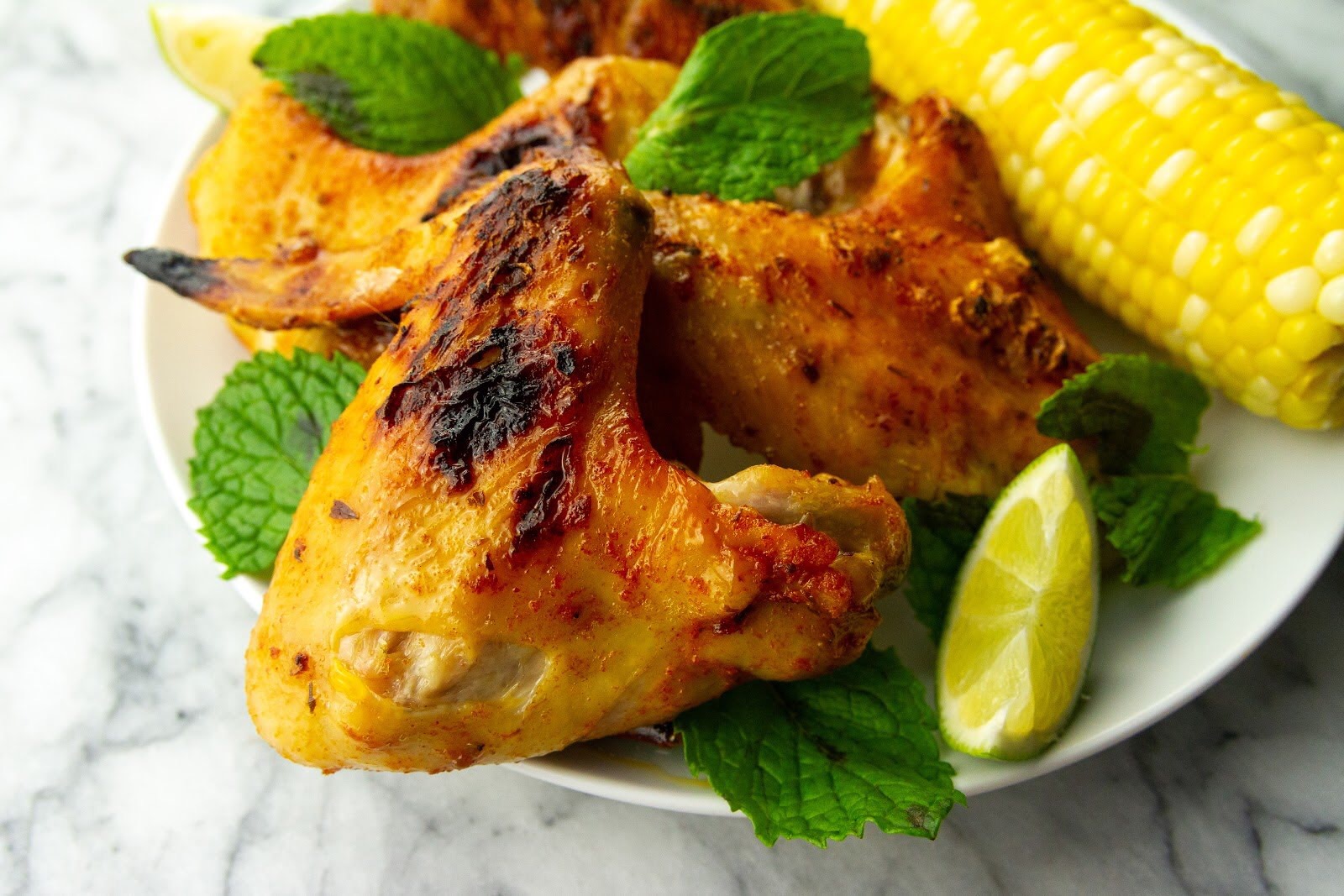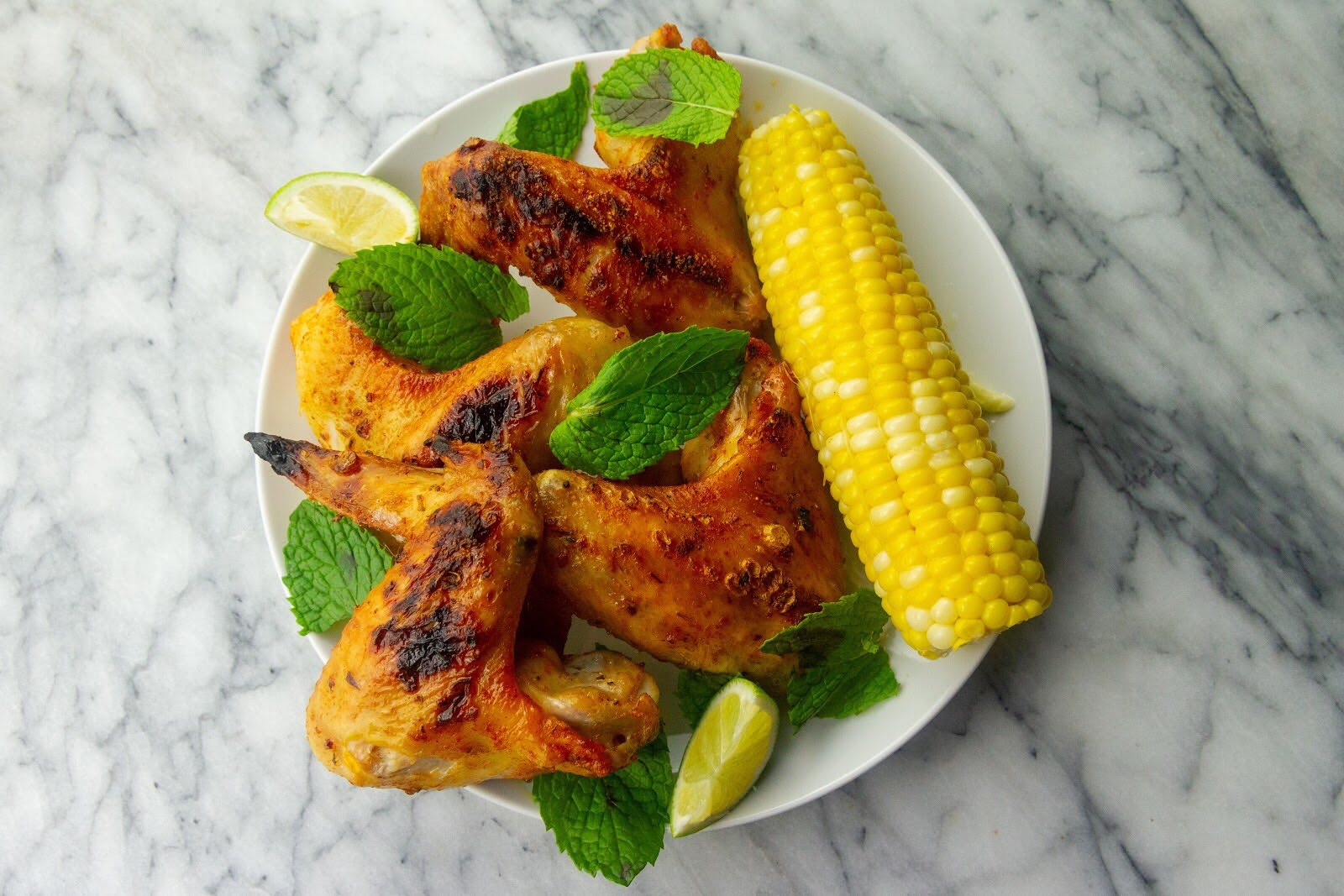 Spice-Drawer Chicken Wings and Corn on the Cobb
Source: Where Cooking Begins by Carla Lalli Music. You can also find it at Bon Appétit online, here.
Tip: A naturally gluten free meal!
Review: Wing night! Perfect for a relaxed evening, a crowd coming to watch the game, or a fun dish to bring to a picnic, chicken wings seem to be a general crowd-pleasing meal. I like them. I don't love them. But I eat them.
Plus, I think they are a slightly decisive dish. You either love wings or you just like them (or dislike them entirely). I'm perfectly fine being in the latter group; yummy, but not my most-favorite food.
However, I fully admit this recipe yielded some seriously flavorful wings despite requiring a bit of prep the night before. And there is minimal effort when cooking - just bake them! That's the beauty of this dinner in general: minimal ingredients and easy cooking. What's better than that?
The decision to pair these wings with fresh corn on the Cobb was simple: you can eat both with your hands! And I loved the contrasting flavors. The slightly spiced, savory chicken wings were delightfully different than the semi-sweet corn, but somehow they were a great match.
In other iterations of this meal you could easily add a salad, baked potato, or something a little sassy to go with the wings - grilled veggies! chickpea salad! French fries! The options are truly endless.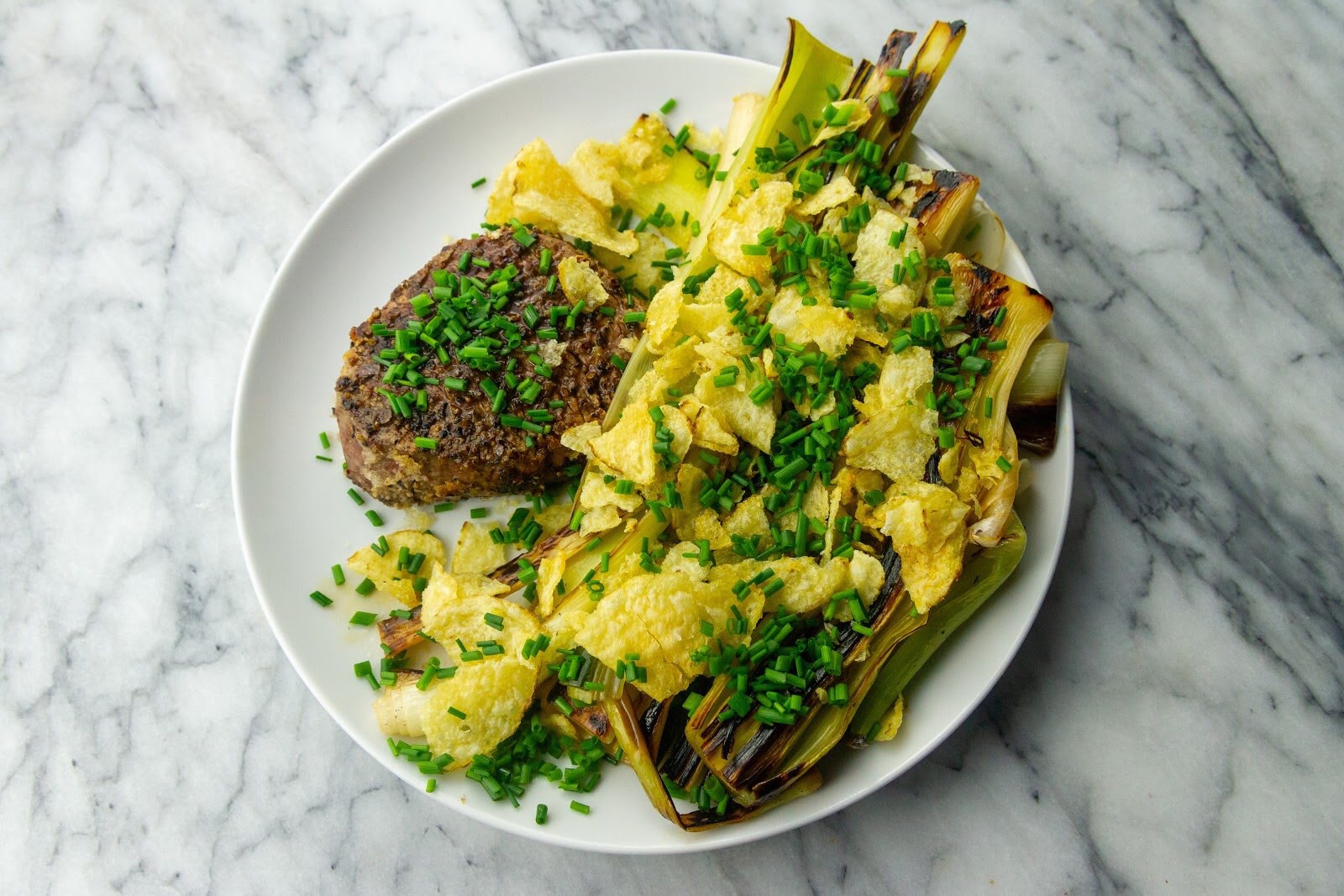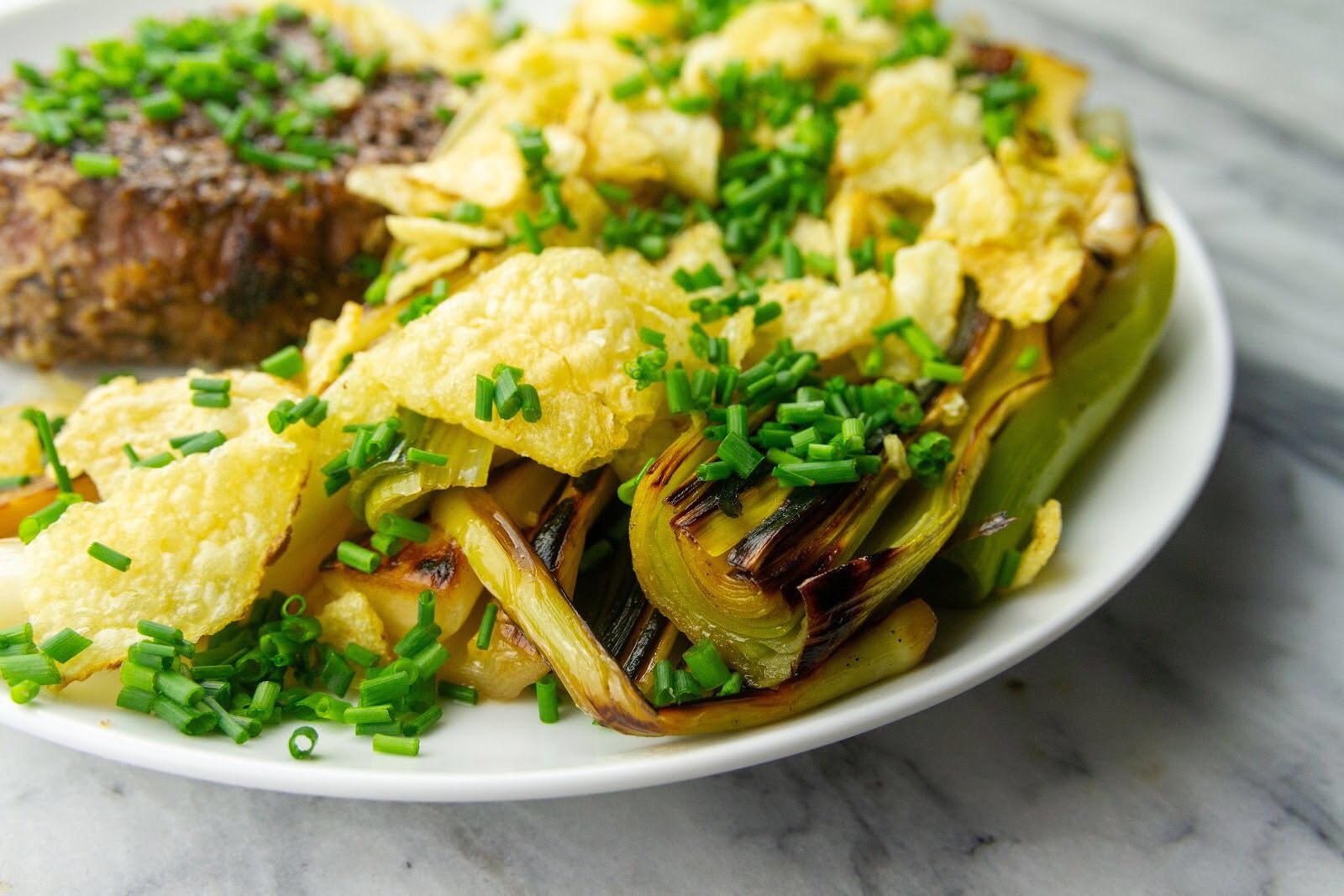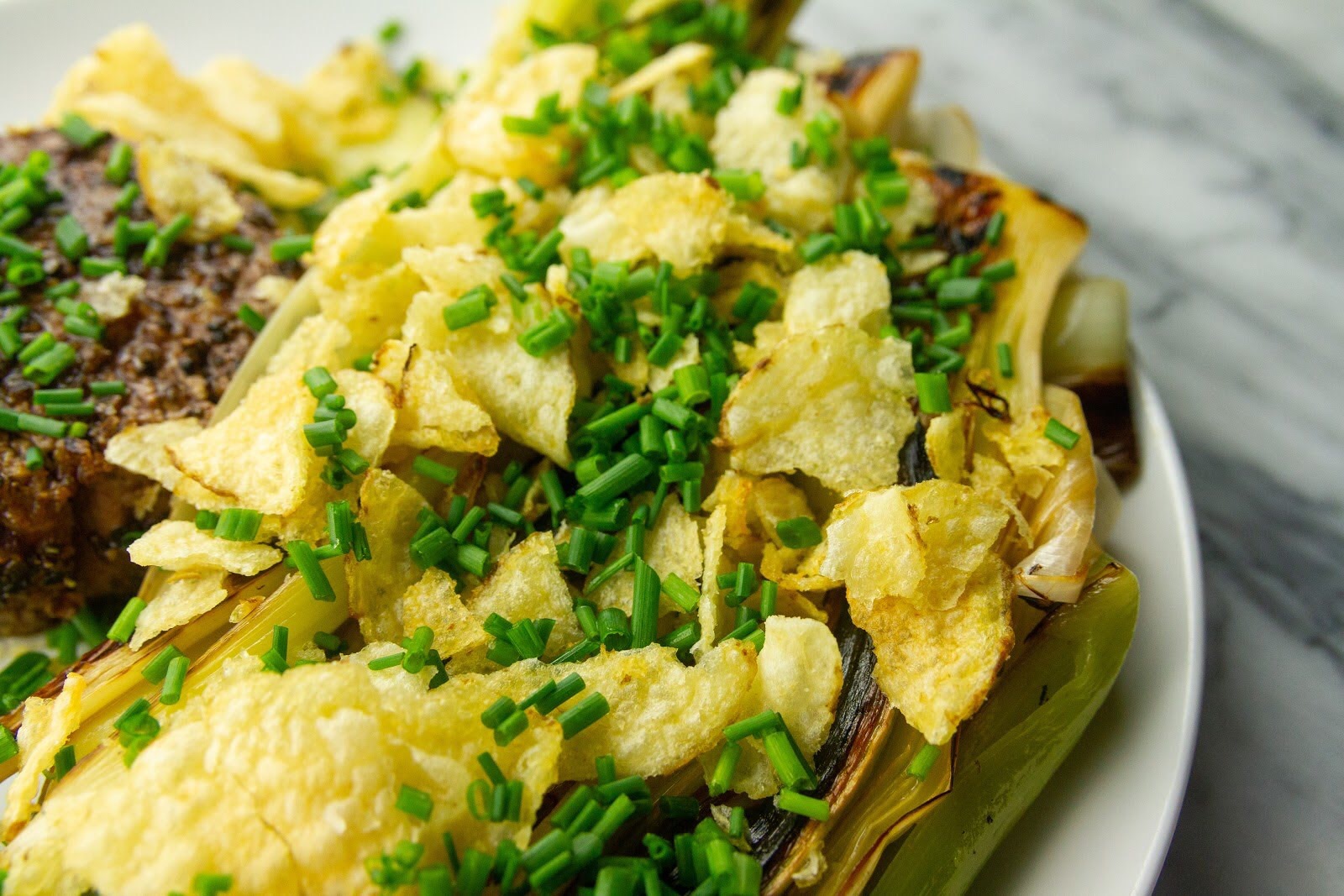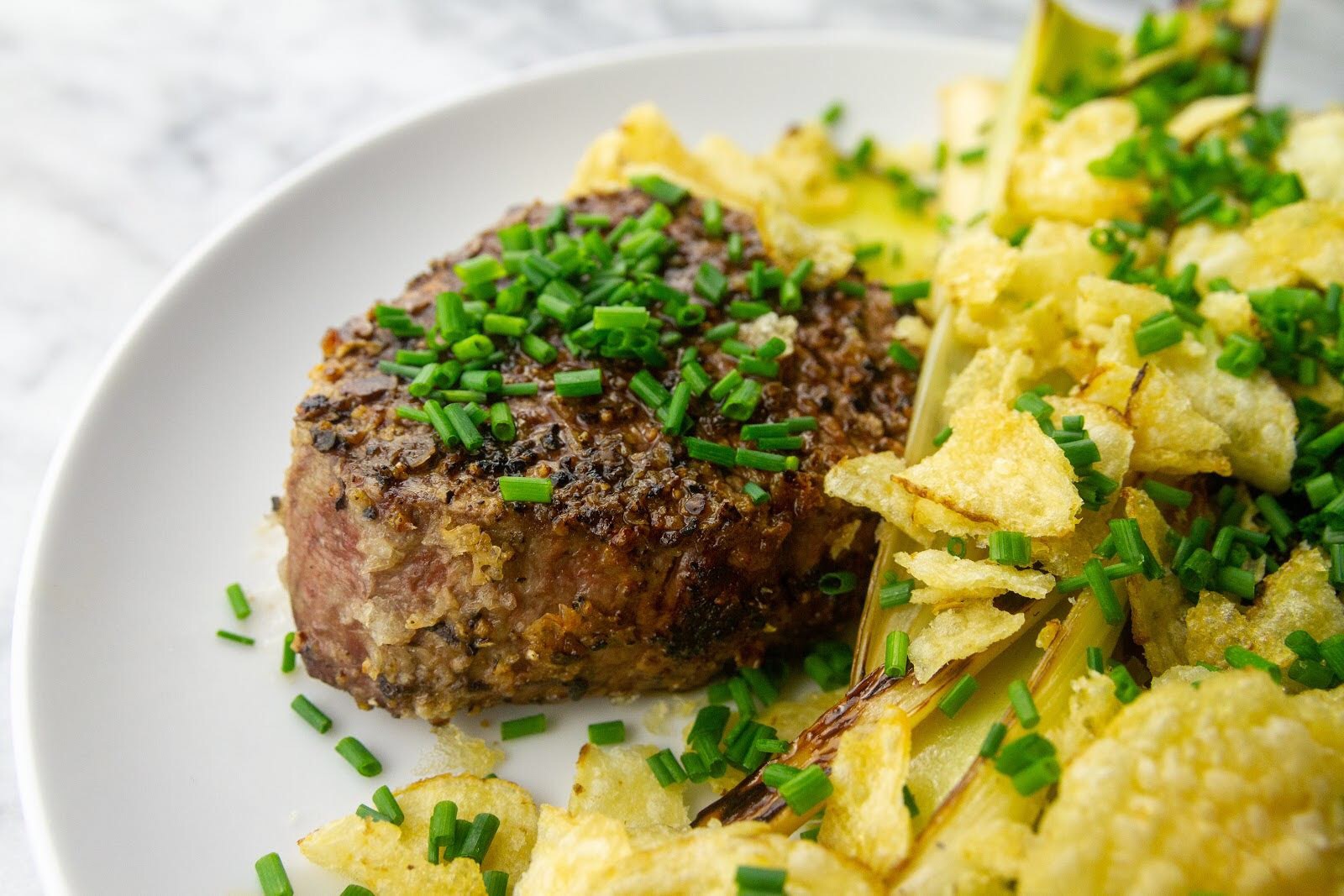 Leeks with Potato Chips and Chives, Filet Mignon
Source: Where Cooking Begins by Carla Lalli Music and Ina Garten's method for cooking filet. Find that, here.
Tip: Another naturally gluten free dish.
Review: Obviously a filet mignon has a bit more flair than your average weeknight protein, but I couldn't resist planning the filets to go with this flair-filled, and supreme, grilled leek dish.
Snazzy goes with snazzy, in my opinion. And while you may not agree that you need a bold protein to go with a bold vegetable, I firmly believe it to be true.
Steaks aside, this leek-focused side was as happy as I had hoped. Charred (slightly blackened) leeks are pretty cool on their own, but when you cook them in butter and cover them in crunchy chips and fresh chives, they become the ultimate savory and indulgent vegetable side dish. Perfect to pair with a steak!
For my personal preference, I may cut up the leeks more prior to serving (or cooking) to make them a little more bite-size, but I admit their long, boat-ish shape lent well for filling with potato chips. ;) Who knew the always-awesome potato chip would be such a great garnish?! It's officially my new favorite vegetable accessory.
Steak-wise, the filet mignon is one of my favorite cuts of meat. I've loved it forever and find it to be delicious and luxurious. Some may say that it's not the most flavorful, but then I say that's the perfect opportunity to cover it in sauce; or have a few dipping options available. We topped ours with a garlic herb butter which was scrumptious; I'm also a fan of horseradish sauce or a bernaise.
Filet mignon is super on its own, but I do think it's extra-super with a splash of sauce. The bolder the better. ;)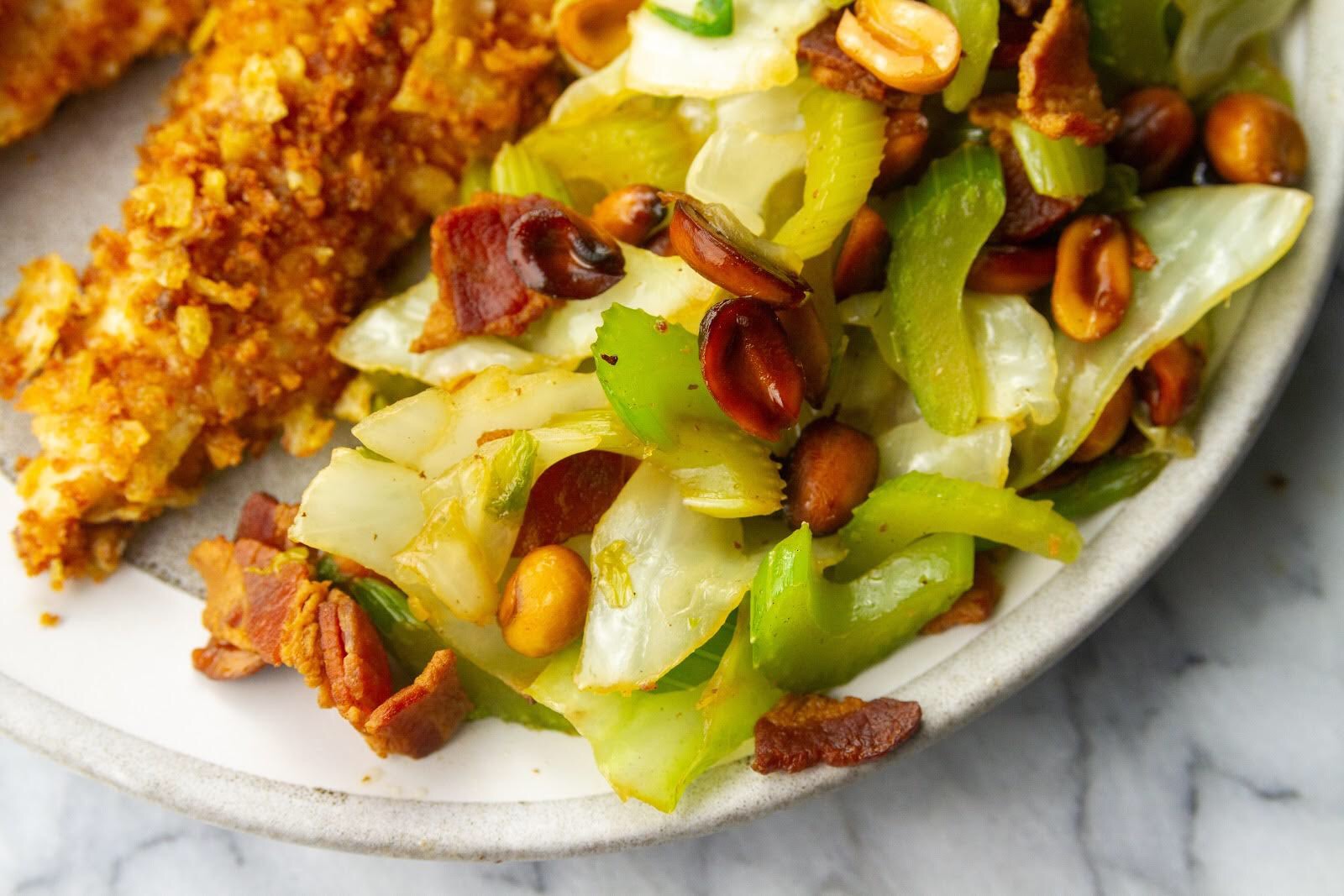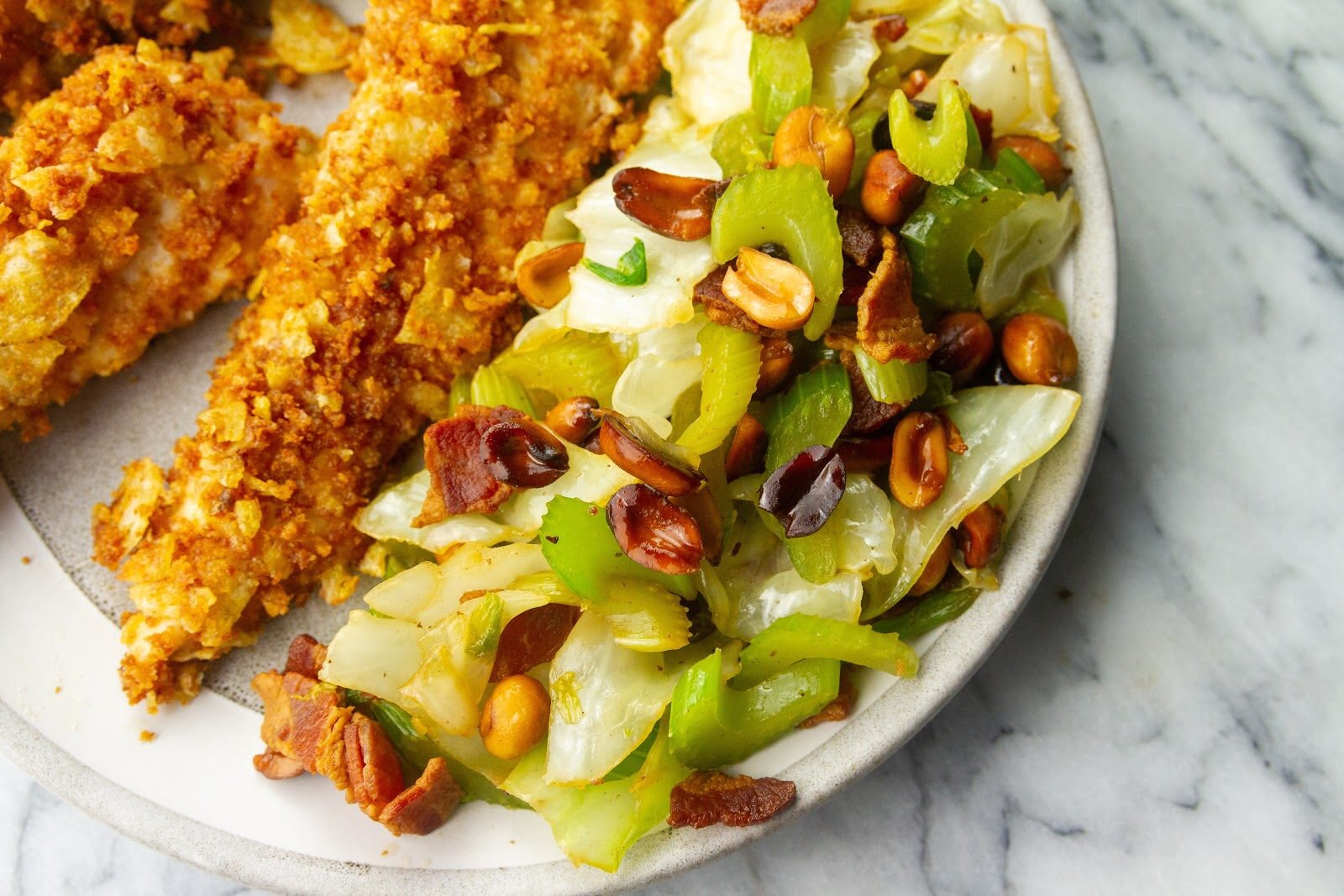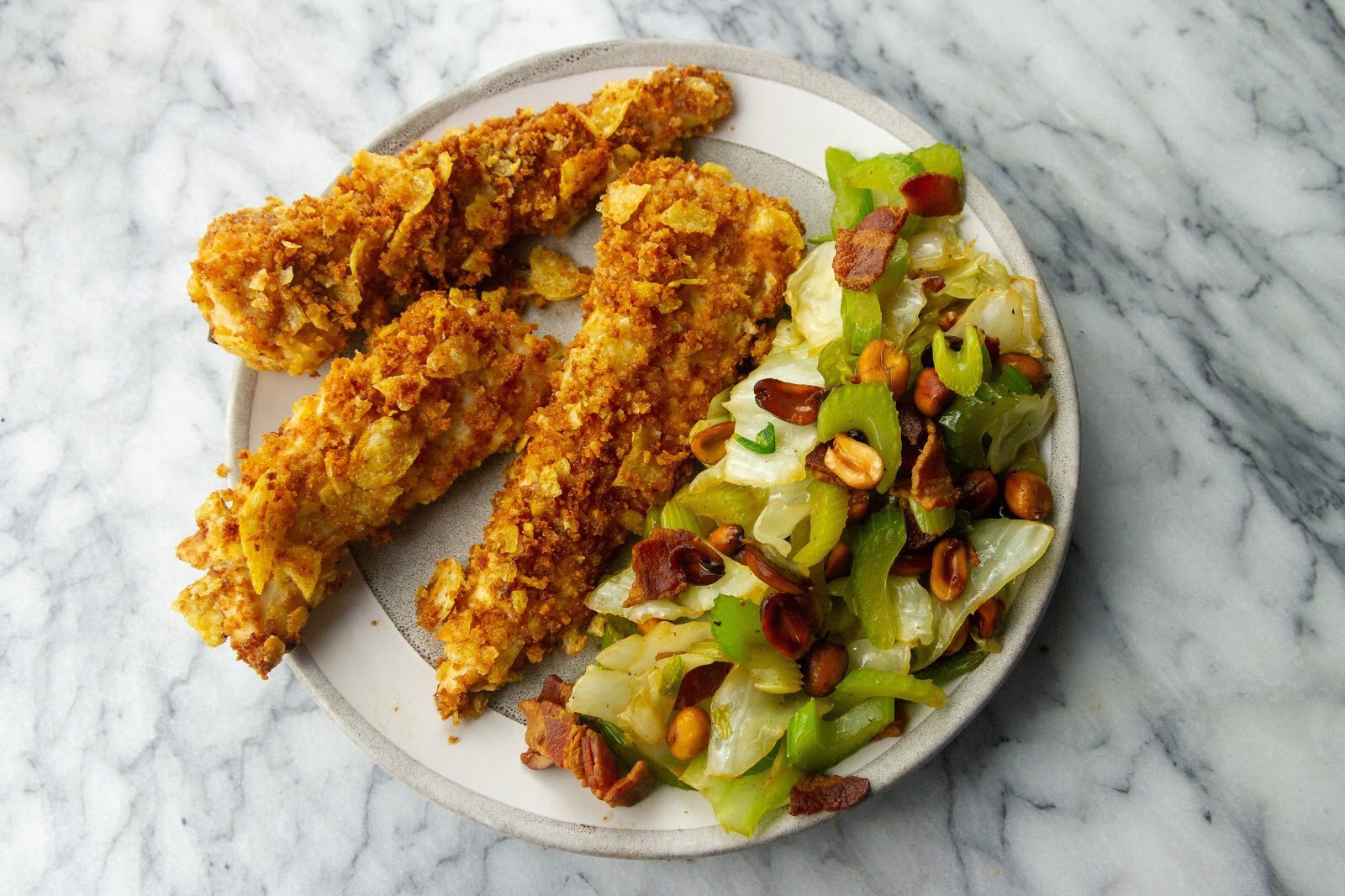 Stir-fried celery with peanuts and bacon, extra-crispy baked chicken
Source: Where Cooking Begins by Carla Lalli Music for the celery salad. A Gluten Free Mollie D original recipe for the chicken (bake breaded chicken fingers at 350 degrees for 30 minutes once they're covered in the crispy goodness).
Tip: Make sure to use gluten free breadcrumbs and panko (Aleia's is our favorite) for the chicken. We used a breadcrumb, panko, and potato chip (Cape Cod brand) combo to create one intensely crispy dish.
Review: OK, so you must think we live in a world covered in crispy. That's fine. We kind of do! Because crispy chicken, potato chips, savory foods, those are the best. So when I was deciding what to include with the stir-fried celery salad, I had a feeling crispy chicken would be perfect. And guess what? I was exactly right.
The celery salad was crisp, but it wasn't nearly as crunchy (since it was cooked) as the chicken which we coated in a toasted breadcrumb/panko/potato chip mixture before baking. Now that was some crispy chicken. And I'm saying that after making the "Magic Crispy Chicken" the week prior. Dueling crunchies; I love them both. Don't make me choose!
The celery salad, which I chose first, was quite delicious and opened our eyes to the concept of stir-frying celery. Not a bad idea! Once you toss in peanuts and bacon, you've got yourself one great plate.
Be aware that since everything is cooked together, the peanuts will get too dark/burnt if they remain on the bottom of the pan for too long (keep them mixed well amidst the celery and cabbage). But if you're more of a burnt peanut fan, by all means, leave them alone. The bright, yet mellow celery was a great backdrop to the other ingredients.
I loved the mix of salty flavors in this salad but I think it could be cool to make it a little spicy; yes, even with the bacon. Smoky, salty, and spicy are the triumvirate.
Overall, this dinner is for the crunch fans, the salt seekers, and the savory fanatics. I loved all of the flavors and textures, but most of all I enjoyed how many different elements came together to create a really delicious dish. Potato chips (again). Who knew!
Eats of the Weekend
We were lucky to have another spectacular weekend here in the northeast and that meant major time outside. Hiking on Saturday, a long walk Sunday, and even a cookie-baking blitz, our weekend was filled with fun - and great food!
Here's where we ate amidst enjoying the sunshine:
The Stones Common House and Kitchen: a local spot that we love for great drinks, a calm atmosphere, and really yummy food. Bonus? The fries are celiac-safe!
Cravings: Friday night ice cream is a fun little summer habit. A cup of chocolate chip makes my night.
Twist Bakery Cafe: We are here at least once a weekend because it's 100% GF and that will always be awesome. I love the grilled cheese.
Legal C Bar: My latest order is fried clams and a side salad. A fabulous pair. ;)
Read my full review of each of these spots in Bar Bites: Even More Local.
We hope you had a fantastic weekend and are enjoying the start of a very wonderful summer!
Eat, well.
Mollie and Seth