A Wicked Short Week
After a fun-filled and extra-relaxing long weekend, getting back into the groove of work and nightly cooking took a bit longer than usual! And even though it was a short week of meals, I found it somewhat trying to get it all organized. Never fear; a few new meals are here!
While my usual gusto for recipe research was a smidge off, the results were actually stupendous and we found some majorly delicious dishes. In fact, one of these may be on repeat throughout summer!
Let's dig in!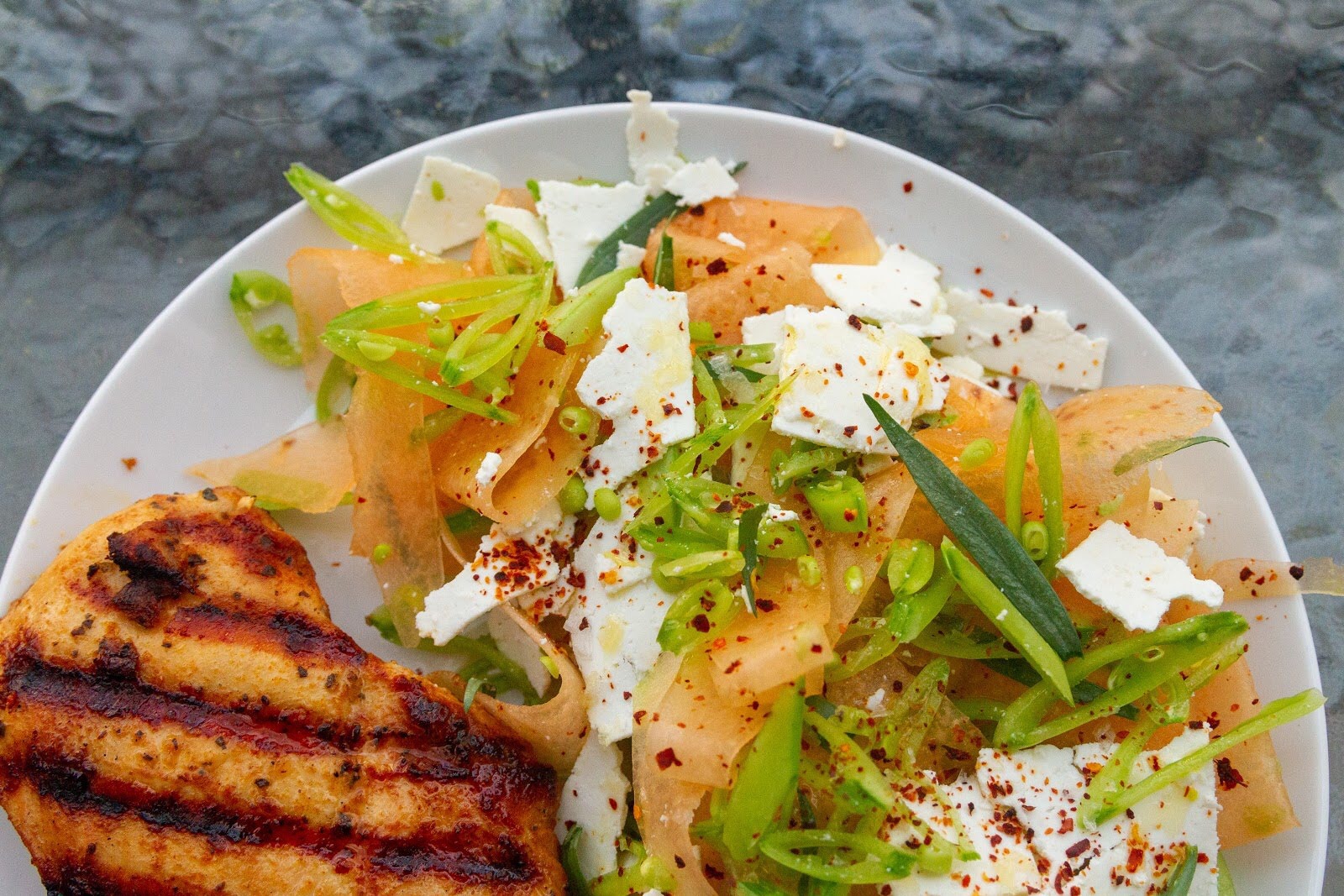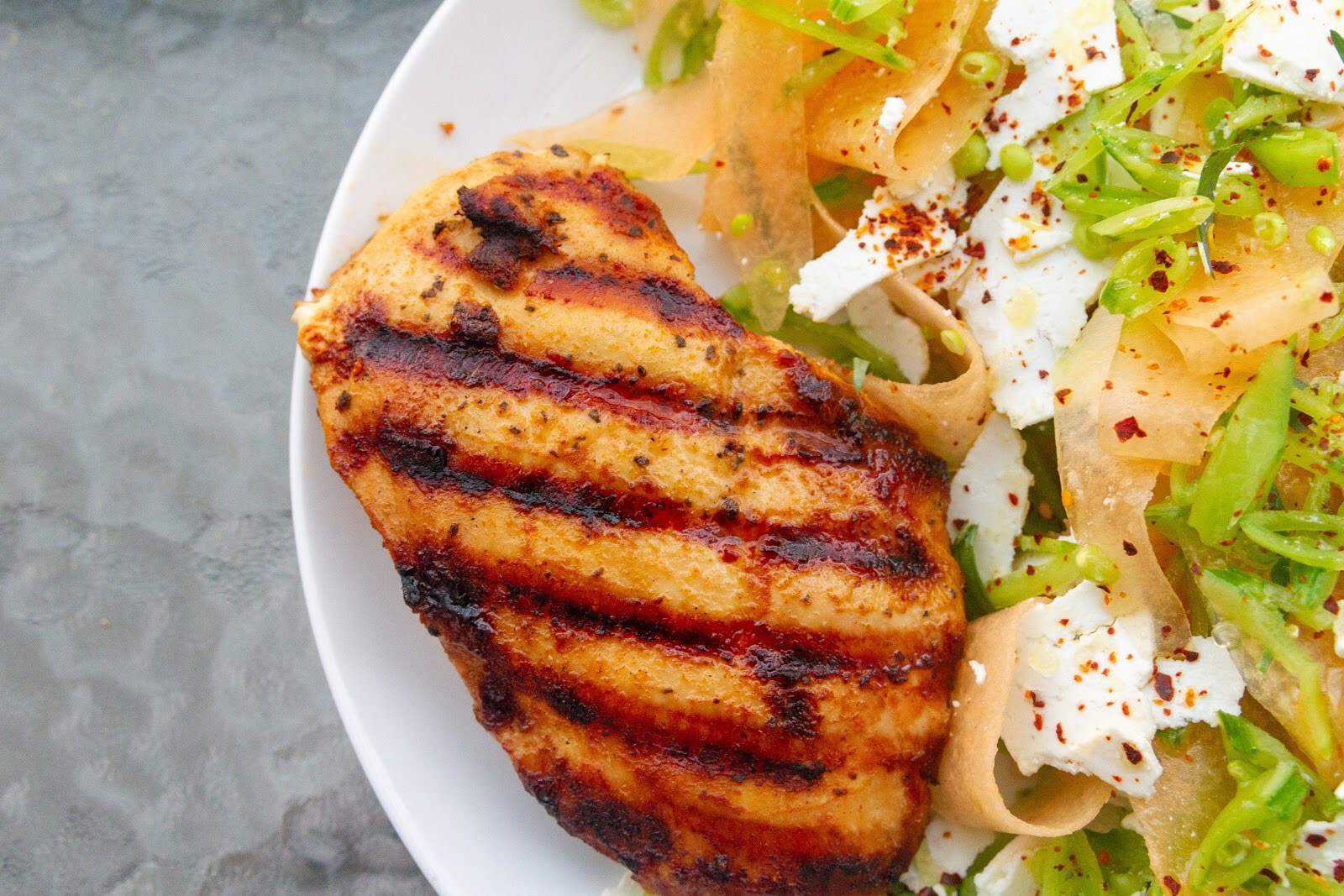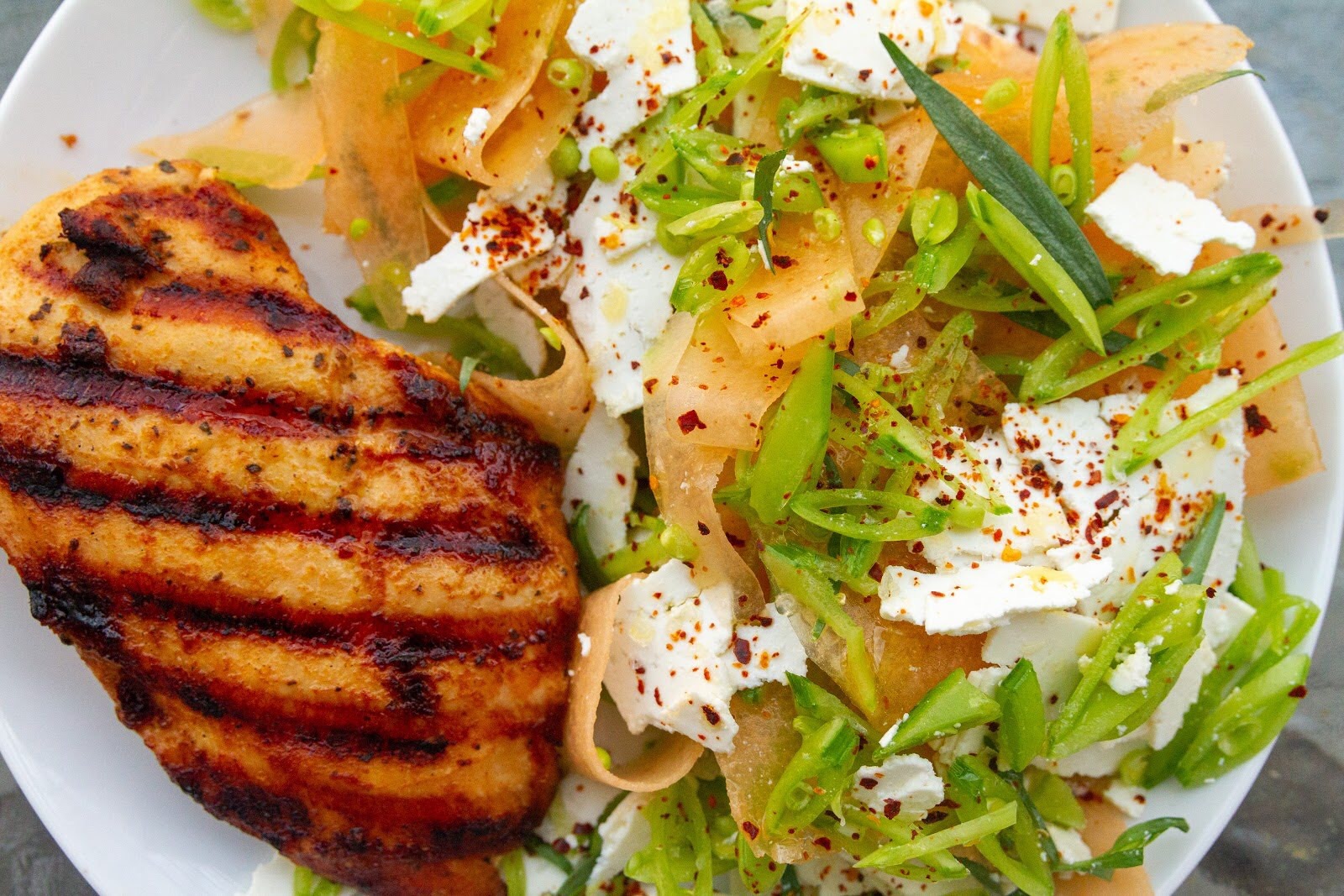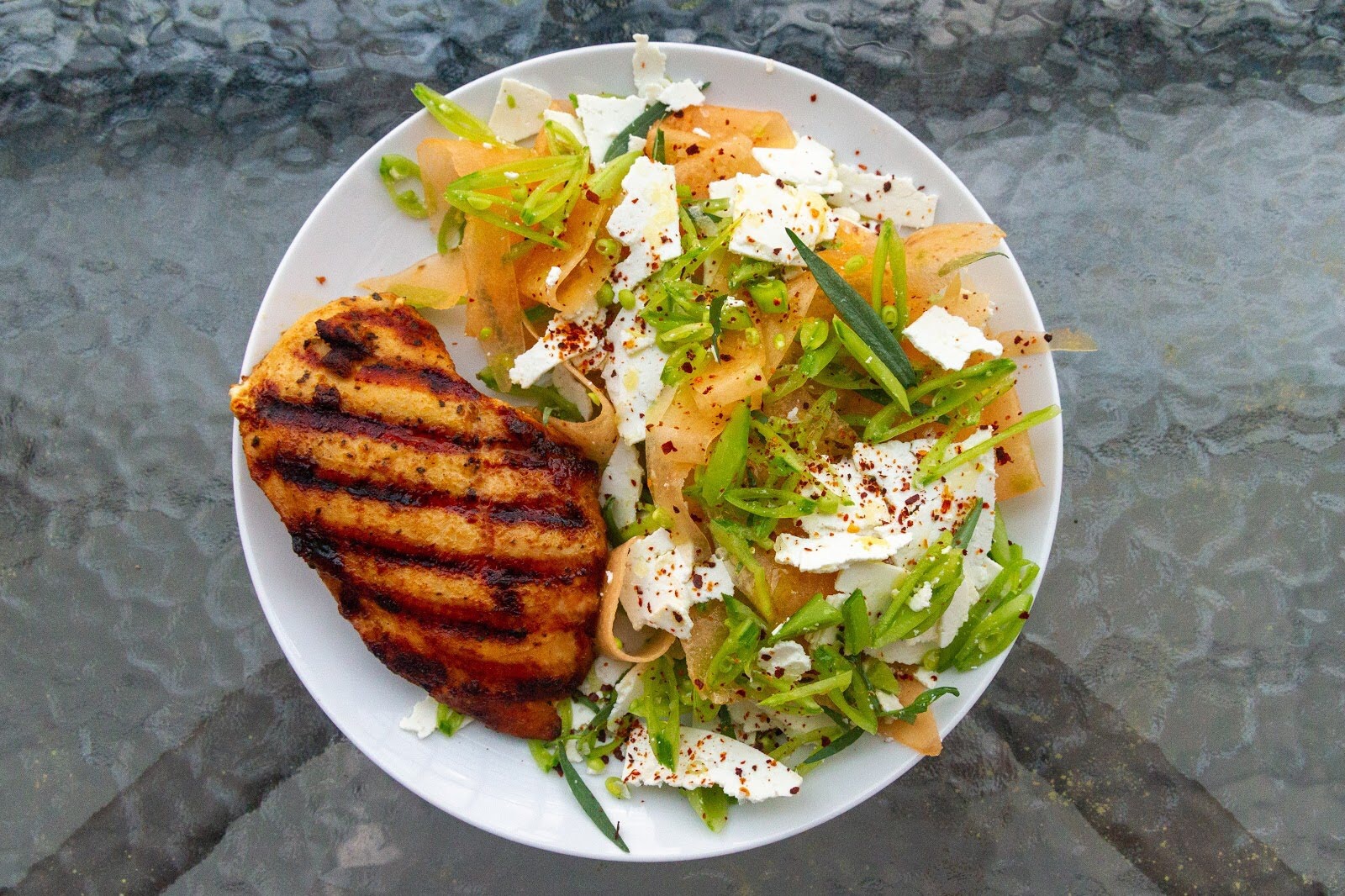 Cantaloupe with Sugar Snap Peas and Ricotta Salata, Grilled Chicken
Source: Bon Appétit recipe for the salad, find it here.
Tip: This dinner was naturally gluten free.
Review: For much of the summer, and let's be honest, warm weather days in general, we often turn to the classic, "grilled chicken and.." for easy weeknight meals.
Everything is great when paired with grilled chicken because basically anything can go with grilled chicken. And that's how this dinner came to be! Well, I found the salad recipe first and knew immediately that yes, we would have it with grilled chicken. ;)
When one turns a humble cantaloupe into delicate ribbons and mixes them with crunchy peas and salty cheese, it's a win. This salad was a wonderful mix of flavors and textures, all cold, that was an excellent accompaniment to the always handy grilled chicken.
The salad flavors weren't too bold, but I loved its mix of crispy from the peas and "softer" elements from the cheese and cantaloupe. I don't love using the word soft when describing salad ingredients, but it works in this instance. Have you had ricotta salata before? It's excellent and is a perfect level of salty, but not overly so which is ideal in this salad (I think).
Our grilled chicken didn't have an overwhelmingly exciting seasoning, yet it was absurdly delicious right off the grill (pan). Seth has mastered how to get those quintessential summer grill marks so our plate looked just right for the end of May.
An interesting salad for dinner will be top of mind throughout the summer and may I suggest starting the season with this one. It is delicious on its own, but goes wonderfully with - you guessed it - grilled chicken. ;)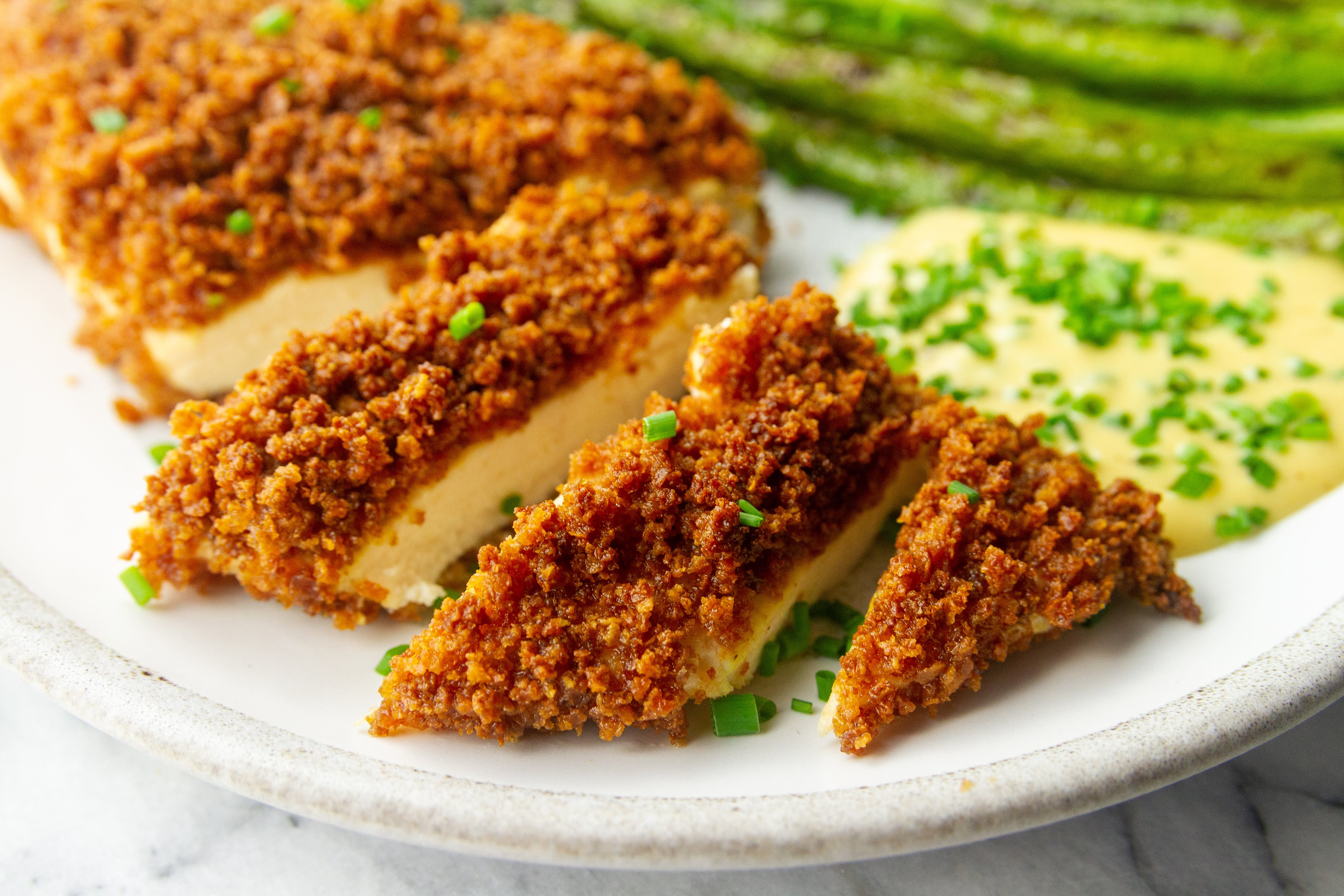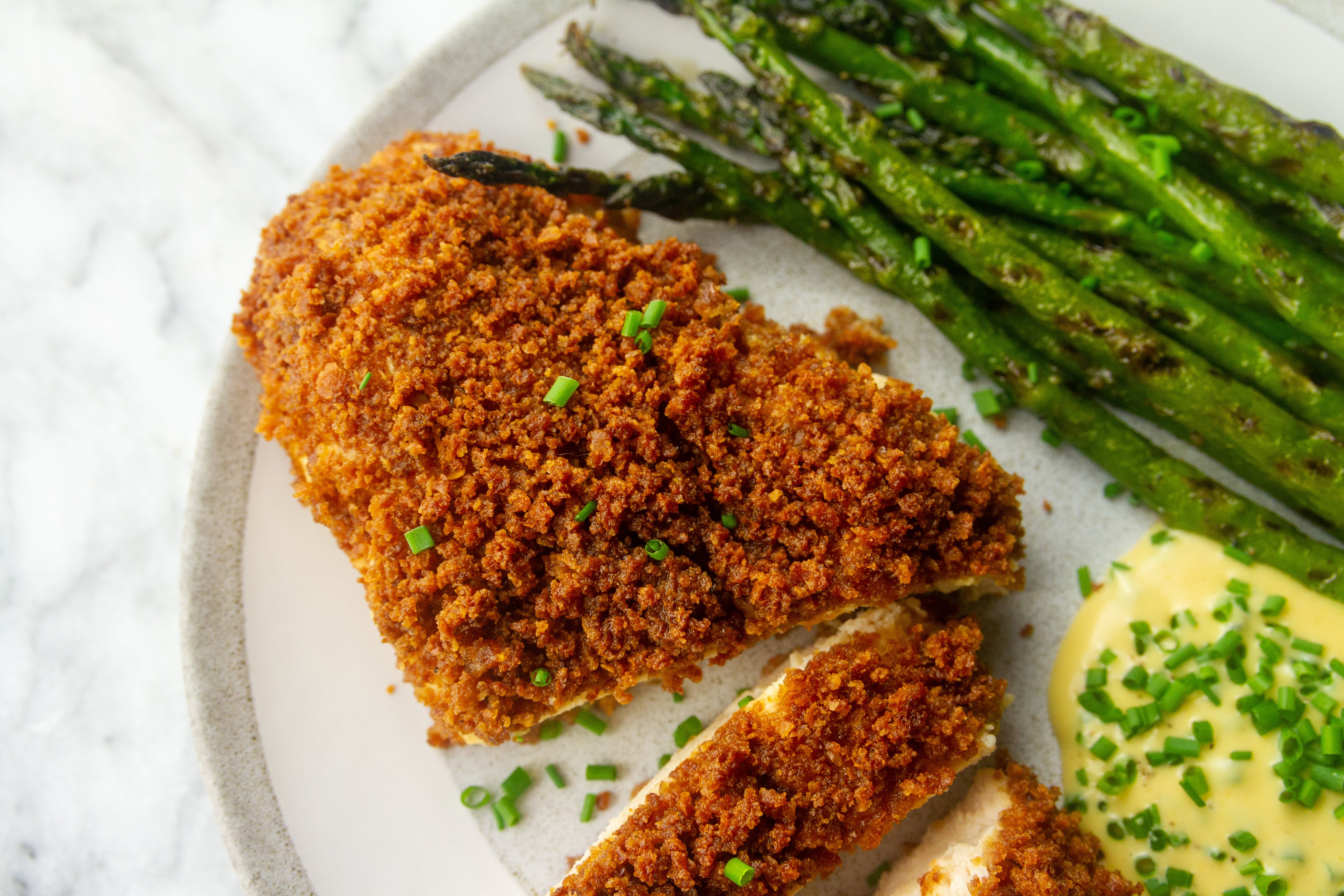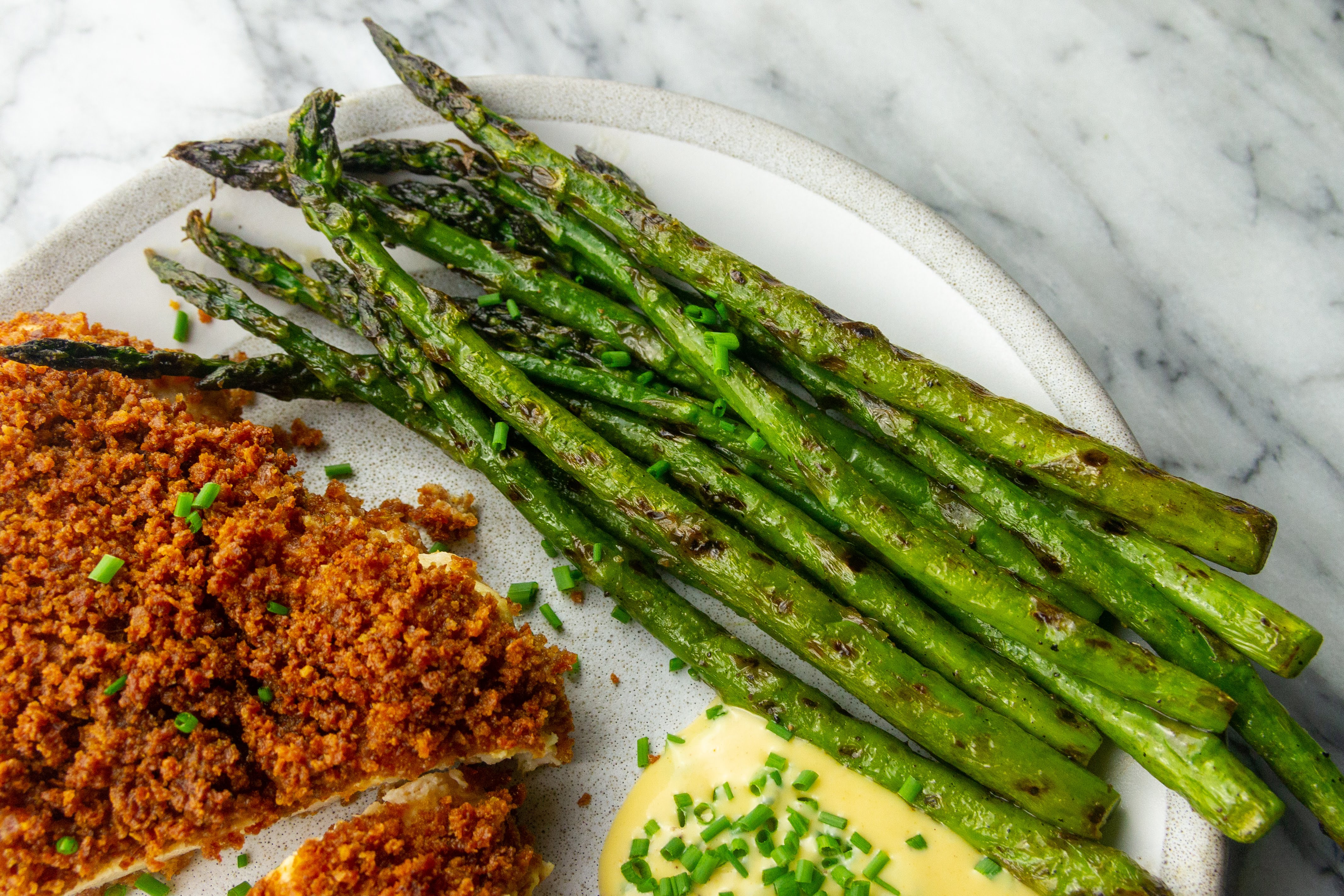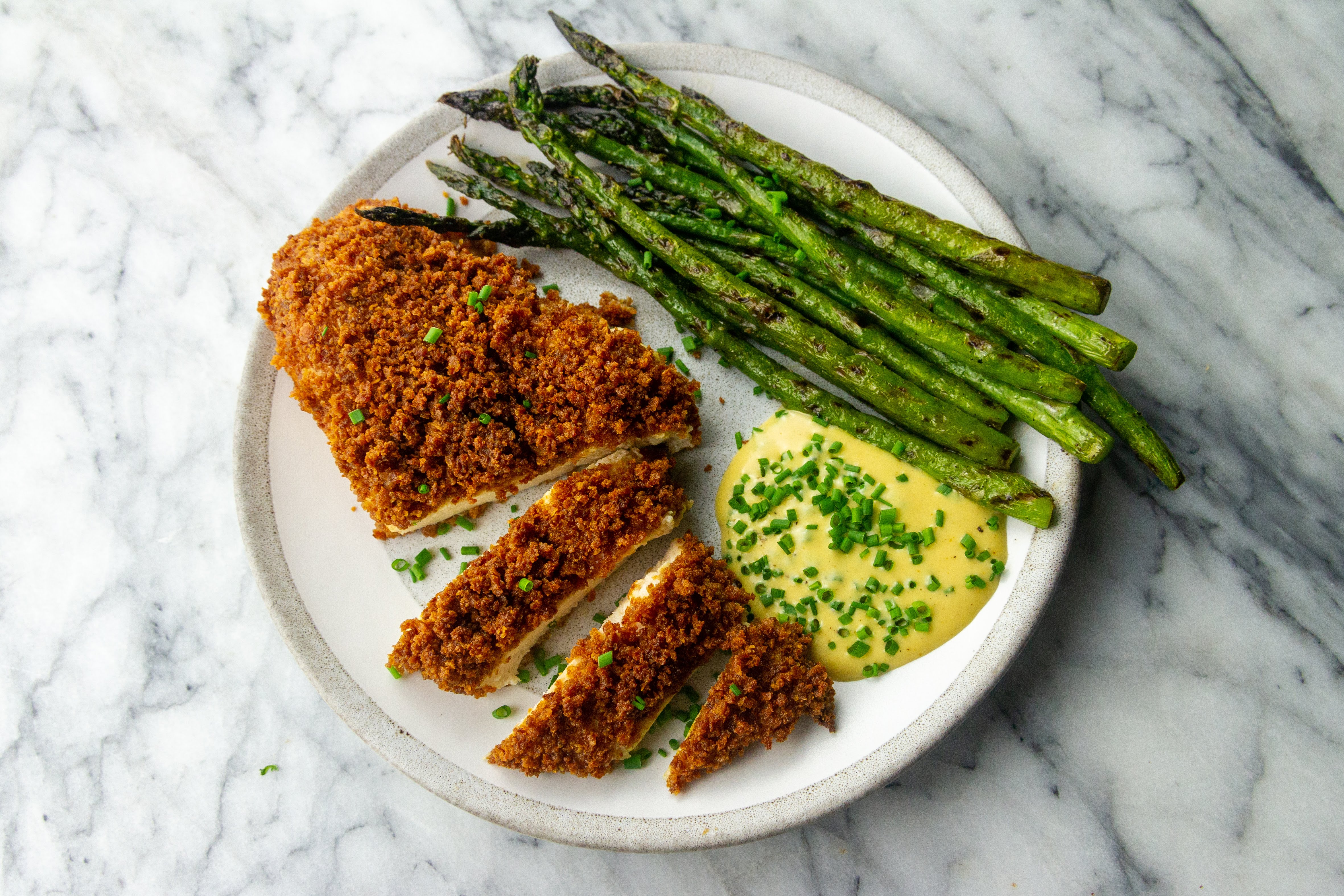 Magic Crispy Chicken and Grilled Asparagus
Source: Bon Appétit recipe for the chicken, find it in the current issue and online, here.
Tip: Make sure to use gluten free panko for the chicken. We love Aleia's, which you can find in Mollie's Market.
Review: OK, upon first glance this may seem like just another ho-hum, regular chicken and veggie dinner: chicken and asparagus. But! I promise you it is anything but ho-hum. In fact, it's quite the opposite.
Seth and I have made countless meals of crispy, baked chicken, supported by a seasonal vegetable of choice. And yes, it's always good, but this time around things were different. The title of the recipe alone included the word "magic" so I knew something was up. Little did I know that the resulting "magic chicken" would be the best baked, crispy chicken ever.
So what's the secret? Toast. The. Panko. Prior to coating the chicken, this recipe required us to toast the panko in olive oil making it crispy and delicious even before being baked (and ultimately even crispier). Yes, I ate some of it before using it on the chicken.
Not only is the panko extra yummy before baking, the chicken has been doused in an egg/mayo/mustard/salt/pepper mixture and then dredged in the already-awesome panko. Then it's all baked at an extra-hot 450 degrees. The result? Chicken that's too crispy and delicious for words. And you didn't even need to fry it!
Don't even get me started on the dipping sauce because it rocked. A honey-mustard-mayo which is just begging to be served during football season. In fact, I'd love to make this perfect chicken in the fall and offer a whole buffet of dipping sauces for it. I'm planning a football party now; care to join us?
We paired this flavorful, crispy, and joy-inducing chicken with a simple grilled asparagus because it's wonderfully in-season and I didn't want anything to steal the show. The "magic" chicken was the star of the night!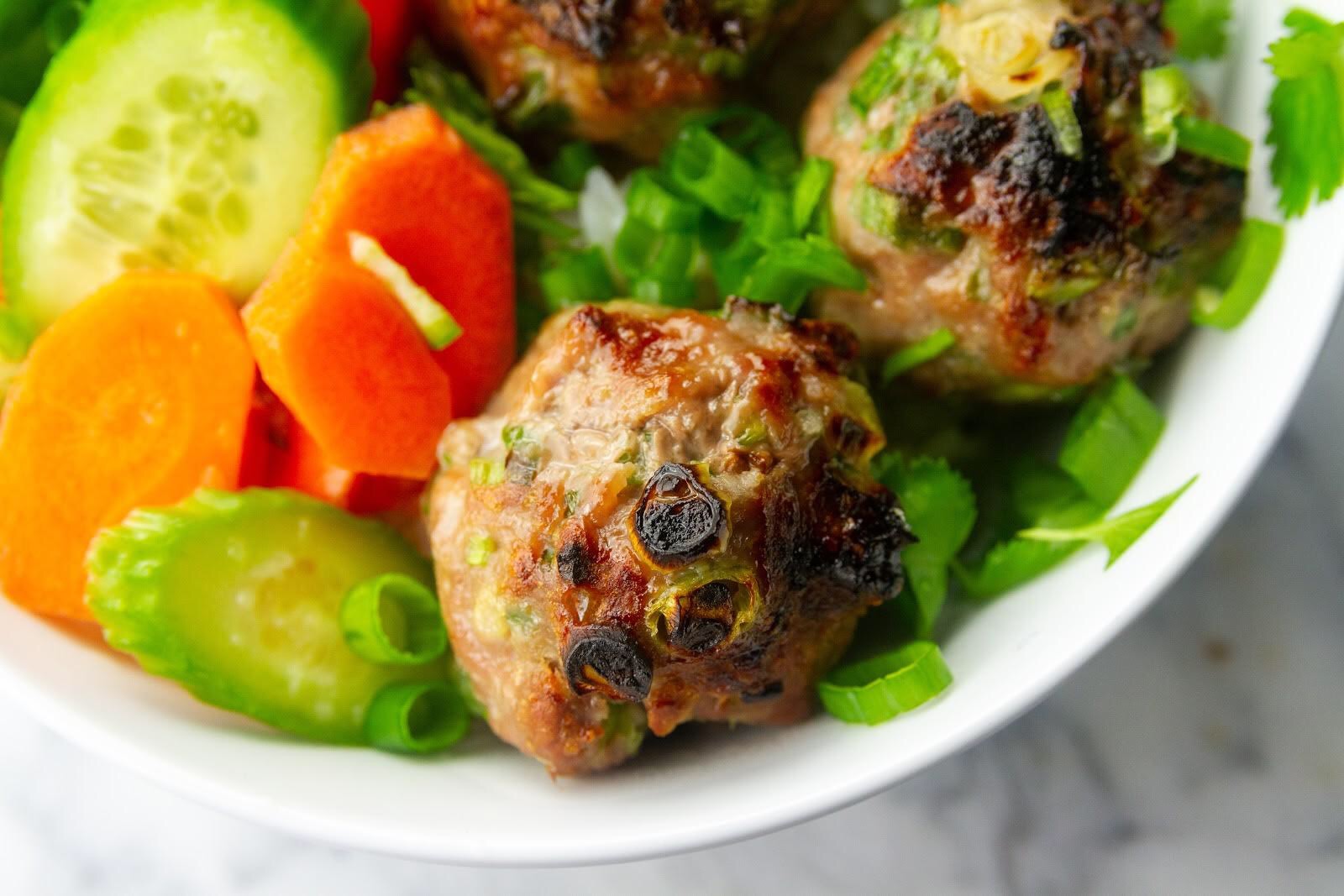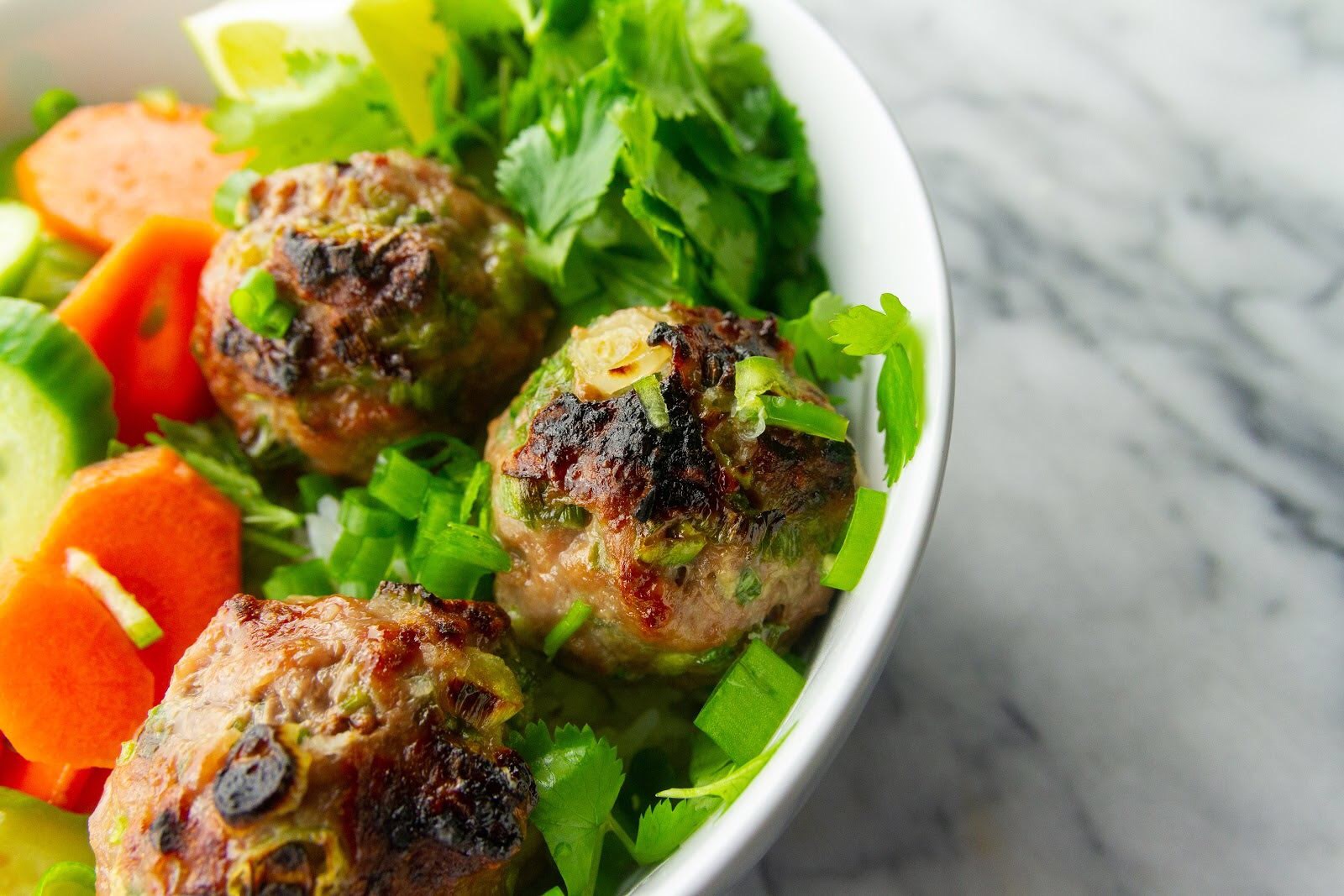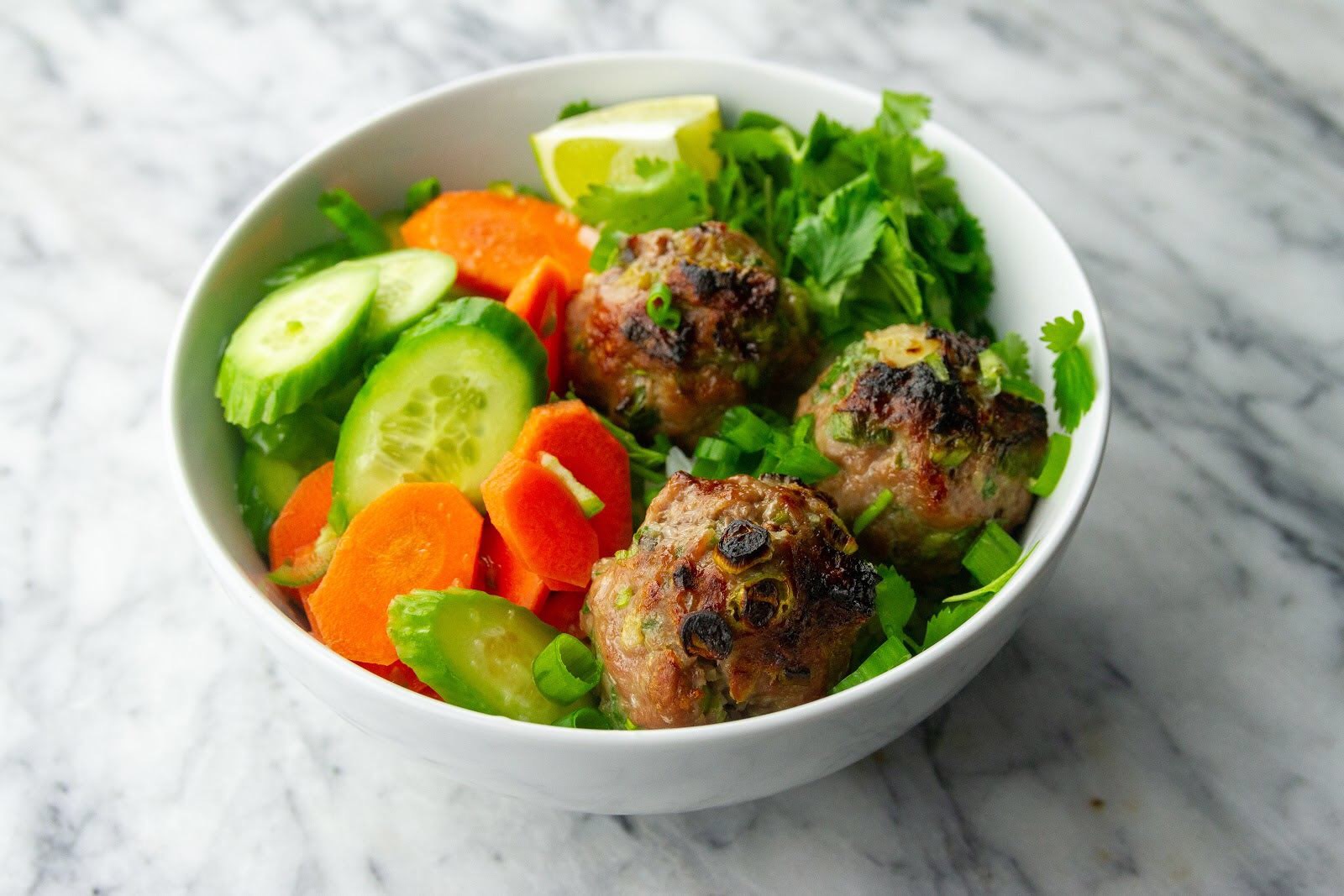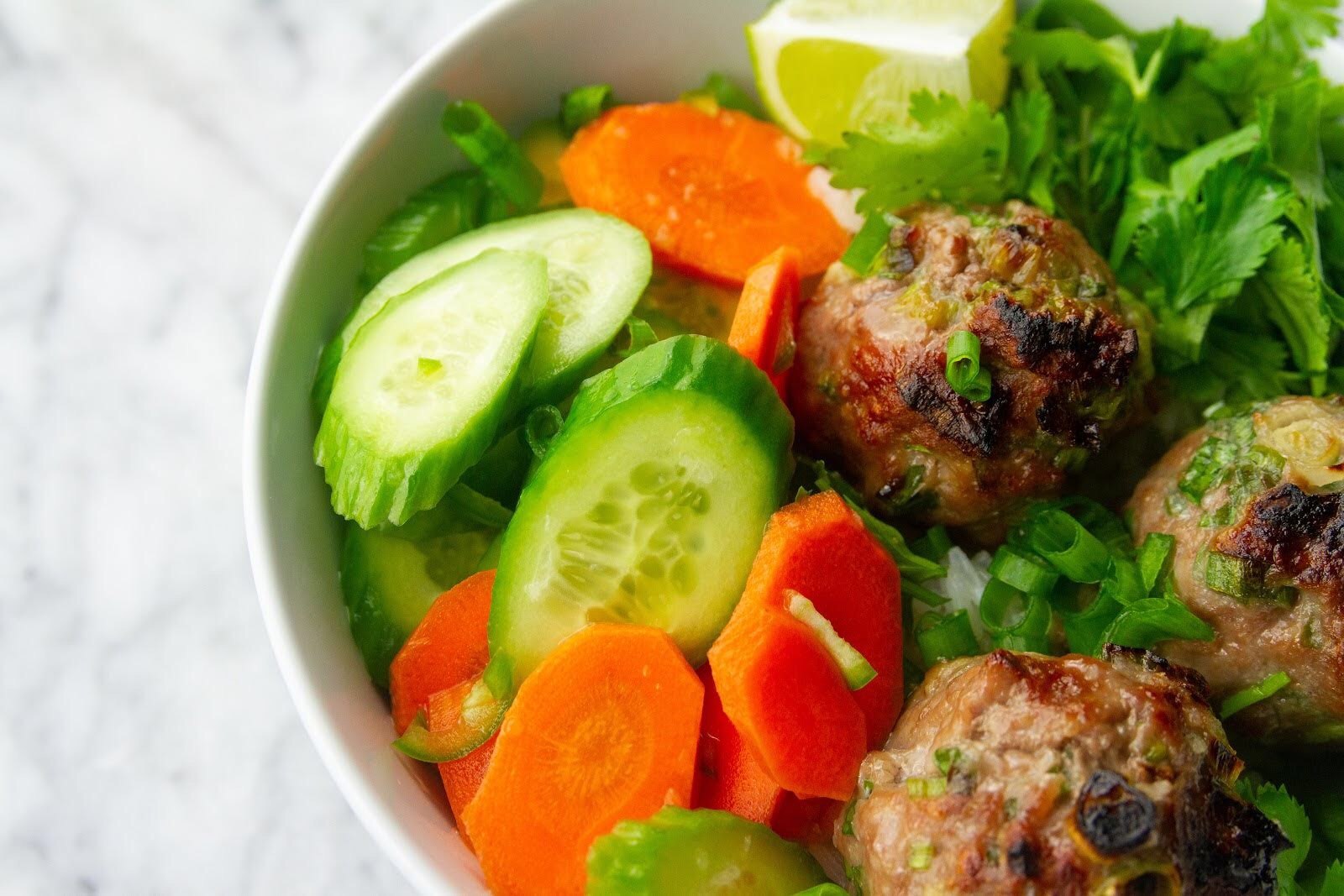 Pork Meatball Rice Bowls
Source: Bon Appétit online; find it here.
Tip: As usual, make sure to use gluten free soy sauce (Tamari) when recipes call for regular soy sauce.
Review: Now, you all know by now that I can't resist a meatball. I love them. I'd eat meatballs daily; they are just delicious and there are so many variations that I never could tire of them! I should do a full post about all of the meatball meals we've made. I guarantee it would be a lot!
When I saw this recipe staring back at me as I searched through Bon Appétit, I knew it had to be included in our meatball repertoire because it looked great and had several excellent components. Not only can I not resist a meatball, but I'm a sucker for a rice bowl. Every. Time.
OMG! 😮 This dinner was incredible!! Quick-pickled carrots and cucumbers served with the most scrumptious pork meatballs over a bowl of fluffy jasmine rice with cilantro and scallions. What could be better? Not much.
The flavor profile of the dish was quite similar to that of the Vietnamese dish, Nuoc Cham, which must be awesome because I adored this bowl. I've always been a fan of Asian cuisine, I gravitate toward recipes featuring those flavors, and this one in particular was extra awesome.
What I loved most was how seamlessly the elements went together; a bite of meatball with pickled veggies and some rice was just heavenly. I'm salivating as I type and my biggest regret about the dinner was not doubling the recipe (we had none left). We know for next time. ;)
Eats of the Weekend
Besides enjoying the abundant sunshine, long walks, and comfort of brand-new sheets, we ate some excellent food this weekend, too!
On Friday night, we went to Sakura Organic for a fantastic night of sushi and chicken lettuce wraps, then popped in next door to Cravings where I finally enjoyed my first cup/bowl of ice cream this summer. I'm a chocolate chip and butter pecan fan forever.
Because we just can't help ourselves, we had breakfast both days at Twist Bakery Cafe and since I am a lover of routine, I had a breakfast sandwich both times! Just wonderful. Twist is entirely gluten free and each time we go I can't help but order too many things. Oh well!
If you'd like to read my reviews of these restaurants, and more of our favorites in and around Boston, find the alphabetical dining guide, here. 🙂
We saw Seth's family Saturday night so I baked a blueberry cake for dessert which was yummy if not a smidge more purple-toned than I anticipated. Note to self: I prefer using fresh blueberries to frozen for all future cakes (thus avoiding the purple tint).
Sunday was filled with errands, but we still squeezed in some time outside before the skies opened up in the evening (did you see that storm?). For the record, I'm now the proud owner of an at-home steamer and my clothes shall never be wrinkled again. 😎
How was your weekend? I hope it was fun, relaxing, and delicious!
Eat, well.
Mollie and Seth