Weeknight Wonders
In a week that went from dreadfully rainy to beautifully warm and sunny, our dinners varied greatly as well in terms of flavors, colors, and level of intensity. We started with chicken Paillard, moved on to lettuce wraps, and ended with a hearty baked pasta. ;) And every single bite was awesome.
This just goes to show that balance at dinnertime is of utmost importance - you always need to be excited to eat!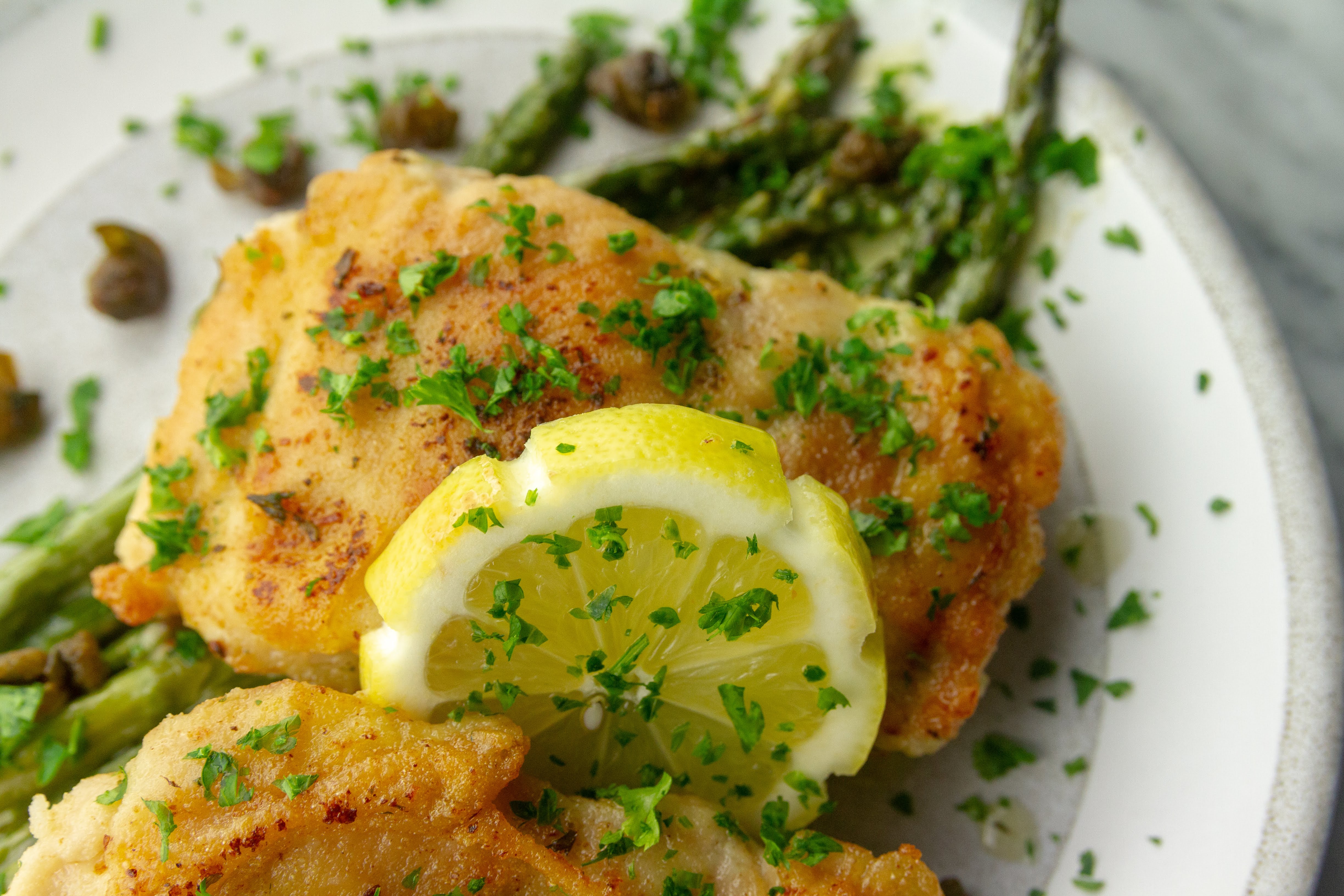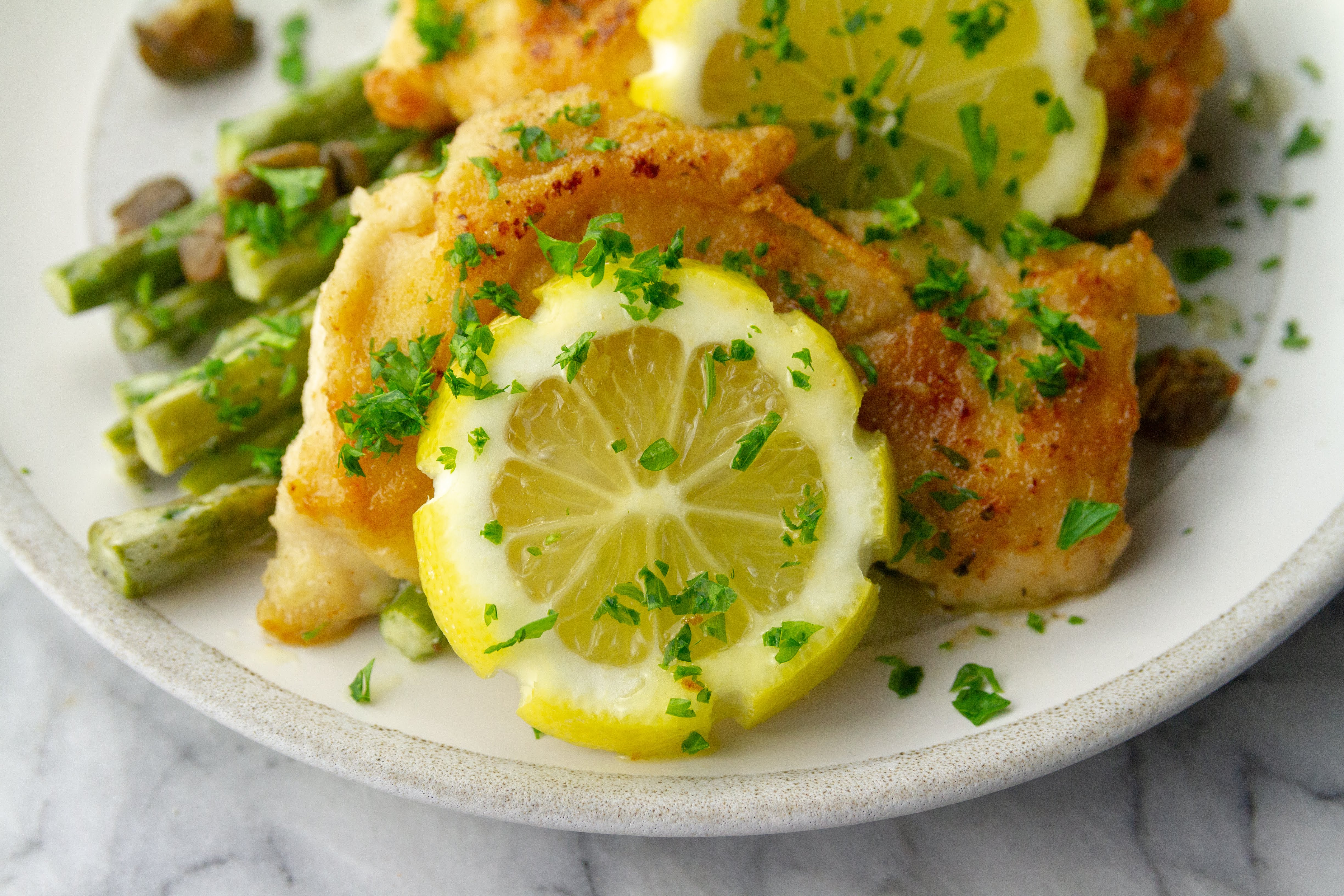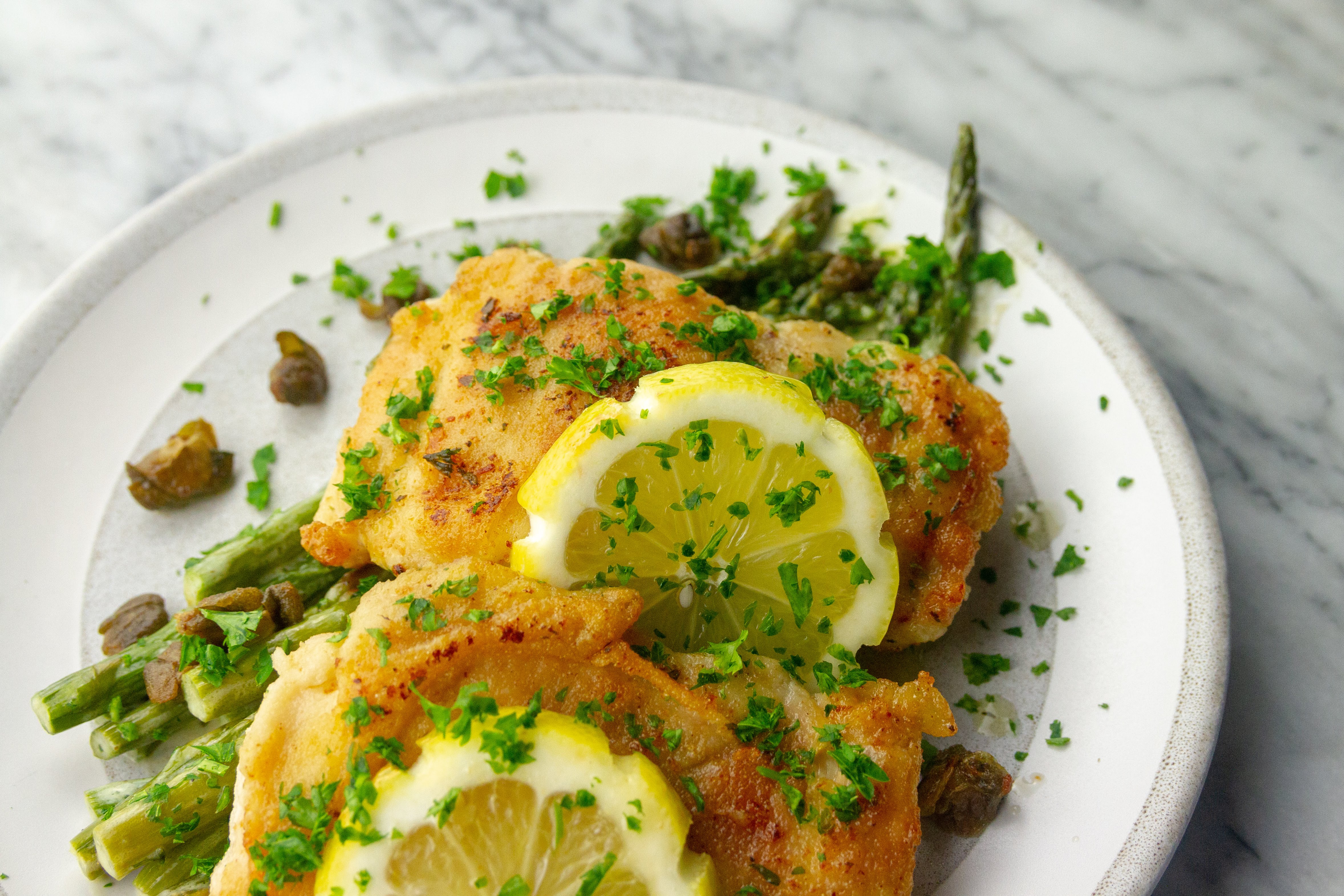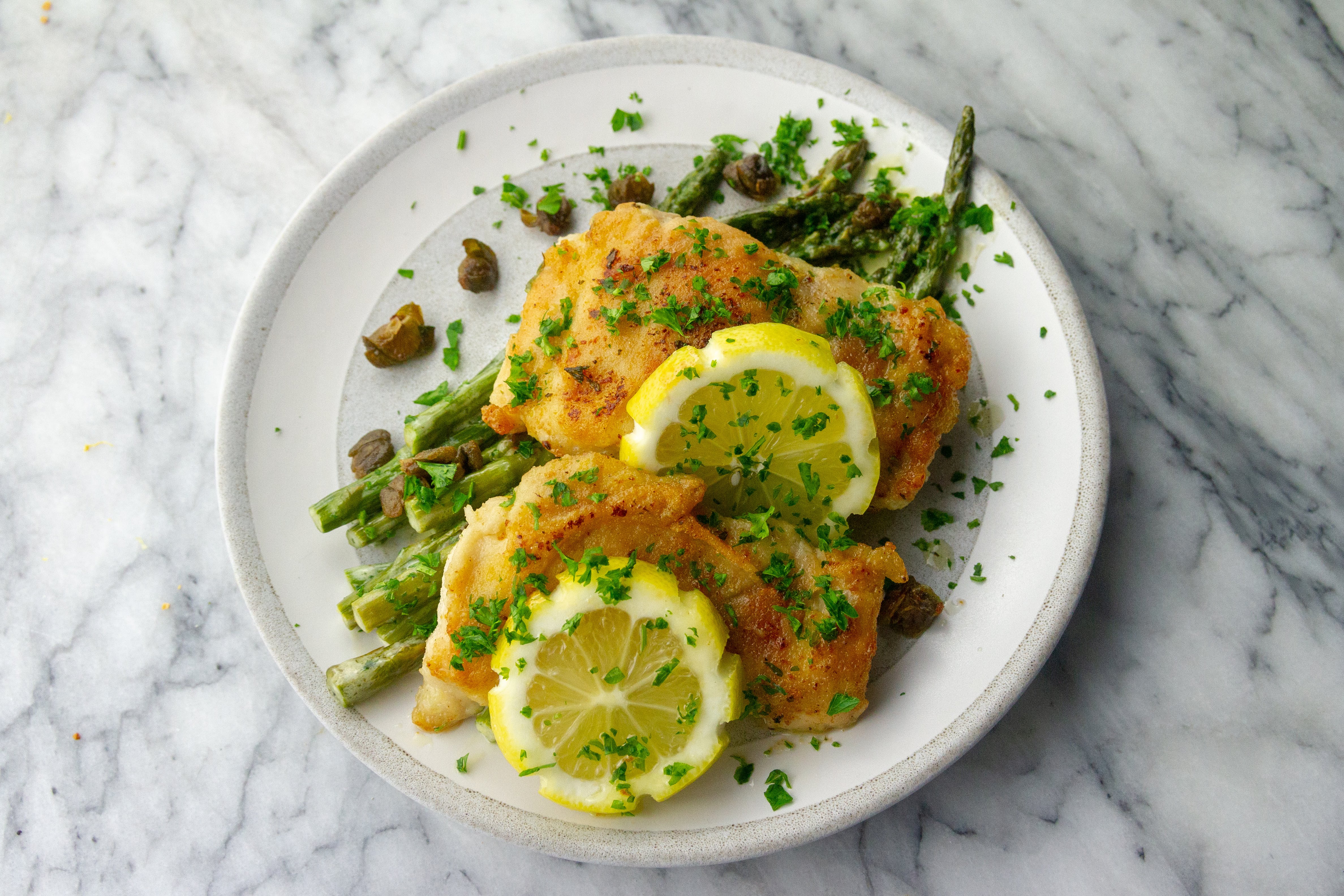 Chicken Paillard Grenobloise with Sautéed Asparagus
Source: Wilson Farm's new Grab and Gourmet Meal Box Kit! Ingredients and instructions for cooking included.
Tip: This meal was naturally gluten free.
Review: When you're in the mood for a full-fledged dinner, but aren't sure where to begin, the Grab and Gourmet meal boxes from Wilson Farm are the perfect fit.
This meal kit came with everything we needed to prepare this dish, pre-portioned, as well as a laminated document with instructions (including photos) on how to cook the meal. Two meals are offered each week, one with meat and one without, which is a great way to keep up the variety in your weeknight meal plans.
This dinner was delicious and very simple to prepare! Chicken Paillard made with chicken thighs resulted in scrumptious, crispy skin and juicy chicken which went so well with perfectly springy sautéed asparagus. It was a great dish to welcome the spring season.
And while it was excellent for a busy weeknight, I would definitely consider using these meal box kits for a dinner party. A fancy meal that takes minimal work and will for sure impress your guests? Sounds like a party to me. ;)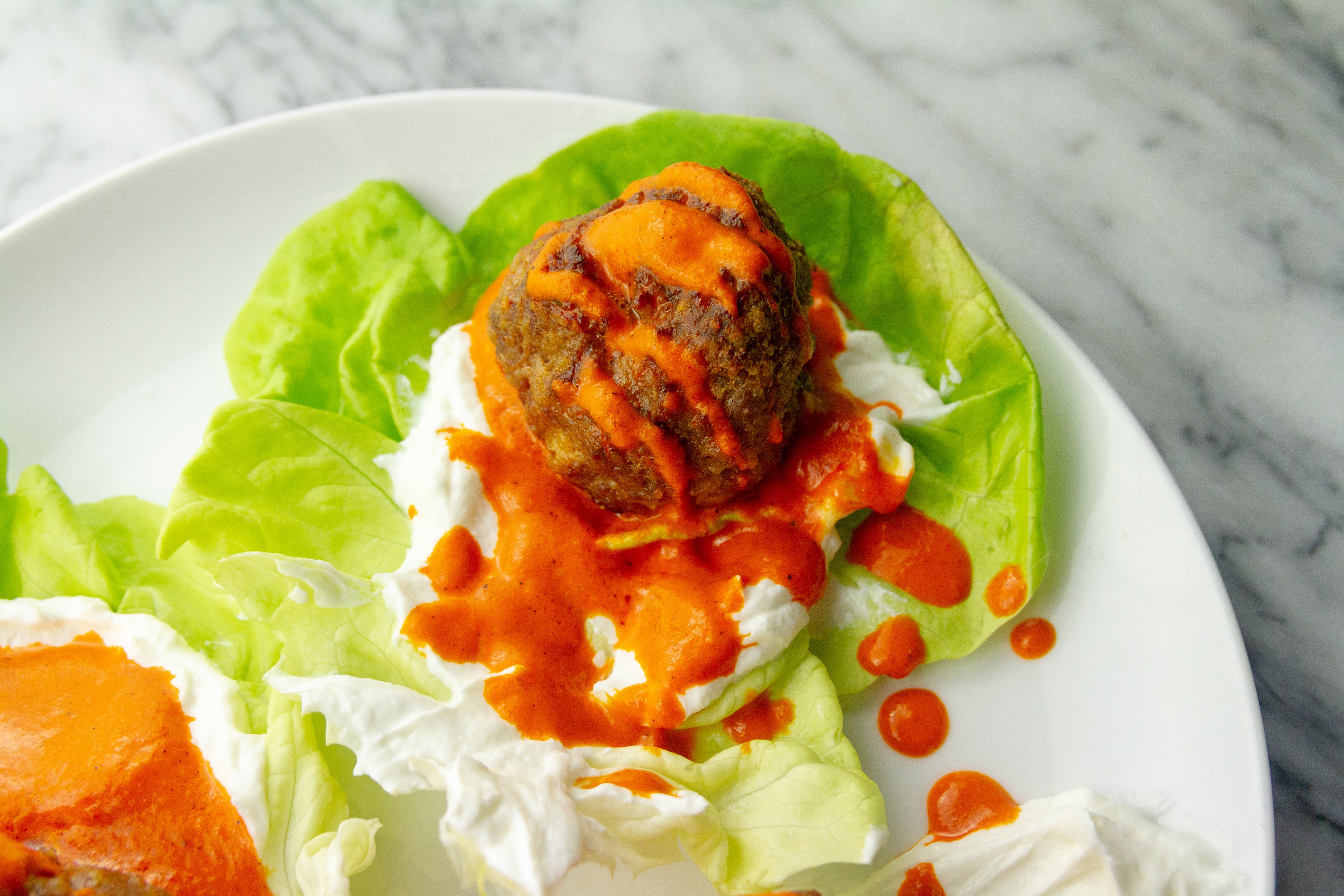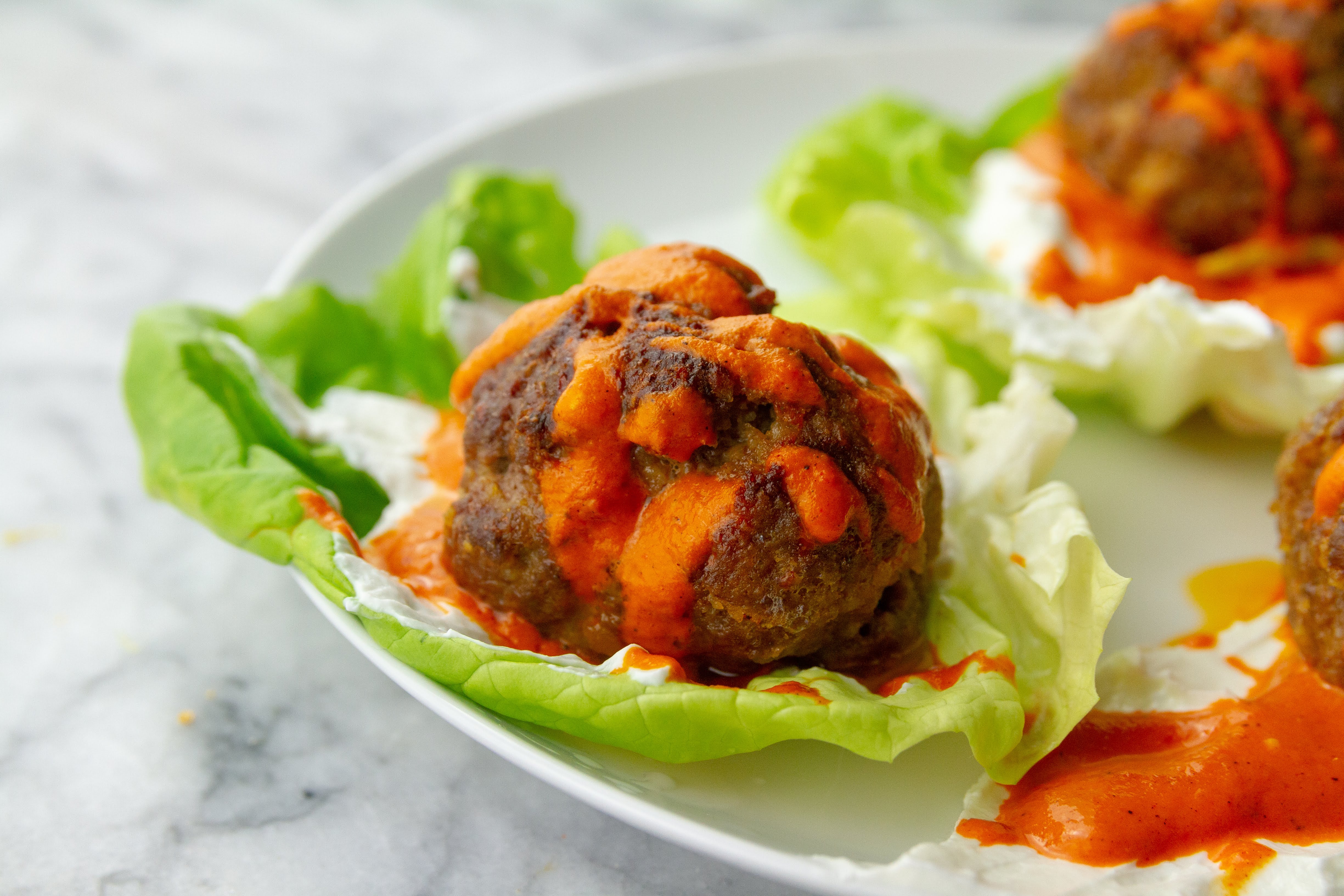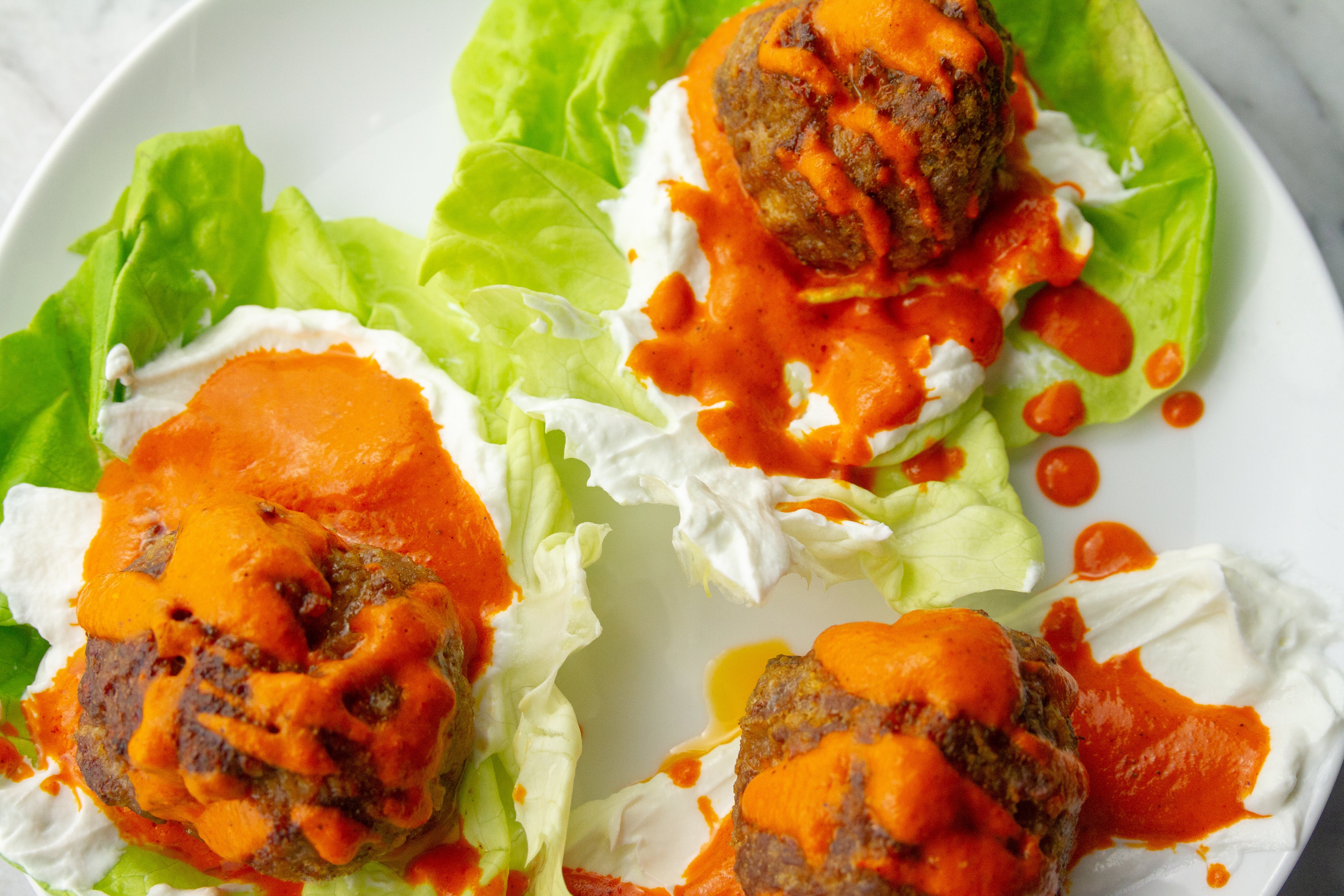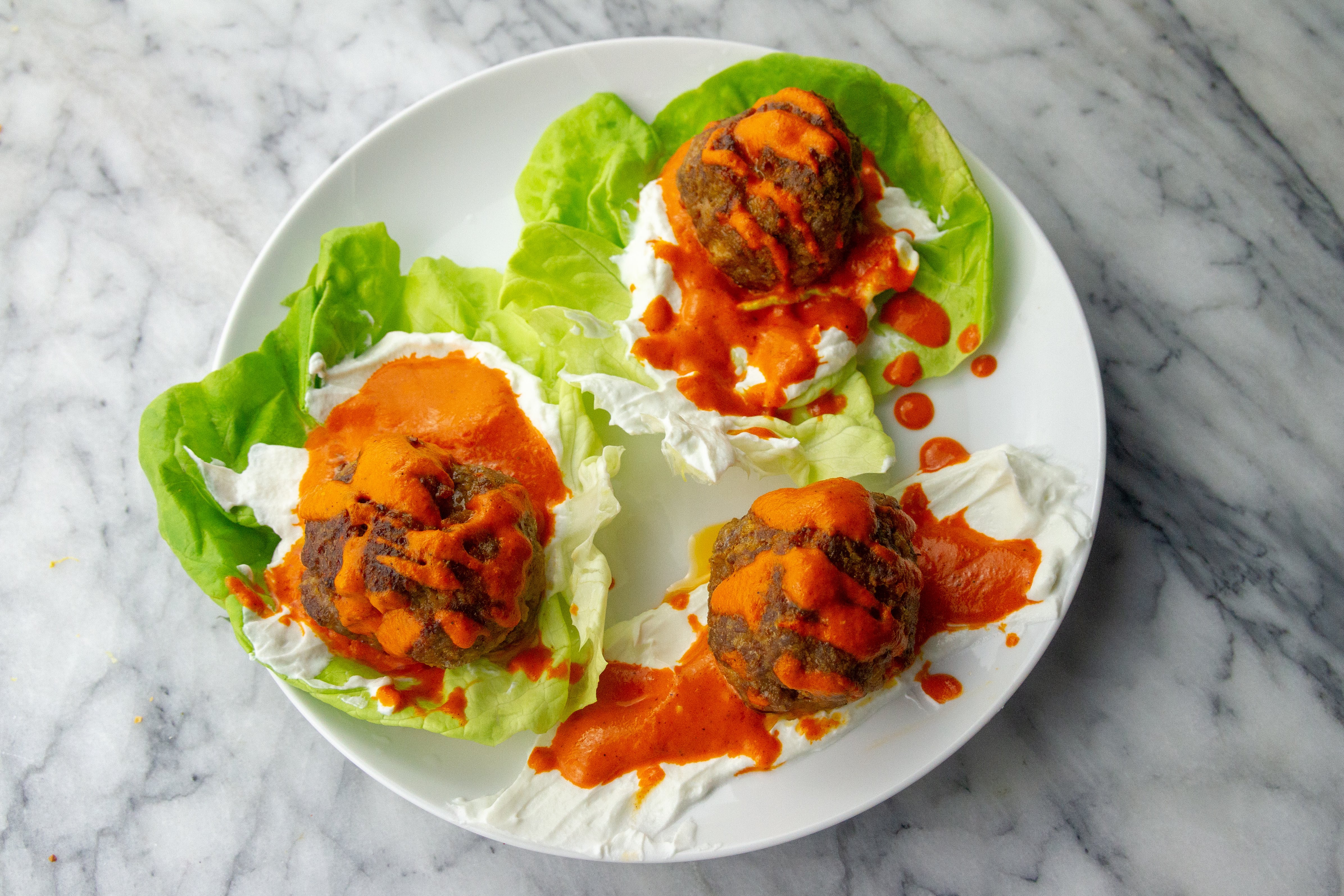 Piri-Piri Meatballs in Lettuce Wraps
Source: Bon Appetit online. Grab the recipe, here.
Tip: Make sure to use GF panko for the meatballs. We always use Aleia's-brand panko.
Review: When is it appropriate to claim the (self-proclaimed) title of Meatball Queen? Because I love meatballs so darn much. Like, I really, really love them. And this new recipe, which I found via Bon Appétit, is the latest installment of my meatball memoir.
The beef meatballs were doused in a bright, spicy piri-piri sauce (a blend of hot peppers, spices, and roasted red peppers) and served with cool yogurt to compliment the spice-factor. Yes, this is a spicy dinner. But it's so worth it. Just put your spice fears aside and dive in because I know you will enjoy this dish.
We served the meatballs in lettuce cups as a fun play on a "meatball sub." Sure it's not the traditional kind, but who cares? I was in the mood for a sub so I made it happen!
As with most meatball-based meals, I couldn't get enough of this one and enjoyed every morsel. The spicy sauce, the cool yogurt, and the beefy (spicy) meatballs all played nicely together in the lettuce cup which was an eruption of flavor in each bite. Have I convinced you yet? I think it's time to make the meatballs. ;)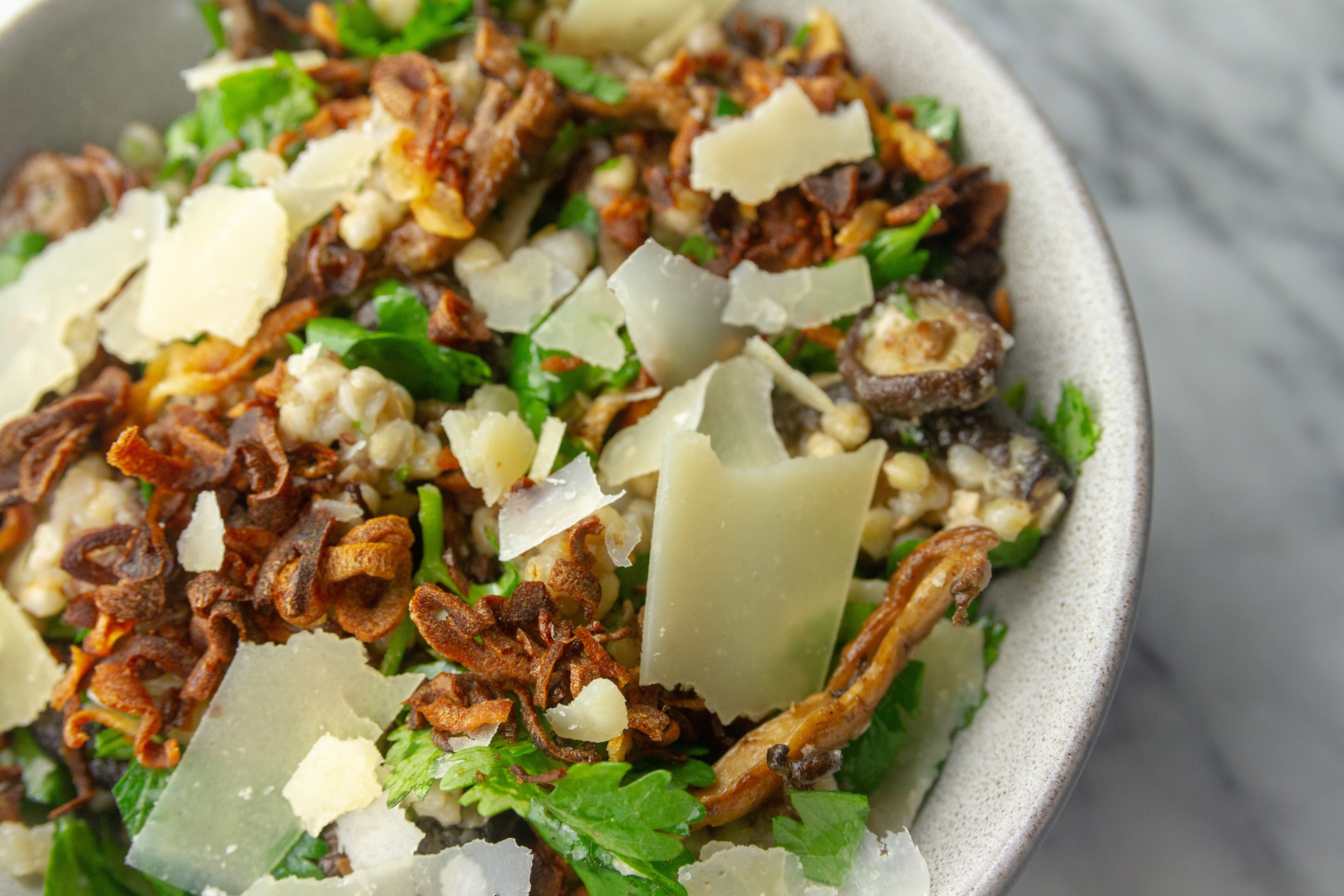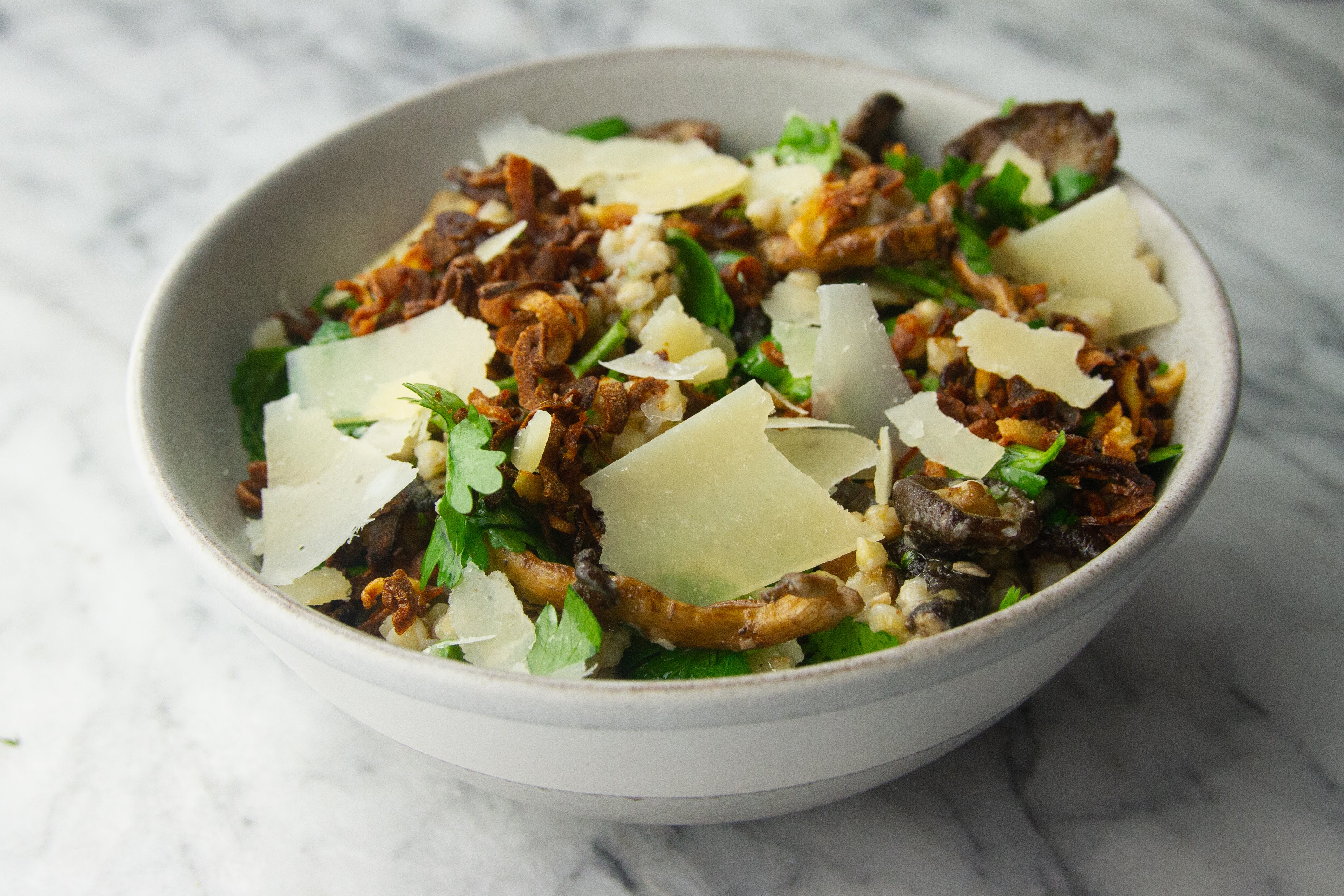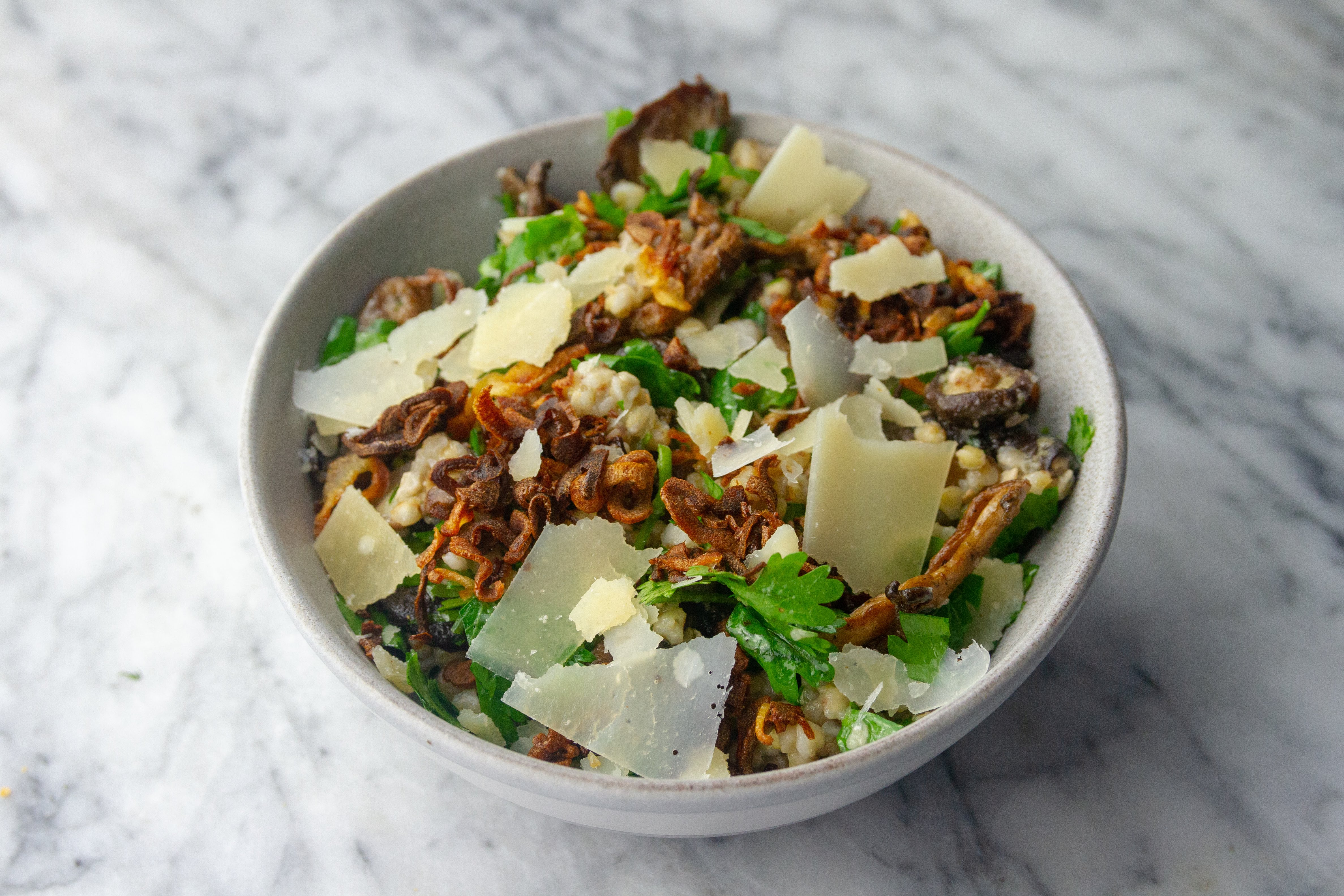 Herby Buckwheat Salad with Butter-Basted Mushrooms
Source: Bon Appetit online. Find it right here.
Tip: This recipe originally called for Barley as the grain base. Since that's not gluten free, we simply used buckwheat instead by Bob's Red Mill. We also could have used brown rice or another GF grain.
Review: Every time we make a dinner that's meatless and features mushrooms, I'm amazed by how much I enjoy it. Don't get worried; I'm not against vegetarian dinners and I (finally) do like mushrooms. But it will never cease to amaze me that I've come so far in my personal growth of food choices and preferences. Is that called growing up? Probably.
Salads come in all different shapes and sizes and flavors and colors. And the kind I'm leaning into lately are ones that are bountiful in greens mixed with grains. Yes, there are a plethora of salads that don't include grains at all, which is awesome, but I'm loving the ones that are heartier (and still healthy) by including a grain to mix it all together.
Since barley is not gluten free, I went with the next best option of buckwheat. We toasted it first, then cooked according to package instructions. The flavor isn't the most exciting, but it becomes far better when mixed with the other ingredients that included ultra-buttery mushrooms and fried shallots. Yum, indeed.
Not only am I sold on that grain-and-green salad style, but I really love that they're being served warm on purpose. How cozy! A cozy salad, is that even possible?! Totally.
This dish combined an awesome set of ingredients that I've come to really enjoy (over time) and am quite proud that I now willingly include meatless, veggie-heavy meals on the regular to our dinner plans. How grown up. ;)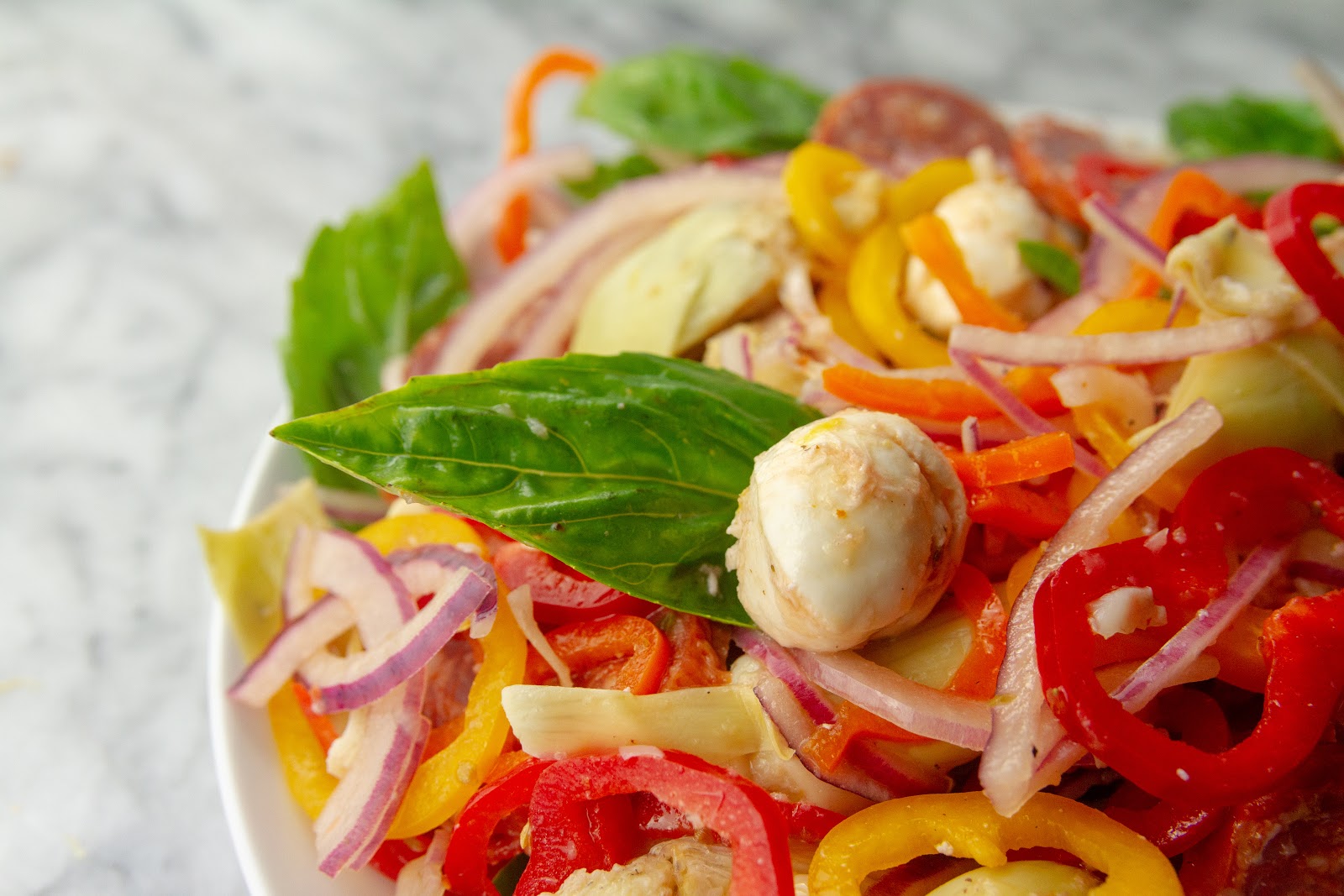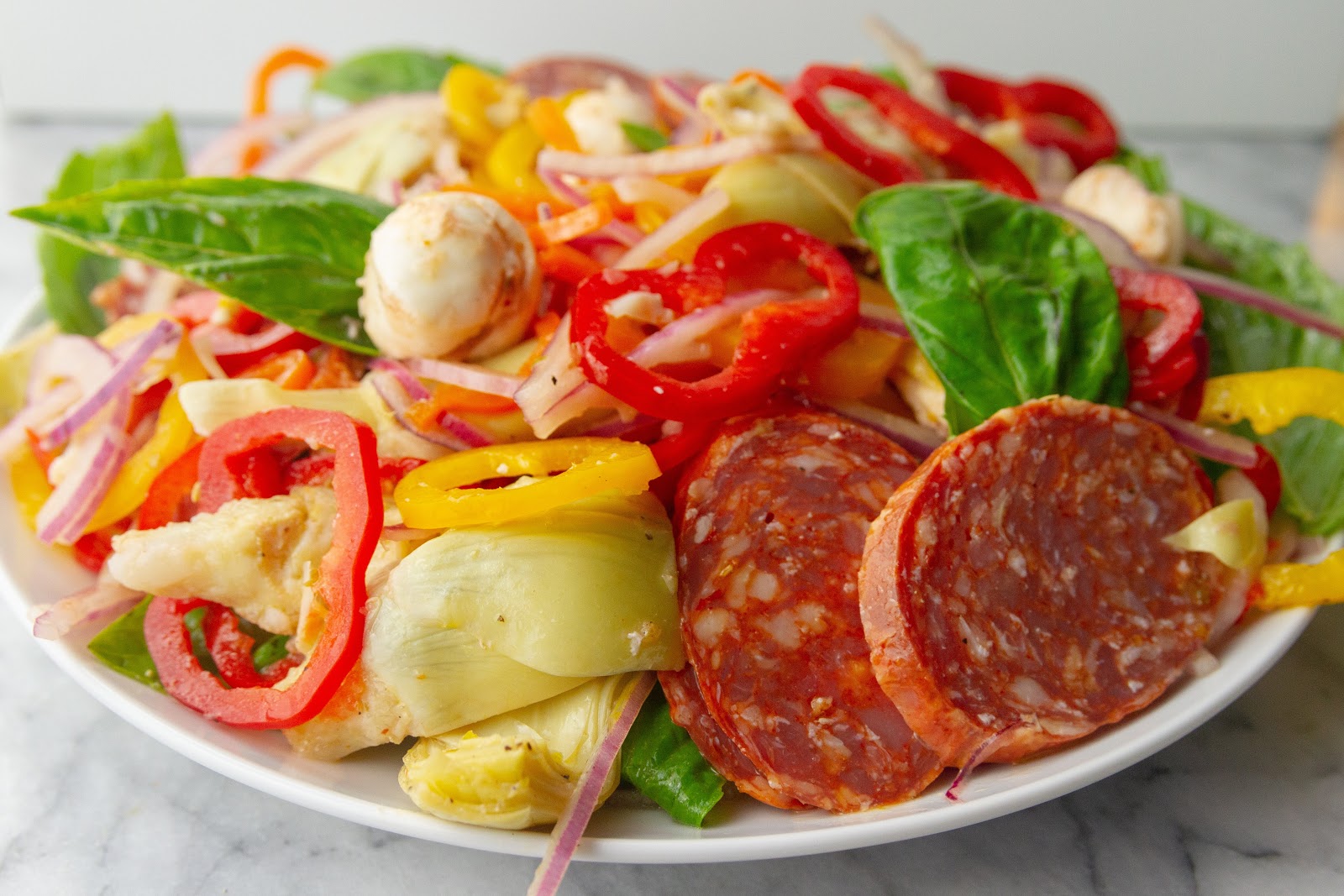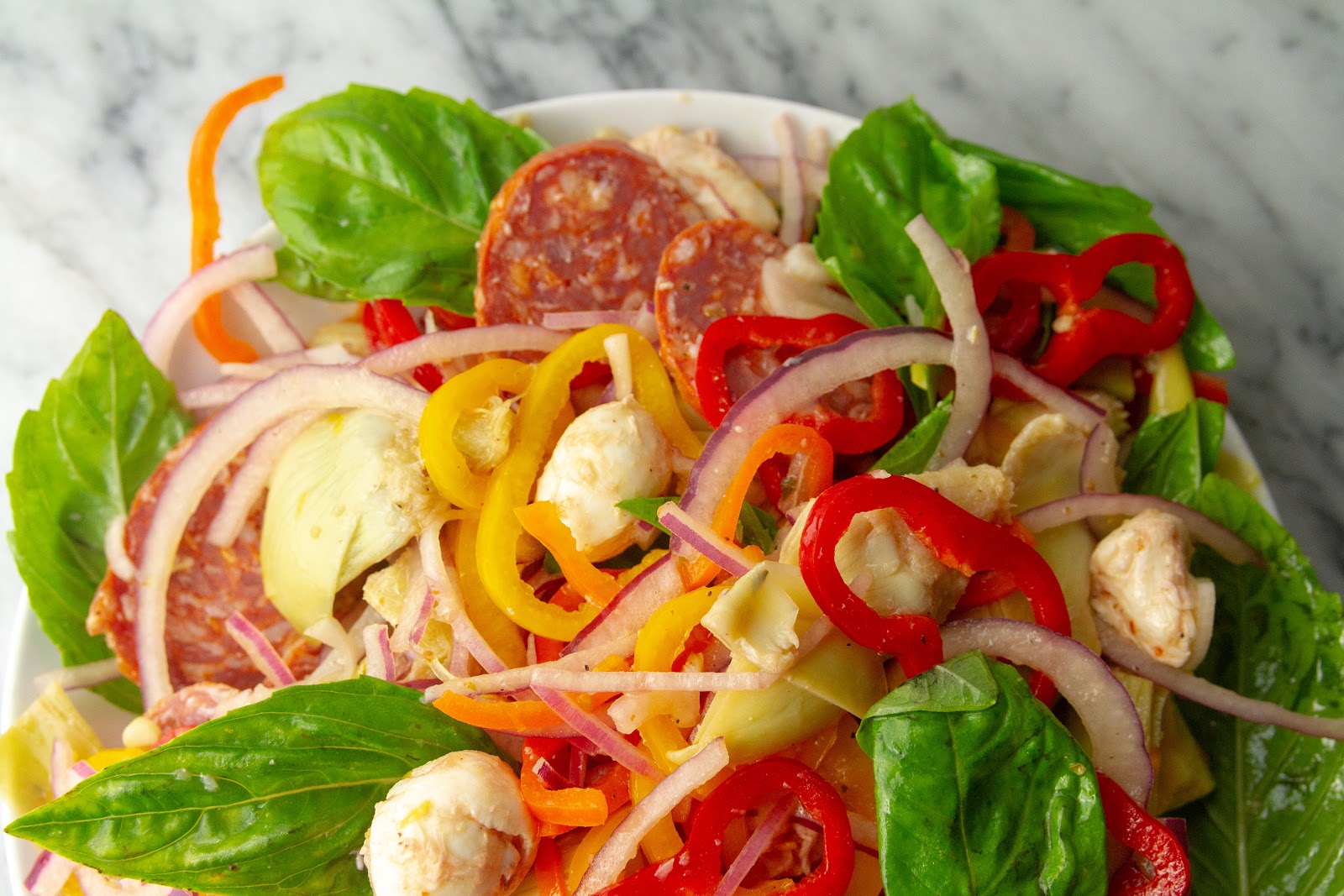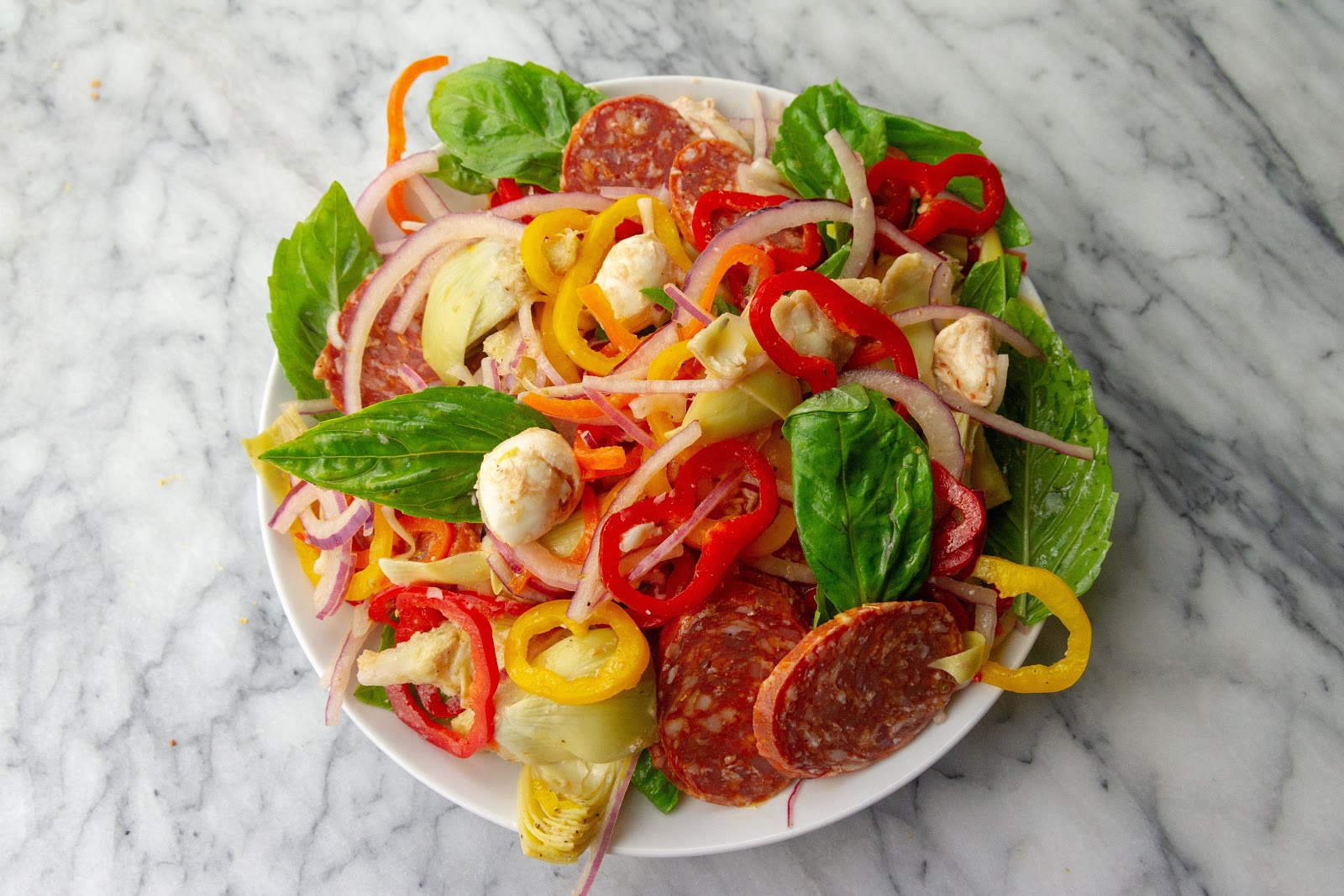 Antipasto Salad
Source: Bon Appetit online. Find the recipe, right here.
Tip: This is a naturally gluten free meal! Just make sure the salami you purchase is labeled gluten free.
Review: On the other end of the salad spectrum, we included this feast of a dish which was not meatless, but it was hearty and full of vegetables. And cheese. And meat. I present to you an ultimate antipasto salad. Omg it was amazing.
Despite serving this dinner on the coldest night of the week (oops), the meal itself oozed of summer afternoons spent enjoying meals outside with friends. I know for certain that if you invite us to your house for a summer party in the next few months, it's almost a guarantee that we will bring this salad. It's scrumptious, bright, flavorful, and absurdly easy to make. Key components to a dish best prepared for a crowd.
Did I mention there's no actual cooking involved? 😮 This meal is essentially a bunch of veggies chopped, a lot of mozzarella torn, fresh basil sprinkled, and your favorite Italian salami sliced. How simply is that?!
The dressing is extremely light and let's the ingredients shine through, which I really appreciate. Don't douse those peppers and artichokes in dressing! They're fabulous on their own. If you're looking for a saucy dinner, scroll back up to those meatballs. ;)
A final note on this antipasto salad: it's quite easy to adapt! Interested in adding olives? Throw them in. Not in the mood for hot peppers? Serve them on the side. While the full dinner really was awesome with everything included, I do think this style salad can't be "ruined" with a few tweaks due to personal preference.
Since we will definitely be making this again, you can bet that I'll be adding olives, and maybe even a second kind of meat. ;)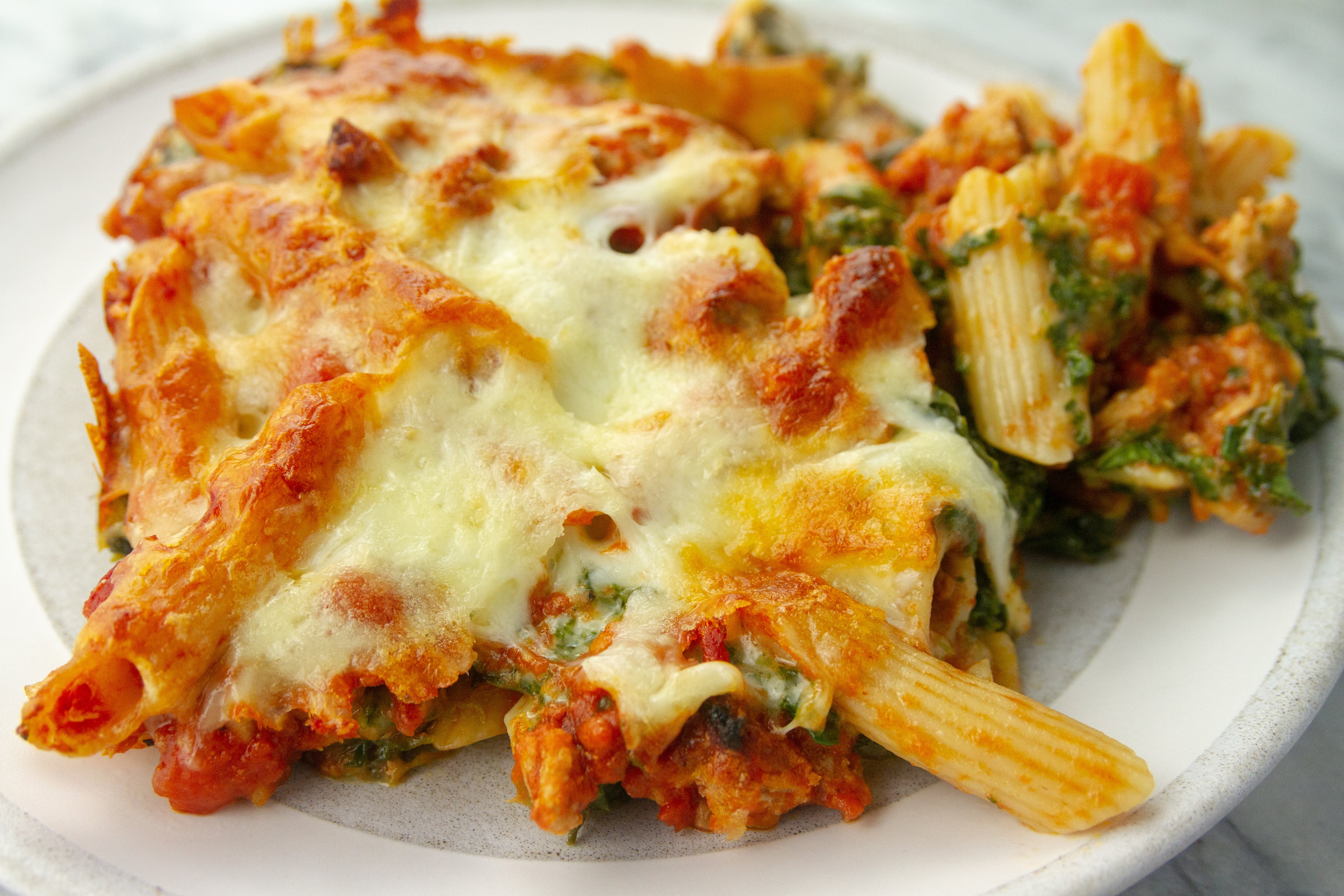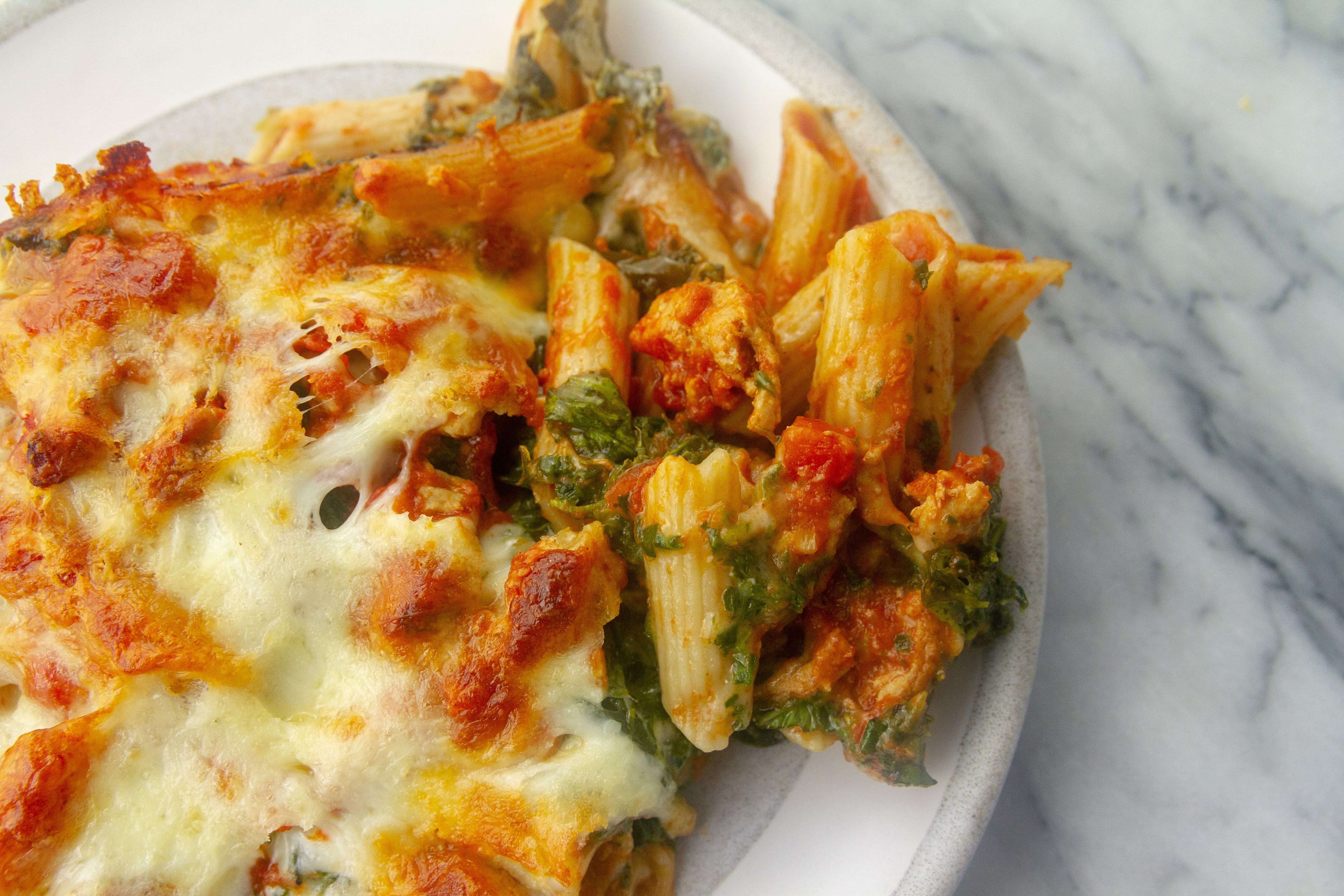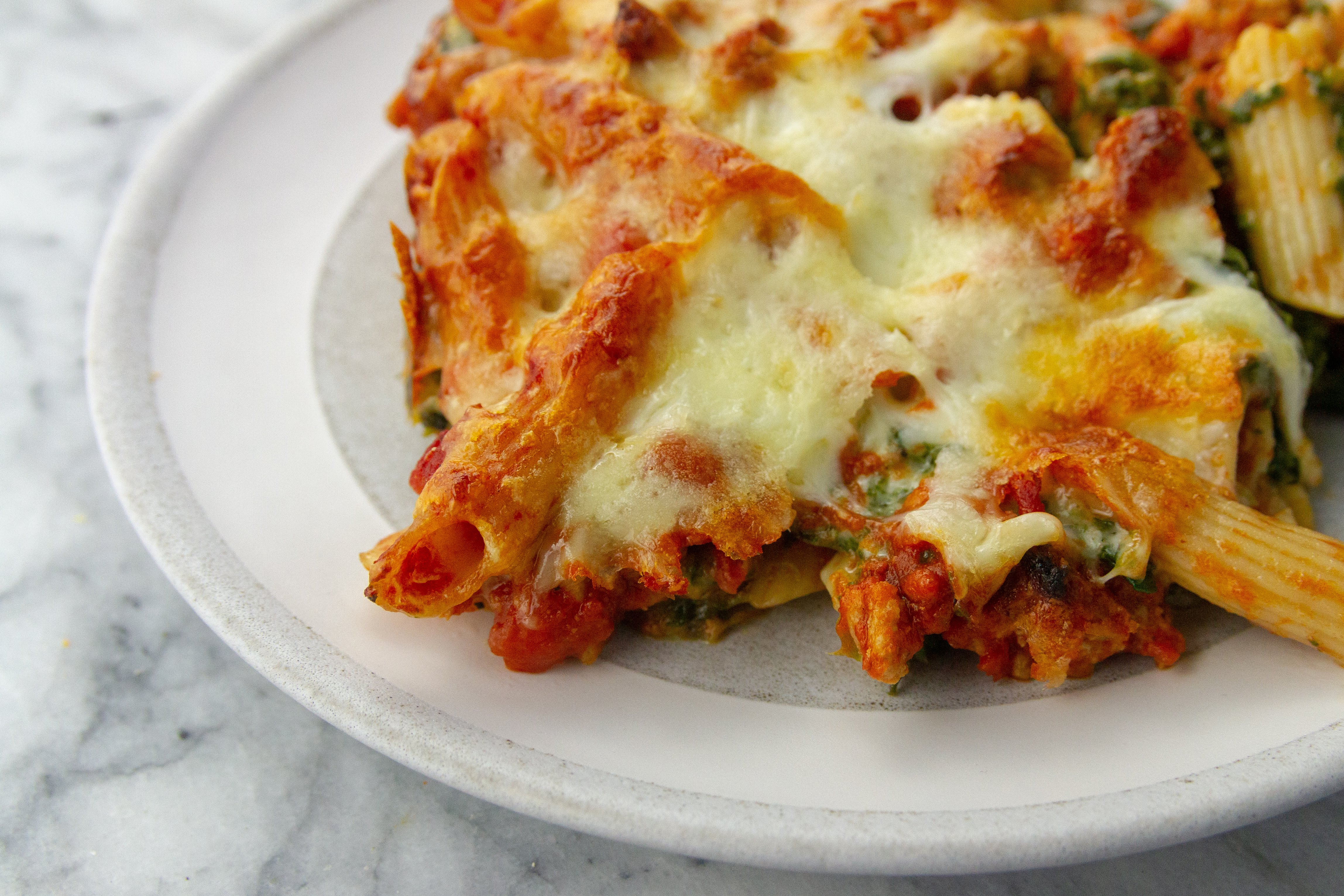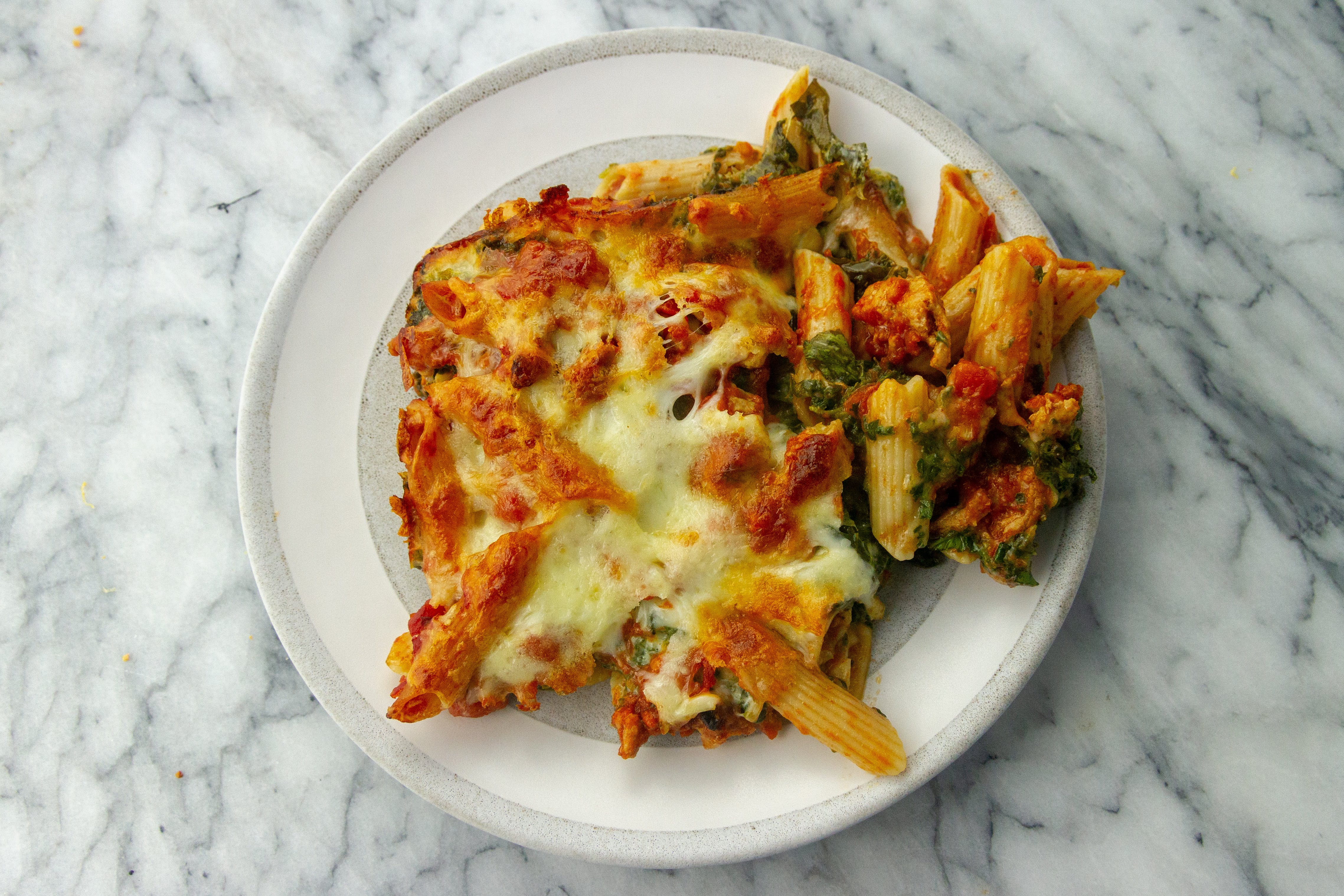 Italian Flag Baked Pasta
Source: Now and Again by Julia Turshen
Tip: Just make sure to use GF pasta instead of regular - everything else in it is gluten free. We used Jovial Foods GF penne pasta.
Review: After a long week of work, it's often the plan to go out on Friday night. However, we switched things up and went out on Thursday (hooray for spontaneity!) and thus decided it would be best, and more responsible, to stay in and cook on Friday.
However, the plan to cook did not mean we had to be healthy! Ha! We leaned into the weekend and made an ultimate, indulgence: baked pasta. Holy decadence, this meal was the best and included a flavor profile (saucy and cheesy and pasta-y) that I had been craving for months.
While we are keeping tabs on our greens intake, there are some nights when you just need a freaking big plate of cheesy, saucy baked pasta. For the record, this dish included ground turkey and an abundance of spinach. See? There was a health element!
I'd recommend this dinner to anyone who loves a classic pasta night filled with red sauce, plenty of cheese, pasta, and the extra goodies (turkey and spinach) that make you feel better about inhaling half a pan of pasta. Don't worry, dear readers, I didn't do that. I know how good the leftovers are. ;)
In full disclosure, this meal is quite heavy and I ended up sitting on (splayed across) the couch right afterward. It was too delicious and a real treat. A simply divine pasta Friday. :)
Weekend Dining
It was another beautiful spring weekend! Amidst spending time outside, we also went out to eat!
Saturday night: Adelita in Concord, MA. This taco spot in the 'burbs fills in quickly so we grabbed bar seats extra-early. My new favorite? The chorizo tacos were unbelievably delicious. I'll be sure to order those again next time.
Sunday brunch: Tavern in the Square in Burlington, MA. We were in the mood for snacks and sports so we went to this screen-heavy chain that features an abundance of live sports plus plenty of gluten free options. I went for the goods: buffalo chicken tenders and tempura broccoli. A little Sunday afternoon splurge. ;)
Interested in seeing where else we go on the weekends? Check out Bar Bites: Even More Local!
We hope you had a delicious weekend!
Eat, well.
Mollie and Seth