This Sparks Joy
As we begin the new month, and hopeful arrival of a new season (spring!), my goals and dreams are still firmly in place - mostly. Yes, I'm exercising regularly, incorporating greens and extra protein everywhere I can, but at some point we all need a couple of those meals that "spark joy." You know that phrase. ;)
And no, I'm not talking about cleaning the kitchen or removing all of the sugar. Actually, I'm leaning toward the opposite (our kitchen remains fairly clean most of the time). I'm talking about including a dinner here and there that ignore the goals, dreams, and rules in favor of just making something delicious. Because at the end of the day it's important, most of all, to enjoy your life. And to love what you're eating.
I've been adoring all of the salads, new flavors, and alternative dishes we've been making, but this week (or at least the beginning of it) required a little extra love. I felt zero ounces of guilt leaning into some favorites which I'd been sorely missing.
Let's dig in, shall we?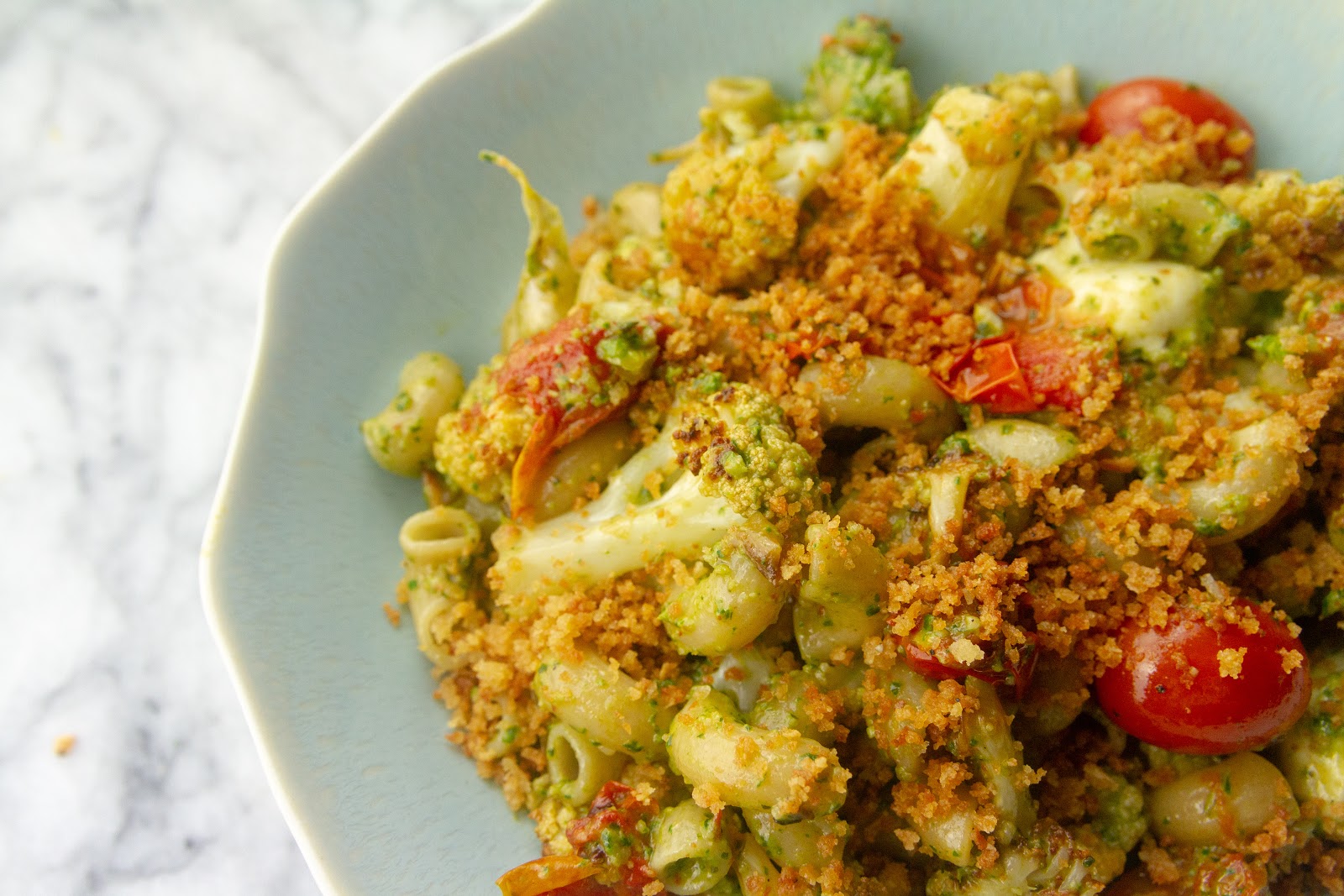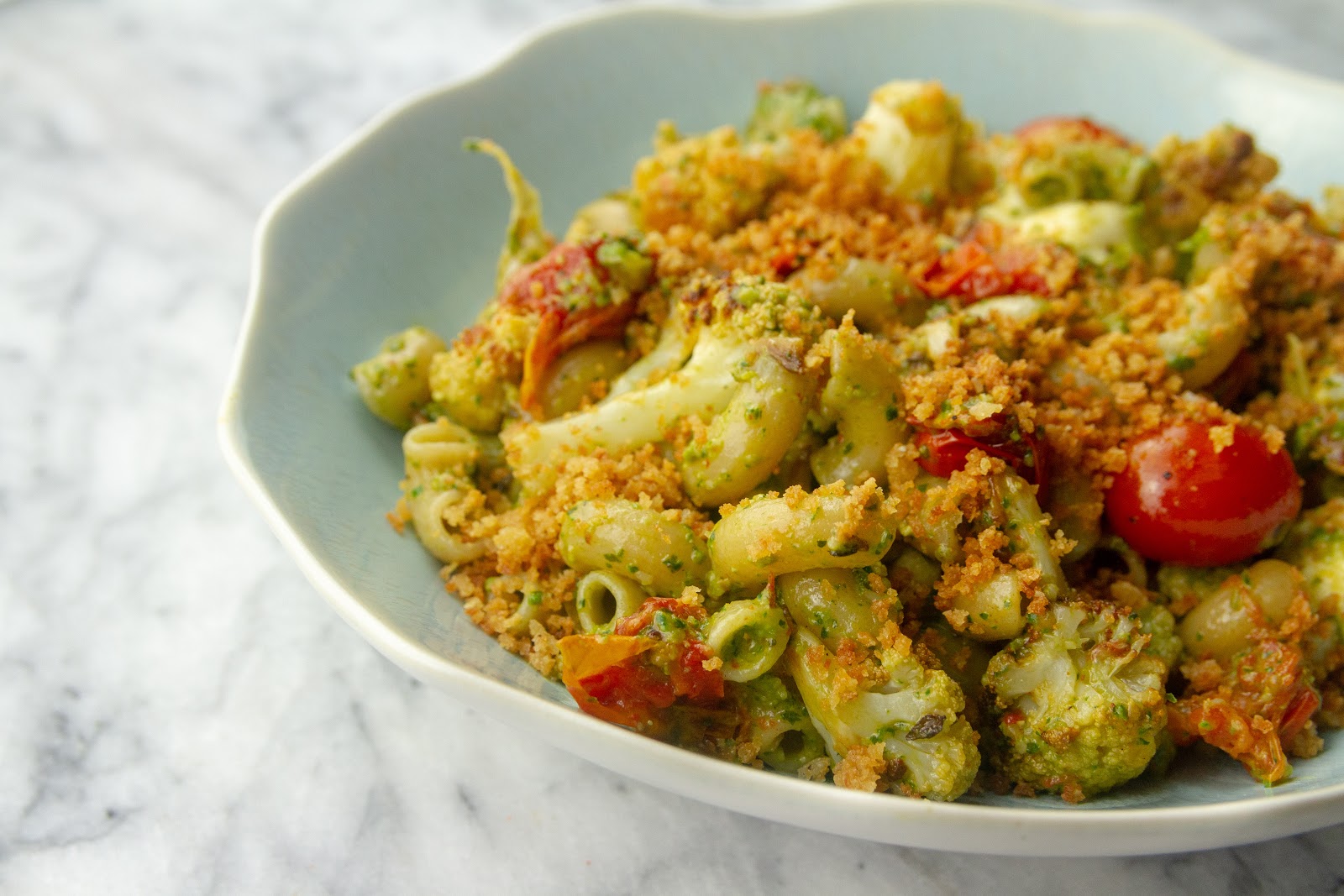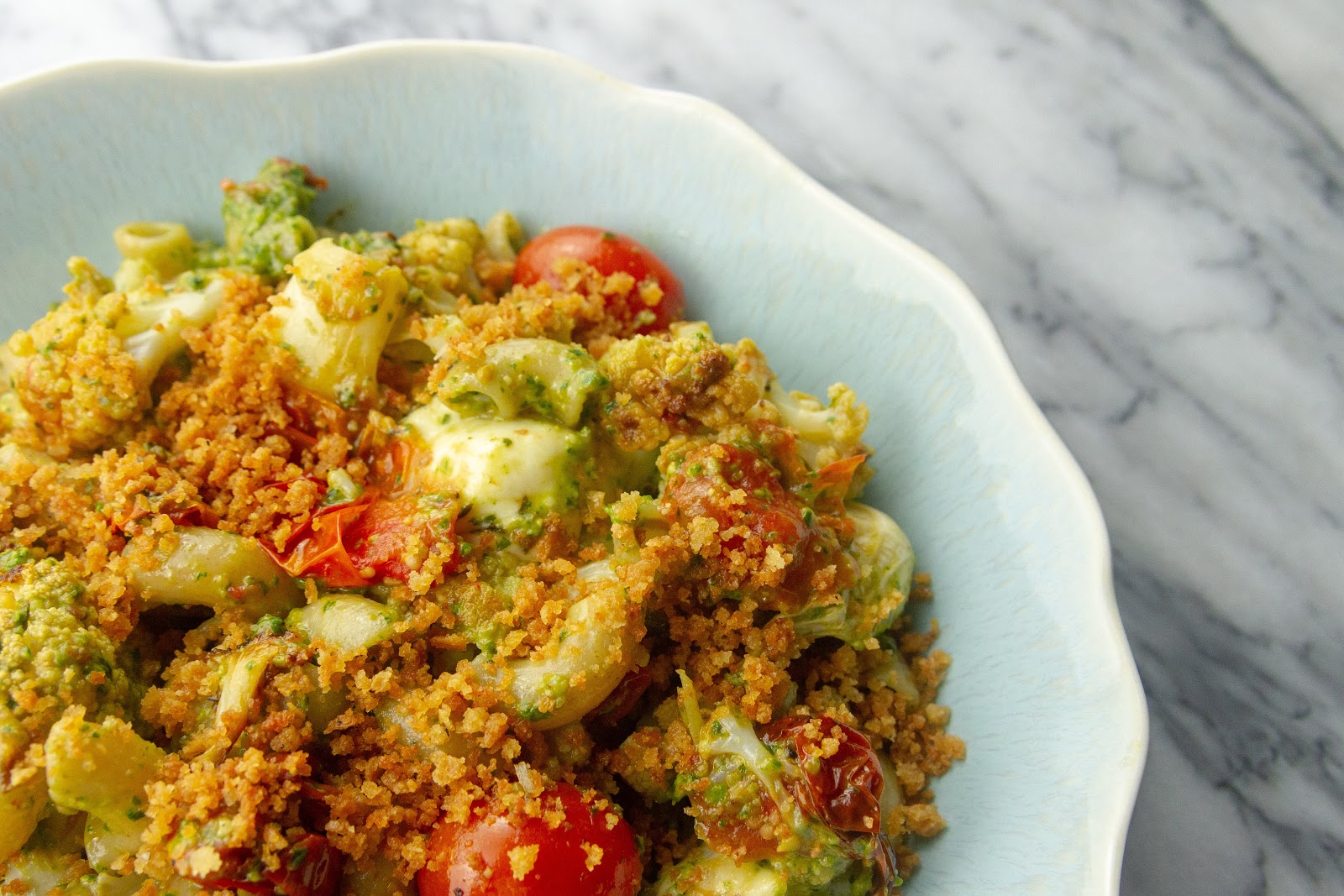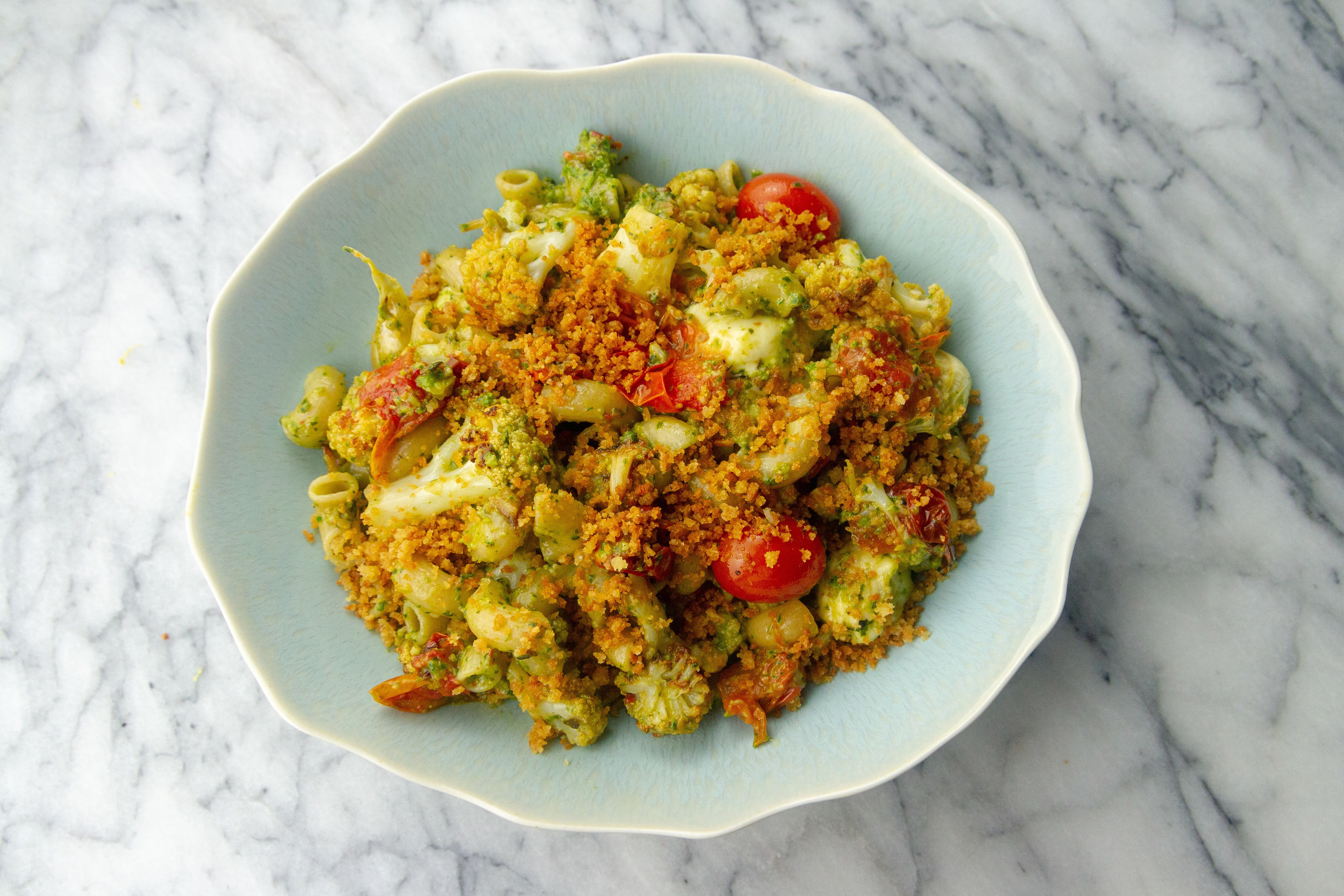 Pesto Pasta with Cauliflower, Burst Tomatoes, and Breadcrumbs
Source: Cook90 by David Tamarkin
Tip: Make sure to use gluten free pasta and gluten free breadcrumbs for this recipe. We use pasta from Jovial Foods and breadcrumbs from Aleia's.
Review: Maybe it was the rich basil pesto, maybe it was the salty, crunchy breadcrumbs, or maybe it was the fact that we had not made pasta at home in many, many weeks, but this dinner was phenomenal.
We have featured several recipes from Cook90 and have never been disappointed, but this was the first venture into the pasta section. Why did we wait so long?! I'm literally aching for this meal as I write about it.
A reason it was so delicious, I think, is that it combined so many bold, bright flavors and a couple key textures which came together incredibly well. Homemade basil pesto is one of my favorites (especially with fresh basil) and once that was tossed with the pasta and roasted cauliflower (another love) I was done. 😋
The tomatoes added a great burst of favor (as intended) and a terrific contrast to the saltier elements. I don't always love tomatoes, but there were just enough in this dish to make me happy. Once I had enough, I passed the extras in my bowl over to Seth. He was very pleased!
Finally, the finishing touch of this dish were the salty breadcrumbs which I will happily say are one of my favorite "garnishes" of all time. They added an awesome crunch amidst the warm pasta and veggies and a welcome change in texture.
I loved the balance between "soft" ingredients and crunchy ones. This is probably why I use the extra breadcrumbs as a luxury item on my scrambled eggs the following mornings. Majorly delicious. ;)
If you hadn't noticed, this was a fully meatless meal, but honestly, I was barely aware while inhaling my dinner (and I didn't care). This was the epitome of a joyful, warm, and happy bowl of (meatless) spring comfort food.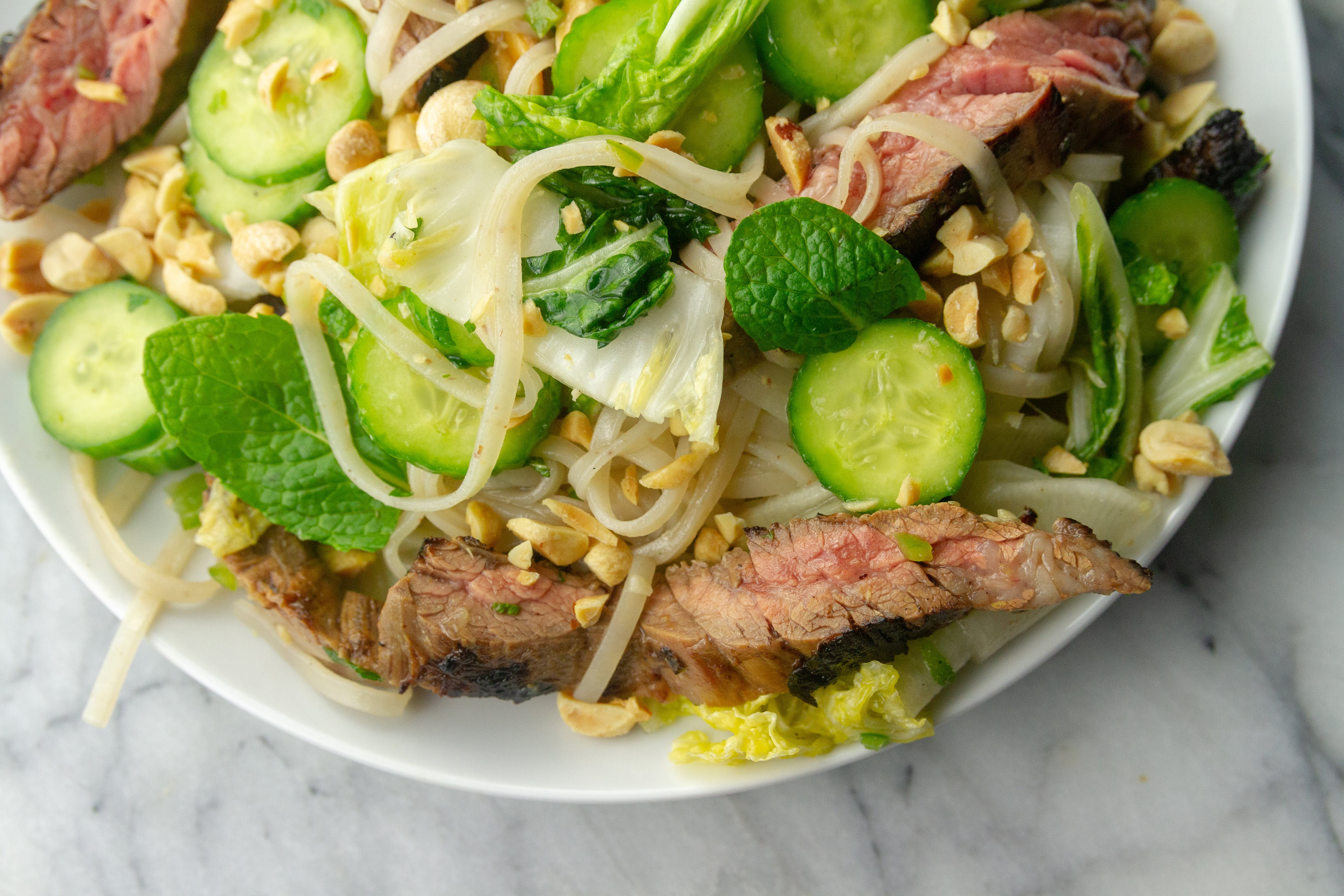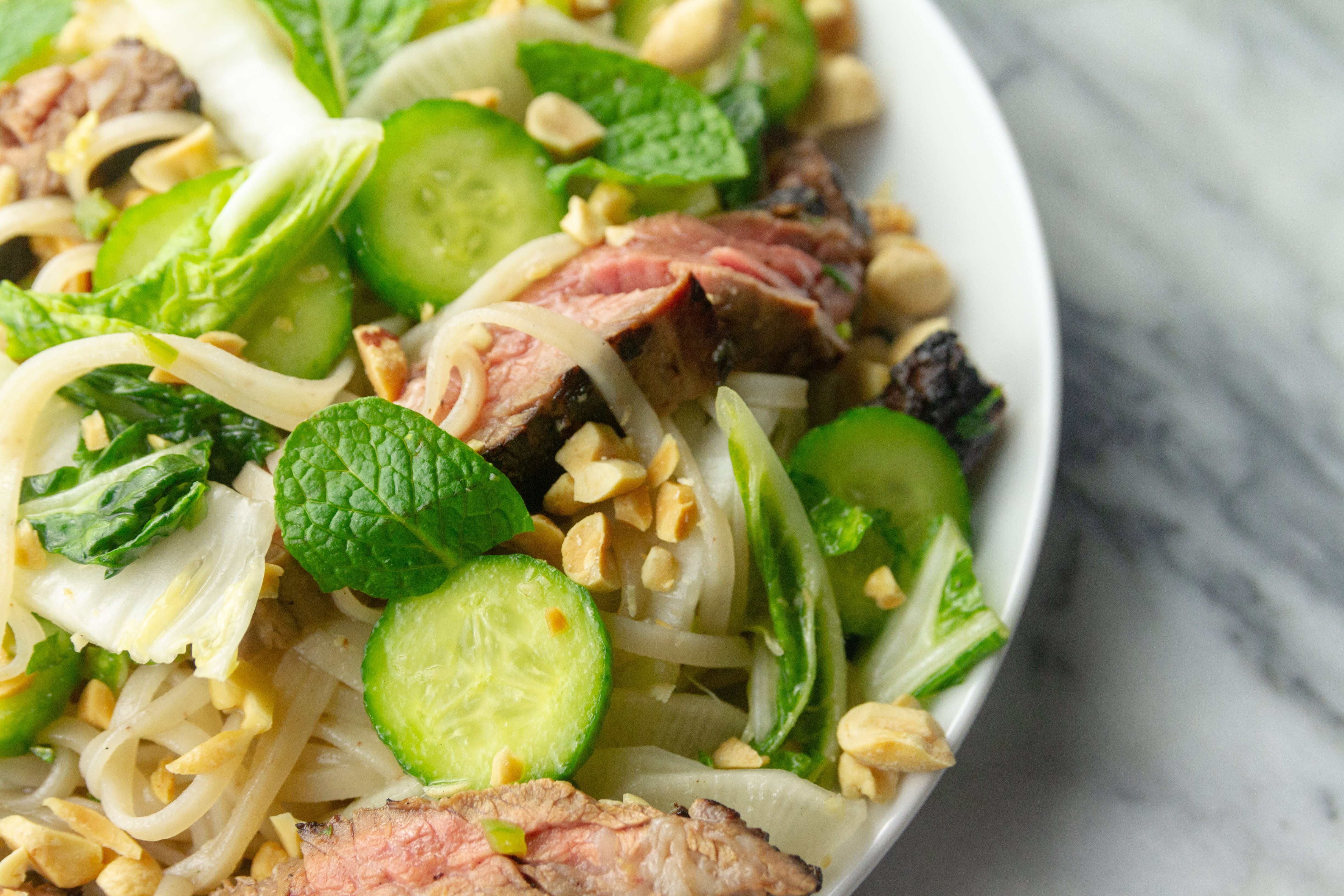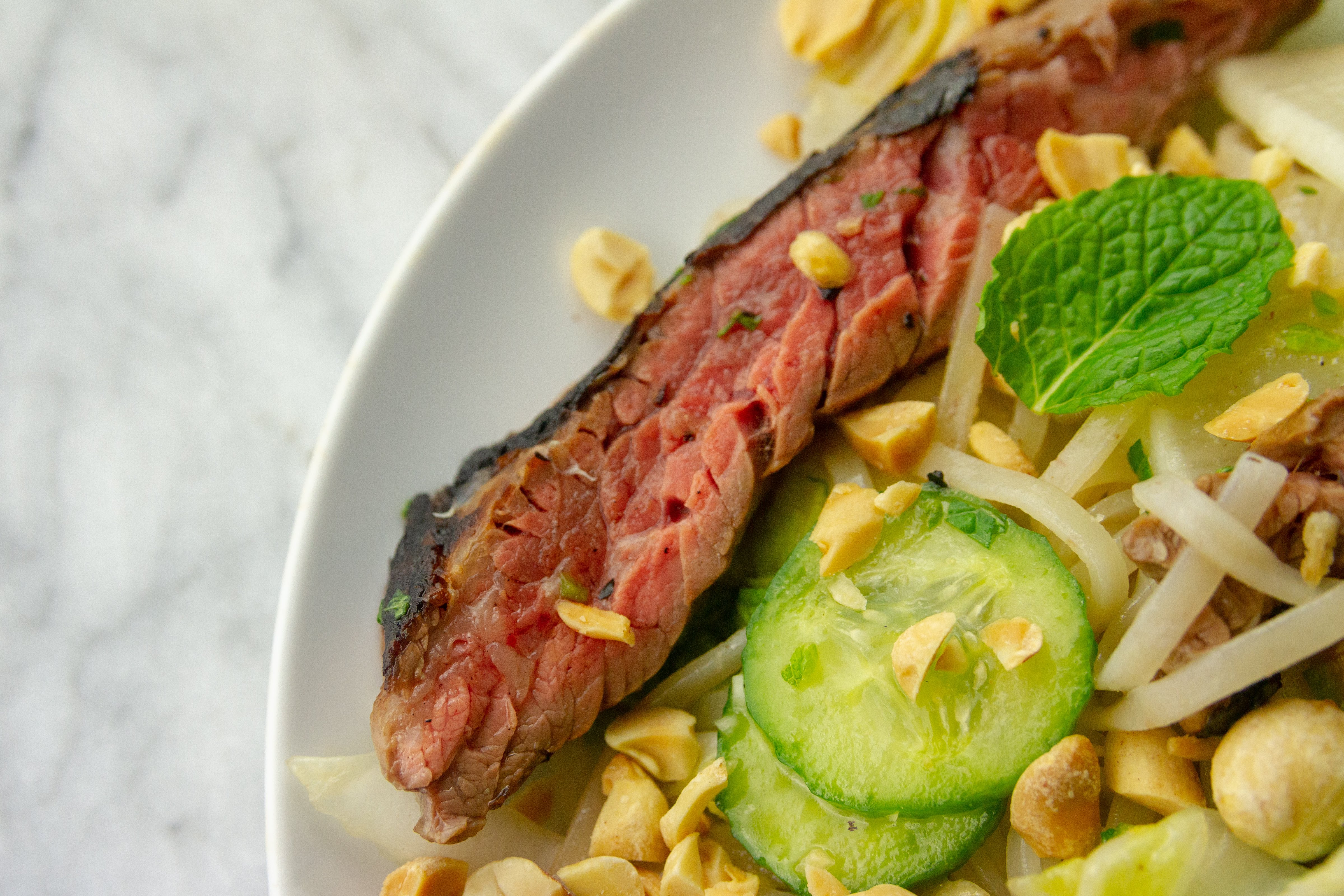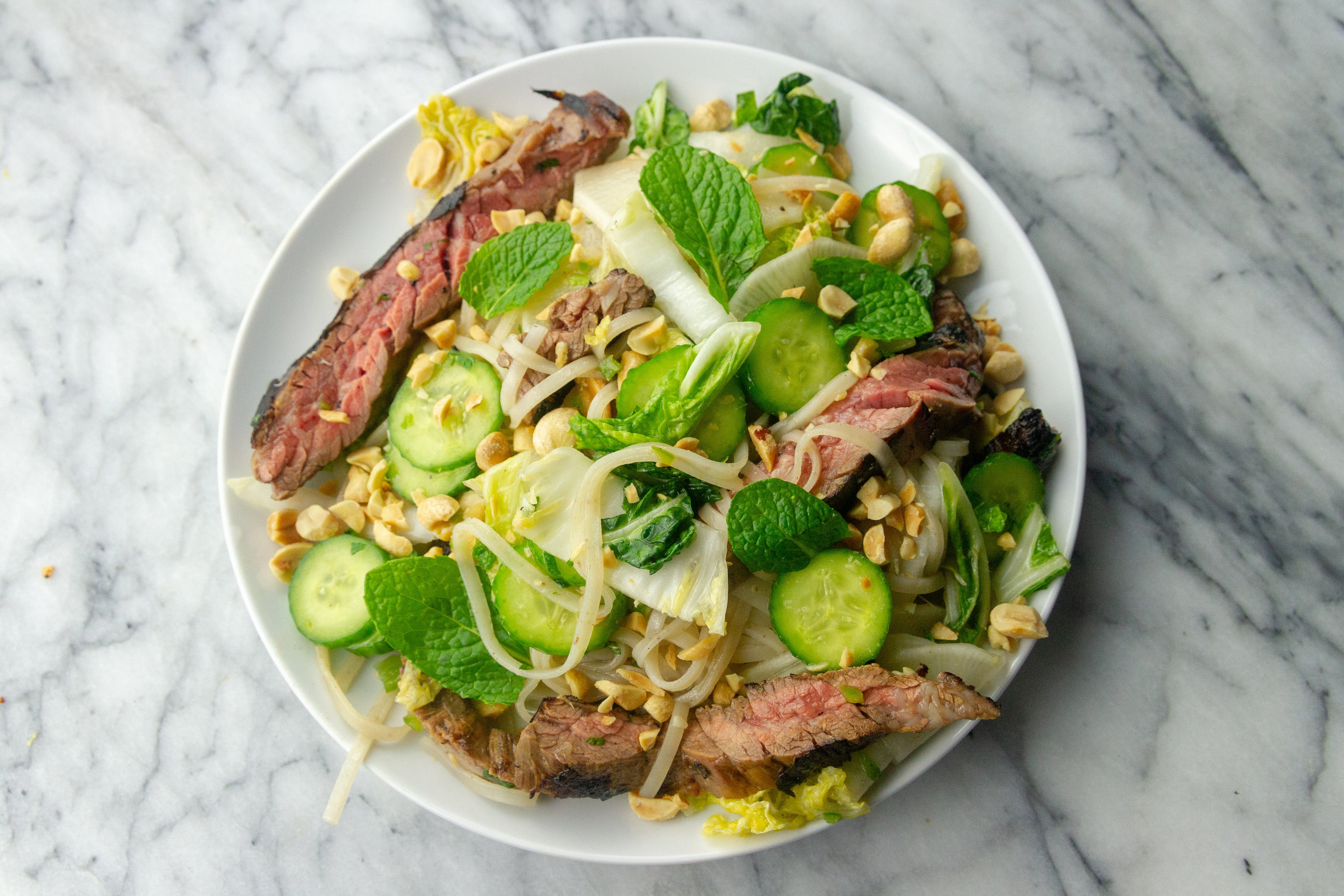 Weeknight Steak and Rice Noodle Salad
Source: Bon Appétit online, here, and in the current issue.
Tip: Make sure to purchase gluten free rice noodles! And if you're not in the mood for steak, I think chicken would work well for this dish, too!
Review: Even though I'm not exactly sure of the proper definition of a salad, I'm happy to know that this amazing meal, with very few "traditional" salad components, was called a salad. It was awesome!
For the purposes of this review, we will declare that salads are meals that include at least one or two greens, but otherwise all bets are off. ;)
I'm in love with this steak and rice noodle dish, calling itself a salad, because it was just so darn delicious! The steak was seasoned so well and not overcooked; the noodles, served cold, were a great compliment to the warm steak (we could've let it cool even more). And the greens! Nestled in between all of those noodles and steak slices was chopped cabbage and rounds of cucumber providing an excellent, necessary crunch to the meal. Crushed peanuts on top also contributed to the fabulous-ness.
What we loved about this meal, besides the general flavor (I was licking the plate), was that it appeared more complex than it turned out to be. So often salads like these can be overlooked because they're "too fancy" or "difficult" for weeknights, but I guarantee that this one is neither difficult or too fancy for your average Tuesday.
And, who is to say what's "too fancy" for Tuesday?! I say there's no such thing. There's just awesome food. That you happen to be eating on a weeknight. ;)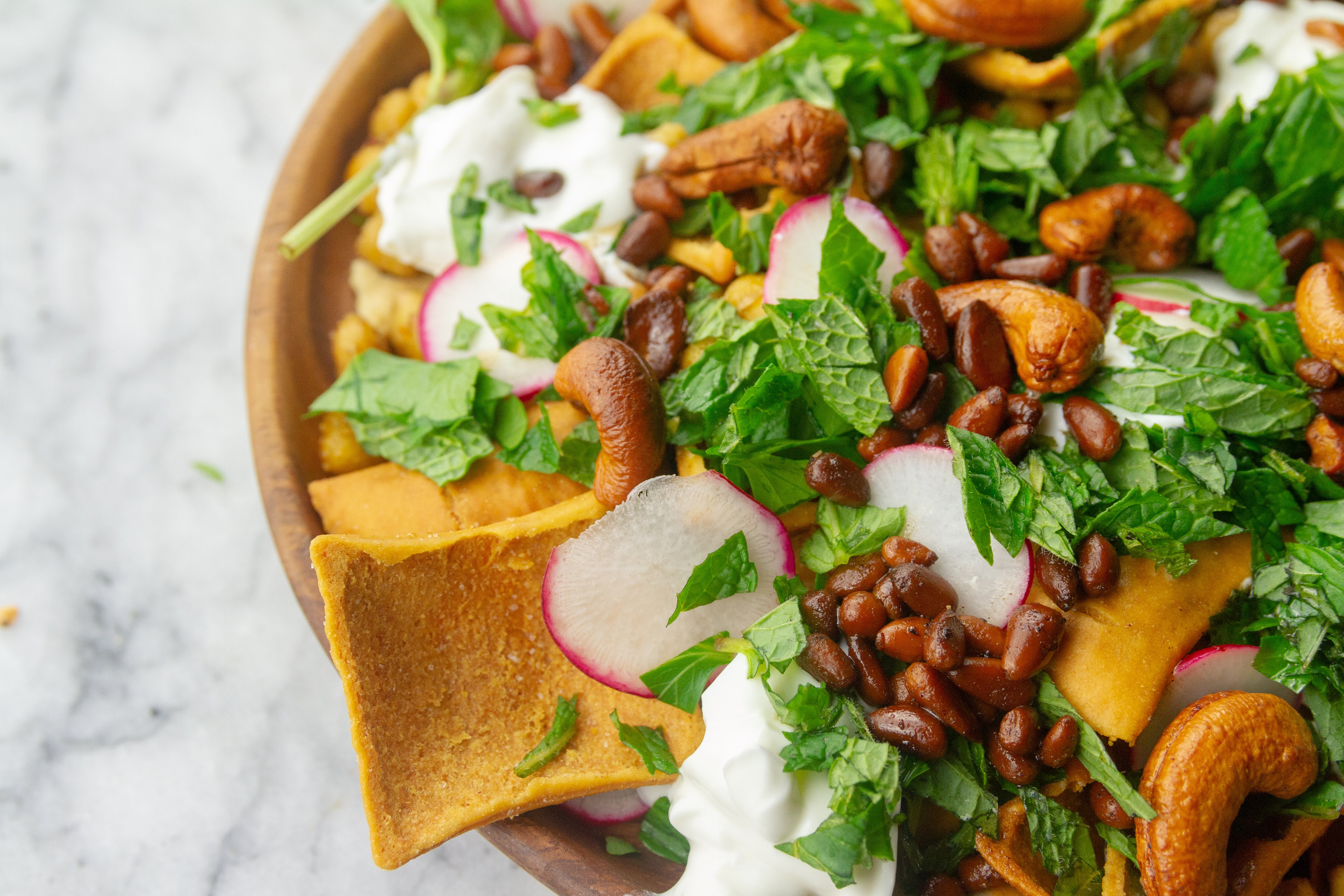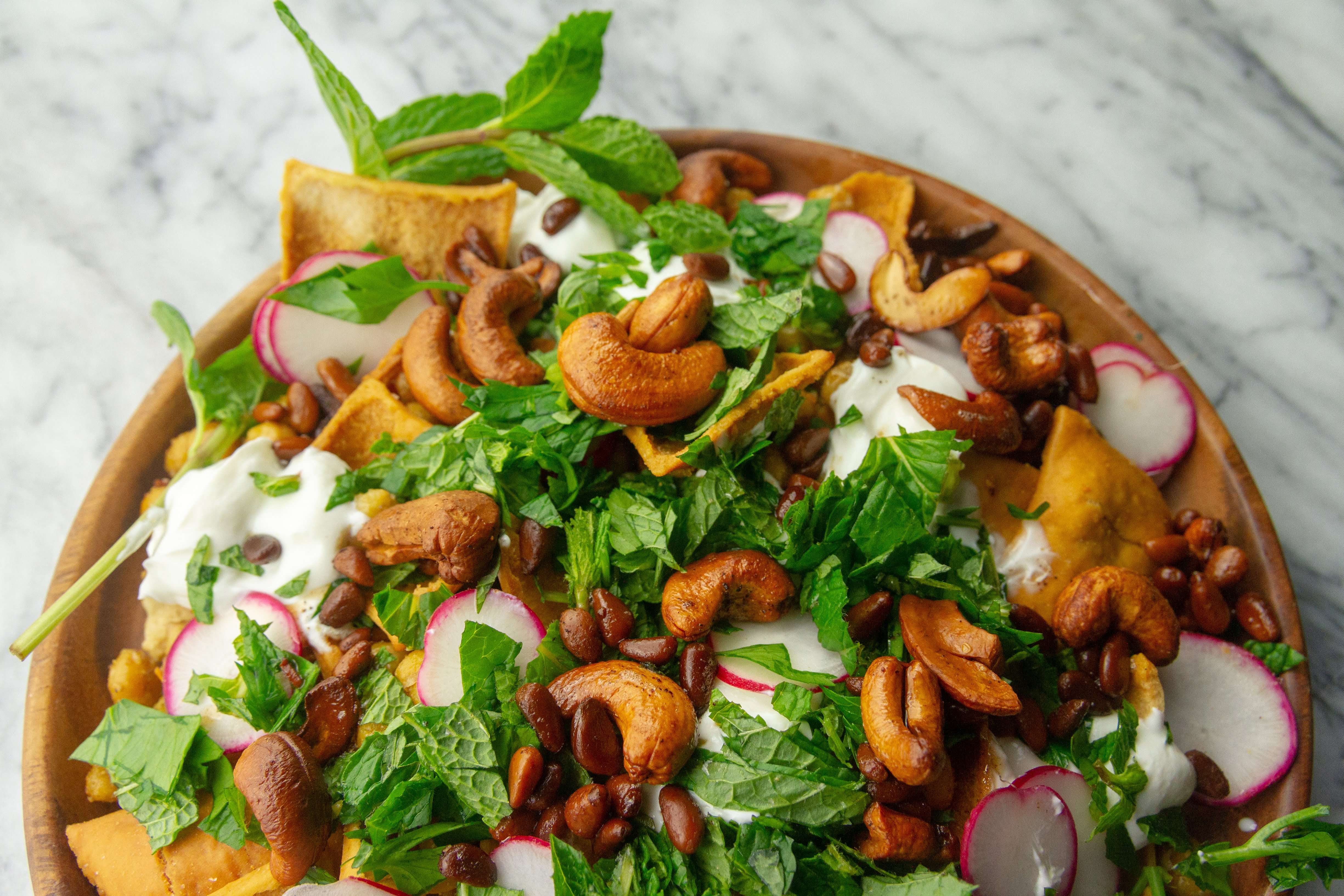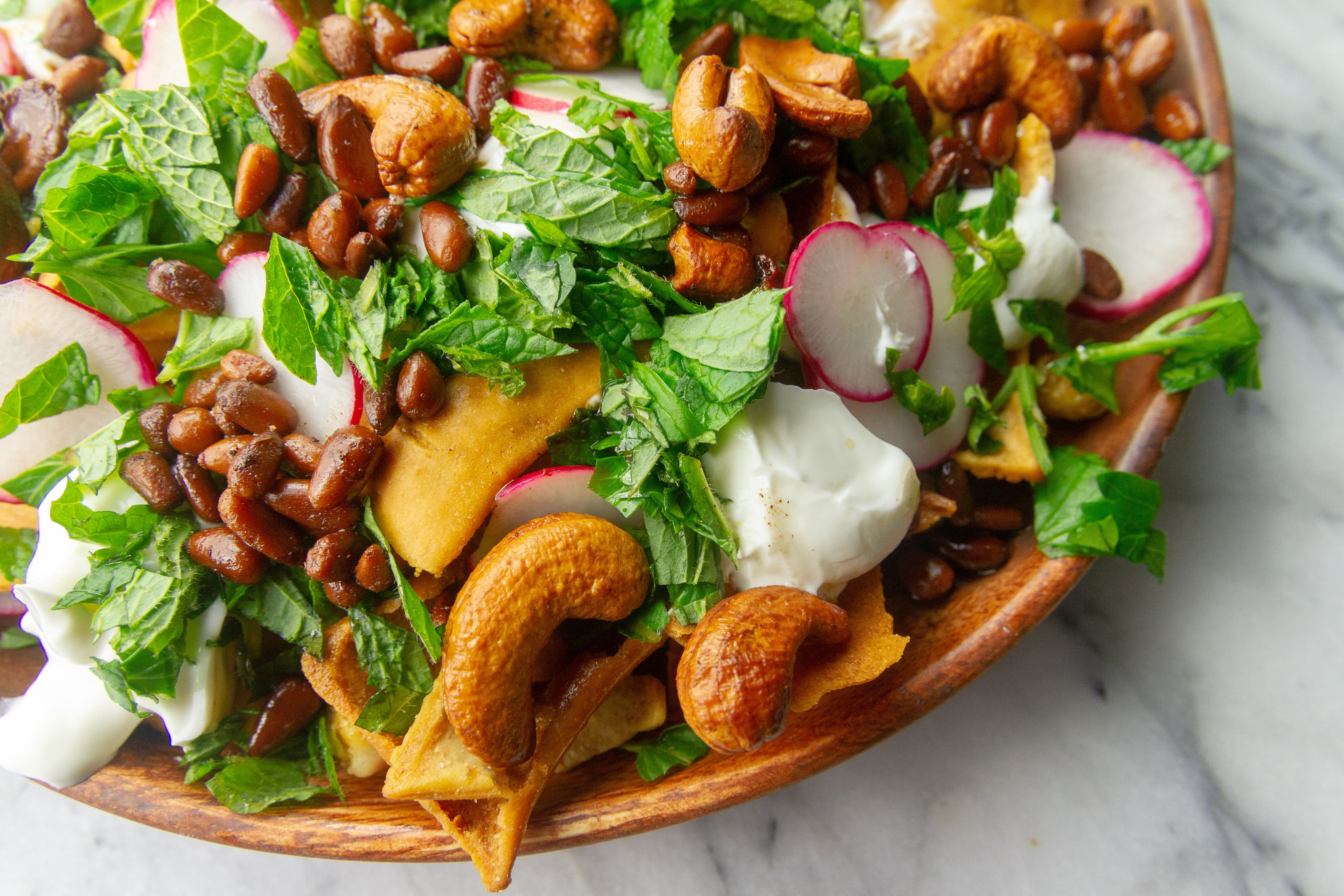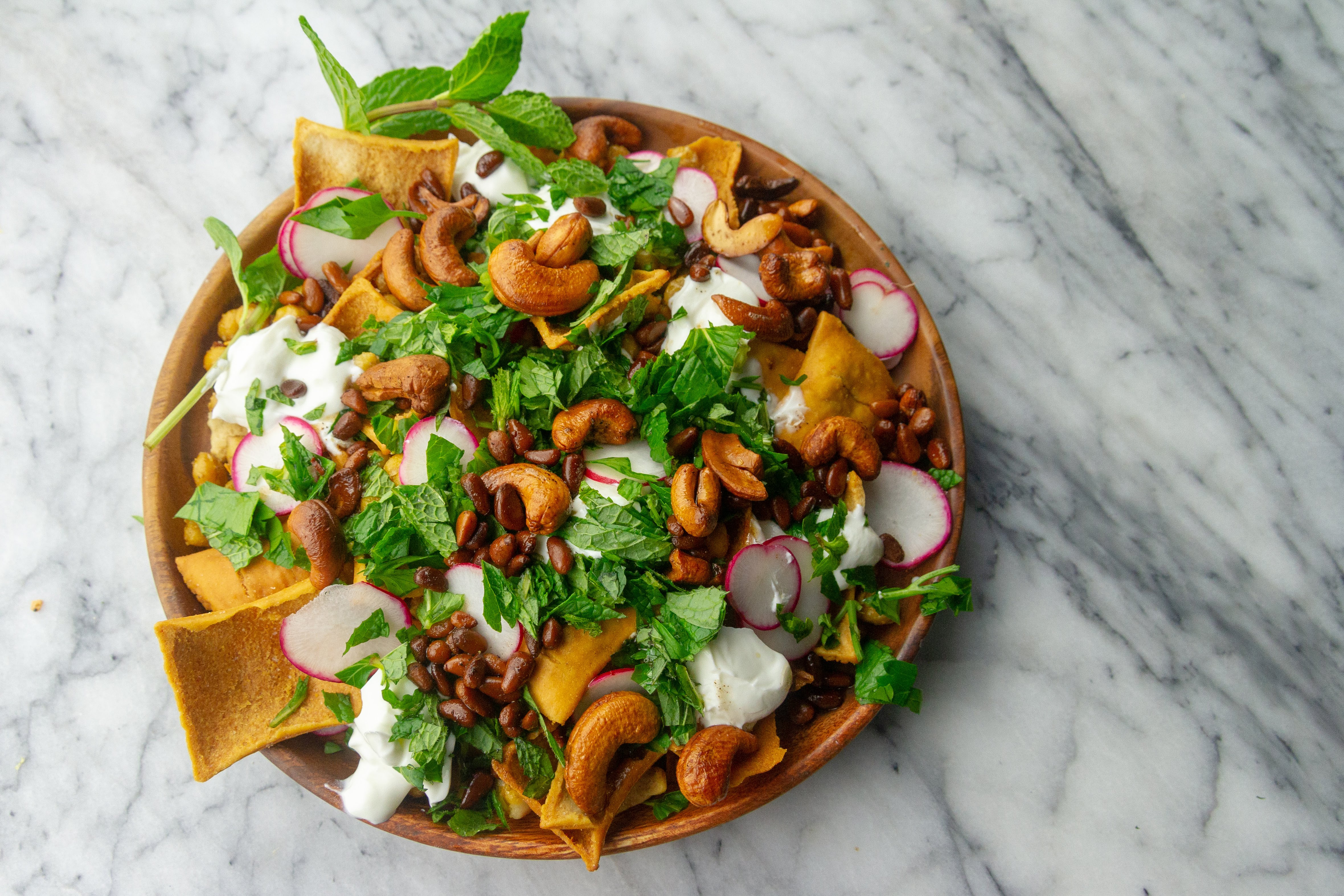 Spiced Chickpeas with Crispy Pita, Yogurt, and Brown Butter
Source: Bon Appétit online. Recipe by Chris Morocco, available here.
Tip: Make sure to purchase (or make) gluten free pita chips. Our favorite GF pita is made by the brand Toufayan Bakeries.
Review: Upon first reading about this dish in a Bon Appétit newsletter, I knew it would need to be in an upcoming meal plan based solely on the fact that Carla Lalli Music refused to share it while shoveling it into her mouth and asking about how it was made. A glowing review, in my opinion, so it was added to my list!
Let it be known that this dish is a "traditional, Levantine breakfast," Fatteh Hummus, which we decided to serve as dinner. A new take on breakfast-for-dinner and I am loving it.
There were so many flavors, textures, colors, and temperatures! Crunchy pita chips, warm chickpeas, hot cashews and pine nuts in brown butter, cold plain yogurt, crisp radishes, and plenty of mint! What a plate. The hardest part was deciding how to dig in and enjoy it all. I basically treated it like Mediterranean nachos and (full disclosure) skipped a fork. 😏
We really enjoyed this dish and I do look forward to making it again. However, for our own preferences, we decided it may be even more delicious next time if we add in crispy ground lamb and season the yogurt with a little lemon juice, salt and pepper. I can't wait! 😋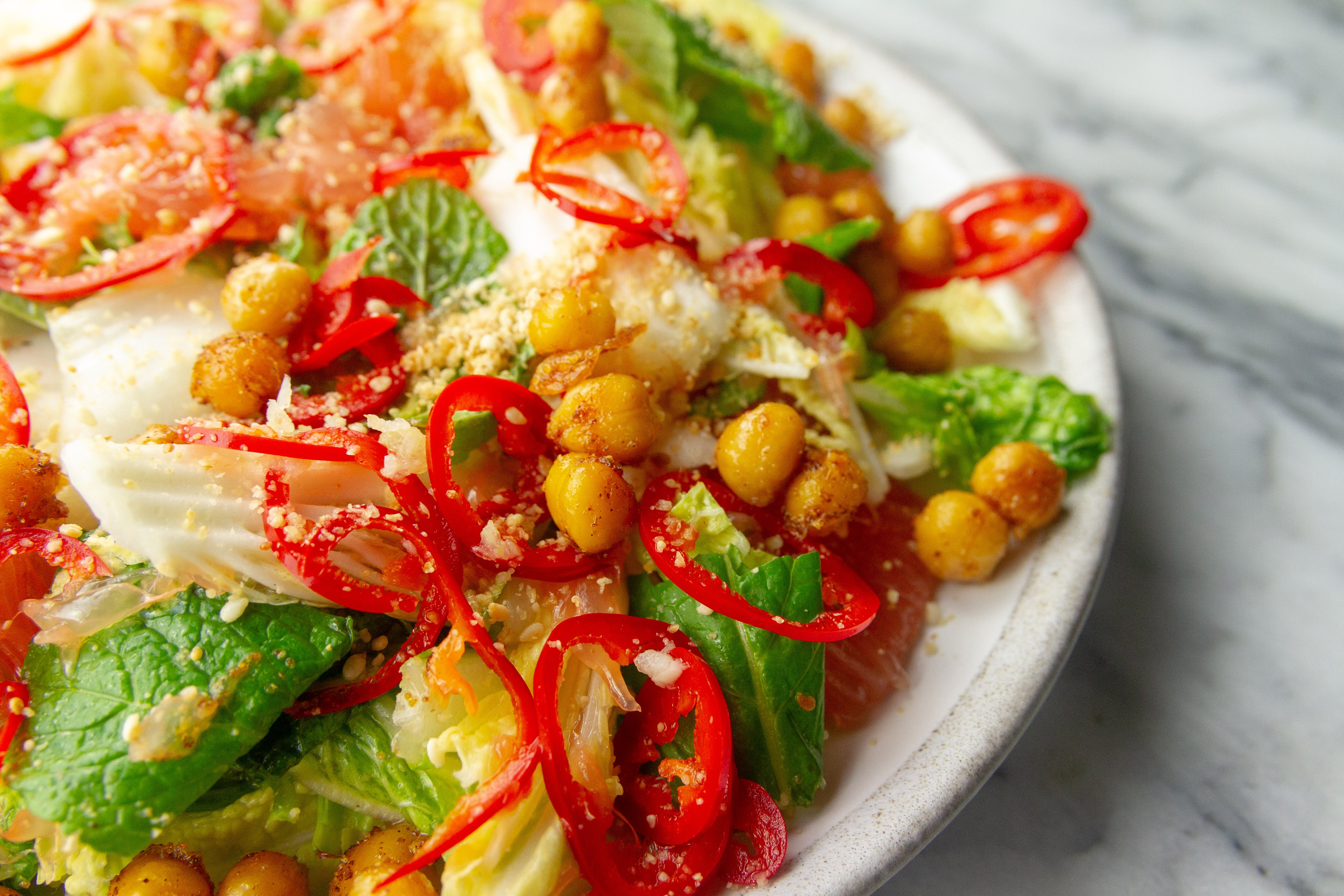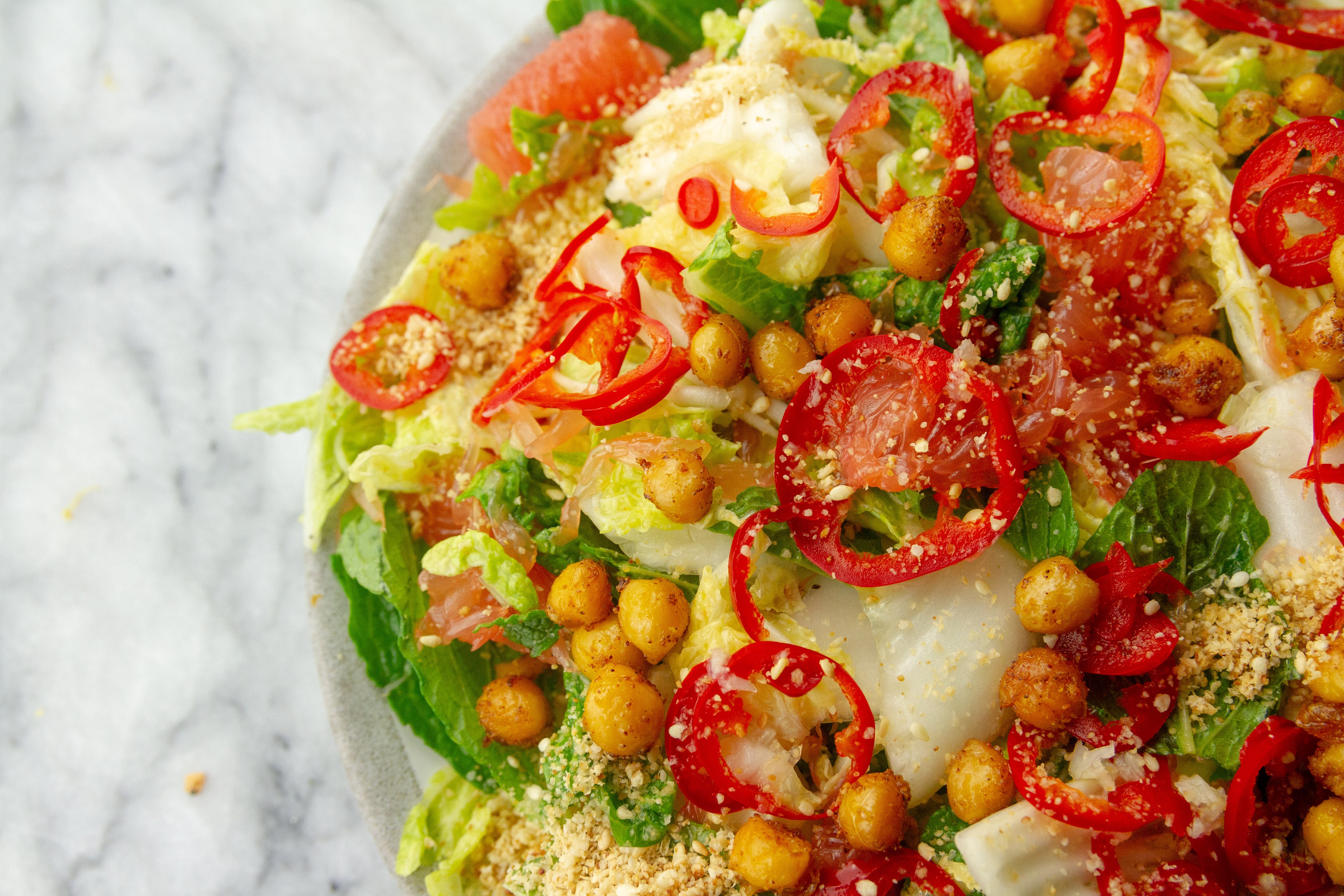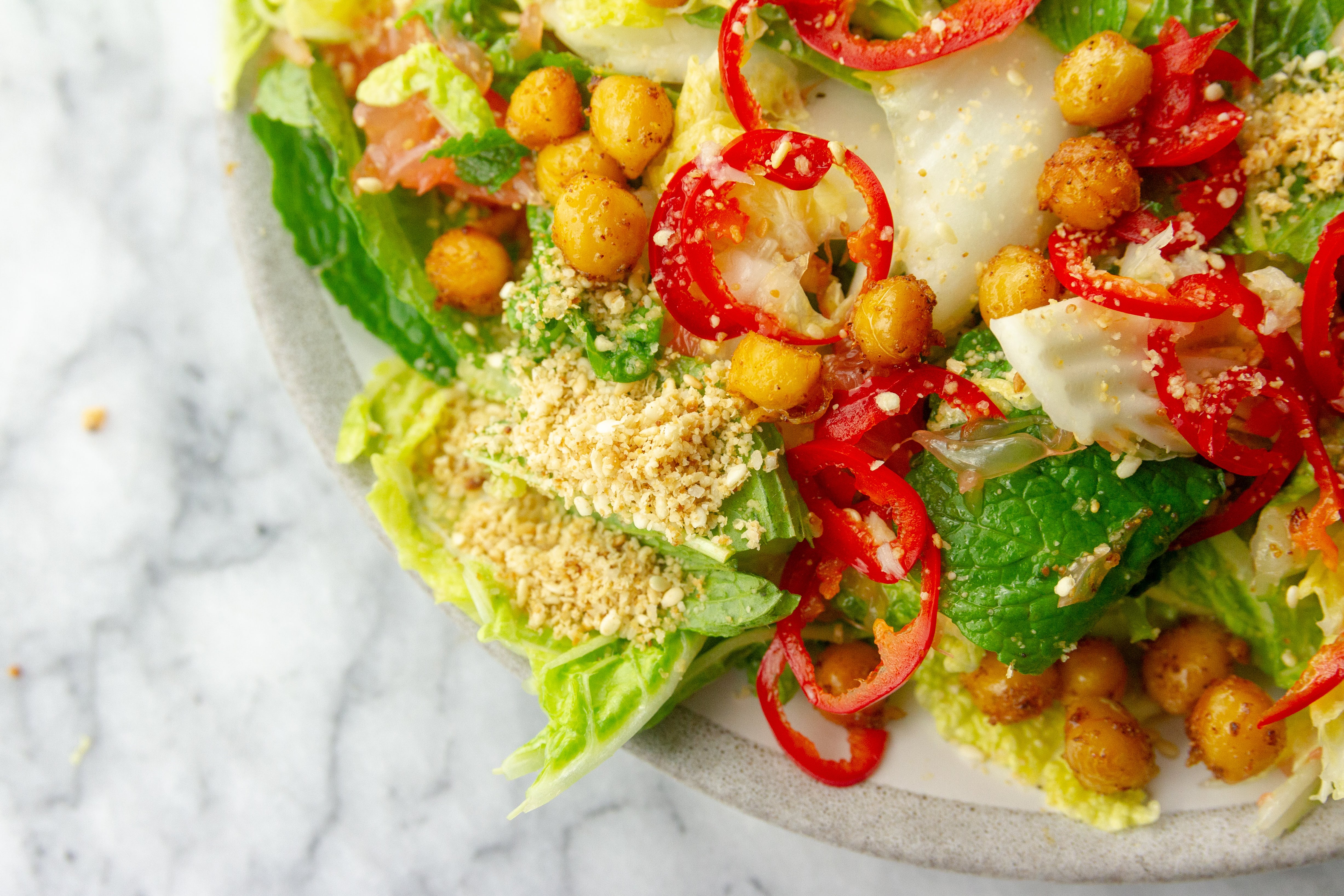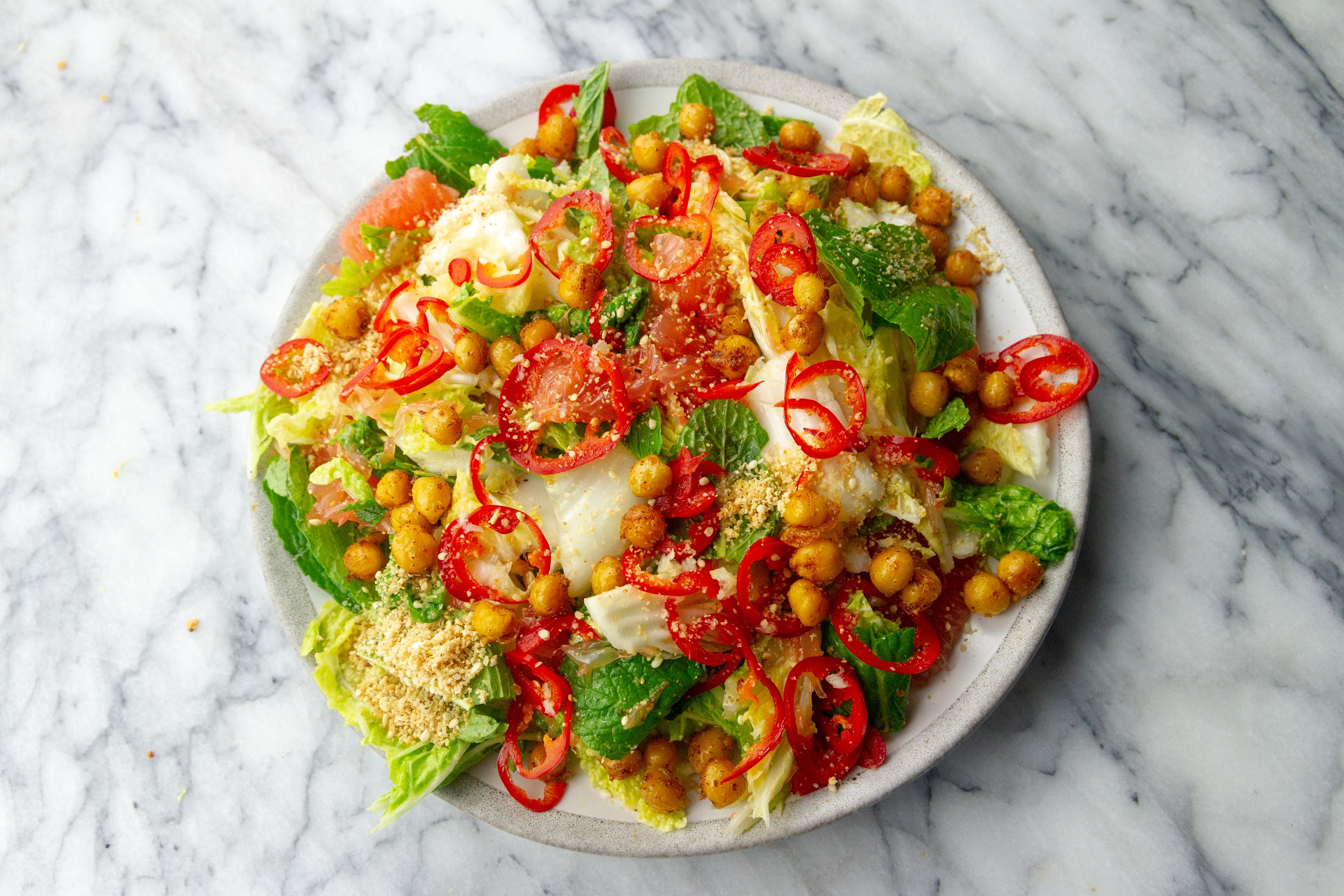 Scrunched Cabbage Salad with Grapefruit and Chiles
Source: Bon Appétit online and in the current issue. Grab it, here.
Tip: This dish is naturally gluten free! We added chickpeas for protein.
Review: Hello, springtime! This salad (see? We got much healthier as the week progressed) was a bright and beautiful ode to the impending warm weather and man was it good!
While this was a fairly minimalist set of ingredients, they all came together to make a salad that I loved instantly and couldn't believe was so delicious with so few ingredients. Salads. They surprise us every time!
The stars of the meal were the pickled red chiles and grapefruit which offered such contrasting punches of flavor (spicy from the chile, tart from the grapefruit) and yet worked together very, very well.
A delightful bite was one that had every single ingredient in it - cabbage, grapefruit, chiles, chickpeas, and sesame salt. Yes! The salt. Who knew that blending toasted sesame seeds with sea salt would create such an excellent condiment?! Once again, I am thankful for the recipe creators who come up with these goodies that we can so easily benefit from on a regular weeknight at home.
This salad would have been awesome on its own, but we did add chickpeas (simply seasoned and cooked on the stovetop) so that there was some protein on our plates.
Alternatively, we could have left the salad alone and served it alongside a steak. 😏 I do think either end of the protein spectrum would work well with this bright, spicy, savory, and tart salad. It was like eating a slice of summer in every bite. And it wasn't even a pie. :)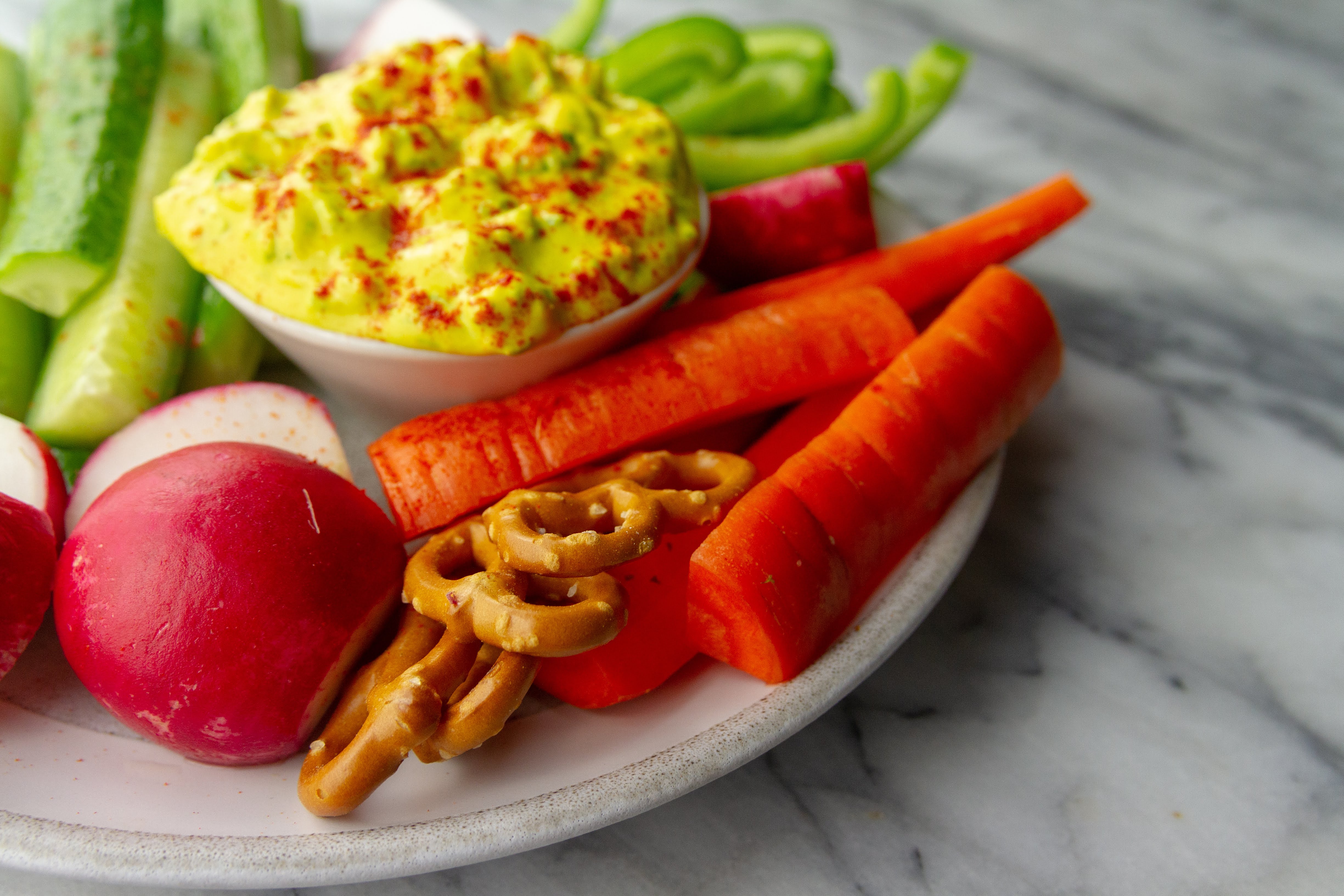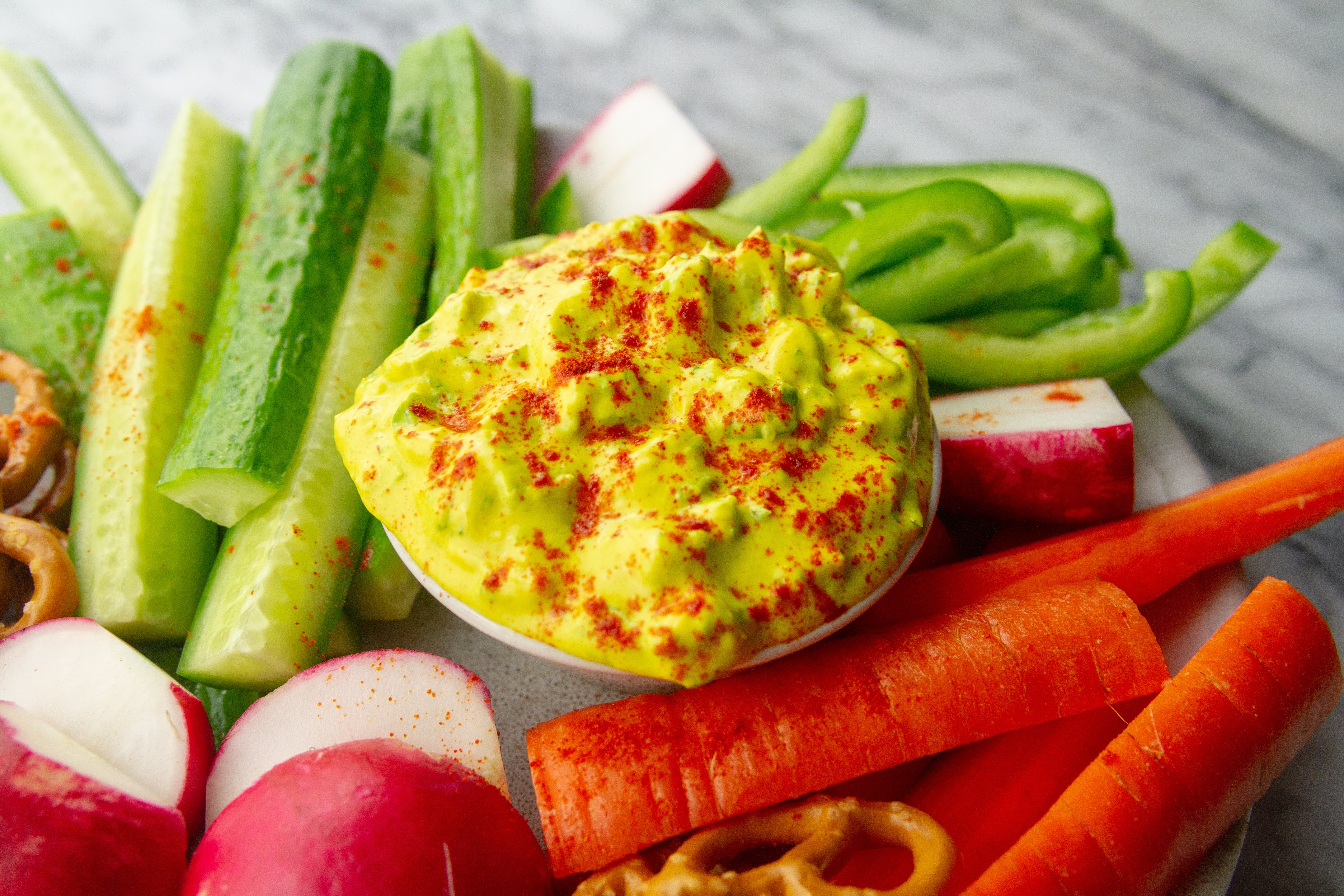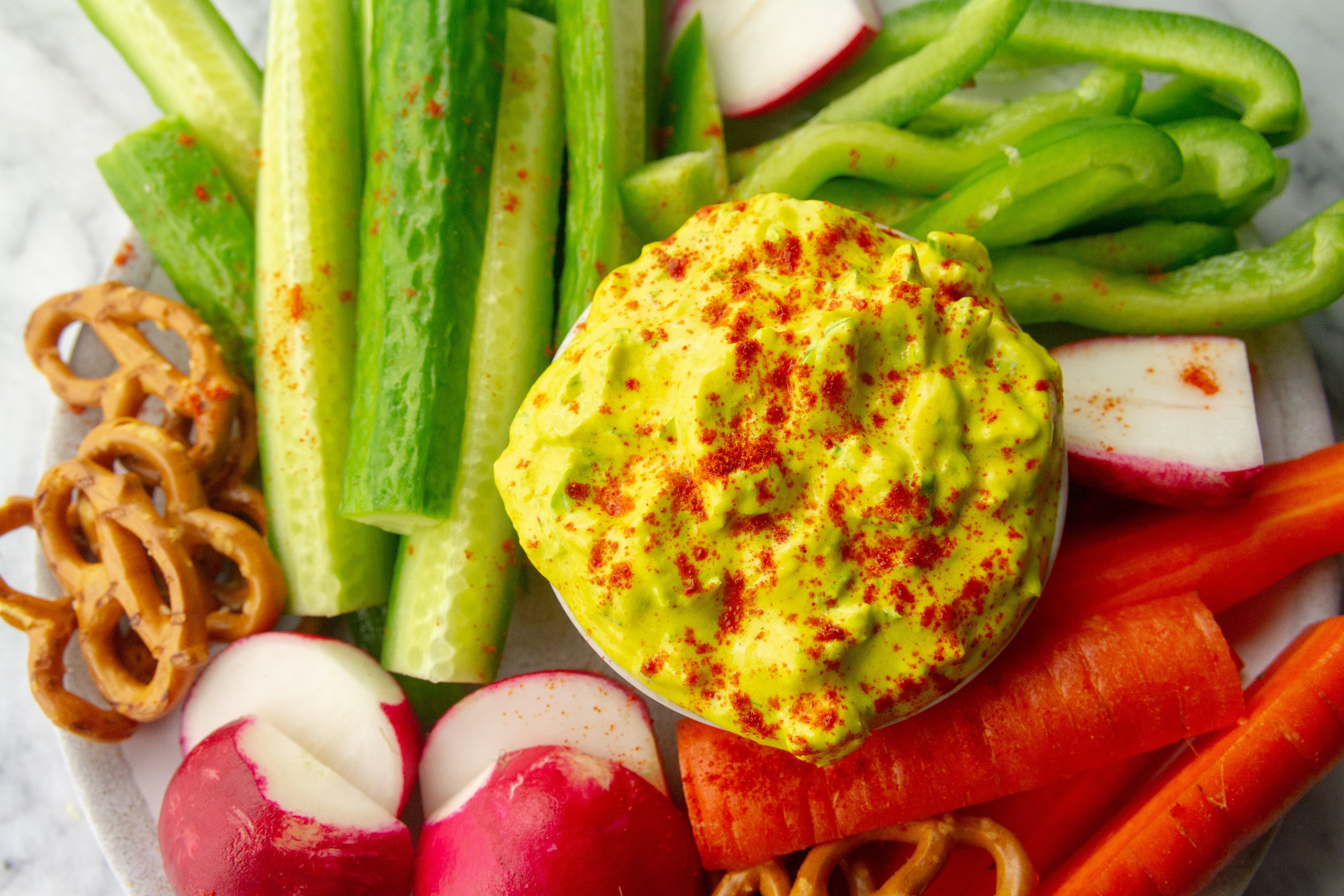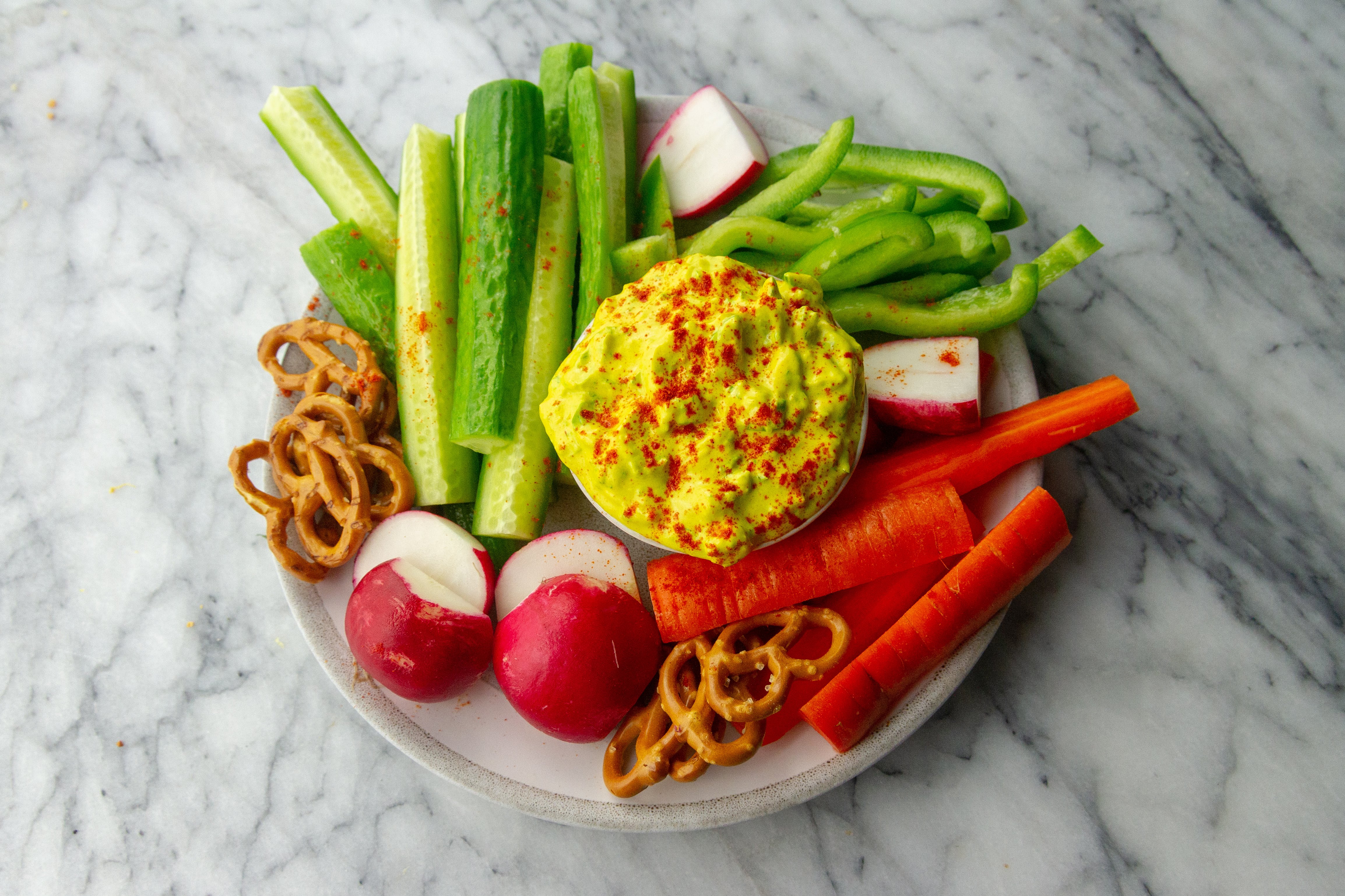 Turmeric Yogurt Dip
Source: Bon Appétit online. Grab the recipe, here.
Tip: Naturally gluten free. Again!
Review: Once in a while when I'm meal planning for the week, I'll surprise myself by adding a dish that requires almost-zero prep and barely any actual cooking. Why the change? Because sometimes you just want (need) dinner to be the easiest part of the day. And it should be!
Luckily, this dip came to the rescue last week when we were tired and ready for the weekend, but it was still Thursday. The only unfortunate part was that I didn't take into account that a colorful crudités platter wasn't exactly enough dinner for two (very) hungry adults. Pantry staple to the rescue!
Besides this delicious, tangy dip, which I'll be sure to make the next time we have friends over for dinner (I need to be better about planning those), I quickly made Right Rice (lots of protein thanks to lentils) to serve alongside which we had in the cupboard for situations exactly like this one. The two items didn't exactly go together, but for the "urgent" need, they paired quite well!
Looking back, I think this crudités-as-dinner plan was a food blessing in disguise. While I was anxious that I had made a big mistake selecting turmeric dip as our main course, it turned out to be fine, and yummy.
My fears of "just dip" not being enough slinked away as we piled on the veggies and included that rice. In fact, when we were finally done eating (and I stopped worrying), I was actually full! Crisis averted. ;)
Eats and Events of the Weekend
Forget about the food, this weekend was gorgeous!! Finally, spring seemed to arrive in Boston and we got two (two!!) incredible days in a row. I could barely be bothered to worry about meals since all I wanted to do was be outside, breathe in the fresh air, and feel the warmth of the sun on my face. Thankfully, that's basically what we did!
We had a late, but delightful dinner at The Bancroft Friday night and got to enjoy our first outdoor lunch of the season on Sunday at Il Casale (what a treat!).
Did you know I launched an update to my restaurant guide? If you haven't seen it yet, check it out here. And make a reservation for either of these spots for next weekend!
If this beautiful weekend taught me anything, it's to take a minute, slow down, and appreciate the little things; great weather being near the top of the list. It just makes you feel good.
We hope you had a wonderful weekend and if it was warm and spring-like in your neighborhood, then I hope you got out to enjoy it!
Eat, well.
Mollie and Seth