Curated Cravings
When you're trying your hardest to be healthy and mindful of your meals, try a few of these in your weeknight routine. They're anything but boring and all majorly delicious. Plus, these dishes fit nicely into that healthy-and-awesome category which can be fairly difficult to fulfill.
How convenient: The recipe for each meal is included (!) and linked below in the 'Source' section under each dish's title.
Note: All ingredients were generously provided by Wilson Farm in Lexington, MA. Wilson's is our favorite family-run farm which has been in business for over one hundred years. Find us there every Sunday!
Let's dig in!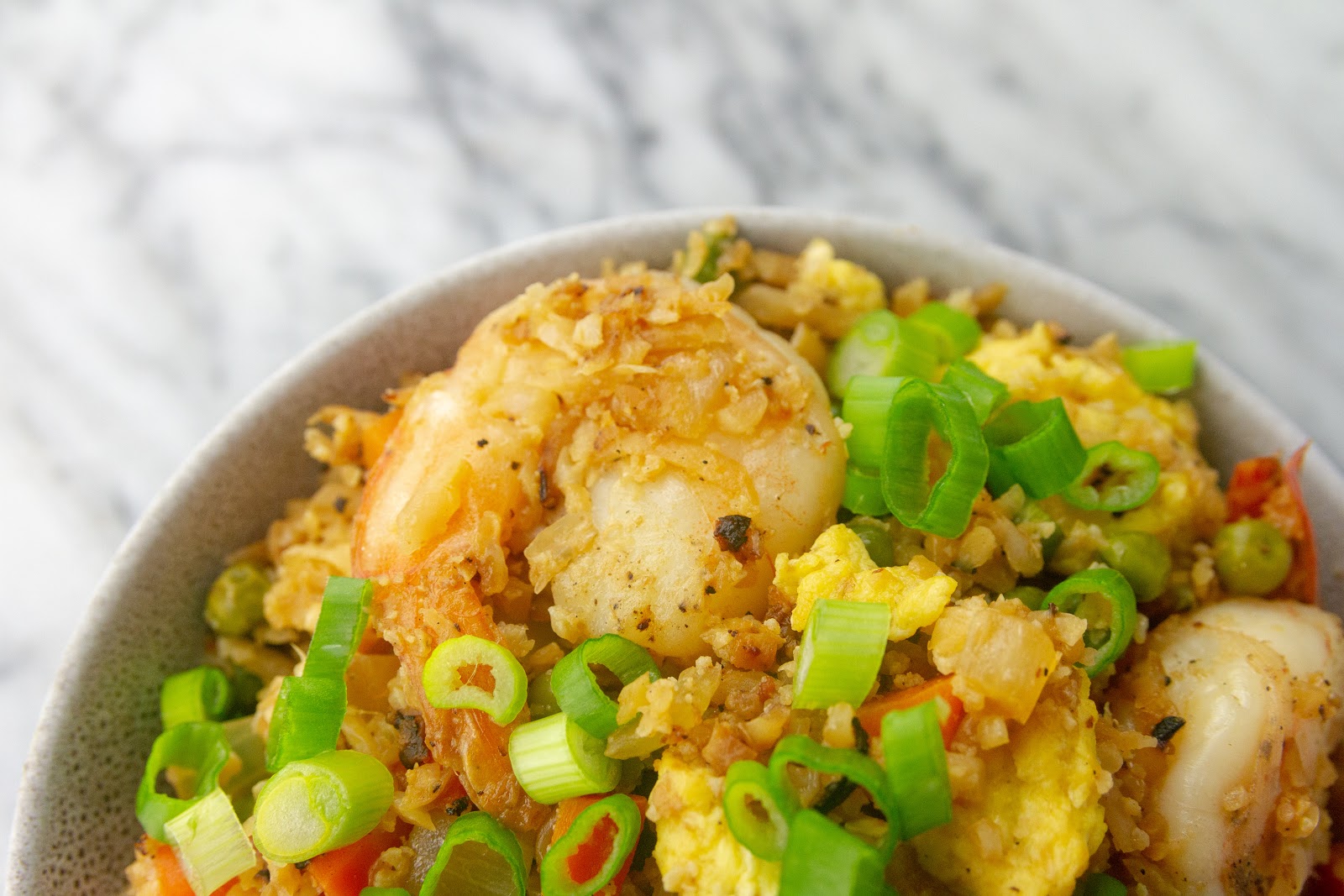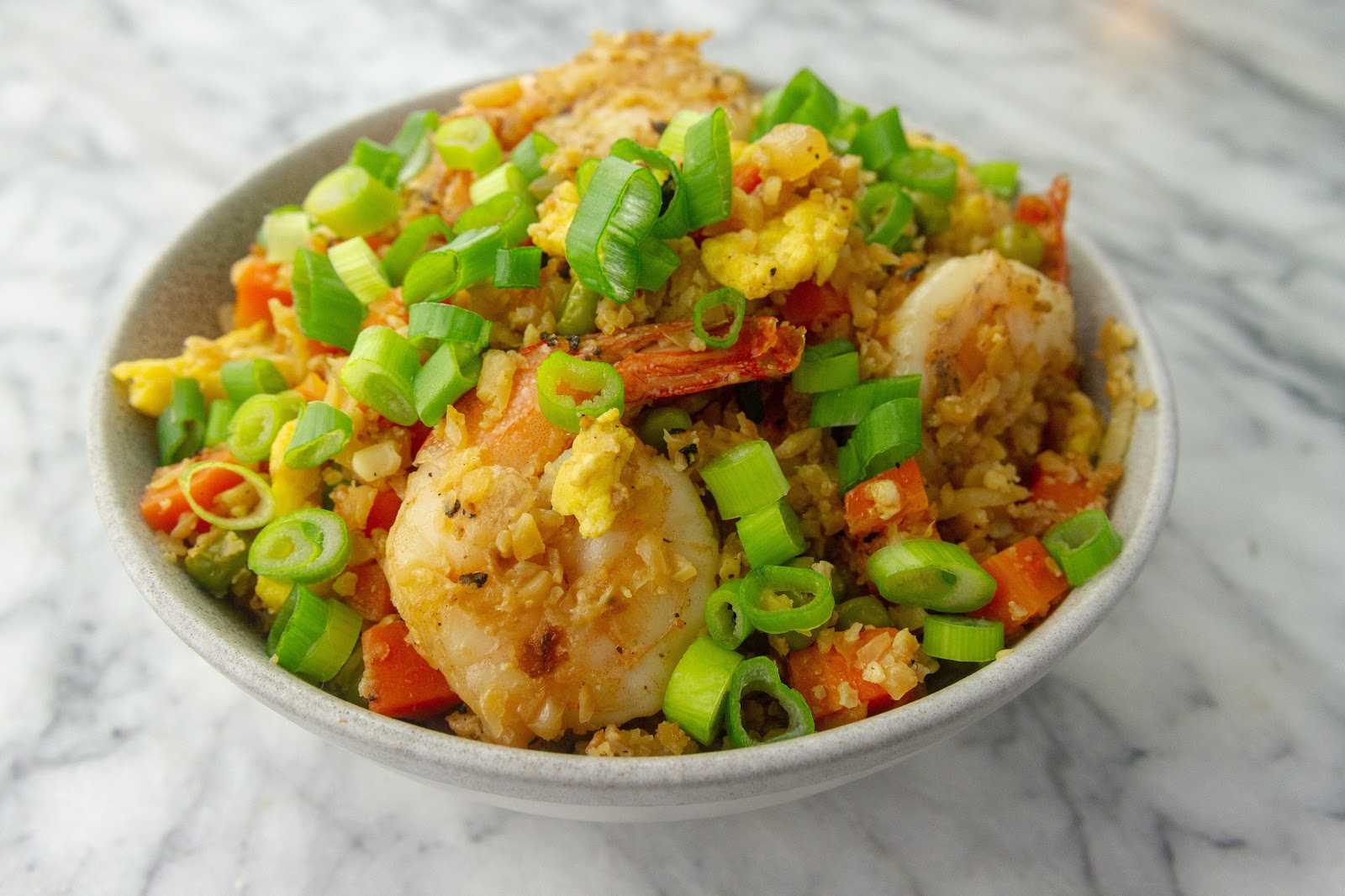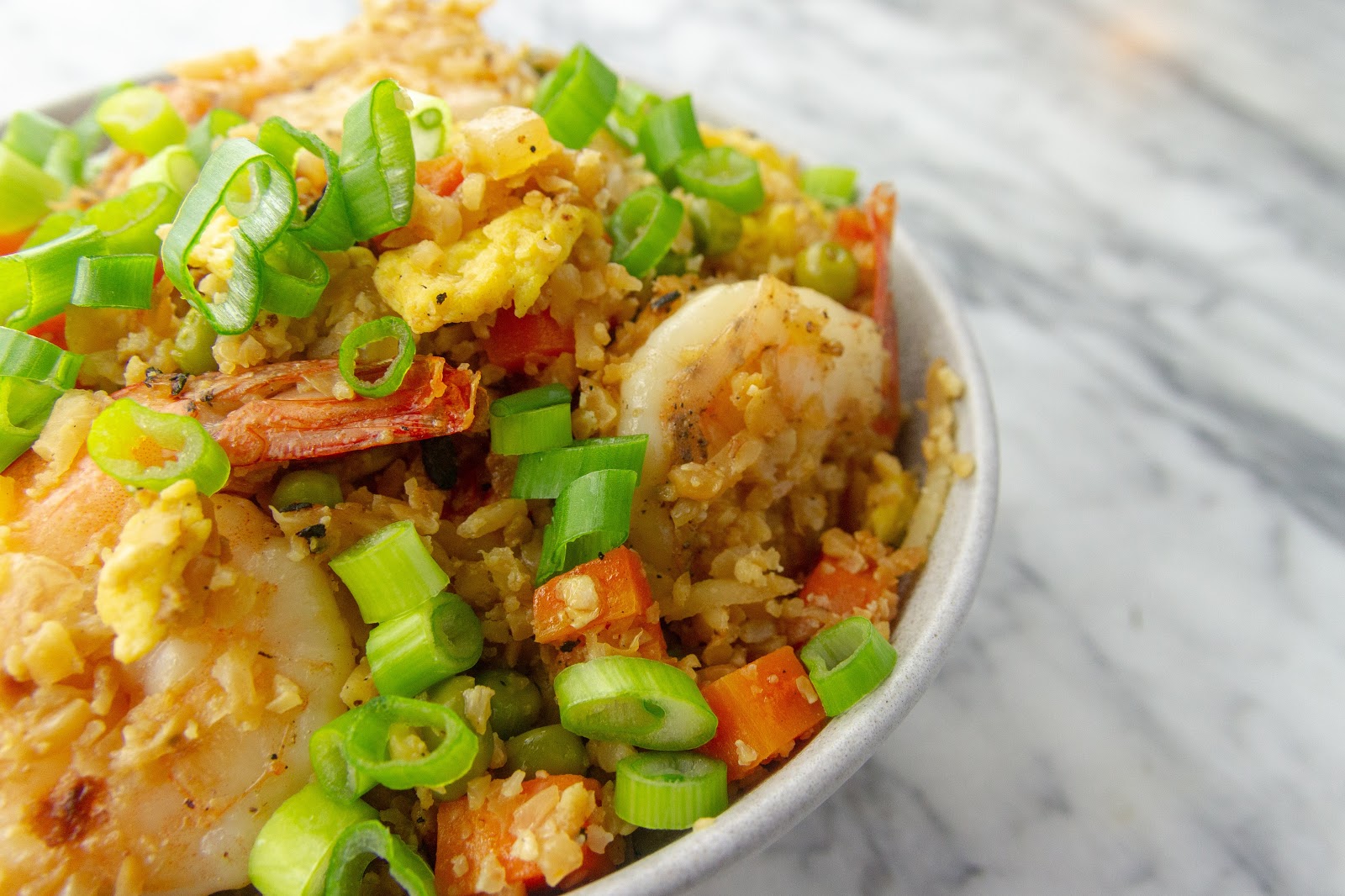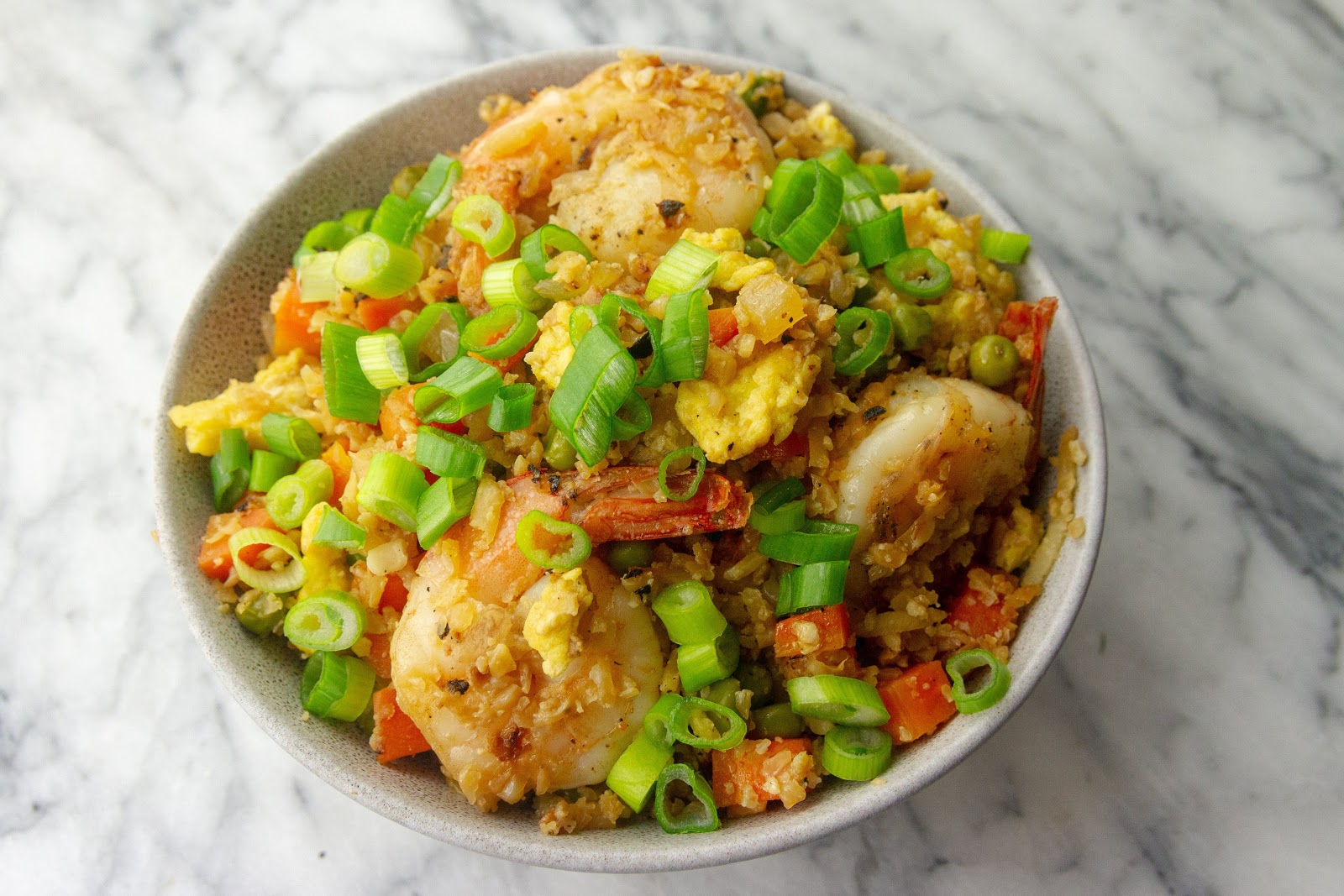 Cauliflower Shrimp Fried Rice
Source: The Lemon Bowl. Grab the recipe, here.
Tip: Make sure to use gluten free soy sauce - Tamari - when making this dish. All other ingredients are naturally gluten free.
Review: No joking around with this awesome dinner, fried rice takes on a much healthier angle when it's based on cauliflower! Yup. That's cauliflower rice you're looking at and it was yummy! Sure, the title may have given it away, but a quick glance at the photo may have tricked a few of you. ;)
While I love "regular" fried rice a whole lot, I do think it's important to welcome, and embrace, the cauliflower rice trend that seems to still be lingering. And why not? It's quick to prepare and has a good texture, plus the cauliflower happily takes on whatever flavor of sauce you include! Not to mention it's healthier in general.
This straightforward and delicious recipe will have you eating in no time and is chock-full of veggies and protein. Fried rice is a constant craving of mine - let's be real - so I'm thrilled that this cauliflower-based version is just as enjoyable while being quite a bit healthier than the traditional takeout variety. Did I mention the recipe makes plenty?! Hello, leftovers!
PS: Not in the mood for shrimp? Leave it out or swap in your favorite protein instead! This would be delicious with any number of other options such as chicken, beef, or tofu.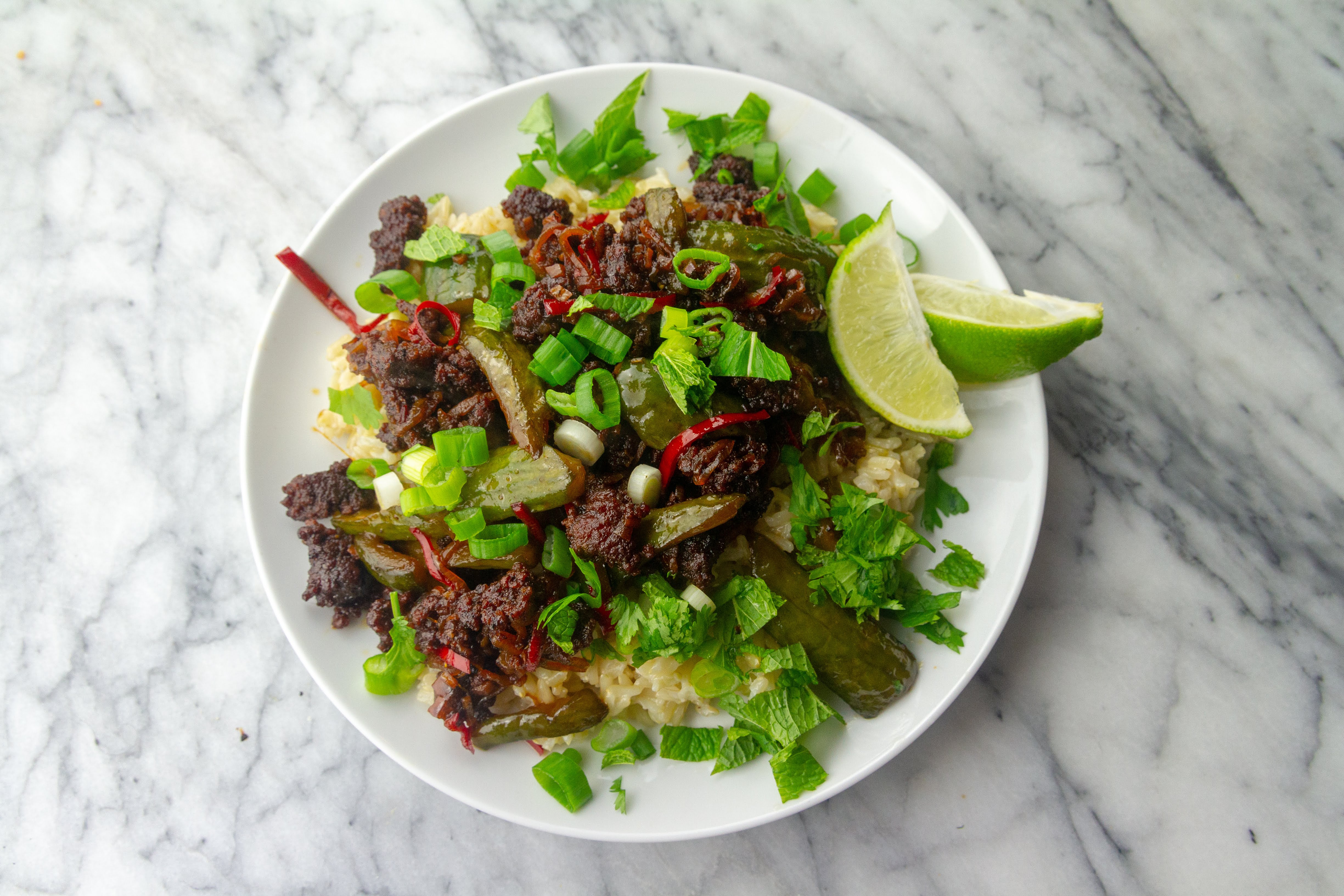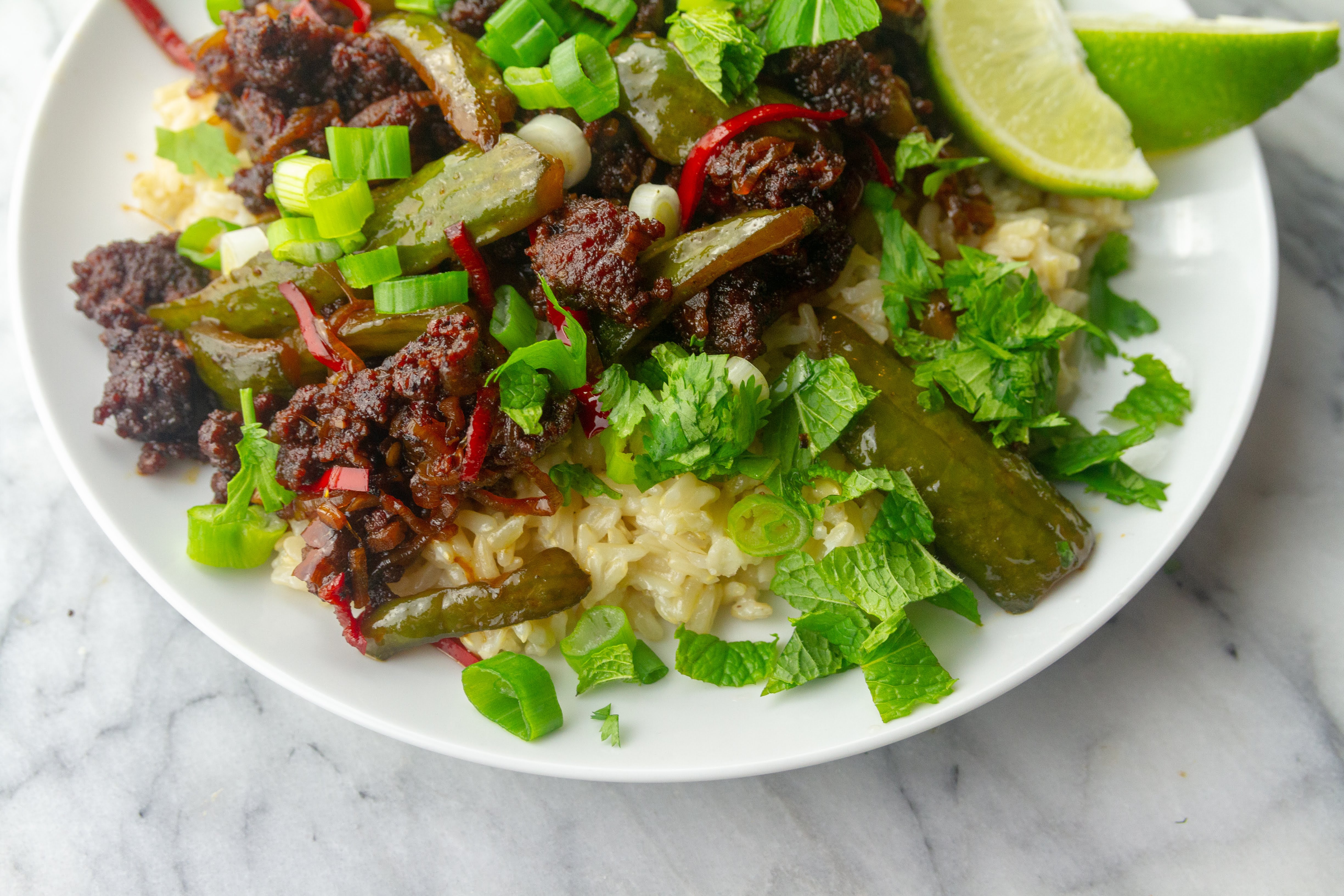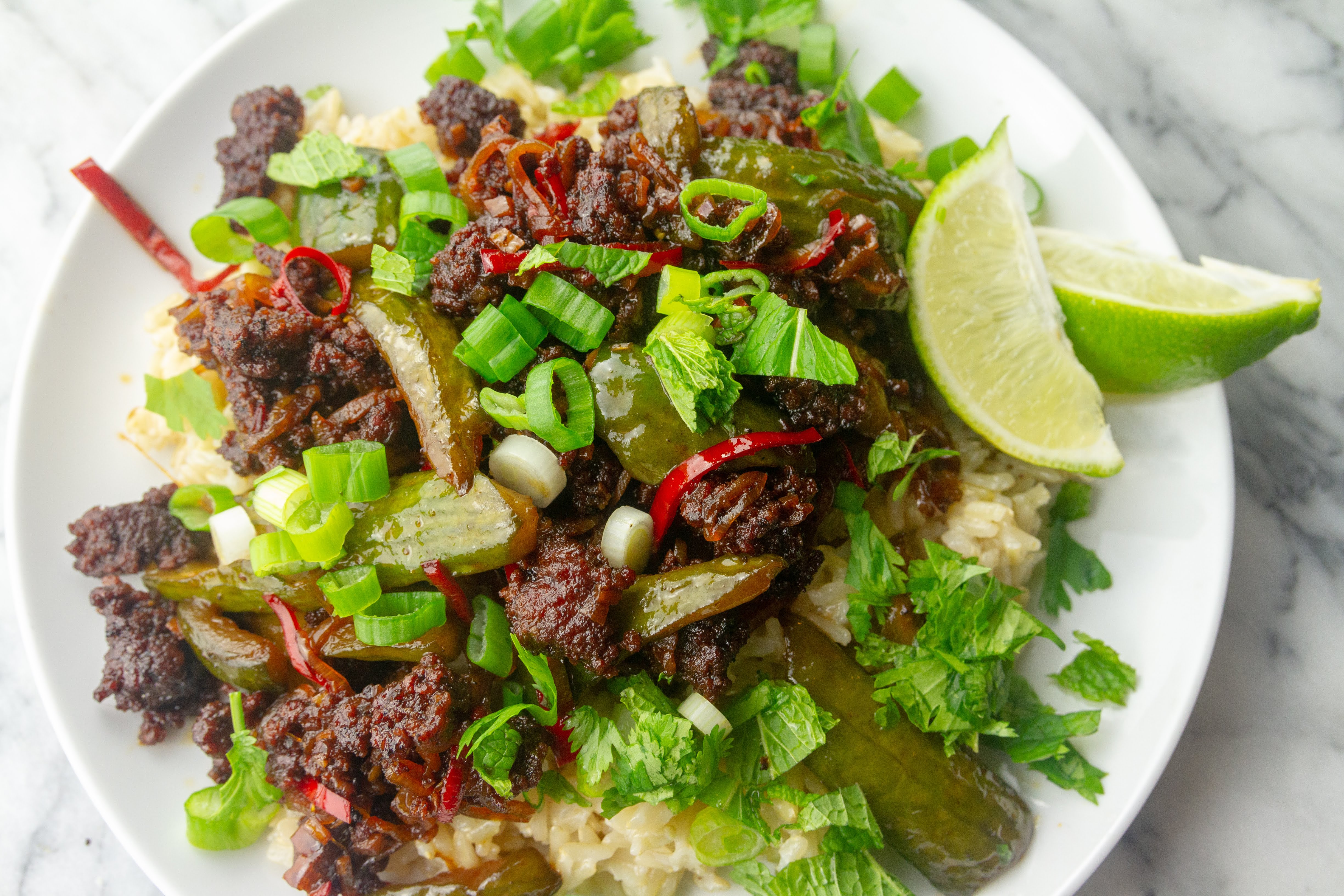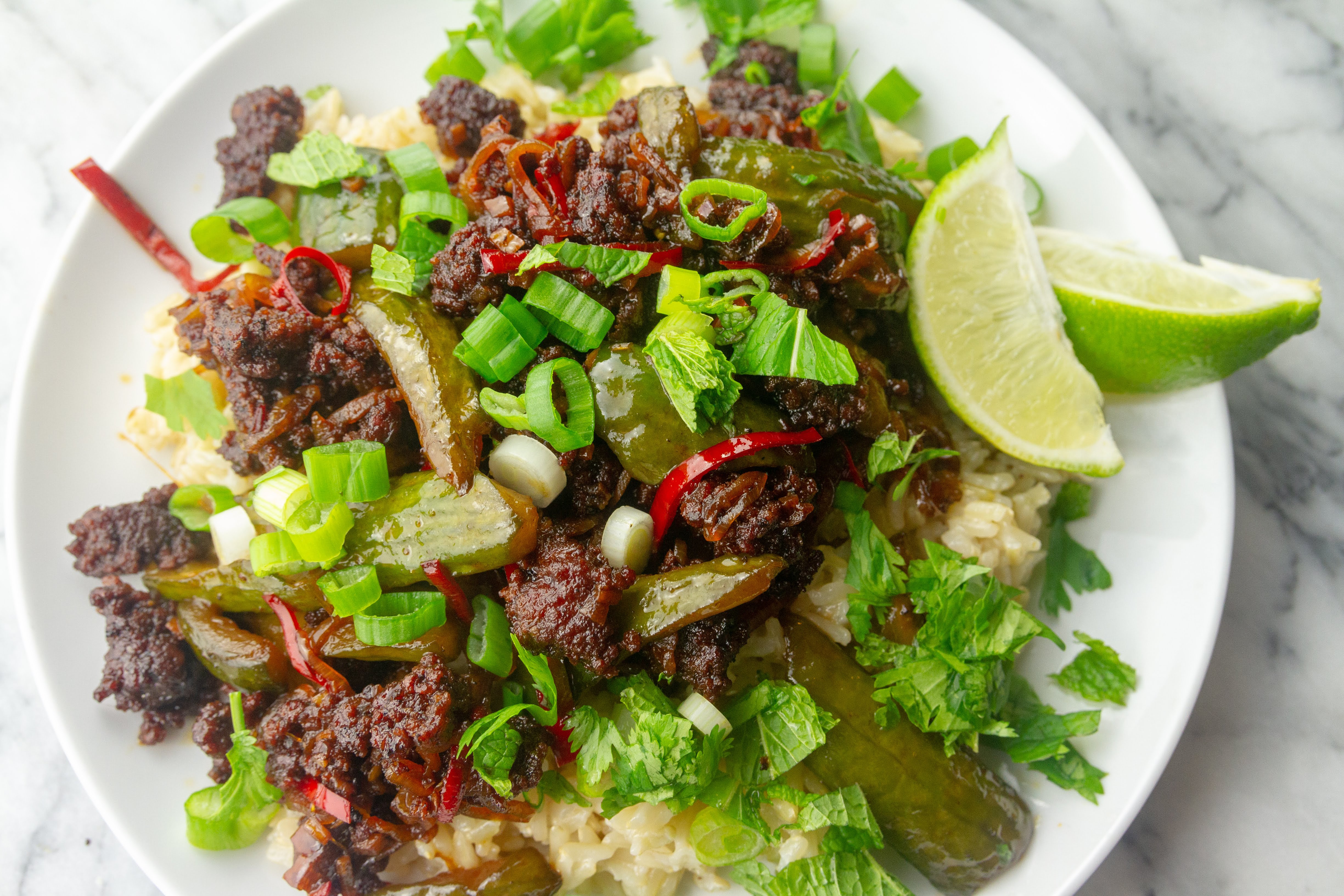 Spicy Beef Larb with Coconut Rice
Source: What's Gaby Cooking. Find the recipe, here.
Tip: Again, for all dishes requiring soy sauce, make sure to purchase the gluten free version (Tamari).
Review: Already enamored by the Chicken Larb by this same author, we knew the Spicy Beef option would most likely be just as awesome. Thankfully, we were right! This dinner was delicious.
Described by some as a "meat salad," Larb is essentially a combination of ground meat, veggies, a few spices, herbs, and a sauce, cooked together, and eventually served over the always-tempting coconut rice.
I say always-tempting because when coconut milk and lime juice are cooked with rice the result is one of the most delicious flavors to ever grace your table, er, bowl. A bit extreme, eh? Yes. I agree. But I also really love coconut rice. And it's perfect with a dish like this one that's both spicy and savory. The semisweet nature of the rice provided the perfect contrasting flavor.
What was even more wondrous about this dinner was the fact that you could, technically, leave out the rice and serve the larb over lettuce, which would make it a more recognizable "meat salad." Or you could use it as a filling for lettuce cups. It would still be hearty and delicious, but the rice wouldn't be in the way (and that's coming from someone who adores rice).
These ideas may seem ridiculous given my poetic rant about that coconut rice, but I'm also here to make a few healthy suggestions. And since this Larb is a flavor you'll be craving constantly, you may want a few other ways to enjoy it. ;)
For comparison, the original Chicken Larb recipe (same author) was so delicious I could barely stop eating it. It also had a "softer" final texture without a major crunch. The spicy beef was excellent but had a slightly different punch: it was spicier, more crisp, and took on a life more akin to that of "crispy beef" but it's crumbly. So, uh, really delicious small bits of crispy beef. Are you drooling yet? 😏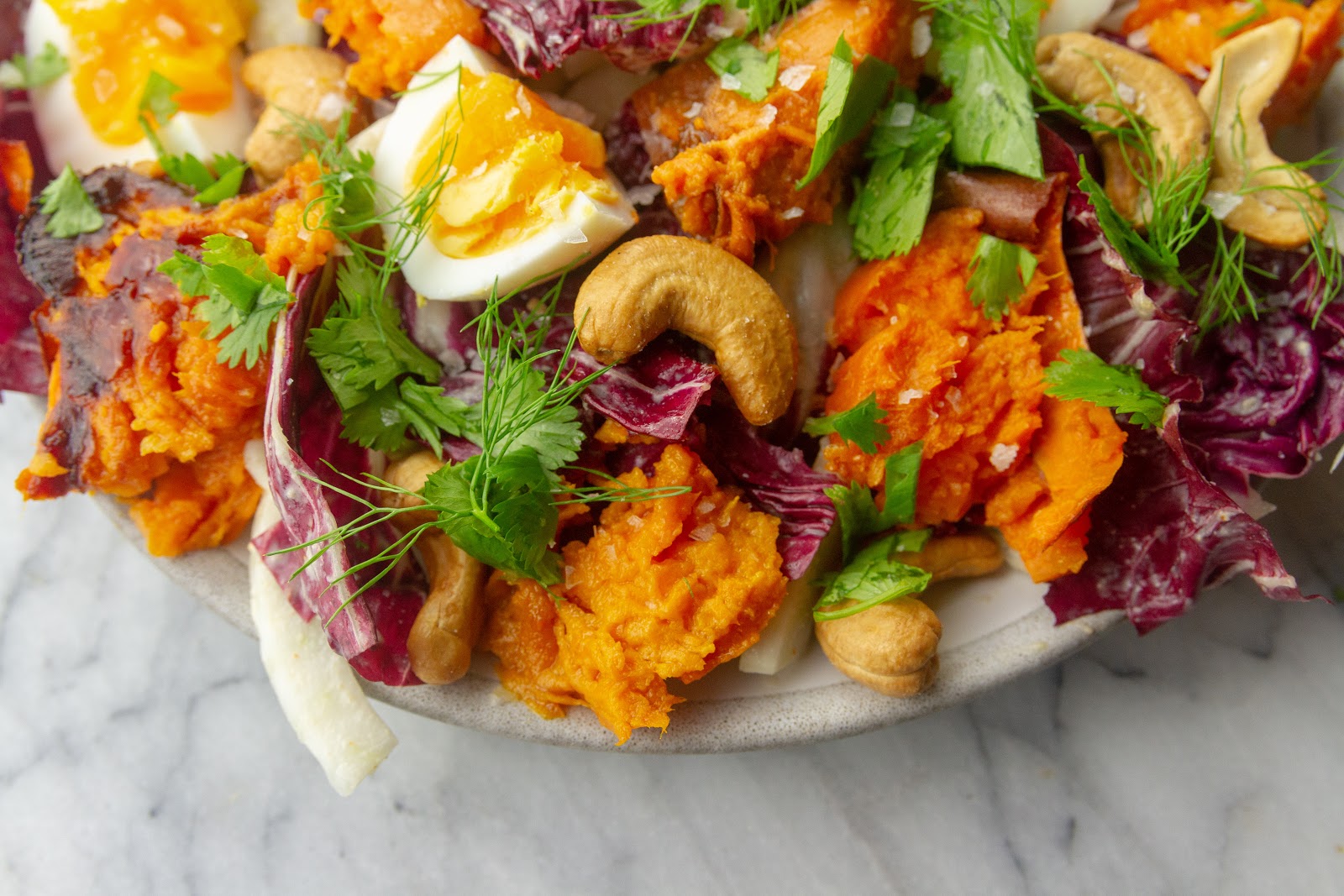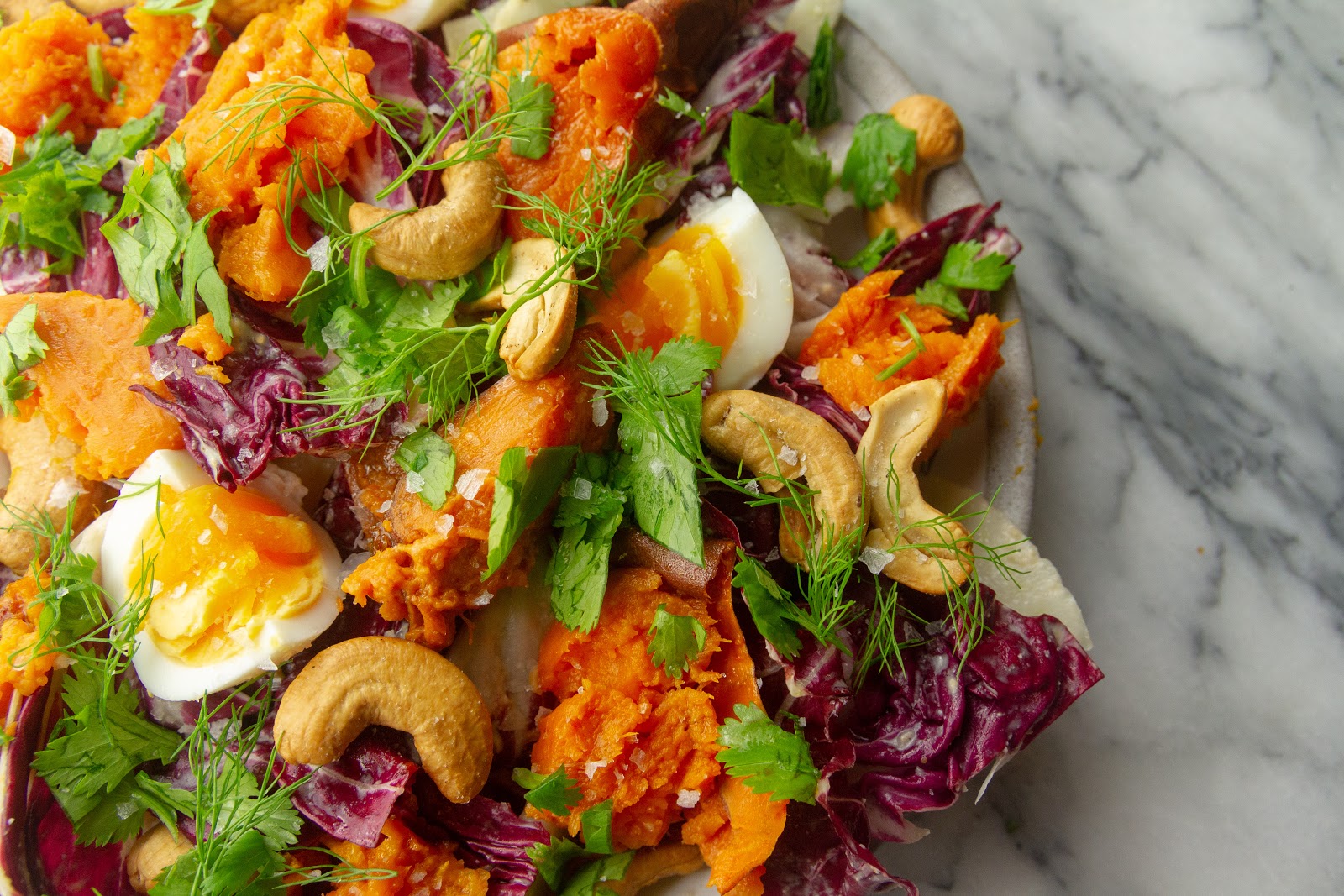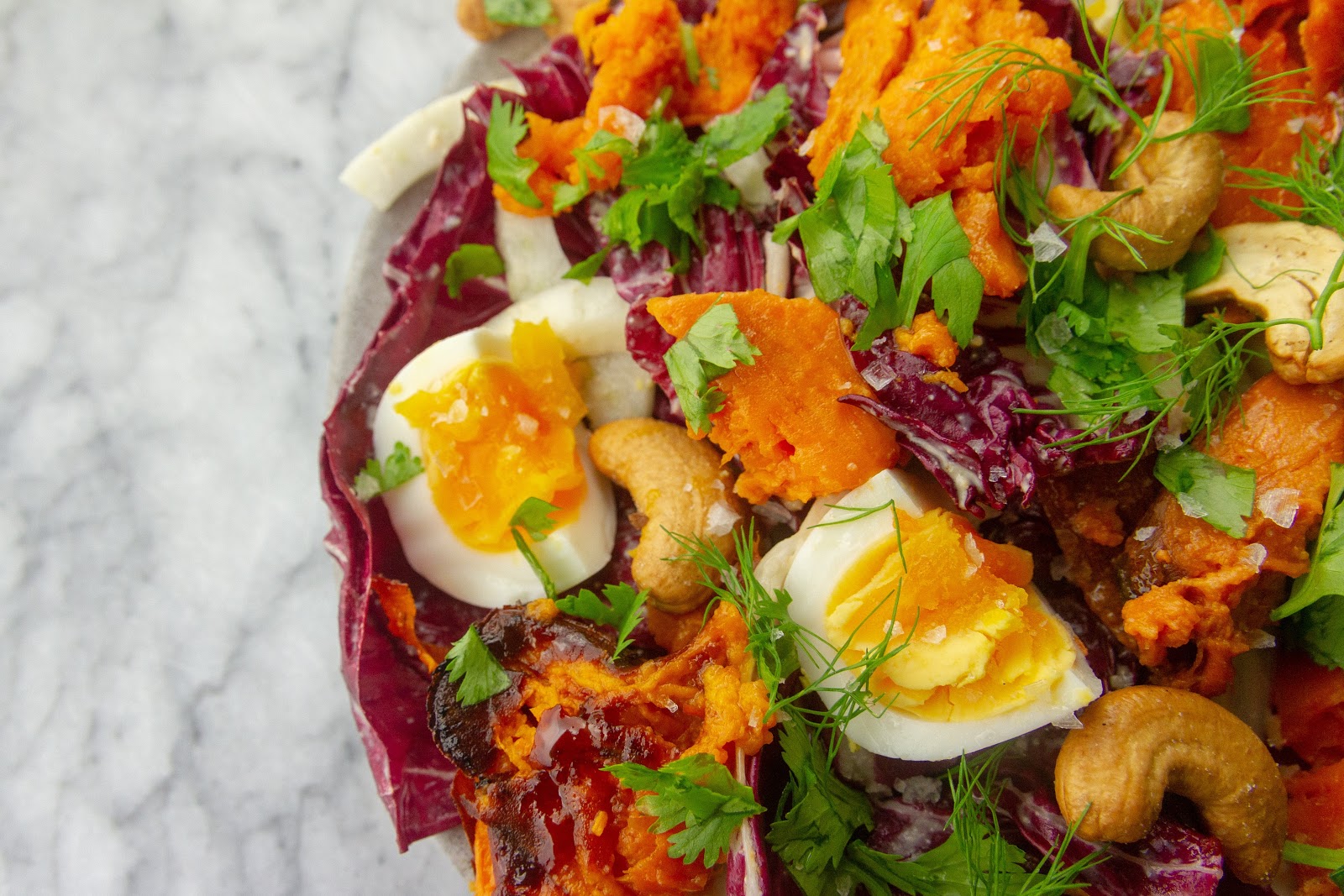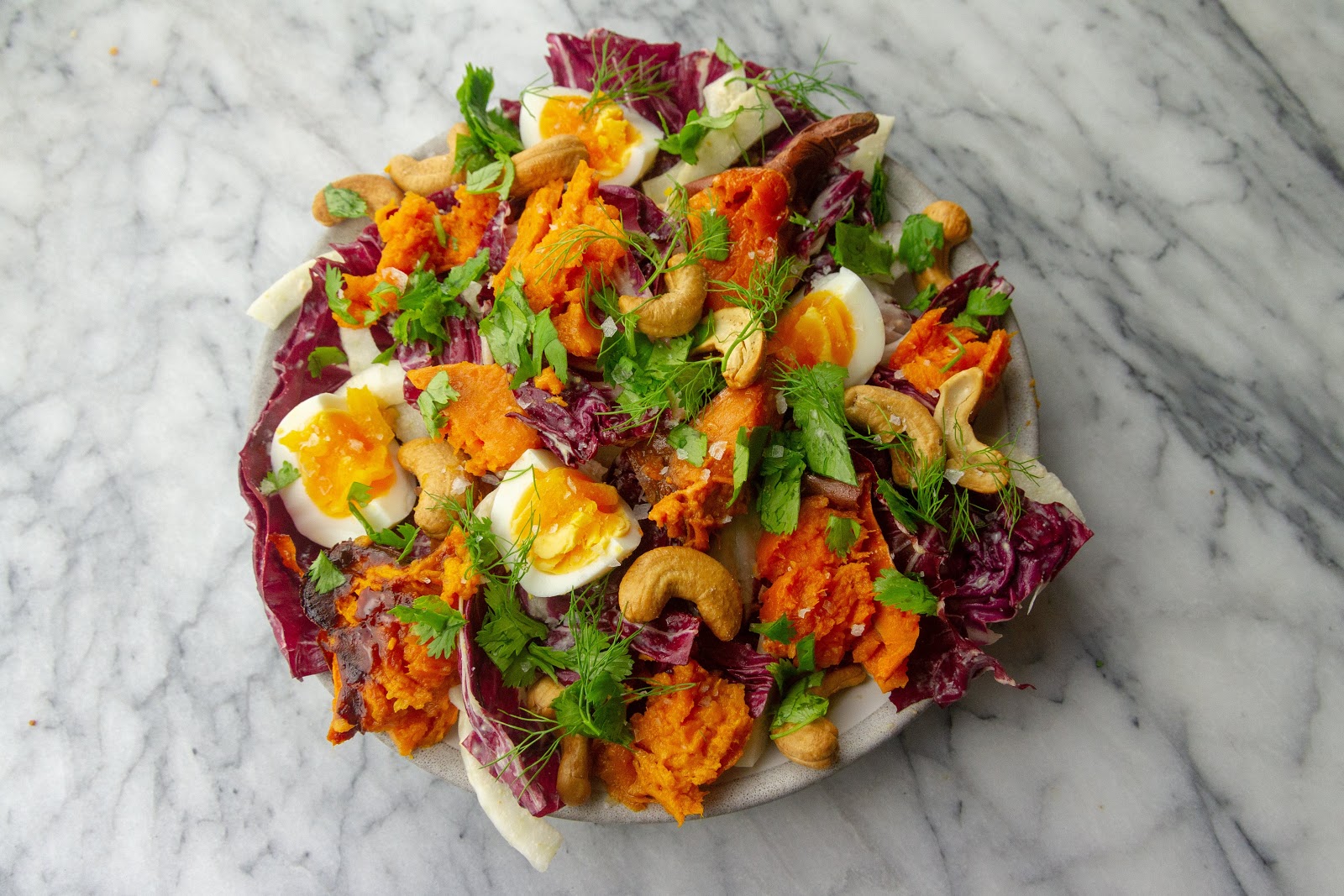 Dinner Salad with Radicchio and Roasted Sweet Potatoes
Source: Bon Appétit online (and in their current issue). Recipe by Molly Baz. Access it, here.
Tip: This dish is naturally gluten free. Make sure to purchase cashews (for the dressing) that are properly labeled and not processed in a facility that contains wheat.
Review: If there were ever a lesson in creating visually stunning, delicious-tasting, and easy to create salads, then this would be it! Packed with bright colors, bold flavors, a variety of textures, not to mention a superb spicy dressing (made with cashews), this salad-for-dinner has really got it all.
We loved the textural symphony of hot sweet potatoes, warm eggs, cold Radicchio, crunchy cashews, and the spicy/savory dressing. It all came together in a surprising, but amazing way and we couldn't get enough of it. Any time someone suggests adding sweet potatoes to salad, trust them.
This dish was another example of how salads don't need to be only "lettuce and veggies" to be a success, but you already knew that.
There is so much more to a salad than lettuce and there is so much more to include than just your everyday cucumbers and tomatoes. I prefer the inclusion of less-traditional ingredients because it makes it more visually impressive and overall more enjoyable to eat!
Beyond the deliciousness of this dinner, I'd like to note that it was extremely filling thanks to all of that protein. If you weren't convinced yet that a salad could be a "real dinner" then I'm here to tell you (again) that it's entirely possible. A dinner salad is like a regular salad, but way better. And more fun. ;)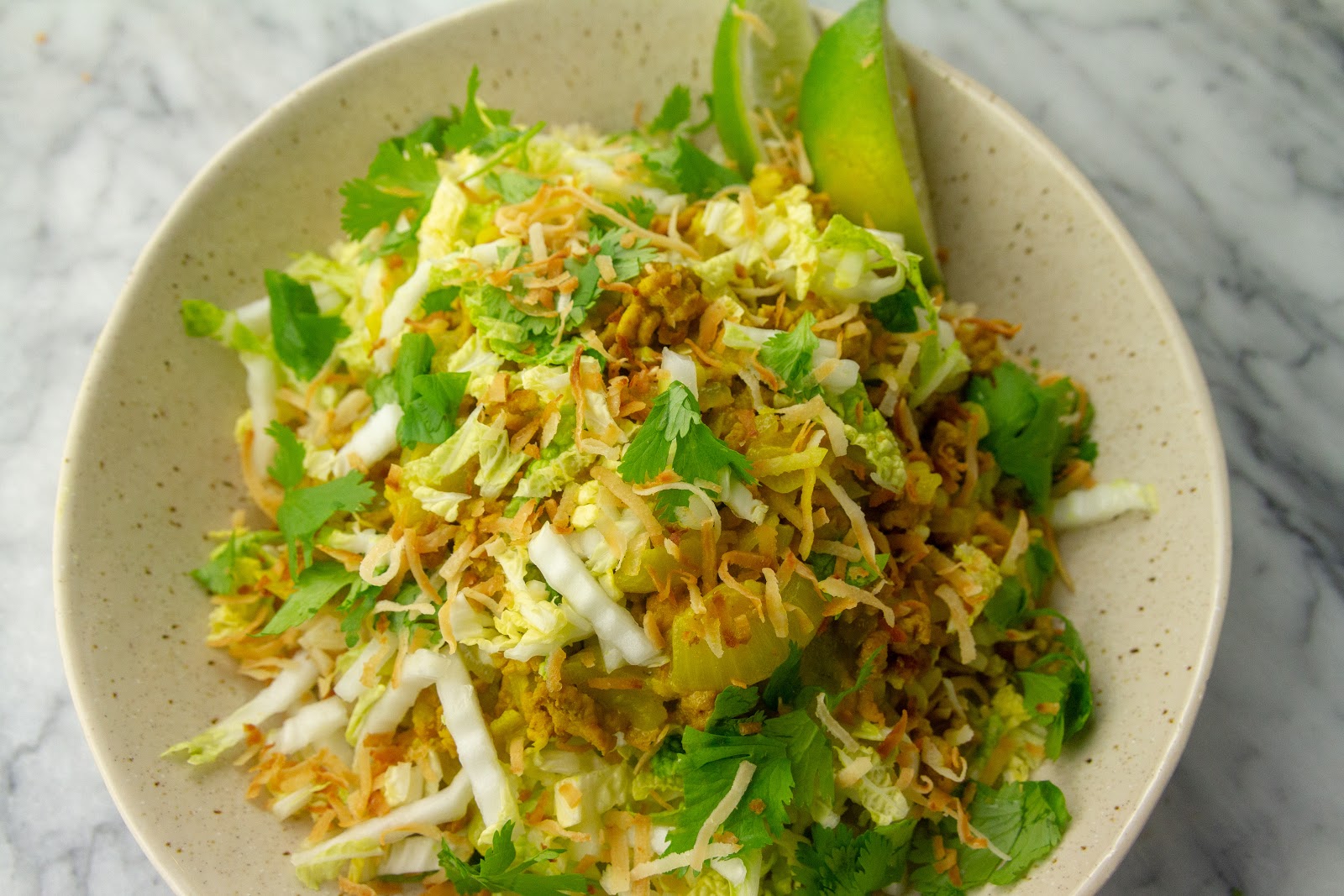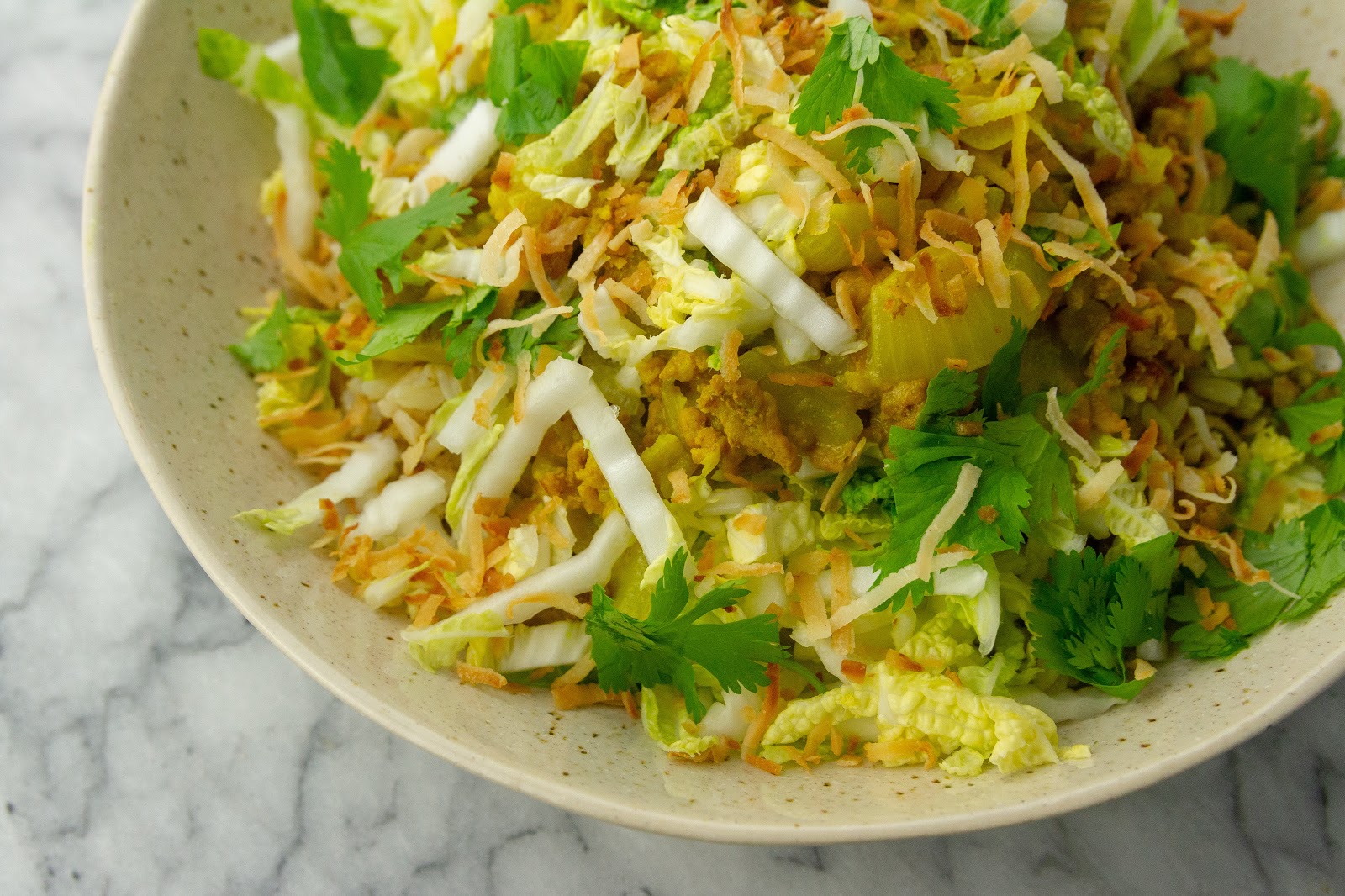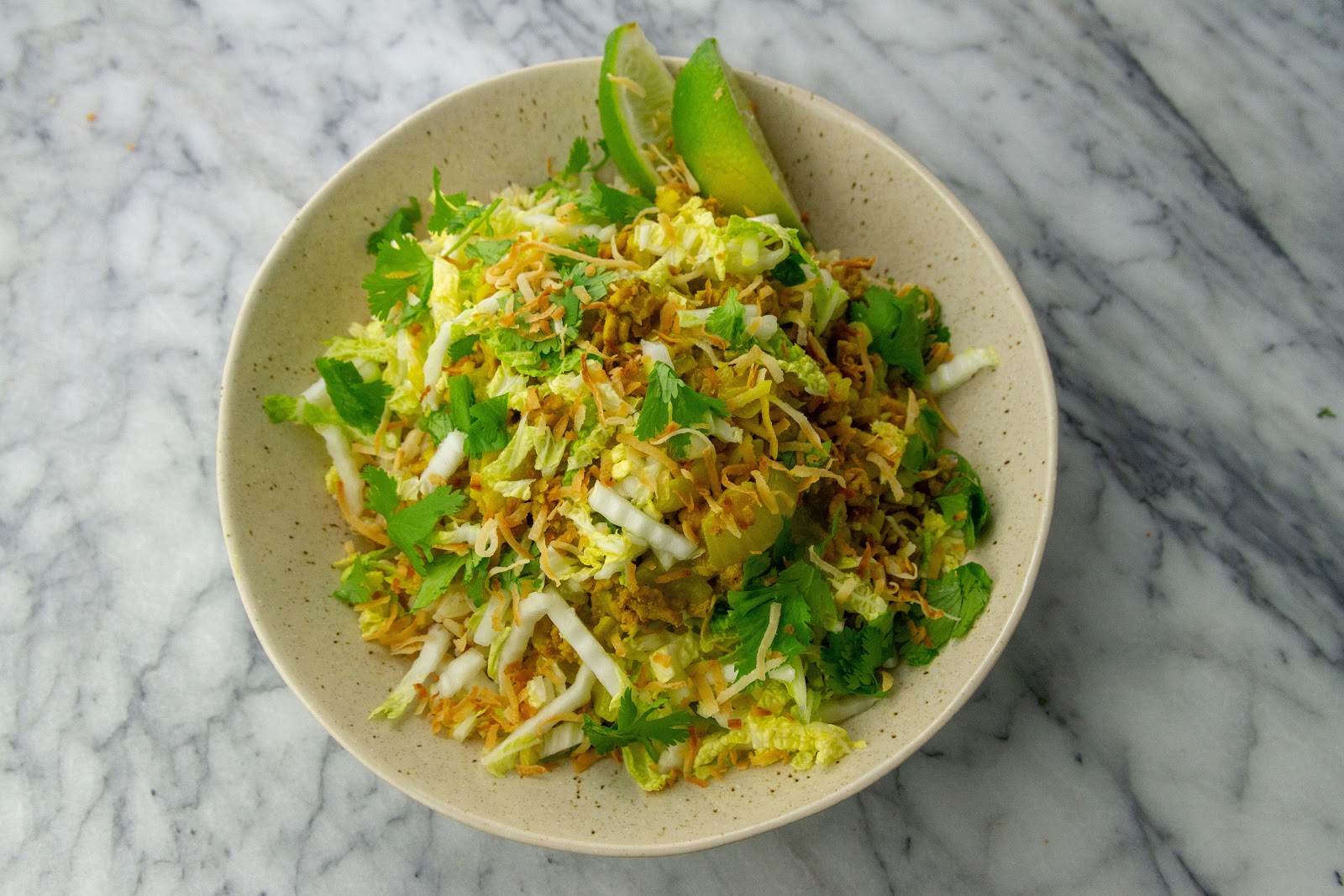 Turmeric-Coconut Curry with Pork
Source: Healthyish for Bon Appétit. Recipe by Chris Morocco, available here.
Tip: This recipe is naturally gluten free. We doubled everything so there would be plenty of leftovers! We did skip the yogurt on top; therefore it was dairy free!
Review: A frenzy of flavors! But don't worry; this delicious dish warms you to your core and eases you into the world of curry. And with all that ginger and turmeric, this one is healthy to boot!
Some weeks just call for a double dose of coconut and this was one of them! With our coconut rice the night before and with this coconut curry the next, we were completely "coconut-ed" by week's end. I really love that flavor and even more so when it's combined with the brightness of turmeric and strength of ginger.
This turmeric-coconut curry (with ground pork) was hearty and filling, but also fairly mild. While we anticipated a bold flavor, the result was more restrained than I had hoped.
Still delicious and something awesome (and quick) for a weeknight, I'd recommend this curry for those learning to enjoy them. It may be best for folks dipping their toe in the turmeric tide and people who aren't already an adoring fan of curry. That being said, I really enjoyed the dish even if I wanted the flavors to be a bit more intense.
Next time, we may try swapping the pork for chicken (why not?) and adding extra spice to the curry (bright and spicy, please!). A few tweaks on an already yummy meal should result in an even more delicious dinner. Right? ;)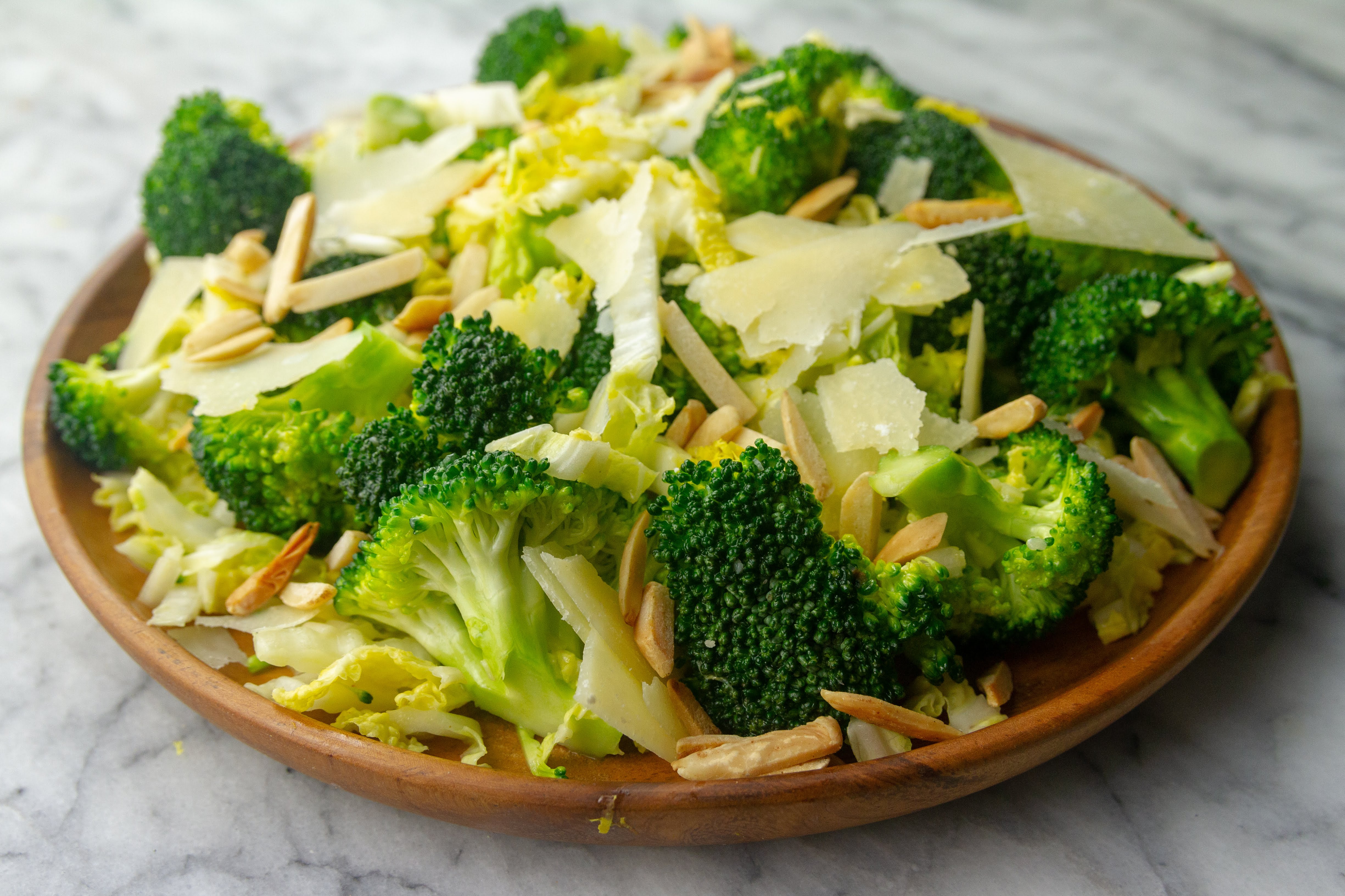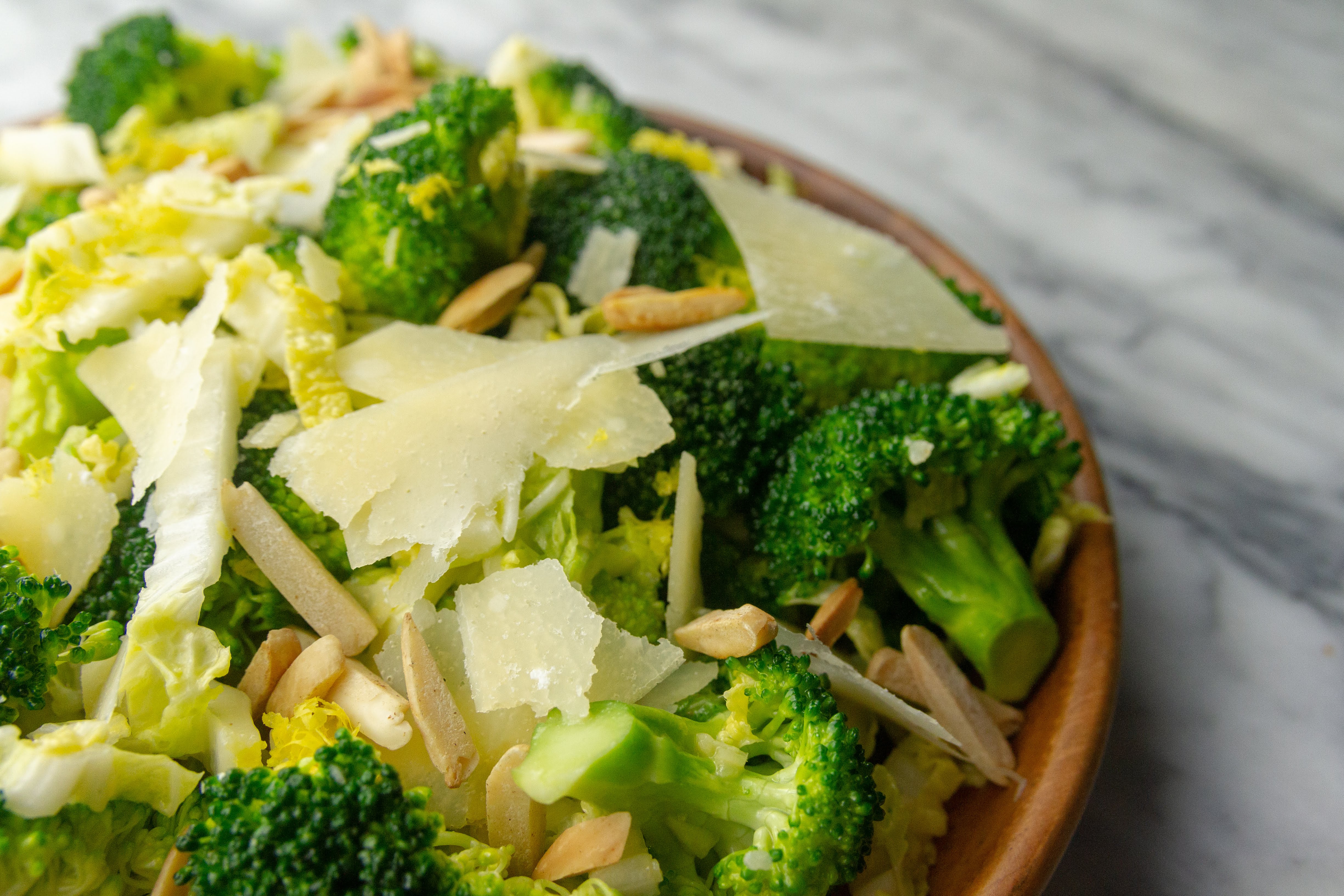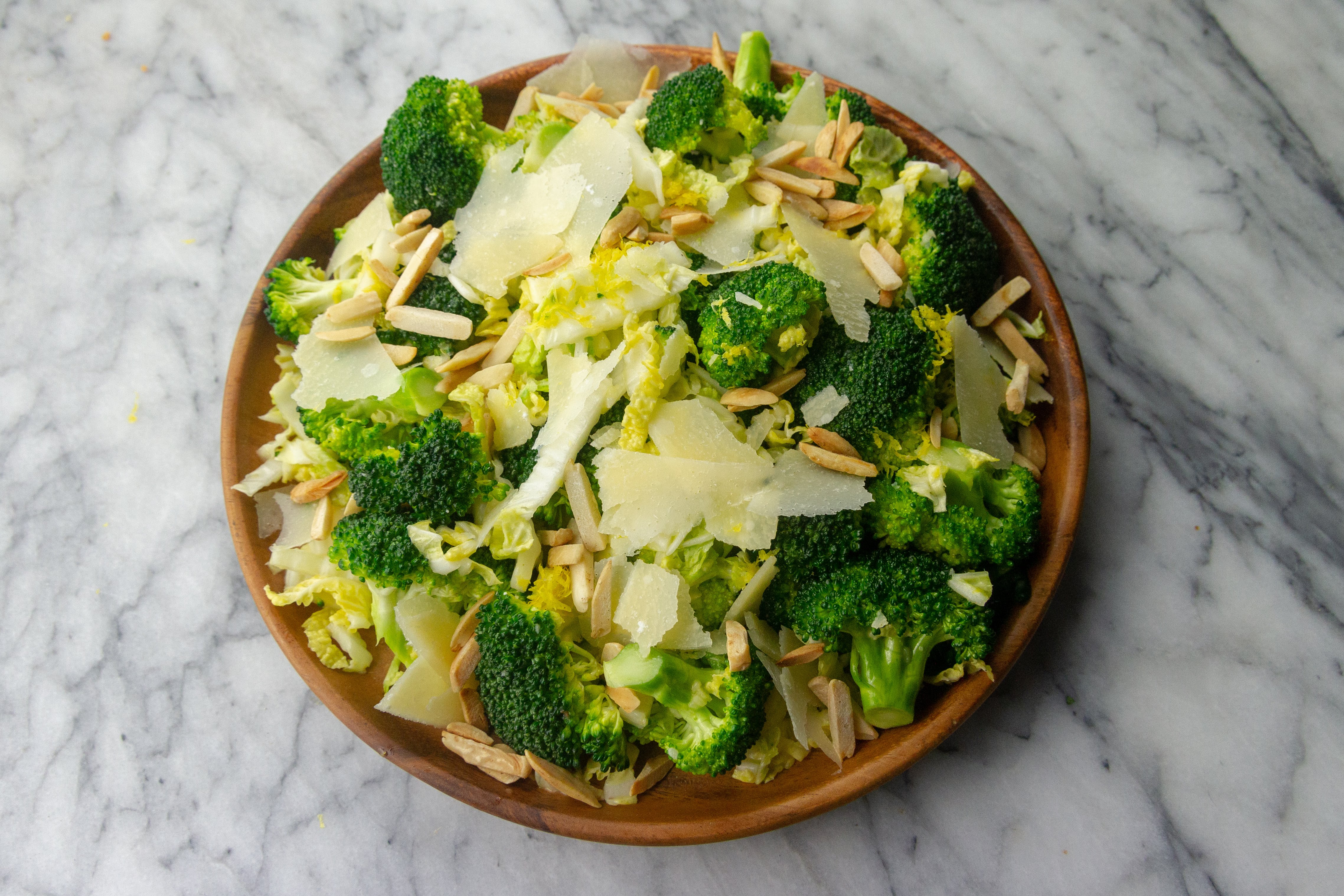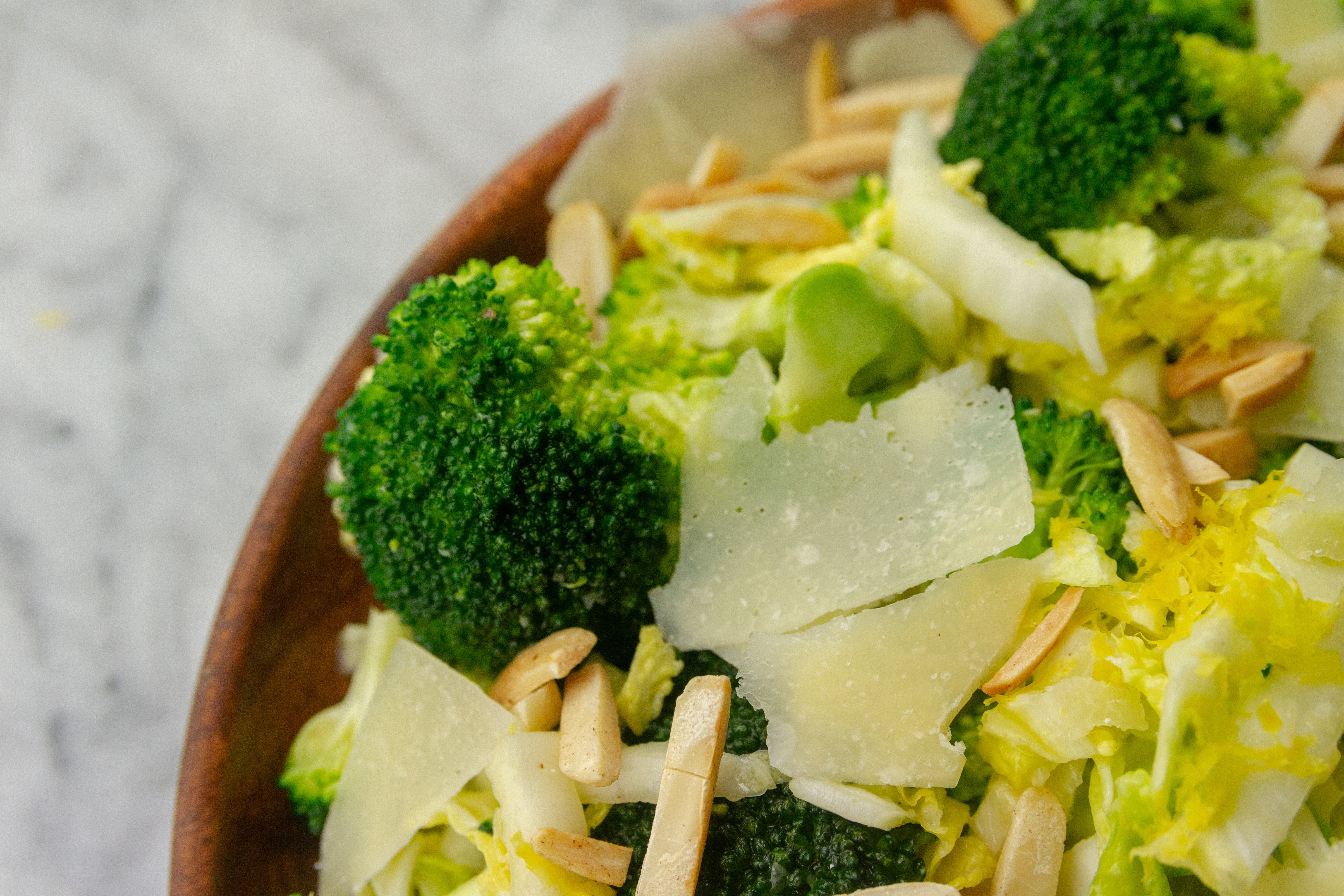 Broccoli Caesar
Source: Bon Appétit online. Find it right here.
Tip: This dish is naturally gluten free.
Review: Here are a few things to know about this salad, in no particular order: it's entirely raw, the dressing is delightful, and it was not classic-enough (for me).
Sure, I am the one who selected the recipe and it was me that decided to not make any changes to it aside from add toasted, slivered almonds (good call). But I must admit I should've been more selective.
In an attempt to further push my palate and preferences, I decided to stick to the recipe and go with the flow. However, I'm not exactly the biggest broccoli fan. And I don't love it raw. Whoops!
Thankfully, this salad had an excellent, bright dressing and a whole bunch of cabbage mixed in which helped tremendously. A lot of shaved Parmesan didn't hurt, either. ;)
Moral of the story on this one because I prefer honesty over everything and being transparent about the food we make: I much prefer a classic Caesar with chopped romaine. Skip the broccoli; however, if you include it I'd recommend roasting it first to encourage a char and deeper flavor.
For as hard as I tried, raw broccoli just won't cut it when it comes to my Caesar salad cravings. And the cravings are what matter most. :)
Eats and Events of the Weekend
We closed out the month of March with a most-excellent surprise: warm weather! Both days of the weekend were far warmer than it's been in months and it was just delightful.
We took it all in with a few sun-filled walks and embracing the moments where a jacket was not needed. How refreshing! I can't wait for these warm days to be the norm and not just a brief surprise.
Aside from feeling joy due to the sun, we did our usual errands, I baked some cookies (more on those soon), and went out to eat a few times. I'd call it a classic weekend! 😉
Here's where we ate!
Tap the restaurant title to go directly to their website.
Burton's Grill & Bar: A massive gluten free menu and a relaxed atmosphere. It's delicious dining without worry; my favorite way to eat! Must order: General Tso's Cauliflower.
Legal Sea Foods: Veteran seafood chain in the Boston area that offers countless gluten free options including all of your favorite fried items. I was in the mood for greens so I ordered another great item, their kale salad topped with crab meat. Yum! Always order: fried clams.
Red Heat Tavern: A local spot that offers a tremendous variety of gluten free food as well as big TVs to watch sports and unwind. I call this an official GF sports-bar. ;) They take allergies seriously so I always feel comfortable ordering anything I want from the menu - win! Recommendations: Tavern Nachos, Fried Pickles, Mediterranean Bowl.
Here's hoping spring has arrived for good and we can look forward to many more sunshine-filled days ahead! Hope you had a delicious weekend!
Eat, well.
Mollie and Seth