Let's Have This and That
For all of the weeks where we have very put-together plates, there are other weeks when organizing our meal plan is a bit more...loose.
And while all of the dinners this week were quite delicious, I'd say a few were the result of just calling out flavors we love and figuring out a dinner that would include them. So, we had a little of this, a little of that, and a lot of excellent food. 😏
Let's dig in!
PS: So many of the staple ingredients we used to make these dishes are available in Mollie's Market!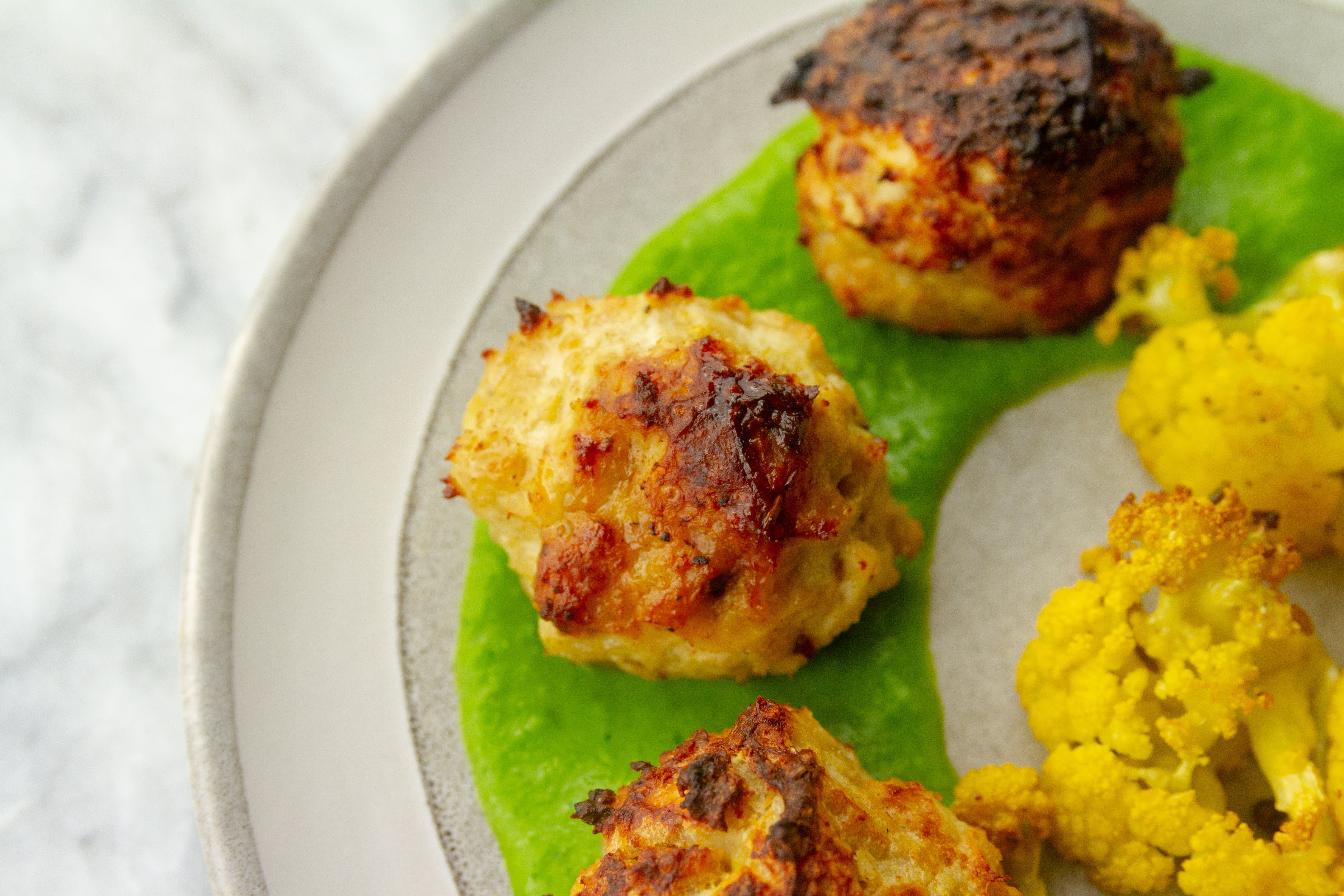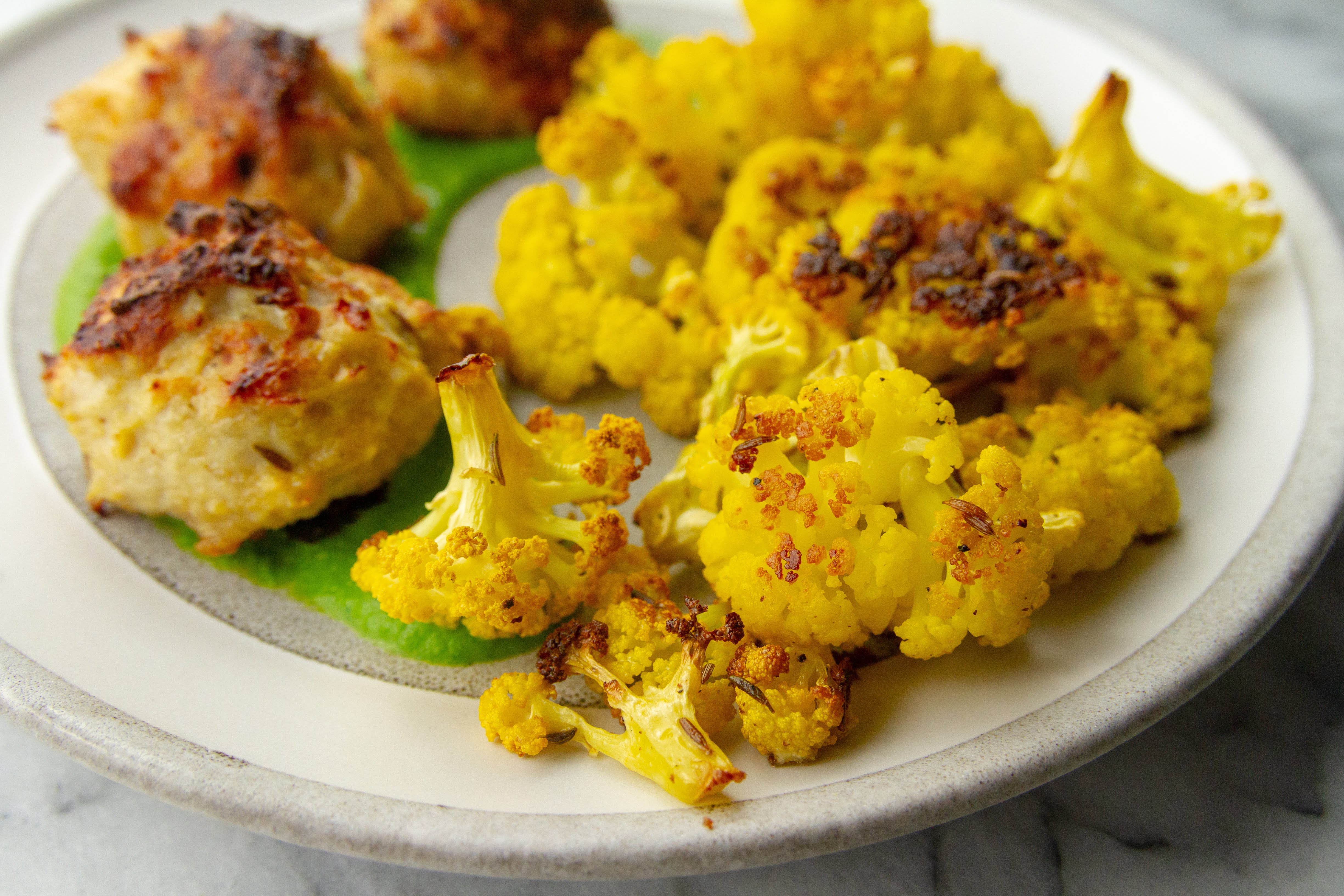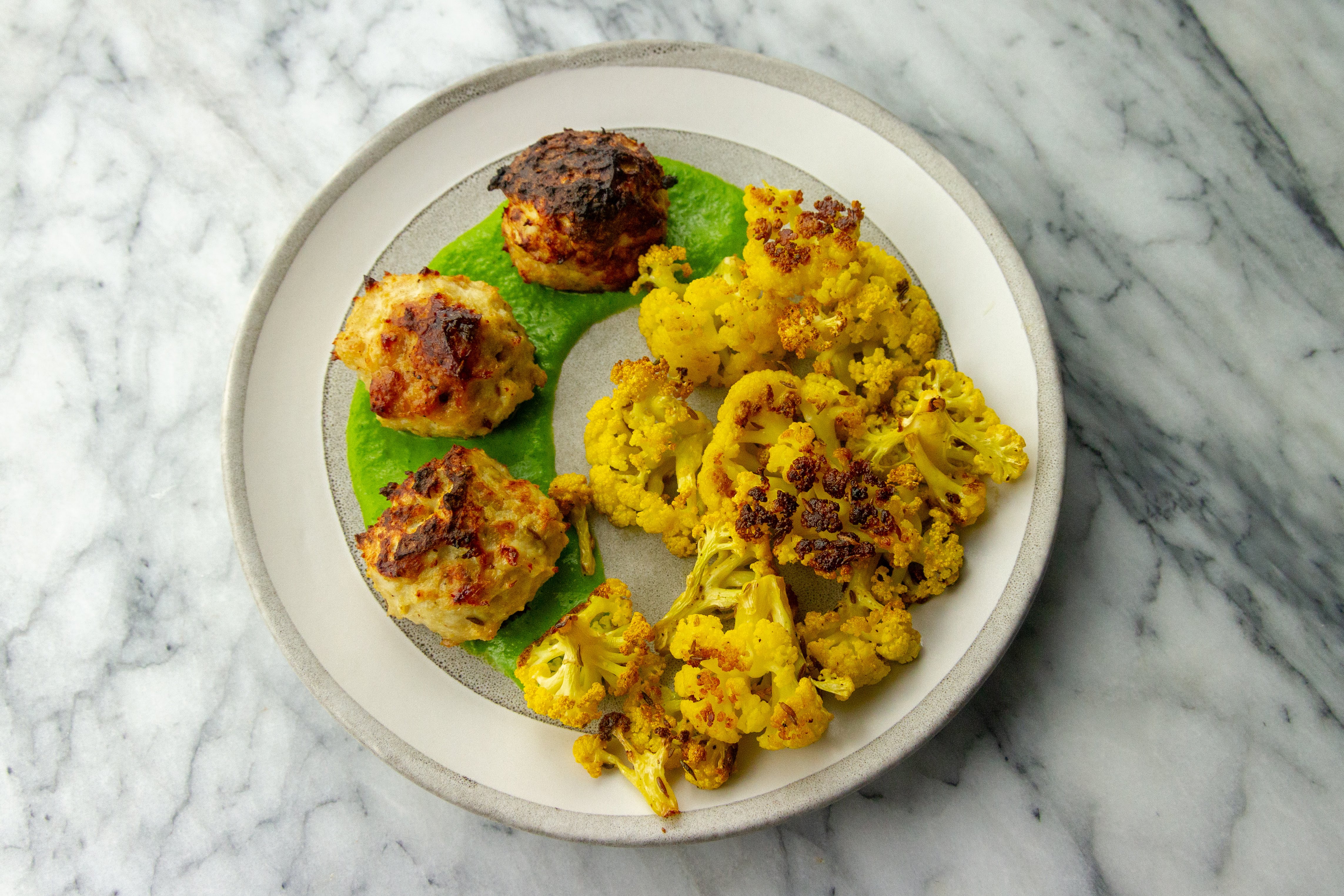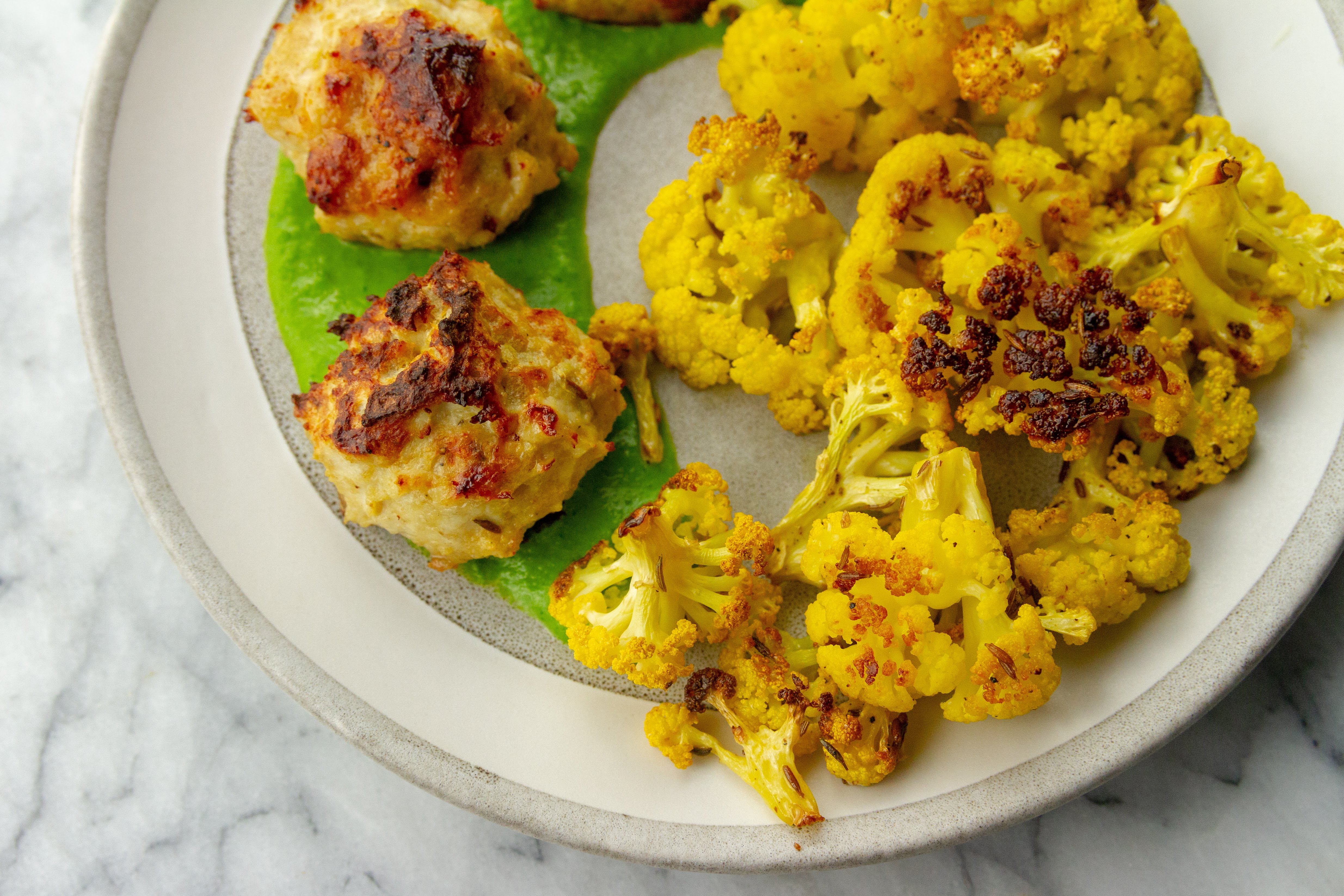 Cumin-Chicken Meatballs and Roasted Cauliflower
Source: Dinner Changing the Game by Melissa Clark
Tip: Be sure to use GF breadcrumbs (we prefer Aleia's) in the meatball mixture. All other ingredients are good-to-go.
Review: I fondly remember the first time we made these small, spicy meatballs last year. I was impressed with how quickly we could make something so delicious that was so different than what we had been making pretty regularly. Chicken meatballs?! Who knew? Everyone except me, apparently.
This recipe is awesome and should immediately be part of your weeknight repertoire. I'd have them daily; they're standard fare, but with a twist.
Additionally, the spice factor is enhanced by a devilishly good green sauce which is made easily in the blender and should be poured generously over each meatball. That's a spicy meatball!
We served these small gems with another excellent recipe for roasted cauliflower. It's so scrumptious thanks to fennel seeds which have an aroma that filled the kitchen and wafted from the oven as soon as the door had been opened. Another example of how roasting veggies with just a few seasonings can go very far in the way of creating something really awesome.
This dinner may not have been a traditional pairing, but it was really yummy. As I mentioned in the opening, this dish went right along with the theme: a little of this and a little of that. Most importantly, as usual, the final outcome was delicious.
Note: for a crowd, or a hungry family, I'd recommend doubling the meatball recipe. There's no harm in leftovers! Better to have more than enough, especially when it comes to meatballs. :)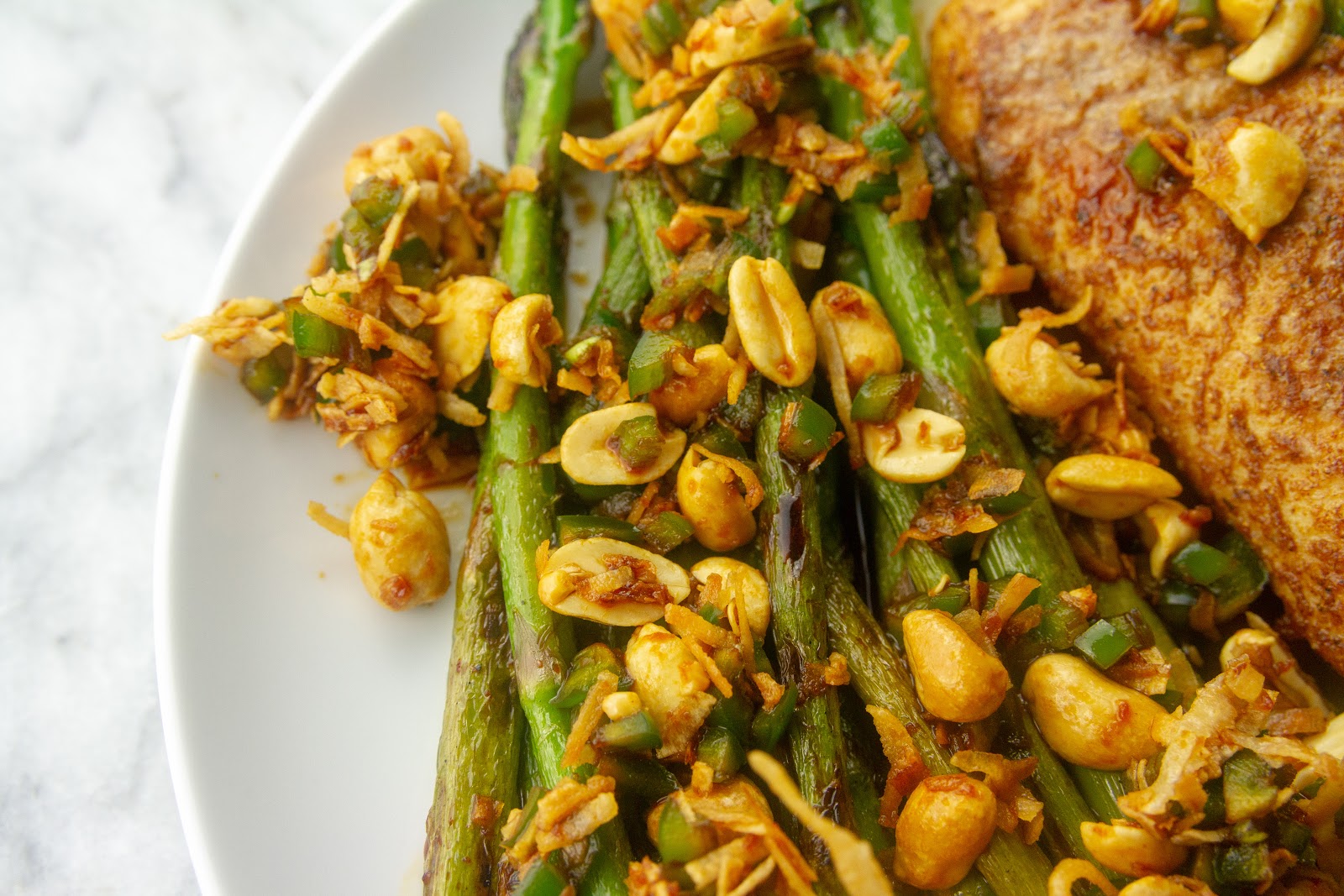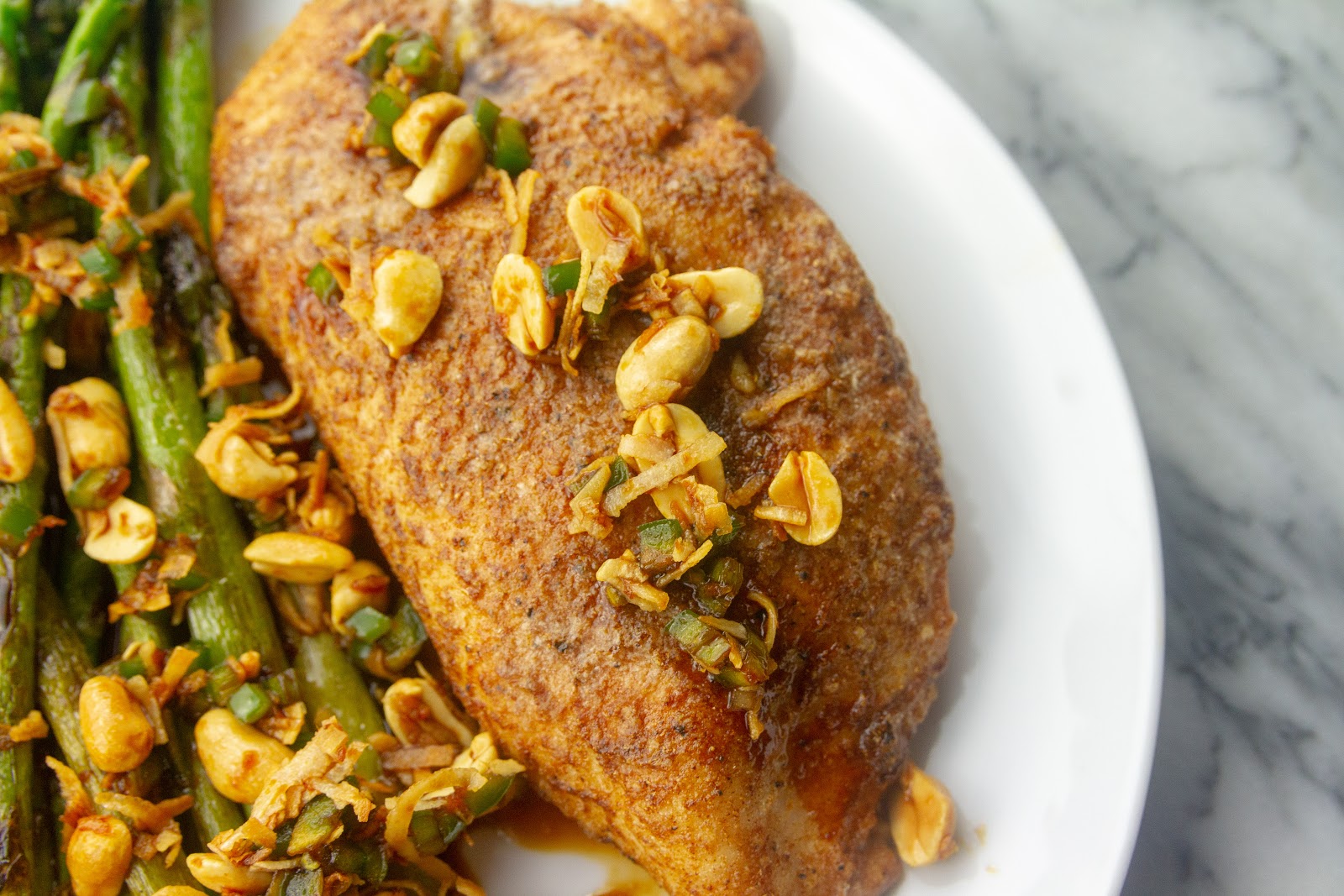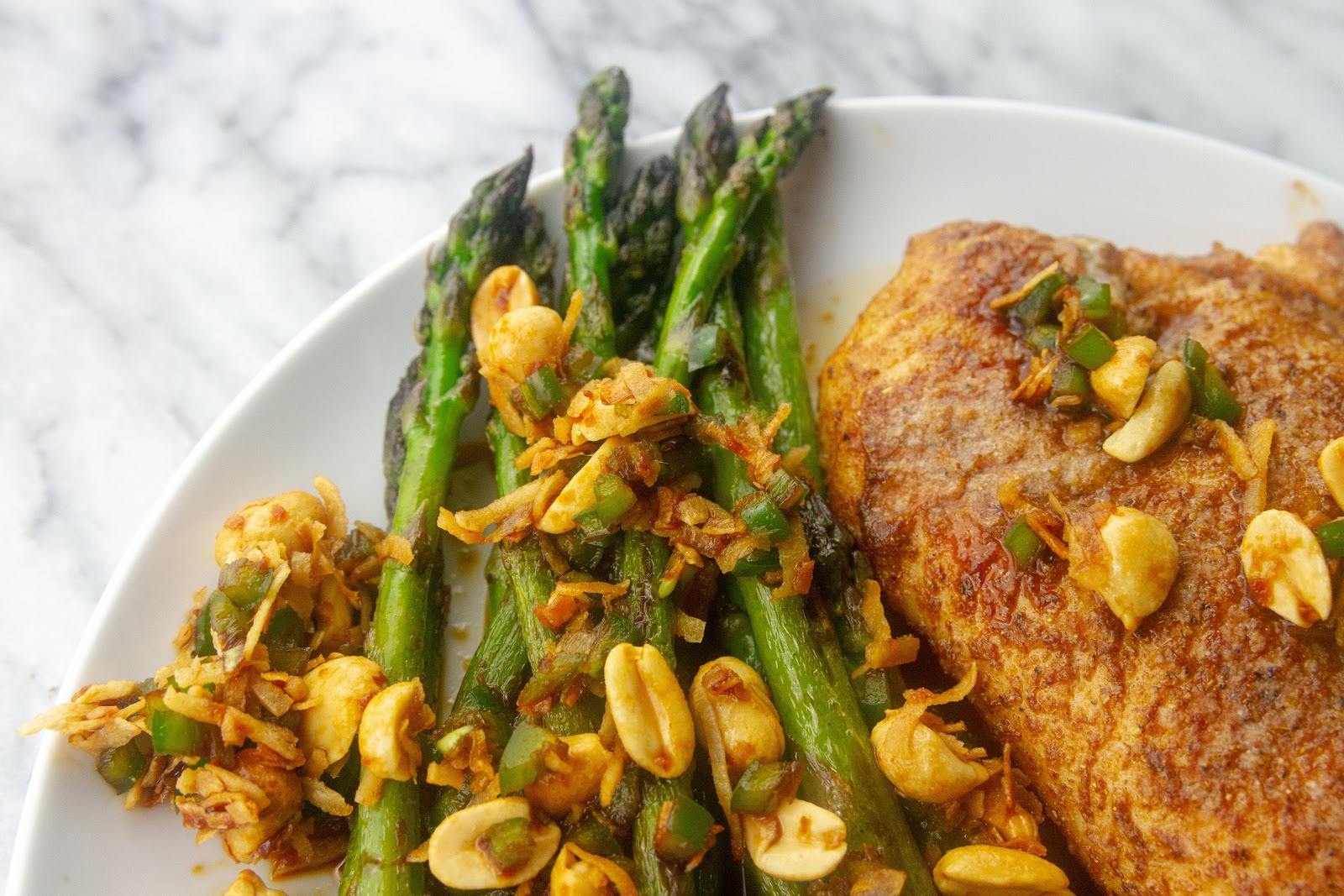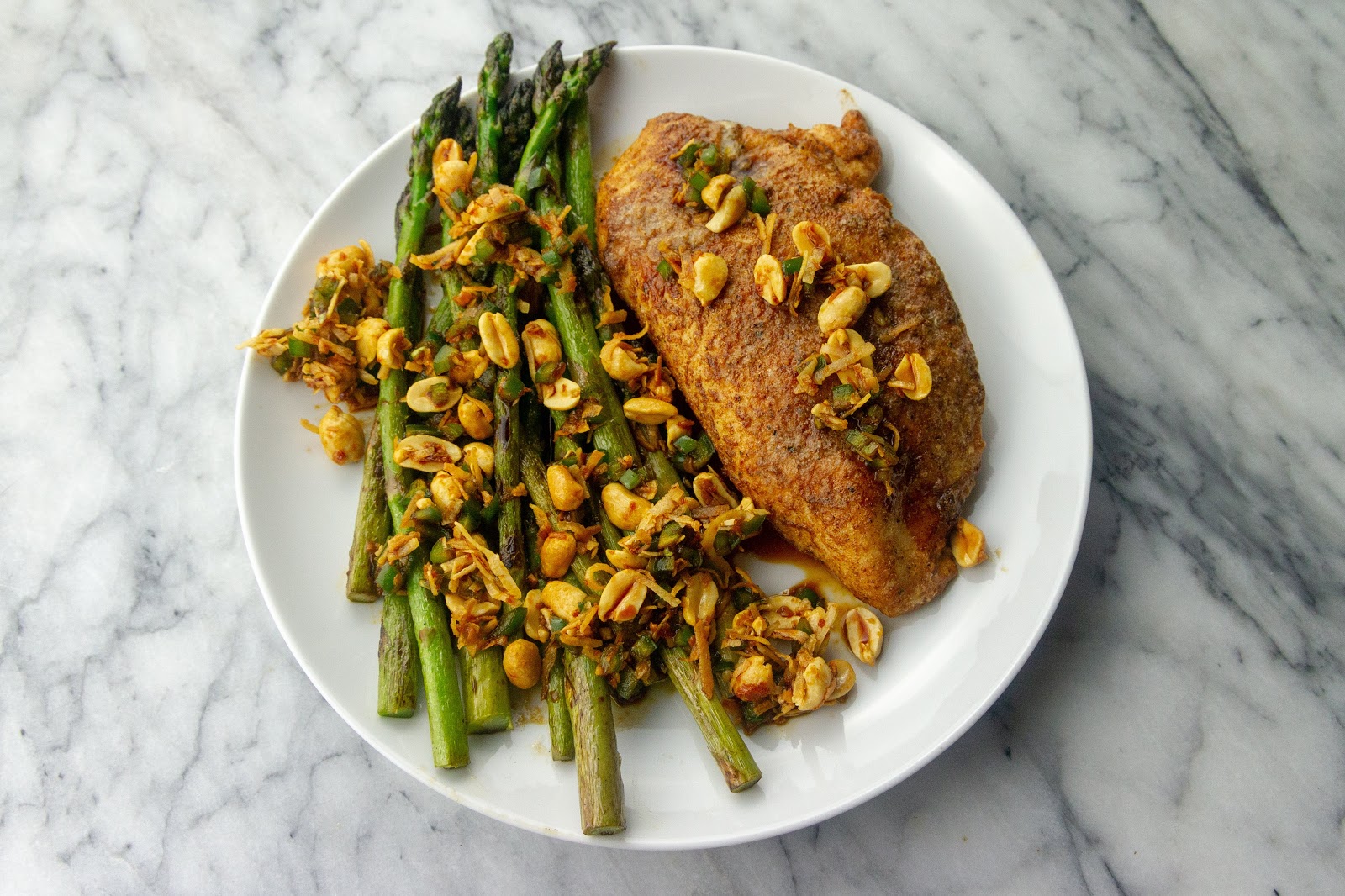 Shawarma-Spiced Baked Chicken and Blistered Asparagus with Peanut-Coconut Sprinkle
Source: The seasoning on the chicken is from a recipe in Cook90 and the asparagus recipe is from Bon Appétit. Access it, here.
Tip: Just make sure to use GF soy sauce in the asparagus topping; otherwise everything is gluten free.
Review: The surprise of this dinner was that shortly before cooking began, we barely knew how the dish would turn out. I had not picked a method for cooking the asparagus nor had I finalized the chicken seasoning. However, nothing like being extremely hungry to encourage making those necessary decisions in an instant!
We decided on a shawarma-spice for the chicken, which we've used many times before because it's ultra-flavorful, slightly spicy, and helps basic chicken become far more interesting when baked. In fact, it's become my current favorite baked chicken seasoning! Find it in the Cook90 cookbook linked above.
As for the asparagus, we had planned on simply grilling it, but then I opened my email while Seth was prepping and voilá! A great asparagus recipe was staring right back at me from Bon Appétit. It sounded delicious and we conveniently had all of the ingredients already in the pantry and fridge. Excellent!
The dish turned out to be awesome and while I'd never think of spooning a crunchy, slightly spicy mixture of peanuts and coconut on asparagus, I am so glad we did. We will definitely keep this recipe on hand throughout the current asparagus season!
What I loved about this funky dinner was that it came together pretty randomly, but didn't take long to cook, and actually turned into a delicious combination.
I don't know if these flavors really went together, but you know what? Sometimes they don't have to; they just need to make a great meal. And that's exactly what we made, happily.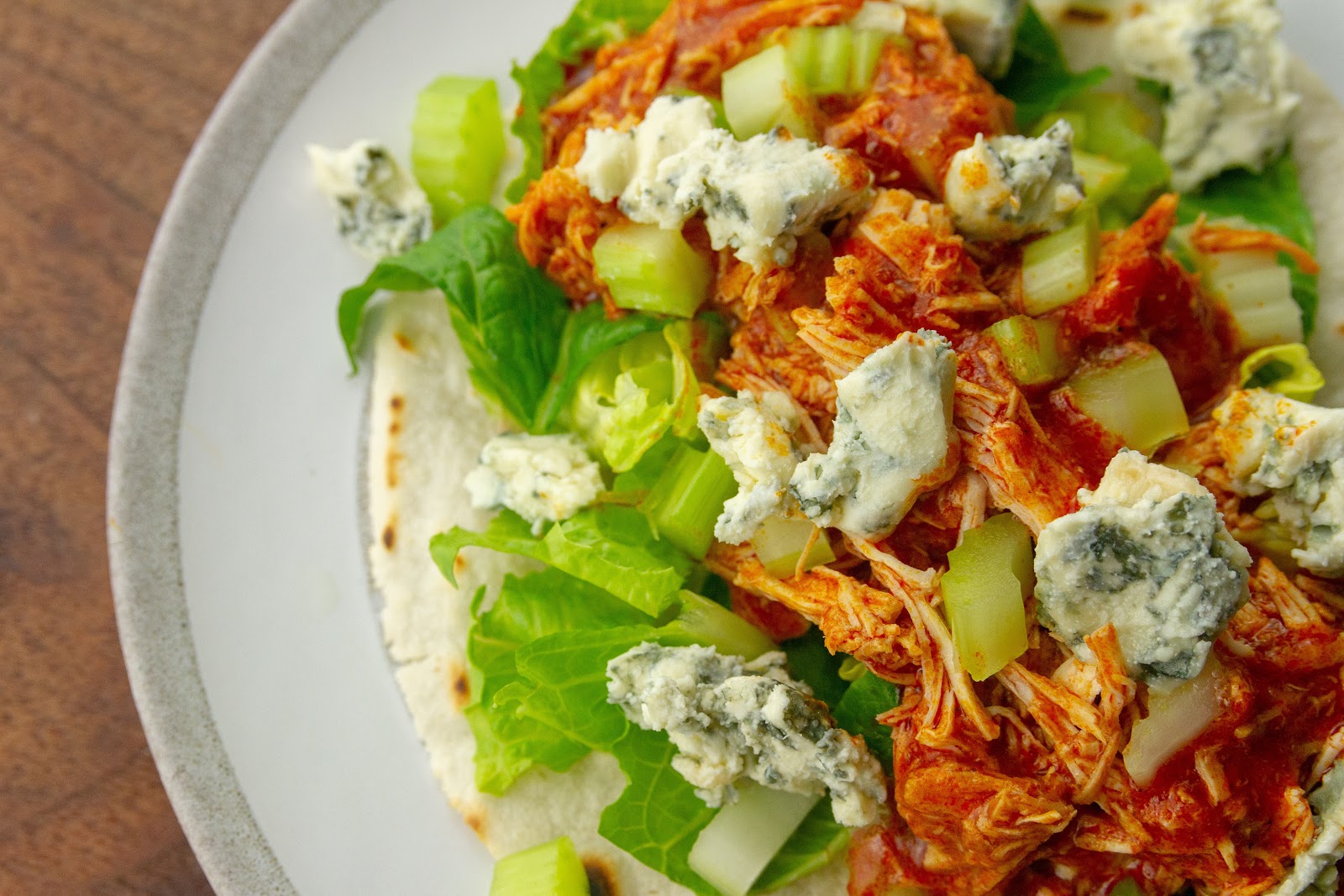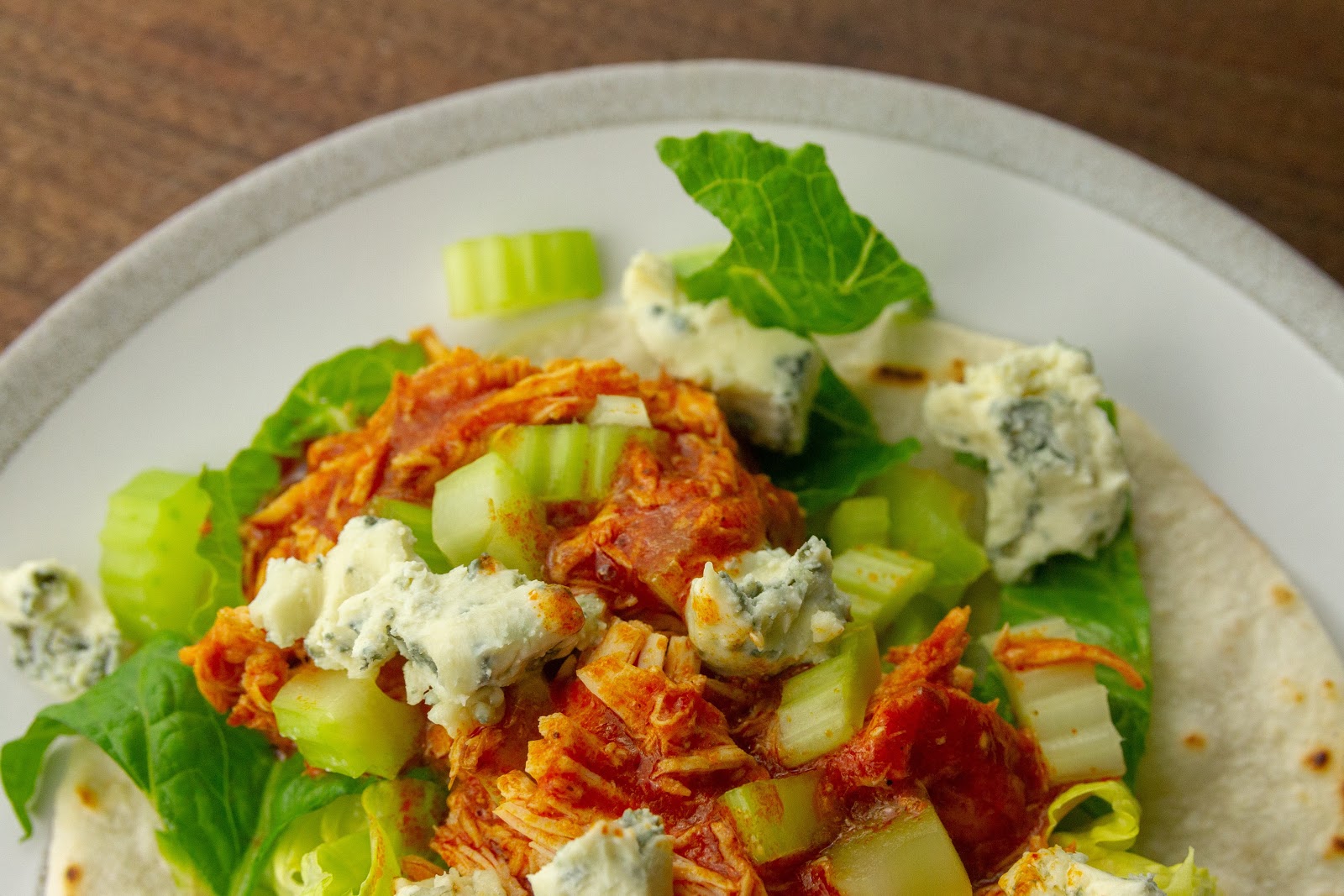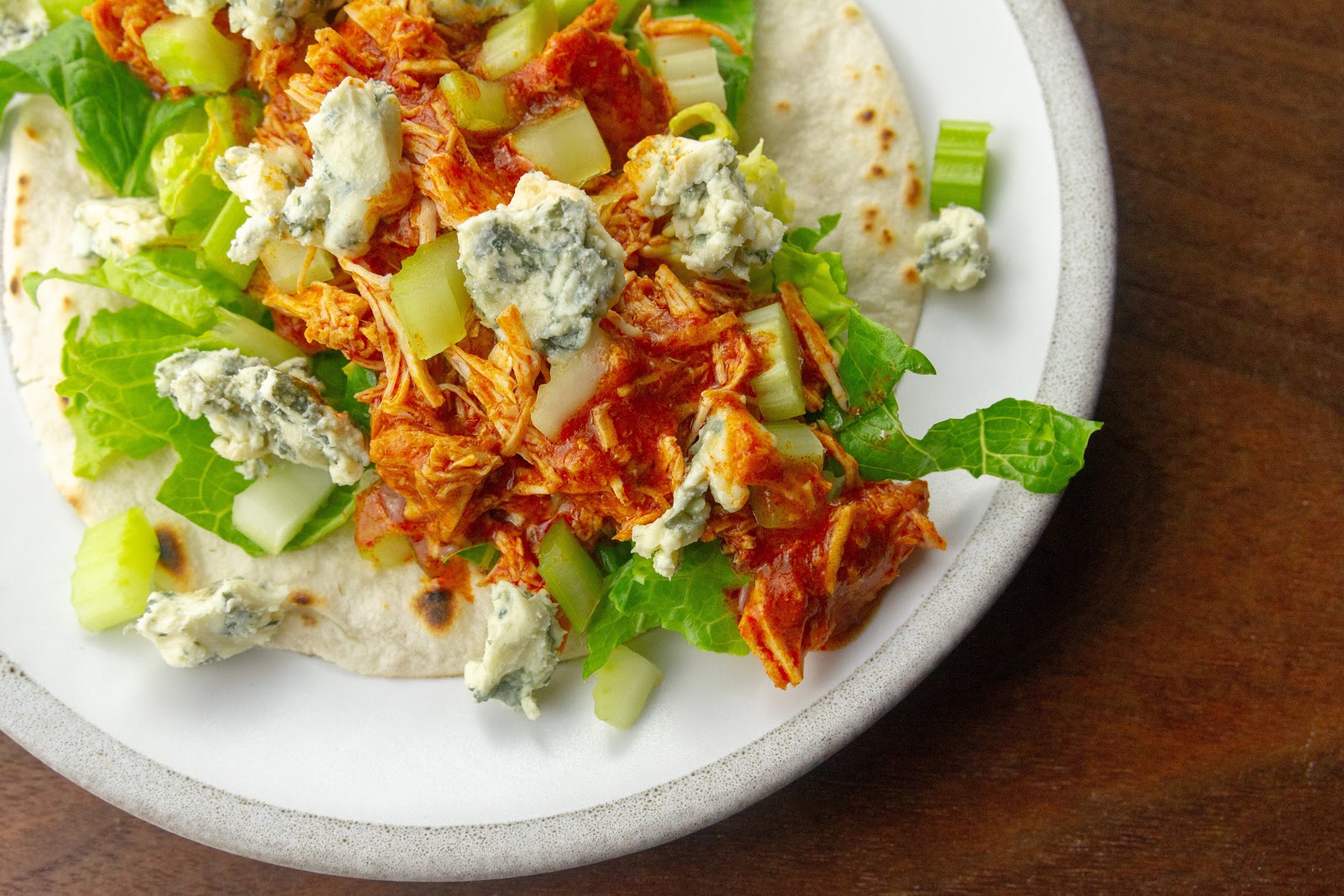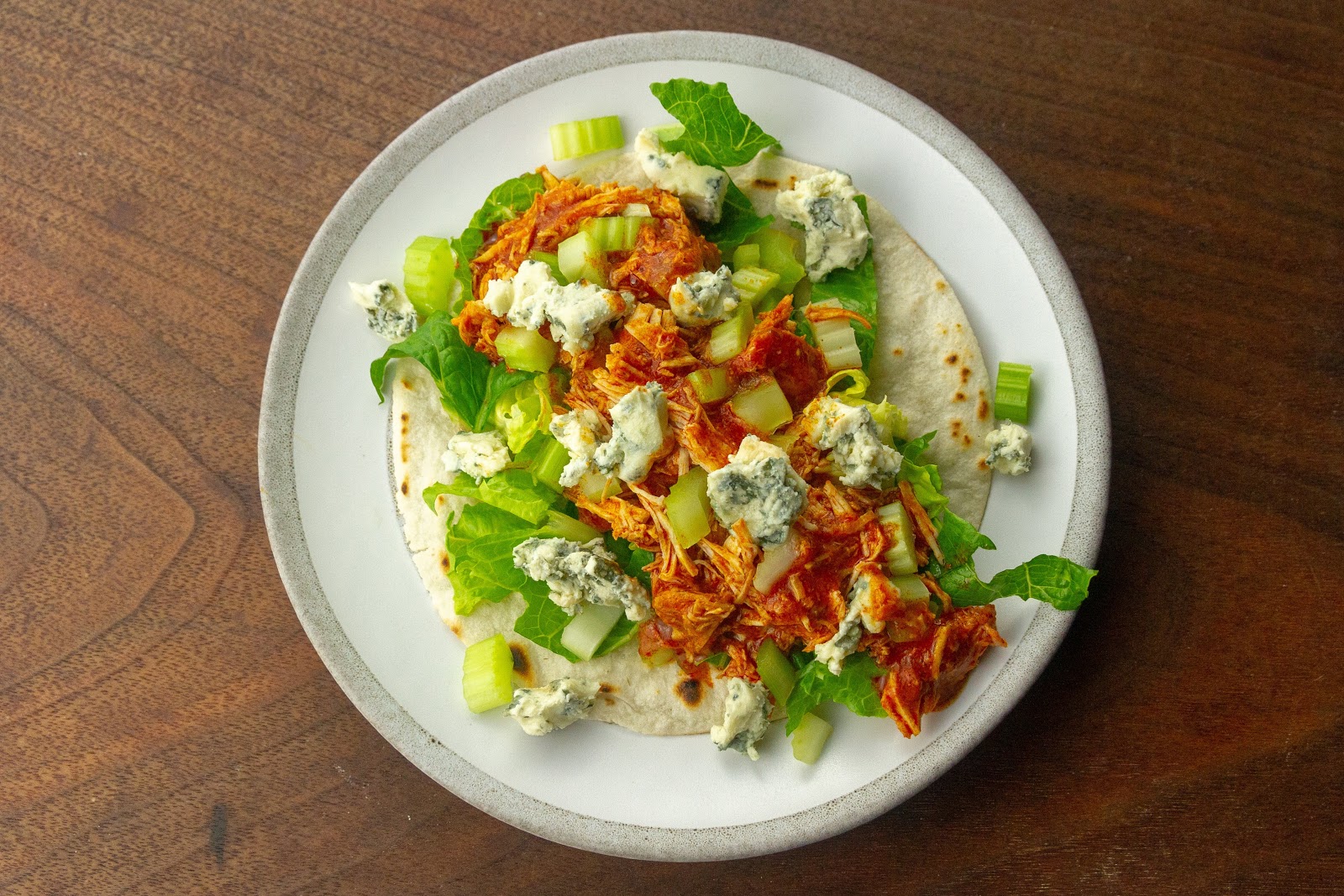 Slow Cooker Buffalo Chicken Tostadas
Source: An original recipe! We made the buffalo chicken (simply chicken and buffalo sauce) in the slow-cooker all day while at work, then put it in a warmed cassava flour tortilla topped with shredded romaine and crumbled blue cheese.
Tip: This dish was naturally gluten free! We used bottled buffalo sauce that was labeled accordingly and purchased GF tortillas.
Review: There is usually one meal (ok, two) per week when we succumb to all cravings and dig into the ultra-delicious. For this particular week, that was this creation.
I suddenly had buffalo sauce cravings over the weekend and just knew they had to be met. And while I didn't dive too deep and go into the land of buffalo chicken dip (omg divine junk food), I thought these slow cooker buffalo tostadas were a good option in favor of balance.
Clearly, buffalo sauce isn't the healthiest sauce, but when using it to coat boneless, skinless chicken, you can't feel too bothered. And other than that sauce, these tostadas were fairly healthy.
Chicken, chopped romaine, a crumble of blue cheese, and a grain-free cassava flour tortilla. See? It's indulgent without being too over-the-top. Let's be real: I love going out on weekends so I try for a modicum of health during the week. Creating these buffalo chicken tostadas struck the perfect balance of being a crave-fulfilling meal without throwing all healthy intentions out the window.
Did I mention these were heavenly delicious? For all of my yammering about being semi-healthy and ingredients this and that, the bottom line is that they were awesome and I'm so glad we made them. Responding to one's flavor cravings will always yield a delicious, satisfying meal. No regrets!
Party Hummus with Spiced Beef
Source: Cook90 by David Tamarkin
Tip: This meal was naturally gluten free!
Review: The name of this dish indicates that it's going to be a good time and it's going to be great. As soon as someone adds the word "party" to the title of a dish, I get excited and hopeful that the meal will be as bright and fun as I anticipate. Joyfully, that's the case with this Party Hummus!
For the record, making hummus at home is even easier than you think and yes, I highly encourage you to make it from scratch for this dinner. It takes a little more effort, but the flavor and quality of the final dish will be infinitely better than if you skipped out and used pre-made hummus. Trust me.
Aside from making the hummus and cooking the beef, there really wasn't much else to do! Each plate got a pretty pool of hummus which we topped with crispy spiced beef (ugh this was awesome), chopped cucumbers, tomatoes, parsley, and cilantro. That's it!
An amazing dinner for a weeknight that requires a real meal with brief effort or this could be an excellent shareable appetizer for a dinner party. I think my friends and family would just love it!
The recipe originally called for ground lamb which I think would make this meal quite decadent, but we decided on ground beef since we had it already in the fridge. However, I do think you could skip both and use ground chicken or turkey for a lighter option.
The beef was awesome, but of course those other proteins are a bit leaner and healthier. Whichever you choose to use, I guarantee you'll love this festive hummus! It's a party on a plate!
Eats of the Weekend
Well, it was quite possibly the most beautiful weekend yet! After late-day rain on Friday, the skies cleared and we enjoyed a gorgeous evening followed by a truly incredible Saturday. The sky couldn't have been more clear and I tried to enjoy every single second of the perfect day. And while Sunday had a stint of imperfection (downpours), I'd say it was still a win because the afternoon was just lovely.
I know I talk about the weather a lot, but I fully admit it affects my mood and how relaxed I am during the weekends. Seems a little extreme, but it's true. I love a great dinner to lift my spirits, but there's nothing like pure sunshine to make me feel my best.
Amidst the sun, we had a really fun weekend! We went out to dinner, saw friends, saw family, went briefly to Maine, and managed to both get in a workout on both days! What a treat! It was a really wonderful weekend. 🙂
Where did we eat?
L'Andana: We enjoyed a delicious dinner here on Friday night that included lots of melted cheese on GF bread, mussels, and fresh asparagus. A feast! And I had a martini. :)
Twist Bakery Cafe: It's finally here! The second location of this fantastic 100% gluten free cafe has now opened in Burlington and I am psyched. Everything is delicious so order it all. ;) We loved the breakfast sandwiches on homemade English muffins and I definitely ordered several muffins to-go. 😎
The Lobster Shack: After a birthday party Saturday afternoon we drove north and had dinner at this charming Maine institution in Perkins Cove in Ogunquit, Maine. So many menu items can be made gluten free (skip the buns!) and the fish tacos are amazing...
Check out my dining guide, Bar Bites, for even more Boston-area restaurant recommendations!
Psst: my full dining guide to Maine is coming soon!
We hope you had a wonderful weekend filled with fantastic food and hopefully a lot of time outside!
Eat, well.
Mollie and Seth