Darlings of Spring
With a week that began with the fun of Cinco de Mayo and closed out with the joy of Mother's Day, it was no surprise that we ate extremely well all week long.
From nachos to meatloaf, steak stir-fry to chickpea fritters, our meals covered a wide-range and really expanded our view of what could be considered a "traditional" spring dish. Hey, there are no rules around here about what you're supposed to eat this time of year; it just needs to be delicious!
Thank you to Wilson Farm for sponsoring our dinners this week. All ingredients used in each dish are available at Wilson's in Lexington, MA. All opinions and ideas are, of course, my own.
Now, let's get to the meals!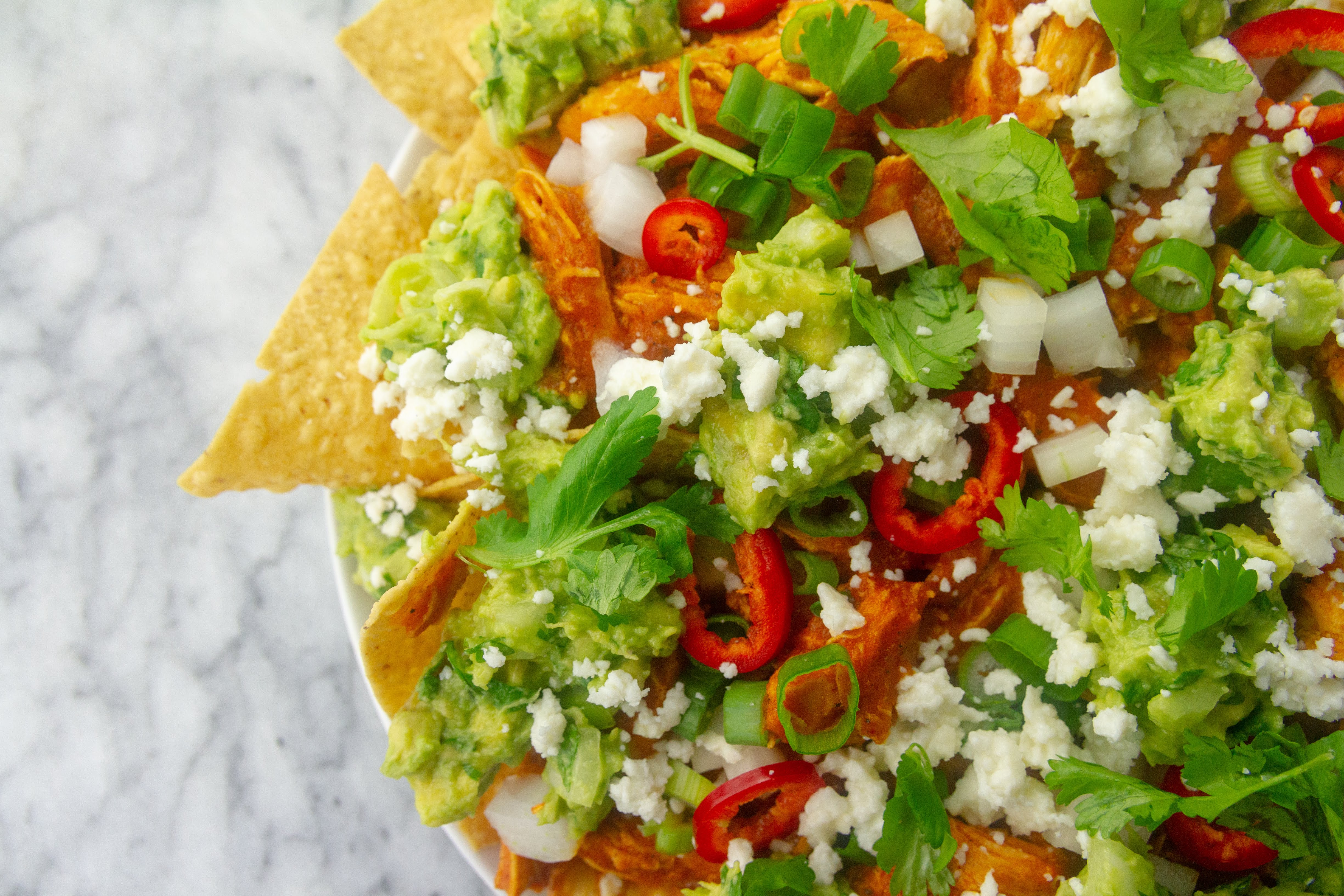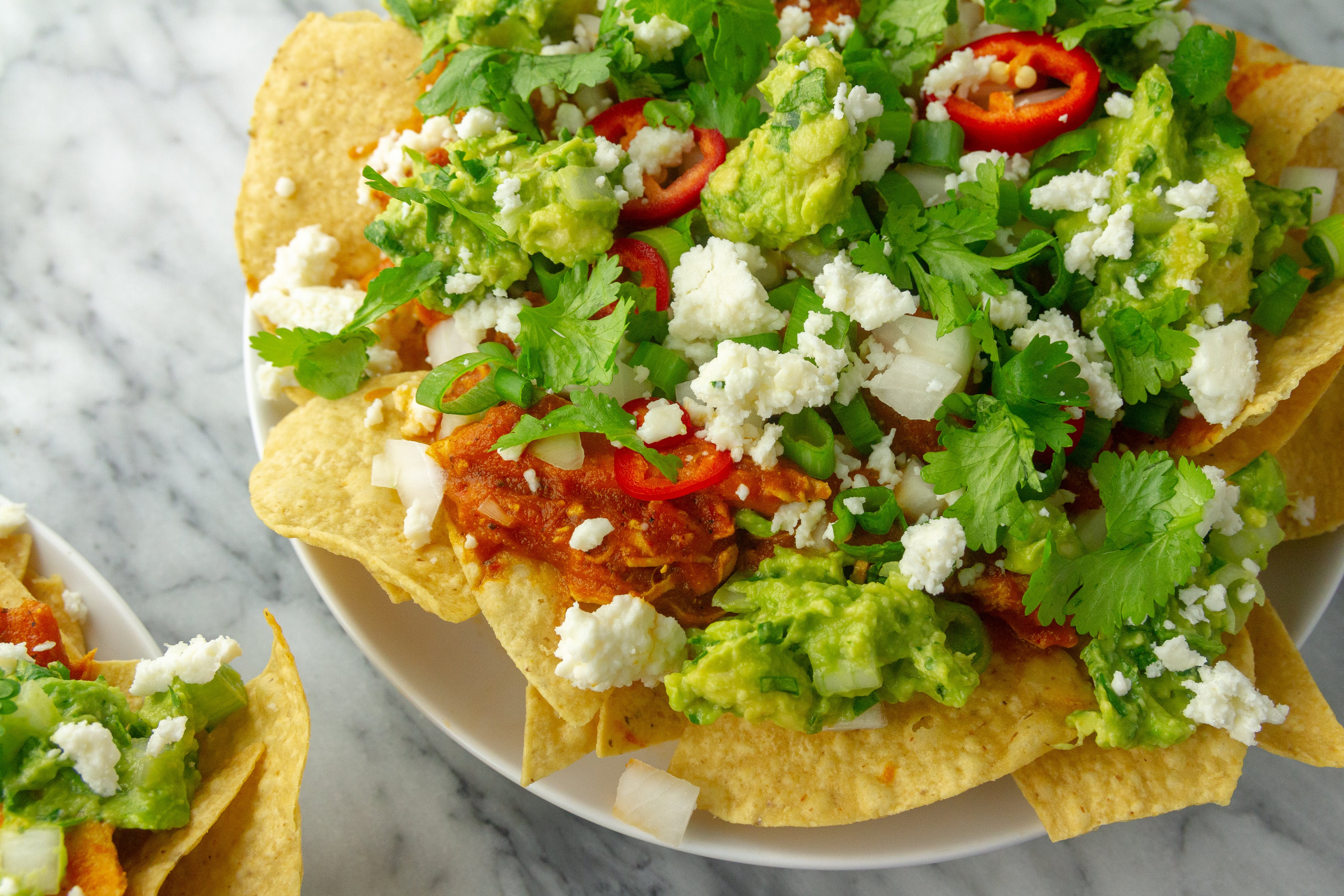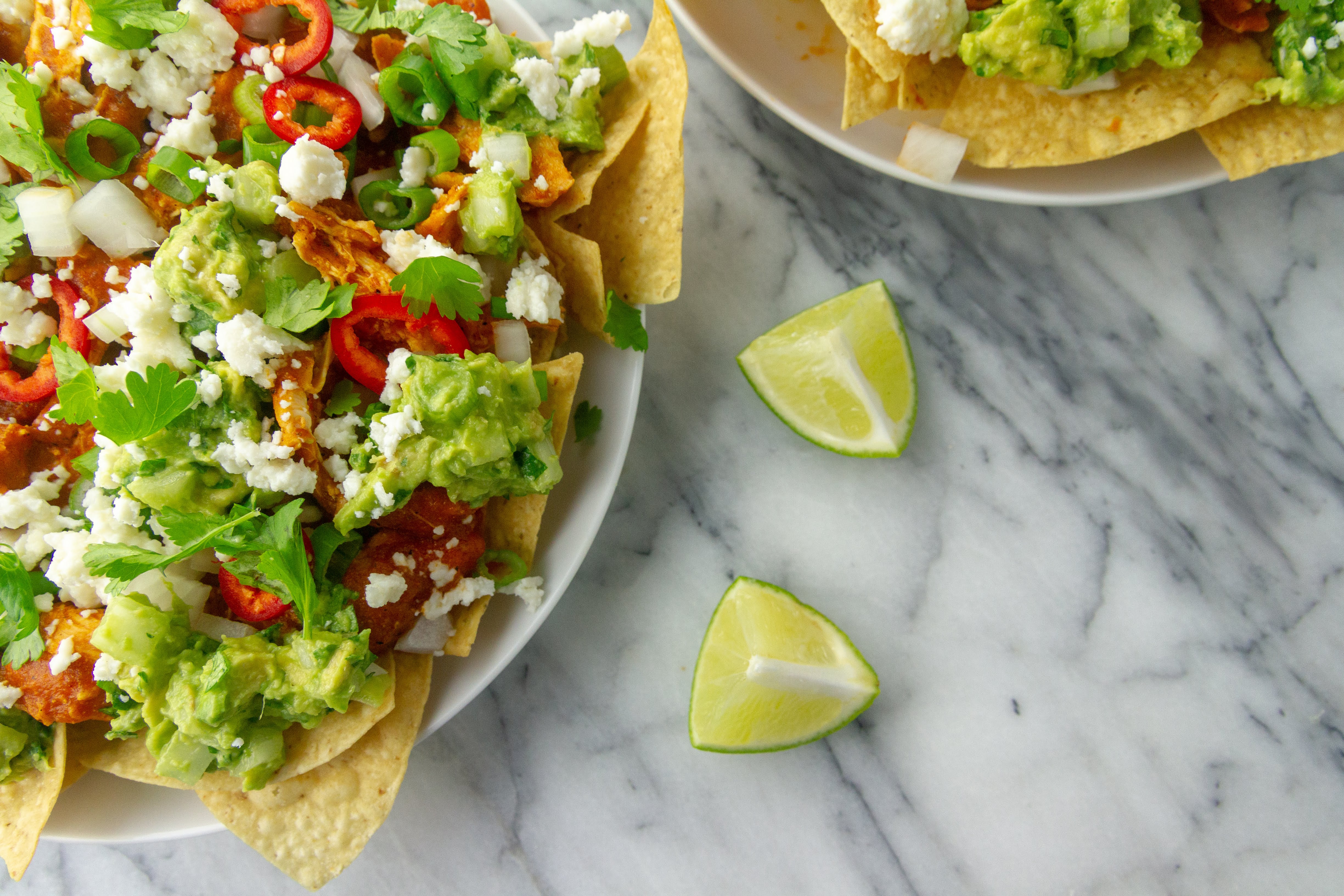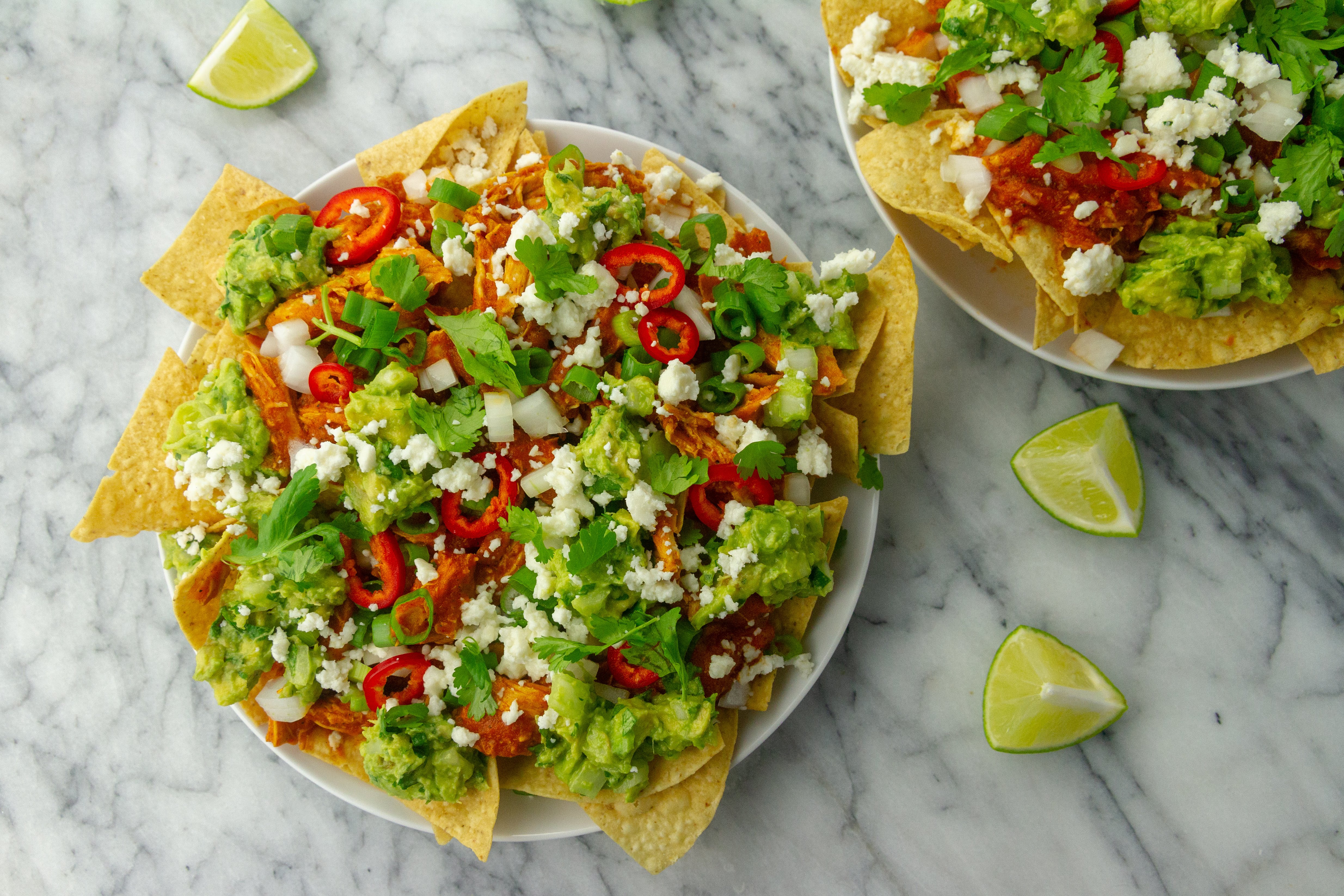 Chicken Tinga Nachos
Source: What's Gaby Cooking. We adjusted her recipe for Tinga tacos and made nachos instead! Find the original recipe, here.
Tip: This meal is naturally gluten free as long as you use corn tortilla chips for the base. We love the ones from Mi Niña Tortilla.
Review: What's not to love about nachos? They're crispy, crunchy, flavorful, and a meal best served hot and cold. There's really nothing better than this plate of nachos covered with the hot toppings you crave (chicken, cheese) and the cool extras you need (guacamole, cilantro, lime).
With this plate, I loved the playfulness of the chicken Tinga and the mixing of hot, cold, crispy, and creamy ingredients. The flavors were bold and bright, and the colors made us want to dig in immediately! Nachos are a crowd-pleaser, most definitely, and this platter would be a hit every time.
And dare I say it, but this particular nacho mountain was a fair amount healthier than your standard pile of chips and low-quality cheese (but I love that, too). This plate was covered in chicken, guacamole, cilantro, queso fresco, and sliced hot peppers. All somewhat healthy-ish ingredients on top of the requisite tortilla chips.
Now, I'm not condoning nachos to be a "healthy" dinner, but I am saying that what you put on those chips matters. And it is possible to make this crave-worthy dinner a tad healthier than it otherwise would be which is why I'm considering "nacho Sunday" to be a more frequent occurrence. ;)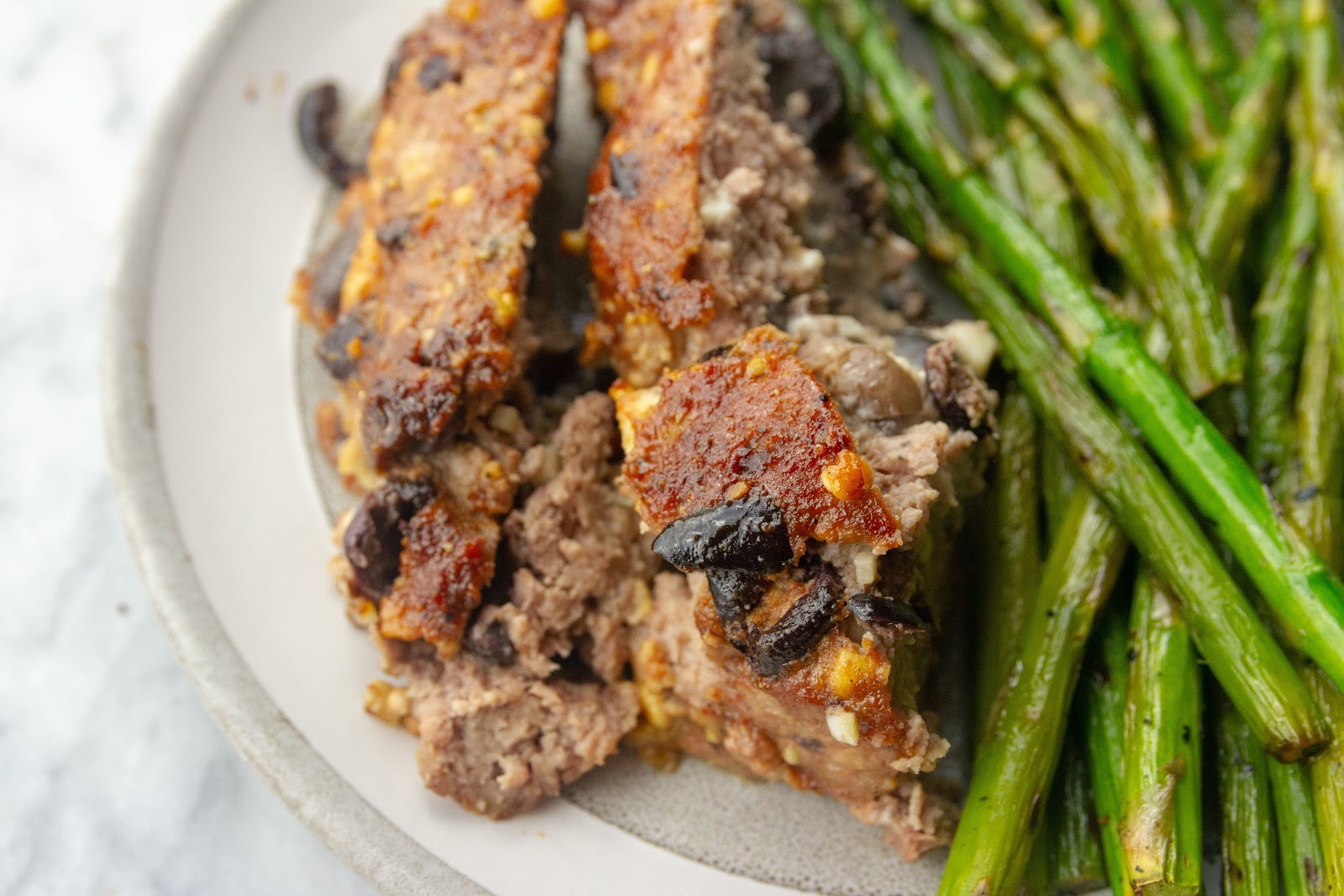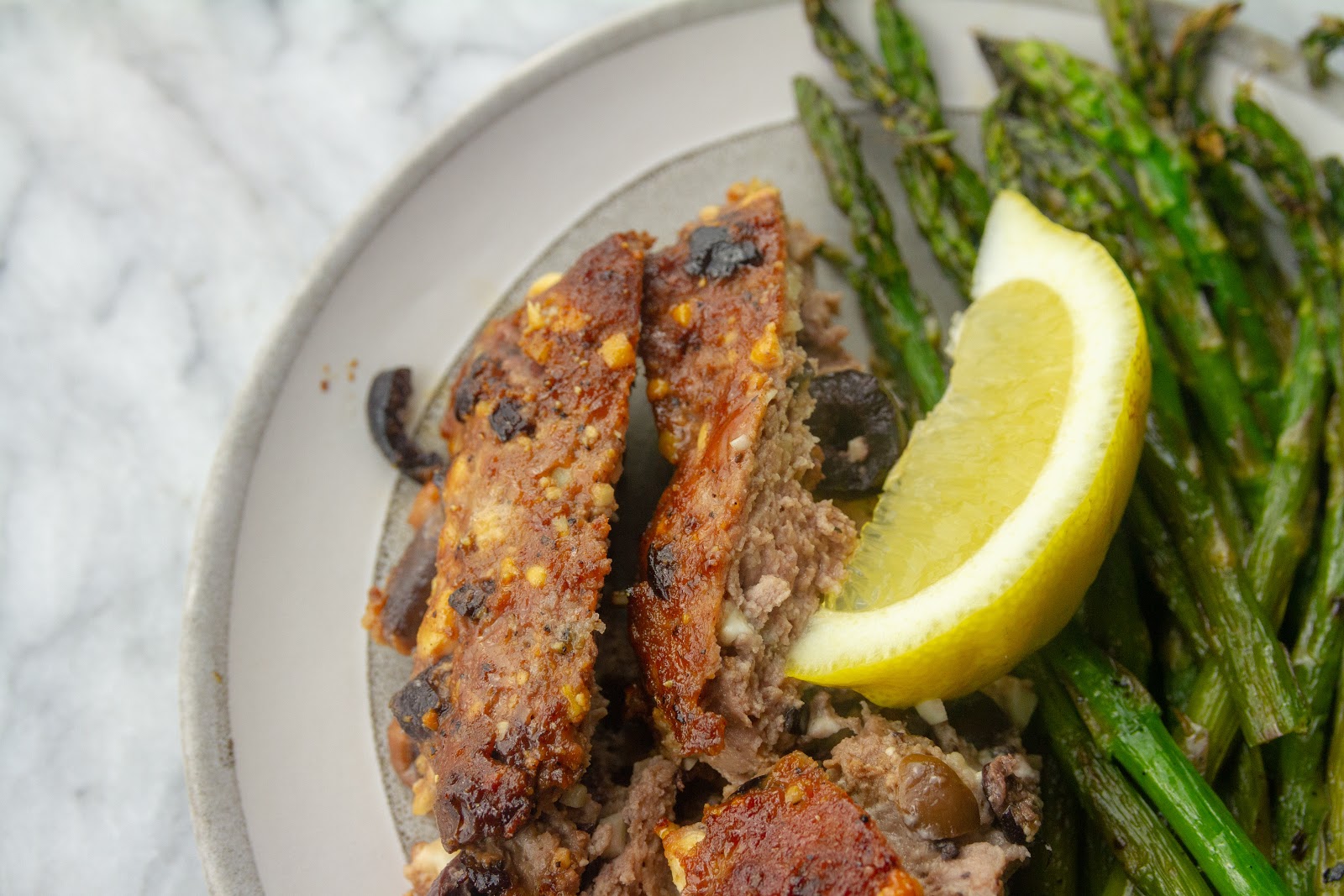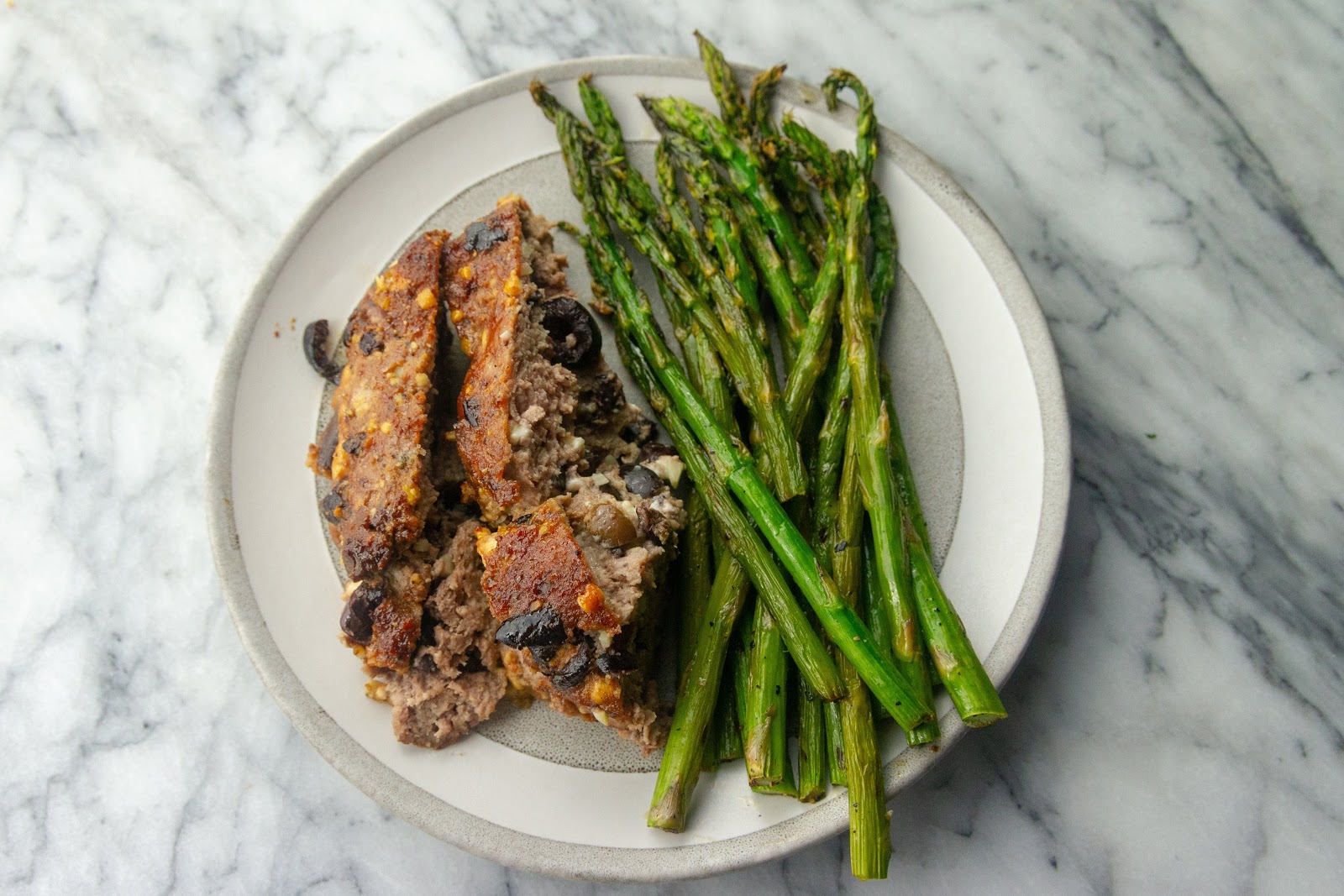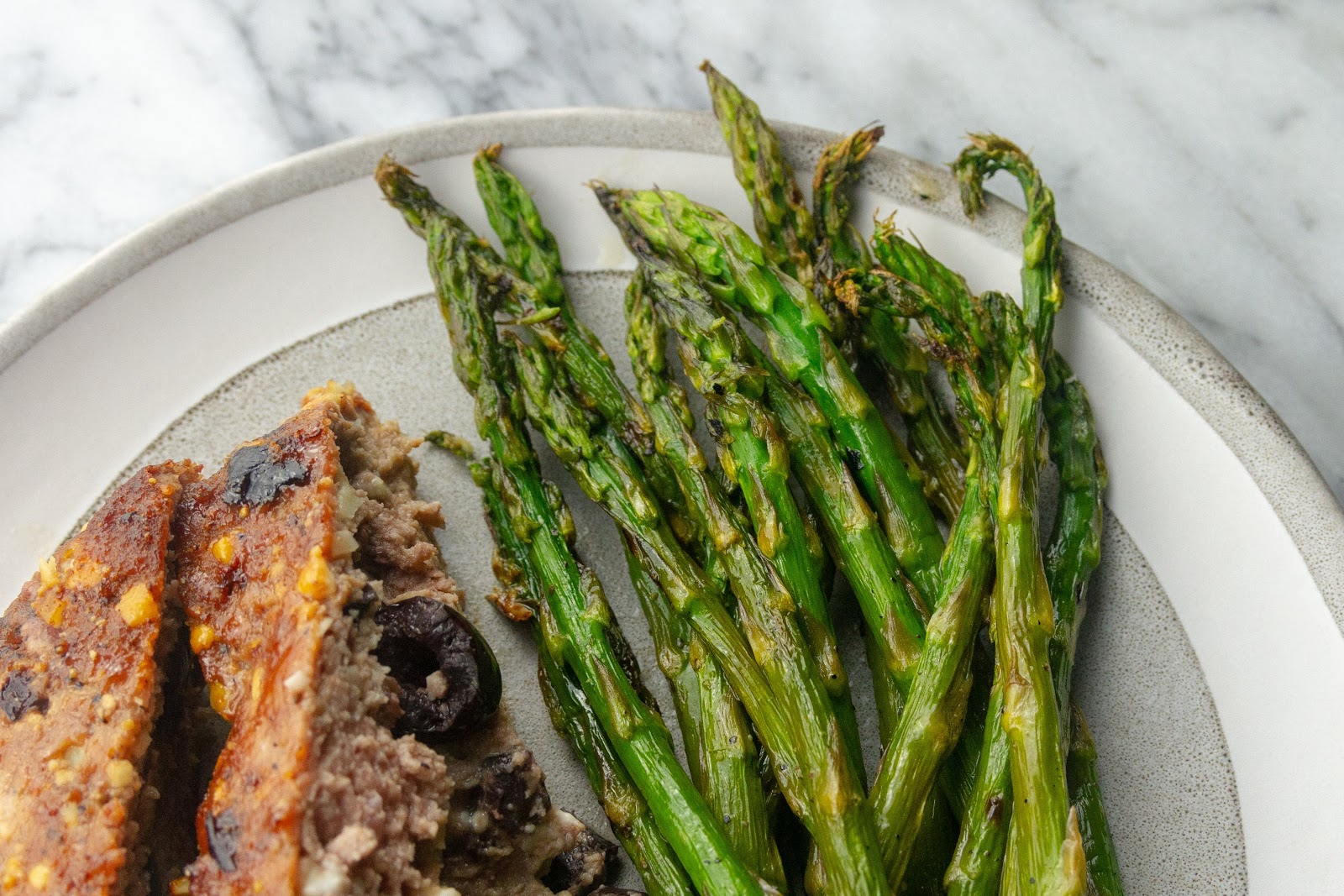 Super-Crisp Mediterranean Meatloaf with Balsamic
Source: Dinner for Everyone by Mark Bittman.
Tip: The original recipe used beef as the main protein, but we decided to switch it up and use lamb instead! The recipe is naturally gluten free.
Review: Upon first glance, I found the table of contents in this new book slightly overwhelming. Each recipe is presented in three versions: easy/quick, vegan, and fancy/dinner party. So for every dish that looks super delicious, there are two other versions you could make that also look equally excellent. How does one decide?!
Well, we landed on the meatloaf because we already knew we like this dish itself (meatloaf is a great Monday meal), the Mediterranean-style seemed intriguing, and it was the weeknight version. Who has time for hours-long prep on a Monday? Not us. And I assume not you, either.
Let it be known that this meatloaf was extremely easy to prepare and the hardest part was waiting for it to be done. Our kitchen smelled so good! And we were absurdly hungry.
Also, we used ground lamb instead of the recipe's recommendation of ground beef. While I am sure it would have been great with beef, we decided to mix it up with the lamb because we really enjoy that flavor, especially in Mediterranean meals. Our decision was a good one. This was delicious!
We paired this ultra-flavorful meatloaf with a timeless spring vegetable: asparagus. We'd let the meatloaf shine in all of its crispy-edge, bold-flavor glory and have the asparagus be there in a quieter, supporting role. Don't get me wrong though, that asparagus was awesome and was really the best complement to the meatloaf. Quite a balanced dinner, if you ask me!
Note: this meatloaf will need to cook longer than the recipe suggests to get the edges crispy and the center cooked appropriately. Don't be discouraged! It's worth the wait!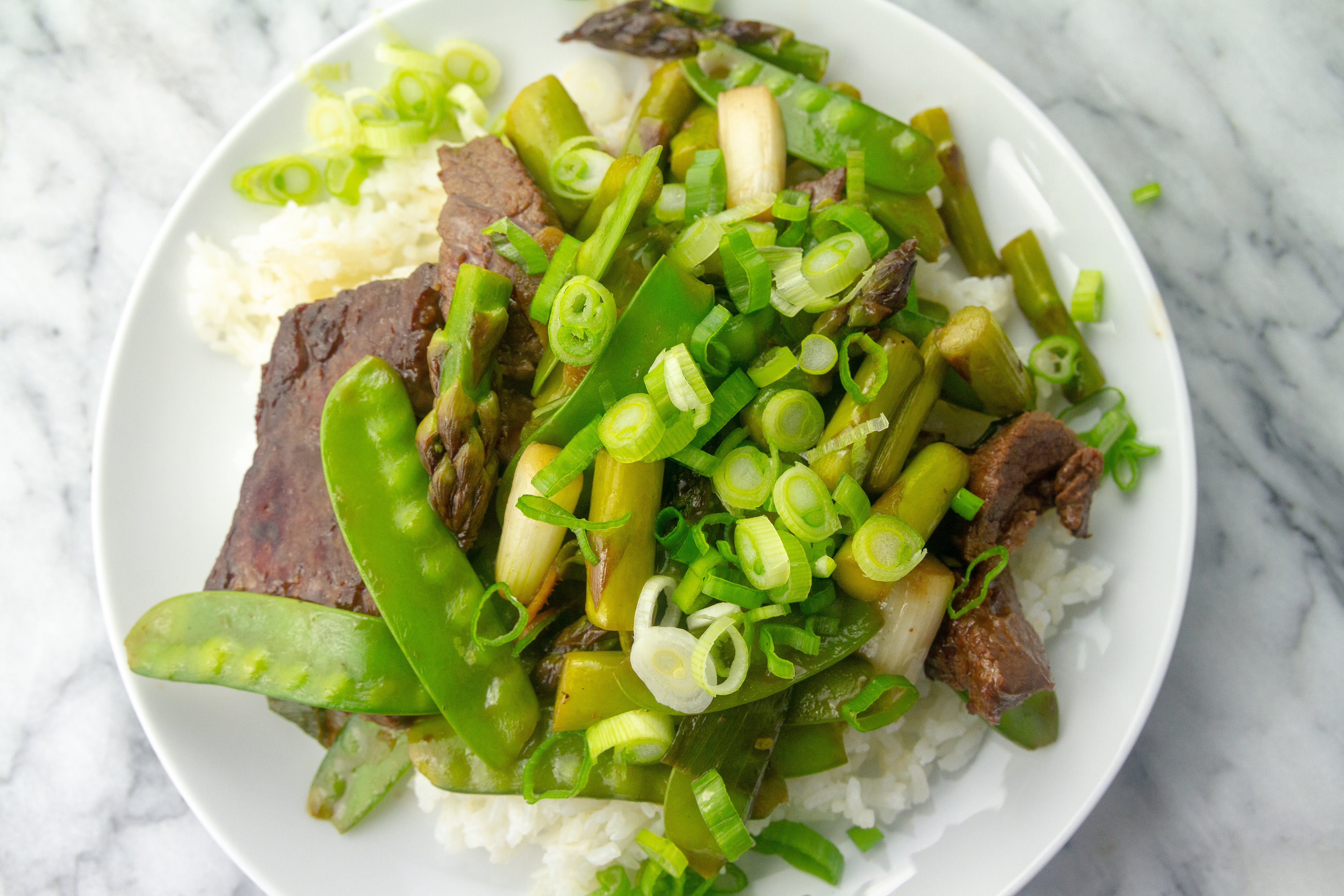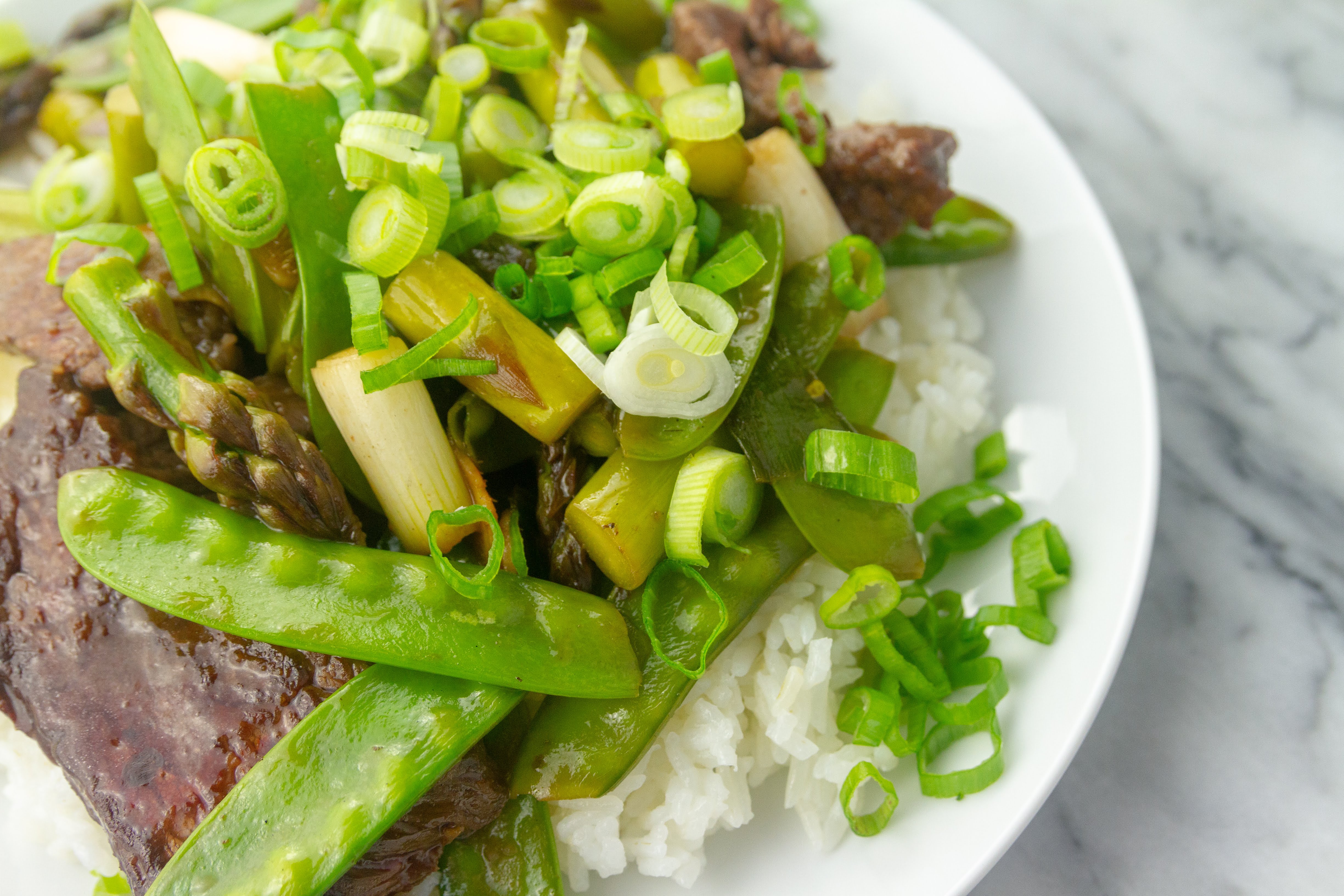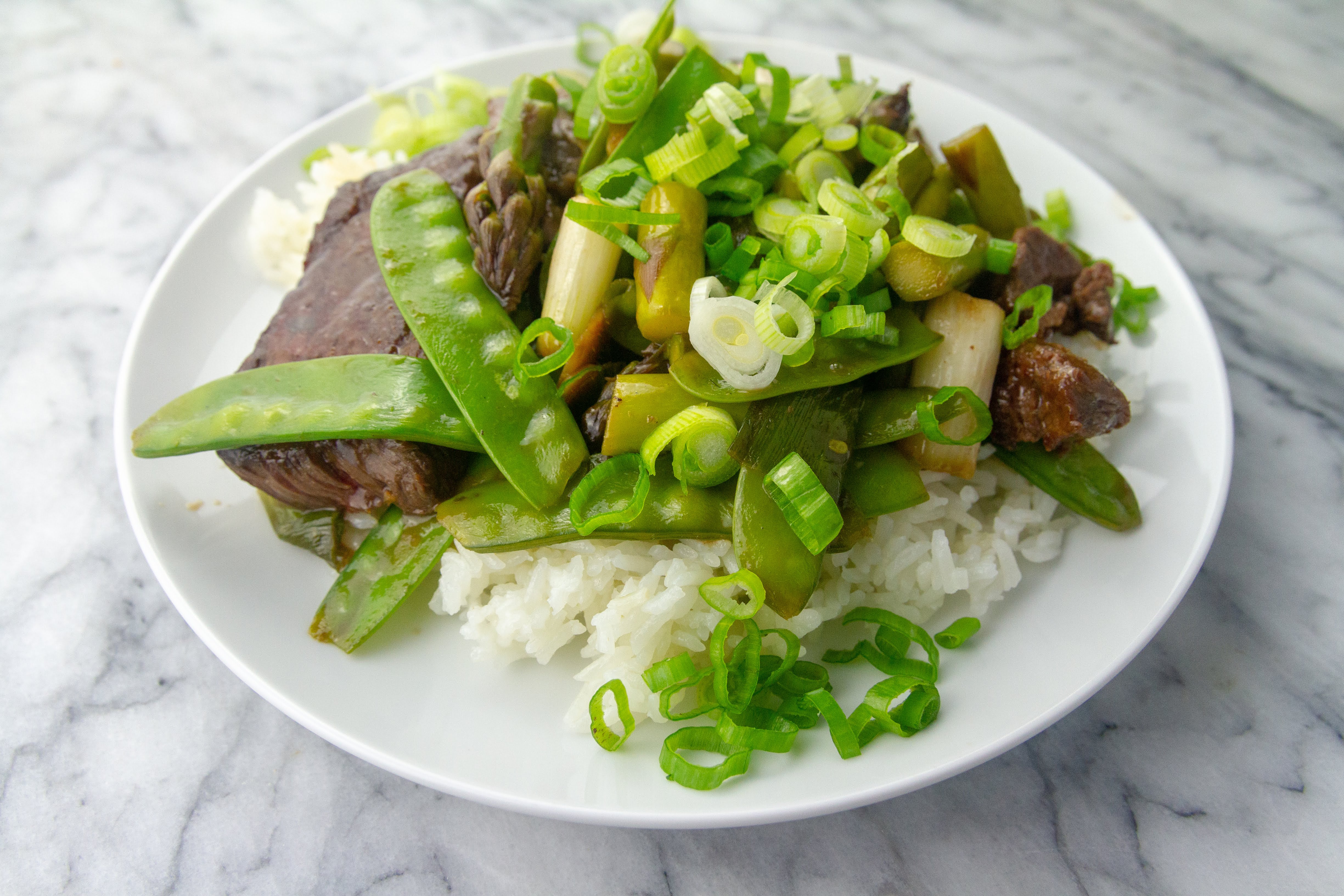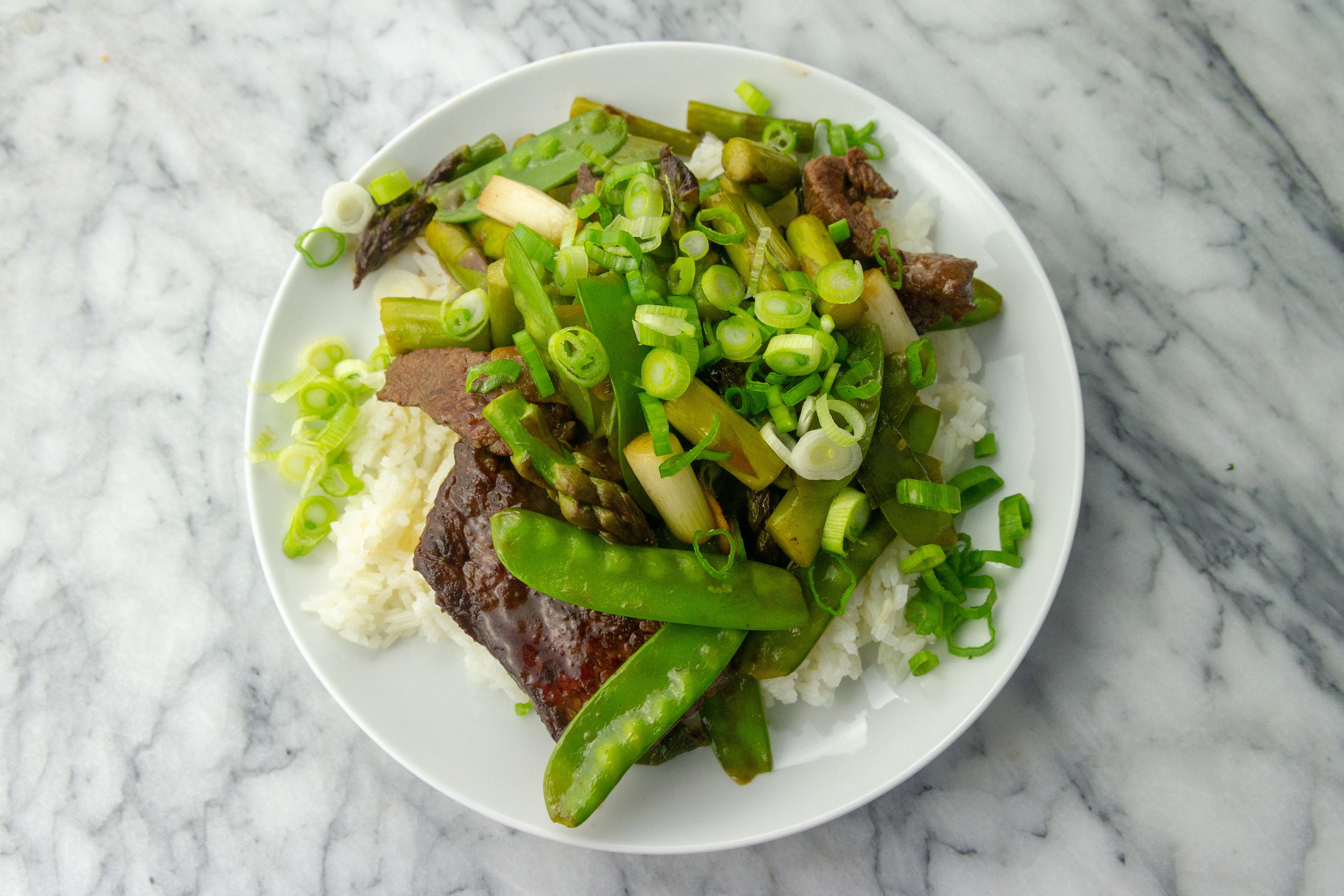 Steak, Snap Pea, and Asparagus Stir-Fry
Source: Bon Appétit online. Grab the recipe, here.
Tip: Make sure to use gluten free soy sauce (Tamari).
Review: By now, you should all be familiar with my recurring dinnertime passions, one of which being the ever-awesome stir-fry.
This week's version, bursting with spring veggies and steak, was so darn scrumptious we could barely leave some in the pan! No joke. I had a hard time packing up the leftovers without sneaking a few extra bites.
Now some may say the stir-fry is excellent because of its ingredients and some would say it's due to the sauce. I argue in favor of both! A prime time stir-fry is delicious because of all elements being equally awesome and high-quality. And that was most certainly the case with this dish.
Tender slices of steak, crisp snap peas, and fresh asparagus were enveloped in a minimalist (few ingredient), absurdly delicious sauce that coated every single bite and still allowed for the fresh veggie flavor to come through.
This is the first stir-fry we've had in a while that had a really excellent sauce-to-stuff (a scientific term) ratio. The steak seemed to soak it in most easily, but the vegetables got just enough so that no matter your bite, you got the savory sauce and brightness of veggie or goodness of steak. An all-around fabulous spring stir-fry.
Bonus? We'd use this sauce in any number of other meals. It was that good!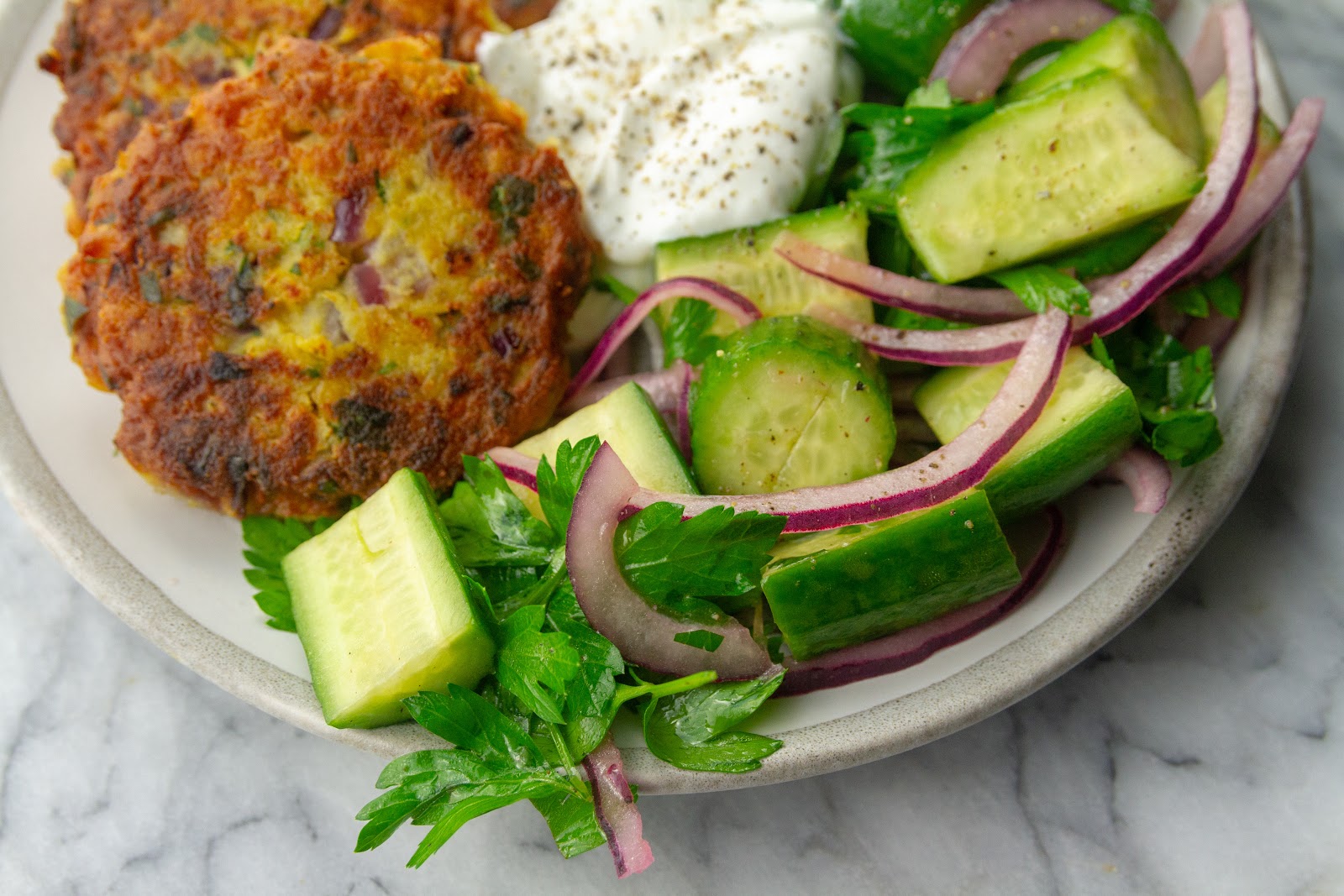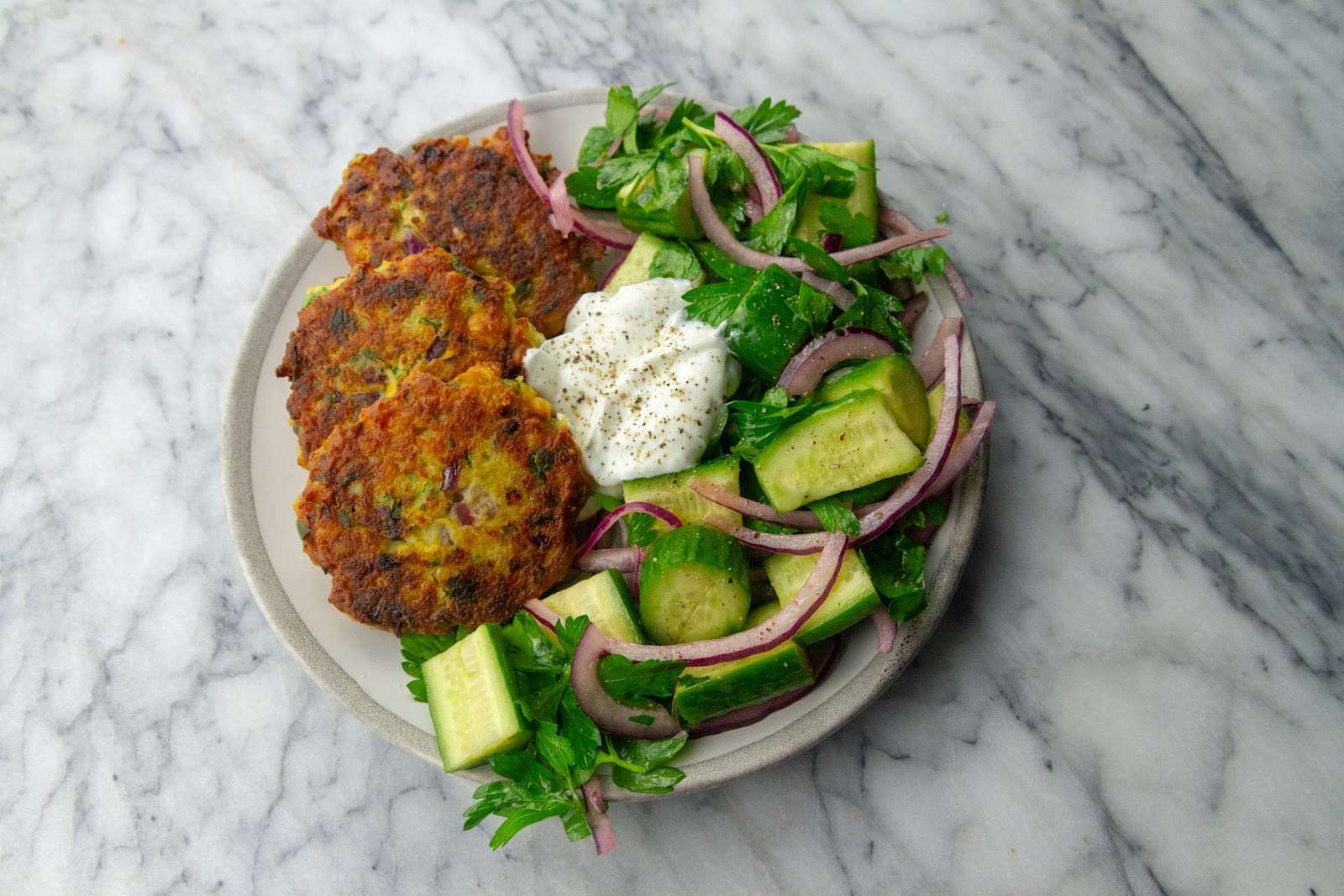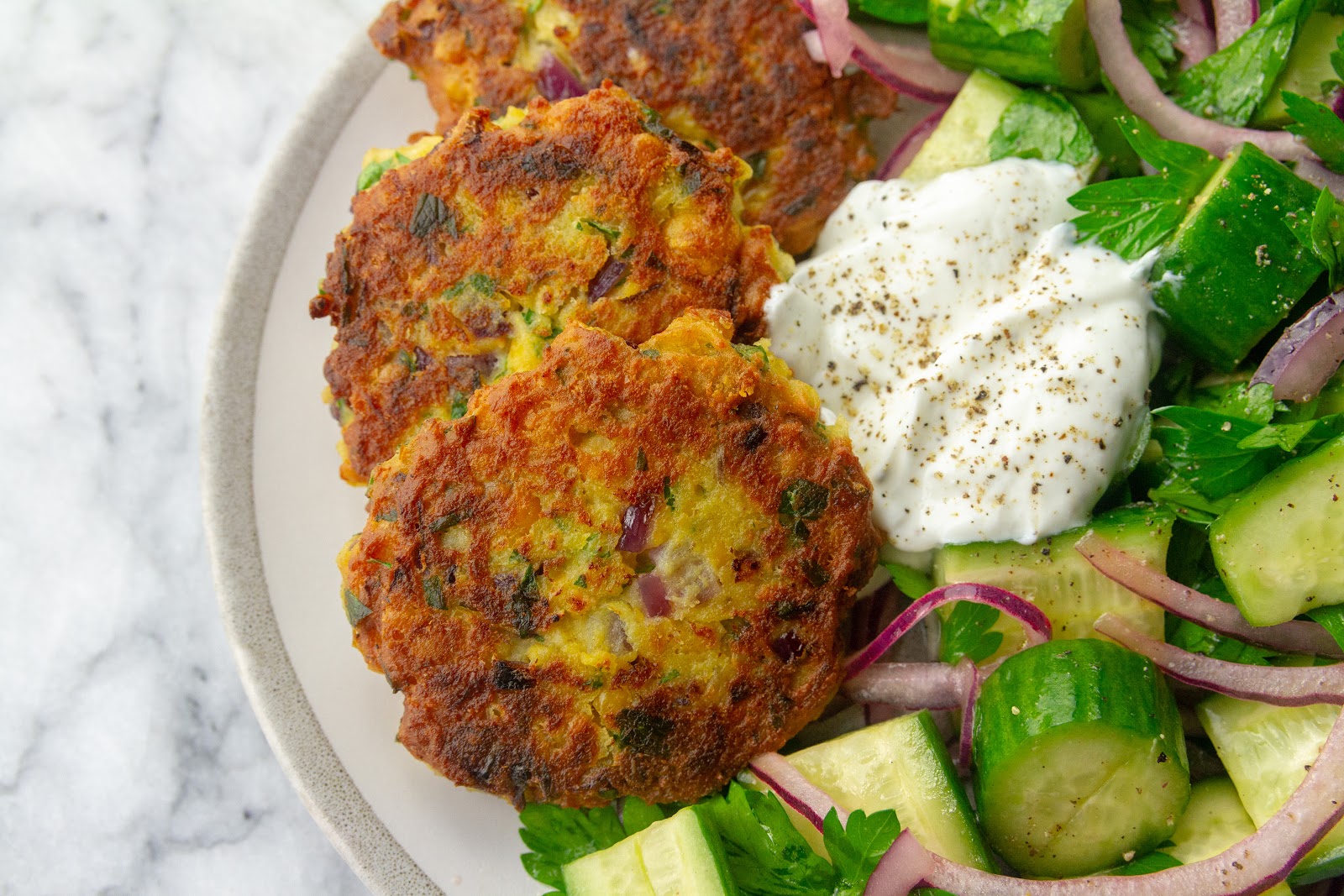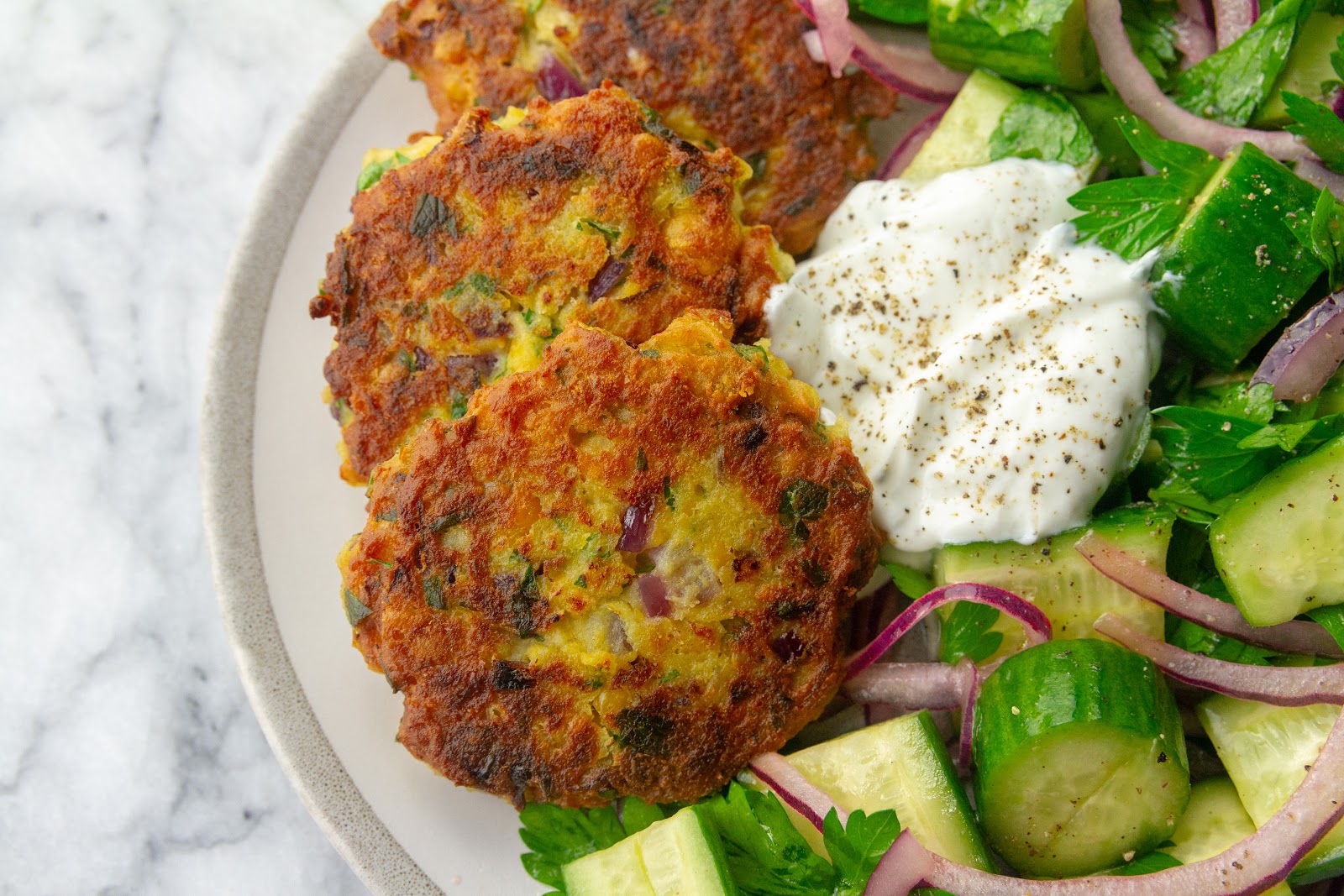 Falafel Fritters Bowl with Cucumbers and Yogurt Sauce
Source: Bon Appétit online. Grab this great one, here.
Tip: This recipe is naturally gluten free.
Review: There's just something about a familiar face, don't you agree? We made this meal many months ago, and while I don't usually choose to do a repeat, this dish in particular stood out to me as one that's worth making again (and again).
The word 'fritter' is inherently fun and that's exactly how I'd describe this easy, low-key dinner: fun! Your plate will be filled with crispy, delectable fritters (vegetarian), a crunchy cucumber salad, and a big dollop of yogurt sauce that tastes good on everything. See? So. Much. Fun. And flavor!
The recipe yields approximately 15 fritters which is easily enough for three-four people if you're having other items alongside. We were very hungry after the gym and uh, well, barely were able to split them in half. ;)
Another great idea would be to make these cute "pancakes" even smaller and offer them as an appetizer at the start of a dinner party. I loved that this dinner was very versatile in that you could serve it as a meal for two, a small dish for four, or turn it into a first course for a group.
I loved the balance of hot, crispy fritters with the cold, more acidic salad and creamy yogurt. No single element was spicy either, if you're wondering. And you could definitely adjust it to be dairy-free too, if needed.
A plate of falafel fritters (chickpea) is a great way to have a healthier, meatless weeknight meal which could also transform itself into dinner party fare if last-minute guests arrive. ;)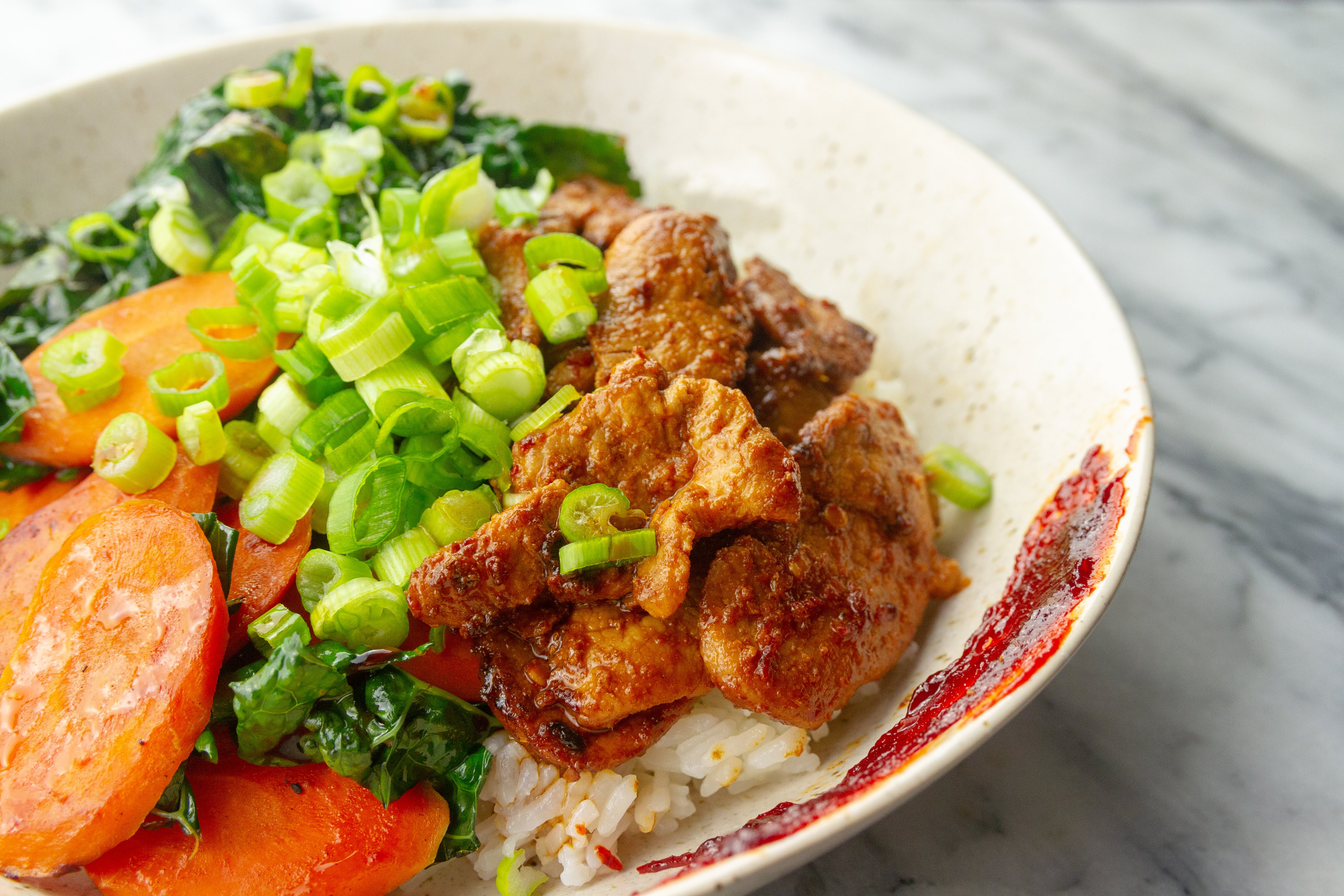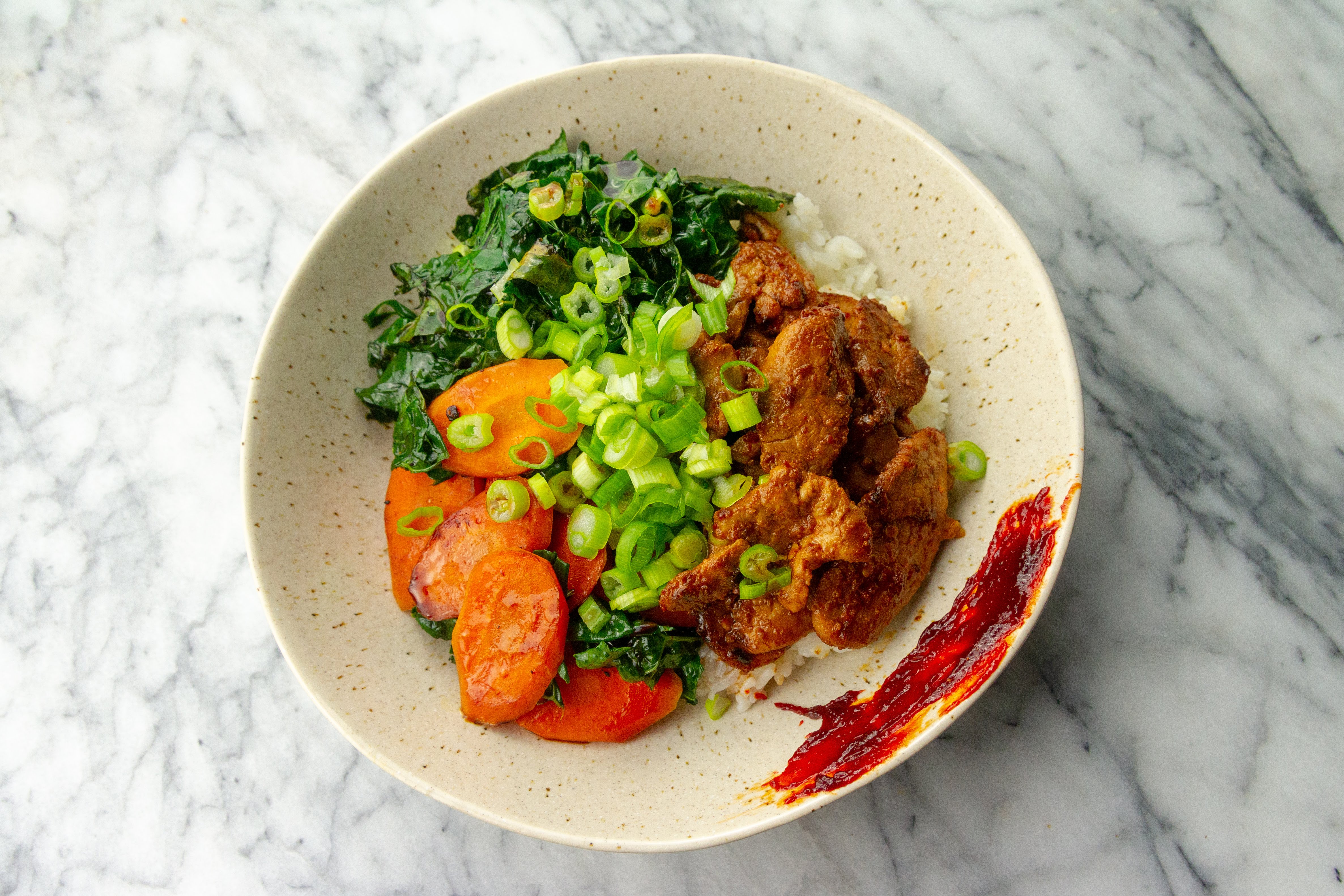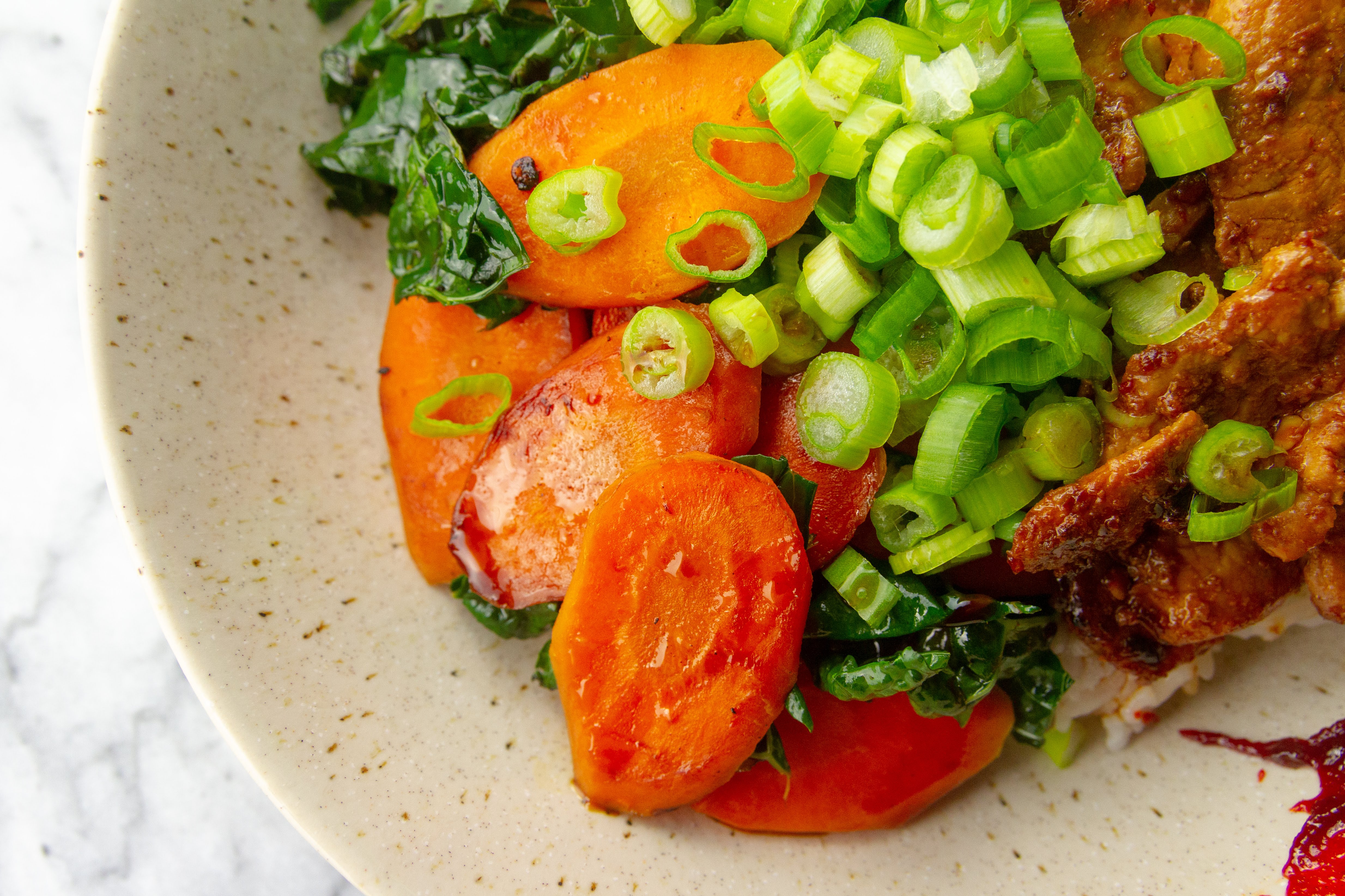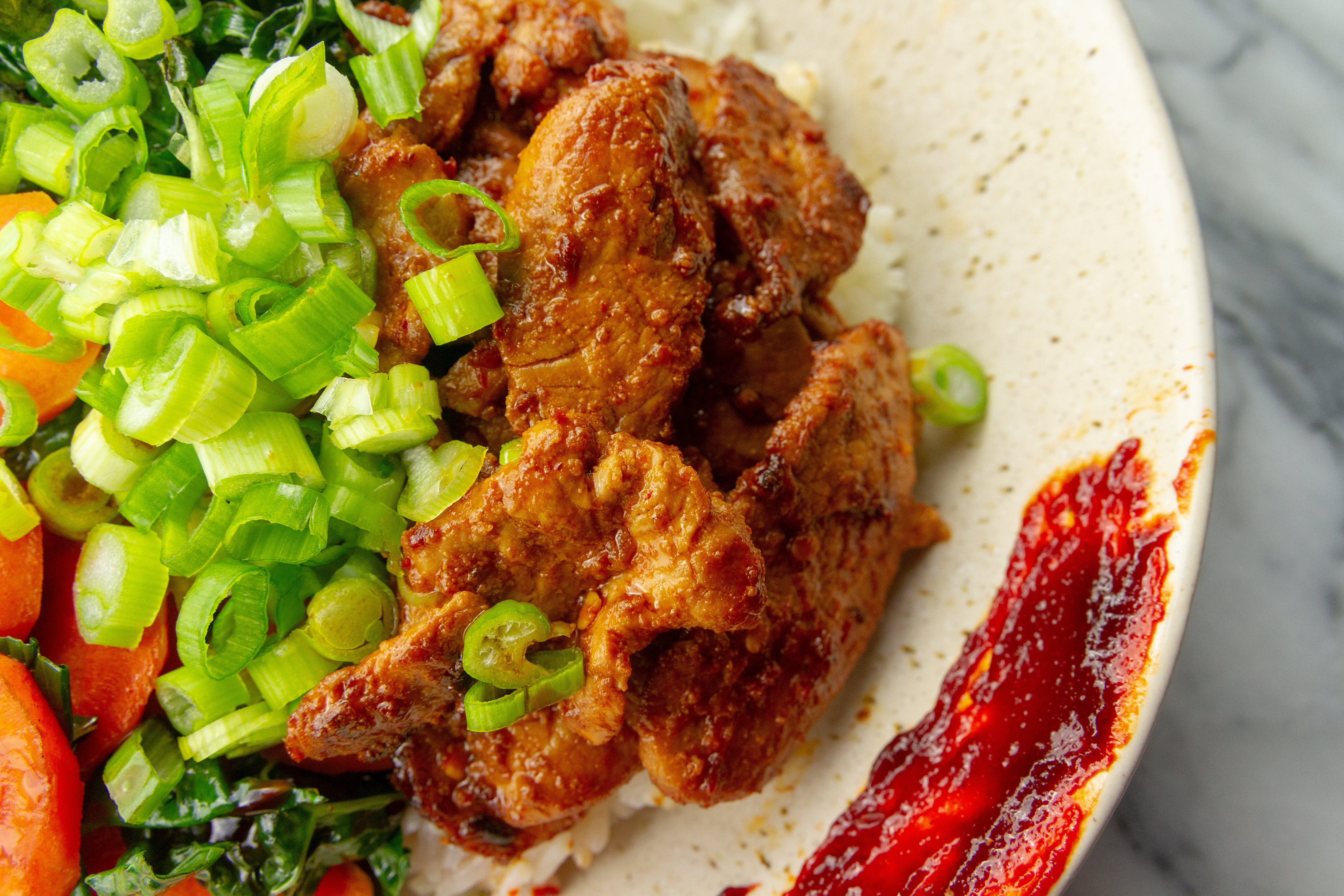 Spicy Pork Bowl with Greens and Carrots
Source: Bon Appétit online. Find it right here.
Tip: Make sure to use gluten free soy sauce (Tamari) and gochujang that's labeled gluten free.
Review: Let's call this dinner exactly what it should be, shall we? A Weeknight Hero. Sure, the pork tenderloin needed to be thinly sliced the night before and marinated for a while (an hour or more is my recommendation), but the result was one of the most amazing Thursday night dinners post-last-minute shopping adventure.
While the pork marinated, we went shopping, and then when we got home it was ready to go! And oh my, it smelled truly incredible. And tasted even better. Why have we not always been marinating our pork tenderloin?! Now we will do so forever.
The beauty of this meal, beyond the marinated pork, was that it cooked quickly and before we knew it dinner was served and we were each inhaling a heaping (healing?) bowl of pork, greens (kale), and carrots over fluffy rice. There are so many flavors I love in this world, but this dish has one of my new favorites.
In the future, when we make this again (because we will!), I would consider swapping the carrots out for peppers or mushrooms, or maybe just add them in to the mix. I like carrots, but I don't love them. I think including one of these other options, or swapping them entirely, would complete this near-perfect dinner.
Just remember: always marinate the pork and you will always be happy with this meal.
Eats of the Weekend
What a delightful, delicious weekend! We celebrated all of the mothers, enjoyed some time outside on the most glorious Saturday ever, I finally got a haircut (yes!) and I got my first cold of the spring (oops). I won't go into the millions of details, but here are a couple places we went amidst all of the celebrations.
Lone Star Taco Bar: an old favorite in our old neighborhood of Allston, we visited this excellent spot on Friday night for a few rounds of the most scrumptious tacos. My go-to order always includes the pork carnitas and veracruz fish tacos. 😏
Tavern in the Square: an easy place to grab snacks or a full meal, we stopped in later on Saturday night for quick nachos and buffalo chicken (not the picture of health). Honestly, this spot is filled with GF bar food and every sport you need to be watching. It's a no-brainer!
We hope you had a wonderful weekend filled with great food and enjoyed some time with those most important to you. And hopefully you got out on Saturday if you live in Boston - the day was spectacular!
Eat, well.
Mollie and Seth