Bar Bites Beyond: NYC vol. III
Oh New York, how much do I love thee? Let me count the ways…
In July, we spent a week in Manhattan and I loved every single sweaty second of it. If you're not familiar, NYC in the summer is hot. And very humid. So while the air conditioning is blasting indoors, everywhere else in the city is quite the opposite. But! That didn't deter me from visiting a lot of great restaurants and walking - yes, walking - literally everywhere. I averaged eight miles each day and was in heaven. ☺️
Looking back, I can still taste every amazing bite and wistfully remember every single meal. Let me take you down memory lane for a dining ride and share everywhere we ate during our most recent trip to The Big Apple. It's going to be delicious.
The following restaurants and eateries are listed in the order in which we visited them. I've noted which meal we ate in parenthesis; however, many of those listed are open for more than just the time we went. For example, we ate dinner at Friedman's, but they are also always open for breakfast as well. 🤗
Enjoy!
Note: please alert your server to any dietary restrictions prior to ordering. Celiac Disease affects each person differently. I am not a medical professional and have only made these recommendations based on personal experiences. Trust your gut and only eat what and where you feel comfortable.
We came to this chic spot for lunch after we arrived and checked into our hotel. With plenty of gluten free options (and a helpful waitstaff) to keep you full while shopping, I opted for a delicious shrimp and crab salad. Plentiful and yummy without being "too much" for a midday meal (especially given the heat). It's located on the top floor of Barneys which is where the Home department is located. Be sure to take a peek after you eat!
We made our way here for dinner on our first night after hearing about it for months and months. Finally it was time to visit! This is an entirely gluten free restaurant so nothing is off limits. We ordered way too much and barely made it home. I'm kidding! However, I do recommend the cauliflower appetizer which is covered in cheese and breadcrumbs. They offer every Italian classic for lunch and dinner so be sure to stop in when you're in the area. I can't wait to go back and try even more of the menu - especially the pizza. 😍
Note: it's very busy! I'd recommend reservations if you want to guarantee a spot.
One of the main reasons I was extra-excited for this trip, I had heard phenomenal reviews of this new, 100% gluten free (and kosher) restaurant featuring breakfast and lunch. Bagel heaven! I went here for breakfast four out of the five mornings and basically cried as I sank my teeth into my meal. Everything bagel toasted with chive cream cheese and smoked salmon is without a doubt one of my favorite ways to start my morning and this place totally delivered. The menu has a little of everything and my one regret is not trying more of it before we left. Giant latke?! I've got my eye on it for next time.
Note: I chose to do sit-down service (luxurious!), but you can do takeout at the deli counter. Also: this spot turns into a totally different gluten free restaurant at night featuring Mediterranean food in a tasting-menu style.
Friedman's Restaurant (breakfast and dinners)
What more can I say about the joy that is Friedman's? We visit every time we are in New York and I just love it. Basically the entire menu can be made gluten free (except one dish) and the staff is absurdly knowledgeable about dietary restrictions. All GF food is served with a little "gluten free" flag signaling that your meal is safe. Most of the time we go for breakfast or brunch, but this time around we tried it for happy hour (wise move) and dinner.
Everything is so yummy, but I firmly stand by my decision that the veggie potstickers, fried pickles, and chicken wings are the best happy hour snacks (or a whole dinner). Cocktails are great, too! Note: never leave without ordering the fried chicken and cheddar waffle. You. Must. Order. This. Meal.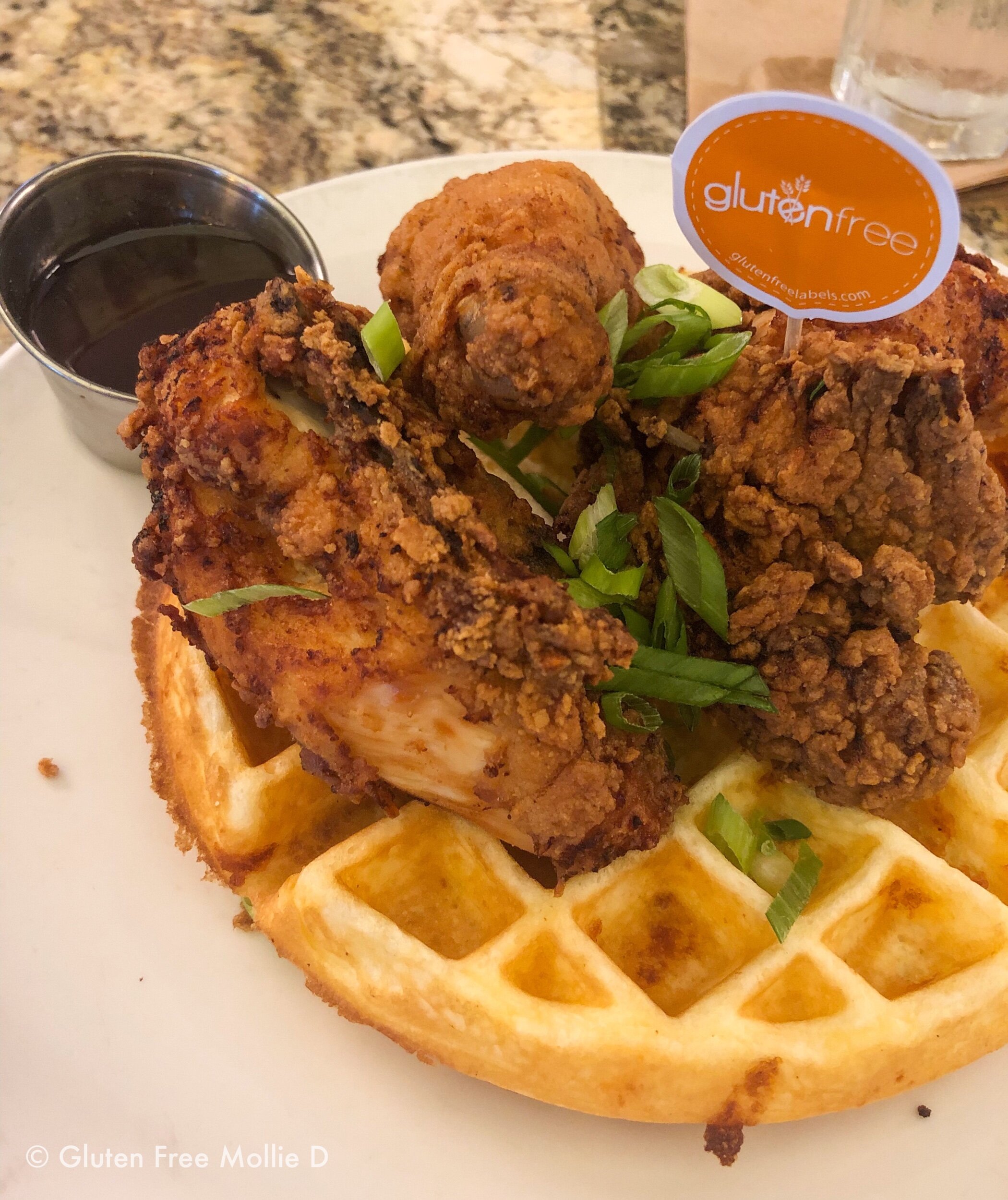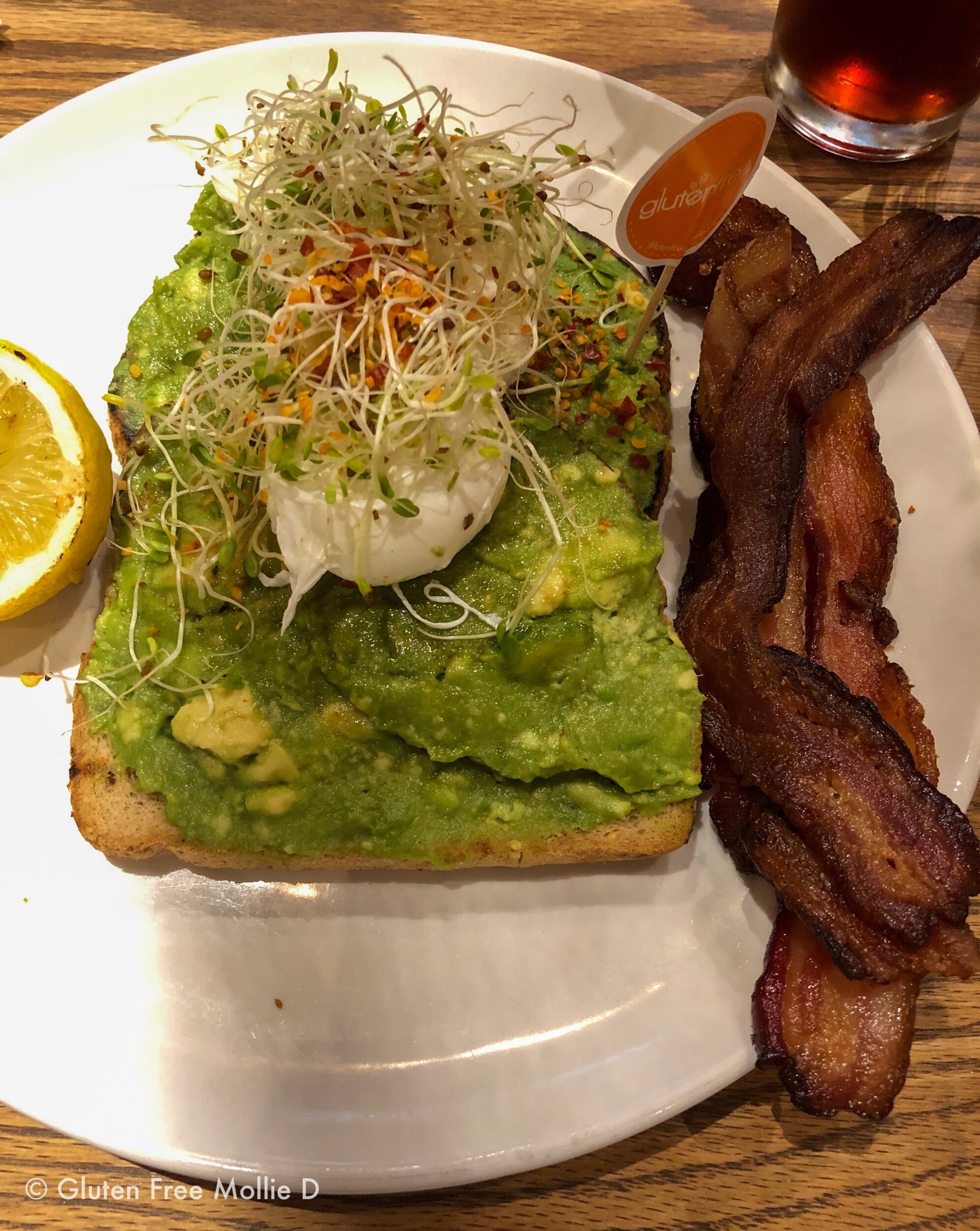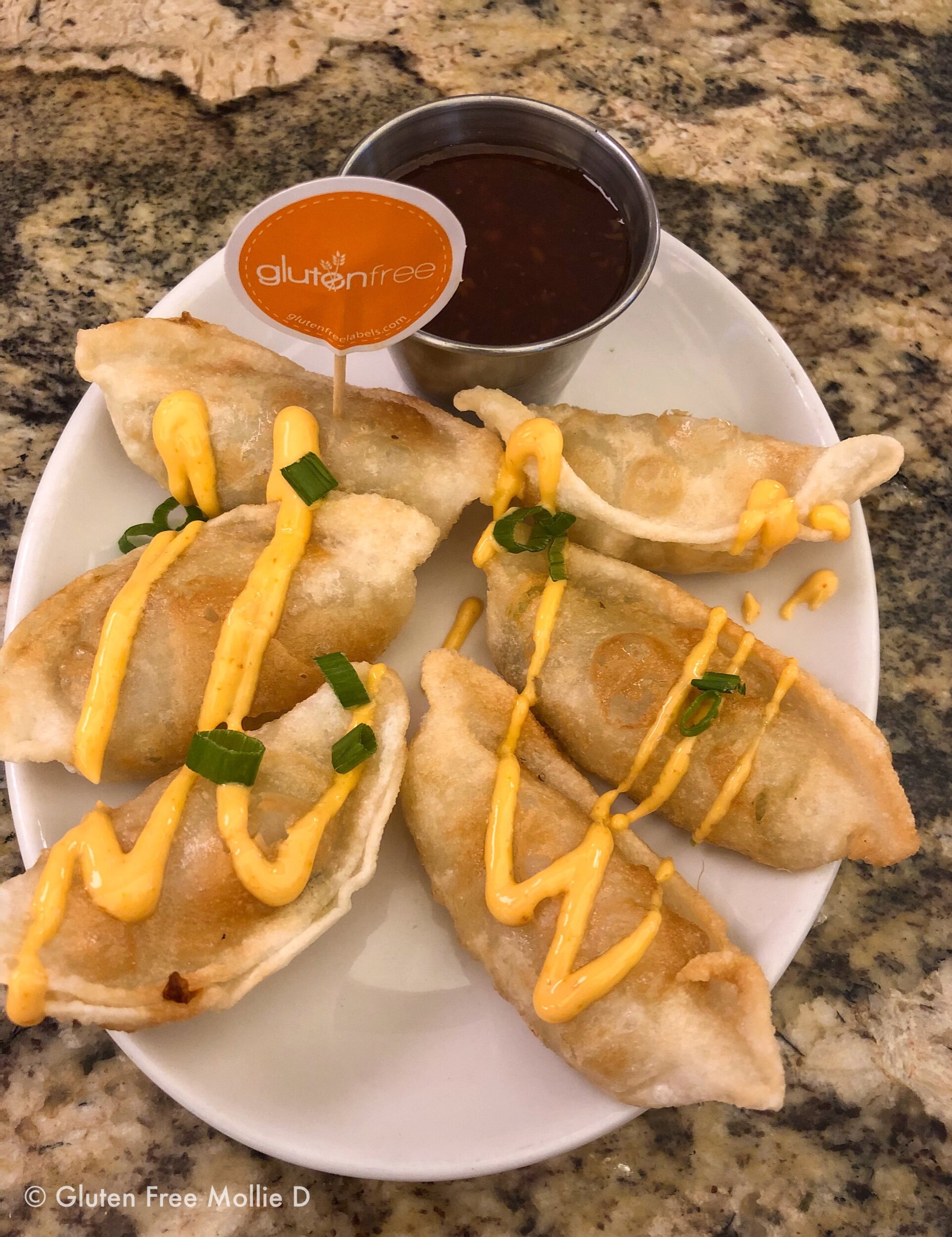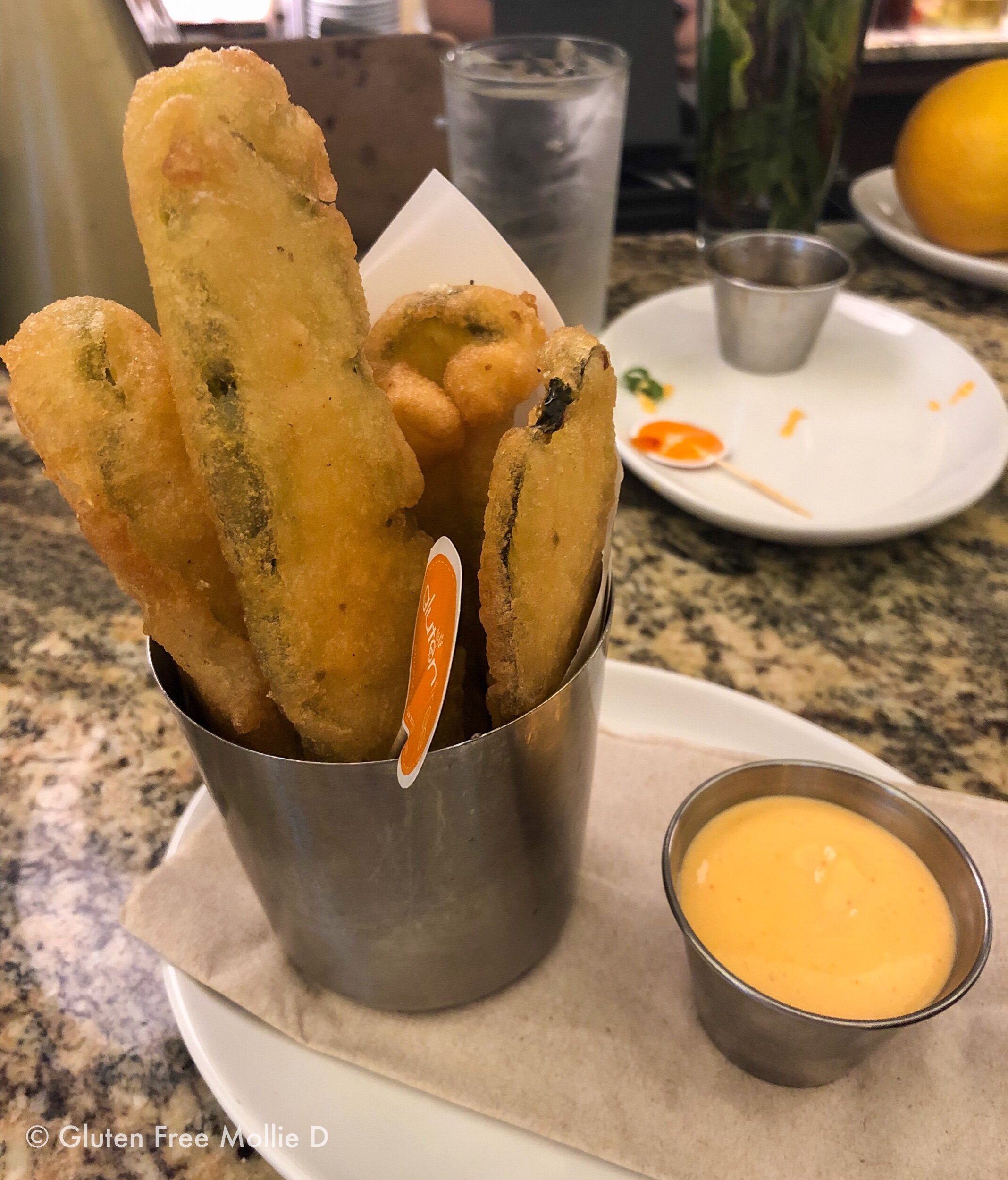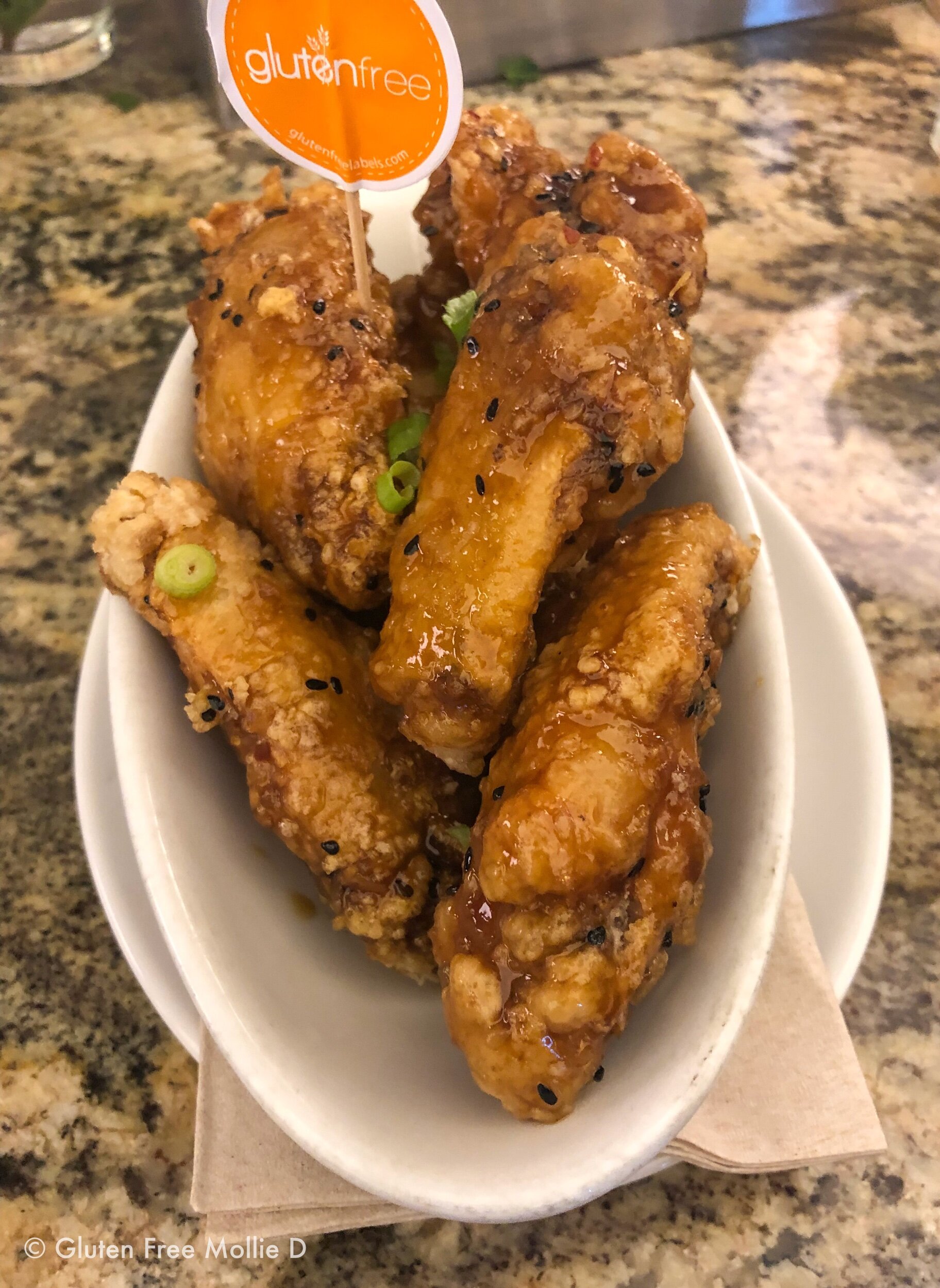 One must be fancy in New York, even if briefly, and enjoy a meal or brief snack at this Food Hall located in the famous Plaza Hotel. Grab seats at the lovely bar and try to pick just one thing off the menu. Not an easy task! With plenty of gluten free options, including GF pizza crust and pasta, I could barely decide what to order on the two occasions I found myself at this joyful place.
The menu is large and filled with variety so if you're not in the mood for flatbread, I say go with the sushi. Seth and I loved the "tuna two ways" paired with champagne on our anniversary. Too delicious! It's a charming place amidst the hustle of midtown and I strongly recommend visiting midday for prime seats and a quieter atmosphere. That sushi was so good I went back on my own two days later for a post-Bloomingdale's snack. 😉
Save this spot for the most special night of your trip; but if you can't wait, I don't blame you! One of my most-favorite restaurants in Manhattan, Gramercy Tavern is charming, elegant, sophisticated, and cool. And the food is essentially perfection. We prefer to go the no-reservations route and hope for seats at the bar in the Tavern (or a small table). Others may choose to make the night fancier and make a dining room reservation where an opulent, and refined, tasting menu await.
The cocktails are fabulous, the food incredible, and the waitstaff is stunning. Of course, plenty to choose from that's gluten free as dishes can be adjusted and they serve some of the best GF bread I've ever eaten. Run, don't walk, to make sure Gramercy is part of your next city visit. I'm salivating just thinking about it. And making plans for our next visit.
Note: photo below is my cocktail before dinner. Since it was our anniversary night out, I put my phone away to enjoy the evening. :)
Be sure to reserve a night at Don Antonios because they have gluten free pizza that's possibly the best I've ever eaten. Truly! This tourist-filled, but also a hotspot for locals, busy eatery is known for their pizza and it's no wonder: Neopolitan-style pies are served at every table and each one smells better than the next! Gluten free pizza is made in its own, separate GF oven and kitchen! 😍 And while the famous fried pizzas are not an option, I barely noticed. The GF pizza is outstanding, the same size as the regular, and is simply divine. And they deliver!! Grab seats at the bar if you're lucky, or wait it out for a table. Just make sure you arrive hungry; you will want to order the whole menu. ;)
Looking for a fancier, but low-key evening in a pretty space? Look no further than Bellini in the Mr. C Seaport hotel. Beautiful floral arrangements adorn the interior and the space is mellow and relaxed, but with cheerful music throughout. With plenty of gluten free options, including pasta, the hardest part of the meal is deciding which dish to order. If you find yourself way downtown, in the Seaport neighborhood, and are in the mood for a calm, elegant evening, then head to this charming spot.
Famous for brunch and long waits, make your way to this popular restaurant for the crowds (can be a scene depending on location), but also stick around for some very yummy food! Egg dishes aplenty, and great bloody Mary's, there are still lots of gluten free options even if the pastries are a must-skip. Part of why I love visiting Sarabeth's is for the quintessential NYC experience, in my opinion. It's loud and crowded and bustling, which isn't my mood all of the time, but I appreciate it at least once during every trip to the city.
If you really want brunch and don't care to wait, just arrive right as they open or within the first hour. We've had good luck that way! Locations throughout Manhattan; we enjoyed the one uptown on Upper West and Midtown right near Central Park.
Sure, this is just an ice cream shop, but it's amazing ice cream. Vegan ice cream that's ridiculously yummy as well as traditional dairy-based that's excellent; their unique flavor combinations have the crowds continually packing the store. The decor is also light and bright which I always appreciate in an scoop shop. Their flavors are labeled well for GF - lots of options!
One of the trends we enjoyed in the city was Happy Hour which is a time each day when select menu items and drinks are offered at a reduced price. I'm sure you're aware of Happy Hour, but I find it even more appealing since this isn't something that "happens" in Boston. However, I'm now an official fan.
DB Bistro Moderne is a fancy restaurant, but I'd strongly recommend stopping in during happy hour, which feels decidedly less fancy, for the most amazing French fries and a glass of wine or cocktail.
The fries were perfectly crisp, hot, and salty, and so delicious we ordered a second round! Not only were we on vacation, but I'm a sucker for fries. Perfect fries always deserve a second round. Even if we never go in for dinner, although I'd like to, I would be happy just going back for happy hour. :)
Before you leave the city, or perhaps while you're crossing through midtown, be sure to stop back at The Plaza Food Court, specifically at the William Greenberg Desserts stand, for their delicious gluten free cookies! Arranged in a separate area and wrapped individually, these cookies from the famous shop are just as awesome (I assume) as their non-GF siblings. Do note: this is not a gluten free bakery; they do offer a few GF items.
Since I cannot choose just one of anything, I bought the rainbow sprinkle cookie as well as the half-and-half. I was supposed to save them for when we got home. I ate them both in the car. No regrets. I just wish I'd bought more. ;) #rainbowsprinklecookiesforlife
That's all for now!
NYC is my favorite city and I try to visit as often as possible. I love the food, the shopping, the energy, and the general joy I feel when walking up and down the big city blocks. It feels like a second home to me and while I do not live there anymore, I feel that a part of my heart will always be in Manhattan.
I ❤️ NY.
Volume Four?! Coming soon… 😉
Mollie
Gluten Free Mollie D